Photo albums. Board games. A wedding dress. It's remarkable how much stuff we accumulate over time. But if you learn how to declutter before moving abroad, you can purge the excess and make a few bucks in the process.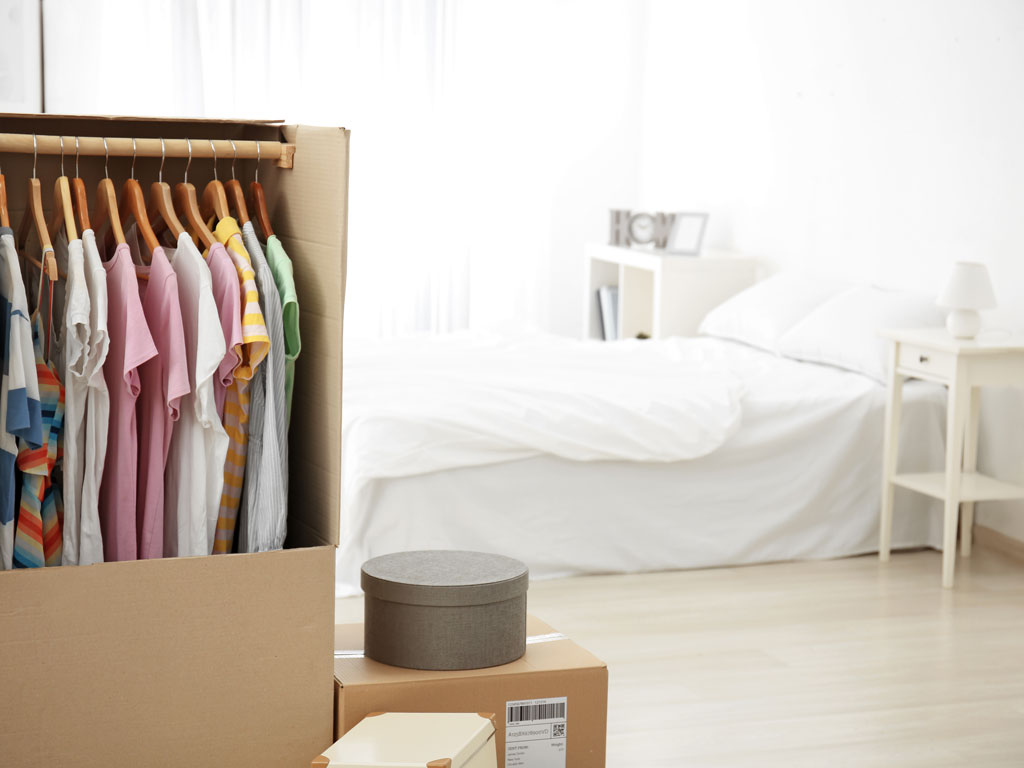 I'm certainly no minimalist, but I was never the type to have lots of stuff or shy away from donating unused items.
Even so, the estimates we received for shipping our belongings from Texas to London were mind-boggling. I'm talking prices in the five-figure range. I remember running through our initial list of what to bring and thinking, I could fit all of this in our walk-in closet!
Even if you're not moving overseas, it's not exactly cheap to move cross country, either. In fact, it can cost up to $10,000 to move across the US.
We did multiple cross-country moves in the US before we moved to London. And by following the steps I've outlined here, we were able to skip the pricey moving companies and even make some money in the process.
In the end, it was cheaper for us to minimize before a move and buy replacement items than it was to haul our stuff across the country.
What if I'm not moving abroad?
I want to empower everyone to learn how to declutter before moving. Even if you're not moving overseas, this process will help you minimize before a move. Just jump to step 3 and skip the details about international relocation (and be glad you don't need to deal with the logistics!).
This post contains affiliate links. As an Amazon Associate, I earn from qualifying purchases. For more information, click here.
Why you should declutter before moving abroad
International shipping is incredibly pricey because of how transporters charge you. Typically, you'll either pay by weight or by volume (i.e. how much space your package takes up), whichever is more expensive.
Although it's cheaper to ship by sea than air (about 40% based on our quotes), we were told anything shipped by sea would take THREE MONTHS to arrive! If you can go without your stuff for three months, why even ship it in the first place?
Seeing those quotes was a real eye-opener for me. It was at that point when my husband and I decided to seriously downsize before moving abroad. We got rid of enough stuff to bring everything as carry-on or checked baggage. It took a lot of work, but here is the end result: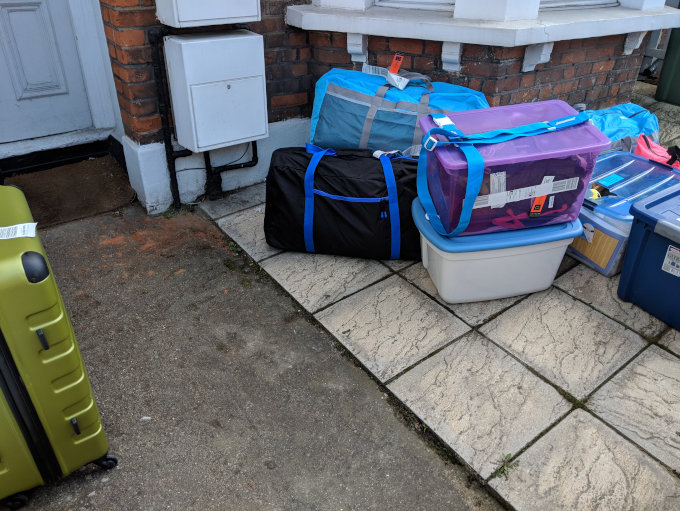 It was manageable with a couple of luggage carts, and it was a hell of a lot cheaper than shipping! Plus, we made over $3,000 in sales and claimed about $600 in donations on our US tax returns. Starting a new life abroad with some extra cash was a great feeling.
If you want to save yourself thousands of dollars and a lot of paperwork, check out this step-by-step guide for moving abroad with only suitcases.
How to declutter before moving
#1: Check the customs policy for new residents
#2: Check airline baggage policies
#3: Make an inventory of everything
#4: Categorize items as Pack, Sell, Donate, or Store
#5: Figure out how much your stuff is worth
#6: Take photos of everything you want to sell
#7: List your stuff on Craigslist/Gumtree, Facebook, and other platforms
#8: Offer unsold items to friends and family
#9: Donate the rest
#10: Pack up your things
#1: Check the customs policy for new residents
You might think the first step in downsizing is to pick up everything you own and ask "Does this bring me joy?", but that would be a mistake. Before you start making plans on what to bring on your new adventure, you need to check out your destination's customs policy for new residents.
Specifically, keep an eye out for these two things:
Taxes
Banned and Restricted Goods
Depending on the country, you may be liable to pay taxes on the things you bring with you. In the UK, items that were owned for fewer than six months (excluding personal effects) were subject to value-added tax, even if you applied for a new resident waiver.
Every country will also have their own list of items that you aren't allowed to import. Guns, for example, are commonly restricted and sometimes prohibited. Importing "indecent material" is also widely banned in the EU, so sell those vintage Playboys before you move.

#2: Check airline baggage policies
This step is critical for three reasons. It'll inform what you can bring, how much you can bring, and the total cost of your luggage fees.
You're probably aware that you can't carry on safety hazards like chef's knives, but there are also restrictions on what you can put in your checked luggage.
Be sure to check the airline policy, as well as the aviation authority page for your departing country, like the US TSA's "What Can I Bring?" page. Airline security officers can and will remove items that are not allowed, and that's not something you want to discover when you've just arrived in a new country.
Every airline has their own rules and fee structures for luggage size, weight, and number. There may also be separate rules for "excess baggage", i.e. luggage that falls outside of your ticket's checked bag allowance.
You may have to do some digging on their website, or even call customer service, to find out this information. Write down the details or bookmark the page, because you'll want to refer back to this later.

#3: Make an inventory of everything
If you're wondering what to get rid of before moving cross county, this is where you should start.
Create a spreadsheet (I recommend using Google Sheets because you can access it from any device) with two columns: "Item Name" and "Location".
Then, walk from room to room, and write down everything you see and where it's located (ex. Master Bedroom, Coat Closet, etc.). Be sure to open up the closets, check inside drawers, and look in every storage bin.
This will also come in handy if you're selling your home before moving abroad.

For things like clothes, books, or kitchenware, it's enough to just jot down "dinner plates" or "cookbooks", unless there's something unique like an evening gown or a signed copy of a novel. I was not about to itemize my sock drawer in the midst of an international relocation!
Moving Abroad With Electronics
If your new country is on a different electric system, add another column called "Voltage". Use this to make note of the voltage requirements for all of your electronics.
You can find this information on the plug, or somewhere on the item itself (usually near where the power cord goes into it). It should say something like "110V" or "100-240V".
Many modern electronics accept a range of voltages and hertz, meaning you'll just need an adapter (I bought this one) or a new power cord to get them to work. I was able to bring my expensive Dyson vacuum and Roomba using this tip, which saved me a lot of money!
However, things with motors or heating elements, like blenders and coffee makers, are often designed to work only with the voltage and hertz of your home country (110/120V and 60 hertz in the US).
In theory, you can bring electronics even if they don't have the same voltage requirements as your destination, but you'll have to use a transformer or converter rather than an adapter. This will cause your stuff to wear out much faster, and you run the risk of electrical shortages and fires. Consider leaving these items behind when you downsize before moving abroad.
#4: Categorize items as Pack, Sell, Donate, or Store
Now that you have your master spreadsheet of everything you own, it's time to really downsize. Add a new column to your list called "Verdict". Go down the list and write either Pack, Sell, Donate, or Store in the Verdict column. You can always revise this later, so put down your gut reaction for now.
Use my moving abroad packing checklist as a starting point!
Here are a few tips to help you:
Consider the value of the item vs. how much space it will take up. I initially planned to bring some of our pots and pans, but it made more sense to replace them than to have them take up valuable luggage space.
It's best to store keepsakes with family or close friends if possible. We brought a few precious things, like an heirloom jewelry box and our wedding album, in our carry-on bags. You can never be certain with checked luggage.
Decor items, especially seasonal ones, are hard to sell. It's easier to donate them to friends, family, or charity.
It's probably more cost-effective to pack your clothes than to buy a new wardrobe. Just don't bring more than what you're likely to wear or be able to fit in your new place. Also, unless your items are high-end or designer, you're better off donating than trying to sell.
If you're struggling with how to purge before a big move…
Everyone has a different relationship with their personal belongings. Some people rarely form personal attachments to items, while others struggle to get rid of possessions they rarely use.
If you find yourself feeling sad or guilty about decluttering before moving, start with the easy items and save the emotional ones for last. When the time finally comes to part with sentimental items, give them a fond farewell by using them one last time and honoring the person or memory attached to them.
#5: Figure out how much your stuff is worth
Ok, it's time to get into the nitty gritty of how to get rid of stuff before moving!
For every item you marked to Sell, you need to assign it a price. Add another spreadsheet column called "Value". Use your own judgment for things like kitchenware, decor, and clothing.
For items like furniture and electronics, do a bit of research to figure out how much people will pay. Sites like eBay and Craigslist/Gumtree are really helpful for this. If you can't find your exact item when searching, be more general (ex. "55 inch LED TV" vs. "Sony Bravia 55 inch LED TV with mount").
#6: Take photos of everything you want to sell
Selling your stuff online is pretty simple, but it will go much faster with good pictures. You don't need to stage everything like a magazine photo shoot, but do consider the lighting and what's in the background.
Clean up the clutter, and use a neutral backdrop like a white wall when photographing objects. Once you've taken your photos, save them in a shareable album, like Google Photos.

#7: List your stuff on Craigslist/Gumtree, Facebook, and other platforms
Now that you have photos and prices, it's time to make some money! I mainly stuck to Craigslist (Gumtree in the UK) both times that I sold everything before a big move, and it's always worked out well.
If you are in a more rural area, you'll probably want to branch out and use other platforms that serve your community. Several friends recommended Facebook Marketplace for selling things quickly and hassle-free.
For high-value or niche items, eBay is probably a better option than Craigslist. I got a much better price on some vintage Gameboy games by selling on eBay than I would have locally.
Sites like thredUP and Poshmark are decent platforms for selling designer clothing. Consignment shops are another option, but they usually take a good chuck of the profit.
RELATED: Starting a New Life Abroad: 7 Things I Wish I'd Known
You can also consider bartering. For example, the lady who cleaned our home for the staging photos liked a lot of our furniture and kitchenware. I ended up trading her our mattress (which we were going to donate), bed frame, and some dishes for half off our move-out cleaning!
Finally, take steps to keep yourself safe:
Only take cash unless the platform has a built-in payment system.
Don't put your full address in the listing. Instead, use cross streets, or put the location where you want to meet.
If you decide to do a sale at your house/apartment, wait to tell buyers the address until they're ready to pick up your stuff.
Consider using a VoIP service like Google Voice to mask your phone number.
#8: Offer unsold items to friends and family
If your move date is drawing near and you still have stuff that's not selling, offer it to friends and family. You already have those photos, right? Send out a link to the album and ask people to email you what they want.
You can also do what my husband and I did, and bring a bin full of (good!) stuff to every family gathering that happens before you move.

#9: Donate the rest
We did several trips to our local Goodwill throughout the downsizing process, but you can also wait and donate everything at once.
If you don't have transportation or are donating large items, many charity shops have a pick-up service. They may not be able to come out right away, though, so don't wait until the week before you move to schedule the truck!
If you do have last-minute things to get rid of, you can do a Free Stuff post on Craigslist or Facebook. I did a Free Stuff post for the last random bits of stuff in our house, and it was all gone in an hour.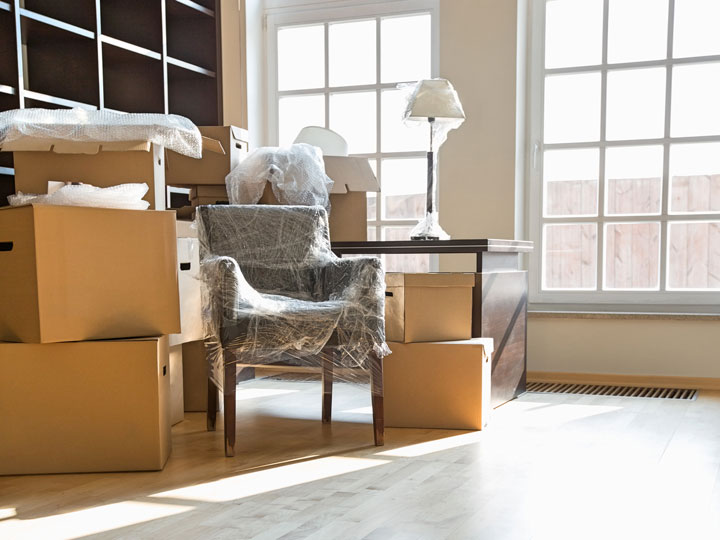 #10: Pack up your things
If you precisely followed these steps for how to declutter before moving, you should be left with only the things you're going to bring, and the stuff you'll be using right up until the last day (food, trash bin, etc.). Here are a few do's and don'ts for packing your belongings:
Do:
Buy heavy-duty storage bins (the kind with handles that lock the lid in place) and duffel bags that are as close to the max luggage dimensions as possible. A small backpack and a large suitcase will both cost you the same amount in excess baggage fees.
Keep valuables, important documents, and delicate electronics in your carry-on luggage.
Use every nook and cranny available. Get creative with how you pack things into your boxes and bags.
Pay for your excess bags ahead of time if you can. Once you've finished packing and have a final baggage tally, go into your flight reservation and update your bag total.
Don't:
Skimp on packing material. Wrapping some things in clothing is fine, but for electronics or fragile items, use bubble wrap as well.
Use cardboard boxes or other flimsy materials, as they will likely get destroyed in transit.
Put anything in checked baggage that would be devastating to lose.
Forget to weigh your luggage. Best case scenario for overweight luggage, you'll get charged an additional fee. Worst case, they will refuse any luggage that's over the limit, and you'll be stuck at the airport trying to sort out what to do.
Phew, that was an epic post for an epic process. It may seem like a lot, but you'll be glad to start your next adventure with less stuff and more money in your pocket.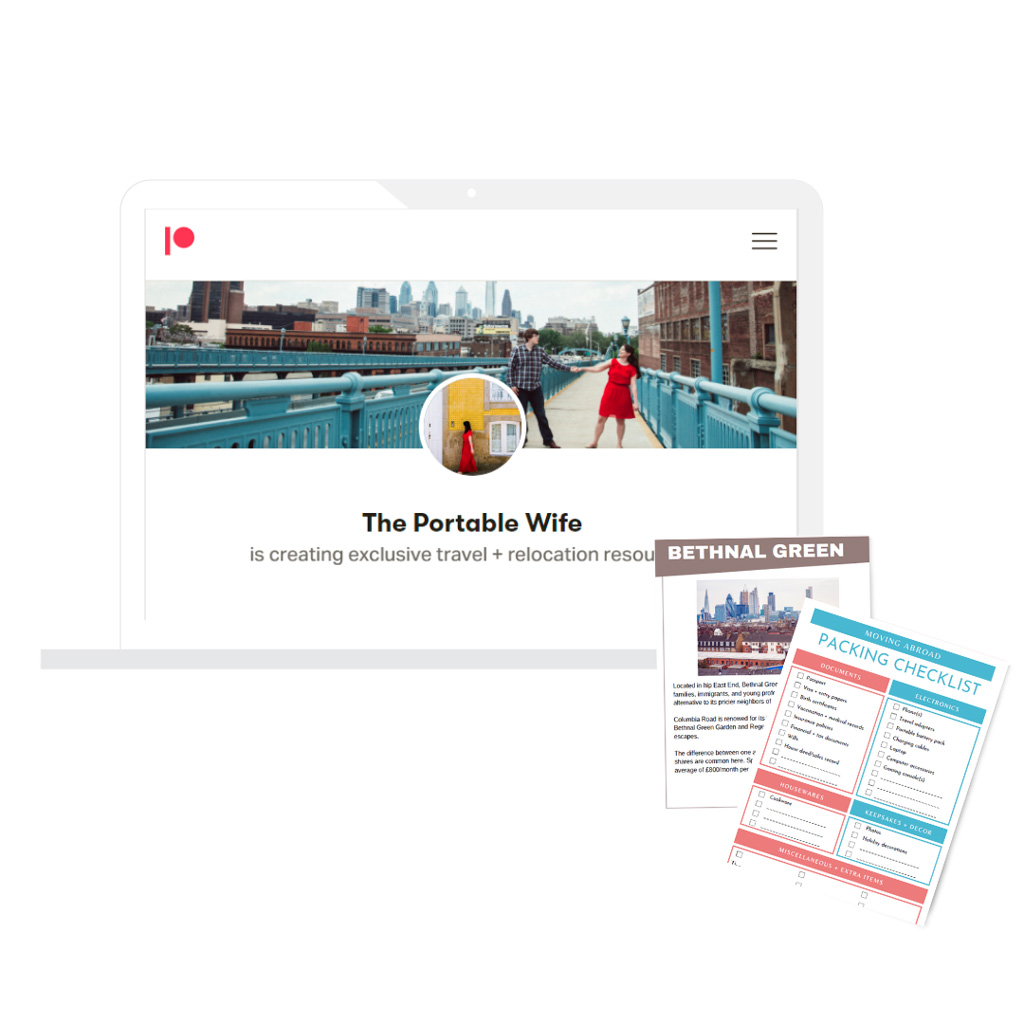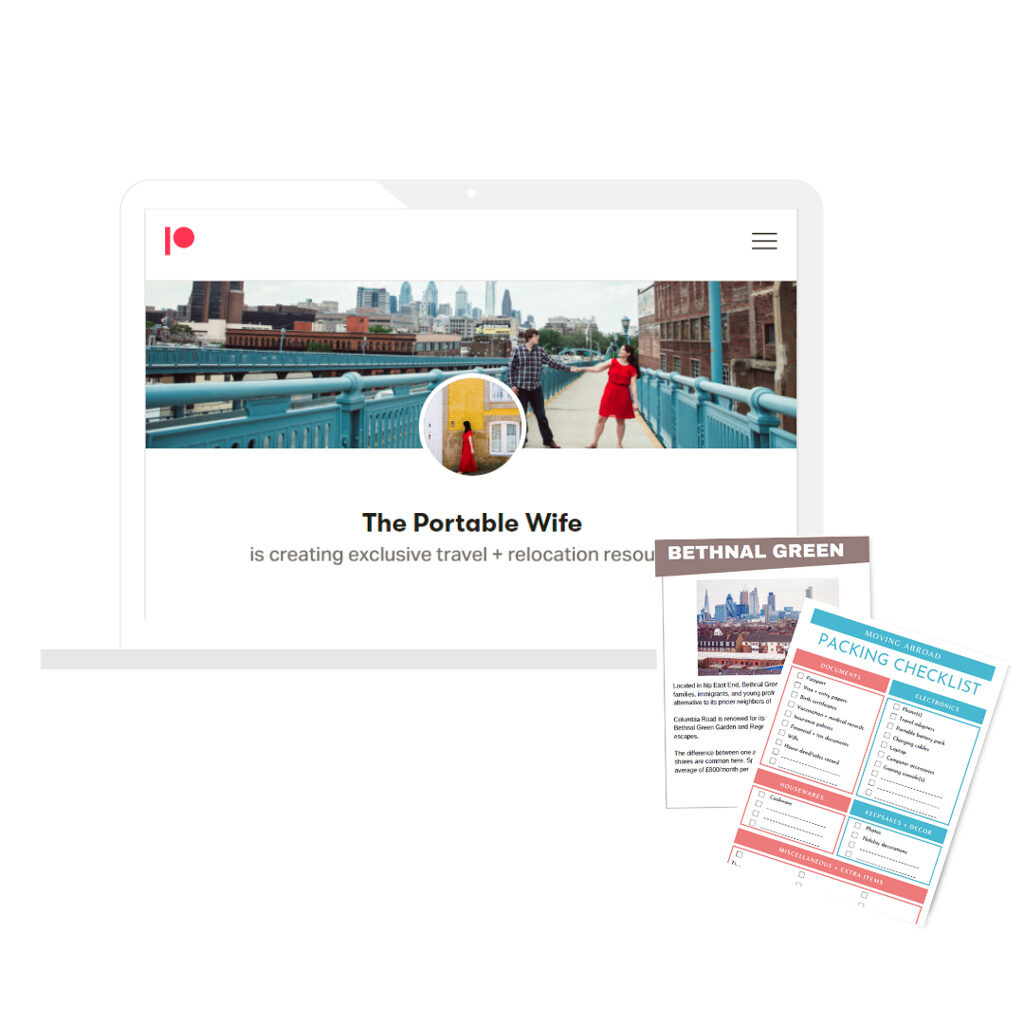 Want more travel + relocation tips?
Become a member of my Patreon group for exclusive access to my resource library, including:
Printable packing lists for moving + travel
Money-saving tips
Insider travel guides
And much more