If you had asked me five years ago how to spend 10 days in Japan, I would have given the same boring answer everyone else does. A few days each in Tokyo, Kyoto, and Osaka, with maybe a day trip thrown in. Luckily, I've explored a lot more of the country since then, and I'm here to share an alternative 10 day Japan itinerary.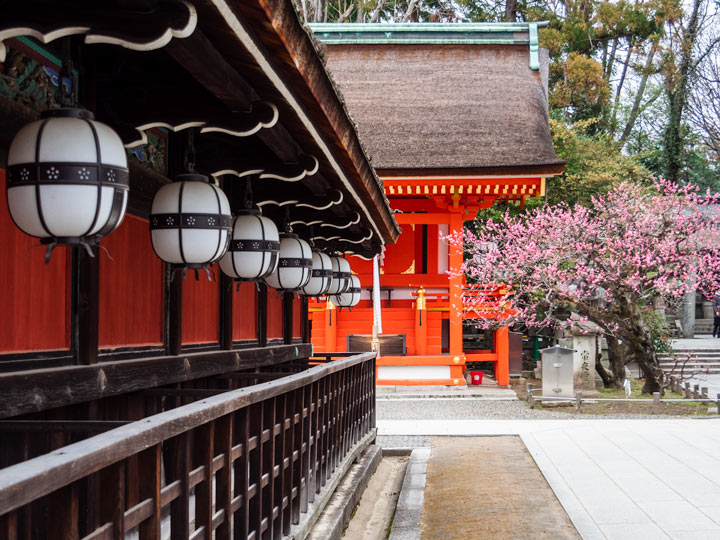 Don't let the title fool you: this guide still covers all the must see places in Japan, from ancient temples to flashing billboards. But instead of strictly sticking to the traditional "Golden Route", you'll take a few detours to explore samurai towns, visit hot springs, and marvel at Mount Fuji.
This post contains affiliate links. As an Amazon Associate, I earn from qualifying purchases. My stays in Shizuoka and Kyoto were both hosted as part of a press trip. For more information, click here.
Table of Contents
Don't Forget Your Japan Rail Pass!
Buying a Japan Rail Pass will save you a ton of time and money during your ten days in Japan.
I've purchased a JR pass for two out of three Japan trips, and here's why:
– Free bullet trains and reservations: Quickly travel all over Japan to maximize vacation time.
– Easy to use: Just show your pass to the gate attendant and walk to your train!
– Affordable day trips: Visit popular places like Nara, Lake Biwa, and more without spending a fortune.
There are passes for 7, 14, and 21 days. Here's how to decide whether to buy the 7 or 14 day pass:
– If you're flying round trip out of Tokyo, you should buy the 14 day pass to cover your return trip from Kyoto.
– If you're flying into Narita, I also recommend the 14 day pass so that you can take the Narita Express into Tokyo without paying 3,000+ yen.
– If you're flying into Haneda and out of Kansai International, it's cheaper to buy the 7 day pass and request to start it on day 3. You can still pick up the pass as soon as you arrive in Japan. Just tell the attendant you want the activation date to be whatever date you leave Tokyo for Nagano.
And here's a pro tip: you can make all of your shinkansen reservations when you pick up your JR pass. It's a great way to save time and ensure you always get a seat.
10 Day Japan Itinerary
Days 1-2: Tokyo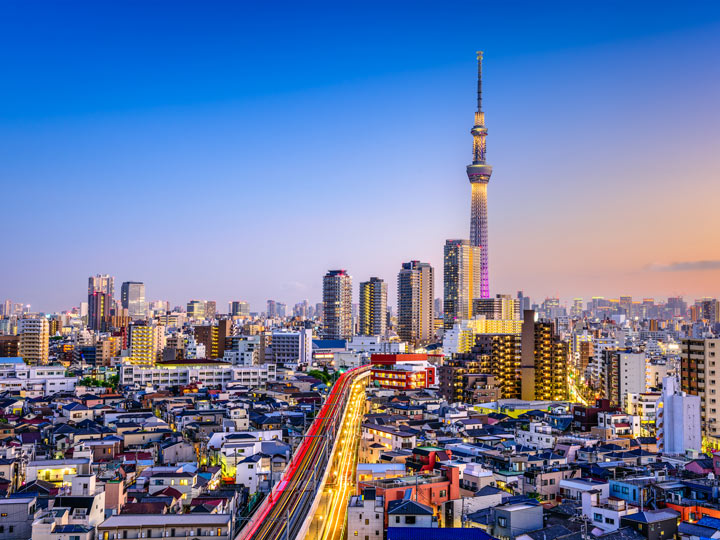 Day 1
Shibuya Crossing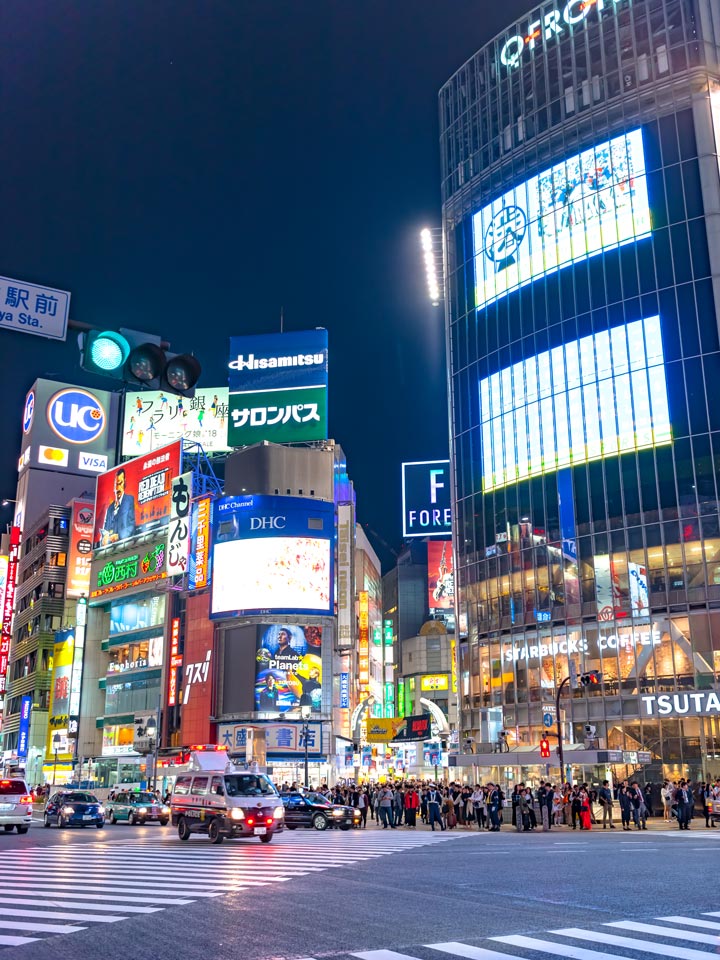 Shake off that jet lag with a visit to Shibuya Crossing, one of the world's busiest intersections. Take the subway to Shibuya Station and head upstairs to the Starbucks, where you'll have an overhead view of all the action.
This area is chaotic nearly 24/7 with a mix of pedestrians and cyclists making their way through the zebra crossings, so keep your wits about you when trying to snap a ground-level photo. That being said, it's worth taking a few passes through the intersection to really absorb the different angles and flashing billboards. It's the kind of place that'll make you say "ah, I've arrived in Japan!".
Shibuya Sky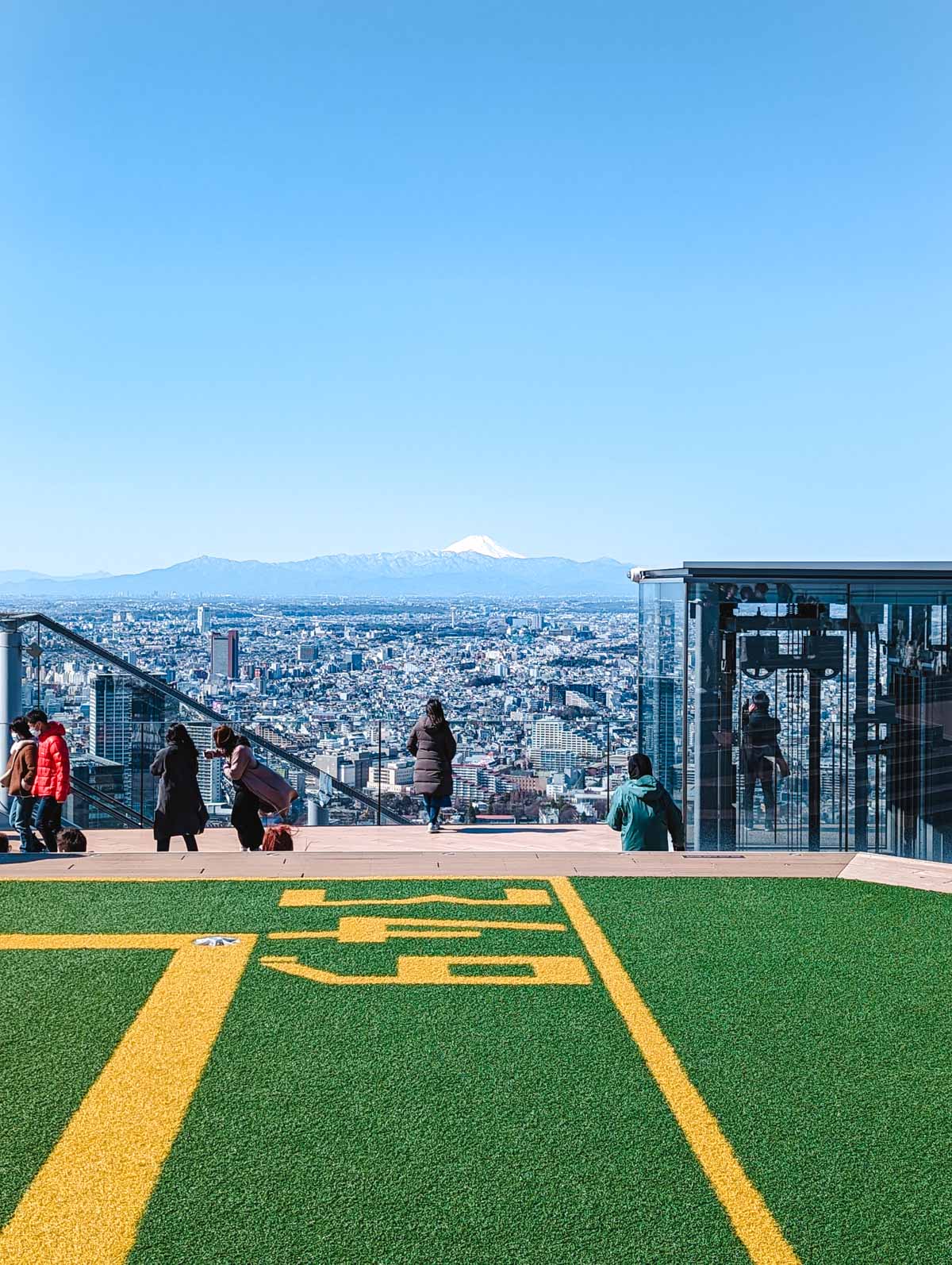 The first time I spent 10 days in Japan, Shibuya looked very different with far fewer tall buildings and sprawling shopping complexes. Today, the district is positively stacked with stores, restaurants, and entertainment thanks to places like Shibuya Stream and Shibuya Scramble Square.
One of the area's newest popular attractions is Shibuya Sky, a three-storey observation area located on floors 45-46 plus the rooftop of Shibuya Scramble Square. Thanks to its central location, high altitude, and 360 degree views, Shibuay Sky handily takes the crown as the best places for panoramic views over Tokyo.
On a clear day, you can see Mt. Fuji in the distance, and it's become a popular spot to watch the sunset in Tokyo.
To ensure you don't get stuck waiting in line for an entry ticket, I highly recommend buying your timed entry tickets in advance. You'll get a QR code emailed that you can show on your phone for fast entry.
While there are plenty of signs directing visitors to the right elevators for Shibuya Sky, you should know that you need to take one of the elevators on the 1st or 2nd floor on the exterior of Shibuya Scramble Crossing in order to reach the 14th floor where the Shibuya Sky entry gates are. From there, you'll be directed to another elevator that goes directly up to Shibuya Sky.
Once you're up there, the views are absolutely incredible. And in true Japanese style, there are organized queues at a couple locations to snap photos with no people in the background.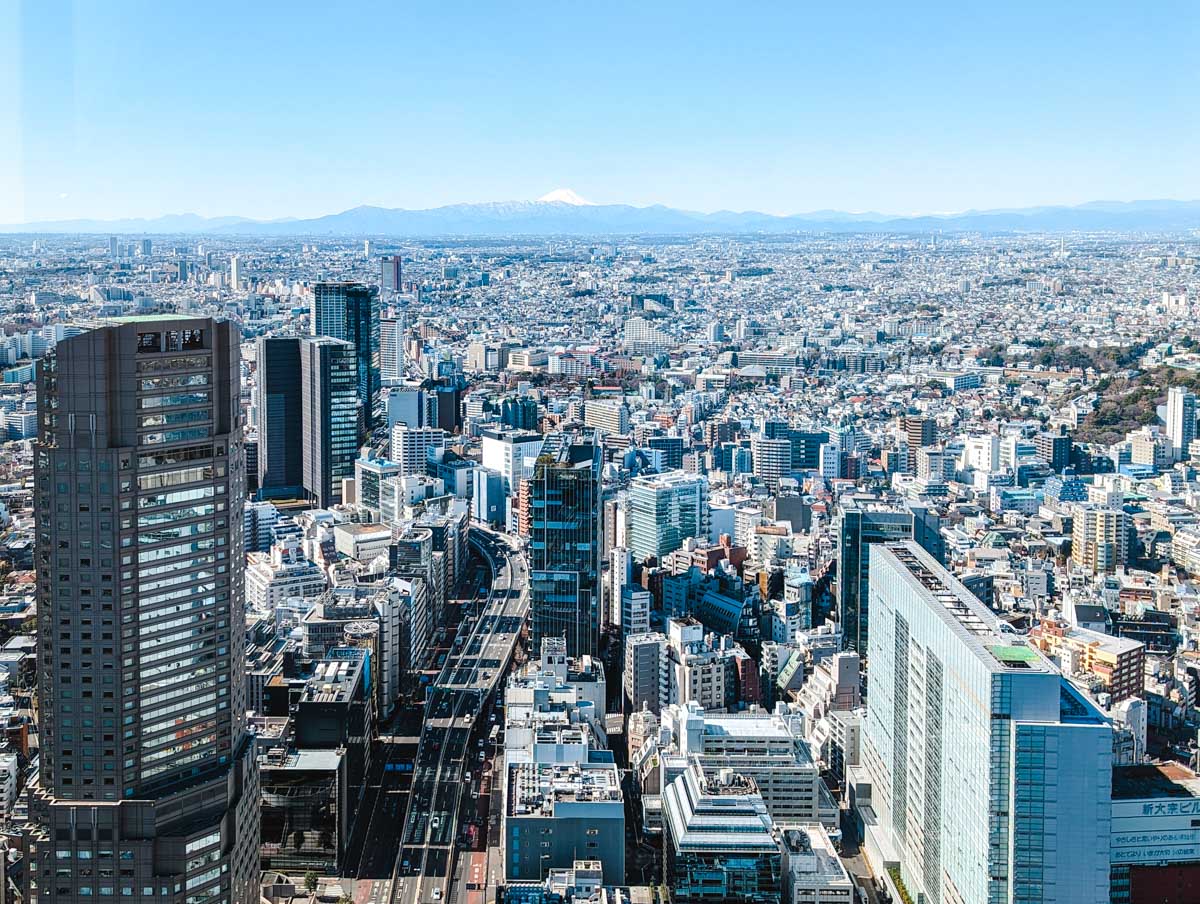 Don't skip past the interior floors either! You can get great views over Shibuya Crossing, enjoy a drink from the bar and cafe, shop for Shibuya-themed souvenirs, and partake in some interactive exhibits before heading back down the elevator.
84Cafe (Secret Nintendo Bar)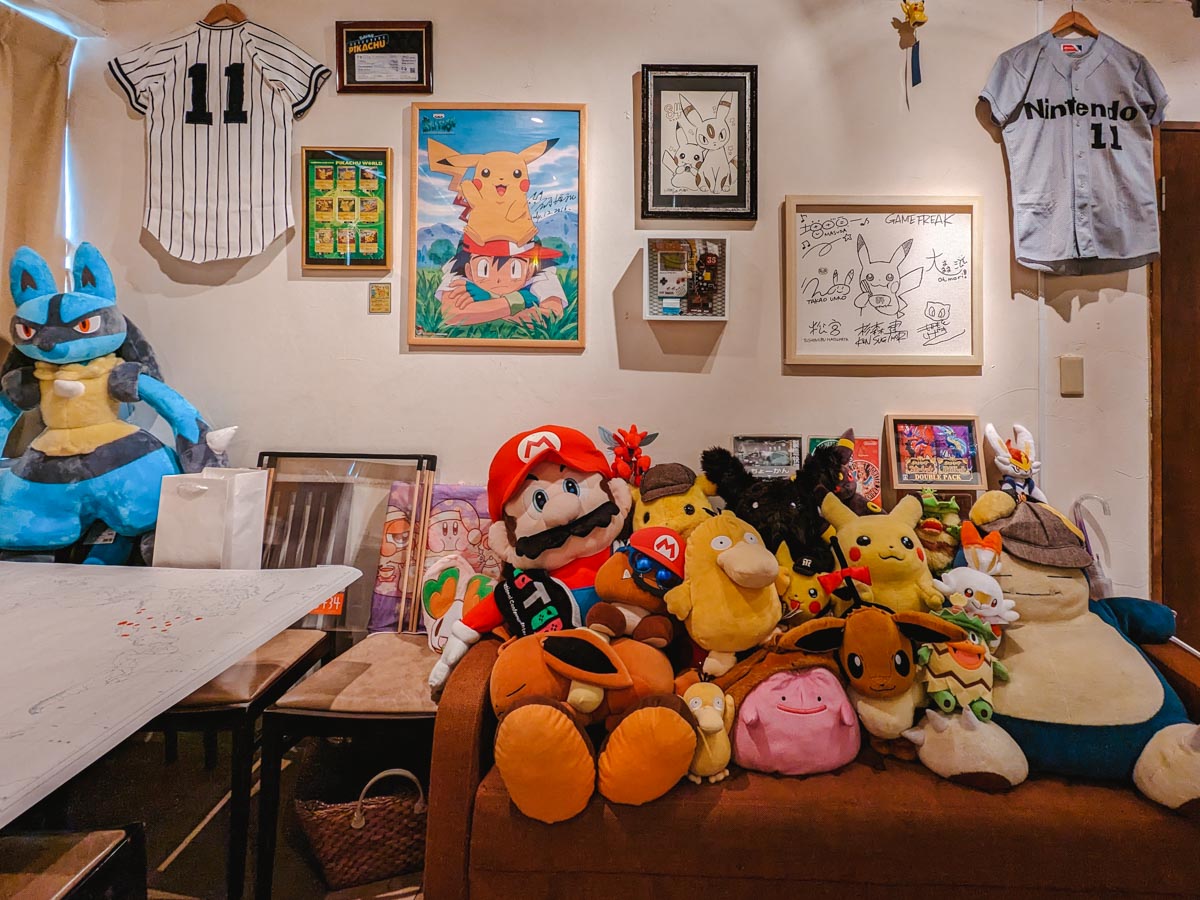 My visit to 84 Cafe–a.k.a. the "secret Nintendo bar"–will live among my top travel memories of all time. Anyone who grew up with Nintendo's games (or still playes them today!) needs to make this a non-negotiable in their 10 day Japan itinerary.
84 Cafe started out as a private space for Nintendo staff to kick back, relax, and enjoy each other's company. Relics from visitors like Koji Kondo and Chokan, the cafe's owner (real name Toru Hashimoto), cover the walls, furniture, and even the ceiling. Everywhere you look, there's another new autographed sketch or rare video game box to take you down memory lane.
In 2022, Chokan opened the space to the public, so we can all bask in the nostalgia and get the inside scoop of what it's like to work at Nintendo and develop some of its most iconic games. He worked on some of my favorite childhood games including Yoshi's Island, Pokemon, and Hey You, Pikachu!, so I had tons of fun chatting with him.
Because the cafe's location is a secret and it's a place best explored with no spoilers, I won't go into many more details here. In order to access the cafe, you'll need to make a reservation online (with advance payment). Bookings are 90 minutes long and come with free Japanese snacks and a drink.
Thankfully, you don't need to worry about stumbling about Shibuya looking for the place or not being able to communicate in Japanese. After your reservation is confirmed, you'll be emailed a meeting spot and time where your English-speaking guide will escort you to the cafe and help translate between you and Chokan.
Shibuya Shops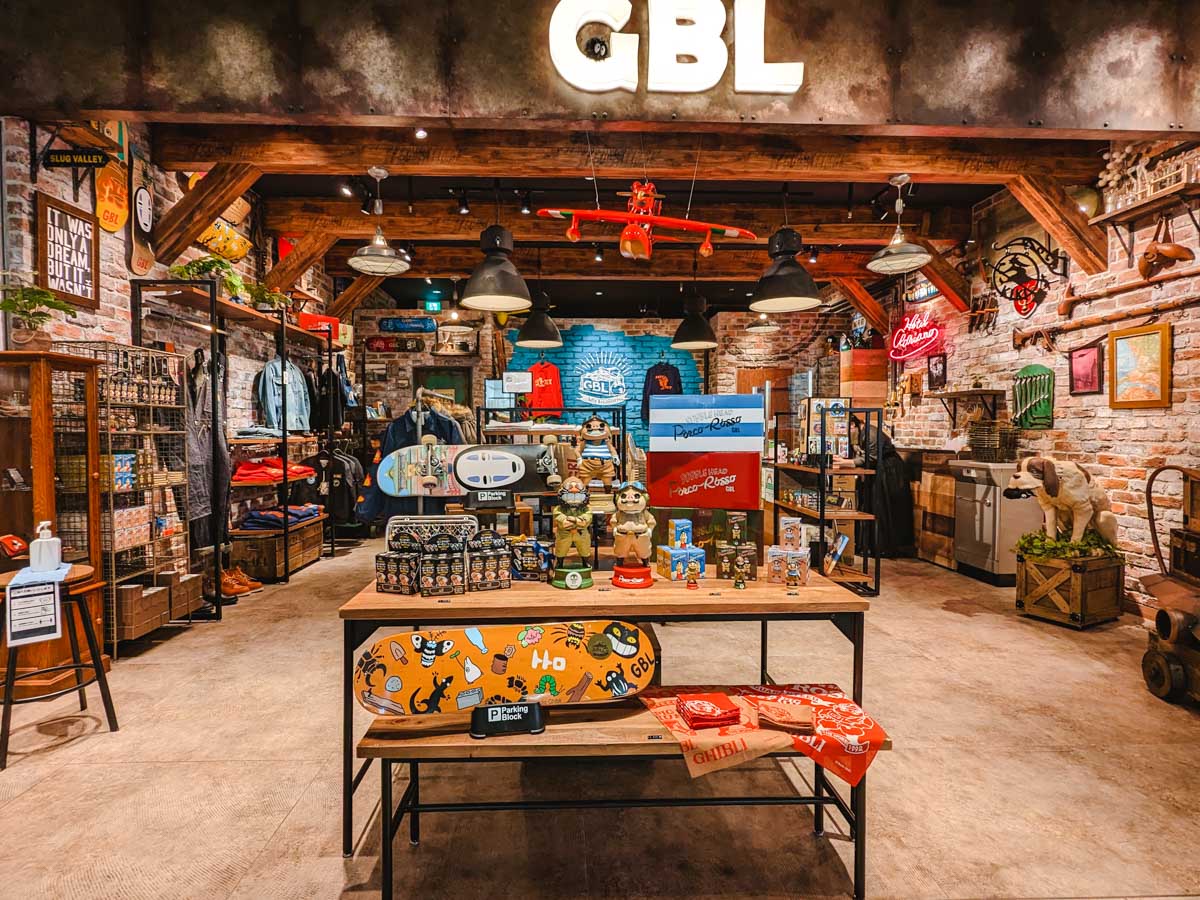 As mentioned earlier, Shibuya is best known for its abundance of stores that carry everything from high fashion to anime-themed merchandise. You can easily spend a whole day browsing and buying your way across town, but to keep this 10 day Japan itinerary on track, I suggest limiting yourself to Shibuya Loft and Miyashita Park.
Ghibli fans and stationary/organization lovers need to check out GBL and HIGHTIDE in Miyashita Park, while Shibuya Loft is a department store with a trendier, cooler vibe than that of Parco or Isetan. Both locations have loads of cafes and restaurants where you can grab a bite to eat before heading to the next destination.
Yoyogi Park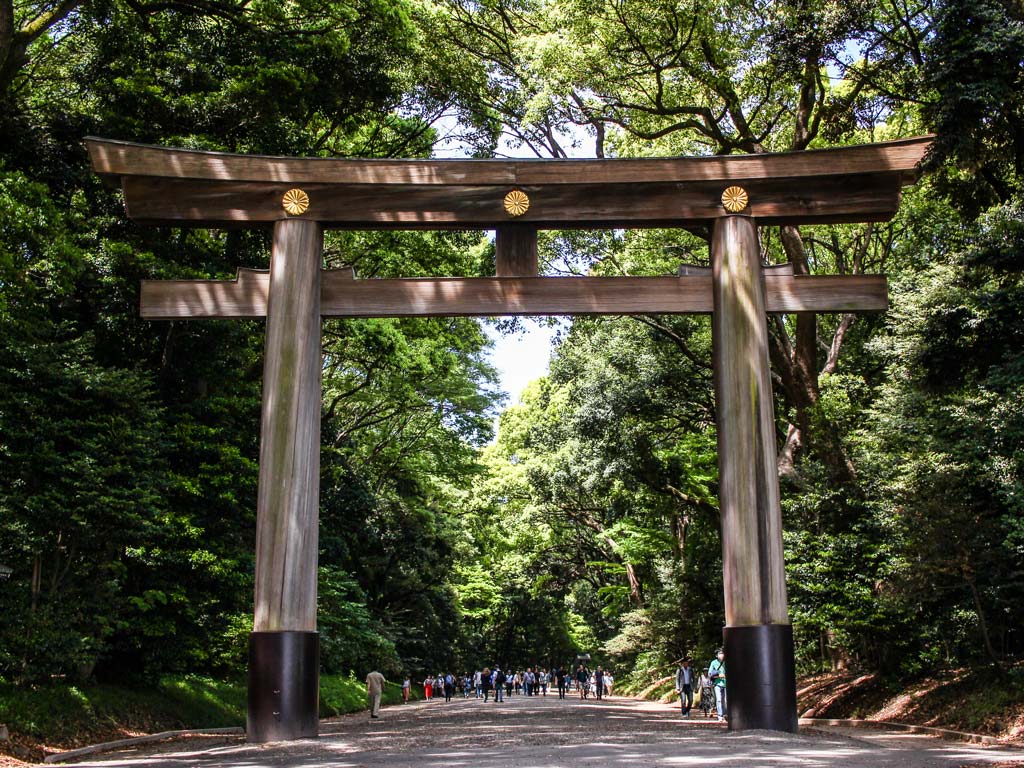 For a calming change of pace, take a stroll around Yoyogi Park. Located less than 10 minutes' walk from the Scramble, a quiet walk through these shaded pathways is the perfect palette cleanser from the hectic streets of Shibuya.
Inside this magical, tree-filled green space lies Meiji Jingu, a large shrine complex with a famous iris garden that blooms in June. You'll also find the much-photographed wall of ceremonial sake barrels not far from the shrine's entrace.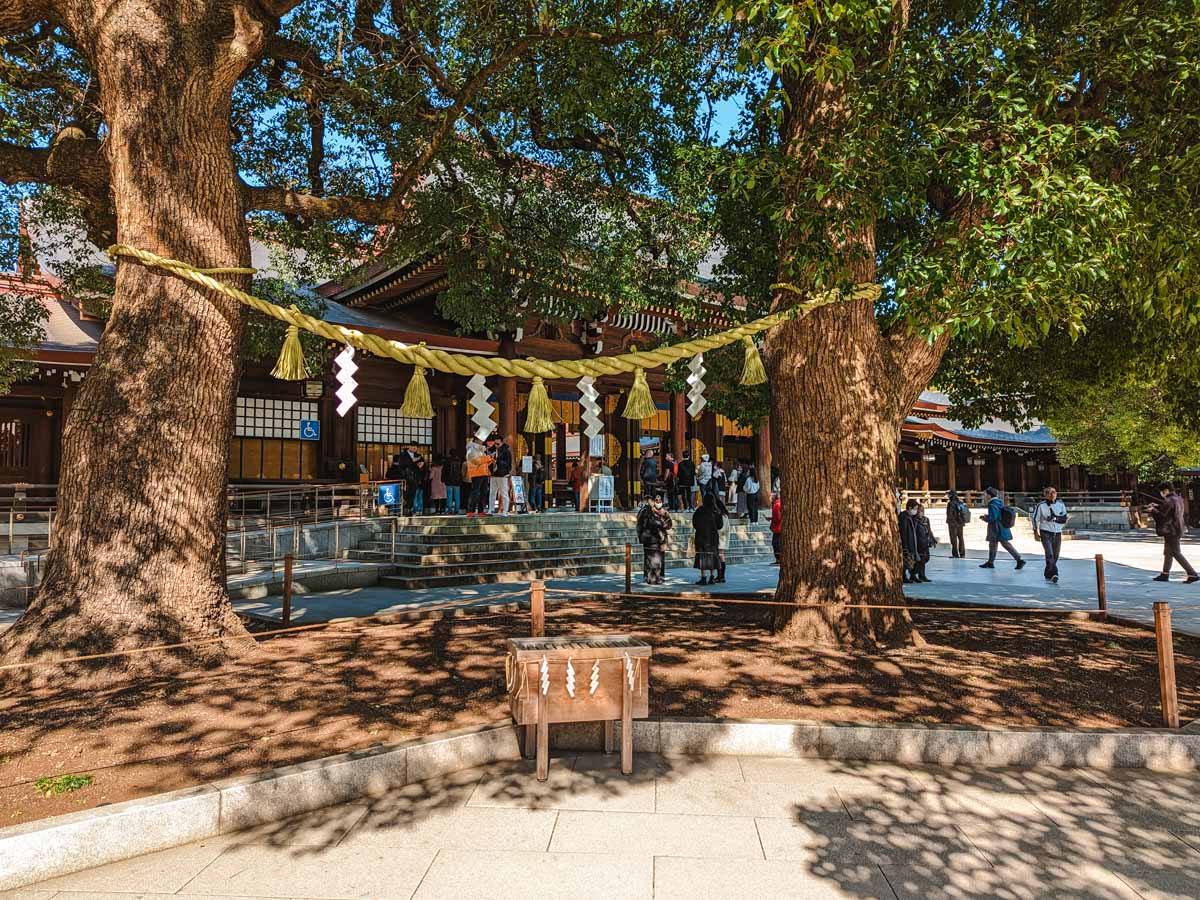 The Meiji treasure house and annex stores kimonos and personal effects of current and former royal family members. You can go inside for 500 yen. There's also the inner garden, where irises bloom in late June (also 500 yen admission).
However, it costs nothing to pass through the main complex and it's a must-see while in Tokyo.
Harajuku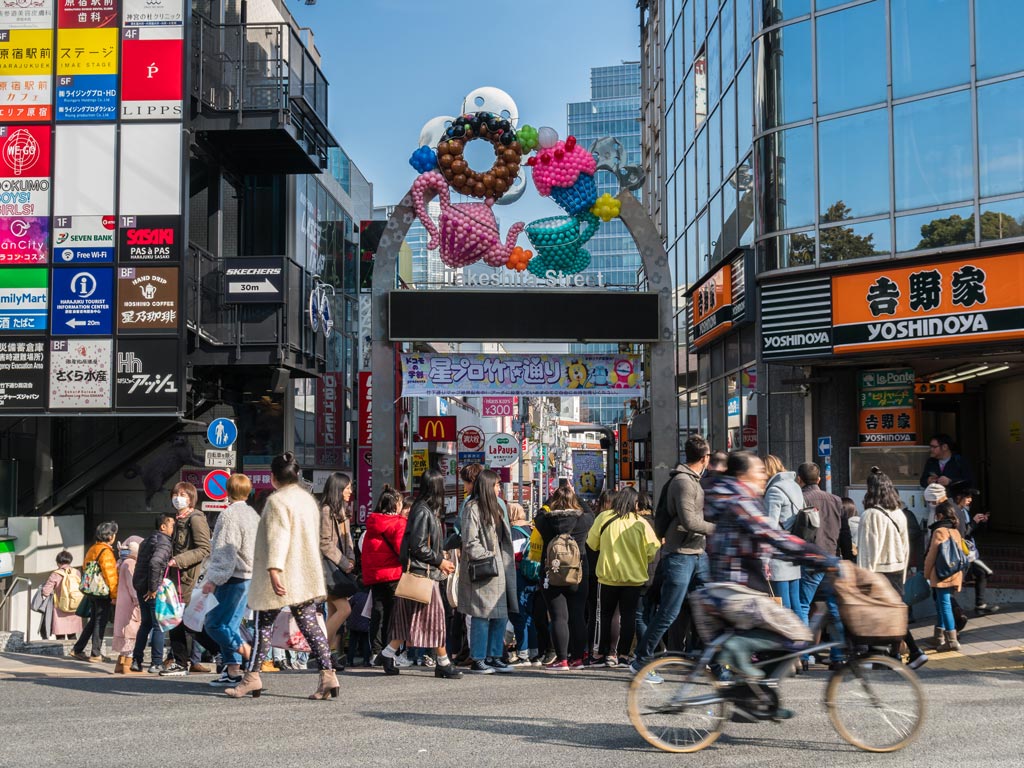 Jump back into the bustling city life in Harajuku, Tokyo's epicenter of all things cute and cool. Takeshita Dori is famous for eclectic shopping, like anime pencil cases and over-the-top Lolita dresses.
The main street can be extremely overwhelming if you aren't used to crowds, so don't be afraid to slip away down one of the connecting alleys. In fact, these side roads are home to some of the best boutiques and thrift shops in Harajuku.
Be sure to enjoy a sweet crepe at Angels Heart before moving on (I recommend the strawberry and chocolate).
Shinjuku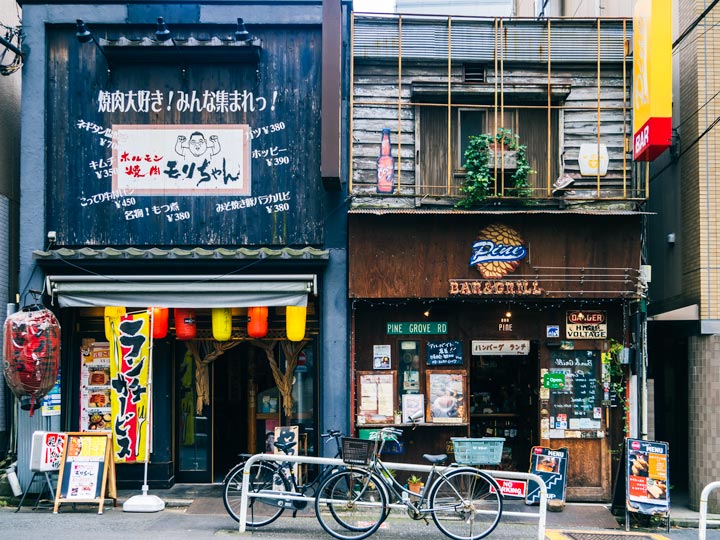 From Harajuku Station, take the subway to Shinjuku, where people flock for shopping and nighttime entertainment options. Full of flashing billboards and upbeat music bursting from arcades and bars, Shinjuku feels like the beating heart of Tokyo.
But before you get sucked into the maze of streets, head to the Tokyo Metropolitan Government Building for amazing and free views over the city. You can access the observation decks via the 1st floor elevator, though be prepared for a short-ish queue depending on the day and time of your visit.
Afterwards, walk back towards Shinjuku Station and keep going east. You'll soon reach Shinjuku Park, a massive green space in the heart of Tokyo.
Pay the 200 yen admission fee and wander the numerous garden paths, which are lined with cherry blossoms in the spring. There's also a greenhouse, Chinese garden, and an open field with great views of the city skyline.
Omoide Yokocho, Golden Gai & Kabukicho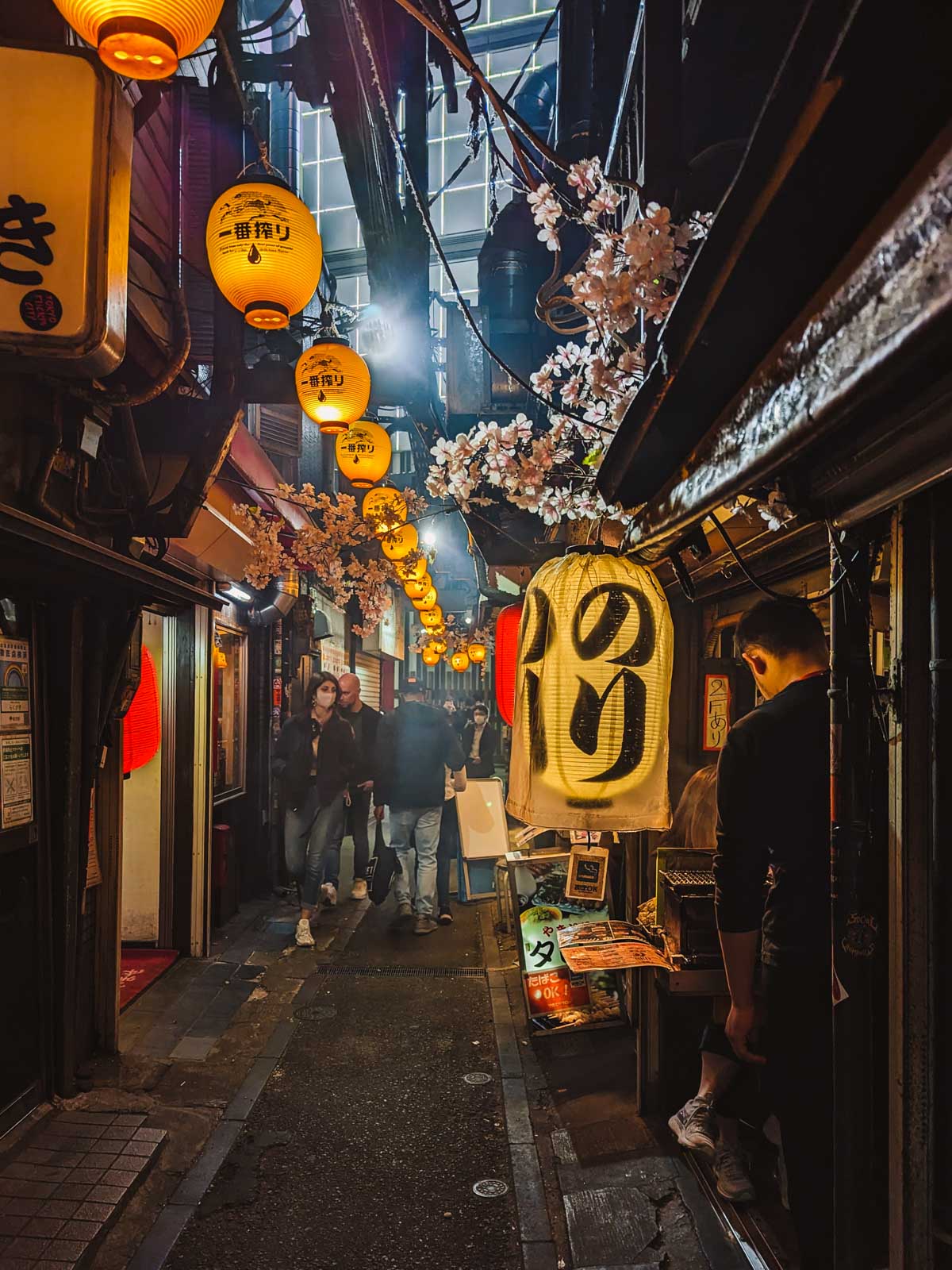 At this point, it should be close to dark, and that's when Shinjuku comes alive.
Tucked away next to the tracks of Shinjuku Station, Omoide Yokocho is one of the coolest places you'll visit during this 10 day Japan itinerary. Meaning "Memory Lane", this lantern-lit alley is jam-packed with tiny izakaya (Japanese pubs), yakitori shops, and watering holes.
I loved peering into the restaurants through the hazy coal fire smoke. It felt like a place stuck out of time.
From Omoide Yokocho, head east to reach Golden Gai, the seedier and more famous cousin of Omoide Yokocho.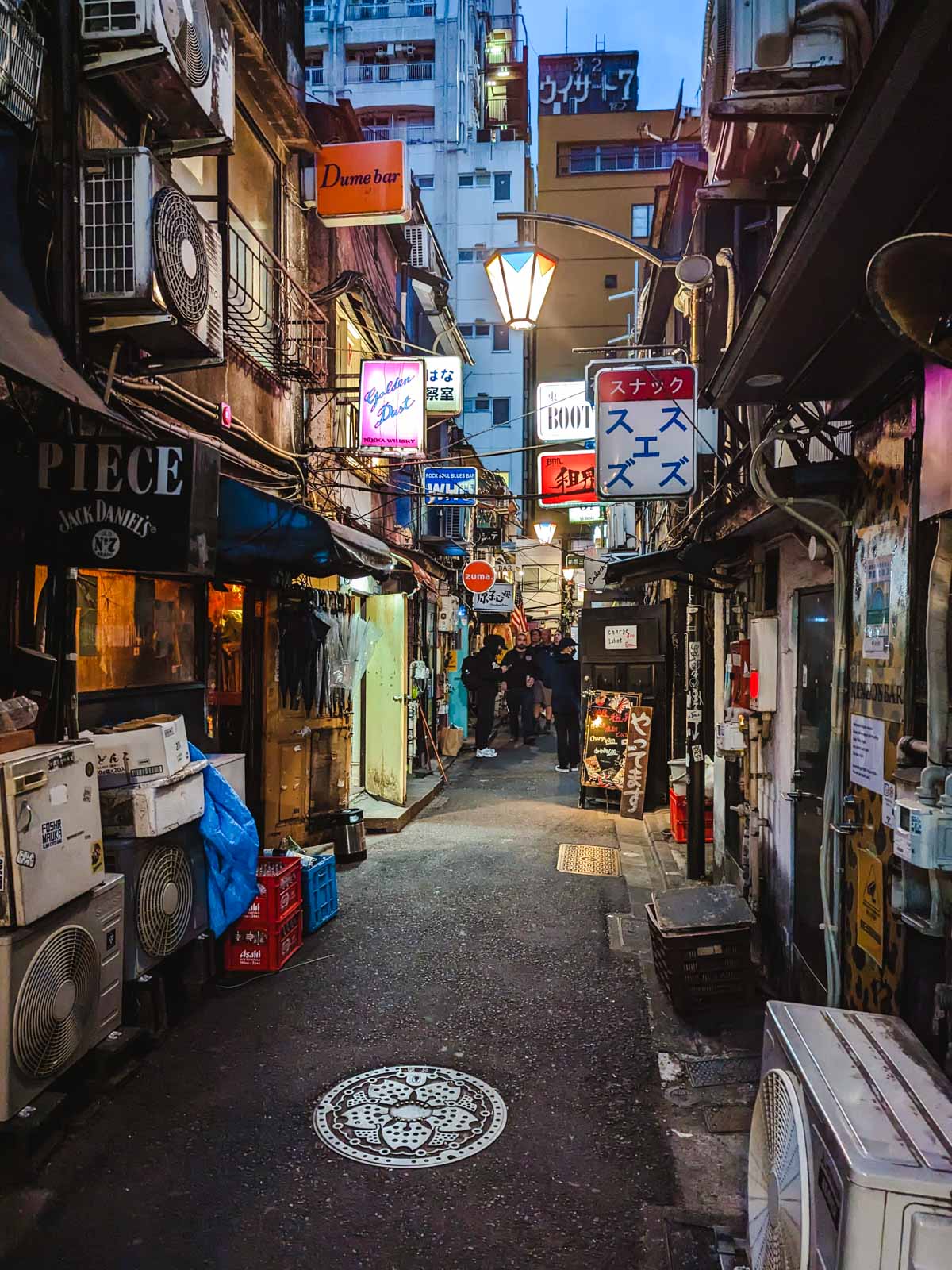 Though it's a cool place to walk around, I don't recommend going inside any bars without a guide. It's one of the few places in Japan where foreigners are often overcharged, and some places only allow Japanese patrons.
Instead, book a Golden Gai tour with a local who can help you get an authentic Shinjuku experience.
Wrap up the night at the infamous Kabukicho, Tokyo's "red light district". You'll find endless streets of hostess clubs, love hotels, and karaoke bars beneath the flashing lights. Despite its reputation, Kabukicho is perfectly safe and plenty of fun if you stick to the private karaoke rooms and stay out of the clubs.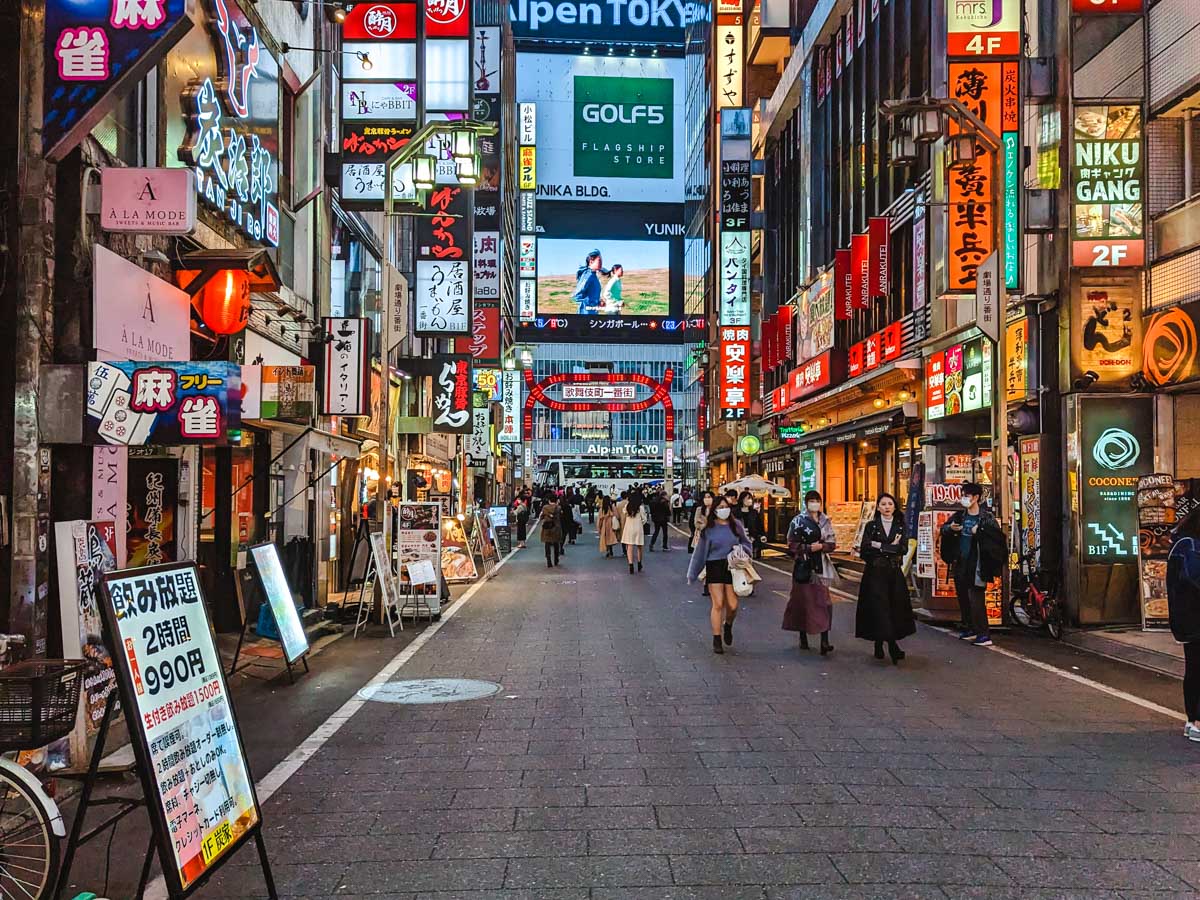 Day 2
Tokyo Tower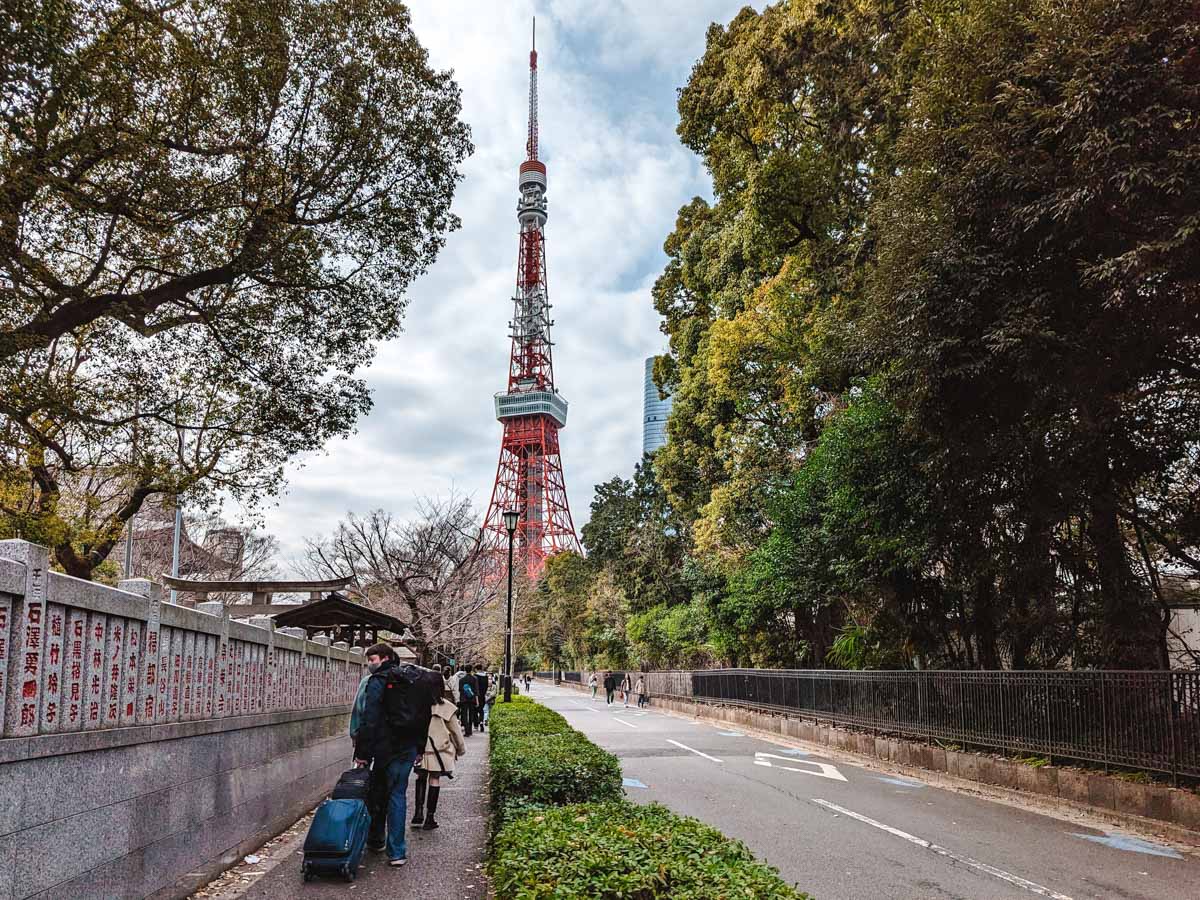 Day two of this 10 day Japan itinerary kicks off at Tokyo Tower, one of the city's most iconic landmarks. Considered the Eiffel Tower of Japan, the red and grey structure serves as a radio tower, observation deck, and nighttime illumation complete with color changes according to the season.
Given that you'll have seen Tokyo from above twice already (with the potential for a 3rd viewing later today), you can skip the paid observation deck and instead stroll around Shiba Park and Zojo-ji. Dating back to the 1600s, Zojo-ji's beautiful red temple and main gate look particularly cool amid the backdrop of modern Tokyo Tower.
Hie Shrine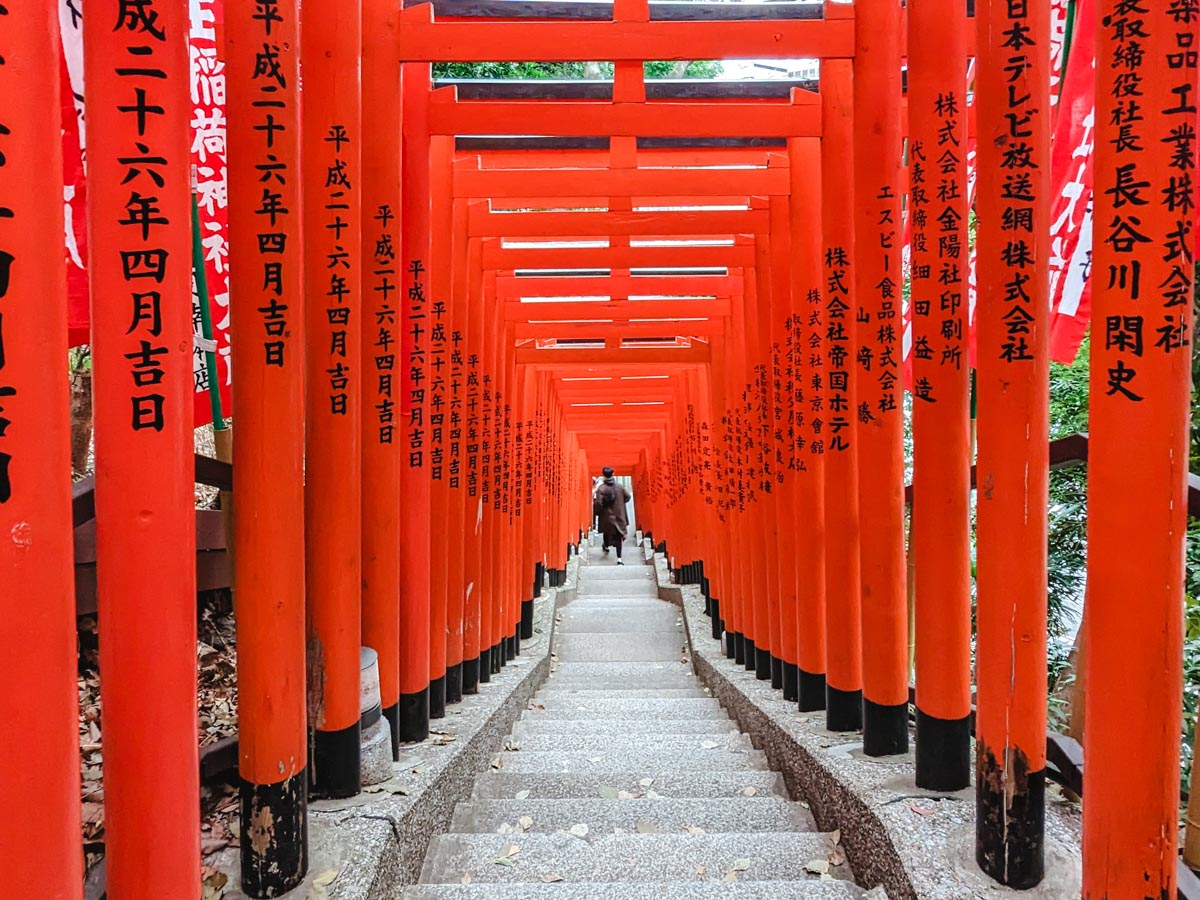 Want the experience of passing beneath hundreds of torii gates without the crushing tourist crowds? Tokyo's Hie Shrine is the answer.
There are a few ways to reach the shrine via metro from the Tokyo Tower area, but you can easily access the shrine from all of the nearby stations (the south side even has an escalator!). The torii are located on the southwest side, but I find that the view from the top of the shrine looking down the stairs (pictured above) is better than the view from the street level.
Said to enshrine the guardian diety of Tokyo, Hie is among the city's most important places. People also come here to pray for business success, and it's common to see dozens of well-dressed men and women milling about the complex during lunch and after the work day ends.
Imperial Palace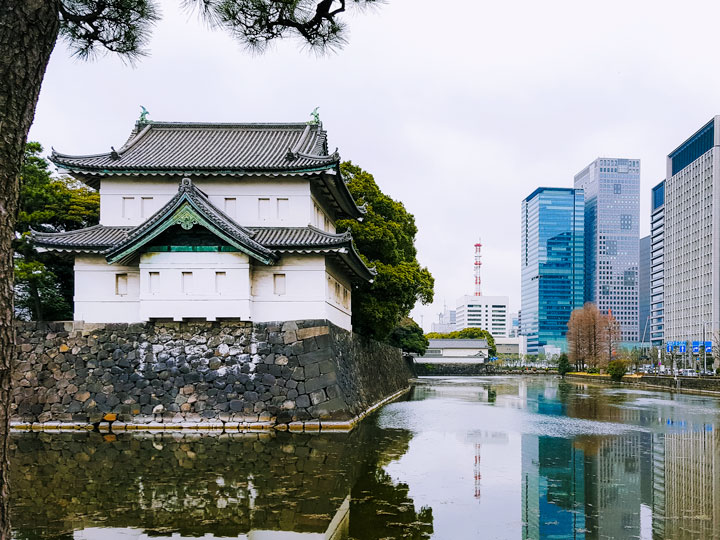 Next, take a brief walk northeast Tokyo's Imperial Palace, where the city's iconic mix of old and new architecture is most apparent.
The Tokyo Imperial Palace serves as the official royal residence of Japan, thus the palace itself is only open one day a year. However, you can check out the Kokyo Gaien National Garden on the complex's east side any time for great views and a peaceful atmosphere.
Akihabara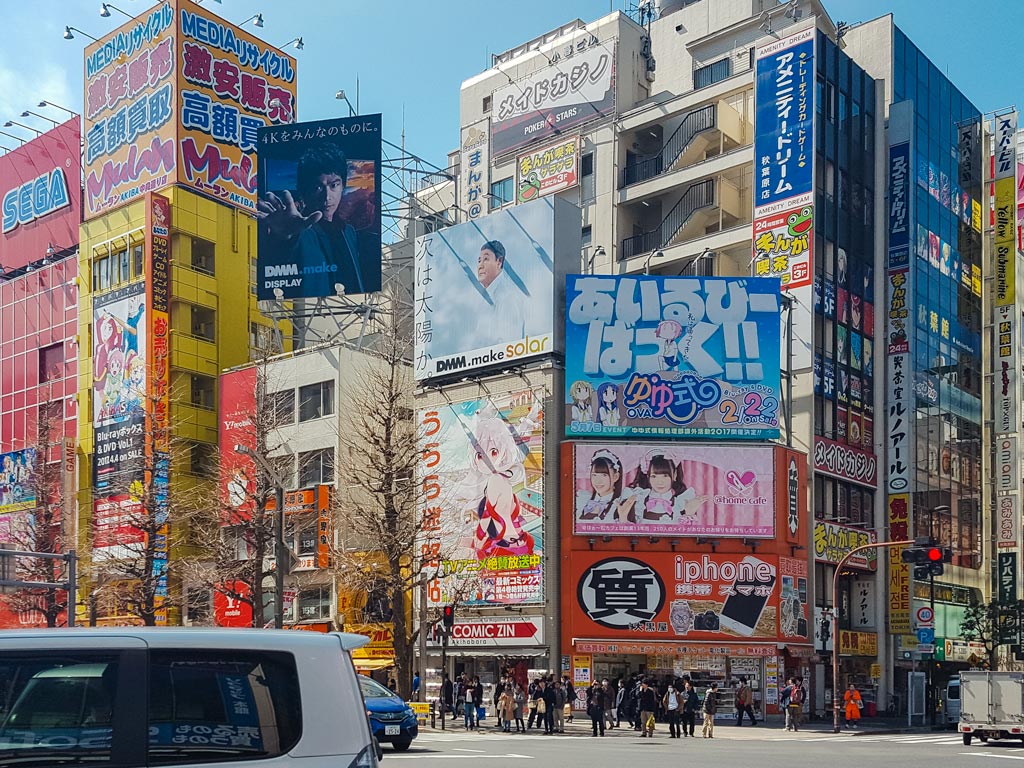 After exploring the gardens, walk over to Tokyo Station and catch the Yamanote Line to Akihabara Station. It's time for anime billboards, arcades, and otaku culture in Akihabara, Tokyo's Electric Town!
Pop into Super Potato for retro gaming collectibles, Don Quijote for funky and affordable souvenirs, and TAITO Station for multiple floors of arcades and crane games.
Grab lunch from a street food vendor (taiyaki and takoyaki are always good options), or visit a maid cafe for an over-the-top dining experience you're sure to remember.
Akiba is also a great place to shop for manga. Animate and Mandarake both have large collections, though most copies are in Japanese.
Even if you aren't into otaku culture, it's still a must-see area when visiting Tokyo.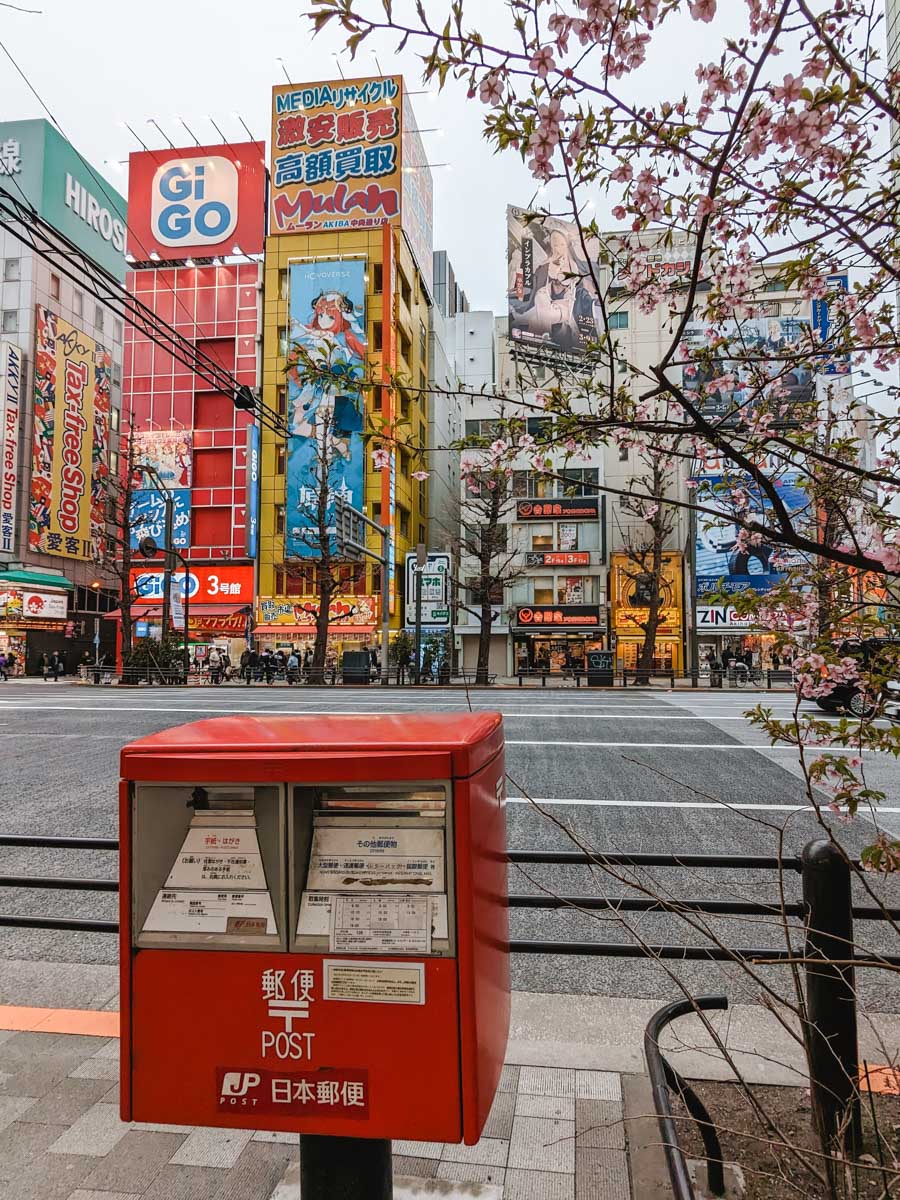 Before you head to the next neighborhood, take a slight detour west to pop into Kanda Myojin Shrine, one of my favorites in the city. The 400-year-old site with its manga-themed ema (wooden prayer votives) are yet another example of Japan's juxtaposition of old and new.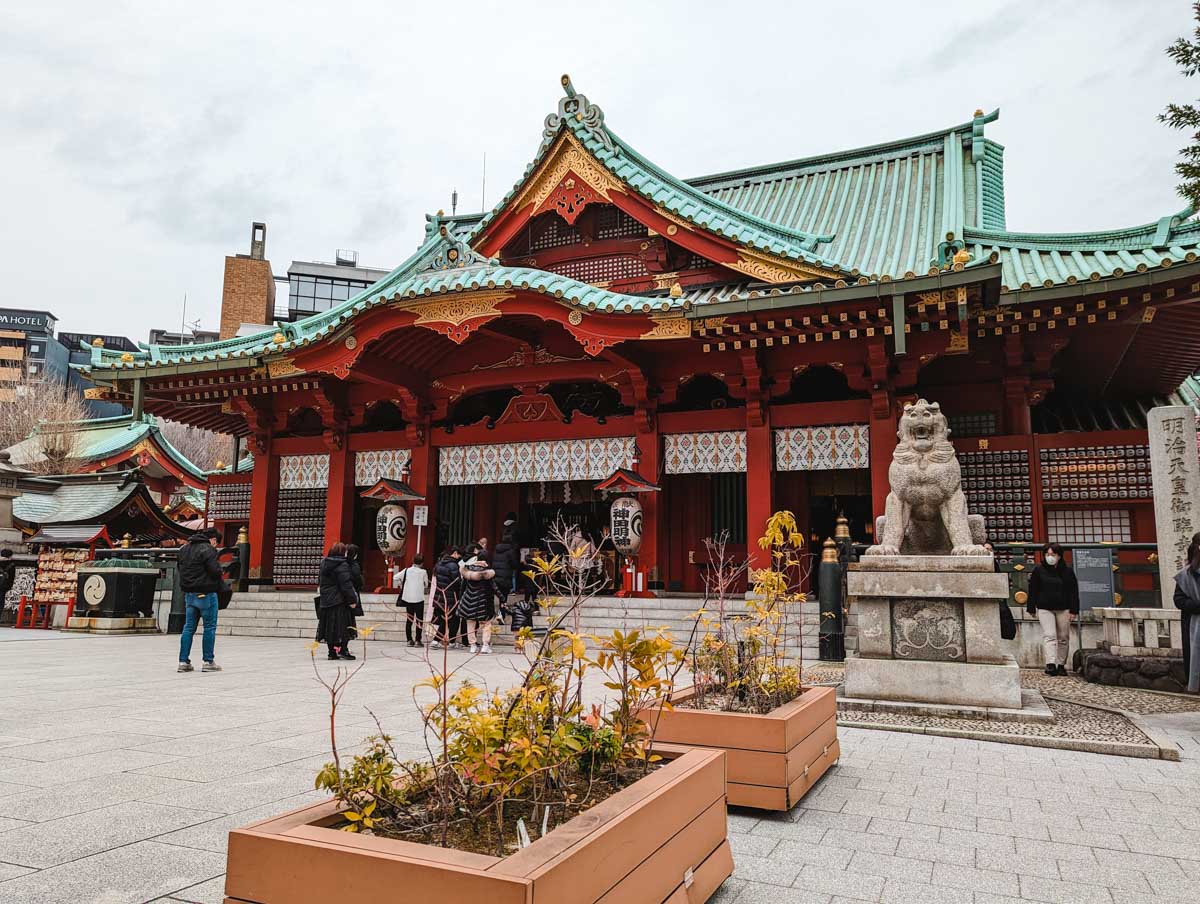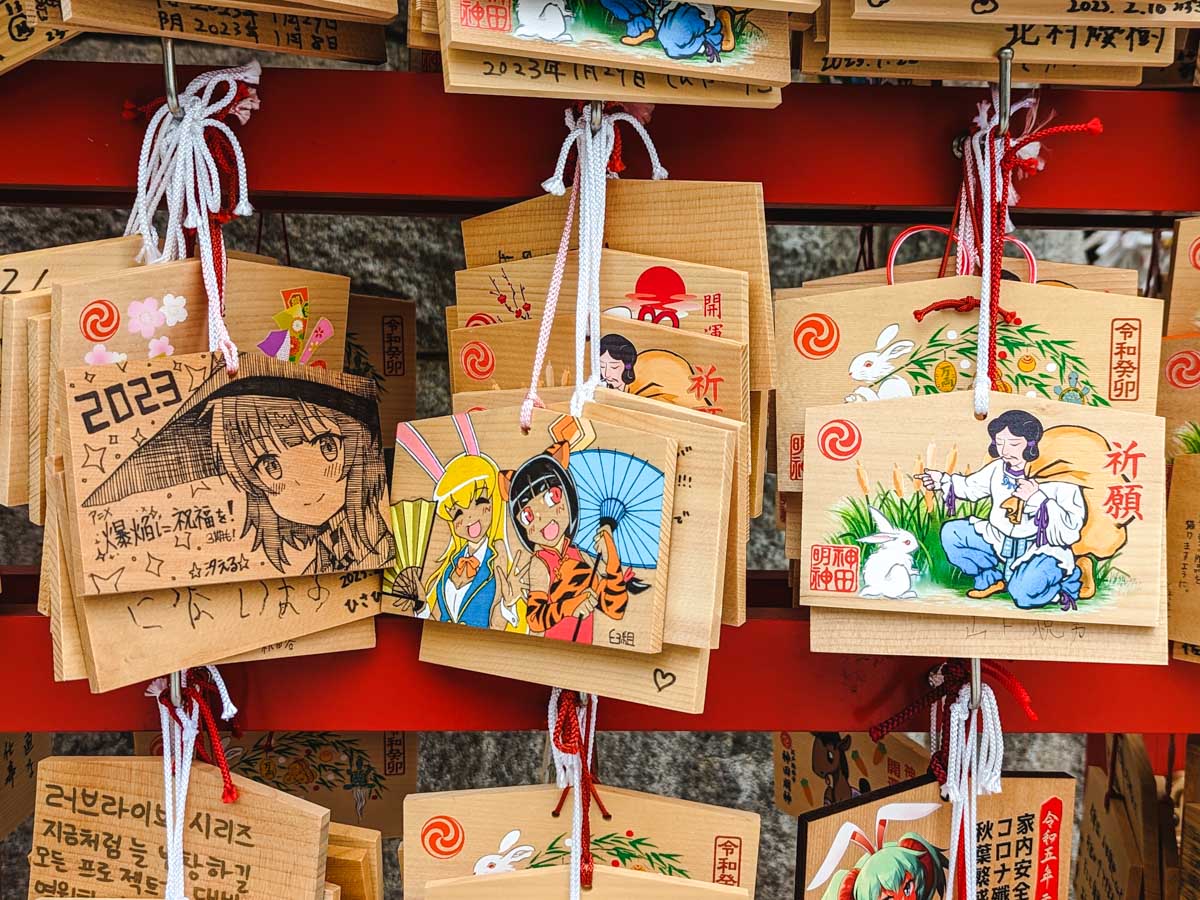 Fans of the online MMORPG Final Fantasy XIV should try to make a reservation at the Eorzea Cafe, where you can consume FFXIV-themed food and drink surrounded by gorgeous replicas of in-game items and characters.
As long-time players of the MMO (and the FF series in general), my husband and I had a blast here. There's even a mini-Cackpot game where you can win a huge honey toast or a free drink.
Reservations can be made one month in advance and book up quickly, so I suggest setting a reminder on your calendar to reserve your table ASAP.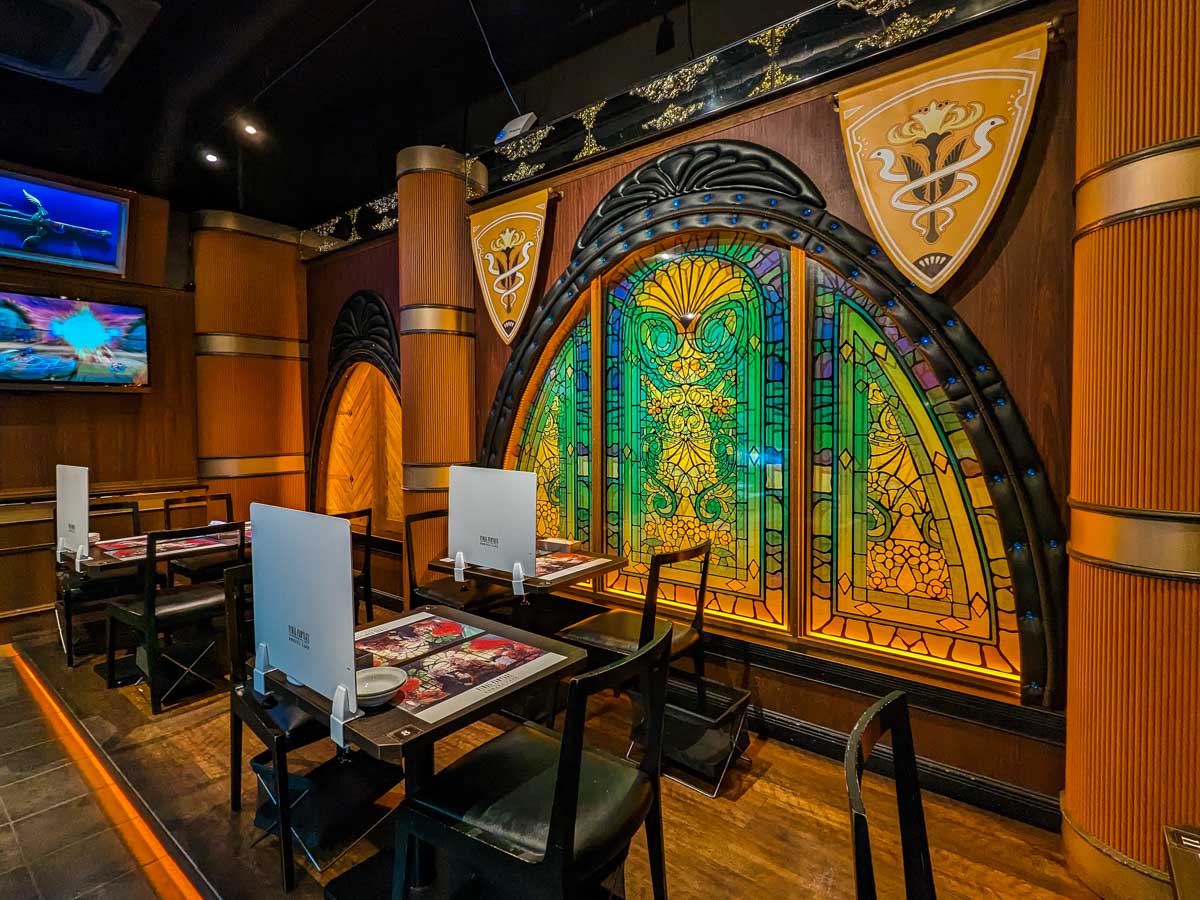 Asakusa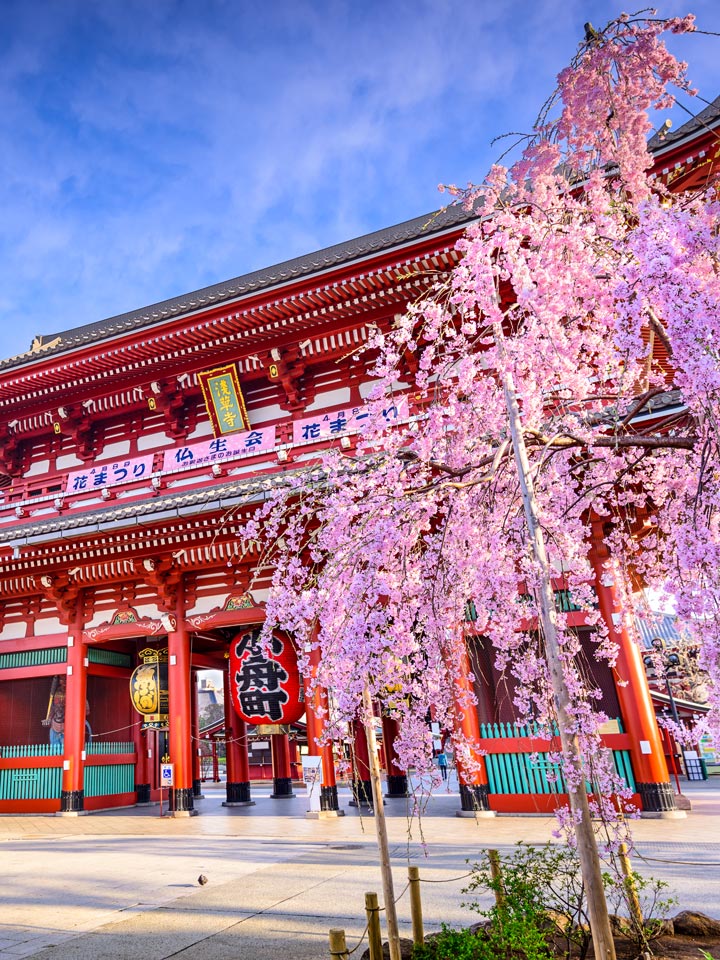 You can easily spend the rest of the day in Asakusa, Tokyo's historical Edo period neighborhood. The main draw for tourists is Senso-ji, a massive temple and one of Japan's top sightseeing attractions.
Explore Nakamise Dori and the surrounding alleys before walking to Sumida Park for river views and cherry blossoms in the spring.
Asakusa is rich with history and culture, so I suggest booking a guided tour to discover the hidden gems.
If you have more time and energy, cross the river to reach Tokyo Skytree. This radio tower/mall/aquarium/observation deck is a true amalgamation of Tokyo life. Aside from the popular panoramic overlook, the Skytree is a great place to find cute character cafes and shops (they had a Kirby themed pop-up last time I visited).
Alternate Option: Studio Ghibli Museum
The Studio Ghibli Museum was a major highlight of my first 10 day Japan itinerary. This whimsical interactive space celebrates Miyazaki's film studio and life, from Spirited Away sketches to a life-size Cat Bus.
You'll need about 4 hours for this excursion (including travel time), so you'll need to adjust your itinerary to squeeze in a visit.
Museum tickets must be purchased in advance and sell out very quickly, sometimes in a single day. US travelers can go through Lawson's online portal to buy tickets. Lawson's sells tickets for the following month beginning at 10:00am Japan time on the 10th of the month (i.e. tickets for March dates go on sale February 10th).
Where to stay in Tokyo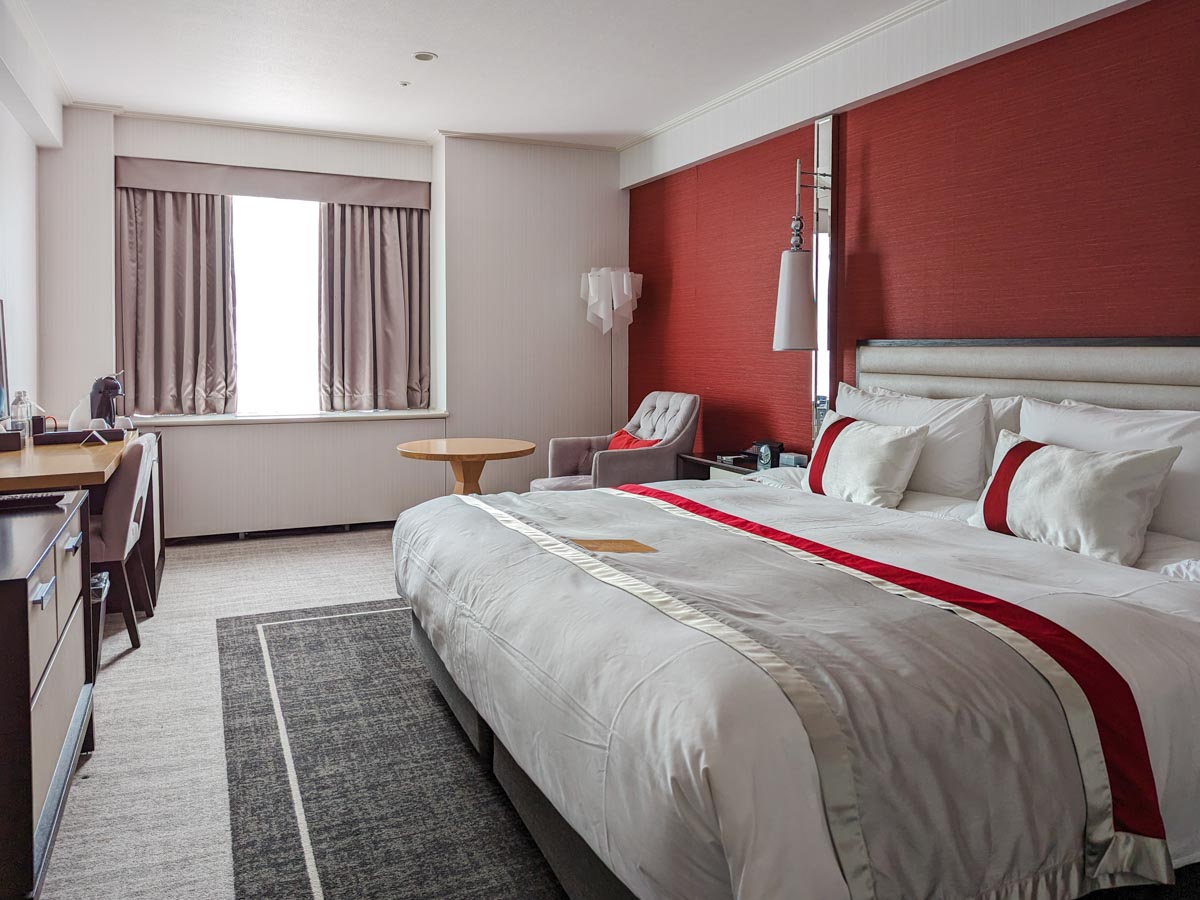 Tokyo's excellent train and subway system means you can stay pretty much anywhere.
However, for this Japan ten day itinerary, I suggest staying in either Shinjuku, Shibuya, Minato, or Kanda. All of these wards offer a wide range of accommodation, food/drink, and access to Tokyo's main subway lines.
I've personally stayed at the Tokyu Stay Shinjuku and the Tokyo Prince Hotel (located right next to Tokyo Tower). The former is a solid mid-range option with plenty of nearby restaurants, shops, and metro stations, and ideal if you're planning on late nights of drinking or karaoke.
Depending on the dates of your 10 day Japan trip, the Tokyo Prince Hotel costs about as much as any other nice hotel in the city center but comes with spacious rooms, killer views (half of the rooms overlook Tokyo Tower), and gorgeous facilities and restaurants. Plus it's a short walk to the stations with direct links to Narita and Haneda Airports, so your jet-lagged self won't have far to navigate after arriving.
Day 3: Nagano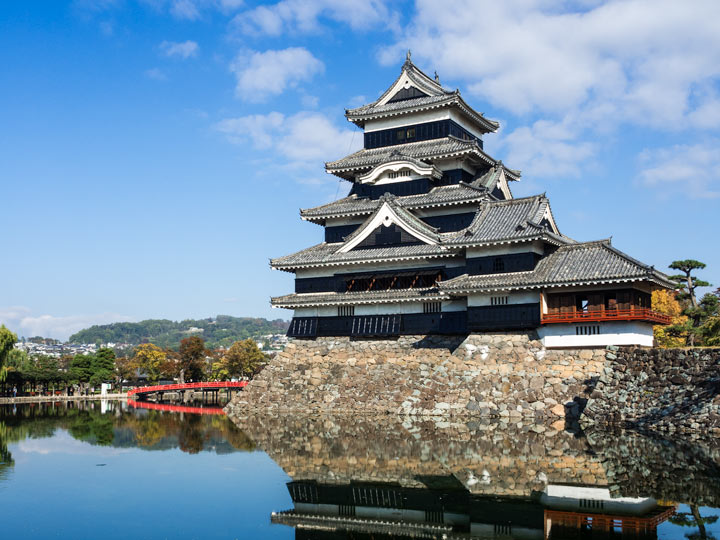 This is where my alternative 10 day Japan itinerary goes off the beaten path. Instead of hopping on the shinkansen and heading south along the Golden Route, you'll travel north to Nagano prefecture.
The Japanese Alps run through the region, providing great opportunities for hiking, skiing, and other nature activities. It may sound intense if you aren't physically active or an "outdoorsy" person. But thankfully, you don't need to be an athlete to experience the highlights.
Here are a few ways to spend your day in Nagano:
Check out my complete guide on things to do in Nagano to plan your visit!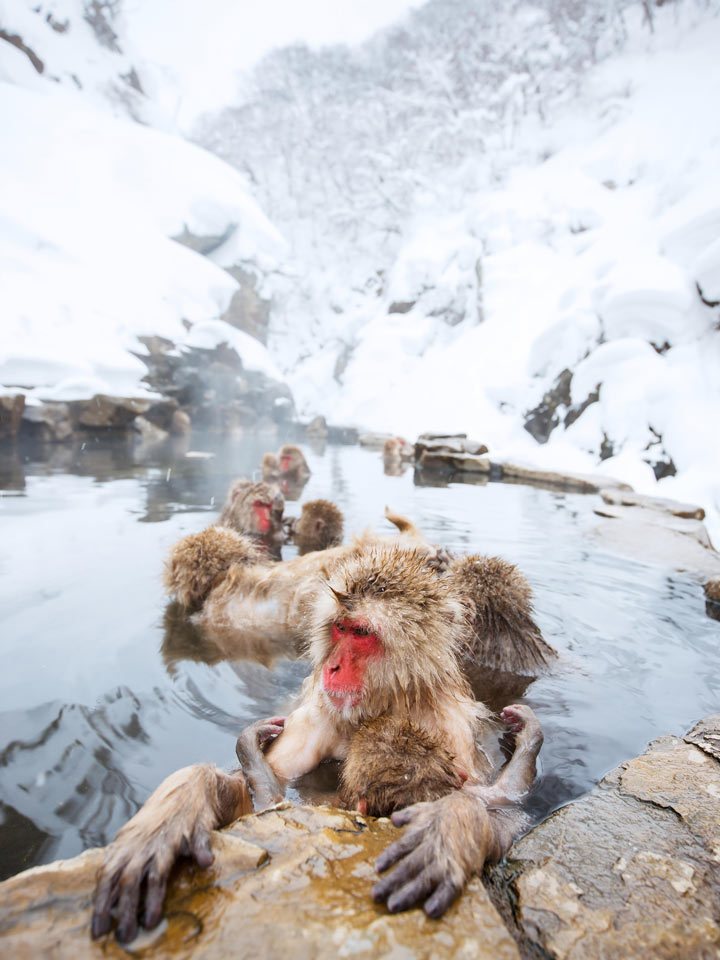 Where to stay in Nagano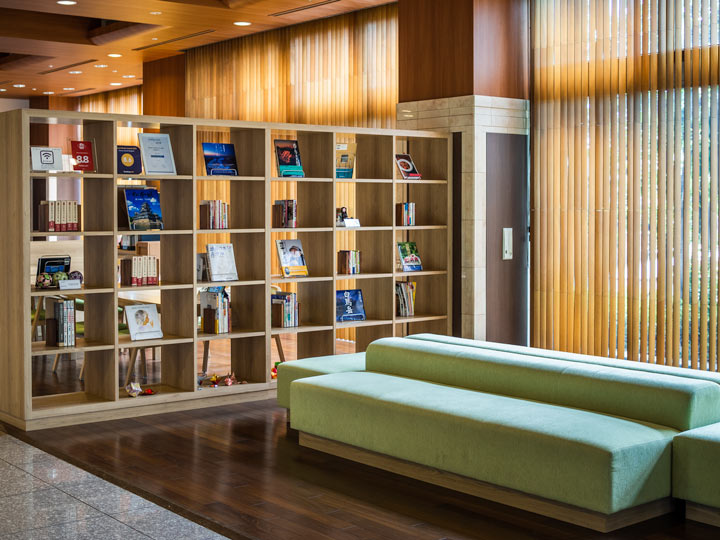 If you're closely following this 10 day Japan itinerary, I highly recommend staying at the Chisun Grand Nagano. It's a short walk from Nagano Station, and very affordable. I was pleasantly surprised at the spaciousness of my room, which had a gorgeous view of the mountains. And the in-room massage chair was a welcome treat after long days of hiking.
Book your stay at Chisun Grand Nagano!
Accommodation near Karuizawa station could also work depending on how you spend your day.
Day 4: Kanazawa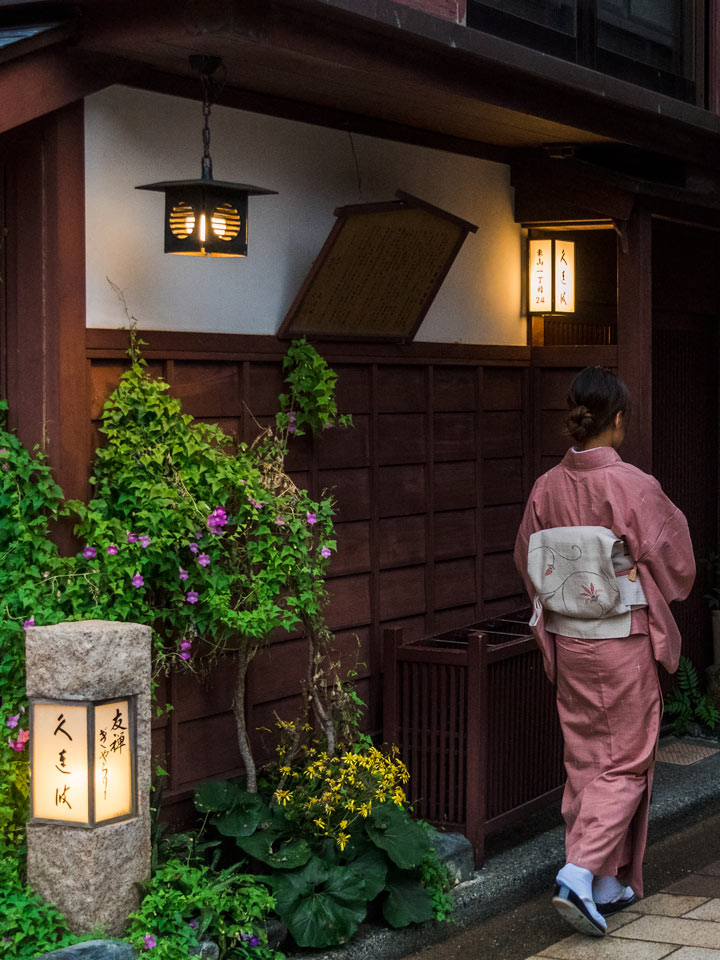 Kanazawa is easily in my top five favorite Japanese cities. Thanks to sheer luck and some strategic positioning, Kanazawa was relatively untouched by war and natural disasters since the Edo era.
Chaya Districts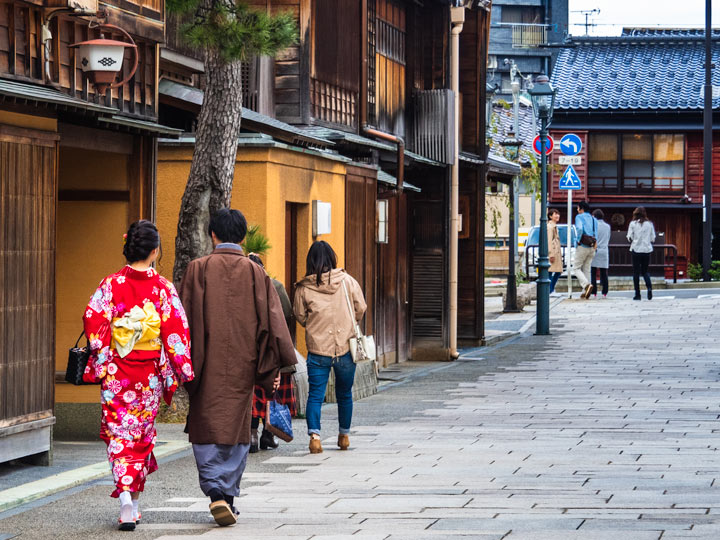 Walking through the famous "chaya" districts is like stepping back in time, with many Japanese tourists dressed in traditional yukata and kimonos.
Several of these historic districts, known for their geishas and tea houses, have been preserved since the 1600s. Nishi Chaya, Kazue-machi, and Higashi Chaya are the most intact, with several tea houses and shops still operating in Higashi Chaya.
In the evening, the warm glow of lanterns combined with the tea house hostesses shuffling about in kimonos makes for a magical experience.
Kanazawa Castle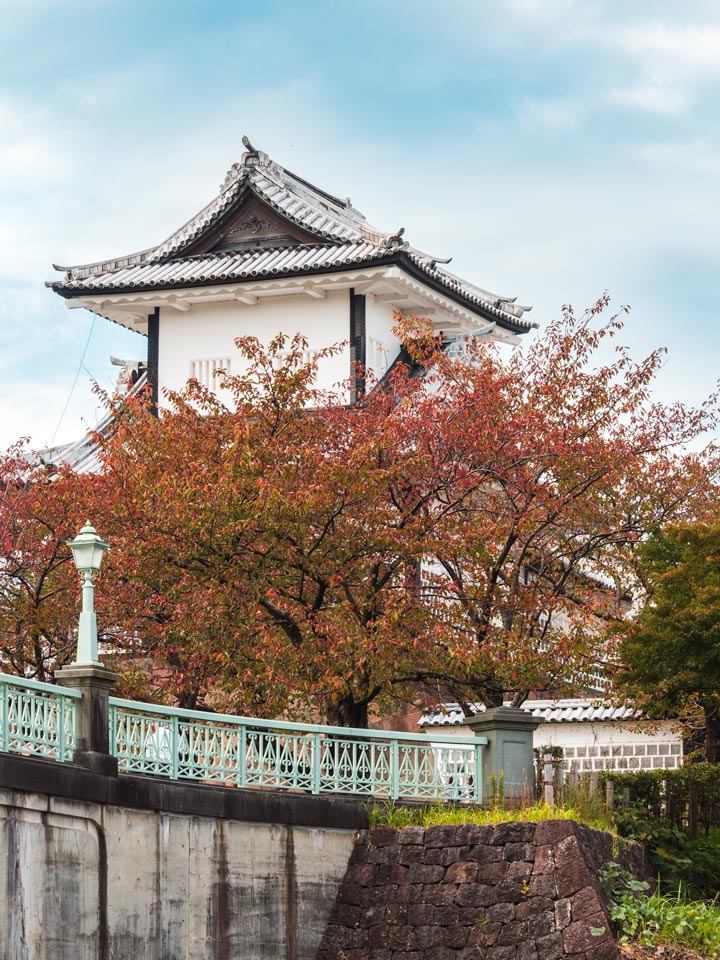 Constructed in the 1500's, Kanazawa Castle rises above the city center. In the spring, cherry blossoms add a lovely pop of pink around the main entrance.
Walking the exterior of the castle is free of charge. But if you pay 310 yen for admission, you'll find beautifully restored wooden beams and cultural artifacts inside the turrets and storehouse.
Kenroku-en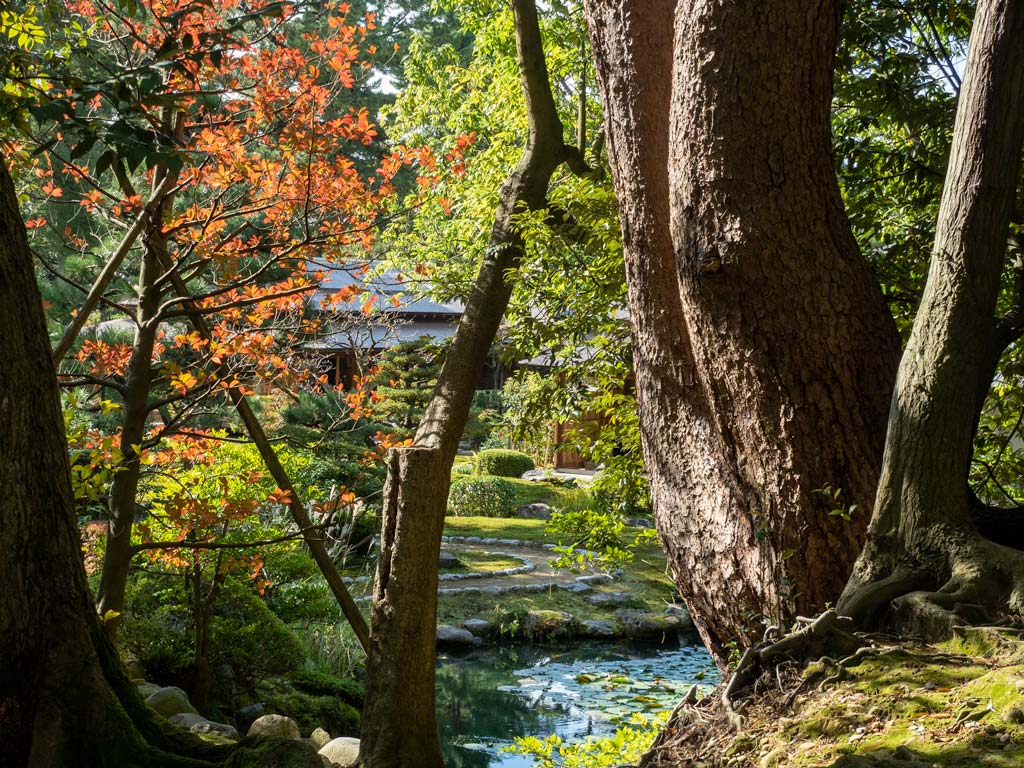 Just across from the castle lies Kenroku-en, one of the "Three Great Gardens" of Japan. This impressive green space includes reflecting pools, moss gardens, a traditional tea house, and panoramic viewpoints over the city.
And if you're traveling to Japan in October, you'll also see some stunning red Japanese maples!
Admission is 320 yen and well worth it.
Interactive Museums
If you're curious about samurai or ninja life, check out the Nomura Clan Samurai House and Myoryuji ninja temple. While the samurai museum takes walk-in guests, you'll need to make a reservation to tour the ninja temple. However, being able to explore its secret passageways and hidden traps is worth the inconvenience.
And if samurai are really your thing, you could squeeze in a trip to the Kanazawa Ashigaru Museum. Like the Nomura Clan House, this building is a living museum to Edo-era footsoldiers who served the Kaga clan.
Read my complete Kanazawa itinerary to plan this portion of your 10 day Japan itinerary.
Note: There's a lot to see in Kyoto, the next stop, so I suggest taking the 7:00am JR Thunderbird from Kanazawa to Kyoto Station for an early start.
Where to stay in Kanazawa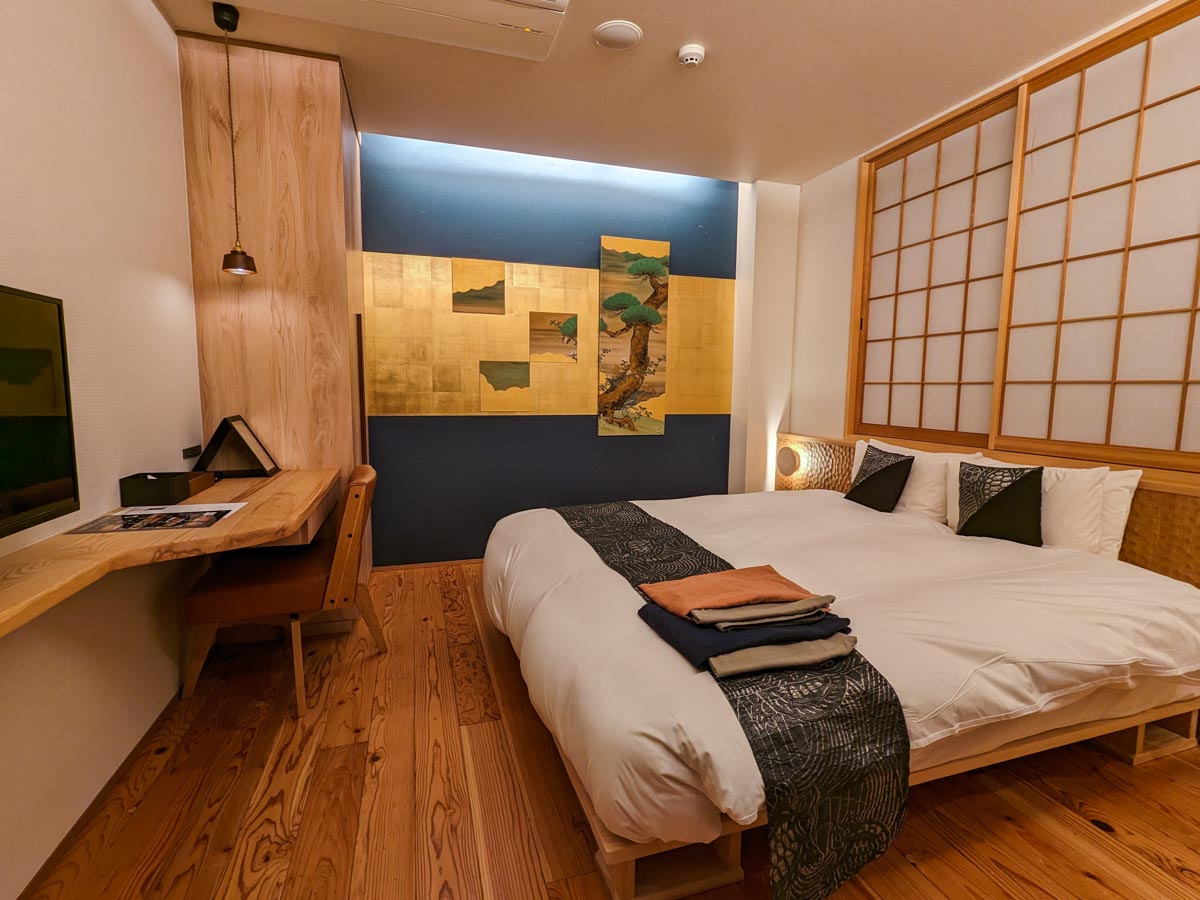 In keeping with the Old World theme, I suggest spending the night in a ryokan. These Japanese inns offer a unique cultural experience, with tatami floors, futon beds, and (usually) a traditional breakfast.
Sumiyoshiya has stylish rooms at an affordable price, while Motoyu Ishiya offers the ultimate ryokan experience complete with Japanese garden views.
However, if a ryokan is out of your budget (or you're not keen to sleep on the floor), I personally recommend Hotel Kanazawa Zoushi.
We had the pleasure of meeting the hotel's owner, and he and his staff couldn't have been more lovely. It was clear to see how much care the owner put into choosing the materials and furnishings, including natural stone floors and a ryokan-like central courtyard space.
Plus, your stay comes with an insanely good Japanese breakfast and night-time udon soup. And the location is hard to beat–10 minutes' walk from the station and central to all of the town's major sights.
Book your stay at Hotel Kanazawa Zoushi here!
Save me for later!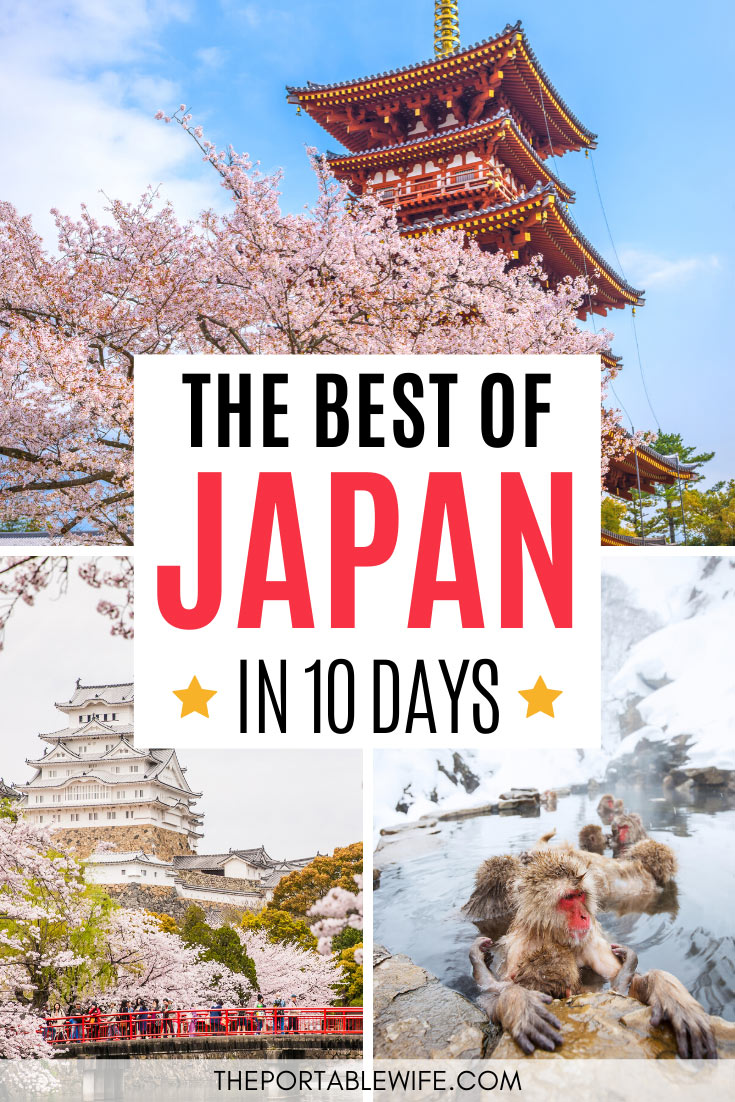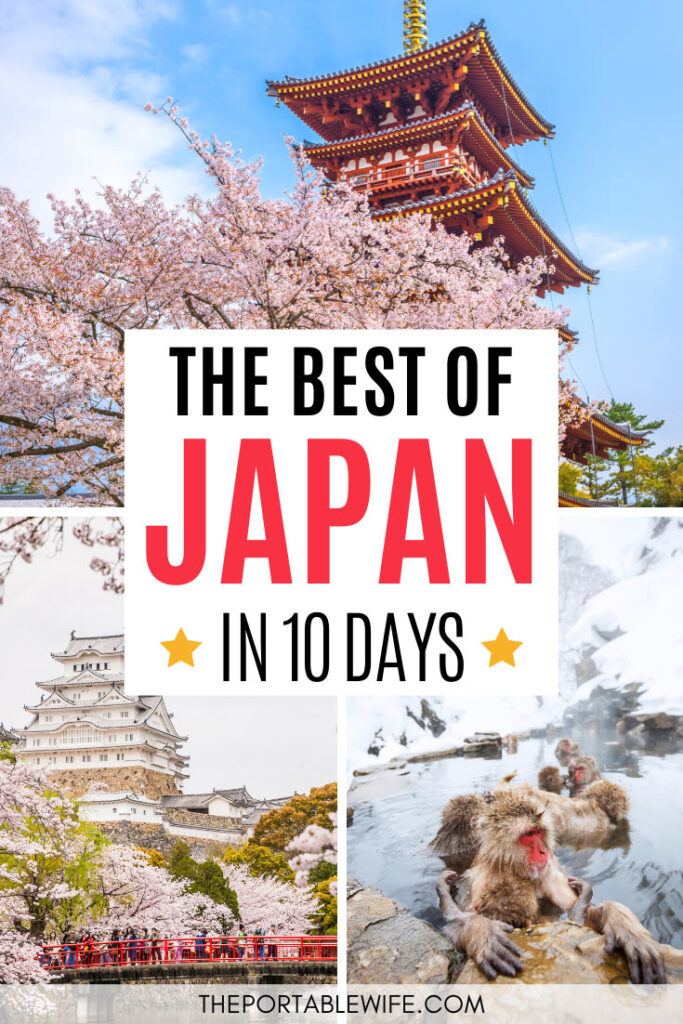 Days 5-6: Kyoto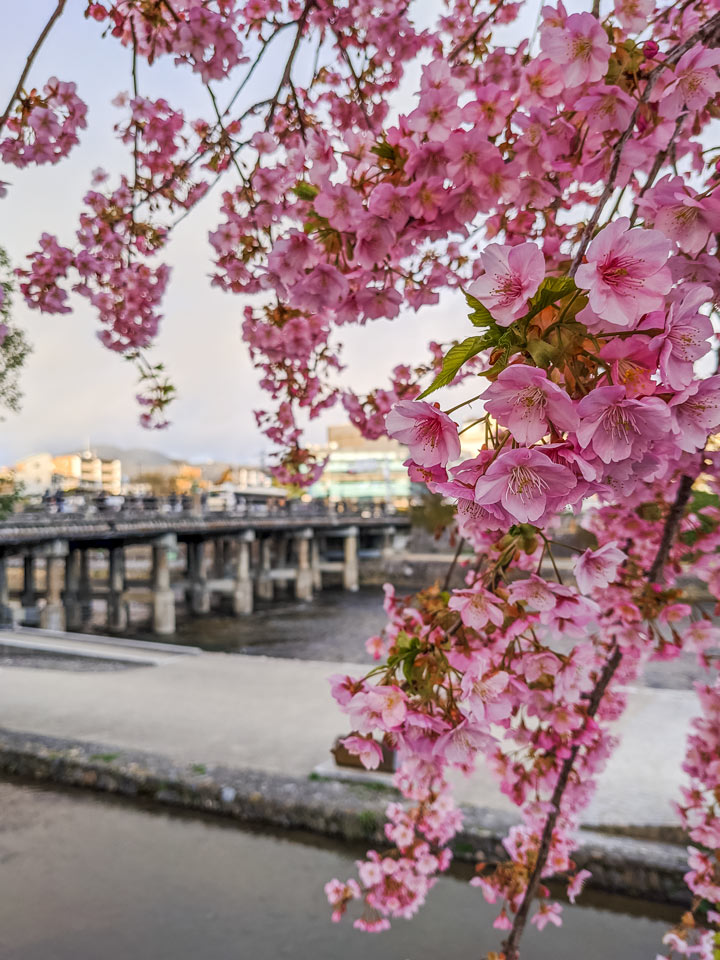 Kyoto is my favorite city in Japan, if not the world. Surrounded by mountains and split by a river, it's a dazzling blend of nature and man-made design. It has a distinctly different feel than other large Japanese cities, namely because of all the preserved temples, shrines, and historic districts.
Unlike other cities, Kyoto's main mode of public transit is bus. While there are metro and train lines connecting key sites, it's often better to use the local and sightseeing buses to get around.
The Raku sightseeing buses travel clockwise and counterclockwise to all the major tourist spots. It's a flat rate fare (230 yen in 2020) no matter where you get on or off, and they accept change and ICOCA cards.
There's also a JR bus route that stops at popular sites like Nijo Castle and Kinkakuji. JR pass holders can ride for free.
Although you can purchase a two day Kyoto subway + bus pass, you won't save much money over the regular fares (assuming you follow this itinerary).
Day 5
Nijo Castle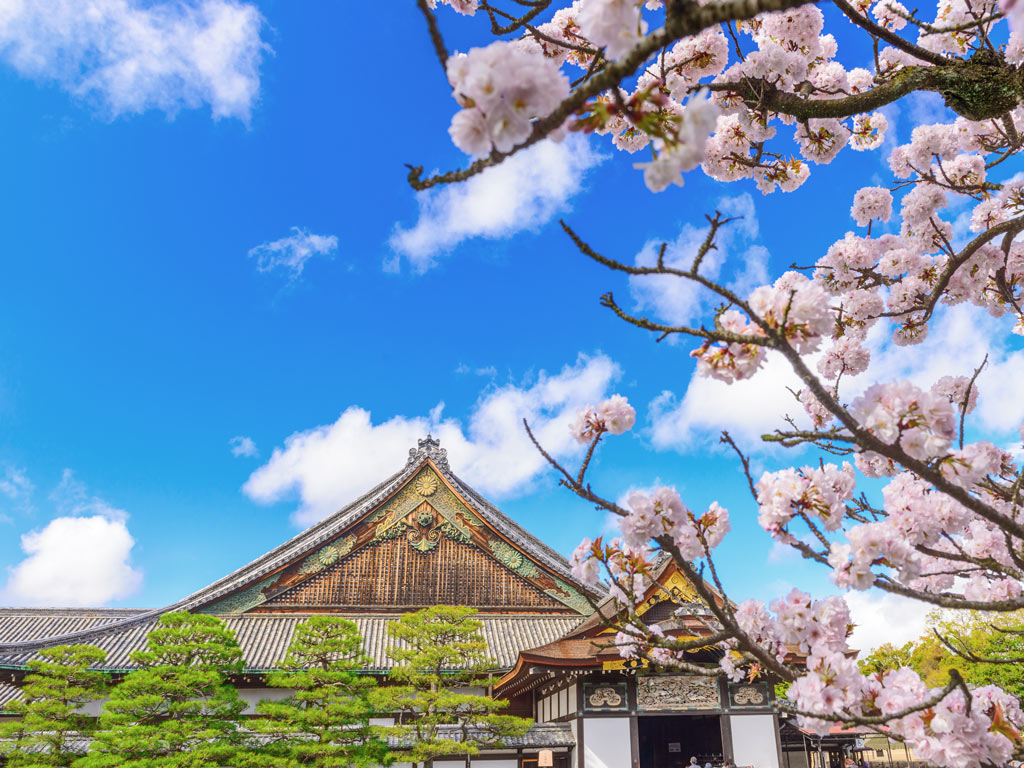 Start your day at Nijo Castle, the former home of the Ieyasu shogunate that's now a UNESCO World Heritage Site. Inside the walls, you can tour the elegant Ninomaru Palace and grounds.
Kinkakuji and Ginkakuji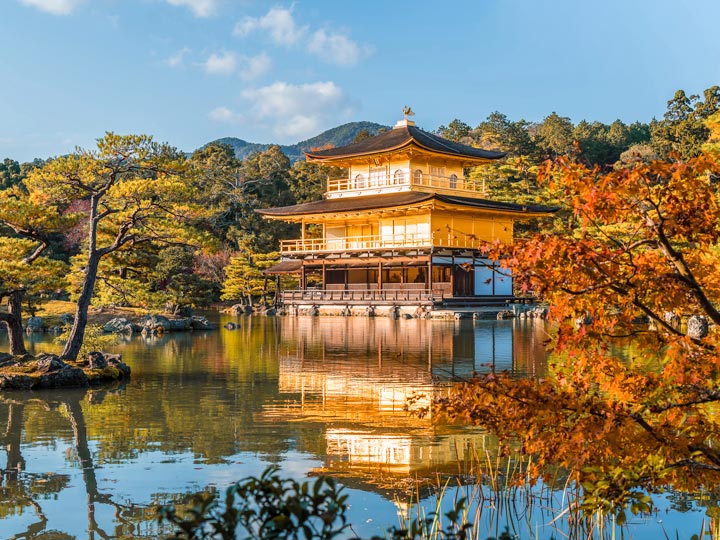 The next stop is Kinkakuji, a.k.a. the Golden Pavilion. Take the JR Bus here from Nijo Castle and get ready to be wowed. Kinkakuji is a glittering Zen temple covered in gold leaf, and the view of the building from across the reflecting pool is unforgettable.
After passing through the pretty tea house gardens, hop on the Raku bus towards Ginkakuji, a.k.a. the Silver Pavilion. The temple has a slightly confusing name because it's not actually silver!
Ginkakuji's official name is Higashiyama Jisho-ji,and it was supposed to be a shiny silver version of Kinkakuji. However, the project to cover the facade in silver leaf never happened, and the temple remains a humble wooden structure. Ginkakuji has two fantastic gardens, including one made of raked sand.
Philosopher's Path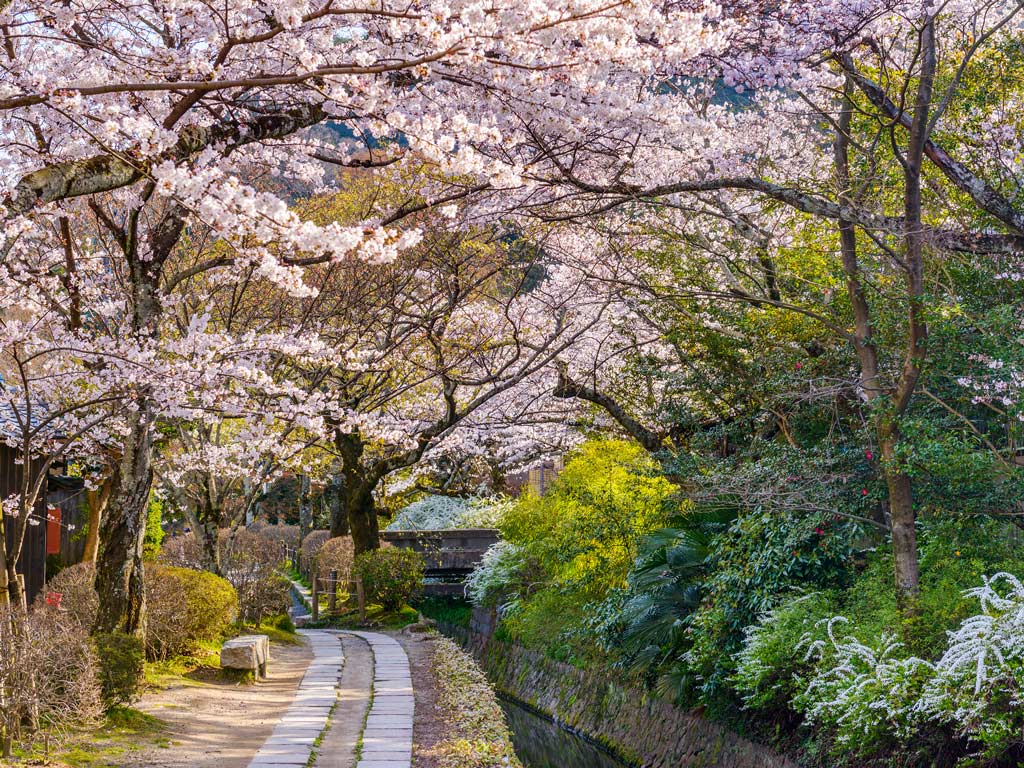 Just a short walk away from Ginkakuji, you'll find the northern entrance to the Philosopher's Path. This scenic footpath runs along a canal and is lined with charming cafes, shops, and cherry blossoms in the spring.
Keep an eye out for Suzuki Shofudo, an adorable papercraft shop with a frog mascot. I brought back several souvenirs from here during my first 10 day trip to Japan.
It takes around 20 minutes to walk the entire 2km path without stopping. And when you reach the southern exit, you'll be just around the corner from Eikan-do Zenrin-ji.
People travel from all over the world to see the incredible autumn colors on display here. However, the complex is remarkable no matter what the season, especially the famous garden with a reflecting pool and stone bridge.
Nanzen-ji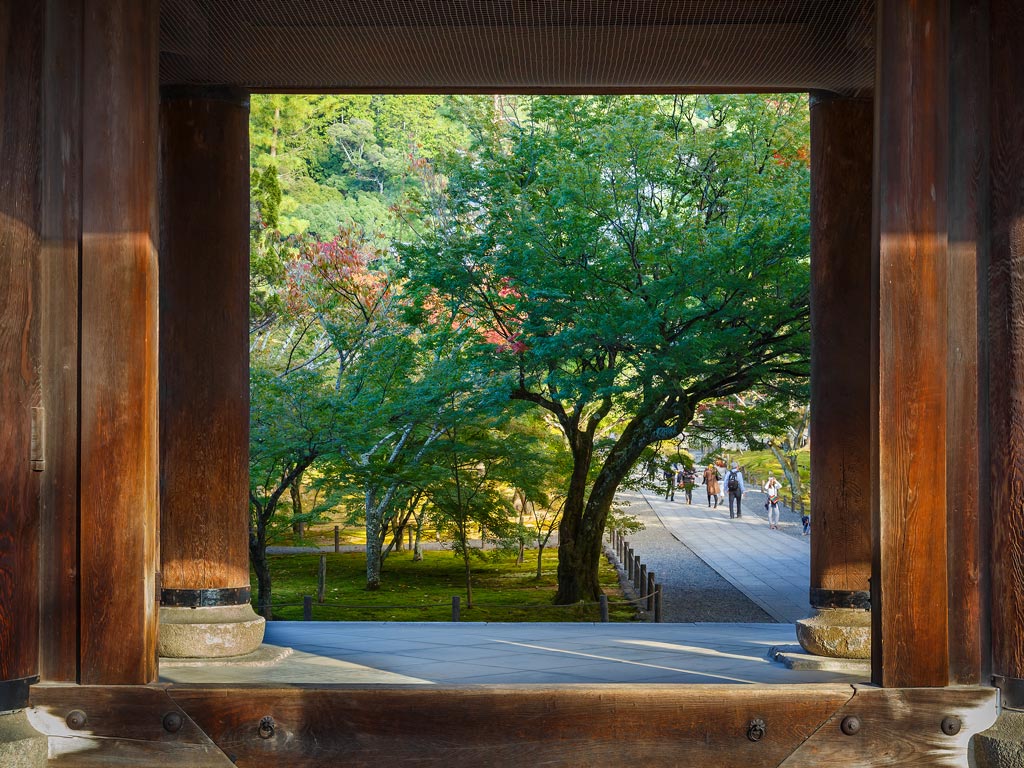 Nearby Nanzen-ji is also a must see. Situated near the base of Kyoto's eastern mountains, Nanzen-ji is one of Japan's most important Buddhist temples.
Because of its hillside placement, the huge temple gate offers lovely views, and the vast grounds are a peaceful escape from the city.
Heian Shrine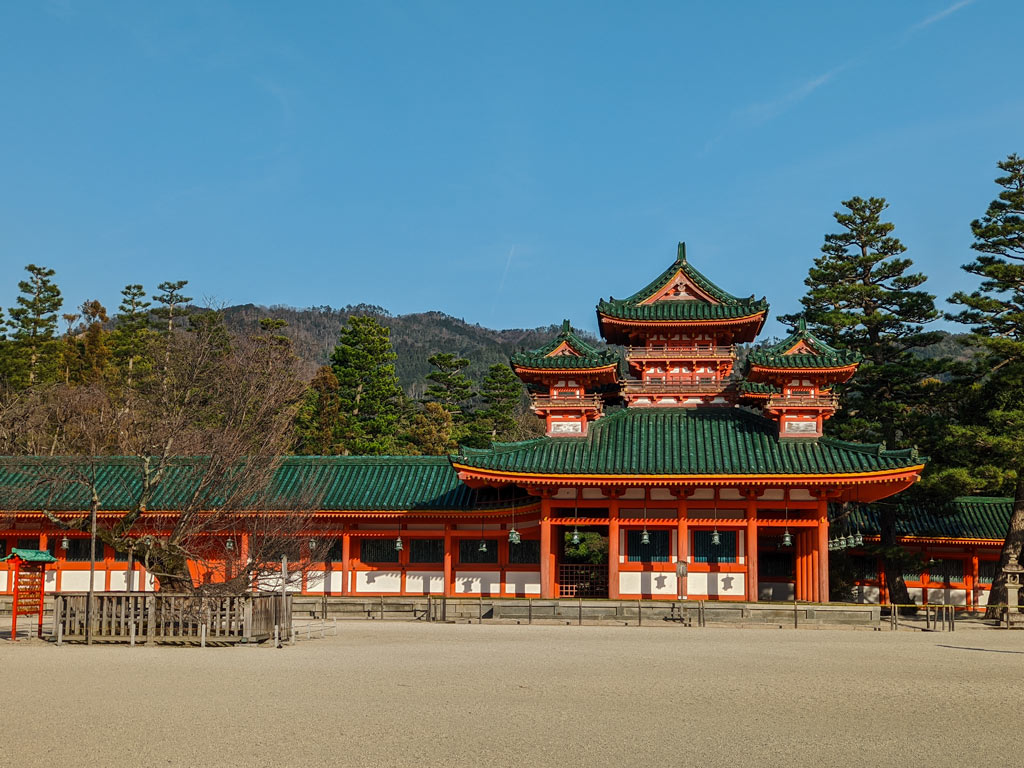 From here, it's a 15-minute walk to Heian Shrine. You'll pass beneath Kyoto's iconic giant torii gate that spans Jingu-michi street, so have your camera ready at the crosswalk!
Unlike the city's other ancient buildings, Heian Shrine was built relatively recently in 1898 to commemorate Kyoto's 1100th birthday. Don't miss the splendid garden that wraps around the outer complex, which boasts a huge pond and covered wooden bridge.
I don't often make restaurant recommendations in my itineraries. But there are some truly fabulous dinner spots around Heian Shrine that deserve mentioning:
Mughal is Kyoto's premier Indian restaurant–the head chef came over from London's Dishoom!
Hatsune Sushi is a cozy local spot serving traditional Kyoto-style sushi at an affordable price
Masutomi dishes out delicious soba, including a popular duck set
Day 6
Kitano Tenmangu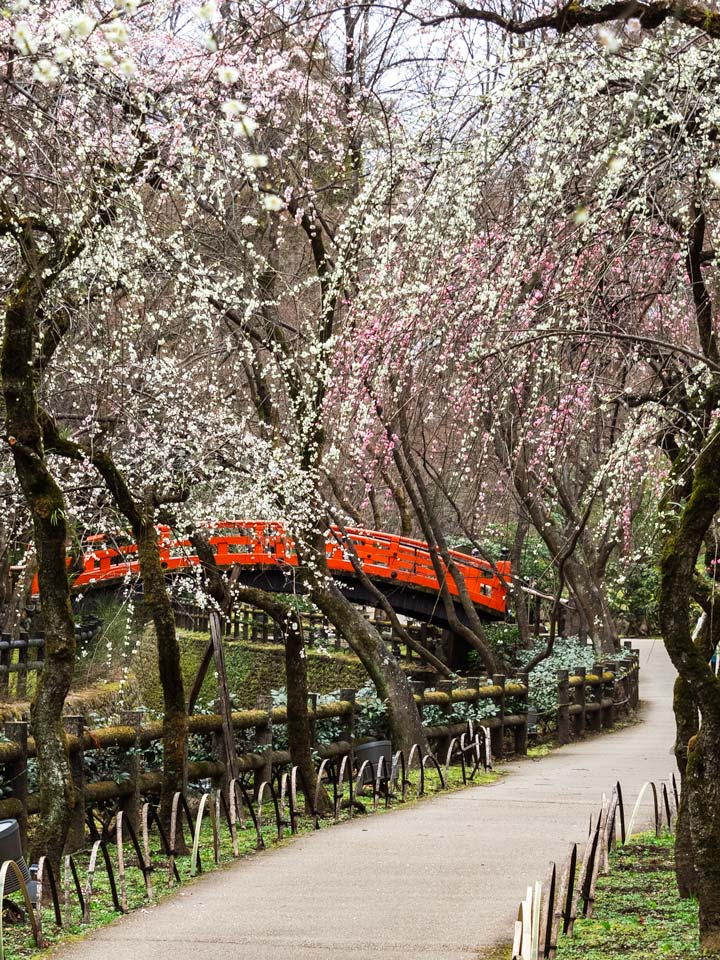 If you're visiting Kyoto during plum blossom season, you have to check out Kitano Tenmangu. There's a sprawling plum grove that's absolutely dripping with flowers in late winter.
Students and their parents visit the temple before important exams to pray for good luck and pet the cow statue's heads to increase their wisdom. And if you visit on the 25th of the month, you can browse Tenjin Market for antiques, clothes, crafts, and food.
Kyoto Imperial Palace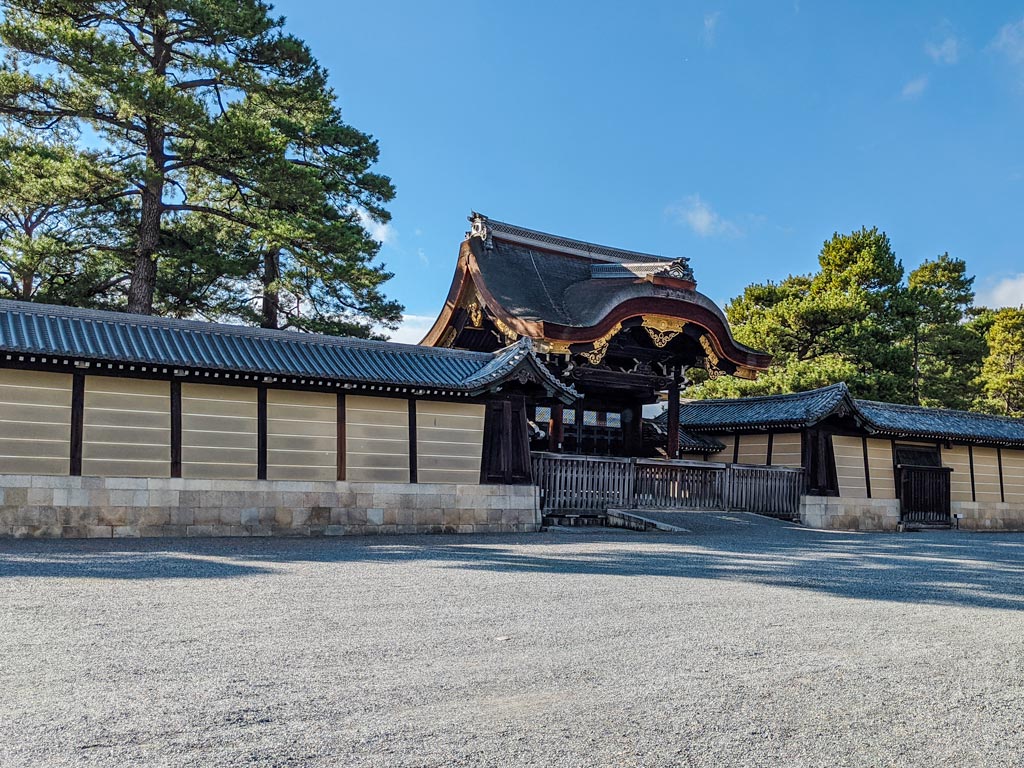 Hop on one of the buses (there are multiple options) from Kitano Tenmangu mae to Kyoto Imperial Palace. This was the Imperial family's home until 1898, when the capital was relocated to Tokyo.
In the past, a reservation was required to explore the vast grounds, but today it's freely accessible (though you can't go inside any buildings).
If you're doing this 10 day Japan itinerary in late February, you'll get to see the castle's gorgeous plum blossom garden in bloom!
Kyoto International Manga Museum
From here, walk south on Karasuma-dori Street to reach the Kyoto International Manga Museum. Anyone who loves libraries or has even a passing interest in manga (Japanese comics) needs to see this place.
There are towering shelves packed with every manga series imaginable, as well as exhibits and art galleries in English/Japanese that showcase both famous and up-and-coming illustrators.
Pontocho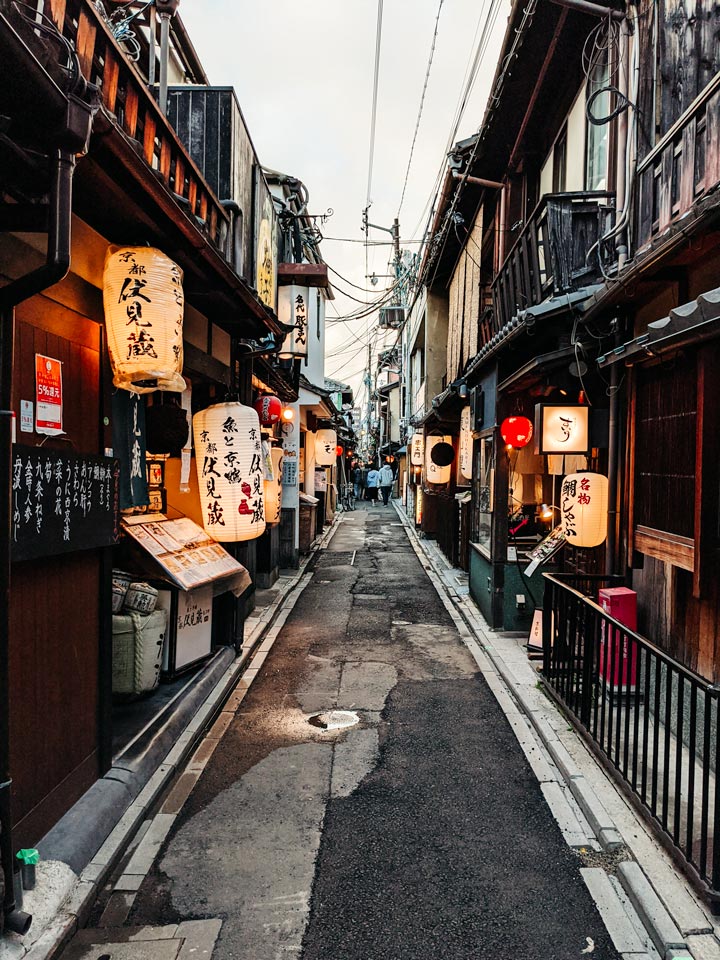 Head east towards the river to reach one of my favorite places in Japan: Pontocho Alley.
This long, lantern-filled alley is lined with old-fashioned wooden facades and mysterious entrances to dark narrow corridors. The atmosphere is distinctly Japanese and reminiscent of a Studio Ghibli film.
You could pop into a sit-down restaurant in Pontocho for lunch, or save your appetite for the next stop: Nishiki Market.
Nishiki Market
To be frank, I was hesitant about including Nishiki on this 10 day Japan itinerary because it's become pretty touristy. Locals no longer come here to do their grocery shopping, and most vendors have shifted gears to cater to foreigners.
However, Nishiki Market is still a phenomenal place to sample Japanese cuisine like grilled oysters, taiyaki (fish-shaped pastry with sweet bean paste), and dango (grilled dumplings with sweet sauce).
Daimaru
I consider Japanese department stores a sightseeing experience, and one of my favorites is Daimaru. It's Kyoto's 2nd largest, with 10 floors packed with clothes, accessories, electronics, and more.
Highlights include the giant handkerchief selection on 1F, and the elegant kimonos and super cute stationary on 6F. But the best thing about Daimaru is the enormous basement food hall, where hundreds of stalls sell everything from tempura to bread to traditional sweets.
Rengeoin Sanjusangendo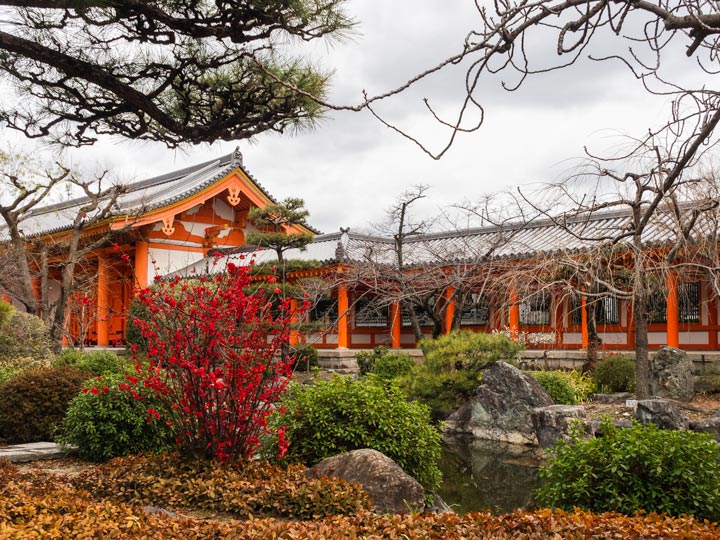 After a few hours of hedonism, hop on the sightseeing bus and humble yourself with a visit to Rengeoin Sanjusangendo. This Buddhist temple will blow you away with its 1,001 tall statues of the Goddess Kannon arranged in rows.
Admission is 600 yen. You'll need to change into slippers when you enter, so be sure to wear good socks on this day!
Kiyomizu-dera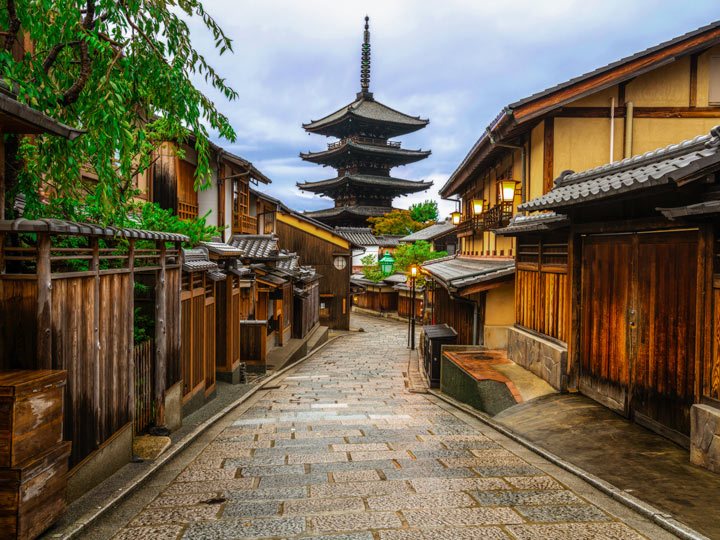 From here, it's a 20 minute walk to another jaw-dropping temple: Kiyomizu-dera. Easily the most popular temple in Kyoto (if not all of Japan), Kiyomizu-dera is a large complex of buildings and gardens set on a hill among a forest of trees and bamboo.
The multi-story wooden main hall has an observation deck with outstanding views over Kyoto, and it's especially magical when the leaves turn red and gold in autumn.
Back down the hill you'll find Ninenzaka and Sanenzaka, the picturesque and historic neighborhood streets with views of Kiyomizu's pagoda. Please respect the "no photography" signs where posted.
Gion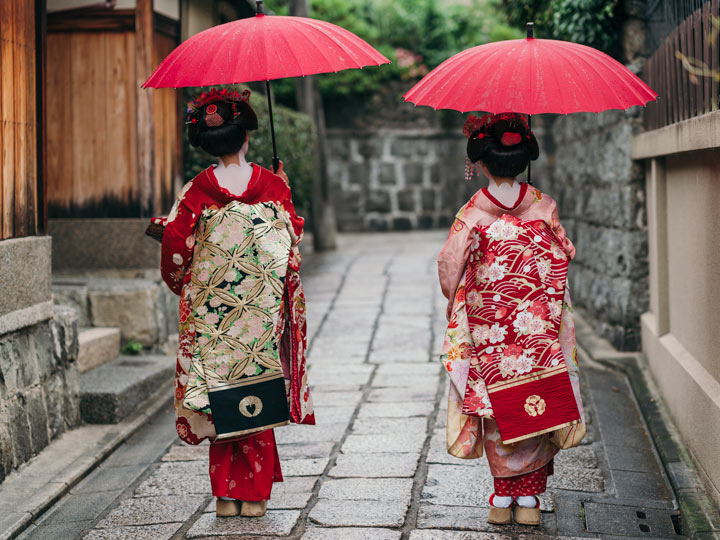 At this point, you're approaching the heart of Gion, Kyoto's famous "geisha district".
This area is full of beautiful alleys, traditional shops, and elegant tea houses. If you're lucky, you might catch a glimpse of a geisha or maiko apprentice on their way to an appointment (but please appreciate them from a distance).
There's a lot to see and do in Gion, but these highlights are not to be missed:
Hanamikoji is the district's main street, where you'll find lots of shops and street food counters operating under the pretty sakura lanterns. It's a great place to pick up traditional wagashi–Japanese sweets–as a souvenir (Kagizen Yoshifusa is my favorite wagashi shop).
Yasaka Shrine sits at the end of Hanamikoji, and is one of Japan's most culturally significant shrines thanks to the Gion Matsuri festival held every summer.
Behind Yasaka lies Maruyama Park, a lush green space that's home to multiple temples and Japanese gardens.
This historic distict holds a ton of secrets and charms, and the best way to discover them (and spot a few geisha along the way!) is on a walking tour with a local.
Book your Gion evening walking tour here!
Gion is also the epicenter of Japanese haute cuisine known as kaiseki. Every aspect of the meal, from the ingredients to the plating to the order in which dishes are served, is governed by Japanese principles of nature, balance, and order.
While kaiseki dinner is quite expensive (upwards of $100 per person), the flavors and overall experience are well worth the cost if you can swing it.
Where to stay in Kyoto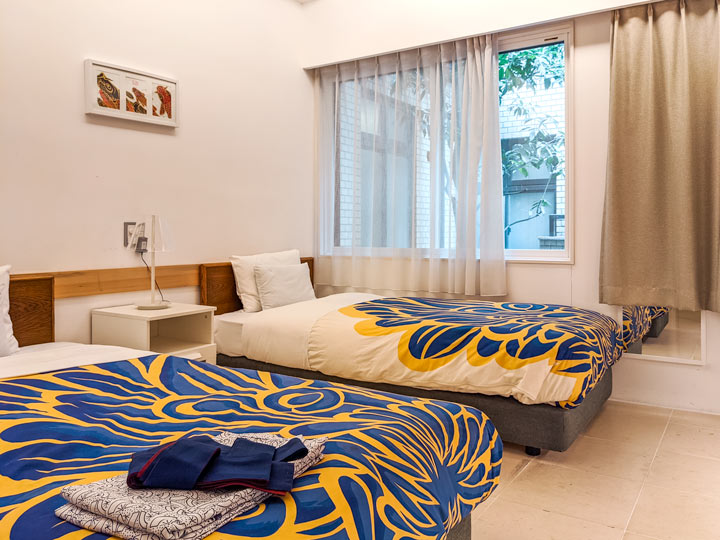 I've been to Kyoto a few times, and one of my favorite places to stay is Kyoto Traveler's Inn.
It's conveniently located across from a sightseeing loop bus stop and a giant torii gate (so you'll never get lost!). Gion and Pontocho are a short walk away.
Plus, they offer a mix of Western and Japanese-style rooms depending on your preference. And the staff are super friendly and speak enough English to help you navigate the city.
Book your stay at Kyoto Traveler's Inn now!
Day 7: Day Trip from Kyoto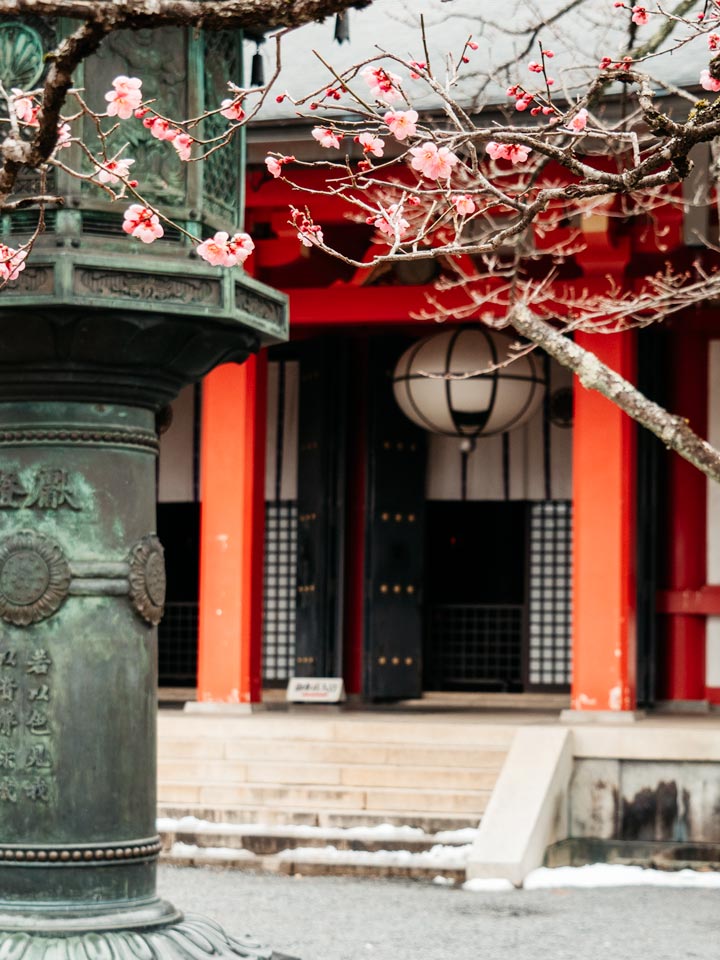 Part of why I love Kyoto is the sheer number of awesome destinations within day trip distance. You can explore ancient shrines where sacred deer roam, ride a scenic train beneath cherry blossoms, kayak next to a floating torii gate… the options are endless!
To help you choose, I wrote a guide to the top day trips from Kyoto. Nature lovers will especially love the destinations, though anyone can appreciate these beautiful excursions.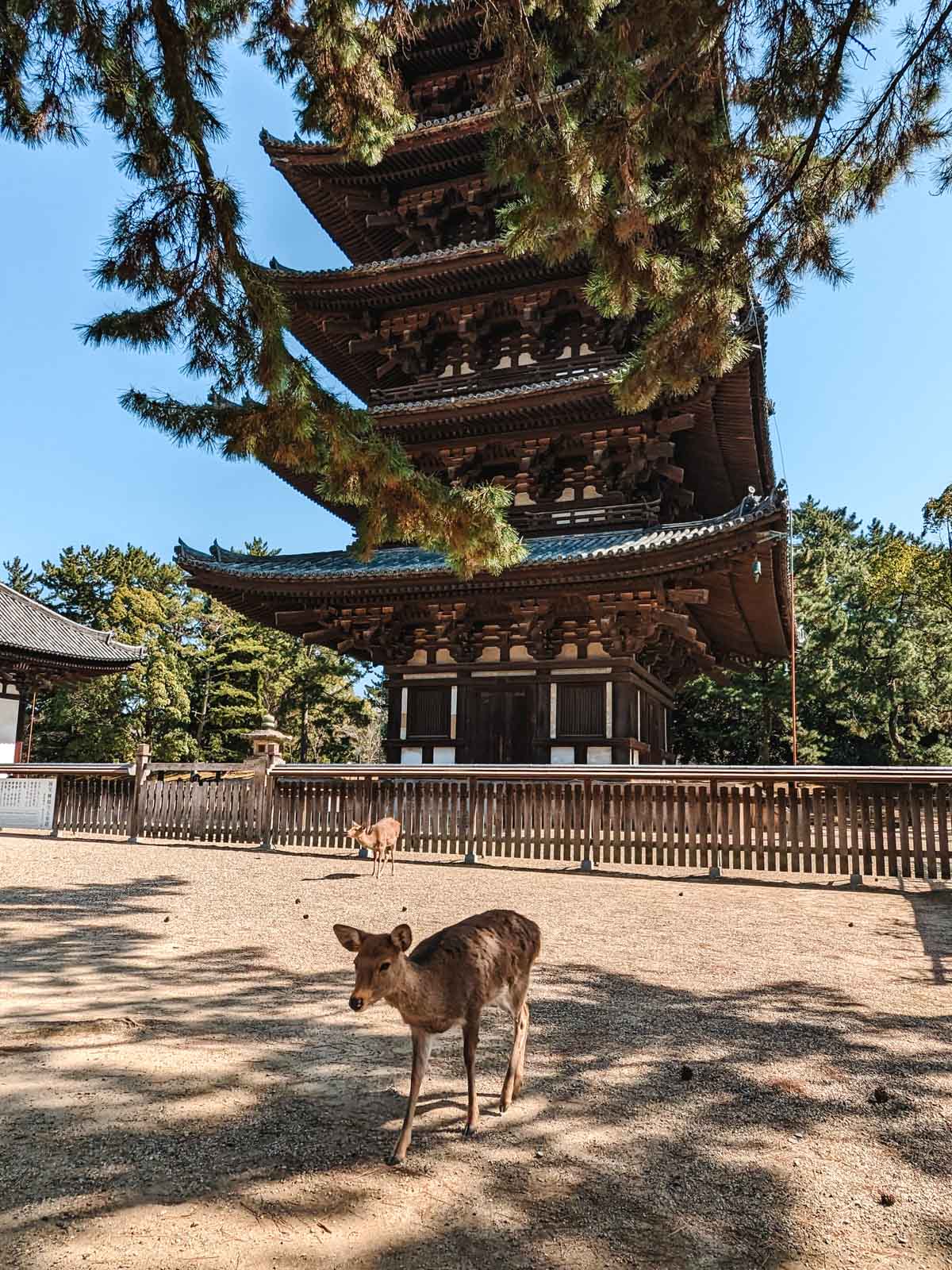 That being said, my recommended day trip from Kyoto is Nara, the former capital of Japan that's full of roaming deer. It's hard to top the experience of hand-feeding baby animals while walking through moss-covered temple grounds.
I've written an entire Nara day trip itinerary that covers the main sights:
Kofuku-ji
Isuien Garden
Todai-ji Temple (home to the world's largest bronze Buddha statue)
Nara Park
Kasuga Taisha
Higashimuki Shopping Arcade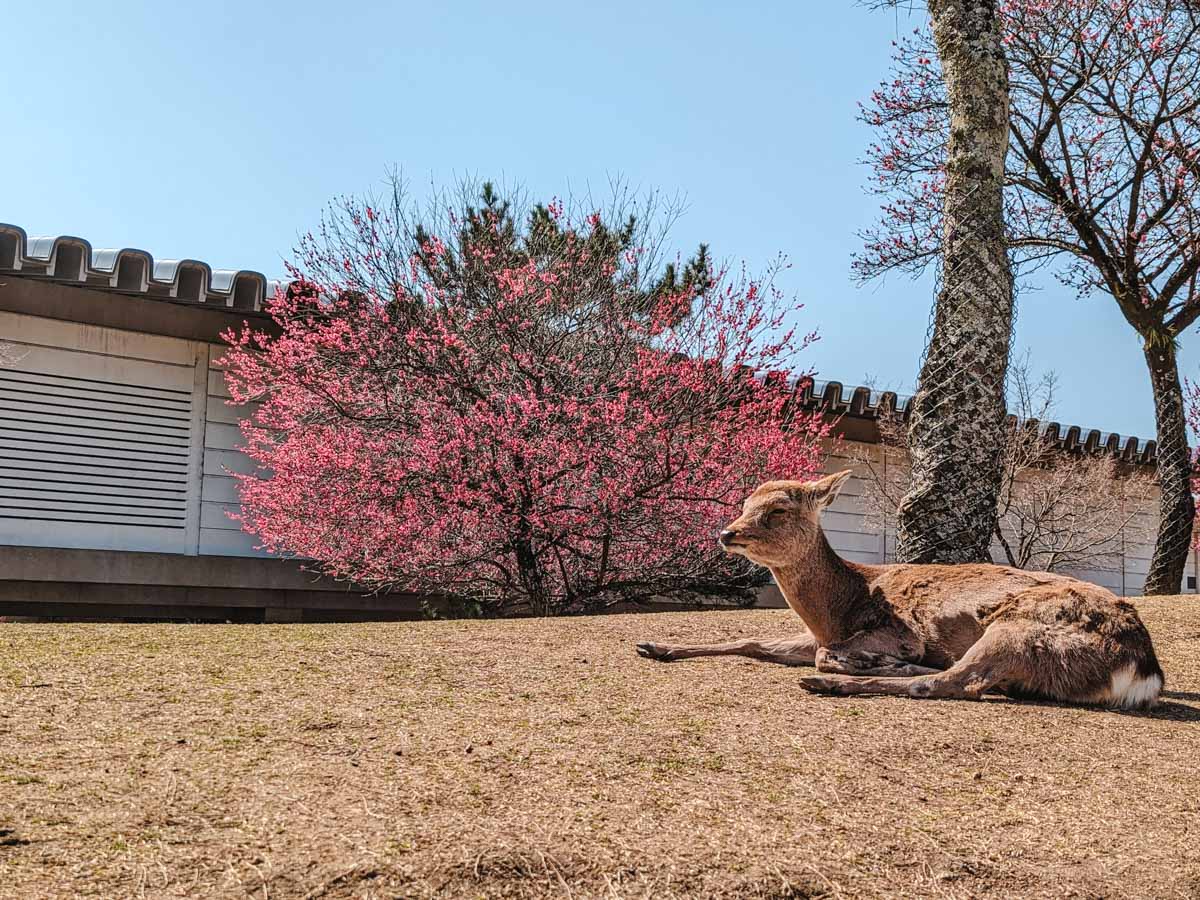 Day 8: Shizuoka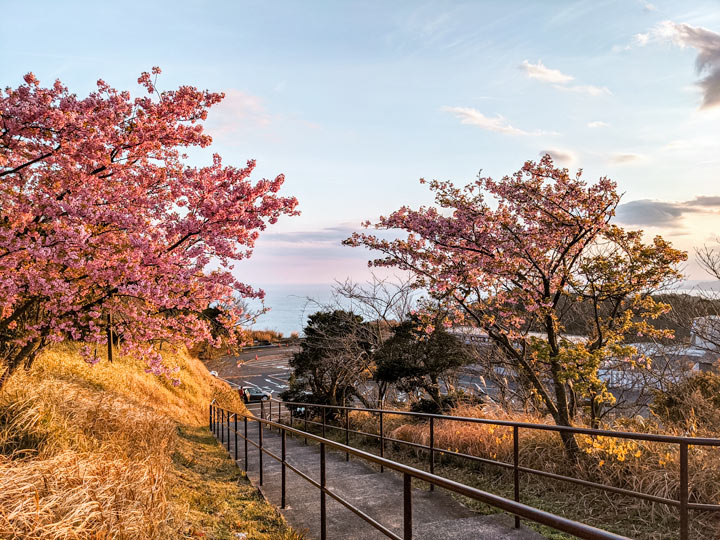 Colorful shrines, Mount Fuji views, matcha cafes… Shizuoka City has some of the best things to do in Japan in 10 days.
While Shizuoka prefecture's natural beauty draws in a fair number of tourists, the region's capital remains off the beaten track for international travelers. In fact, you'll surprise a lot of Japanese people by telling them you visited the places listed here (at least in my experience)!
Sunpu Castle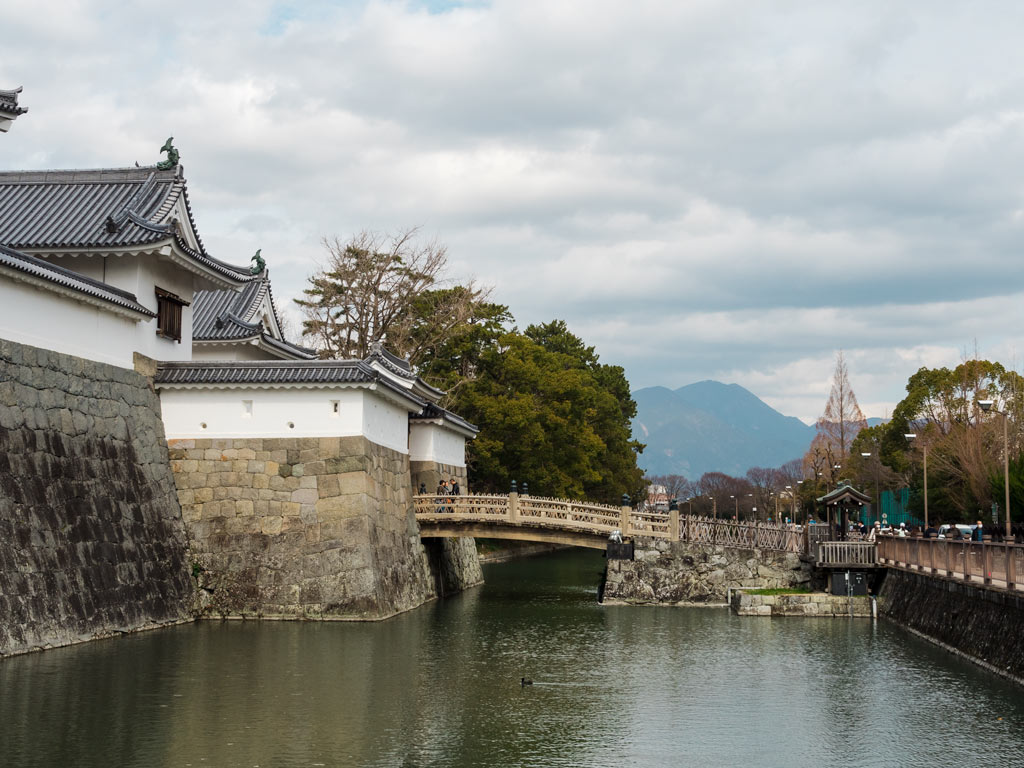 Start your journey at Sunpu Castle, the former home of the Ieyasu shogunate. The castle remnants and grounds have been converted into a bustling park with pretty views towards the distant mountains.
Just a few blocks away is CHA10, a modern green tea cafe with a killer matcha nitro and fluffy cheesecake. Shizuoka prefecture produces over 40% of Japan's green tea, so drinking a glass (or three) is a must while you're here.
Nihondaira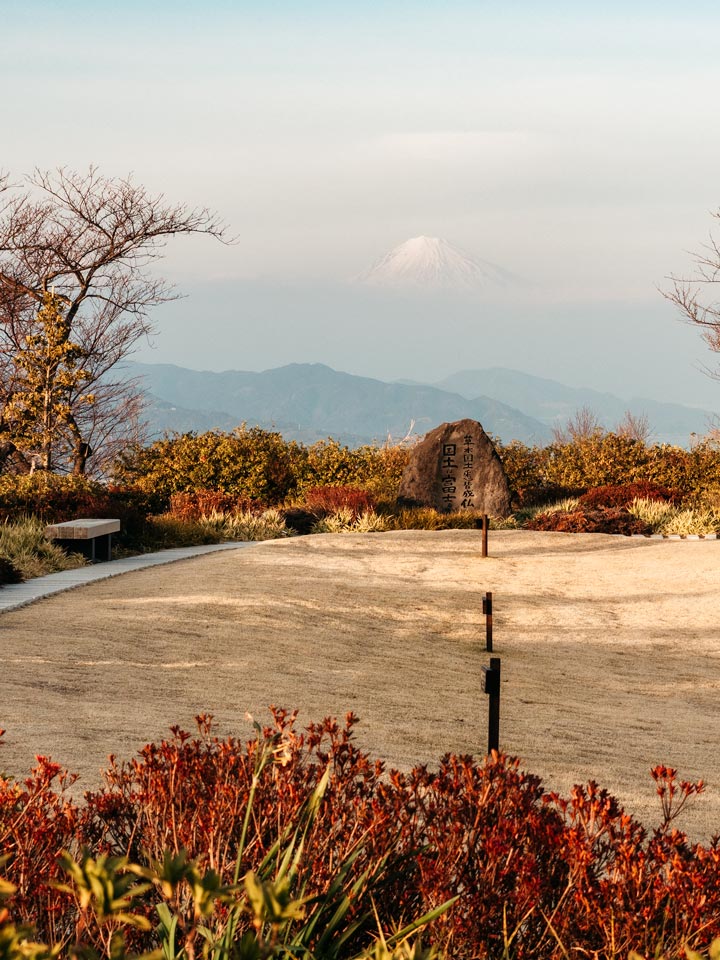 Once you're feeling refreshed, walk over to Shizuoka Station's bus terminal and journey to the Nihondaira for Mount Fuji views (check the timetables and other travel information here.).
This observatory and park at the top of Mount Udo is free to enter, and boasts 360 degree panoramic decks overlooking Shizuoka prefecture and the ocean. Seeing Fuji-san rising behind the city bay was among my top memories from my 10 days in Japan.
Kunozan Tosho-gu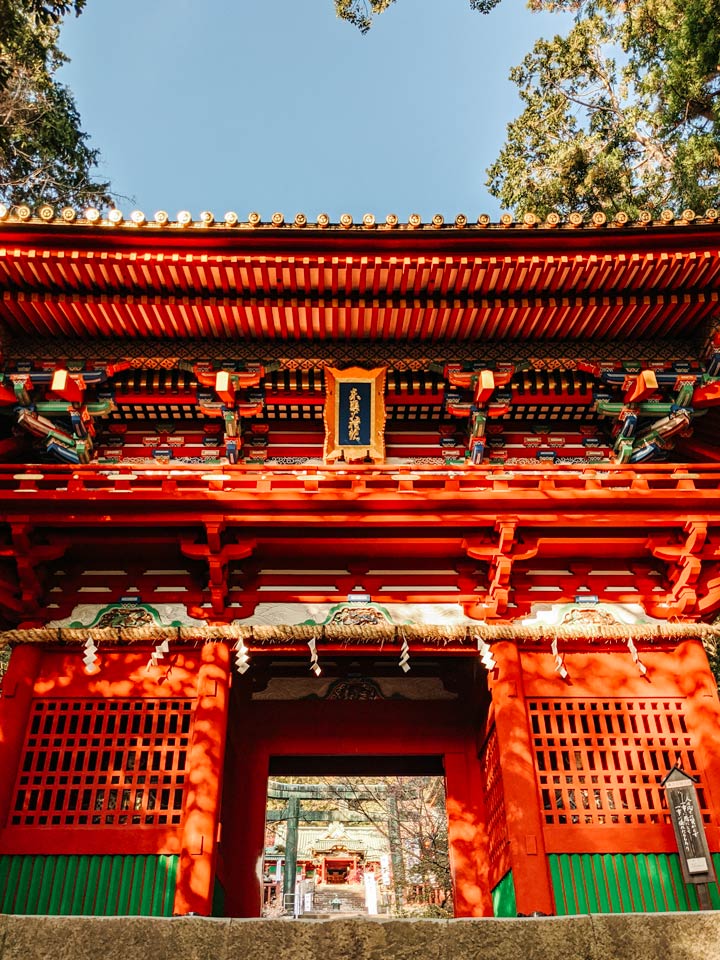 From here, you can take a scenic cable car ropeway down to Kunozan Tosho-gu, where renowned shogunate leader Tokugata Ieyasu is enshrined.
Kunozan is a complex of colorful buildings surrounded by lush forests, with beautiful ocean views from the top. It's the kind of mystical place that entices people to visit Japan.
As mentioned previously, this place is off the beaten path even for Japanese tourists, so you can take your time and soak up every angle and detail without the press and noise of crowds. There were only four or five other people here during my visit in late February.
Miho no Matsubara
If the weather is clear and you have the time, head out to Miho no Matsubara. This tree-lined beach with Mt. Fuji views is one of Japan's best scenic points. It's tough and time-consuming to get here via public transit, so your best bet is to take a taxi (use the Japan Taxi app or call and ask your hotel to order one for you).
Where to stay in Shizuoka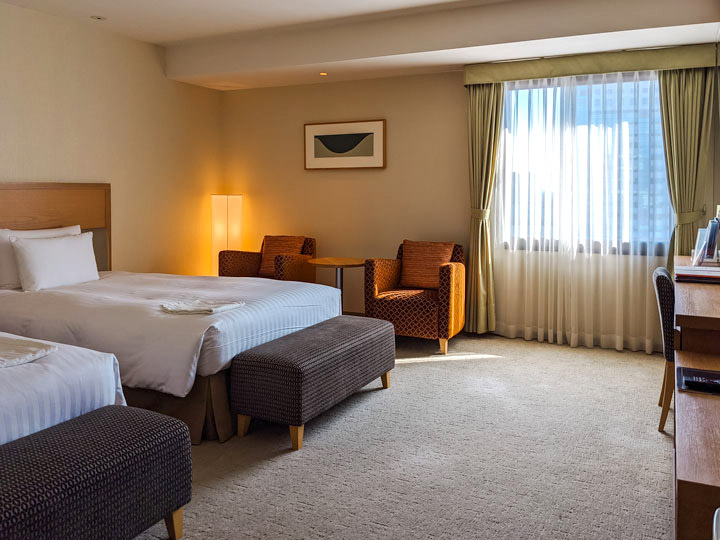 For an ultra-convenient and comfortable stay, book at the Hotel Associa Shizuoka.
You'll be in the heart of the city with easy access to the train station, restaurants, and matcha cafes. Their rooms are incredibly spacious (even by Western standards), and the upstairs bar and dining areas offer stunning views over Mount Fuji.
Book your stay at Hotel Associa Shizuoka today!
Day 9: Nagoya and Osaka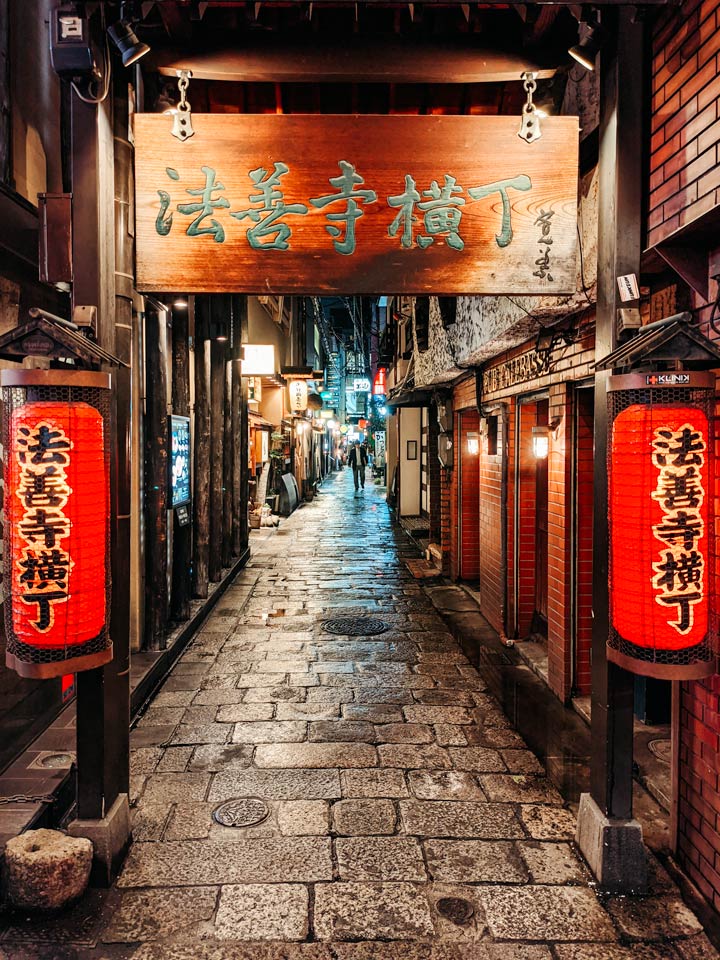 To make the most of this 10 day Japan itinerary, I don't recommend spending the night in Nagoya. Instead, you'll check out the city's highlights before continuing south to Osaka for some nighttime exploring.
Nagoya Castle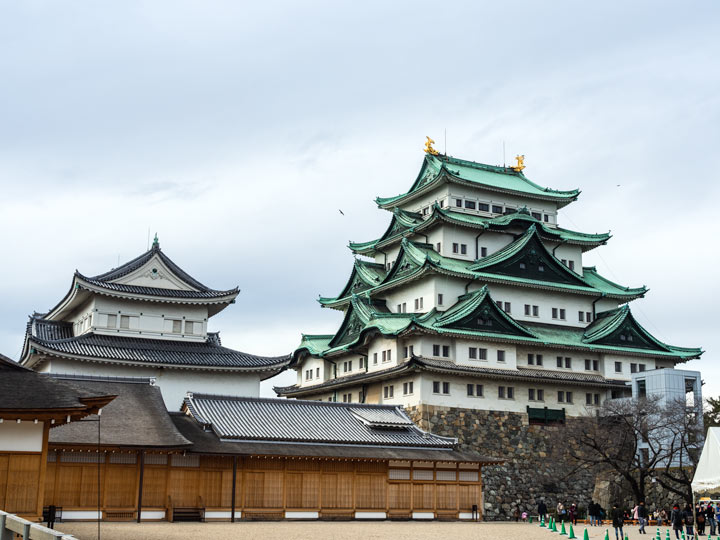 Nagoya is a popular stopover between Tokyo and Kyoto thanks to its iconic castle. Constructed during the Edo-period, Nagoya Castle was one of Japan's largest until it was bombed in 1945.
Restoration efforts are still ongoing, most recently with the main palace getting rebuilt and reopening in 2018. Surrounding the castle, you'll find a mix of Japanese gardens, ponds, hanging wisteria, and a plum blossom grove that blooms near the end of winter.
To get here from Nagoya Station, you can either walk 30 minutes or take two metro lines (about 12-15 minutes' journey depending on the route). Luggage lockers at Nagoya Station are plentiful, so you shouldn't have much trouble finding a place to store your bags during this stopover.
Nagoya Castle Restoration
Nagoya's main keep is set to be torn down and rebuilt between 2024 and 2028. It's hard to say whether or not the castle will still be worth visiting during some or all of the restoration timeline, so I suggest doing a bit of reading online and adjust your 10 days in Japan accordingly.
Atsuta Jingu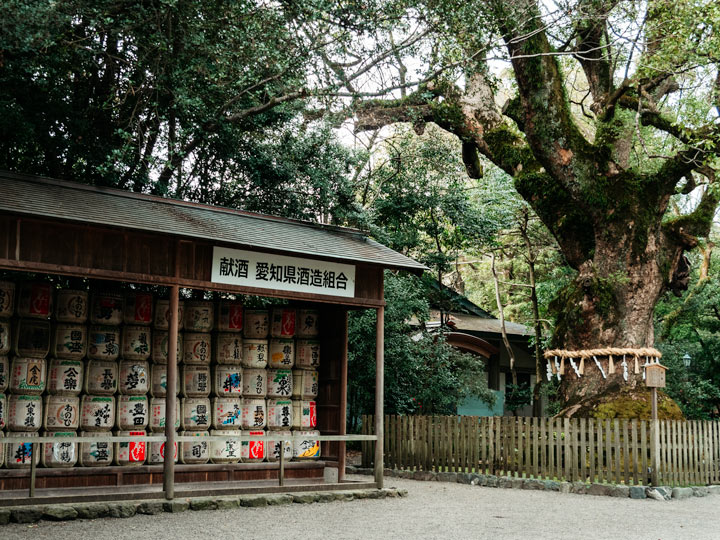 After exploring the castle, take the Meijo subway line south to Atsuta Jingu, a serene respite in the middle of Nagoya city. The shrine complex is famous for its tall cypress trees and lush walking paths lined with flowering trees during spring and summer.
Before you leave Nagoya, enjoy a delicious lunch of hitsumabushi. This miso-glazed grilled eel is served with condiments like hot tea and pickled vegetables, and is a must eat food in Japan.
If you don't have time for a sit-down meal, grab an unagi bento from the station before catching the shinkansen train to Osaka.
Fans of Studio Ghibli will love the recently opened Ghibli Park. Located a short bus + tram ride east of Nagoya city center, this whimsical wonderland was built up around the old replica of Satsuki and Mei's house from My Neighbor Totoro.
While it used to be a huge fuss for non-residents to gain admission, it's now possible to buy Ghibli Park tickets internationally! All tickets require an advanced online reservation, so be sure to plan this excursion out well before your departure.
If you are going to put this in your 10 day Japan itinerary, I suggest going straight from Nagoya Station to the park, as it will make the transit less complicated. Once your Ghibli time is up, you can skip Atsuta Jingu entirely and go to Nagoya Castle.
Osaka Dotonbori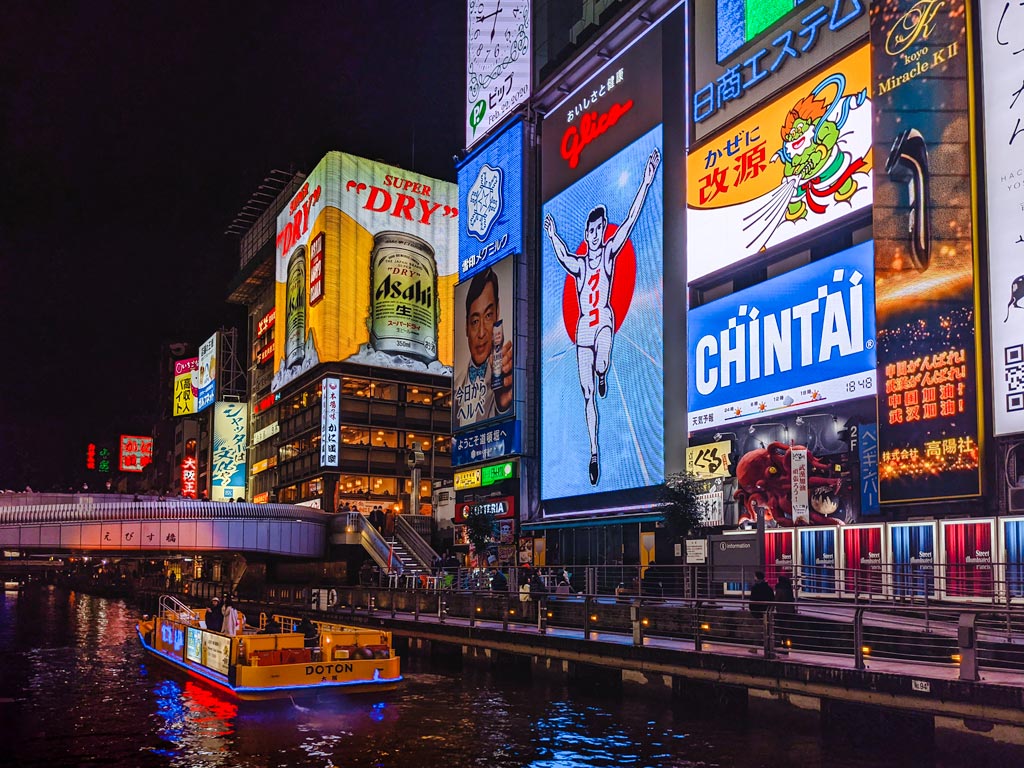 Drop your bags and dive right into the famous Osaka nightlife at Dotonbori. You'll pass beneath colorful billboards, neon lights, and some giant sea creatures as you weave through the crowded streets.
Be sure to check out Hozenji Yokocho and the riverfront Glico Sign and Ebisu Bridge.
If you're hungry for dinner, you're in the right place! Osaka is a street food mecca, and there's plenty of it in Dotonbori.
Takoyaki (fried balls of octopus) and okonomiyaki (egg and cabbage pancakes with mix-ins and savory sauce) are the city's specialties. For a sit-down meal, I highly recommend okonomiyaki at Fukutaro.
Shinsaibashi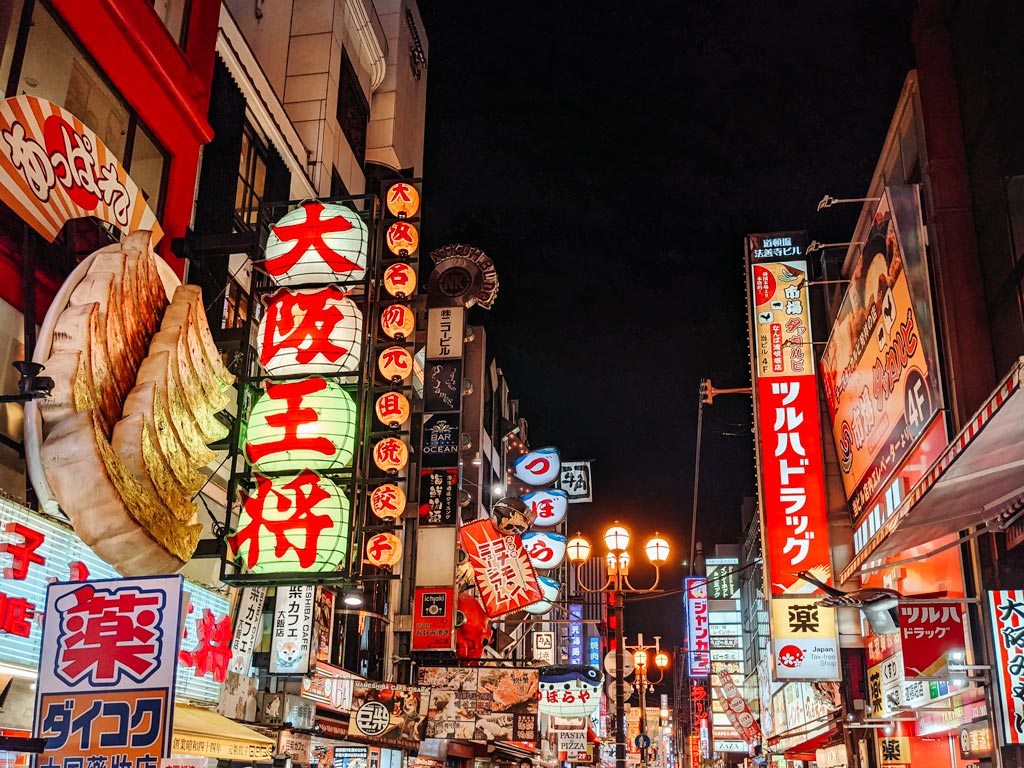 Before you turn in for the night, cross the river to reach Shinsaibashi, Osaka's premier shopping district. Even if you aren't looking to buy, its vibrant shopfronts and covered markets are a must see after dark.
Where to stay in Osaka
For this short trip to Osaka, I recommend staying near Namba Station. Most of the activities are walkable from here, and the rest can be easily reached via public transit.. Plus, you'll have an easy connection back to the shinkansen station or airport.
Hotel WBF Namba Motomachi is a great option for budget travelers. The rooms are simple and small, but the location is perfect for exploring Osaka on foot in a short time.
Day 10: Osaka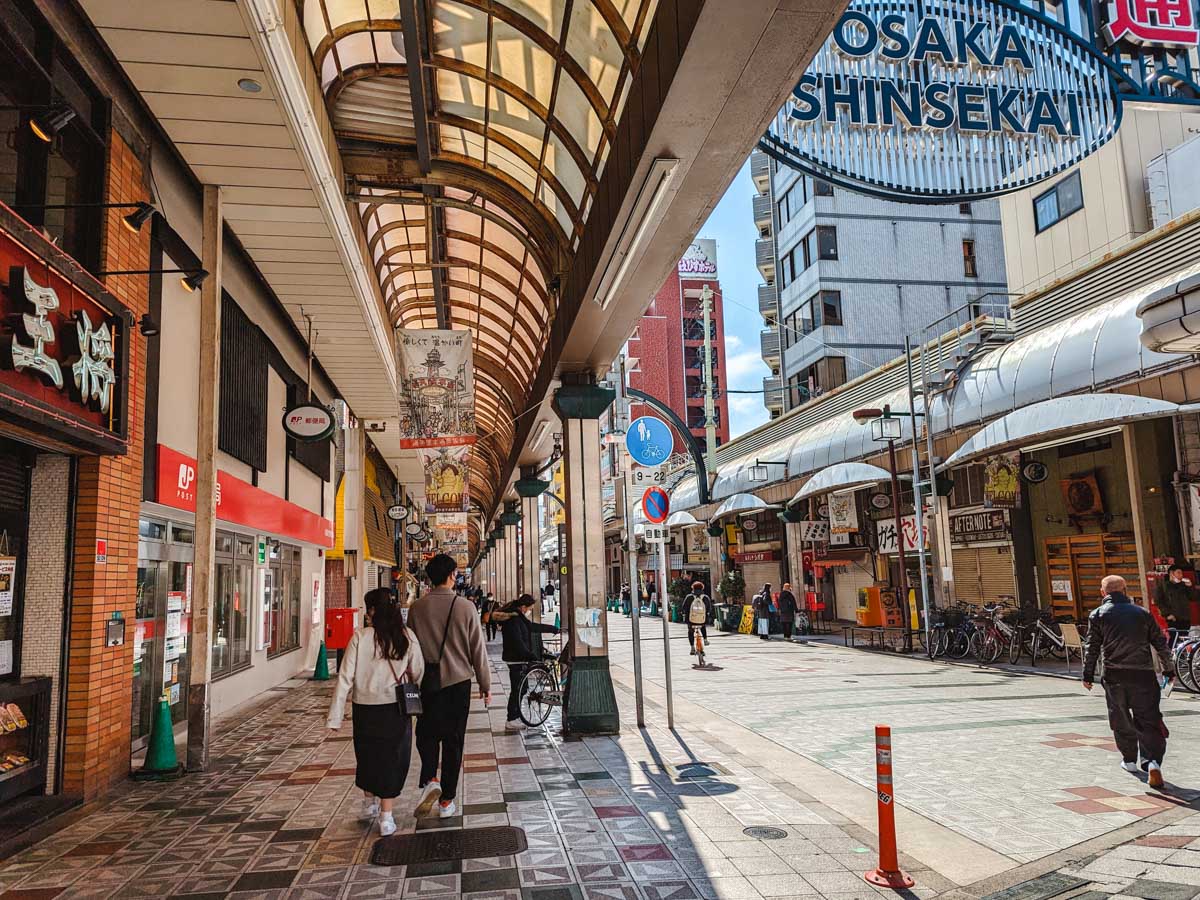 Close out your 10 day Japan itinerary with an epic exploration of Osaka. There's a lot of walking involved today, so wear your comfiest shoes!
Sumiyoshi Taisha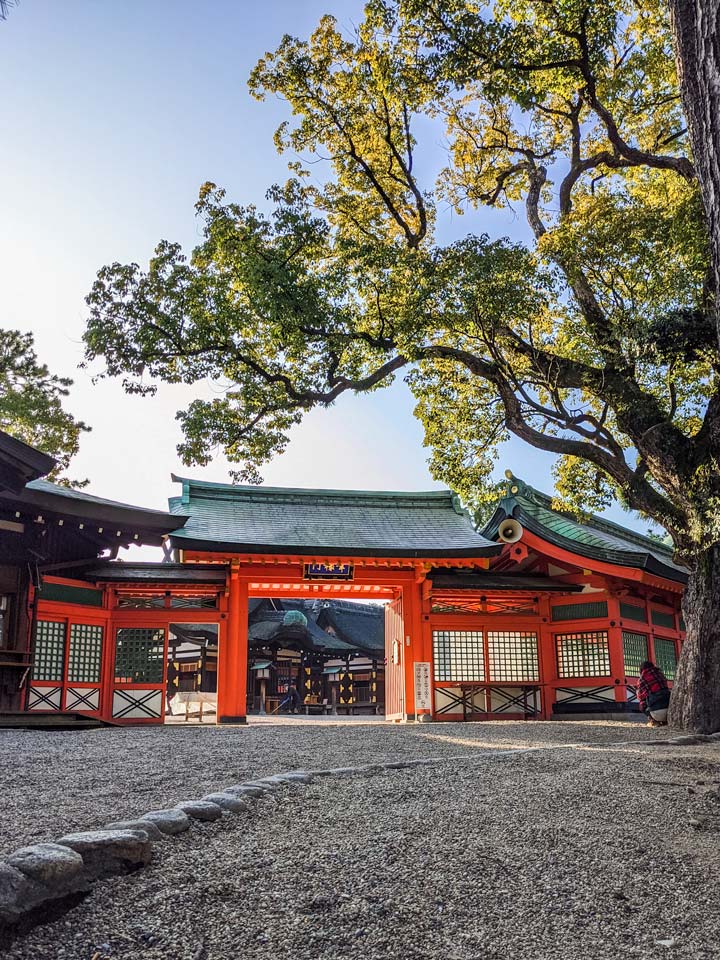 You'll have an early yet magical start at Sumiyoshi Taisha, a 1,600-year-old Shinto shrine. The sprawling complex includes twisting trees and a lovely pond with a red footbridge.
It's best to visit before 9am, when the grounds are still quiet and the priests are conducting their morning chores.
Exit on the eastern side and cross the street to reach Sumiyoshitorii-mae tram stop (it's the raised platform in the median). Then, take the Hankaidenki-Hankai tram to Dobutsuen-mae.
Shinsekai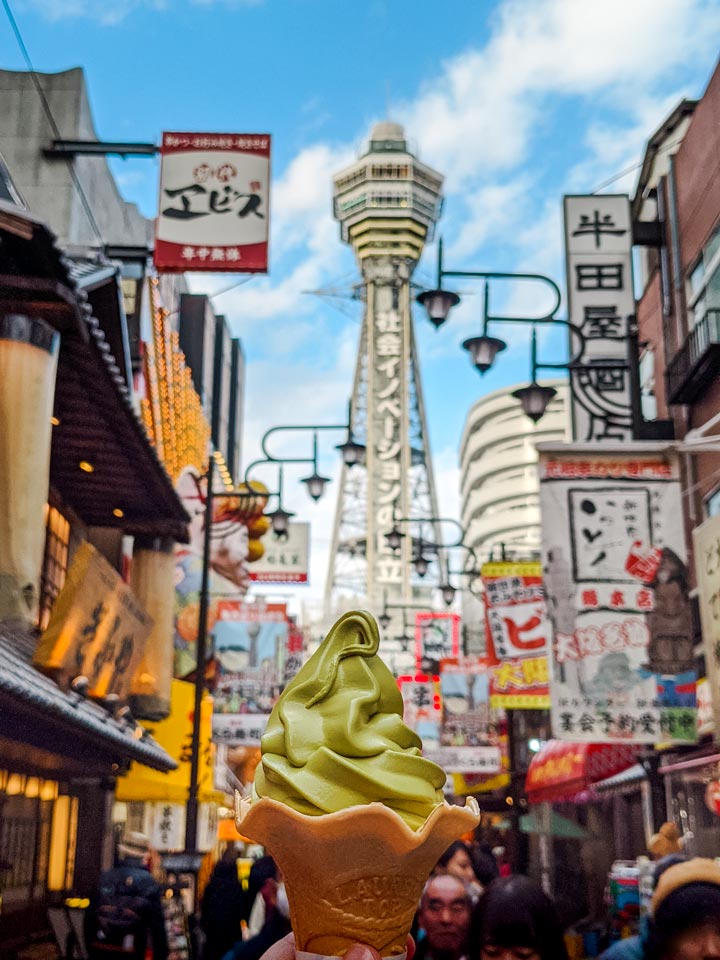 Hop off the tram and walk north to Shinsekai, the Insta-famous street with a view of Tsutenkaku tower. There are tons of restaurants and shops in the area, including a massive Don Quijote.
The whole place has the feel of a carnival with music, game centers, and abundant street food vendors. The retro covered shopping arcade feels as though it hasn't changed since the late 80s, which is Osaka's vibe in general.
Tennoji Park and Keitakuen Garden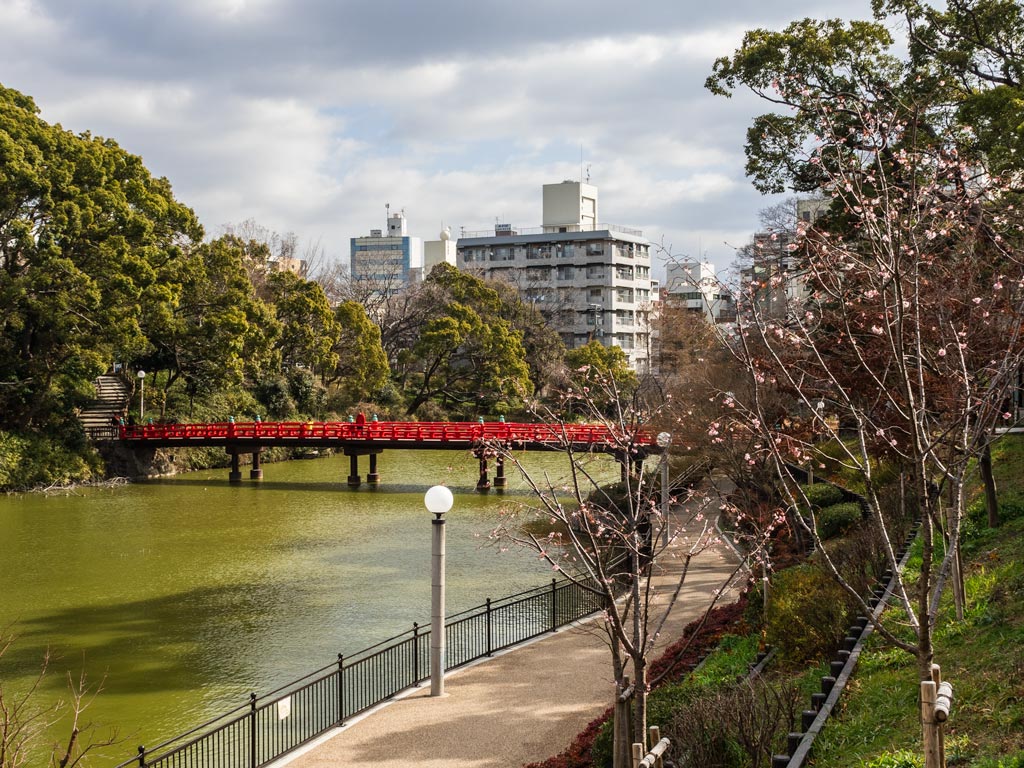 From here, it's a short walk to Tennoji Park, a huge green space in the middle of Osaka. The red zen bridges and view of the radio tower make for yet another striking combo in this urban landscape.
Definitely pay the 150 yen admission to Keitakuen Garden for unique views of the city skyline.
There are several paths that loop and cross Keitakuen Garden, so keep an eye on the small wooden signs as you explore. You'll eventually need to exit north to reach the next set of temples.
Isshinji and Shittenoji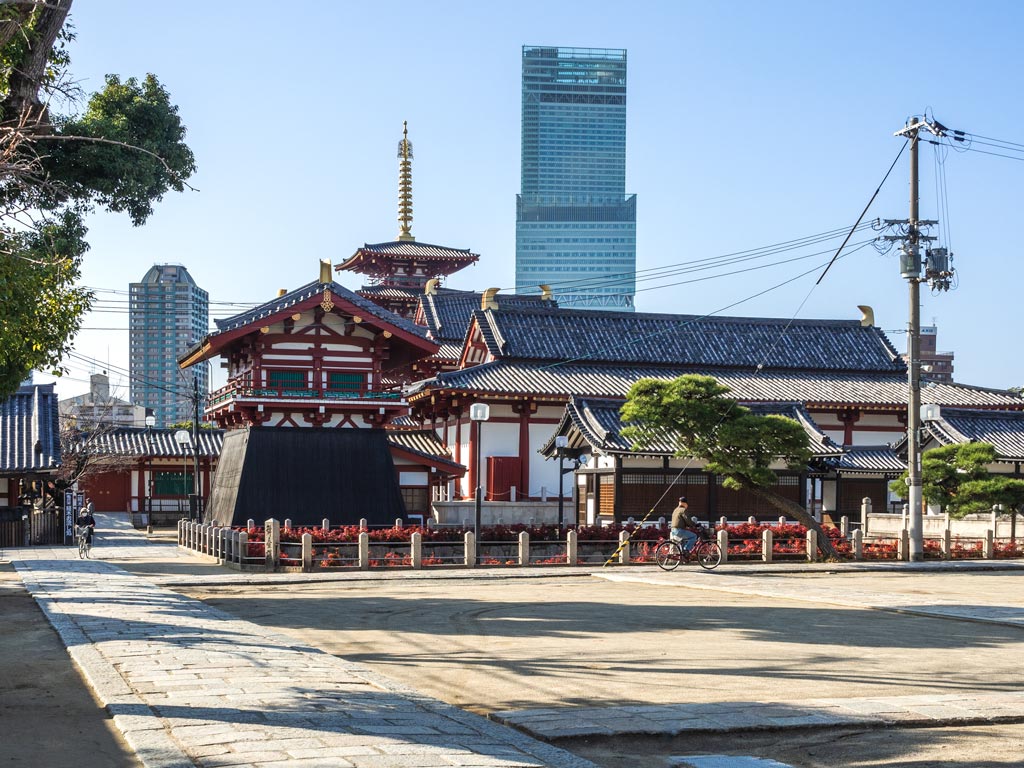 Exit the garden to the north and pass by Isshinji Temple on your way to Shittenoji, an impressive and ancient Buddhist temple with a gorgeous pagoda. I loved that you could see the modern skyscrapers rising behind the historic buildings.
If you're visiting on the 21st of the month, you're in luck! Shittenoji hosts a monthly Daishie Market where vendors sell all sorts of artisan crafts, clothes, antiques, ingredients, and tasty food. It's an excellent place to pick up a few souvenirs.
Kuromon Market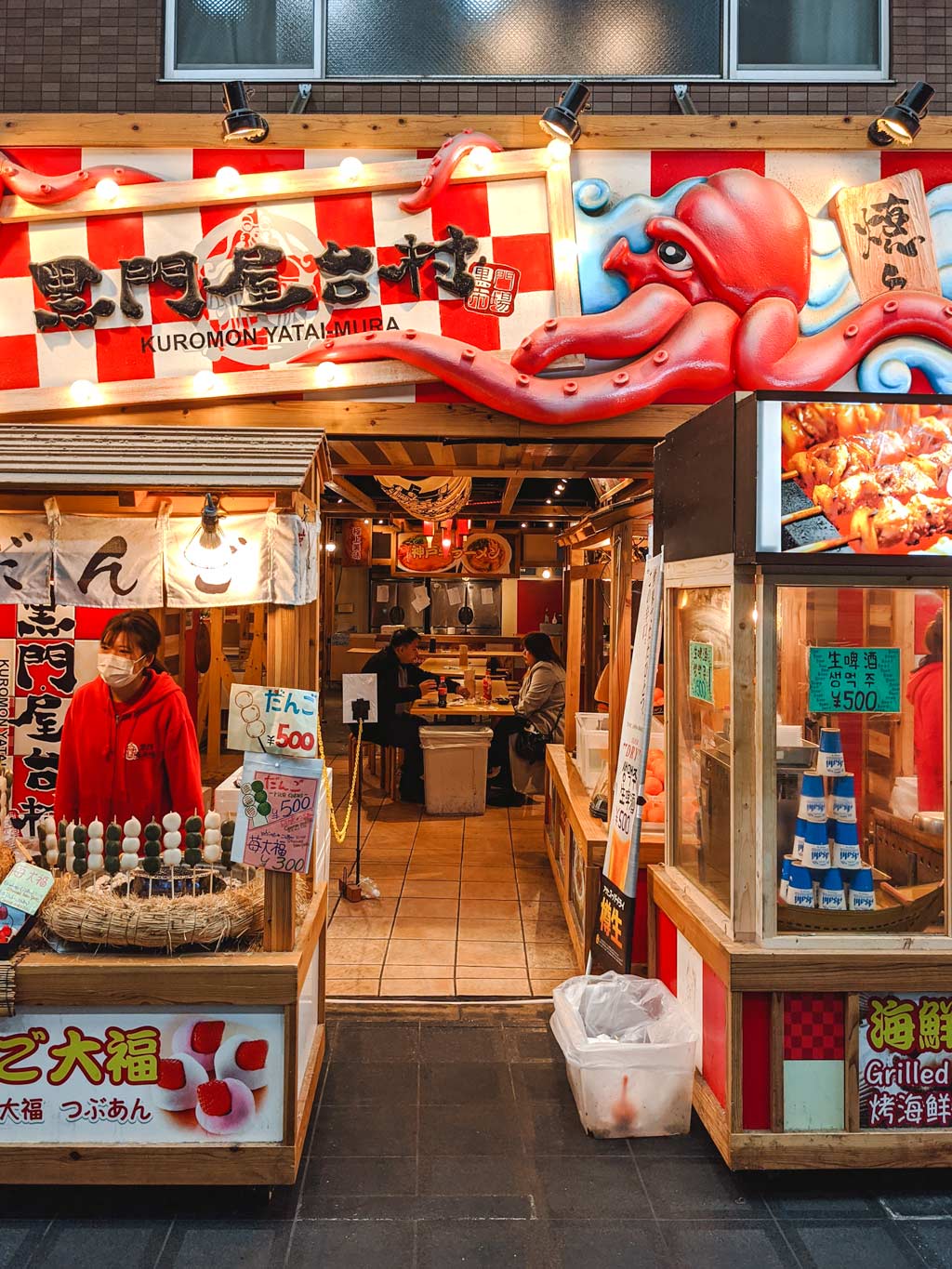 After exploring the temple complex, it's time to eat! Walk west to Ebisucho Station and take the Sakaisuji Line to Nippombashi Station. This will drop you right outside Kuromon Market, one of the busiest food markets in Japan.
Kuromon Market is 100 years old, but only started selling street food around 2016 due to an influx of Chinese tourists. Before then, it was a shopping market frequented by locals.
Kuromon can be pretty intimidating, especially if you don't speak Japanese, so I strongly recommend booking a guided food tour with a local. I had the best time sampling and learning about Japanese cuisine with Hiro, our local guide.
Book your Kuromon Market food tour here!
Den Den Town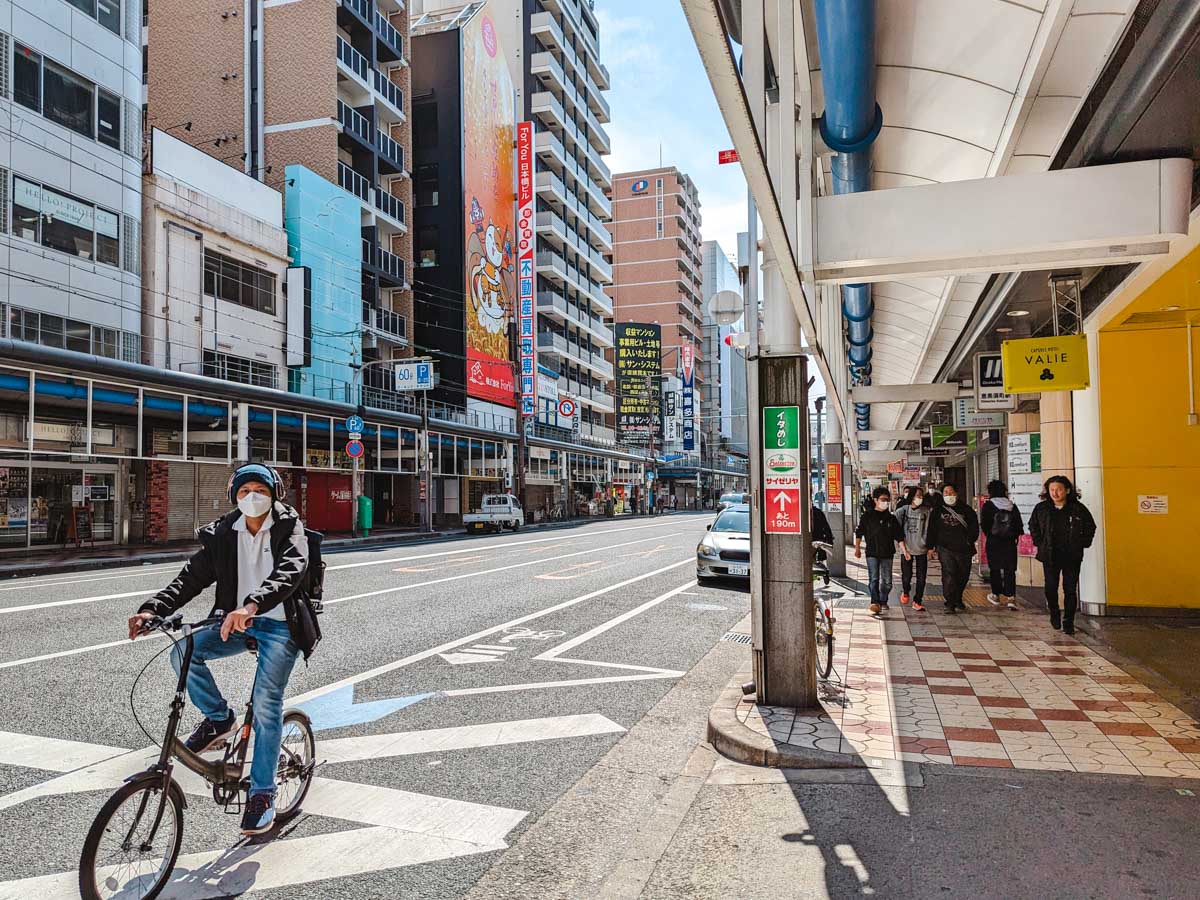 Like Akiba, Den Den Town is filled with arcades, figure sellers, manga stores, and electronic shops. While there aren't as many colorful billboards lining the streets, there's still plenty to see and do here.
Super Potato has a location here, and Super Kids Land is jam-packed with figures, model kits, trading cards, and other nerd culture favorites. For gaming, check out Namco's classic arcade or The Silver Ball Planet if you like pinball.
Osaka Castle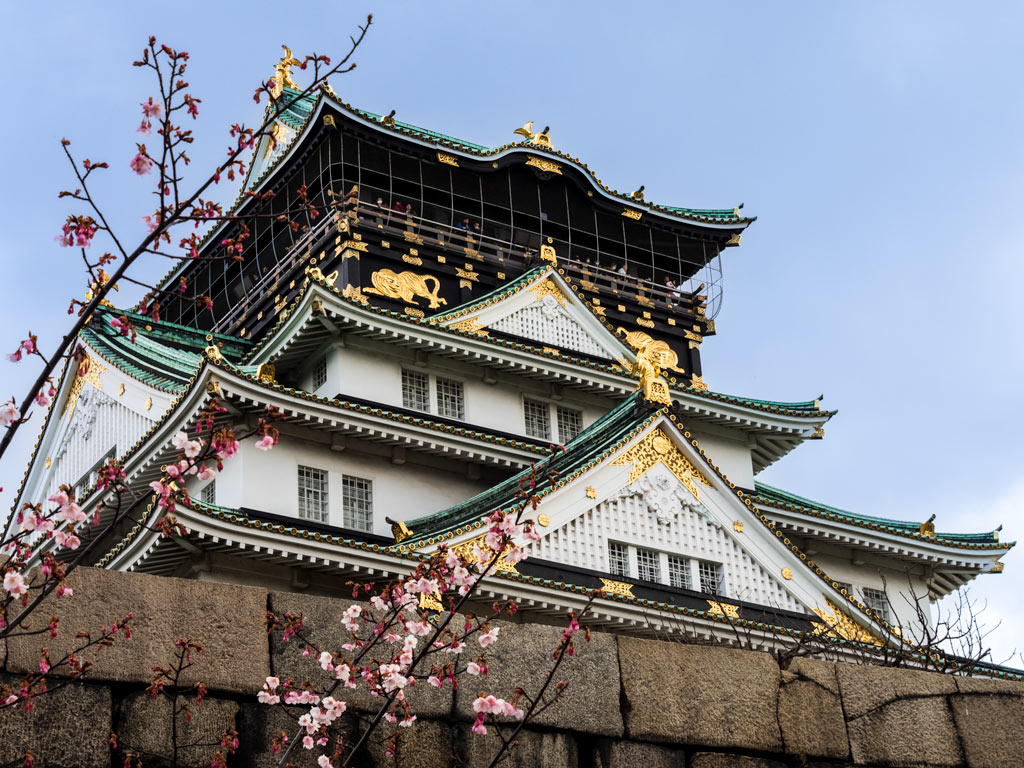 Depending on where you ended up, it's a 30-ish minute journey by metro to Osaka Castle. Photos do not do this place justice.
The five-storied layers of white, gold, and teal are absolutely breathtaking when viewed up close, especially through a veil of plum and cherry blossoms. You can also pay 600 yen to visit the castle tower for stellar views over the city below.
However, the lines are always super long, so I recommend skipping the tower and simply enjoying the views from the surrounding park.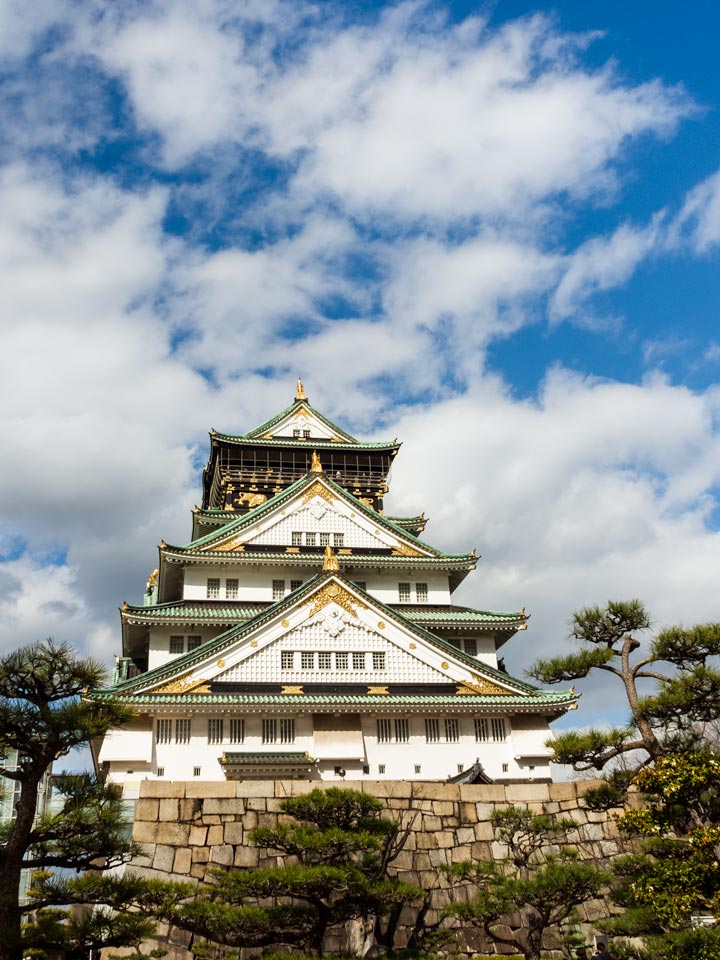 Umeda Sky Building
And speaking of awesome overlooks, you'll cap off your 10 days in Japan at the Umeda Sky Building. The 40th floor observation deck provides unparalleled panoramic views over Osaka.
You'll need to make an online reservation, and I suggest choosing a sunset time slot for the ultimate experience.
Map of 10 Day Japan Itinerary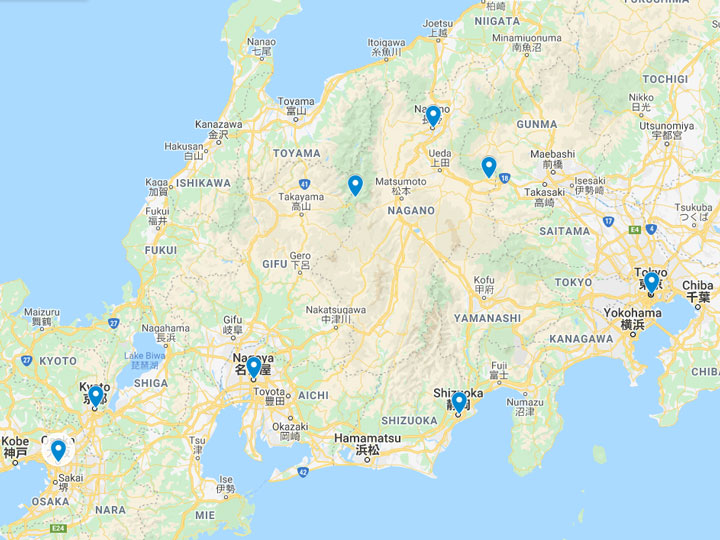 Know Before You Go
Before you embark on your 10 day trip to Japan, there are a few things you should know.. These detailed guides cover everything from packing lists to cultural taboos:
My favorite Japan travel books
These books are full of fun and practical information about traveling in Japan (I own all three!):
You'll find pretty much everything you need in the above resources. But if you're after the TL;DR version, here are the must-knows:
Many Japanese train stations have coin-operated luggage lockers where you can store bags of all sizes. Sometimes it's more practical to store your luggage and start sightseeing right away rather than travel to your hotel to drop your bags.
Always carry cash, as many small restaurants don't accept credit cards
Rent a pocket wifi or SIM card for mobile data on the go
Download offline Google Maps for every city you're going to visit (in case you lose service and get lost)
Don't eat or drink while walking or on public transit (except for bullet trains), and be prepared to carry your trash/recycling around because bins are scarce
If you have dietary restrictions, scout out restaurants in advance and have a way to communicate your needs in Japanese (ex. make some English/Japanese allergen cards)
Learning some simple travel phrases goes a long way
The Best Time to Spend 10 Days in Japan
The best time to visit Japan is a matter of personal preference–including how much money you want to spend.
That being said, if you're going to follow this 10 day Japan itinerary, I highly recommend mid-October through mid-November. You'll get to experience autumn colors in all their glory, from the mountains of Nagano to the temples of Kyoto.
Autumn is also a more affordable time to visit compared to the popular sakura season in March-April. And the weather will be mild and pleasant–around 60°F / 15°C–everywhere except parts of Nagano.
Frankly, any time other than mid-June through August is a good choice. Summer is best avoided, as the weather is hot, muggy, and generally miserable.
Where to stay in every city