Did you know that it's possible to enjoy a trip to Italy without going to Rome or Florence? Admittedly, I was nervous about skipping the more popular cities to spend 3 days in Bologna. But I quickly realized that Bologna offers the best of the Italian experience without the crowds or touristy gimmicks.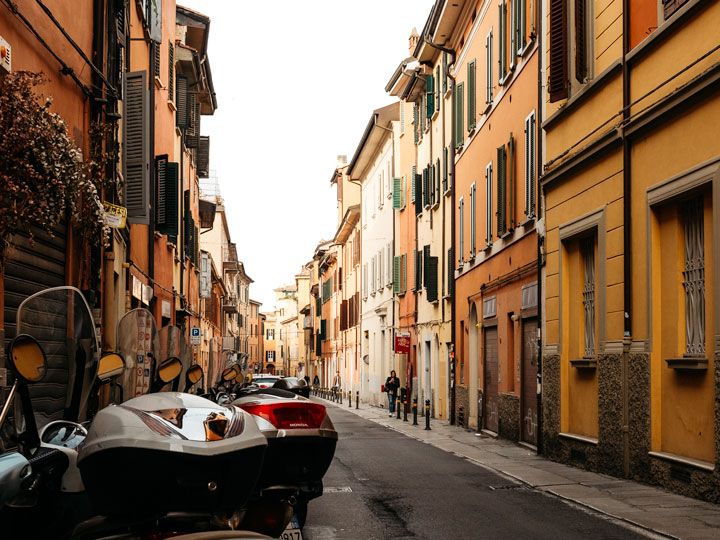 When you think of Italy, what comes to mind? For me, it's winding alleys with mopeds and painted shutters, heaping cones of creamy gelato, and beautiful old architecture. Also, Roberto Benigni falling off of his bicycle in La Vita è Bella.
Whatever you picture, it probably doesn't involve massive throngs of people jockeying for the best Instagram spots! And yet, that's how millions of people experience Italy every year.
Instead of battling crowds and desperately searching for authentic Italian restaurants, our 3 day Bologna itinerary was a relaxed exploration of the city's highlights and hidden gems. Unlike the day trippers from nearby Venice and Milan, having multiple days allows you to savor more than just the food.
It's why I always recommend it as a great city to visit for your first time in Europe!
From world class museums to scenic parks, there are tons of things to love about this beautiful city. If you are unsure about spending three days in Bologna vs one, I hope this post convinces you to extend your visit.
This post contains affiliate links. As an Amazon Associate, I earn from qualifying purchases. For more information, click here.
How to Spend 3 Days in Bologna
Know Before You Go
Money
Estimated budget for 3 days in Bologna (excluding accommodation and transport): €160 / $175
Italy uses the euro (€). Card is widely accepted, though it's always a good idea to carry cash.
Tipping in Italy is a bit complicated, as each region has their own norms. In Bologna, some restaurants will charge a coperto, or flat rate cover charge, as part of the bill (usually around 1.50€ per person). Others will add a servizio, or service charge, which is calculated as a percent of the final bill.
Always read the menu carefully to see if servizio is included! Coperto will show up conspicuously as a line item on your receipt, but it's not always easy to tell if servizio was added. If you're charged a servizio, you aren't obliged to leave a tip.
But if you're charged only a coperto, it's up to you whether to leave an additional tip. For an individual or couple, one euro per person is fine, though you can leave more if you wish.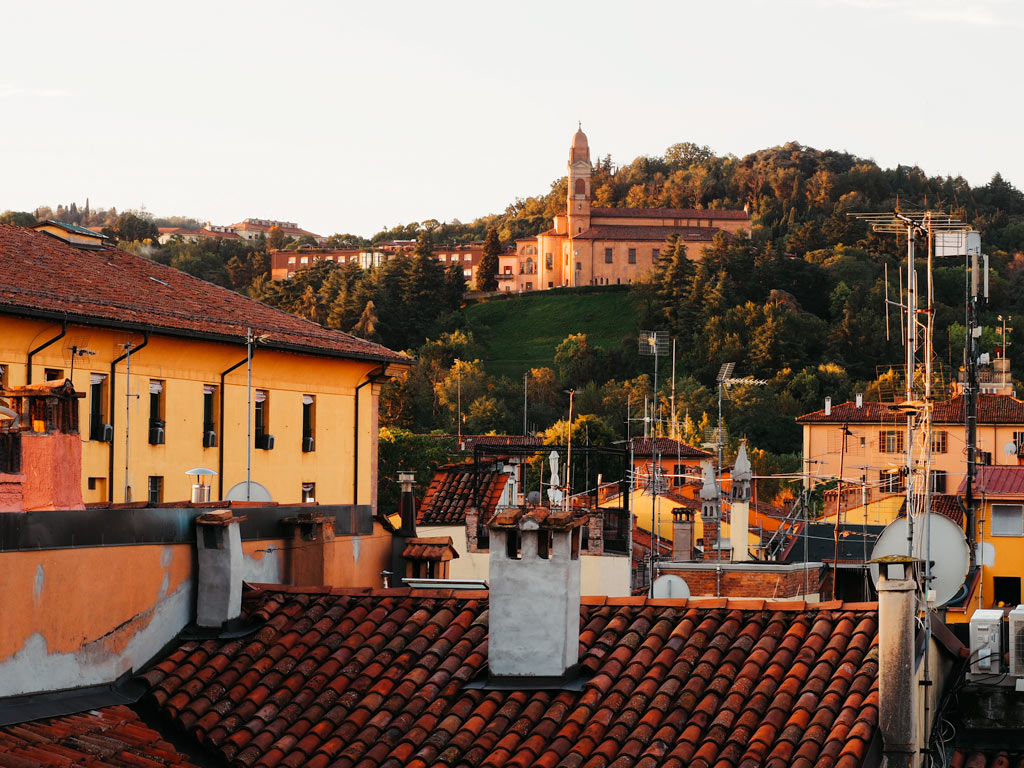 Should you buy the Bologna Welcome Card?
Disclosure: I received a complimentary Bologna Welcome Card PLUS as part of my work with the Bologna tourism board.
The short answer is: yes. The Bologna Welcome Card PLUS will save you money AND time if you follow this itinerary.
When deciding whether or not to buy a city card, you need to consider two things: cost savings and convenience. Unlike some city cards, you don't need to see every attraction to get your money's worth from the PLUS card.
This Bologna itinerary doesn't even cover half of the included attractions, and you'd still save 4 euros by buying the Bologna Welcome Card PLUS rather than individual tickets.
You can also show the card digitally on your phone, so there's no need to pick up a physical copy from the tourism office (unless you want one).
Language
Bologna's official language is Italian. Although every person we encountered (aside from a taxi driver) spoke English, I always recommend learning a few basic travel phrases before you arrive.
3 days in Bologna doesn't require much knowledge of Italian, but knowing some of the language goes a long way. If you don't have Google Translate installed on your phone with the Italian dictionary downloaded, do that before you leave.
Here are a few Italian travel phrases you should know:
Hello: Ciao (chow)
Good morning: Buon giorno (bwown JOURN-oh)
Good evening: Buona sera (bwowna sarah)
Yes: Si (see)
No: No (no)
Thank you: Grazie (graht-zee-eh)
Please: Per favore (pear fa-VOR-eh)
I would like: Vorrei (voh-ray)
Transport
During our 3 day Bologna itinerary, we walked everywhere. Because of the beautiful porticos and relatively compact layout, there was only one reason to take the local bus: going to and from the Bologna International Airport to the city center.
Even with a heavy backpack and a rolling suitcase, we found the 25 minute walk from Bologna Central Station quite manageable.
However, there is a network of TPER buses that operate in the city if you need them. Most buses have machines on board where you can buy tickets with coins, but it's better to buy tickets at a nearby convenience store or ticket machine before boarding.
Uber is not available in Italy, so if you want to hire a car, you'll need to call a taxi. It can be rather expensive (and slow) to get around Bologna by taxi, especially when so many streets close on the weekends and for festivals.
Unless your Italian is decent, I recommend getting someone at your accommodation to help you call a cab.
Getting from Bologna Guglielmo Marconi Airport to the city center
The easiest and cheapest way to get from Bologna's international airport to the city center is via the new Marconi monorail. This shuttle service runs every 7 minutes (at peak times) between the airport and train station.
As of November 2021, a return ticket costs 16 euros. You can buy advance tickets online, which will email you a QR code that you can use from your smartphone to board. Or you can use a contactless card to board, though it's not guaranteed that cards issued outside of Italy will work.
While there's a taxi stand outside of the airport, we found that the drivers would only take us to Bologna Central Station or the convention center. And the fares are fixed at 20 euros, making it way more expensive and less convenient than the monorail.
If you want to be taken to a specific place in the city, you'll want to arrange for a taxi ahead of your trip.
The best time to do this Bologna itinerary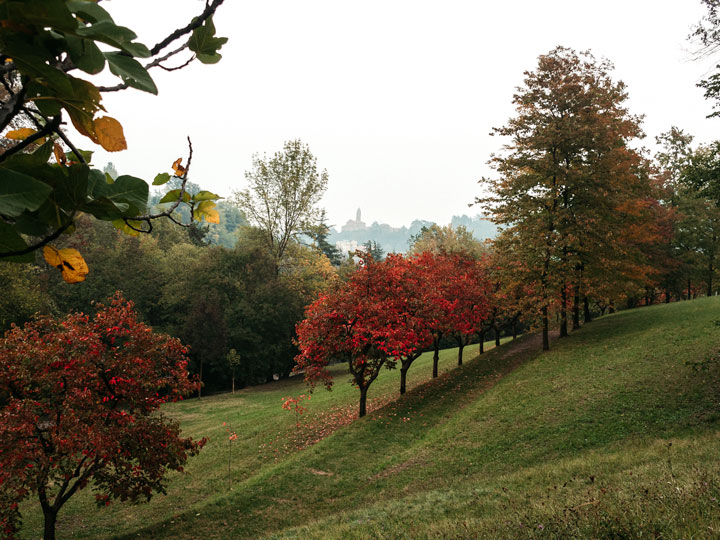 From spring festivals to fall foliage, it's hard to choose the best time to visit Bologna. Here are some seasonal highlights to help you decide:
January – March: If you're looking to avoid the crowds and save on accommodation, mid-late winter is the ideal time to visit Bologna. However, be prepared for wet and cold weather in January and February, when the average high is around 7°C / 45°F.
April – June: As the weather warms up, Bologna comes alive. Nature and food festivals start up, such as the Di Verde in Verde garden festival in May and the famous June culinary Festa Artusiana in nearby Forlimpopoli.
July – August: If you can help it, I strongly suggest avoiding Italy travel in July and August. This is peak season for both international visitors and locals to explore the country, which means crazy crowds and expensive hotels. It's also fairly hot, with average highs of 30°C / 86°F.
September – October: Autumn in Emilia Romagna is amazing. Aside from the beautifully changing colors, there are tons of local festivals to celebrate the harvest. While the crowds start to thin out in October, there are two major Bologna trade festivals that happen this month, which makes accommodation scarce and expensive (we learned this the hard way!). Check the Bologna Welcome website for a list of events and dates.
November – December: Cooler weather (around 10°C / 50°F) and fewer crowds make this a great time to visit Bologna. There are a few lingering fall festivals in November, like the truffle-celebrating Tartufesta, and December brings twinkle lights and two charming Christmas markets to the city.
Where to Stay in Bologna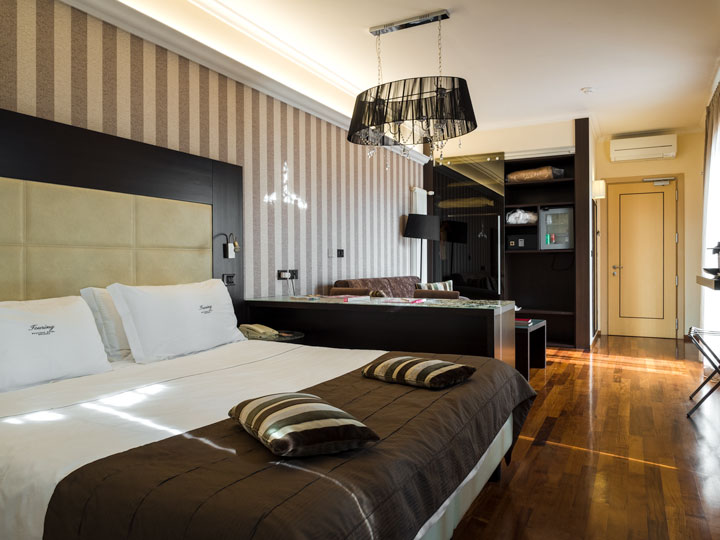 Hotel Touring is the ideal home base for this Bologna itinerary. It's a beautifully updated hotel just a few minutes' walk from the city center, so you can easily pop back for a mid-afternoon rest between sightseeing.
Aside from the great location, comfy rooms, and stellar breakfast spread, the best thing about staying at Hotel Touring is the rooftop terrace.
We took every chance we had to watch sunrises and sunsets from this amazing lounge area, which offers near-360 degree views over Bologna. Imagine enjoying a glass of wine here after a long day wandering the city. It doesn't get much better than that!
Book your stay at Hotel Touring today!
If you can't manage to get a room at Hotel Touring, there are some charming apartment-style accommodations throughout Bologna where you can immerse yourself in the local lifestyle.
3 Days in Bologna Itinerary
Day 1
Quadrilatero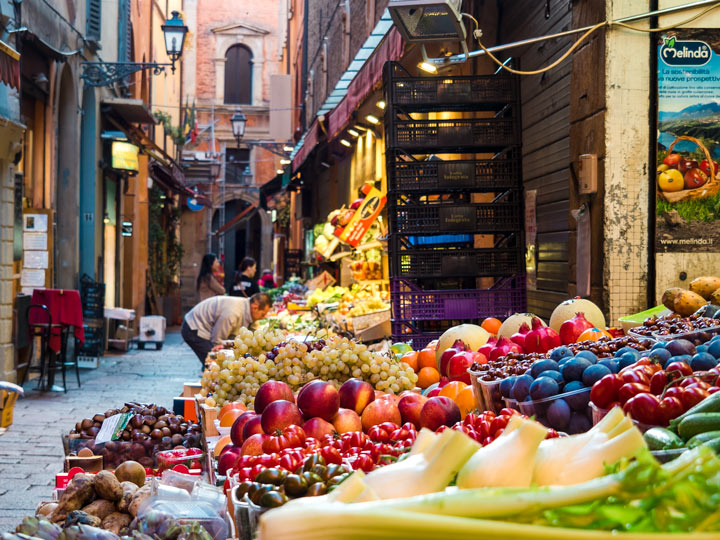 There's no better place to start sightseeing in Bologna than the Quadrilatero. This medieval marketplace of narrow alleys is filled with shops and stalls selling produce, cheeses, pasta, meats, and other artisan goods.
Bologna is a city of many nicknames, including il grasso ("the fat one"). As you stroll past the old shopfronts and take in the sights and smells–joints of ham dangling from the ceiling, loaves of bread fresh from the oven–it's easy to see how the city earned this moniker.
Aside from the shops and stalls, the Quadrilatero is also home to some of Bologna's most renowned restaurants, like Tamburini and Osteria del Sole.
Because of its central location, you'll have plenty of chances to visit the Quadrilatero during your 3 days in Bologna. But the best time to go is in the morning, before the crowds of day trippers and tour groups flood the streets.
Santa Maria Della Vita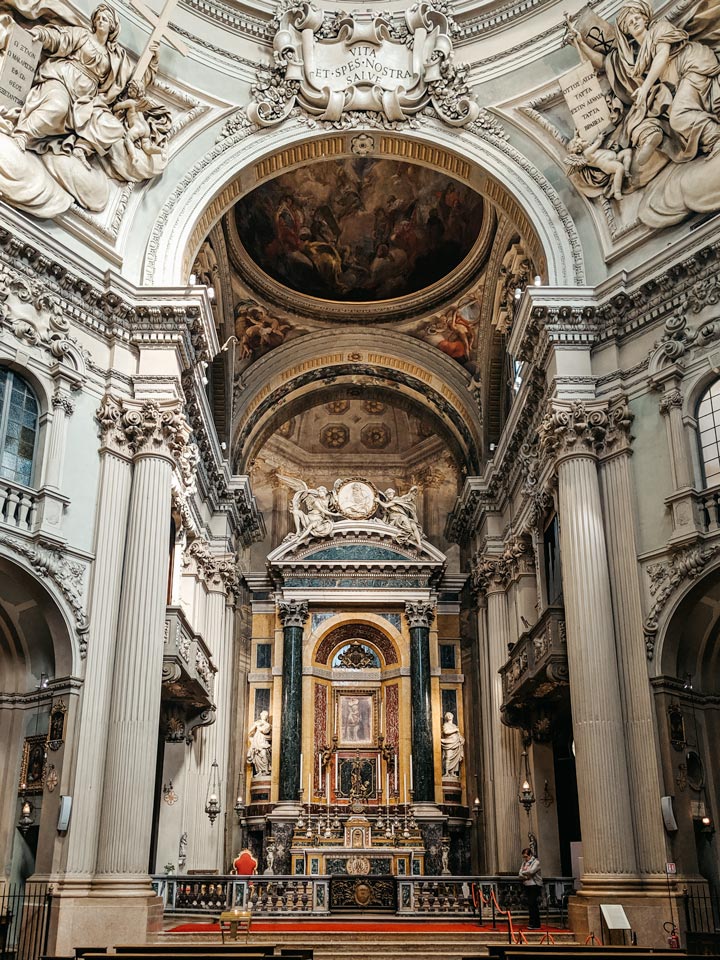 Before you leave the Quadrilatero, there's one more gem tucked along the Via Clavature. Behind a tall, dark door and pink facade lies the Santa Maria Della Vita, one of the prettiest churches in Bologna.
As you enter the church, you'll be greeted with high walls supported by white stone columns, elaborate carvings, and beautiful artwork from floor to ceiling. One of these pieces of art, Niccolò dell'Arca's Compianto, is a famous 15th century set of sculptures depicting the mourning of Christ.
While admission to the church is free, tickets for the Compianto area cost 4 euros. However, it's free with the Bologna Welcome card.
Piazza Maggiore & Piazza del Nettuno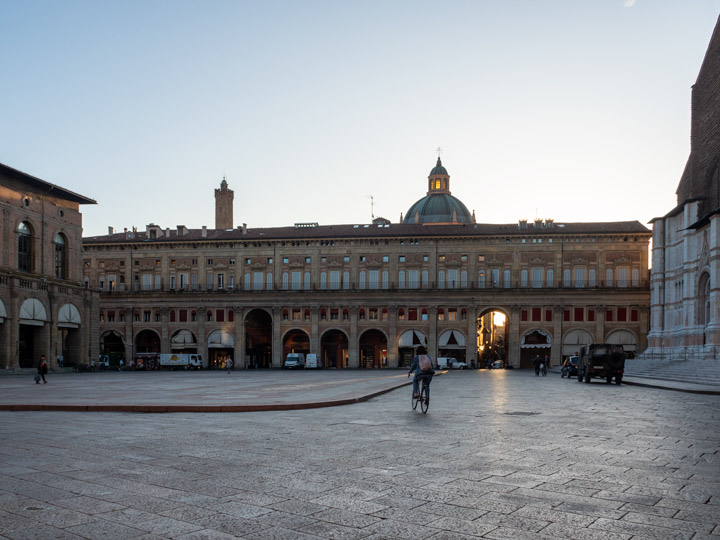 Just a block west of the Santa Maria Della Vita, you'll find the bustling heart of Bologna: Piazza Maggiore. This lovely Italian square is surrounded on all sides by porticos, palazzos, and churches.
The series of arches forming Palazzo dei Banchi's facade run along the Piazza's eastern side, while the northern arches belong to the Palazzo del Podesta. To the west lies Palazzo d'Accursio's castle-like walls and charming clock tower. And rising above all on the southern edge is the impressive Basilica di San Petronio.
Branching off the north side of Piazza Maggiore, the Piazza del Nettuno is a favorite hangout spot for locals and visitors alike. Named after the grand Fountain of Neptune that sits in the center, the piazza boasts an eye-catching geometric patterned floor.
This piazza is also home to the Palazzo Re Enzo and Biblioteca Salaborsa, which houses an archaeological museum in the basement. You can view the Roman ruins through the glass floor of the atrium, or make a small donation to the library and descend the steps for a closer look.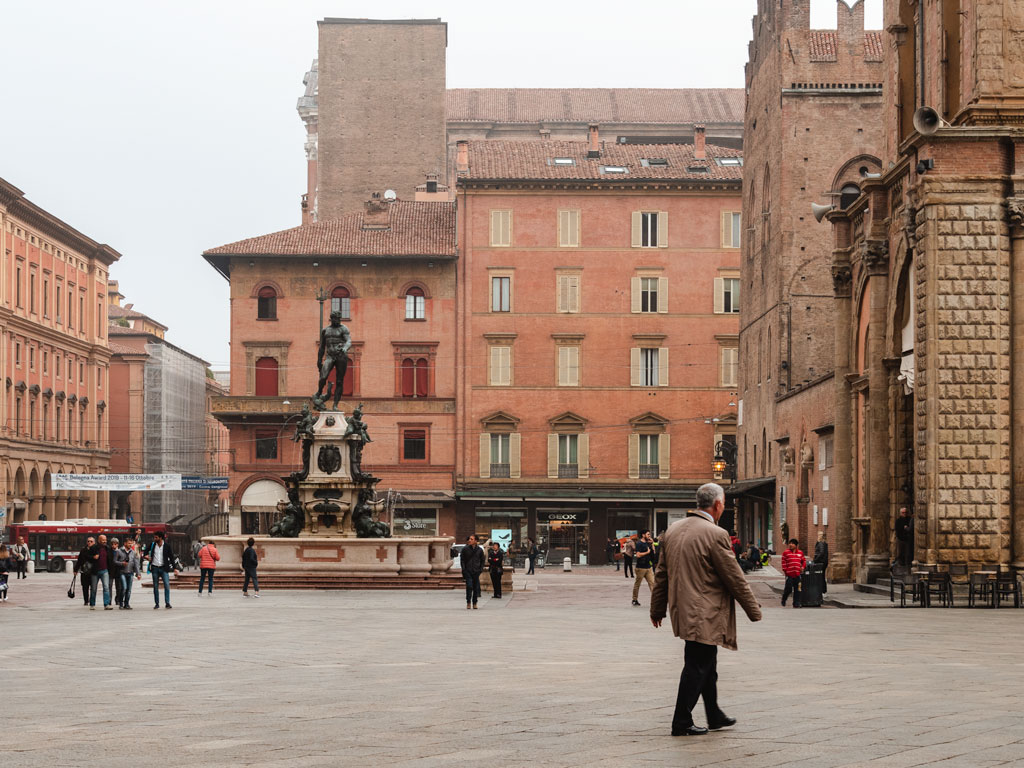 Basilica di San Petronio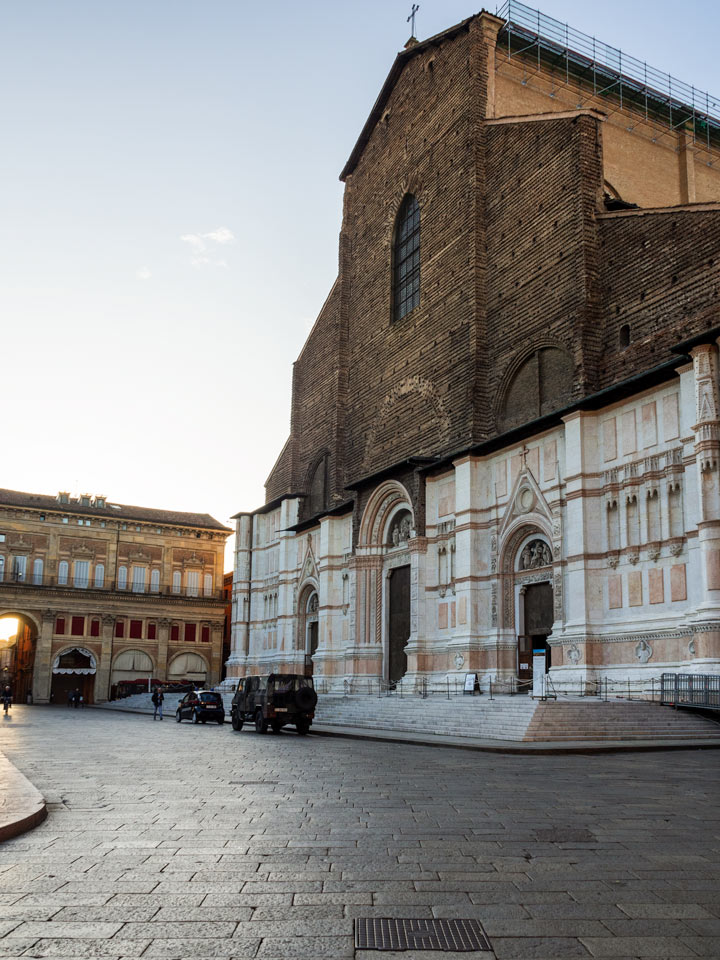 After you've finished wandering the piazzas, head back south to the Basilica di San Petronio. Dedicated to Bologna's patron Saint Petronius, this is the city's most important church and one of the largest in Europe.
Note the Dress Code: Like many Italian churches, visitors are subject to a modest dress code. Shoulders must be covered for everyone, and women's shorts/pants/skirts must reach the knees (apparently men can get away with shorts that fall above the knee).
Looking at the facade–half elaborate red and white carvings, and half plain brick–you might think it was unfinished. And that's because it is! During construction in the 1500s, the money intended for the facade was diverted to the Archiginnasio, part of the University of Bologna's campus.
The basilica's interior is perhaps more impressive than the exterior. Unique features–a massive sun dial and nearly two dozen small chapels containing art and artifacts–are crowd favorites. When you add in the stained glass windows, Gothic details, and free admission, it's truly one of the best things to see in Bologna.
Before you leave, there's a surprise hiding out back: a panoramic terrace! Near the rear exit off of Piazza Galvani, you'll find a scaffolding lift that takes you to the 54 meter high platform. Tickets cost 3 euros (free with the Bologna Welcome PLUS card). Note that the terrace doesn't open until 10am and may be closed due to cold/bad weather.
While admission to the Basilica is free, you'll need to pay 2 euros if you want a photography pass.
Medieval Museum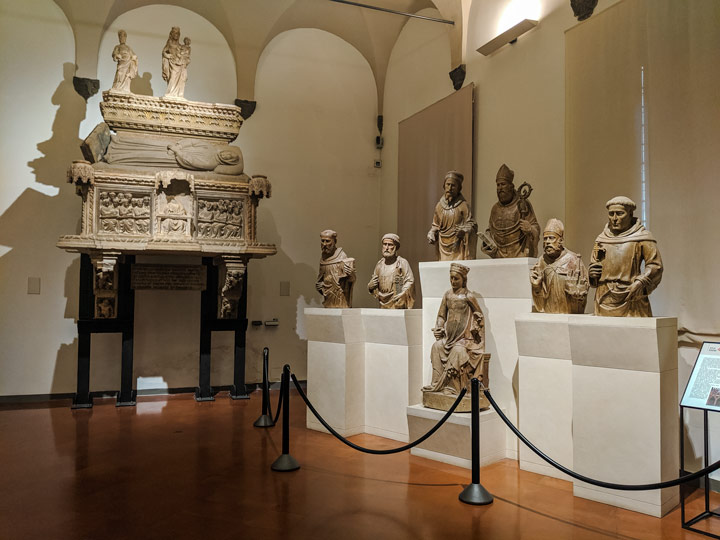 In a city nicknamed "the learned one", it's no surprise that you'll find plenty of world-class museums. Bologna's Museo Civico Medievale will delight anyone with an interest in sculpture, Renaissance life, or ancient battles.
The entire museum is housed in the 15th century Palazzo Ghisilardi, so it feels as though you're exploring a rich person's private collection.
The exhibits span all aspects of medieval life, from art to cookery to combat. Murano glass, marble tombs, suits of armor, gunblades… There's a lot to take in, so allow at least 90 minutes to fully appreciate the collection.
Tickets cost 6 euros, and admission is free with the Bologna Welcome Card. The museum is closed on Mondays, so plan accordingly.
Lunch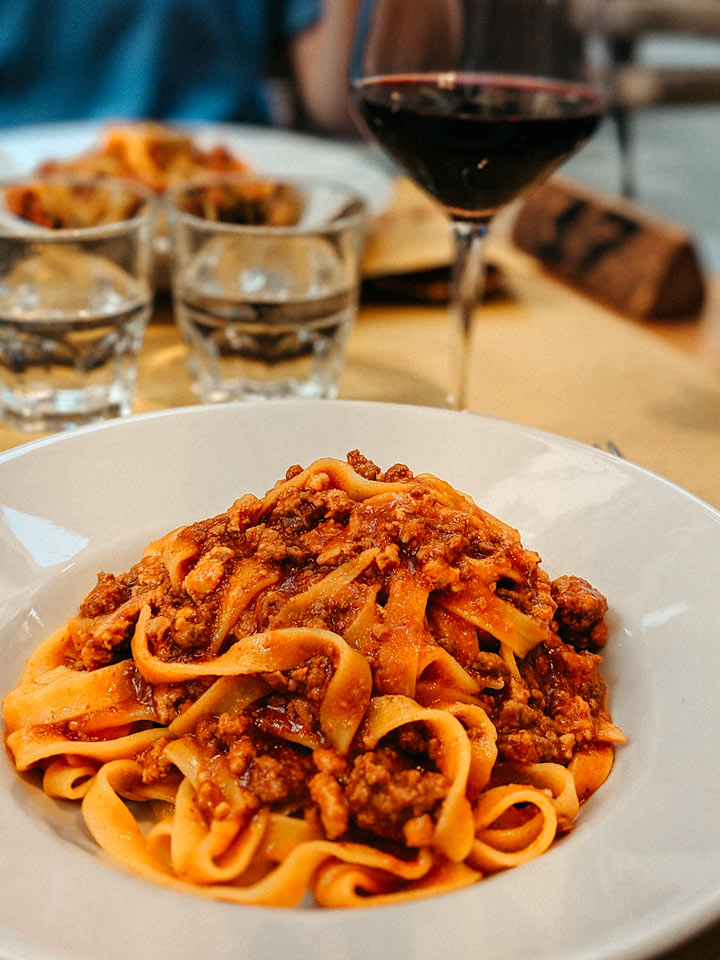 Eating great Italian food was our number one priority during our 3 days in Bologna. Luckily, there are no shortage of amazing restaurants in Italy's culinary capital.
Just around the corner from the Medieval Museum, you'll find Ristorante San Pietro. We had fantastic pizza and pasta here, along with relaxed and friendly service. They also had a number of gluten free options, which can be hard to find in the land of carbs!
Cattedrale Metropolitana di San Pietro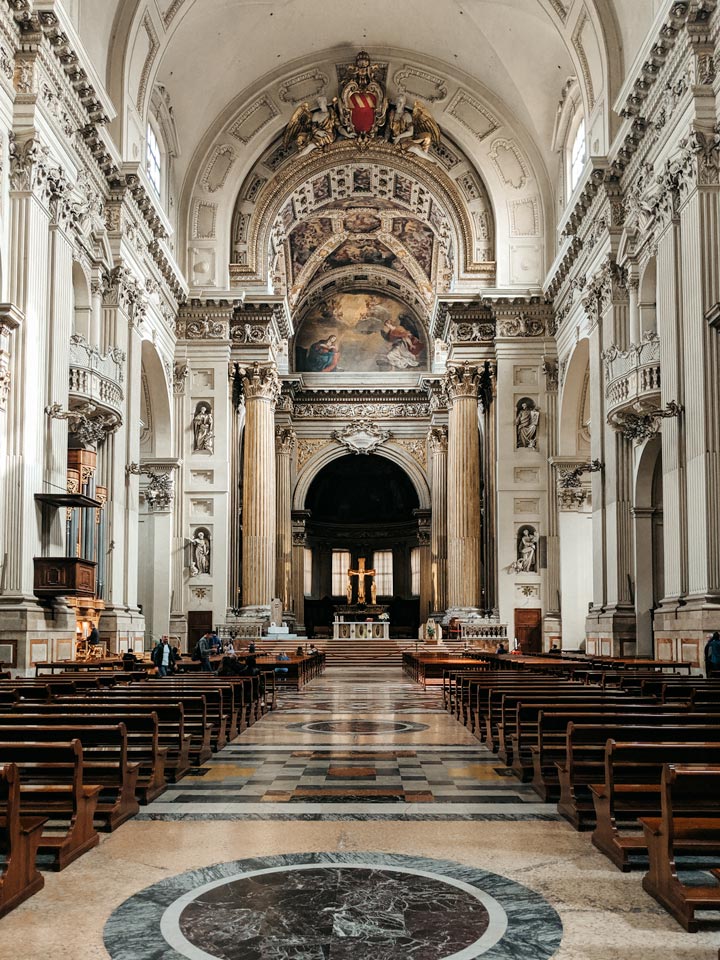 We stumbled into the Bologna Cathedral shortly after we arrived in the city. At the time, I had no idea what this building actually was. While the exterior looks fairly plain, the interior is jaw-droppingly beautiful, with towering arches and columns of white stone.
Imagine my surprise when I stepped into this magnificent hall! Many people don't realize how spectacular Bologna is until they're immersed in the place, and this cathedral is a perfect metaphor for that experience.
The impressive structure you see today is quite different from its original form. The cathedral was renovated extensively throughout the 17th and 18th centuries, though the massive bell tower was left unchanged.
Speaking of which, if one of your 3 days in Bologna falls on a Saturday, you can pay 5 euros to climb the bell tower! Aside from that, admission to the cathedral is free.
The Best Gelato in Bologna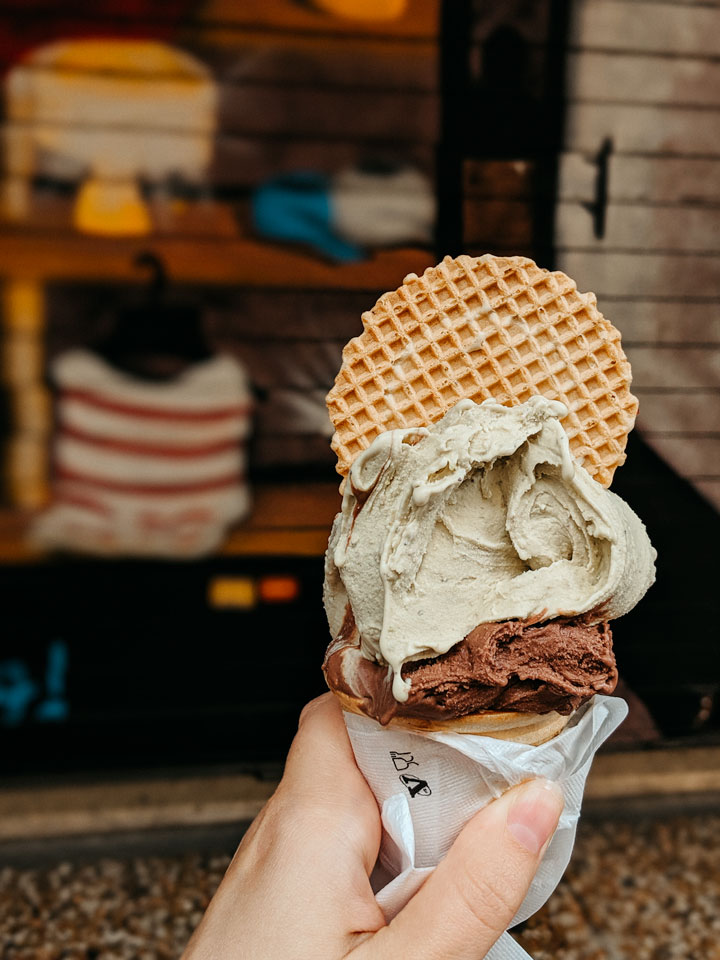 As serious gelato lovers, we made it our mission to sample as many treats as possible. After eating our way through the city, I declared that the best gelato in Bologna lies in the south.
There are three gelato shops here that serve up deliciously creamy cones in all sorts of flavors. And they're all within a 15 minute walking route from west to east, so you could try all three if you are up to the challenge!
Cremeria D'Azeglio is up first. This place may be overshadowed by its more popular neighbors, but it's a real Bologna hidden gem. Their signature flavor is akin to a rich, chocolate mousse, and I still think about it to this day…
Located on Via Castiglione, La Sorbetteria Castiglione has dozens of toppings and flavors, as well as a good dairy-free selection of sorbets. I thoroughly enjoyed my combo of dark chocolate and pistachio.
Last but certainly not least is Cremeria Santo Stefano. Sitting practically around the corner from La Sorbetteria, Cremeria Santo Stefano is regularly hailed as the best gelato in Bologna. Be sure to save room for their unique seasonal flavors like autumn pumpkin.
Parco Giardini Margherita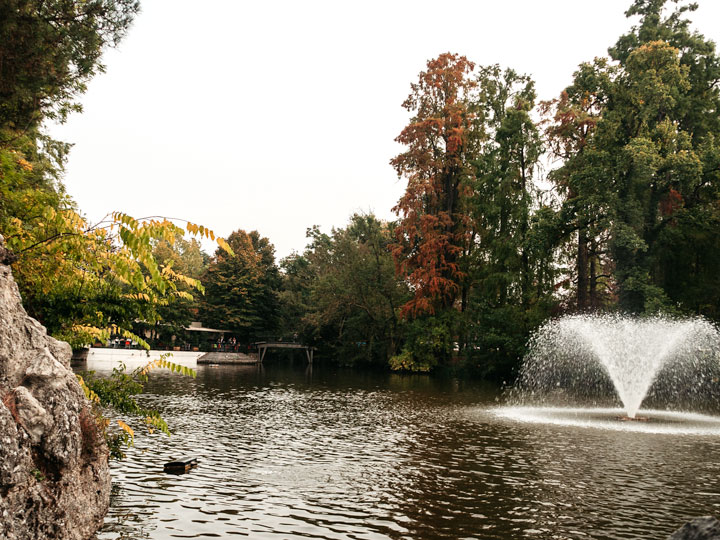 Round out your first of three days in Bologna at a local hangout spot. Waddle your full belly to Parco Giardini Margherita, where you'll find residents walking their dogs, going for jogs, and relaxing with good books.
Aside from the pretty walking trails and turtle-filled fountain pond, there's also a playground and a few cafes where you can grab a pre-dinner espresso.
Save me for later!
Day 2
Scalinata Del Pincio & Montagnola Park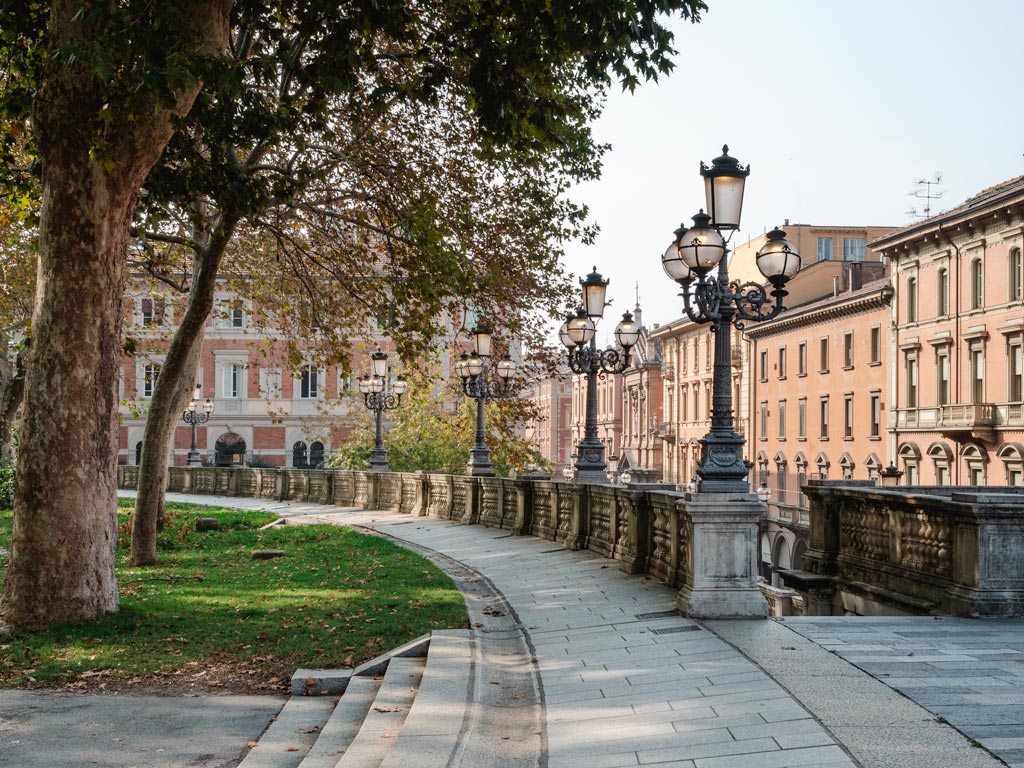 If you arrived in Bologna via the train station, you may have already seen the impressive Scalinata Del Pincio.
This elegant double staircase leads up to the Montagnola Park, which offers wonderful views over the surrounding city center. Be sure to check out the park's west balcony, where you'll find pretty lampposts and a great view down the Via dell'Indipendenza.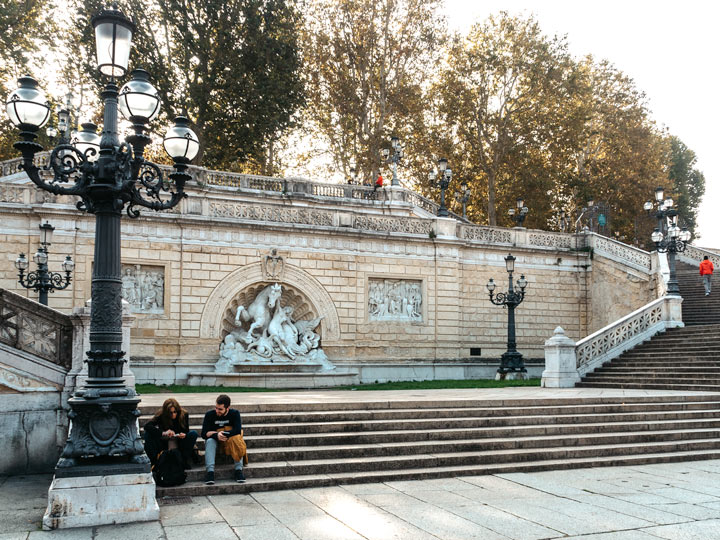 Finestrella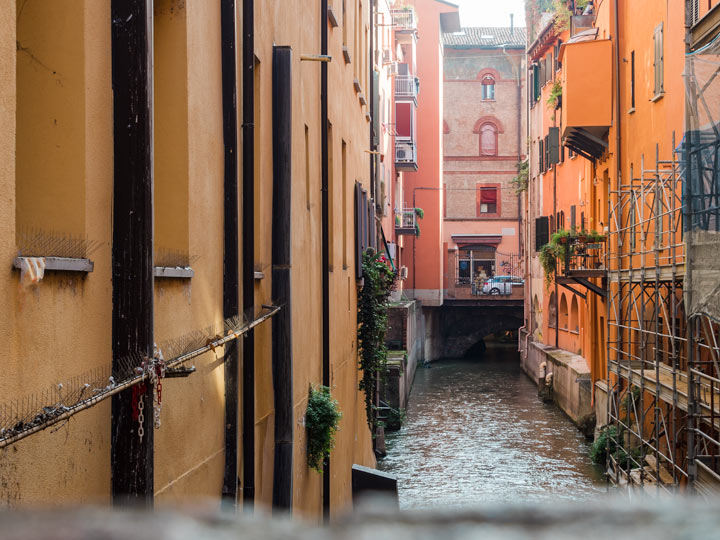 Who doesn't love a good surprise when traveling? Head to the section of Via Piella between Via Bertiera and Via Augusto Righi for a little slice of Venice in Bologna.
On one side of the street, you'll find a charming canal view lined with classic Italian shutters. And on the other side, there's… a salmon-colored wall.
But upon further inspection, you'll find a small, square cutout hiding a second canal view. This secret window–the Finestrella–is one of the coolest things I've seen in Italy. Sometimes the Finestrella is shut, so keep your eyes peeled for the handle sticking out from the wall.
Tower of Asinelli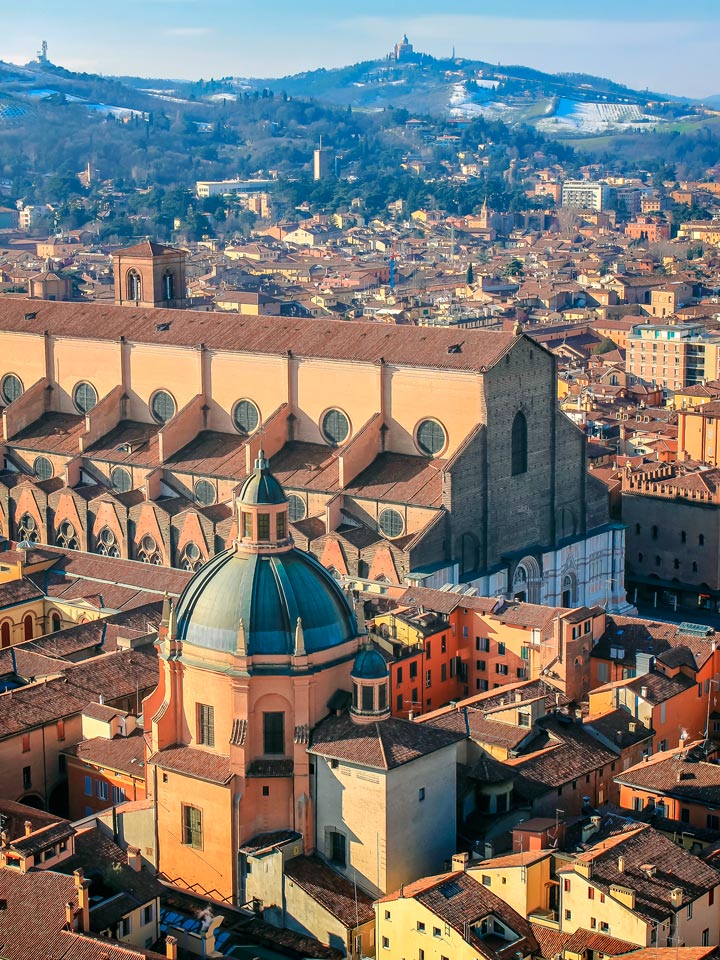 I hope you packed comfortable shoes (and strong legs), because this next item on the Bologna itinerary is a real workout!
Bologna is famous for many things, including its two towers: Asinelli and Garisenda. Back in the 1300s, rich families built these brick towers to defend their estates and occasionally jail their enemies. While there used to be over 100 such towers rising above the streets, there are just over a dozen still standing, with these two being the most iconic.
Today, visitors can climb the 97 meter Asinelli Tower for stunning panoramic views over Bologna. However, you need to be fit enough to tackle the 498 steps. Luckily, there are numerous spaces to stop and rest along the journey.
Admission costs 5 euros and requires an advanced reservation online or at the Bologna Welcome office. Bologna Welcome Card holders can enter for free without a reservation.
Lunch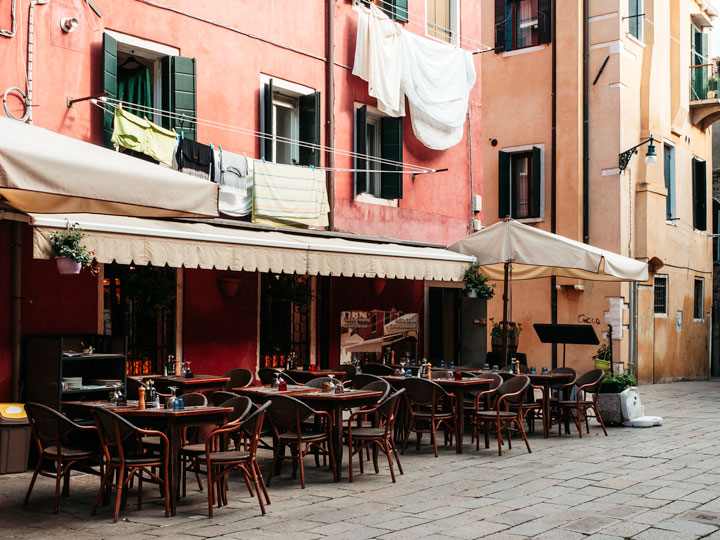 After you've caught your breath from climbing the Tower of Asinelli, you probably won't want to walk far for lunch. Fortunately, there's a fantastic place a short distance away.
Osteria Del Podesta is a modern bistro serving all the classics, from tagliatelle al ragu to gramigna alla salsiccia. I ordered the panzanella, and it had the most fragrant basil and the freshest tomatoes I've ever eaten. We also appreciated the speedy service, which is atypical in this part of the world.
Civic Museum of Archaeology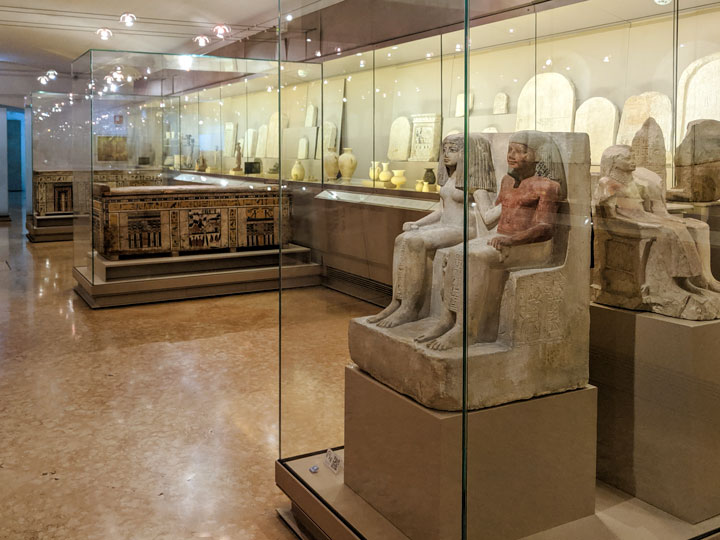 Bologna's Museo Civico Archeologico houses Egyptian, Etruscan, and Roman artifacts inside a gorgeous palazzo.
Ancient relics from past civilizations, including preserved mummies and elegant marble carvings, make this museum fun for people of all ages. Although most of the displays are written in Italian, many of the rooms have mounted pockets with laminated English language cards.
The museum is larger than it appears, with exhibits spread across multiple floors. Plan to spend at least 90 minutes here if you want to see everything. I particularly enjoyed the massive display of Roman black-figure pottery.
Admission is 6 euros and is covered under the Bologna Welcome Card. The museum is closed on Tuesdays, so plan accordingly.
Villa Ghigi Parco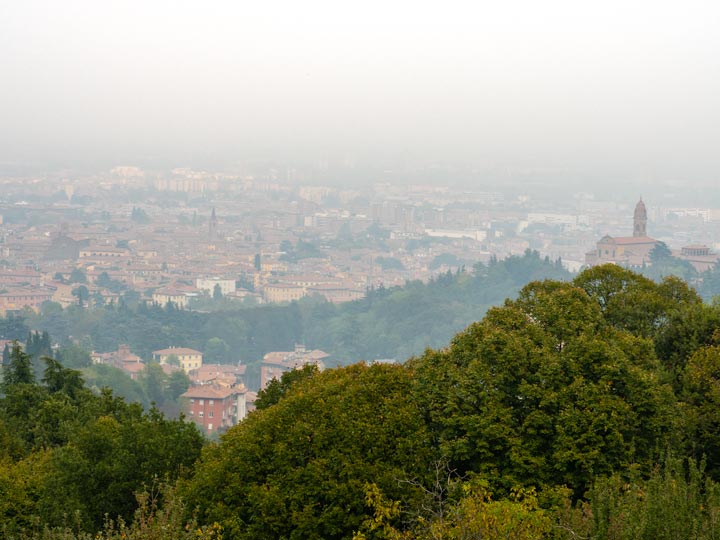 Our trip to Villa Ghigi park was one of the most memorable parts of our 3 day Bologna itinerary. While the park is best known for its amazing views over Bologna, the idyllic country setting is a lovely contrast to the city.
With rolling hills, a vineyard, and serene walking paths, it's hard to believe that Villa Ghigi is less than a 30 minute walk from the city center. Just follow the Via San Mamolo south, taking the western (right-hand) branch once you reach the tiny green space of Giardino Norma Mascellani Pittrice.
Shortly after the entry gate, there are multiple uphill paths you can take to reach the "Vista Panoramica" point in the southeast. On a clear day, you can see all of the famous landmark, churches, and sprawls of orange roofs. I suggest bringing a jacket or blanket to sit on while you relax and soak in the views.
Sadly, a low fog had settled into the valley before we reached the top. My hopes of watching the sunset were dashed, but it was still magical to hear the church bells ringing across the city below.
Day 3
Sanctuary of the Madonna di San Luca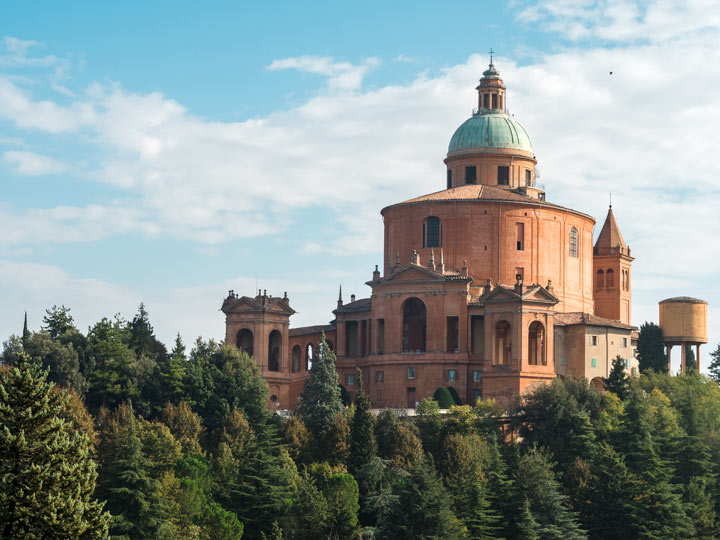 After visiting the Santuario Madonna di San Luca, I'm truly shocked that it's not become "Insta-famous". This round, pink, fairytale-esque basilica rises out of the surrounding forest like a dream. Between its bright color and pretty balconies, it's probably the most Instagrammable place in Bologna.
While the sanctuary is a few miles outside of Bologna's city center, getting here is easy and affordable with the Bologna Welcome Card PLUS.
Around 9:30am, head to the Piazza Maggiore's east side, where you'll see a sign for the city bus stop. Just a few steps up from here, there should be a sidewalk sign for the San Luca Express (the sign may not be out if you arrive too early).
From here, you'll catch the 9:45am green line city bus (which is actually a charming mini-train) up to the monastery. It's a beautiful ride that comes with a multi-lingual audio tour describing the city sights you pass along the way.
A round trip ticket costs 10 euros, and the journey is free with the Welcome PLUS card.
If you're after a physical challenge, you could skip the train and walk up the world's longest portico. The 3.5km Portico di San Luca runs continuously from the Porta Saragozza to the sanctuary. Most of the walking route is uphill, with steep climbs for the last kilometer, so bring a water bottle and comfortable shoes.
After exploring the basilica's gardens, balconies, and interior, there's one more surprise in store. Head to the small ticket counter near the door to buy a 5 euros ticket (free with the PLUS card) for the San Luca Sky Experience.
After climbing the spiral stairs to the rooftop platform, you'll get amazing panoramic views over Bologna and the surrounding countryside. You can even see the rolling hills of Tuscany from up here!
When you're ready to leave, head back down to the train drop-off point. I suggest catching the 11:40am or 12:15pm return train. Check the City Bus website for a complete timetable.
Note that the Sanctuary's opening hours are 6:30am-12:30pm, and 2:30-6pm.
Lunch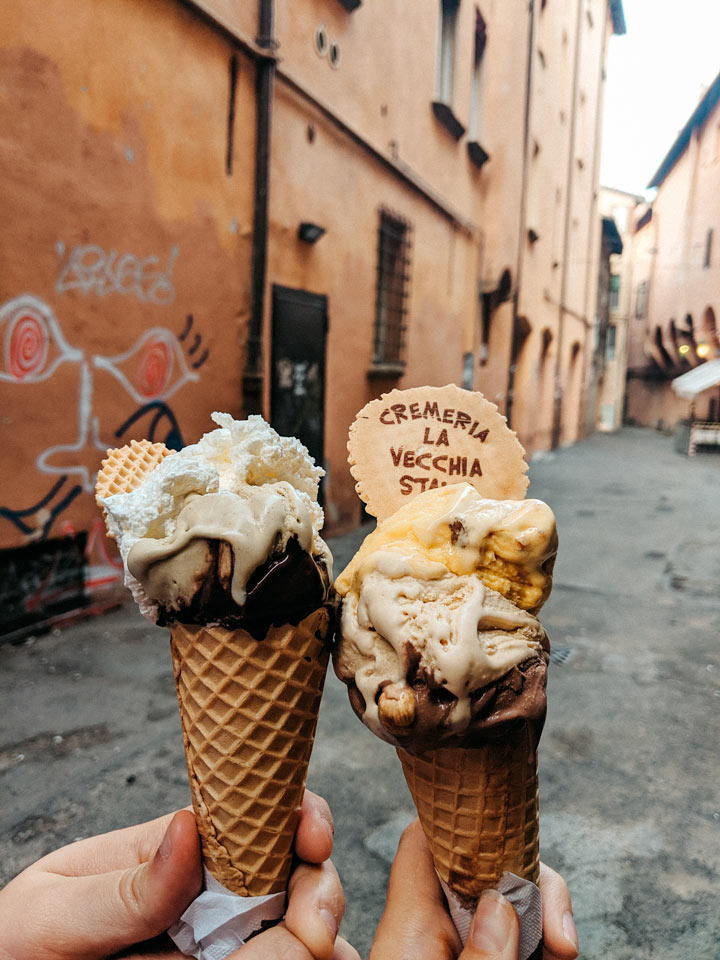 If you need another gelato fix after visiting the basilica, I recommend Cremeria la Vecchia Stalla. The laundry list of flavors (many of them involving candy) and central location draw in the crowds, but you can escape into a nearby alley to enjoy your dessert in peace.
For a more substantial meal, head to the Osteria Le Sette Chiese. It's a cozy, wood-filled restaurant that serves up all of Bologna's signature dishes, including a delicious green lasagne. Be sure to say yes (or si) to the bread basket, which comes with fresh strips of piadina, the savory regional flatbread.
International Museum and Library of Music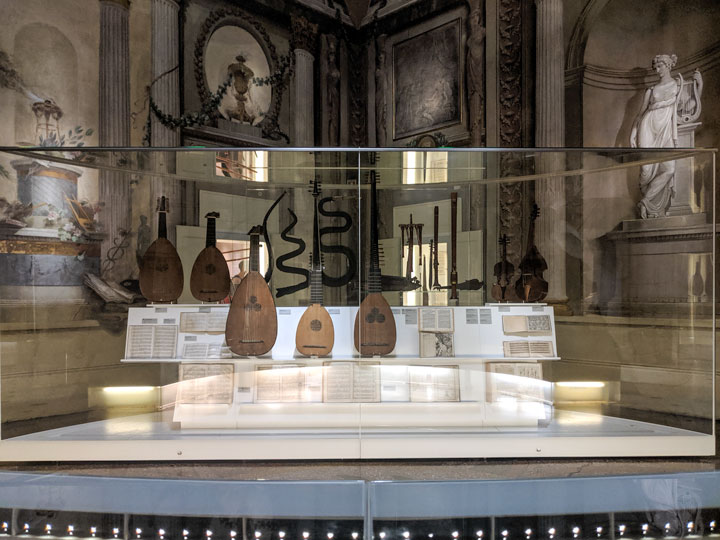 Many visitors don't realize that Bologna has deep musical roots. Thanks to its 1000-year-old musical heritage, the city's been named a UNESCO City of Music.
At the Museo Internazionale e Biblioteca della Musica, you'll get closeup views of old and rare instruments, manuscripts, and even personal belongings of famous performers like Farinelli. Anyone who loves music or played an instrument will enjoy the collections. And like the Archaeology Museum, the exhibit is housed inside an elegant palazzo complete with lavish frescoes and furnishings.
Admission is 5 euros, or free with the Bologna Welcome Card. Note that the museum is closed on Mondays.
University of Bologna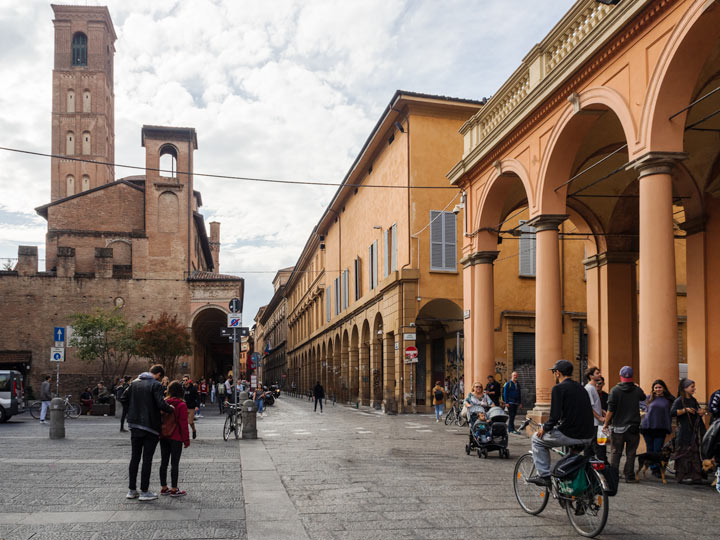 Did you know that Bologna is home to the world's oldest university? Founded in 1088, the University of Bologna is one of Europe's top academic institutions.
Take a walk around stony streets and old facades of the main campus, and it feels as though you've stepped back in time. When the students sit outside, chatting over dog-eared novels and getting into heated arguments, Bologna's nickname "the learned one" is brought to life.
Pinacoteca Nazionale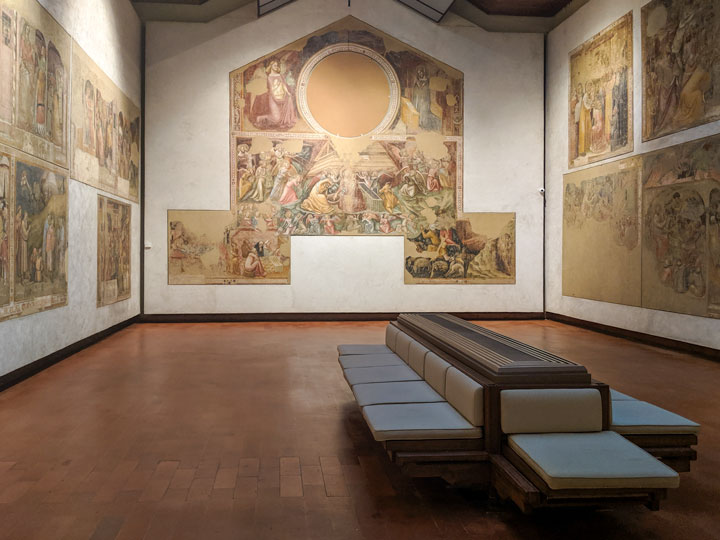 Right next to the university's campus, you'll find the Pinacoteca Nazionale. Also known as the National Art Gallery, this grand space houses a wonderful collection of medieval and Renaissance art.
Gilded tryptiches, towering oil paintings, and incredibly well-preserved outdoor frescoes line the gallery walls. There's plenty to see here, but not so much that it feels overwhelming.
It's 6 euros for the main exhibition, and admission is free with the Bologna Welcome card. The gallery also puts on special exhibits for an additional fee. Note that the museum is closed on Mondays.
Attend a concert
Before you leave Bologna, you should experience at least one musical event. From opera to jazz, there are plenty of opportunities to embrace Bologna's rich music history.
You can book an elegant evening of food and jazz at Cafe Bentivoglio, or opt for a more casual night at Nero Factory. If you plan ahead, you could even have an unforgettable concert experience at the Bologna Municipal Theater, which hosts some of the world's most distinguished performers.
Map of 3 Day Bologna Itinerary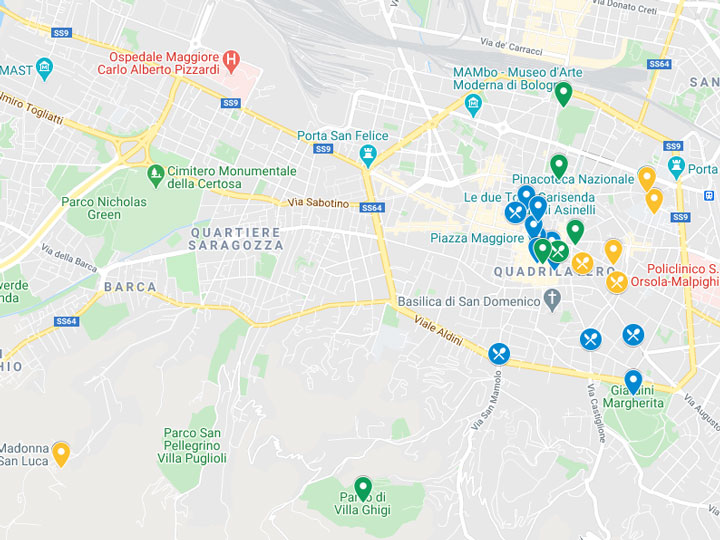 Click here to view the full interactive map!
Guided Tours of Bologna
Bologna is a city filled with rich history and secret spots. If you don't speak Italian and want to experience Bologna like a local, I highly recommend booking a Bologna tour.
From small group food tours to private guides, here are some of the top rated excursions you can add to your itinerary:
Best Day Trips from Bologna
Venice: Thanks to Italy's affordable high speed trains, it's easy to take a day trip from Bologna to Venice. Or stay overnight and spend 2 days exploring the city.
Ravenna: This former capital of the Roman empire is famous for its stunning mosaics, and makes for a perfect off-path experience in Italy.
Modena: Car enthusiasts will love a day trip to the home of Ferrari and Maserati, while foodies can sample dishes made with the region's famous balsamic vinegar.
Florence: Spend a day exploring the incredible architecture, history, and art in this former seat of the Medici family.
Milan: Take in the latest trends and famous cathedrals in Italy's fashion capital.
My favorite Italy travel books
These detailed Italy books win my travel planning seal of approval: