If your vision of an English holiday includes stone cottages, rose gardens, and impossibly charming villages, this Cotswolds day trip itinerary is for you.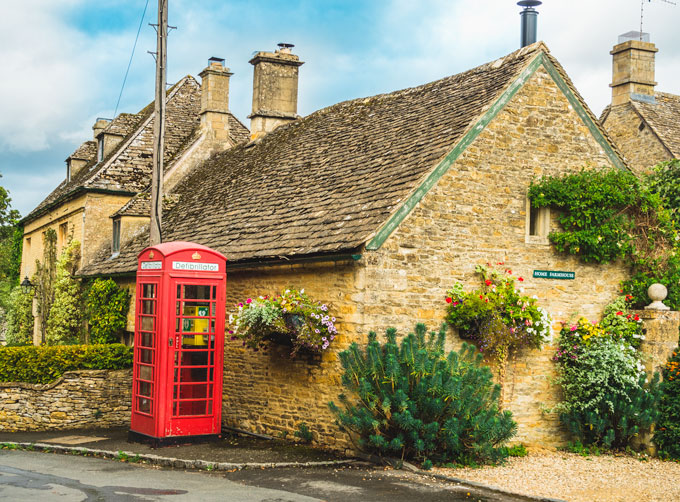 England's Cotswold region is frequently cited as the most beautiful area in the country. In fact, it's officially designated as an Area of Outstanding Natural Beauty (AONB).
And once you've stepped into Chipping Campden's village center and strolled along the country roads of Painswick, you'll understand why.
This day trip to the Cotswolds takes you through the entire region from south to north.
It begins in Castle Combe, which regularly tops the lists of prettiest villages in the Cotswolds. From there, we'll drive north to Painswick, where the famous Painswick Beacon offers sweeping panoramic views of the village and countryside.
After that moderate hike, we'll rest in the car on the way to the Slaughters, a slightly terrifying name for this picturesque pair of villages. Finally, we'll end the Cotswolds driving tour in Chipping Campden, whose high street is filled with lovely English shops and several historic churches.
If you're trying to take a Cotswolds day trip from London and/or do not want to drive, check out these guided tours!
This Cotswolds self driving tour is part of my UK road trip guide, which includes over a dozen destinations from London to Edinburgh!
This post contains affiliate links. For more information, click here.
Table of Contents
Cotswolds Day Trip Itinerary
Castle Combe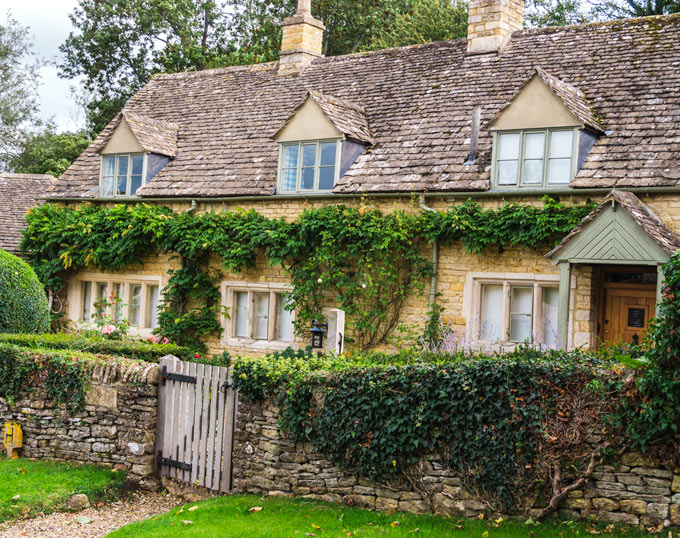 Just a mere 30 minute drive from Bath, Castle Combe is one of the best Cotswold villages to visit.
Traditional yellow stone buildings line the flowing waters of By Brook, with flowers and climbing ivy adding a fairy tale atmosphere. And with fewer than 50 residences, the village retains a tranquil atmosphere that contrasts nicely with the bustle of nearly Bath and London.
Although Castle Combe is best known for its photogenic cottages, the 13th century St. Andrew's Church makes for striking photos as well. And just across the way, you'll find the village's iconic stone bridge spanning the water.
As you might imagine, this sleepy village isn't bustling with activity outside of sightseeing. However, depending on your travel dates, you could catch the semi-monthly market, where locals sell craft goods in the village hall.
There's also a luxury and vintage car circuit in Upper Castle Combe, though this Cotswolds day trip itinerary doesn't leave enough time for a day at the races.
Parking in Castle Combe village is nearly non-existent, so you'll need to utilize the visitor's car park off of Dunns Lane. From there, it's a short 10 minute walk into the village center.
Painswick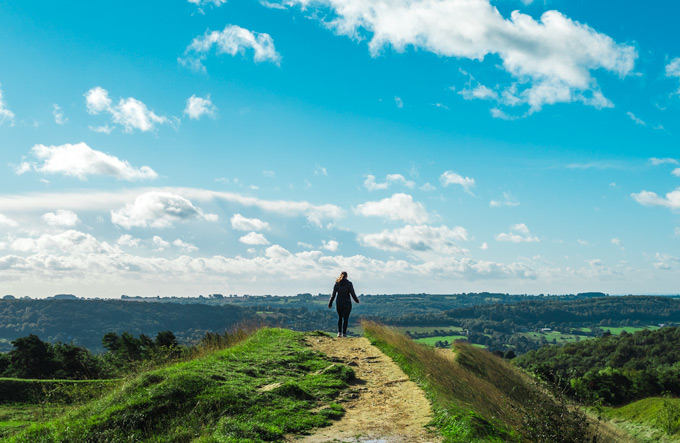 Known as the "Queen of the Cotswolds", Painswick's beauty has drawn visitors to the village for hundreds of years. Compared to the other places on this Cotswolds day trip itinerary, Painswick is a fairly large village, with multiple shops, restaurants, and activities for visitors.
If you love old churches, you'll be delighted by St. Mary's, the 15th century church that stands at the center of Painswick. And the village's high street is home to several half-timbered buildings that seem plucked straight from a storybook.
Depending on how much time you have, you could even explore the Painswick Rococo Garden, a rare example of the style in England.
For those on a Cotswolds driving tour, there's a car park on Stamages Lane with numerous spaces. It's right on the edge of the village center, offering easy access to Painswick's retail and residential areas.
Once you've finished exploring the village proper, head up the B4073 to Painswick Beacon. This spectacular hilltop offers breathtaking views over Severn Valley.
On a clear day, it's even possible to see the distant mountains of Wales. Personally, I believe this overlook point is what makes Painswick one of the best Cotswold villages to visit.
RELATED: How to Travel Keswick England's Stunning Latrigg Walk
There's a car park just off of B4073 for the Beacon, though it's also possible to walk 30 minutes from the village to the overlook point. But if you're trying to see the Cotswolds in one day, I recommend driving there.
From the car park, you'll find an open (and windy!) green space with a few picnic tables. There are excellent views to be had from here, though don't head back just yet.
Continue north along the edge of the golf course, and you'll come upon a somewhat steep path. Follow it uphill for a few minutes, and you'll reach the amazing overlook point pictured at the top of this section!
Save me for later!
Lower Slaughter and Upper Slaughter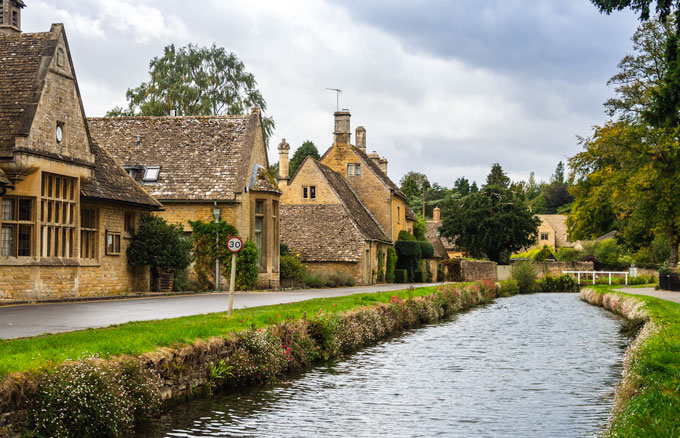 Frankly, I think the award for prettiest villages in the Cotswolds should be a tie between Upper and Lower Slaughter. Once you get over the ominous name and explore the area, I'm sure the Slaughters will capture your heart, too!
Straddling the River Eye, Lower Slaughter is one of the most photogenic places I've ever visited.
The old Parish of St. Mary stands at the entrance, with a beautiful willow tree and ancient graveyard. Classic honeyed stone cottages sit along the water's edge, with vibrant flowers bursting from window boxes and pots.
It's certainly worthy of a spot on your UK travel bucket list.
And as you follow the river bend, you'll come upon the Lower Slaughter Museum, which has an adjoining shop and a water wheel out back! There are even some iconic red phone booths scattered throughout the village, though most contain defibrillators rather than pay phones.
After you've soaked up all the charm in Lower Slaughter, we'll continue this Cotswolds day trip in Upper Slaughter. Fortunately, it's an easy 15 minute walk between the two villages. Simply leave your car in one of the street parking spaces in Lower Slaughter, and head up Becky Hill.
The walk itself takes you through a lovely tunnel of trees, past a horse pasture, and in front of the grand Upper Slaughter Manor.
This gorgeous estate brings to mind scenes from Pride & Prejudice and Downton Abbey. Sadly it's only open to the public a few weeks each summer, so you'll have to enjoy it from a distance.
Just past the manor lies Upper Slaughter. This area is mainly residential, with classic cottages, wooden gates, and blooming rose bushes. The pretty St. Peter's Church stands at the northern edge of the village, where the river forms the border.
Many of these cottages are holiday lets, so if you decide to extend your day trip to Cotswolds England, this would be a pretty place to stay.
RELATED: 9 Romantic Lake District Breaks for Couples
Chipping Campden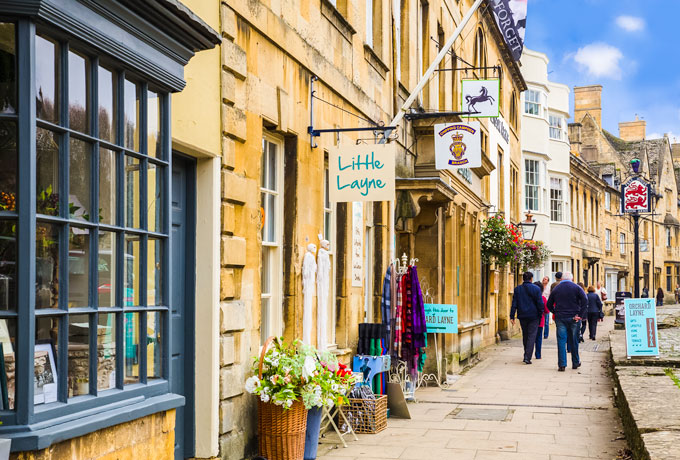 We'll round out this Cotswolds day trip itinerary in Chipping Campden, near the northern border of the region.
The village's adorable high street makes it a popular destination for Cotswold breaks. And its selection of restaurants and pubs is ideal for having dinner after a long day of travel.
Chipping Campden is the largest village on this Cotswolds itinerary, but it's very walkable, especially if you park near the Market Hall.
Speaking of which, this 15th century building's beautiful arches and honey-colored stone are protected by the National Trust. The market is still active, with locals selling artisan goods and food items.
Past the northern end of the long high street, St. James's Church sits amidst an open field. The area is a peaceful contrast to the more bustling village center. You might even spot some grazing sheep during your visit!
Day Trip to Cotswolds Itinerary Map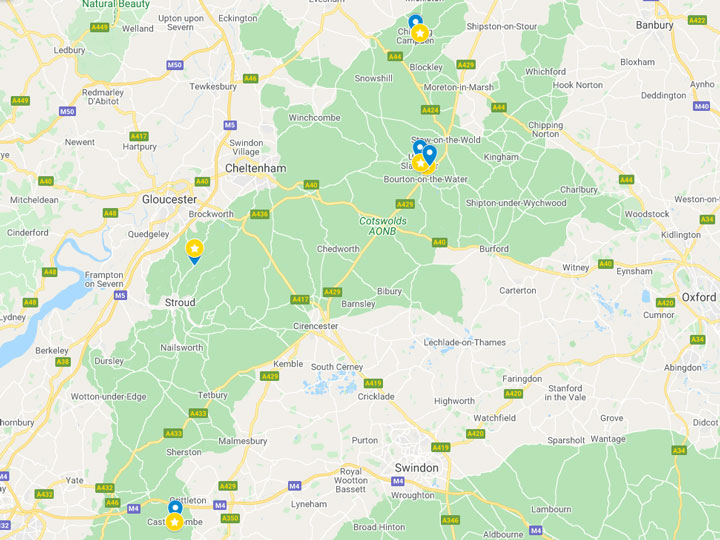 Click here to view the full interactive map!
Tips for a Successful Cotswolds Self Drive Tour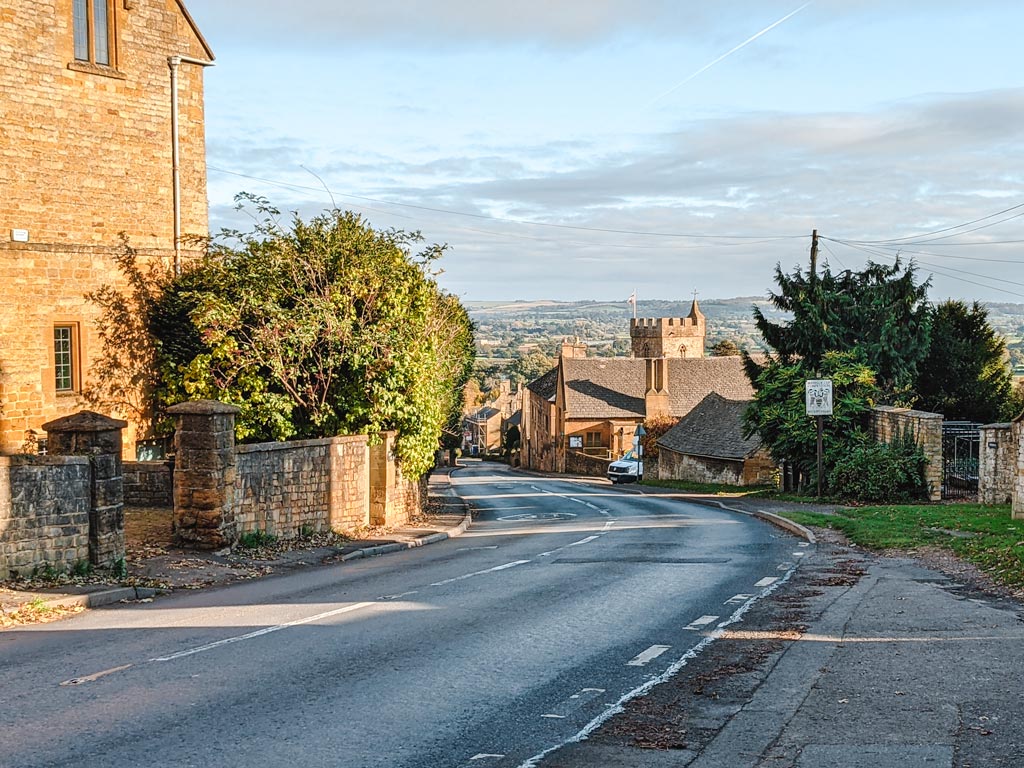 Here are a few words of wisdom to help make your Cotswolds self drive tour a success:
As noted above, there's limited parking in most Cotswolds villages. If there's not a dedicated car park, or the car park is full, you'll need to look for street parking just outside the village center. Some residential areas are permit parking only, so be sure to check posted signs before you walk away from your car.
Although country drives are lovely, the roads are quite narrow. You'll find that most roads are hardly wide enough for two cars, so be prepared to pull off onto the shoulder/grass when crossing paths with other drivers.
Roads in England aren't very well marked, with signs posted on the sides of buildings or not at all. It's best to rely on GPS or even a local map when navigating the Cotswolds.
Cell reception can be spotty out here, so I recommend putting your next destination into GPS while you're still in the previous village. Google Maps will keep giving you driving directions even if you lose your data connection.
My Favorite UK Travel Planning Books
These books win my travel blogger Seal of Approval for vacation planning:
How to Spend a Weekend in Cotswolds England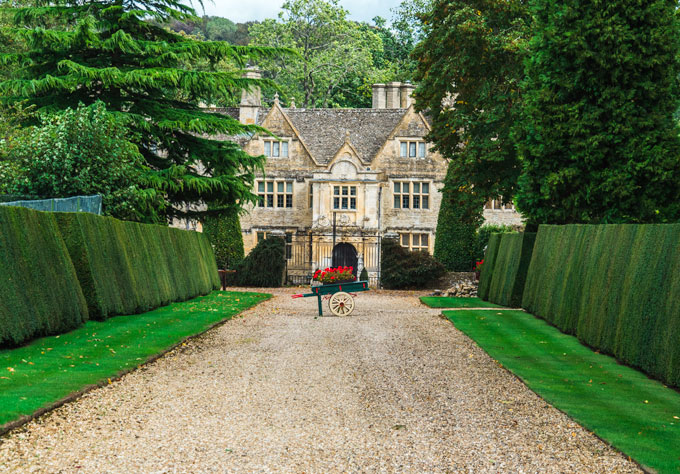 If you're looking to extend your Cotswolds day trip itinerary, here are a few other places to put on your agenda.
Bibury: Water, foliage, and stone cottages give Bibury a Hobbit shire-like feel, and this National Trust area is home to one of England's most photographed streets.
Winchcombe: This charming village in the northwest is home to a heritage station of the Cotswolds Steam Railway, which travels between Broadway village and the Cheltenham Racecourse.
Moreton-in-Marsh: With direct trains from London Paddington Station, this cozy village is the perfect city break for those seeking country walks and amazing food–no car required!
Blenheim Palace: If you love grand English country estates, visiting Blenheim Palace is a must. This stunning birthplace of Winston Churchill is filled with opulent state rooms and is surrounded by sprawling formal gardens and open green space.
Stratford-upon-Avon: Though not technically in the Cotswolds, Shakespeare's home town is a short drive from Chipping Campden and is a must-see for any fan of the Bard. It's also an easy day trip from London by train!
RELATED: 5 Ways to Visit Stonehenge For Free
Where to Stay for Cotswold Breaks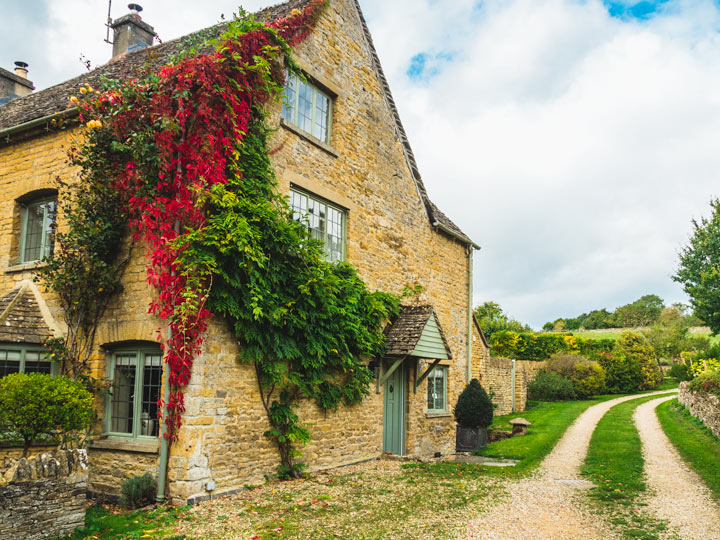 In order to see the Cotswolds in one day, you'll want to spend the previous night either within the area itself, or in a neighboring city. If you decide to do this Cotswolds day trip after some London sightseeing, you'll need to wake up extremely early or cut out one of the villages.
Cotswold breaks are popular with Brits and international travelers alike, so it's best to book your accommodation well in advance. You won't find many typical hotels out here.
Instead, expect to stay in a traditional inn, bed and breakfast, or cottage rental.
Bath is an excellent place to spend the night, as you'll find a wider range of accommodation and only be a half hour's drive from the start of this Cotswolds day trip itinerary.
Just look at these cute flats and cottages in the city!
Bath is also a fantastic destination in its own right, so you could spend a day exploring the old Roman city before heading off the next morning.
For a beautiful traditional stay in the heart of the Cotswolds, I recommend The Amberley Inn.
Everything about our stay there was lovely, from the beautifully-appointed rooms to the stunning country views from the windows. In the morning, cows come out to graze just across from the inn, making it feel like a true escape to the country.
I think these are the best Cotswold villages to visit in one day. If you have other suggestions, let me know in the comments section!