When I moved to London, the first holiday I booked was a birthday trip to Paris. Having a typical French breakfast at a Parisian sidewalk café was at the top of my travel bucket list. Frankly, I was more excited to eat a real French croissant than I was to see the Eiffel Tower!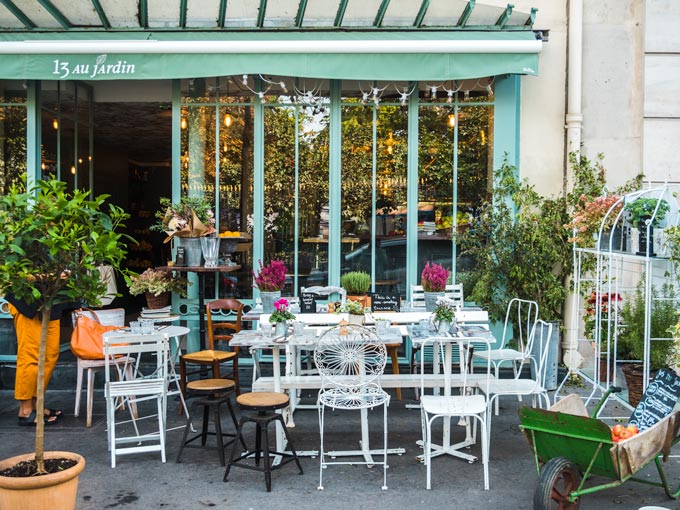 Although I rarely eat breakfast anymore, I didn't skip a single morning meal in Paris. It was a relaxing way to start the day, and it gave me an excuse to consume copious amounts of baked goods.
I'm convinced the carbs were essential fuel when I spent four days in Paris taking long walks around the city.
This post contains affiliate links. For more information, click here.
What is a typical French breakfast?
Unlike the hearty fry-ups of England and the US, a typical French breakfast is quite light. Usually, it consists of a pastry, some bread (with a side of butter and jam), a glass of juice, and coffee.
A traditional French breakfast may also come with an egg prepared to your preference, such as hard-boiled or scrambled.
If you're ordering a set breakfast–petit déjeuner formule–at a café, you'll likely be given a croissant as the pastry, and you'll have a choice of juices and hot beverages. Orange and grapefruit juices are common options, though I love to order apricot juice if it's available.
For the hot beverage, you'll frequently see café (shot of espresso), café au lait (espresso with milk) and café crème (essentially a cappuccino) on the menu.
If you decide to assemble your own typical French breakfast, you should know the difference between a pâtisserie and boulangerie.
A pâtisserie is a pastry shop where you'll find croissants, pain au chocolat, and other sweet treats such as cakes.
A boulangerie is a bakery that specializes in breads (think baguettes, sourdough loaves, etc.).
Although some boulangeries also sell popular pastries, it's said that bakers who sell both breads and pastries don't do either especially well. Thus, it's best to go to the appropriate specialty shop for the optimal breakfast experience.
When it comes to pastries, venture beyond the classic croissant! Here are my favorite French pastries to eat at breakfast. Coincidentally, they're all named after objects they resemble.
Escargot: These snail shell-shaped pastries are coiled and spread with fillings like chocolate, pistachio, and praline.
Chausson aux Pommes: Translating to "apple slipper", these are similar to apple turnovers and make for a perfect fall breakfast treat.
Palmier: These palm leaf-shaped pastries have a butterfly-like appearance and a crunchy sugar crust.
A quick note on cost: €9 seemed to be the magic number for the price of a formule. If you have a traditional French breakfast every single day, it's no small expense.
However, if you know how to save money while traveling, you can offset this luxury with other money saving tricks!
What time is a typical French breakfast served?
In the morning, of course! Obvious answer aside, most sidewalk cafés in Paris open up between 7-8 a.m. If you're assembling your own meal, you can find boulangeries that open as early as 5 a.m., though nearly all will be open by 7.
Just be sure to get the juice and other items the night before, and you can have breakfast in bed.
Places that serve traditional French breakfast generally switch to a lunch menu by 11 a.m., so be sure to start your day early if you're hoping for eggs.
How to order a traditional French breakfast
Although many French service workers speak conversational English, it's always best to start your interactions in French. In fact, the first thing you should do when arriving at a café or restaurant is to greet the staff.
To help you on your breakfast quest, I've listed below a few basic French phrases with rough pronunciations:
Hello – Bonjour (bon-zhor)
I would like – Je voudrais (zyuh voo-dray)
Please – S'il vous plaît (see voo play)
Thank You – Merci (mare-see)
Yes – Oui (we)
No – Non (no)
Do you speak English? – Parlez-vous Anglais? (parlay-voo An-glay?)
RELATED: 23 Basic Travel Words and Phrases You Need to Know
Save me for later!
Authentic Paris food tours
From baguettes to cheese, there's a lot to love about traditional French foods. And a trip to Paris is the perfect opportunity to get a behind-the-scenes look at these delicacies. Add one of these Paris food tours to your itinerary for an authentic taste of France.
Best Paris cafes for breakfast
La Caféothèque Paris
52 Rue de l'Hôtel de ville, 75004 Paris, France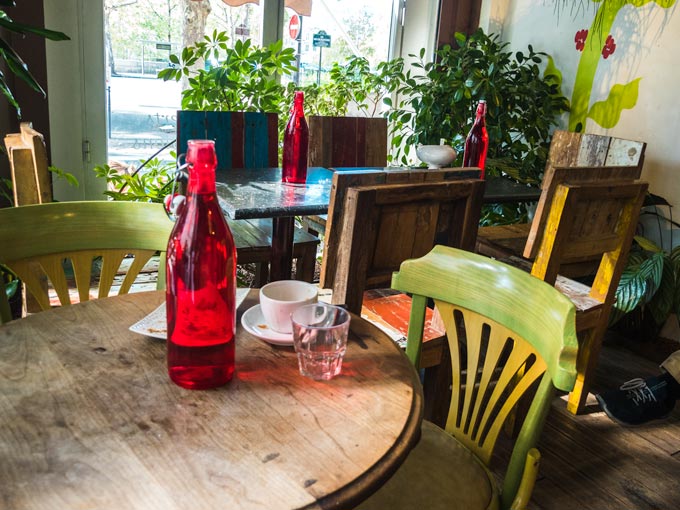 Located one block away from the Seine on the edge of the Marais, La Caféothèque feels incredibly cozy but is deceptively large. The selection of hot drinks is extensive, and the croissant that came with my formule was one of the best I had in Paris.
La Caféothèque takes coffee seriously, with dozens of unique roasts and a school that trains baristas in the proper preparation of specialty coffee.
Le Petit Cler
29 Rue Cler, 75007 Paris, France
The traditional French breakfast at Le Petit Cler was my favorite meal in Paris.
Despite being only a few blocks from Les Invalides and the Champ de Mars, Le Petit Cler was a quiet place to eat with Parisian locals. The formule offers plenty of options, including hot chocolate, a house brioche, and eggs.
Best of all, it's location in the 7th arrondissement makes it the perfect starting place for a day of exploration.
RELATED: 26 Easy Ways to Save Money for Vacation
Le Square Trousseau
1 Rue Antoine Vollon, 75012 Paris, France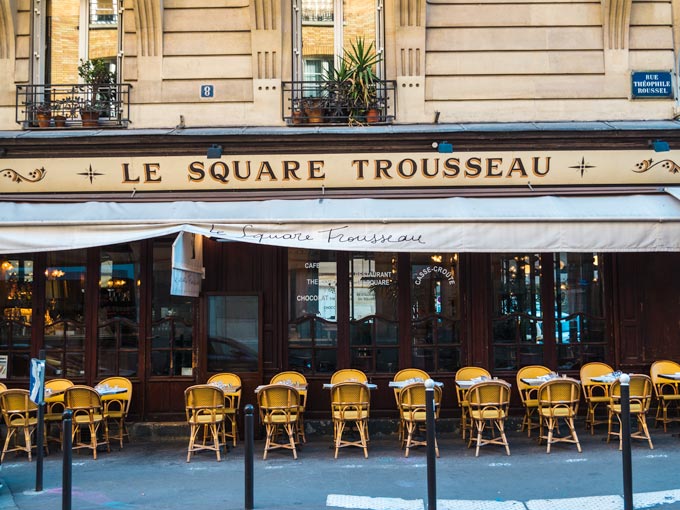 Located in the quiet Quinze-Vingts neighborhood, Le Square Trousseau is the perfect spot for enjoying a typical French breakfast in Paris off the beaten path.
If you're planning to visit the Bastille or Rue Crémieux, I highly recommend having your morning meal at one of the sidewalk tables. The wooden chairs are a refreshing change from the cold metal seats of other cafés!
Les Antiquaires
13 Rue du Bac, 75007 Paris, France
If you want an early breakfast before you tour the best art galleries of Paris, Les Antiquaires is for you. The interior has cozy, vintage decor with wonderfully ornate ceilings, and the sidewalk seating is perfect for people-watching as the city comes to life.
Once you've finished your meal, it's a short walk to the Musee d'Orsay and the Louvre.
Du Pain et des Idées
34 Rue Yves Toudic, 75010 Paris, France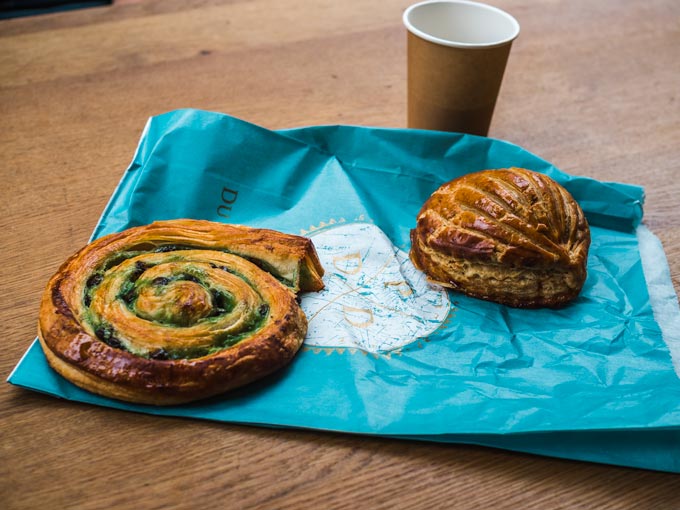 You'd be remiss to leave Paris without trying the pastries from Du Pain et des Idées. Their escargot pistache is so good, you'll start wondering when you can come back for another one while you're still devouring the first!
The location is a bit out of the way from most Paris attractions, but the quality of the pastries is worth the trek. And if you're traveling via Gare du Nord, it's only a short walk southeast of the station.
Café des 2 Moulins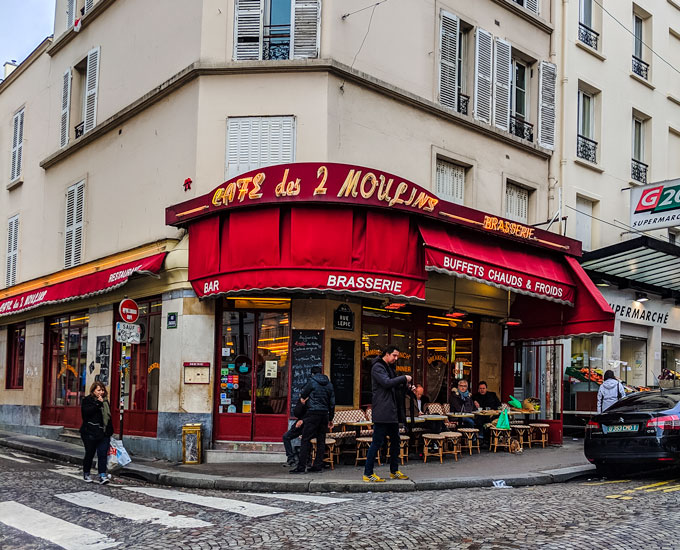 15 Rue Lepic, 75018 Paris, France
If you're a fan of Amélie, you'll quickly recognize this as the café where she worked. Its proximity to Sacré Coeur and its movie fame make Café des 2 Moulins a touristy spot for a typical French breakfast.
However, the quality of the set petit déjeuner, which includes scrambled eggs and fried potatoes with truffle oil, helps justify the cost.
Typical French breakfast picnic at the Trocadero
Imagine sipping a coffee and eating a croissant while the sun rises behind the Eiffel Tower. If you pick up the necessities for a typical French breakfast the evening before, you can make this dream come true.
There are plenty of places to sit at the Trocadero, either on the grass or up the steps, and you should be able to find a quiet space for yourself even in high season.