Confession time: Edinburgh's food scene surprised me. When I first searched for where to eat in Edinburgh, I figured it would be a slew of pubs and a few posh traditional restaurants.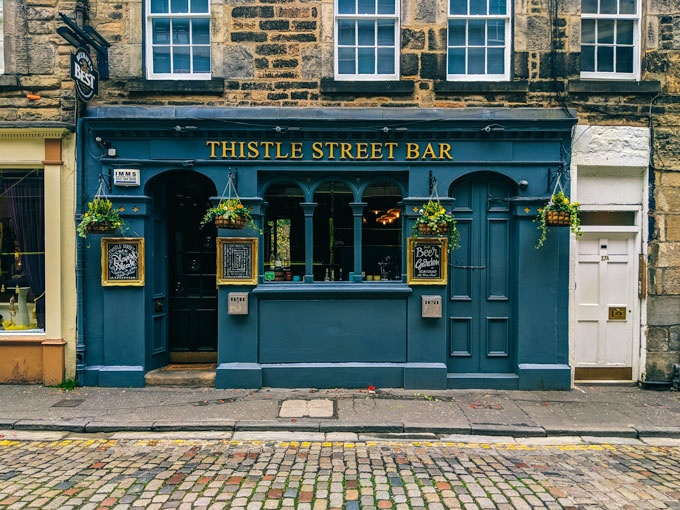 While I'm always up for a good Sunday roast, I like a bit of variety when I travel. Luckily, there's more to Edinburgh dining than pie and mash. And with reasonably priced restaurants in Edinburgh serving up everything from Mexican fusion to Japanese bento, your stomach and wallet will be happy.
This list of restaurants and cafes covers everything a first time visitor to Edinburgh could want: cool coffee shops, comfort food, classic pubs, and some Harry Potter magic. Best of all, each location is walkable from the Royal Mile.
This post contains affiliate links. For more information, click here.
RELATED: 2 Days in Edinburgh: Itinerary For First Time Visitors
The Treehouse Cafe
44 Leven St, Edinburgh EH3 9LJ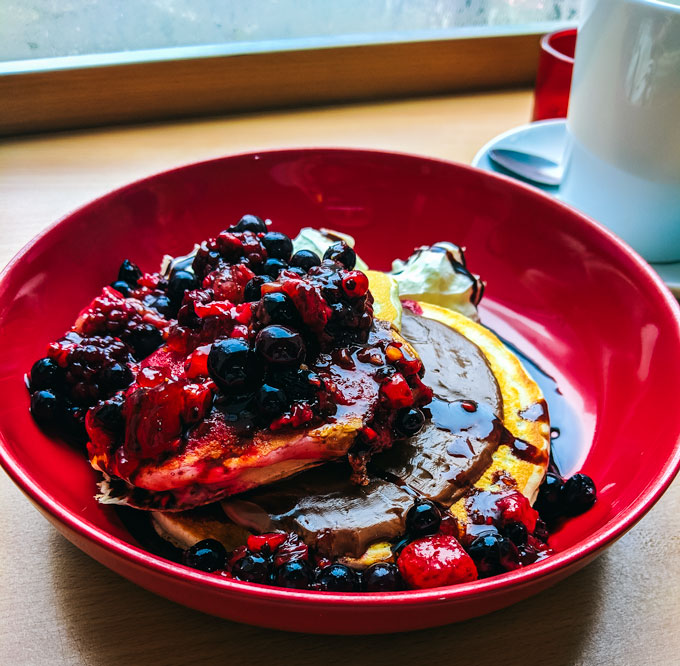 I always advocate for getting off the beaten path when traveling. If you don't mind a bit of a walk, head over to the cool Bruntsfield area to find where to eat in Edinburgh with the locals.
The Treehouse Cafe serves pancakes so good, I started making plans to move into the neighborhood. Grab a seat at the window counter, where you can devour stacks of berry nutella pancakes while enjoying the charming street view. Wash it all down with a hot chai latte for the perfect Edinburgh breakfast.
Mum's Great Comfort Food
4A Forrest Rd, Edinburgh EH1 2QN
There's nothing like eating a heaping plate of dumplings on a chilly Edinburgh day. Located near the University of Edinburgh campus, Mum's Great Comfort Food serves up amazing comfort food in a vintage setting.
If you're wondering where to eat in Edinburgh on a budget, look no further. The 'Great' in their name isn't just about quality: the portion sizes are huge, at least for European standards. Be sure to order the mac and cheese, and try to save room for desserts like popcorn-flavored ice cream.
RELATED: 15 Tips to Save Money While Traveling
Spoon
6A Nicolson St, Edinburgh EH8 9DH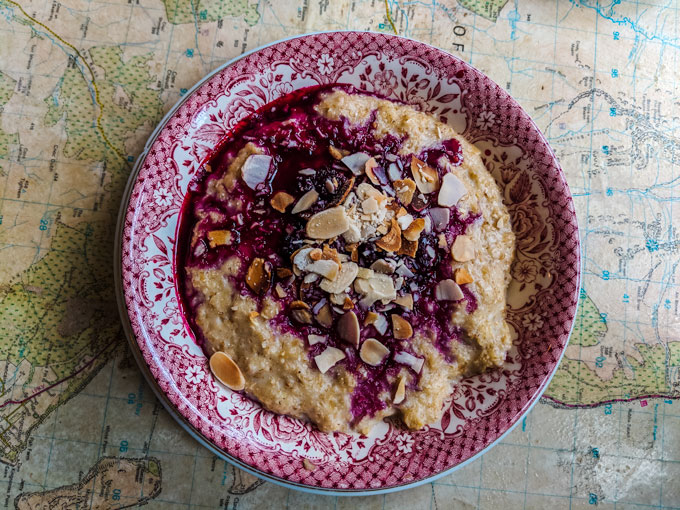 Update September 6, 2022: Spoon closed down in early 2022. However, the Black Medicine Coffee Co is just up the street and has a similar cozy atmosphere and great coffee.
Formerly called Nicolson's, Spoon is one of the famous Edinburgh Harry Potter cafes. J.K. Rowling penned large portions of The Philosopher's Stone here, and it's not hard to see why. The upstairs area's huge windows and cozy interior makes it the perfect location for working remotely or having a meal with friends.
Spoon's appeal goes beyond atmosphere, with a great brunch menu and excellent coffee drinks. Their mocha was the best I've ever had, and the berry porridge was delicious and super filling.
Eating breakfast off of a map-covered table while looking out at the city below was one of my favorite experiences during my 2 day Edinburgh itinerary.
El Cartel
Multiple Locations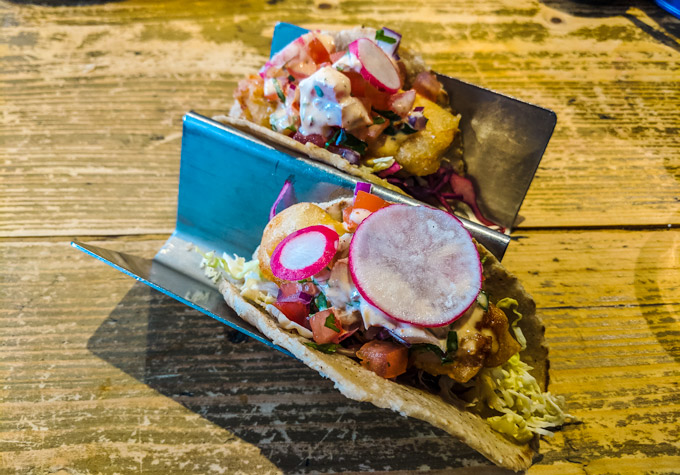 If I had to pick a tagline for El Cartel, it would be "great tacos with a twist". This restaurant dishes out Mexican street food so good, it filled the taco-shaped void in my heart that formed after I left Texas.
The Thistle Street location feels intimate and a bit funky, with a dark interior, vibrant seat cushions, and margarita machines churning out rotating flavors. Once inside, start with a bowl of guacamole and opt for plantain chips for dipping.
After that, you can't really go wrong with any of the menu options, though I especially loved the Baja Cod tacos pictured above.
In addition to the original Thistle Street location, El Cartel has locations on Teviot Place and Roxburgh's Court.
Greyfriars Bobby's Bar
30-34 Candlemaker Row, Edinburgh EH1 2QE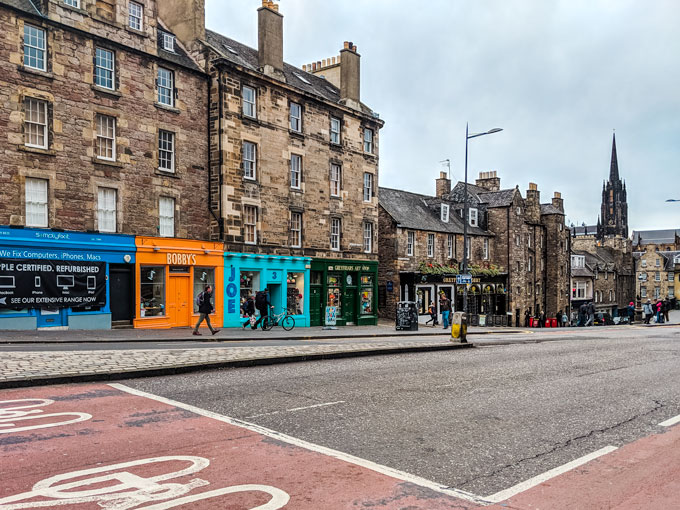 This historic pub gets its name from the famous Greyfriars Bobby Skye Terrier, who famously guarded his owner's grave for 14 years until he, too, passed away. Located just opposite Bobby's memorial statue, Greyfriars Bobby's Bar has everything you'd want from a Scottish pub.
Wooden floors, stately furniture, and a fireplace set the mood for traditional fare, including a fantastic Sunday roast. Adventurous diners can order haggis off the menu. And if Scotland's signature dish is not to your liking, just wash it down with a pint of cask ale from the bar.
Pro tip: if you visit Edinburgh in October or another chilly month, you can cozy up with a meal in front of the fireplace. Without a doubt, Greyfriars is one of the best restaurants in Edinburgh old town for atmosphere.
Save me for later!
The Advocate
7 Hunter Square, Edinburgh EH1 1QW
Trying to figure out where to eat in Edinburgh off the Royal Mile is a daunting task. There are tons of restaurants, many of which are packed with tourists.
Luckily, a quick detour on a side street will bring you to The Advocate. This Bellhaven-managed pub has tons of seating and a huge menu, making it a great choice for dining with a large group.
Due to my travel schedule, I spent four hours hanging out in one of The Advocate's cozy corner booths. I can't speak to the dinner options, because I gluttonously ate two desserts washed down with a cup of coffee. But I can tell you that their sticky toffee pudding is a must have, especially on a chilly night.
Union Brew Lab (Formerly Brew Lab Coffee)
6-8 S College St, Edinburgh EH8 9AA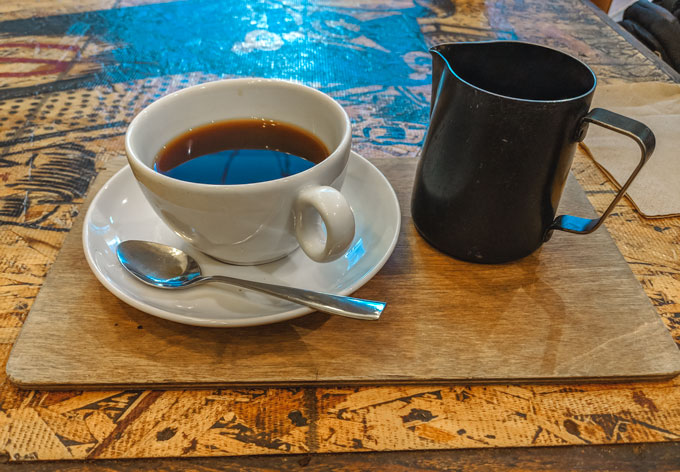 In a world of espressos, flat whites, and Americanos, Union Brew Lab's single origin filters stand out from the crowd.
As an American expat living in Europe, I deeply appreciate any cafe that serves up a good filter coffee. And Brew Lab's rotating roasts and relaxed vibe make it one of the best coffee shops in Edinburgh.
Try a tasty sandwich or a classic smashed avocado on toast alongside your filter brew, and settle into the comfy couch for a relaxing break from the hustle and bustle of the city.
RELATED: Where to Find the Best Cheap Eats in London
The City Cafe
19 Blair St, Edinburgh EH1 1QR
Being from the US, I may be a little biased in my decision to put The City Cafe on my list of where to eat in Edinburgh. However, this American-style diner is the perfect blend of good food, great service, and convenient location.
After a day of exploring Edinburgh Castle and sampling Scotch whiskey, you'll be ready for a juicy burger or a plate of savory chili.
Breakfast lovers are in luck: you can get your omelette or pancake fix any time of day. And if you save room for dessert, don't miss the popular milkshakes.
Bonus Spot: Drift in North Berwick
North Berwick EH39 5PL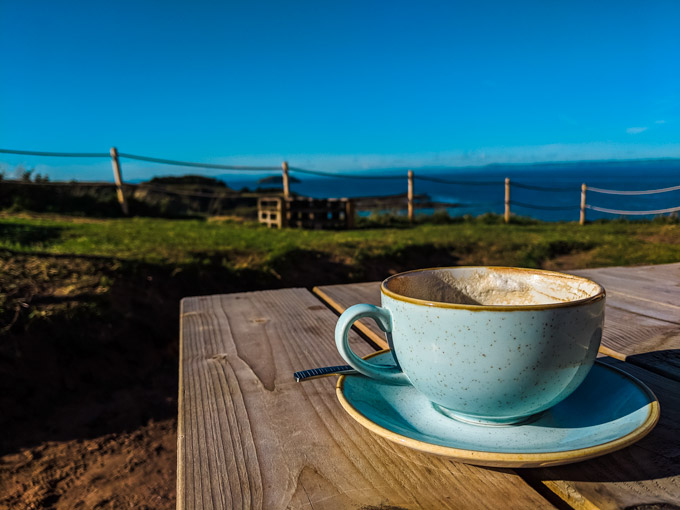 If you're planning to take a day trip to North Berwick, you must stop in at Drift. The family who owns the land turned two shipping containers into a stunning cliff-side cafe with an ocean view.
I stopped here during my walk to AND from Tantallon Castle. It's impossible to pass up the experience of having coffee and a snack in such a gorgeous location.
Book an Edinburgh Food Tour
If you're reading this post, I assume you're a food lover. With so many amazing eats in Edinburgh, why not add a culinary tour to your itinerary?
Map of Where to Eat in Edinburgh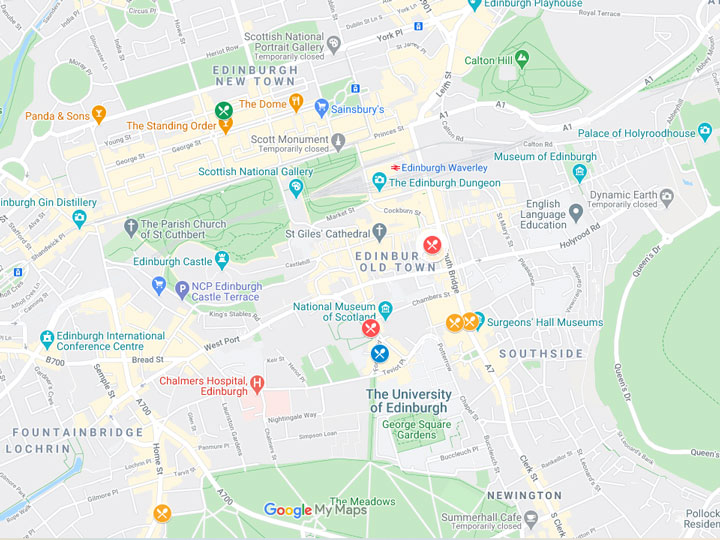 My Favorite Scotland Travel Planning Books
These books win my travel blogger Seal of Approval for vacation planning:
Do you have any Edinburgh restaurant recommendations? Let me know in the comments!