If baggage fees and heavy luggage are weighing you down, it's time to embrace the minimalist travel wardrobe trend. Before I created my travel capsule wardrobe, packing felt stressful. It was a guessing game of what outfits to bring, and how much I could stuff into my suitcase before the zippers split open.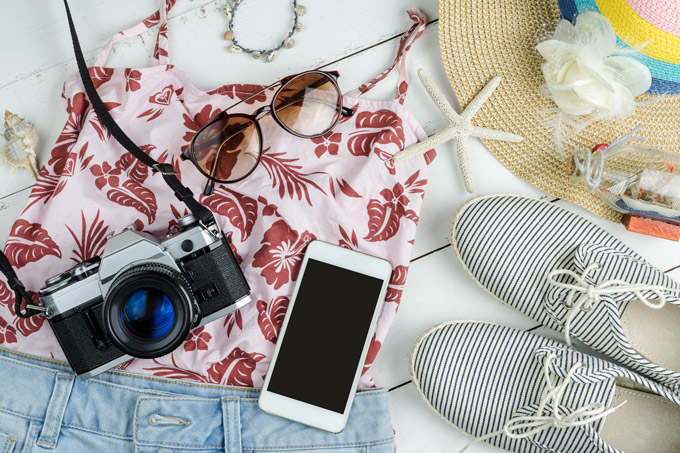 Today, I can pack for a week in a backpack in under 10 minutes!
Before we go any further, I'd like to clear up a common misconception about minimalist travel clothes. Your vacation wardrobe does not need to be black, white, and bland.
I've read too many articles that push colorless clothes as the ultimate mix and match travel wardrobe. While it's certainly easier to pair monochromatic items, it definitely takes the fun out of it. I don't know about you, but I enjoy wearing colorful pieces when I'm on vacation!
Fortunately, you can look great and still travel ultralight if you're strategic about what and how you pack. I'll be sharing my super-easy rule for coordinating vacation clothes later in the post.
This post contains affiliate links. As an Amazon Associate, I earn from qualifying purchases. For more information, click here.
Steps to Build Your Minimalist Travel Wardrobe
Start with an ultralight travel packing list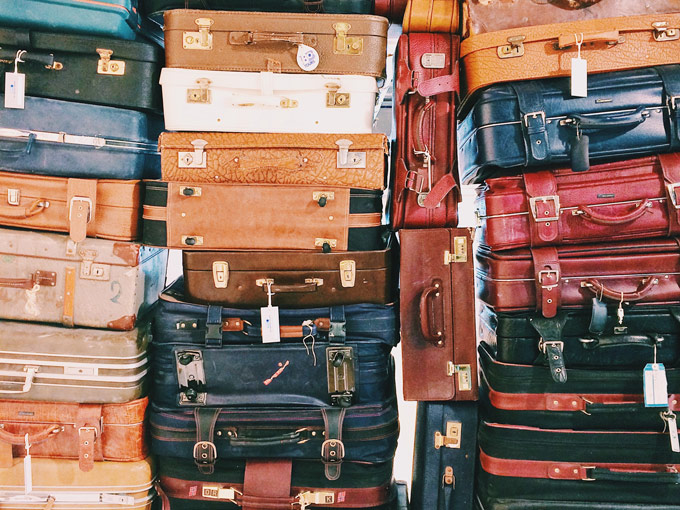 In the world of minimalist travel, there's only room to bring the essentials. And the best way to keep yourself from over-packing is to create an ultralight travel packing list.
Your list will be unique to you, because everyone has their own special needs. For example, I'm fine with using any provided hair products, but I have to bring my own face wash. I also have to wear supportive shoes, so I can't just walk around in a pair of flats for a whole trip.
Here's an example of what goes in my minimalist travel backpack for a one week trip:
2 bottoms
4 tops
1 cardigan
4 pairs of socks (two of which are re-wearable SmartWool)
2 sets of pajamas
7 pairs of underwear
2 bras
Hairbrush
Hairties and bobby pins
Eye makeup (I don't typically wear anything else)
Toothbrush
Toothpaste
Deodorant
Face cleanser
Moisturizer
Dry shampoo (Living Proof's Perfect Hair Day is a must for my oily hair)
Portable battery pack (I don't travel without my Anker PowerCore)
Headphones (ditching wired headphones for Jabra bluetooth earbuds changed my life)
Choose coordinating minimalist travel clothes
The real secret to creating a minimalist travel wardrobe is learning to think outside of "outfits".
Many people I know pack individual outfits for each day, and maybe an extra dress and a pair of heels "just in case". But the beauty of a travel capsule wardrobe is that everything can be mixed and matched.
Instead of 7 distinct outfits, you have 7-10 pieces that all work together no matter how you pair them.
The easiest way to do this is by following the neutral rule.
With the neutral rule, you either wear all neutral on top, or all neutral on bottom. That means there's plenty of room for color in every outfit!
Personally, I travel with black and grey jeans, and I pack brightly colored tops. But if you have a favorite floral skirt or red pants, bring along some black, white, or grey tops to match.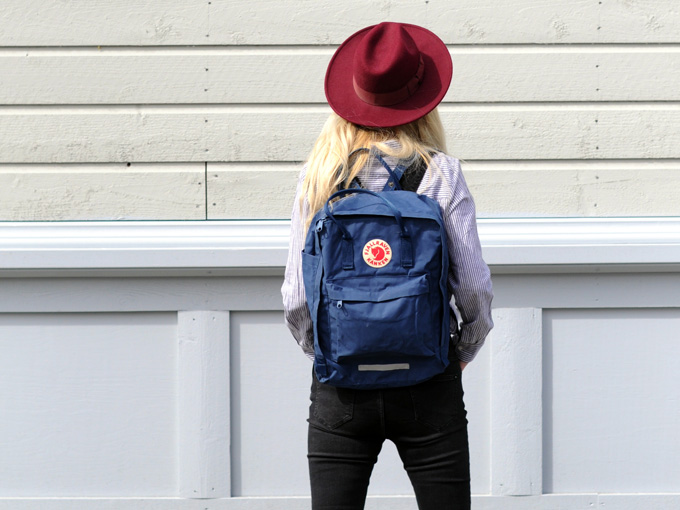 Another option is to choose complementary colors.
These are hues that sit opposite one another on the color wheel, like blue and orange. And when you pair them together, they create outfits with impact.
You should still mix some neutrals into your minimalist travel wardrobe. But focusing on complementary colors means you can bring a pink skirt and green top without fear of clashing.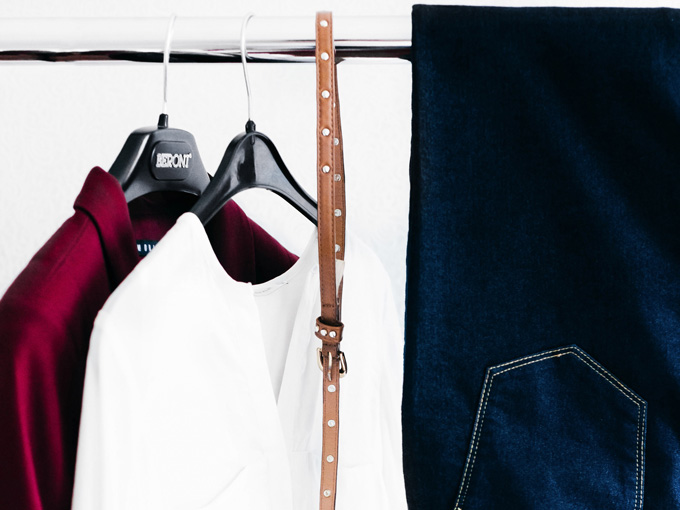 Finally, pastel hues make great minimalist travel clothes.
The softness of the colors makes them easy to mix and match. When choosing pieces, stick to faded greens, pinks, blues, and yellows. Some people think pastels are only for spring, but who could say no to a powder blue sweater in winter?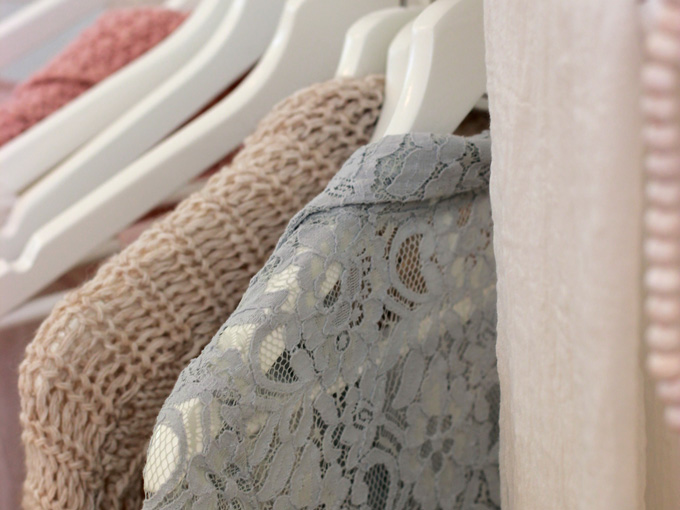 My travel capsule wardrobe for Europe (and beyond)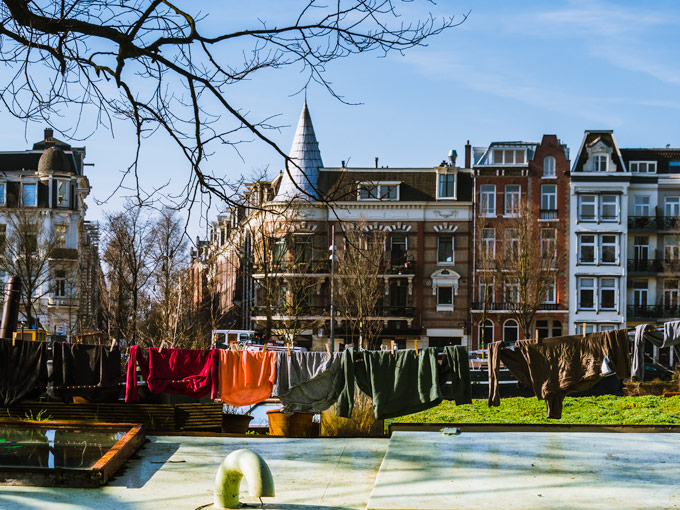 If you follow me on Instagram, you know I mostly travel around Europe. I also carry a camera bag and tripod, and tend to clock over 20,000 steps every day. As you might imagine, I don't fill my bag with dresses and heels!
Comfort is #1 for me, but I don't want to stick out in a city of well-dressed people. Thus, my travel capsule wardrobe for Europe balances comfort and style.
Here's what I pack for a trip to Europe (and pretty much everywhere):
2 Pairs of Jeans
Instead of traditional blue, I opt for pairs of black or grey skinny jeans. They go with any top and can be dressed up or down.
If you're more into relaxed fit, these Levi's are super comfortable and look cute with a tucked-in or cropped top.
Casual Dress
If the weather is right, I like to bring a fun yet casual dress. Having a dress on hand also means I won't feel out of place if we decide to have a nice dinner.
Black Cardigan
When exploring Europe's beautiful cathedrals and scenic overlooks, a cardigan is a must. Sometimes I'll tie it around my waist on the plane to save space in my bag.
Black & White Striped Long Sleeve Shirt
This neutral staple is in heavy rotation for my everyday and travel wardrobes. I like the long sleeve option, because you can wear it all day without getting too hot or cold.
3 Colorful Tops
I follow the "neutral rule" for bottoms, so I brighten my outfits with vibrant tops. I tend to wear 3/4 length sleeves, or pair a short/sleeveless top with my black cardigan.
Ballet Flats
I wear tennis shoes on the plane and for most of my trips. But I always keep a pair of nude ballet flats in my backpack for nicer occasions.
Save me for later!
Invest in travel capsule wardrobe essentials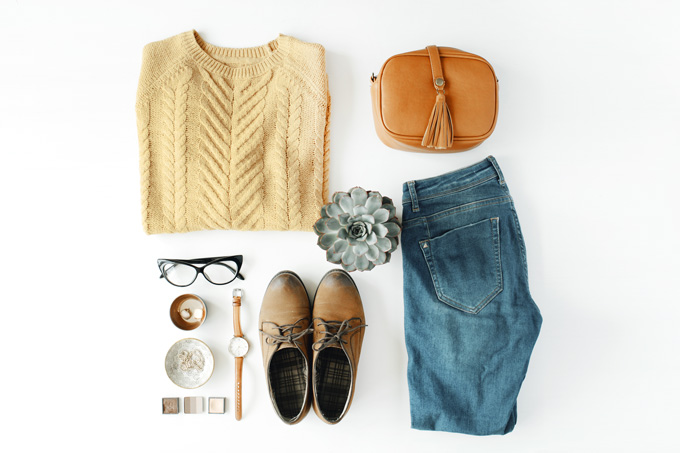 If you've embraced the minimalist lifestyle, you know the value of investing in versatile, quality items. Having things like wrinkle free travel clothes or convertible dresses are key to packing light.
I always shop my closet before adding any new purchases. But if you don't already own the right pieces, here are some travel capsule wardrobe essentials to buy:
Three-in-one jacket: Look for one that's weather-proof and hooded so you can skip the umbrella.
Comfortable & neutral shoes: Choose a pair that work with pants and skirts/dresses, like classic white Adidas.
Wrinkle-resistant fabrics: Materials like wool, polyester, and knits naturally repel wrinkles, so no wasting precious vacation time ironing!
Use a carry on backpack for traveling without luggage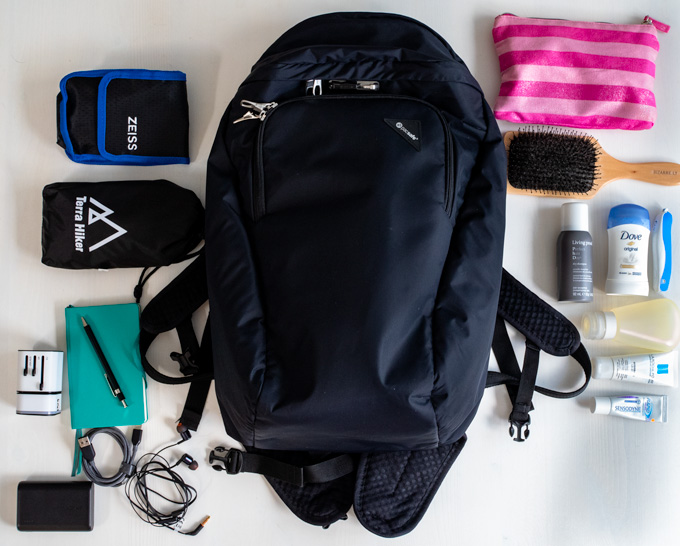 The best thing about having a minimalist travel wardrobe is that it can easily fit into a carry on. I can pack for a week in a backpack, which is far more comfortable to carry around than a roller bag.
I've written an entire post on my favorite minimalist travel backpacks, along with dozens of tips for traveling without luggage.
My Tortuga Setout is spacious, comfortable, and opens like a suitcase. It was an investment, but it's built to last and makes traveling with only a backpack a real joy.
Check out my review of the Tortuga Setout vs. Osprey Farpoint for more details.
I hope I've convinced you that creating a minimalist travel wardrobe is easy! Say goodbye to heavy suitcases and monochrone outfits, and hello to traveling light and colorfully.