Belgium's hottest city is Bruges. This place has everything. Old windmills. Charming cobblestone alleys. A giant plastic whale jumping out of a canal. And with this Bruges one day itinerary, you can see the highlights on foot and still have time for an afternoon beer break.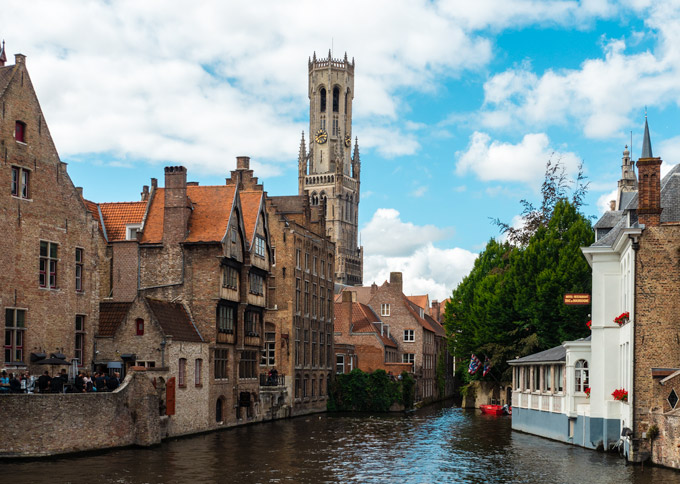 This Bruges itinerary and custom map is an exact replica of our day trip to Bruges from Brussels. Had it not been a busy Saturday in August, we would have spent more time exploring the city.
However, if you only have six or seven hours for your visit, this one day in Bruges walking tour is for you.
If you're looking for more great cities to explore in Belgium, consider adding one day in Brussels to your travel plans.
This post contains affiliate links. For more information, click here.
Bruges 1 Day Itinerary Guide
— Bruges: Know Before You Go
— The Best Time to Visit Bruges
— What to do in Bruges in One Day
— Day Trip to Bruges Walking Tour Map
— Bruges Day Trip Guided Tours
— Other Things to do in Bruges
— Where to Go After Your Bruges Day Trip
Know Before You Go
Estimated Itinerary Budget: €35 per person (excluding transport)
Money
Bruges uses the Euro, and you should plan to carry cash in addition to your card(s). Many places in Bruges will take card, but some smaller restaurants and shops are cash-only.
Dining out in Bruges can be surprisingly expensive, even outside the main plaza.
If you're on a tight budget, you can skip the recommendations in the itinerary below and grab some takeaway from Bocca. It's a fast-casual Italian spot where you can create your own pasta bowl for about 7-10 Euros.
Transport
This is a walking tour, so no need to fret about public transportation. Bruges station is just south of the city center, and can be reached by train from Brussels, Ghent, and Antwerp. FlixBus also runs routes to Bruges from a number of other European cities.
Language
Belgium has three official languages: French, German, and Dutch. However, most folks in Bruges are fluent in Dutch and English. Unlike Brussels, where most people speak French, you're better off sticking to English in Bruges (unless you know Dutch)!
Even so, if you don't have Google Translate installed on your phone with the Dutch dictionary downloaded, do that before you leave. Personally, I like to learn a bit of the local language when I travel abroad.
If you're keen to learn some Dutch, check out these essential travel terms and phrases for globetrotters.
Culture
Bruges is in the Flemish region of Belgium, which makes the city's culture more Dutch than French. Here are a few quick tips to make your visit a smooth one:
Always greet the shopkeeper and restaurant staff when entering a building. A simple hello goes a long way.
Tipping is not necessary, as Belgian restaurants include service charges in the bill. However, it's also normal to round up to the nearest whole number or leave a couple Euros for quality service.
Cyclists are everywhere and don't always signal their approach with a bell. Keep your eyes peeled when crossing the street or turning corners. And don't walk in the bike lanes!
My Favorite Belgium Travel Guidebooks
These books win my travel blogger Seal of Approval for vacation planning:
The Best Time to Visit Bruges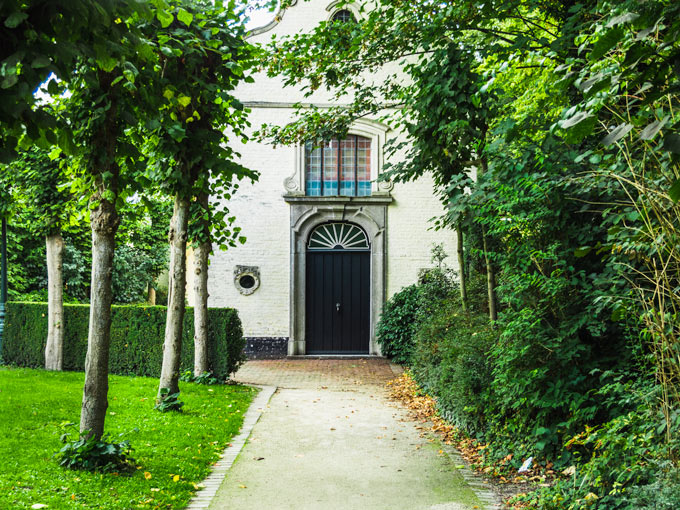 From summer festivals to winter Christmas markets, it's hard to choose the best time to visit Bruges. Here are some tips to help you decide when to plan your Bruges day trip:
January – March: Temperatues are fairly cold (about 4°C/40°F), but you won't have to contend with any crowds and might see some pretty snowfall.
April – May: Springtime brings pretty blooms and greenery in the parks, and crowds are manageable aside from the Ronde Van Vlaanderen bike race.
June – August: You'll have warm weather, but all of Europe is on holiday, making Bruges feel quite overrun in places.
September – November: The autumn off-season is a beautiful time to visit, with golden leaves falling into the canals and streets.
December: The Bruges Christmas market is famous for its charm, and worth braving the cold temperatures to see. In fact, Bruges is one of the best places to visit in Europe in December!
What to do in Bruges in One Day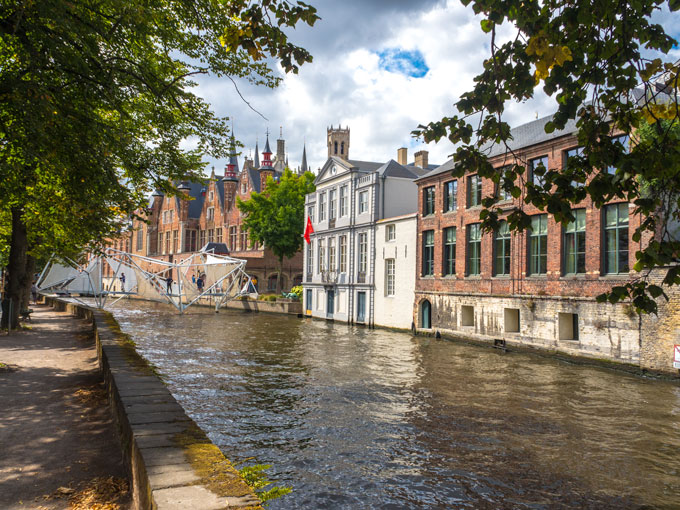 Minnewater Park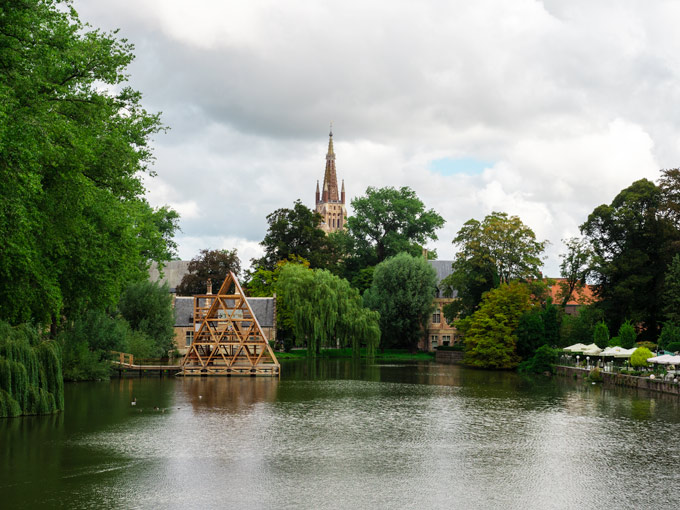 I wish every city had a serene park directly across from its main transit station. After exiting the hustle and bustle of the train terminal, head northeast towards Minnewater Park. As you walk east, you'll come upon the iconic Minnewater bridge that overlooks the "Lake of Love" and floating designer school.
Though it's tempting to rush straight into the city, take a few minutes to walk deeper into the park. The leaves were just beginning to change during our visit, which made for some lovely photos.
Brunch/Lunch
Despite having an unusually large breakfast before arriving in town, we couldn't pass up the chance to dine at a cafe lined with bookshelves.
As literature lovers who will happily eat breakfast at any hour of the day, Books and Brunch was a must-visit destination during our Bruges day trip. The menu was a good mix of Belgian and European fare, with solid, well-labeled options for vegetarians and vegans.
We were fortunate to nab the last table, so I recommend making a reservation if you're visiting on the weekend.
K. Astridpark and Alleys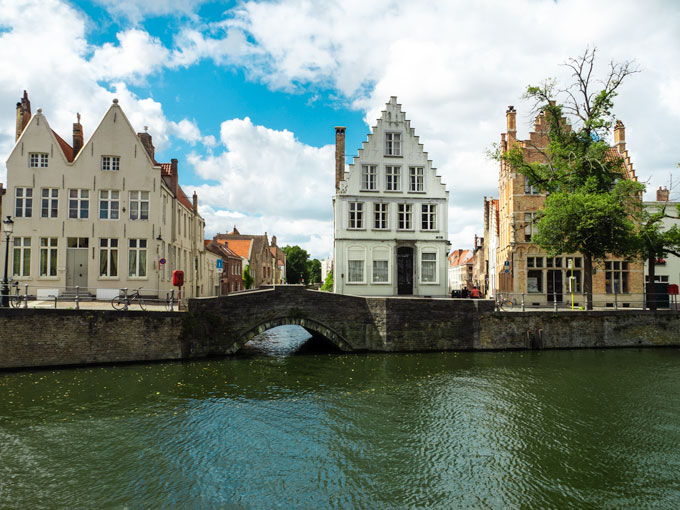 I love wandering residential areas during my travels, and Bruges' neighborhoods are particularly lovely. Spend some time strolling through the local park and meandering through the streets.
Enjoy the quiet while you can, as the rest of this Bruges walking tour will take you through some highly trafficked areas.
Sint-Janshuis Windmill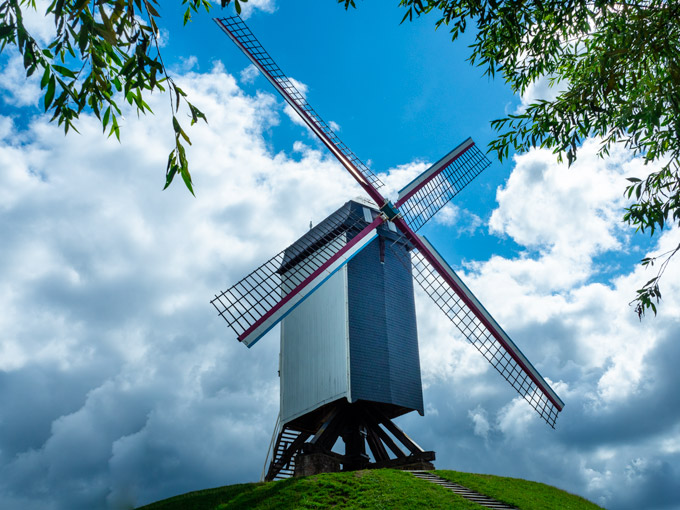 From this part of town, you have a couple of options to get to the windmills. You could either double back north, cross back over the canal, and head southeast to the walking path.
Or, you could head southeast towards the main canal and cross the bridge at the Gentpoort. If you opt for the latter option, you'll just need to cross back over the canal at the Kruispoort gate bridge.
Either way, it's a long walk up the side of the canal towards the windmills. Be mindful of your surroundings, as the paths are also used for biking!
The lengthy trek is certainly worth the view of the windmill on the hill, especially on a partly cloudy day like the one pictured. There are actually two windmills in this area, though Sint-Janshuis is the more famous and impressive of the two.
In the summer months, the interior is open to the public, where you can see the 250-year-old mechanics in action.
Save me for later!
Cafe-Bistro Terrastje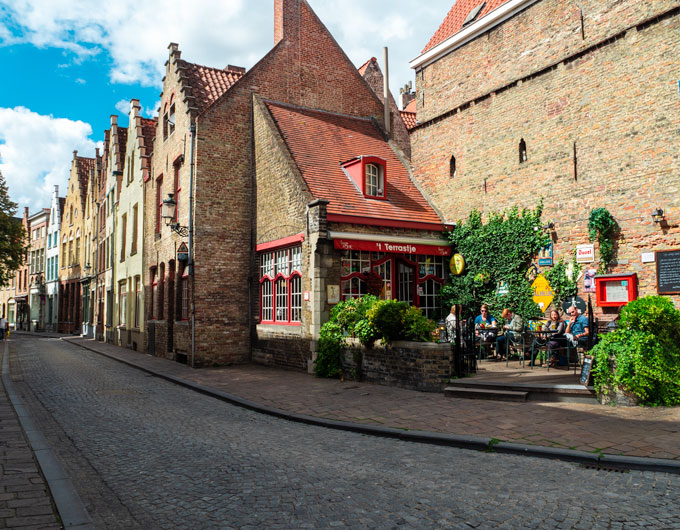 After the long windmill walk, you'll probably need a bit of rest and relaxation. Luckily, the Café-Bistro Terrastje is only a short distance across the canal.
This eclectic, cozy spot was a highlight of our Bruges walking tour, with local Belgian beers on tap and classic oldies piping through the speakers. We only intended to stay for a quick drink, but ended up hanging out for a good 45 minutes.
Jan Van Eyck Square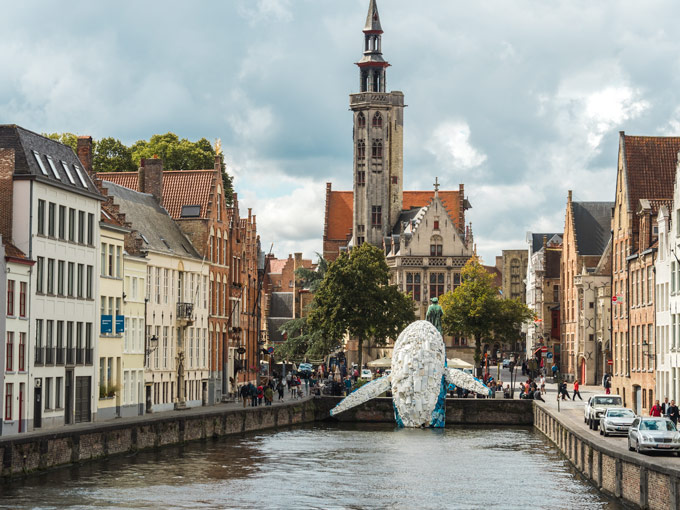 Once you've refreshed yourself at the cafe, head south towards the canal. The Spiegelrei boasts gorgeous canal-front houses and stone bridges, making for a perfect walk towards the most Instagrammable places in Bruges: Jan Van Eyck Square.
While the famous plastic whale was taken down in 2019, this area is still utterly picturesque.
Check out the statue of renowned Northern Renaissance painter Jan van Eyck and admire the lovely architecture of the surrounding buildings before heading south towards the main square.
Grote Markt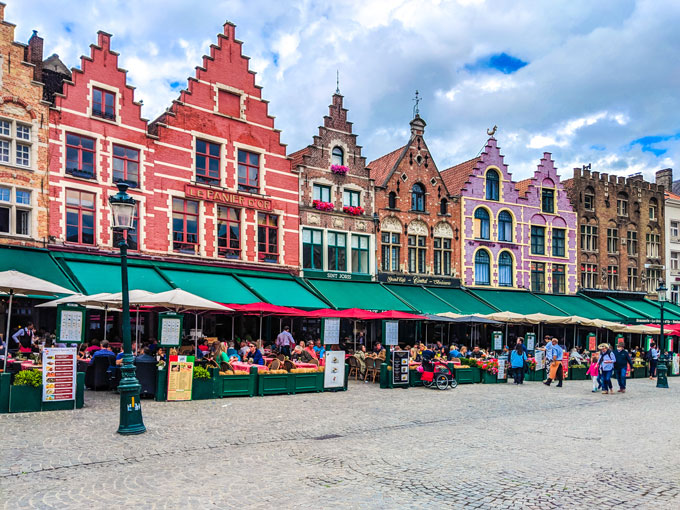 Emerging from the narrow alleyways to enter the city center is a bit jarring. The main square is surrounded by cafes, brightly-colored buildings, and plenty of visitors. The key sights include the iconic Belfry of Bruges, the Gothic-style Basilica of the Holy Blood, and the Provincial Court.
Like most European cities, Bruges hosts festivals here throughout the year, including the famous Meifoor just after Easter. Note that the square can get quite crowded during peak season.
Belfry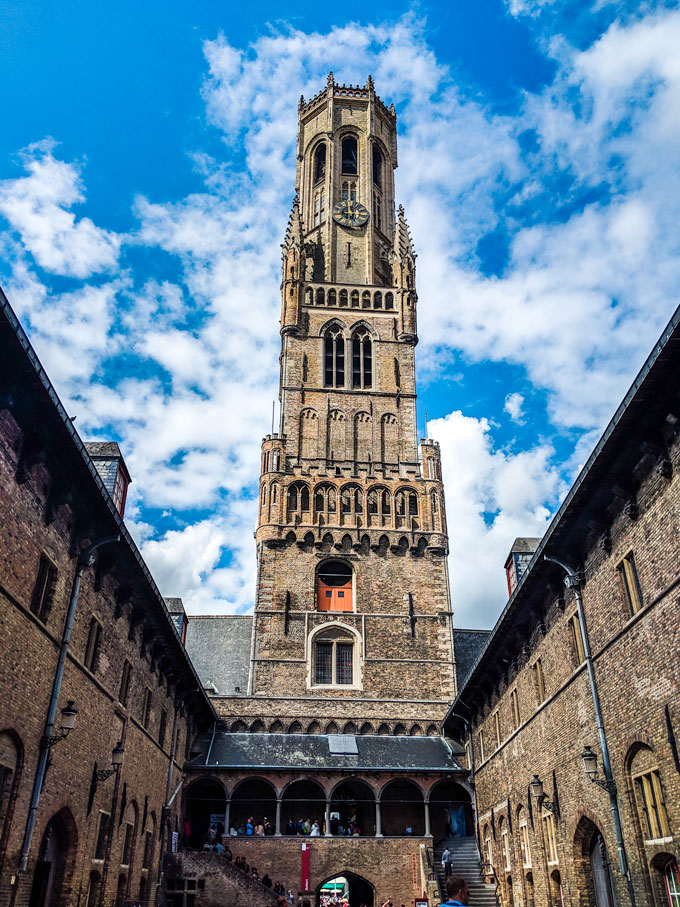 Of all the things I wanted to include in our Bruges 1 day itinerary, climbing the Bruges belfry was at the top of my list. Paying €10 to climb 366 steps seemed a bit crazy after having been on my feet for two days, but I figured the views over the city would be worth it.
Alas, the queue was impossibly long, and we simply didn't have enough time to wait around. If you're hoping to climb the belfry during high season, get there as soon as it opens (9:30am) to avoid the lines. Fortunately, we're already planning a return trip to Belgium, so we won't make this mistake again!
Shopping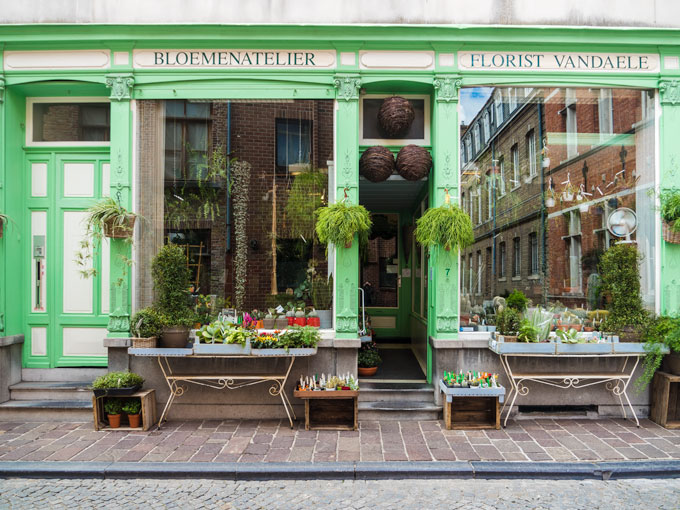 The shops lining the old streets of Bruges are just as charming as you'd imagine. I'm not big on shopping, especially when traveling light, but I couldn't resist popping into the adorable stores selling everything from watercolor paintings to Christmas decorations.
This part of town gets extremely packed during high season and on the weekends, so be prepared to battle the crowds as you buy and browse.
If you're shopping for Belgian chocolate, pay close attention to the prices. My husband, a.k.a. Mr. Economics Major, noticed some interesting pricing sheets in a few shop windows that actually made it more expensive to buy in bulk!
Sint-Salvatorskathedraal and the Church of Our Lady Bruges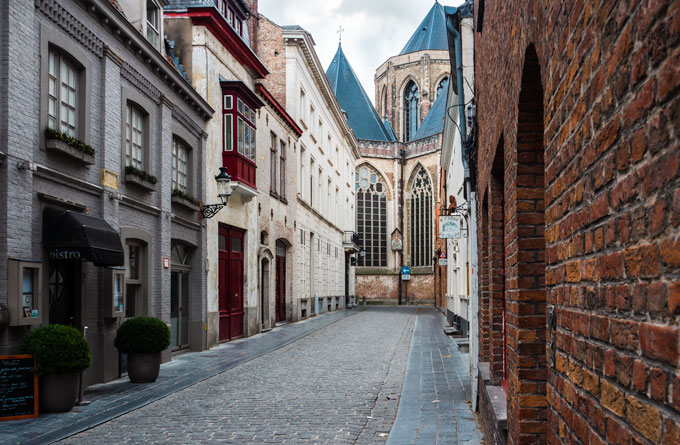 As you walk southwest from the city center, you'll see the spires of the 700-year-old Sint-Salvatorskathedraal. Should you choose to enter (no admission fee required), check out the paintings and the ornate organ.
From here, head southeast down the Heilige-Geeststraat to reach the Church of Our Lady Bruges. If you're an art lover, the €6 admission fee is worth it to see Michelangelo's famous Madonna and Child painting, among other works.
To truly appreciate the splendid exterior, walk around back and approach it from the rear alleys on the canal side. It's one of my favorite Instagram spots in Bruges.
Dinner and Departure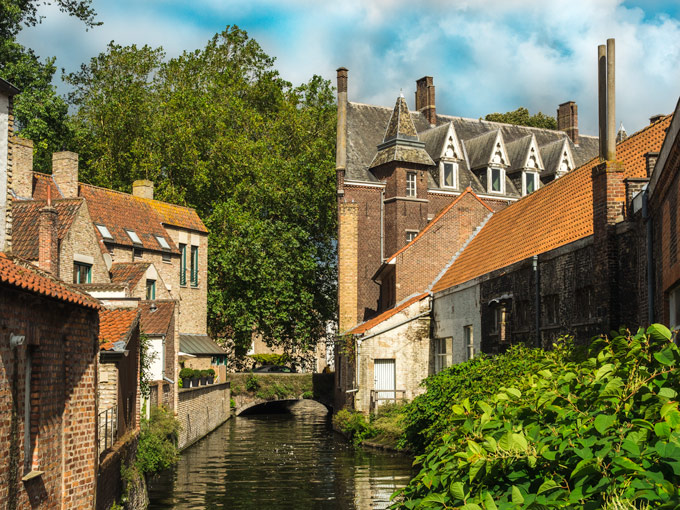 Pass by the Site Oud Sint-Jan on your way out of the city, which houses the Center for Modern Art and is surrounded by geometric gardens. If you're only in Bruges for one day, you probably won't have time to go in the museum itself.
We planned to have dinner at the eclectic De Stoepa restaurant before returning to Brussels, but my stomach wasn't up for the task. If you're visiting in the warmer months, try to grab a seat in the outdoor beer garden.
Day Trip to Bruges Walking Tour Map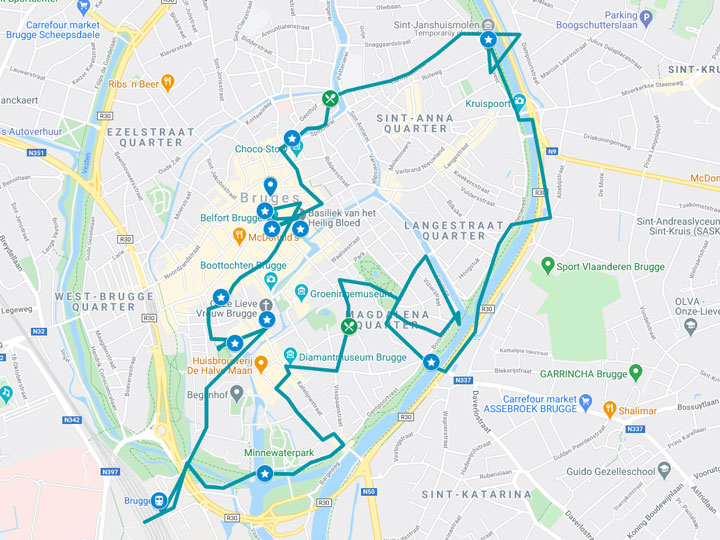 Click here for the full interactive map!

Bruges Day Trip Guided Tours
If a self-guided day trip to Bruges feels like too much work, that's okay! You can easily book a guided tour online. There are even round-trip options from Brussels and Amsterdam, saving you the hassle of navigating the trains and buses.
Have More Than One Day in Bruges?
If you can extend your Bruges 1 day itinerary to a full day or overnight trip, here are some extra things to try:
Take a boat ride through the canals: Boat Trips Brugge is a popular choice for soaking up the city's charm on the water.
Visit the museums: Check out the Groeninge Museum for paintings by the old Flemish masters, or take a quirky tour through the Torture Museum.
Tour a brewery: The Huisbrouwerij De Halve Maan offers guided tours and has a museum chronicling the history of Belgian beer brewing.
Remember to book your accommodation in advance! Apartment rentals in Bruges are in short supply, and the best hotels get snapped up fast.
Where to Go After Your Bruges Day Trip
Brussels: This stunning capital city is only an hour away by train, and you can see it all with my 24 hours in Brussels guide.
Ghent: A short train ride will take you to Ghent for even more beautiful Flemish architecture.
Rotterdam: Nearly destroyed during WWII, Rotterdam is now known for its innovative, modern architecture.
Amsterdam: Connect through Brussels via train, where you can spend 2 days in Amsterdam exploring beautiful canal streets and top-notch museums.
Bruges is a city so charming it makes you question your reality. I half-expected a fish to pop out of the canal and start singing. It was certainly a welcome reprieve from the hustle and bustle of Brussels (excluding the crowded market area).
If you're planning a trip to Belgium or looking for a weekend break in Europe, I highly recommend spending at least one day in Bruges!
Have you taken a Bruges day trip? What places would make it on your must-see list? Let me know in the comments below!