If your idea of a perfect city break includes picturesque architecture and laid back exploration, you'll love this 2 days in Amsterdam itinerary. Despite what you may have heard, there's far more to this city than the red light district and the Anne Frank House.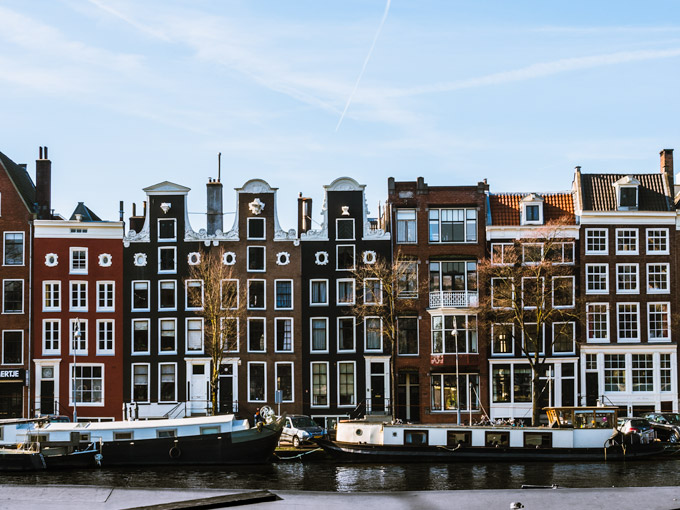 From street market shopping to sunset walks along the canals, there are tons of things to do in Amsterdam in 2 days.
And if you're not keen to test your bike riding skills, don't worry. You can do this entire 2 day Amsterdam itinerary on foot!
Each day is set up as an Amsterdam self-guided walking tour. Just be sure to look both ways at every crossing, or you might get run over by a cyclist.
This post contains affiliate links. For more information, click here.
Amsterdam Itinerary Guide
Know Before You Go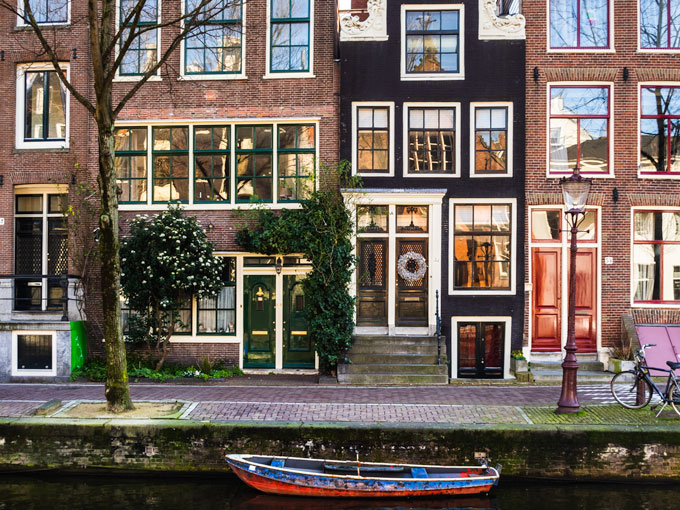 Estimated Budget for 2 Days in Amsterdam (excluding transportation and accommodation): €115 / $130 USD
Money
The Netherlands uses the Euro (€). Most places in Amsterdam accept credit card, though it's always good to have some cash on hand.
Tipping is not expected, though it's customary to round up your restaurant bill to the nearest euro. At more expensive restaurants, it's normal to leave a 5-10% tip. Always check your bill, though, as some places automatically include a service charge.
Transport
If you've seen any photos of Amsterdam, it's easy to see that cycling is the main way people get around.
The city is designed to be bike-friendly, with special lanes and light signals devoted to cyclists. Take care not to walk in the bike paths, and always look carefully before crossing the street.
Amsterdam also has a great bus and tram system. You can buy a disposable one hour pass from the rear tram conductor, or the bus driver. In 2018, the conductors stopped accepting cash, so you'll need an EU-friendly debit or credit card to make on-board purchases.
There are also GVB ticket machines that sell rechargeable public transit cards (similar to the London Oyster card). However, you shouldn't need this if you're following my 2 days in Amsterdam itinerary, unless you're staying far outside the city or aren't up for a ton of walking
If all that sounds too complicated, I have good news: you can easily buy digital 1-7 day public transit passes online!
Buy your Amsterdam public transit pass here!
Getting to Amsterdam from Schiphol Airport
The Intercity Direct train from Schiphol Airport is the fastest way to reach central Amsterdam. It has several stops along the route to Amsterdam Centraal station, making it a good option regardless of where you're staying.
Tickets and rechargeable travel cards can be purchased from the yellow NS machines near the station. You can also buy your ticket online and either print it out, or save it on your phone via the NS mobile app.
Language
Dutch is the official language of the Netherlands. However, most people are at least conversational in English, and nearly all Amsterdam service workers are fluent.
RELATED: 23 Essential Travel Terms and Phrases You Should Know
Though you shouldn't have any trouble getting by in English, you may need to ask for an English menu at local restaurants. I recommend downloading the Dutch dictionary on Google Translate just in case.
Culture
Here are a few culture tips to help make your 2 days in Amsterdam a success:
Cafes are where you go to get coffee, pastries, etc. Coffee shops are where you purchase cannabis products (though you can get coffee here, too).
Be respectful of the people in the red light districts, and never take photos of the workers.
Cyclists have the right of way, so don't step in front of an oncoming bicycle.
If you aren't great at riding a bicycle, Amsterdam is not the place to re-learn.
If you're paying your bill by card, many cafes will ask you to go to the register (as opposed to bringing a card reader to the table).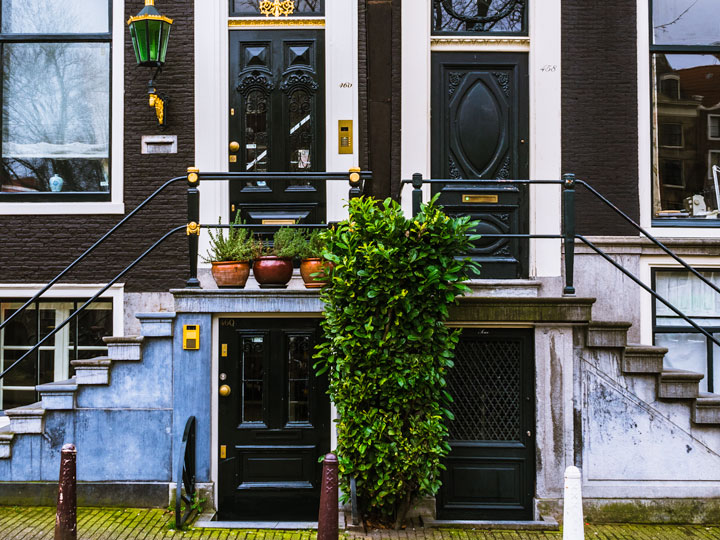 Where to Stay in Amsterdam
From houseboats to hostels, there are tons of accommodation options in Amsterdam. Because the city is fairly compact, there's no need to stay right in the city center.
There are also plenty of apartment-style accommodation options in Amsterdam. We opted to rent a lovely canal flat in the Museumkwartier during one of our trips, and it was wonderful to sit on the balcony with a drink in hand.
Is 2 Days in Amsterdam Enough?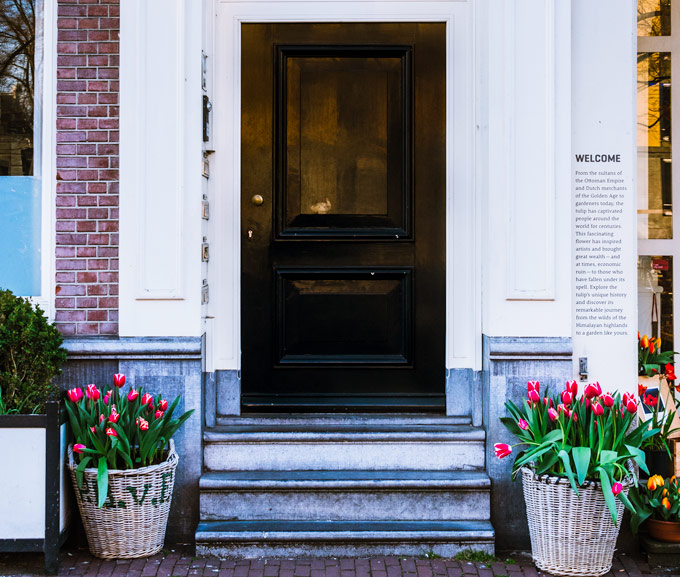 That depends on your goal! 2 days in Amsterdam is enough time to see the major highlights and central neighborhoods. But if you want to really dive into the museums, explore more of the parks, etc., you'll want an extra day or two.
I was eager to take a second trip to Amsterdam as soon as we were on the train back to London. So if you have more time to spare, I say go for it!
The Best Time to do this 2 Day Amsterdam Itinerary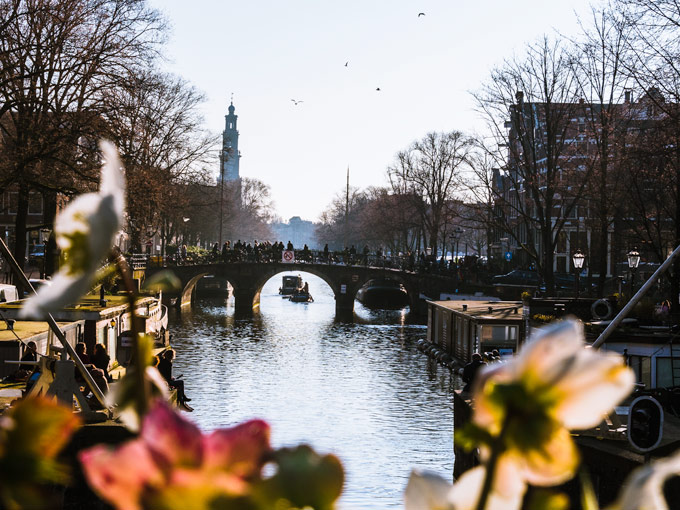 In case you haven't heard, Amsterdam's had a massive surge in tourism since early 2018. If you don't like crowds, the best time to visit Amsterdam is the off-season.
From November through mid-March, the city is far less busy with tourists. Weekends still see plenty of visitors, particularly in the central De Wallen area, but that doesn't stop it from being among the best winter city breaks in Europe.
If you want to take a day trip from Amsterdam to Keukenhof Gardens for the tulip festival, you'll need to brave the crowds. April is peak season for tulips, though the season runs from late March through early-mid May.
Check out this guide to visiting Amsterdam in spring for other fun things to do in the city!
2 Days in Amsterdam Itinerary
Day 1: De Pijp, Museumkwartier, Rembrandtplein, Old Town
De Pijp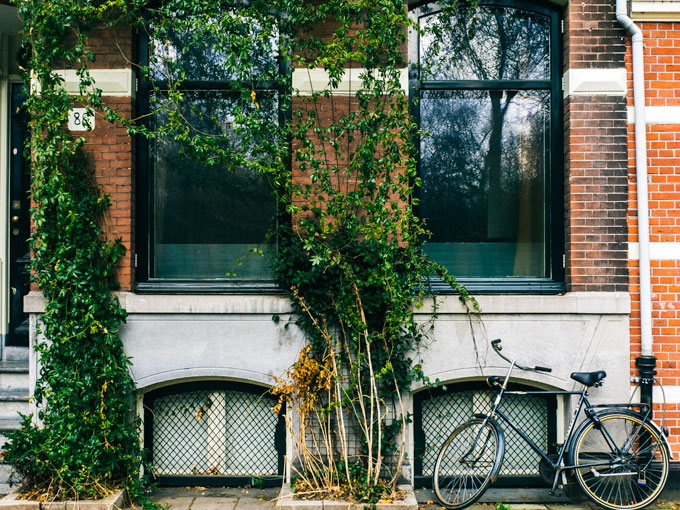 Kick off your 2 day Amsterdam itinerary with breakfast in De Pijp, one of the city's coolest neighborhoods. Check out Omelegg for dozens of inventive omelets, or the very Instagrammable Coffee & Coconuts for tasty food and drinks in a light, airy loft setting.
After the morning meal, spend some time wandering the nearby streets as you head towards Sarphatipark. This little oasis is perfect for a relaxing stroll amongst the ducks, willow trees, and sprawling pond.
From here, walk one block north to reach the famous Albert Cuyp Market. Here, hundreds of street vendors sell everything from decorative bowls to fresh produce.
If you're looking for a snack, there are food stalls offering frites, crepes, and other grab-and-go options. Note that Albert Cuyp Market is open Monday-Saturday 9am-5pm.
De Pijp is also known for its boutique shops. So if you're after one-of-a-kind blouses or unique souvenirs, stop into Things I Like Things I Love or one of the many shops near the market.
Once you finish shopping, cross the canal and head west towards the Museumkwartier.
Museumkwartier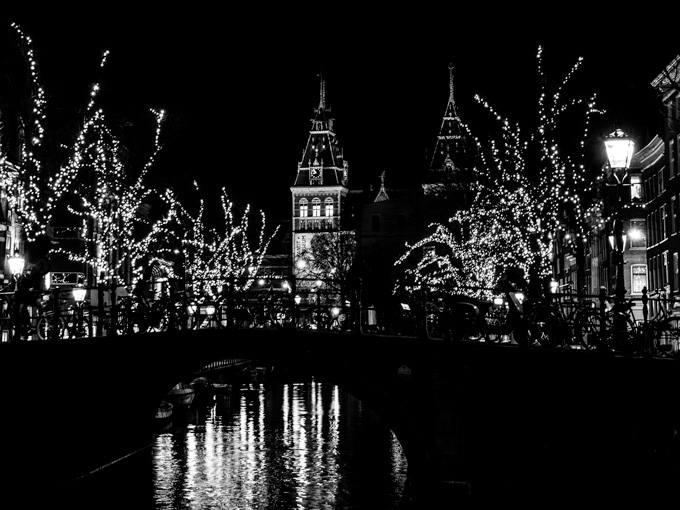 Home to Amsterdam's most renowned museums, the Museumkwartier is beautiful and bustling.
Check out the Museumplein, a massive green space surrounded by lovely buildings. Locals and tourists alike hang out here, and the vibe is reminiscent of a university campus.
With only two days in Amsterdam, I recommend choosing one museum to explore for a few hours.
The Rijksmuseum is a dream for European art lovers, with hundreds of iconic works from Rembrandt, Vermeer, and other masters. Its stunning Cuypers Library is also a must see for book lovers and fans of Beauty and the Beast.
Buy your skip-the-line tickets for the Rijksmuseum here!
Another excellent option is the Van Gogh Museum. This ultra-modern building houses the world's largest collection of Van Gogh works, from Sunflowers to The Bedroom.
It's one of the most popular places to visit in Amsterdam, and they use a timed entry system to alleviate crowds. So if you want your preferred time slot (and to skip the ticket queue), you'll need to buy online tickets in advance.
Book your Van Gogh Museum tickets here!
For a post-museum lunch away from the crowds, check out Cafe Loetje for Dutch classics and excellent desserts.
After lunch, pass along the Spiegelgracht on your way to Remembrantplein for some especially pretty canal houses.
Rembrandtplein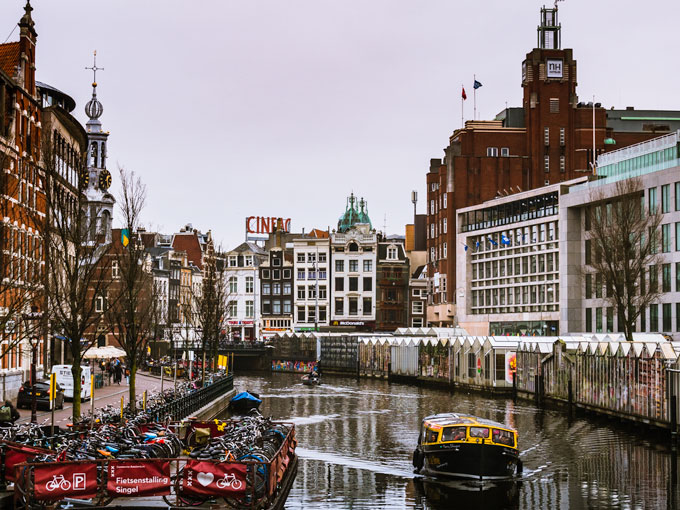 This area may be small, but it's packed with lovely views and famous spots. Start just outside the main area at the famous Skinny Bridge (Magere Brug). Once serving as a city gate, you can still see the chains that controlled the barrier.
From here, walk a few blocks north to the Blauwbrug bridge for excellent Amstel canal views. A couple blocks west lies Rembrandt Square, where, tourists line up to take photos amongst the statues beneath Rembrandt's monument.
Be sure to walk down Reguliersbreestraat for a nice view of the Munttoren clock tower at the end. This will bring you to Bloemenmarkt, where flower merchants on floating barges sell fresh tulips, bulbs, and other gardening supplies.
After exploring the market, walk northeast and cross the canal along Nieuwe Doelenstraat to reach Amsterdam's Old Town.
Old Town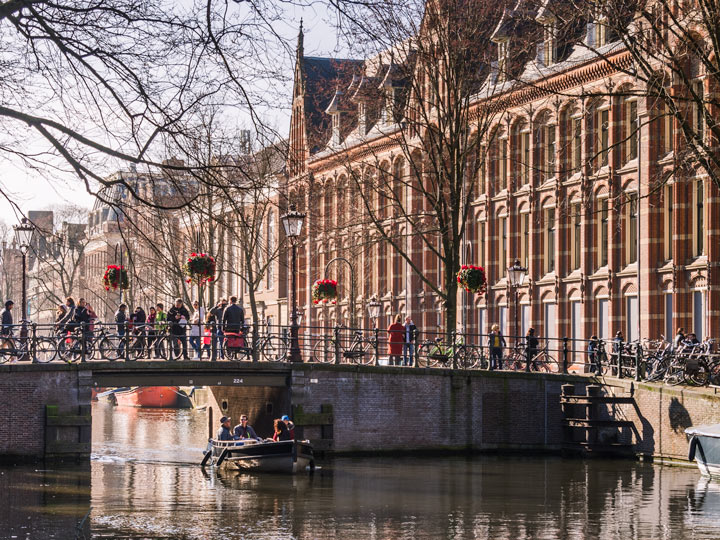 Dating back to Medieval times, Amsterdram's entire Old Town is a UNESCO World Heritage site. If you're sightseeing in Amsterdam in 2 days, you can focus on the eastern half of the Old Town today, and dive into the western half tomorrow.
Start at the Staalmeestersbrug, the Instagram-famous love lock bridge of Amsterdam. Even if you're not immortalizing your love with a padlock, this bridge offers amazing views of the Zuiderkerk tower at the canal's end.
After your photo op, head a few blocks north to Nieuwmarkt Square. Here, the castle-like De Waag stands imposingly amongst the shops and restaurants.
From here, go east for a walk along photogenic Buiten Bantammerstraat, which has nice views of the 15th century Montelbaanstoren Tower.
Finally, wrap up your first day in Amsterdam exploring the Red Light District. Even if you're not interested in the area's main event, the canal houses look lovely in the evening light.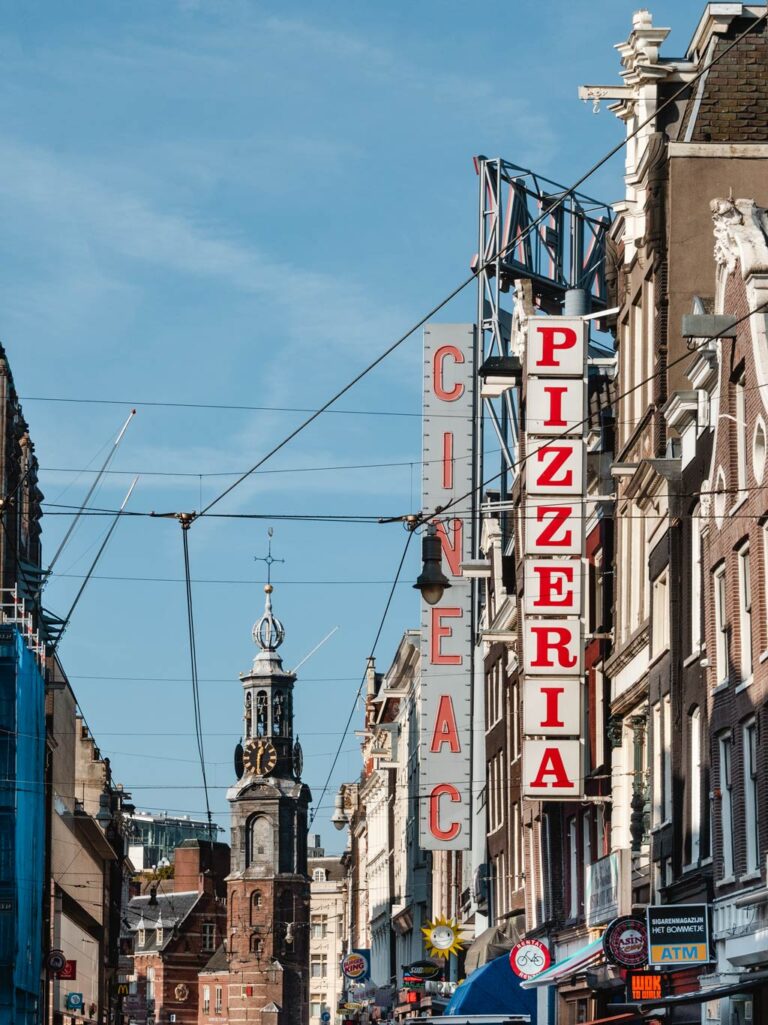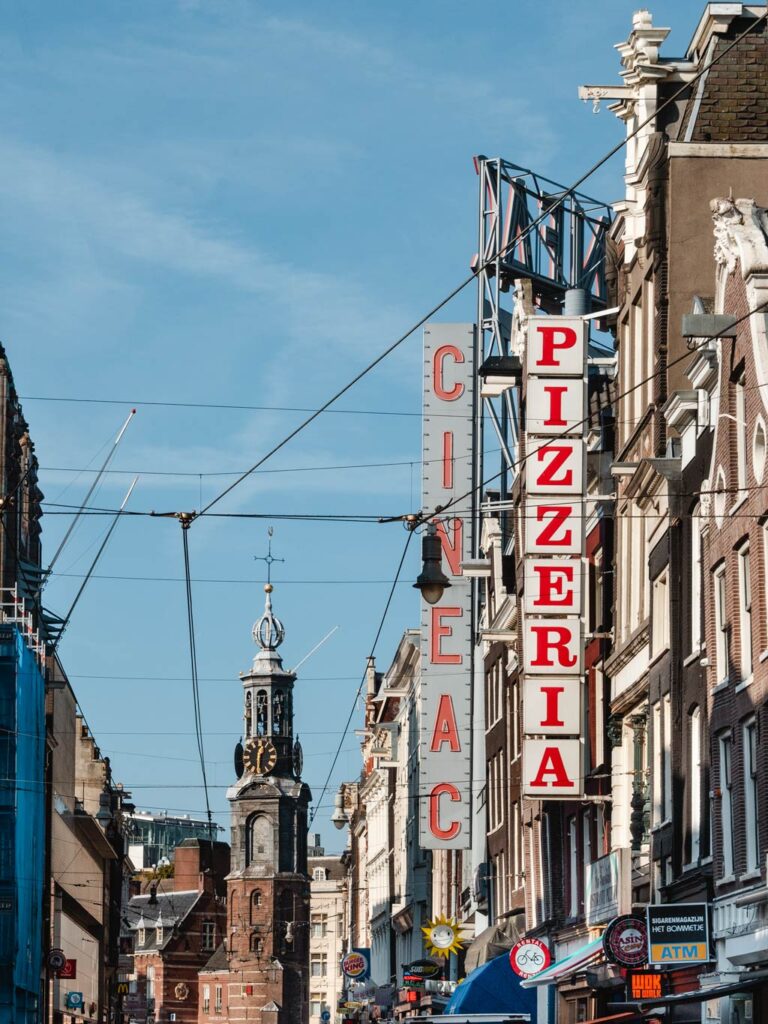 Save me for later!
Day 2: Oud-West, Jordaan, Grachtengordel, De Wallen
Oud-West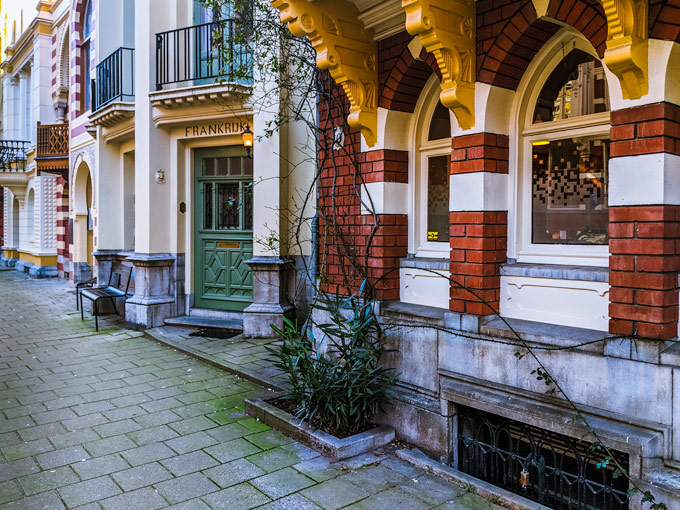 Start your second day in Amsterdam with a stroll through Vondelpark. Depending on how much time you have (and how much you like parks), I recommend sticking to the eastern half of the area.
As you exit the park, head up Vondelstraat for a beautiful view of Vondelkerk church. And for even more remarkable architecture, check out nearby Roemer Visscherstraat. This street features Zevenlandenhuizen, a row of seven colorful houses built in different international architectural styles.
For a mid-morning snack, head to De Hallen, a covered market known for its trendy cafes.
Then, head east towards Jordaan, being sure to pass by Da Costakade for scenic canal views.
Jordaan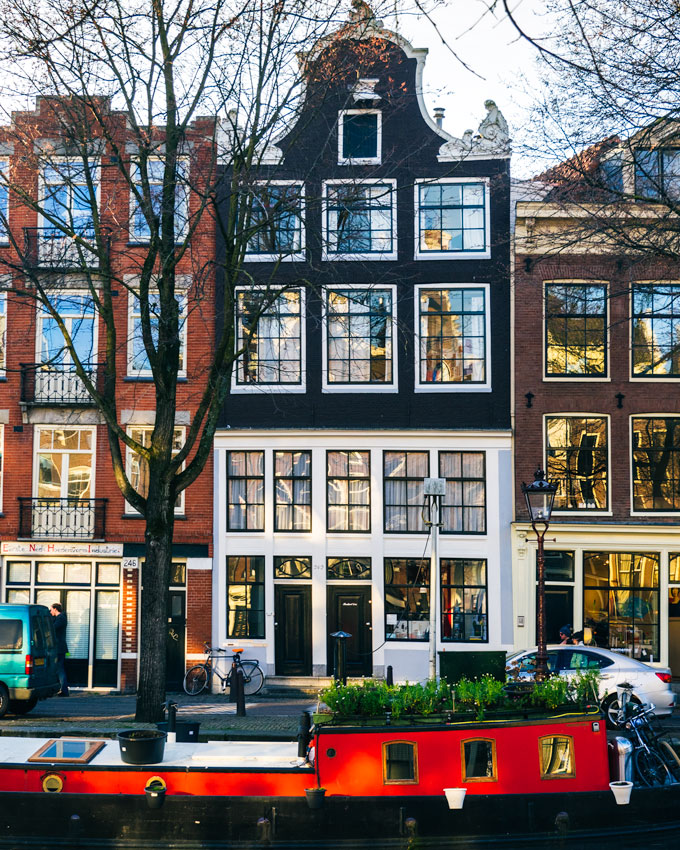 At first glance, visiting Jordaan might not top the list of what to do in Amsterdam in 2 days. However, this cool residential area with beautiful canal houses and great restaurants is a must see.
There's not much sightseeing to do in the area. However, here are a few highlights to visit as you explore the area:
Enjoy a moment of peace in the Suykerhofje, a quiet courtyard green space.
Admire the unique design of 15th century Noorderkerk church.
Indulge in a delicious Italian lunch along the Tweede Tuindwarsstraat (La Perla Pizzeria or La Maschera are excellent choices).
Grachtengordel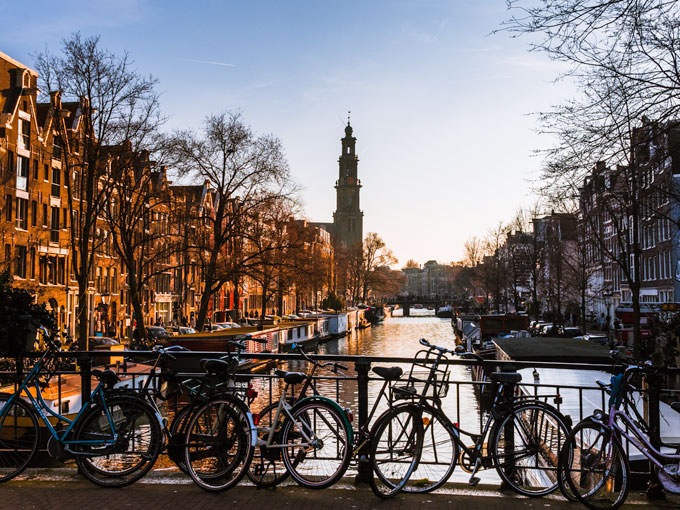 The Grachtengordel stretches around the outskirts of Old Town and is home to some of the best spots on this 2 day Amsterdam itinerary.
Definitely book advance tickets for the Anne Frank House, where you'll have a self-guided audio tour of the famous annex hideaway.
Admission is €10 and is timed entry, so you need to enter during your allotted window. If you're visiting Amsterdam during high season, you'll want to book your ideal time slot a month or two in advance.
From the Anne Frank House, admire the view of nearby Westerkerk before walking along scenic Prinsengracht canal.
This area is home to the photogenic series of canal bridges known as The 9 Streets (De 9 Straatjes). Aside from picture-perfect views, the area is full of boutique shops and charming cafes.
Once you've taken in the lovely sights, circle back northwards towards De Wallen.
De Wallen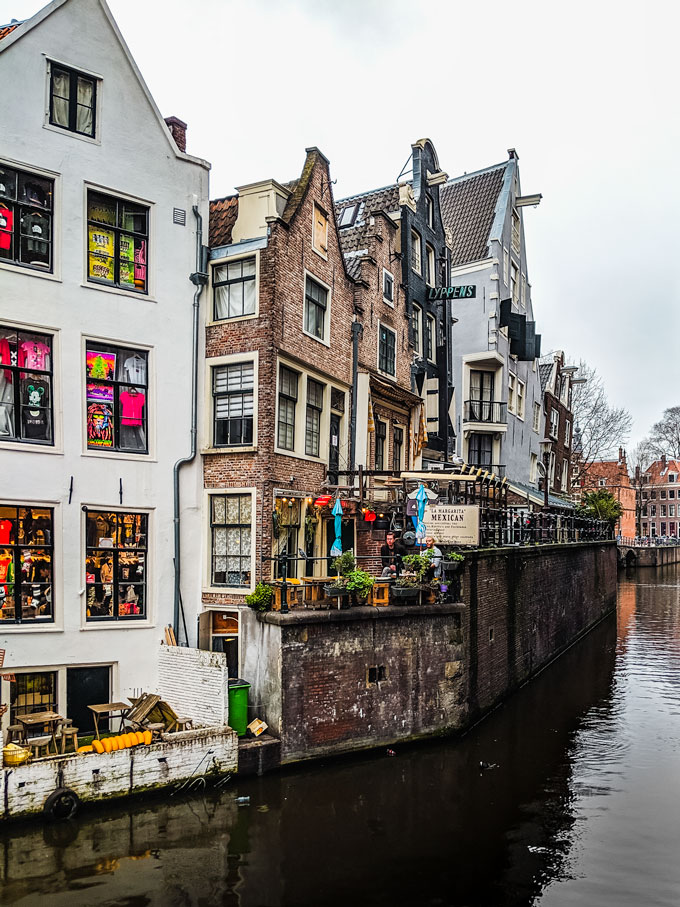 After roaming the Old Town's eastern side on day one, it's time to visit De Wallen for more Amsterdam sightseeing.
Start at the opulent Royal Palace. If you have time and the palace is open to visitors, you can pay €10 for a self-guided audio tour.
From here, walk north to view the 13th century Oude Kerk church and nearby Church of St. Nicholas.
Just one block away is the iconic Damrak, where a dozen gingerbread-looking houses reflect on the water.
If you have time, take a beautiful canal boat cruise to see the city from a new angle.
Finally, close out your 2 days in Amsterdam itinerary with some sunset canal views along the Singel.
Day Trips from Amsterdam
Leiden: Located just 30 minutes south of Amsterdam by train, Leiden is a beautiful escape from the tourist-laden streets of Amsterdam.
Rotterdam: Nearly destroyed during WWII, Rotterdam is now known for its innovative, modern architecture.
Keukenhof Gardens: If you're visiting Amsterdam in March, April, or May, a day trip to Keukenhof Gardens' endless fields of tulips is a must.
Where to Go After Spending 2 Days in Amsterdam
2 Day Amsterdam Itinerary Map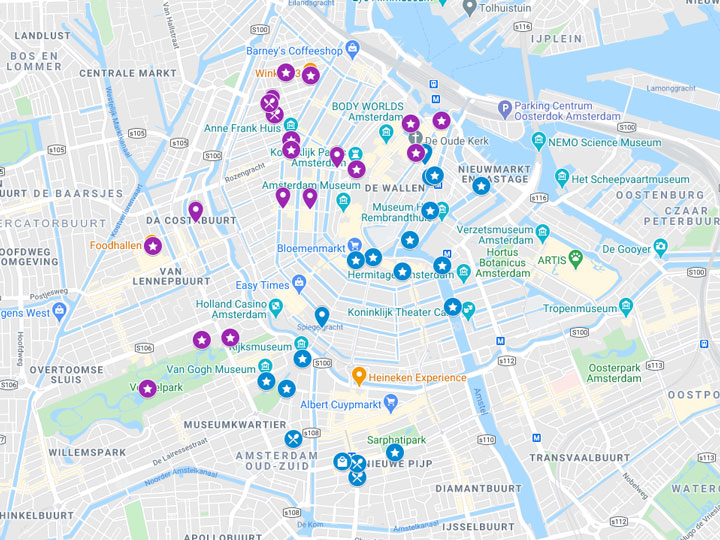 Click here for the full interactive map!
Have any questions about this 2 days in Amsterdam itinerary? Let me know in the comments!