Between its unique museums, gorgeous photo spots, and relaxed atmosphere, spending at least one day in Stockholm is a must for anyone visiting Scandinavia.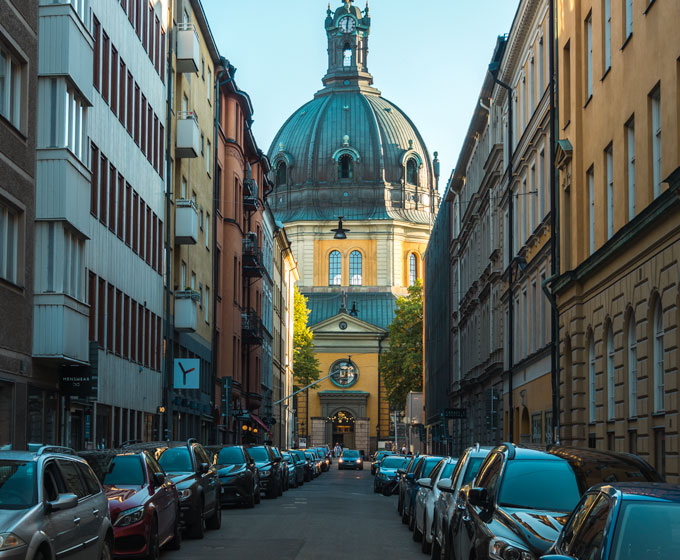 When you hear the word "Sweden", what comes to mind? Meatballs? IKEA? The lyrics from "Dancing Queen"? Although you can find all of these things in Stockholm, this city has far more to offer.
Stockholm is an eclectic mix of European charm and modernism, and this itinerary will give you a taste of both worlds. Pack some comfortable shoes for the journey, because we'll be covering a lot of ground to fit the highlights into one day!
This post contains affiliate links. For more information, click here.
One Day in Stockholm Guide
— Stockholm: Know Before You Go
— Where to Stay in Stockholm
— One Day in Stockholm Itinerary
— Map of 1 Day Stockholm Itinerary
— Other Things to do in Stockholm
Know Before You Go
Estimated Itinerary Budget: 350-500 SEK per person (excluding transport to/from the city)
Money
Despite being an EU member, Sweden does not use the Euro. Instead, you'll need to exchange or withdraw Swedish Crowns (SEK). Although most places are card-friendly, you should plan to carry cash as well. In fact, there are some restaurants that only accept card payments, so pay attention to the signage near the door and till.
RELATED: How to Spend Less Money When Traveling
Transport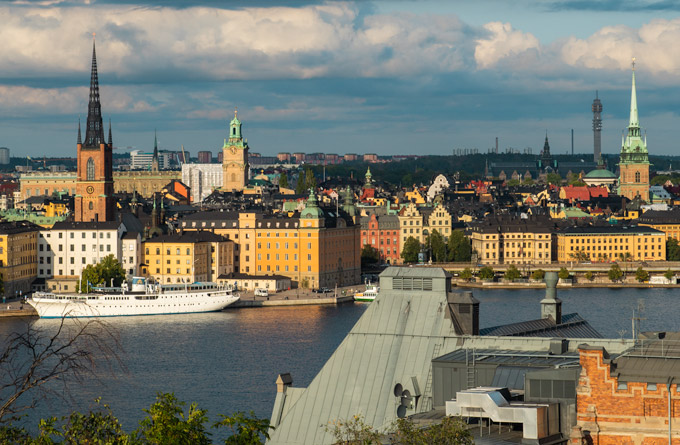 Considering Stockholm is an archipelago, it's well-connected via public transit options, including bus, train, and light rail. Should you need a ride, Uber operates across the city.
Single journey transit tickets can be purchased from Metro and rail station, from the conductor on tramway 7 (which we'll use in this itinerary), and with the SL app. Tickets are only valid for 75 minutes, so don't buy them too far in advance of your journey.
Getting to Stockholm:
If you're arriving via train, you'll likely disembark at Stockholm Central Station, which is just across the water from Gamla Stan.
There are multiple airports that serve Stockholm, though Arlanda is the largest and houses the international flight terminals. From Arlanda, you can either take the 40-minute commuter train or the 20-minute Arlanda Express to Stockholm Central Station.
Depending on your arrival time, it may be worth spending the extra money on the Arlanda Express ticket, especially if you take advantage of the Thursday-Sunday discounts. Make sure you hold on to your ticket, as staff will check each one once the train departs.
Whichever option you choose, there are machines at the airport and train station where you can buy your tickets. With only one day in Stockholm, it's best to go with single fare tickets rather than fuss with a commuter card.
Language
Most Swedes are fluent in English and Swedish, which makes spending one day in Stockholm a very smooth experience. Depending on where you travel, signs and menus may be written only in Swedish, so it's also a good idea to have Google Translate handy.
Be sure to download the Swedish dictionary for offline use before you depart.
Personally, I like to learn a bit of the local language when I travel abroad. If you'd like to learn some Swedish, check out these essential travel words and phrases for globetrotters.
Culture
Here are a few simple tips to make your visit to Stockholm a smooth one:
Swedes are serious about following the rules, so use common sense and don't even think about jaywalking.
Tipping 5-10% at restaurants is normal, as service charges aren't always included in the bill.
Cycling is common in Stockholm, so be mindful of where you are walking. Don't wander into the bike lanes.
Where to Stay in Stockholm
With only one day in Stockholm, I recommend staying near the city center.
We spent an excellent night at the Freys Hotel, which is conveniently located a few blocks from Stockholm Central Station. The rooms are uniquely decorated from the light fixtures to the wallpaper, and it made for a fun place to relax after a long day.
There are also great VRBO apartment rental options throughout Stockholm, from Gamla Stan to the quieter Katarina-Sofia neighborhood.
One Day in Stockholm Itinerary
Morning
Strömma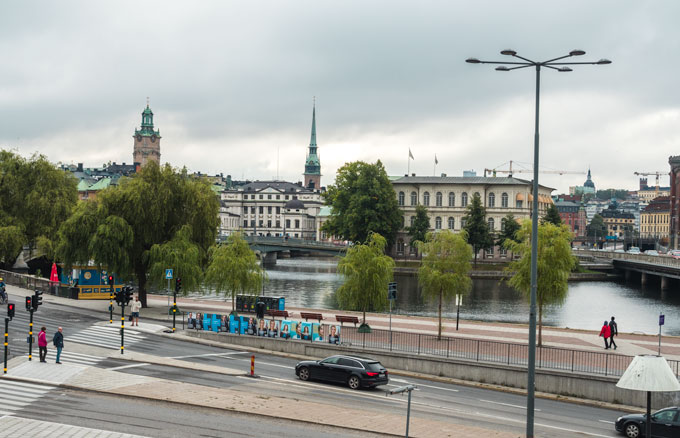 You'll stumble upon Stockholm's waterfront just south of the Central train station exit. The Strömma lies across from the islands of Kungsholmen and Riddarholmen, offering up views of City Hall, the Riddarholmen Church spire, and the three bridges to Gamla Stan.
For a higher vantage point, walk up the staircase to the Centralbron. It's one of the best places to take photos in Stockholm.
From the Strömma, walk back up to the street level and head west across the Stadshusbron towards the city hall building.
City Hall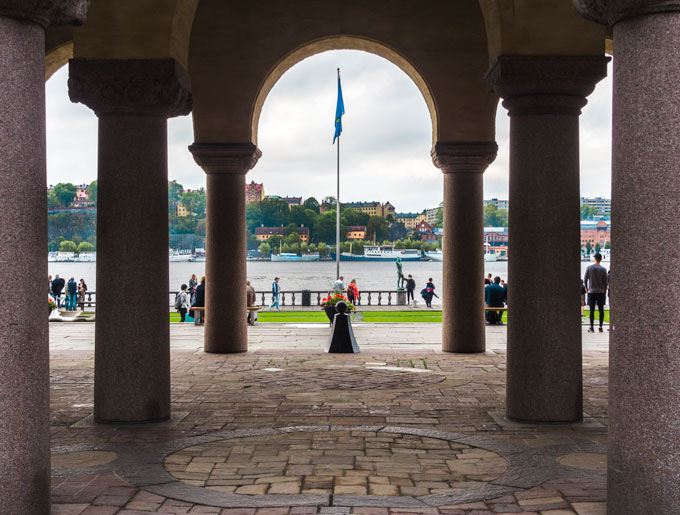 Completed in 1923, Stockholm's City Hall is a stark contrast to the light and bright buildings that characterize the city. Despite its simple exterior, the courtyard and rear garden are full of gilded statues, climbing ivy, and arch-framed views of the coast.
The city offers public tours of the building's interior for 90-110 SEK (depending on the time of year). From May through September, you can pay also 50 SEK to climb the 106-meter tower.
Once you've finished checking out the area, cross back over the bridge towards the Strömma. Walk across the Vasabron bridge to the northern tip of Gamla Stan. Skirt the western side of the island to reach the bridge to Riddarholmen island.
Riddarholmen Church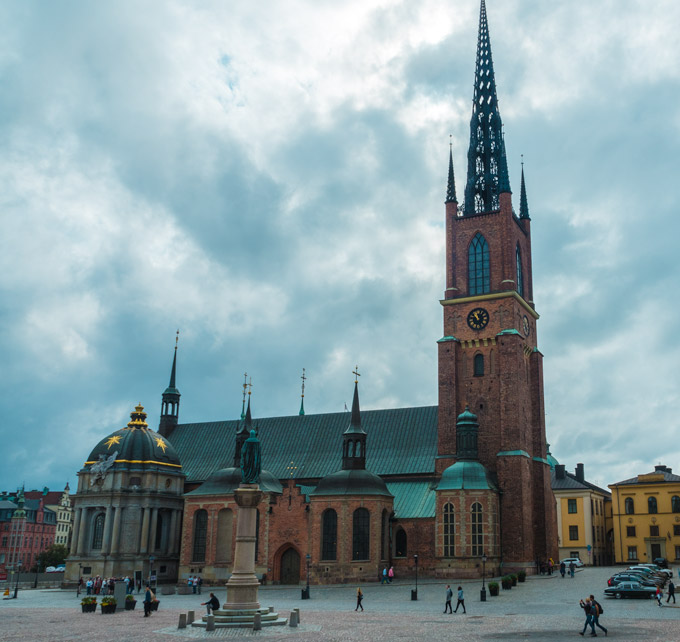 Dating back to the 12th centry, Riddarholmen Church started as an abbey and currently serves as the final resting place for Sweden's aristocracy.
From May through September, visitors can pay 50 SEK to view the interior and museum. Currently, the church is only taking card payments for admission at the door. If you need to use cash, you can buy a ticket from the Royal Palace ticketing office.
If you're only interested in a cursory look inside, you can walk into the front vestibule without paying for admission.
Take a stroll just north of the church to see the salmon-colored Stenbock palaces and adjacent alleyways.
Gamla Stan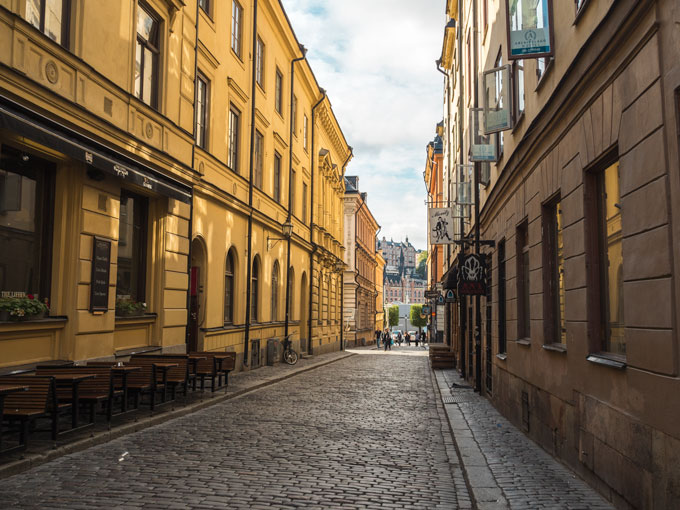 Cross back over the Riddarholmen bridge to re-enter Gamla Stan, Stockholm's historic old town. Cafes, bars, and local shops line the streets, and nearly every alleyway makes for a great photo op. If you're visiting on the weekend, be prepared for crowds, especially in the Stortorget square.
Architectural highlights include the ochre-colored Storkyrkan (Great Church), the tall-spired Tyska Kyrkan (German Church), the Nobel Museum, and the House of Nobility. And of course, the multi-hued buildings on Österlånggatan street are a must-see.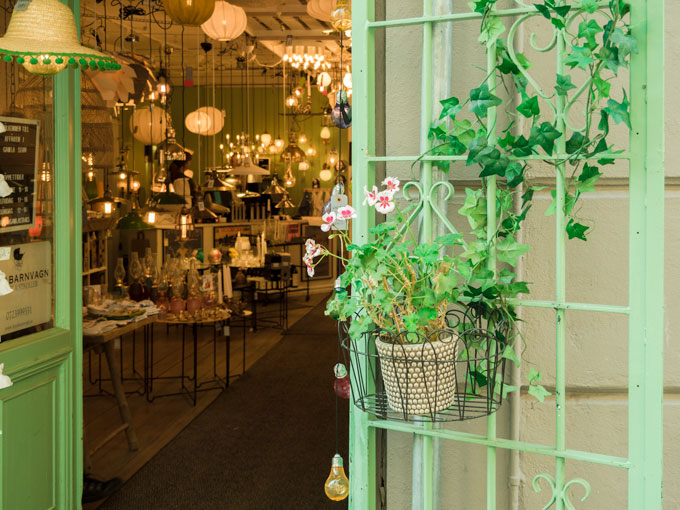 Whether you're in the market for comic books, vintage toys, or Scandinavian decor, Gamla Stan's shops have something for you.
It's easy to spend countless hours and hundreds of SEK in these charming stores, so keep a close eye on the time (and your wallet) as you wander through the area!
The Royal Palace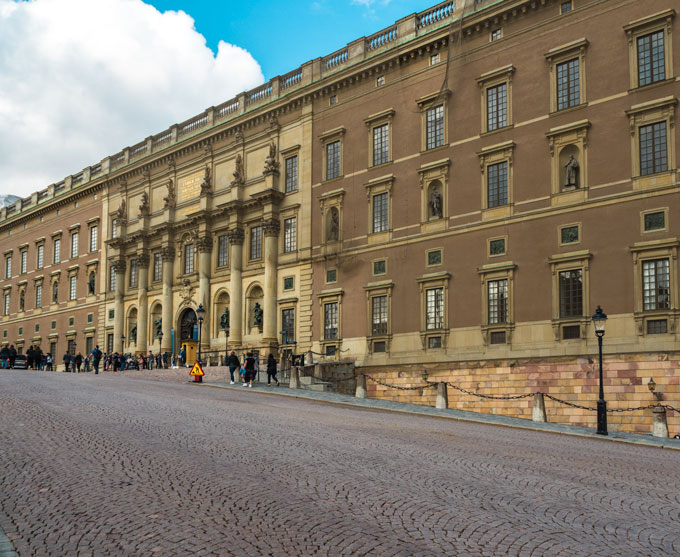 Stockholm's Royal Palace occupies the northern corner of Gamla Stan.
Though one day in Stockholm isn't enough time for the full guided tour, you can experience a bit of history during the changing of the guard ceremony. It's held outside the palace at 12pm every day in the summer, and on Wednesdays, Saturdays, and Sundays in the other seasons.
For front-row views of the ceremony and marching band performance, plan to arrive by 11:40am.
Save me for later!
 Afternoon
Östermalm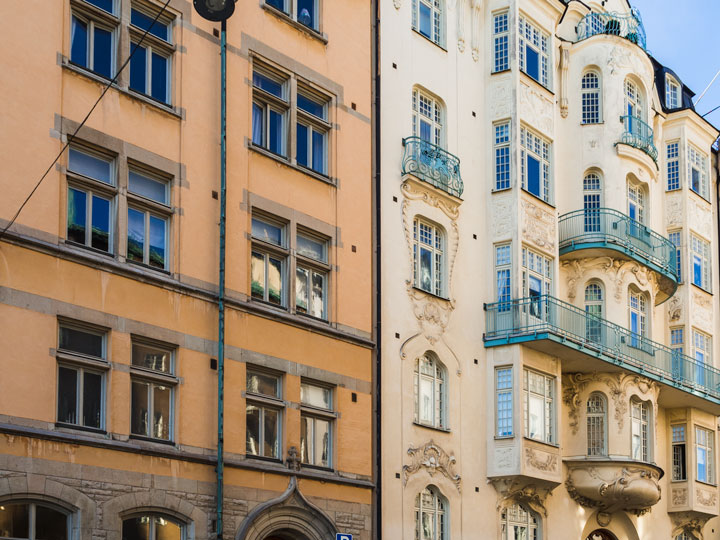 From the palace, head northeast across the Strömbron bridge. Continue in the same direction to reach the residential neighborhood of Östermalm.
This area is quiet reprieve from the crowds of Gamla Stan and has lovely white buildings reminiscent of Paris. Don't miss the beautiful domed Hedvig Eleonora Church (pictured at the top of this post) as you make your way east.
Lunch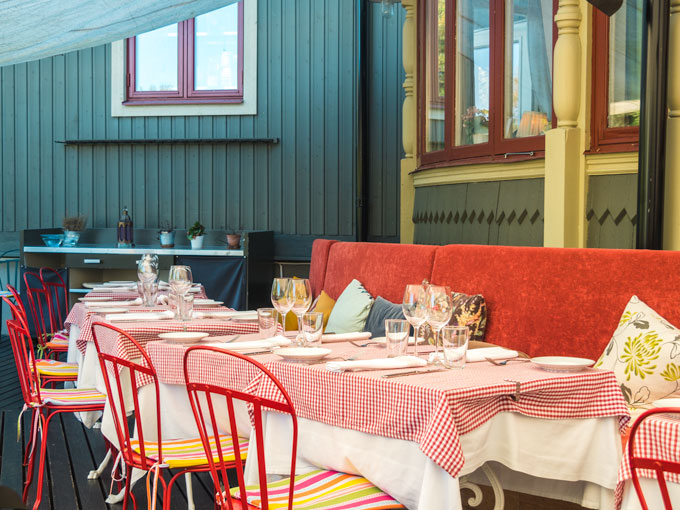 Depending on your budget and food preferences, you could stop for lunch in Östermalm or wait a bit longer and splurge on traditional Swedish fare in Djurgården.
Should you choose the former option, Burgers & Pastrami is reasonably priced and outrageously delicious. As you can guess from the name, this place specializes in juicy burgers and slow-roasted pastrami, though you can only get the latter after 5pm.
If you want to splash out for some elegant Swedish dishes in a beautiful setting, visit Villa Gothem in Djurgården (pictured above). When the weather's nice, you can enjoy lunch and drinks on the patio or the lawn. Be sure to peek inside at the elegant dining spaces before you depart.
RELATED: 26 Easy Ways to Grow Your Travel Fund
Djurgården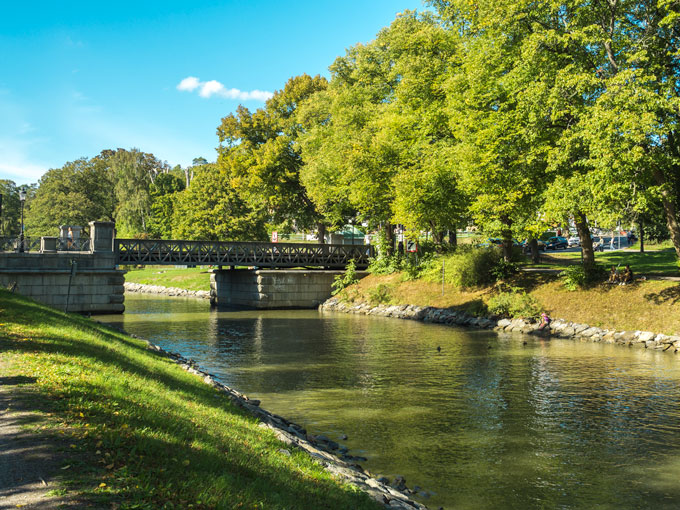 Djurgården may be the royal island of Stockholm, but it's anything from stuffy. On the western side, you'll find a whole host of museums and entertainment, while the Kungliga national park occupies the eastern half of the island.
Depending on your timing, the weather, and your personal preference, you could either take a stroll through the expansive park or head to one of the much-beloved museums below:
The Skansen is the world's oldest open air museum and showcases what life was like in Sweden before the industrial revolution. Admission is 150 SEK.
If you're an ABBA fan, take an interactive tour of the band's history and memorabilia. Admission is 250 SEK.
The Vasa Museum houses a 17th-century warship and offers visitors a glimpse into the workings of maritime life. Admission is 130 SEK.
After you wrap up your island exploration, take the #7 light rail to Kungsträdgården (unless you ended at the Vasa Museum, in which case it's easier to just walk). You can either purchase a single fare ticket for about 44 SEK using the SL app, or from the conductor (cash-only).
Kungsträdgården & Skeppsbrokajen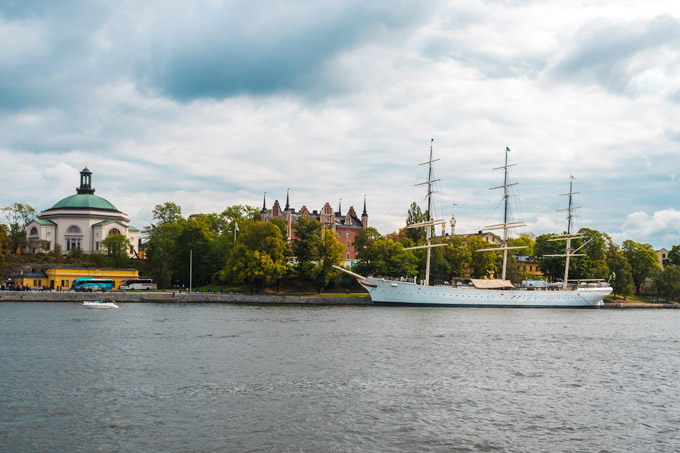 Head south through the narrow Kungsträdgården, stopping to admire the lovely fountain and red-hued St. Jacobs church near the end. Cross the Strömbron bridge and hug the eastern side of Gamla Stan.
This road will take you to the Skeppsbrokajen, a waterside pathway with lovely views of the other islands. On the weekends, the waterfront bars and restaurants buzz with conversation between locals and tourists alike.
Continue following the Skeppsbrokajen until you cross the Skeppsbron bridge.
Katarina-Sofia Neighborhood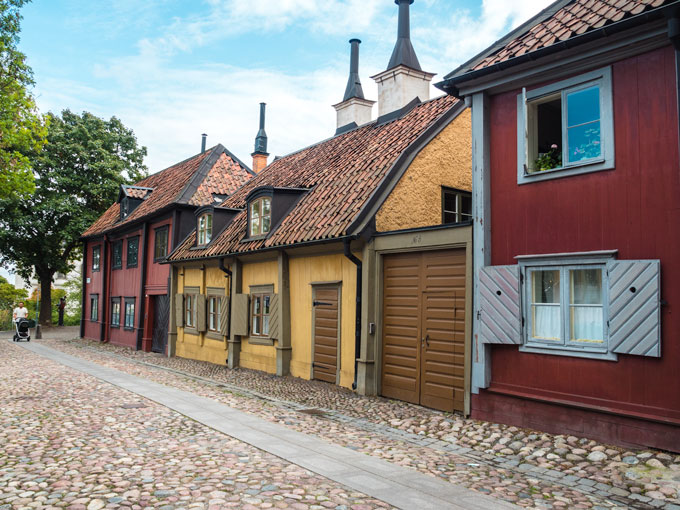 Gamla Stan has its charms, but Katarina-Sofia was my personal favorite place in the city. If I had more than one day in Stockholm, I'd spend my time exploring this neighborhood's shops, restaurants, and parks.
There are ridiculously charming alleys and wonderful city views on this island, so keep your eyes peeled as you meander towards the following highlights.
Katarina Church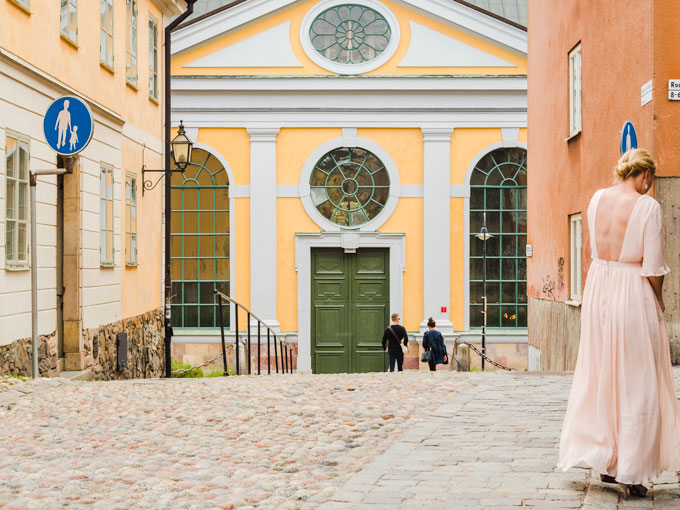 Had I known this church existed before my visit to Stockholm, I would have come here just to see it. With its stunning white and yellow exterior and towering dome, Katarina Church is the crown jewel of Stockholm.
Personally, I think it's the best thing to see with one day in Stockholm. The church is visible from multiple vantage points in the area, but the view from the alley directly across from the front entrance is priceless.
If you're visiting in the fall, the large rear cemetery is said to be a lovely sight.
Sofia Church and Vitabergsparken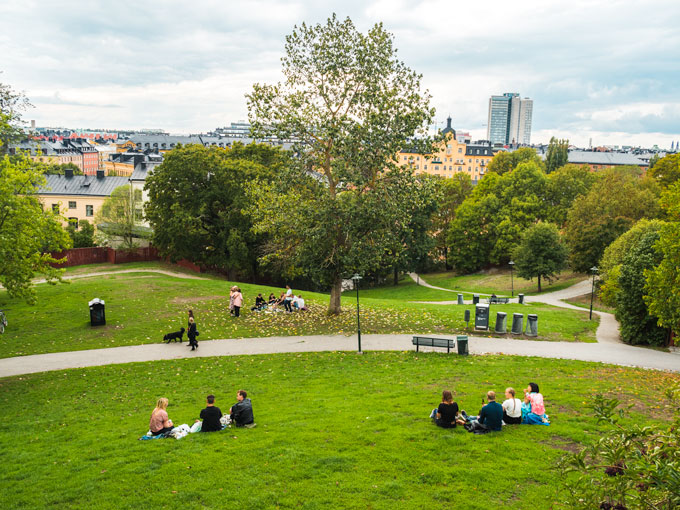 Southeast of Katarina Church sits the neighborhood's other eponymous church, the Sofia Kyrka.
Though not as colorful as it's northern neighbor, the Sofia Church's hilltop location makes it stand out against the area's skyline. It's surrounded by the Vitabergsparken, where Stockholm locals relax in the warmer months. Take a rest on the grass (or in front of the dog park) before the last trek of the day.
Skinnarviksberget Overlook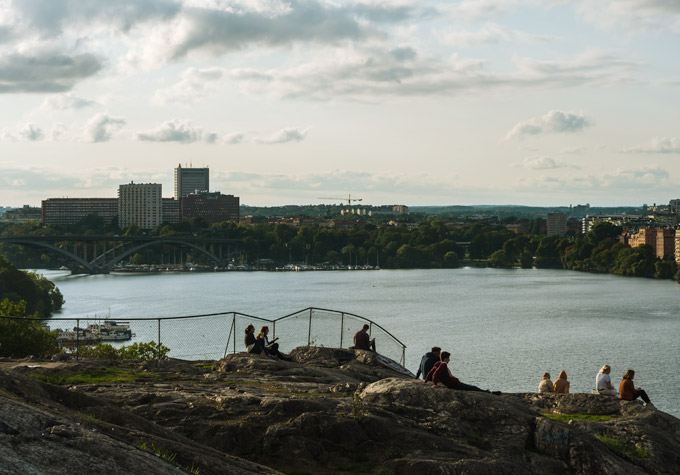 Skinnarviksberget is central Stockholm's highest natural point. It's the perfect place to relax and watch the sunset, and to capture some panoramic views of the city. Take care getting to the top, as there's no clear pathway to the viewpoint.
Dinner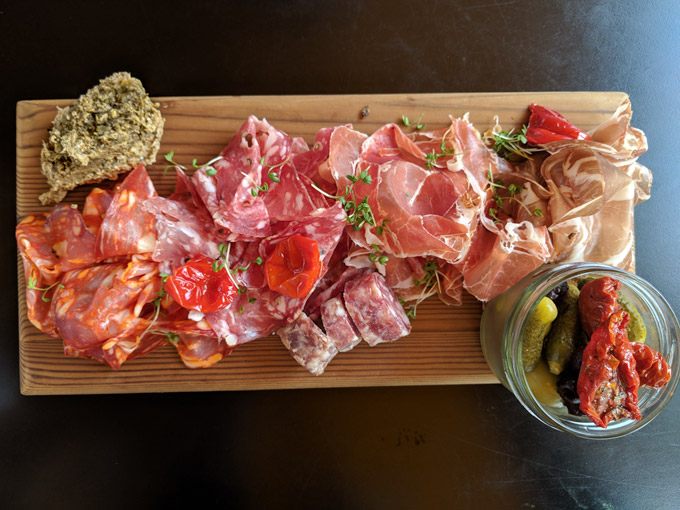 If you only have one day in Stockholm, you can't go wrong with Urban Deli Nyortget. This trendy restaurant serves up a mix of Swedish and Mediterranean cuisine in the Nyortget area of Katarina-Sofia.
The charcuterie platter was excellent (though I wish it came with bread), and the outdoor seating area is beautifully lit at night. The menu is on the pricier side, so budget-conscious travelers should opt for a cheaper option.
Meatballs for the People and the pizza at Omnipollos are both excellent choices.
If you're looking for something more traditional, you could brave the crowds and return to Gamla Stan for a meal at Fem Små Hus or Gästabud.
One Day in Stockholm Itinerary Map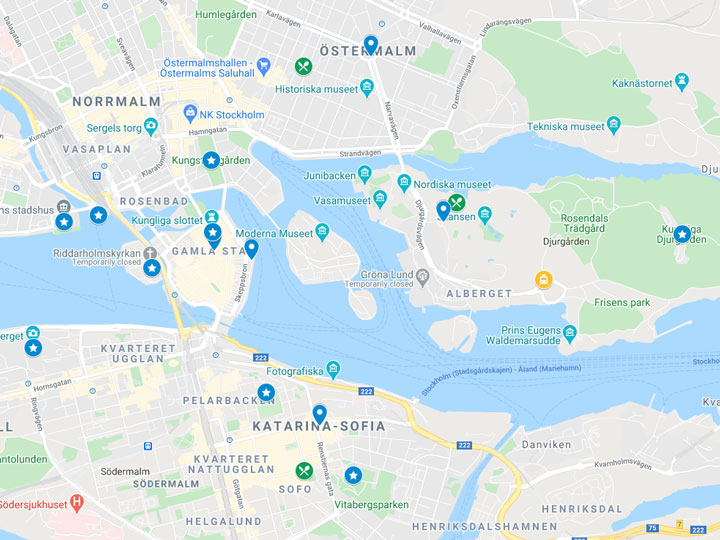 Click here to view the full interactive map!
Have more than one day in Stockholm?
If you have some extra time to spend in Stockholm, here are a few things to add to your itinerary:
Take an archipelago boat tour: There are hundreds of tiny islands in the Stockholm archipelago, and it's easy to hop on a boat to visit one or more in a day.
Visit more museums: Stockholm is home to more than 40 museums ranging from modern art to train history, so there's something for everybody.
Enjoy the Gröna Lund amusement park: If you're the adventurous type, check out the rides and roller coasters at this amusement park on Djurgården.
Final Thoughts
Stockholm isn't known as the Capital of Scandinavia for nothing. Despite being spread across an archipelago, the city's layout and well-connected transit makes it easy to see the highlights in a short amount of time.
If you're planning a trip to Sweden or looking for a weekend break in Europe, you should absolutely put one day in Stockholm on your itinerary.
Have you been to Stockholm? What would make it on your must-see list? Let me know in the comments below.