The very first Google search I did after my husband was contacted about relocating was "bring dog from US to UK". We both knew that having to leave our beloved dog, Albus, behind was a deal-breaker. Luckily, moving abroad with pets is not as impossible as some might think.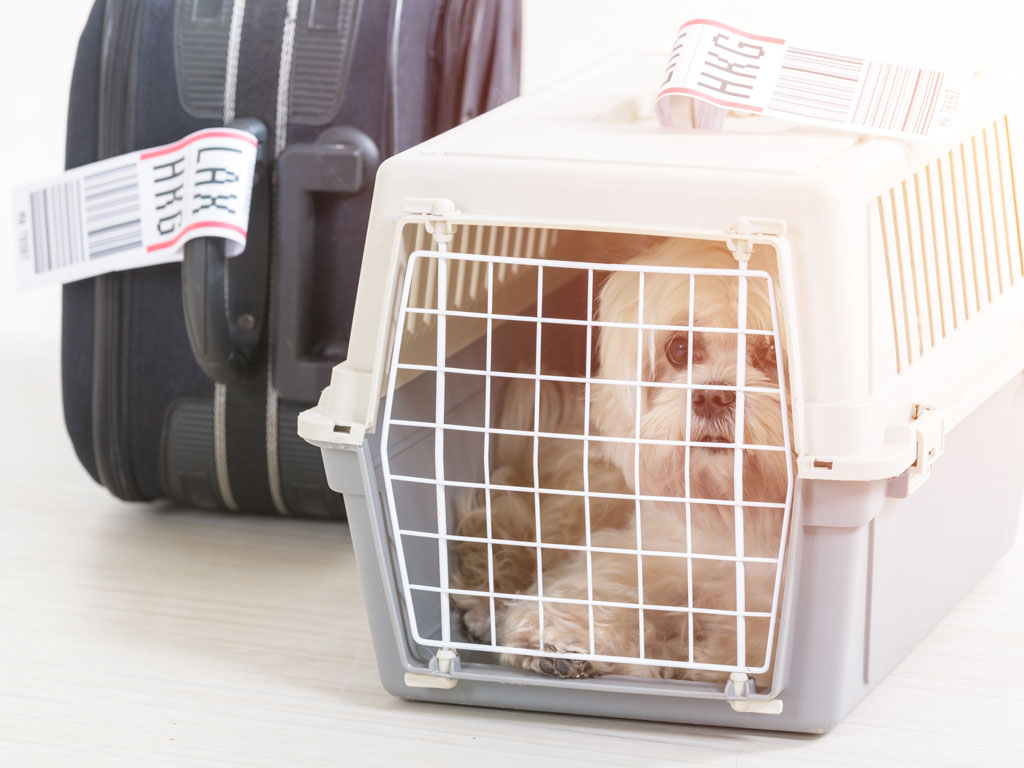 However, it does call for plenty of planning ahead, a knowledgeable vet, and some serious reflection.
If you're hoping to bring your furry friends on your international move, here are five things you should know about moving abroad with pets.
It may not be possible
Every country has their own rules for what species and breeds of pets can be imported. For example, you can bring your beloved ferret with you to the UK, but not to New Zealand.
Other rules, like requiring imported pets to fly in the cargo hold rather than the cabin, may also make it impossible for your furry friend to make the trip. Snub-nosed breeds and dogs with medical conditions will be particularly hard to relocate.
Sorting out all of these rules should be the first thing on your moving overseas checklist.
However, there are other options, such as traveling by sea rather than air. If you're relocating from the US to the UK, for example, the Queen Mary 2 is an approved sea route under the PETS scheme.
When making plans, be sure you rely on an official government site whenever possible. There are some outdated websites out there with inaccurate information. Fortunately for me, the UK's page on pet relocation was very comprehensive and easy to read.
If you're still deciding to move abroad or not, this may seriously impact your final decision.
It requires a lot of advanced planning
When it comes to relocating pets abroad, timing and accuracy are critical. Your new country will almost certainly require vaccinations and special paperwork for importing pets. They may also have a set schedule of when treatments must be given.
For Albus to live with us in the UK, he ended up needing an extra rabies booster because the one he got a few months earlier wasn't on the approved treatment list.
FYI, the UK's rabies regulations are intense because the country is virtually free of the virus. There was then a 21-day waiting period between his vaccination date and the date he'd be allowed into the UK. If we'd waited until late in the game to get this sorted out, it would have put a major kink in our relocation plans.
A mistake in paperwork or treatment can lead to quarantine or even refused entry.
And then there's the trip itself. If you're planning to fly your pet over, check the airline's pet policy, including kennel size requirements and how far in advance they open reservations for pets.
Most airlines limit the number of animals they allow on a given flight (both in the cabin and the cargo hold), so book your space ASAP. If you're moving abroad with pets by sea, most speciality carriers also have limited availability and book out well in advance.
Pro tip: you don't need to be on the same flight–or even the same airline–as your pet, if they are flying in the hold. Due to a last-minute change in our travel plans, Albus ended up flying on a British Airways flight out of Austin the day after we departed on a United flight from Houston.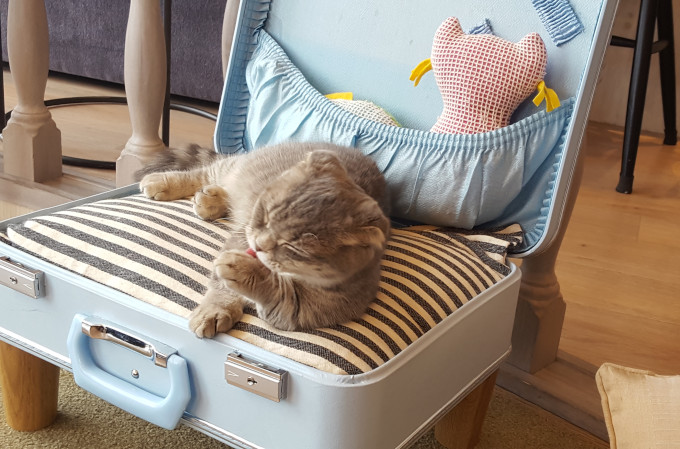 It will probably be expensive
Between the travel fare, kennel, vet fees, and import taxes, the costs of moving abroad with pets add up quickly. Albus' sky kennel alone set us back $550 due to his pointy German Shepherd ears needing extra head clearance.
There are a ton of variables that will affect your overall spend, including your country of origin, destination, and animal type. Do your research ahead of time to get a sense of what to budget.
Our costs ended up being much higher than most because we chose to hire a professional pet relocation service (more on that later). Bottom line: start saving ASAP!
It will make it harder for you to find a place
The second Google search I did after getting the London transfer email was "finding a London flat with dog". I spent a very stressful night reading stories of dog owners desperately searching for pet-friendly flats and never finding them.
Oddly enough, London landlords are more likely to allow cats than dogs, which I found ironic given that one of our cats destroyed half the door frames in our old home.
Regardless of where you plan to relocate, having pets is often a strike against your rental application. Even in places where it's illegal for landlords to discriminate against pet owners, it's easy to give some other, legal reason for why your application was denied.
If you do find a pet-friendly landlord, expect to pay a larger security deposit, cleaning fees, or even more in monthly rent than the amount listed.
Aside from landlord bias, there's also the issue of finding a suitable place for your pets.
For example, if you're moving with a Labrador that was used to playing in the yard, you'll probably want to narrow your search to places with outdoor space, or at least neighborhoods with a large park.
We were not ready to give up the convenience of opening the back door for Albus to do his business. Thus, we made garden access a non-negotiable in our search.
This, combined with the need for a landlord who was cool with a 70lb dog, really narrowed our options. Luckily, we were pretty flexible with location and ended up with an amazing flat.
It may be better for your pets to rehome them
If you read my post about selling our home, you'll know that we opted to rehome our three cats rather than bring them to the UK. Aside from the sheer logistical difficulty of bringing four pets overseas, there were several important reasons it was better for the cats to stay stateside.
At age 12, Max was too old to make the trip. We were fortunate to place him with a lovely neighbor up the street. Anya was only 6, but she's always struggled immensely with changes to her environment.
Plus, she hates the dog, and would likely have spent the rest of her life trying to hide from him in our 800 square foot apartment (she had full roam of the second floor in our old home). Allister, the youngest, probably would have coped well. However, I have no doubt that he's happier living with Anya at my parents' house, where he spends hours sliding around the floor with his favorite toy mouse.
Age, medical conditions, and even breed are all important factors to consider when deciding to move abroad with pets. Sometimes an international relocation will do more harm than good.
Final Thoughts
If you're thinking there's no way you can handle all of this on your own, you're not alone! Even a hyper-organized person like me was shaking in my boots at the prospect of screwing something up. That's why we chose to use a pet relocation company.
They helped us every step of the way, from choosing the right size travel kennel to answering our vet's questions. They even offered door-to-door service, so we didn't have to figure out how we'd get him and his massive kennel from Heathrow to our flat.
I'll never forget the day we were reunited with Albus in London. He nearly dislocated the handler's shoulder trying to get inside our flat for some much-needed smooches. Despite all the stress and added challenges, moving abroad with pets was absolutely the right decision for us.
Are you thinking about taking your pets abroad? Let me know if you have any questions in the comments section!