London is home to more than 3 million foreign-born residents, making it one of the most multicultural cities in the world. Between its rich history, diverse cuisine, and easy access to the Continent, moving to London from the US brought plenty of excitement to my life.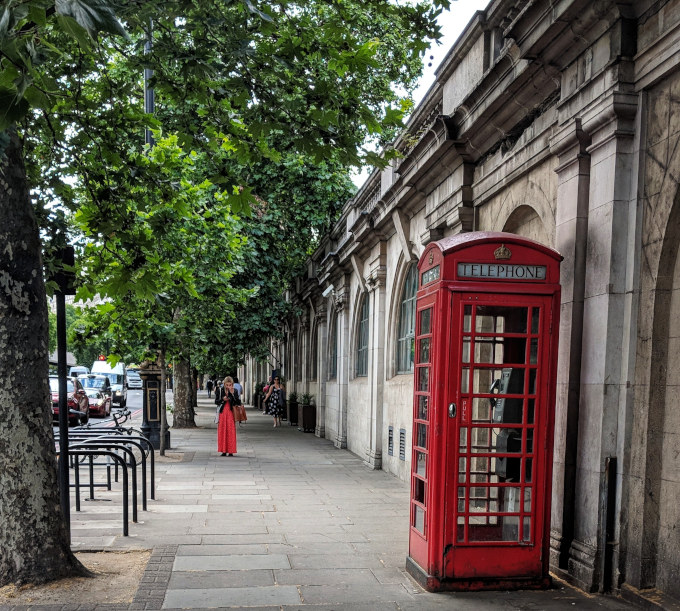 As an American living in London, I've found the city to be the perfect balance between the new and the familiar. But don't let our countries' shared history fool you.
There are plenty of ways that Americans will need to adjust to living in the UK, for better or worse.
If you're deciding whether to move abroad and are considering The Big Smoke, here's what you should know before moving to London from the US.
This post contains affiliate links. As an Amazon Associate, I earn from qualifying purchases. For more information, click here.
RELATED: 24 Pros and Cons of Living in London
You can't move to London from the US without a visa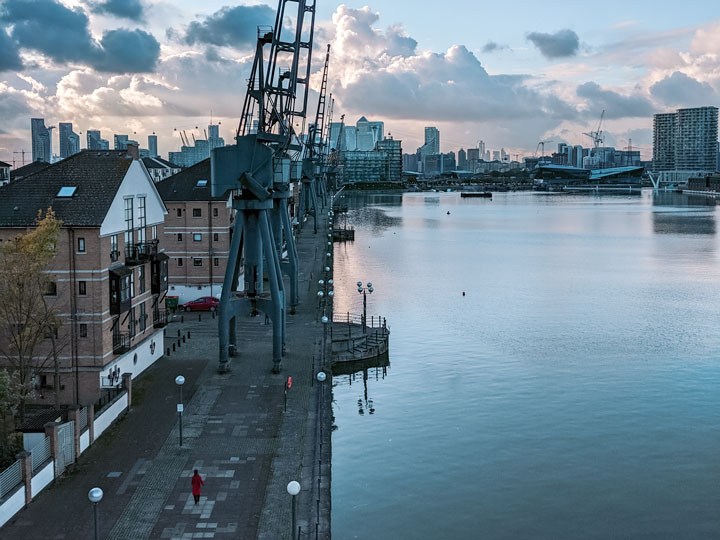 When I first published this post, I never imagined I'd need to say this. But in case you didn't know: a US citizen cannot live in the UK without a visa.
Any American moving to London will need to obtain a visa–usually from within the US–which can take weeks to months depending on the circumstances.
It's illegal to work in the UK on a tourist visa (including as a digital nomad), or even go job hunting, and getting caught will likely result in both deportation and a permament ban.
The UK has become increasingly strict about immigration now that Brexit has passed. It's a notoriously difficult country to move to as an American. But there are options if you're willing to put in the effort.
How to move to London: the main pathways
From marriage to master's degrees, Americans moving to London have a few pathways to get here. These are the most common ways to get a UK resident visa as an American:
Marry a UK citizen
Attend college or university in the UK
Get hired and sponsored by a UK company
Transfer to a UK office within your current company
Possess exceptional talent or promise in a desirable field
This is not an exhaustive list of UK visa opportunities. I highly recommend reading the UK goverment page on visas and immigration to fully understand your options and the requirements for each visa type.
Some visas, like the Tier 4 Student Visa or Tier 2 Intra-Company Transfer Visa, have no path to citizenship, so do your research.
Check out my in-depth guide on how to move to the UK for more information!
Your healthcare will be (sort of) free
Compared to the nightmare that is the American healthcare system, the UK's National Health Insurance (NHS) is a dream.
I'd argue it's one of the best things about living in Enland. The system isn't perfect, but it does provide healthcare to all residents, regardless of their employment status.
Nearly all medical services and treatments are free, with the exception of certain things like prescriptions and dental procedures. And even those are far cheaper than what you'd typically pay in the US with an average employer insurance plan.
But as they say, nothing in life is truly free. Most people who move to the UK will need to pay the immigration health surcharge when making their visa application.
The amount you have to pay depends on your visa type and your length of stay. If you're not coming to the UK as a student, you'll pay £200 for every year of your visa.
This is a little more than what I would pay in a typical year in the US, but I had a pretty generous insurance plan and was in good health.
You'll also be funding the NHS through your taxes. The amount of money you'll pay in UK taxes will likely be much higher than what you paid in the US.
Despite the lower take-home pay, I'd rather live in a country where people aren't filing for bankruptcy because their child was diagnosed with cancer.
That being said, many people (including myself) pay for private health insurance. This gives me access to faster appointments, a wider range of specialists, and even healthcare coverage when I'm back in the US.
How to Find the Best International Health Insurance for You
Even in countries with universal health care, buying an international health insurance plan makes sense for a lot of expats (especially Americans).
But between deductible rules and coverage areas, it's hard to know which plan is right for you.
Luckily, the brokers at International Citizens Insurance can help you find the right plan for your specific situation. They will do the research, compare plans, and review options with you. A good broker will save you so much time, and best of all, there is no cost to you!
With International Citizens Insurance, you'll have your pick of plans from the best international health insurance companies (Cigna, GeoBlue, Aetna, etc.). A dedicated agent will answer all of your questions, walk you through the terms and coverage, and make adjustments so that you end up with a plan and premium that works for you.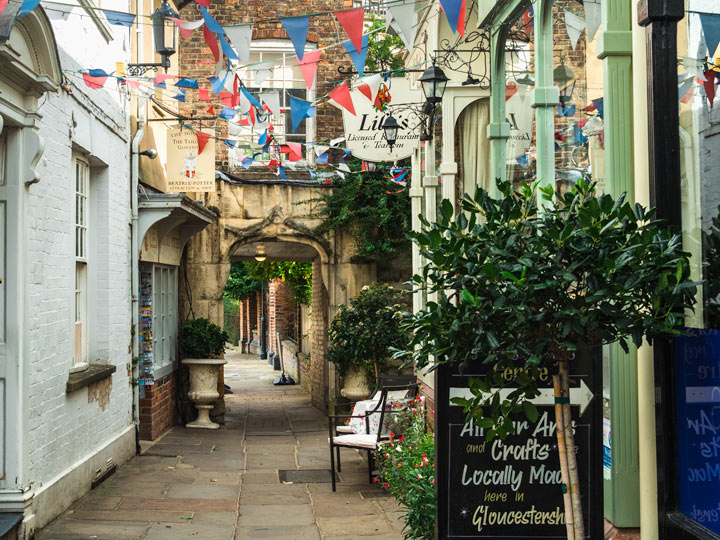 You'll spend a lot less on your cell phone plan
According to Money Savings Pro, the average American's cell phone bill is $80/month. Although I was paying closer to $45/month with my Project Fi plan, that's still more than double what I'm paying in the UK!
Currently, I'm on an O2 pay-as-you-go tariff, which is £15/month for 1000 texts, 500 minutes, and 15GB of data with rollover. I can also use my mobile data in a number of European countries at no cost, unlike US carriers that charge daily fees.
With so much competition in the UK cellular market, prices are kept very low. And being on a month-to-month payment plan means I can easily switch carriers if I find there's a better deal. The amount of money I save on my cell phone bill makes the cost of living increase less of a burden.
Your taxes will get complicated when living in London as an American
Spoiler alert: all US citizens are obligated to file a US tax return no matter where they live. If you thought old Uncle Sam couldn't reach into your wallet from across the pond, you were mistaken!
If you're moving to London from the US, I have some good news and some bad news.
The good news is that the US and UK have a tax treaty that allows you to deduct your UK taxes from what you'd owe in the US.
There are exceptions to this of course, because nothing about US taxes is ever simple. US expats earning investment income, for example, will owe tax on the profits.
The bad news is that there are additional US tax forms for citizens living abroad, including the FBAR for foreign bank accounts. It can get very complicated very quickly.
Depending on your financial situation, you may end up paying several thousand dollars (yes, you read that right!) to a professional to ensure your taxes are done right. We hired a dual UK / US expat tax firm to handle our US returns, and it cost around $2,000.
Some day, I'll write a detailed post on expat taxes. In the meantime, start saving for that tax preparation bill.
How to Easily Transfer Money Between US and UK Accounts
One of the most common questions I get asked is how to move money between US and UK bank accounts without paying a fortune in fees. Luckily, there's an easy and cheap solution:
I first used Wise (formerly TransferWise) when we needed to pay our London flat deposit, and it was SO much simpler and cost-effective than doing an international wire transfer from my bank. Today, I regularly use Wise to send money from my UK bank account to my US accounts.
And because I wanted access to a UK bank account right away, I opened a Wise Multi Currency Account. It lets me send and receive money in over different 40 currencies, and even comes with a multi-currency debit card! You can start paying for things in pounds before you even arrive in the UK.
Open a Wise account today to get real exchange rates, speedy transfers, and ultra-low fees.
Save me for later!
You'll need to learn new words for familiar things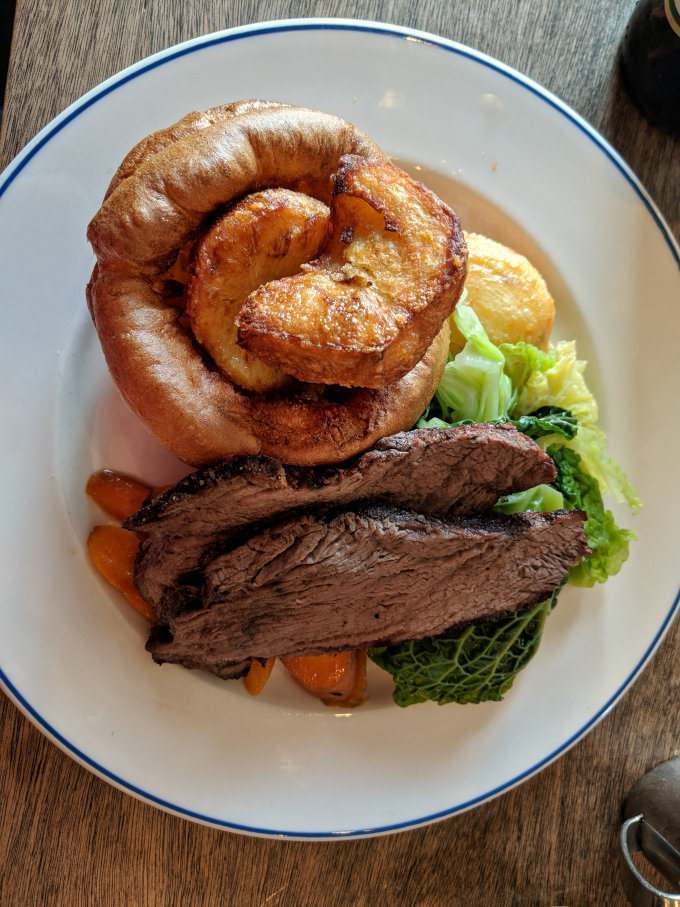 Everyone knows about "chips". But for Americans that haven't traveled abroad, expect to encounter many different and sometimes confusing terms for familiar things.
I've even written an entire post on British vs American words and slang to help you overcome the language barrier.
Here are just a few to keep in mind at London's grocery stores and in daily life:
Chips are steak fries, but not all fries are chips. If you see "fries" on a menu, they'll be thin-cut like what you'd get at McDonalds.
Crisps are (American) chips, and you'll find fun flavors like prawn and sweet chili on grocery store shelves.
Courgettes are zucchini. Because French words sound fancy.
Rocket is arugula, and you'll find it in all sorts of salads and brunch dishes.
Trousers are pants, but pants are underwear. Don't embarrass yourself at the dry cleaner like I did my first week here.
Cheers means thanks, but only in a casual way. You say "cheers" when someone brings you a beer, but not when you're being served tea at The Aqua Shard. Unless you want the waiter to laugh at you. Not that I would know…
RELATED: Cheap Eats in London: A Budget Travel Guide
Your utilities will be billed very differently
Back to the serious stuff. In most US cities, you pay monthly bills for your water, gas, and electricity to the lone providers of those utilities in your area.
If you're fortunate enough to have a choice in providers, the amount you'll save on your bill rarely offsets the hassle of switching.
In London, there are tons of options for utility providers and payment schedules. There's even a handy website called uSwitch that lets you compare prices and suppliers for your address.
For electric and gas, most providers let you pay monthly, quarterly, or annually. If you pay monthly or quarterly, the amount will be based on the estimated average for the year, divided by the number of payments.
Depending on how your house/flat is set up, you may need to submit a gas and electric meter reading every couple of months. Places equipped with a Smart Reader are billed by usage, like a typical US residence.
For water, you'll likely be served by Thames Water. If your place has a water meter, you'll be billed twice a year.
Flats/houses without water meters, like ours, are billed annually. However, you are not required to pay in a lump sum (though we chose to do so for convenience). Thames Water allows you to pay in installments, as frequently as once a week.
Although the price of gas and electricity is more expensive in the UK than the US, the milder weather means less energy goes towards heating and cooling. Overall, our utility bills are cheaper here than when we lived in a similar-sized flat in Philadelphia.
What about moving to London with pets?
Moving to the UK with pets was by far the most stressful part of our relocation. It's also the topic I get asked about most frequently, which isn't surprising!
Between the paperwork requirements, logistics, and lack of pet-friendly landlords, it's incredibly difficult to DIY. Not to mention that a single mistake can lead to an expensive quarantine or denied entry.
I highly recommend working with a pet relocation specialist like Pets Lets.
Their experienced agents know how to choose a good location and space for not only a pet, but also your other needs such as schooling and commuting. Plus, they can recommend amazing areas to live that non-locals rarely know about.
Pets Lets' local UK agents are experts at finding pet-friendly rentals and negotiating contracts. They'll also connect you with a transportation company to safely bring your beloved furry friends into the country.
Your place probably won't have air conditioning or a dryer
The other reason you'll likely save on gas and electric is the lack of air conditioning (a.k.a. "air con") and dryers in the UK. The summers are generally mild, making air con unnecessary.
Unfortunately, every summer since 2018 has come with multiple heatwaves and 90+ degree days. I make several trips to Sainsbury's just so I can stand in the frozen food aisle…
During those few hot days, I deeply regret moving to London from the US. But then things cool down and it's right back to comfy and cool weather.
If you have seasonal allergies or other needs that call for AC, I recommend getting a portable unit.
Dryers are also a rarity in UK, especially in London where space is at a premium. Get yourself a good clothes drying rack and plan your washing accordingly. No one wants to put on wet socks because someone forgot about laundry day.
RELATED: The Essential Moving Abroad Packing Checklist
You'll be hard-pressed to find drip coffee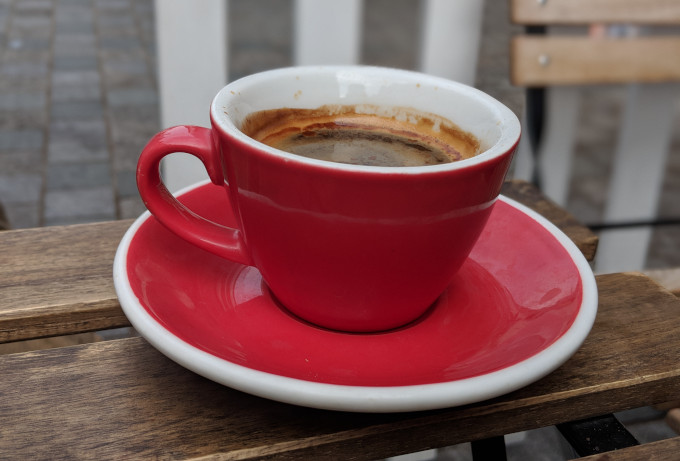 Ah, coffee. Is there anything more American than going to a diner and getting unlimited refills of that steamy, watered-down goodness? My husband says of the few things he misses about the US, drip coffee is number one.
Finding drip coffee in London is nigh impossible.
If you walk into a cafe and ask for coffee, one of two things will happen. Either the person behind the counter will blankly stare at you for a moment before asking "…what kind?". Or, they'll hear your accent and assume you want an Americano.
For the uninitiated, an Americano is simply a watered down espresso. Allegedly, it was invented by American G.I.'s during World War II, because they wanted something that tasted closer to the coffee back home.
Unfortunately, the price of an Americano in most London cafes does not reflect that it's 50% water.
Word on the street is that Nordic Bakery (near Piccadilly Circus) and TAP Coffee (multiple locations) serve great drip coffee, so consider giving them a try if you need that American coffee taste.
Thankfully, filter coffee is a rapidly growing trend, and the taste is pretty similar to old-fashioned drip coffee! Many independent cafes offer filter coffee brewed in a pour-over pot such as a Chemex.
RELATED: Moving to England From The USA: 10 Tips for Americans
Final Thoughts on Moving to London from the US
Expat life always has its challenges, and moving to London from the US is no exception. However, if you move here with a little advanced research and an open mind, you'll be ready to tackle these differences.
If you haven't visited the city (which you should absolutely do before you find a flat in London), my flexible London itinerary is a great resource for planning your trip.
I've also written a detailed moving to London checklist for expats that will help guide you through the whole process.
This is by no means an exhaustive list of everything you should know before moving to London. Stay tuned for more relocation and expat tips, and consider joining my Patreon group for more resources!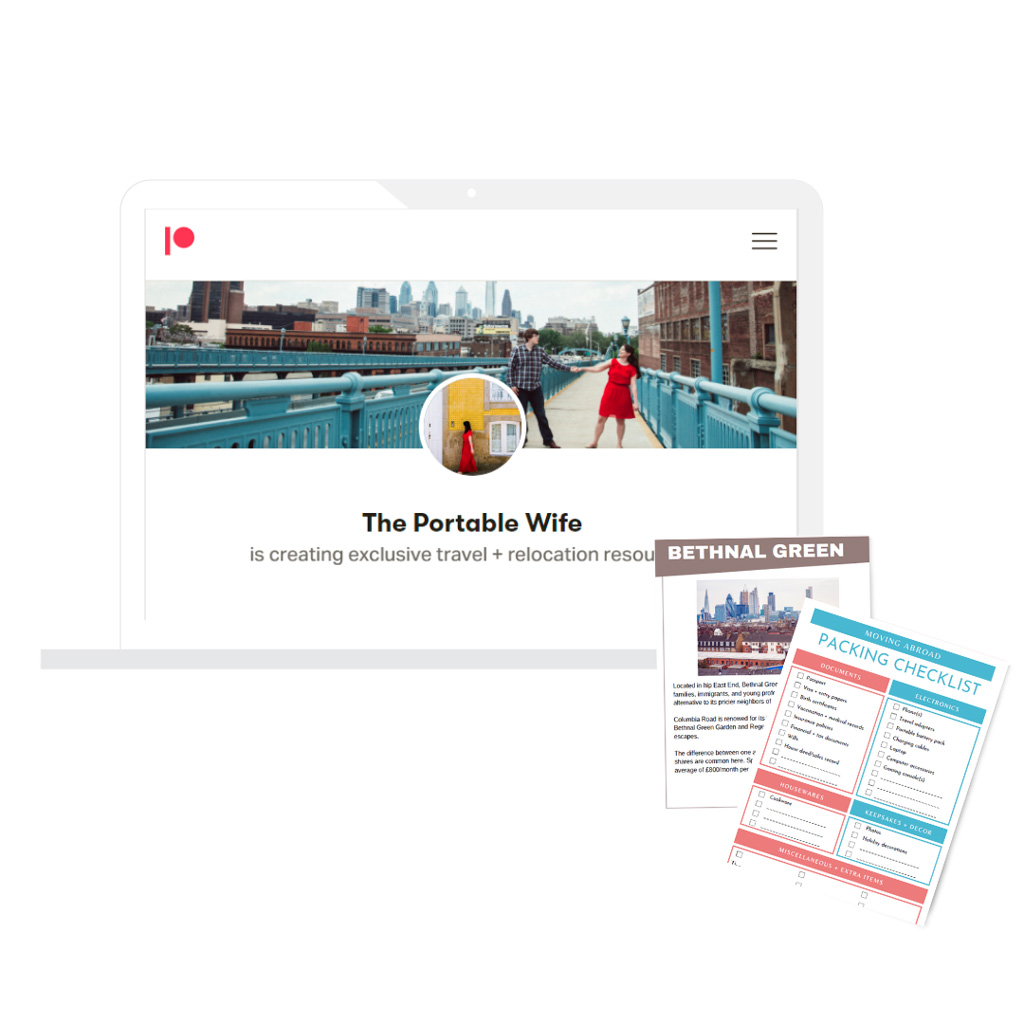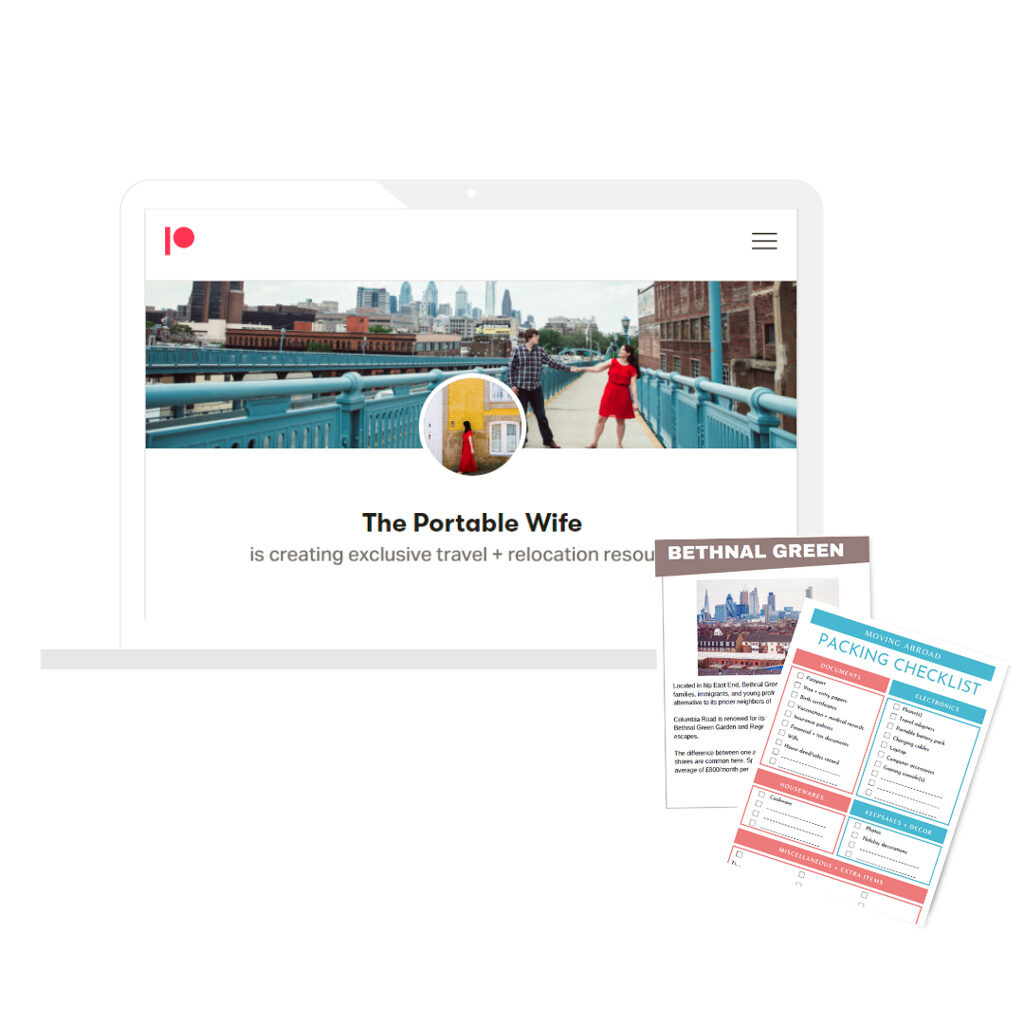 Want more travel + relocation tips?
Become a member of my Patreon group for exclusive access to my resource library, including:
Printable packing lists for moving + travel
Money-saving tips
Insider travel guides
And much more