London may be home to 71 Michelin-starred restaurants, but that doesn't mean you have to blow your entire travel budget on food. Despite what you may have heard, there are plenty of delicious, cheap eats in London to satisfy budget travelers and foodies alike.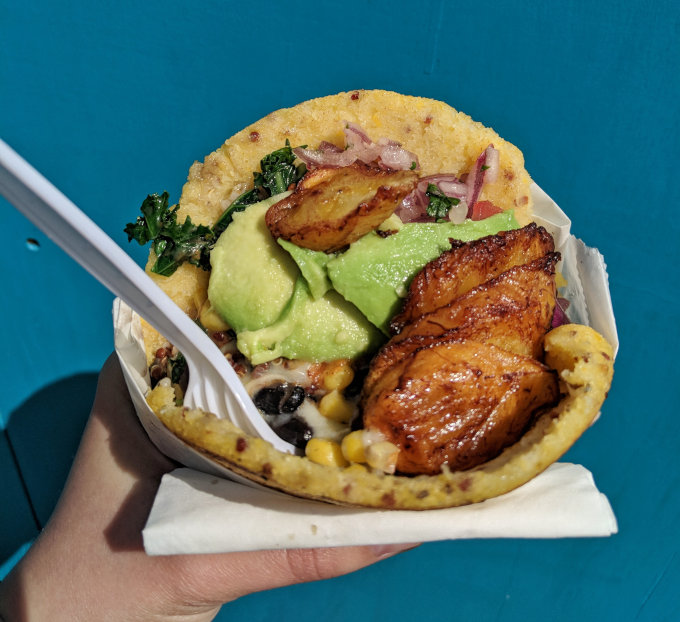 And with over 33% of residents hailing from outside the UK, you can bet London's affordable food options will be as diverse as the city's population.
You won't find McDonald's on this London budget food guide. Instead, I've pulled together local restaurants and dishes that will leave your stomach and wallet happy.
RELATED: London Itinerary: 4 Days of Sightseeing and Hidden Gems
Without further ado, here are my favorite places to score cheap eats in London.
This post contains affiliate links. As an Amazon Associate, I earn from qualifying purchases. For more information, click here.
London's Cheap Eats for Breakfast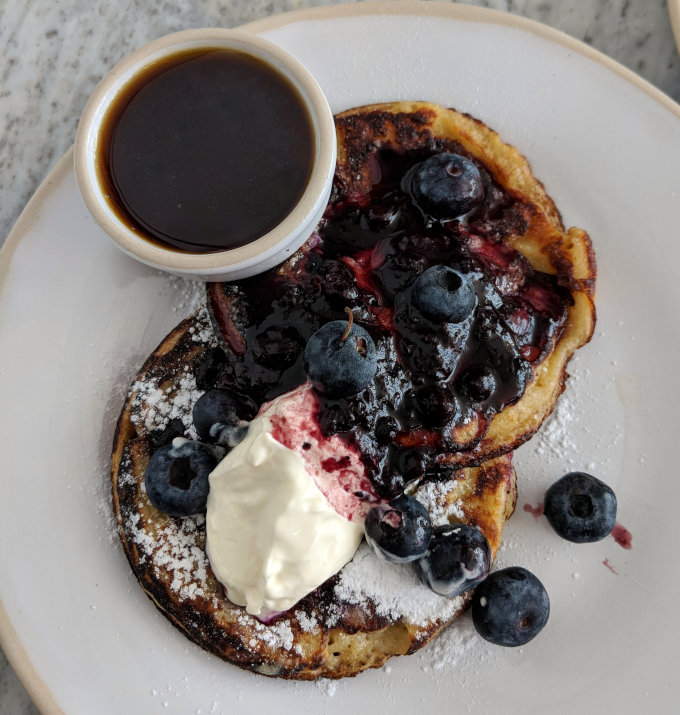 Sausage Roll
Sausage rolls are a perfectly portable combination of meat and pastry. There's nothing fancy about this treat, but there's something special about sausage and flaky crust in the morning. Or the afternoon.
Frankly, any time of day is acceptable for eating a sausage roll, though having it at breakfast will sustain you through a long morning of sightseeing.
You can find sausage rolls at most bakeries and quite a few cafes, with prices ranging from £1-3. Gail's Bakery (locations across London) makes a great version with toasted sesame seeds on top.
Bacon Butty/Bap/Roll
It took me three months of living in London to realize that a bacon butty, bacon bap, and bacon roll were one in the same. The simplest version of this dish is some fried bacon smashed between two pieces of bread.
But many places also serve it with a fried egg, and the ubiquitous HP brown sauce. Like the sausage roll, bacon baps are a good mix of protein and carbs that will tide you over until lunch.
Traditionally, Londoners get their bacon rolls from the neighborhood deli or a shop/stall near their work or tube station. Most of the major London cafe chains (Starbucks, Costa Coffee, Pret A Manger) also sell bacon baps, with prices ranging from £2-5.
RELATED: 26 Easy Ways to Grow Your Travel Fund
Bagels
Cheap eats in London aren't all about the protein. If you're visiting from the US and are craving a bagel, you're in luck! There are a surprising number of places in London to get plain, topped, and toasted bagels.
The salt beef (a.k.a. corned beef) bagel is an iconic London dish that's sure to start your morning right.
Beigel Bake in Shoreditch is famous not only for its gargantuan salt beef bagel, but also for its affordability. £4.50 will get you a fresh serving of the aforementioned delicacy, while just £2.50 will get you smoked salmon and cream cheese.
Porridge
England's porridge has come a long way since the days of Oliver Twist. From banana walnut to berries and cocoa, London's breakfast spots have transformed this bland offering into a healthy and tasty dish.
Most of London's coffee shops serve porridge, but Pret A Manger's gluten-free coconut variety is quite popular. They also have a "proper porridge" with additional toppings like berry compote for purchase. You can snag either of these options for just under £3.
Cheap Lunch Options in London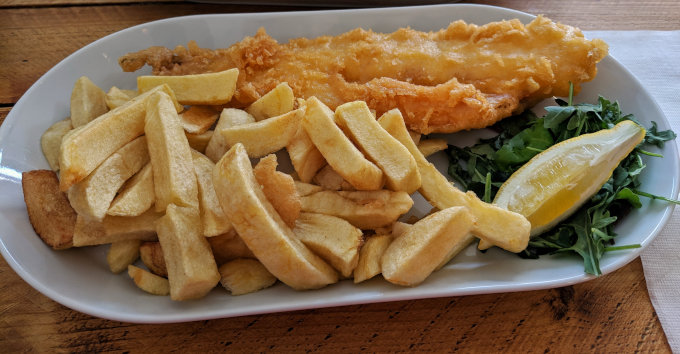 Jacket Potato
Baked potatoes are versatile, filling, and budget-friendly. And with toppings like chili beans, sautéed veggies, and barbecued chicken, jacket potatoes are an ideal option for vegetarian and vegan budget travelers.
There are actually a few speciality baked potato shops across the city, but they charge tourist prices. To avoid overpaying, stick to cheap and cheerful London restaurants like cafes and pubs.
Fish & Chips
Fish and chips are the most well-known of all cheap eats in London. Though a few places still wrap this fried combo in the traditional newspaper, prices have caught up to the times.
A gastropub serving of fish and chips can easily set you back £10-12. However, if you know where to look, you can fill up on this classic treat for under £7.
Unassuming "chippies" across London's residential areas are the best budget friendly restaurants in London. The one in my south London borough has a £6 lunch special that's so big I can never finish it all.
You can tell a traditional chippy from a posh fish and chips joint by looking at the signage and the decor. If it looks like nothing has changed since the 1970s, you're in the right spot.
Neapolitan Pizza
When I moved to London from the US, I was surprised by the number of pizza places I saw. The city has a ton of chains and standalone shops, and most of them serve Neapolitan-style pizza.
Hilariously, the American pizza chains that hopped across the pond–Domino's and Papa John's–charge insane prices. Probably because they know American expats crave that taste of home.
Franco Manca is my go-to place for a quick, cheap, and delicious lunch (or dinner). It's also a great chain of cheap restaurants for groups in London.
A single pizza is enough for two people to share. And with prices ranging from £5-8, you'll be hard-pressed to find a better budget meal in London.
RELATED: How to Save Money When You Travel
Falafel
Crunchy falafel inside warm pita is excellent comfort food for a dreary day in London. Like the jacket potato, falafel is a versatile and vegan/vegetarian friendly dish that's widely available.
Pilpel is a small chain that's well-known for their quality falafel served "your way". You can get it in a container or stuffed into a pita along with different salads and toppings. This hearty lunch is very budget friendly, with meals costing between £5-7.
Sandwich
For many Londoners, lunch is mainly about sandwiches. From the classic egg mayo to the fancy coronation chicken, there's no need to settle for a sad ham and cheese.
Pret A Manger is the go-to place for London's busy workers, and you can score a sandwich from the cold case for around £3. Full size and mini grocery shops like Sainsbury's and M&S Local also carry pre-made sandwiches for the same price.
Save me for later!
London Cheap Eats for Dinner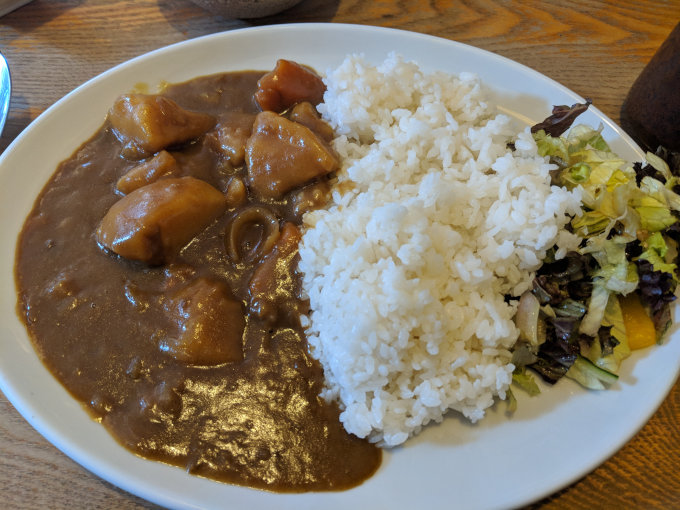 Kebab
Heading to a kebab shop is a fool-proof way to find cheap eats in London. Doner kebab and shish kebab are the most common varieties. Shish kebab is simply chunks of marinated meat (and usually vegetables) cooked on a grill, while doner kebab meat is roasted on a spit, thinly shaved, and served in a wrap or pita (similar to a Greek gyro).
I'm a huge fan of doner kebab, and The Best Turkish Kebab–yes, that's the name of the restaurant– in Stoke Newington is renowned for the dish. A large lamb doner kebab will fill you up for only £6.50, and they have other cheap eats on the menu as well, like a £2.50 cheeseburger.
Chicken Tikka Masala
If you fly to London on British Airways, there's a good chance you were served Britain's signature dish: chicken tikka masala.
The origin of this creamy curry entree is contentious, but the flavor is well-liked by both locals and visitors. Chicken is the primary protein in tikka masala, though I've seen some places serve it with lamb.
Pretty much every Indian restaurant in London has this item on the menu, but not all Indian restaurants are budget-friendly! Takeaway spots will offer better prices than sit-down Indian places.
However, my low-budget, low-key source for chicken tikka masala is actually Tesco Express. Most of these stores have a hot food section where you can grab a ready-to-eat meal, and their £4 tikka with pilau rice is pretty good considering the price.
Japanese Curry
London is packed with places that serve curries from all over the world. Although Indian curry is the easiest to find, it's not always the most affordable. If you want a break from Indian food, I highly recommend trying some Japanese curry.
Chinatown, which is adjacent to Leicester Square, is home to dozens of Japanese restaurants serving up cheap eats.
Tokyo Diner is one of my top five favorite London restaurants. Their vegetable curry is massive and only costs £6.50. You can also try some other delicious, low-cost Japanese dishes here, including soba.
Peri Peri Chicken
Hailing from Africa, peri peri (or piri piri) is a blend of spices that goes incredibly well with grilled chicken. Like the fried chicken joints of the US, there are places in London whose menu centers on peri peri chicken.
If you're not a fan of spicy food, no worries. Most peri peri places have a heat scale from very mild to fiery hot.
Nando's is the mecca of peri peri chicken, and if you're dining with one or two other people, their meal deals can be a great value. Their sharing platters are advertised as enough for two, but three people could easily split the platter and leave satiated.
Pie
I'm not suggesting you eat a slice of banoffee pie for dinner to save some money. No, I'm referring to the savory pies that have been feeding London's working class for centuries.
These days, pies have become posh, with some gastropubs using kobe beef in their steak and ale pies. But there are still places to get a filling, budget-friendly parcel if you know where to look.
Pieminister has a few shops around London, but they also sell their incredible pies in pubs across England. Check their website for the full list of places that serve their pies, which include vegan and vegetarian options. Prices vary, but usually hover around £6 for a pie and gravy.
Tips for Eating in London on a Budget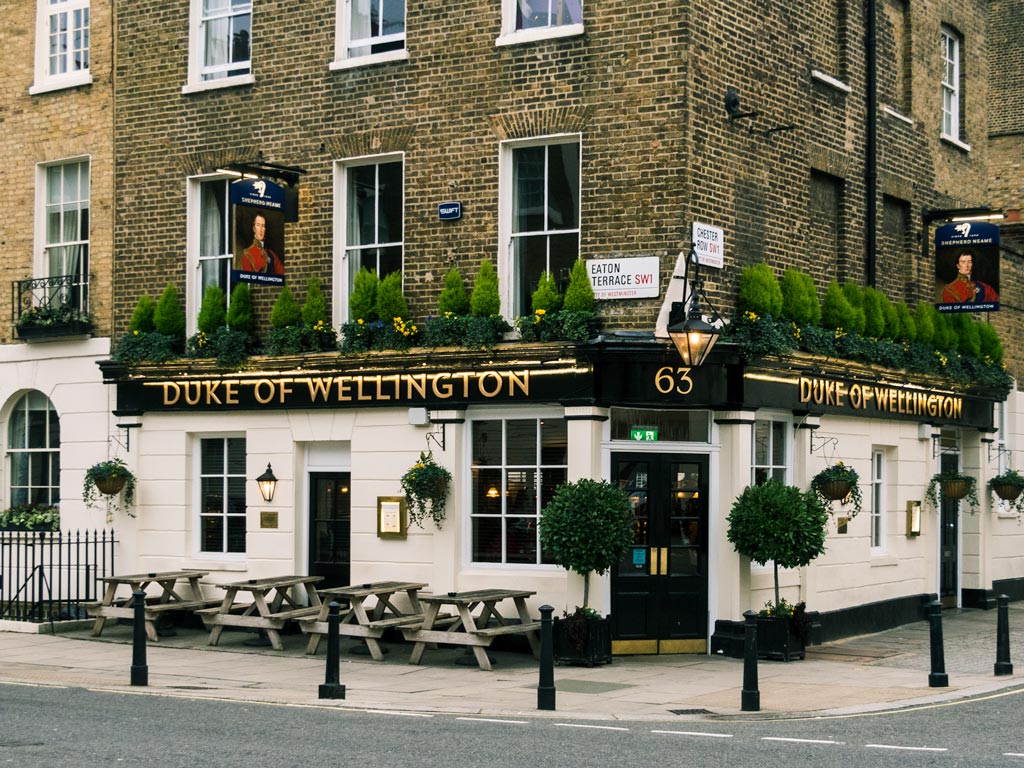 Here are a few more simple tips on how to eat cheap in London:
Mini grocery stores like Tesco Express and Sainsbury's Local stock cheap, pre-made meals that are perfect for budget travelers and people in a hurry. Little Waitrose also stocks these items, but at a higher price.
Street markets are great sources of diverse, cheap eats that help you save money effectively while traveling. You'll find plenty of vegan street food in London at Borough Market and Portobello Market. This guide on South London's best food markets is full of affordable options.
London pubs aren't always great for dining out on a budget. Unless you really get off the beaten path, most pubs in central London serve up mid-range fare.
Alcohol is incredibly pricey in London. If you want to stretch your money, skip the drinks.
When dining out, always ask specifically for tap water, which is free. Still water is not tap water, and you'll often pay £1-3 per person if you get this option.
Eating in London on a budget doesn't restrict you to fast food joints. There are excellent, filling meals to be had all over the city for around £5. Next time you're in town, refer back to this budget travel guide for the best cheap eats in London. Your wallet will thank you!
My Favorite London Travel Planning Books
These books win my travel blogger Seal of Approval for vacation planning: