I created this 4 day London itinerary to celebrate my one year anniversary of moving to The Big Smoke. Since then, I've spent countless hours exploring the city on my own and playing travel guide for visiting family. And now, I'm sharing my updated guide for spending 4 days in London–along with some insider tips!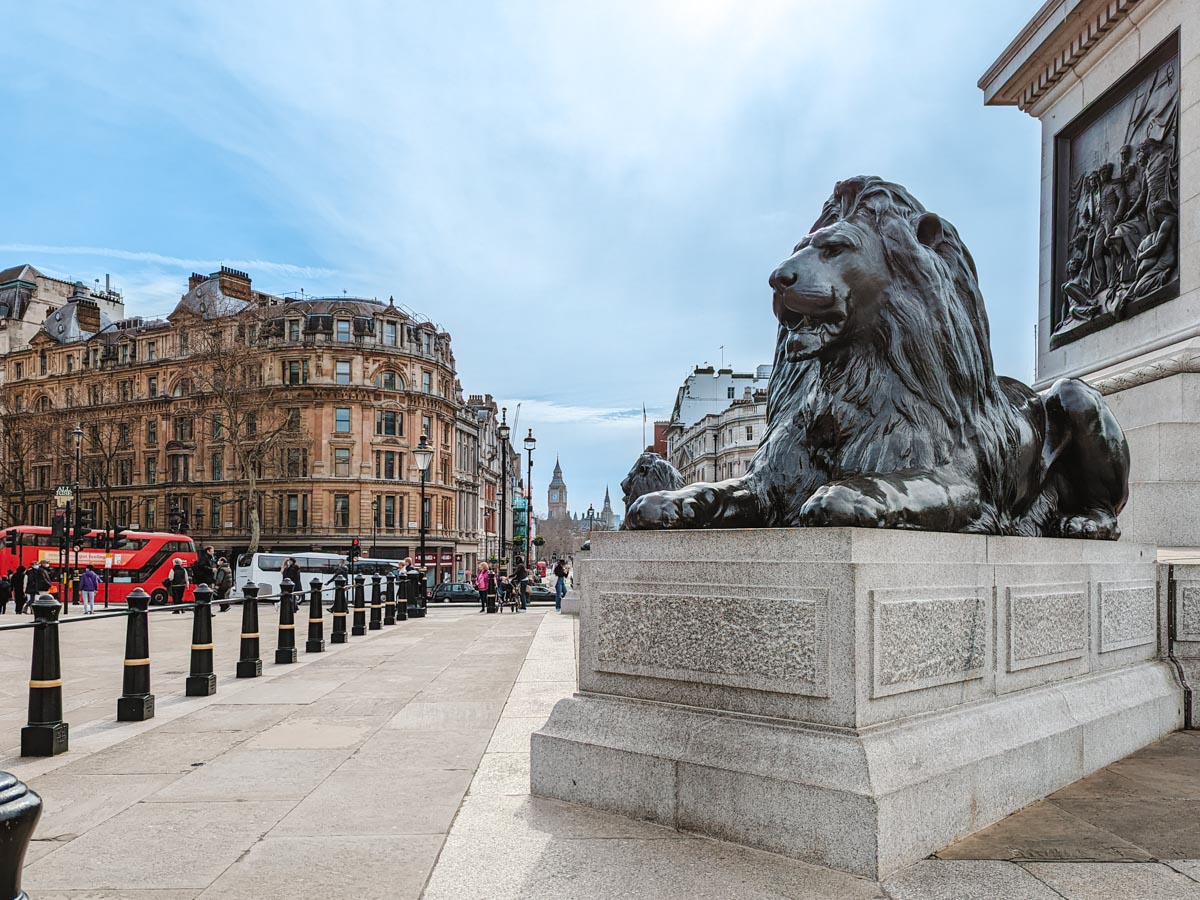 From culture to architecture, London beautifully mixes old and new. You can have a traditional afternoon tea in a skyscraper with panoramic views. There are quiet, overgrown ruins surrounded by bustling office buildings.
Even the Changing of the Guard still happens with all the pomp and circumstance of Queen Victoria's time.
Though you can't see everything in London in 4 days, this efficient itinerary covers as much ground as possible. It includes the typical touristy stuff along with a few hidden gems to make your visit extra special.
Most of the days are designed as walking tours, so bring your comfiest shoes!
Heads up: this itinerary is detailed and long! Save it now so that you can refer back to it on your trip.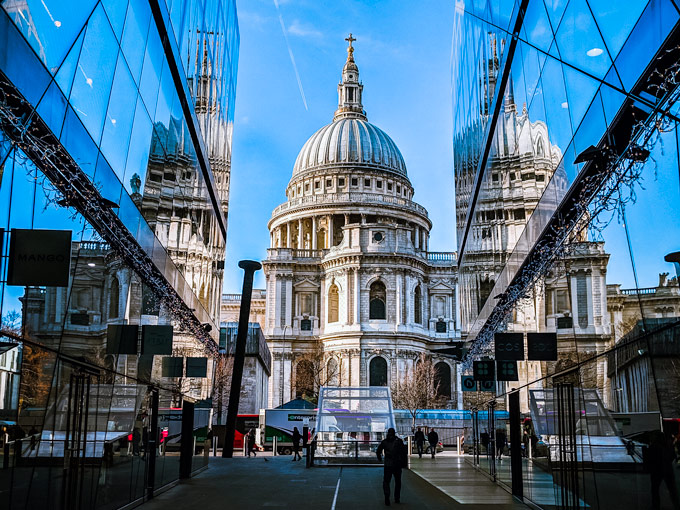 RELATED: A Beautiful Road Trip Itinerary from London to Edinburgh
This post contains affiliate links. For more information, click here.
Table of Contents
4 Days in London: Know Before You Go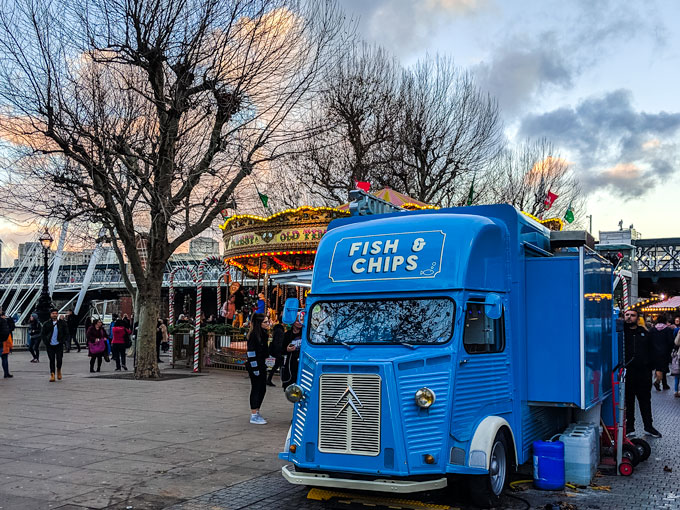 FYI, I have an entire guide on London travel tips that covers everything from transport to pub etiquette. But you can find the cliff notes version below.
Money
Estimated Budget for London in 4 Days (excluding transport and accommodation): £300 / $365
England uses the British Pound Sterling (GBP, £), a.k.a. "pounds" or "quid". Aside from a few sidewalk food carts, I've never encountered a place in London that's cash only. In fact, a growing number of places are becoming cashless.
However, it's always good to have pounds on hand for leaving tips (just a couple quid will do), as service is not always included in bills. Paper bills don't start until £5, so it's best to bring a coin purse for carrying change.
London is a notoriously expensive city, not unlike Paris or NYC. Though there are ways to save money in London (more on that later), expect to pay a premium for hotels, restaurants, and alcohol.
The nice thing about buying stuff in London is that tax is already included. What you see on the tag/menu is what you'll pay.
Transport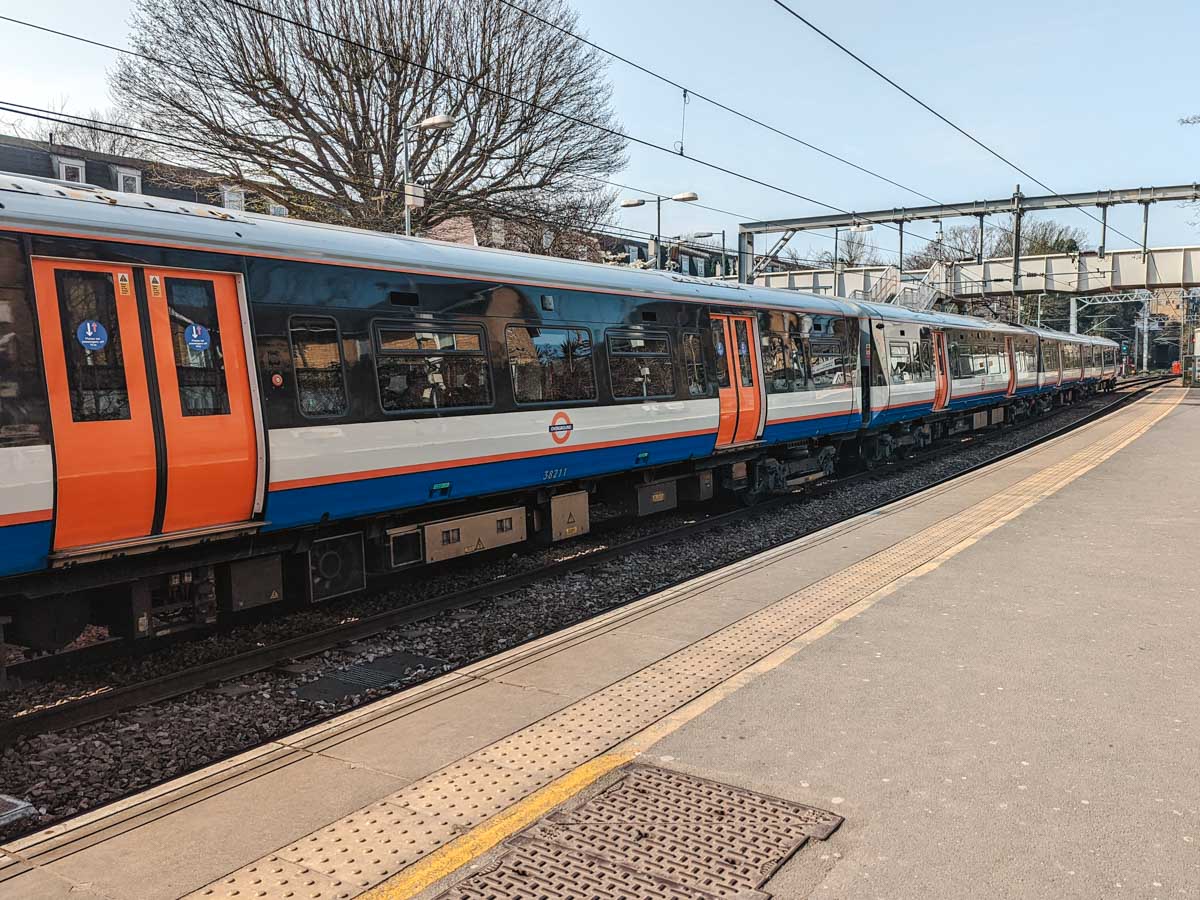 Despite the complaints you'll hear from Londoners, the Underground (a.k.a. "the tube") is usually a very efficient way to get across the city. Between buses, overground trains, and the tube, you'll be using public transit a fair amount during this 4 day London itinerary.
While it used to be essential to buy an Oystercard when you first arrived in London, there's a good chance you can pay for public transit using your own contactless-enabled banking card.
That being said, there's nothing more awkward (or irritating) than trying to pass through the train/tube gates or boarding the bus with a card that doesn't work.
For this reason, I suggest getting an Oystercard when you arrive and loading a small amount onto it. That way, you have a fallback plan in case your country's bank card doesn't play nice with the Transport for London payment network.
These contactless cards make riding transit a breeze. Simply add money to the card, and tap it on the round yellow readers to pay for your journey. You tap in and out at gates for trains and the tube, but only tap in for buses.
Every London airport, train station, and tube station has an Oyster machine where you can buy a card. The airports have them outside the escalators/elevators to access the underground. Some machines are cash-only, but most accept debit and credit card payments.
When on the tube, please respect the handicap seats nearest the doors. It's okay to sit here, but if someone who's handicapped, elderly, or pregnant enters the car, you need to offer up your seat.
A Note About Rush Hour: From 7-9am and 4-6:30pm, most tube lines are packed with commuters. Riding the tube during rush hour is unpleasant, particular if you're claustrophobic or new to public transit.

Expect there to be standing room only. If you're hauling a large bag or suitcase, avoid riding the tube during these times.
Also, you should absolutely download the Citymapper app before setting off on your 4 days in London itinerary. It's great for finding the best public transit routes from point A to B. And it's updated in real time, so you won't get caught off guard by delays or closures.
Where to Stay in London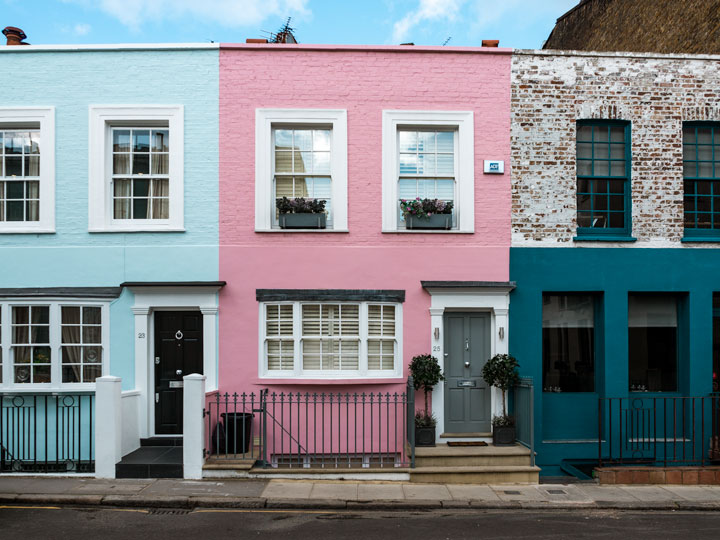 There isn't one perfect answer to the question of where to stay in London. This itinerary covers a large portion of the city, so the most important thing is to consider your budget.
The city is well-connected by tube, so you don't need to splurge on a hotel near Buckingham Palace. But you do want to be within a 5-7 minute walk of a decent tube station. Here are a few areas I recommend:
Additionally, there are tons of lovely VRBO apartment options across the capital. They're the perfect way to get that authentic London life experience (and save some money on dining out)!
The Best Time to do this 4 Day London Itinerary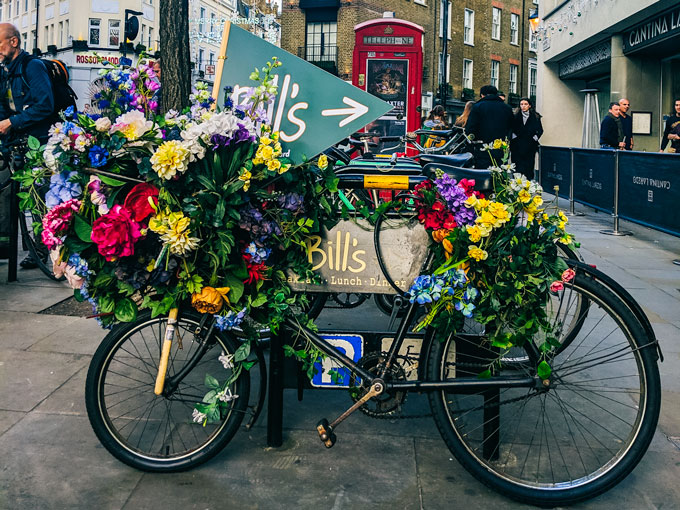 From summer blooms to Christmas lights, London is a gorgeous city no matter the season. Here's a quick summary to help you choose the best time of year to visit London:
December – February: Christmas cheer and mulled wine in December makes London a popular winter city break in Europe. Temperatures stay around 9°C/48°F. January is dreary, but perfect for those looking to avoid crowds. And February sees London's shops decked out in elaborate floral displays for Valentine's Day.
March – May: Spring is definitely the best time to visit London weather wise, with temperatures around 16°C/60°F. Flowering trees decorate the sidewalks and parks, and the crowds aren't too bad (aside from the first and last Mondays in May, which are bank holidays).
June – August: Summer is the worst time to visit London. The weather may be warm (around 23°C/75°F), but the city is packed with tourists. August is especially crowded, being the most popular time for Europeans to take holidays.
September – November: Visiting London in autumn is an excellent idea. Crowds thin out starting in late September, and autumn leaves arrive in October. Temperatures range from 20°C/68°F to 12°C/53°F, perfect for long walks around the city.
A Note on London's Weather: London has a reputation for being cold and rainy. But in reality, temperatures are quite pleasant most of the year. And though the rain can be unpredictable, it's not enough to need rain boots.

Opt for a light rain jacket instead of an umbrella, which is very hard to hold when walking down crowded London streets.
Is 4 Days in London Enough?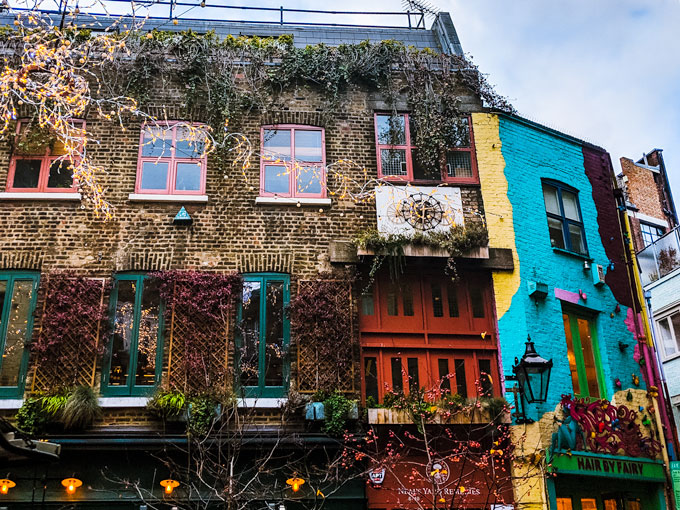 If you're wondering how many days to spend in London, the answer is: as many as possible! I've lived here a year and have barely scratched the surface–this city is packed with UK bucket list experiences.
4 days in London is not enough to experience everything the city has to offer. However, you can cover most of the major sights and still get off the beaten path.
This London itinerary is packed full of excursions, but is highly efficient. So, you'll have time to explore each place without feeling too rushed.
My Favorite London Travel Planning Books
These books win my travel blogger Seal of Approval for vacation planning:
Save me for later!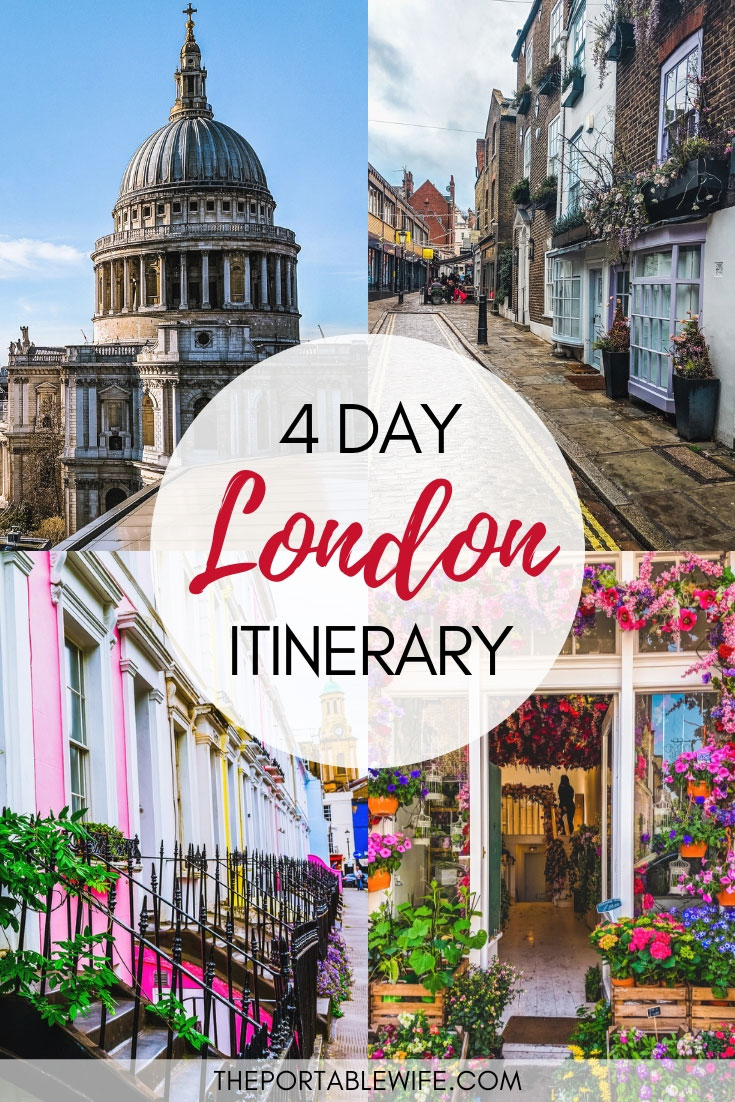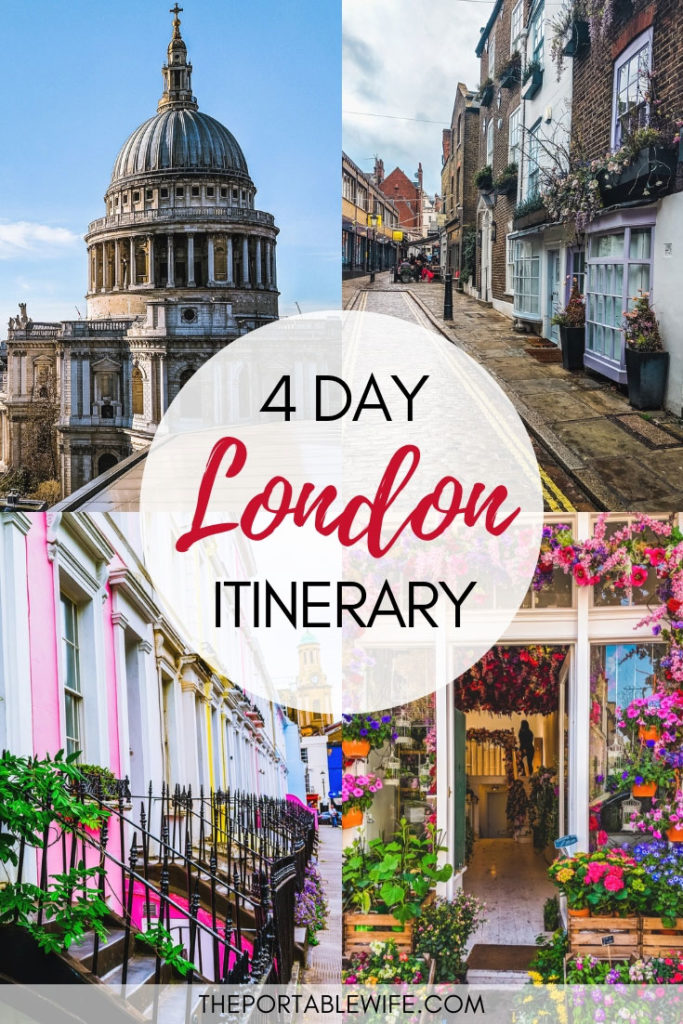 4 Day London Itinerary
Day 1: Belgravia, Mayfair, Westminster, & Embankment
Belgravia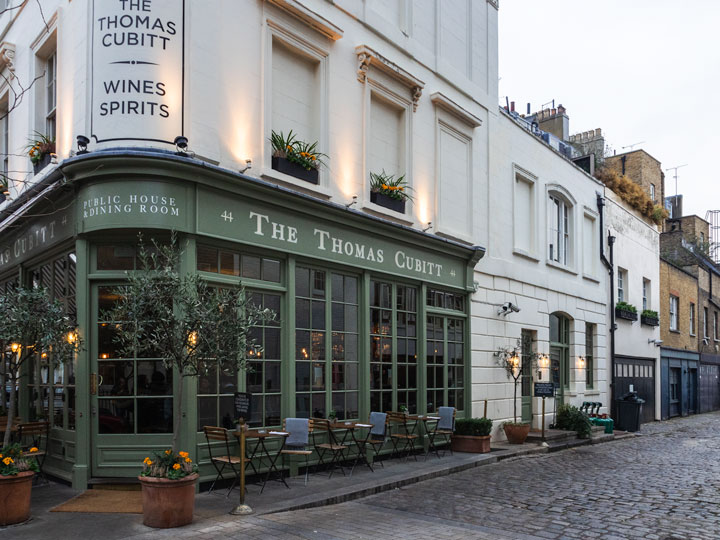 After a long and likely crowded journey into the city, you won't want to dive right into crowded tourist spots. Instead, you'll start your 4 day London itinerary in beautiful Belgravia.
Located just west of Victoria Station, Belgravia is one of the prettiest neighborhoods in London. It's also one of the places to find the best gifts from London.
If you follow me on Instagram, you'll recognize the area's quintissential London row homes and stunning floral displays.
The best way to get here is via Victoria Station. After arriving by train or tube, use the western exit towards Grosvenor Gardens.
There are no real sightseeing spots here, but there are several places you won't want to miss on your Belgravia walking tour:
Peggy Porschen's pink, flowery facade is probably the most Instagrammed spot in London. If you were hoping to try their famous treats, expect a long line.
Moyses Stevens Flowers is beautifully decorated inside and out. Every few months, they update their door display with eye-popping flowers.
Halkin Mews looks lovely year round, but spring and summer blooms make this street pop. Please be quiet and respectful of the residents when you visit.
Orange Square is the heart of the neighborhood, with weekly markets and locally owned shops.
Wilton Crescent is a curving row of stately homes that's very similar to the Royal Crescent in Bath.
Once you've finished exploring Belgravia, walk north to Hyde Park.
Hyde Park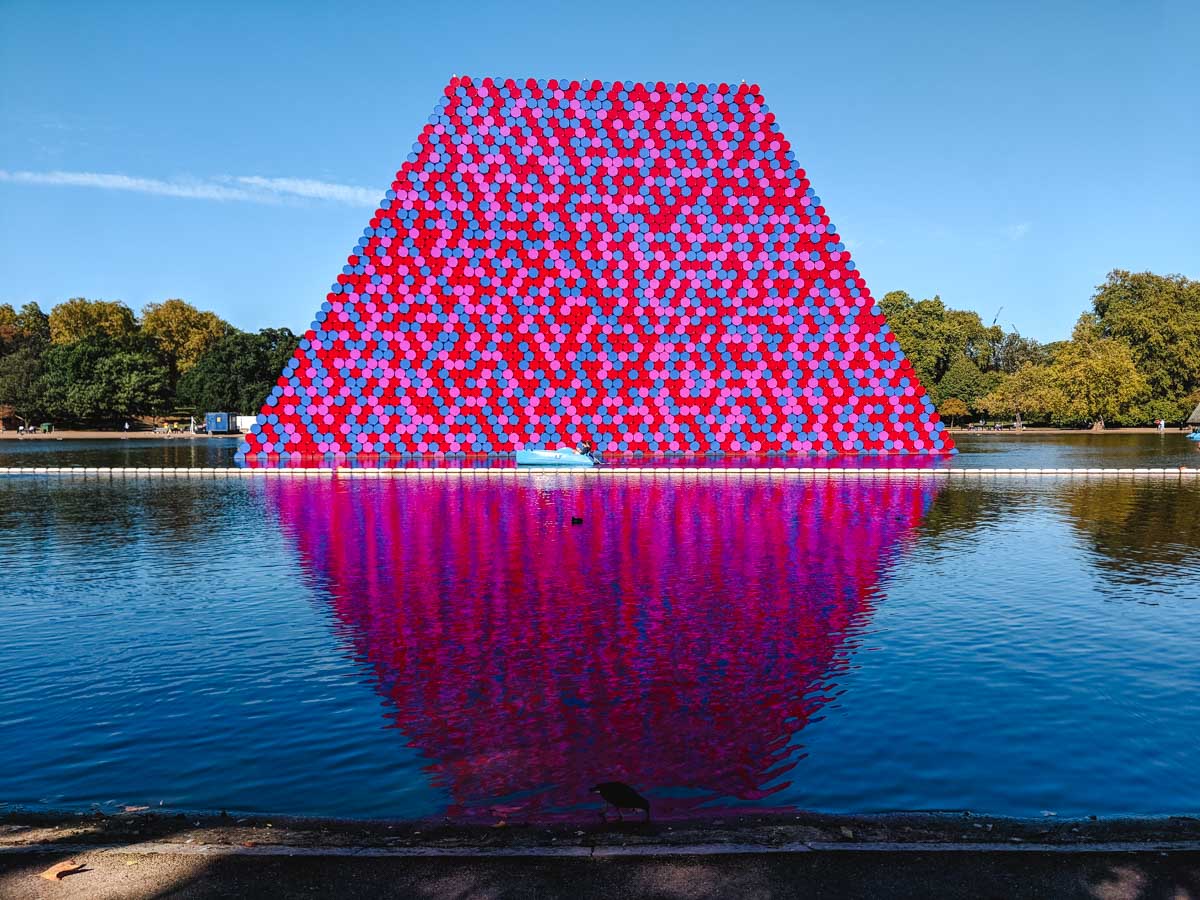 Hyde Park is a massive green space in the heart of London. Here, you'll find families having picnics, horses trotting along the trails, and pedal boats drifting along the Serpentine.
Don't try to see the entire park, because you won't have enough time. Instead, stick to the eastern half, which includes the unique Princess Diana Memorial Fountain.
If you're visiting London in winter, Hyde Park will be a very different place. December sees the place transformed into Winter Wonderland, complete with an ice rink and carnival rides.
After your stroll, head east through the Wellington Arch towards Buckingham Palace.
Buckingham Palace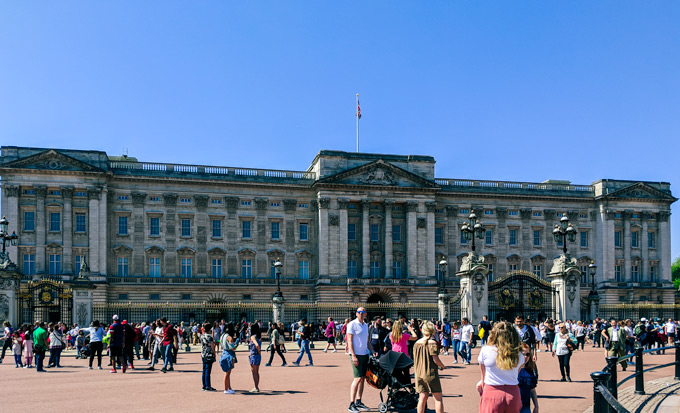 After a laid back taste of London life, it's time to visit the most tourist-heavy place in the city.
For most of the year, Buckingham Palace is closed to the public. So, this stop on the London itinerary is mostly just to see the outside and snap a few photos.
However, from late July through September, Buckingham Palace opens its doors. Tickets must be booked in advance for a designated time slot. Prices start at £30 for the general tour, and £56 for the more extensive "Royal Day Out".
You can book your tickets online and have them delivered to you. Or, you can print your ticket voucher and exchange them onsite. However, using the voucher method means waiting in a (sometimes) long queue, which steals valuable time out of your 4 days in London.
If you do decide to tour Buckingham Palace, you'll need at least 90 minutes. Consider skipping one of the parks on today's itinerary to make up on time.
Changing of the Guard: If you want to catch the ceremony, you'll need to tweak this itinerary. Due to the timing, you'll want to visit Buckingham Palace before Hyde Park.

Get to the golden Victoria Memorial by 10:30am for the best view of the parade and the changing of the old guard to the new. Then, climb the monument steps so you can see over the crowds.
St. James's Park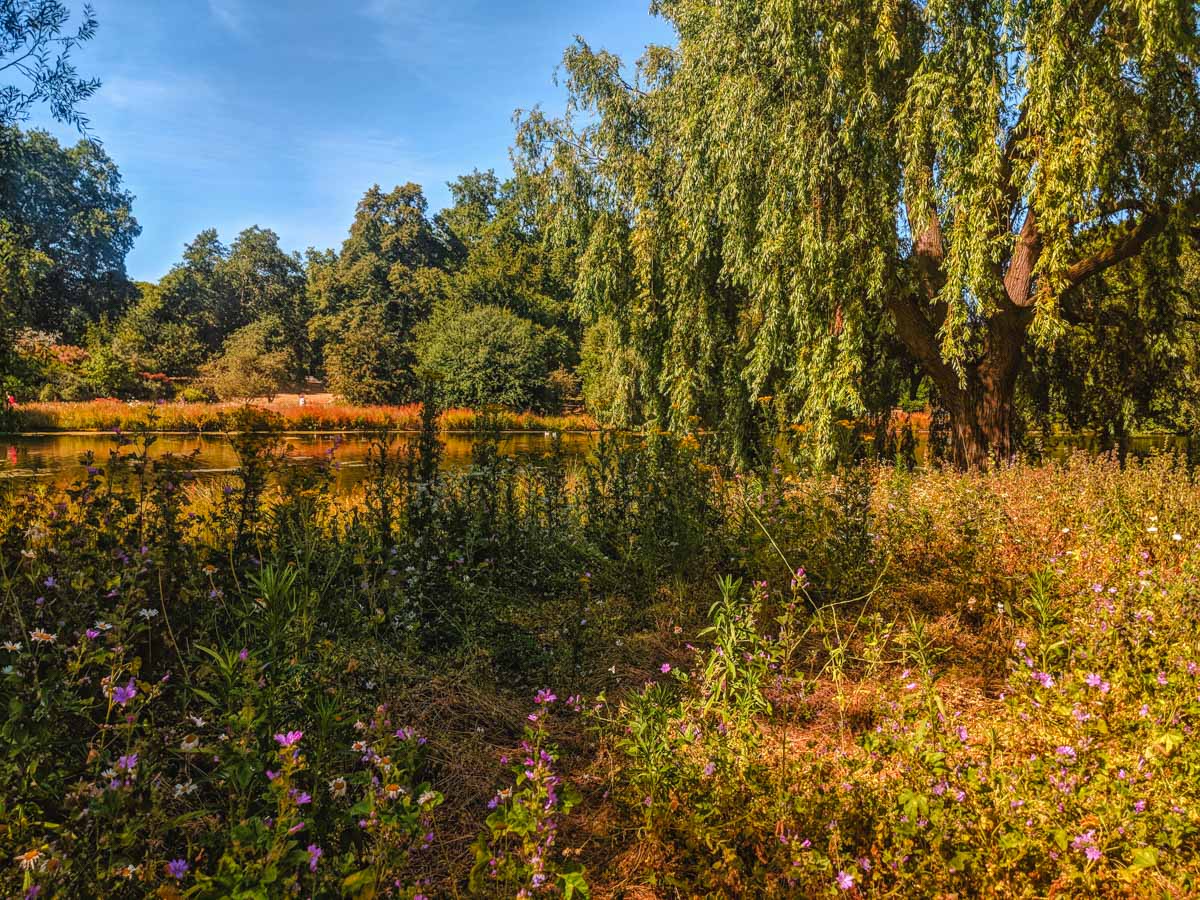 Just opposite of Buckingham Palace is the regal St. James's Park. Follow east along the lake path, where hundreds of ducks, geese, and swans hang out in the flowers and foliage.
Don't miss the ultra-charming Duck Island Cottage and view towards 10 Downing Street (the Prime Minister's residence) before exiting toward the Horse Guards Parade. Most tourists miss this lovely piece of architecture, which houses the Royal Horse Guard.
Walk though the open parade grounds and towards Whitehall Street, and turn left to reach Trafalgar Square.
Trafalgar Square & The National Gallery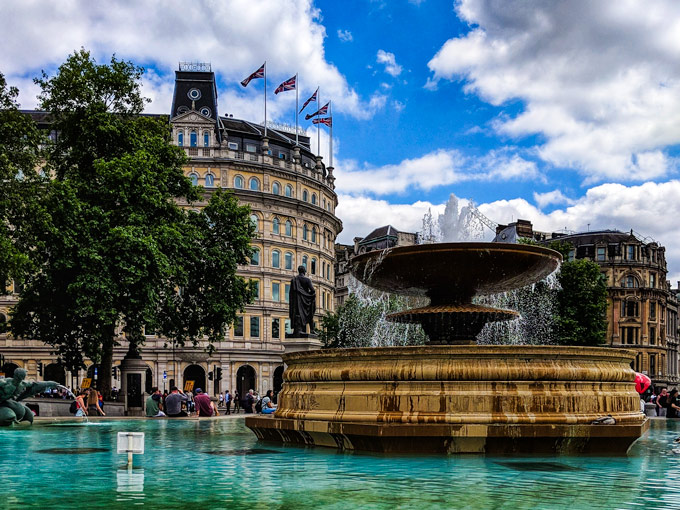 No matter the time of day, Trafalgar Square pulses with energy. You'll find people resting on the steps of the National Gallery, meeting friends by the fountains, and passing through to reach Charing Cross station.
Don't sleep on the National Gallery–it's home to jaw-dropping paintings and organized by period, so you can quickly navigate to the Dutch masters, Impressionists, or any other style that speaks to your sensibilities.
Enjoy the monuments on your way out before heading south to Westminster Abbey.
Westminster Abbey & Big Ben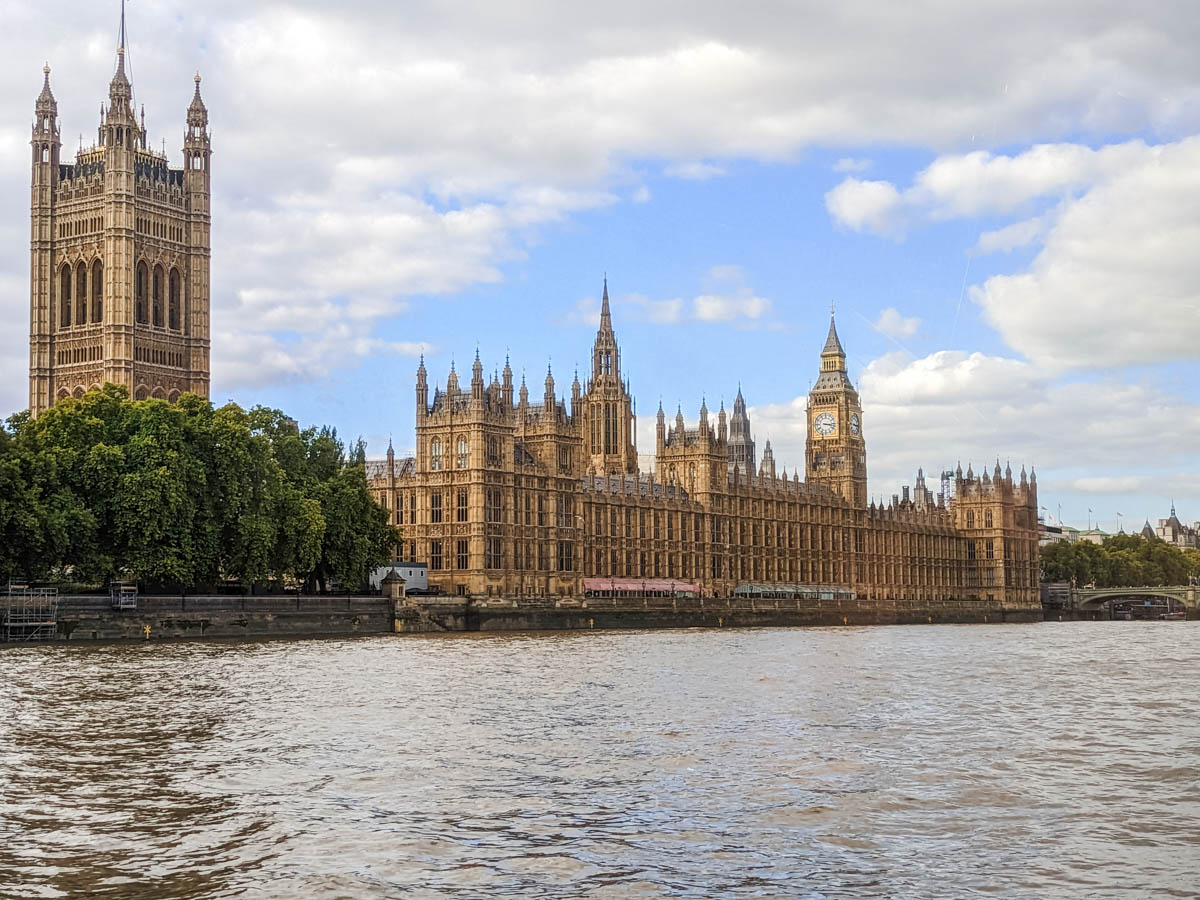 Whether you're an architecture lover, history buff, or literature fan, Westminster Abbey is a must see. This Gothic masterpiece has been hosting England's coronations and royal weddings for nearly 1,000 years.
And it's also the final resting place of the country's most famous figures, including Elizabeth I, Sir Isaac Newton, and Charles Dickens.
Because of long queue times, I highly suggest buying advance tickets online.
However, if you're starting this London itinerary on a Wednesday, you can score a "Wednesday Lates" admission for £13 from 4:30-7pm in person (last entry is at 6pm).
Just next to the abbey sit the Houses of Parliament, known officially as the Palace of Westminster. This ornate building is the oldest royal palace in London, and it's clock tower (now named Elizabeth Tower) houses the much-beloved and world-famous Big Ben clock.
While it's possible to tour the Houses of Parliament on certain days, there's not much time to squeeze it into this 4 day London itinerary. Instead, we'll admire the buildings from the outside and possibly experience the chiming of the bells.
Embankment & The London Eye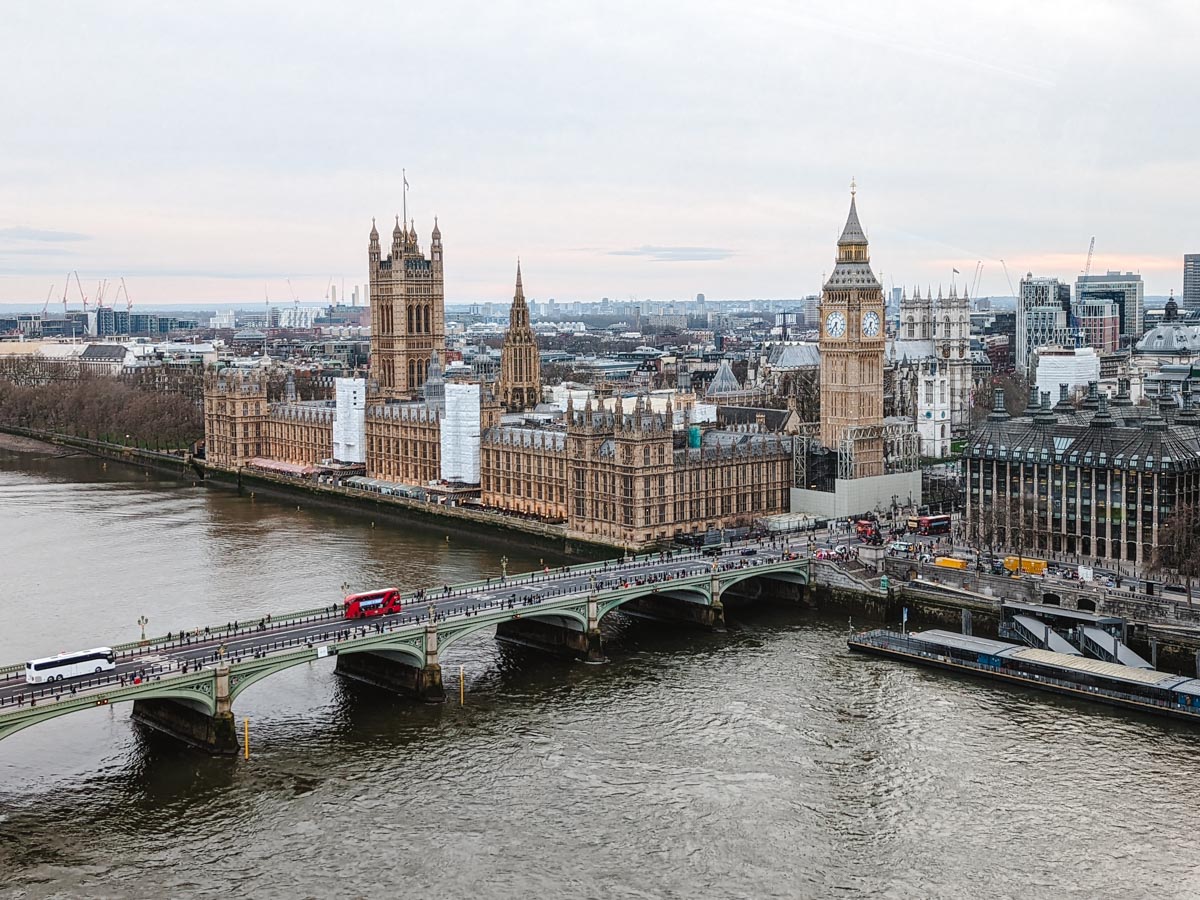 Wrap up your first of four days in London with an evening stroll along the Thames and a birds-eye view of the city.
From the north side of Embankment, you'll have great views of the London Eye and other parts of the London skyline. You can walk as far as you'd like, as there are numerous tube and train stations along the way.
Depending on the time, you could also pop over to the outdoor Southbank Centre Book Market to pick up some books set in London.
Crossing over the Thames via the Golden Jubilee footbridge will bring you to the iconic London Eye. I used to think a ride on the Eye was a touristy gimmick, but after experiencing it myself, I now believe it's a fun experience and a cool way to see the city's famous landmarks.
I strongly recommend booking your London Eye tickets in advance, as this gives you an exact timeslot that you can change online for free (once). The queues for same-day tickets are always long, so you'll waste precious time if you don't buy them online.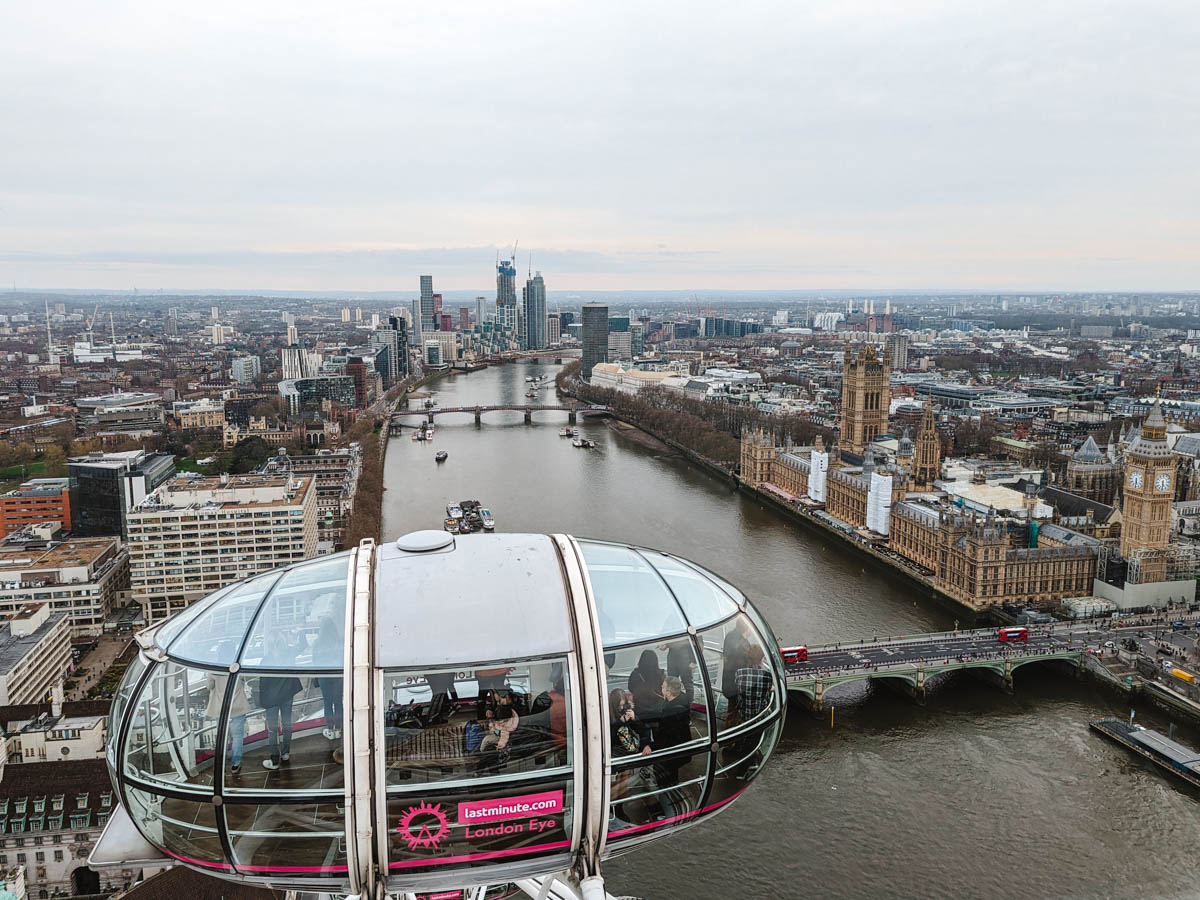 And when you get hungry for dinner, there are great pubs and restaurants near Waterloo Station. I highly recommend OKAN if you like Japanese food.
Day 2: City of London & Southwark
Leadenhall Market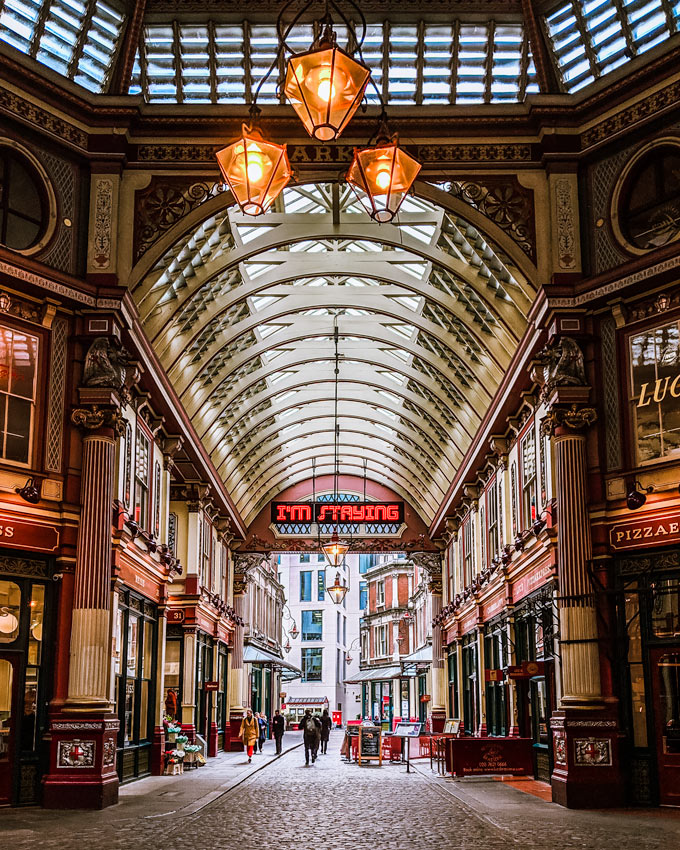 Harry Potter fans will recognize Leadenhall Market as a filming location for Diagon Alley.
Walking through this covered Victorian market is like stepping through time. One look around, and you'll realize that coming here is one of the best non touristy things to do in London.
Though the architecture is old, Leadenhall Market's shops are a mix of modern and historic. Most places don't open until after 10am, but a morning visit makes photographing the area much easier.
Exit the market east towards Fenchurch Ave, and look on your right for the sleek modern entrance to The Garden at 120.
The Garden at 120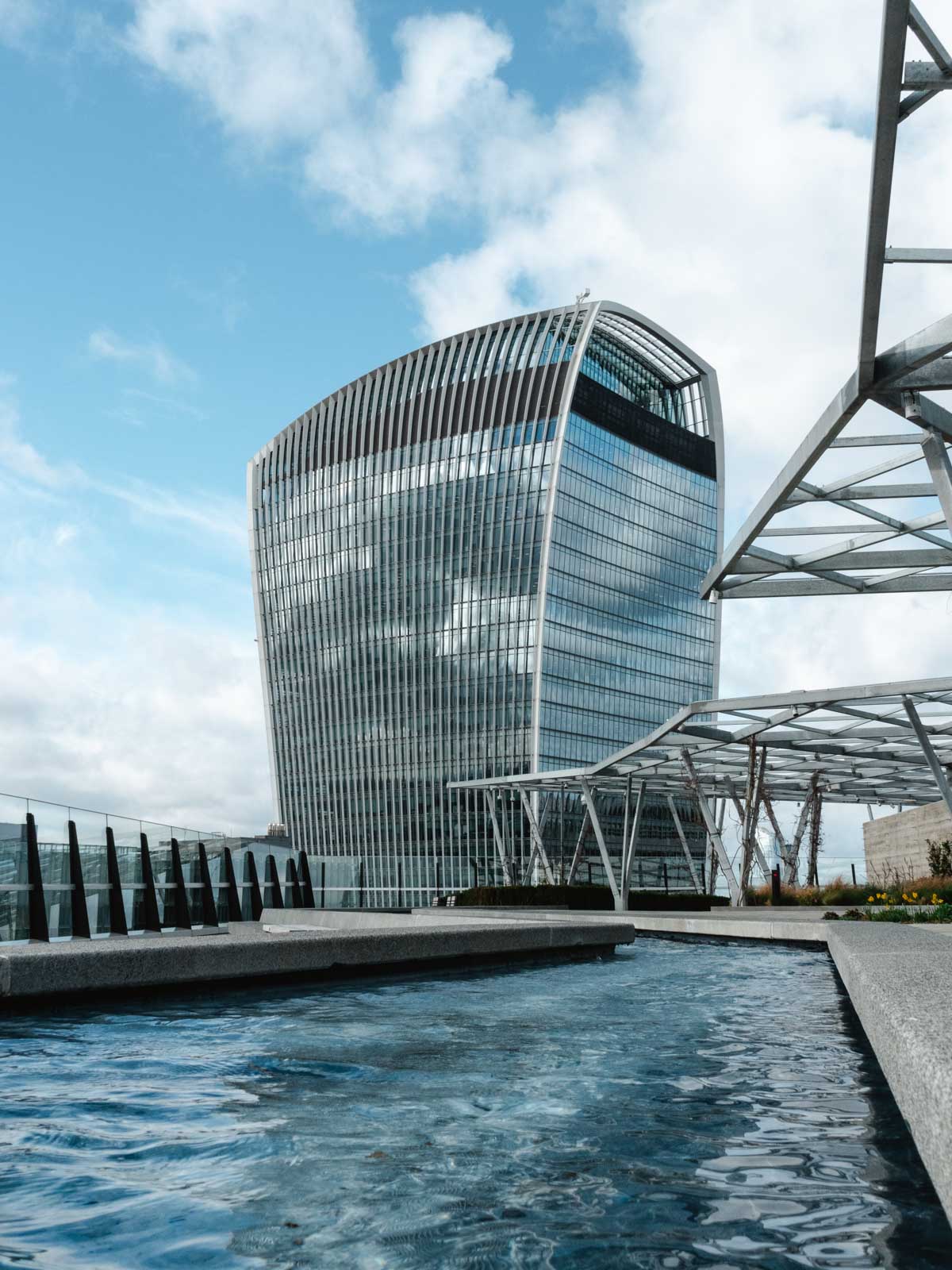 First opened in February 2019, the Garden at 120 is London's newest public rooftop with a view. Unlike the Sky Garden, you don't need a reservation for these amazing and free panoramic views of London.
Visiting hours start at 10am, and you'll need to pass through security before heading up the elevator.
Currently, there's nothing on the roof but benches and plants, but there are future plans to open a bar and restaurant. However, it's still an essential stop on your 4 days in London itinerary thanks to the unique views of the city's famous landmarks.
From here, head back down the elevator and walk south to reach the Tower of London.
Tower of London and Tower Bridge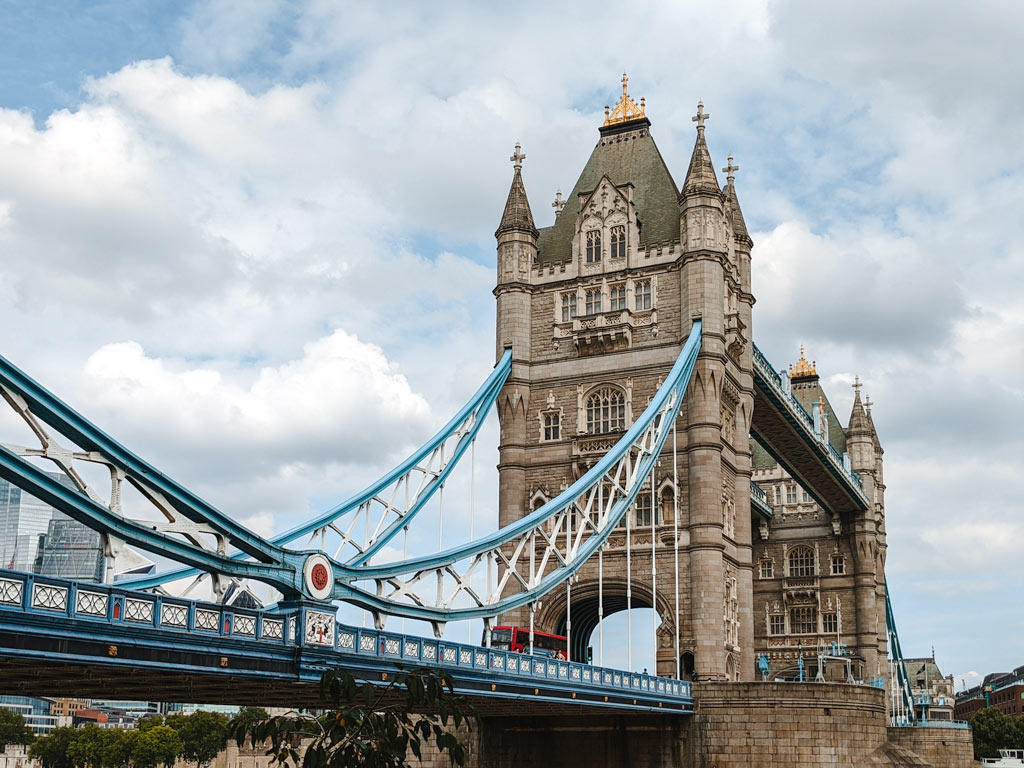 I'll be honest: the Tower of London is one step removed from a tourist trap. Even the yeoman warders aren't afraid to admit it. And yet, despite the cost and the crowds and the guided tours (which I usually hate), the Tower of London is pretty fantastic.
While you can explore the place yourself, I think the free Yeoman Warder tours are excellent.
These folks are more than tour guides: they actively served in the British military before being awarded a post at the Tower. And if you're lucky enough to get Billy, you'll get a dose of history mixed with plenty of sarcastic English humor.
If you buy tickets in advance online, you can skip the long line and head straight for the ticket exchange counter. The queue for buying tickets at the gate can get extremely long!
After touring the Tower, head south and cross the Thames via the epic Tower Bridge. Once across, there's a waterside pedestrian path that leads west towards the Globe Theatre.
Shakespeare's Globe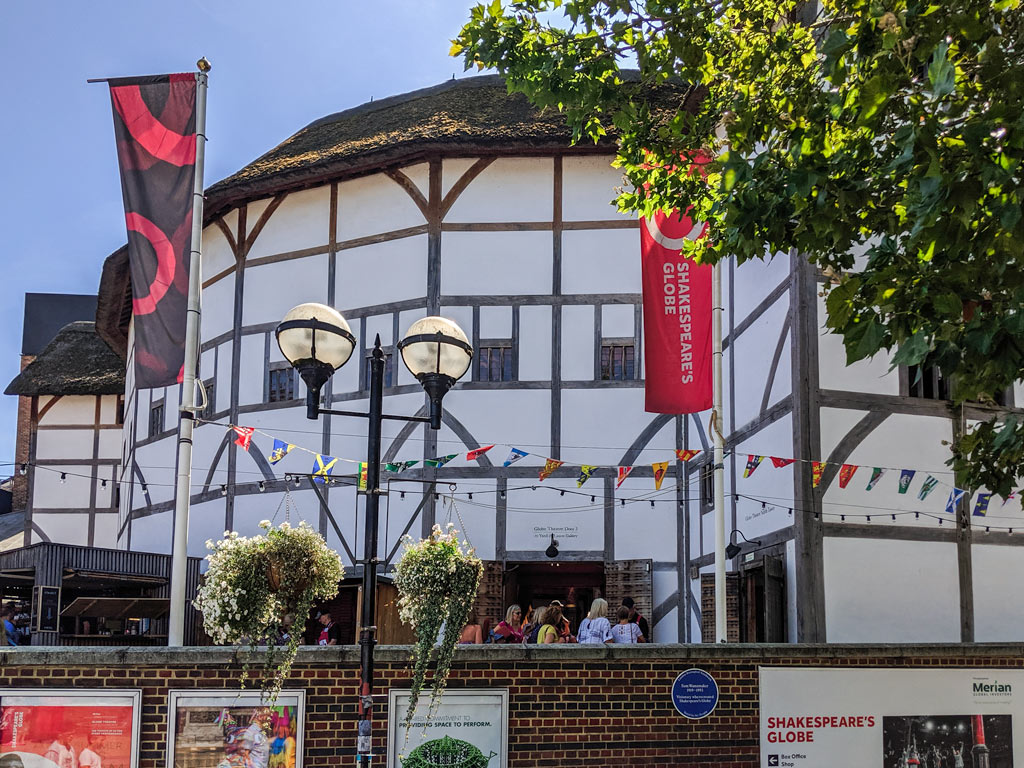 It would be crazy to visit London without at least walking past Shakespeare's Globe Theatre. Though the original burned down a long time ago, this authentic replica is a must see.
If you do opt for a tour, it's best to book ahead online. It takes about 30 minutes for the guided tour, and another 45 minutes to see the exhibition.
Borough Market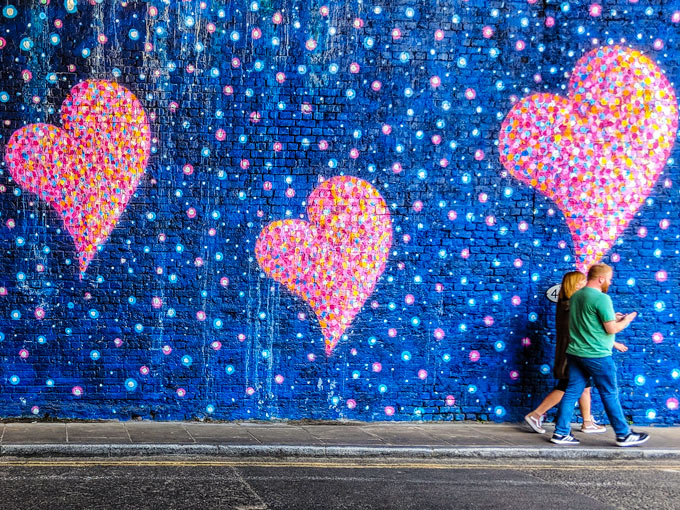 Foodies will rejoice at Borough Market, where local vendors sell everything from artisanal truffles to exotic spices. There are restaurants all along the outside, with food stalls mixed throughout the space. I highly recommend the paella and the pie stand.
Many places are cash only, so bring plenty of quid if you want to eat and shop. The market is open every day except Sundays, though some stalls are closed Mondays and Tuesdays.
St. Paul's Cathedral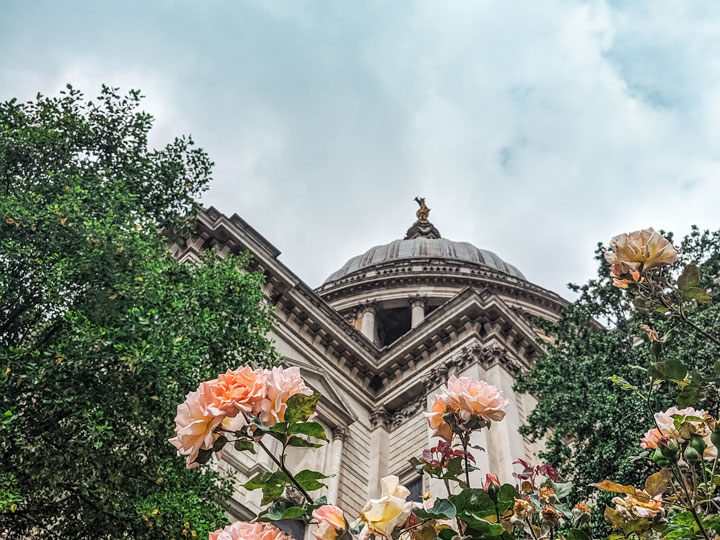 St. Paul's is my favorite place in all of London. It miraculously survived the WWII bombings, and stands as a symbol of hope and resilience.
The building is gorgeous inside and out, with ceiling frescoes, golden accents, and ornate doors. It's also the final resting place of Lord Nelson, the Duke of Wellington, and Sir Christopher Wren, the famous London architect.
One thing not many tourists realize is that you can actually climb the dome for stunning views over London. It's over 500 steps to the top, but there are a few stopping points along the way, including a Whispering Gallery.
St. Paul's last entry time is 4pm, so don't wait too late for your visit.
You can buy advanced tickets online and save £3 off the £20 door price. Online tickets also give you fast track entry, and you can enter any time during the day.
Also, photography inside the building is forbidden.
One New Change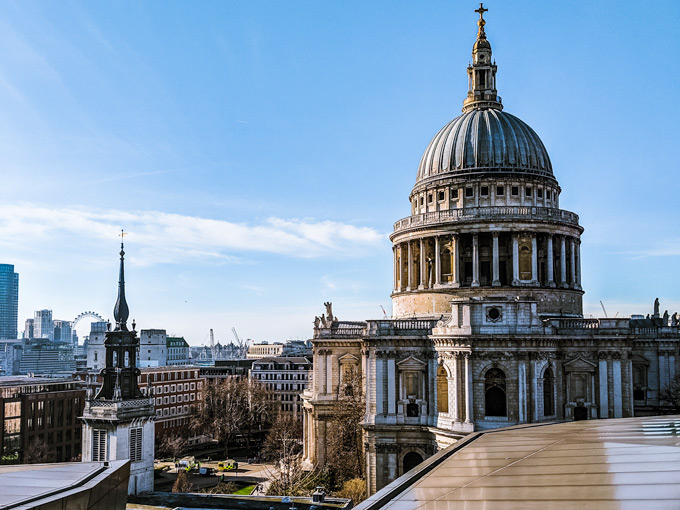 One New Change is the perfect example of London's blend of old and new.
Sitting just across from St. Paul's, the building's glass walls beautifully reflect the cathedral. And for more lovely city views, head up the elevator to the public rooftop. It's an incredible place to watch the sunset–free of charge!
One New Change and the surrounding area is packed with shops and restaurants, so you won't have any trouble finding dinner here. If you're keen to splurge, I suggest Enoteca da Luca–they have two locations nearby.
Day 3: Notting Hill, Kensington, & Regent's Park
Notting Hill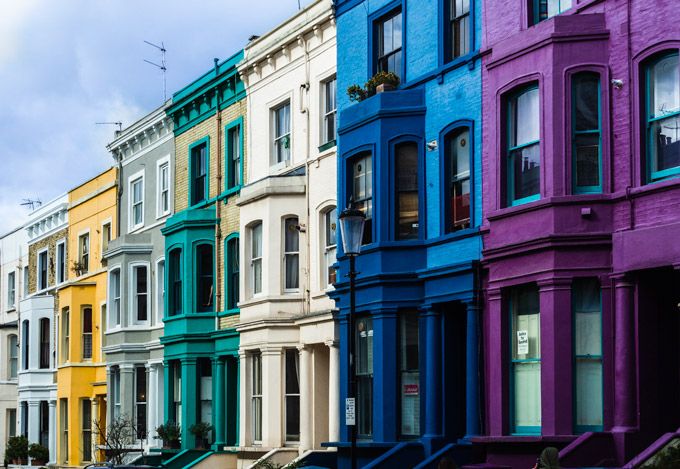 Thanks to the eponymous film and Instagram, exploring Notting Hill is one of the most popular things to do in London for first timers.
Most people come here for the brightly colored row homes and famous Portobello Road market. But there's more to see if you know where to look.
Starting from Ladbroke Grove tube station, here are some highlights and hidden gems to see on your walking tour of Notting Hill:
St. Luke's Mews might be the prettiest residences in all of London, with pastel painted homes and cobblestone pavers.
Lancaster Road is home to the iconic row of bold, colorful houses you often see in photos of Notting Hill.
Ladbroke Walk is one vibrant strip of cute homes that hasn't been overrun by Instagrammers (yet).
Portobello Road Market is the world's largest antique market, with stalls and brick-and-mortar shops lining both sides of the road. On Fridays and Saturdays, international food stalls sell everything from Peruvian sandwiches to Jamaican jerk chicken.
The Prince Edward pub caters to locals and tourists alike, with tasty food and fun bookshelf print wallpaper.
The Churchill Arms knows how to show off: this pub's facade is always decked out in florals, and boasts dozens of tiny Christmas trees in December.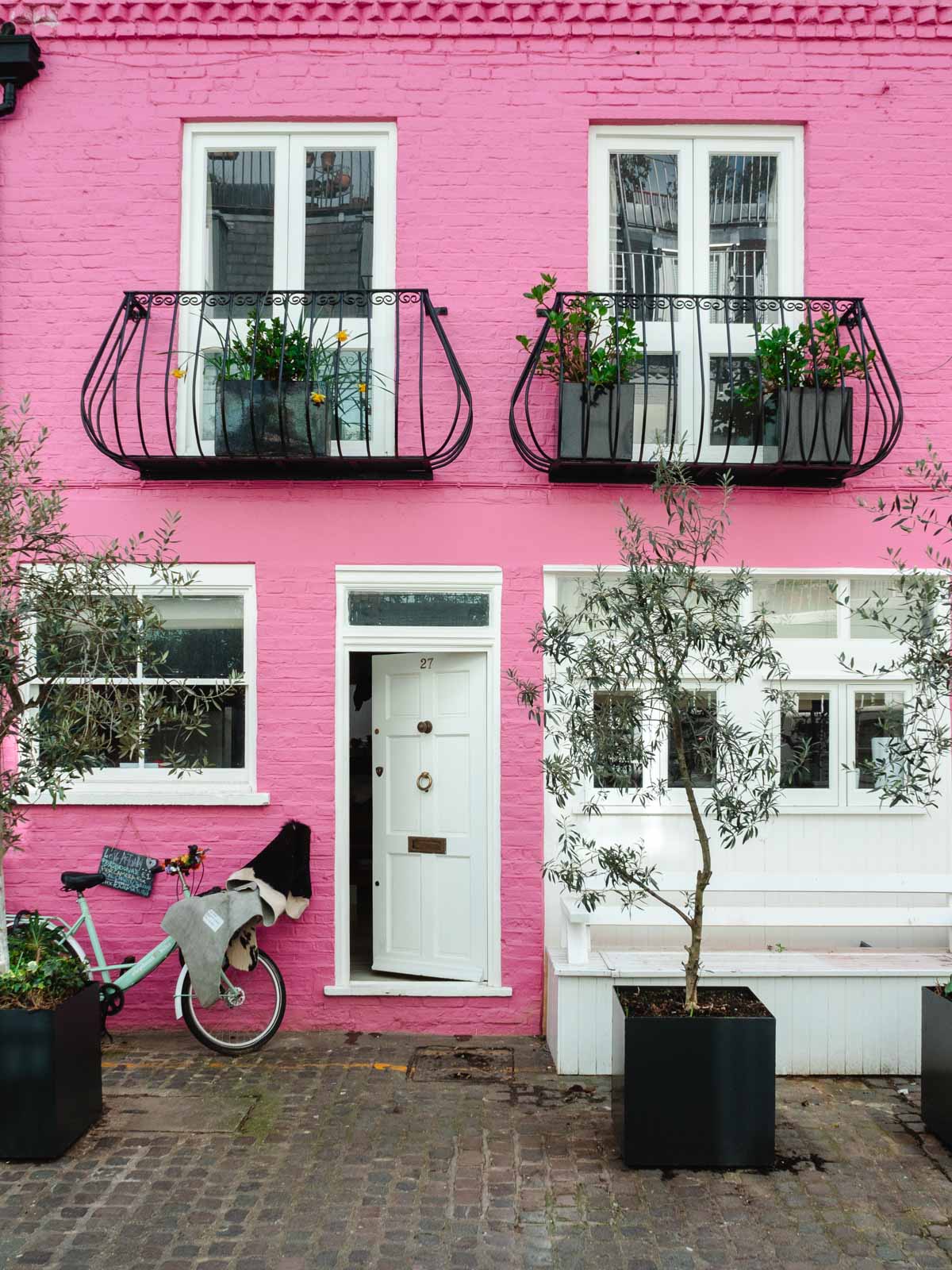 Photography in Notting Hill: When taking photos of Notting Hill's colorful streets, please be respectful. At no point should you trespass on someone's property (i.e. go on their porch, sit on the steps, etc.).
Once you've finished exploring the area, head to Notting Hill Gate station and take the Circle line to South Kensington station.
Exhibition Road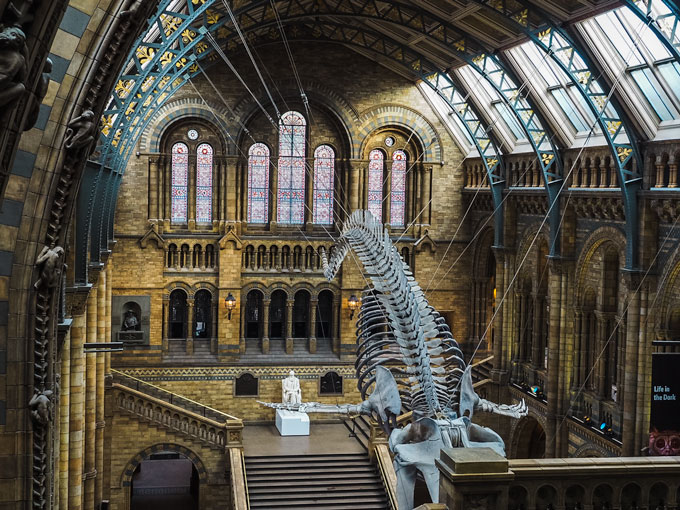 Perhaps the greatest thing about London is the collection of amazing, free admission museums. And the three best ones are all right next to one another!
The Natural History Musuem–a.k.a. "the cathedral to nature"–has everything from animatronic dinosaurs to massive diamonds.
The Science Museum is very hands-on, with exhibits ranging from the human body to space flight.
The Victoria & Albert Museum showcases global international design, including jewelry, furniture, and even appliances.
Once you've had your fill of culture, head back to South Kensington station. Take the Picadilly Line towards Cockfosters. Then, change for the northbound Bakerloo Line at Picadilly Circus Station. You'll get off at Regent's Park Station.
Regent's Park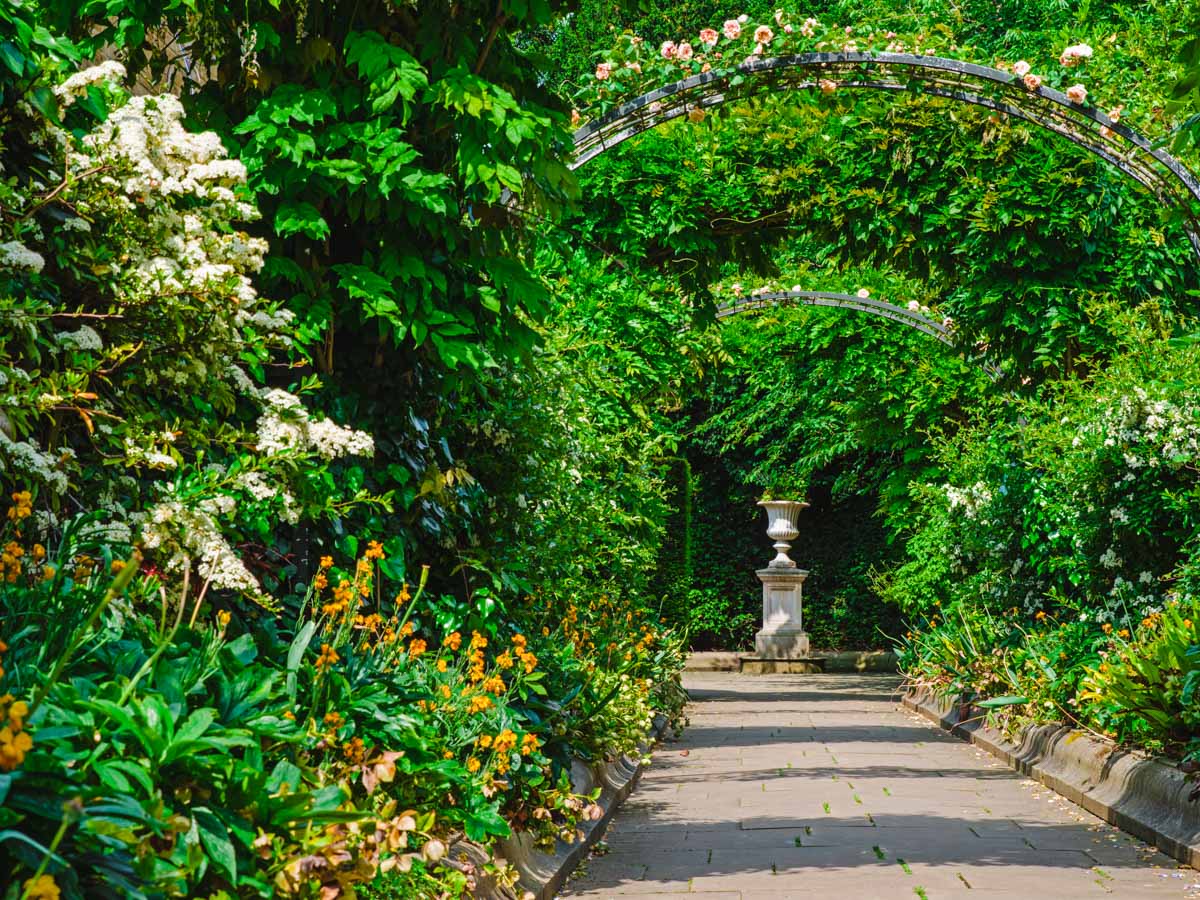 After the long day, you'll be ready to relax in Regent's Park. This regal spot is lovely year round, but really shines in summer when Queen Mary's rose garden is in full bloom.
If somehow you're not utterly exhausted, you can walk up to Primrose Hill for stunning views of the London skyline.
Day 4: Hampstead, St Pancras, Bloomsbury, & Covent Garden
Hampstead Village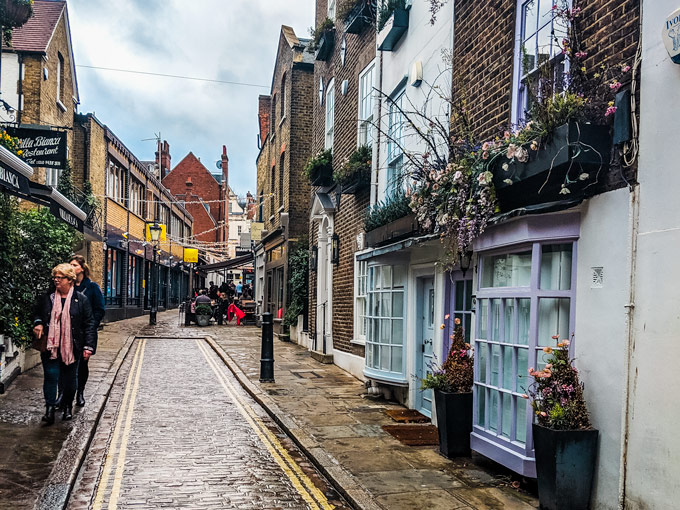 Before your four days in London are up, you should get a taste of village life. Hampstead is so charming, you'll wonder if you're still in the city.
Much like Belgravia, there's no specific sightseeing to be done here. Instead, take a leisurely stroll through the alleys and up the high street.
Here are a few must see places for your Hampstead walking tour:
Visit Kape Barako for coffee served from a converted red telephone booth.
Head down photo-worthy Perrin's Lane and Flask Walk for picturesque storefronts and cafes.
Take in the garden views and Edwardian charm of Burgh House, which also serves as the Hampstead museum.
When you've had your fill of village charm, walk north along the stately Downshire Hill to reach Hampstead Heath.
Hampsted Heath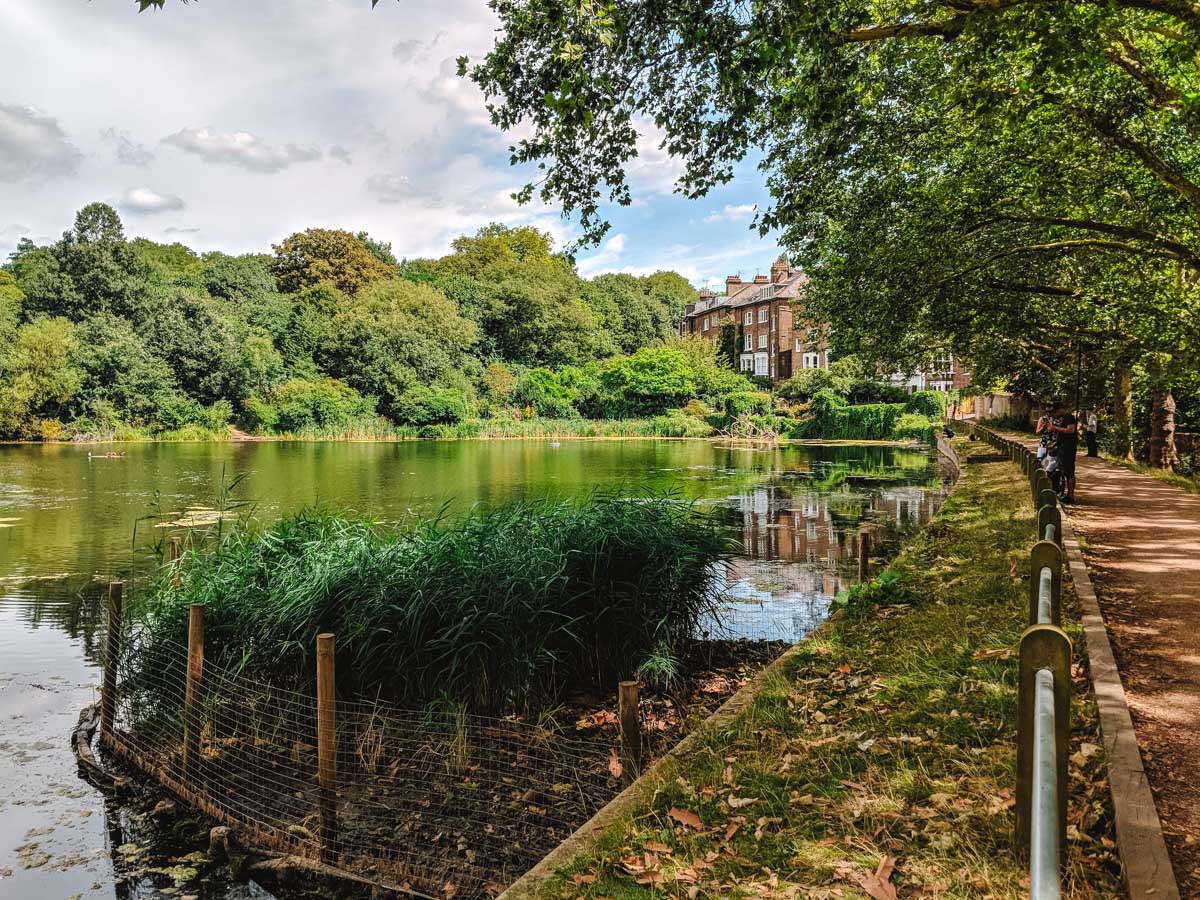 Hampstead Heath is one of London's biggest green spaces. Walking trails wind through forests and fields, and residents use the public bathing ponds year-round.
Dracula fans may recognize Hampstead Heath as one of the places where Lucy did her "hunting". It's a must visit if you're traveling to London in the fall–even if you care more for foilage than vampires.
Don't miss the Parliament Hill viewpoint for sweeping views over London.
After your walk, check Google Maps/Citymapper for the optimal route to the British Library. Depending on where you come out of Hampstead Heath, a bus might be the best option.
British Library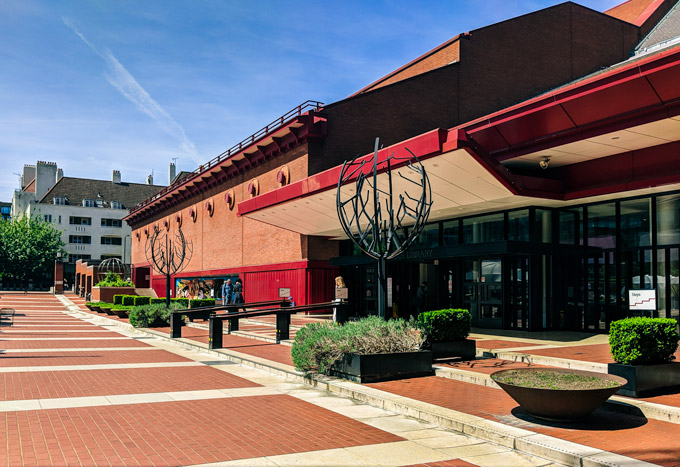 If you love literature, you will be elated to see the British Library's Treasure Room. It's home to a Gutenberg Bible, an original Shakespeare folio, and personal diaries of celebrated authors like Jane Austen.
There are also ancient copies of the Quran, Japanese scrolls, and handwritten notes from famous composers.
Once you've finished, cross the street and head south along Cartwright Gardens. Turn right on Bernard Street and follow it along Russel Square to reach the British Museum.
British Museum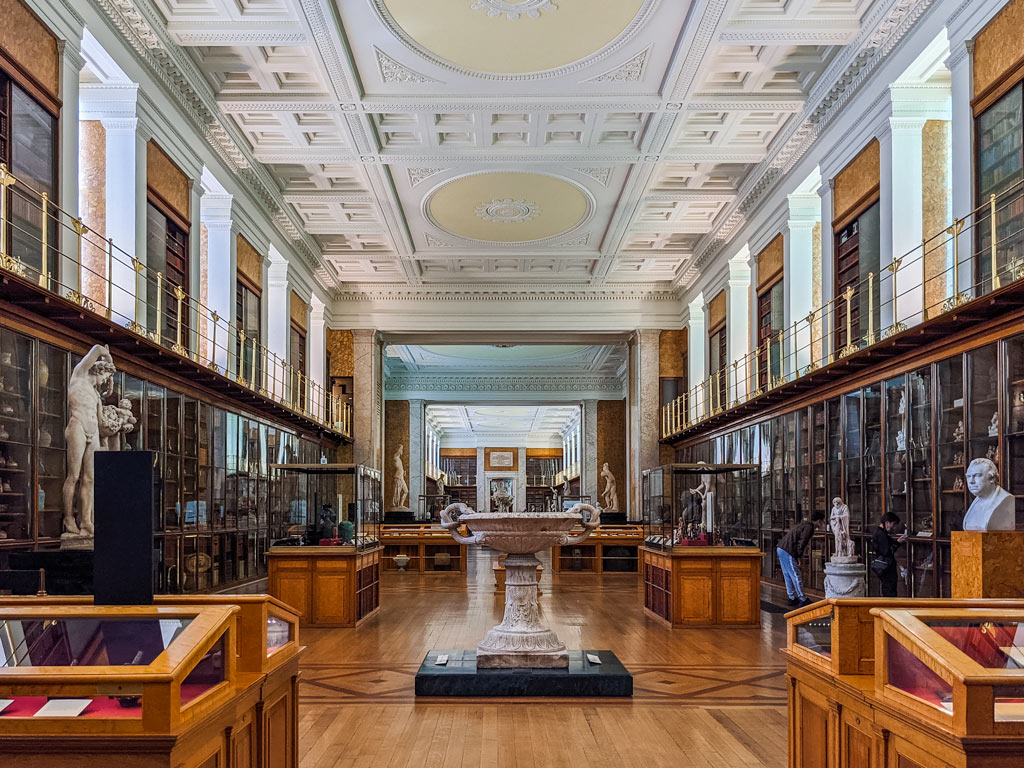 Exploring the British Museum's first floor is like being in a rich old man's library. The original exhibition space is packed floor to ceiling with artifacts, sculptures, preserved creatures… It's truly a marvel to behold.
This place is utterly massive, with exhibits organized by continent. You cannot hope to see it all in one afternoon, so don't bother trying. Admission is free, so just visit the regions you find most interesting.
When you're done exploring, head south along Museum Street until you enter the neighborhood of Covent Garden.
Covent Garden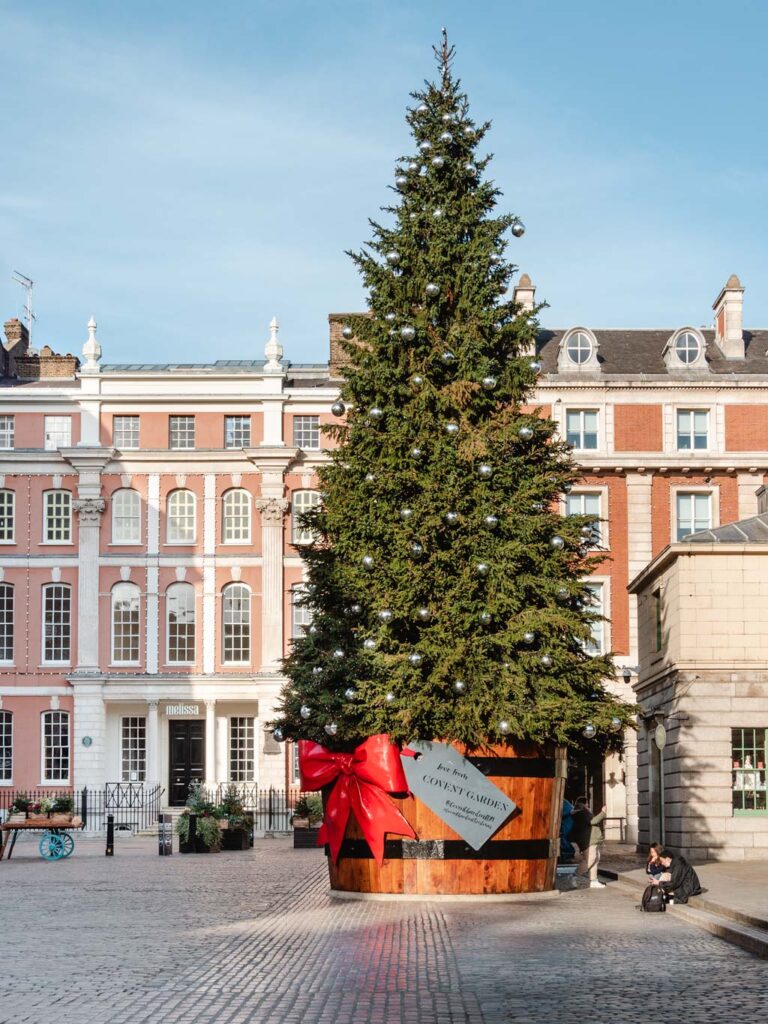 Covent Garden is a vibrant area packed to the brim with stores and restaurants. Frankly, you could spend all day here and still not see everything.
Even if you're not a big spender, there's plenty to see and do. Here are some of the area's highlights:
Check out the 7 radiating streets of Seven Dials, which looks extra festive at Christmas.
Neal's Yard is an ultra-colorful courtyard of hip shops and restaurants.
Covent Garden's covered market is beautiful all year, but it becomes the most stunning place in London in December (see above photo)
Architecture fans will enjoy The Royal Opera House's menagerie-looking glass entrance.
Rules is one of London's swankiest and oldest restaurants, complete with candlelit tables and pricey British fare.
Grab a drink at the Lamb & Flag, an 18th century pub frequented by Charles Dickens.
If you couldn't tell from the pictures, Covent Garden really comes alive during the holiday season. From early November through December, you'll find the shops, restaurants, and market area decked out in Christmas finery.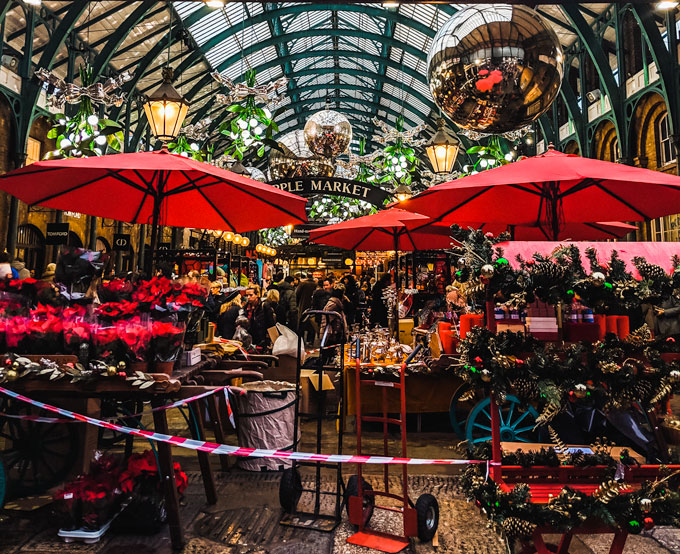 Other Ideas for Your 4 Day London Itinerary
Although this itinerary covers loads of London's highlights and hidden gems, there may be a few spots that aren't to your taste. No worries!
Here are some other excellent ways to spend your 4 days in London:
Department Stores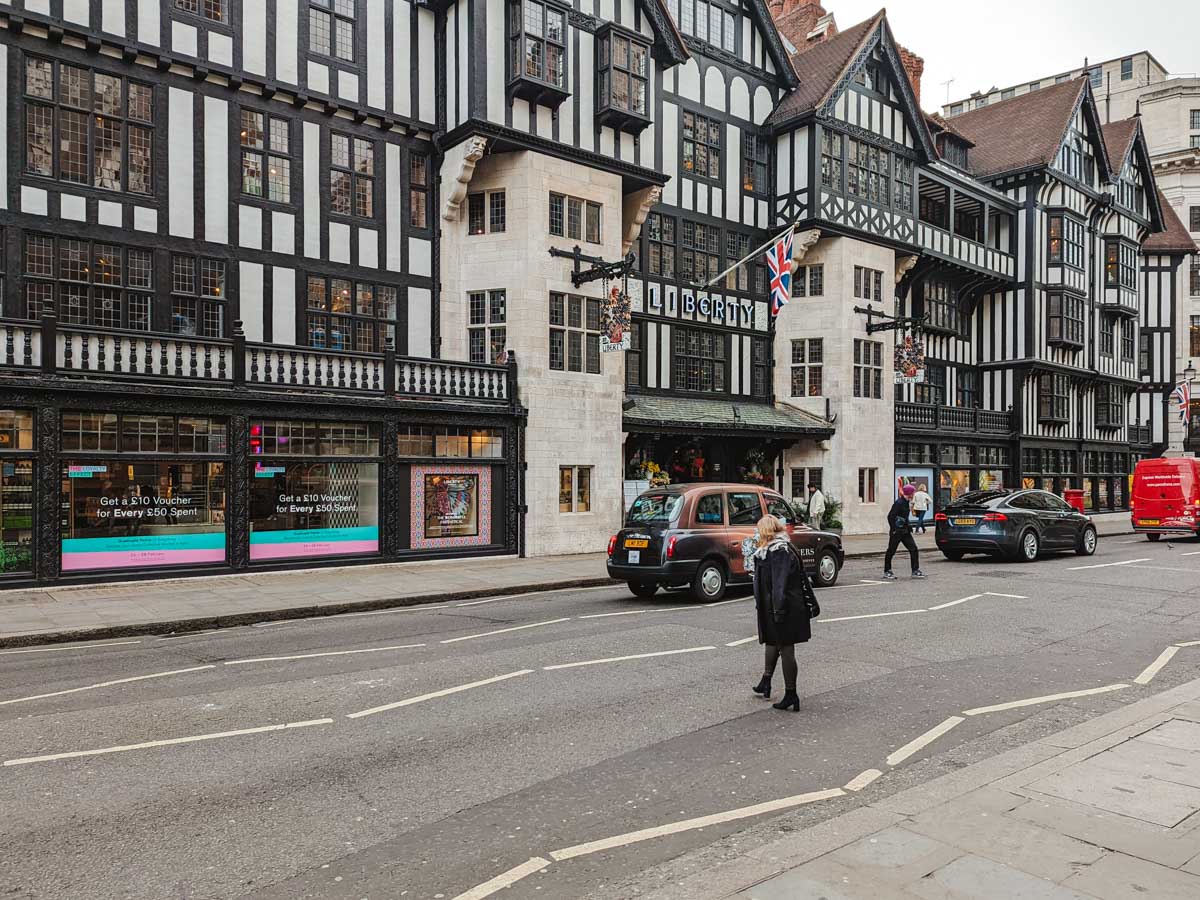 Even if you aren't flush with cash, (window) shopping at London's posh department stores is still a fun experience.
Most people know about Harrod's with its marble floors and ultra-rich clientiele. Selfridges is another snazzy spot (though a bit less touristy than the former).
But I've recently fallen in love with Mayfair's Liberty London. The building itself is gorgeous, with a half-timbered facade and an airy, wooden interior built around a central atrium. While most of their wares are on the pricey side, it's an absolute wonderland if you're into interior design and homewares.
Kew Gardens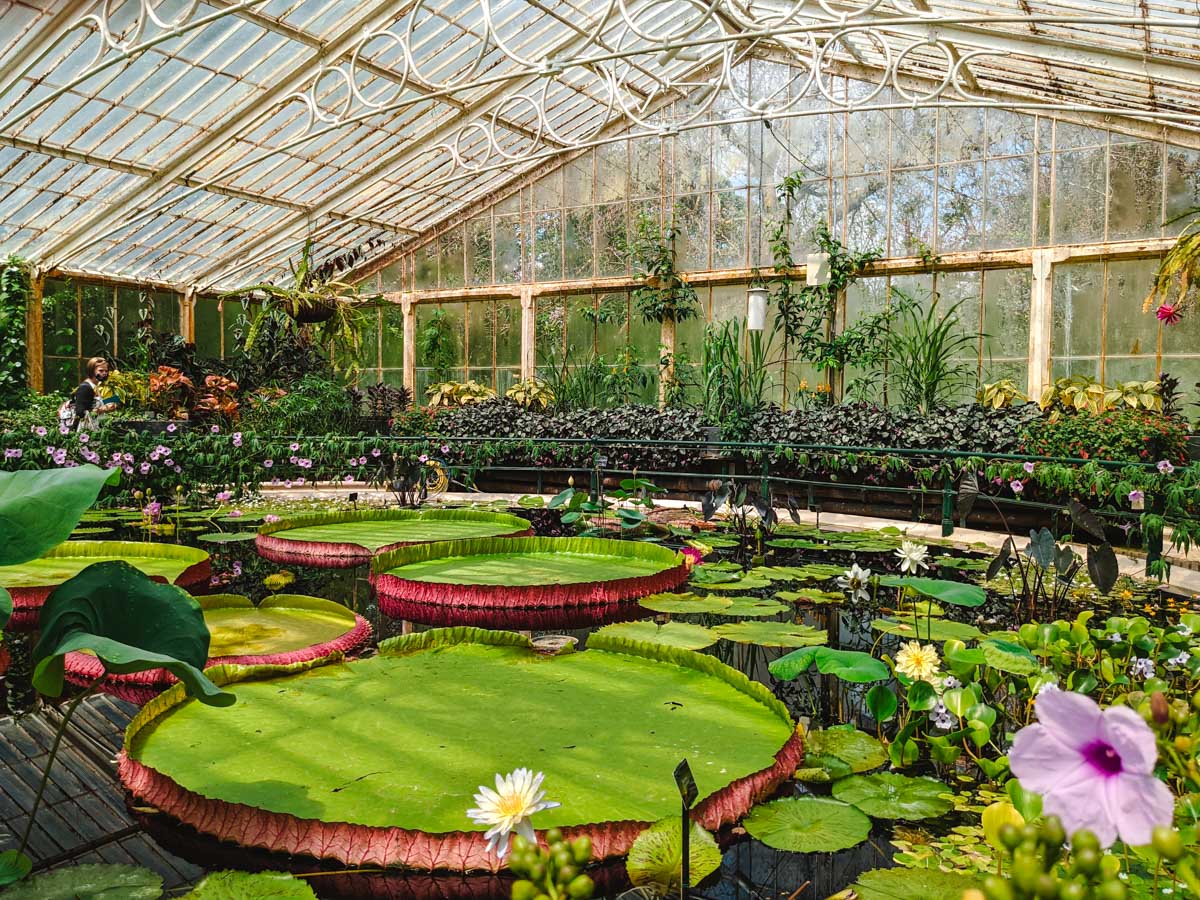 Fans of gardening, flowers, or nature in general will have a blast a Kew Gardens.
At more than 300 acres, it has everything from multi-story glass greenhouses to an 18th century cottage plucked straight from a fairytale. Every season has something special on offer, from the spring bluebell fields to the brilliant autumn foliage at the Japanese garden.
Hampton Court Palace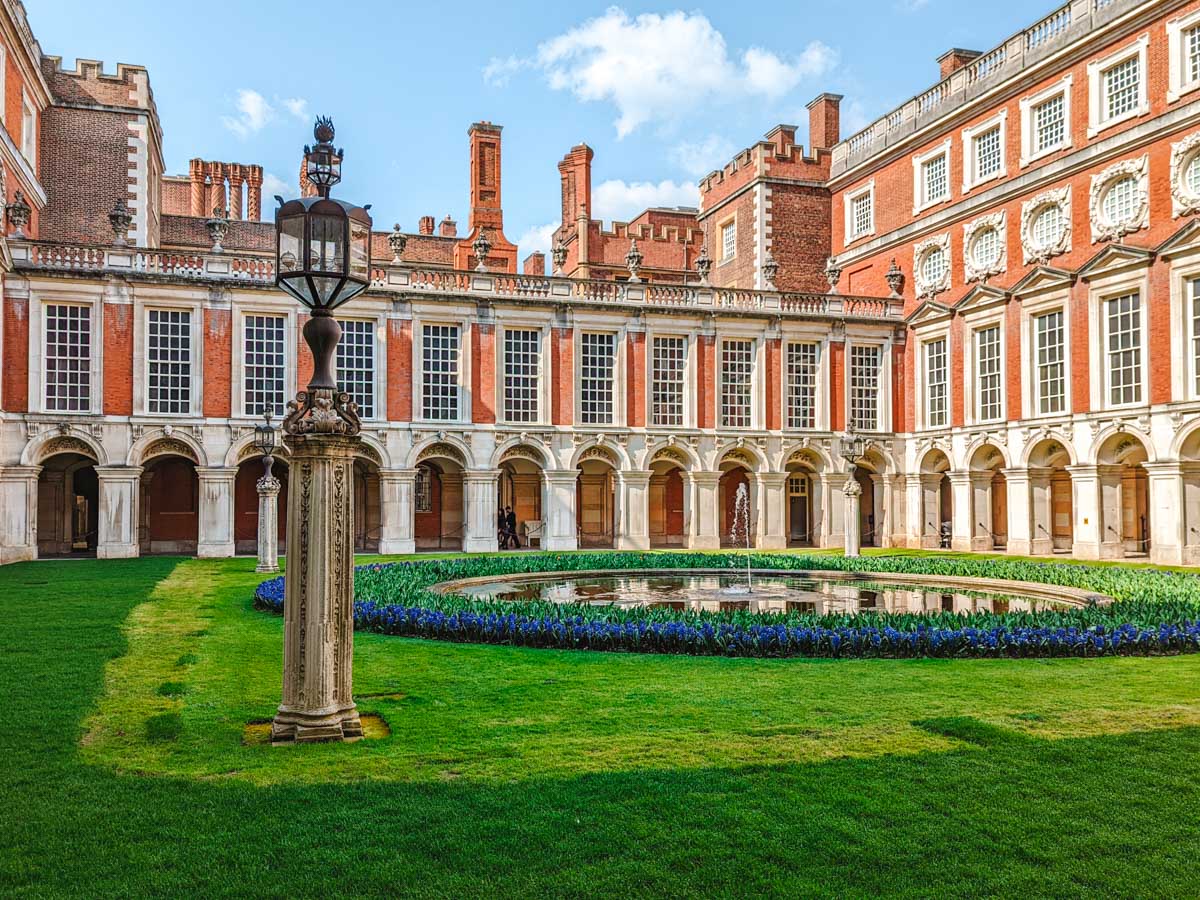 If you're into palaces, British History, or Bridgerton, a visit to Hampton Court is a must. Built in the 1500s, it served as home to Henry VIII and his many ill-fated wives and was continually expanded by future royals to become the grand location we see today.
Its Great Hall, Chapel, and Fountain Court are the major highlights, along with the manicured grounds complete with water features and conical trees.
I always book my tickets in advance to save time at entry, as Hampton Court is very popular with tourists and school groups alike.
London Cable Car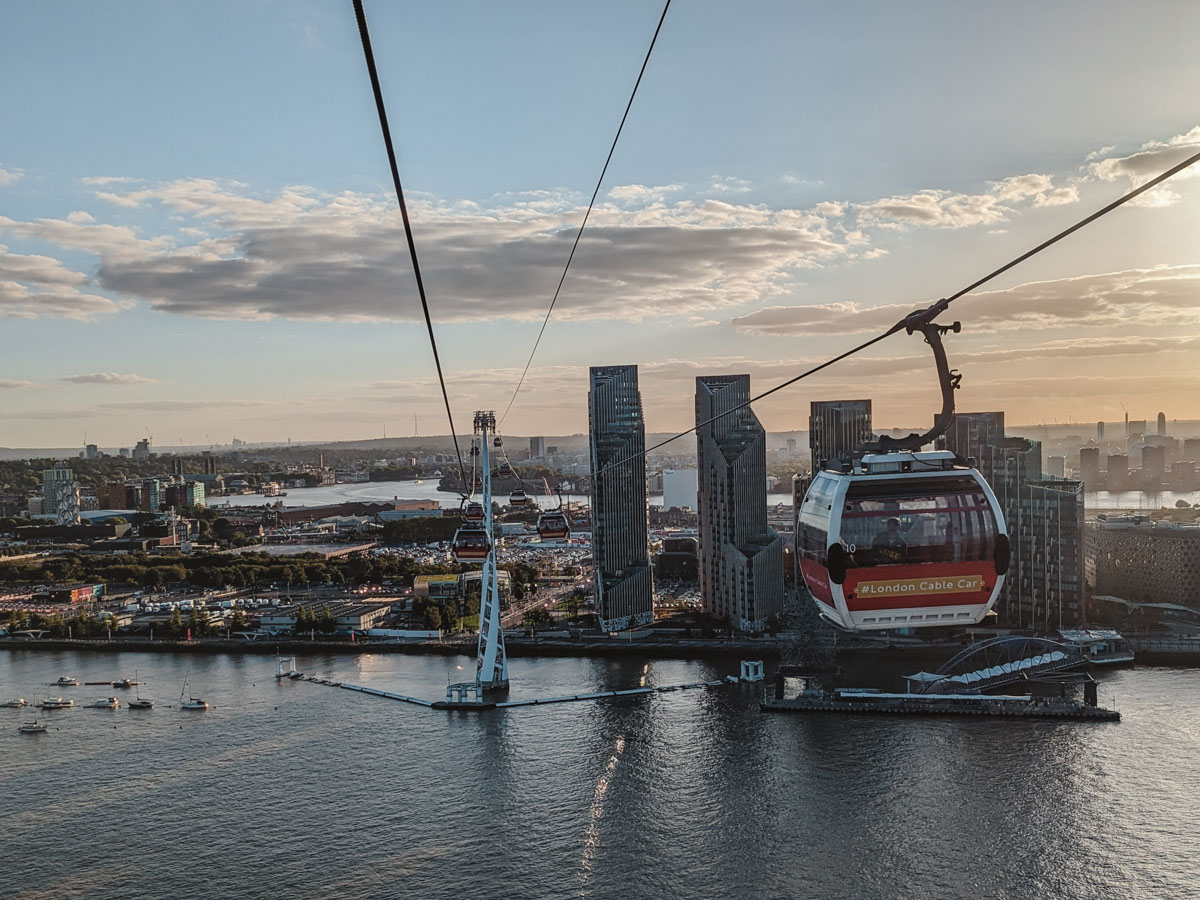 The London Eye isn't the only place to get a moving birds-eye view of the city. You can criss-cross the Thames for cheap via the London Cable Car gondola, which is now sponsored by IFS Cloud.
The line connects the Royal Docks to Greenwich Peninsula, and you can hop on with a tap of your Oyster or contactless card. While it is a bit out of the way from the rest of this itinerary's activities, it's much faster to reach thanks to the new Elizabeth Line (or you can take the Thames Clipper from central London).
Plays and Performances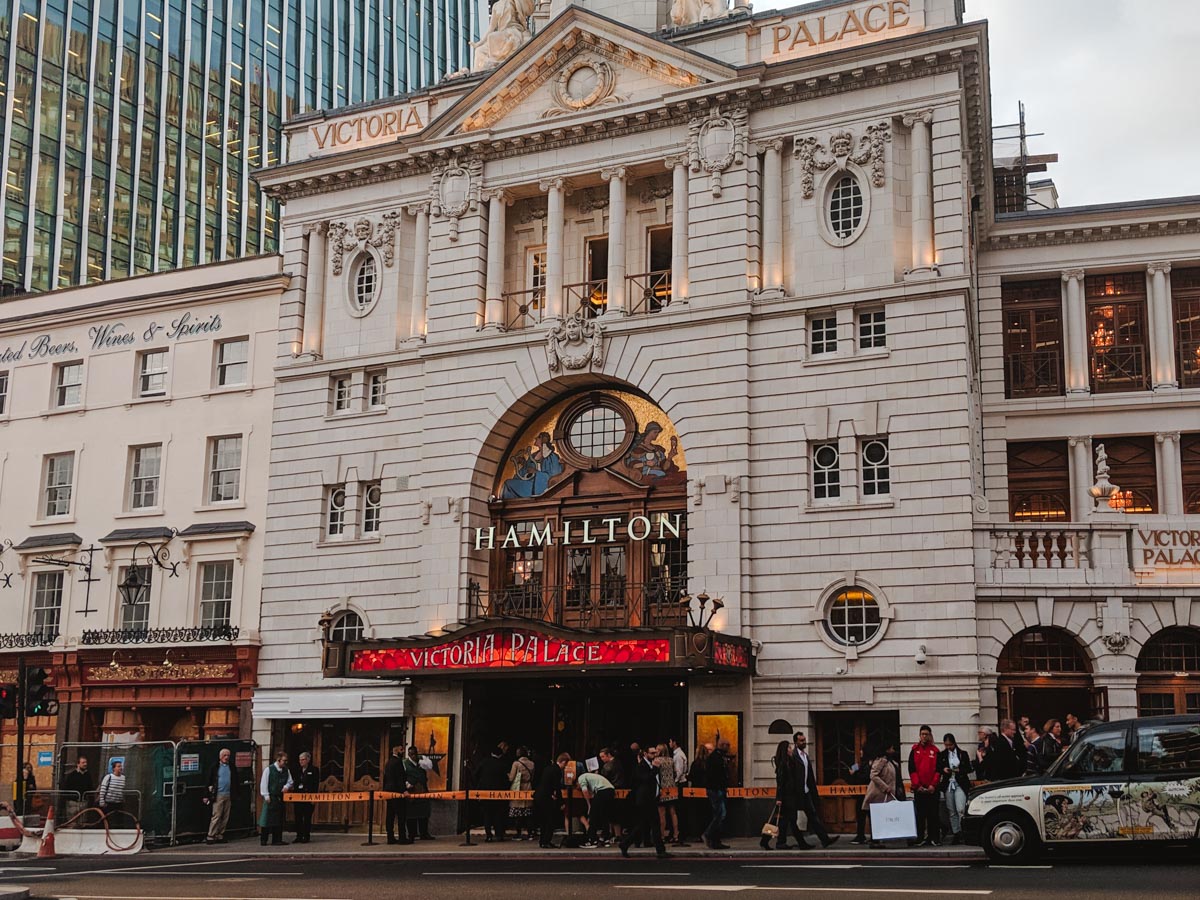 London is positively brimming with opportunities to catch performances of all sorts. Whether you're after a play at Victoria Palace, a symphony at the Royal Albert Hall, or a rock concert at a small basement venue in Islington, you're spoilt for choice any day of the week.
Summertime visitors who like classical music should absolutely look into The Proms, which is a century-old tradition of performances running from mid-July to early September. It's a great time to catch a world-class performance of beloved works.
Afternoon Tea & Sunday Roast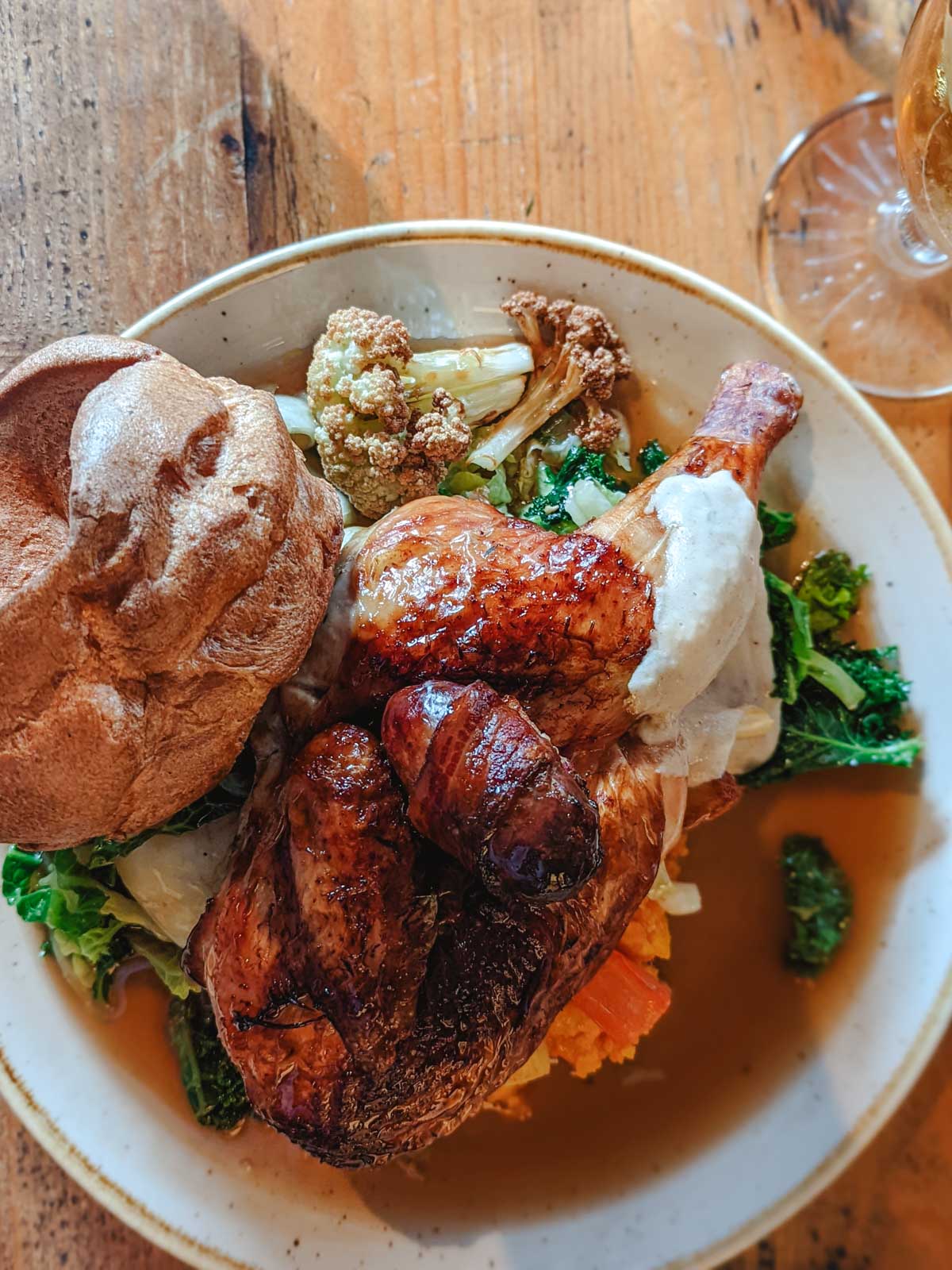 If London is your only stop in the UK, make an effort to try one of the country's two classic meals: afternoon tea or Sunday roast.
Afternoon tea is traditionally comprised of finger sandwiches (and perhaps a few other savory items), a few bite-sized sweet pastries, scones with jam and clotted cream, and your choice of tea.
Some venues have add-ons like champagne or a larger savory dish, while other places have full-on themed menus like the Charlie & The Chocolate Factory tea at One Aldwych (this was a hit with our young nephews).
There are loads of places to get afternoon tea in London, but if you want a quality experience without a hefty pricetag, I recommend booking tea at a nice hotel. My favorite so far has been the Haymarket Hotel, which is about 40% cheaper per person than the famous spots like Fortnum & Mason or The Savoy.
If your four days in London coincide with a Sunday, try booking in at a local pub for Sunday roast. A heaping pile of roasted veggies and meats (or vegan-friendly bakes) served alongside crisp Yorkshire pudding and gravy… What more can you ask for?
Budget-Friendly Things to do in London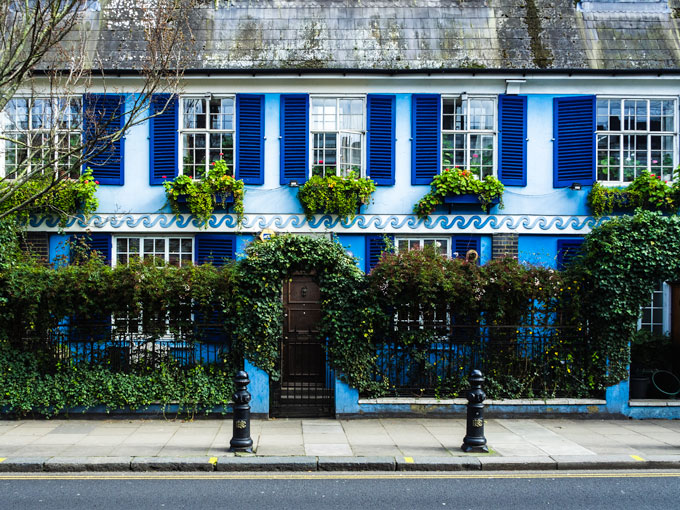 If you're traveling to London on a budget, you're in luck! There are plenty of fun free things to do in London that you can substitute for this itinerary's paid activities. Here are some suggestions for how to save money in London as a tourist:
Take advantage of more amazing free museums. Some of my favorites include the National Gallery, Tate Britain, and National Maritime Museum.
Know where to get delicious budget-friendly restaurants in London, from Pret A Manger sandwiches to Indian curry.
Find free events and festivals to attend around the city.
Check out the unique skyline and street art of Shoreditch, one of London's trendiest neighborhoods.
Explore the stunning grounds of Richmond Park, where wild deer roam free.
Skip the high street boutiques and do your shopping at London's thrift markets, from vintage find at Portobello Road to bohemian Brick Lane.
4 Day London Itinerary Map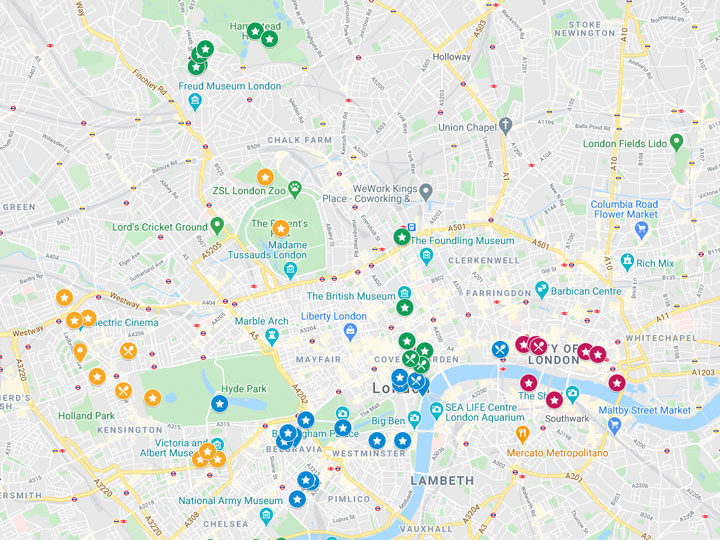 Click here to access the full interactive map!
Where to Go Next