Edinburgh is a gorgeous city no matter what the season. But visiting Edinburgh in October is pure magic (even if you're not a Harry Potter fan). From fire festivals to epic hot chocolate, find out why October is the best month to visit Edinburgh.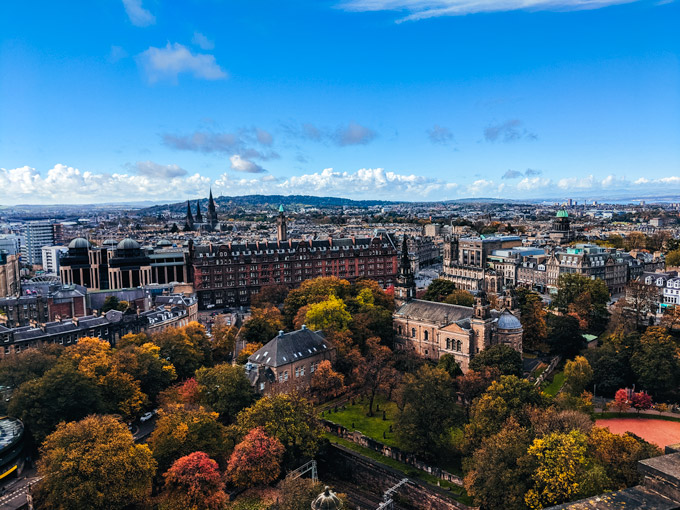 RELATED: 2 Days in Edinburgh: Itinerary for First Time Visitors
This post contains affiliate links. For more information, click here.
Edinburgh in October Activities
— Hike Calton Hill for a golden sunrise
— Visit Harry Potter's birthplace at Spoon
— Take the Scotch Whisky Tour
— Explore Princes Street Gardens
— Drink epic hot chocolate
— Stroll through the Meadows
— Go on a ghost tour
— Buy a tartan scarf
— Eat some comfort food
— Drink at a cozy pub
Why autumn in Edinburgh is the best time to visit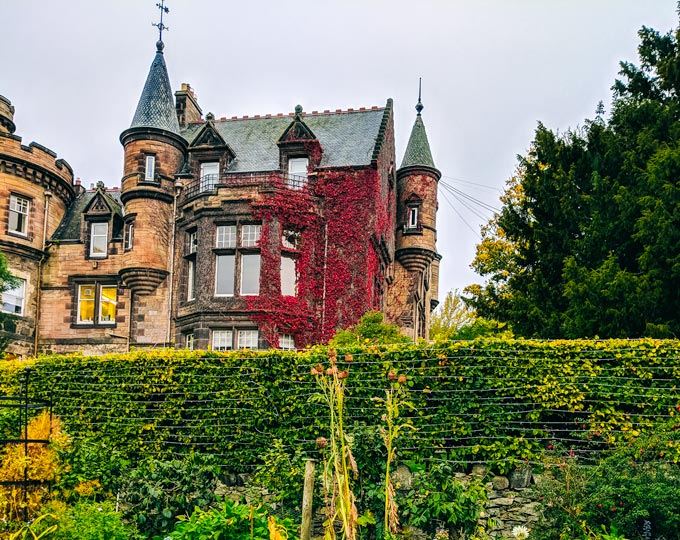 There's something about the combination of crisp air, golden leaves, and Gothic architecture that makes autumn in Edinburgh feel special.
When the trees in Princes Street Garden and the Meadows turn brilliant shades of red and yellow, it makes ordinary walks extraordinary. And I'm convinced that Scotch tastes better when enjoyed in front of a roaring fireplace.
Aside from the cozy atmosphere, there are fewer tourists in Edinburgh in October. The madness of August's Fringe Festival melts away into a quieter experience, making autumn the best time to visit Edinburgh for people who want a quieter–but not freezing cold–experience.
Though the castle and other popular attractions will be busy, it's far more pleasant than the bustling summer crowds.
Although the days grow shorter, photographers and sunrise enthusiasts will love the not-so-early golden hour. With sunrise not starting until after 7am, there's no need to be an early riser to enjoy a beautiful morning at Arthur's Seat or Calton Hill.
RELATED: Top 10 Mistakes to Avoid When Traveling Abroad
And if you're a Harry Potter fan, touring the city that inspired so much of J.K. Rowling's beloved series feels even more magical in autumn. If only they served a public Halloween feast at Heriot's, the school that inspired Hogwarts…
My Favorite Scotland Travel Planning Books
These books win my travel blogger Seal of Approval for vacation planning:
What to do in Edinburgh in October
Hike Calton Hill for a golden sunrise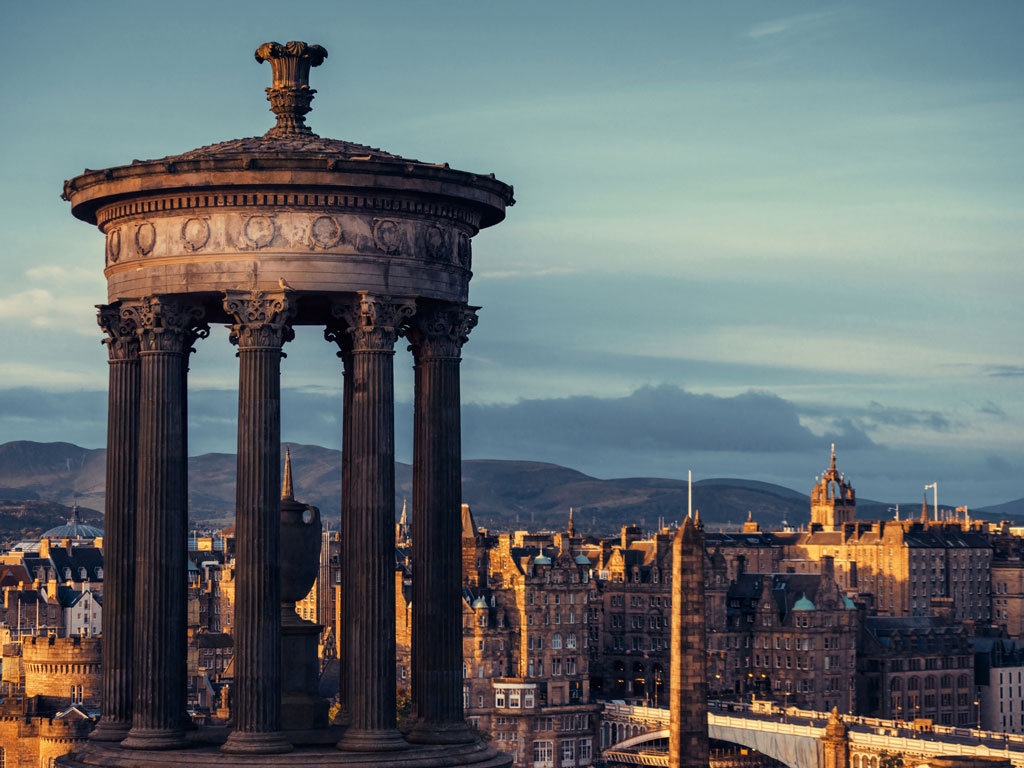 What's better than a gorgeous sunrise view over a city? A sunrise view that lets you sleep in past 6am! Autumn in Edinburgh is the best time to climb the famous Calton Hill.
This centrally-located overlook point has amazing panoramic views of Edinburgh, from Holyrood Palace all the way to the North Sea. The hill itself also boasts several landmarks, including the Romanesque pillars of the National Monument and round Dugald Stewart Monument that you probably noticed from street level.
And if you're lucky enough to visit Edinburgh for Halloween, stop by the Samhuinn Fire Festival and ring in the Celtic New Year on Carlton Hill.
Visit Harry Potter's birthplace at Spoon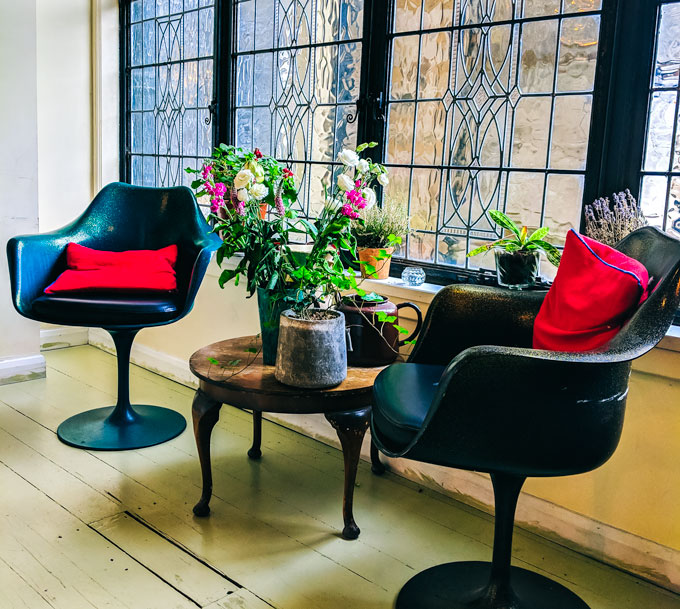 From Candlemaker Row to The Elephant House, Edinburgh is full of Harry Potter tourist spots. But one that doesn't get overrun with tourists is Spoon, where J.K. Rowling penned parts of The Philosopher's Stone.
Aside from the magic that is visiting one of Harry's "birthplaces", Spoon is a fantastic cafe for warming up on a chilly day. Their mocha is the best one I've had, and the berry porridge is delicious and very filling.
With map-covered tables and great big window views over the street below, maybe you'll find some inspiration this autumn in Edinburgh.
Warm up with a glass of whisky at the Scotch Whiskey Experience
I'm not usually one for "touristy" activities, but I thoroughly enjoyed the Scotch Whisky Experience next to Edinburgh Castle.
In fact, it was one of the highlights of my 2 days in Edinburgh. The experience touches on all five senses and covers everything from how Scotch is made to how each region imbues its own flavor on the whisky.
There are multiple price tiers depending on how much Scotch you want to sample. And the tour ends at a beautiful whisky bar and lounge, where you can fortify yourself with single malts and blends from all around Scotland.
Book your skip-the-line Scotch Whisky Experience tickets here!
Save me for later!
Experience vibrant autumn colors in Princes Street Gardens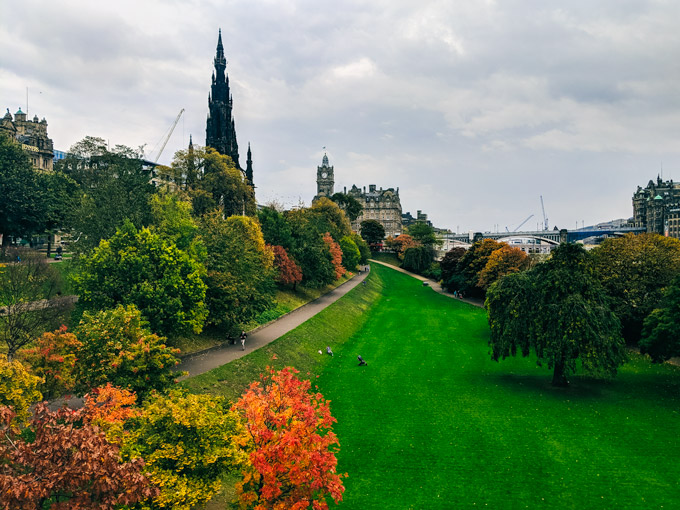 Situated smack dab in the middle of the city, the Princes Street Gardens are another great place to see and smell the autumn leaves in Edinburgh in October.
There's a tree-lined walkway that runs past the towering Scot Monument and offers fantastic views of the park. But my favorite way to see the gardens is actually from above.
Splitting the Gardens in half is the Mound, where you'll find the Scottish National Gallery. To the left of the main entrance, you'll find a platform that overlooks the green space below. It makes for a great Edinburgh photo spot, as you can see the autumn leaves, Balmoral Hotel, and Scot Monument all in one lovely view.
Indulge with an epic hot chocolate at Southern Cross Cafe
October in Edinburgh brings colder weather, which means cafes start promoting delicious mugs of hot chocolate. And if you're looking for the best hot chocolate experience off the Royal Mile, turn onto Cockburn Street and pop into Southern Cross Cafe.
Their self-proclaimed "epic" hot chocolate is rich, creamy, and bursting with colorful marshmallows. Although it's technically big enough to share, you probably won't want to after taking the first sip.
Aside from this decadent drink, Southern Cross Cafe serves Instagram-worthy pastries and a full food menu, making it a great choice for brunch or lunch in the old town.
Take a beautiful autumn stroll through the Meadows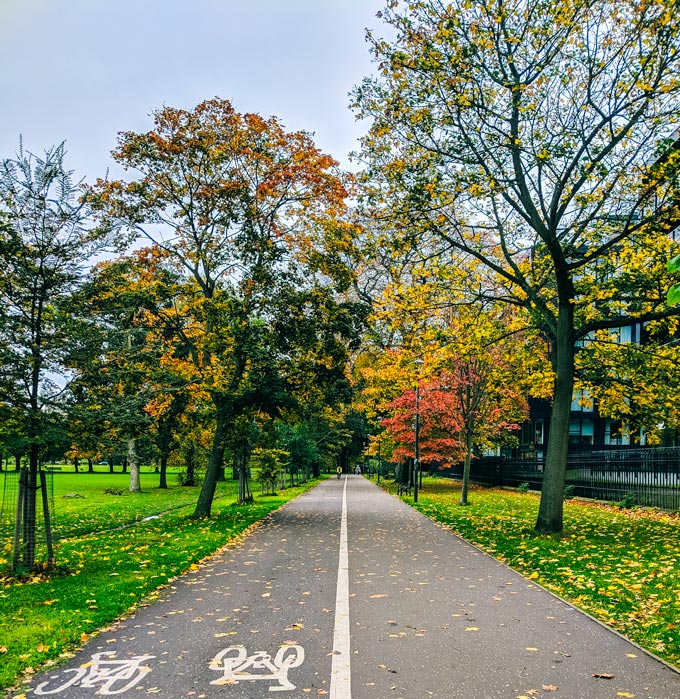 I think the city's vibrant fall foliage makes October the best month to visit Edinburgh. And one of the best autumnal things to do in Edinburgh is to take a walk through the sprawling Meadows.
In the summer, university students take over the green space here, playing yard games and having picnics with friends. But during the wetter months of October, The Meadows are primarily busy with people (and dogs) taking strolls or morning jogs.
If you're looking to escape the hustle and bustle of the old town, I highly recommend passing through this area when you're near the Edinburgh Castle side of the city.
Uncover the city's dark history with an Edinburgh ghost tour
There's no better time to take a ghost tour than autumn in Edinburgh. Rustling leaves, chilly winds, and Halloween spirit combine for a spooky atmosphere that can frighten even the bravest visitors
As someone who is still afraid of the dark, I couldn't bring myself to go on an Edinburgh ghost tour (much to my husband's dismay). However, the tours of Mary King's Close and the Blair Street underground vaults come highly recommended by braver travelers than I.
Book your Edinburgh Ghost Tour here!
Shop for a tartan scarf on the Royal Mile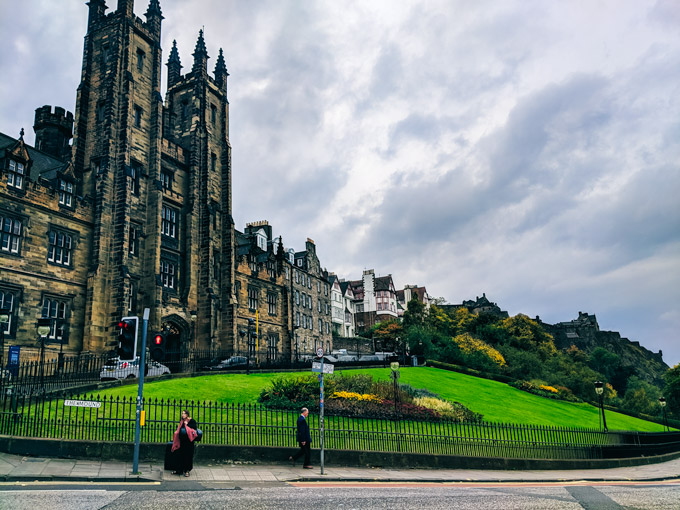 If you visit Edinburgh in October, you're bound to see tartan everything: kilts, socks, hats, you name it. With Royal Mile shop stalls bursting with tartan of all colors and patterns, it's easy to blow your entire travel budget in a matter of hours.
However, savvy shoppers should beware of the discount scarf bins that sit on the sidewalks. These scarves are often poor quality and aren't really worth the "deal" advertised.
Instead, go inside a cashmere shop like Balmoral or Dunedin and get a quality piece. Though you'll pay double what you'd get from a sidewalk bin, you won't be left with an itchy scarf that falls apart after one season.

RELATED: 31 Top London Sightseeing Tips From a Local
Eat your favorite comfort food at MUMS
Edinburgh has a surprisingly diverse food scene, but sometimes you can't beat a nice heaping plate of comfort food. If you're wondering where to eat in Edinburgh in October, look no further than MUMS Great Comfort Food restaurant.
With menu items like chicken & dumplings and mac & cheese, you're sure to find something warm, delicious, and budget-friendly. If you're lucky enough to grab a seat near the window, you can look out at the golden leaves while you dive into a plate of bangers and mash.
Grab a pint at a cozy pub
It wouldn't be a visit to Edinburgh without getting a pint at a traditional pub. On chilly days, pubs will light their fireplaces, making for the ultimate autumn drinking experience.
There's no shortage of historic pubs in Edinburgh complete with leather furniture and wood paneling, but The Royal Oak and The Jolly Judge are centrally located and famous for their cozy factor. And if you're looking for a great Sunday Roast next to a roaring fire, try Greyfriars Bobby's Bar.
Have you visited Edinburgh in October? What would you add to this list? Let me know in the comments!