With so much to see and do, it's easy to feel overwhelmed on your first trip to London! That's why I've compiled tons of London sightseeing tips that I've picked up during my time exploring the city as an expat.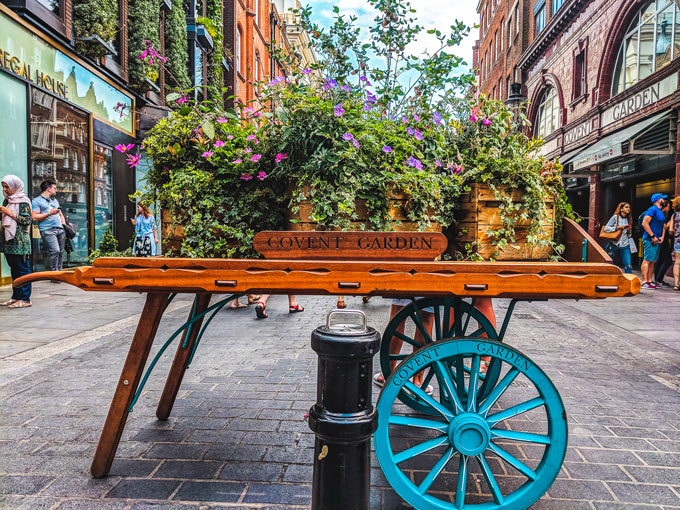 With world-class museums, gorgeous architecture, and 71 Michelin-starred restaurants, it's no wonder London attracts 20 million visitors every year. It's a destination steeped in history, where centuries-old churches are wedged between towering skyscrapers.
From navigating the famous Tube to finding the best view of the Changing of the Guard, here are 31 London sightseeing tips to help you make the most of your trip!
This travel guide is part of my 4 day London itinerary and my UK road trip itinerary itinerary, which includes over a dozen destinations from London to Edinburgh!
This post contains affiliate links. As an Amazon Associate, I earn from qualifying purchases. For more information, click here.
Table of Contents
— London Sightseeing Tips for Tourist Attractions
— London Travel Tips for Transit
— London Budget Travel Tips
— London Safety Tips
— London Food Tips
London Sightseeing Tips for Tourist Attractions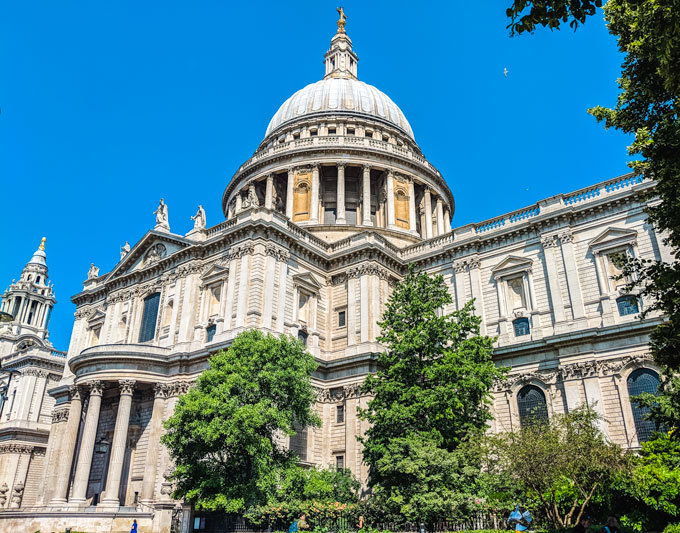 Do your research on the London Pass to see if it fits your itinerary
If this is your first time in London, you're probably excited to see all the major attractions.
Although the city offers free admission to amazing places like the National Gallery and the Victoria & Albert Museum, many of the most famous attractions in London charge hefty ticket prices. Just visiting the Tower of London and Westminster Abbey will set you back nearly £50 per adult!
The sticker shock of sightseeing in London frequently pushes tourists to buy the London Pass. Essentially, the London Pass covers free–and sometimes fast-tracked–admission to London's top attractions, along with a few other perks. You can buy passes for 1, 2, 3, 6, and 10 day periods, and can even download the pass straight to your smartphone.
Sounds good, right? Unfortunately, you could easily spend more on the London Pass than you would by purchasing individual tickets.
Instead, look closely at the attractions covered by the pass, compare the admission costs to the cost of the pass, and build your itinerary from there. If you can squeeze the most expensive attractions (The Shard, Westminister Abbey, Tower of London, etc.) into two days of sightseeing, the 2 day London Pass is worth the cost.
RELATED: 15 Easy Ways to Save Money While Traveling
Buy advance tickets for the most popular attractions in London
No one wants to waste time in a queue that could be spent exploring the city. Luckily, many of London's most popular attractions offer advanced online tickets with free priority access. If you're going to Westminster, the Tower of London, or Buckingham Palace (the inside summer tour), I highly recommend buying advanced tickets.
At Westminister Abbey, you can skip the queue with an advance ticket.
For the Tower of London, buy an online voucher and exchange it at the ticket collection counter. You can skip the regular ticket queue this way.
For the summer tours of Buckingham Palace, the fastest method of entry is having the tickets physically mailed to you. Printing a voucher still requires you to go through the same queue as non-ticket holders, as you need to exchange it for an official entry ticket. Note that the palace uses timed admission, so buying an advanced ticket guarantees you'll get your desired tour time.
You can buy online e-tickets with fast entry for St. Paul's Cathedral. Low-season queues aren't common, but during a weekend on peak season, it's worth it.
Check the weather and book refundable London Eye tickets
One of the best London sightseeing tips I can give you is that the weather here is unpredictable. Forecasts change drastically in a matter of hours. It's the main reason why sightseeing in London can be tricky, especially for attractions with a view.
The London Eye in particular is infinitely less fun in bad weather. However, its popularity means that buying day-of tickets could cost you an hour or more in the queue.
Fortunately, it's now possible to book refundable London Eye tickets! Simply buy your tickets online and download them to your smartphone. You can cancel for free up to 24 hours before the ride.
I also recommend morning time slots, as you never know how the weather might deviate from the forecast as the day progresses.
Avoid visiting famous London attractions on the weekend
Unsurprisingly, London sees an influx of tourists every weekend. This includes the popular Harry Potter experiences like the Warner Bros Studio tour and Platform 9 3/4.
Even if you have fast-track tickets, it's not much fun to be herded through crowded hallways or hit with selfie sticks while you're trying to enjoy the history and beauty of London.
If possible, plan to visit London's main sights Monday-Thursday, leaving the weekend open for parks, shopping for London souvenirs, and neighborhood strolls.
Check out this list of non touristy things to do in London for weekend ideas.
Get to the Victoria Memorial early for the best place to watch the Changing of the Guard
Did you know that the Changing of the Guard ceremony happens in multiple places? It starts around 10:30am near St. James' Palace and proceeds down the Mall towards Buckingham Palace, where the "change" occurs around 11:00am.
If you want the best view of the parade and the changing of the old guard to the new, head to the golden Victoria Memorial.
You'll want to arrive at least 45 minutes early for the best view, as it gets crowded quickly. Climb the steps of the base to see over the crowds. Check out this in-depth guide to the ceremony if you want more details.
Climb the dome at St. Paul's Cathedral for amazing views of London
Gorgeous paintings and famous tombs make St. Paul's Cathedral well worth the admission price. But to truly get your money's worth, head up the 528 steps to the Golden Gallery for stunning panoramic views of London.
The climb involves a narrow staircase, so if you're not a fan of tight spaces, save yourself about 150 steps and check out the views from the Stone Gallery instead. Either way, you'll see why St. Paul's Cathedral is near the top of my UK bucket list ideas!
Go online to confirm opening hours several days before your visit
Places like Westminster Abbey and St. Paul's Cathedral are more than tourist attractions. Many of London's most popular sites are still used for official business and ceremonies, or for private events.
Thus, it's always best to check the opening hours before you buy your tickets, and shortly before your planned visit.
Accept that many places will be partially under construction
Even the best London sightseeing tips can't help you avoid the disappointment of construction during your visit. London is an old city, so you should expect a little disruption to your plans, whether that be a closed entrance, scaffolding, or outright closure for maintenance.
Currently, Big Ben is completely covered in canvas and scaffolding, and construction is scheduled through 2022. I just wish London would take a leaf from Tokyo's book and print a picture of the finished building on the canvas!
RELATED: How to Visit Stonehenge for Free
Try a bus tour to explore the city's sights with food and drinks
Why settle for a boring double-decker bus ride when you can get around London while eating cake or drinking gin? There are multiple food and drink bus tours operating in London, but the most famous are put on by B Bakery.
Their standard afternoon tea bus tour makes riding a bus feel like an elegant experience, and their gin lover's afternoon tea adds some extra fun to the equation.
The B Bakery tours book out pretty far in advance. Fortunately, Bella Vista puts on a lovely version of their own, complete with Prosecco!
Book your afternoon tea bus tour here!
Consult Citymapper to find the fastest route between tourist attractions
Citymapper is an essential app for getting around London.
It shows the optimal routes between places by factoring in real-time traffic and delays. In a city where public transit workers frequently strike and rush hour lasts over four hours a day, using a live transit app will save you time and frustration.
Although it's excellent for checking routes as you wander the city, I also use Citymapper to plan the best route for my itineraries in advance. You can change the time setting to "arrive by" to see the optimal route for that time and date.
If you'll be traveling during the morning or evening commute, the recommended route could be quite different from what works in the middle of the day.
Remember that London uses military time
When booking timed admission or making restaurant reservations, remember that London operates on military time (24 hour clock). You won't hear anyone say to meet them at the pub at 20 o'clock, but all businesses display their hours in military time.
Just subtract 12 from 13:00 onwards if you want to convert back to the 12 hour clock.

My Favorite London Travel Planning Books
These books win my travel blogger Seal of Approval for vacation planning:
London Travel Tips for Transit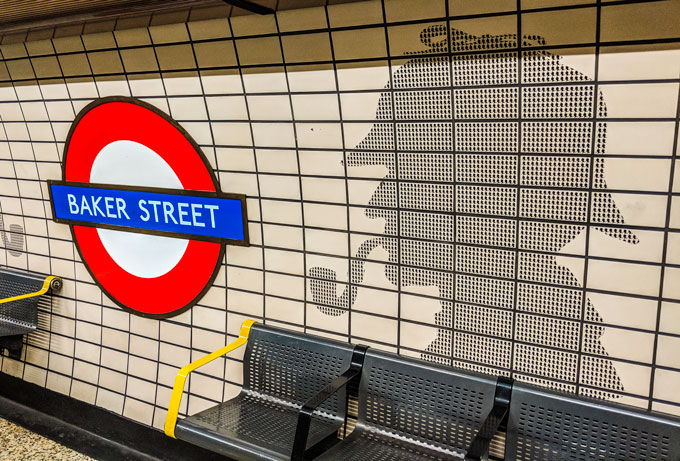 Buy an Oyster card from the machine once you arrive
Despite the complaints you may hear from Brits, London's public transit system is the fastest way to get around the city. Between buses, overground trains, and the underground–also known as "the tube"– you'll make frequent use of public transit during your visit.
The easiest and cheapest way to get on and off is by using an Oyster card.
Every London airport, train station, and tube station has an Oyster machine where you can buy a card. Look for the machines with signs that say Oyster Top-Up or Tickets (with a picture of a blue Oyster card next to the word).
New cards require a £5 deposit, which you can get refunded before you leave the city. You'll have a choice of how much money to put on your card.
I don't recommend putting more than £20 at a time, as you can always come back to a machine to "top up" the balance. If you lose your card, the money is gone. Some machines are cash-only, but most accept debit and credit card payments.
To use your Oyster card, simply tap your card to the round yellow pad at the gate or the front of the bus. When you tap out at train and tube stations, the fare is calculated by how many zones you traveled. There's no tapping out required when riding the bus.
The Transport for London (TfL) website has a helpful fare finder and zone map to calculate your costs in advance.
You may have heard of the Visitor Oyster card for tourists. Unless you plan to spend all of your time and money at the Rainforest Cafe and souvenir shops, don't bother purchasing a Visitor Oyster card. The fare is exactly the same as a regular Oyster, and it's dead simple to purchase an Oyster card when you arrive in London.
The only advantages to the visitor card are the modest discounts in some shops and restaurants, but I'm guessing you aren't coming to London for its Hard Rock Cafe and coffee mugs with Big Ben print.
Skip Heathrow Express unless you're in a rush or have tons of luggage
If you're not used to public transit or it's your first time in London, you're probably planning to take the Heathrow Express from the airport. However, unless you're in a massive hurry or have a lot of luggage, I highly recommend taking the tube or local rail.
A round trip ticket on the Heathrow Express is £37. But a round trip journey to Heathrow from Zone 1 (i.e. the city center) is just over £6 by tube and £12 by local rail.
In fairness, the Heathrow Express is convenient, more spacious, and gets you to Paddington station in 20 minutes or less. So, you'll need to evaluate whether those benefits are worth £20-30. And remember, you'll probably need to take transit from Paddington to your accommodation, so be sure to factor in that cost as well.
Avoid early morning flights out of Stanstead or Gatwick
The affordable 6am flights out of London's smaller airports seem perfect at first. Unfortunately, London's public transit doesn't start running to these airports in time to make super early flights.
Unless you've rented a car, the cost of an Uber or taxi all the way out to Stanstead or Gatwick will eat up any airfare savings you got by booking an early flight.
Check the Transport for London website for planned works and driver strikes
These London sightseeing tips won't do you any good if you can't get to the places you want to see! I mentioned this earlier, but TfL workers strike on a fairly regular basis.
It seems like at least once a year, the Piccadilly line gets shut down for an entire day due to a labor strike, making it impossible to get to Heathrow Airport by tube. There are also planned works (i.e. construction projects) that can cause delays or close portions of tube and rail lines.
Once you know your general itinerary, check the TfL website to confirm that your planned routes won't be affected.
Avoid the tube during rush hour, especially if you have bags
I can't tell you how many times I've had to squeeze onto a packed tube car while carrying a full backpack. It's an unpleasant experience, especially if you're new to the city or to public transit in general. And rush hour travel means standing room only, so you'll need to hold your bag between your legs as you cling to the posts for dear life.
If you can't avoid traveling on the tube during rush hour, prepare to fight your way into the car and be shoulder to shoulder with strangers. Pro tip: when a train arrives, don't look at a packed car and think "there's no room, so I'll wait for the next one". The next one will be just as full, if not more.
Pay close attention to tube travel directions and terminating stations
Navigating London's public transit system can be tricky. I have the pleasure of living on the Northern line and Southern Railway line, yet BOTH of these transit options run north AND south. When you add in split lines and multiple terminating stations, transit mistakes are bound to happen.
Fortunately, all tube stations have multiple maps showing the stops on the lines. First, figure out which direction you're heading (north vs. south, or east vs. west). The different directions run on opposite platforms.
Next, pay close attention to where the lines split into different paths. You'll need to get on the right train if your destination is after a split.
Finally, check the platform monitors that display what train(s) are coming next, so you can see which branch the train is taking. You'll also hear an announcement on the train and see a marquee inside.
If you make a mistake and get on the wrong train, simply get off at the next stop and navigate to the opposite platform or wait for the correct train.
Look for blue arrows in the median that indicate a crosswalk
I'm putting this here because it was the first major struggle I faced on my first trip to London.
Not all streets will have electronic crosswalks at every corner, particularly if you're in a residential area. Instead, look for a little "island" in the median as indicated by white and yellow barriers with blue arrows. At these crosswalks, you can pass one lane of traffic and wait between the arrows until it's safe to finish crossing.
Save these London sightseeing tips for later!
London Budget Travel Tips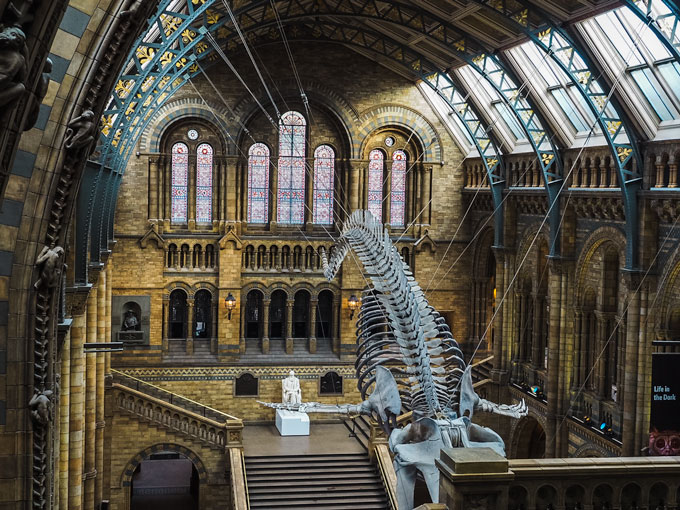 Take advantage of the amazing free museums
If you wallet is begging for mercy after London's pricier attractions, give it a welcome break at the city's incredible free museums. South Kensington is home to three: the Natural History Museum; the Science Museum; and the Victoria & Albert Museum. All three are great for adults and kids alike, and you could easily spend 3-4 hours inside each one.
I also highly recommend the British Museum, where you could easily spend an entire day (or three) exploring the gorgeous exhibition rooms organized by continent.
Art enthusiasts will love the National Gallery and adjoining National Portrait Gallery, as well as the collection of famous British works at the Tate Britain.
If you love books, don't miss the British Library. It's the world's largest and home to a Gutenberg Bible, an original Shakespeare folio, and personal diaries of famous authors, among other literary treasures.
For options that are a bit farther from the beaten path, check out the National Maritime Museum in Greenwich or the Bank of England Museum in the financial district.
Offset your expensive meals with delicious cheap eats
With 71 Michelin-starred restaurants, it's easy to splurge on a fancy meal or three during your trip to London. However, the city is also home to some top-notch food that won't eat into your bank account (see what I did there?).
I've written an entire post on the best cheap eats in London, including fish & chips, savory pies, and rich curries.
Stroll through London's beautiful parks
Despite it's metropolis status, London is comprised of 40% public green space! With over 3,000 parks to choose from, you'll have plenty of opportunities for free amusement.
Hyde Park is the most popular park in London, with activities like pedal boating on the Serpentine pond and splashing around in the Princess Diana memorial fountain.
After you visit Buckingham Palace, take a stroll through St. James' Park for beautiful flowers, swans, and a cool view of the London Eye.
If you want to escape the city without traveling past Zone 3, check out Hampstead Heath's forested trails and bathing ponds. It was also one of the settings from Bram Stoker's Dracula.
RELATED: How to Take a Day Trip to the Cotswolds + Itinerary
Look closely at Google Maps before you choose your accommodation
If you find a hotel or Airbnb in London whose price seems too good to be true, it probably is. Rooms in London are usually cheap for one of two reasons. Either they're a 15+ minute walk from the nearest tube station, or they're right next to a rowdy location like a pub.
Before you snatch up that sweet deal, check Google Maps to see what's in the vicinity, including transit options. Nothing puts a damper on vacation like bad accommodation. Use this guide on where to stay in London to kick-start your search!

London Safety Tips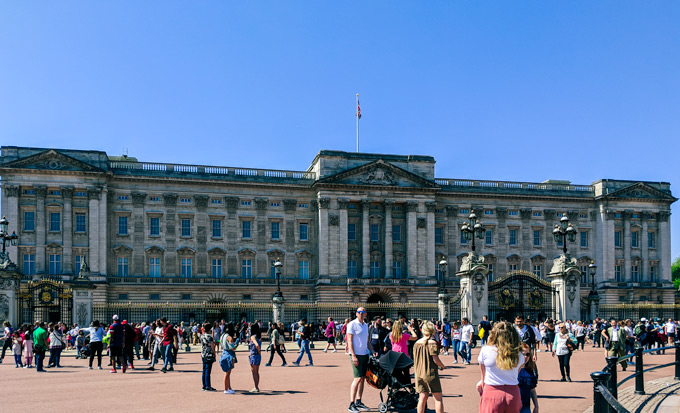 Stick to busy roads when walking at night
I give this advice for pretty much every city, but with muggings sadly on the rise, it's especially important in London. Even on major roads, you should stay alert.
Avoid texting while walking, don't wear headphones, and avoid walking alone whenever possible.
RELATED: Top 10 International Travel Mistakes to Avoid Making
Invest in an anti-theft purse or backpack
The first London sightseeing tips I ever received were from a passport control agent at Heathrow. He saw I was from Texas and told me to hold tightly to my purse and watch out for pickpockets. I've heeded his advice ever since and have yet to become a victim (fingers crossed).
Pickpockets and bag thieves look for easy targets, like an open purse or a flimsy cloth backpack. Investing in an anti-theft purse, camera bag, and backpack gave me the peace of mind that I needed to be comfortable traveling in London and around the world.
The best travel purchase I ever made was my Tortuga backpack. There are a ton of pockets and space for my stuff, and it's super comfortable to wear.
I keep my camera safe with the Pacsafe Camera Bag, which is the perfect size for a mirrorless camera and two lenses. There's also enough room in the interior or front RFID-blocking pockets to store cash, credit cards, etc.
When I'm not traveling with my Pacsafe camera bag, I bring my Travelon Crossbody Bucket Bag. It's the most spacious and well-organized purse I've ever had. The side pockets in particular are handy for carrying bottled water and mini-umbrellas.
Stay far away from sidewalk games
You'd think that by 2018, people would have wised up and realized that sidewalk games are thinly veiled scams that serve as a distraction for pickpockets to steal your stuff. Alas, every time I'm in the city, I see at least 20 tourists crowded around a guy playing "guess the cup".
Oxford Street, Leicester Square, London Bridge, and Westminster Bridge are particularly rife with sidewalk scammers. Whenever possible, skirt the area where these games are happening. If you have to pass through, hold onto your bag(s) and wallet until you're well away from the crowd.

London Food Tips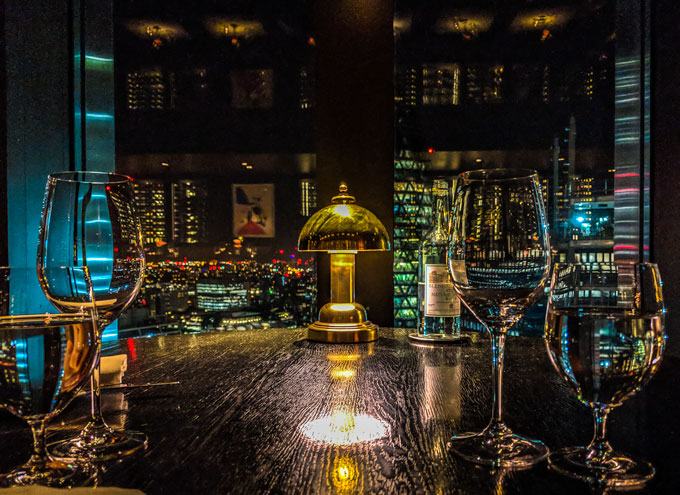 Check the bottom of your restaurant bill to see if service is included
Unlike some European countries, the UK doesn't have a consistent policy on service (i.e. tips) being included in the bill. Thus, you need to check the bottom of your bill to confirm whether or not a tip is necessary. 12% is customary.
Some places aren't able to accept tips when paying by card, so I always carry cash in case service wasn't included.
If you're planning to eat at a pub, pay close attention to kitchen hours
As an American, I'm still adjusting to European dining hours. One thing I've learned the hard way is that some places, especially pubs, will be open for drinks, but the kitchen will be closed.
For example, a pub might open at 11am, but you can't eat lunch until noon. This is why I always check online to confirm the kitchen hours. If you spontaneously pop into a pub for a meal, ask if the kitchen is open before you sit down or order a drink.
Eat at an Indian restaurant
Indian food is kind of a big deal in London. Britain's unofficial national dish is chicken tikka masala, which is an Indian-inspired curry dish made with tomato and cream. If you fly here on British Airways, there's a strong chance they served this dish to you for dinner.
Dishoom is the de facto Indian restaurant to visit in London. But there are tons of amazing places throughout the city. Check out this list of the best Indian restaurants in central London for some alternative choices.
For London's top restaurants, make your reservations weeks in advance
Dreaming of a magical night at Nobu or an evening among the stars at Hutong? Unless you plan ahead, those dreams won't become reality. London's trendy and famous restaurants can book out weeks in advance, so it's best to make your reservations as early as possible.
Note that many reservations are only good for two hours at a table. Online reservation systems usually state this before you book. If you haven't left within the allotted time and there's another reservation after you, the server will likely ask you to continue your evening at the bar.
If you're going to splurge on afternoon tea, go for the Aqua Shard
I've had my fair share of expensive afternoon teas in London. Though the food and drinks were excellent no matter where I went, the atmosphere really adds something to the experience. Personally, afternoon tea doesn't feel as special when you're seated next to loud tourists in ripped jeans and t-shirts.
The Aqua Shard's afternoon tea was one of the best meals I've ever had. The pastries were beautiful, the scones were divine, and the service was impeccable.
When you combine all of that with stunning views over London, the Aqua Shard is the clear winner. Just make sure you brush up on your afternoon tea etiquette before you arrive!
Look for fast casual chains if you're in a hurry but want a tasty meal
You've probably noticed that most of my London sightseeing tips are about saving time and money. This tip does both!
One of my favorite things about London is the number of fast casual chains that serve good, healthy foods. Whether you like salad, sandwiches, or ramen, check out these chains for a quick and delicious meal:
If you like Japanese food, try Itsu, Wasabi, and Wagamama
For a variety of sandwiches and healthy snacks, visit Pret A Manger
For salads and healthy bowls, check out LEON and EAT
Do you have any more London sightseeing tips? Share them in the comments below!