From historic buildings to Harry Potter, there are so many amazing things to discover during a 2 day Edinburgh itinerary. Gothic towers, cobblestone alleys, and a hilltop castle lend the city a fantasy-like atmosphere. And with a vibrant arts scene and diverse restaurants, there's no shortage of things to do in Edinburgh.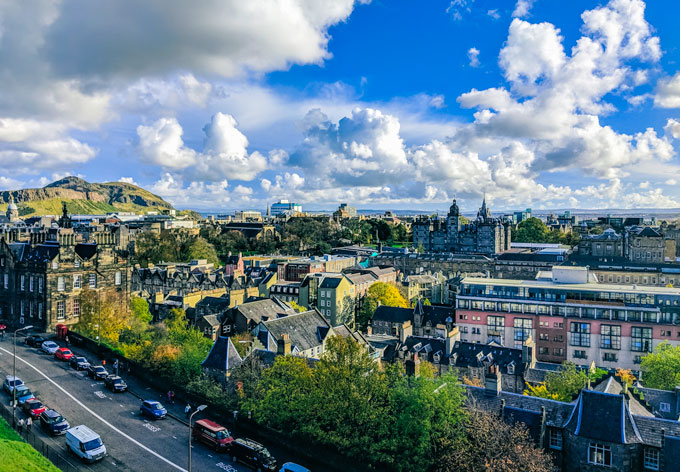 This itinerary for 2 days in Edinburgh is geared towards first-time visitors to the city, with a blend of popular attractions and some lesser-known gems.
This travel guide is part of my UK road trip itinerary itinerary, which includes over a dozen destinations from London to Edinburgh!
This post contains affiliate links. For more information, click here.
How to Spend 2 Days in Edinburgh
— Know Before You Go
— Where to Stay in Edinburgh
— The Best Time to Spend 2 Days in Edinburgh
— 2 Day Edinburgh Itinerary
— Day 1: Castles, Cafes, Famous Streets, and Ghosts
— Day 2: Hiking, Holyrood, Museums, and The Royal Mile
— Map of 2 Days in Edinburgh Itinerary
— Adding Day Trips to This Edinburgh Itinerary
— Where to Go After Spending 2 Days in Edinburgh
Know Before You Go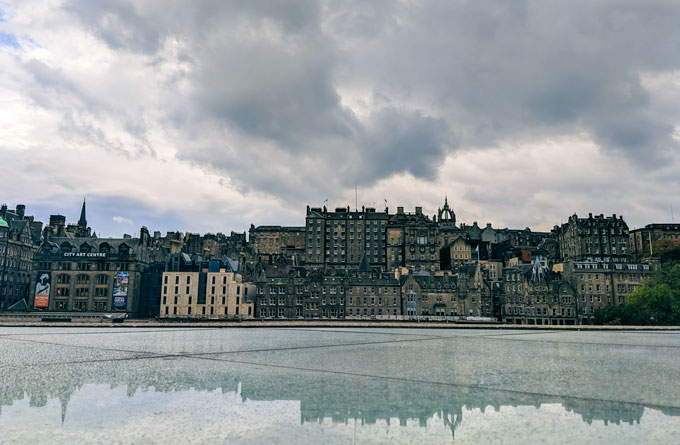 Estimated Itinerary Budget (excluding transport & accommodation): £140/person
Money
Edinburgh uses the British Pound Sterling (£). ATMs–also known as "cash points"–are abundant, and most places in the city take card payments. However, I always recommend carrying a bit of cash for tips and the occasional cash-only place.
Like the rest of the UK, tips are sometimes included in restaurant bills. Check the bottom of your receipt for the "service" charge before you leave a tip. 10-12% is customary, though if you're at a pub and ordering at the bar, tips aren't expected.
Transport
Edinburgh is mainly connected by buses that criss-cross the city. However, the city is very walkable, making exploring Edinburgh on foot the most practical way to get around. Uber also operates here, in the event you need car service.
Getting to Edinburgh from the Airport
There are several options to get into the city from Edinburgh Airport. The cheapest option is to take the Airlink bus to Waverly Station, which runs every 10 minutes 24 hours a day.
The fare is £4.50 per adult, and the travel time is about 30 minutes. The Airlink buses accept contactless card payments and cash; exact change is not required.
A tram also runs from the airport to several stations in the city, including Edinburgh Park, Haymarket, and Princes Street. Tickets are £6.50 per adult, and the journey time to Princes Street is 30 minutes.
Getting to Edinburgh by Train
Edinburgh Waverly station is the city's main train hub.
If you're arriving in Edinburgh via the Caledonian Express, LNER, or Scot Rail, you'll be pleased that Waverly is centrally located. You can easily walk from the station to anywhere in central Edinburgh, meaning you can save on bus and car fare.
Food
Edinburgh has a surprisingly diverse food scene. Whether you want Japanese bento or Mexican fusion, there's an Edinburgh restaurant for you.
This 2 day Edinburgh itinerary has a few recommendations, but I've published an entire list of the best places to eat in Edinburgh for first time visitors.
Where to Stay in Edinburgh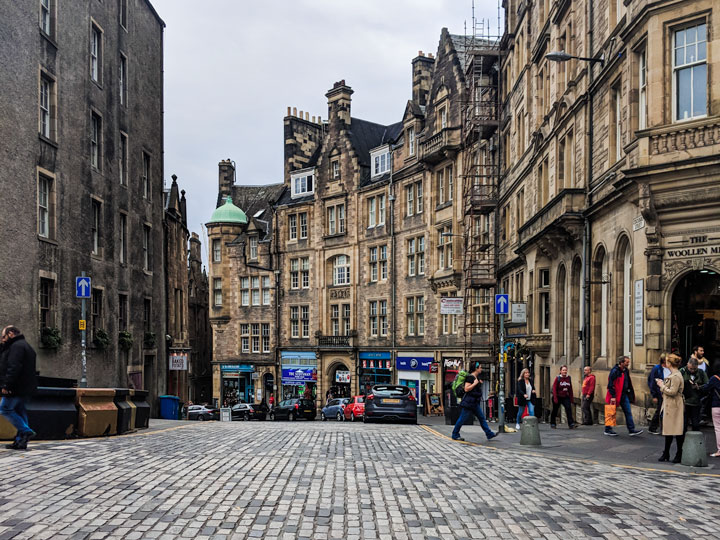 To make the most of your 2 days in Edinburgh, I recommend staying fairly central. You can find a well-priced apartment or hotel near the University of Edinburgh campus, which is walkable to everything in this itinerary.
We stayed in a wonderful and spacious VRBO apartment in the heart of the Old Town, and it was perfectly located for exploring and shopping.
The Best Time to Spend 2 Days in Edinburgh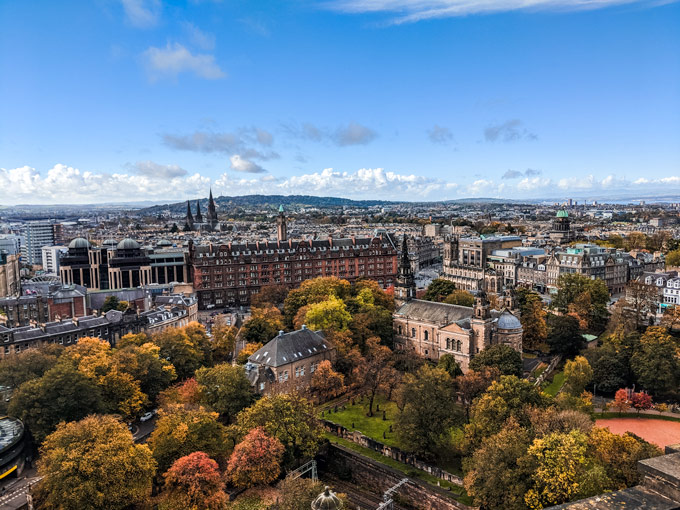 If you haven't booked your tickets yet, I highly recommend visiting Edinburgh in October.
The vibrant foliage decorates the city's sidewalks and parks, and the off-season means crowds are thinner. There are also several fall festivals to enjoy, including the nighttime Samhuin Fire Festival on Calton Hill.
August in Edinburgh sees the city transformed by the Fringe Festival, with musicians, street performers, and artists taking over the city. It's the world's largest arts festival, so expect massive crowds and expensive accommodation. For this 2 day Edinburgh itinerary, August is probably the worst month to visit.
If you're looking for Europe winter travel destinations, Edinburgh is a great choice, especially during December. Between the Christmas Market, cozy pub fires, and holiday decorations at Holyroodhouse, there's plenty of cheer to brighten your spirits in spite of the cold.
Given the amount of walking involved in this guide, I'd also recommend visiting Edinburgh in spring. April has the occasional snow shower, but the weather is generally pleasant and crowds are minimal. May is warmer, though the month's UK bank holidays see an influx of visitors from around the country.
My Favorite Scotland Travel Planning Books
These books win my travel blogger Seal of Approval for vacation planning:
2 Day Edinburgh Itinerary
Day 1: Castles, Cafes, Famous Streets, and Ghosts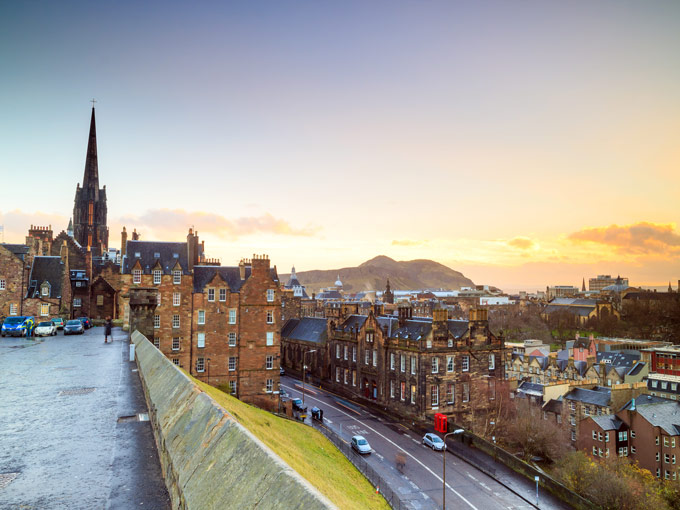 The Meadows and Bruntsfield
Instead of diving right into the typical city sightseeing in Edinburgh, get to know the city with a morning stroll through the Meadows. This expansive green space in southwest Edinburgh is a favorite hang out spot for university students, though you'll see residents of all ages out for a morning jog on the paths.
If you're visiting Edinburgh in October or November, the Meadows' trees will be bursting with autumn color. And late April/early May visitors can walk under the lovely cherry blossom trees.
Walking west through the park, you'll eventually exit into Bruntsfield, a residential area known for its shops and excellent restaurants. Bruntsfield's village atmosphere and beautiful facades make it perfect for escaping the bustle of old town Edinburgh.
Brunch at Treehouse Cafe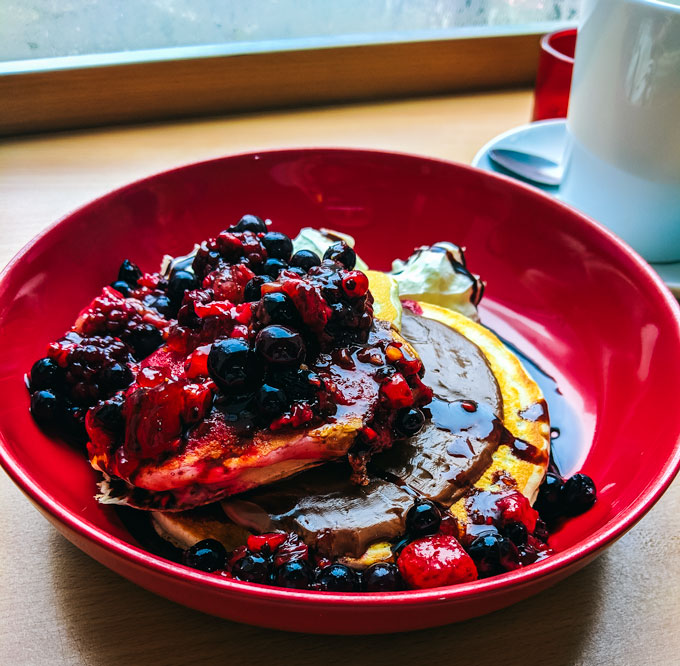 If you love over-the-top pancakes and delicious coffee drinks, you'll love Treehouse Cafe. Nestled in the cool Bruntsfield neighborhood, you'll get to kick off your first of two days in Edinburgh with city locals.
Chocolate fans should go for the berry nutella pancakes with chocolate sauce. It's the ultimate sweet start to a morning of exploring Edinburgh. And if dessert for breakfast isn't your thing, you can always opt for a traditional meat and egg combo.
Candlemaker Row & Victoria Street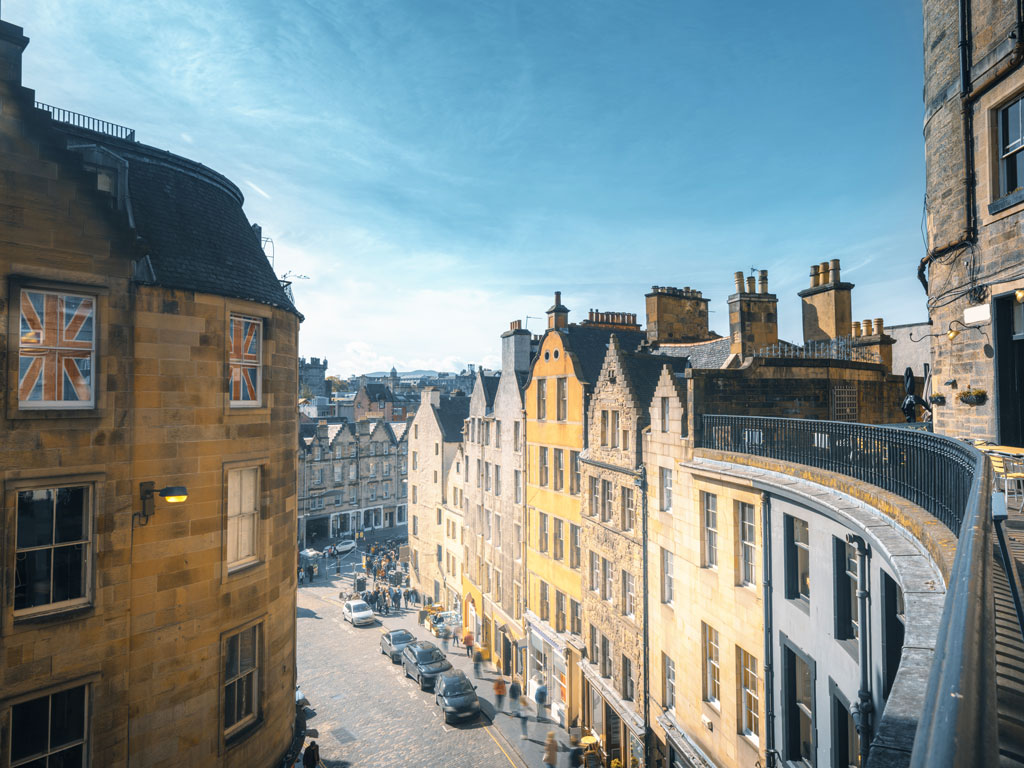 Harry Potter fans and photography enthusiasts will love the curving streets and colorful buildings of Candlemaker Row & Victoria Street. You're sure to recognize these areas as popular Edinburgh Instagram spots, or as the setting for Diagon Alley in the Harry Potter films.
J.K. Rowling drew inspiration from several places here while writing her beloved series. A few tombstones in Greyfriars Kirkyard lent their names to book characters, and Rowling wrote parts of The Philosopher's Stone at the nearby Elephant House cafe.
You'll also find a bit of Scottish lore on Candlemaker Row. At the intersection of George IV Bridge stands a black Skye Terrier statue known as Greyfriars Bobby, a loyal dog who guarded his deceased owner's grave for 14 years.
The iconic memorial is a popular meeting place for friends and tour groups. And despite what you may have heard, please do not rub Bobby's little nose for "good luck". You'll only damage the statue.
After you've explored this Edinburgh walking route, follow Candlemaker Row to Grassmarket, then turn left and go up Vennel. This elevated path offers some unique views of Edinburgh Castle as you head down the steps.
Edinburgh Castle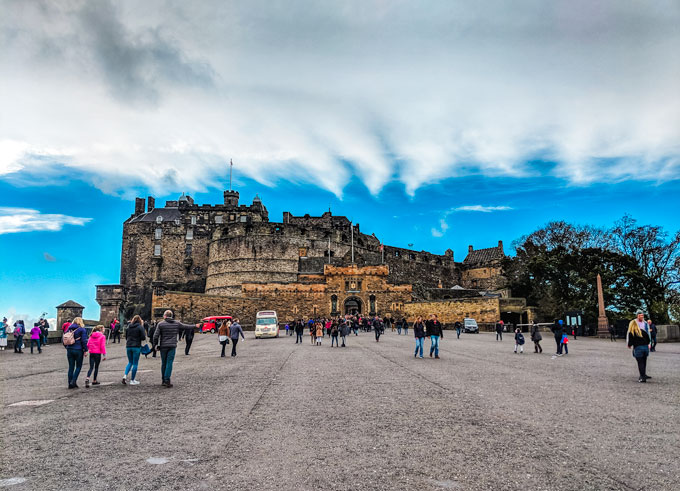 When I asked some acquaintances what to see in Edinburgh in two days, I was surprised to hear them suggest not going to Edinburgh Castle. They argued that it's just a crowded, overpriced tourist attraction, and it wasn't worth seeing.
Normally, I try to avoid touristy places when I travel, but in this case, I'm very glad I ignored their advice. In fact, the castle made my list of top UK bucket list ideas!
A rich history, interesting exhibits, and stunning panoramic views make Edinburgh Castle a must-see for any 2 days in Edinburgh itinerary. Here are a few tips for making the most of your visit:
If you have the option to visit on a weekday, do so. The castle will be less crowded and more fun to explore.
When heading towards the crown jewels exhibit, go through the regular entrance (not the "Jewels Only" one) to walk through a fascinating Scotland royal history exhibit, complete with music and full-size models.
Take advantage of the amazing panoramic views of Edinburgh wherever you can. There are areas all around the castle walls where you can walk up and look out at the city. There are some unique photo options near the cannon holes as well.
Day-of admission is £18.50, but you can save £1.50 and skip the queue if you buy your tickets in advance online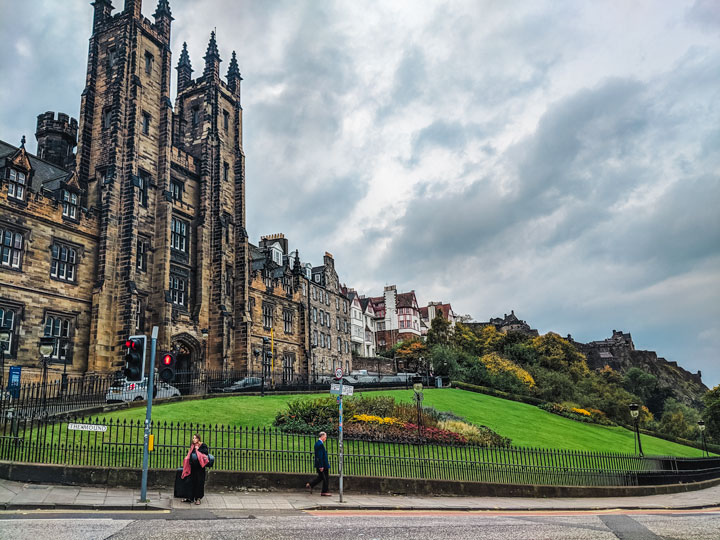 Save me for later!
Edinburgh Zoo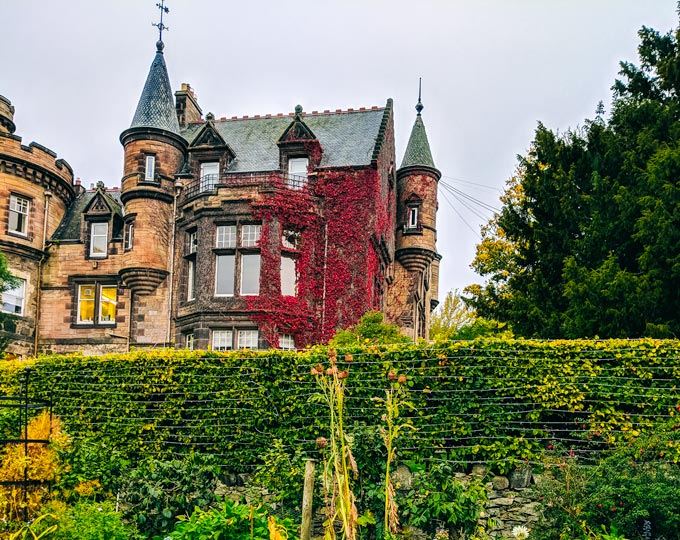 I know the zoo is considered a "touristy" thing to do, but the Edinburgh Zoo is truly fantastic.
It's the most beautiful zoo I've been to, with tons of greenery and several viewpoints over the Pentland Hills. They are also highly involved in conservation and education work, which is reflected in every exhibit.
Penguin lovers will delight at the daily "penguin parade" and expansive swimming area. And if you've always wanted to see a real-life panda, Edinburgh Zoo is home to two! The zoo is pretty sizeable, so plan to spend at least 3 hours exploring the exhibits and gaining new knowledge.
Getting to the zoo is simple and cheap. Just take either the Lothian or Airlink airport bus for under £2. You can even pay via contactless card on Airlink. Both bus lines have stops around the city, but the easiest way is to catch the bus from outside Waverly station.
As of November 2021, tickets must be purchased online in advance unless you are an RZSS member. General admission is £19.95 for adults.
Despite the price, I think it's one of the best Edinburgh day activities whether or not you're traveling with children.
Dinner at a Traditional Scottish Pub
With only two days in Edinburgh, it would be crazy not to visit one of the city's many traditional pubs. Leather furniture, wood paneling, and real fireplaces will transport you to times gone by. There's nothing like sinking into a wingback chair with a glass of Scotch on a chilly evening.
Greyfriars Bobby's Bar on Candlemaker Row is an excellent choice for dinner and old world atmosphere. It's also far enough from the Royal Mile that it won't be jam-packed with the dinner crowd.
Edinburgh Ghost Tour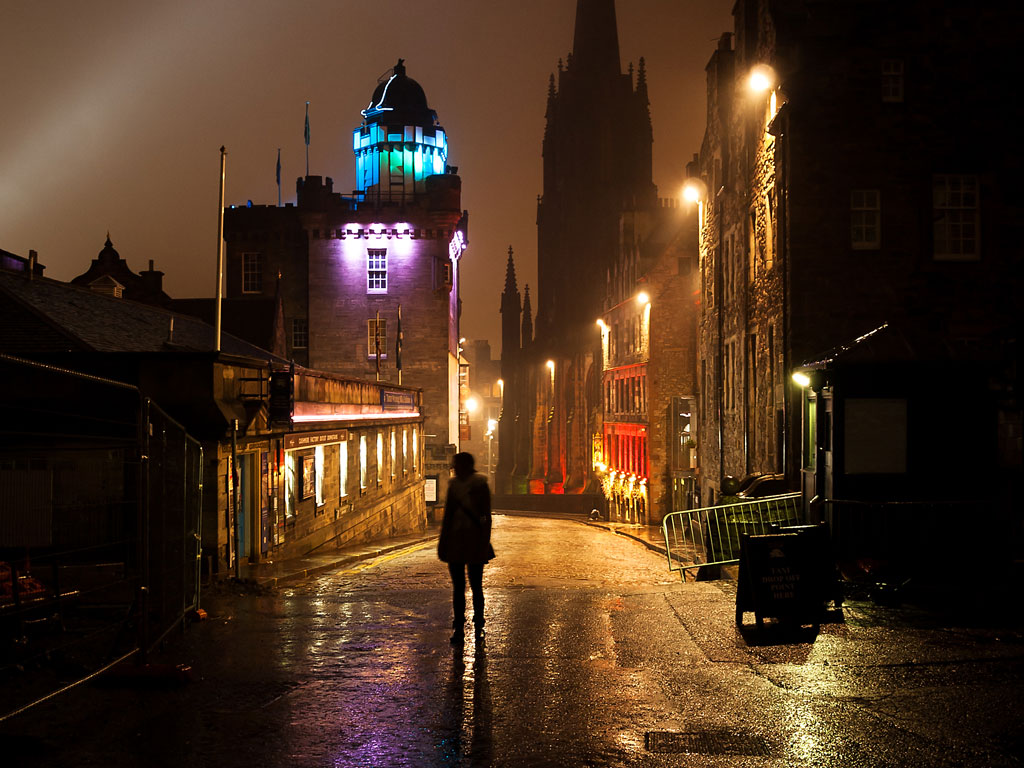 With its brooding architecture and mysterious atmosphere, a late night ghost tour is the perfect way to cap off your first of two days in Edinburgh.
Several different tours operate across the city, but the best ones take you through the underground vaults.
Once the hub of Edinburgh's criminal world, the multi-story vaults beneath Blair Street are a must-see. Legend has it that the vaults are still haunted by the ghosts of departed thieves, bootleggers, and ladies of the night.
The only way to access the underground vaults is with a tour, so book your tickets in advance!
Day 2: Hiking, Holyrood, Museums, and The Royal Mile
Calton Hill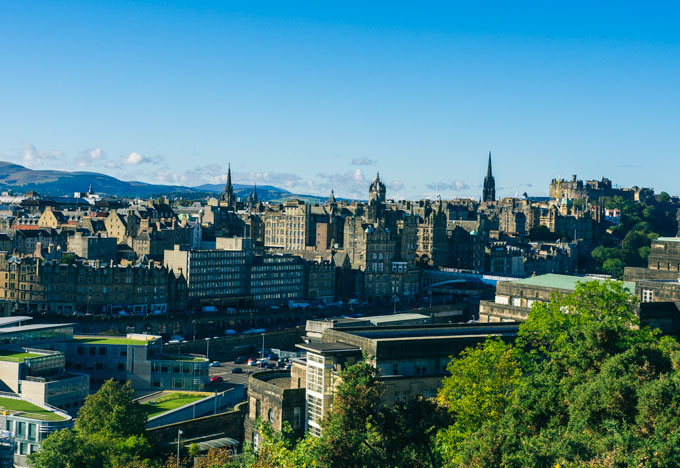 Climbing Calton Hill for a glorious sunrise could be the highlight of your 2 days in Edinburgh itinerary. Depending on the time of year, you might even get to sleep in and still catch those first morning rays.
If early mornings aren't your thing, don't worry. The panoramic views over the city make Calton Hill an amazing destination no matter when you visit. After a somewhat steep 15 minute climb, you can see from Holyrood Palace all the way to the North Sea.
The hill itself also boasts several landmarks, including the Romanesque pillars of the National Monument and round Dugald Stewart Monument.
Holyrood Palace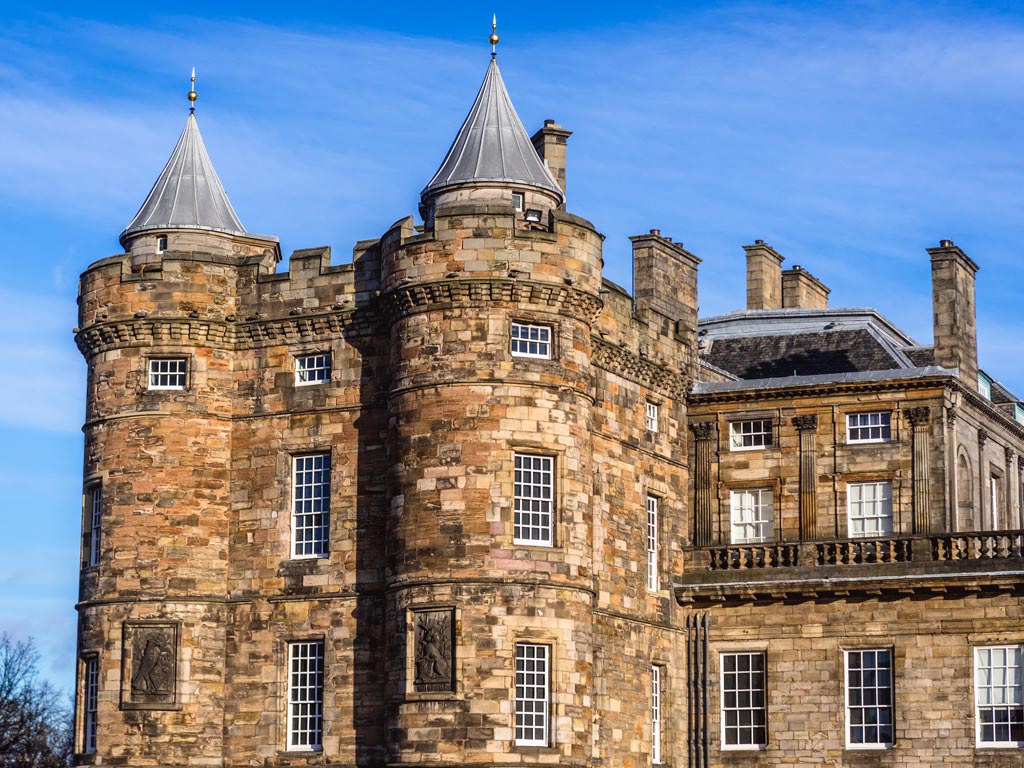 From Calton Hill, it's a short walk to Holyrood Palace, the royal residence of the British monarch in Scotland.
When the palace isn't being used for royal ceremonies and engagements, visitors can pay £16.50 to explore inside, including the Royal and State apartments. Outside, take a stroll through the palace gardens and adjacent Holyrood Abbey.
As of November 2021, there are limited tickets available for same-day purchase, so it's best to book online in advance.
If you're visiting Edinburgh in December, you'll get the added bonus of elegant decked halls for the Christmas season. I think I'd brave the Scottish cold just to see this resplendence in person!
Royal Mile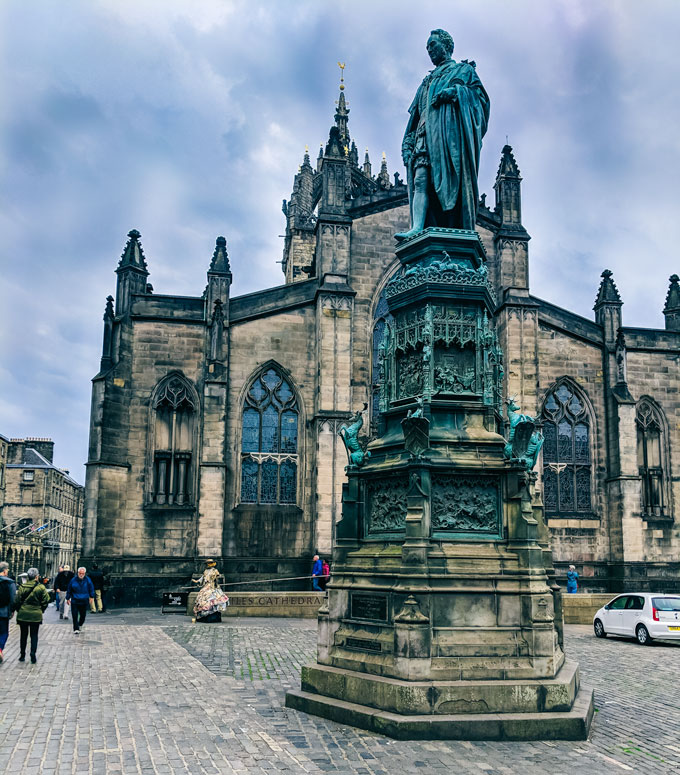 Stretching from Holyrood Palace to Edinburgh Castle, the Royal Mile is home to hundreds of shops, restaurants, and popular spots for city sightseeing in Edinburgh. Even if you don't plan to spend a penny in one of the stores, it's still worth walking the entire length of the road (and stopping into side alleys).
Here are a few highlights on the Royal Mile:
Just up the street from Holyrood Palace is Canongate Kirk, where famous Scots are entombed.
The beautiful and iconic St. Giles Cathedral towers over the western end of the Mile. Its spire forms part of the city's skyline, and weekend visitors can pay £6 for a rooftop tour with panoramic views of Edinburgh.
Mimi's Little Bakehouse is the perfect stop for a sweet pick-me-up. If you love chocolate, I highly recommend the decadent brownies.
If you're looking for quality tartan scarves, head inside Balmoral or Dunedin Cashmere for a variety of luxurious options. And if you have Scottish ancestry, you can ask them to look up your family pattern and direct you to the right tartan!
For the best shortbread, skip the Royal Mile shops in favor of Pinnies & Poppy Seeds. This cozy bakery is just a block off the Mile, on St. Mary's Street, and they have multiple shortbread flavors on offer.
Princes Street Gardens
Once you reach the castle end of the Royal Mile, head one block north to reach Princes Street Gardens. Located right in the middle of Edinburgh, the gardens offer a nice respite from the Royal Mile crowds
In the warmer months, you'll find people sprawled out on the green lawn, relaxing with a good book. There's also a tree-lined walkway that runs past the towering Scot Monument, and walking this way offers fantastic views of the city.
Lunch at El Cartel
If you're wondering where to eat in Edinburgh for something other than traditional British fare, look no further. El Cartel dishes out Mexican street food so good, it filled the taco-shaped void in my heart that formed after I left Texas.
The Thistle Street location feels intimate and a bit funky, with classic margarita machines churning out rotating flavors. Once inside, start with a bowl of guacamole and opt for plantain chips for dipping. After that, you can't really go wrong with any of the menu options, though I especially loved the Baja Cod tacos.
Scottish National Gallery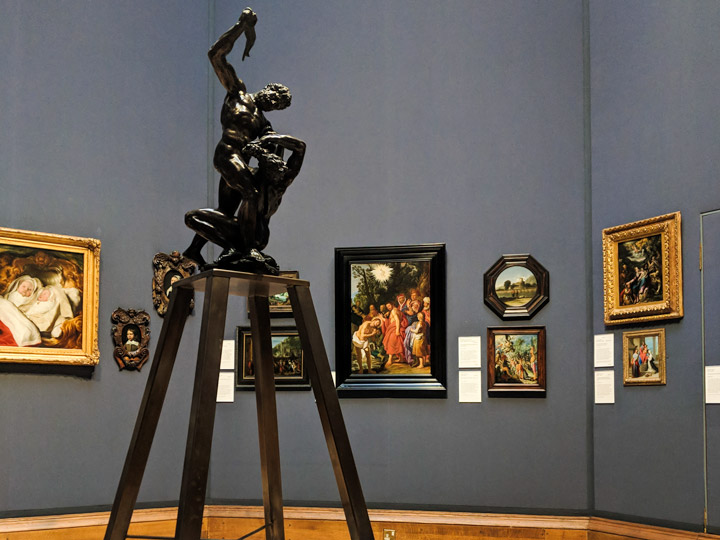 I always try to save money when traveling, and the Scottish National Gallery is a fantastic, free activity for this 2 days in Edinburgh itinerary. Of all the art galleries I've visited in Europe, it felt the coziest, especially the second floor.
Here, you'll find famous works like Olive Trees by Van Gogh and multiple Monet paintings, among other treasures.
Scotch Whisky Experience or Camera Obscura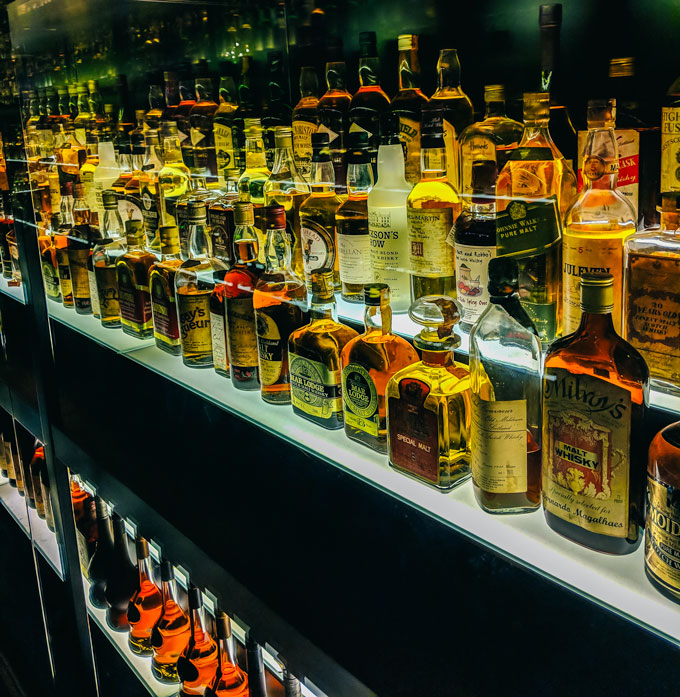 It's time for the choose-your-own-adventure portion of this Edinburgh itinerary. Personally, I visited both the Scotch Whiskey Experience and Camera Obscura, but I had more than two days in Edinburgh.
Read the summaries below to decide which activity is right for you (or try and squeeze in both)!
Scotch Whiskey Experience
Even if you aren't a whiskey connoisseur, the Scotch Whiskey Experience is a fantastic activity for anyone over 18. Young kids can accompany their parents, but will probably get bored after the first portion of the tour.
The experience touches on all five senses and covers everything from how Scotch is made to how each region imbues its own flavor on the whiskey. I particularly enjoyed the IMAX theater-style tour of Scotland's whiskey-producing regions, which comes with a scratch and sniff card!
There are multiple price tiers depending on how much Scotch you want to sample. And the tour ends at a beautiful whiskey bar and lounge, where you can fortify yourself with single malts and blends from all around Scotland.
Book your skip-the-line Scotch Whisky Experience tickets here!
Camera Obscura
With five floors of interactive mind games and colorful exhibits, Camera Obscura is a natural choice for anyone traveling with kids. From playing with plasma to navigating a mirror maze, the attraction is a fun contrast to the other popular attractions in Edinburgh.
But Camera Obscura does have a historical element: the actual "camera obscura" apparatus at the top of the building is nearly 200 years old. Visitors can experience a magical show just like the original Victorian guests did long ago.
Catch Some Live Music
In a city famous for live music, it's only natural to round out this 2 days in Edinburgh itinerary with a rousing musical evening.
You'll find plenty of opportunities for live music in Edinburgh any night of the week, from traditional folk at The Royal Oak to more modern tunes at Bannerman's Bar. Grab a pint, take a seat, and relax after an action-packed two days in Edinburgh.
Map of 2 Days in Edinburgh Itinerary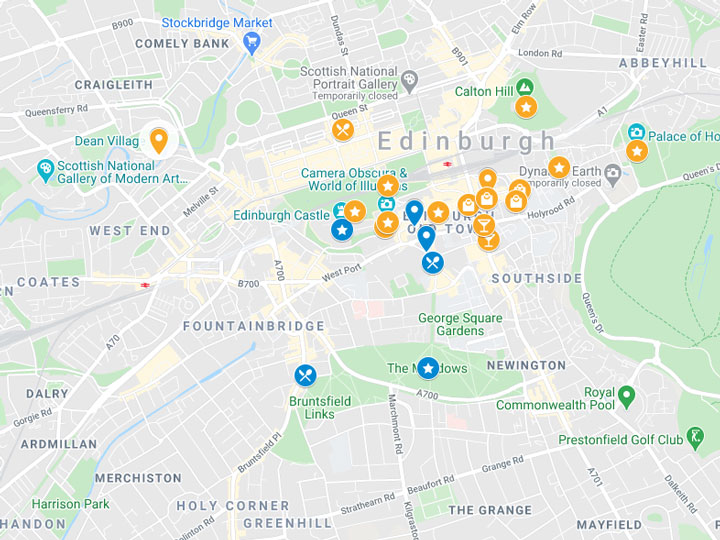 The blue icons are for Day 1, and the yellow icons denote Day 2.
Click here to view the full interactive map!
Adding Day Trips to This Edinburgh Itinerary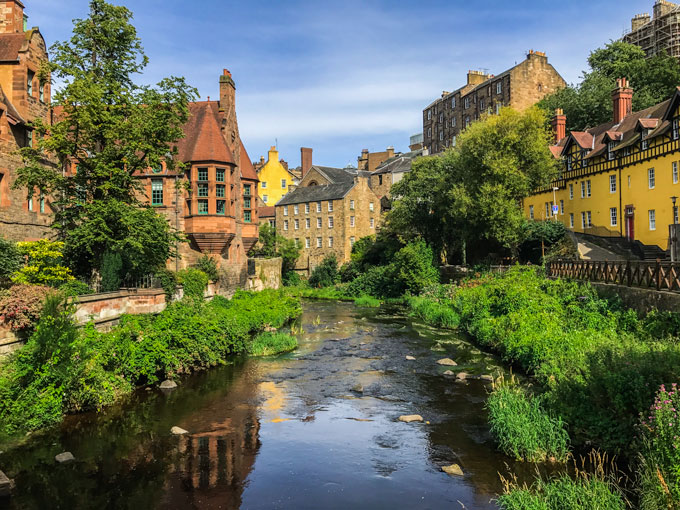 If you're looking for other Scotland destinations to visit from Edinburgh, here are a few ideas:
North Berwick: This seaside town is a short 30 minute train ride from Edinburgh. Highlights include Tantallon Castle and several beautiful beaches.
Scottish Highlands Tour: Plan a one or two day tour of the Scottish Highlands by coach or car, including stops at Loch Ness, Glencoe, and Loch Laggan.
Stirling Castle: A famous hilltop castle that's been restored on the inside, offering visitors a glimpse into Renaissance Scottish life.
Where to Go After Spending 2 Days in Edinburgh
Inverness: Explore the rugged landscapes and famous castles of the Scottish Higlands from historic Inverness.
Lake District: Edinburgh's short distance from norther England makes romantic Lake District breaks and stunning fell walks easily accessible.
London: Hop on a short flight or sleeper train, and you can spend 4 days in London exploring renowned museums, cathedrals, and restaurants.
Have you been to Edinburgh? Is there anything else you'd fit into this 2 day Edinburgh itinerary? Let me know in the comments!