Cologne (Köln in German) has everything you could want in a European city. Rich history, impressive architecture, beautiful parks, delicious pastries, riverfront dining… the list goes on and on. I designed this custom map and itinerary for two days in Cologne to showcase my favorite parts of the city for first-time visitors.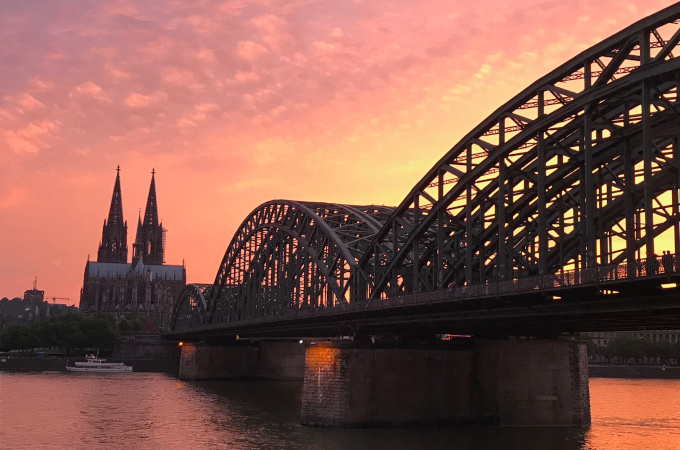 While it was the awe-inspiring Cologne Cathedral that prompted my visit, I enjoyed Cologne's quieter parks in equal measure. You'll get to experiene both sides of the city if you follow this itinerary.
If you want to add a castle visit to your Cologne itinerary, check out my day trip guide to Königswinter and Schloss Drachenburg.
This post contains affiliate links. For more information, click here.
Table of Contents
— Cologne: Know Before You Go
— Where to Stay in Cologne
— 2 Days in Cologne Itinerary
— Map of Cologne Two Day Itinerary
Know Before You Go
Money
Germany uses the Euro, and you'll definitely want to carry cash in addition to your card(s). Most places in Cologne will take chip-enabled cards, but smaller restaurants and stands are often cash-only. Cash is also helpful when service is not included in the bill, as not all card readers make it easy to add a tip.
For meals, €15 will get you a hearty lunch/dinner and a couple glasses of Kölsch at a brauhaus. For cheaper fare, visit a döner kebab or currywurst place. If your hotel doesn't have breakfast, you can get a delicious pastry for about €3 from one of the many Bakery Merzenich locations.
Between food, public transport (including the train to/from the airport), and museum admission, I spent about €100 across two days in Cologne.
RELATED: Christmas Markets in Germany by Train Itinerary
Transport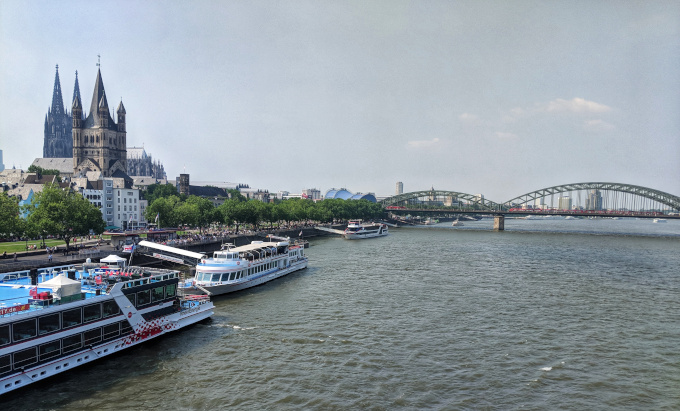 Cologne is well-connected with public transit options, but buying tickets can sometimes be tricky. Luckily, if you're following this itinerary, you'll only need to use transit a few times.
That being said, you should definitely download the DB Navigator app before you depart. It lets you plan journeys and buy tickets right from your phone, which allows you to skip the machine and hop right onto your train/tram/bus.
If you can't use the DB Navigator app, you'll need to utilize the ticket machines. Most public transit stops will have one, but not all of them take card. Trams and buses will also have machines inside them, but they only accept coins or a German bank card.
Whether you use the app or a ticket machine, a single adult ticket is called an "EinzelTicket Erwachsene" (i.e. "One Ticket Adult"). These tickets are not round trip, so make sure you buy a new one for your return journey. They're also only valid for 90-120 minutes, so don't try to buy your outbound and return tickets at the same time.
If the machine doesn't give you the option of inputting your destination and instead just lists the fare tiers (1b, 2b, etc.), you want 1b fare for traveling within Cologne.
Getting to Cologne:
If you're arriving by plane, Köln-Bonn Airport is the closest to the city. Once you clear customs, follow signs for the train platform downstairs. There will be multiple ticket machines on the platform, all of which take card.
If you're taking the train into the city, you'll either want to choose Köln Hbf (the main station in the city center) or Köln Messe/Deutz Hbf (if staying across the river). You can either take the S13 or Regional Express (RE) train to get to these stations, with the RE being the fastest option.
The super-fast ICE trains also run to Köln Hbf, and are a good option if you're coming from somewhere else in Germany.
Other Transport Tips:
Some tram stops are underground. I forgot this halfway through the trip and spent 20 minutes wandering around looking for my stop.
As of July 2019, Uber has resumed operating in the Cologne metro area.
Language
The majority of service industry folks speak German and English fluently, and most places in the city center have English menus. However, the farther you get from the touristy area of Old Town, the less likely it is that people will speak English.
If you don't have Google Translate installed on your phone with the German dictionary downloaded, do that before you leave. Two days in Cologne doesn't require proficient German, but knowing a bit of the language goes a long way.
Here are a few phrases you should learn before you travel:
Yes – Ja (ya)
No – Nein (nine)
Please – Bitte (BIT-eh)
Thank You – Danke (DAWN-kuh)
Pardon Me – Entschuldigung (en-SHUL-di-gung)
I don't speak German – Ich spreche kein Deutsch (ish SPRE-ke kine doitch)
Do you speak English? – Sprechen Sie Englisch? (SPRE-ken ze English?)
Water – Wasser (VA-sa)
One – Ein (eyen)
Two –Zwei (zveye)
Combining these 10 words and phrases will help you get by at most places. Personally, I like to try and speak as much of the native language as possible when I travel, so I also learned things like "coffee" and "the bill, please".
Learning a few more essential travel phrases will open up more opportunities for exploration.
Culture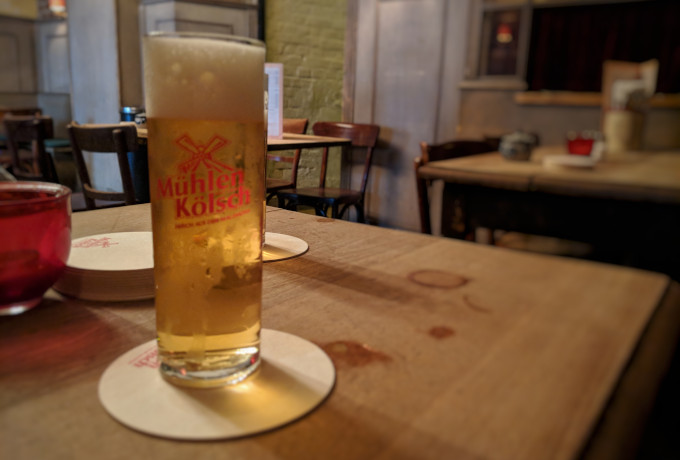 I'll keep this brief. If you use common sense and courtesy, you'll be just fine for two days in Cologne. However, there are two critical things you must remember:
Kölsch is the drink of choice. It's a light, crisp beer that's served in special highball-like glasses. Every brauhaus makes their own version, so try a few and see which is your favorite (mine was Peters). Servers will keep bringing you more Kölsch until you put a coaster on top of your glass. They also use the coaster to mark down how many glasses you've had. Also,

do not ask for Altbier

in Cologne unless you want to upset everyone around you.
Do not break any rules. Don't even jaywalk. And especially don't abuse the honor system for tickets on public transit (conductors can ask to see your ticket at any time). Germans are serious about following the rules and have stiff penalties for breaking them.
Where to Stay in Cologne
In Cologne, there's not much of a price differential between staying in the city center vs. farther out. For only having two days in Cologne, I recommend spending the extra money to stay near the Old Town.
I decided to cash in some hotel rewards points and stay at the Hyatt Regency Köln, which is directly across the river from the iconic Cologne Cathedral.
Aside from being a five-minute walk to the city center, the hotel itself is gorgeous, full of amenities, and is famous for its lavish Sunday brunch (non-guests are welcome). If you want incredible views and easy access to the sights, I highly recommend staying there.
If you'd rather trade convenience for savings, you can get more affordable lodging near the park belt on the city's west side. The area known as "Little Belgium", which is east of Hiroshima-Nagasaki park, is very charming and has several hotel and hostel options.
There are also great VRBO apartment rental options in the city, especially in the lovely Little Belgium district and near the Old Town.
Two Days in Cologne Itinerary
Day One
Merzenich Bakery (Bäckerei Merzenich)
You'll find these bakeries strewn across Cologne, and they're great for grabbing a quick bite. There are tons of pastries to choose from, but you should try the nougatbretzel, which is a sweet pretzel coated in almond flakes.
I recommend avoiding the Merzenich behind the Cathedral, which is always crowded; the one on the nearby Minoritenstraße is much quieter.
Lock Bridge (Hohenzollernbrücke)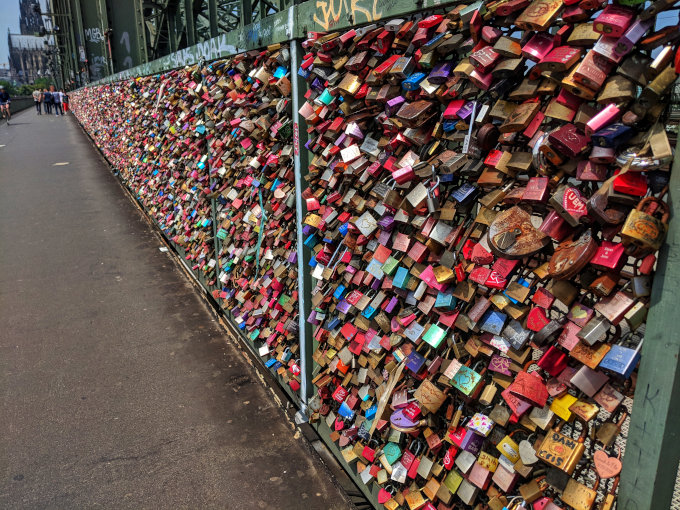 Paris isn't the only city in Europe with a "love lock" bridge. The Hohenzollernbrücke straddles the Rhine between the Köln Triangle and the Köln Hbf. You've likely seen the bridge in photos, as it's often captured in the iconic view of the cathedral across the Rhine.
If you choose to add your lock to the thousands of others decorating the bridge, skip the supposed tradition of throwing the key into the Rhine.
Cologne Cathedral (Kölner Döm)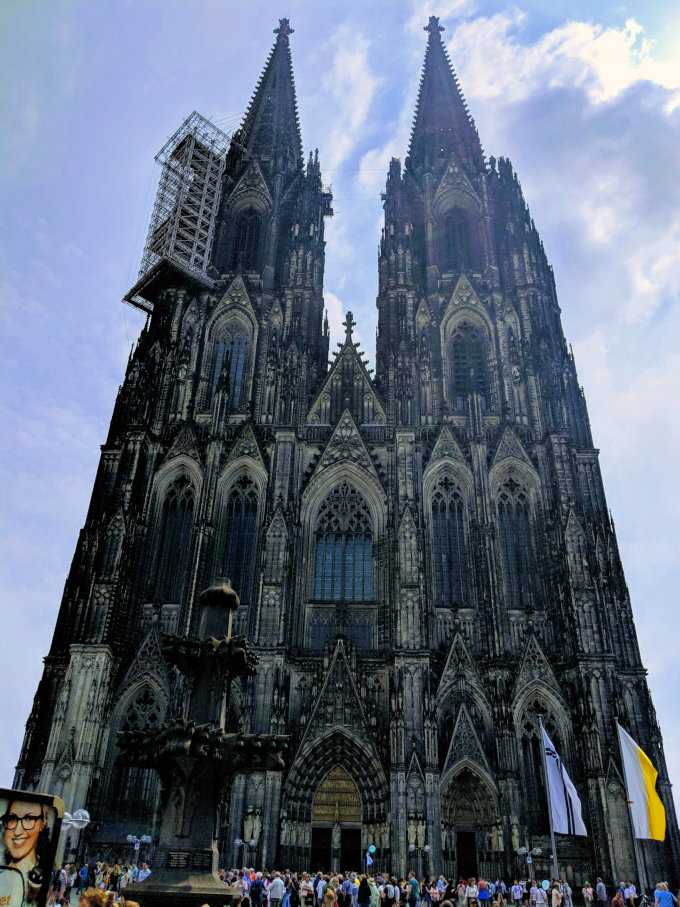 The Cologne Cathedral towers above the Old Town and is the most impressive structure I've ever beheld. Approaching it felt like walking toward something plucked from a fantasy novel or a video game.
There are some places that blow you away at first, but over time impact you less and less. The Döm was not one of those places.
I spent much of my two days in Cologne just staring in wonderment at its intricate Gothic details. It's no wonder it was named a UNESCO World Heritage Site, given it survived the World War II bombing of Cologne that destroyed much of the city.
After you've taken in your fill of the exterior, you can enter via the front or left-hand side (via the gift shop). There is no admission fee! Opening times do vary throughout the year and for special events, so you should check the website prior to your visit.
The area was pretty packed at all hours, regardless of the day of the week, so be prepared.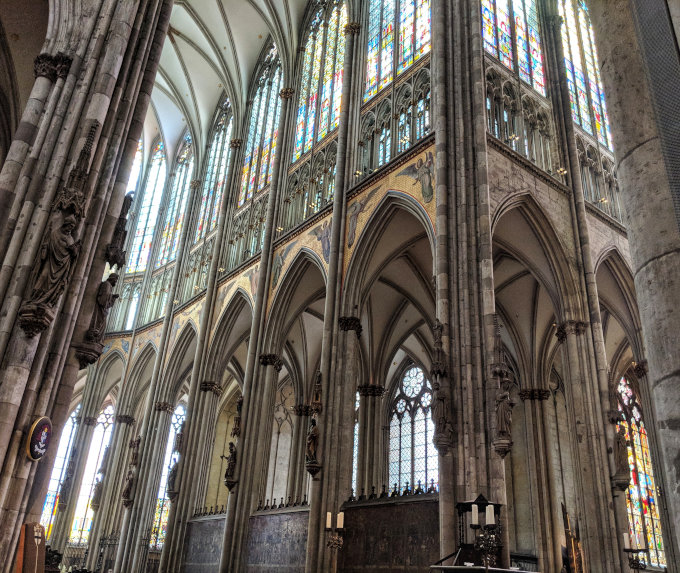 The cathedral's interior is equally as marvelous as the outside, with stained-glass windows and ultra-high arched ceilings. Unlike many other religious sites, photography is allowed inside the cathedral. I spent a long time taking in all of the architecture and reading the stories in the stained glass. It was definitely the highlight of my two days in Cologne.
Lunch
If you love giant mounds of potato salad, Peters Brauhaus in the Old Town is an excellent lunch option. They also make my favorite Kölsch, and have an outdoor dining area. If you're on a tight budget but still want a delicious lunch, try the nearby My Curry Wurst counter around the corner on Unter Käster.
Chocolate Museum (Schokoladenmuseum)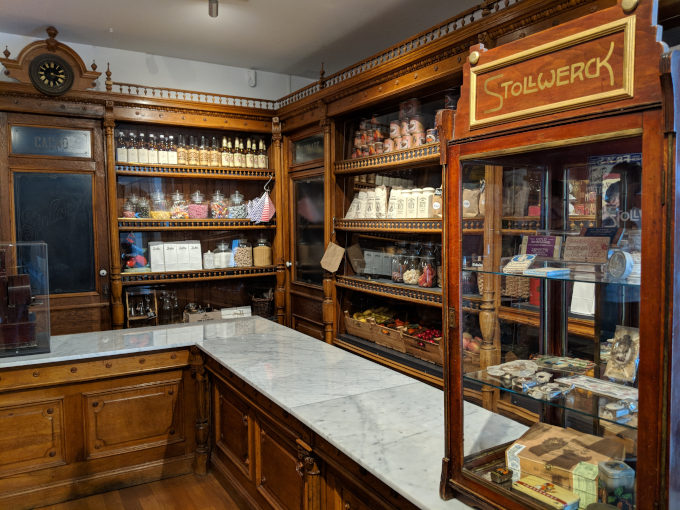 Chocolate lovers, rejoice! This museum, which juts out into the Rhine, is both informative and tasty.
Opening hours are 10am-6pm Monday-Friday, and 11am-7pm on weekends. At €11,50 per adult, the admission fee is a bit steep. So, if you are not a fan of chocolate, you might want to spend your time and money elsewhere, like the modern art Museum Ludwig.
RELATED: 13 Unique Places to Visit in Berlin Off the Beaten Path
Being a chocolate lover myself, I was willing to fork over the money, and I was not disappointed. There are kid-friendly exhibits on cacao harvesting and chocolate production, including a tropical rainforest greenhouse.
The 3rd floor houses a replica of an old-style candy shop reminiscent of Willy Wonka and the Chocolate Factory. But my favorite part was the cafe that overlooks the Rhine and serves up decadent chocolate creations.
By the time you finish touring the sizable museum, you'll be ready for a treat!
Schildergasse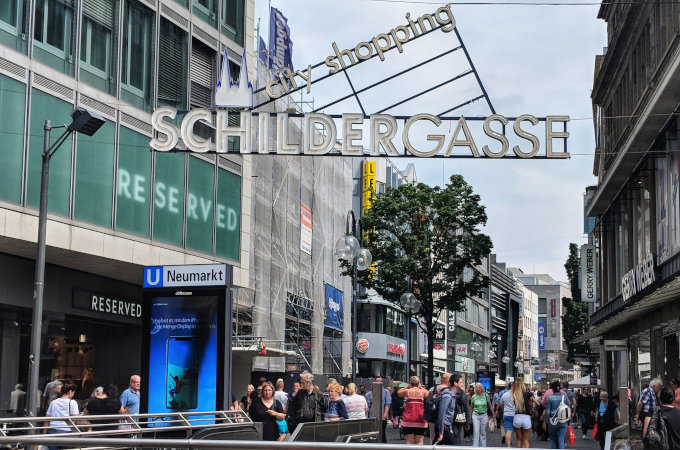 The Schildergasse is regarded as one of the best shopping areas in Germany. Dozens of shops for every budget and taste line the busy street, from fast-fashion giants like H&M to more upmarket offerings from designer brands.
But shoppers be warned: all stores are closed on Sunday. Most of the stores are apparel related, but there are some speciality shops sprinkled in, like the LEGO store.
Dinner
Assuming you're still up for more German food, I recommend either Haxenhaus or Gilden im Zims for dinner. Both serve a tasty pork knuckle, which is a favorite of Cologne residents and visitors alike. Haxenhaus is the pricier option, but if the weather is nice, it's worth it to be right on the Rhine.
Rhine Garden (Rheingarten)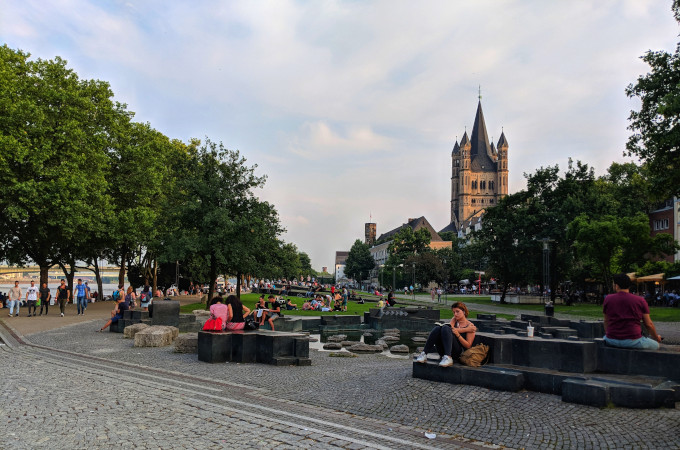 Cap off your first of two days in Cologne with a lovely sunset walk through the Rheingarten. If the timing works out (and the weather cooperates), you can cross the river, sit near the bank, and watch as they turn on the cathedral lights.
Save me for later!
Day Two
Old Town and Old Market (Alter Markt)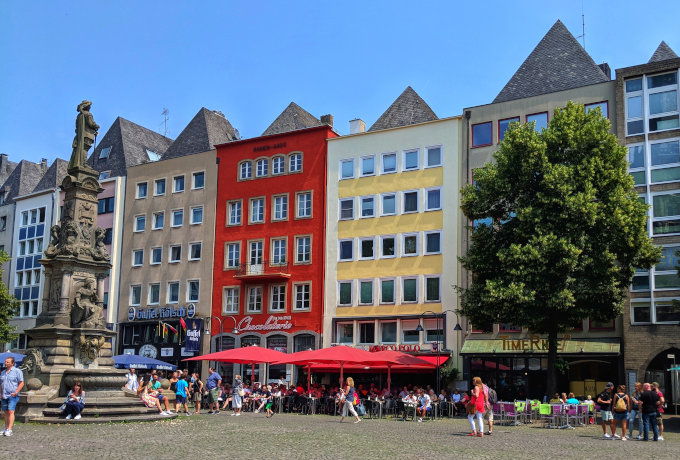 Yesterday offered a taste of what the Old Town and Old Market had to offer, but today's Cologne itinerary is for deeper exploration.
Weave and wander your way south from the cathedral, staying between the Unter Goldschmied and the Rhine. There are some great hidden gems to be discovered if you venture down the cobblestone alleyways. I popped into a candy shop, where they were doing an interactive demonstration on making rolled hard candies.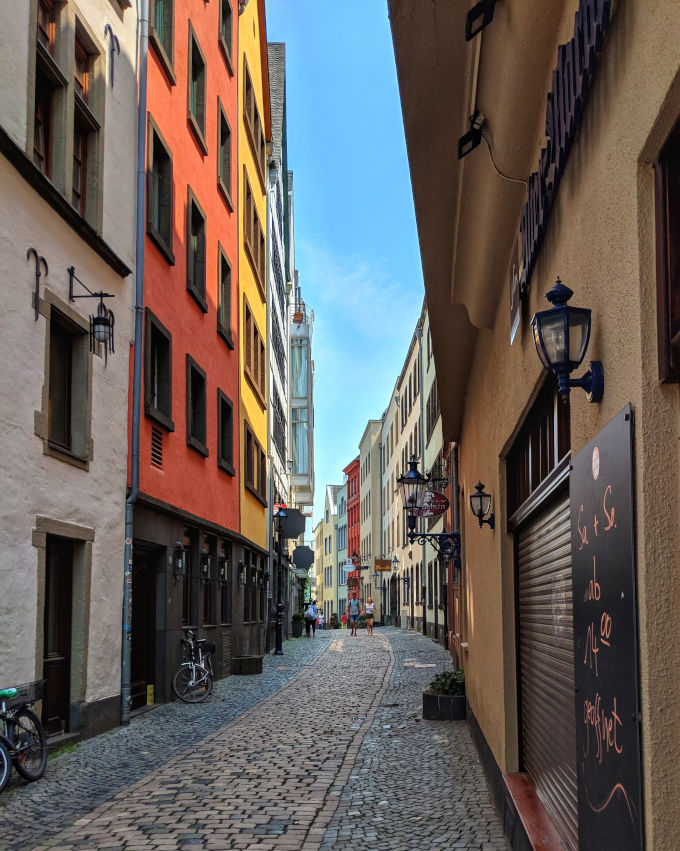 Two places in the area you won't want to miss are the Church of Great St. Martin and the Historical City Hall, both of which are over 800 years old. Both buildings have free entry but are closed on Mondays.
Wallraf-Richartz Art Museum
If you like art, this place is well worth the €9 admission fee. The opening times are Tuesday-Sunday, 10am-6pm.
Don't be put off by the 1st floor, which is filled almost exclusively with paintings of the crucifixion. The 2nd and 3rd floors offer a lighter fare of Baroque, Impressionist, and Romantic displays by Dürer, Rubens, and Monet, to name a few. The towering central gallery on the 3rd floor is a visual delight, with rows upon rows of paintings from floor to ceiling.
FYI, if you have a bag larger than a small purse, you'll need to check it at the front desk before visiting the galleries.
Lunch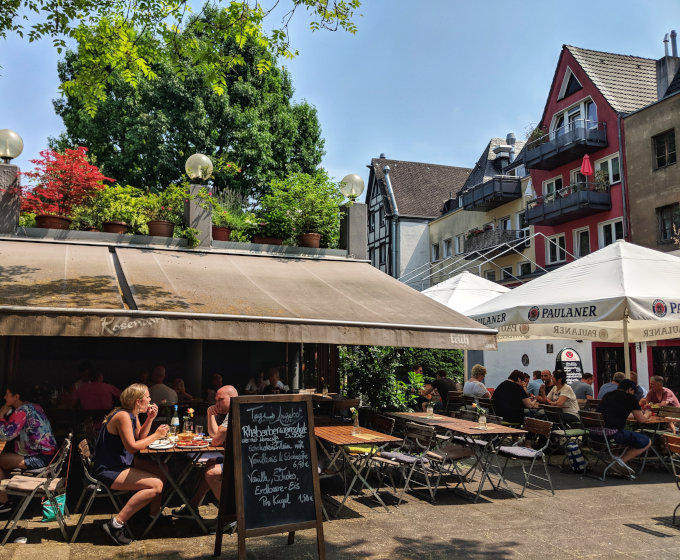 I happened upon Rosendorn, a Spanish tapas restaurant, during my Old Town wanderings. It's tucked away in a little square with a few other dining spots, making it a quiet lunchtime retreat. Note that it is cash only, so bring your euros.
Stadtwald Park Köln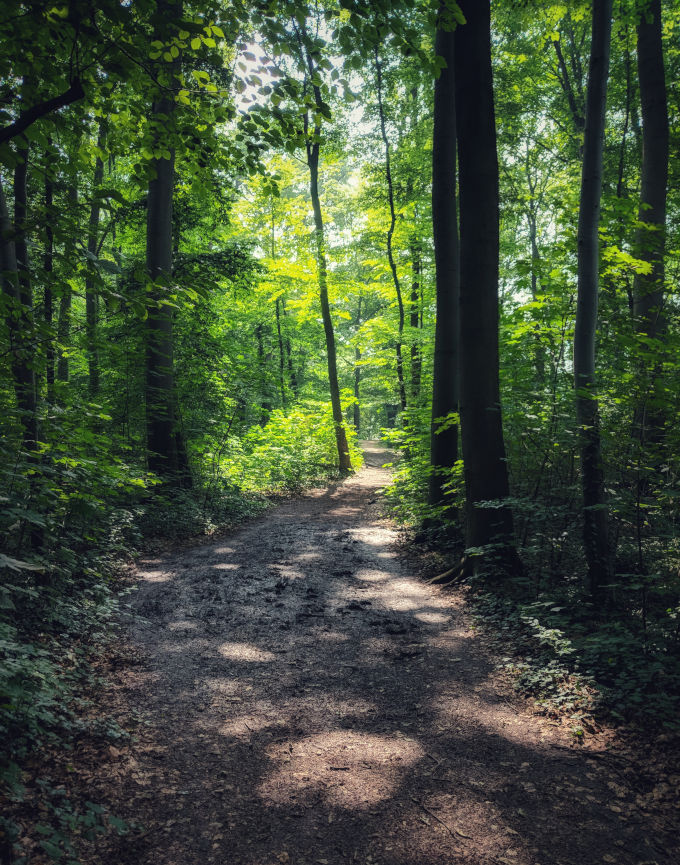 A forest on the opposite side of town may seem like an odd recommendation for how to spent part of your two days in Cologne. However, Stadtwald Park is a gorgeous retreat from the hustle and bustle of Old Town. It's easy to forget you're still in a major city once you get on the trails and head towards the center of the park.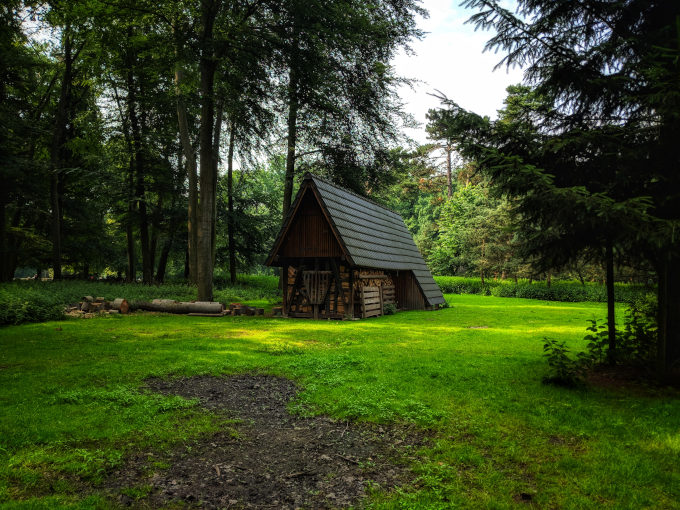 Luckily, it's quite simple to get here. Assuming you're coming from the Old Market area, take the tram (should be #7) from Köln, Heumarkt to Köln, Lindenthal Wüllnerstr. Get off and walk west on Wüllnerstraße, which goes straight into the Stadtwald.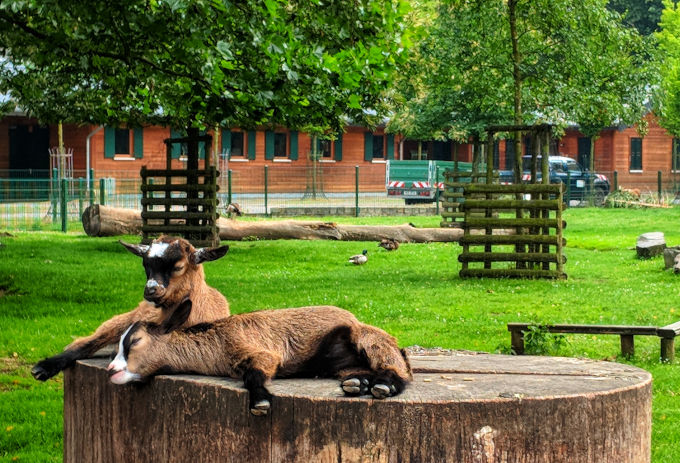 Smack in the middle of everything is an animal park (Lindenthaler Tierpark) that's home to wild deer, goats, geese, and a very handsome ox. What could be better than that?
Hiroshima-Nagasaki Park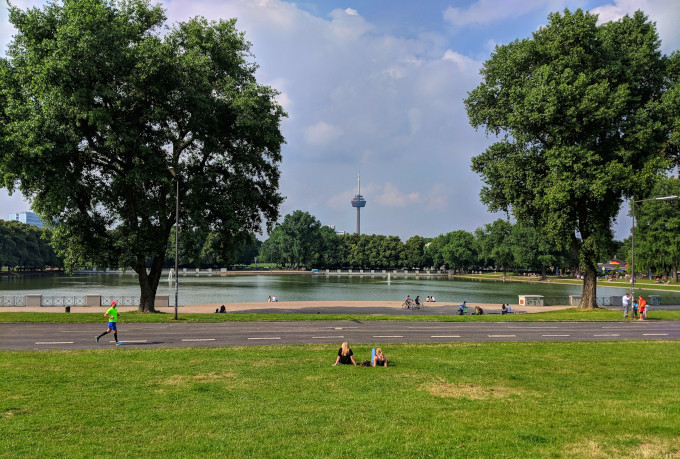 If you're still up for more walking, you can take the Dürener Straße from the bottom edge of the Stadtwald up to Hiroshima-Nagasaki park. If it's the summer time, you might get to take in the same lovely flower smells that I experienced on this walk.
This flat green space started as a dumping ground for WWII rubble before being officially converted to a public park in 2004. It's the perfect spot for taking a rest before dinner.
Dinner
Brauhaus Putz is just a short walk up Richard Wagner Straße, and they have some of the best traditional fare in Cologne. You could also check out one of the many Japanese restaurants in the area if you're burnt out on German food.
If you're wondering why there are so many places to get Japanese cuisine in Cologne, about 25% of German-residing Japanese people live in the areas surrounding Cologne and Düsseldorf.
Two Days in Cologne Itinerary Map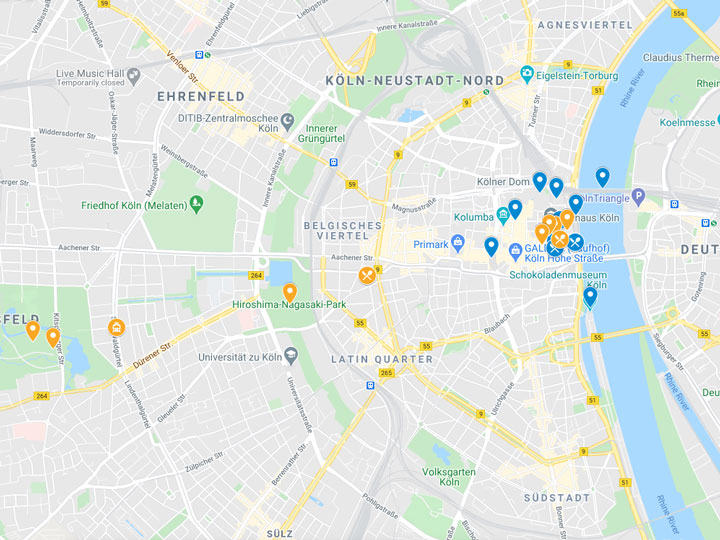 Click here to view the full interactive map!
Two days in Cologne is just enough time to realize that you want two weeks in Cologne. From food to history to culture, the city has so much to offer first-time visitors and residents alike.
If you're planning a trip to Germany or looking for a weekend break in Europe, I hope this Cologne itinerary will make this amazing city a stand-out choice.
Have you visited Cologne? What places are on your must-see list? Let me know in the comments below!