Berlin is on nearly everyone's list when traveling to Germany. And given the city's history, art, and feel-good, hip vibe, it's easy to see why. While places like East Side Gallery, Brandenburg Gate, and Check-Point Charlie draw the biggest crowds, there are also tons of fantastic things to do in Berlin off the beaten path.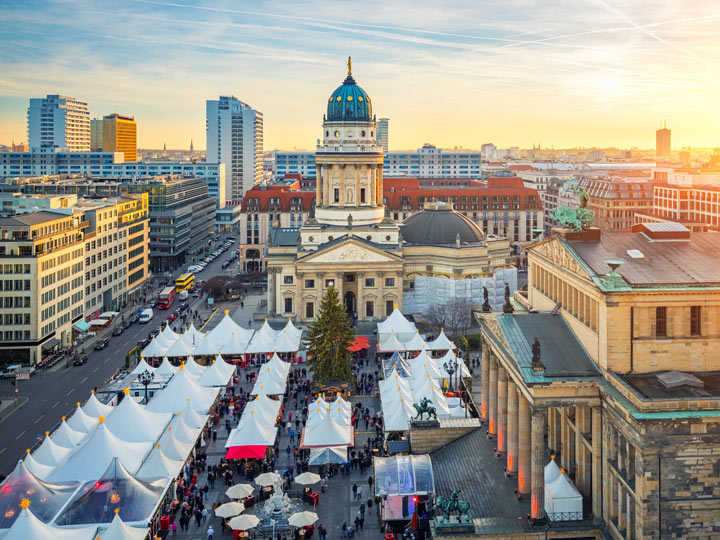 Of course, a trip to the capital isn't complete without exploring some iconic landmarks. But after a long day of visiting touristy attractions and restaurants, you'll want to check out these unique places in Berlin.
This city deserves to be explored more than the average tourist tends to do. Here are a few ways you can experience Berlin like a local and take in the city's authentic culture.
This post contains affiliate links. As an Amazon Associate, I earn from qualifying purchases. For more information, click here.
Things to do in Berlin off the beaten path
See a concert at Berliner Philharmonie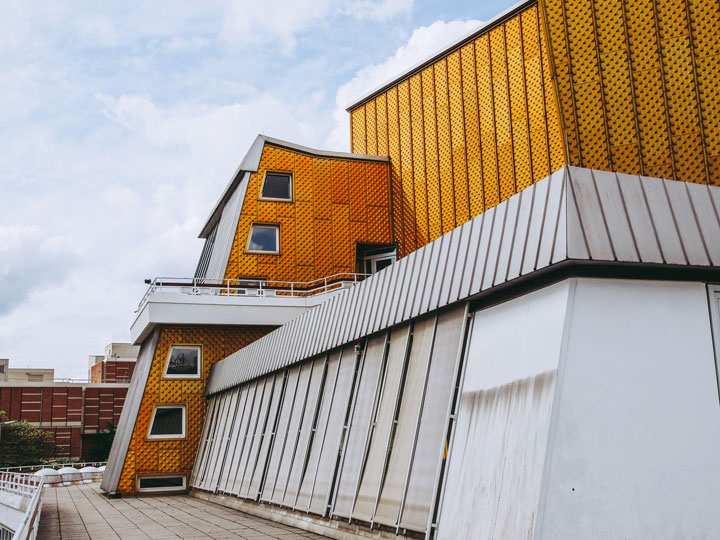 Every Tuesday at 1pm, the Berliner Philharmonie hosts a free (yes, you read that correctly, FREE) concert, and surprisingly, not a lot of people know about it. You'll mainly find locals on their lunch break and the odd group of like-minded travelers. It's actually one of the most famous concert halls in the world, so it's pretty cool that you can see a show for free.
It's easy to get to as well, located just a block from the major transport hub Potsdamer Platz. The concerts are hugely popular among locals and spots can fill up quickly, so aim to arrive at least 30 minutes before the show. You can also buy food and drinks at the venue, so settle in for a casual lunch concert.
Shop at Bikini Berlin
A concept mall located on Breitscheidplatz, Bikini Berlin is unique in that it lets independent retailers rent space in the mall on short contracts, which means it is continually evolving. It's a hipster spot and suits the vibe of Berlin.
Among the few well-established chain stores and cafes, you can expect to find a range of boutique stores. You can also head to the terrace on the top of the building, where you can admire views of Berlin Zoo while having a bite to eat.
Opening hours: 10am-6pm Monday-Saturday, closed Sundays.
If you are looking for more shopping, head to the huge Mall of Berlin (the largest in the city), or Alexanderplatz, where you will find huge chain stores, the Alexa shopping mall, and various markets.
Stop by the Soviet War Memorial in Treptower Park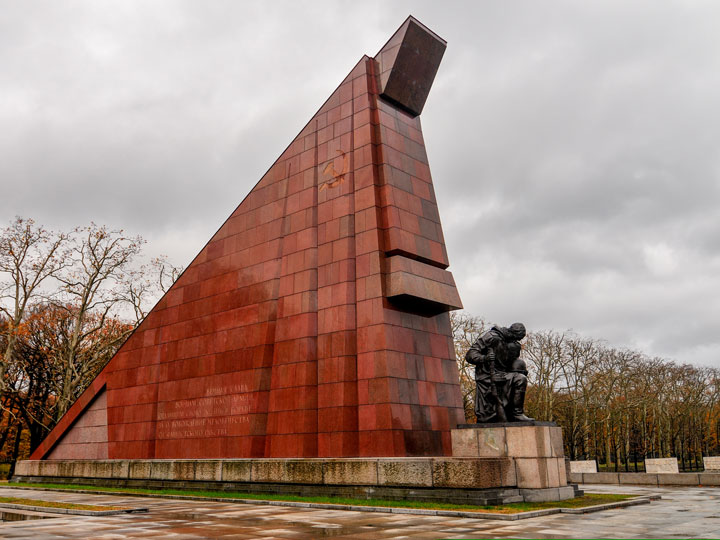 Among all of the historical and memorial sites in Berlin, this Soviet War Memorial is often missed.
Located in Berlin's Treptower Park, it is both a war memorial and cemetery that was built to remember 7,000 of the 80,000 Red Army soldiers who died in the battle of Berlin. It's one of three Soviet Memorials in Berlin (the other two are located in Pankow and Tiergarten), and makes up a triptych with two Russian memorial statues.
Visit the abandoned airport at Tempelhofer Feld
Sitting quite literally in the centre of the city, Tempelhofer Feld is Berlin's abandoned airport. What was once one of Europe's most iconic pre-World War II airports is now Berlin's largest park, perfect for hosting a huge range of activities on its ground.
Frequented by skaters, basketballers, and many more locals, the coolest part is that some of the main indoor terminals are open for wandering. It's an eerie experience that offers unique photo opportunities.
Opening hours: 7:30am-5pm daily.
Wander the Museum of Natural History
Berlin has an utterly massive amount of museums. Most of these are situated on the aptly named Museum Island, which is where most people head to get their history and art fix.
Despite being one of the world's most impressive natural history museums, Berlin's Museum of Natural History is often overlooked by travelers. However, it's worth a visit to see the impressive collection, especially since it's centrally located within walking distance of Berlin HBF. You could easily spend a day here, but 2-3 hours is enough to see the highlights.
Opening hours: 9:30am-6pm Tuesday-Saturday; 10am-6pm Sundays; closed Mondays.
Hunt for street art
Still looking for more street art after visiting East Side Gallery? Well, Berlin has plenty more to offer, and without the crowds, too!
Head to the Warschauer strabe S-bahn station, where you will find a huge range of street art in the area. This hip neighborhood is full of non touristy things to do in Berlin, with flea markets on Sundays, outdoor bars, and live music.
Book your Berlin street art tour and workshop here!
Save me for later!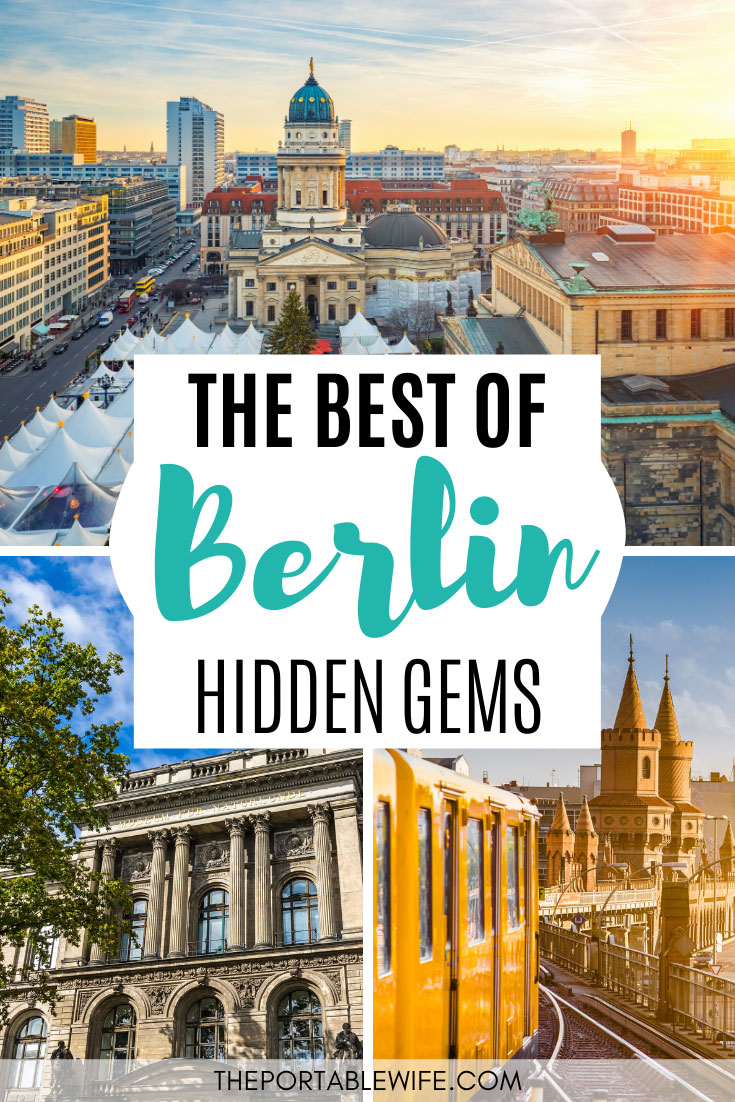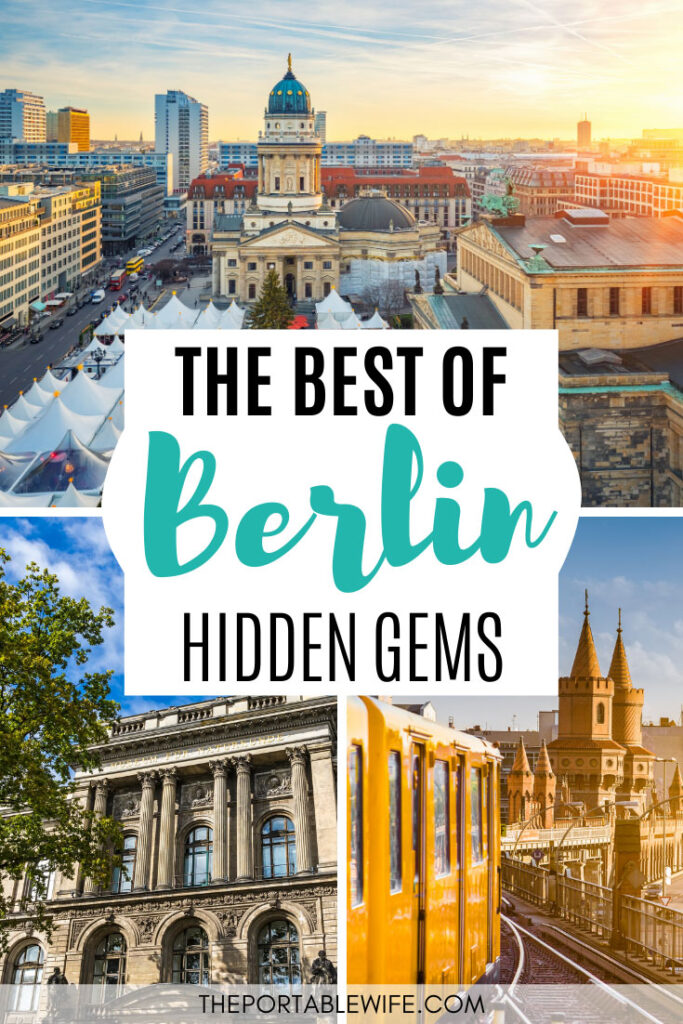 If you have more time to spend in Germany, why not head to Cologne or Nuremberg? These two beautiful German cities are calling you to visit!
Where to eat like a local in Berlin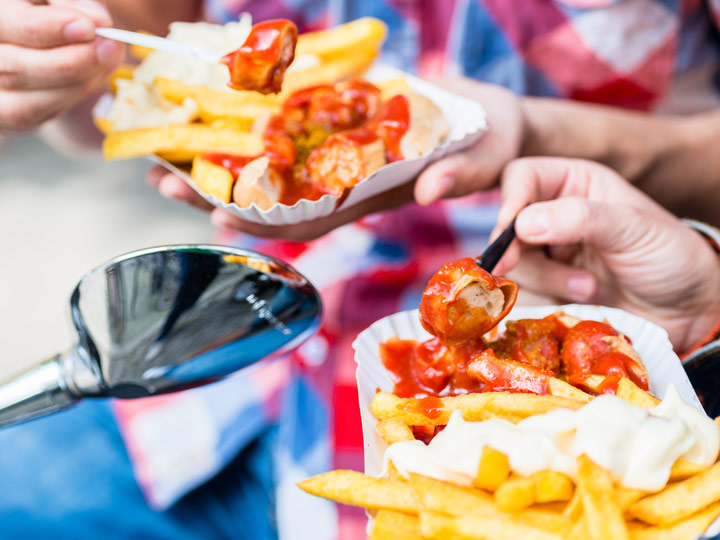 Peter Pane
A fan favorite among locals and clued-in travelers, Peter Pane is the spot to go for a good burger. Choose from a huge selection of deals which include a burger, side, and drink (the cocktails are worth trying!), and enjoy the cozy and relaxed vibe.
It's perfect for a pre-night out feed or a quick lunch stop between sightseeing. Conveniently located across the road from Berlin HBF station, it's a burger you won't regret.
Zollpackhof
Just a 5-minute walk from Berlin HBF station sits the extremely authentic Zollpackhof, which features both an outdoor beer garden and restaurant on the river. Opt for a beer in the beer garden, or head inside for a traditional German meal picked from a huge menu.
Zollpackhof is extremely popular among locals, so bookings are essential, especially in the peak season.
Belushi's Bar
Missing the sport that you normally watch at home? Belushi's Bar has got you covered. One of Berlin's top secrets, this bar and hostel in one that is not yet widely discovered. Check the schedule online to see which sporting events they are streaming and head in for a pub food and drinks while watching those sporting events that you just can't miss.
Districkt Coffee
If avocado toast and good coffee for breakfast is your thing, then Districkt Coffee is the place for you. It's a popular spot among locals for brunch, so head in early to grab a table and enjoy the delicious range of breakfast options.
Visit later in the day for a quick coffee and a cheesecake, because you definitely deserve it! Located in the Mitte district just a short walk from the Memorial to the Berlin Wall, the walk there will take you through a residential area to find this little gem.
RELATED: 2 Days in Cologne: Itinerary for First Time Visitors
Where to go for a night out in Berlin
YAAM
Beach clubs are popular in Germany, and YAAM (Young African Art Markets) is a favorite among locals. Featuring street art, musical events, and a cool hang out place, YAAM welcomes everyone to enjoy a drink.
Apartment Bar
Located in the hotel Amano Grand Central located across the road from Berlin HBF station, Apartment bar is a cool and cozy bar with comfy lounge chairs, ambient lighting, and an outdoor terrace. Try one of the classic cocktails, and opt for a shot of the Berliner Luff liqueur, a must when visiting Berlin.
Berghain
Admittedly, this place isn't typically what you would consider "off the beaten path in Berlin". Basically everyone who wants to go clubbing in Berlin tries to get into the world famous Berghain.
What is off the beaten path, however, is actually getting in! The security is a little scary and known to only let in around 20% of people. They have a "type" and will decide before you even open your mouth to say "hello" if they will let you in or not. Half the fun is seeing if you get in, and if you do, it's not an experience many travelers can say they have had.
Top tips for getting into Berghain: Wear black, stay quiet in the line and learn some basic German!
Visiting Berlin at Christmas time
From late November through Christmas eve, Berlin hosts nearly a dozen holiday markets across the city. Most visitors tend to flock to the famous Gendarmenmarkt and Tiermarkt stalls. But if you want to stick with the off path Berlin theme, you should head to Sophienstraße's Eco Christmas market for sustainable goods and treats.
Use this Germany Christmas market itinerary to plan a magical winter train trip across the country!
Explore Berlin with a local guide
To truly experience Berlin like a local, you need an expert who knows the city inside and out. Discover Berlin's quirky cafes and hidden secrets with one of these tours:
Berlin travel tips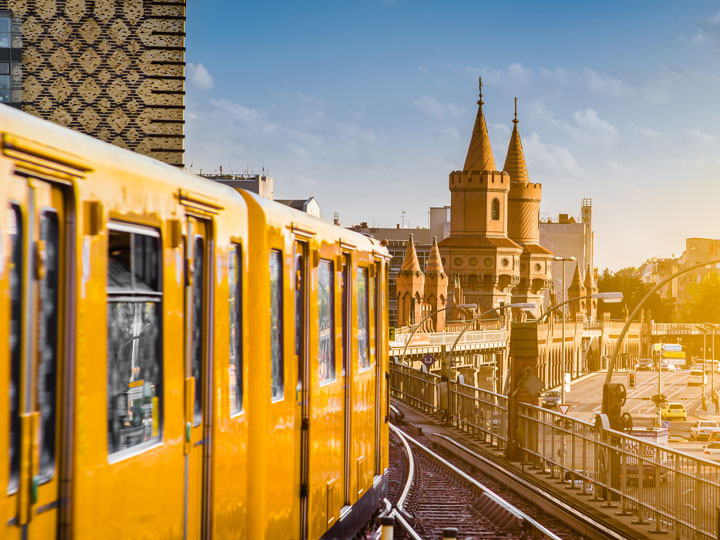 Where to stay in Berlin
For a nice stay in a convenient location, book at the Hotel Amano Grand Central.
It's not only home to the aforementioned Apartment Bar, but also centrally located across from Berlin HBF station. Plus, the hotel offers a brilliant buffet breakfast, nice rooms, and multiple lounge areas.
If hostels are more your thing, the One80 Hostel offers hip lodging in both dorms and private rooms, as well as a courtyard, bar, and club on site.
Getting to Berlin
Berlin is a major transport hub in Germany, and you can fly directly from many cities in Europe and within Germany itself. If you are flying in from outside of Europe, it can be cheaper to fly to Frankfurt first depending on the time of year, so it's worth checking prices. Most of the time a stopover in Frankfurt is necessary anyway.
Already in Germany? Fortunately, the country's trains are frequent and comfortable. A five hour train ride north from Cologne, and a couple of hours from Nuremberg and Munich, it's easy to make your way to Berlin without a car.
Getting around Berlin
There's no shortage of public transport in Berlin. The S and U-Bahn trains will take you just about anywhere and are very affordable, and the trams are another great option. Cabs are also common in the area, but generally you can get whereever you want to go with public transport and/or a short walk.
I adored my time in this city. After traveling around Madrid and elsewhere in Spain and Germany, it was wonderful to spend over a week in Berlin.
As I have German heritage, I enjoyed meeting up with distant friends and relatives, and really seeing the city for more than its tourist hot spots (of course, I visited all those places too!). The experience did not disappoint at all, and I quickly learned how much Berlin has to offer.
Once you get off the beaten path in Berlin, you won't want to stop! It's a special feeling to know you have truly seen a place beyond its tourist hot spots. Berlin is the perfect place to chill out and explore thanks to its welcoming people and its good vibe.