If you want a major dose of holiday cheer in December, head to Germany's Christmas markets. Warm spiced cider, inviting wooden chalets, and twinkling lights will surely ward off your winter blues. And thanks to the country's excellent public transit system, visiting Christmas markets in Germany by train is easy and efficient.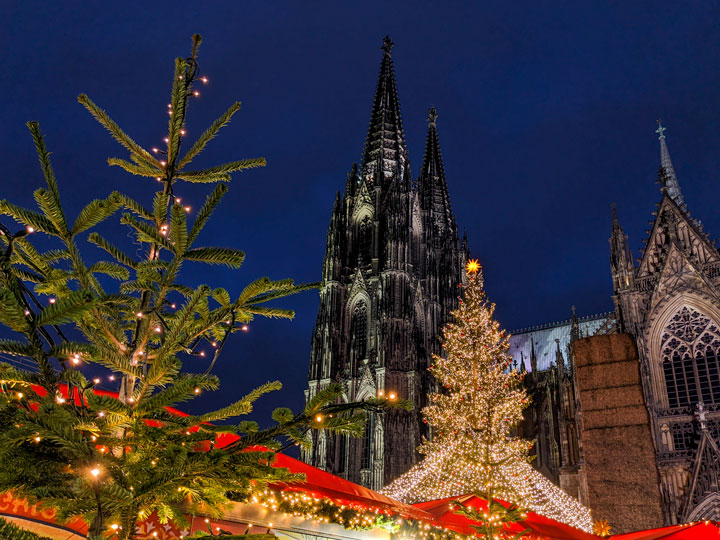 Germany's cities and villages have been hosting Christmas Markets for centuries. They began in the Middle Ages as "winter markets", where tradesmen sold their goods to the locals during Advent.
As time went on, these markets grew from small events lasting a few days to the epic, month-long celebrations we see today.
While the first recorded winter market was held in Vienna in 1298, the city of Dresden, Germany held the first so-called "Christmas market" in 1434. With this much history behind them, it's no surprise that German Christmas Markets are spectacular events!
Although each market is unique, there are a few elements that you'll find across the country. Traditional food and drink are a huge draw, with sausage and glühwein (mulled wine) being the most popular.
Merchants sell handmade Christmas ornaments, snow globes, nativity figurines, and other holiday decorations. And of course, there will be a multi-story Christmas tree towering over everything.
Before you jump into the Germany Christmas market itinerary like a kid on Christmas morning, take a look at the tips below. I promise they'll save you a lot of headache, and even a bit of money!
This post contains affiliate links. For more information, click here.
Germany Christmas Market Guide
Tips for visiting Germany Christmas markets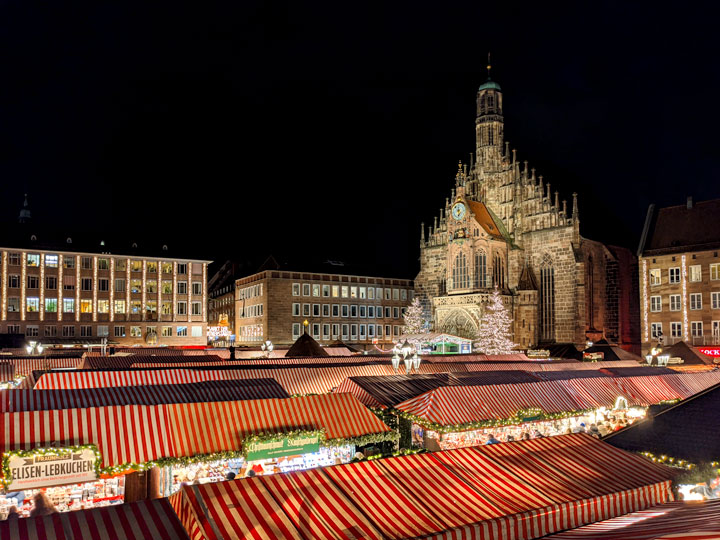 Eat (and drink) the local specialities
Food and drink play a major role in Germany's Christmas markets. The moment you enter, you can smell the smoke from grilling sausages and the fruity, spicy aroma of glühwein.
While staples like bratwurst, potato pancakes (reibekuchen), and hot chocolate are available everywhere, each region and city has its own local specialties.
Nuremberg is famous for lebkuchen, a gingerbread-like cookie with a soft texture. Frankfurt markets sell mulled apfelwein, a wine made from pressed apples. And in Munich, you'll find Bavarian specialties like white sausage and käsespätzle, a cheesy dumpling noodle dish topped with fried onions.
Book your hotel rooms early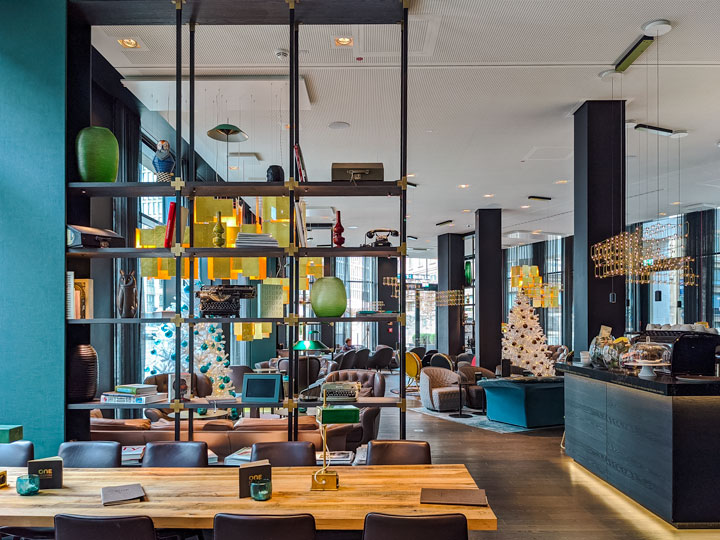 German Christmas markets draw visitors from all over the world. To have any hope of booking at a reasonably priced hotel, you need to reserve your rooms at least a month in advance. Two months is better.
I've included my detailed hotel recommendations for each city further down the post. But here's a quick list for your reference:
Learn a few German phrases
I always learn a few basic phrases before traveling abroad. Although everyone spoke English at the markets we visited, I always feel better when I can ask for things and say "thank you" in the local language.
Here are some helpful phrases for your German Christmas market trip:
Yes – Ja (ya)
No – Nein (nine)
Pardon Me – Entschuldigung (en-SHUL-di-gung)
Thank You – Danke (DAWN-kuh)
Please – Bitte (BIT-eh)
I don't speak German – Ich spreche kein Deutsch (ish SPRE-ke kine doitch)
Water – Wasser (VA-sa)
One – Ein (eyen)
Two -Zwei (zveye)
Always carry cash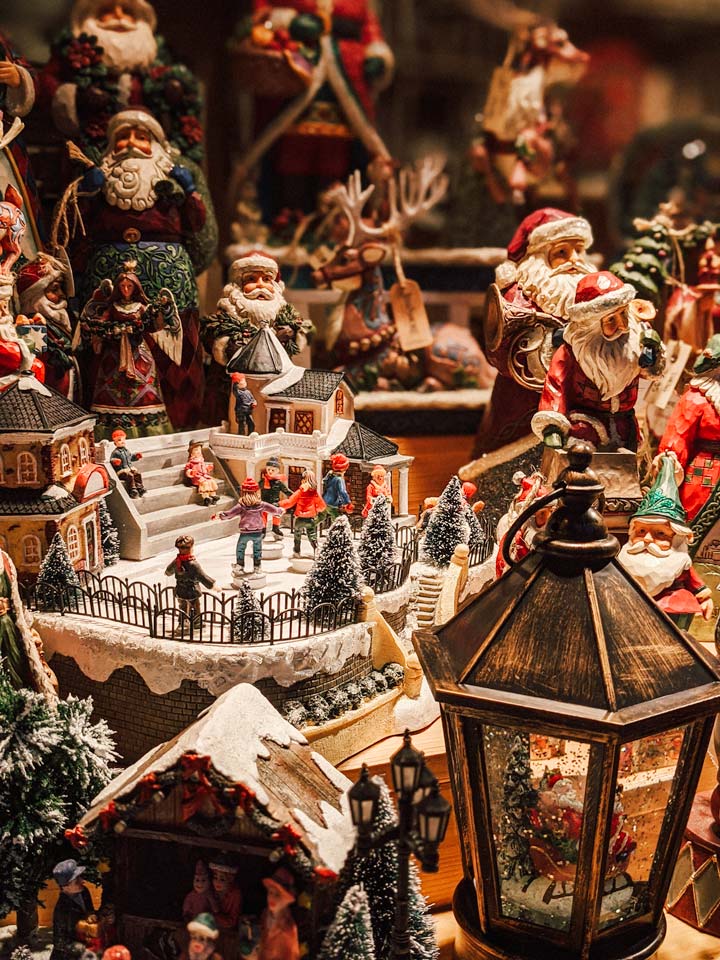 If you plan to do more than window shop at the German Christmas markets, you'll need to bring euros. While some stalls in big cities like Frankfurt accept card payments over a certain threshold, most operate in cash only. Be sure to bring a coin purse to hold your change!
Visit the popular German Christmas markets twice
If you follow me on Instagram, you know that I like to keep it real. Some Instagrammers might have you thinking the markets are charming, mostly empty places where you can take a selfie with no one in the background. Unfortunately, the most popular German Christmas markets are as crowded as Disneyland during peak times!
As someone who gets terribly stressed out in crowded situations, I designed my Germany Christmas market itinerary to allow for nighttime and daytime visits in each city.
While the markets have a more magical, illuminated atmosphere at night, they're also packed with people. In fact, I can only describe our experience in Cologne at night as being swept away in a human river, with no chance to go against the flow.
But during the day (especially a weekday), it's far easier to enjoy the stalls and ambiance at your own pace. This is the best time to shop, take photos, and walk around with your mulled wine.
RELATED: Berlin Off The Beaten Path: 13 Unique Things to Do
Scope out the mugs and collect your favorites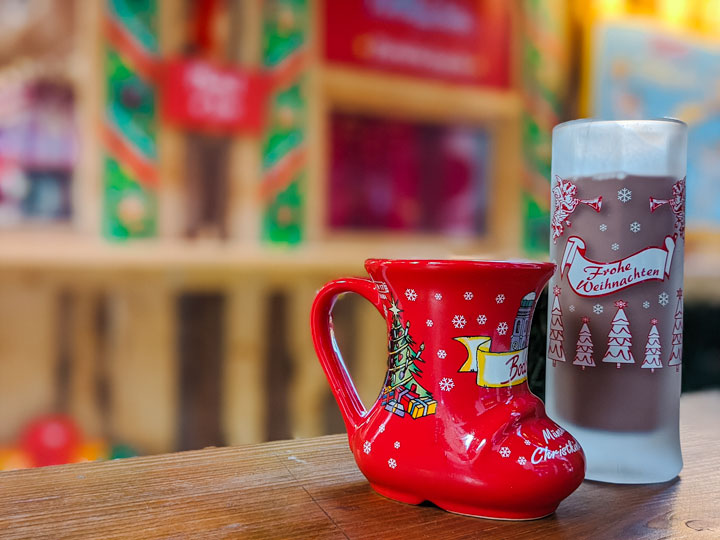 One of my favorite things about Christmas markets in Germany are the sustainability practices. Food comes in biodegradable containers with wood utensils. And instead of plastic cups, each market has beautiful mugs for serving drinks.
They use a deposit system for the mugs (pfand in German), so you'll pay an extra 3-5 euros for your first drink. You use the same mug for refills, and when you're finished drinking, you can return the mug to any drink stall in that market for your deposit.
Within each of the cities in this itinerary, there are multiple markets, and each market has its own signature mug. I like to scope out the options at night, and then return the next day to buy my favorite mug. The cute red boot pictured above is now a permanent part of my Christmas decor!
Download the DB Navigator App
I absolutely love the DB Navigator App for getting around Germany via public transit. DB (Deutsche Bahn) is the main train operator in Germany, and their app lets you purchase tickets and make seat reservations right from your phone.
When you're visiting Christmas markets in Germany by train, it's super convenient to skip the ticket machines and hop right on the next available train. You'll even get notifications if your journey has been delayed, or if there's been a platform change.
Consider buying a German rail pass
I'm all about saving money when traveling, and one easy way to do that is by purchasing rail passes. The German Rail Pass gives you unlimited rides on all DB trains (and some other operators), including the fast ICE trains that connect the major cities on this itinerary. There are 3, 4, 5, 7, 10, and 15 day passes, with consecutive and non-consecutive day options.
Because my husband and I were traveling together, we were able to buy the Twin 5-day pass, which saved a bit of money over buying individual tickets. It also came in handy when delays and cancellations happened, because we could simply change our route rather than be stuck waiting hours for the next train.
Note that only residents outside of Europe, Turkey and Russia are eligible to buy the pass. However, the sales page uses your passport's issuing country, so it's possible to buy the pass if you're currently traveling in Europe.
The best time to visit Christmas markets in Germany by train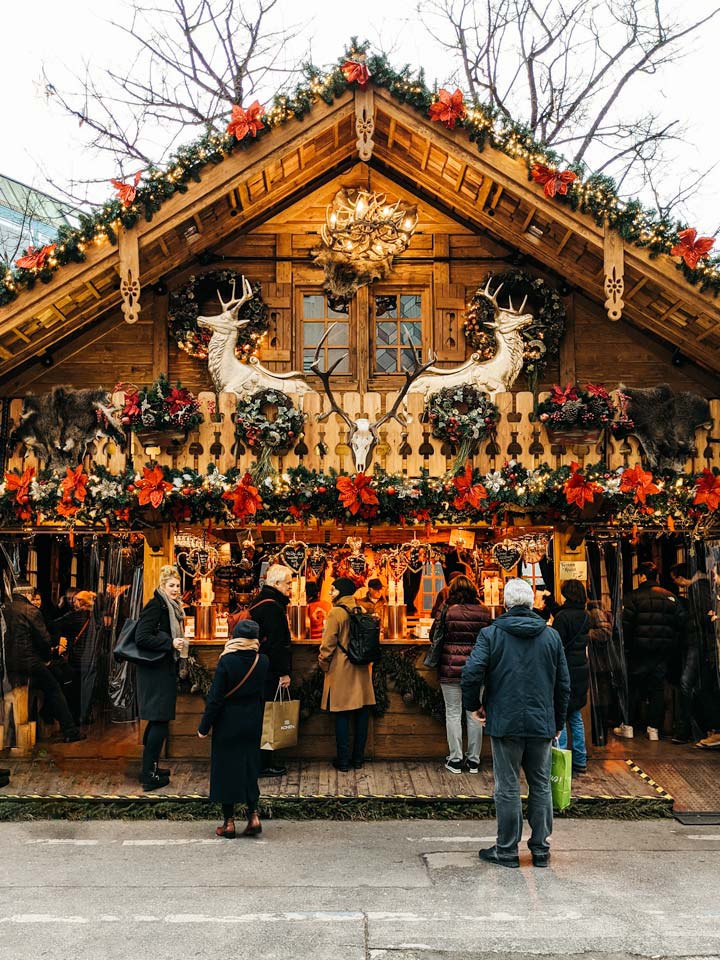 Early December is the best time to do a Germany Christmas market trip. While all of the markets on this itinerary open sometime during the last week of November, the opening ceremonies draw extremely large crowds.
Visiting the first week of December is ideal because most people will still be at work/school during the day. As the month goes on, more and more Europeans will take their winter holiday, and crowds peak in the days leading up to Christmas.
Save me for later!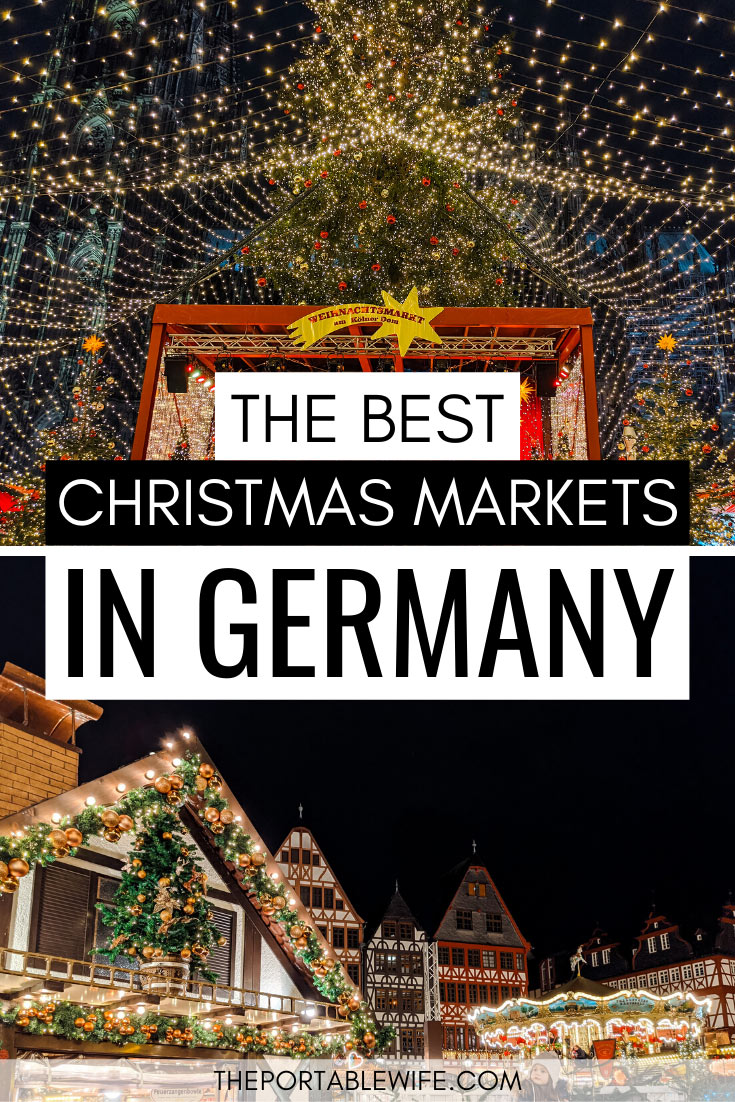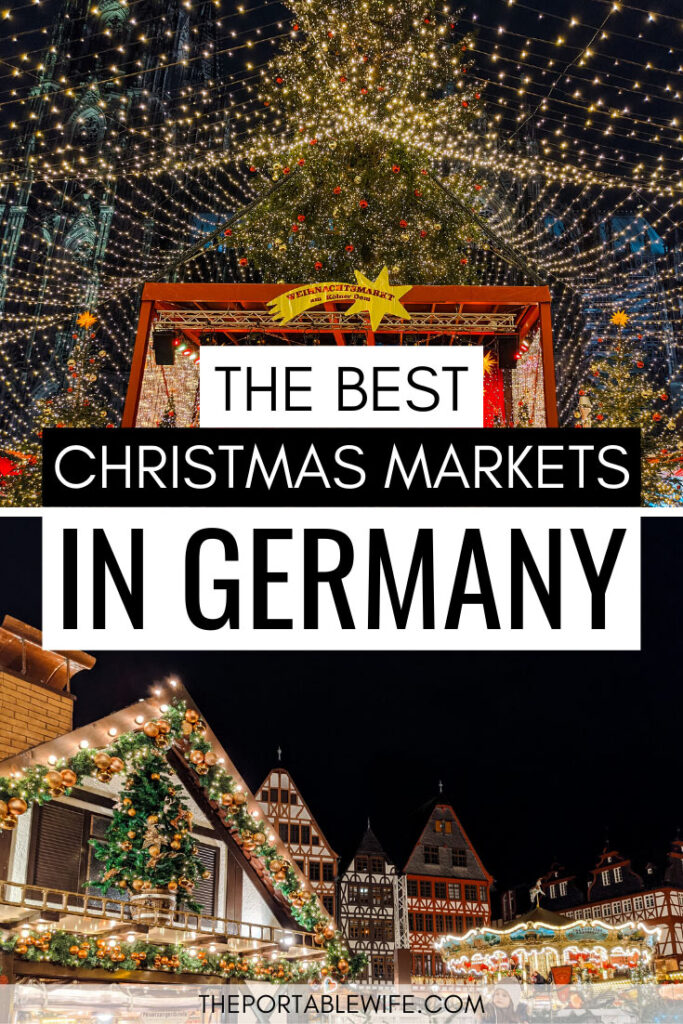 Germany Christmas market itinerary
To experience as much holiday charm as possible, I put together a Germany Christmas market itinerary that spans four regions.
Although we visited all five cities in five days, you could certainly spend an extra night in a few of them. We ended up staying in Munich for two days to do some sightseeing, and Nuremberg's history and charm deserves an extra day as well.
Note that we started our Christmas market trip by spending one day in Brussels, so Aachen was our first stop in Germany. Depending on where you're starting your journey (or if you're flying into the country), you may want to do this itinerary in reverse, beginning with Munich.
As of September 2023, all of the cities on this German Christmas market itinerary are scheduled to be open for the season. Please be sure to follow local guidelines and review your travel plans in advance of visiting!
Aachen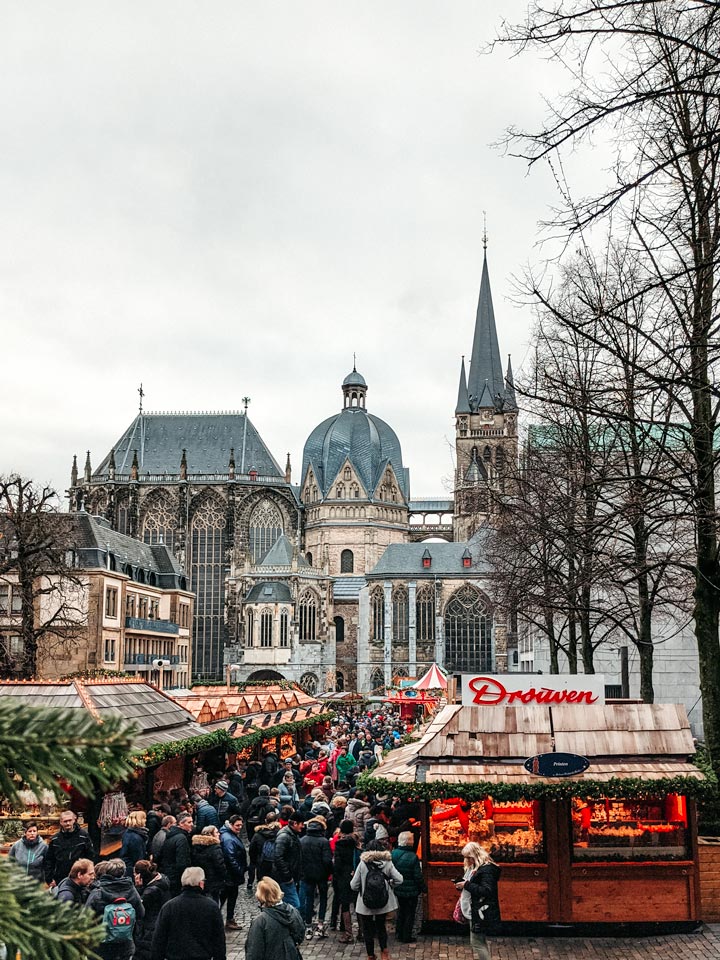 Aachen was my favorite German Christmas market of the trip. A massive cathedral dominates the town center, creating a fairytale-esque atmosphere. And the surrounding streets and alleys were beautifully decorated with garland, Christmas trees, and enticing window displays.
Hundreds of stalls radiate out from the cathedral, covering the Munsterplatz and the Katschhof. Opposite the cathedral stands the Rathaus (town hall), and the Marketplatz behind also has a large set of stalls. Be sure to try the Aachener Printen, a type of lebkuchen shaped like a flat rectangle.
While you're in Aachen, take the time to go inside the Aachen Cathedral, which is one of the oldest in Europe. It's also the final resting place of Charlemagne.
Before you leave, swing by the Elisenbrunnen. This neoclassical pavilion sits atop a thermal spring, and you can touch the hot water that comes out its fountains.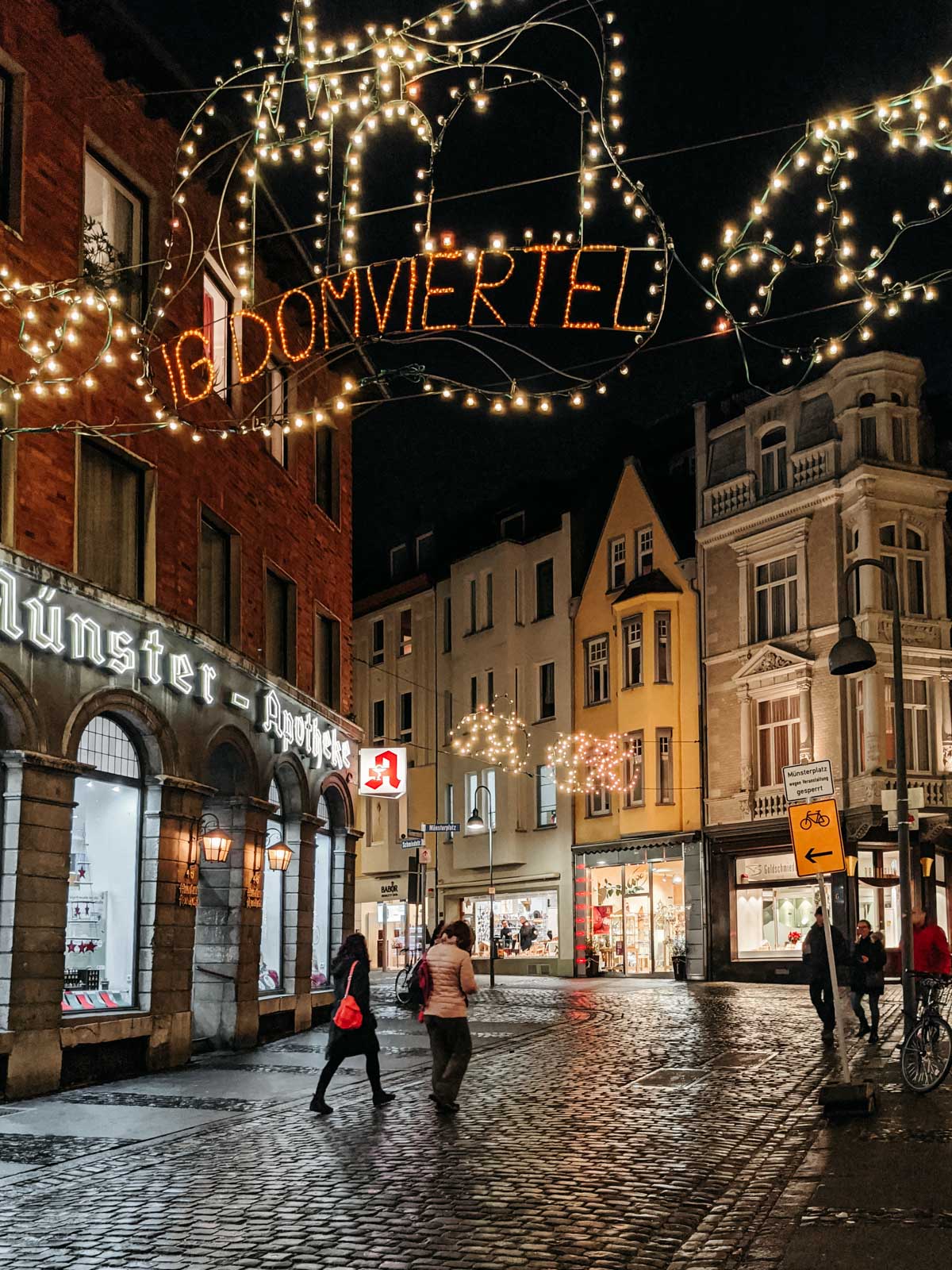 Where to stay
Bensons Hotel is perfectly located between the markets and Aachen train station. It's super convenient to hop off the train, walk to the hotel to drop your bags, and head straight to the markets. Being a 10 minute walk from the cathedral is a nice bonus, especially if a rain shower forces you to retreat early.
Cologne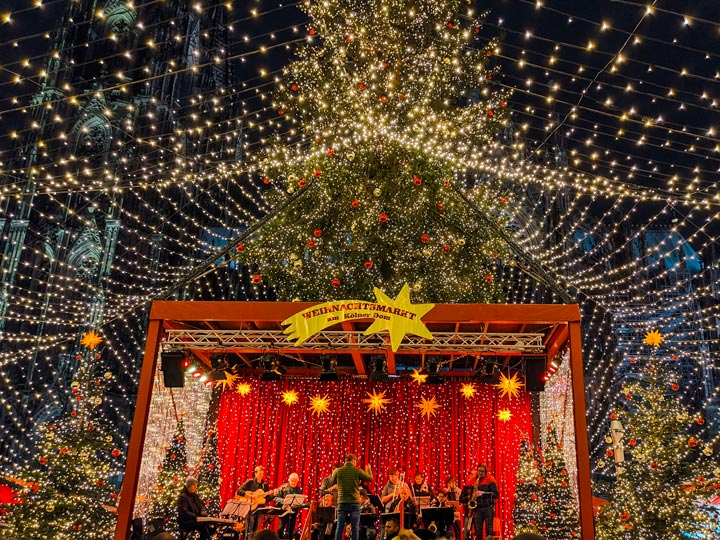 After spending two days in Cologne in the summer of 2018, I vowed to return for the famous Cologne Christmas market. The Cologne Cathedral is my favorite building in Europe, and seeing hundreds of stalls and twinkling lights against its magnificent backdrop was truly a bucket list-worthy experience.
Cologne has SEVEN Christmas markets spread across the city! Each one has its own unique charms (and collectible mugs), so I suggest visiting most or all if you can.
Old Market: A large ice rink and carnival rides are a favorite with children
Angel's Market: Lovely wooden chalets and twinkling lights make this market whimsical
Cathedral Market: Cologne's largest and most famous market, with over 160 traditional stalls and a live music stage
Heavenue Market: Heavenue is put on by the LGBT community, but all are welcome to enjoy the fun atmosphere
Village of St. Nicholas: Situated next to the Hahnentorburg gate, this market has a medieval village feel
Stadtgarden: The Belgian quarter is one of my favorite Cologne neighborhoods, and its Stadtgarden village offers a cozy escape from the more crowded markets
Harbour Market: Located on the Rhine river next to the Chocolate museum, this market boasts a decorated sailing ship and seafood stalls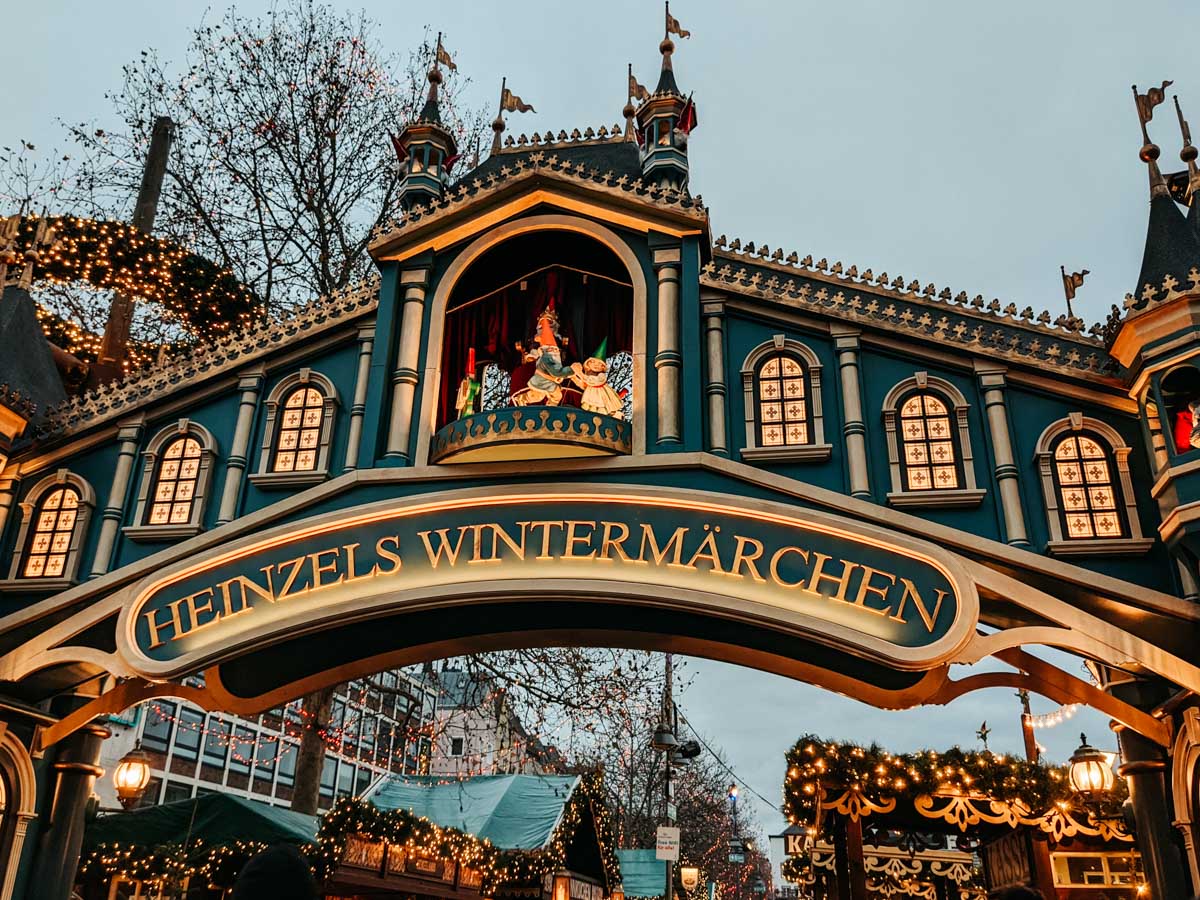 Where to stay
If you're looking to splash out on a great hotel experience, I highly recommend the Hyatt Regency Köln. It's directly across the river from the Cologne Cathedral, giving you easy access to the city's major markets.
Aside from location, the hotel itself is gorgeous, full of amenities, and is famous for its lavish Sunday brunch. If you want incredible views and easy access to the sights, I highly recommend staying here.
Book at the Hyatt Regency Köln now!
Frankfurt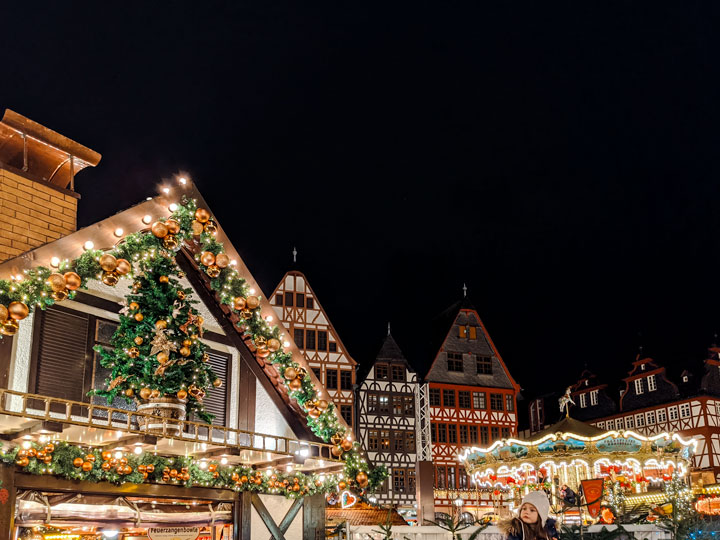 Frankfurt has a beautiful old town, and its spectacular Christmas market transforms the area into a winter wonderland. Surrounded by colorful half-timbered buildings and a stunning town hall, the Römerberg hosts the bulk of Frankfurt's stalls. There's even an illuminated vintage carousel to dial up the magic factor!
In addition to the Römerberg market, there's a smaller group of stalls (and another carousel) at the Paulsplatz. It's a good place to escape the crowds for a drink.
If you have the time (and energy), pay 3 euros to climb the 300 steps of Frankfurt Cathedral tower. The 360 degree views from the top are incredible, offering a birds-eye perspective of the markets below.
I also suggest a stroll along the River Main and across the Eiserner Steg (Iron Bridge). The Sachsenhausen neighborhood south of the river is full of lovely houses, and there are plenty of pubs serving the city's signature apfelwein.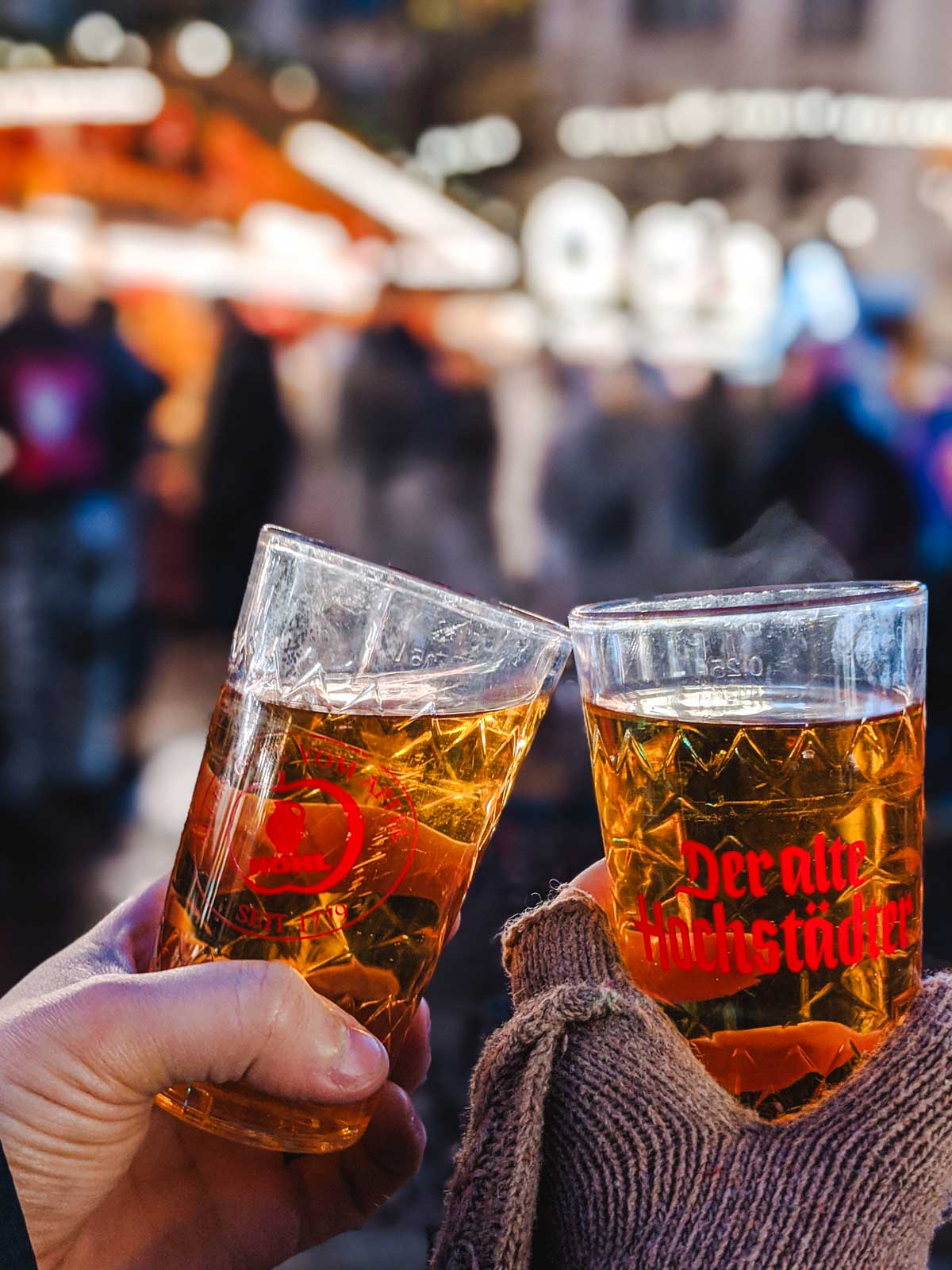 Where to stay
For maximum convenience at a reasonable price, book a room at Motel One Frankfurt-Römer. Don't let the name fool you: this chic hotel has modern amenities, an impressive bar and lounge area, and super comfy beds. Plus, it's under a five minute walk to the markets, and a 15 minute walk to Frankfurt train station.
Reserve a room at Motel One Frankfurt-Römer!
Nuremberg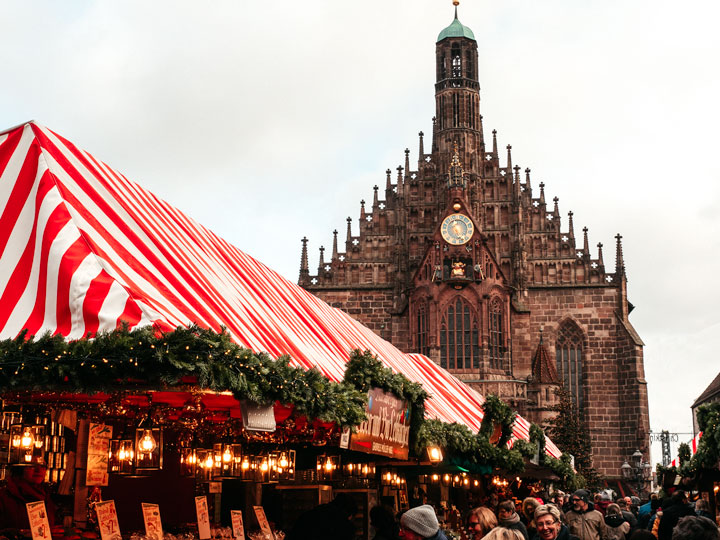 Nuremberg's Christkindlesmarkt is one of the largest and most popular Christmas markets in the world.
Part of the draw is the Christ Child (Christkind) tradition, where a young woman is elected to dress up in an elaborate white and gold dress complete with crown and wings. The Christkind presides over the market's opening ceremony, gives a speech to kick off the festivities, and also visits children in the market, schools, and hospitals.
The main market sprawls across the Hauptmarkt square in front of Nuremberg's Gothic-style Church of Our Lady. Here, traditional wooden stalls are topped with red and white striped roofs, turning the area into a candy cane-esque wonderland. Don't forget to eat the famous lebkuchen while you're here!
In the adjacent side streets, you'll find the Market of the Sister Cities, where vendors from around the world sell everything from African flutes to Italian ham. There's also a Children's Market nearby, with pretty carousels, gingerbread houses, and other kid-friendly stalls and activities.
Aside from the amazing markets, Nuremberg has a lot to offer. There are seven charming bridges that cross the Pegnitz River, and the Maxbrücke and covered Henkerbrücke are most iconic.
The Weißgerbergasse is lined with photogenic half-timbered shops and restaurants. And if you have extra time to spend, check out the Memorium Nuremberg Trials, a museum above the courthouse where the Nuremberg Trials were held.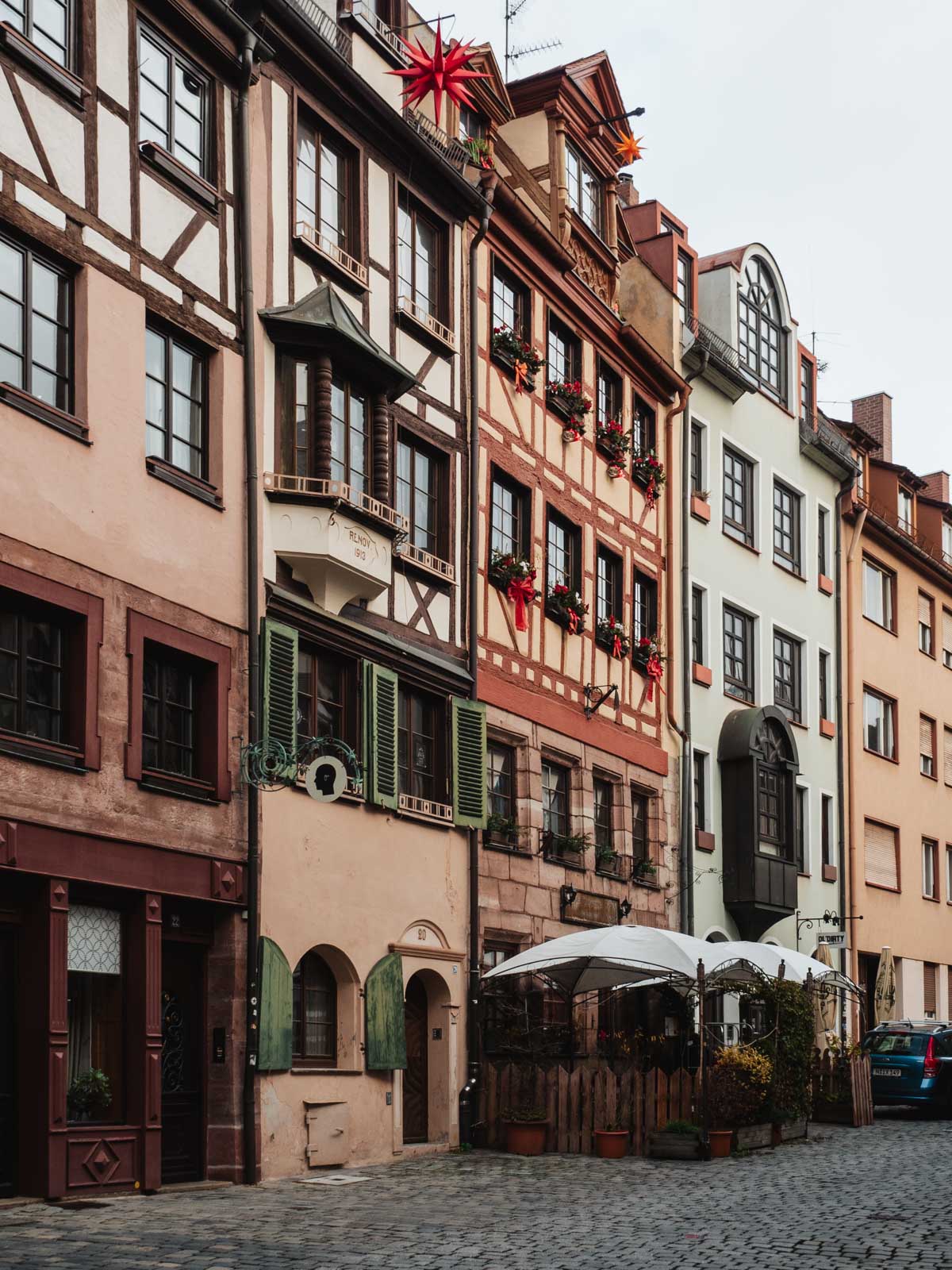 Where to stay
It's hard to beat the Gideon Hotel on location and price. There are market stalls directly outside the hotel–including a glühwein vendor–and the train station is a short walk down the street. Despite all this, our room was quiet (a must for me) and had stellar views over the city.
Munich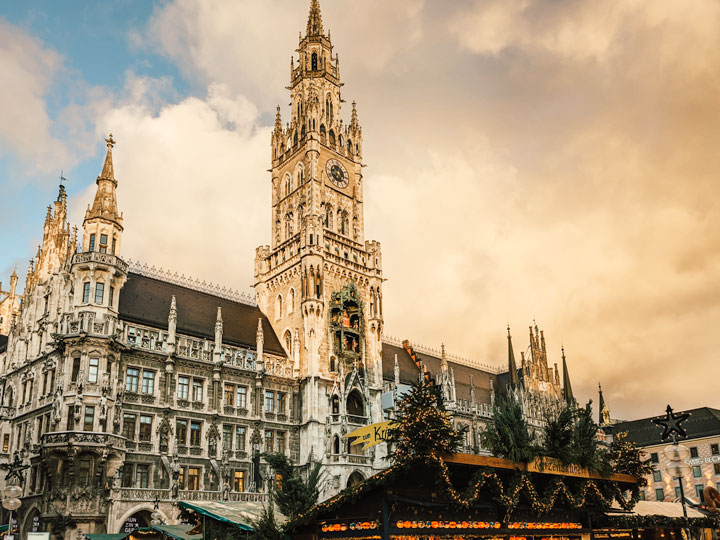 The final city on this German Christmas market itinerary hosts over a dozen markets (click here for the complete list). Munich's biggest is the Christkindlmarkt Marienplatz, located next to the gorgeous Rathaus. The combination of cute stalls, ornate architecture, and giant Christmas tree is truly mesmerizing.
For a more secluded experience, head to the Residenz Christmas Village. To reach this small market, head through the covered archway across from the Munich Residenz palace. I loved the calmer feeling of this courtyard location after the bustle of the Marienplatz.
Munich's vast English Garden hosts its own market near the Chinese tower in the center. It's further away from the crowds, and the trees make it feel like a hidden gem in the forest.
If you want a modern twist on tradition, check out the Tollwood winter festival. Held at the same site as Oktoberfest, Tollwood is closer to Edinburgh Fringe than your typical German markets. Live music, international food, and sustainable crafts offer a refreshing break from the usual fare.
We also spent an extra day in Munich to do some sightseeing. I highly recommend a visit to Nymphenburg Palace, an opulent estate with multiple residences and serene grounds. The Munich Residenz is another lavish building with state rooms and several museums.
If you can spend 3 days in Munich (or more), I also suggest adding a day trip to the famous Neuschwanstein Castle. However, you can't use your German Rail Pass to get there, and the trip involves multiple modes of public transit.
Luckily, there are a number of day trip operators that run tours to Neuschwanstein from Munich, making it easy to visit the place that inspired Disney's Cinderella Castle.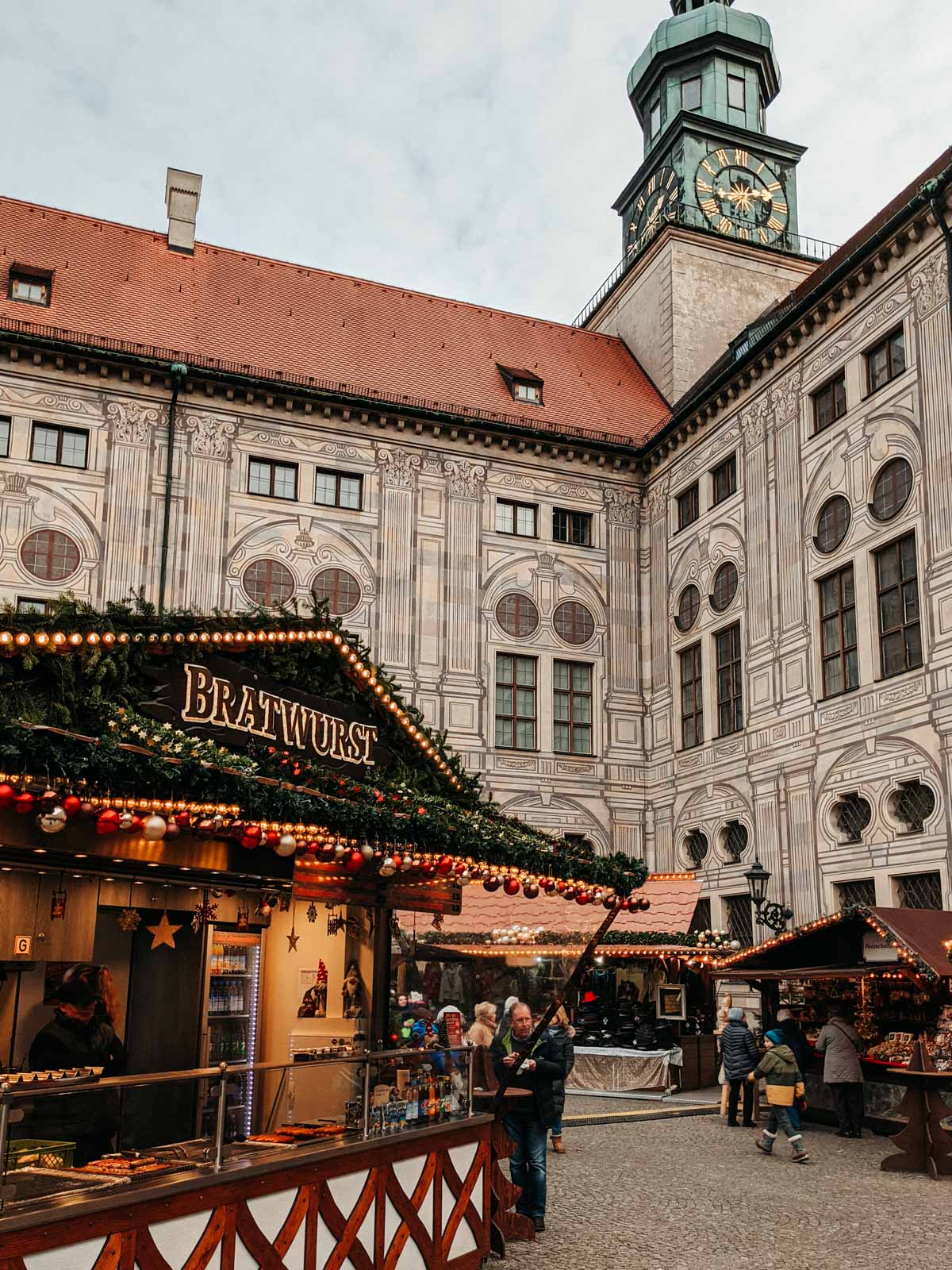 Where to stay
Munich is a big city with tons of hotel options. We chose to stay at Hotel Mirabell for two nights because of the price and proximity to the train station. Although it's a 15 minute walk to the main market, it's a short 5 minute walk to the Tollwood winter festival.
Reserve at the Hotel Mirabell now!
My favorite Germany travel books
Use these travel guides to discover more Germany destinations and travel tips:
Are visions of sugar plums dancing in your head yet? If you visit all of these Christmas markets in Germany by train, you'll be bursting with holiday spirit.