Do you fantasize about visiting Venice, but worry it will be an over-touristed nightmare instead of a dream? I had the same fear when crafting my 2 days in Venice itinerary. People have been waxing poetic about Italy's floating city for centuries. But does it actually live up to the hype?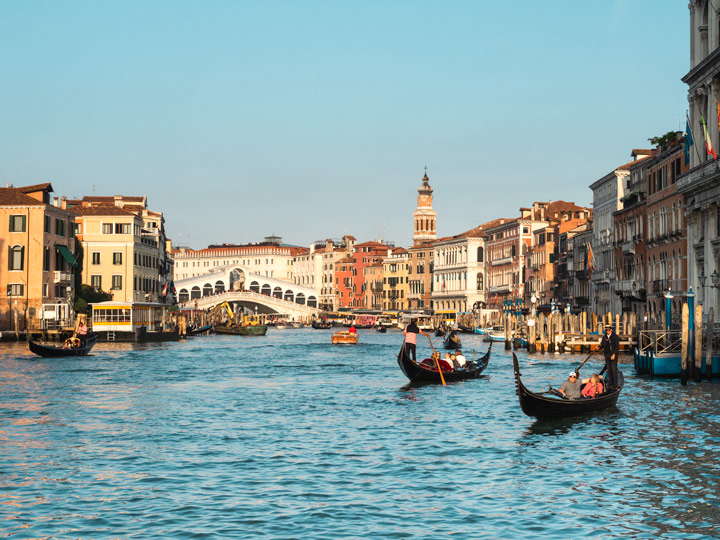 Well, I have good news for you! Venice can be a truly unique, otherworldly travel experience if you do it right. Or, you can spend 2 days in Venice walking from tourist attraction to tourist attraction, and leave with a lingering sense of disappointment.
If you want the best of both worlds–to see the famous sites AND the authentic side of the city–this Venice itinerary is for you. It covers the must-sees, like Piazza San Marco and the Rialto Bridge, but also the Venice hidden gems that lie just beyond the beaten path.
This post contains affiliate links. For more information, click here.
How to do Venice in 2 days
Know before you go
Estimated budget for two days in Venice (excluding accommodation and transport): €150 / $168 USD
The best time to do this Venice itinerary
Personally, I think the best time to visit Venice is mid-late October. It's the autumn shoulder season, which comes with reduced crowds, cheaper accommodation, and mild weather. We did this 2 days in Venice itinerary during the third week of October, and the only place that felt crowded was the Rialto Bridge.
If you're planning your Venice trip for a different month, here's what you can expect:
February: The famous Carnival takes over Venice for nearly all of February. It's certainly the most festive time to visit, but also the most crowded and expensive!
March – Early May: Spring is shoulder season, with mild weather starting at 13°C/55°F in March and climbing to 22°C/72°F in May. Avoid May 1st if you can, as the public holiday sees an influx of visitors.
Late May – Mid September: This is peak season in Venice, with August being downright crazy as Europeans take their summer holidays. Expect long queues, inflated prices for everything, and crowds galore. I've also heard the hot weather (28°C/82°F in August) causes the canals to smell.
Late September – October: As temperatures wind down–October average high is 18°C/64°F–so does Venice. As mentioned above, late October is a fantastic time to visit Venice thanks to lower crowds and prices.
November – January: Venice makes for a great winter travel destination in Europe if you don't mind the cold. In fact, this time of year brings ethereal morning fogs that make Venice feel even more mysterious. The city also puts on a big New Year's Eve fireworks festival at Piazza San Marco.
Can you walk all of Venice?
You can walk nearly all of Venice. The main cluster of islands are all connected by bridges, and you can (fairly) easily walk everywhere included in this Venice itinerary. In fact, I believe the best way to see Venice is on foot rather than by boat (shocking, I know)!
Navigating through the city's narrow alleys and footbridges is unlike anything I've ever experienced. The closest thing I can compare it to is a hedge maze, but with beautiful surprises around every corner.
Also, you cannot rely on Google Maps to get around Venice. While it's helpful to get your general bearings, the GPS on your phone will struggle to pick up your exact location. And sometimes, the suggested walking route will tell you to cross canals where there are no bridges. Embrace the explorer spirit and you'll have a great time!
Note that there are a few smaller islands, like Giudecca and Burano, that are only reachable by ferry. However, these are not included in my 2 day Venice itinerary.
Is 2 days in Venice enough?
A full 48 hours in Venice is just enough time to see the highlights and a few hidden gems. For perspective: we arrived in Venice around 10am on day one, and left at the same time on day three.
While we didn't do much the morning of our departure (aside from take a ton of hazy sunrise photos), spending two nights in Venice allowed us to see the city at a relaxed pace.
If you're anything like me, you'll be itching to explore Venice the moment you arrive. Fortunately, Cannaregio–the neighborhood just outside of the train station–is the perfect place to kick off your 2 days in Venice itinerary.
If you'd rather go straight to your hotel with your luggage, I suggest booking a water taxi from the airport or train station. You can pick up this itinerary after you've dropped off your bags.
For nearly 300 years, this expansive northern district served as the Jewish ghetto of Venice. Napoleon's troops brought an end to the segregation at the very end of the 18th century, but the neighborhood remains an important place for Venetian Jews.
It's also home to some of the prettiest alleys in Venice. Most visitors tend to rush from the train station straight to the Piazza San Marco, leaving Cannaregio's alleys blissfully uncrowded.
As you meander to your heart's content, be sure to stop by the Campo del Ghetto Nuovo, where you'll find several old synagogues, a WWII memorial, and the Jewish Museum of Venice. There's a ton of history in Cannaregio, and taking a tour with a local is the best way to uncover its secrets.
Book your Cannaregio walking tour here!
Grab lunch in a cone at Frito Inn and Gelato di Natura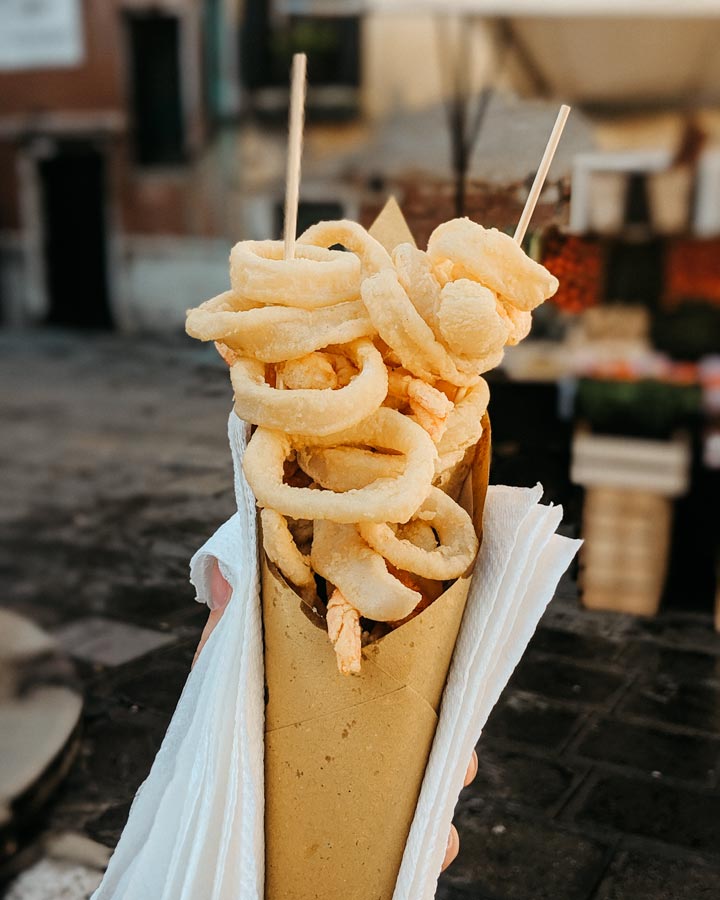 Before you leave Cannaregio, I highly recommend having a unique lunch combo: fried seafood and gelato. Venice is famous for its fritto misto, and the Frito Inn serves up choice morsels in a very Instagrammable cone. I highly recommend the shrimp and squid combo.
Continuing with the cone theme, head up the street to Gelato di Natura. We sampled a lot of gelato in Venice, and this shop was definitely the best for creamy texture and rich flavor. They have multiple locations throughout Venice, so you'll have other chances to try them if you're too full!
If you've been traveling with your luggage up until now, head to your accommodation to drop off your bags. Then, resume this itinerary from the Bridge of Sighs.
Bridge of Sighs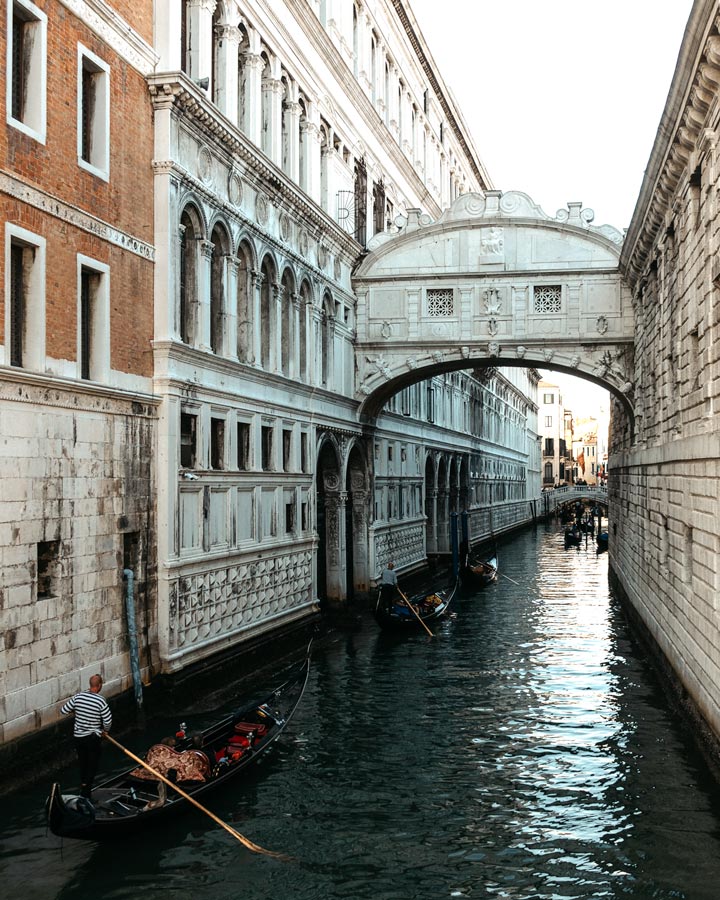 Aside from the Rialto Bridge, the Bridge of Sighs is probably the most famous bridge in Venice. If you thought the name comes from onlookers "sighing" at the bridge's beauty (like I did), I'm sorry to say it's much darker than that!
While this pretty covered passage looks lovely, it had a far less romantic purpose: to connect the Doge's Palace interrogation room to the Venetian prison. The "sighs" came from the prisoners taking one last look out at their beautiful city as they were escorted to a damp cell.
Disturbing history aside, the Ponte dei Sospiri is truly stunning, especially when gondolas pass beneath its white arch. Be prepared to jockey for a good position on the Ponte della Paglia, which offers the best view of the Bridge of Sighs.
At this point, you'll be right next to the Piazza San Marco, the beating heart of Venice. However, the area will be incredibly crowded at midday, so it's best to simply pass through on your way to the next item on this 2 day Venice itinerary. You'll have plenty of chances to explore the Piazza later when it's less busy.
Save me for later!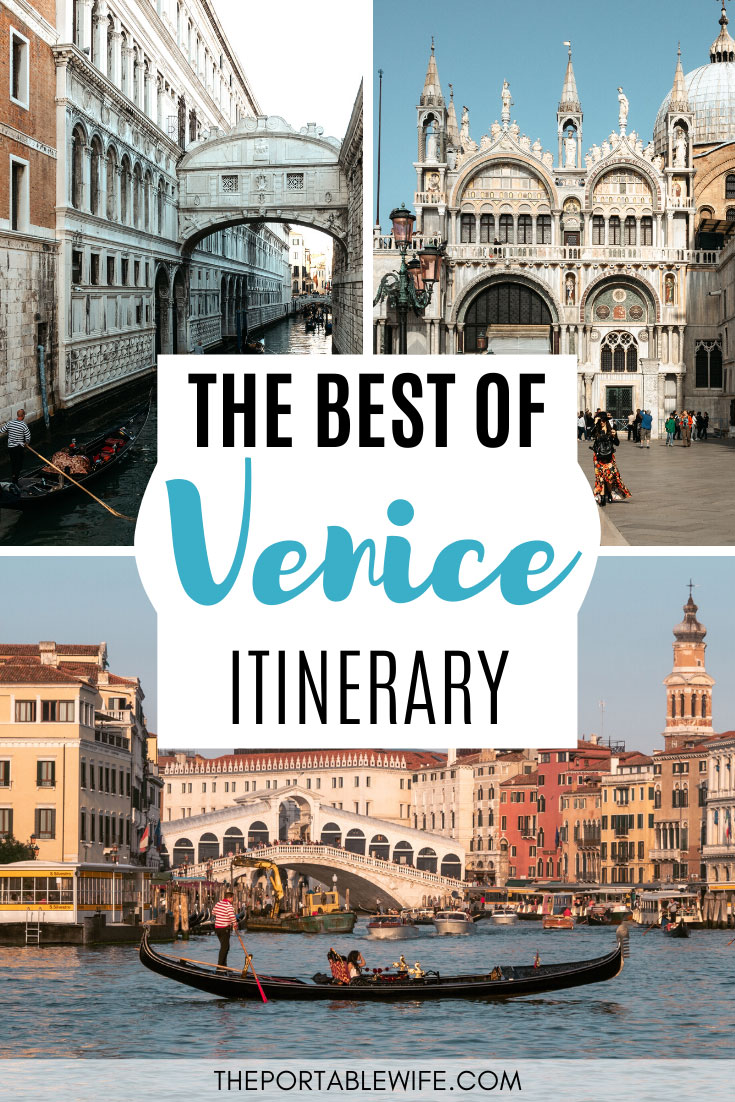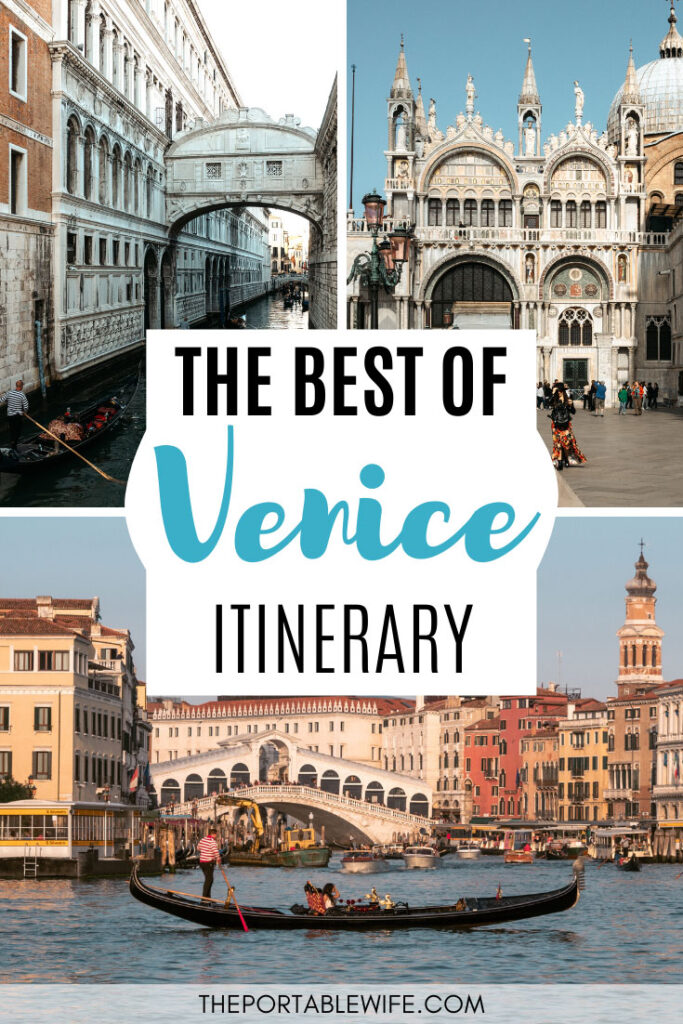 Campo Santo Stefano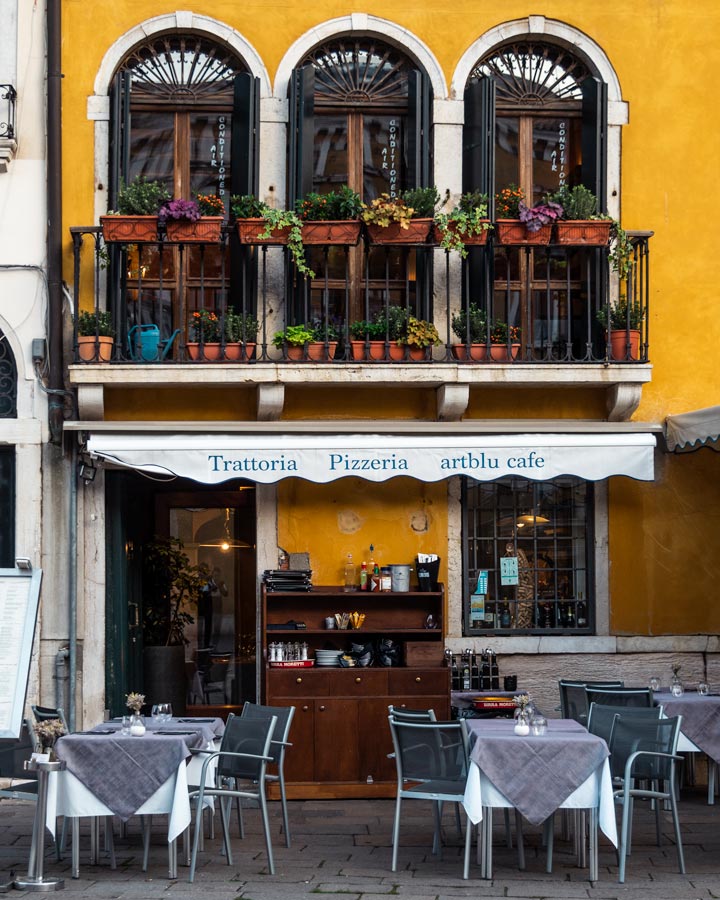 You'll come across dozens of campi–town squares–in Venice. These open spaces are a nice contrast to the city's narrow alleys, and they're home to bustling shops, cafes, and restaurants serving locals and visitors alike.
Campo Santo Stefano is one of the largest, with multiple churches and brightly painted facades. The alleys jutting out from the campo are also a joy to explore, especially the canal view at the end of Calle dell'Olio.
Take a classic Venice canal ride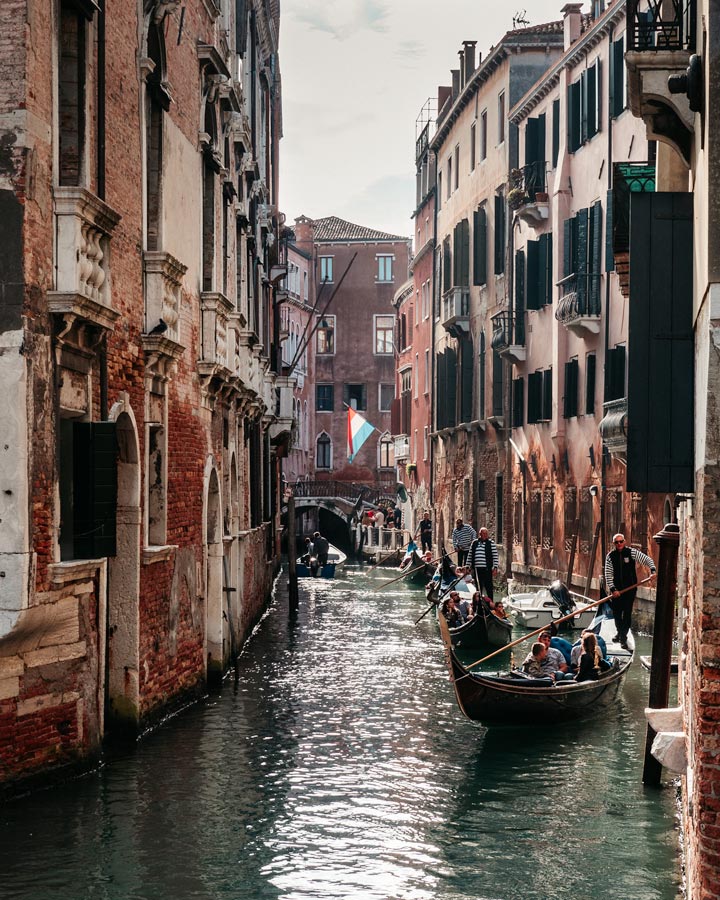 Venice and gondola rides go together like peanut butter and jelly. And while I do think exploring Venice on foot is best, taking a canal ride is a must have Venice experience.
Now, the type of canal ride you choose depends on two things: budget and atmosphere.
If you want a classic, romantic gondola ride that doesn't involve random tourists, you should book a private gondola. It may be the most expensive option, but it's a once-in-a-lifetime experience.
This private gondola ride starts at Campo Santo Stefano and fits perfectly with this Venice itinerary. Booking ahead saves you money and ensures you won't be stuck in a queue, which is common during high season.
There are also shared gondola rides, which are a bit cheaper than private ones. However, you'll be riding with strangers and aren't guaranteed to sit next to your travel partner(s).
Finally, the cheapest option is to take a vaporetto, the public transit of Venice. These mid-size boats travel around the main canals to quickly transport people around the island. It's not exactly an intimate experience, but fares only cost about 8 euros, so they're a good way to take a Venice canal ride on a budget.
Basilica di Santa Maria della Salute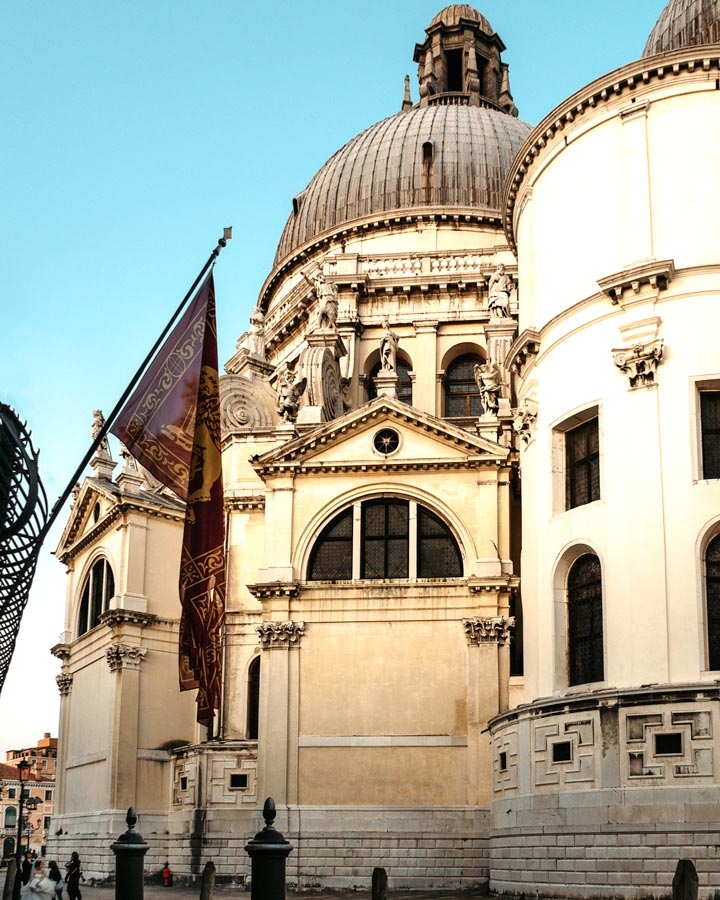 You've probably caught glimpses of the gorgeous Basilica di Santa Maria della Salute from across the Grand Canal. But it's not just the ornate domed exterior that's worth your attention.
The basilica houses an impressive collection of 12 paintings by Titian, a renowned Renaissance artist. Between the patterned tile floor and light-filled ceilings, you'll be close to swooning over the visual delights. It's free to enter the main basilica, and 4 euros to visit the Sacristy where Titian's artwork is displayed.
In terms of how to get here from Campo Santo Stefano, you have two options. Either take a 15 minute walk, crossing the Ponte dell'Accademia and heading east. Or, you could take the #1 vaporetto line from Giglio to Salute, the pier directly outside the basilica.
Ponte Dell'Accademia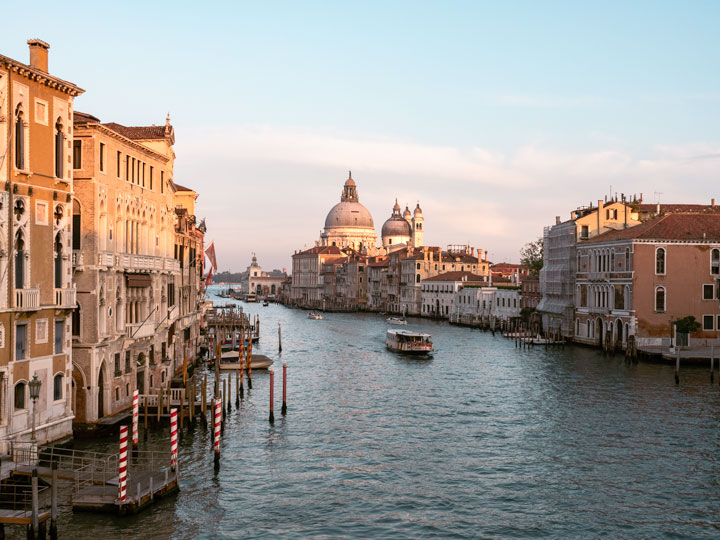 Unlike the other famous bridges of Venice, the Ponte Dell'Accademia is better known for its view rather than its architecture. From atop the bridge, you'll have two spectacular views of the Grand Canal and surrounding city.
Looking east, you'll see the postcard view of Venice that's pictured above. It's absolutely stunning at sunset and twilight, as boats and gondolas pass along the canal and out towards the open water. Photographers should bring a tripod for beautiful long exposure shots (or use the railing in a pinch).
Facing west, there's a lovely view of the Grand Canal as it curves around colorful buildings. Remember to visit both sides of the bridge to admire each unique vantage point!
Go for a sunset walk along the Grand Canal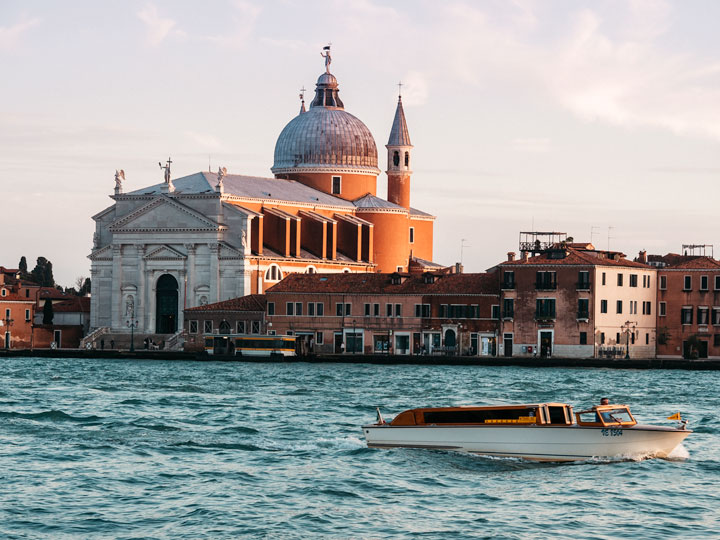 There's something magical about the evening light in Venice. Sunsets take on beautiful hues of orange and purple, and the water turns a deep blue. It's the perfect time for a stroll along the Grand Canal.
You could walk from Gongulo station all the way down to the Giardini Della Biennale, or stop somewhere in between. I also suggest popping into the Piazza San Marco after sunset. The illuminated lamps and outdoor live music are a must see.
Day 2
Enjoy Piazza San Marco without the crowds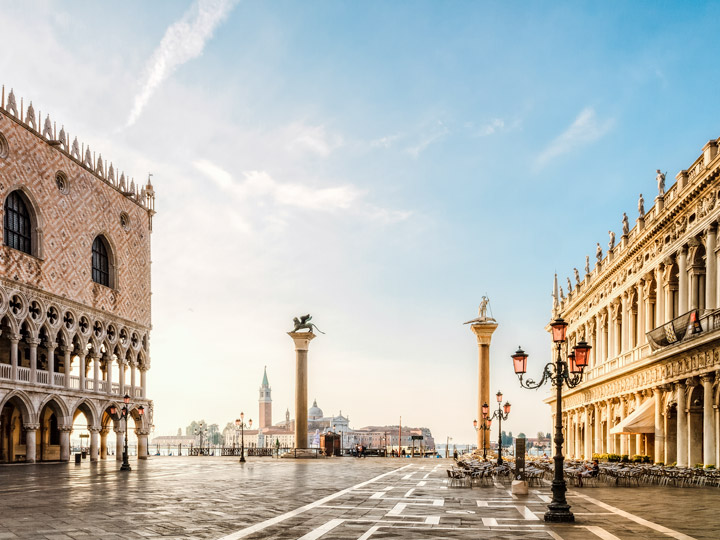 At this point, you've probably passed by St. Mark's Square numerous times. But believe me–you need to come back in the early morning, before it fills up with day trippers and tourists.
We did a sunrise stroll around the piazza on both of our 2 days in Venice, and it was glorious. It's much easier to enjoy the ornate facades of the Doge's Palace and St. Mark's Basilica without dodging tour groups and selfie-takers.
If you time things just right, you can have a morning espresso at Cafe Florian, the world's oldest coffee shop. And speaking of time, remember to look up at the astrological clock tower before you head to the next destination.
Thanks to its unique rear staircase made of books, Libreria Acqua Alta is one of the top Instagram spots in Venice. The steps lead to a lovely canal view that I won't spoil for you here…
Inside, you'll find another fun surprise: cats! This bookshop is home to several laid back felines, and the store doubles down on the cat theme with postcards, artwork, and books. It's a great spot to pick up some Venice souvenirs (we brought home a cat postcard and a hand-painted magnet).
Venetian Arsenal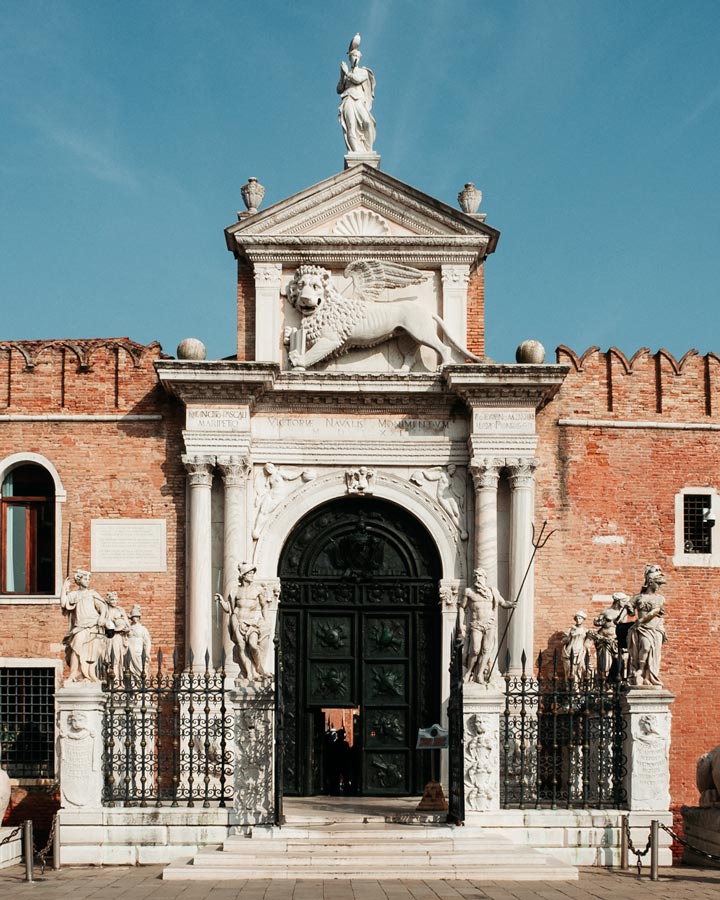 When my husband reviewed my tentative 2 days in Venice itinerary, he was shocked that I hadn't included the Venetian Arsenal.
In case medieval European history isn't your forte either, the Venetian Arsenal was a mass production line for ships, both private and for war. By the 1600s, it was so efficient, it could craft an entire merchant vessel in a single day. Even now, the huge bridges and gates remain an impressive sight.
Today, the Arsenale di Venezia is used for cultural events and exhibitions. But the surrounding area has multiple museums dedicated to Venice's naval history, as well as a large docked warship open to the public. The nearby alleys also make for a nice escape from the crowds.
Rialto Bridge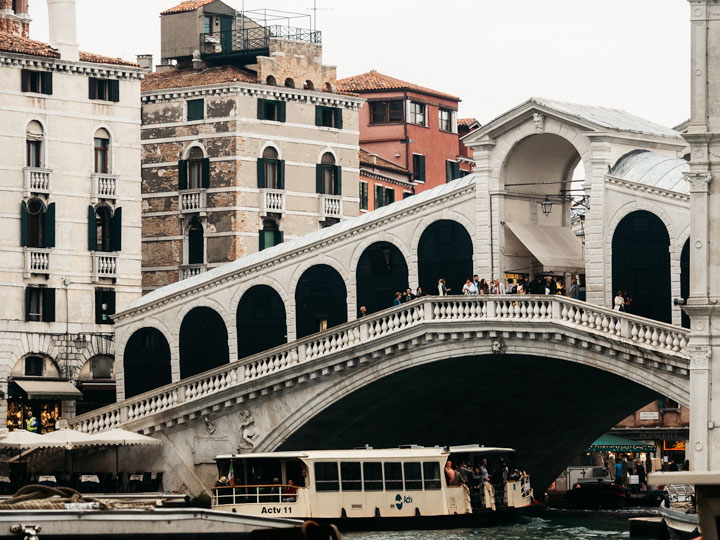 The Rialto Bridge is to Venice what the Eiffel Tower is to Paris. This iconic piece of architecture has been the subject of countless paintings, postcards, and even poems. It's an essential place to visit in Venice, even if it is over-touristed.
The Rialto started out as a humble pontoon bridge in the 1100s and underwent several reconstructions to become what you see today. It's fascinating to think about how many people have strolled across these very stones.
Walking across the Rialto Bridge in person feels surreal, and the views are extraordinary. However, crossing the bridge is only half the fun. After all, you came to Venice to actually SEE the whole bridge in all its arched glory, right?
Luckily, I know a secret spot for amazing views of the Rialto Bridge. And I'll tell you exactly how to get there! But first, we'll make a few stops along the way.
Marvel at free views over Venice at T Fondaco dei Tedeschi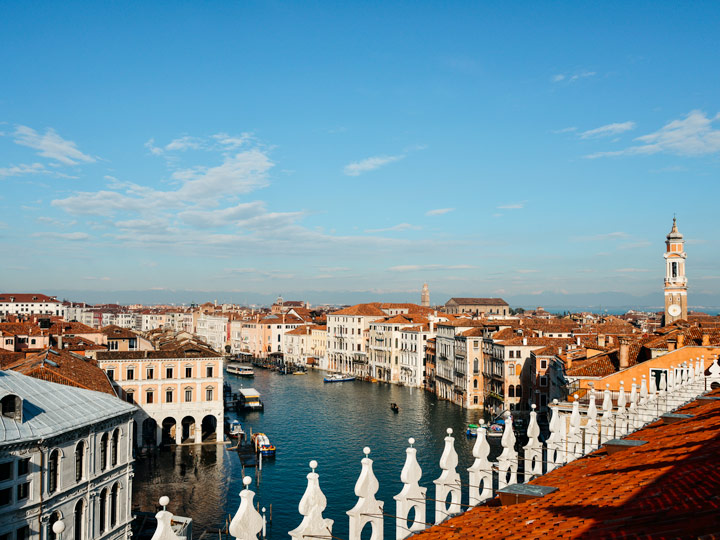 Most people miss this free thing to do in Venice, which is surprising given it's right next to the Rialto Bridge. Around the corner from the bridge's southeast side, you'll find T Fondaco dei Tedeschi, an elegant shopping center with an amazing rooftop terrace.
From up here, you'll have 360 degree panoramic views over Venice. And unlike St. Mark's Bell Tower and most other overlook points, this one is totally free! However, an advanced reservation is strongly required, as they cannot guarantee access for walk-ins.
Click here to make your free online reservation, and to check the opening hours.
Mercato di Rialto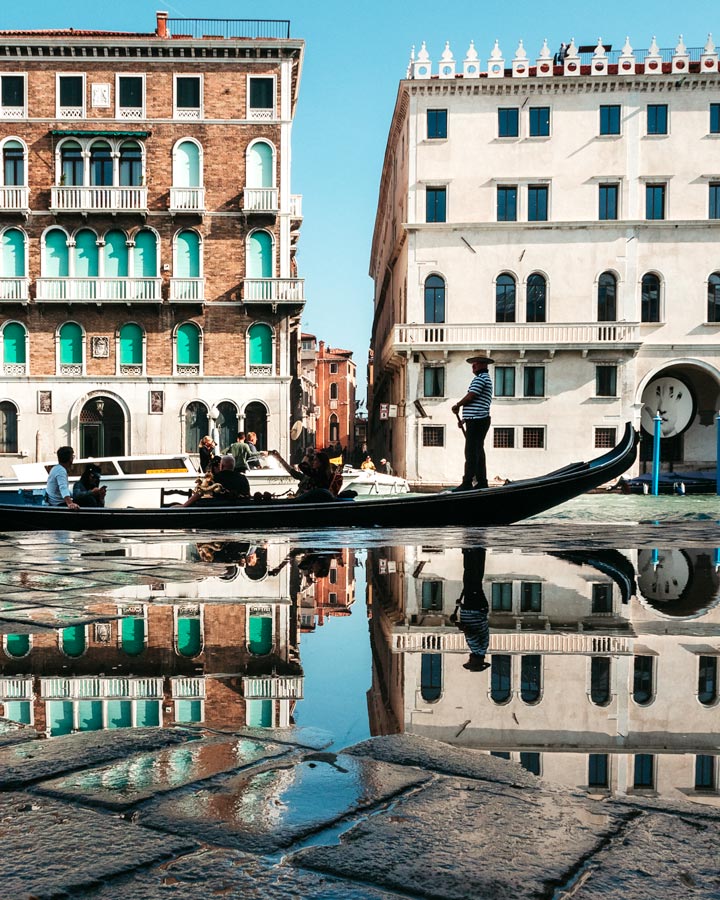 If you're fortunate enough to have a kitchen in your Venice accommodation, you need to stop by the Mercato di Rialto to pick up your groceries. This covered market specializes in fresh seafood, with a few stalls dedicated to produce.
Even if you don't plan to cook, the market itself is a charming, authentic side of Venice that tourists rarely see. Plus, when the vendors close up and hose down the area, it forms tons of puddles that make for fun reflection shots like the one above.
Campo San Cassiano and nearby bridges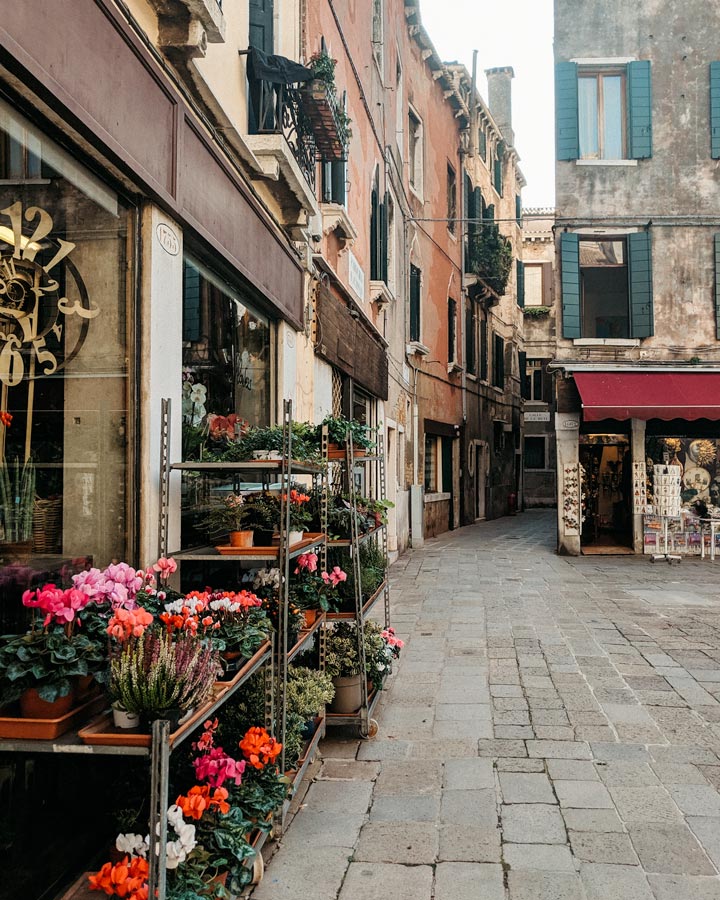 As you make your way southwest across the city, take some time to wander around the pretty alleys, bridges, and squares near Campo San Cassiano. This campo isn't as sprawling as some of the better-known ones, but it has a distinctly local vibe.
Ponte delle Tette offers particularly lovely canal views, and comes with a fun bit of history. It used to be a gathering place for topless ladies of the night during the Renaissance!
Basilica dei Frari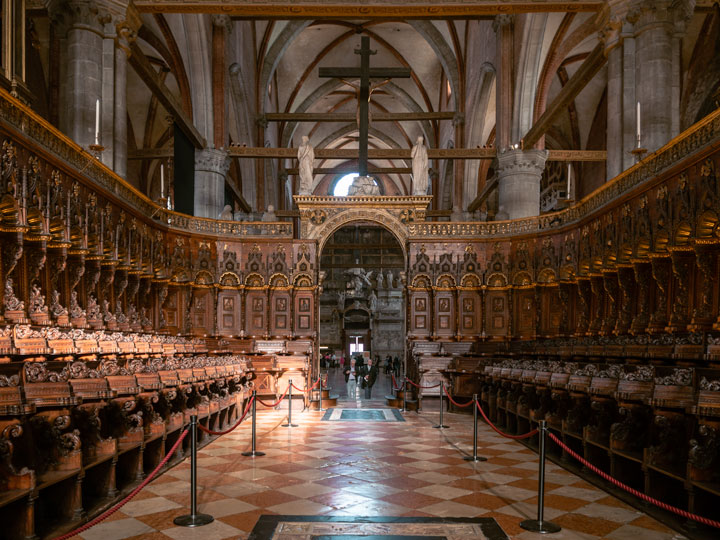 One of my fondest memories from our 2 days in Venice happened in the Campo dei Frari. An elderly man stopped us and said, "This is a very special place. A beautiful church. It's very important to the people of Venice. It is called the Basilica dei Frari."
I told him in Italian, "Yes, I understand. Thank you. We go there now." (My Italian has gotten pretty rusty since university…). And he smiled and said, "Yes, good," before walking into a nearby cafe.
The moral of the story is that you absolutely need to visit the Basilica dei Frari. Not just because it's jaw-droppingly beautiful, but also to experience a place that Venetians truly care about.
What I love most about the Frari is the contrast between its simple exterior and grand interior. It reminded me of the churches we saw while sightseeing in Bologna, where you pass through a plain brick facade and immediately have your breath taken away.
Highlights include a towering Titian painting over the altar and an elaborately carved wooden Choir.
Another highlight within the Basilica is the Tomb of Antonio Canova. It's unmissiable, pyramid-shaped facade is draped with beautiful sculptures, a fitting tribute to the renowned Italian sculptor.
Admission to the Basilica is 3 euros and well worth it.
Campo Santa Margherita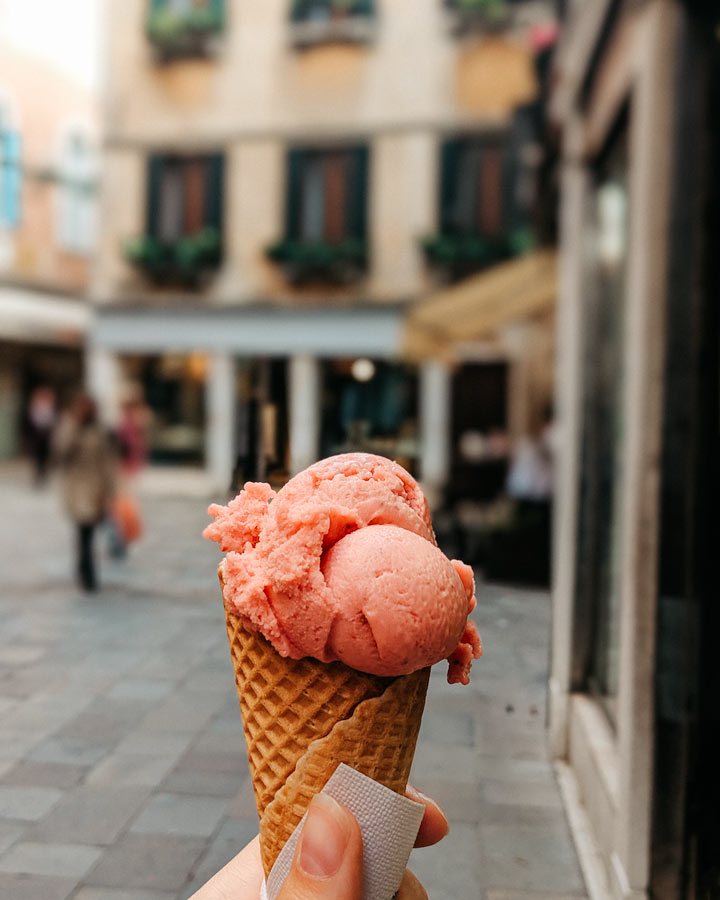 Campo Santa Margherita is a vast square surrounded by colorful bars, restaurants, and shops. In the warmer months, you'll find plenty of people enjoying a cocktail or meal al fresco.
It's a great place to take a snack/drink break without feeling claustrophobic.
Discover the secret dock with amazing Rialto views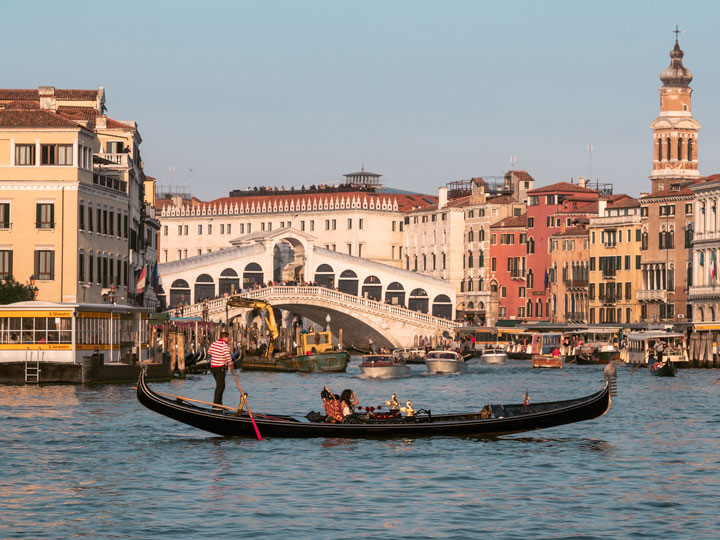 When it comes to Venice hidden gems, it's hard to beat this one. At the end of a long, narrow alley–the Calle Traghetto Vecchio–there is a dock with excellent views of the Grand Canal and Rialto Bridge.
If you're having trouble locating the alley, it's near Fortuny Palace. The best time to visit is near sunset, when everything is bathed in a warm glow. We had the dock to ourselves for a long while, until we left so that a couple could use it for engagement photos.
Without a doubt, it was my favorite stop during our two days in Venice itinerary.
Splurge on a traditional Venetian dinner at Al Giardinetto da Severino
I don't always include restaurant recommendations in my itineraries. But Al Giardinetto da Severino deserves a place in this Venice travel guide.
If you're looking for an authentic Venetian meal with amazing service in a beautiful setting, you need to make a reservation here. Their outdoor terrace is covered in vines and illuminated at night, and the interior is packed with old world charm. I highly recommend the sardines in saor and the tiramisu.
Map of Venice itinerary for 2 days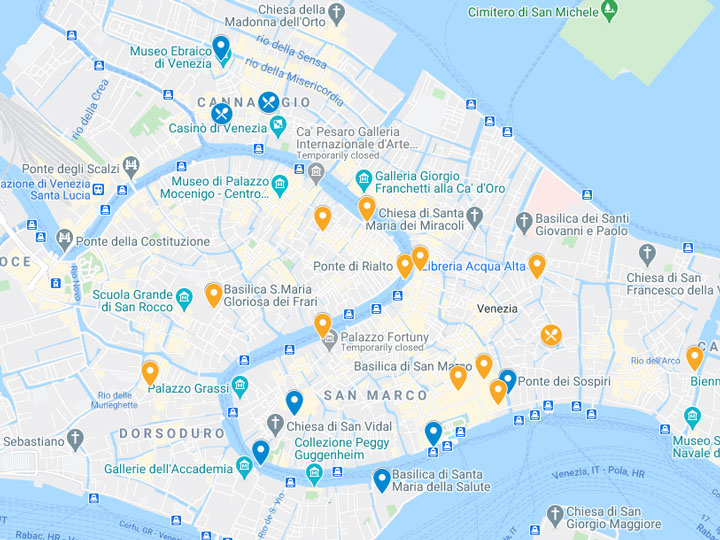 Click here to view the full interactive map!
Extra things to do in Venice in 2 days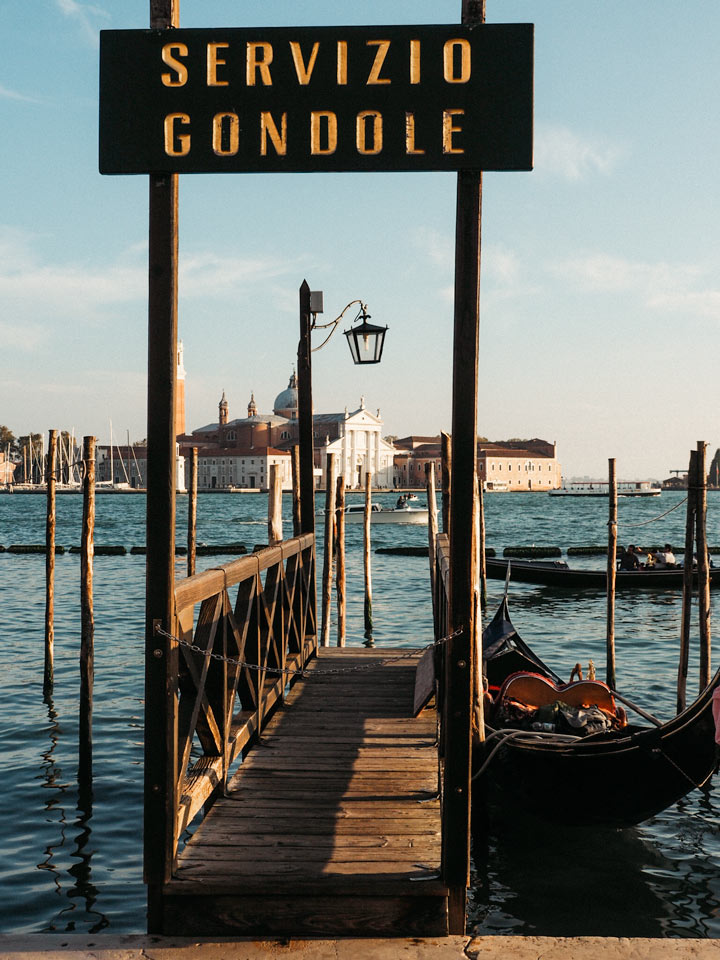 There is plenty to see and do in Venice beyond what's in this itinerary. If you want to make some substitutions or have an extra day or two in the city, here are a few ideas:
Burano and Murano: Book a day trip tour to Venice's smaller islands. Colorful Burano is a photographer's dream, while Murano is famous for its glass-making tradition.
Giardini della Biennale: This large public park at the southern end of the Castello neighborhood is perfect for escaping the tourist crowd and experiencing Venice like a local.
San Giorgio Maggiore: I seriously regret not booking a visit to San Giorgio Maggiore. This incredible complex houses opulent buildings, beautiful grounds, and multiple famous paintings by Tintoretto.
Fondazione Querini Stampalia: See what life was like in a Venetian palazzo in this preserved historic home of the Querini Stampalia family.
Guided tours of Venice
Without a doubt, the best way to explore Venice in 2 days authentically is with a local guide. And no, I don't mean being dragged around the city with a huge crowd of strangers.
Skip the impersonal mass tour groups and book one of these more intimate options instead:
Venice Travel Tips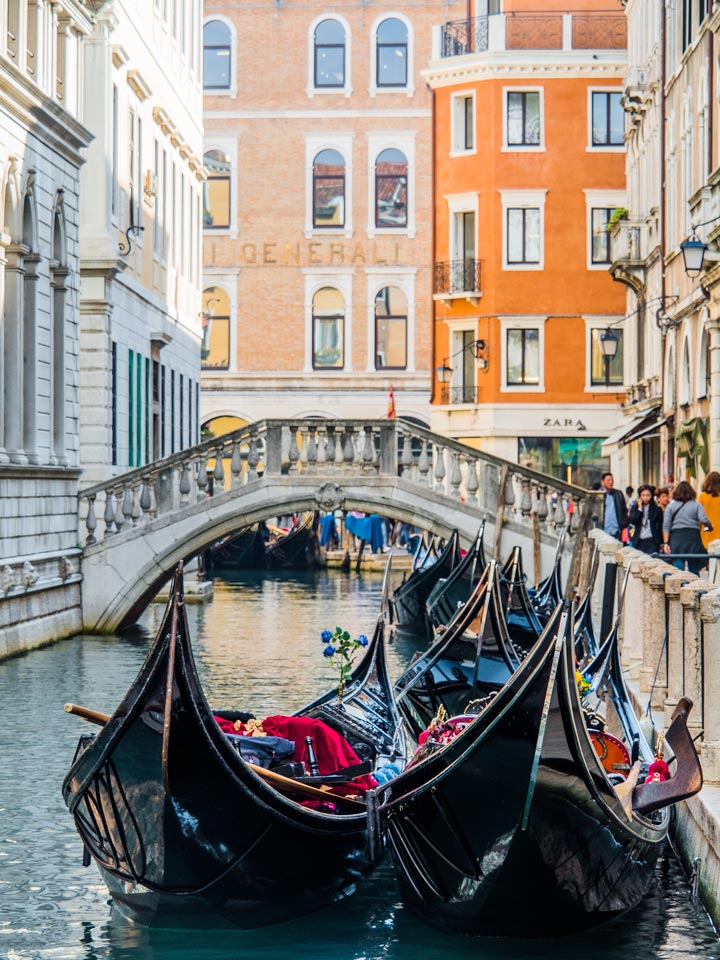 Money
Italy uses the euro (€). Card payments are widely accepted in Venice, though it's always a good idea to carry cash, especially for small purchases like gelato and for tipping.
Tipping in Italy is rather complicated, as each region has their own norms. In Venice, most restaurants will charge a coperto, or flat rate cover charge, as part of the bill (usually around €2 per person). There may also be a servizio, or service charge, which is calculated as a percent of the final bill.
Always read the menu and your bill carefully to see if servizio is included! A coperto charge will show up as a line item on your receipt, but it's not always easy to tell if servizio was added. If you're charged a servizio, you aren't obliged to leave a tip.
However, if you're charged only a coperto, it's up to you whether to leave an additional tip. For an individual or couple, one euro per person is fine, though you can leave more if you wish.
Language
Venice's official language is Italian. While pretty much every service worker in Venice speaks English, I always recommend learning a few basic phrases before you arrive.
This 2 days in Venice itinerary won't require much knowledge of Italian, but saying "hello" and "thank you" in the local language will set you apart from the typical tourist. I also suggest adding Google Translate on your phone and downloading the Italian dictionary.
Here are a few Italian travel phrases you should know:
Hello: Ciao (chow)
Good morning: Buon giorno (bwown JOURN-oh)
Good evening: Buona sera (bwowna sarah)
I would like: Vorrei (voh-ray)
Please: Per favore (pear fa-VOR-eh)
Thank you: Grazie (graht-zee-eh)
Yes: Si (see)
No: No (no)
High speed train tickets come with reserved seats and space to store luggage, while regional trains do not. You can book tickets online with ItaliaRail, or at the machines inside of the train station.
Stazione di Venezia Santa Lucia sits on the city's northern edge, with multiple ferry and vaporetto terminals out front. If you have a lot of luggage, you should take a boat that drops off near your accommodation. However, this Venice itinerary assumes you'll walk from the station.
Despite how it looks on the map, it's very doable to walk from the train station to the city center with a small amount of luggage. My husband had little trouble walking from the station to Piazza San Marco with a carry-on-sized rolling suitcase (though I had a much easier time with my trusty travel backpack).
Where to go after this 2 days in Venice itinerary
Ravenna: Explore the colorful ancient sites of Italy's mosaic city with this one day Ravenna itinerary.
Bologna: Spend 3 days in Bologna exploring medieval architecture and eating your way through Italy's culinary capital.
Dolomites: Venice is a short train ride away from the country's stunning mountain region.