Anyone interested in ancient art, history, or beautiful tile work needs to spend one day in Ravenna. This charming Italian town near the Adriatic Sea was once the capital of the Roman empire, and it's best known for its incredibly well-preserved mosaics.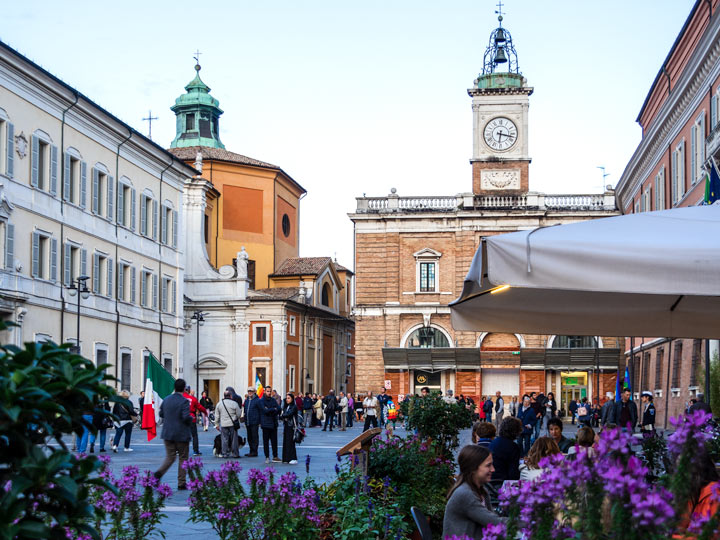 With eight spectacular UNESCO World Heritage sites, Dante's tomb, and a relaxed atmosphere, you won't regret taking a day trip to Ravenna. And this itinerary will efficiently guide you through the town's intricate murals, vast basilicas, and delicious sandwiches.
This post contains affiliate links. For more information, click here.
How to spend one day in Ravenna
Is a Ravenna day trip enough time?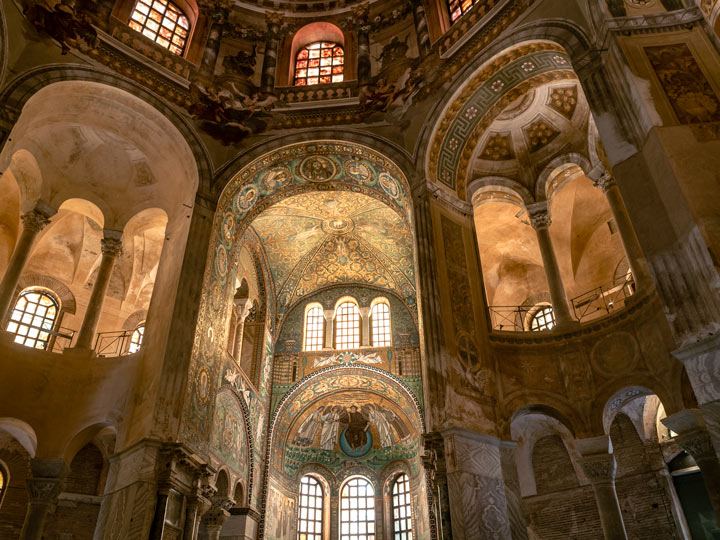 If you arrive by 10am and stay until closing time for the major attractions, a day trip to Ravenna should be enough time to see everything listed here. However, if you visit during high season (June-August) or on a weekend, it will be difficult to see all the sights.
After spending 3 days in Bologna, we decided to do 24 hours in Ravenna so we'd have plenty of time to admire the incredible art and architecture. If you can spare the time, I highly recommend staying overnight and spreading out this Ravenna itinerary.
Before your trip, visit the official website to check the opening times and special notices for the town's main attractions.
Where to stay in Ravenna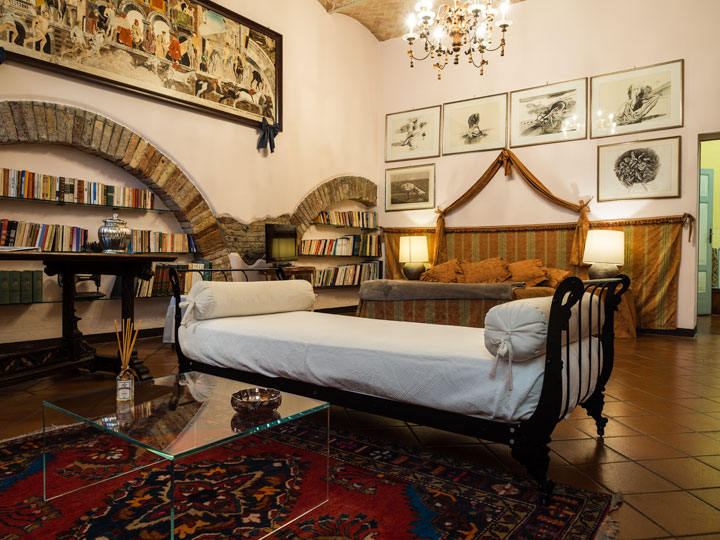 We slept like royalty for a mid-range price at Casa Masoli. The property is a converted Italian mansion, and each room is unique (and massive).
I was overjoyed to stay in the former library, with beautiful recessed bookshelves and towering ceilings. The breakfast was fantastic, with a buffet and freshly prepared options. And the hosts were very kind, taking the time to show us the best routes and lesser-known highlights around Ravenna.
My husband and I have stayed in some nice hotels during our travels, but we both agreed that Casa Masoli was the most impressive accommodation we've ever had.
Book your stay at Casa Masoli now!
What to do in Ravenna in one day
Battistero degli Ariani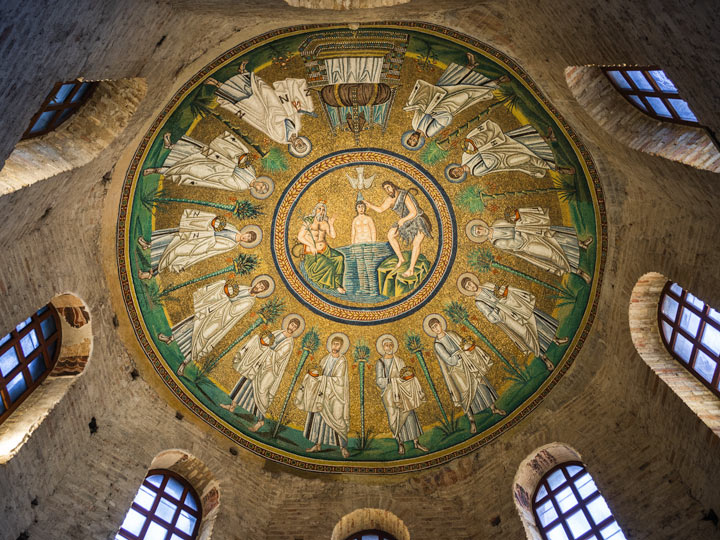 The first stop on this Ravenna itinerary may look simple from the outside, but don't be fooled. The Arian Baptistry's domed ceiling is beautifully covered in a shining golden mosaic. Once inside, look up to see the star of the show: a mosaic depicting the procession of the 12 apostles with Jesus being baptized in the center.
Before you can enter, you'll need to buy a ticket from the machine out front. Admission costs 2 euros (as of 2022), and the machine doesn't take cards, so come prepared.
Basilica di San Giovanni Evangelista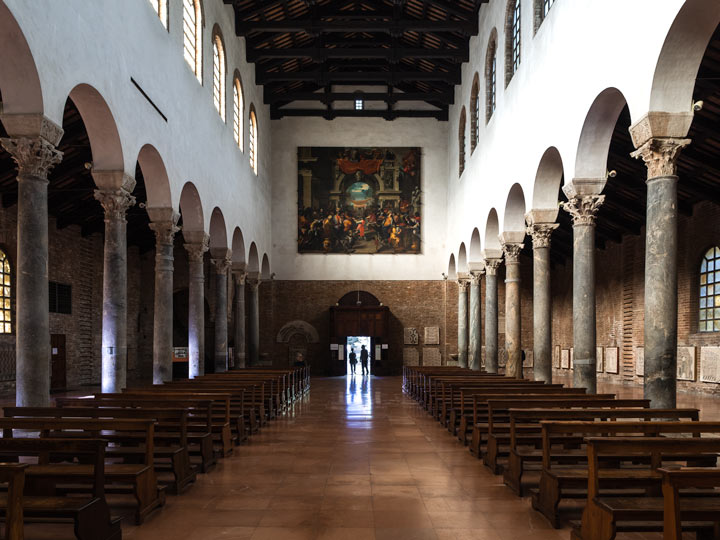 Constructed on the order of Galla Placidia, a powerful Roman woman in the mid-5th century, the Basilica di San Giovanni Evangelista is an important part of Ravenna's history. The church was built as a tribute to God for sparing Placidia's life during a storm at sea. However, the building looks much different today than it did 1,500 years ago.
While the church started off simple, it grew to include a a bell tower, courtyard, and stunning ivy-covered gate. Unfortunately, the church lost most of its mosaics in the 1700s and subsequent WWII bombing.
Luckily, a decent number of mosaic fragments remain on display inside. Many depict real and imaginary animals, along with warriors from the Fourth Crusade. The basilica's interior is striking, with whitewashed walls and rows of dark wood benches. Be sure to poke your head outside for a glimpse of the lush courtyard.
Basilica di San Vitale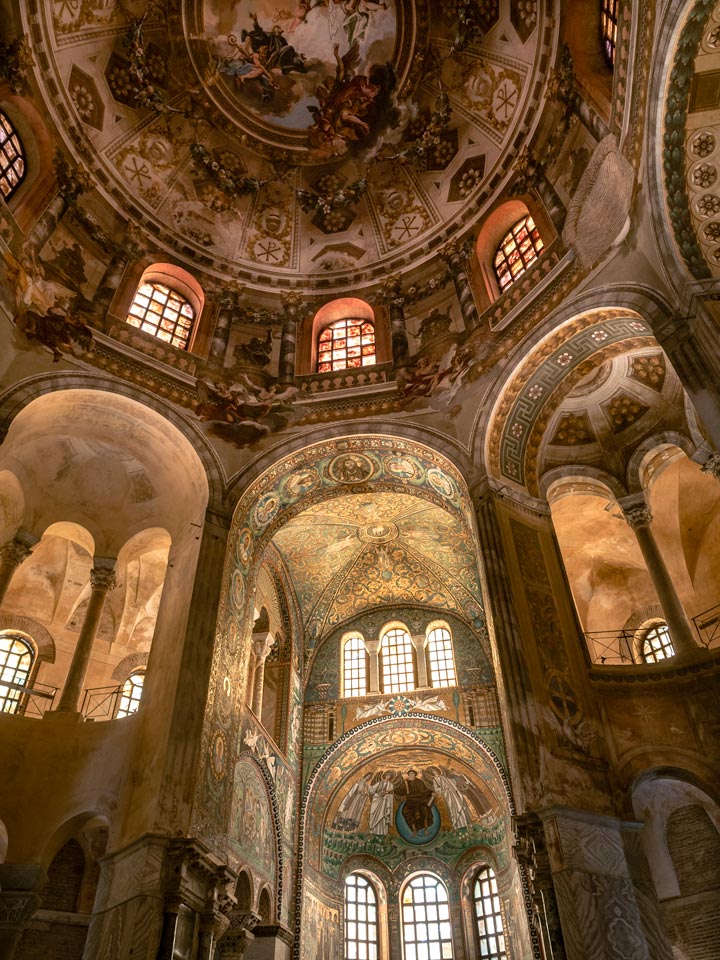 If anyone questions why you'd want to spend one day in Ravenna, show them photos of the Basilica di San Vitale. Without question, this building is the crown jewel of Ravenna, with a dizzying amount of mosaics and murals on the walls and ceilings.
Walking into the basilica feels like entering a legendary temple, a place that Indiana Jones or Nathan Drake might sneak into for a treasure hunt. There's just enough light from the windows to illuminate the scenes that cover nearly every surface.
My particular favorite was the presbytery, with mosaics depicting colorful animals, plants, and fruits alongside angels and other Biblical figures.
Buying Ravenna Inclusive Tickets: You can buy a single ticket to enter all five of Ravenna's main mosaic sites. You'll need the full ticket–which includes the Baptistery of Neon and Mausoleum of Galla Placidia–and it costs 12.50 euros (as of 2022).

Because it's now required to book a timeslot to visit the Baptistery of Neon and Mausoleum of Galla Placidia, I recommend purchasing advanced tickets online. You'll be given the chance to reserve your timeslot, and the tickets will be emailed to you, which you can either print out or show on your phone.

While you can still buy tickets in-person at the Basilica of Sant'Apollinare Nuovo or the Archiepiscopal Museum, you might not be able to reserve your desired timeslot for the two sites.
Save me for later!
Mausoleo di Galla Placidia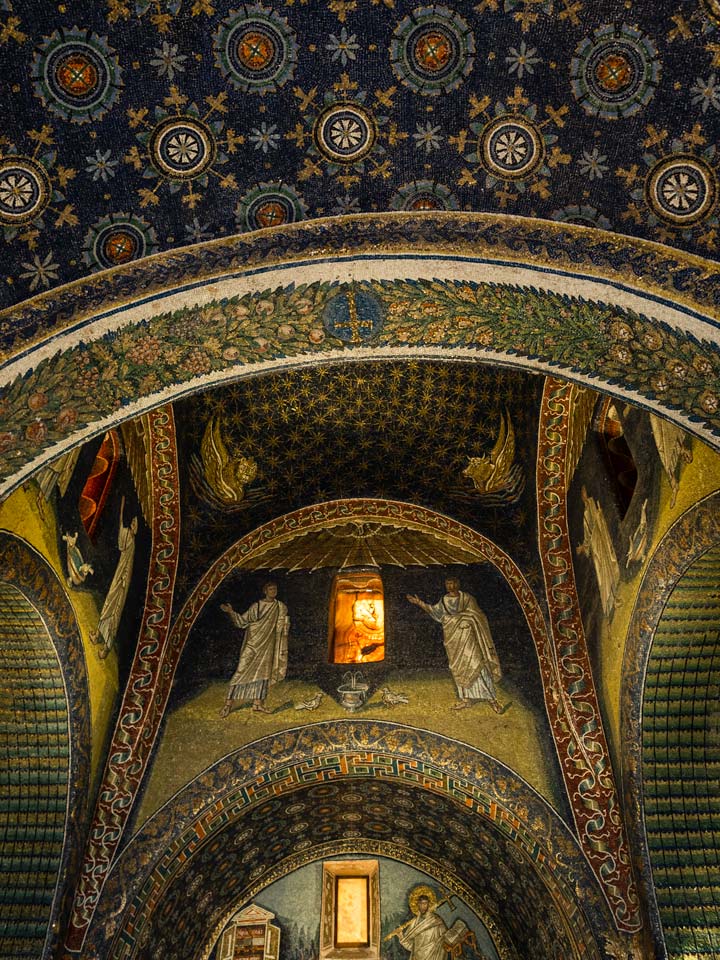 As I mentioned before, Galla Placidia was an important figure in Roman history, and her tomb reflects that. Placidia was regent to emperor Valentinian III for 14 years, and was later a queen consort and empress consort. She lived in Ravenna when it was the seat of the empire's royal court.
Ironically, the Mausoleum of Galla Placidia doesn't actually contain her remains, as she was buried in Rome. However, her son Valentinian and husband Constantinius III are (supposedly) entombed in the building's sarcophagi.
The mausoleum's interior is richly decorated with deep blue and gold mosaics, including scenes of Christ tending his flock of sheep and the apostles standing against a starry night backdrop. These mosaics are thought to be the oldest and best preserved in the world.
Admission is covered under the full Inclusive Ticket, and advanced reservation is required.
Dante's Tomb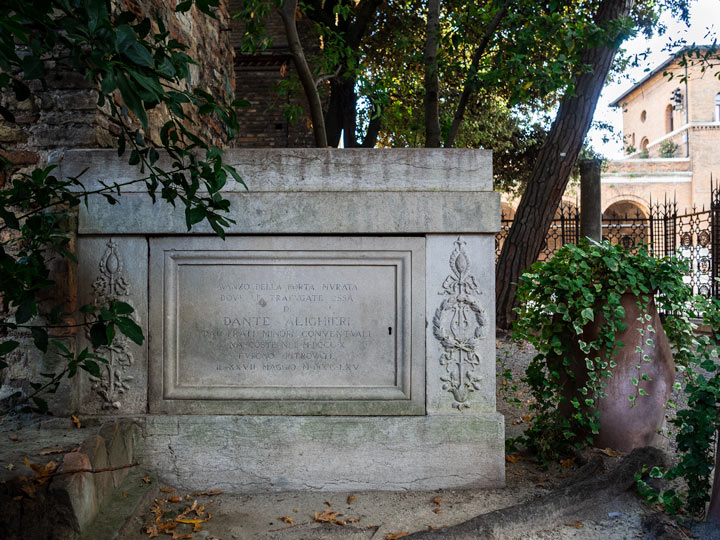 There's more to see in Ravenna in one day than tiles! While renowned poet Dante Alighieri has an elegant memorial in Florence, his actual remains are entombed in Ravenna.
The tomb sits in a simple-looking domed building off of the Basilica di San Francesco. Out front, there's a small garden with a stone monument describing Dante's life.
Admission to the courtyard and tomb are free.
Basilica di San Francesco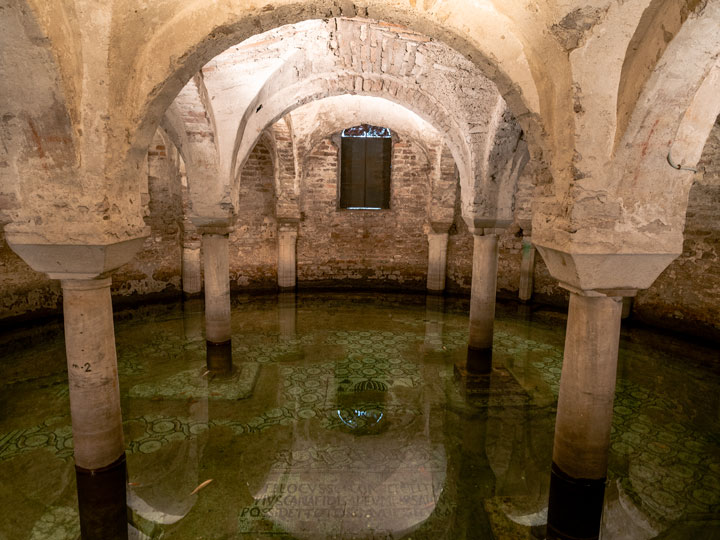 When you first enter the Basilica di San Francesco, you might think there's not much to see. The simple white walls and stone floor are pretty, but a far cry from the dazzling mosaics you've seen elsewhere. However, this building has a fun surprise.
At the back of the basilica lies a crypt submerged in several feet of blue-green water. Beneath the surface, you can see a mosaic patterned floor and even a few fish darting around!
And with free admission, it's easily one of the best things to do in Ravenna.
Lunch at La Piadina Del Melarancio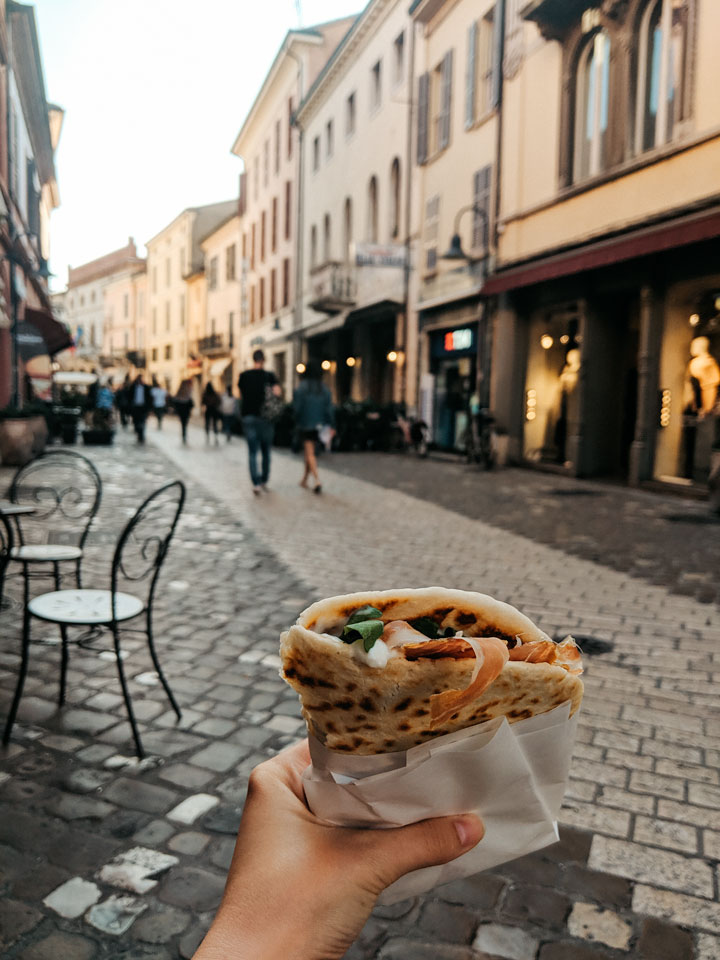 By now you're probably hungry, but there's still a lot to see. Fortunately, Ravanna is home to a delicious and quick meal for busy travelers: the piadina sandwich.
People in the Emilia Romagna region of Italy have been eating piadina, a type of flatbread, for centuries. Today, restaurants and street vendors stuff the soft piadina with meats, cheese, and veggies for a savory and portable meal.
La Piadina Del Melarancio is Ravenna's top piadina shop, with plenty of meat and vegetarian options. Just order at the counter, take a seat, and they'll call you when your sandwich is fresh from the oven. I highly recommend the porchetta e scamorza.
Umbrella Street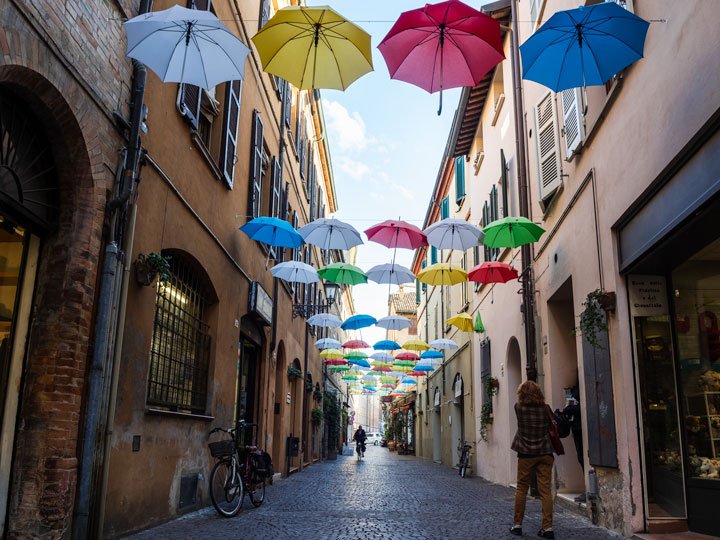 Before you jump back on the mosaic train, pop over to Via Mentana. This rainbow-colored umbrella street is certainly the most Instagrammable spot in Ravenna. There's not much else here, but it's a whimsical little detour.
Baptistry of Neon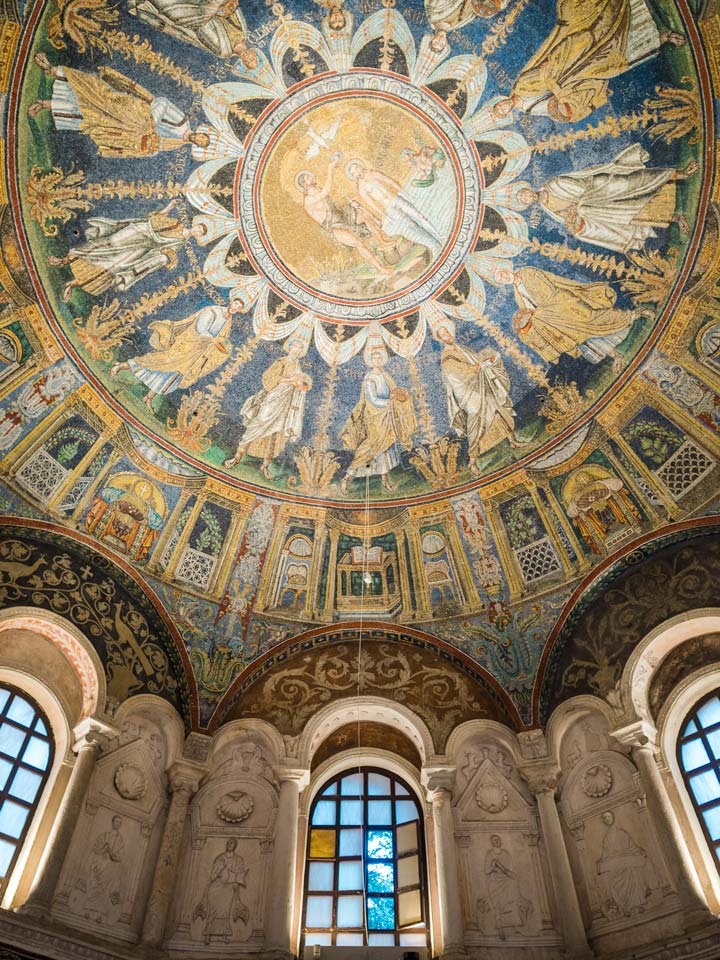 Named after the Bishop Neon who constructed it, the Neon Baptistry's dome houses a lovely blue and gold ceiling mosaic. The scene shows Jesus' baptism by John the Baptist in the Jordan river. Surrounding them are the twelve apostles walking around the center.
There's also an intact baptistry fountain in the center of the room, and alcoves with arches tiled with golden scrolls and lettering.
Admission is part of the full Ravenna Inclusive ticket, and advanced booking is required.
Archiepiscopal Museum and St. Andrew's Chapel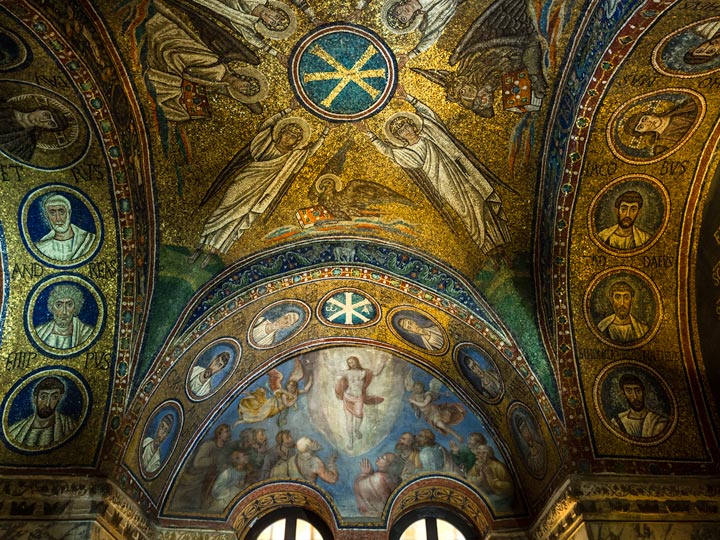 This next stop on the Ravenna itinerary is both a museum and a chapel. The Archiepiscopal Museum is filled with early Christian relics, including the Ivory Cathedra, an ornate Bishop's chair that's considered to be the finest ivory carving in the Western world. Other highlights include a large Paschal calendar, papal robes, and even more mosaic fragments.
Beneath the museum lies St. Andrew's Chapel, an intimate private prayer room reminiscent of Galla Placidia's mausoleum. The mosaics have multiple motifs, including a warrior Christ, a starry sky, and aquatic birds.
Admission is covered by the Inclusive ticket.
Basilica di Sant' Apollinare Nuovo
The Basilica di Sant' Apollinare Nuovo has a vastly different atmosphere from Ravenna's other mosaic sites. Flooded with natural light and painted in light colors, the basilica has an open, airy feeling similar to a grand hall.
Mosaics line the upper walls, depicting dozens of near-identical figures proceeding towards different scenes. On the left, the 3 Magi lead a procession of 22 virgins to the Madonna and child. On the right, 26 martyrs–led by the church's namesake Saint Appolinaris–walk towards Christ, who sits on a throne surrounded by angels. Although there's no ceiling mural, the basilica is undoubtedly impressive.
Admission is covered under the Inclusive ticket.
Mausoleo di Teodorico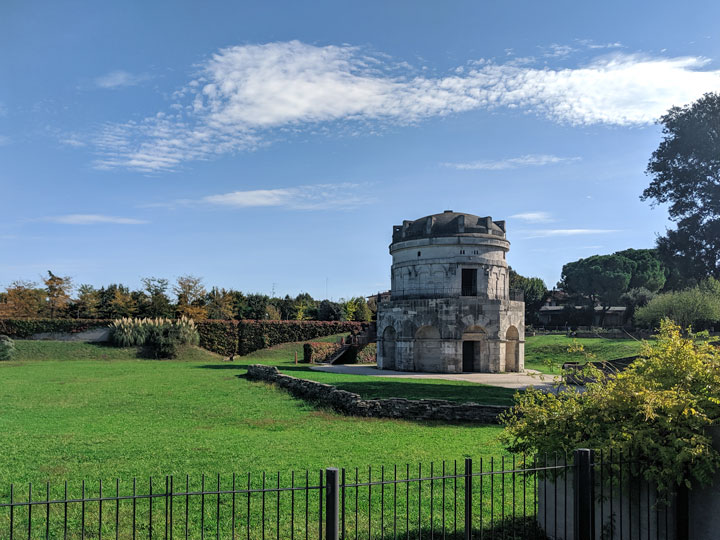 You may not be able to squeeze this last stop into your Ravenna itinerary. But after a long day inside a bunch of buildings, it's nice to take a stroll through the open air if you can.
Inside the Rocca Brancaleone public park stands the mausoleum of Theodoric the Great, an important figure in Ravenna's history.
Theodoric ruled a vast stretch of Italy in the late 5th and early 6th centuries, and he devoted many resources to building up Ravenna. He was responsible for the construction of the Basilica di Sant' Apollinare Nuovo, the Arian Baptistry, and numerous other sites no longer standing today.
There's not much to see inside the mausoleum, so I suggest enjoying it from the park and saving on the 4 euro admission fee.
Map of 1 day in Ravenna itinerary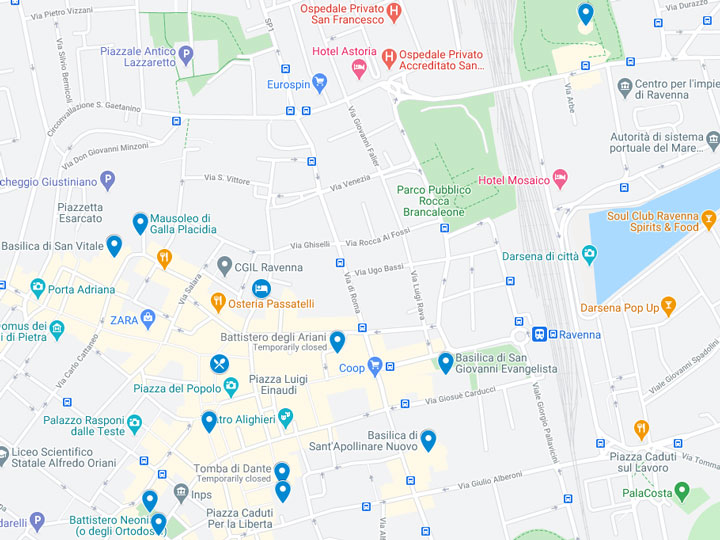 Click here to view the full interactive map!
Guided tours of Ravenna
In a town with this much history, having an expert guide really heightens the experience. If you want to do more than look at pretty buildings and think "oh, that's nice", I strongly suggest booking a guided tour of the town.
This one covers all the major mosaic sites and still leaves plenty of time for exploring on your own.
Where to go after your Ravenna day trip
Bologna: Spend a few days eating and sightseeing in Bologna, Italy's culinary epicenter
Venice: Take 2 days in Venice to explore this impossibly beautiful city's hidden surprises and easy escapes from the maddening crowd
Florence: Architecture fans will love the Duomo and other Renaissance masterpieces in the country's former capital
My favorite Italy travel books
These detailed Italy books win my travel planning seal of approval: