There is so much more to the City of Light than the Eiffel Tower and éclairs. Whether you're looking to escape the crowds, or simply want to see a different side of the city, this list of non touristy things to do in Paris will inspire you to get off the beaten path.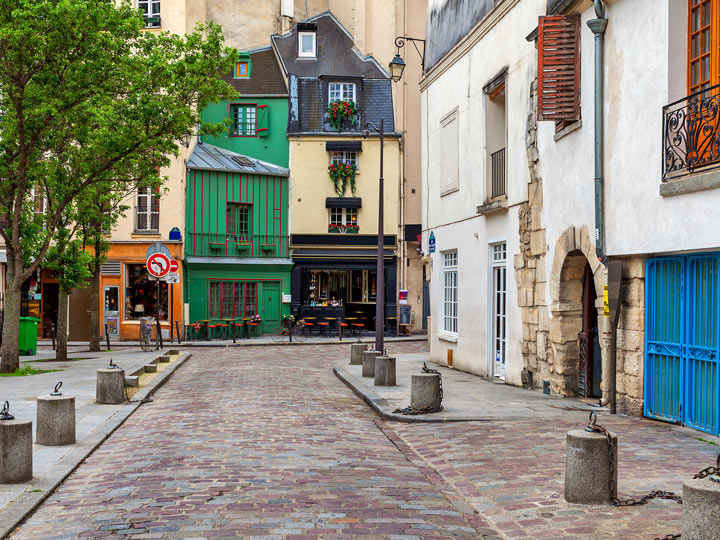 Don't feel like you need to save these experiences for your second trip to Paris! While it's tempting to spend all your days marveling at the Louvre collection and shopping on the Champs-Élysée, there's an entire world beyond the tourist hotspots. If you add just a few of these unique things to do in Paris to your itinerary, you'll have an unforgettable visit.
This post contains affiliate links. For more information, click here.
Rent a Parisian flat in Montmartre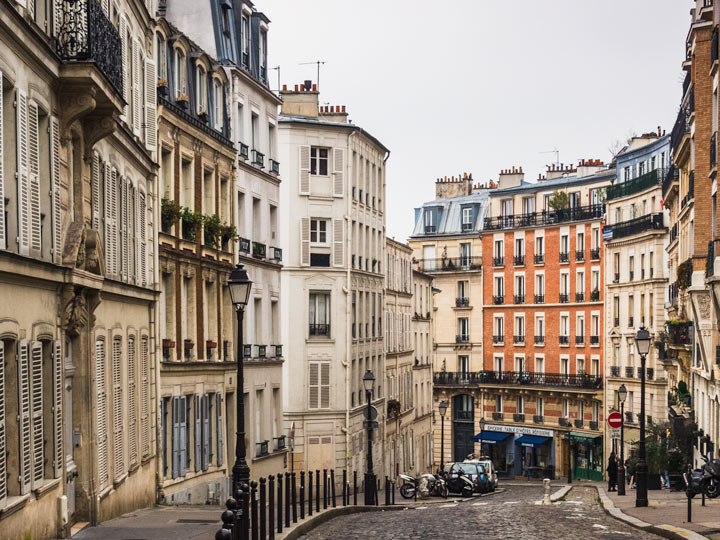 If you're after unique Paris experiences, what could be better than staying in a Parisian flat in a historic neighborhood?
Montmartre may look out of the way on a map, but this charming area is the perfect home base for a Paris itinerary. It's a wonderful, affordable place to stay that's also managed to retain some old world charm.
You'll find famous sites like Sacre Coeur and the Instagrammable Maison Rose set amongst beautiful winding streets and ivy-covered buildings. And there are plenty of local bakeries and shops like Le Claque-Fromage to buy mouthwatering, fresh food.
Don't be afraid to wander the twisting alleys. One of the best non-touristy things to do in Paris is to take a laid back stroll, admire the architecture, and pop into places that catch your eye.
VRBO is your best bet for renting a flat in Montmartre, like this ultra-cozy apartment near Sacre Coeur.
Picnic with the locals at Canal Saint Martin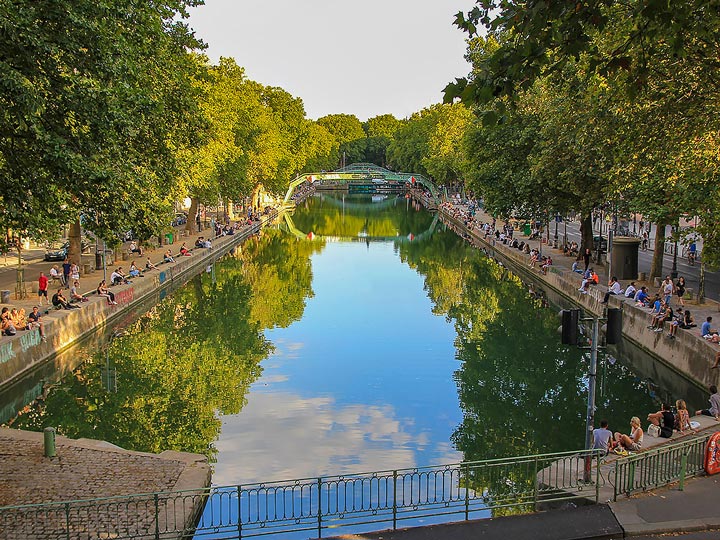 By Martina from Places of Juma | Follow on Instagram
The Canal Saint Martin, which extends over 4.5 km, is one of the best places to visit in Paris away from the typical tourist's path. This picturesque working-class area amazes with locks, Venetian-style foot bridges, green parks, lovely squares, and wonderful places to sit and enjoy the waterfront.
Not surprisingly, Canal Saint Martin has become a meeting point for locals having picnics at the canal banks. Walking along the canal is the best relaxing thing you can do in downtown Paris. Just take your lunch and some drinks and enjoy the unique atmosphere of the city.
If you prefer eating out, there are many small shops and bars along the canal. The nicest part for having a picnic is definitively between Rue Dieu and Rue des Récollets. Here you will also find the Hotel du Nord, built in 1885, which was the location of the film Hôtel du Nord by Marcel Carné.
Search for street art in Belleville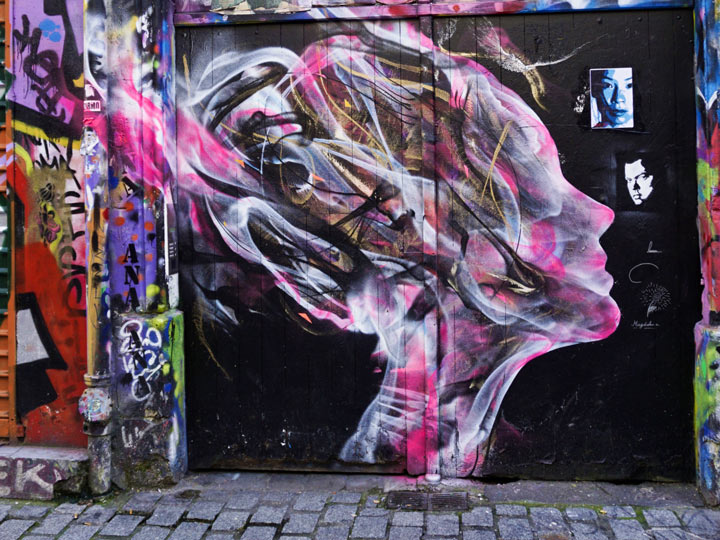 By Coni from Experiencing the Globe | Follow on Instagram
Paris has a thriving street art scene. So much so that Paris' City Hall allocated a big part of the 500 million euros budget of participatif to create murs d'expression –painted walls all around the city.
Tourists usually find street art in the trendy neighborhoods of Montmartre, Le Marais and the Latin Quarter, or just settle for the surroundings of the Centre Pompidou. But the best of it is in the east of the city, in Oberkampf, Belleville, and Ménilmontant.
Art pops up all over buildings, walls, windows, trash cans, and even on the floor. Look for Rue Oberkampf, Rue Laurence Savart and Rue des Cascades. If you've seen them, go again on your next trip, because it's everchanging!
A particular favorite is Rue Dénoyez, in Belleville. If you're there in the morning, stop for a coffee in the cool Café Le Barbouquin, or in the evening for an aperitif at Aux Folies. Continue walking up to Belvédère de Belleville for more art, plus the most amazing views of the city from above.
Get the chills at the Vampire Museum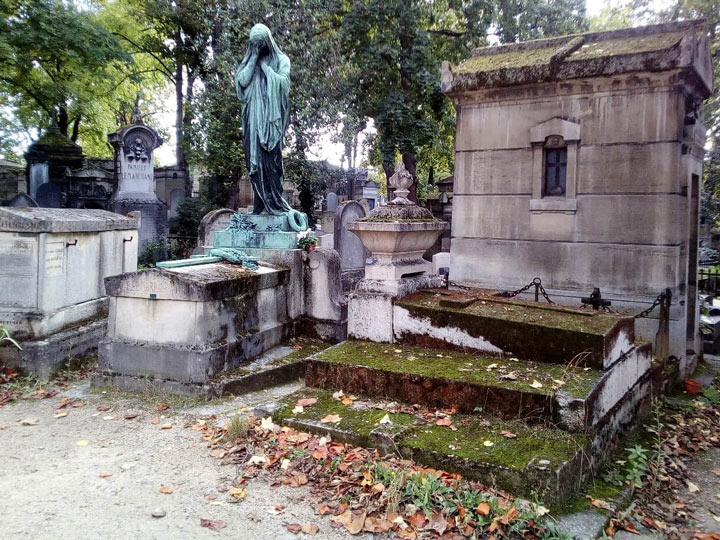 By Ivan from Mind the Travel | Follow on Facebook
When it comes to alternative things to do in Paris, it's hard to beat a visit to the Vampire Museum!
Located in a private house on the outskirts of Paris, the Museum of Vampires is arguably the most fascinating museum to visit in the city. This busy, eclectic, creepy museum can be easily reached by the Paris Métro and is just a 15-minute Métro ride from the city center.
The Museum of Vampires was established by Jacques Sirgent, a specialist in dark folklore who has dedicated his life to collecting, translating, and gathering syncretic data on demonology and the dogmas related to it. He is also an outstanding storyteller who can extrapolate the stories of witchcraft and vampiric rituals.
The museum is not freely open to the public and appointments need to be made to visit. However, once you manage to nail down a trip, Jacques Sirgent himself will be your guide. He will guide you through the history of Paris, and tell about cemeteries where vampiric rituals were once practiced. You'll hear endless tales about legendary creepiness as well as historical facts.
Additionally, the artifacts on display are incredible; a genuine 19th-century vampire killing kits, mummified cats, vampire slayer kits, ancient shrines, antique texts, a large gothic-style indoor garden, and all sorts of oddities and intriguing bits and bobs obtained online, at flea markets or in the cemeteries.
To make an appointment, contact the owner via the website. If you turn up unannounced, be aware that you will not be granted access to the museum.
To some, this might seem like a lot of effort, but this museum is one of the most unique and bone-chilling in Paris. It is a particular must-see for anyone interested in weird stuff, obscure tales, supernatural and myths, and legends as well as genuine folk history.
Lounge with the locals at the Jardin du Luxembourg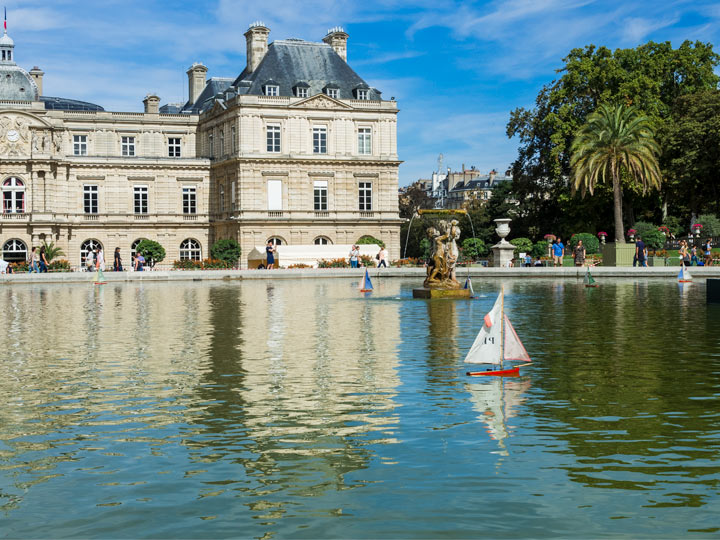 Relaxing in the Jardin du Luxembourg is like stepping back in time. Old Parisian men playing chess, children pushing vintage toy sailboats around the fountain… the atmosphere is wonderful, especially against the backdrop of the beautiful Luxembourg Palace.
There are plenty of benches scattered around the garden where you can lounge with a good book. If you enjoy photography, it's one of the best places to take photos in Paris. And if the weather is warm, you can make like a local and have a little picnic.
To build you own picnic basket, check out the nearby Rue Mouffetard Market. It's one of Paris' oldest markets, and you'll find plenty of produce, cheese, and bread to fill your belly.
Hunt for Roman ruins in the 5th arrondissement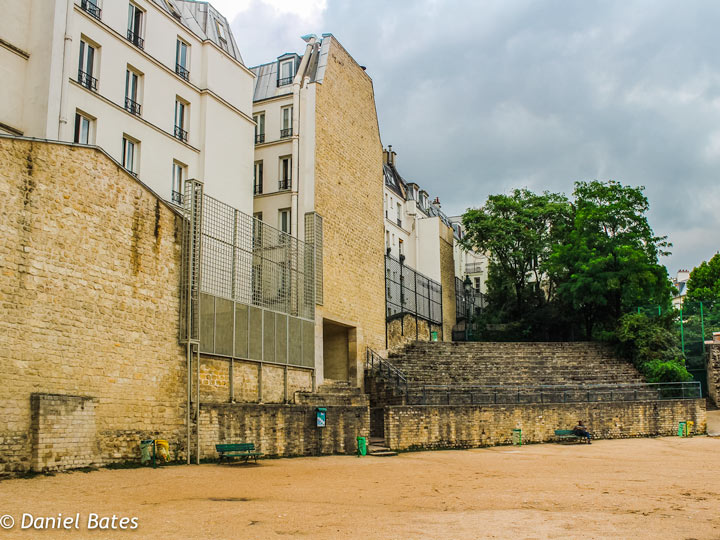 By Danik from Danik the Explorer
In the heart of the Jardin des Plantes Quarter (5th arrondissement) lies the remains of a 2nd century Roman amphitheater. Yes, that's right: there is a Roman arena located on the outskirts of Central Paris!
Back in the day, the arena used to seat 15,000 people when there was regular combat fighting taking place. Since the collapse of the Roman Empire, the arena was partly demolished, with the center remaining buried underground for a long time. Around 1860, the arena was discovered when workers were about to build a tram line in the area.
That project didn't happen, and instead the arena was restored with a mini-park and apartments built around it. As well as stepping back into history, it is also a great place to relax in the park on a sunny day, and maybe play a game of chess. It is free to check out, with the the nearest metro station being Place Monge.
Spend a charming afternoon in Le Marais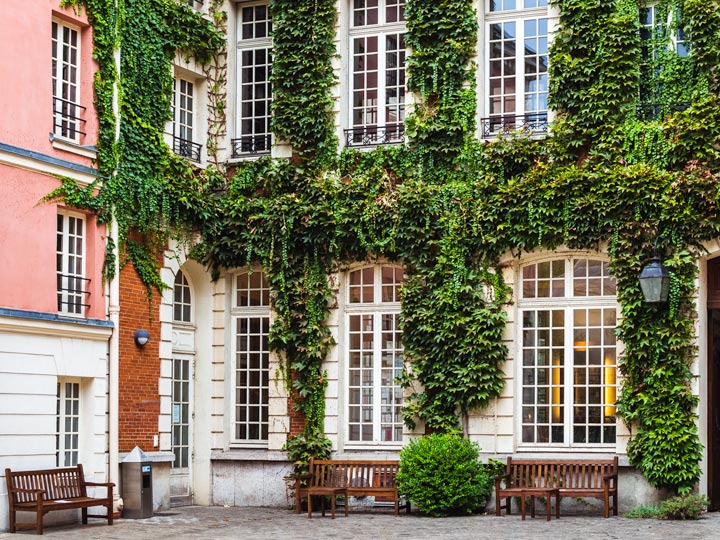 By Christina from Travel2Next | Follow on Facebook
Tucked away in the 3rd and 4th arrondissement, Le Marais is a hip part of Paris that was once the Jewish quarter of the city.
Le Marais is a place that locals love to visit, and there's plenty to explore in Le Marais, from charming architecture and Jewish monuments to patisseries, quirky bars, street art and eclectic boutiques. Wandering around Le Marais on foot is the best way to learn the secrets of the area.
Discover Le Marais with a local guide here!
Start by visiting the Le Marais Pletzi area (it means "little place" in Yiddish) and is the Jewish quarter. So don't be surprised to find that Le Marais is one of the best places in Paris to taste Jewish food. Try the challah (Jewish bread) or mazurka pastries or cinnamon chocolate babka at Sacha Finkelstein's Jewish bakery.
Izrael Epicerie du Monde (30 Rue François Miron) is fascinating to visit as it has local foods from around the world such as spices, different kinds of oils, and sweet treats like Turkish delight.
Then look for a place called l'As du Falafel (34 rue des Rosiers), which is a famous Middle Eastern eatery that makes the best falafel in Paris. It's so popular you'll probably have to wait in line to buy your falafel!
Le Marais also has some lovely mansions. Many of them are now museums, such as Musée Carnavalet, which used to be Victor Hugo's house, and Hotel de Ville.
Eat French breakfast in a residential neighborhood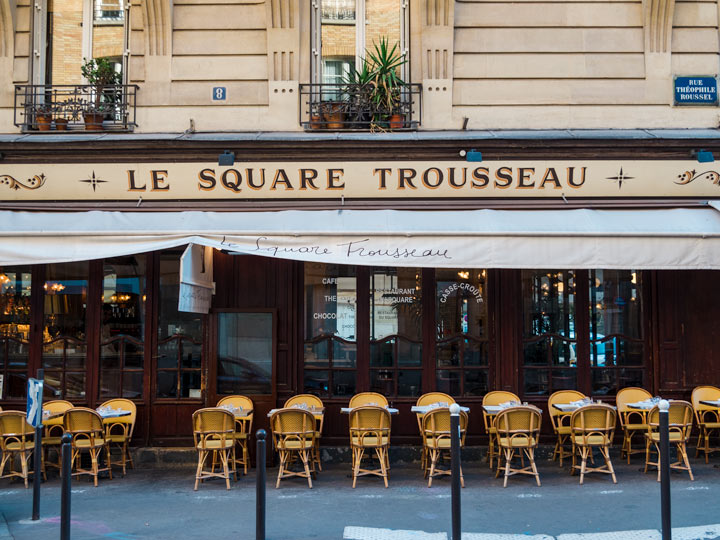 Eating a typical French breakfast among the locals is a great non touristy thing to do in Paris. Sipping orange juice and eating fresh bread and jam away from the maddening crowd is the perfect way to kick off the day. And you don't need to wander far and wide to find a place!
Despite being only a few blocks from Les Invalides and the Champ de Mars, Le Petit Cler is a quiet place to eat with Parisian locals. Their formule offers plenty of options, including hot chocolate, a house brioche, and eggs.
If you're planning to visit the Bastille or Rue Cremieux, stop by Le Square Trousseau in the quiet Quinze-Vingts neighborhood. And for a lighter option of coffee and pastries, head to Du Pain et des Idées in the 10th arrondissement for an amazing escargot pistache or chausson aux pommes.
Save me for later!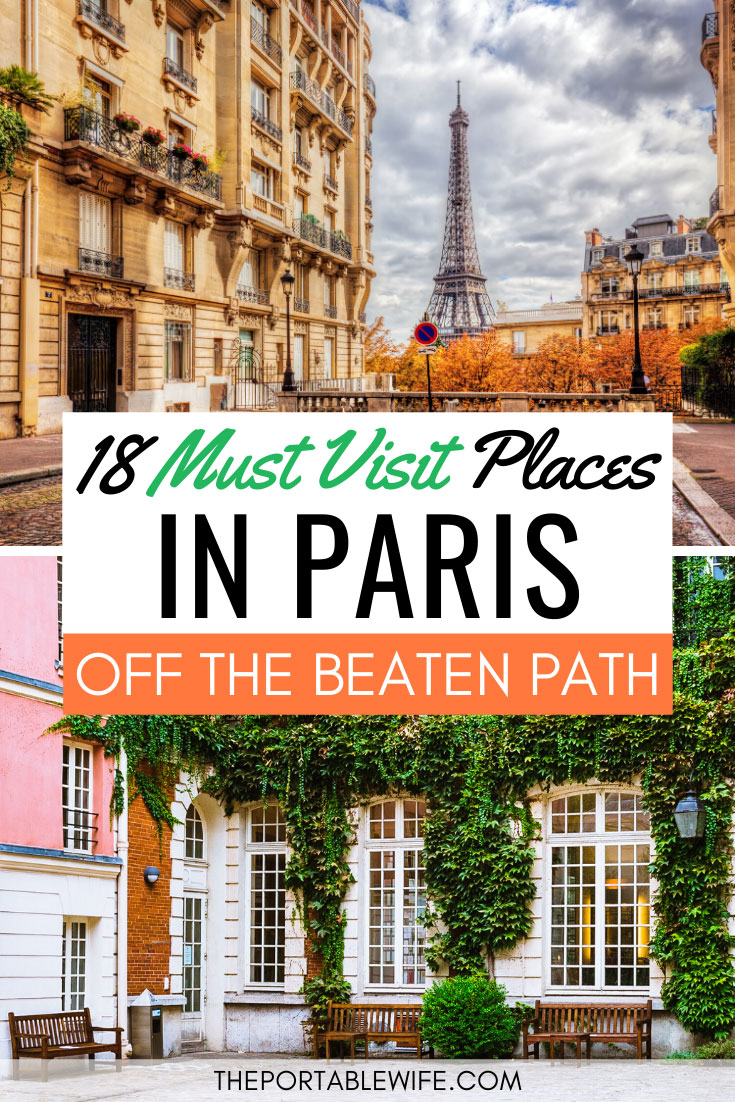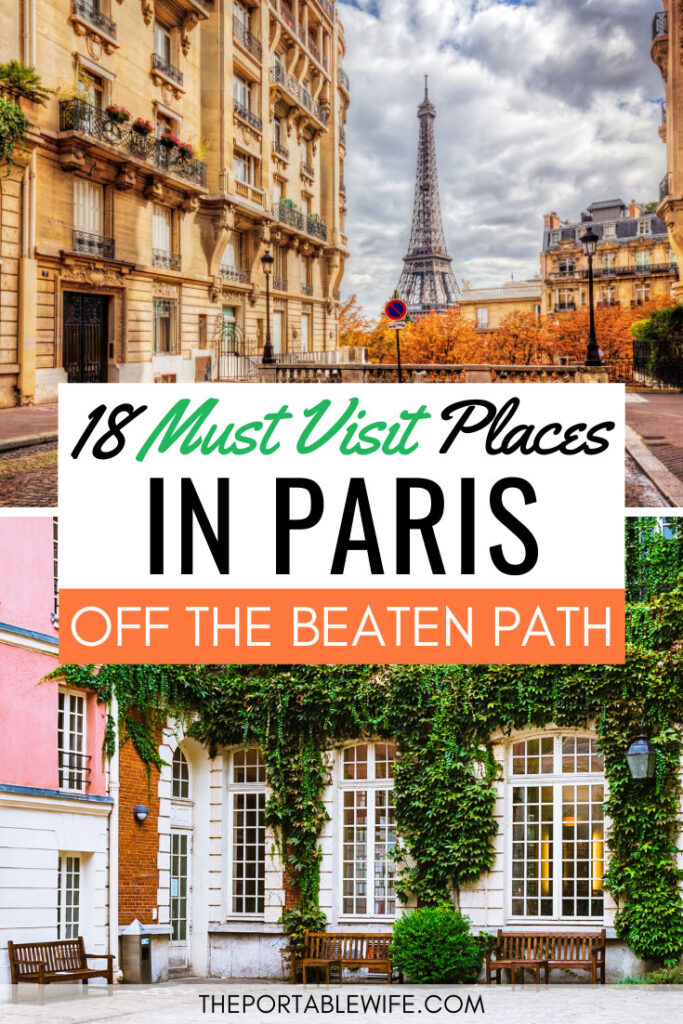 Learn about World War II history at the Vel d'Hiv Monument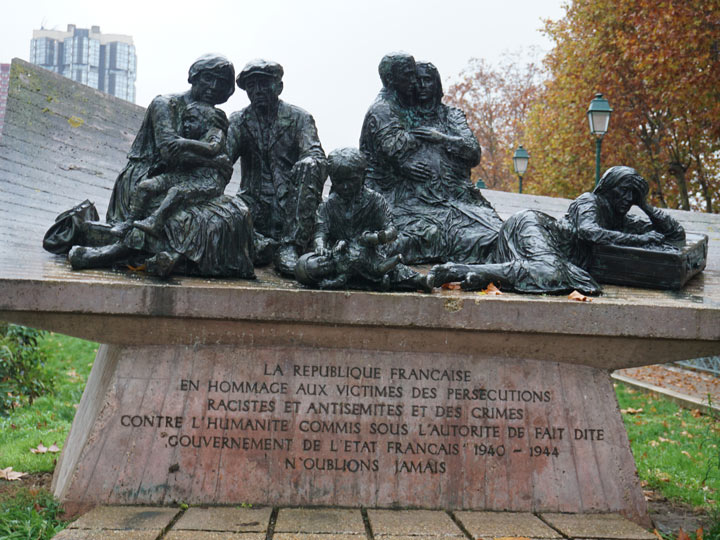 By Julie from The Red Headed Traveler
For most people, the name "Vél d'Hiv" is as foreign to them as the pronunciation of it. But that's not too surprising.
For decades, the French government wanted to forget that during World War II in 1942, thousands of Jews had been rounded-up and arrested. But the awful, shameful truth is these French Jews had been arrested by the French police, not the Nazis. The government had been entirely complicit in sending thousands of French citizens to their deaths at Auschwitz.
After their arrest, the majority of the rounded-up victims were held in deplorable conditions at the Vélodrome d'Hiver, an indoor bicycle racing track and stadium in the 15th arrondissement, before they were sent east in cattle cars to the camps.
The stadium was torn down in the years following the war, and today there is a plaque in remembrance of the victims on the corner of boulevard de Grenelle and Rue Nélaton marking where it was once stood.
But in 1994, a monument nearby was dedicated on the edge of the Quai de Grenelle, entitled the Monument to the Victims of the Deportation to the Vélodrome d'Hiver (Monument de la Place des Martyrs Juifs du Vélodrome d'Hiver).
The sculpted figures emphasize children and includes a pregnant woman and a sick man. The curved concrete shell on which the bronze artwork sits is meant to represent the curve of the racing track (the arrested were actually kept in the stands in the complex).
Come to Paris to see the sights and experience the culture and allure that it's so famous for. But also visit a tiny piece of modern, more unknown history that's only a 10 minute walk from the city's most famous attraction, the Eiffel Tower, and remember the victims so long forgotten.
Explore the underbelly of Paris at the Sewer Museum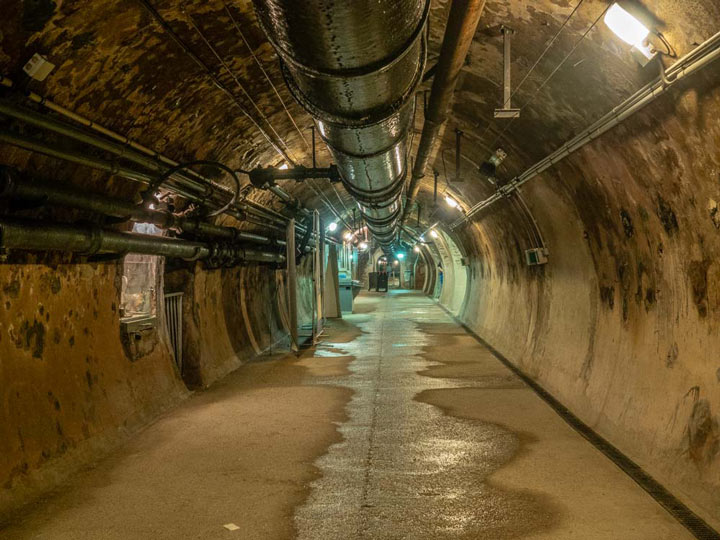 By Carol from Wayfairing Views | Follow on Facebook
Most of Paris' most popular museums are above ground, but there is something very interesting happening in subterranean Paris. The Orangerie may have amazing Monet art. But the Sewers of Paris Museum offers a glimpse into Paris' darker underbelly, and it's definitely not something found in the typical Paris guidebook.
This subterranean cesspool offers a self-guided tour of Paris' water, sewer and electricity infrastructure. You'll learn the history of Paris' infrastructure development from the dark ages through today.
There is a certain amount of cheek to their displays, and they even have adorable rat and bacteria murals festooning the (somewhat moist) walls. It's informative, fascinating and doesn't smell as badly as you might image.
Mind your step though, because it's a bit wet down there. So be sure to don proper footwear when you visit. You can find the museum on the south side of Pont de l'Alma. You can purchase your ticket to this secret Paris attraction at the tiny kiosk perched above the Seine, or visit with the Paris Museum pass.
Discover unusual things to do in Paris at Parc Villette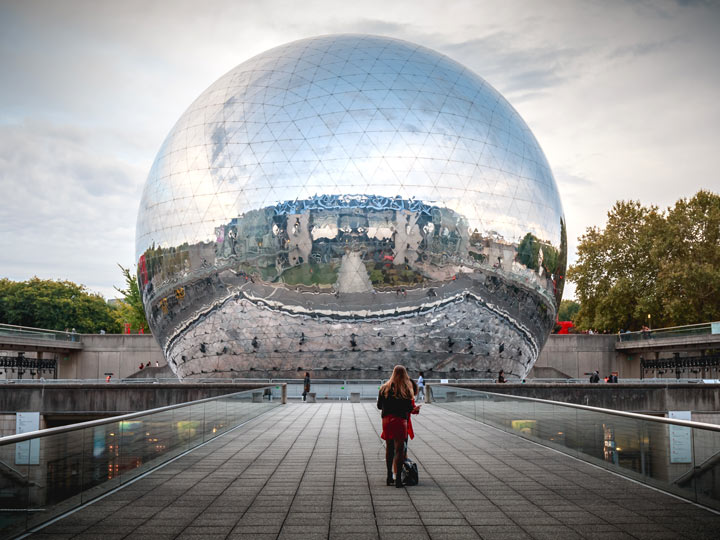 By Tan from Travel to Work
Parc De La Villette is a picturesque area in the 19th district of Paris. It is also a fascinating place to soak up the "beau -beau" culture of Parisians. Thought it is not listed in many Paris City Tours, it has its own unique charm.
The very first thing you should do here is take a self-drive electric boat to navigate the Canal De L'ourq. It reveals not only the colors of the park, but also the metropolitan atmosphere along the canal.
For seekers of cultural experiences, Parc De La Villette is home to the famous Cite de la Musique, where you can attend some of the most famous performances in Europe like Orches of Charlie Chaplin.
Opposite this musical center sits the Museum of Science, which is a perfect treat for children in addition to the little amusement playground in the middle of the park.
For some of the best artsy finds, Parc de La Villette also has a wide range of graffiti awaiting your exploration. Even foodie travelers will have something to treat their palettes, as there are numerous restaurants serving distinctive regional cuisines, from the ordinary Parisian Brasserie to speciality seafood dishes.
If you visit the park during the summer time, you'll find a number of young people playing a classic game of Petanque, as well as open cultural events and unique flea markets.
Pay your respects at Père Lachaise Cemetery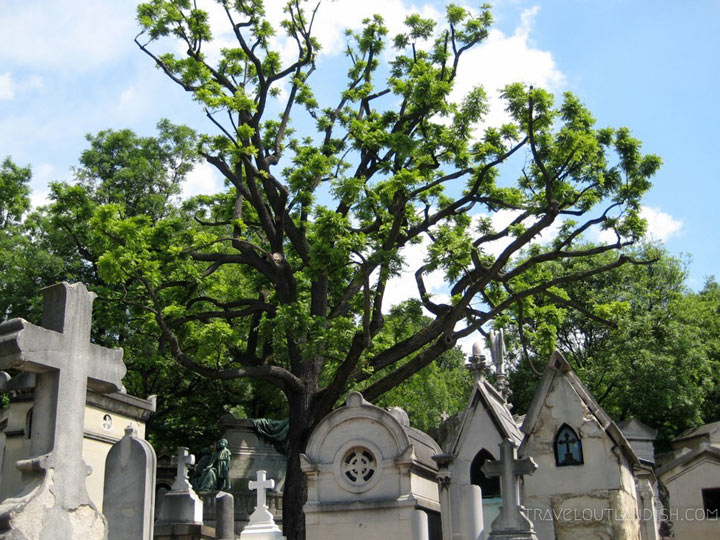 By Taylor from Travel Outlandish | Follow on Instagram
In Paris, visiting the cemetery is far less grim than you might expect. Cimetière du Père Lachaise has lush lawns decorated with ornate mausoleums and imaginative sculptures. The structures here span centuries of architectural styles with the Gothic coexisting beside Neo byzantine.
The cemetery sprawls 44 hectares with more than 70,000 burial plots. While tourists gravitate to notable figures like Jim Morrisson, Jean de La Fontaine, and Oscar Wilde, there are plenty of lesser-visited graves worth seeing.
The stained glass memorial to Family Albertin Deron and the golden statue atop Jean-Sebastien Gourlot's grave are particularly beautiful, though they may be hard to find without a local expert.
Book your guided tour of Pere Lachaise now!
Père Lachaise is completely free to enter and open year-round, but be sure to visit respectfully. It's a cemetery, after all.
Other notable cemeteries in Paris are Cimetière de Montmartre, Cimitiere des Chiens, or Cimetière de Passy. They're fixtures of the city, located under bridges or alongside major roads. In some ways, the cemeteries of Paris are emblematic of the way that Paris has grown up: maintaining the old and building around it rather than starting anew.
Check out the unique architecture in Paris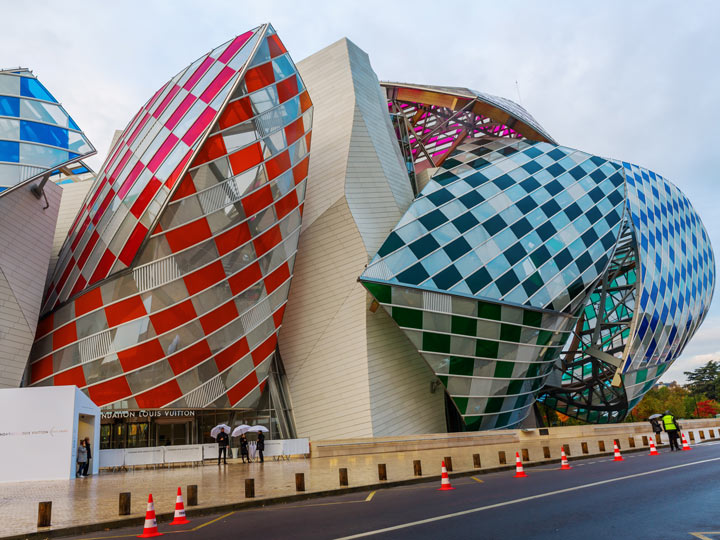 Everyone knows about the Eiffel Tower and Louvre Pyramid. But the city is home to some remarkable old and modern architecture that make for some unique places to visit in Paris.
Here are a few places you should see:
Fondation Louis Vitton: Opened in 2017, this colorful glass and steel construction houses rotating exhibitions of modern and contemporary art.
Conciergerie: Best known as the prison that held Marie-Antoinette, the Conciergerie's main Hall of the Guards is a striking series of vaulted arches.
Institut du Monde Arabe: The Institute's shifting wall of Arabic mashrabiyas change throughout the day based on the amount of sunlight hitting them.
Philharmonie de Paris: This modern aluminum structure is filled with animal motifs, including more than 300,000 etched birds.
Marvel (quietly) at the Bibliothèque Sainte-Geneviève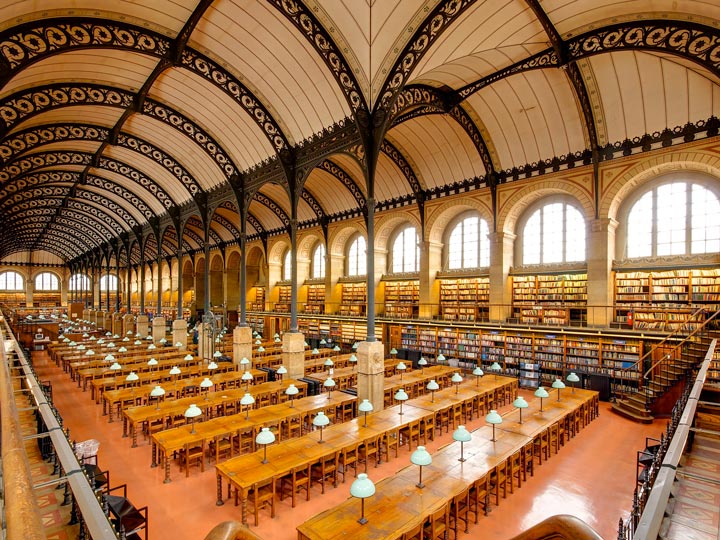 Going to the local library may seem like an unusual thing to do in Paris. But when that library's reading room looks like something out of a fantasy novel, you'd be crazy to skip it!
The Bibliothèque Sainte-Geneviève began as a simple Monastic library in the 12th century, but it quickly grew to be one of the most famous in all of Europe. However, the building you see today is completely separate from the original Abbey library, which was taken over by a nearby school in the 1800s.
Today's Bibliothèque Sainte-Geneviève was built in the mid-1800s using a modern, open concept not previously seen in European architecture. The massive windows, lofty ceilings, and exposed steel beams create an airy atmosphere that is a must see.
Visitors can take a brief, 10-minute tour of the reading room from 2-6pm on Mondays-Saturdays. Be sure to bring ID with you and present it at the reception desk.
Go way off the beaten path in Paris on the Petite Ceinture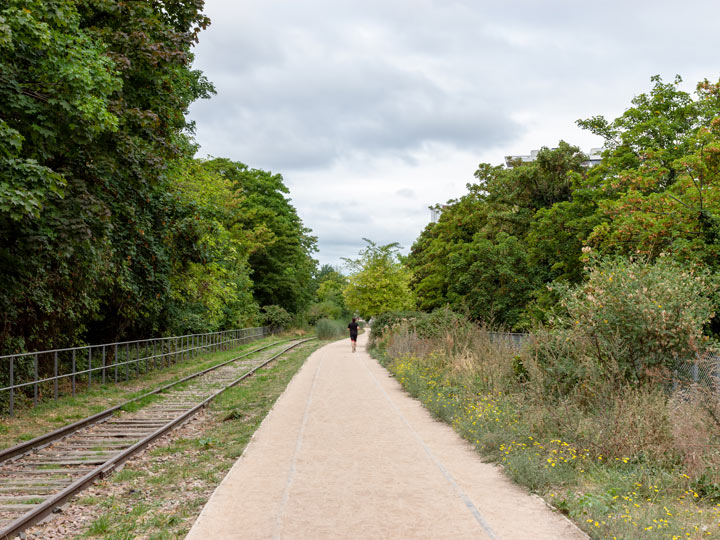 If exploring abandoned, overgrown places is your thing, then you'll love the Petite Ceinture. This disused railway line has turned into a unique walking path spanning multiple arrondissements.
With wildflowers bursting through the rails and birds chirping in the bushes, you might forget you're in a major city! For a complete list of locations and access points to the Petite Ceinture, click here.
Grab some fresh air at the Bois de Boulogne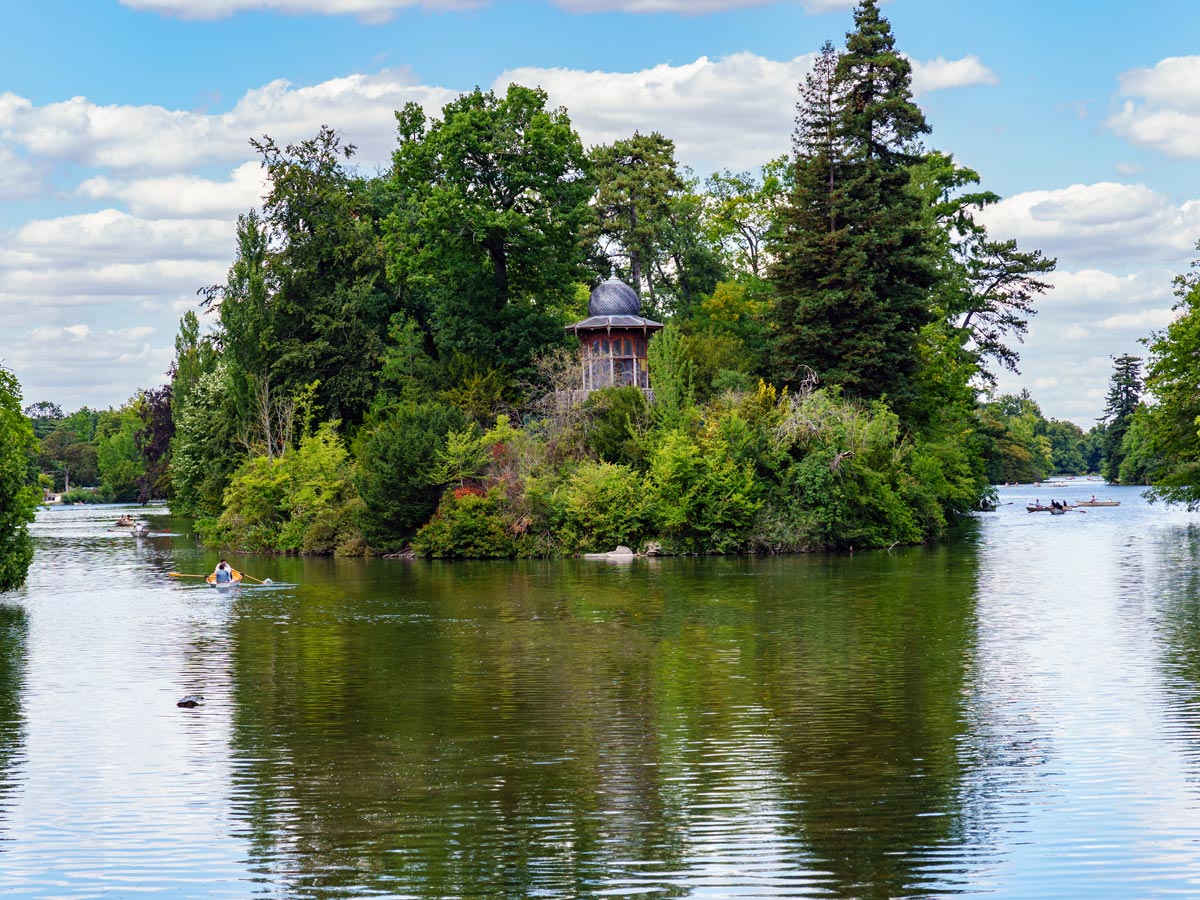 Located just outside the busy motorway that rings Paris proper, the Bois de Boulogne is literally a breath of fresh air after being in the city.
Like my beloved Richmond Park in London, the Bois de Boulogne was a former royal hunting ground that was re-landscaped and turned over to the public by Napoleon. From lakes to waterfalls to forested bridle paths, there are plenty of secluded spots to get decidedly off the beaten path in Paris.
The sprawling park has something for everyone, including a green theatre where locals put on Shakespeare plays and a rowboat rental shop near the Pavillon Royal. If you're visiting Paris in autumn, the park is a must see thanks to the stunning colors sported by the ancient oak trees.
Buy unique souvenirs at Saint-Ouen's flea market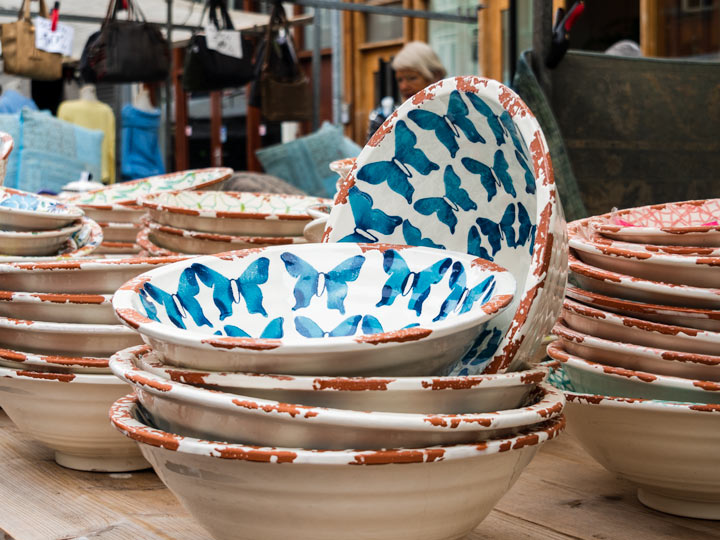 Shopping may not seem like a non touristy thing to do in Paris. But if you head to the northern suburb of Saint-Ouen, you'll have a far more unique buying experience.
Every Saturday-Monday, Les Puces de Saint-Ouen–the world's largest antique market–opens for business. Vendors sell everything from 18th century dressers to old, leather-bound novels. It's a spectacular place for finding one-of-a-kind Paris souvenirs, though it does get crowded during the early afternoons on weekends.
Reserve your insider's flea market guide here!
Uncover the history of Parisian artists at the Museé de Montmartre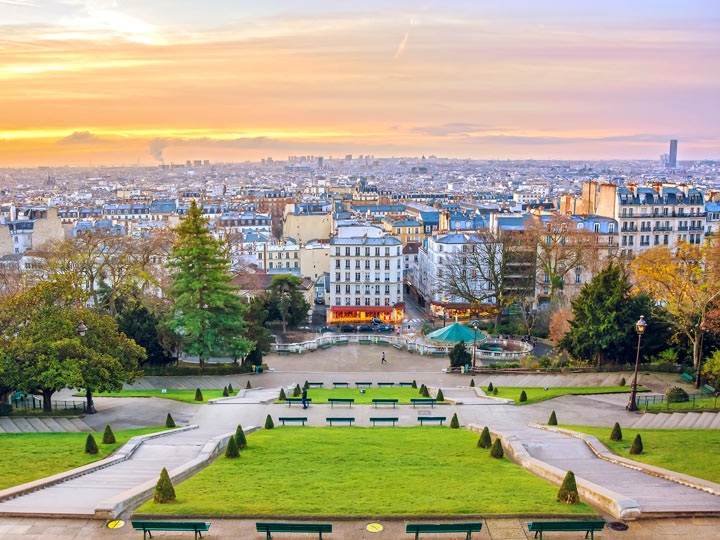 Many Paris visitors don't realize the history behind the city's charming neighborhood of Montmartre. Located in the area's oldest building, the Museé de Montmartre pays tribute to the vibrant Parisian art culture and the artists who helped it flourish.
Renoir, Émile Bernard, and other famous painters used to work and collaborate here in the late 1800s and early 1900s. The museum's paintings, drawings, and other artwork all combine to tell their stories, as well as the story of Montmartre. There's even a refurbished atelier apartment to give you a sense of the artists' daily lives.
The museum is open every day, making it the perfect addition to an offbeat Paris itinerary.
Wander through the gorgeous covered galleries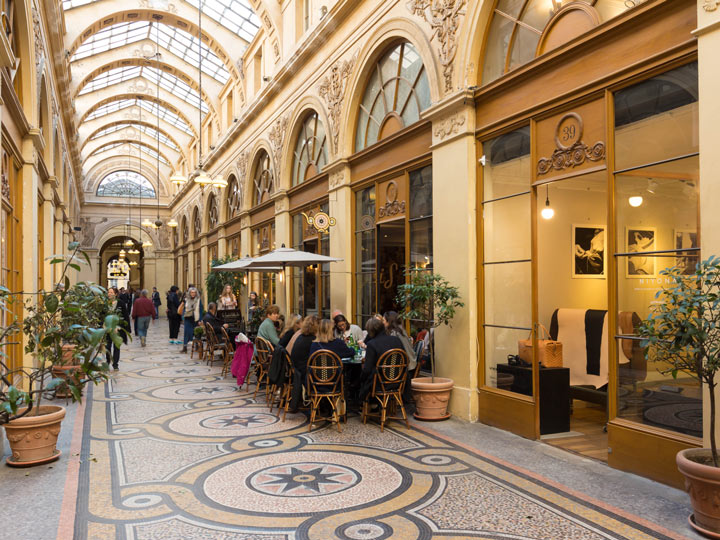 Paris is great at elevating simple things into visual delights. And one of the best examples of this is the city's covered galleries. There's something special about strolling beneath a decorative glass ceiling as you window shop.
Here are a few of the best covered galleries in Paris:
Galeries Lafayette: A jaw-dropping, multi-story shopping center that's home to the best Christmas displays in Paris
Galerie Vivienne: An upscale dining and shopping area decked in golden hues
Passage des Panoramas: Considered to be the first covered walkway in Paris
Passage Brady: Also known as Little India because of it's plethora of Indian shops and restaurants
Are you inspired to see a different side of Paris? Sign up for my newsletter to receive even more authentic travel tips!
My favorite Paris travel books
These detailed Paris guidebooks win my travel planning seal of approval: