After 20 years of dreaming about the City of Light, I created and followed this 4 days in Paris itinerary to celebrate my birthday. It was everything I'd hoped for and more, filled with Eiffel Tower views, charming sidewalk cafes, and all the pastries I could eat.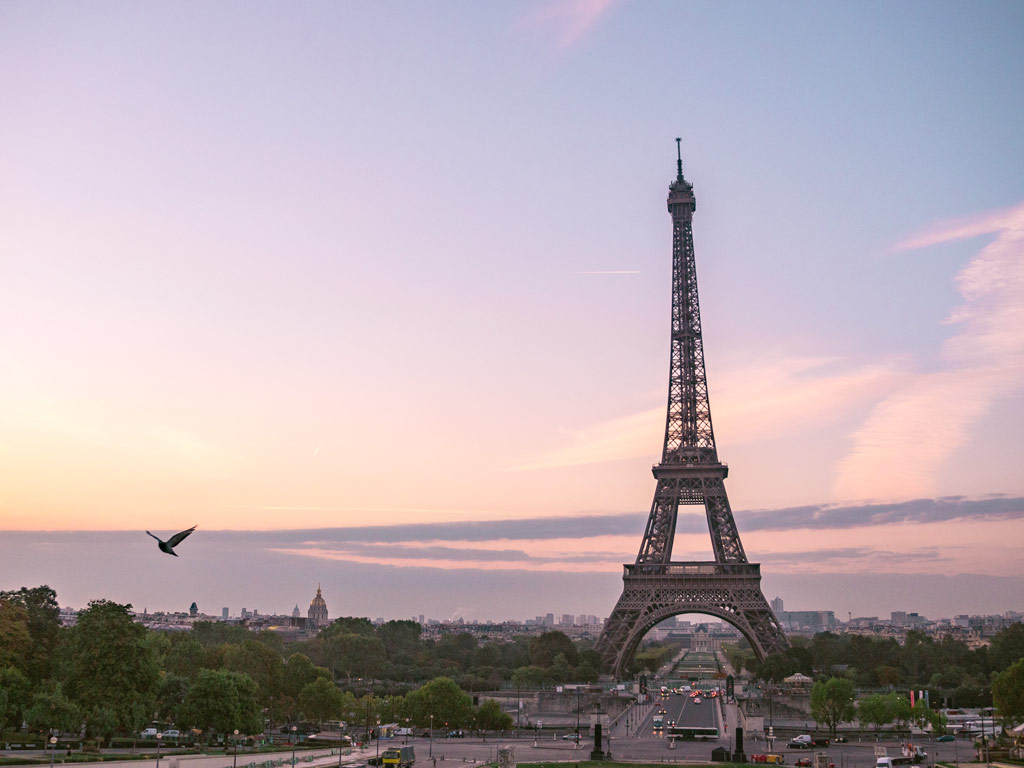 This guide to spending 4 days in Paris is perfect for first-time visitors who want a great blend of sightseeing, amazing food, and relaxing strolls through the city.
Whether you're drawn to Paris for its iconic landmarks, rich history, or famous cuisine, this comprehensive guide is sure to help you plan your ideal trip.
This post contains affiliate links. For more information, click here.
RELATED: 16 Best Places to Take Pictures in Paris
How to Spend 4 Days in Paris
— Know Before You Go
— Where to Stay in Paris
— The Best Time to do This 4 Day Paris Itinerary
— Paris Itinerary: 4 Days
— Day 1: Cathedrals, Palaces, and Charming Districts
— Day 2: Eiffel Tower, Tuileries, and the Louvre
— Day 3: Palais Royale, Champs d'Elysées, and Montmartre
— Day 4: Musee D'Orsay, Catacombs, and Night Exploration
— 4 Day Paris Itinerary Map
— Adding Day Trips to This Paris 4 Day Itinerary
— Where to Go After 4 Days in Paris
Know Before You Go
Estimated Budget (excluding accommodation and transport): €200/person
Money
France uses the Euro (€). Most places in Paris take cash and credit card, though smaller shops and cafes may be cash-only. As always, I recommend carrying Euros along with one credit/debit card. It's best to keep a spare card in a safe place at your accommodation if possible.
For dining out, a meal at a typical French cafe will cost about €15, though you could easily spend triple that at a nice restaurant.
Tipping in Paris can be confusing, as service is not always included or apparent on the receipt. Check the menu to see if service charges are mentioned. If service isn't automatically added, it's customary to leave 10-15%. Bring cash with you, as it's not always possible to add a tip when paying by card!
Should You Buy the Paris Museum Pass?
I'm all about saving money when traveling, especially in pricey cities like Paris.
I've generally found visitor passes to be overpriced, but if you follow this exact itinerary, the 4 day Paris Museum Pass is well worth it.
You'll not only save some money, but also the time and hassle of buying admission tickets. Additionally, the pass provides fast track entry to some museums, such as a shorter security line at the Louvre.
Transport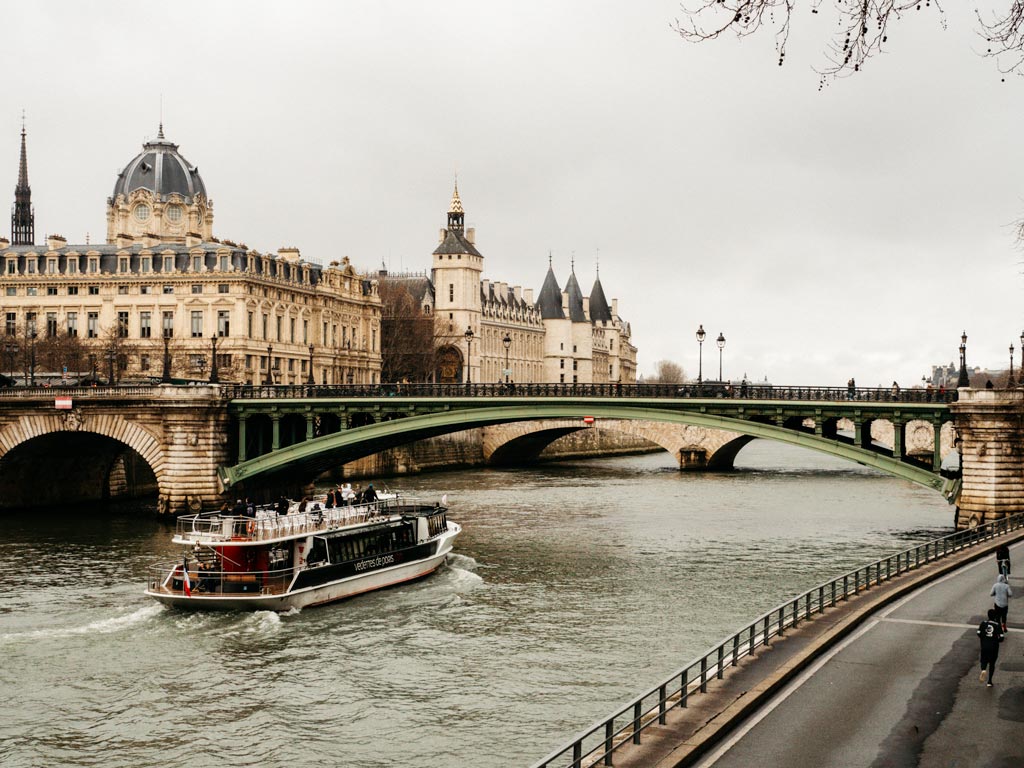 Paris is well-connecteded by public transit, including buses, express commuter trains (RER) and the metro.
Riding the Paris metro is simple. Just buy a ticket at one of the machines inside a station or above ground near the entrance using cash or card. You can change the language to English if needed. Then, run your ticket through the reader at the barrier and head to the appropriate platform.
There are signs inside the station showing the stops on each route. Google Maps and Citymapper are also helpful for planning your journey.
Although you can buy a five day metro pass for just under €40, this Paris itinerary for 4 days is efficient enough that you're better off buying individual tickets as needed.
If you decide to take the bus, be sure to have exact change when buying your ticket on board!
Uber operates in Paris, but I wouldn't recommend taking a car through the city unless it's quite early or late due to traffic. Taxis are also plentiful, and can be hailed from the street. Just look for the green light on the roof that indicates the car is unoccupied.
Traveling from Charles de Gaulle Airport
The fastest and cheapest way to travel to Paris from Charles de Gaulle Airport (CDG) is via the RER B train. Tickets are around €11.50, and the journey takes about 30 minutes depending on your final stop.
The RER B stops at five stations, including Gare du Nord, Chatelet-Des-Halles, and Luxembourg. This makes it a great option no matter where you're staying in the city. For more information on getting on the RER B train from CDG, check out this detailed guide.
Traveling from Gare du Nord
If you're traveling to Paris on Eurostar, you'll arrive via Gare du Nord. Depending on where you're staying and your tolerance for walking, you could walk from the station to your accommodation. Montmartre and the Marais are both within reasonable walking distance if you don't have much luggage, which should be the case for a Paris 4 day itinerary.
Otherwise, I recommend taking metro line 4 or 5 from Gare du Nord Metro station. There's also a taxi stand outside the station if you'd rather take a car, though it will be significantly more expensive.
Language
French is the official language of Paris, though you'll hear hundreds of languages spoken on the city streets.
Fortunately for English-speakers, many service industry workers are conversational in English. As with most major cities, the further you get from touristy areas, the less likely it is that people speak fluent English.
That being said, I highly encourage you to learn some basic French phrases. People will be far nicer to you and more inclined to help if you start the interaction in French.
If you don't have Google Translate installed on your phone with the French dictionary downloaded, do that before you leave. 4 days in Paris doesn't require too much knowledge of French, but having some words and phrases ready will help immensely.
RELATED: 23 Travel Terms and Phrases Every Globetrotter Should Know
Here are a few French phrases you should know, with some very rough pronunciations:
Hello – Bonjour (bon-zhor)
Yes – Oui (we)
No – Non (no)
Please – S'il vous plaît (see voo play)
Thank You – Merci (mare-see)
Pardon Me – Excusez-moi (excuse-ay mwah)
Do you speak English? – Parlez-vous Anglais? (parlay-voo An-glay?)
I would like – Je voudrais (zyuh voo-dray)
Water – Eau (oh)
One – Un/Une* (uhn/oone)
*French is a gendered language, so the thing you're referring to will determine how you say "one". Unless you really dive into the language, just stick to using "un".
Combining these 10 words and phrases will be enough for a long weekend in Paris. But if you're planning to stay longer, you should learn the rest of these basic travel terms and phrases.
Culture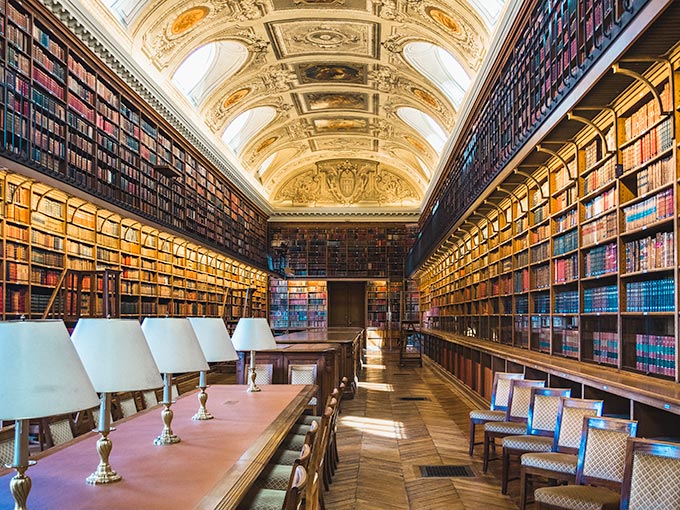 French culture is vibrant and complex. If you're only spending 4 days in Paris before returning home, here are some quick etiquette tips to help you navigate the city with grace.
When entering a shop or restaurant, always greet the staff. A simple Bonjour works well and will be reciprocated.
Many French restaurants close for several hours between lunch and dinner service. And dinner hours rarely start before 6pm, so plan your meal times accordingly.
Bread is plentiful but not always free. If your server asks if you'd like bread with your meal and you say yes, be prepared to pay for it.
Watch out for cyclists and moped drivers, who frequently ride onto sidewalks.
Paris is the fashion capital of the world, so it should come as no surprise that the standard of dress is higher than elsewhere in Europe. Take your outfits up a notch, particularly when going out to dinner (unless you're going somewhere exceptionally casual).
RELATED: Where to Eat a Typical French Breakfast in Paris
Where to Stay in Paris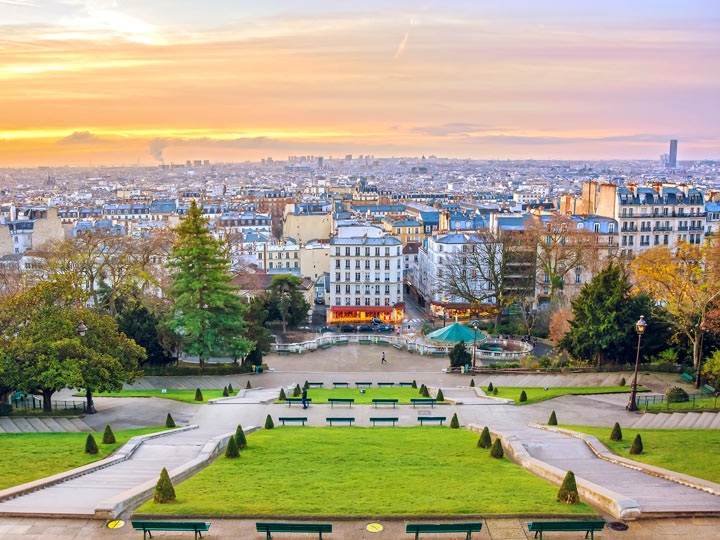 From glamorous hotels to tiny basement guest rooms, accommodation in Paris runs the gamut. Regardless of where you stay, avoid making last-minute reservations, as prices will be higher, and few quality mid-range places will be available.
Personally, I think the Marais is the best neighborhood to stay in Paris. It's fairly central, extremely charming, and full of flats for rent. We found this amazing apartment accommodation in the heart of le Marais, with the district's best shops and restaurants right around the corner.
Montmartre is another gorgeous neighborhood and has more affordable places to stay. We stayed in a magical Parisian flat near Sacre Coeur during our 2nd trip to Paris, and it was the perfect balance of quiet and fun.
For places that are more walkable to the major attractions in Paris, try searching in Montparnasse and the Latin Quarter.
The Best Time to do This 4 Day Paris Itinerary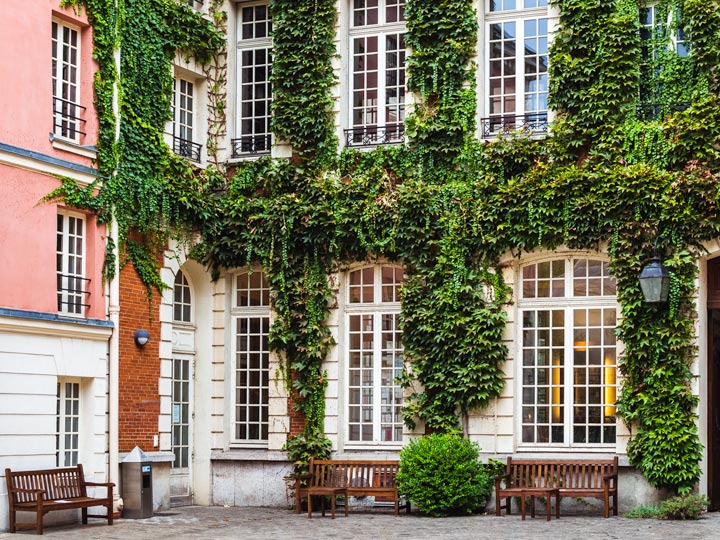 From springtime blossoms to Christmas decorations, it's hard to choose the best time to visit Paris. Here are some tips to help you plan your 4 days in Paris trip.
January – February: If you want to visit Paris on a budget and without the crowds, the winter off-season is ideal. Just avoid Valentine's Day, when prices tend to skyrocket.
March – May: Magnolias and cherry blossoms grace the city's parks and streets, and crowds are still manageable.
June – August: This is peak travel season, so expect long lines, pricier hotels, and a need for reservations.
September – November: The weather is pleasant in the autumn shoulder season, with beautiful foliage starting to show in October.
December: Paris knows how to deck the halls for Christmas, and there's no shortage of bedazzled walkways and trees around the city. If you're planning a Europe winter city break, this is the time to spend 4 days in Paris.
Paris Itinerary: 4 Days
Day 1: Cathedrals, Palaces, and Charming Districts
Notre Dame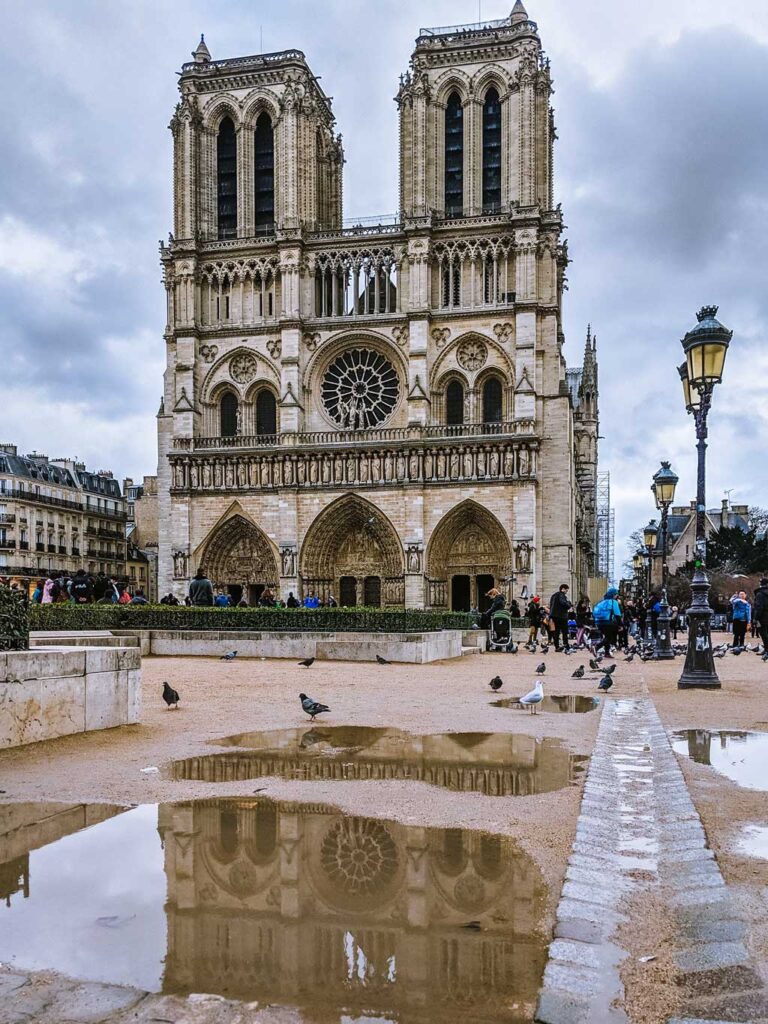 Update Regarding Notre Dame
On April 15, 2019, a construction fire broke out under the roof of Notre Dame. Although parts of the cathedral survived the blaze, Notre Dame will be closed to the public for the forseeable future while they work to rebuild.
Until they restore this incredible piece of history, you'll need to start your 4 day Paris itinerary at Sainte-Chapelle (see below). If you have extra time to fill, you can visit the inside of the Pantheon when you reach the 5th arrondissement.
Even if you're only familiar with Notre Dame because of Victor Hugo's novel or the Disney film, this iconic Gothic cathedral is a must see. The ornate towers, beautiful stained glass windows, and menacing gargoyles make for great photographs.
The cathedral is open daily from 7:45am to 6:45pm. Admission is free, and photography is allowed inside (no flash or tripods).
For this Paris 4 day itinerary, I only allotted time for visiting the main cathedral. However, it's also possible to visit the crypts below, and to climb the south tower for panoramic views of the city. Both of these activities charge admission, though they are covered under the Paris Museum Pass.
Should you wish to visit the crypts beneath the cathedral, note that they don't open until 10am and are closed on Mondays. Admission to the crypts is €5.
Climbing the Notre Dame tower is more expensive at €10, though it's covered by the Paris Museum Pass. More importantly, entry requires a timed admission ticket.
The tower opens at 10am, and visitors can secure their place in the queue beginning at 7:30am. There are two queuing options: either download the "JeFile" app from the Apple or Google Play stores, or use the machine near the entrance. Note that the JeFile app will not work unless you're within 500 meters of the cathedral.
If you really want to go up the tower, I recommend visiting the cathedral early in the morning and securing an evening admission time. Today's itinerary ends near the cathedral, so you can climb the tower before exploring the Marais!
Sainte-Chapelle & Conciergerie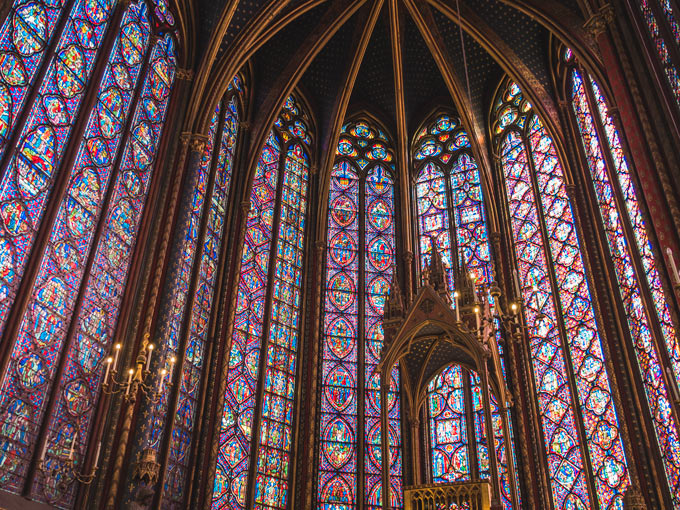 Before we arrived, I had no idea that Sainte-Chapelle and the Conciergerie were two of the best photo spots in Paris. Luckily, we ended up inside these beautiful buildings because of the free admission on European Heritage weekend.
€15 gets you access to both places (also covered by the Paris Museum Pass), and it's money well spent. Seeing the hundreds of stained glass windows on Sainte-Chapelle's second floor was one of the highlights of our trip.
The neighboring Conciergerie played a key role in the French Revolution and houses Marie Antoinette's final holding cell, along with other artifacts from the period. And the building's white vaulted ceilings are simply beautiful.
Walk the 5th Arrondissement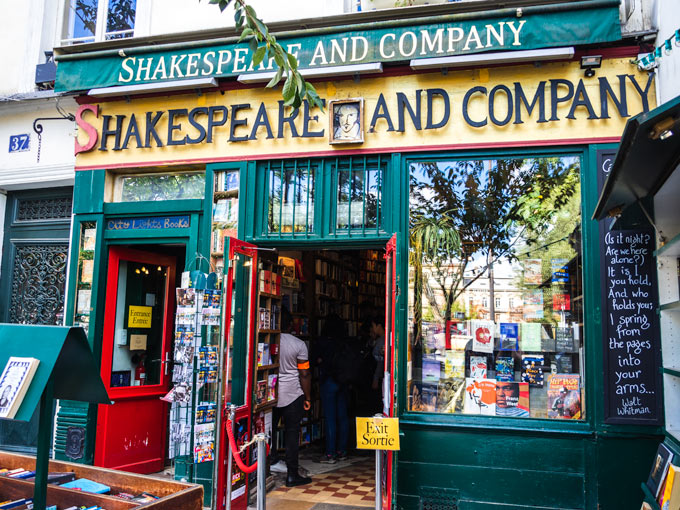 The 5th arrondissement is home to hundreds of quintessentially Parisian shops and cafes.
A stroll through the famous Latin Quarter will bring you past famous places like Shakespeare and Company, Odette, and the Pantheon. It's the perfect spot for finding unique souvenirs, delicious pastries, and gorgeous street views.
Jardin du Luxembourg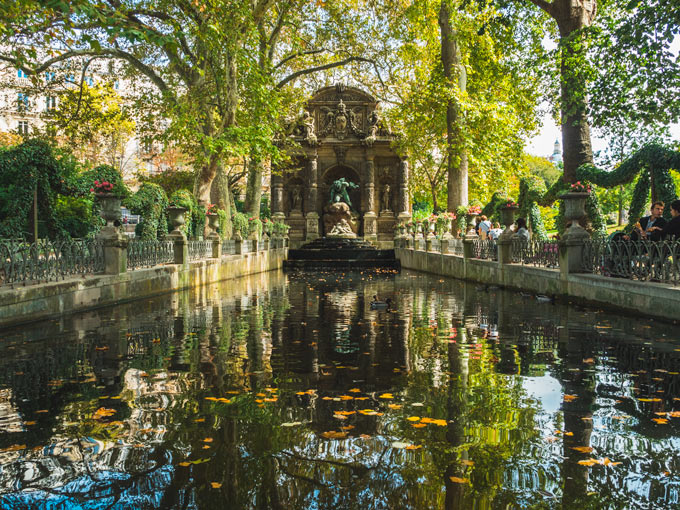 Near the southern border of the 5th arrondissement lies the Luxembourg Gardens, an Italian-style garden that surrounds Luxembourg Palace.
The garden is over 400 years old and open to the public. Take a stroll down the perfectly manicured pathways, relax in front of the Medici fountain, and watch vintage toy sailboats drift around in the central pool.
Lunch at Treize Bakery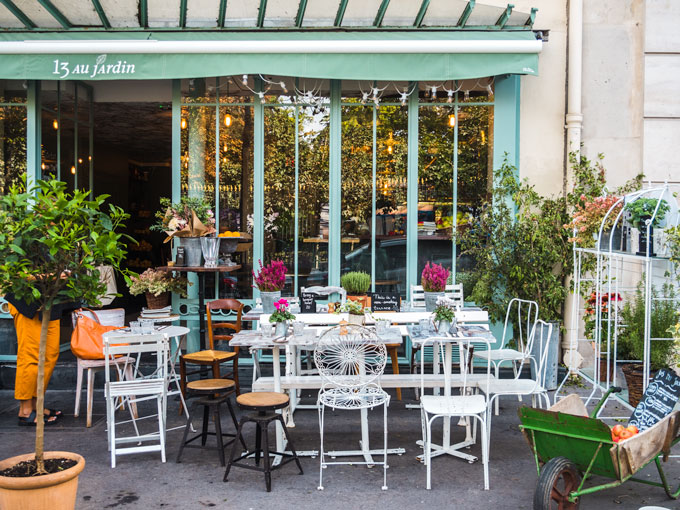 Located just opposite the Luxembourg Gardens, Treize Bakery serves up French classics with a Southern US twist. Dining in the outdoor seating area feels like you're attending a cozy garden party in the heart of Paris.
If you visit on the weekend, be sure to order off the brunch menu, which includes the best pancakes I've had in Europe.
Jardin Des Plantes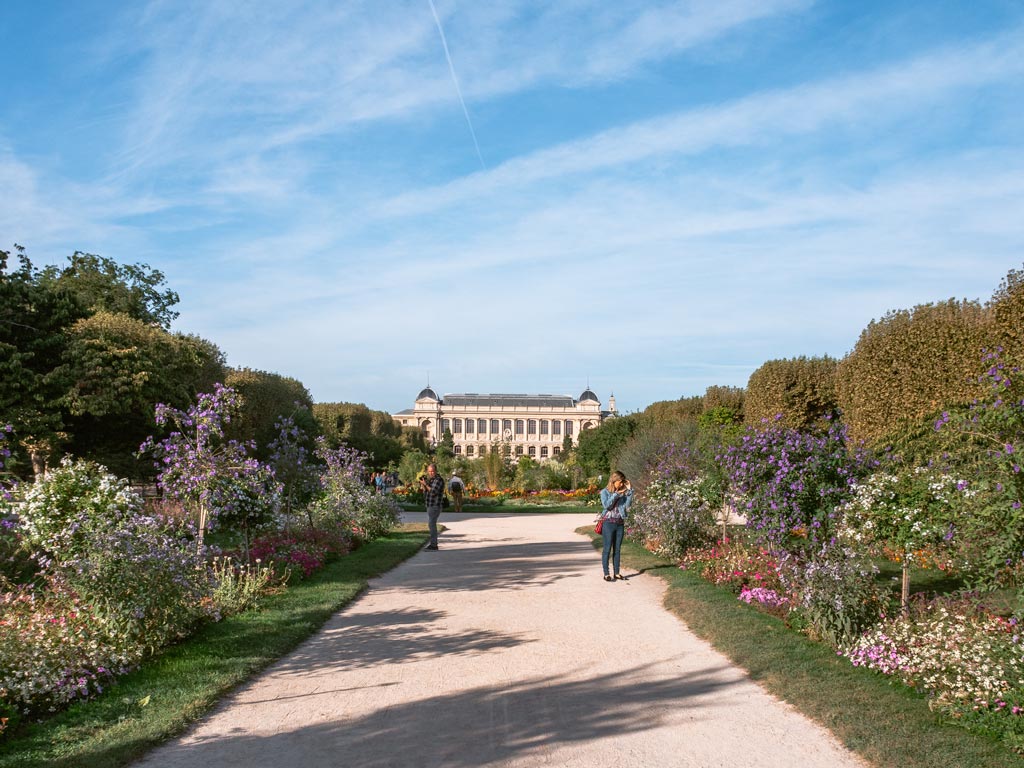 Sometimes the best vacation moments are the ones that catch you by surprise! The Botanical Garden was not on my initial list of places to visit in Paris in four days. However, I passed through the gate by chance and was immediately blown away by the lush greenery and exotic plants that greeted me.
From vibrant flowers to tropical palms, the Jardin des Plantes is full of visual delights that offer a break from the hustle and bustle of the city.
Rue Cremieux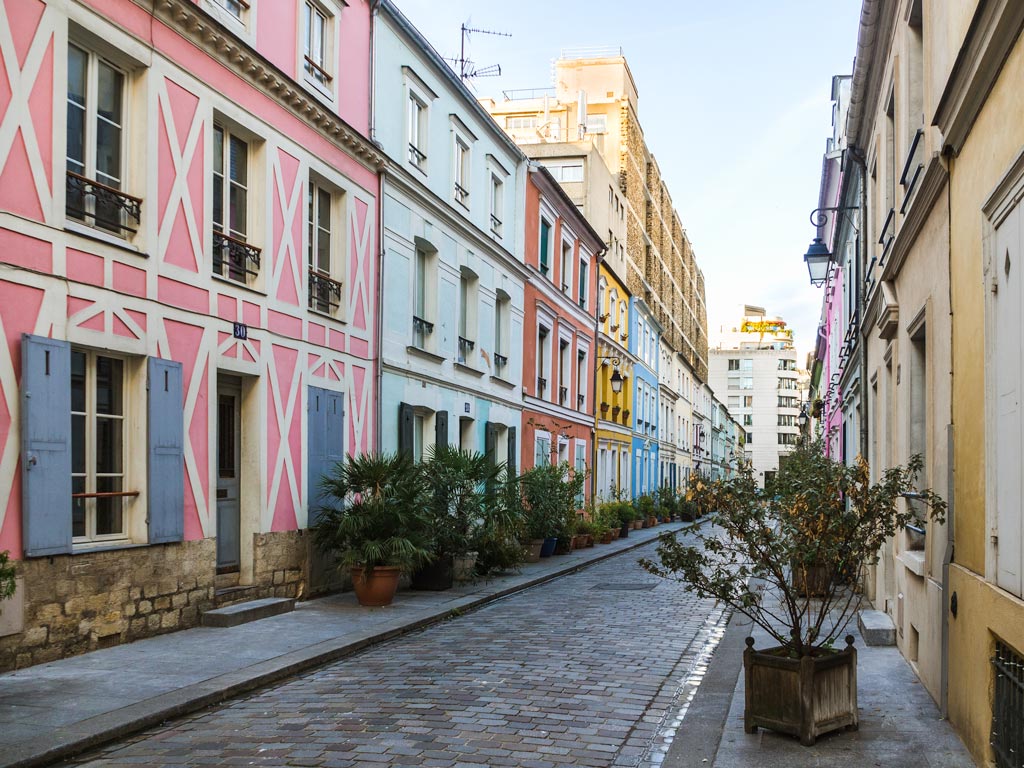 Situated in a residential area near the Bastille, Rue Cremieux is a bit off the beaten path in Paris. However, the rainbow-colored buildings with bright shutters and timbered accents make for excellent photos.
Just be sure to respect the residents' privacy, and don't photograph houses marked with "no photo" signs.
Bastille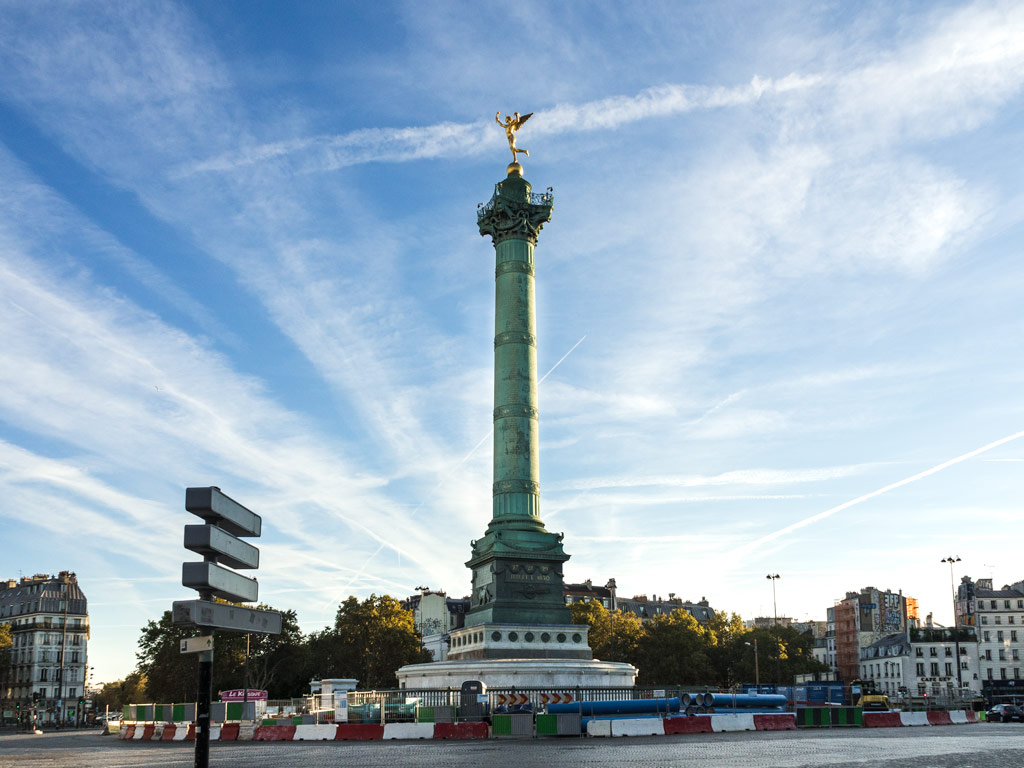 History buffs will recognize the July Column that towers above the Place de la Bastille.
This monument commemorates the July 14, 1789 Storming of the Bastille, where citizens invaded the military stronghold during the French Revolution and liberated a number of prisoners. The event was a pivotal part of French history, and the memorial is a must-see.
The Bastille neighborhood is also a nice, quiet place to take a stroll. Though if you visit on Thursday or Sunday morning, you'll find the Marché Bastille operating near the column, which is one of the biggest markets in Paris.
Marais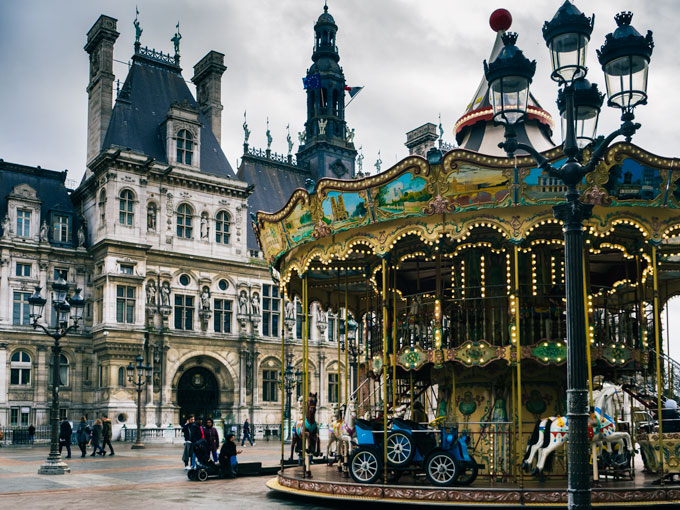 Located just north of the Île de la Cité, the Marais is one of the oldest neighborhoods in Paris. Though there are a few important landmarks in the area, the main attractions of the Marais are its Parisian shops, restaurants, and cozy alleys.
It's the perfect neighborhood for a relaxing stroll after a busy day of sightseeing in Paris.
Highlights include the fancy Pierre Herme macaron shop, the famous Hotel de Ville, and the fun Words in the Mouth (Les Mots a la Bouche) bookstore.
If you opted to climb the Notre Dame tower this evening, be sure to watch the clock so you don't miss your time slot!
Discover Le Marais with a local guide here!
Dinner in Marais
There are dozens of fantastic places for dinner in the Marais, ranging from upscale fusion restaurants to low-key hot dog counters.
If you're looking for a quintessential French dinner that doesn't feel stuffy, try Les Philosophies.
For a simple but delicious meal of savory crepes, visit La Droguerie.
If you're in the mood for an outstanding deli sandwich or burger, head to Schwartz's restaurant.
Save this 4 day Paris itinerary for later!
Day 2: Eiffel Tower, Tuileries, and the Louvre
Eiffel Tower at Sunrise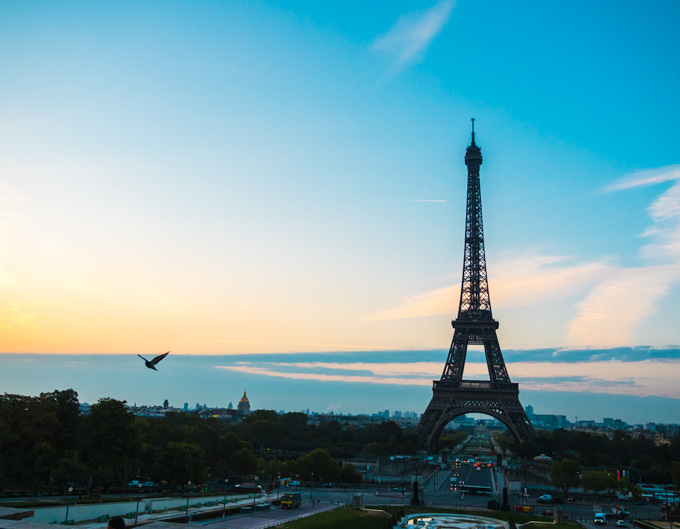 We're starting today bright and early! Even if you're not an early riser, I promise that watching the sunrise at the Eiffel Tower is an essential Paris experience you won't regret.
The best place to watch is at the top of the Trocadero. Depending on where you're staying, you might want to take the metro here. Metro lines 6 and 9 run to Trocadero station.
Even on weekdays, be prepared to dodge Instagrammers, wedding photographers, and other travelers on your way to the overlook point. This is an incredibly popular spot in Paris, though it's far more crowded at sunset.
Watching the sun slowly illuminate the city below was the highlight of my four days in Paris.
After you've soaked up the views from the Trocadero, head down the steps and through the park. Once you reach the Seine, cross over for an impressive look at the Eiffel Tower from below.
Champs de Mars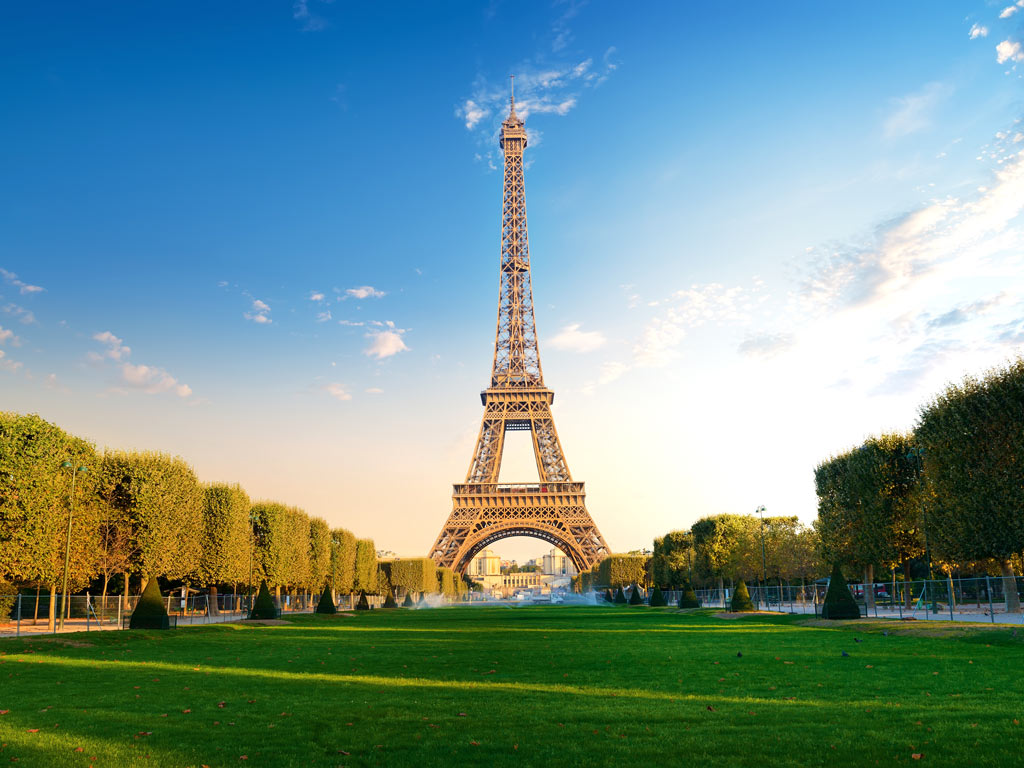 Just opposite the Trocadero is the long and lovely Champs de Mars park. Its open areas and Eiffel Tower views make it a popular Paris picnic spot. Be mindful of pickpockets and souvenir hawkers as you pass through or take a rest.
Breakfast at Le Petit Cler
The formule breakfast at Le Petit Cler was my favorite meal in Paris.
Despite being only a few blocks from the Champ de Mars, Le Petit Cler was a quiet place to eat with Parisian locals, a perfect non touristy thing to do in Paris. Their covered patio is the perfect place to relax with a coffee after an early morning trek to the Eiffel Tower.
Théâtre de la Tour Eiffel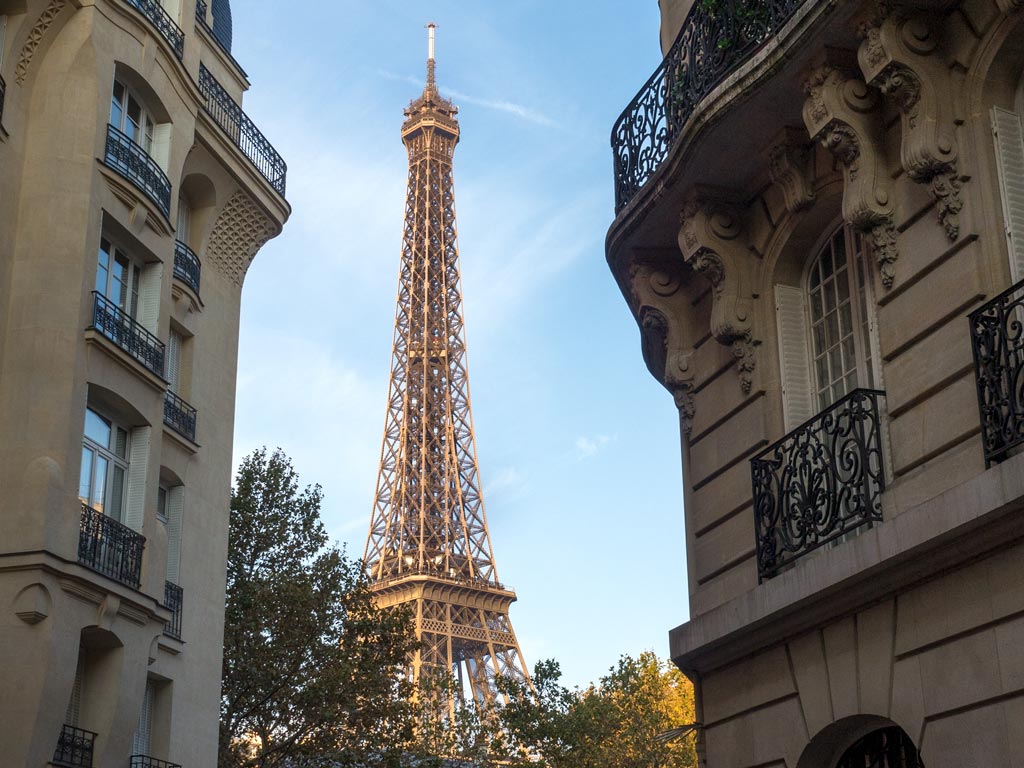 After you've digested your meal, pop over to the Theater of the Eiffel Tower for a photogenic view of the Iron Lady. Situated along a small, dead-end street off of Avenue Rapp, the perfectly Parisian buildings make an excellent natural frame for unique Eiffel Tower photos.
Esplanade Des Invalides
Situated in the heart of Paris, the Esplanade Des Invalides feels distinctly different from other areas in the city. The open park is surrounded by grand landmarks, including the Army museums, Ministry of Foreign Affairs, and Pont Alexandre III.
The rows of cannons and golden statues lend the Esplanade a regal and official atmosphere.
Pont Alexandre III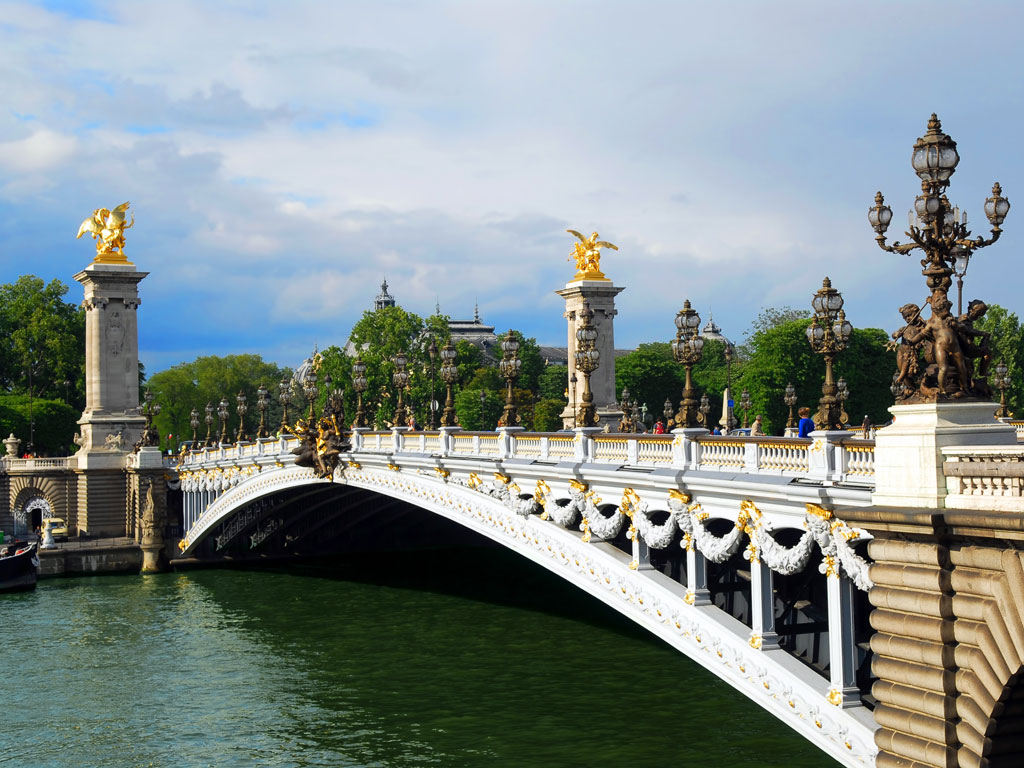 The gilded statues and ornate lanterns of Pont Alexandre III make it a focal point of the city. Its location makes it an ideal place to photograph the Eiffel Tower, or to take a romantic stroll.
Just be sure to keep an eye out for the scammers and pickpockets who frequent this popular tourist spot.
Grand Palais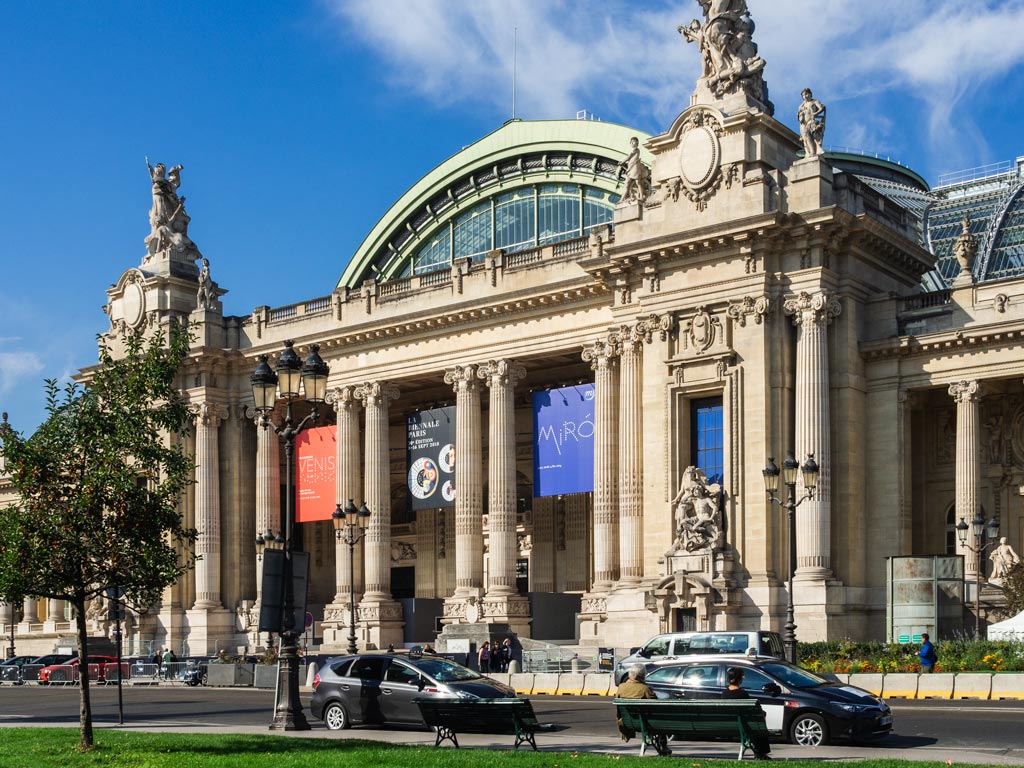 The gorgeous Grand Palais was actually constructed alongside the Pont Alexandre III as part of the 1900 Exposition Universelle. Today, it houses rotating art exhibits and installations.
This 4 day Paris itinerary only allots time for passing by the outside, but you can check the website and purchase tickets if you find an exhibit you can't resist.
Place de la Concorde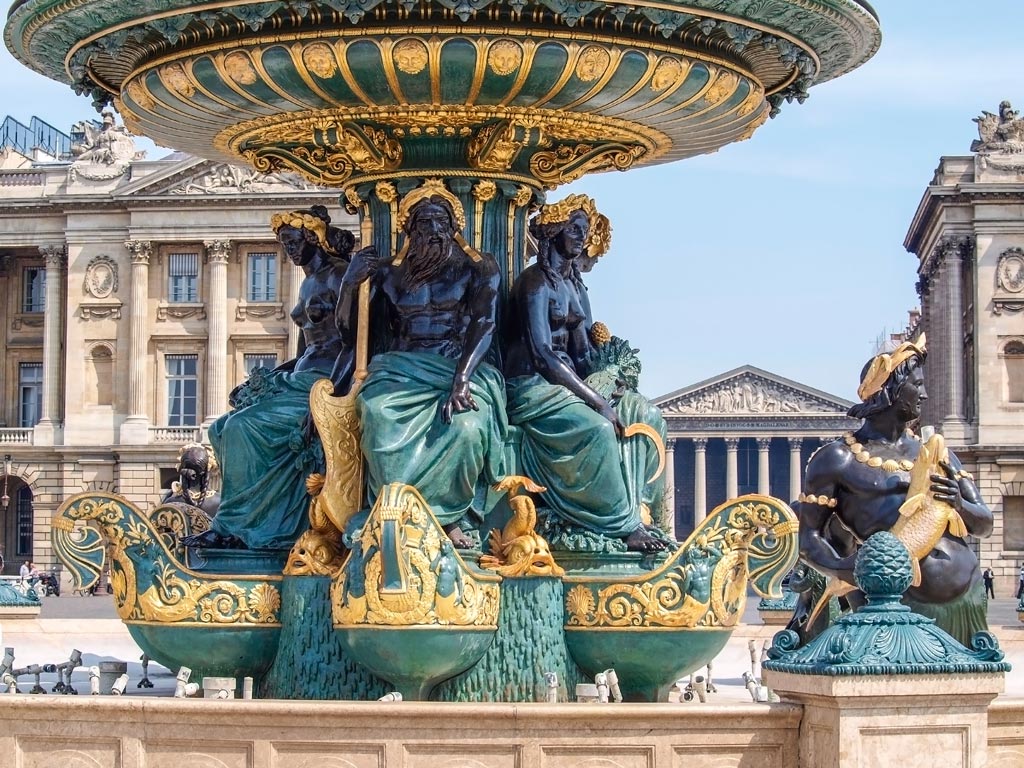 Extravagant fountains, the Luxor obelisk, and a bloody history make the Place de la Concorde a must see. It was here that Marie Antoinette and other members of the aristocracy were publicly executed.
Today, the area bustles with a happier energy as people criss-cross the square on their way to the Louvre, Champs d'Elysees, and Eiffel Tower.
Jardin des Tuileries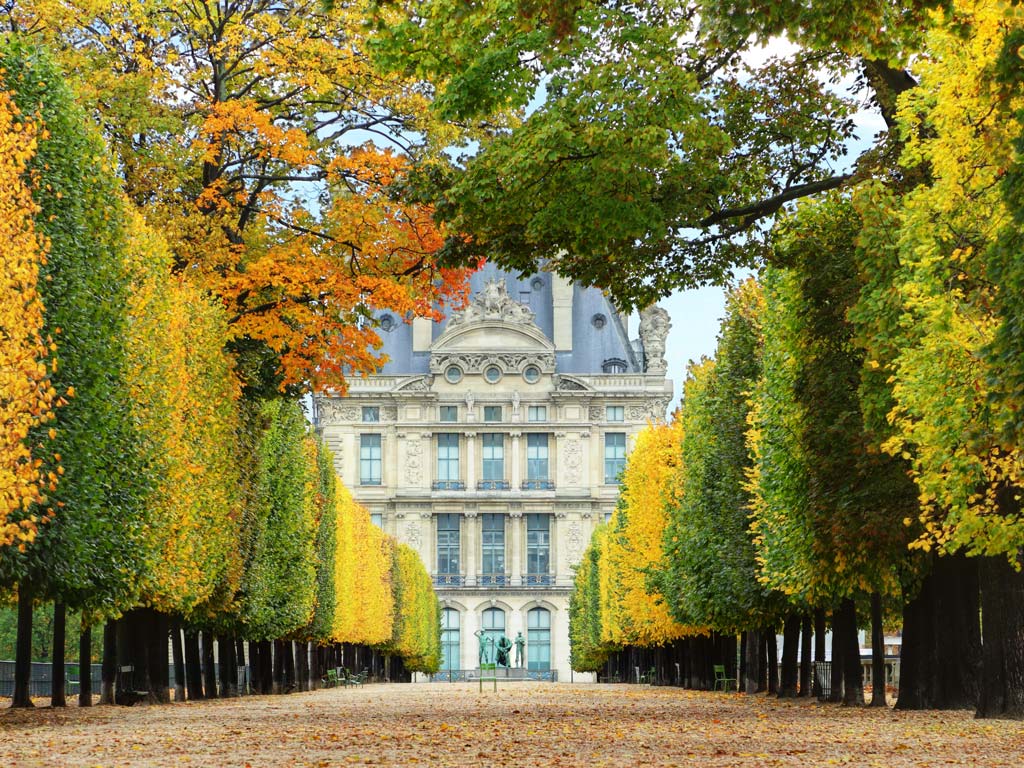 Rounding out the morning of park visits is the Jardin des Tuileries, Paris' most famous garden. Like the Luxembourg Gardens, the Tuileries are free and open to the public. Admire the statues scattered around the garden, relax in front of the reflecting pool, and look across the Seine at the Parisian cityscape.
Note that the famous Tuileries ferris wheel was taken down in July 2018.
Lunch across the Pont Royal
This afternoon is all about the Louvre. However, the dining options near the museum are pretty packed with tourists, so I recommend crossing the Pont Royal to find a lunch spot.
There are dozens of classic Parisian brasseries and sidewalk cafes in the area, and most have a menu posted out front.
The Louvre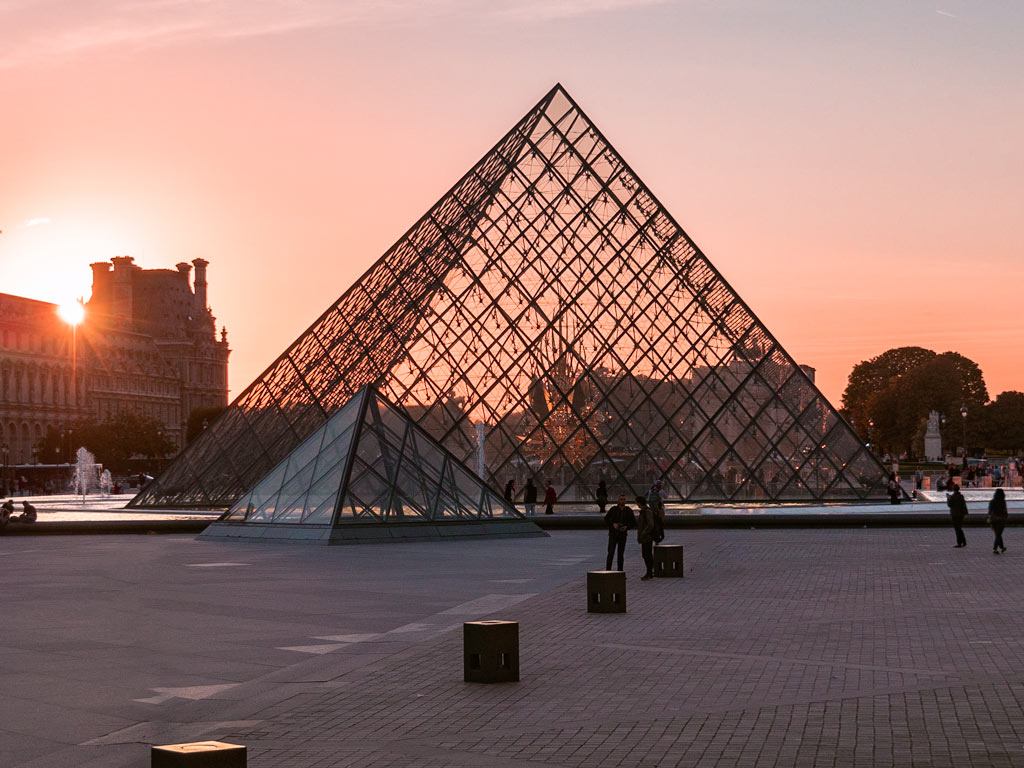 With a full 4 days in Paris, you can devote an entire afternoon to exploring the Louvre.
Although this may seem like a lot of time, it's best to have a plan of which paintings or periods you'd most like to see. The Louvre is utterly massive, and it's easy to lose track of time as you take in its legendary works of art.
My favorite places in the Louvre were actually the hallways and atriums with ceiling murals, as well as the Roman sculpture exhibits. Seeing the Mona Lisa in person was a neat experience, but the hordes of people taking selfies in front of it took away from the moment.
Depending on your timing, you might even catch a stunning sunset at the Louvre pyramid!
Entrance to the Louvre is €15 without advance tickets, or €17 online with the ability to skip the line.
I strongly encourage you to buy skip-the-line tickets, as you can easily end up waiting in the ticket queue for an hour!
It's also covered under the Paris Museum Pass. The queue for security gets quite long in the middle of the day, so the fast track can save you 30-40 minutes.
Another time-saving option is to skip the pyramid and use the underground Louvre Carousel entrance, where the security line is always shorter. You'll find this entrance off the underground shopping center at 99 Rue de Rivoli.
Dinner at Crêperie Little Breizh
It would be a mistake to spend four days in Paris without eating crepes. The savory buckwheat variety at Crêperie Little Breizh make for a delicious evening meal. Quality crepes attract crowds, so plan to arrive shortly before they open for dinner at 7pm.

Day 3: Palais Royale, Champs d'Elysées, and Montmartre
Palais Royal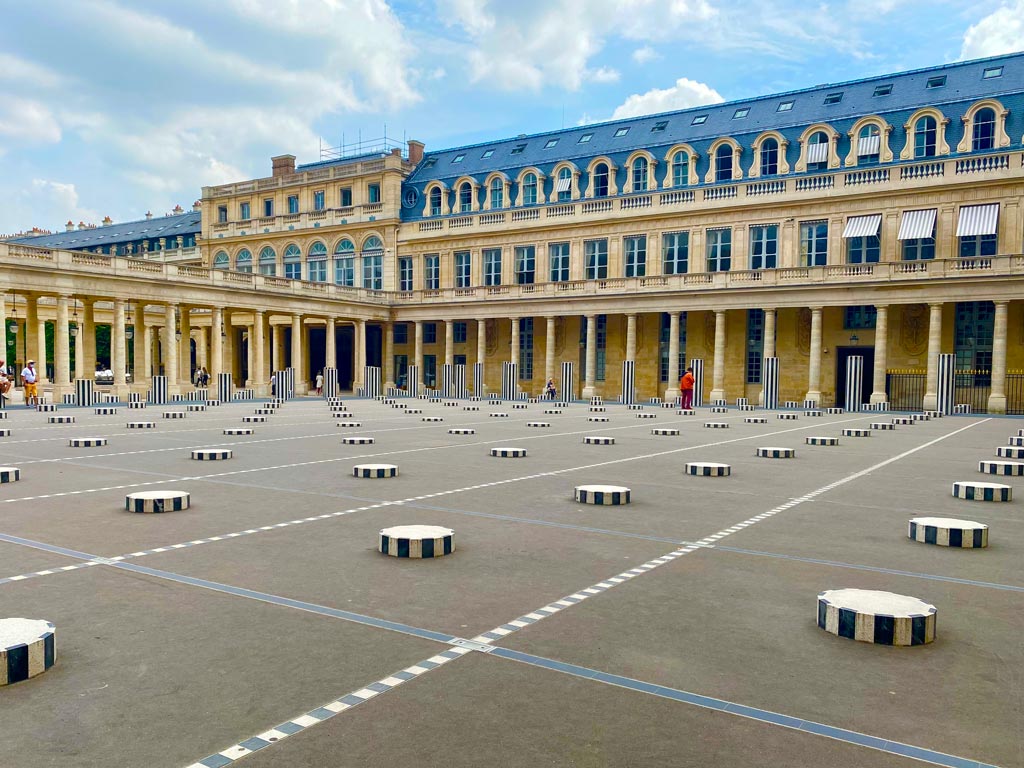 The Palais Royal provides a mix of calm and fun for morning visitors. Grab a coffee on your way here and you can sip it in the quiet garden.
Afterwards, check out the ornate facade of the palace on your way to the Instagram-famous black and white columns installed in the courtyard.
Champs d'Elysées
No four day Paris itinerary would be complete without a visit to the Champs d'Elysées. Whether you have money to spend or simply want to browse, the famous shopping street of Paris is a must see.
Although you'll mainly find big names like Givenchy and Tiffany, there are smaller boutiques mixed in with the established brands. Be sure to walk off the main road and onto the other streets, as the shops extend several blocks north and south.
Arc de Triomphe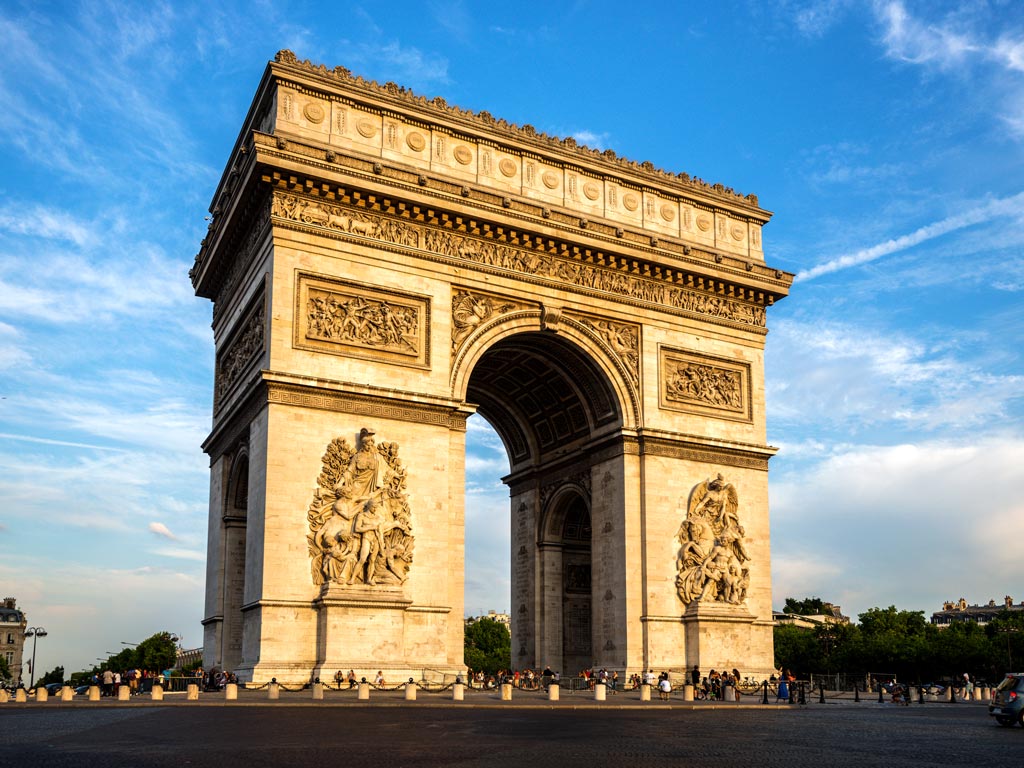 Rising above the 12 roads radiating from below, the Arc de Triomphe is an iconic part of the Parisian cityscape. The view of the monument from the Champs d'Elysées is the most famous, but it's worth walking around to the other streets for a unique perspective.
Visitors can pay €12 to enter this monument to Napoleon's military conquests.
As with all popular sights on this 4 day Paris itinerary, I strongly recommend buying advanced skip-the-line tickets!
Paris Museum Pass holders can also skip the line.
Once inside, you can walk up 284 steps to reach the observation deck for panoramic views of Paris. Note that there is an elevator, but it's only for disabled or elderly visitors.
Montmartre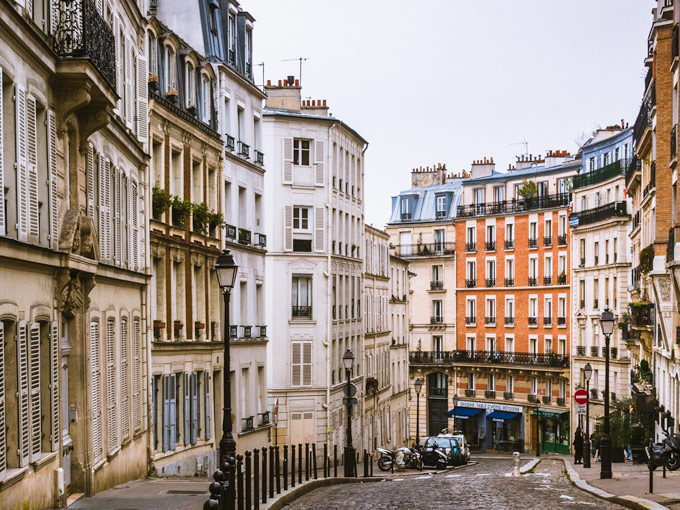 Once a separate village from the city of Paris, Montmartre is quickly becoming a trendy destination for visitors and residents alike. The neighborhood murals and museums reveal its history as a hangout for artists, writers, and musicians.
Though your legs may get tired from walking the hilly streets, exploring the nooks and crannies of Montmartre is completely worth it.
To get to Montmartre from the Arc de Triomphe, take the number 2 metro line from the Charles de Gaulle Etoile station to Anvers. This will drop you at the base of the village, where you can start your exploration.
This neighborhood is full of hidden gems and impressive history, so it's worth having a local expert show you around.
Book your Montmartre walking tour with a local guide here!
Highlights of Montmartre include the Moulin Rouge, the Musee de la Vie Romantique, and the Rue Lepic. Wind your way up the hill towards the jewel of Montmartre, Sacre Coeur.
Catch a Show at the Moulin Rouge
Watching a live performance at the Moulin Rouge is a classic Paris experience. Remember to book your tickets in advance to avoid disappointment!
Sacre Coeur at Sunset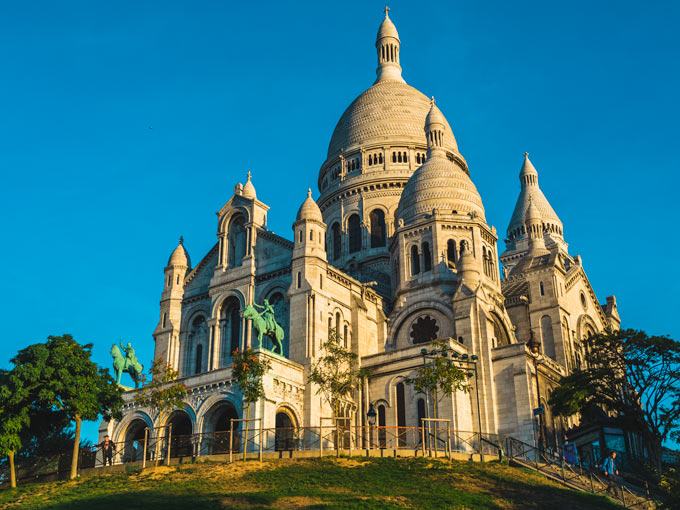 Every evening, hundreds of people gather on the lawn of Sacre Coeur to watch the sunset. The basilica's mix of Byzantine and Roman architecture is strikingly different from the typical Parisian buildings. And its white stone is the perfect canvas for golden hour.
Sacre Coeur has excellent views over Paris, both from the dome and the area opposite the green park out front. If you plan to climb the dome for sunset, you'll need to arrive very early to secure a spot. The dome is open until 8pm May to September, but closes at 5pm the remaining months.
Entry into Sacre Coeur is free, and the main building is open every day from 6am until 8:30pm. Photography is not allowed inside the main basilica.
Day 4: Musee D'Orsay, Catacombs, and Night Exploration
Breakfast at a local boulangerie or patisserie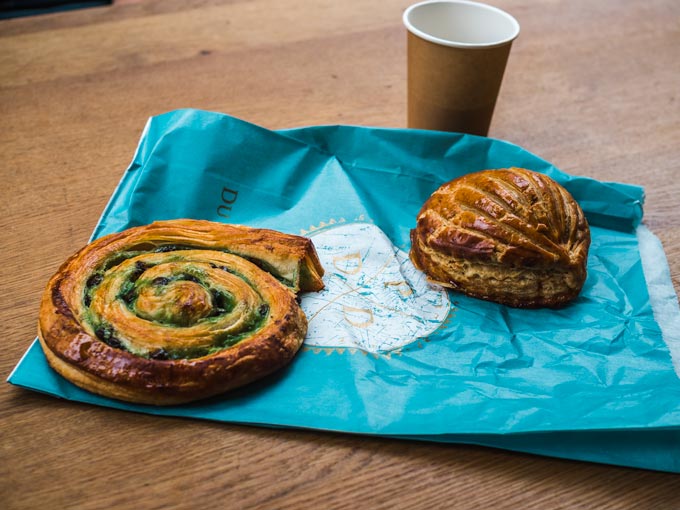 I don't usually include breakfast in my itineraries. However, having a morning croissant or chausson des pommes is part of the complete Paris experience. Look for a place near your accommodation (a line is always a good sign), and devour your treat in a nearby park or back in bed.
If you're looking for more breakfast spots to add to this Paris itinerary for 4 days, I've written an entire post on where to get a typical French breakfast in Paris.
Musee d'Orsay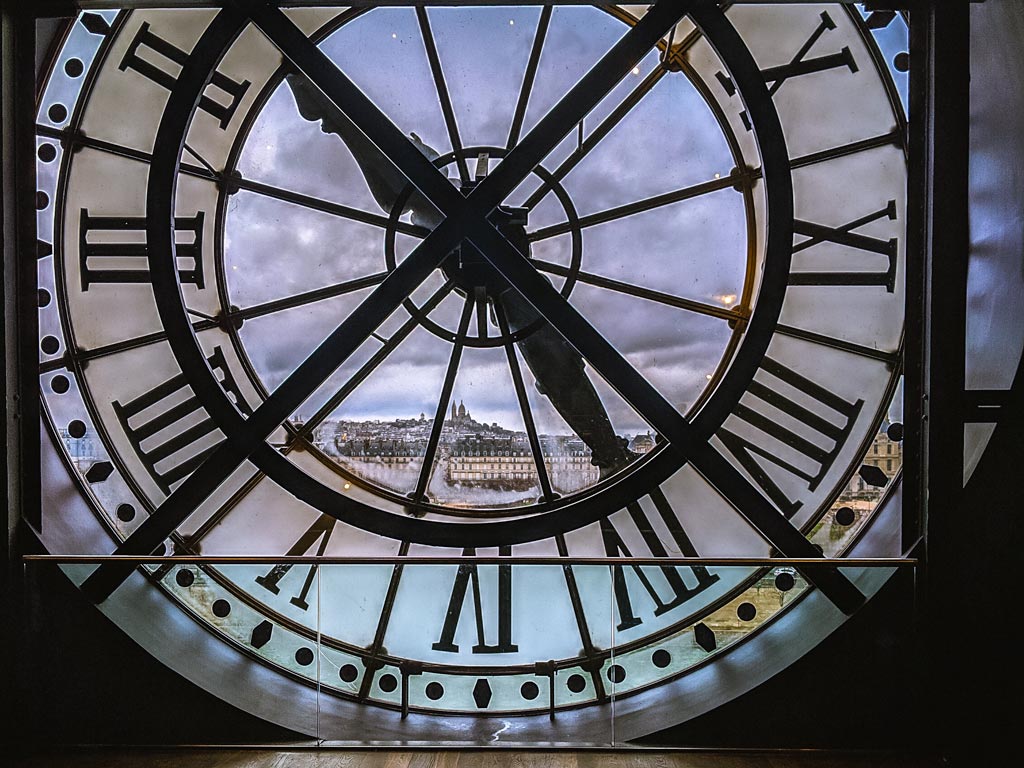 If you love French artists or unique architecture, you'll have a great time at the Musee d'Orsay. The building was formerly a railway station and was later converted into an art gallery filled with works by Picasso, Renoir, Monet, Van Gogh, and other French masters.
Don't leave without venturing up to the photo-worthy 5th floor clock tower, where you'll find beautiful views of the city.
Admission is €14 and is covered by the Museum Pass.
If you don't have the Museum Pass, you'll definitely want to buy advanced tickets online. Queues for standard entry can get incredibly long, especially during peak season or rainy days.
Lunch at Les Antiquaries
On this final of four days in Paris, treat yourself to a traditional French meal at Les Antiquaries.
The interior has cozy, vintage decor with wonderfully ornate ceilings, and the sidewalk seating is perfect for people-watching as the city comes to life. If you save room for dessert, be sure to order the profiteroles!
Catacombs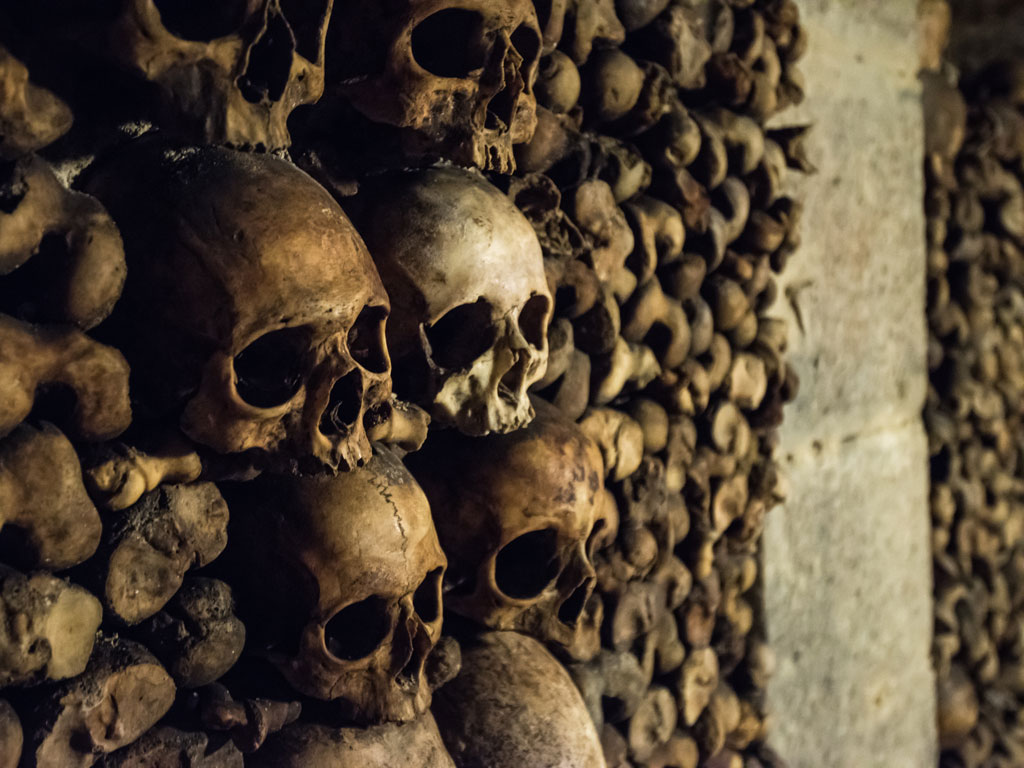 Deep below the streets of Paris, brave travelers can walks the halls of the dead. If skeletons or narrow passageways aren't your cup of tea, you should swap out this activity for something less macabre.
This is one experience I sadly missed during my four days in Paris.
Admission is a bit steep (29 € or 14 € if you're willing to risk same-day tickets and not get in) and it's not covered by the Paris Museum Pass. However, everyone I've spoken to said it's well worth the cost.
Buy your advanced Catacombs ticket + audio guide here!
Sunset on the Seine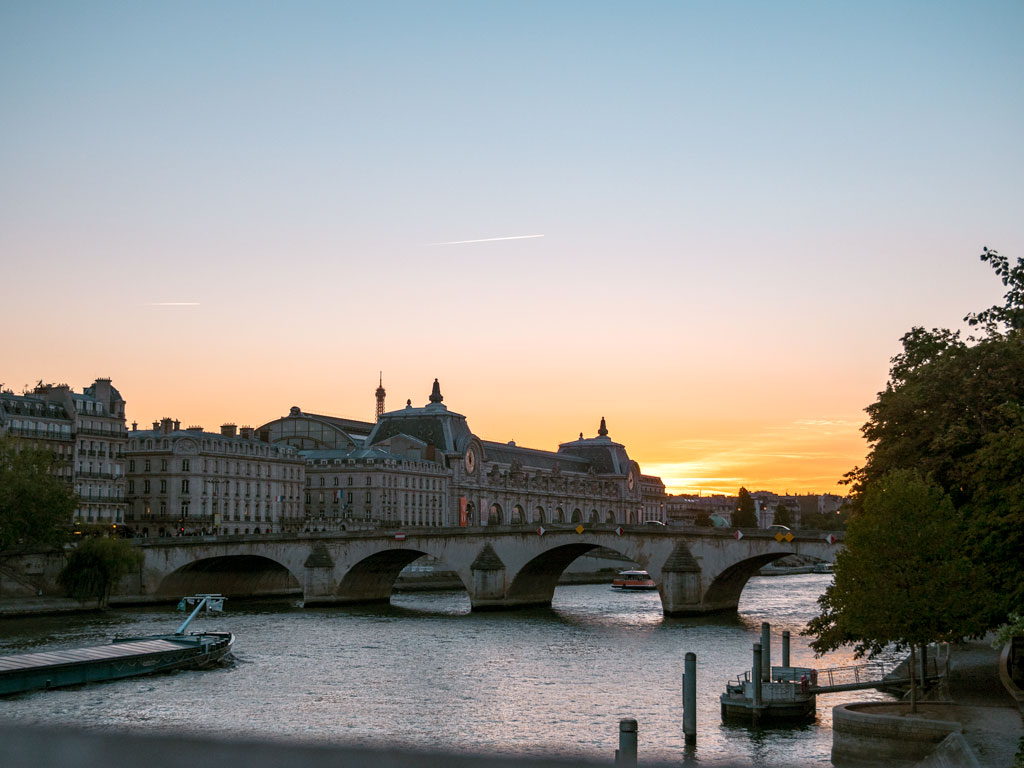 There's something special about the light in Paris that makes golden hour even lovelier than usual. Watching the sunset by the Seine was a top moment from my trip.
There are plenty of spots along the river, but my favorite viewing places are Pont Alexandre III and on the street just across from the Musee d'Orsay.
One of the most popular things to do in Paris is a sunset cruise on the Seine. There's no better way to rest your feet after a long day of sightseeing!
Eiffel Tower at Night
What better way to close out your 4 day Paris itinerary than a nighttime visit to the Eiffel Tower. Watching the Iron Lady glow against the night sky may be cliche, but it was a magical moment I'd love to have again.
The Champs de Mars is great for an up-close view, while the Trocadero shows off the tower against the backdrop of Paris.
For the ultimate Eiffel Tower experience, take the elevator to the top to see the City of Light illuminated.
Book your skip-the-line Eiffel Tower ticket now!
4 Day Paris Itinerary Map
This map has one layer and color for each of the 4 days in Paris. Simply click here to add it to your Google Maps app so you can follow this itinerary with ease.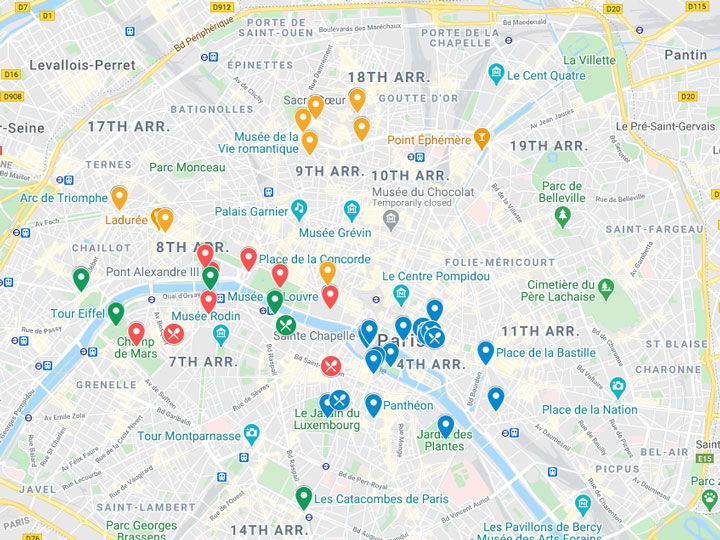 Adding Day Trips to This Paris 4 Day Itinerary
If you have more than four days in Paris, or want to re-purpose this Paris itinerary to include a day trip, try these destinations:
Versailles: Visiting Versailles is an essential France experience. A short 30 minute train ride will take you to the opulent palace of Louis XIV and Marie Antoinette.
Chateau de Chantilly: Set in the quiet French countryside, Chateau de Chantilly is a fairytale-esque estate just 45 minutes outside of Paris. It's the perfect location for people who want to experience classic French architecture without the opulence or crowds of Versailles.
Giverny: This beautiful French village was made famous by Monet's water lily paintings. Visitors can explore Monet's serene garden, preserved home, and Impressionist museum, among other attractions.
London: Squeezing some London sightseeing into your Paris trip is doable via a 2 hour Eurostar train ride. Grab a seat on the earliest train to London St. Pancras and enjoy a day of gorgeous architecture, lovely parks, and a hearty pub meal.
Where to Go After 4 Days in Paris
Brussels: A 90 minute train ride makes spending one day in Brussels a no-brainer, especially if you love ornate architecture and sweets!
London: Take a speedy Eurostar train to St. Pancras station, and spend 4 days in London doing some sightseeing and uncovering hidden gems.
Amsterdam: Hop on a train to this gorgeous canal city, and enjoy 2 days in Amsterdam wandering the pretty neighborhoods and impressive museums.
Have you visited the City of Light? Is there anything missing in this Paris itinerary for 4 days? Let me know in the comments!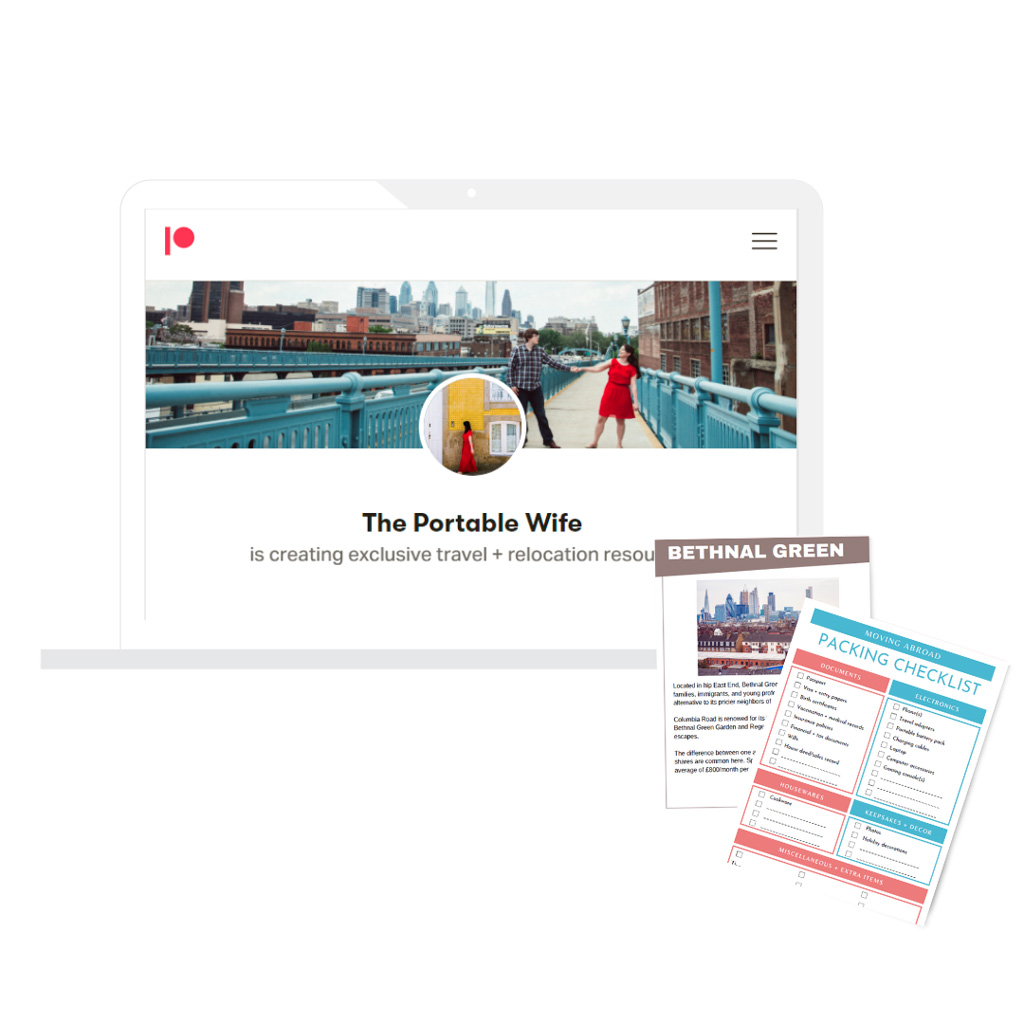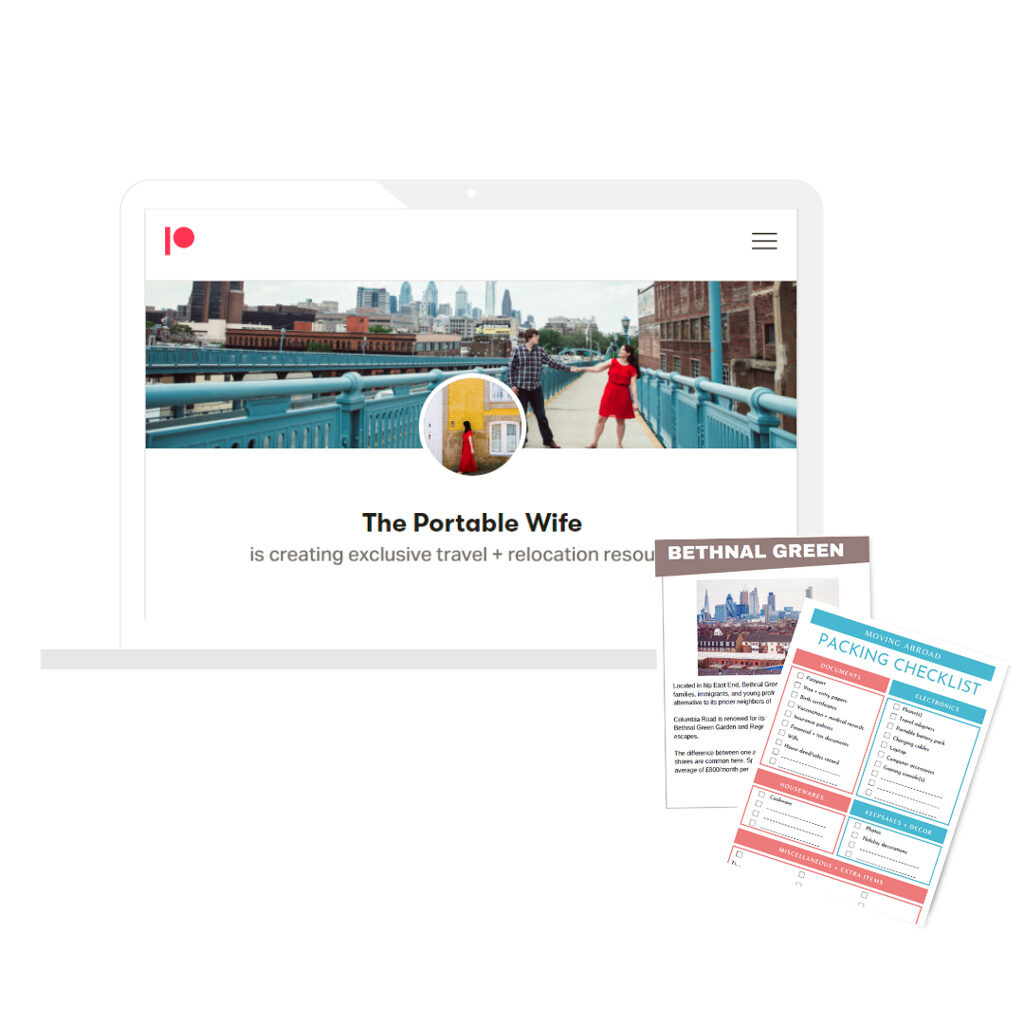 Want more travel + relocation tips?
Become a member of my Patreon group for exclusive access to my resource library, including:
Printable packing lists for moving + travel
Money-saving tips
Insider travel guides
And much more