When it comes to fairytale towns, there's no competing with Hallstatt. Nestled in the snow-capped mountains of central Austria, this lakefront village looks like something Walt Disney dreamed up. If you're looking for a magical experience, my Salzburg to Hallstatt day trip itinerary has got you covered.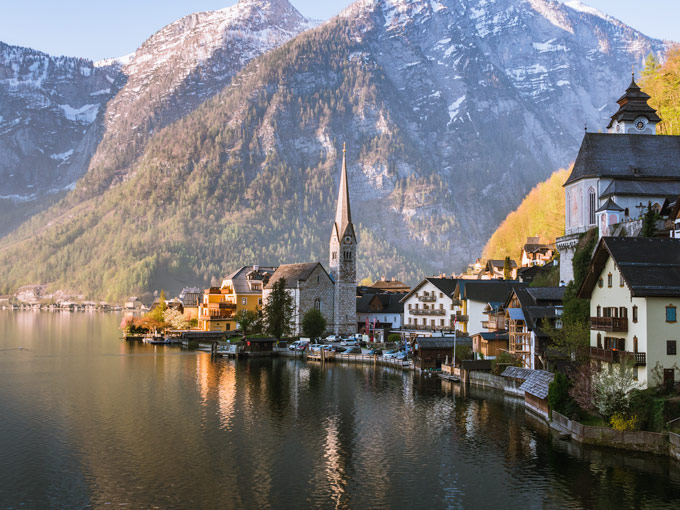 If you're still planning your trip to Salzburg, check out my 2 days in Salzburg itinerary for inspiration!
Salzburg to Hallstatt day trip guide
The best time for a Hallstatt day trip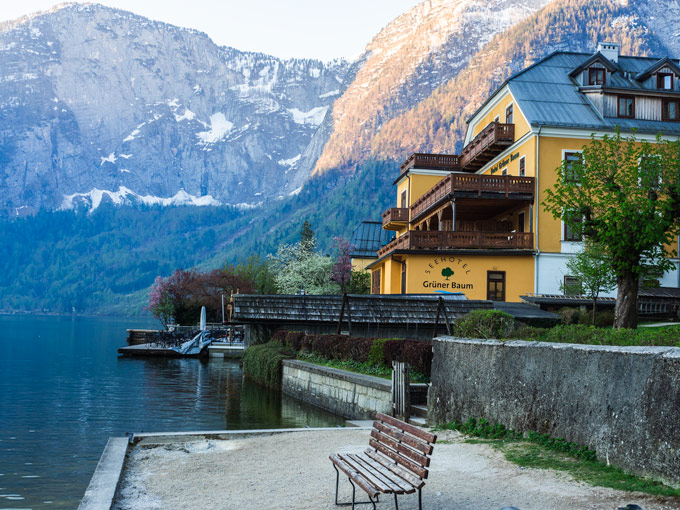 From summer blooms to Christmas markets, there isn't one best time to visit Hallstatt. Here's a brief overview of what to expect for each season:
Spring weather can be unpredictable, but crowds will be fairly manageable. You might see the cherry blossoms and magnolias if you come in late April-early May.

We did our Hallstatt itinerary in late April over Easter weekend. While the crowds were fairly heavy, the weather was pleasant (unseasonably warm, actually), and there was a small Easter parade through the village.

Summer has comfortable, warm weather, but the crowds are intense. August should be avoided, as it's peak tourist season across Europe.
Autumn brings beautiful golden foliage to the mountains, and crowds are typically lighter.
Winter turns Hallstatt into a storybook wonderland, with a traditional Christmas market and lovely white snow decorating the village. It's truly one of the best winter destinations in Europe! Some parts of the village are closed, however, like the funicular and salt mine.
Getting to Hallstatt from Salzburg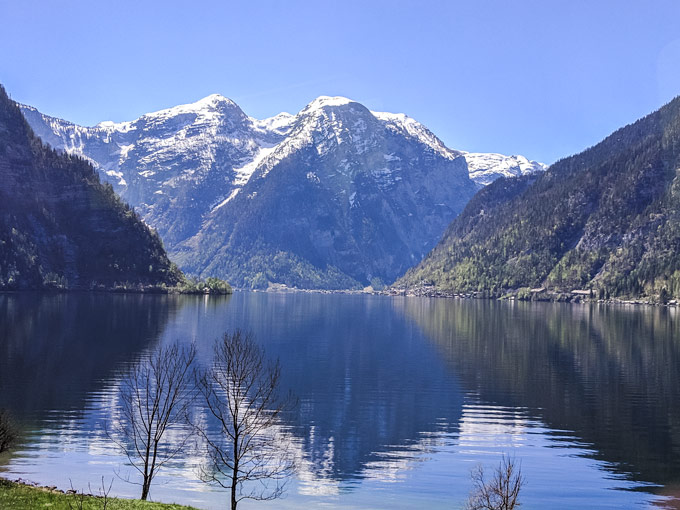 By train: Salzburg Hbf > Attnang-Puchheim > Hallstatt Bahnhst
If you don't have a car, taking the train is the easiest option. While there is no direct train from Salzburg to Hallstatt, the single connection is very straightforward.
Visit the ÖBB website to search for and purchase tickets. Be sure to print your tickets before departing!
You can also download the ÖBB app to buy tickets and display them on your phone (no printing needed).
If possible, book your tickets several days in advance. Ticket prices go up the closer you get to departure. Prices range from €9 to €25 depending on your departure time and how far in advance you purchase.
The earliest train departs Salzburg Hbf around 5am, getting you to Hallstatt station around 7:30am.
I strongly encourage you to leave Salzburg no later than 8:30am. Hallstatt is a tiny village that fills up with tourists by the hour. The earlier you arrive, the more time you'll have to explore without the crowds.
Seat Reservations: If you're traveling to Hallstatt on a holiday weekend, I suggest paying for a seat reservation. The reservation will only be for the first leg of the trip (Salzburg to Attnang-Puchheim), but it will save you from having to stand or spend a long time looking for an open seat.
All of the train-only journeys will have a connection at Attnang-Puchheim. You won't have much time to make the connection (about 5-10 minutes), but you shouldn't have any trouble if you're paying attention and exit the train promptly.
The conductor will often tell you what platform to go to when he/she checks your ticket on board. And there are electronic signs above and below the platforms that display the train destinations.
By bus: Salzburg Bus 150 > Bad Ischal Bus 542 > Gosaumühle Bus 543 > Hallstatt Lahn
You could take three buses to Hallstatt and get there 15 minutes faster than by train. But the extra transfer and seasonal/weekend timetable shifts make it more complicated.
If you do choose this option, use the route planner to find the best connection times. Note that the bus drops you off on the village's south side. So, you'll want to do this Salzburg to Hallstatt day trip itinerary in reverse, starting with Badeinsel Island.
By car
If you already have a rental car, driving to Hallstatt from Salzburg is a great idea. The drive takes around 80 minutes, and you can enjoy scenic mountain views along the way.
There are two visitor car parks: P1 and P2. As you approach the village, electronic displays will show the number of spaces left in each lot. For a Hallstatt day trip, you'll want to park in P2 if it's not full.
When you're ready to leave, simply take your parking ticket to the machine and pay with cash or credit card.
Organized Hallstatt tours from Salzburg
Taking public transit in a foreign country can be overwhelming. Fortunately, there are multiple tour operators that can get you to and from the village, and even show you what to see in Hallstatt.
Taking the Hallstatt Ferry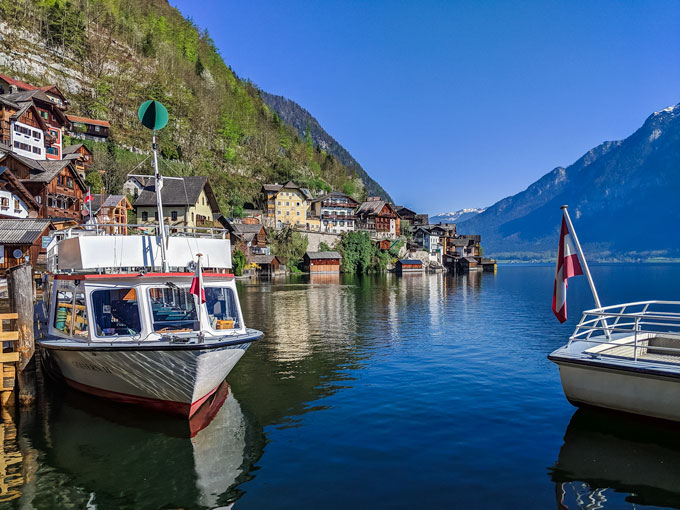 Riding the ferry was one of my favorite things to do in Hallstatt. If you arrive by train, this is how you'll reach the village.
The ferry schedule coincides with the village's train timetable, making it easy to come and go across the lake. Once you get off the train, walk down the ramp to the dock, where you can buy round trip tickets from the attendant.
Be sure to bring cash, as they do not take credit cards for the ferry. Although you don't get a discount for round trip tickets, it will save you from having to stand in line on your way back.
If you want to take photos from the ferry, you need to be prepared. Getting a good spot on the deck was like a scene from the Hunger Games. Get ready to hop off the train, speed down the ramp, and walk straight to the left (port) railing for the best views.
Also, if you're traveling during peak season, you should get in line at least 20 minutes before your return ferry departs. It would be a shame to miss your train, especially if it's the last one of the day!
Salzburg to Hallstatt day trip itinerary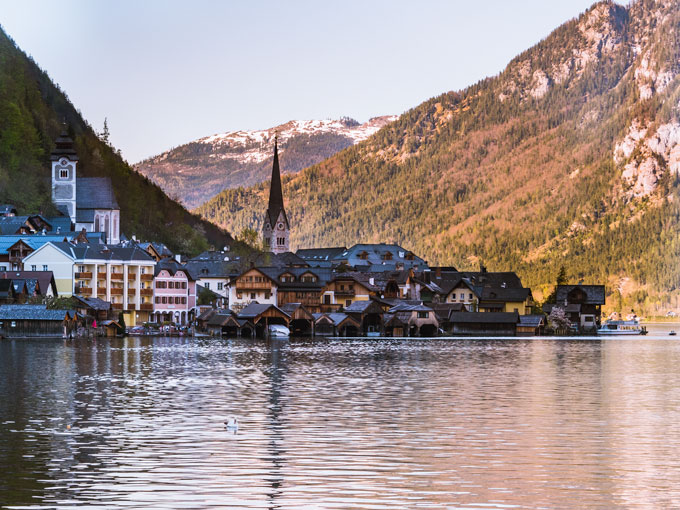 Walk around the northern village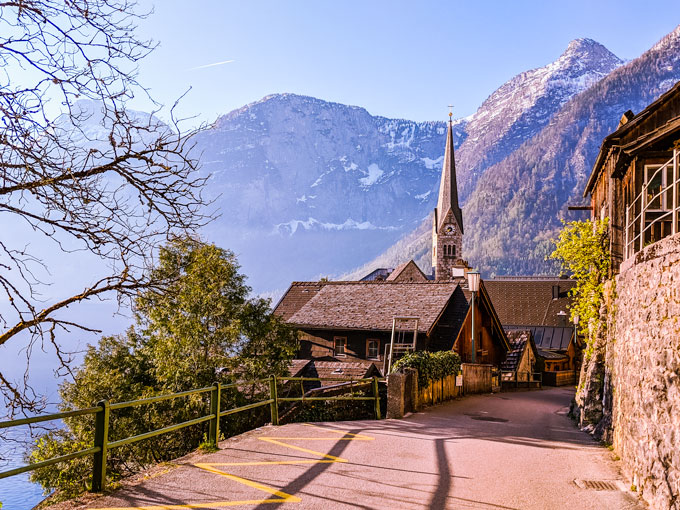 From my experience, people tend not to explore Hallstatt beyond the iconic northern viewpoint. But there are some beautiful houses and lake views to be had along the Gosaumühlstraße.
Follow the street north out of the village. Here, you'll see lovely wooden homes decorated with wind chimes, flower pots, and other seasonal trinkets.
RELATED: Vienna Itinerary: 2 Days of Highlights and Hidden Gems
Walk until you reach the underpass, and then turn back. As you come around the bend near the village center, you'll get a gorgeous view of the church.
Take photos at the "postcard" view point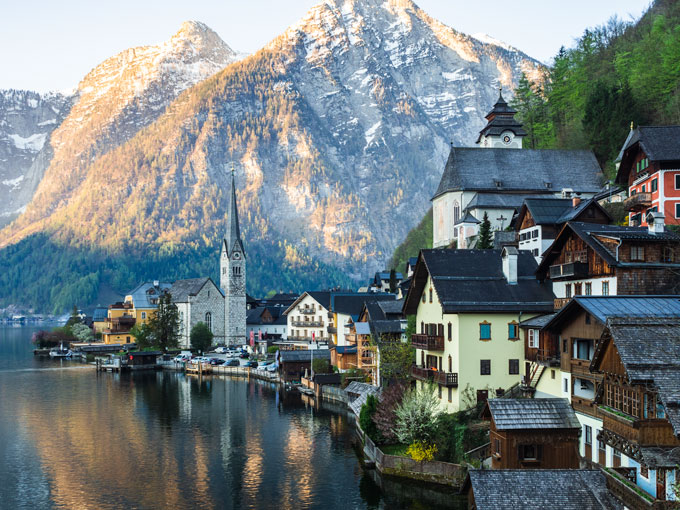 If a photograph inspired you to visit Hallstatt, it was probably taken at this "Classic Village Viewpoint". Located a few minutes' walk from the ferry dock, this panoramic view of Hallstatt is simply breathtaking.
The overlook area is fairly spacious, so you won't have to wait long (or at all) to get a turn at the railing. Even if you don't have a wide angle lens, you can still capture a beautiful scene with the houses, mountains, church, and lake.
If you're using a smartphone with a panorama setting, now is the time to use it! One of my favorite shots from our Hallstatt itinerary was a panorama that included the entire lake and a lone swan.
Save me for later!
Explore the charming village center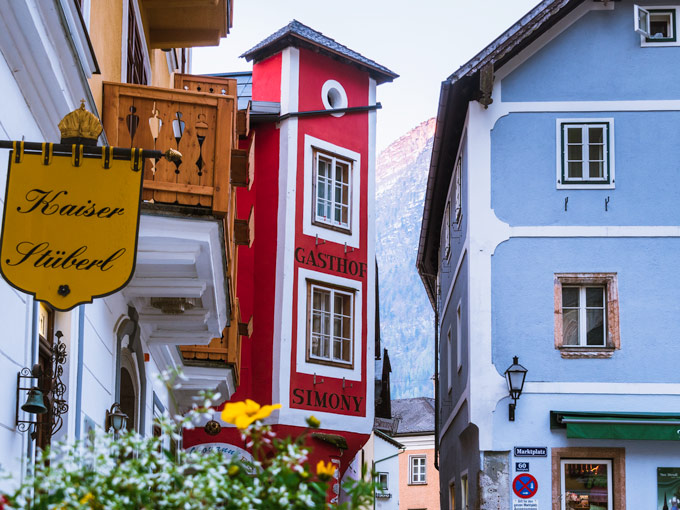 Hallstatt's central area is so beautiful, they constructed a replica of it in China. If that's not an endorsement of the village's charm, I don't know what is!
With colorful buildings, flowering vines, a waterfall, and a mountain backdrop, it's almost a surreal experience to walk through Hallstatt. Hopefully you took my advice and arrived early, because the crowds here can reach Disney World proportions.
RELATED: A Fairytale Day Trip to Castle Drachenburg and Konigswinter
Because the village is so compact, there's no exact route you need to take. Just enjoy a leisurely stroll through the streets, and check out a few highlights along the way.
At the northern end lies the Catholic Church and ossuary, a.k.a. the bone church. You can pay a couple euros to go inside, where hundreds of painted skulls are arranged in rows. The rear cemetery is free to enter and has lovely views over the lake and village.
Continuing south, you'll find the famous Evangelist Church, whose steeple rises above the village. It's worth poking your head in to see the 200-year-old interior.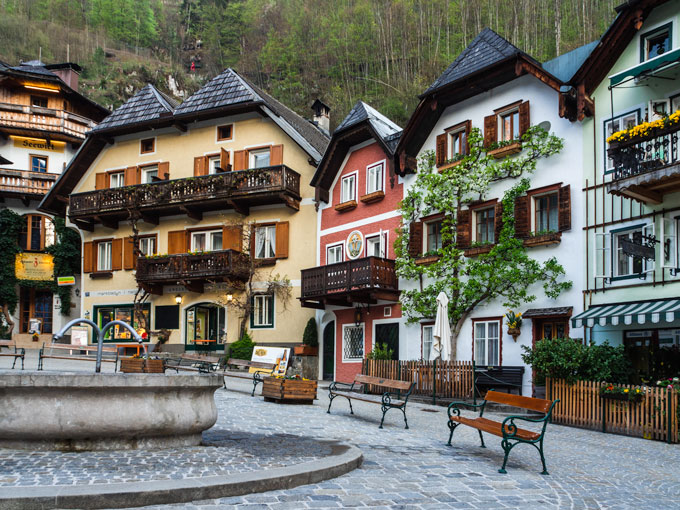 Diagonal from the church sits the Marktplatz, lined with brightly painted restaurants and shops. There are a few benches here for resting, and a stone water fountain with fresh drinking water.
For a unique view over the village, head up the steps behind the Evangelisches Pfarramt on Oberer Marktplatz road. There are a couple landings where you can take photos over the rooftops.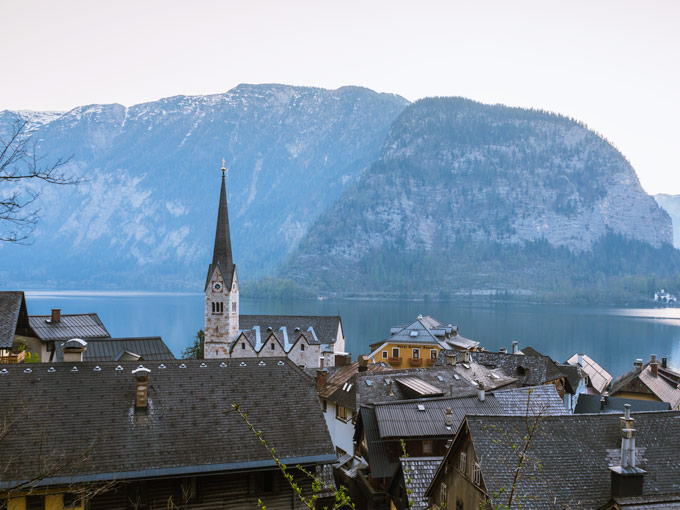 As you walk down the Seestraße, you'll see plenty of cute shops and cafes selling local treats and crafts. Be sure to turn down Am Hof for excellent views towards the southern part of the village.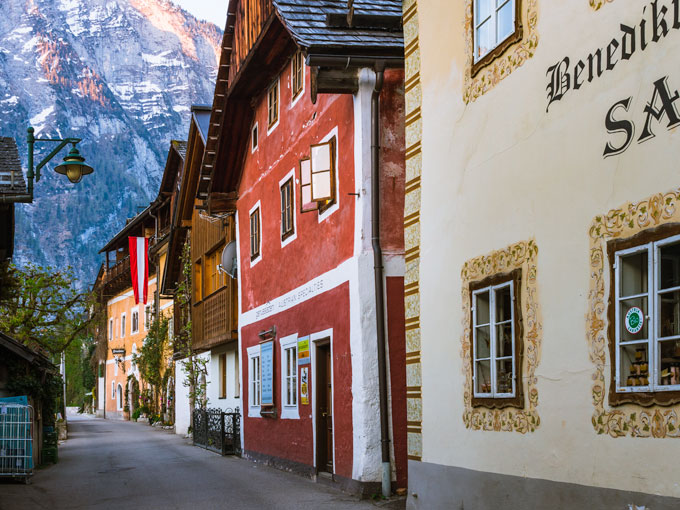 Grab lunch at Karmez
It might seem strange to recommend a kebap cart for lunch in Austria, but I promise you won't be disappointed. Given that this is a Salzburg to Hallstatt day trip, I'm assuming you've had plenty of chances to eat the local cuisine.
In addition to delicious kepabs, Karmez serves up hot dogs, sausages, fries, and wraps at very reasonable prices. We ate here twice in one day. It's that good.
Get a swan's-eye view from the lake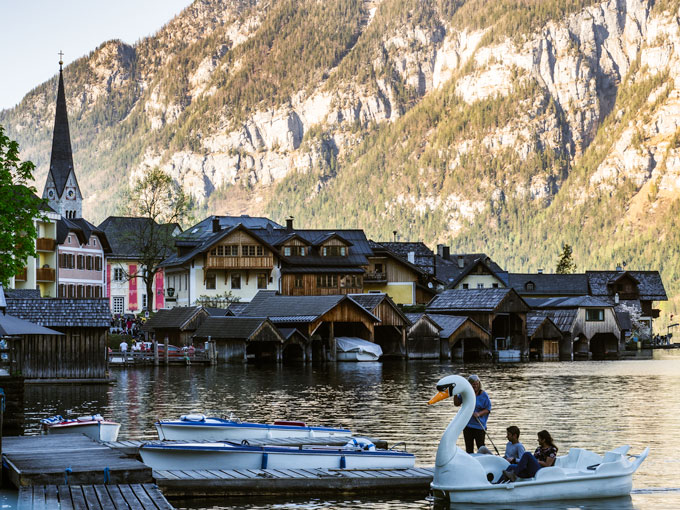 If you've seen the swans drifting around Lake Hallstatt and felt a pang of jealousy, I have good news. You can get your very own swan's-eye view of Hallstatt with the help of Lake Hallstatt Explorer!
They rent boats by the half hour and hour from the dock near the Markt Zentrum boat landing. Aside from the swan paddle boats, they also rent out electric boats, row boats, and paddle boards.
Ride the funicular to the World Heritage overlook platform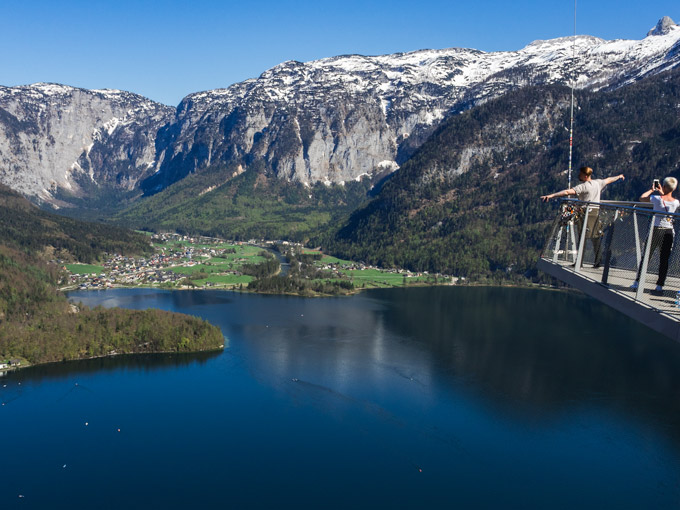 The World Heritage overlook point is one of the most popular Hallstatt tourist attractions. But don't let that dissuade you if you're more of an "off the beaten path" type of person. The view is remarkable, and there's a bit of optional hiking that will take you away from the crowds.
After your boating excursion, follow the main road south to the funicular platform. You'll see signs directing you towards the Salt Mine/Skywalk as you approach the ticket office.
It's not exactly cheap to take the funicular (€17 round trip in 2019). But for a Hallstatt day trip, you probably won't have the time or energy to hike for two hours up the mountainside.
Once you reach the top, exit the platform and head right towards the Skywalk. This metal platform juts out over the mountainside and is a popular Hallstatt Instagram spot. From here, you can see across the lake to Obertraun, and you'll have a bird's-eye view over Hallstatt's village center.
If you have time, I suggest walking up the trail towards the Salt Mine entrance. It's a nice, peaceful respite from the crowds. There's also a small cafe at the top of the mountain that sells snacks and bottled water if you need refreshment.
Wander through the southern village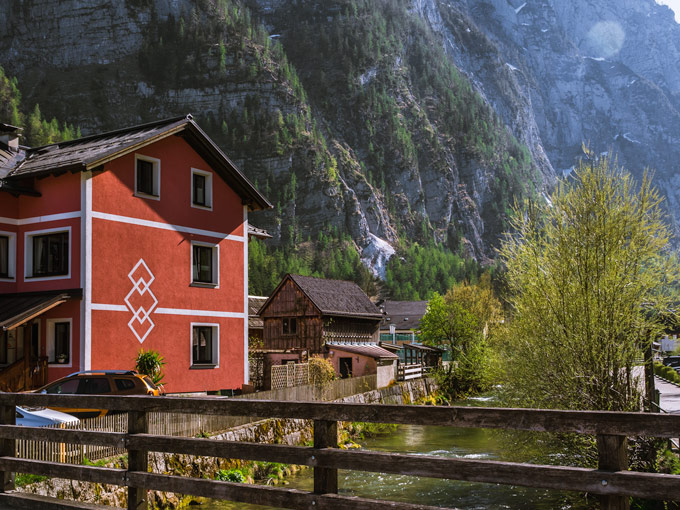 After you ride the funicular back to the village, spend some time exploring southern Hallstatt. Tourists don't typically roam around here, but there are lots of lovely houses and mountain views to enjoy.
The police station is particularly charming, and it's not often you get to utter that sentence!
Relax on the scenic Badeinsel Hallstatt island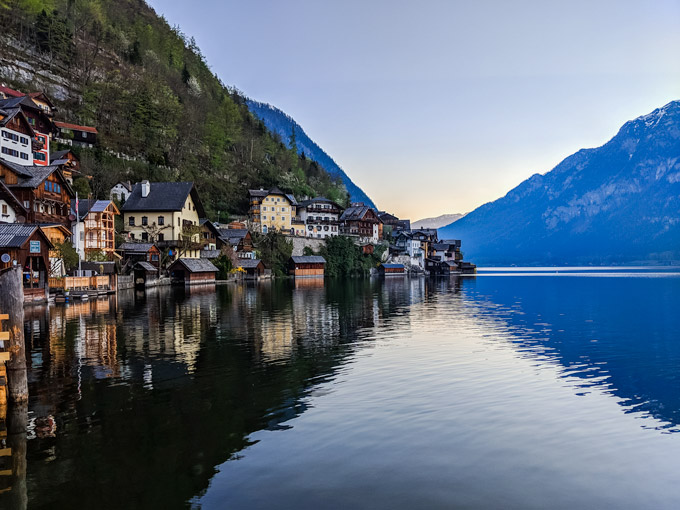 As your Hallstatt day trip winds down, head to Badeinsel park's island for one last beautiful view.
We arrived here as the sun was setting behind the mountain. Families were enjoying a picnic in the grass, dogs were romping about… It was the perfect way to end our visit.
Is one day in Hallstatt enough?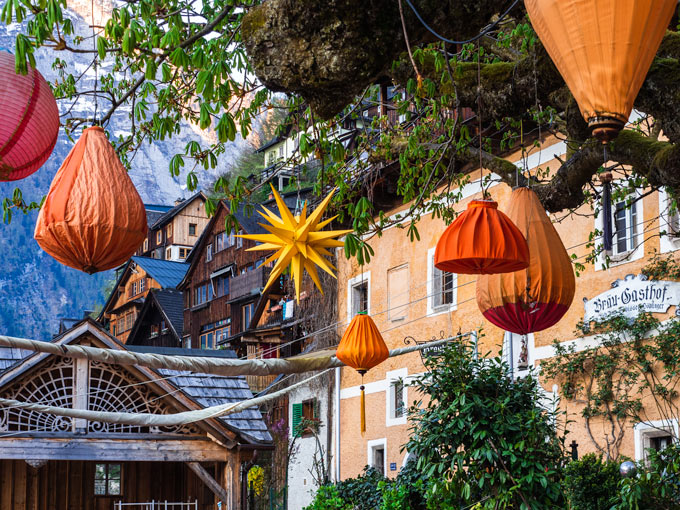 Ah, the age old question! You can see and do a lot with one day in Hallstatt. But for the best possible experience, I suggest staying overnight.
First, you won't feel the need to rush around, especially if you're relying on the ferry. It's hard to fully enjoy a Salzburg to Hallstatt day trip when you're constantly checking your watch and stressing about time.
Second, you can wake up early, roam the empty streets, and watch a magnificent sunrise. The greatest travel experience of my life was watching the sun come up over the mountains and slowly illuminate the village.
Finally, if you want to explore the Salt Mines, you'll want more than one day in Hallstatt. The tour itself is over an hour, and it's a bit of a hike from the funicular to the mine entrance. Unless you arrive very early, it will be tough to fit this into your Hallstatt itinerary.
Overnight in Hallstatt: Where to stay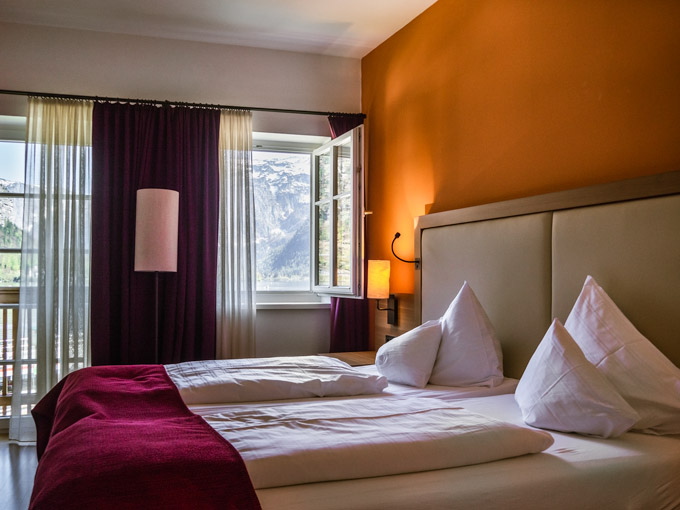 I am so happy that we spent the night in Hallstatt! It was a relief not having to worry about catching the ferry. And we had the whole village to ourselves the next morning, which was truly unforgettable.
After a lot of research, we chose the Heritage Hotel Hallstatt for accommodation. Our spacious room had lovely views of the lake and church. And it's right across from the ferry, so no lugging bags through the narrow, crowded streets.
Accommodation in Hallstatt is limited, so I suggest booking as far in advance as possible.
Map of Salzburg to Hallstatt day trip itinerary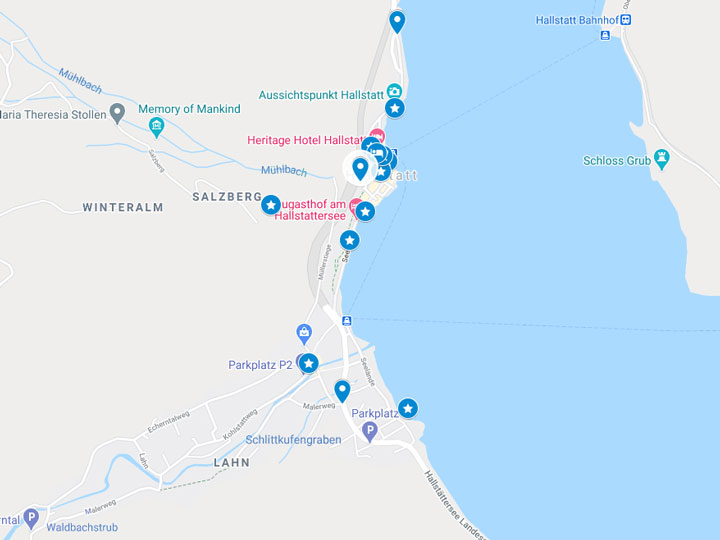 Click here to view the full interactive map!
I hope this guide helps you have a fantastic day in Hallstatt. For more travel tips and inspiration, join my newsletter below.