Vienna is unlike any other city I've visited. It's a place of opulence, elegance, and culture, with an overwhelming amount of gorgeous sites to explore. Fortunately, my 2 day Vienna itinerary efficiently covers the city's highlights, with a few hidden gems along the way.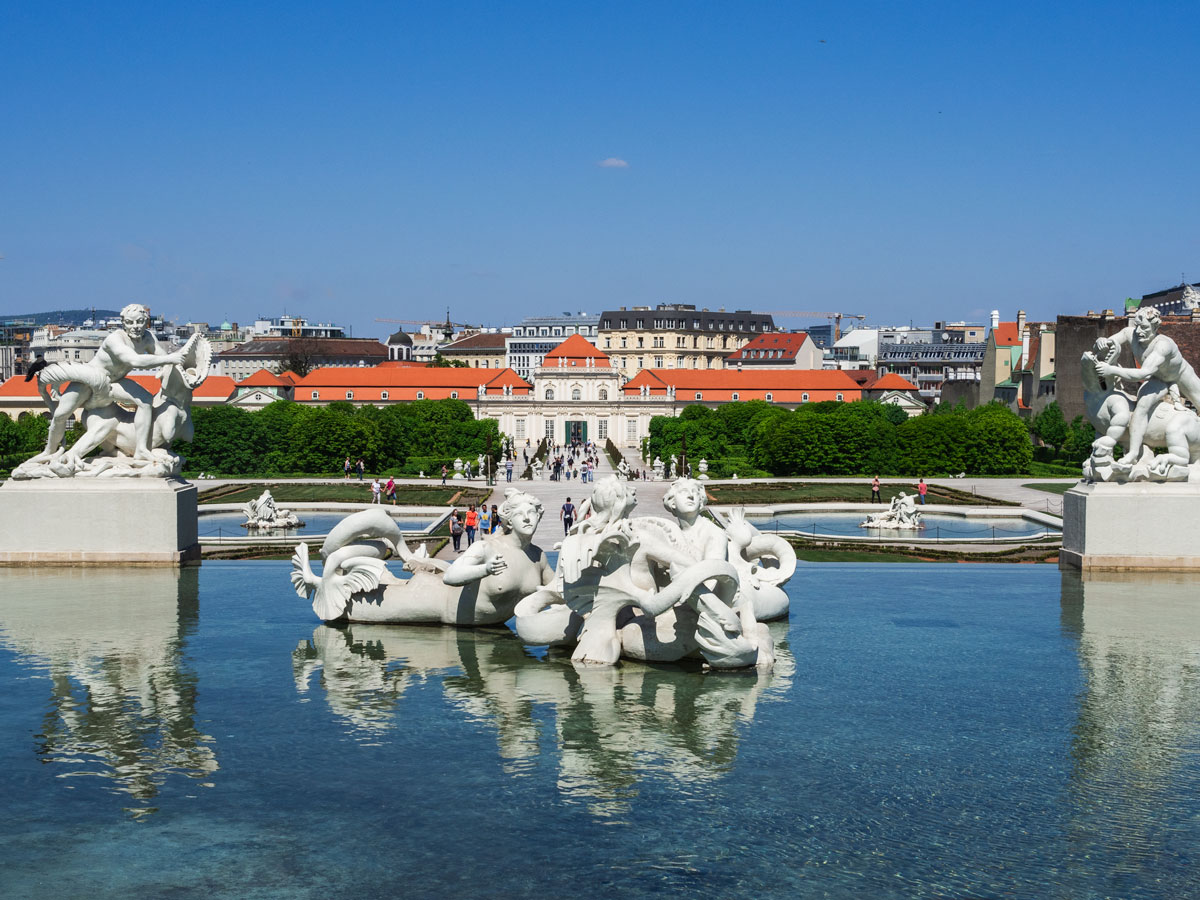 This post contains affiliate links. For more information, click here.
How to Spend 2 Days in Vienna
Know Before You Go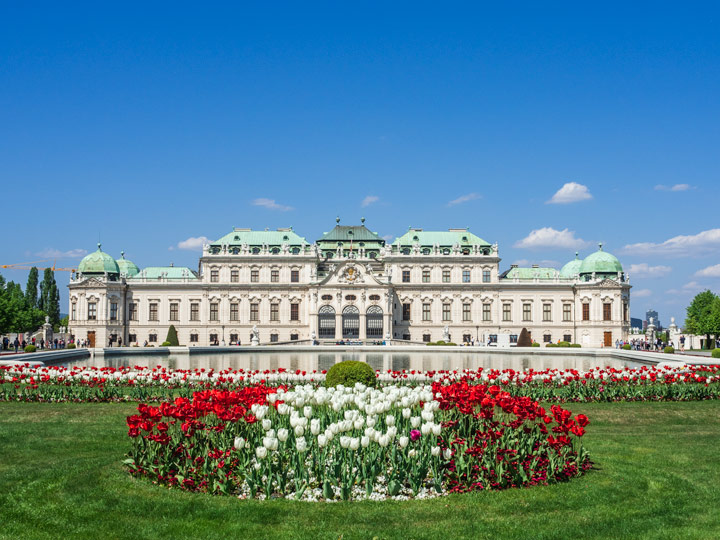 Estimated budget for two days in Vienna (excluding accommodation and transport): €200 / $215
Money
Austria uses the euro (€). Vienna is very card-friendly, even at smaller coffee houses and shops. However, you should always have a few euro on hand for leaving tips.
Always check your restaurant bill to see if service is included. If not, it's customary to leave 10-12% as a tip.
Also, if the estimated budget above seems high, it's because this itinerary includes a concert and nice dinner. I typically keep my itineraries budget-friendly, but these two experiences made our Vienna trip very memorable.
If you are on a budget, you can cut those things out, eat cheaply, and keep costs under €100.
Language
Austria's official language is German. While every employee we encountered spoke English, I always recommend learning a few basic phrases for travelers before you arrive.
Two days in Vienna doesn't require much knowledge of German, but knowing some of the language goes a long way. If you don't have Google Translate installed on your phone with the German dictionary downloaded, do that before you leave.
Here are a few German phrases to help you along:
Yes – Ja (ya)
No – Nein (nine)
Thank You – Danke (DON-kuh)
Please – Bitte (BIT-eh)
I don't speak German – Ich spreche kein Deutsch (ish SPRE-ke kine doitch)
Do you speak English? – Sprechen Sie Englisch? (SPRE-ken ze English?)
Pardon Me – Entschuldigung (en-SHUL-di-gung)
Water – Wasser (VA-sa)
One – Ein (eyen)
Two –Zwei (zveye)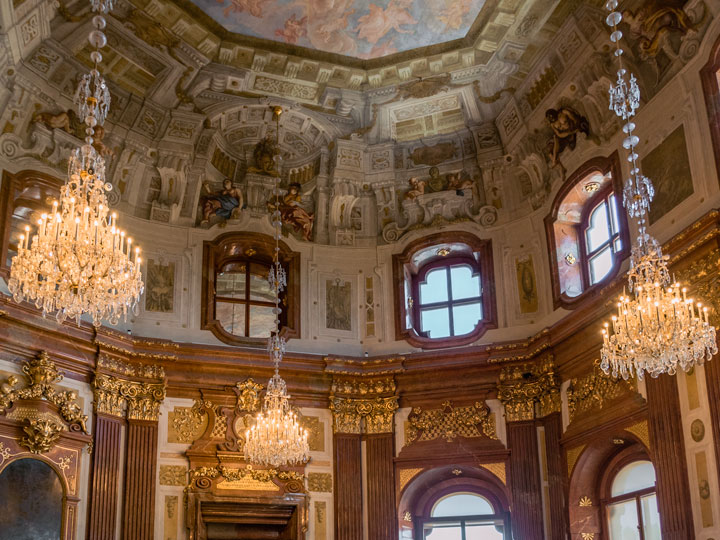 Transport
Vienna is well-connected by public transit. There are buses, trains, trams, and subways that make it easy to get around the city. And they all operate on the same, flat rate ticket within the city center (the VOR).
For this Vienna itinerary, you'll likely only need the subway (U-Bahn), as the city is very walkable.
Riding the U-Bahn in Vienna is simple. Just head underground to the station to purchase (with cash or card) a single ticket from the machine. You can choose to validate the ticket immediately, or punch it at one of the machines before walking to the platform.
Then, check the line map to confirm which platform you need for your destination. When riding the train, keep your ticket with you in case of a random check. Once you arrive, follow the posted signs for the correct exit.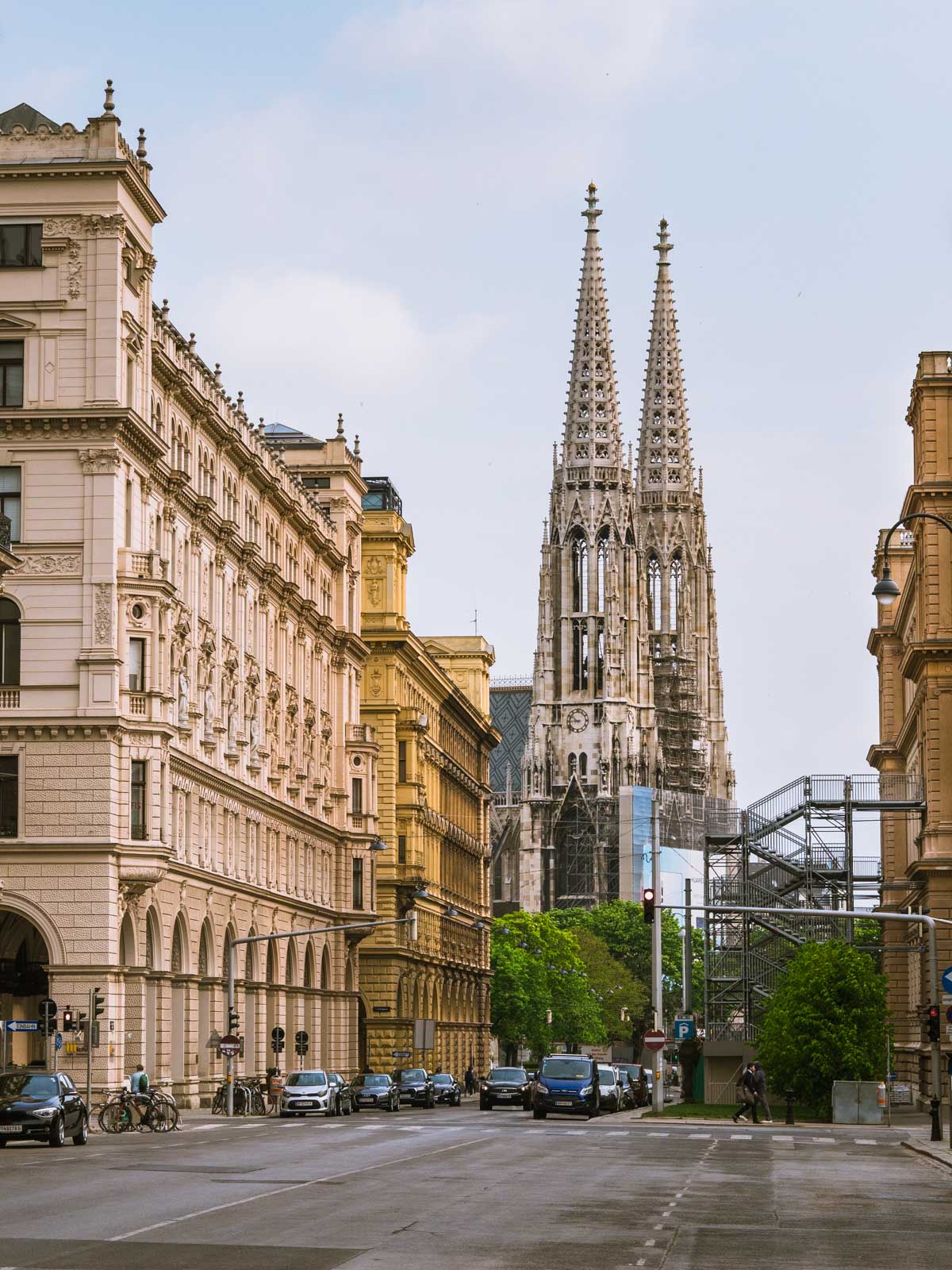 Traveling to Vienna from Salzburg
If you're traveling from Salzburg to Vienna, you're in luck! There are numerous direct trains that run between the cities. The most popular and frequently running line is the Railjet, with a journey time of 2.5 hours.
Visit the ÖBB website to purchase your tickets. Be sure to print your tickets before departing!
You can also download the ÖBB app to buy tickets and display them on your phone (no printing required).
If possible, book your tickets several days in advance. Ticket prices go up the closer you get to departure.
Getting from Vienna Airport to the city center
There are several trains that run from Vienna Airport to the city center. The CAT (City Airport Train) is the fastest, with a 16 minute journey from the airport to Wien Mitte. Unfortunately, it's also the most expensive.
The cheaper options are via ÖBB Railjet or the express S7. Both cost less than €5 and run every 30 minutes.
The S7 runs to Wien Mitte and Wien Praterstern, while the ÖBB trains run to either Vienna Main Station or Wien Meidling. Check Google Maps to see which station is closest to your accommodation.
Of course, you could always take a taxi or Uber from the airport, though you'll pay close to €35 for the 30 minute journey.
The Best Time to do this Vienna Itinerary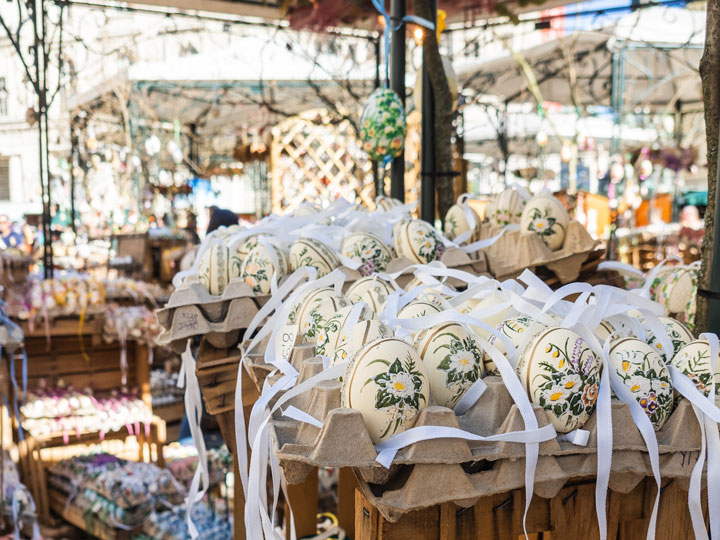 From Easter festivities to Christmas markets, it's hard to choose the best time to visit Vienna. Here are some seasonal highlights to help you decide:
January – March: Expect cold winter weather (between 0°C/32°F in January and 9°C/42°F in March) but few tourists. January and February bring beautiful dustings of snow, along with Epiphany celebrations and a massive public ice rink near the Rathaus.
April – May: The spring shoulder season is a great time to visit Vienna, as temperatures are pleasant (between 13°C-20°C/55°F-68°F) and crowds are manageable. If you visit Vienna at Easter, you'll find multiple markets selling treats and beautifully painted eggs, as well as the annual Easter concerts.
June – August: Aside from Christmas time, summer is peak travel season in Vienna. Though crowds are intense and accommodation is expensive, you'll enjoy warm weather (around 24°C/75°F) and famous festivals like Wienissimo and the Summer Music Festival.
September – October: Autumn shoulder season in Vienna starts in mid-September, with lighter crowds and temperatures around 16°C/60°F. Seasonal highlights include the folk Vienna Wiesn-Fest, Austrian National Day, and the International Film Festival.
November – December: November is generally cold and rainy (around 7°C/45°F), and December brings snow with highs of 2°C/36°F. However, that doesn't stop tourists from flocking to the gorgeous Christmas markets that open mid-November and make Vienna one of the best winter city breaks in Europe!
Is 2 Days in Vienna Enough?
I've done my best to cram as much exploring as possible into this 2 day Vienna itinerary. However, I think having 3 days in Vienna is much better. You'll have a more relaxed trip overall, with extra time to see another palace or a few museums and churches.
We had a full 2 days in Vienna, and I wish we had stayed an extra day to fit in the Hundertwasserhaus, Palace of Justice, and Natural History Museum.
Where to Stay in Vienna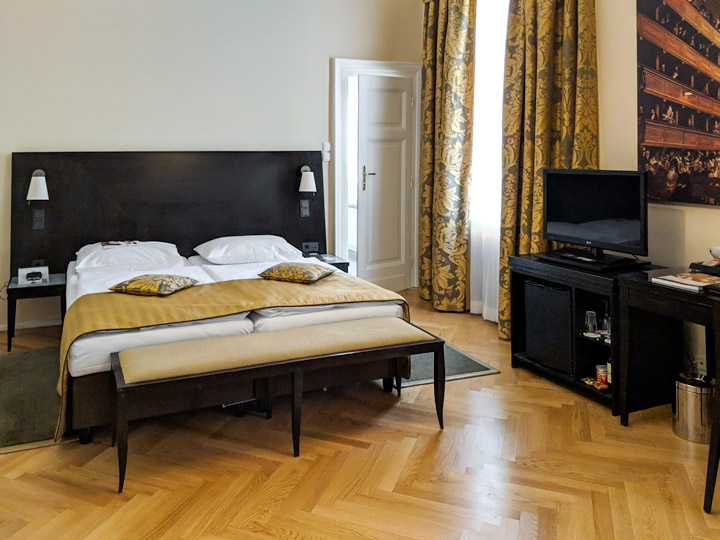 With only 2 days in Vienna, I suggest staying somewhere fairly central. If you opt for somewhere further out, be sure to choose a hotel that's near a U-Bahn station.
When I was planning our trip to Vienna, I knew I wanted a classic hotel with old world charm. We chose to stay at the Trend Hotel Astoria Wien, and I couldn't have been happier!
As soon as you walk in the lobby, you'll feel like you've stepped back in time. The rich wood details, burgundy carpets, and elegant staircase made me feel like royalty. And our gorgeous room had a comfy bed, herringbone wood floors, and a white marble bath that I couldn't stop photographing.
If you're looking for something different, here are a few neighborhoods that work well for this 2 day Vienna itinerary:
If apartments are more your style, you're in luck! There are plenty of charming places to rent in Vienna, like this stunning flat near the Opera House.
2 Days in Vienna Itinerary
Day 1
Belvedere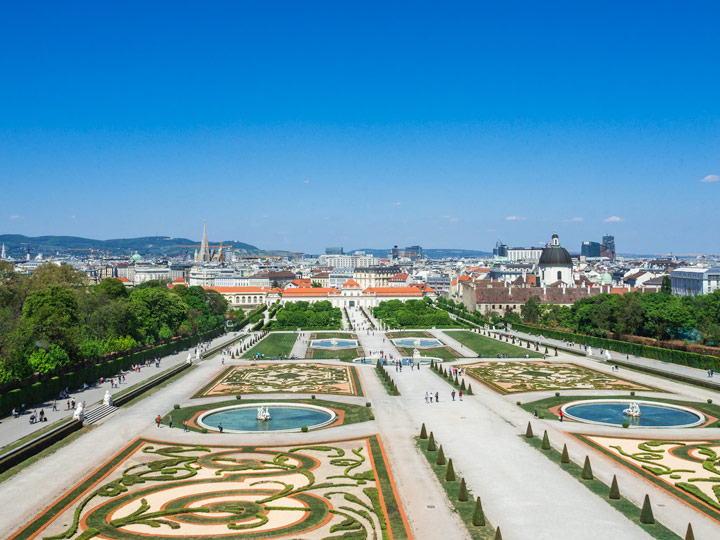 Kick off your 48 hours in Vienna with not one, but two opulent palaces. Built in the 1700s, Belvedere is comprised of two Baroque buildings with a huge, elegant garden running between them.
The lines at Belvedere can get very long, so I strongly recommend buying an online ticket in advance.
Lower Belvedere houses a few lavish state rooms, the palace stables/Medieval art collection, an orangery-turned-art-exhibition, and a small garden. I particularly enjoyed the Medieval art, which had dozens of beautifully preserved statues and carvings lining the walls.
Upper Belvedere is the larger of the two palaces, with grand staircases, a towering Marble Hall, and lovely views over the garden towards the lower palace.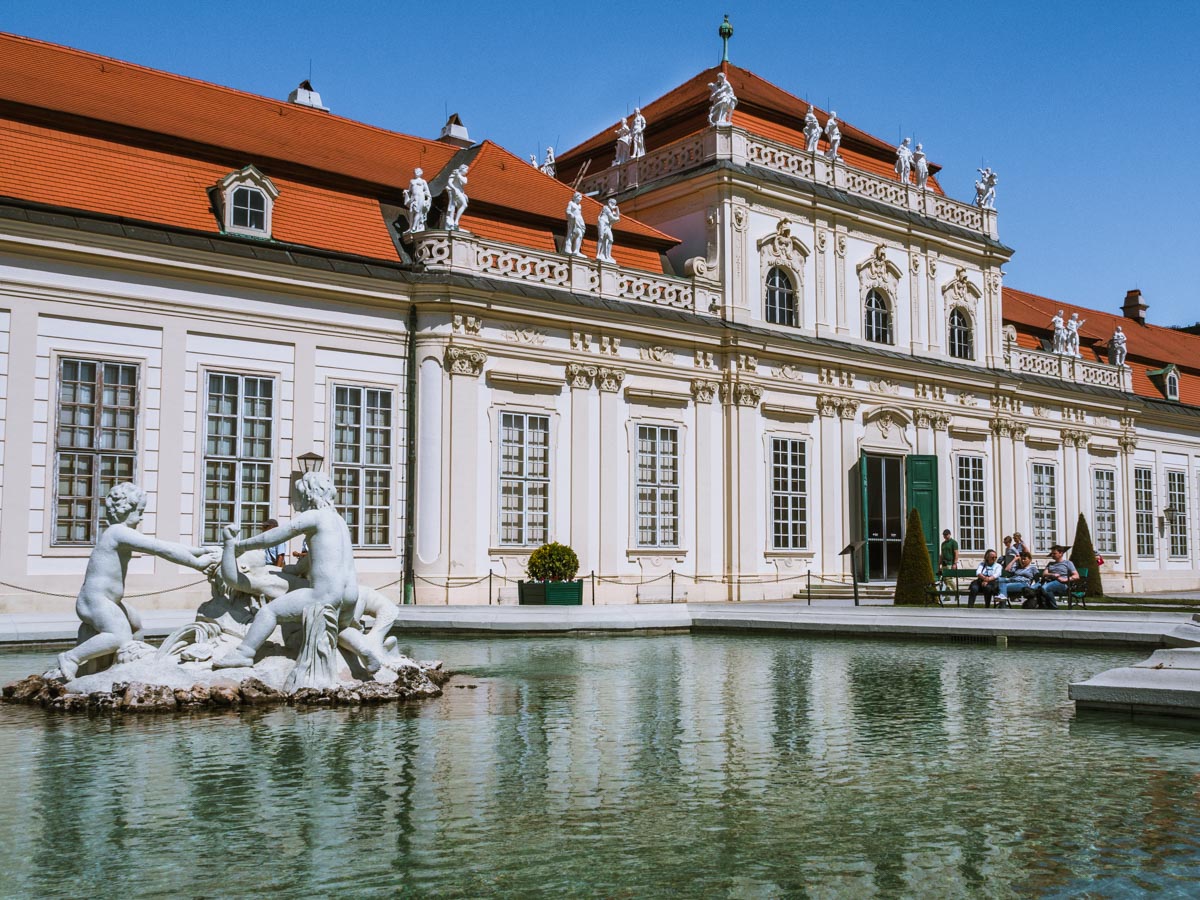 Aside from the architecture, the main attraction of Upper Belvedere is the permanent art collection. In fact, the palace is more of an art museum than residential area (think the Louvre vs. Versailles).
This will let you skip the line and give you priority access to the Klimt exhibition room. You can show the ticket on your phone, and even buy it the morning of your visit.
For the purposes of this Vienna itinerary, start at Upper Belvedere and work your way down towards Lower Belvedere. Plan to spend around 3 hours exploring the palaces and grounds.
Karlskirche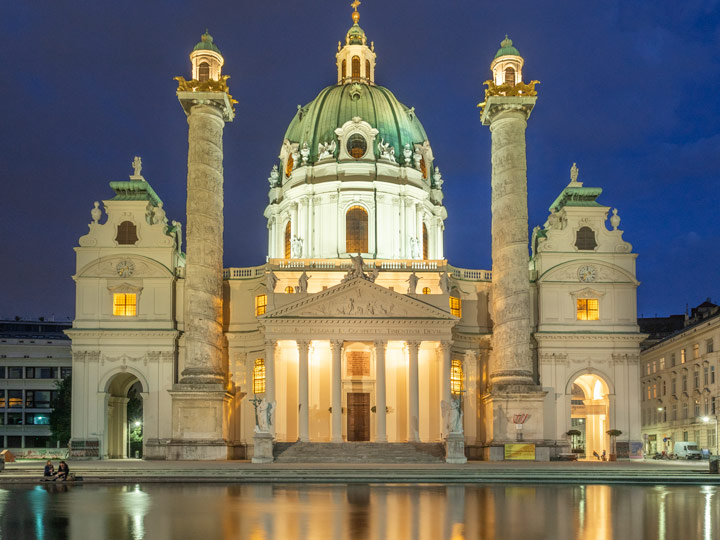 Karlskirche's architecture was so impressive, we visited twice! Constructed in the early 1700s, it's Vienna's most striking example of Baroque churches.
There's a reflecting pool that makes for lovely photos, and you'll find plenty of people relaxing in the small park out front. We didn't have a chance to see the interior, though the frescoed dome is supposed to be the highlight.
There's even a lift that leads to close-up views of the fresco, and panoramic views over Vienna.
If you can, I highly recommend returning in the evening to see Vivaldi's Four Seasons concertos performed inside the church. The performance is only 75 minutes long and you can easily book advance tickets online.
As of 2023, admission to Karlskirche is €9.50 at the door.
Musikverein & State Opera House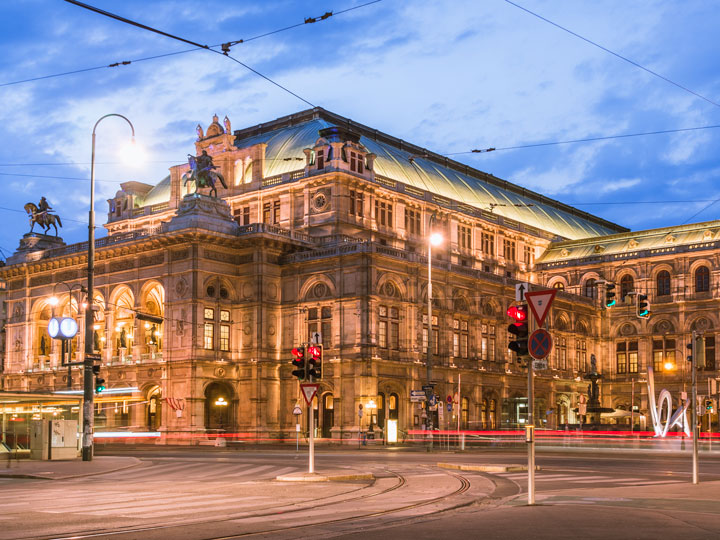 You don't need to be a music lover to appreciate the Musikverein or State Opera House. The Musikverein is famous for its acoustic quality and elegant architecture, with beautiful Neoclassic details. And the Opera House boasts hundreds of arches, beautiful fountains, and a truly opulent interior.
If you don't plan to see a concert during your 2 day Vienna itinerary, no worries. You can still see the Musikverein's interior on a guided tour Monday-Saturday at 1pm for €10 (as of 2023).
The State Opera House conducts multiple guided tours for €13 (as of 2023), though you'll need to check the website for dates and times. Both require tickets to be purchased online in advance.
Save me for later!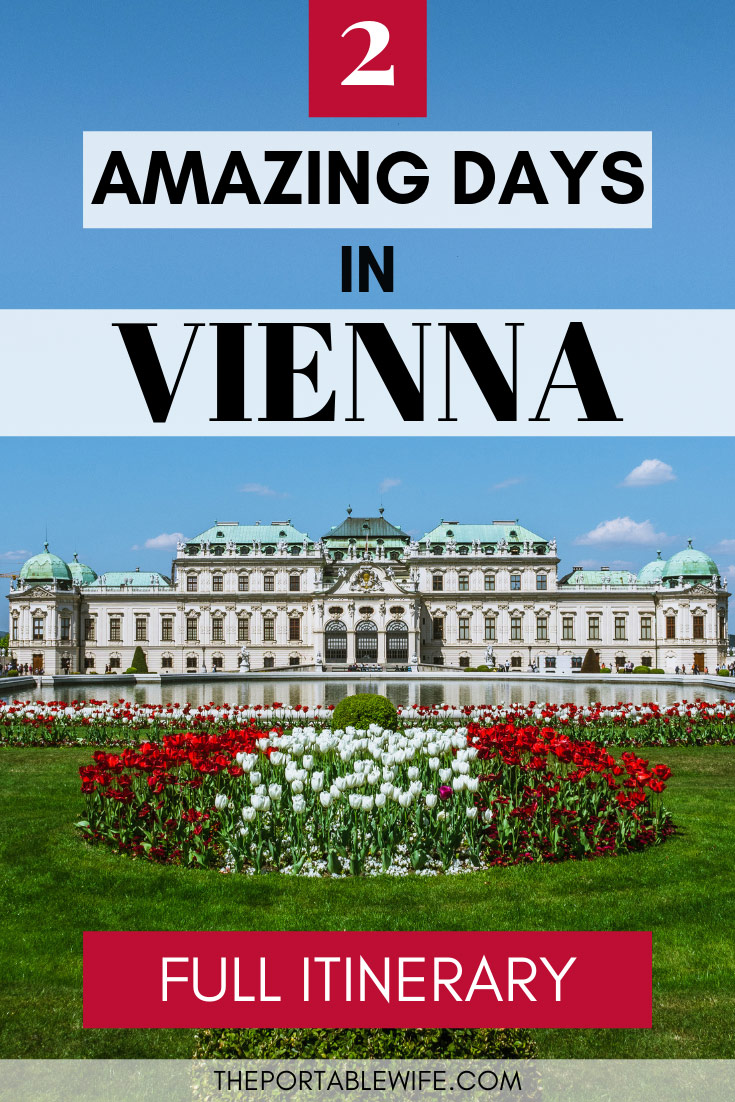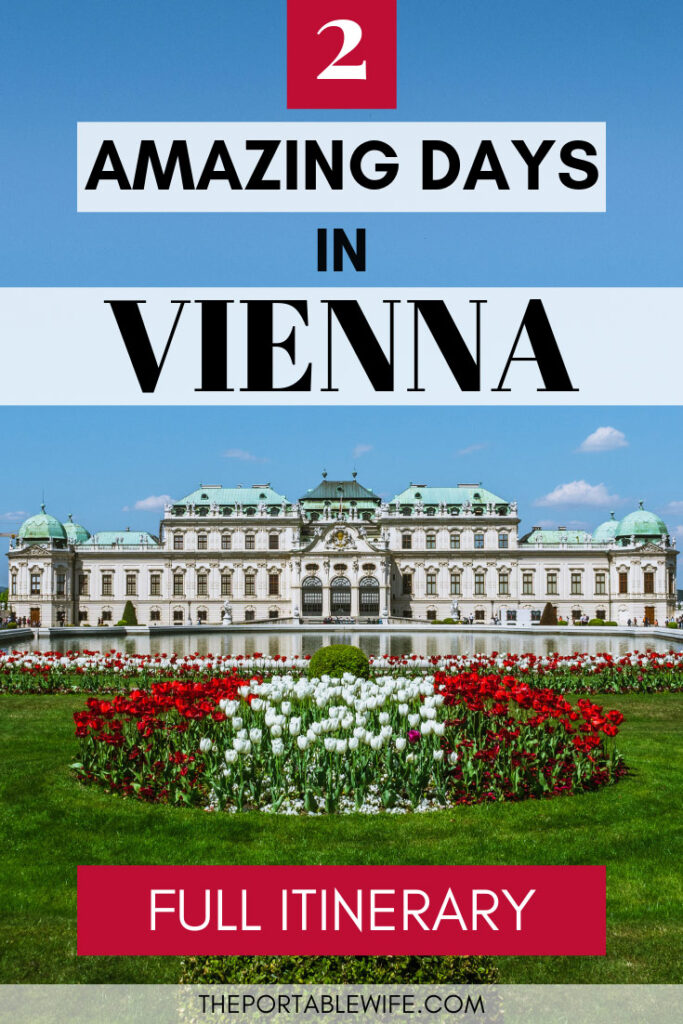 Cafe Mendez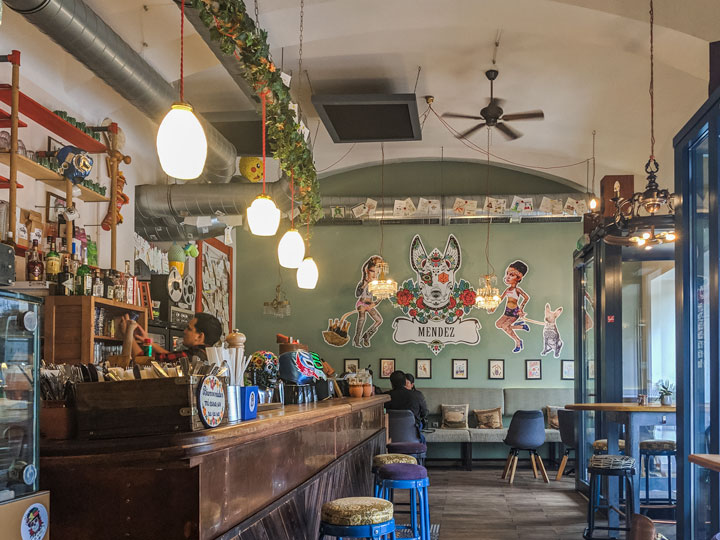 Vienna is famous for its coffee culture. Unlike the US, you won't find dozens of people working from laptops, treating the space like their remote office. Instead, coffee is a thing to be enjoyed slowly, preferably while reading a book or the paper.
But Cafe Mendez is not your typical Viennese coffee house. This Mexican cafe has a quirky interior that immediately reminded me of Austin, Texas. And they served the best Mexican food we've had in Europe (and we've tried a dozen restaurants across four countries)!
We spent a rainy afternoon here enjoying tacos, Mexican hot chocolate, and a steady stream of Led Zeppelin music. It was the best cafe experience of our 2 days in Vienna.
MuseumsQuartier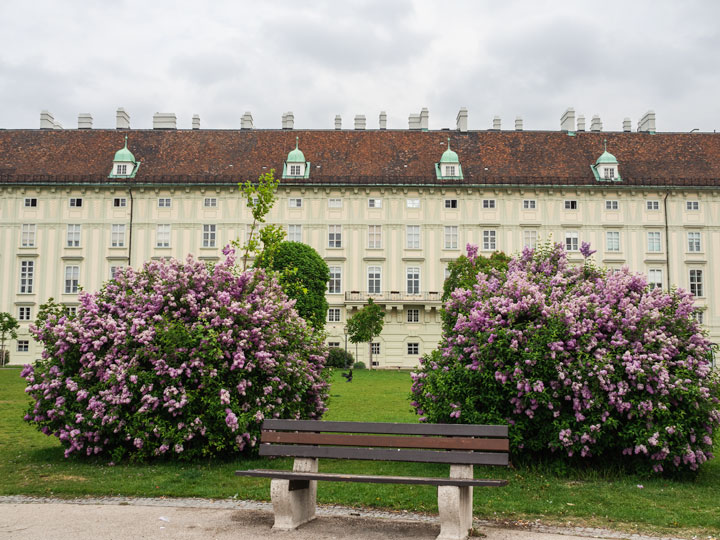 If Vienna's architecture hasn't wowed you yet, the MuseumsQuartier should do it. There's a jaw-dropping amount of classic and modern buildings, from the Natural History Museum to the mumok contemporary art museum.
This Vienna itinerary doesn't include time to actually visit the museums. However, it would be a mistake to skip this area.
Spittelberggasse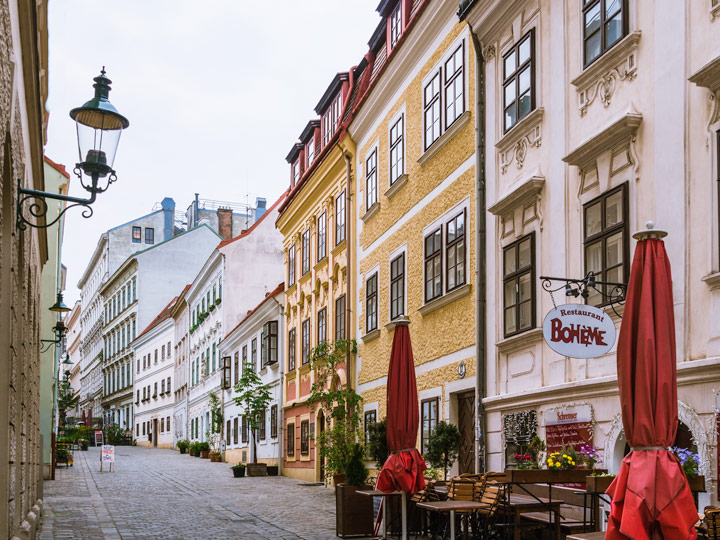 Just a few minutes west of the MuseumsQuartier is arguably Vienna's prettiest street. The cobblestoned Spittelberggasse is lined with dozens of charming cafes, shops, and residences. In the winter, it's also home to a lively Christmas market.
This street is becoming a popular Vienna Instagram spot, so prepare for some crowds if you want to take photos.
Volksgarten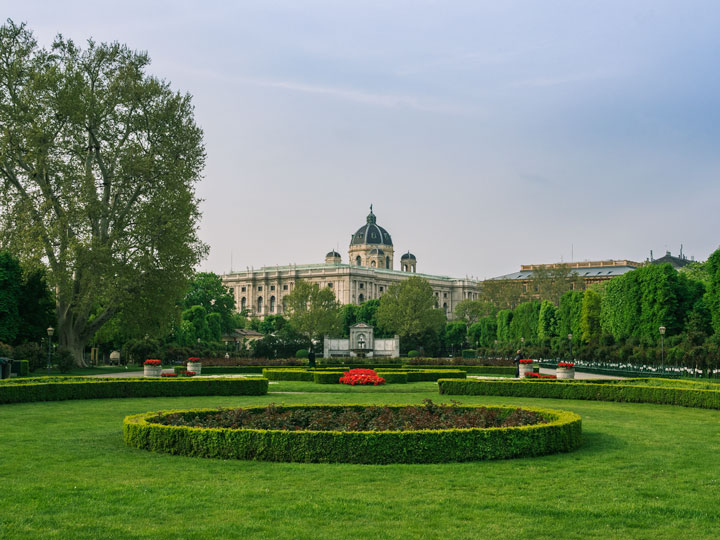 Running between the MuseumsQuartier and the Hofburg, the Volksgarten is a delightful place to escape the bustling streets. You'll get lovely views of the surrounding buildings as you meander.
And if you're visiting in the spring and summer, there will be flowers of all colors and varieties blooming along the paths.
Rathaus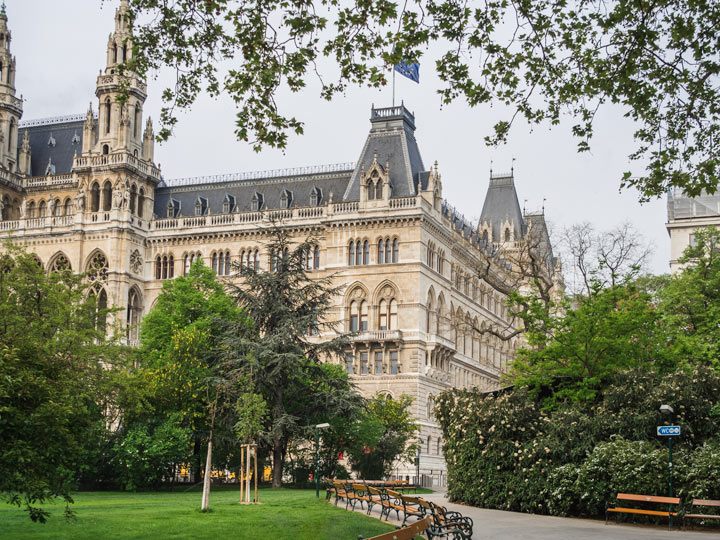 Like many European capitals, Vienna has an impressive city hall. Designed in the Neo Gothic style, the building's ornate towers and covered arched walkways are a must see. And in the winter months, the hall's front expanse becomes a massive ice rink.
But if you're planning to do your Vienna 2 day itinerary before 2025, expect to find the Rathaus under construction. The restoration works are nearly complete, but a few parts of the building are still screened off.
During our first trip to Vienna, the front facade was covered in scaffolding, and the inner courtyard was full of construction workers and equipment. However, we still enjoyed wandering the exterior and courtyard.
Votivkirche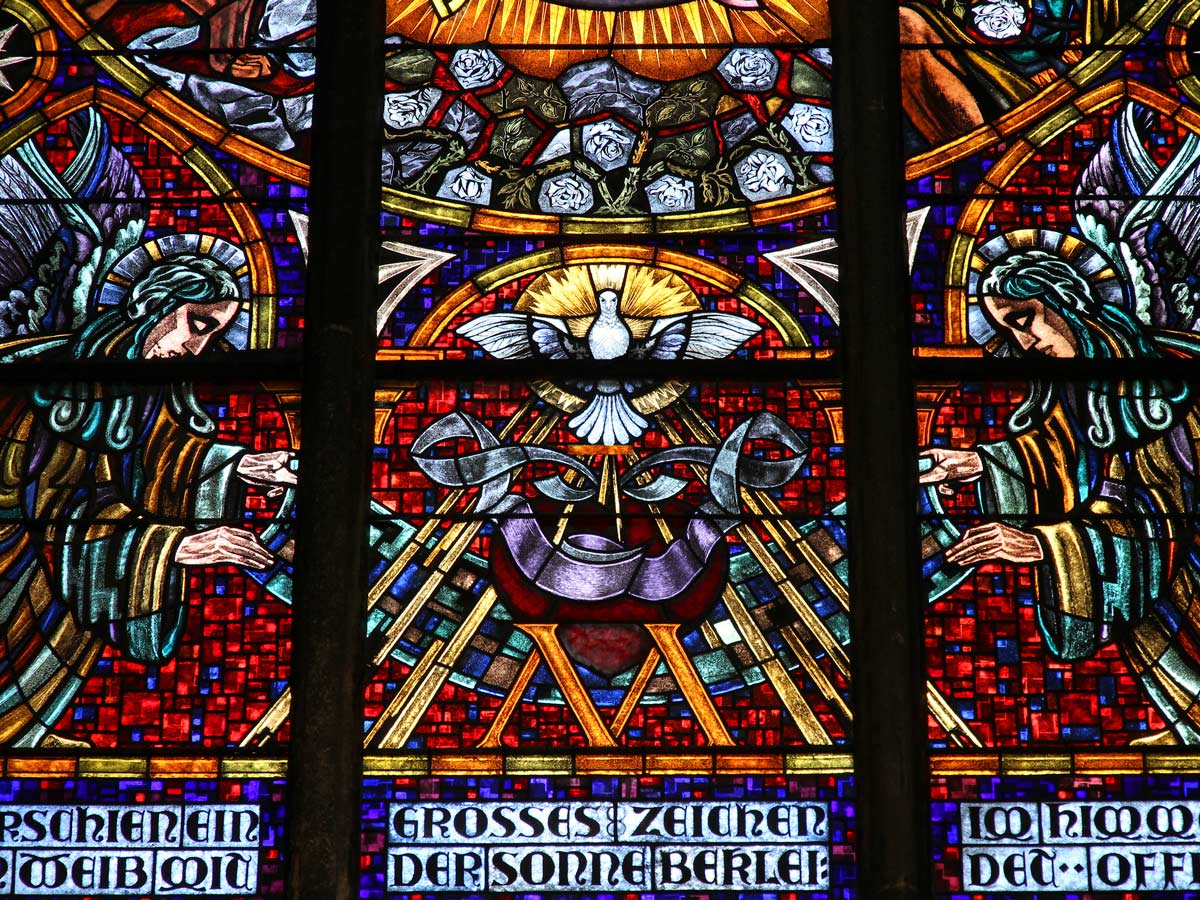 For more Neo Gothic architecture and mesmerizing stained glass windows, be sure to visit the Votivkirche. Unlike other churches in Vienna, the Votivkirche is free to enter, though donations are welcome.
The church seems to undergo a lot of renovation, so you might have to skip this attraction depending on your luck!
Attend a concert
Vienna is the classical music capital of the world, so I highly recommend booking a concert experience during your stay.
We were fortunate to be in Vienna at Easter, and saw the traditional Easter concert in the Musikverein. As a music lover and former symphony band member, this concert was the highlight of my 2 days in Vienna.
There are multiple concerts happening every night of the week, making this a very easy (and surprisingly affordable) experience to have.
Day 2
Cafe Central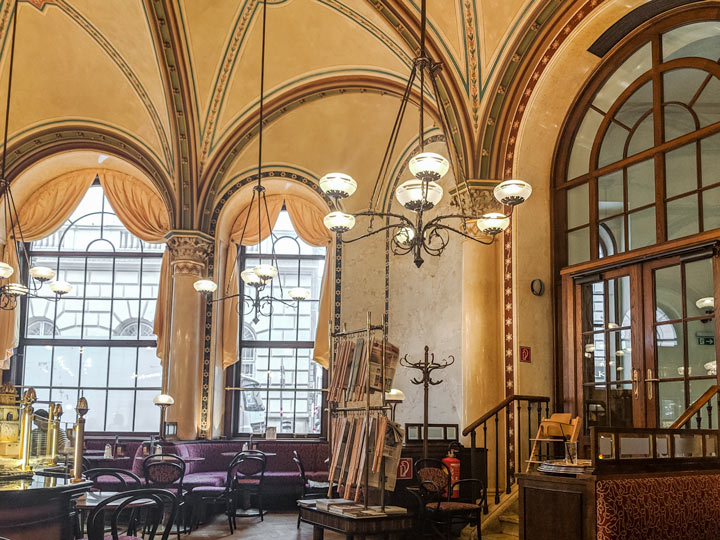 In Vienna, drinking coffee is often a luxurious tradition. And if you want the ultimate experience, Cafe Central is the place to go.
Think waiters dressed up in suits, ironed newspapers bound like books for easy reading, and drinks served on silver platters. The interior is lavishly decorated, with arched ceilings and golden accents. Having breakfast here was truly elegant (and delicious).
Cafe Central is a popular tourist spot, so I strongly suggest you arrive early in the morning. By the afternoon, you can expect a line out the door of people waiting for a table!
Ferstel Passage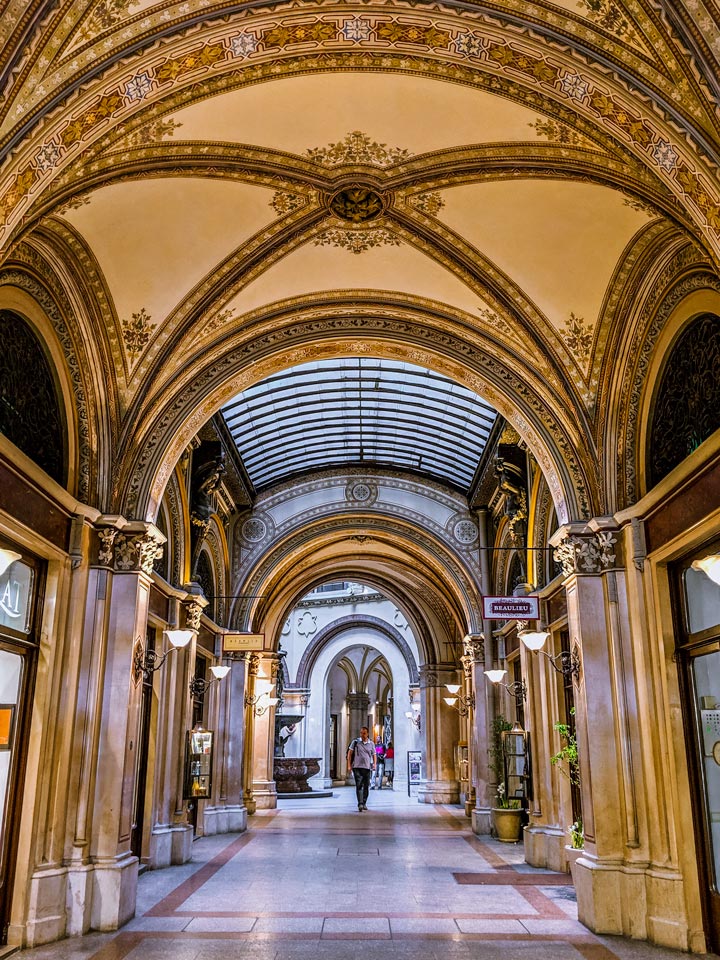 I love exploring Europe's covered passages and shopping arcades. So when a friend recommended I stop by Ferstel Passage, I knew it belonged on my Vienna itinerary.
Located just around the corner from Cafe Central, this long gallery is perfect for window shopping. But for me, the highlight of Ferstel Passage was the elegant architecture, from golden arched ceilings to a multi-story atrium with a bubbling fountain.
Once you've finished exploring the passage, you'll be heading to Schönbrunn. There are several ways to get there using public transit. But the fastest route is to take the U3 from Herrengasse to Westbahnhof, and then change for the U60 tram to Schönbrunn.
Schönbrunn Palace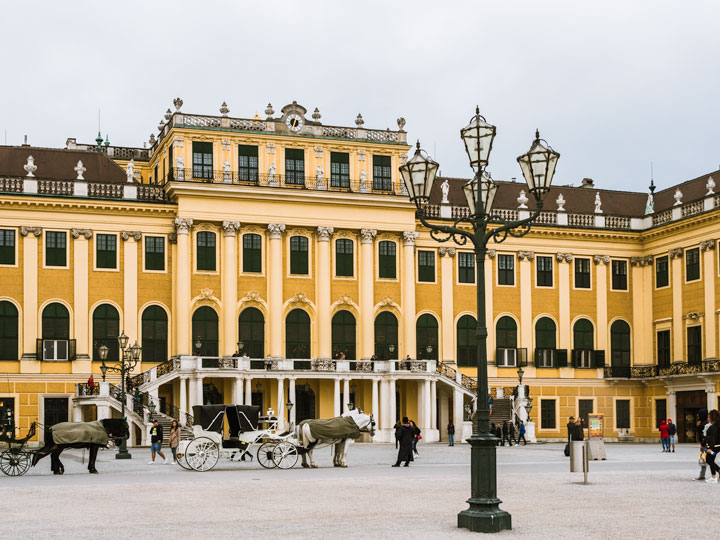 Regarded as one of the world's finest palaces, Schönbrunn is a magical place to explore. We spent a rainy afternoon wandering the sprawling gardens, complete with hedge mages and a fountain that rivals the Trevi in Rome.
The iconic yellow palace was modeled after France's Versailles, and even has its own Hall of Mirrors.
If you're doing this 2 day Vienna itinerary in late spring to early summer, you should be right on time to experience the gorgeous wisteria-clad archway.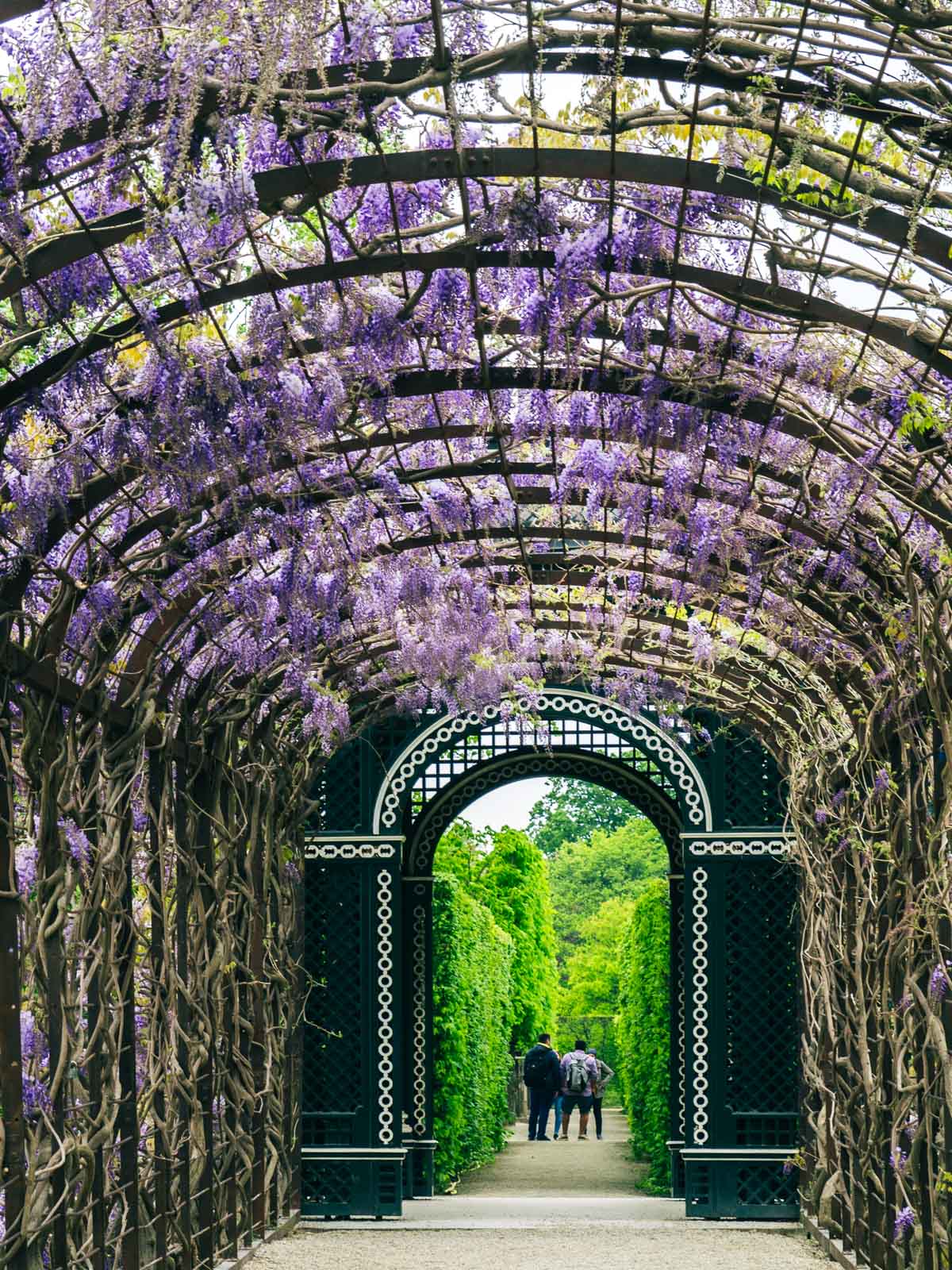 Schönbrunn is one of Vienna's most popular attractions, and queues can get very long. I highly suggest booking a skip the line tour, especially if you are traveling between May-September.
As of 2023, Grand Tour tickets cost €29 (and don't include skip-the-line), and include all 40 rooms plus the gardens.
St. Stephen's Cathedral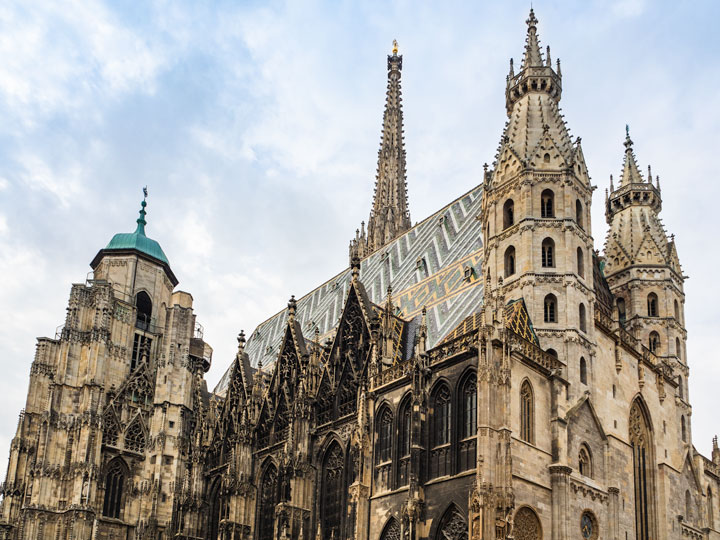 St. Stephen's ornate towers and colorful tiled roof are an unmistakable part of Vienna's skyline. Though it has served as a religious site for nearly 1,000 years, the building we see today was actually constructed over several centuries through the early 1500s.
Admission to St. Stephen's is slightly tricky. Visitors can get a view of the main interior (down the length of the cathedral) for free. But to approach the altar, descend into the catacombs, and climb the tower, it costs €20 (in 2023).
If you're only interested in the general interior and the view from the tower, you can pay €5.50 for entry to the south tower. It's 343 steps up to the top, but the panoramic view over Vienna is spectacular.
If 343 winding steps is too much for you, try the north tower view instead! It's €6 to take the lift to the top (there's a ticket counter next to the lift). This tower is much shorter, so you won't get the same panoramic views, but you will have a nice close up of the patterned roof.
Note that all tickets are cash only, so bring enough Euro for everyone in your group!
Hundertwasserhaus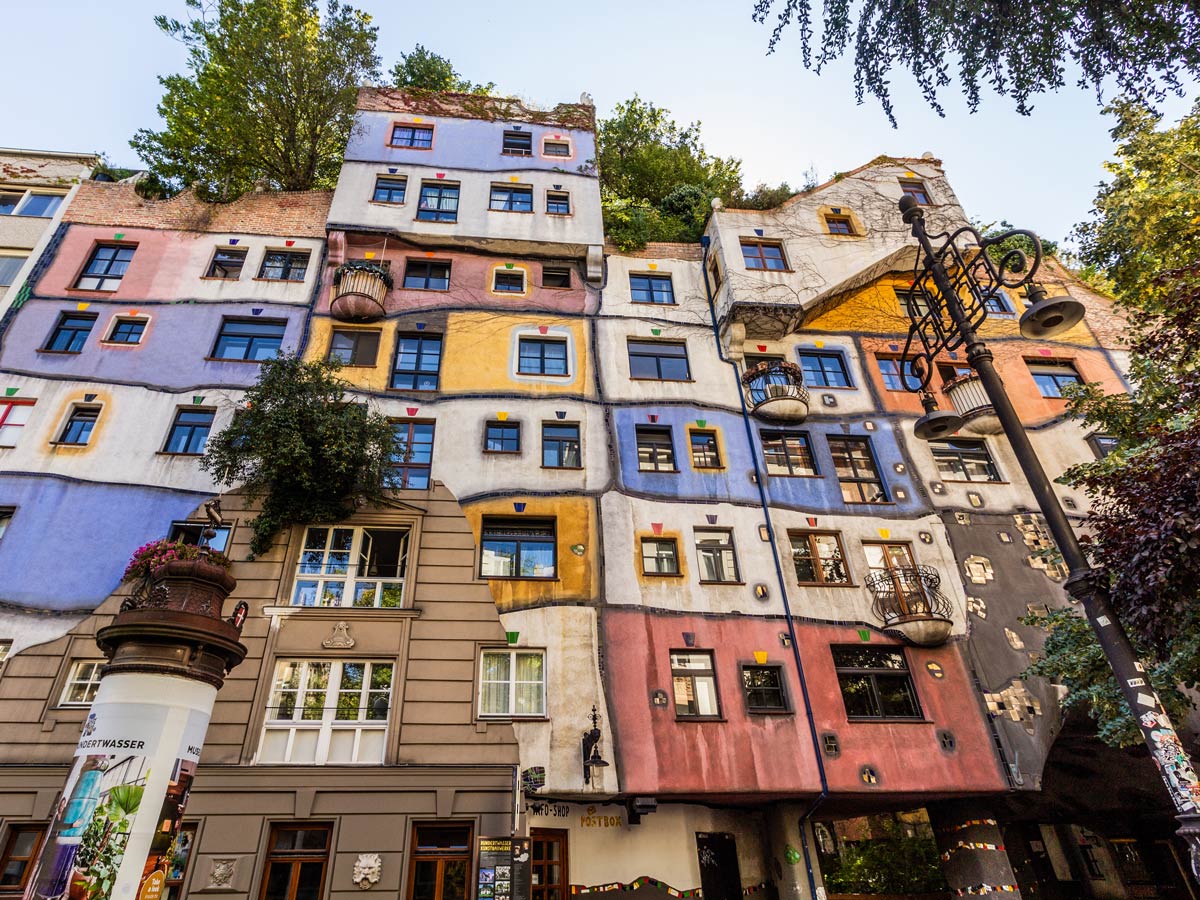 After touring Vienna's historic and traditional buildings, it's time for a wholly different architectural experience.
From St. Stephen's, walk to the Stephansplatz U-bahn station and take the U3 line east to Rochugasse station. From here, it's a few minutes' walk north to reach Hundertwasserhaus.
Designed by Friedensreich Hundertwasser and built in the mid-1980s, this Dr. Seuss-esque bloc of apartments and offices was a contentious addition to Vienna's streets. The non-straight lines and forested roofs–key characteristics of Hundertwasser's work–stuck out like a sore thumb in the capital's elegant surroundings.
However, residents eventually came to embrace the wonky facade, and today it's a cultural icon of Austria and one of the most visited places in Vienna.
Innere Stadt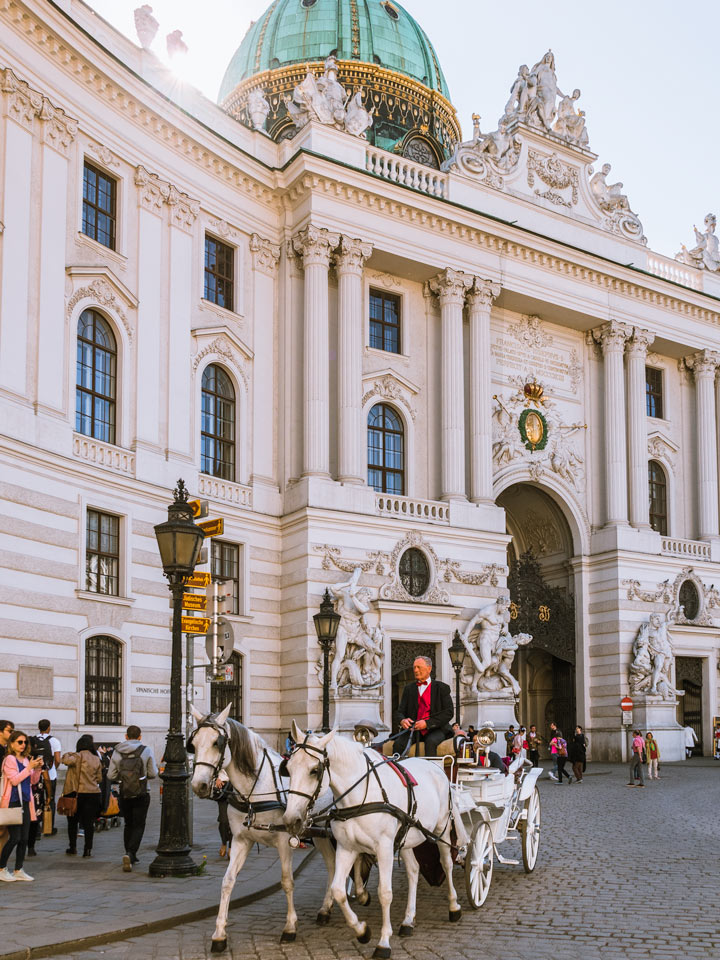 At this point, you're probably feeling a little fatigued from all the exploring (especially if you climbed the north tower). So we'll round out the last of our 2 days in Vienna with a return to Stephenplatz station followed by an unstructured walk around the Innere Stadt.
Discovering the city center on foot is part of the charm of visiting Vienna. So don't be shy about meandering through the streets and alleys. Here are a few highlights to hit on your walk:
Stephensplatz: This open area just outside of St. Stephen's Cathedral is the bustling heart of the city.
St. Peter's Church: There's a great view of this Baroque church from the Habsburgergasse.
The Hofburg (exterior): The famous curved exterior of the Hofburg is a must see.
Austrian National Library: If you're a literature lover, don't miss the library's stunning State Hall (€10 entry free as of 2023).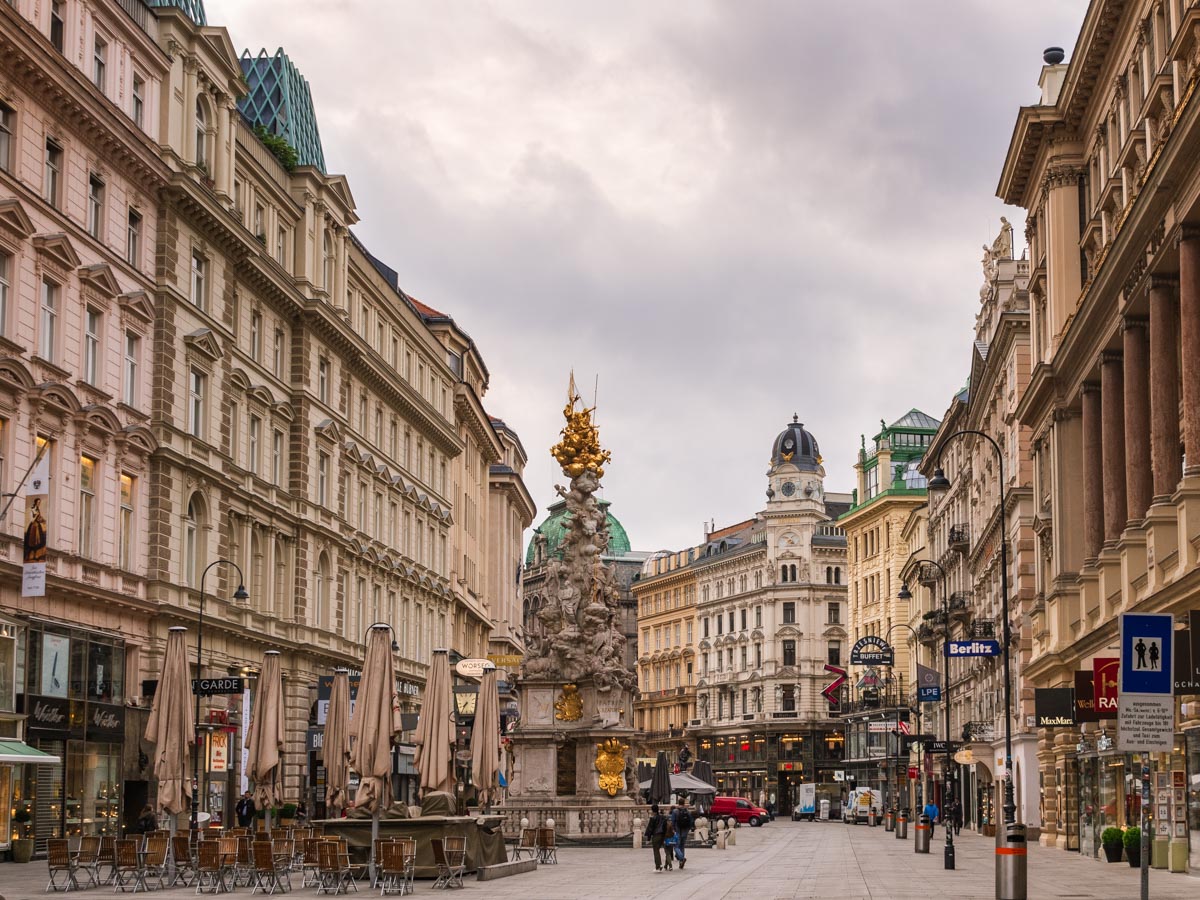 Map of Vienna 2 Day Itinerary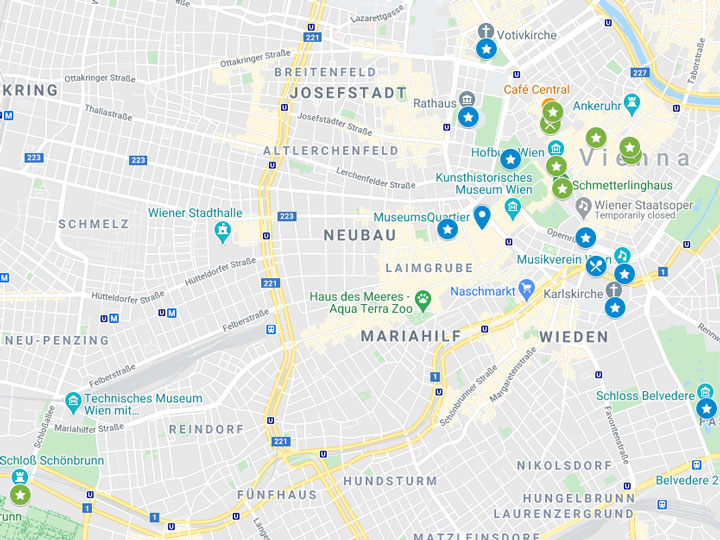 Click here to view the interactive map!
Guided Tours of Vienna
Navigating a foreign city can be exhausting and a little intimidating. Sometimes it's nice to let an expert take the reins and show you around!
If you want to do some stress-free exploring of Vienna, consider booking a guided tour for part of your trip.
Where to Go After this 2 day Vienna Itinerary
Salzburg: Take a 2.5 hour direct train ride and spend one or two days in Salzburg exploring the famous fortress, old town, and Mirabell Palace and Garden.
Hallstatt: Experience the fairytale charm of this mountain lake village with a Hallstatt day trip.
Prague: For even more amazing architecture, hop on a train to Prague for castles, cathedrals, and the iconic astronomical clock.