If you love snow-capped mountains, opulent buildings, and breathtaking views, a trip to Salzburg is a must. It's a city steeped in history, from medieval castles to Mozart to The Sound of Music. And if you spend 2 days in Salzburg, you can see it all at a leisurely pace!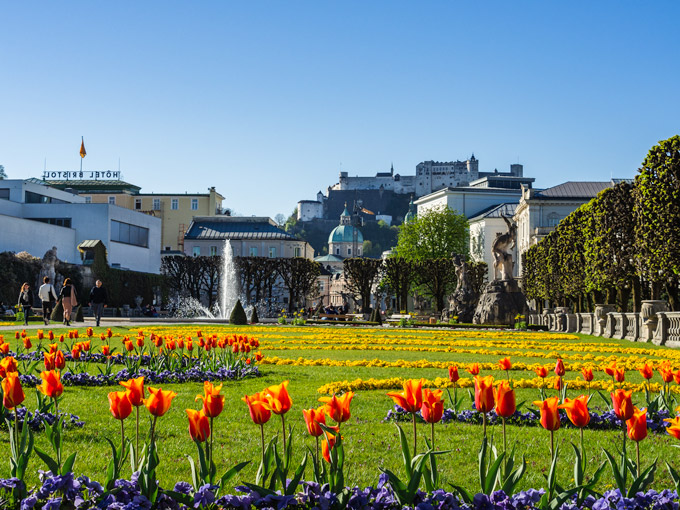 Typically, I cram a ton of exploring into each day of travel. But our trip to Austria was far more relaxed, because we were also celebrating my husband's birthday. Instead of speed walking from sight to sight, we savored the little things that made our Salzburg itinerary special.
Fortunately, the main area of Salzburg is small enough that you can take your time, and even revisit places you really enjoyed. We went to Mirabell Gardens three times! I might have been a little obsessed with the tulips and wisteria…
And if you only have 1 day in Salzburg, I've got you covered. There's a modified itinerary near the end of the post that covers what to see in Salzburg in one day.
This post contains affiliate links. For more information, click here.
Salzburg Itinerary for 2 Days
Know Before You Go
Estimated budget for 2 day Salzburg itinerary (excluding transport and accommodation): €90
Money
Austria uses the euro (€). Salzburg is very card-friendly, even at smaller cafes and shops. However, you should always have a few euros on hand for leaving tips.
Be sure to check your restaurant bill to see if service is included. If not, it's customary to leave 10-12% as a tip.
Language
Austria's official language is German. Although every service worker we encountered spoke English, I highly recommend learning a few travel terms and phrases before you arrive.
Two days in Salzburg doesn't require much knowledge of German, but knowing a bit of the language goes a long way. If you don't have Google Translate installed on your phone with the German dictionary downloaded, do that before you leave.
Here are some German phrases to help you along:
Yes – Ja (ya)
No – Nein (nine)
Please – Bitte (BIT-eh)
Thank You – Danke (DON-kuh)
Pardon Me – Entschuldigung (en-SHUL-di-gung)
I don't speak German – Ich spreche kein Deutsch (ish SPRE-ke kine doitch)
Do you speak English? – Sprechen Sie Englisch? (SPRE-ken ze English?)
Water – Wasser (VA-sa)
One – Ein (eyen)
Two –Zwei (zveye)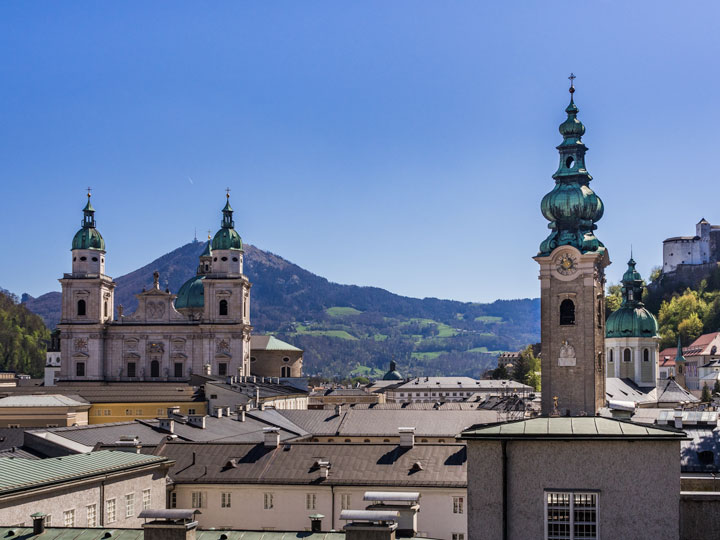 Transport
Because the city's main area is so compact, you probably won't need to use public transit at all during your 2 days in Salzburg. The train station is only a 10-20 minute walk from the main hotels and attractions.
But in case you need it, there is a trolley and bus system that serves the city. For about €2, you can purchase tickets from a machine or tabacco shop, or from the conductor.
There are also 24-hour transit passes available from the machines/shops, but for this Salzburg itinerary, it won't be necessary.
Uber does not operate in Salzburg, so you'll need to arrange for a taxi if you need car transport.
Getting from Salzburg Airport to Salzburg Station
Two bus routes–the No. 2 and No. 10–run from Salzburg Airport to Salzburg Hbf. You can buy tickets at the machine near the stop for under €3.
The No. 10 will get you to the station in 15 minutes, about 10 minutes faster than the No. 2. Note that only the No. 2 runs on Sundays.
Getting to Salzburg from Munich
Sometimes it's cheaper or more convenient to fly into Munich instead of Salzburg, and take a train between the cities. This is the route we took, and it was very straightforward.
The simplest route is via Munich West (München Ost). Depending on your departure time, you'll take either the S1 or S8 from the airport to Munich West, and then change platforms for the train to Salzburg. The total travel time is 2.5-3 hours.
Although you can buy tickets from the machine near the platforms, it's so much easier to download the DB Navigator app. I relied on this app heavily during my 2 days in Cologne.
You can buy e-tickets with QR codes that the conductors will scan. And you can set up notifications in the event of a train delay/cancellation.
Getting to Salzburg from Vienna
You can take a direct train from Vienna Central Station to Salzburg Hbf in under 3 hours. The cheapest way is to book tickets in advance via the OEBB website (remember to print your tickets!). Buying same-day tickets can cost you nearly double.
If you're traveling on a busy weekend or holiday, I strongly recommend paying for a seat reservation. Otherwise, you could end up standing or searching for one for a long time.
Westbahn also operates a double-decker train from Vienna to Salzburg. Tickets are more expensive than advanced-purchased ones from OEBB, but you shouldn't need a seat reservation due to the ample seating.
I've heard some people say the Westbahn is "more scenic", but they actually share tracks with the OEBB trains. Though I suppose being on the 2nd level lets you see more out of the window…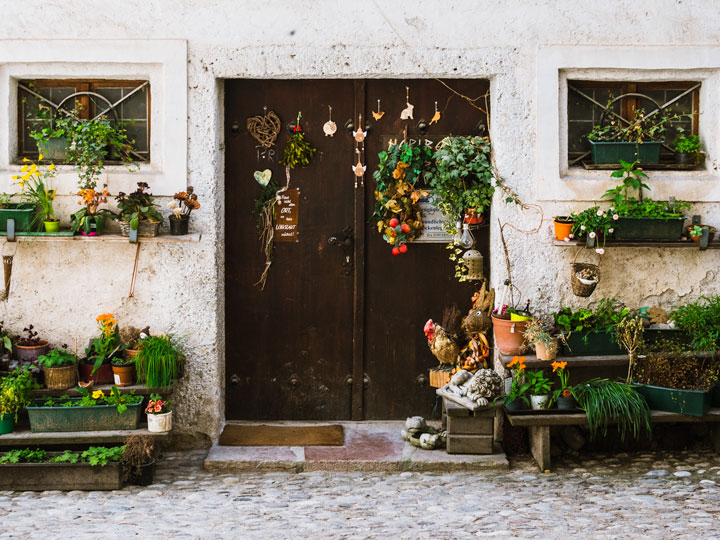 Where to Stay in Salzburg
To make the most of your 2 days in Salzburg, you should choose accommodation in the city's main area. There are a range of options here, from the affordable YoHo Hostel to the opulent, riverfront Hotel Sacher.
We chose to stay at the Star Inn Hotel Premium, and it was a fantastic experience. Between the central location, comfortable bed, and proximity to delicious restaurants, it was a perfect home base for our Salzburg adventures. We were especially fond of the ice cream shop across the street (maybe a little too fond).
If you're more of an apartment person, there are some great options across the city. This centrally-located townhouse near the station is ideal for day tripping to Hallstatt or other Austrian towns.
The Best Time to Spend 2 Days in Salzburg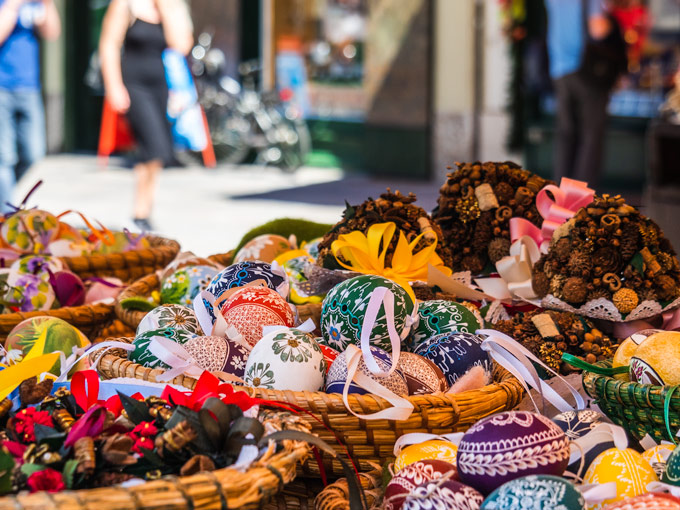 From late summer carnivals to charming Christmas markets, it's hard to choose the best time to visit Salzburg! Here are a few seasonal highlights to help you decide when to do this Salzburg itinerary:
December – February: December sees the old town decked out for Christmas, with holiday markets selling traditional crafts, food, and mulled wine. Advent festivities make Salzburg one of the best places to visit in Europe in December! January and February are decidedly cold, with temperatures at or below freezing, but it's your best chance of seeing snow.
March – May: Easter is a popular time to visit Salzburg, with celebrations including a parade, concerts, and traditional markets. March and April can be unpredictable in terms of weather (we had sunny, 20 C days for our trip, while the week before was rainy and 9 C). May offers great weather and traditional Maypole festivities.
June – September: Summer brings the most festivals and tourists to Salzburg. The Salzburg Dult Fair in June and St. Rupert's Day Fair in September are the most popular, with traditional food, folk dancing, and carnival rides.
Day 1: Salzburg Walking Tour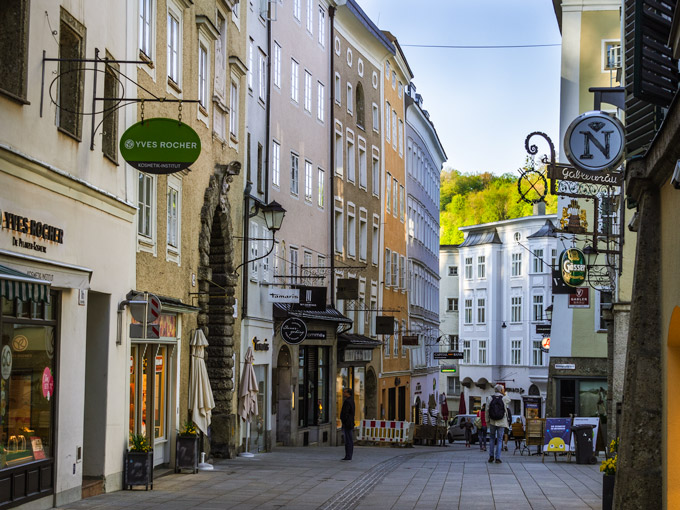 Elisabethkai
Kick off your 2 days in Salzburg with a lovely riverside stroll. The Salzach River divides the city in half, and the tree-lined Elisabethkai follows it along the eastern side.
Start at Saint-Julien-Straße and head south until you reach the Müllnersteg bridge. Then, turn left and head down the pathway towards Mirabell Gardens.
There are multiple access points to the gardens, and this route offers great views of the famous Pegasus Fountain and the flower-lined walking paths.
Mirabell Gardens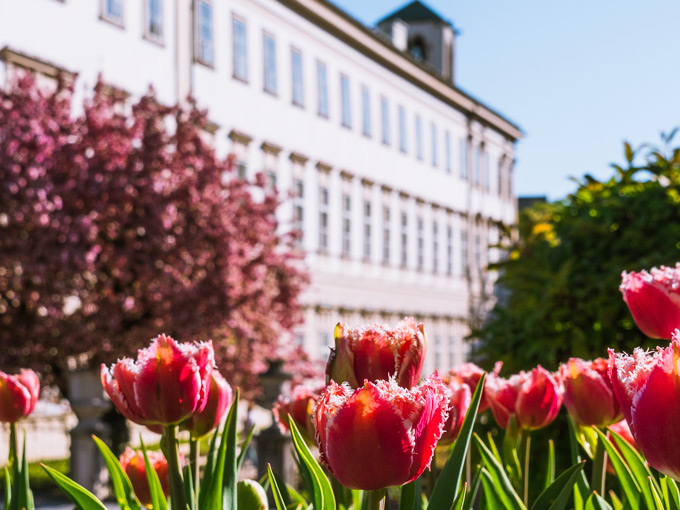 In case you didn't know, Salzburg is home to several filming locations for The Sound of Music. And Mirabell Gardens featured prominently in the Do, Re, Mi scene. I may have hummed the tune approximately 500 times during our trip…
The gardens and palace have been around for 400 years, but the iconic Pegasus Fountain was added in the early 1900s. I had fun imagining the Von Trapp children and Julie Andrews running along the fountain's edge.
If you're visiting Salzburg in the spring, you'll find wisteria and cherry blossoms in addition to the seasonal flowers that form the intricate lawn patterns.
Most people only explore the tree tunnel and walking paths between the palace and the Makartplatz exit. But there's also an upper level to the gardens with a lovely Orangery and hedge theater.
Mirabell Palace and Gardens are the most popular Salzburg sightseeing attractions. So if you're planning to take photos, be prepared to wait your turn at the popular spots (in front of the fountains, at the main gate, etc.).
Book your Sound of Music tour here!
After you've re-lived your Sound of Music fantasies, head south and exit the gardens at the Makartplatz. Walk a block south/southeast to reach the iconic arch of Sauterbogen.
RELATED: Ultimate Salzburg to Hallstatt Day Trip Itinerary
City Center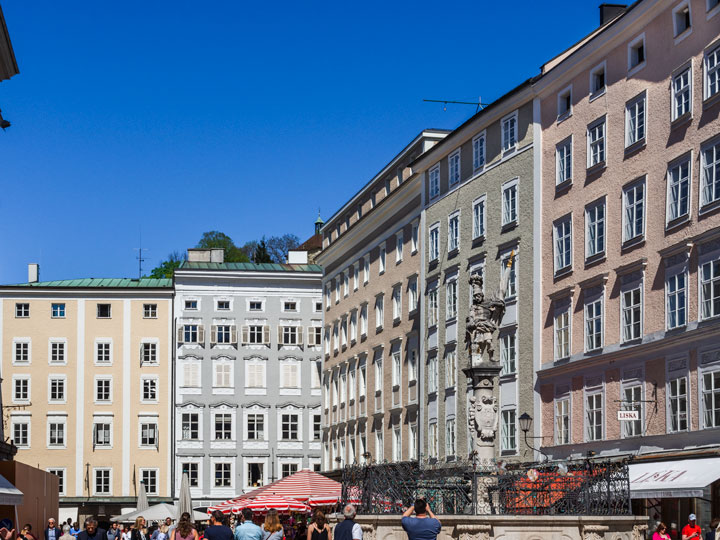 Salzburg's crooked alleys and colorful shops add a ton of charm to the city. And there's no better way to experience that charm than by wandering (somewhat) aimlessly.
Rather than prescribe a specific route to take through the city's east side, I've made a list of highlights to seek out during your walk:
Linzer Gasse: A lovely historic street lined with shops and restaurants.
Bäckerei Josef Funder: This traditional bakery is the perfect place to grab a pastry snack.
St. Sebastiankirche: Home to several royal tombs, with a beautiful cemetery in the back.
Parish Church St. Andrä: An iconic part of the Salzburg skyline directly across from Mirabell Palace.
After you've finished exploring, head towards the river for a quick photo-op at Salzburg's love lock bridge.
Makartsteg (Salzburg Love Lock Bridge)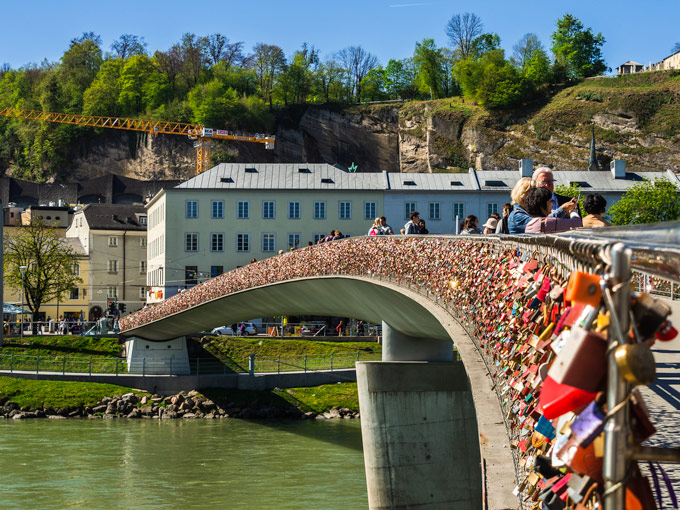 Europe's cities are full of love lock bridges, and Salzburg is no exception. The curving Makartsteg is covered in thousands of metal locks announcing the everlasting love of the couples who placed them there.
However, there are environmental consequences to leaving a big piece of metal dangling over a river. For the sake of the planet, please don't add a lock to the bridge.
Enjoy the views, snap a few photos, kiss your partner, and leave no trace.
Kapuzinerkloster
One thing I didn't know about Salzburg was how many active abbeys and monasteries there were in the city.
Kapuzinerkloster is a 400-year-old, hilltop Capuchin monk monastery. Though there are select times when you can see the interior, the surrounding grounds are open to the public and offer panoramic views of Salzburg.
There are two ways you can reach the top of the hill. You can either follow the winding Kapuzinerberg road (the entrance is an arched tunnel off of Linzer Gasse). Or, you can take the more direct passage via Imbergstiege, which involves about 250 steps.
After that long trek, you'll probably be hungry for a hearty lunch! I highly recommend Zum fidelen Affen, which has excellent Austrian food and traditional Salzburg beers.
Save me for later!
Giselakai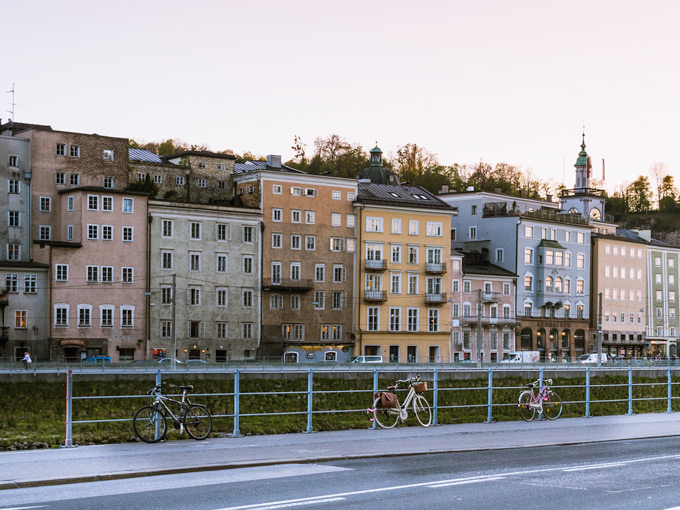 When I was planning our Salzburg walking tour, I was surprised that the Giselakai wasn't suggested. It turned out to be my favorite street in the city!
From this riverside street-turned-path, you get excellent views of the old town's pastel facades. And with the fortress towering above, it felt like something out of a storybook. It reminded me a bit of Edinburgh's skyline, actually.
You can walk as far down as you want, but I recommend stopping where the path becomes a street again. From here, you'll turn around and cross the river at Mozartsteg.
Mozartplatz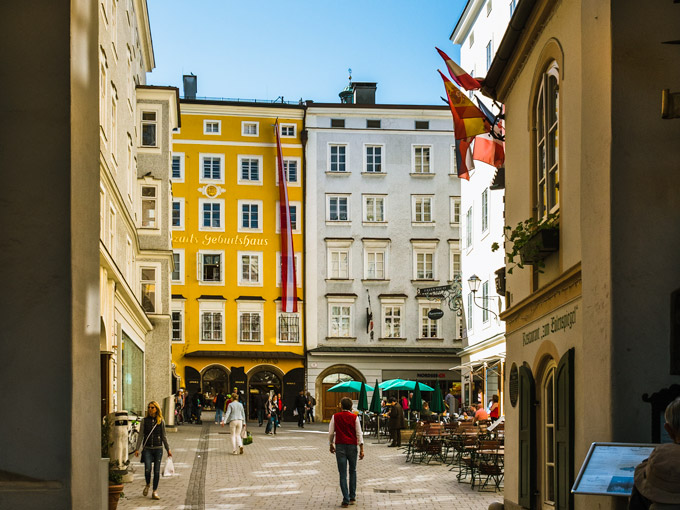 West of the river lies Salzburg Old Town, a maze of alleys and must-see historic sites on the UNESCO World Heritage List. For the purpose of this Salzburg walking tour, you won't be entering any of the buildings (that's for tomorrow).
Once you cross the Mozartsteg, follow the road to reach the Mozartplatz. It's a unique spot in the city, with a Mozart statue, beautiful fountain, and mountain views.
Take a stroll around the square to reach Pfeifergasse. Follow the charming alley until the intersection, turn right, and walk south until you reach the cross-section with Kapitelgasse.
Kapitelplatz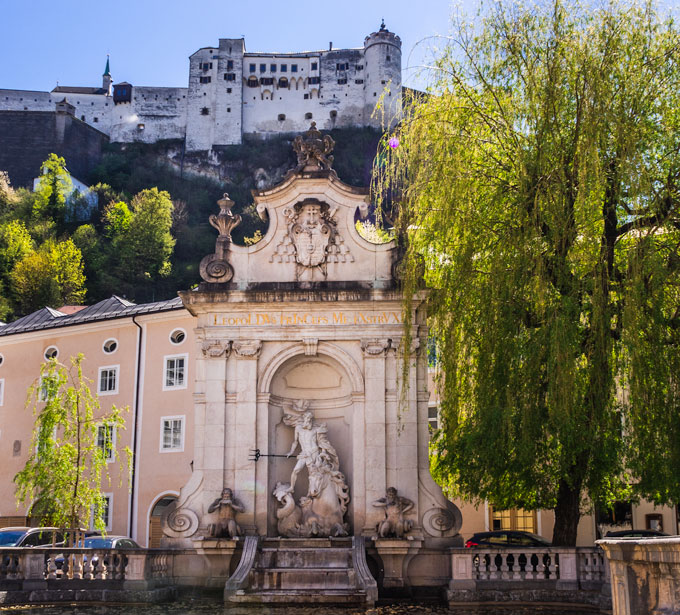 Kapitelgasse leads straight to Kapitelplatz, an expansive city square lined with shop stalls and pretty buildings. Most of Salzburg's festivals take place here, and it's often bustling with travelers.
The highlight of the area is the Kapitelschwemme, a gorgeous fountain pond with a view of Hohensalzburg directly above.
Domplatz, Residenzplatz, and Old Town Alleys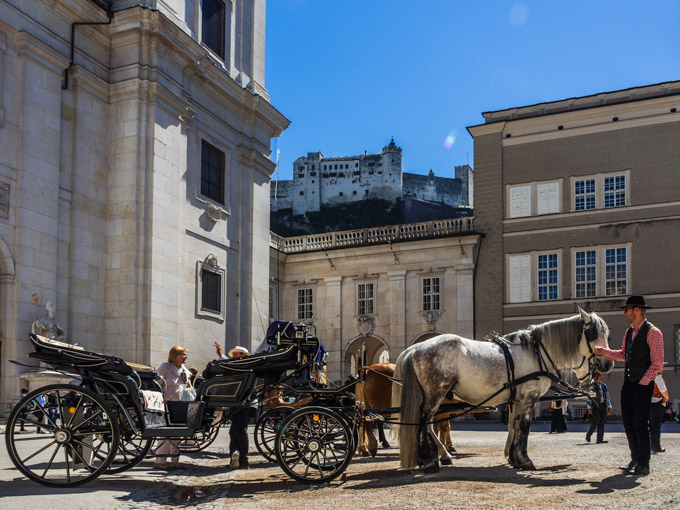 Part of why Salzburg's Old Town feels so impressive is its mix of massive, open spaces and cozy little alleys.
You can walk north from Kapitelplatz and reach Domplatz, where the gorgeous Salzburg Cathedral towers overhead. And just north of that is the Residenzplatz, the bustling, colorful heart of the old town.
If you're visiting Salzburg for Easter, you'll find a charming market selling painted eggs and traditional crafts.
From here, you can start exploring the old town's shop-lined streets. The main highlights are Getreidegasse and Universitätsplatz, but I found each alley to have its own set of charms.
Day 2: Salzburg Sightseeing
Mirabell Palace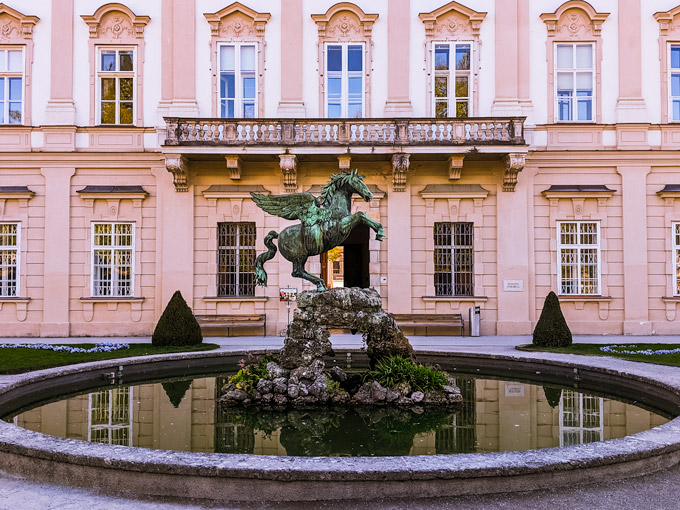 Spending 2 days in Salzburg means you have the time to properly savor Mirabell Palace! The palace was a gift from the Prince Archbishop of Salzburg to his mistress, Salome Alt. 400 years later, the palace serves as a tourist attraction and opulent wedding venue.
Highlights include the grand Marble Hall and Angel Staircase (can you imagine the fairytale weddings they must have here?!). Admission to the palace is free, though hours for the Marble Hall vary. Check the website for more info.
And for a truly magical music experience, you can attend a Mozart concert inside the Marble Hall!
Book your Mirabell Palace Mozart concert here!
Mozart's Birthplace
Of all the things to see in Salzburg in 2 days, this is probably the most touristy. However, if you're a fan of classical music and want to learn more about Mozart's past, this is the place for you.
Mozart's Birthplace (not to be confused with Mozart's Residence across the river) is an authentic reconstruction of the composer's childhood home. You can walk through the furnished apartment and envision what life was like in the late 1700s.
And the exhibition includes Mozart's original musical instruments, personal letters, and other treasures.
The museum is open every day, and admission is €11.
Salzburg Cathedral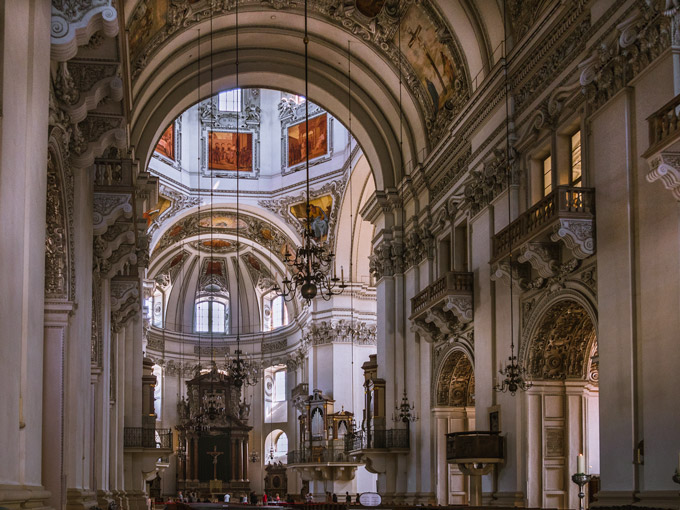 Aside from the fortress, Salzburg Cathedral is the city's most iconic building. It's a stellar example of Baroque architecture, with stunning white walls, carved details, and murals.
In warmer months, the main doors are left open to allow visitors a free view inside. However, to go past the threshold, you must make a donation (there's no specified amount).
Once inside, you can get a better view of the ceiling murals and the famous baptismal font where Mozart was christened.
Franciscan Church
The Franciscan Church dates back to early medieval times, though what you see today is a result of much reconstruction. Though it's not as opulent as Salzburg Cathedral, the beautifully vaulted ceilings and ornate alter make it a must see.
And with free admission, there's no reason not to go in!
Stift St. Peter (St. Peter's Monastery)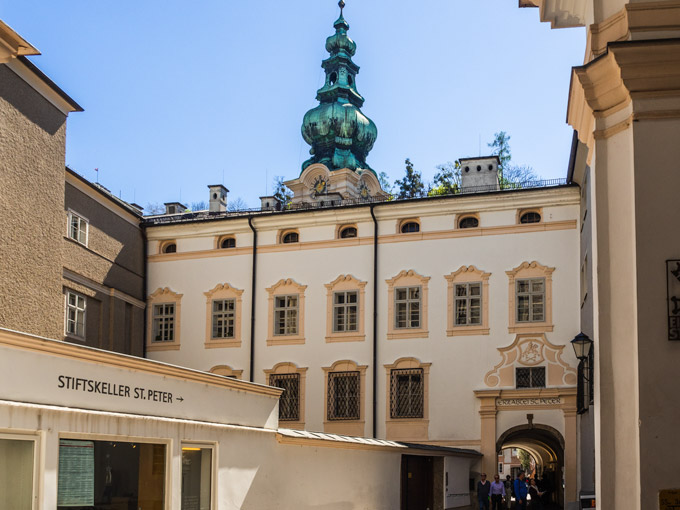 Note: Stift St. Peter is closed for renovation until September 2019.
I was really looking forward to St. Peter's Monastery, particularly the garden-like cemetery. The catacombs also feature in The Sound of Music, when the Von Trapps are fleeing from the soldiers.
Unfortunately, the monastery was closed for renovation, so we could only see some of the exterior.
Admission to the main buildings and cemetery is free, though you'll need to pay to enter the catacombs. Check the website for more details.
Hohensalzburg Fortress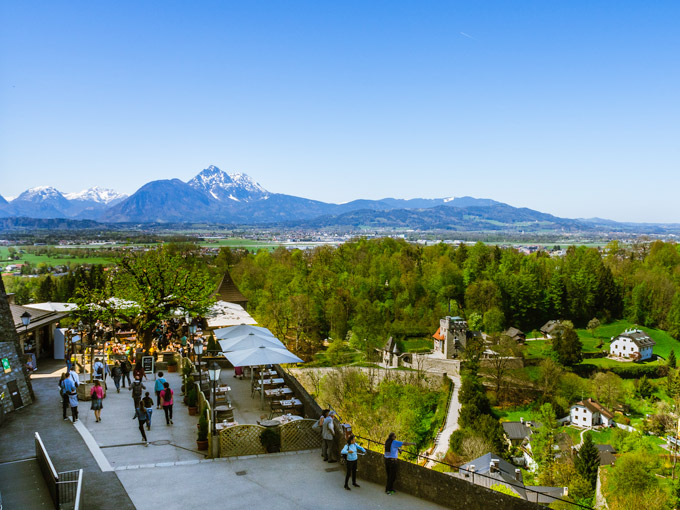 From medieval architecture to sweeping mountain views, there are so many things to love about Hohensalzburg. And if you fancy a hike, you can take in some amazing city views along the way there.
Head to the Concert Hall (a.k.a. House of Mozart) and walk around the left side. Here, you'll find a set of concrete steps up to a walking path that leads all the way to Hohensalzburg Fortress.
The climb does get rather steep in places, but being among the rooftops and spires of Salzburg more than makes up for it.
If you'd rather skip the hike, there's a funicular that will take you straight up to the fortress. I suggest taking advantage of the online ticket discount if you're going this route. Otherwise, it's €13 for the all-inclusive no funicular ticket, which includes Prince's Chambers and the Magic Theater (a multimedia retelling of the fortress' history)
The fortress is the largest intact medieval castle in Europe. Walking past the whitewashed walls and through the main square truly feels like you've stepped back in time.
However, my favorite parts of Hozensalzburg were the views. You can gaze over the rooftops via the cannon windows. There are multiple cafes whose tables overlook the countryside and snowy mountain peaks. And the area near the funicular has a lovely view of the Freyschlössl tower.
After a long day of exploring, you'll undoubtedly want a hearty dinner. We had an excellent meal with a view at Restaurant Stieglkeller, which sits just below the fortress. They have an English menu and fantastic sauerkraut dumplings.
What if I only have 1 day in Salzburg?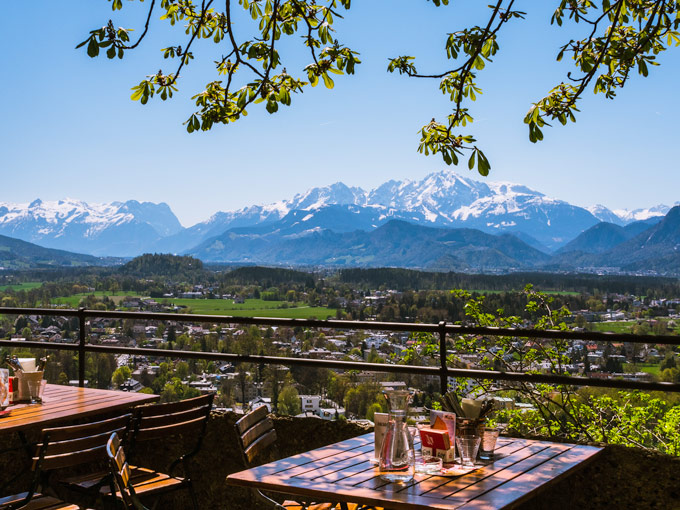 Luckily, the city is compact enough that you could spend 1 day in Salzburg and see most of the sights! To make this a 1 day Salzburg itinerary, follow these steps:
Start at Mirabell Gardens
Check out the love lock bridge
Walk along the Elisabethkai and Giselakai
Cross the bridge and start the Day 2 itinerary from Mozart's House, with extra time to see the old town streets like Getreidegasse and Universitätsplatz
You can also book a Salzburg hop-on hop-off bus tour to get around the city faster and learn some history along the way!
Map of 2 Day Salzburg Itinerary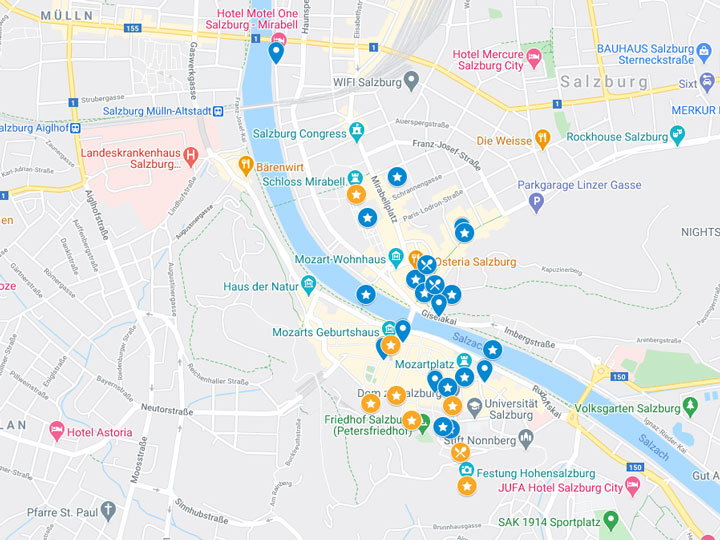 Click here to view the full interactive map!
Where to Go After Your 2 Days in Salzburg
Innsbruck: Take a 2 hour train ride to Innsbruck for more mountain town charm, baroque buildings, and quality skiing.
Hallstatt: Visit Europe's most picturesque village on the lake by taking a Salzburg to Hallstatt day trip (or better yet, spend the night).
Vienna: Spend 2 days in Vienna exploring the city's opulent palaces, gorgeous architecture, and iconic cafes.