Has a single photo ever inspired you to travel somewhere new? For me, this 2 days in Porto itinerary all stemmed from a shot of the Igreja do Carmo. My tile-obsessed self was instantly in love with the famous blue and white azulejos covering the church's facade, and I knew I had to see it in person.
If tiles and colorful facades aren't enough to convince you to spend 48 hours in Porto, that's okay. It wasn't enough to convince my husband, either!
Fortunately, Porto is also known for its stunning coastline, UNESCO World Heritage sites, and delicious food. And you'll definitely work off the calories from eating Pastel de Natas and Francesinhas when climbing the city's infamous hills.
This post contains affiliate links. For more information, click here.
How to Spend 2 Days in Porto
Know Before You Go: Porto Travel Guide
Estimated budget for 2 days in Porto (excluding accommodation and transport): €90 / $100
Get Around Porto With the Porto Card
You'll be covering a lot of ground during this 2 day Porto itinerary. Luckily, the city launched the Porto Card to help you save money on public transit and sightseeing!
You can buy the Porto Card online, and it comes in 1, 2, 3, and 4 day options. There are a number of places across the city where you can pick it up
The card gets you free entry on the Metro do Porto, Bus STCP, trams, and the main train lines. It basically pays for itself if you're traveling to and from the airport by public transit (which I highly recommend).
Plus, you'll get 50% discounts at many popular sites, including the Clergios Tower.
What is Porto famous for?
From wine to architecture to Harry Potter, Porto is famous for several reasons. Porto's initial fame came from producing Port wine, a sweet red that's typically served at dessert.
In recent years, visitors flocked to Porto for its unique azulejo tiles, which cover numerous buildings in elaborate blue and white murals. And Harry Potter fans come to see the famous Livraria Lello, a bookshop J.K. Rowling frequented when she lived in the city, and is said to be the inspiration for Hogwarts' library.
RELATED: 17 Must See Cities in Europe For Your First Trip
The best time to do this Porto itinerary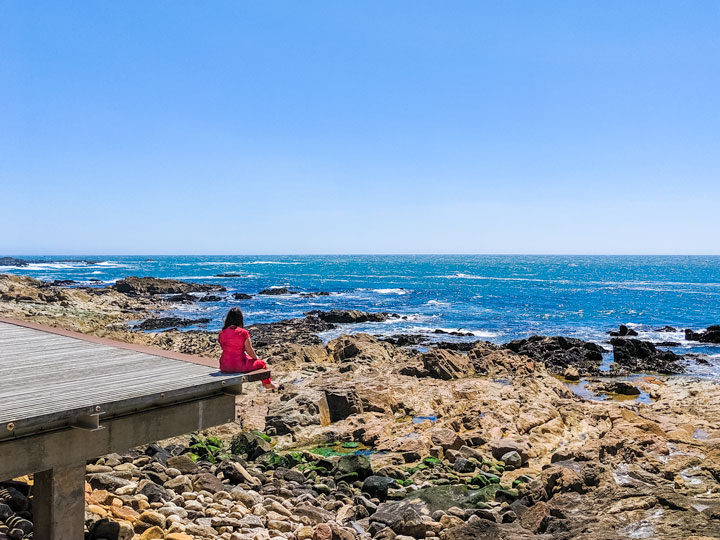 Choosing the best time to visit Porto depends on what you care about most. Is your main goal to enjoy a sunny vacation? Or will you brave cooler temps and more rainfall to avoid the tourists?
For this Porto itinerary, I recommend April-mid June and September-October. Crowds will be lighter, and you'll be spending a lot of time near the river. Due to Porto's infamous wind, it gets quite cold by the water in spring and winter.
Here are some seasonal highlights to help you decide:
November – March: This is the off-season for Porto, with high temps around 15°C/59°F. And with gusty winter winds and rain making it feel much colder, it's no surprise tourists avoid this time (which means cheaper flights/hotels).
April – May: As Porto warms up (19°C/66°F) and dries out, the city comes back to life. We visited at the end of May and enjoyed clear blue skies and highs of 24°C/75°F.
June – August: Summer is peak travel season. You'll get lots of warm, sunny days (highs 25°C/77°C), but the crushing tourist crowds will make it harder to enjoy the city.
September – October: Between golden autumn leaves and fewer crowds, visiting Porto in autumn is a good idea. Temps stay around 21°C/70°F, though there will be more rainy days than summer.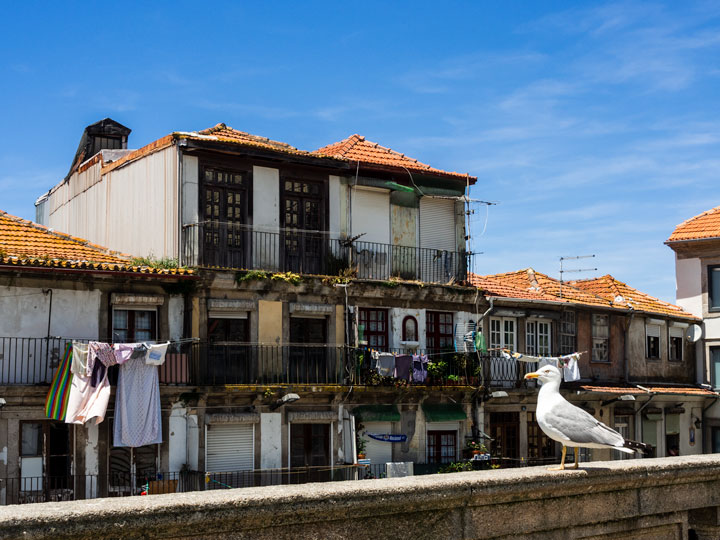 Is 2 days in Porto enough?
Confession time: we actually stayed nearly four days in Porto. But much of that was spent lounging around tapas restaurants and re-visiting places a second time.
A full two days in Porto is enough time to hit plenty of highlights without feeling too rushed. However, having a third (or fourth) day will make for a more relaxing visit. Having a leisurely breakfast with freshly squeezed orange juice every morning was a major highlight of our Porto vacation.
With tourism increasing rapidly in Porto, it's important to be a responsible traveler. Day trippers are especially problematic, as they hardly contribute to the local economy during their short visit. By avoiding high season and staying at least one night in the city, you can help ease the burden of overtourism in Porto.
Where to Stay in Porto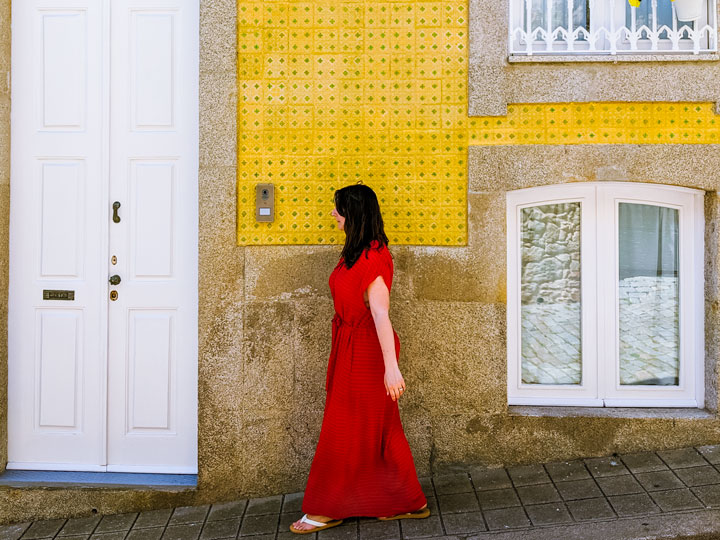 For a short stay or weekend in Porto, I suggest staying somewhere central. Prices are pretty reasonable even in the historic district. And you'll want to minimize the amount of hill climbing necessary to reach the different points on this 2 day Porto itinerary.
Here are a few central neighborhoods to consider:
Sé (Old Town): This is the historic city center, where you'll find tons of shops and restaurants, along with attractions like Sao Bento station and Livraria Lello.
Santo Ildefonso: Just north of the city center, Santo Ildefonso is a bit quieter but still very walkable to the main sights.
Ribeira: The winding alleys and colorful buildings of the riverside Ribeira are incredibly charming, though you'll need strong legs to get around.
If apartments are more your style, you're in luck! Porto has tons of amazing short-term rentals throughout the city.
We stayed at a gorgeous modern flat across from Sao Bento station, and it was perfectly positioned for this two days in Porto itinerary.
Porto Itinerary: 2 Days
Day 1
Porto Town Hall (Câmara Municipal do Porto)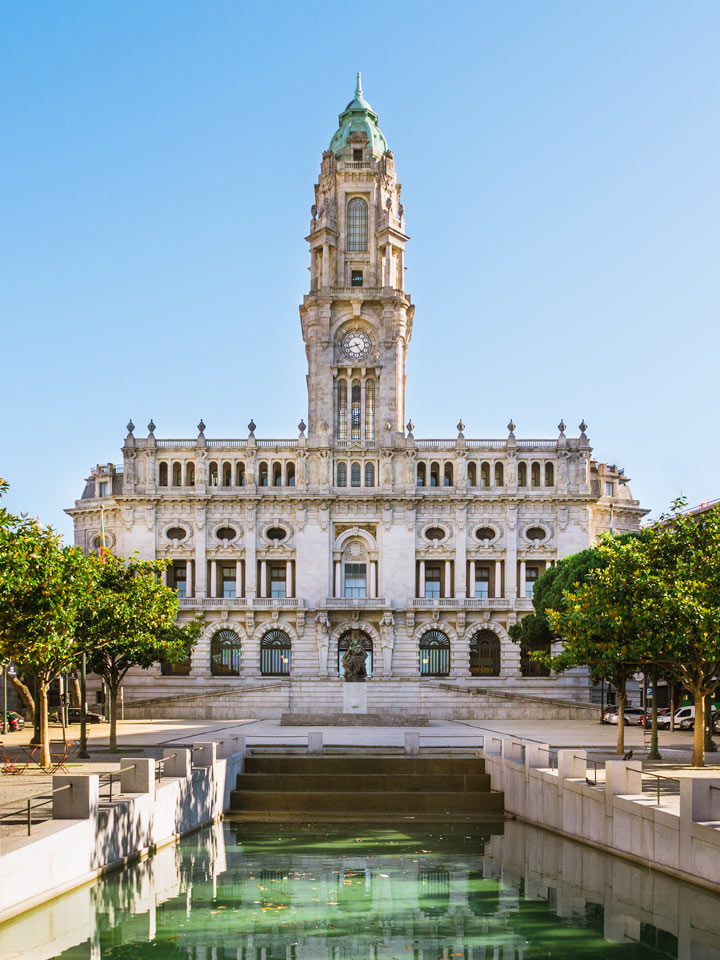 Kick off your Porto itinerary at the impressive Town Hall. This grand building and plaza sits at the heart of the city, and its clock tower is an iconic part of Porto's skyline.
Though it looks old, Porto Town Hall was actually built in the 1900s. Be sure to walk all around the outside, and don't miss the beautiful reflection from the Praça do Município pool.
The hall's main floor is open to visitors on weekdays for most of the year, and boasts a grand interior with numerous artworks.
Rua do Almada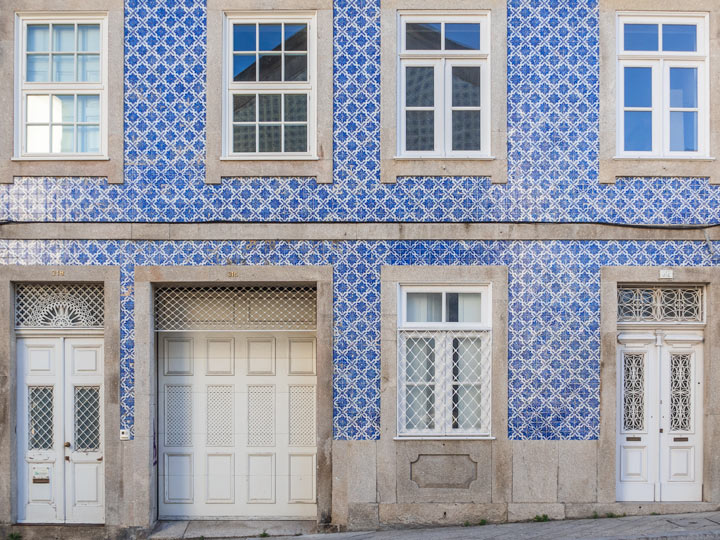 The Rua do Almada is one of Porto's oldest streets. Dating back to the mid-1700s, the road has transformed over time into a mix of shops, restaurants, and apartments, with beautiful iron balconies and tiled facades.
Today, you'll find plenty of people shopping and dining beneath the clothes hanging from the resident's laundry lines.
Our experience at the Rua do Almada was slightly different, as we explored the area early Sunday morning. It was lovely to see the tiled buildings and charming storefronts without all the crowds, and to greet the locals as they opened their businesses.
Bolhão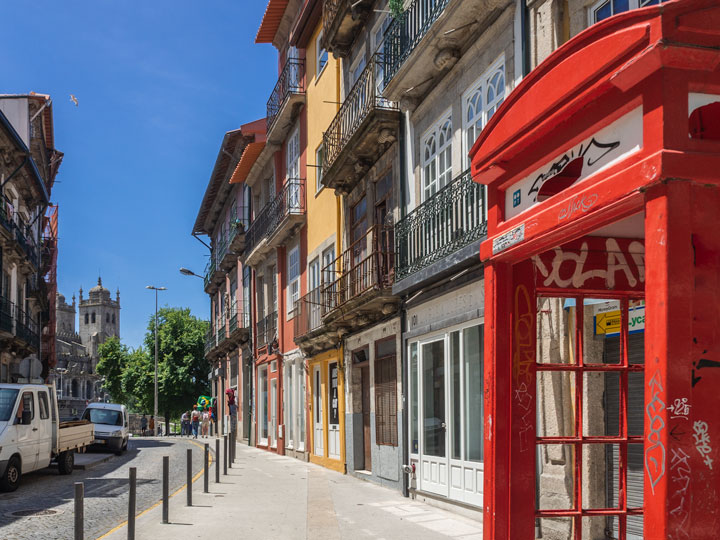 Lying east of the Rua do Almada, Bolhão is a vibrant neighborhood that's home to Porto's renowned Mercado do Bolhão.
Bolhão Market dates back to the mid-1800s, and its multiple floors contain every sort of fresh food, from fruits to seafood to baked goods.
Unfortunately, the market is currently closed for renovation and no fixed re-opening date has been set. However, the merchants have set up a temporary market just two minutes away on Rua de Fernandes Tomás if you'd like to grab some local food.
Aside from the market, there's no strict route for this part of the Porto itinerary. Simply wander through the streets and alleys from north to south, taking in the colorful facades. Bolhão's north side sits at the top of a hill, so you'll get some lovely city views, especially on the Rua da Alegria.
Church of Saint Ildefonso (Igreja de Santo Ildefonso)
When you reach Bolhão's southern end, you'll find the Church of Saint Ildefonso towering over the neighborhood. This is one of Porto's azulejo churches, with over 10,000 tiles running up the facade and its twin bell towers.
Should you choose to go inside (admission is free), you'll find golden decorations and a few stained glass windows near the altar.
Lunch at Casa Guedes and/or Cafe Santiago
It's finally time to eat some delicious Porto food! Porto is the only city we've visited where every single thing we ate was fantastic, whether we spent €5 or €50.
Just a few minutes from the Church of Sant Ildefonso, you'll find two of Porto's most famous sandwich shops: Casa Guedes, and Cafe Santiago. While you can't go wrong with either one, my pro tip is to eat at both (unless you're traveling solo, because you probably won't have room in your stomach).
We started our lunch adventure at Casa Guedes, whose specialty is the Sande de Pernil. This heavenly sandwich of juicy sliced pork and melt-y white cheese was one of my favorite meals in Porto. And they were kind enough to cut the sandwich in half for us to share.
After licking our plates clean, we walked up the street for another Porto specialty: the Francesinha. This multi-meat sandwich is covered in melted cheese and a tomato beer sauce, with a side of fries to soak up the flavorful liquid. It was a struggle to eat even half of a Francesinha after splitting the Sande de Pernil, but the discomfort was totally worth it.
Both of these restaurants are extremely popular, so I recommend getting here no later than 11am.
Save me for later!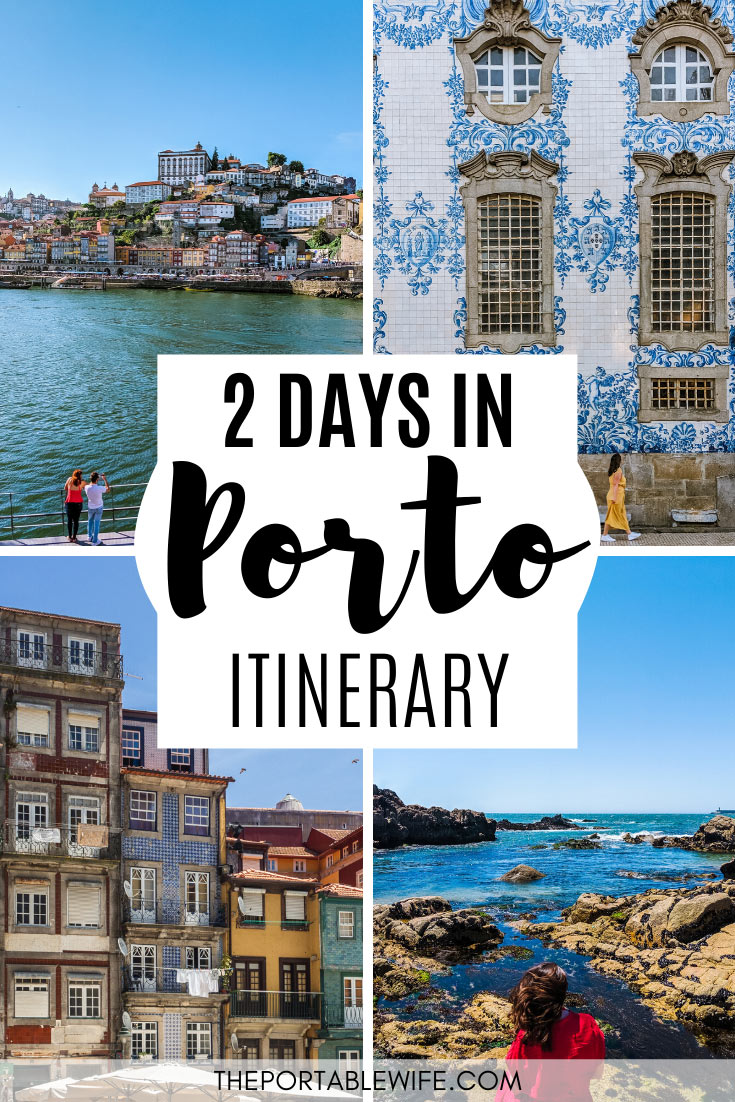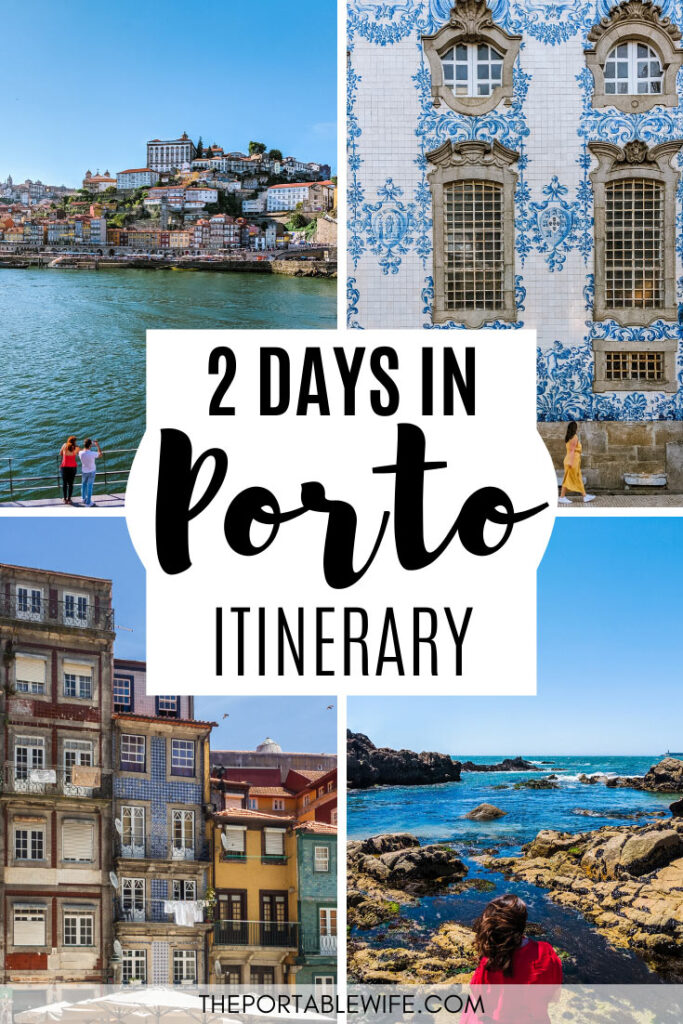 Porto Cathedral (Sé do Porto)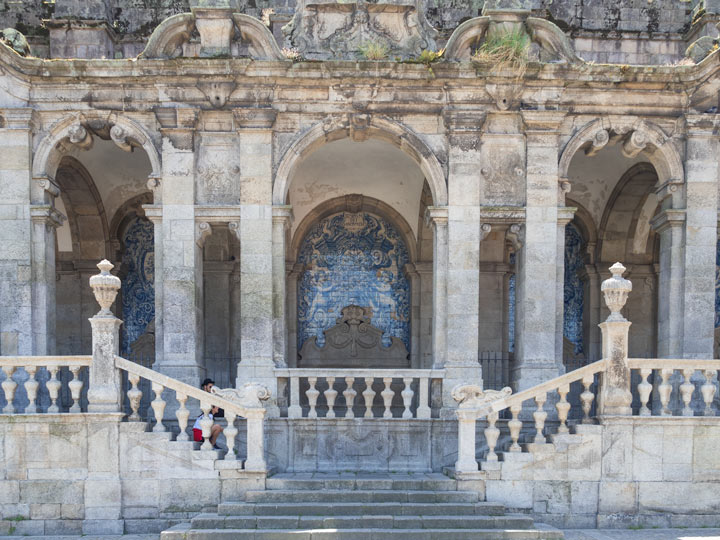 Most people visit European cathedrals for their elegant interiors or stained glass windows. And while the Porto Cathedral has an opulent, gilded nave and altar with intricately carved pews, I think the exterior really shines
First, its hilltop location offers amazing views over the city's orange roofs and maze-like streets. Second, the northeastern facade is covered in azulejo tiles and beautiful arches.
And finally, the view of the cathedral and its walls from near Sao Bento station is stunning, and reminded me of Salzburg Fortress or Edinburgh Castle.
If you choose to go inside, note that admission is €3, and the cathedral is closed from 12-2pm every day.
Riverside Bike Tour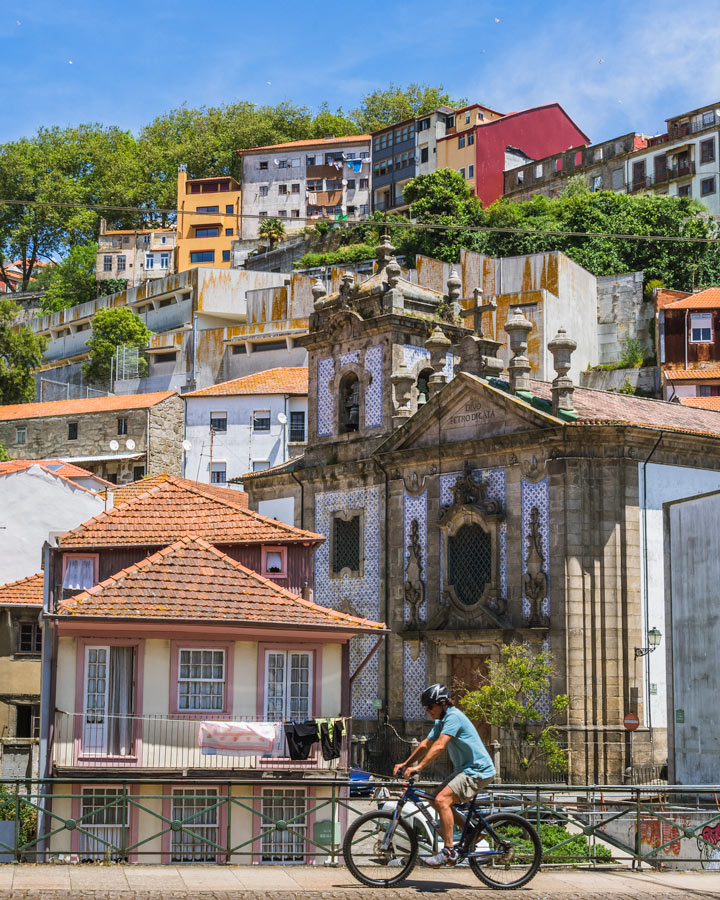 It's no secret that we love exploring cities on foot. But we decided to try something new in Porto: a guided bike tour!
Our Bike tour along the Douro River and ocean coast was incredible. In 3 hours, we saw everything from colorful Foz do Douro houses to crashing waves at Felgueiras Lighthouse.
And our guide, Gil, was so knowledgable and friendly. At the end of the tour, he even gave us a map with his personal recommendations for what to do and where to eat in Porto!
After a morning of climbing steep hills, it was incredibly refreshing to glide along with a cool breeze in my hair. And we made plenty of stops to snap a few photos and learn about the city's history.
See the complete route and book your Porto bike tour here.
Pont Luis I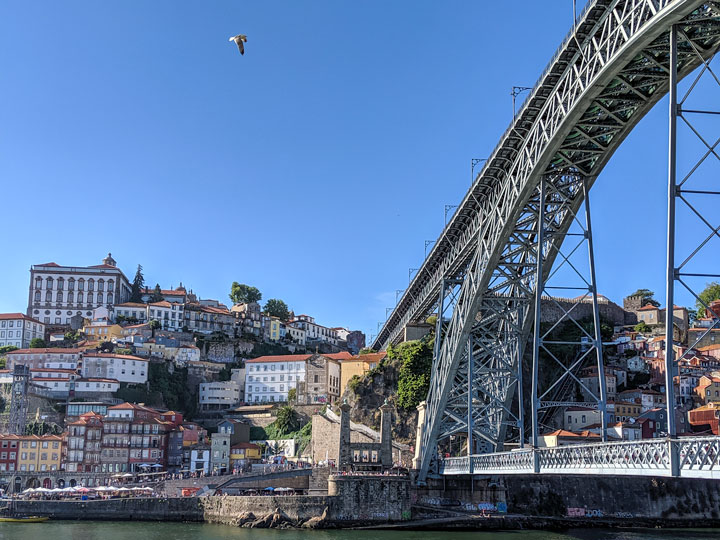 Your Porto bike tour should end near the Luis I Bridge, a double-decker beauty that connects Porto to Gaia across the river. If it reminds you of the Eiffel Tower, you're not going crazy. Gustav Eiffel was one of the main architects who worked on the bridge.
The bridge's lower level is for pedestrians and cars, while the upper level is for pedestrians and the metro line. And you'll get to walk across both during this 2 day Porto itinerary!
Head across the bridge to reach Gaia. And if you stop to take a few photos, be careful of the other pedestrians. The walkway is very narrow, and you don't want to drop your camera/phone in the river if someone bumps into you.
Jardim do Morro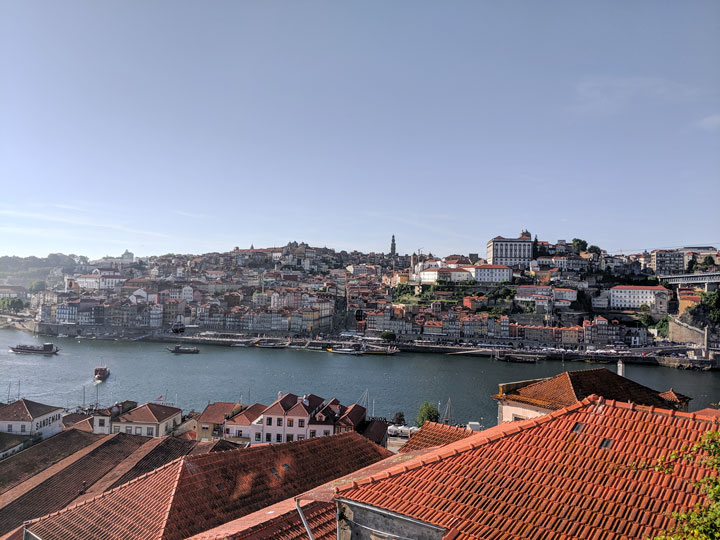 Once you reach Gaia, wind your way up the hilly streets to reach the Jardim do Morro. This popular hangout spot has the best views of Porto's riverfront, with plenty of space to sit and watch the sunset.
There are multiple drink carts near the garden, including a small bar that sells frozen margaritas and beer. We enjoyed a freshly squeezed juice after our long day of Porto sightseeing.
Just east of the Jardim do Morro is the Mosteiro da Serra do Pilar, an old monastery with round towers. You can get even higher views from the top of the towers, though you will need to pay a few euros for admission.
Day 2
Igreja do Carmo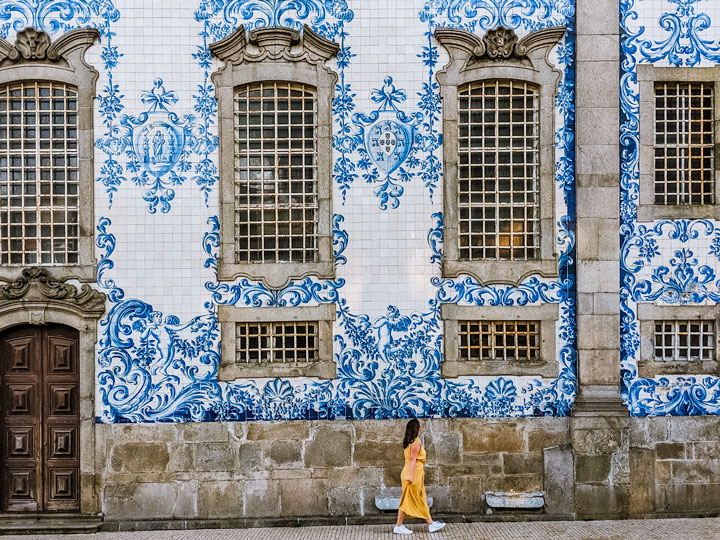 The Igreja do Carmo is one of Porto's most iconic landmarks.
Thousands of azulejo tiles form a mural that adorns the cathedral's eastern wall (the one facing Praça de Carlos Alberto). And it's connected to the neighboring Igreja dos Carmelitas by an extremely narrow house that was built for propriety's sake to separate the nuns and monks.
It's also the most photographed Instagram spot in Porto. So if you're hoping for a somewhat clean shot, plan to arrive by 8:30am on a weekday.
Livraria Lello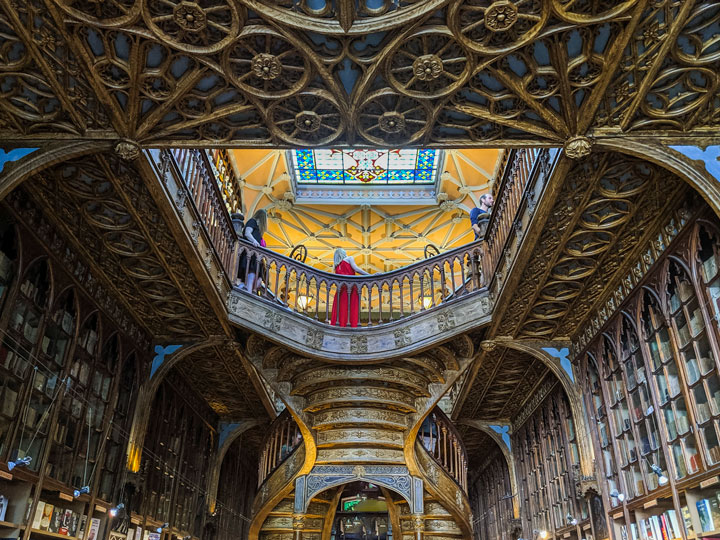 Along with the Igreja do Carmo, the Livraria Lello bookshop topped my list of things to see in Porto. And though I love gorgeous libraries, bookstores, and Harry Potter, I did not love Livraria Lello.
Maybe this place was magical five years ago. But in the age of Instagram, Livraria Lello was basically a photo shoot free-for-all.
Instead of marveling at the beautiful carved wood ceiling, stained glass skylight, and towering shelves, I was dodging dozens of selfie-takers. One woman was there in a full ball gown with her young son and a pro photographer, completely monopolizing the famous red staircase (which is the only way you can go between floors).
And it's not like we showed up in the middle of the day during peak season. We were in line 30 minutes before opening on a Tuesday in shoulder season.
And yet… I couldn't bring myself to leave it out of my Porto itinerary. Despite everything I just shared, part of me still liked Livraria Lello and its gorgeous architecture. I even bought a lovely little Edgar Allen Poe anthology, with a red cover embossed with the bookshop's insignia.
Tips for visiting Livraria Lello
You need a ticket to enter the bookshop. It costs €5, which you can deduct from a book purchase. To make the most of your time, I suggest buying your voucher online.
Another trick is to have one person stand in line while another person goes to buy tickets at the counter, which opens 30 minutes before the shop (note that same-day tickets are €6). The counter is just a bit past the main entrance, towards the street corner.
Clérigos Tower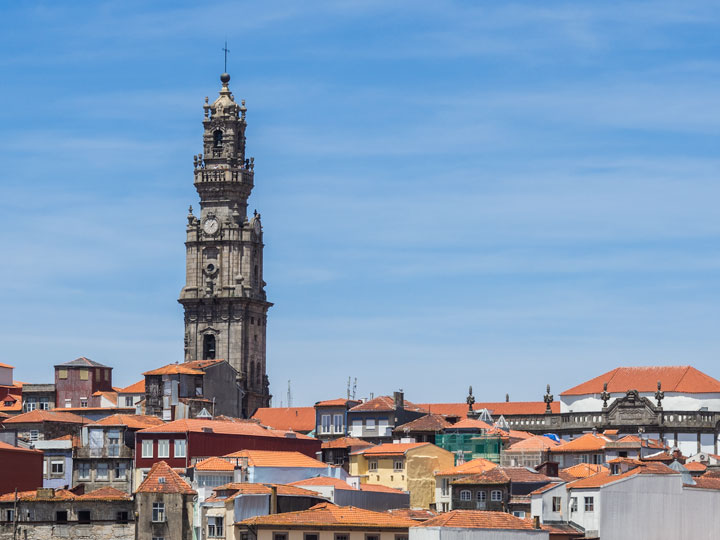 You've surely glimpsed the ornate Clérigos Tower during your two days in Porto. This baroque bell tower soars over the connecting Clérigos Church, and offers extraordinary panoramic views over Porto.
Hopefully your legs are in good shape, because it's 240 steps to the top of Clérigos Tower. As much as I wanted to see the view, I couldn't muster the energy to do the climb. I'll save it for the next time we're in Porto.
Queues can get long on weekends and dury the busy season, so I recommend getting a fast track ticket in advance.
Buy your skip-the-line Clérigos Tower tickets here!
São Bento Station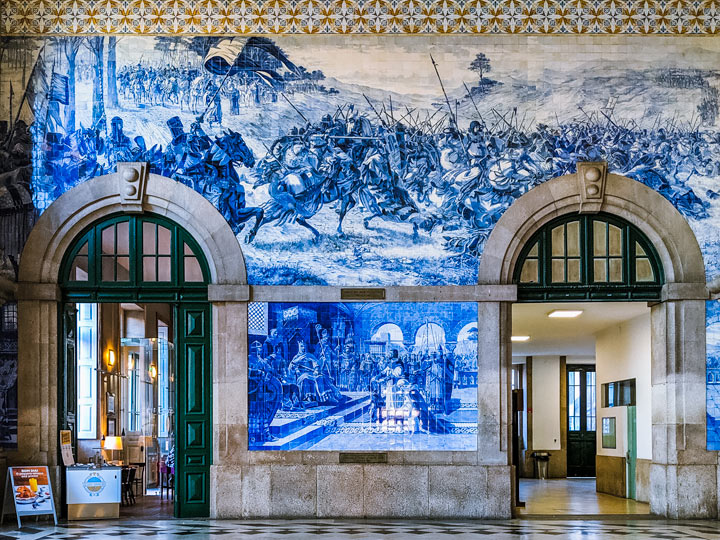 A train station might seem an unlikely stop for sightseeing, but I promise you won't regret it. São Bento Station is as much a piece of art as it is a transit hub.
Every wall of the vestibule is covered in azulejo tiles depicting various scenes from Portugal's history. The wall pictured above shows the Battle of Valdez, part of the country's first war of independence.
There are also nice views of the city center and Porto Cathedral from the station's outer steps.
Lunch at Chocolataria das Flores
After the morning's exploration, you'll need an afternoon pick-me-up. And there's no better place for it than Chocolataria das Flores.
This little cafe on the Rua das Flores has the best hot chocolate I've ever tasted. It's rich and thick, with just the right amount of chocoately sweetness.
In addition to house-made chocolates and cakes, they serve a simple lunch menu with sandwiches, toasts, and lasagna.
Ribeira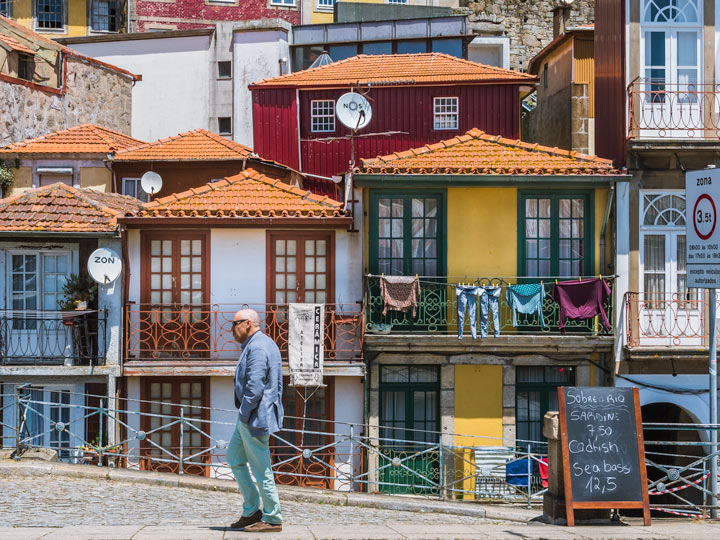 Meandering through the narrow alleys of the Ribeira was so fun, I nearly forgot how tired my legs were from all the stairs. This old riverside neighborhood is a UNESCO Heritage site, with plenty of charm and history to delight any visitor.
To keep things interesting, I won't suggest a specific route through the Ribeira. It's far more enjoyable to wander around and discover the nooks and crannies for yourself.
However, do your best to work from north to south, as that will limit how many steep hills and steps you need to climb.
There are several must sees in the area, including the jaw-dropping, gilded interior of the Monument Church Of St Francis, the nearby garden, and the old, worn facades along the Rua da Bainharia.
Continue working your way down until you reach the riverfront square near the Bairro da Ribeira. From here, you'll have wonderful views of the Ribeira's colorful buildings as well as Gaia's riverfront.
I also recommend walking west along the riverfront until you reach the World of Discovery building. The beautiful houses lining the street are worth a second view (assuming you took the bike tour).
Ride a historic Porto tram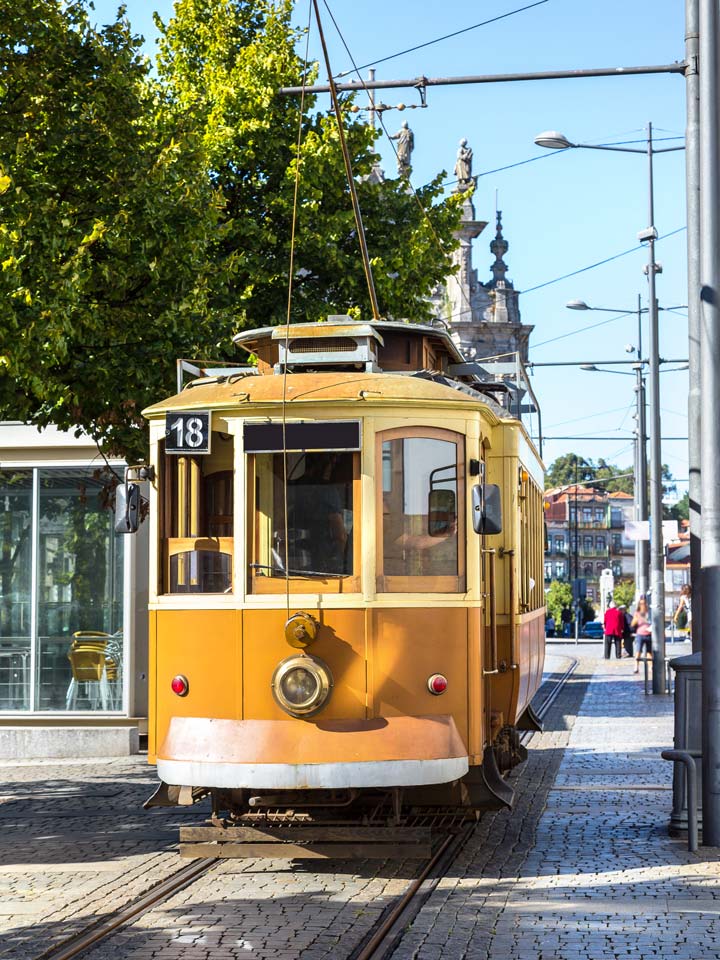 Portugal is famous for its vintage trams. Thanks to Instagram, most people know about the iconic yellow tram cars of Lisbon. But many travelers don't realize that Porto has its own colorful set!
There are three tram lines that run through the city:
Line 1 runs from the Ribeira to Foz
Line 18 goes from Massarelos to Carmo
Line 22 spans from Carmo to Batalha
If you've been following this 2 day Porto itinerary closely, now is a great opportunity ride the beautiful Line 1 tram. Hop on at the Alfândega stop, and get off at Cantareira, which is right across from Pisca, one of my recommendations for tapas.
Single tickets cost 3.50 euros and can be purchased from the driver. And Porto Card holders can ride for free!
Tapas at Voltaria or Pisca
You can't come to Porto and not eat tapas! I love sampling different foods at restaurants, and the small servings of tapas make it easy. And with so many amazing tapas places in Porto, you'll be spoiled for choice.
I can personally recommend both Voltaria (near Sao Bento station) and Pisce (near the Felgueiras Lighthouse). Both have a great variety of regional dishes, like caldo verde and croquettes. Pisce also has a nice outdoor seating area that overlooks the coast and the vintage tram track.
Papavinhos also came highly recommended by several locals and frequent visitors. They only do tapas from 12-3pm, so it might not fit your schedule.
Castelo do Queijo and Beach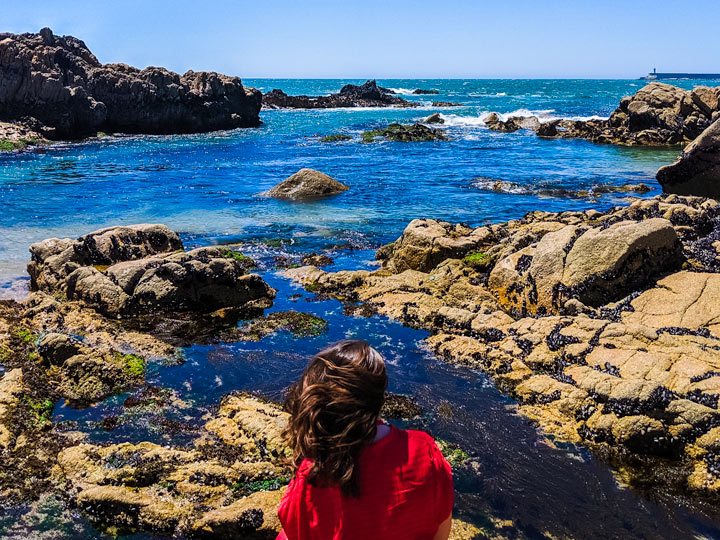 I can't think of a better way to round out 2 days in Porto than with an ocean visit. Call a taxi/Uber, hop on the 500 bus, or gear up for a long walk to reach the Castelo do Queijo
If you took the Porto riverside bike tour, you've seen the outside of the Cheese Castle (and learned how it got this unusual name). But the views from the top of the fortress are worth a second trip.
Bring some change, as it's 50 cents to enter the fortress. Once inside, you'll find a small military museum and several rooms where local artists sell their work. We bought a beautiful hand-painted tile magnet depicting the Pont Luis I bridge and Gaia riverfront.
On the roof, you'll find several towers and overlook points with lovely ocean views.
After you've soaked up the sights, head to one (or more) of the nearby beaches. You'll notice that Porto's beaches are less smooth sand and more rocky coast. However, you'll still find plenty of people sunbathing and taking the occasional dip in the water.
Matosinhos Beach is the most traditional option, with a long stretch of sand and strong waves for surfing. There's a tiny beach near the Castelo do Queijo as well. And if you walk towards the Pergola da Foz, you'll find the Homem do Leme Beach.
The Pergola da Foz is also a beautiful place to watch the sunset in Porto.
Map of 2 Days in Porto Itinerary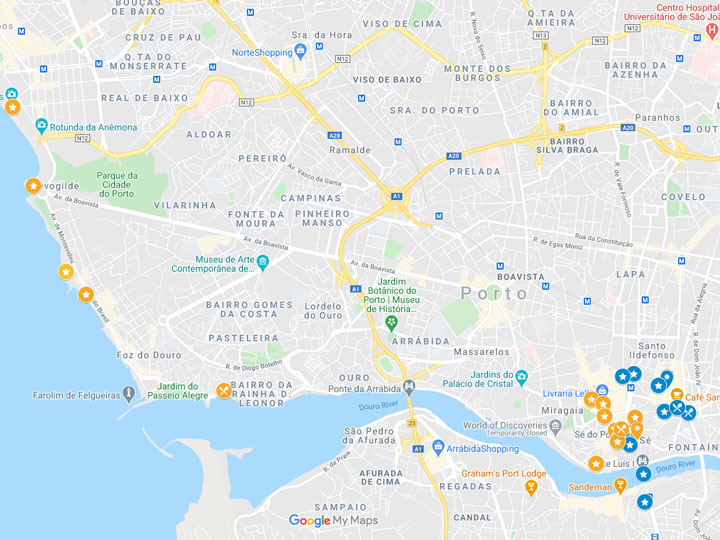 Click here to view the full interactive map!
Guided Tours of Porto
In a city like Porto, it's worth having a local show you the sights. Take a guided tour of Porto to discover the city's history and culture, without worrying about getting lost and walking up more hills than necessary!
Here are a few great options for exploring the city with an expert:
Where to Go After This 2 Day Porto Itinerary
Useful Porto Travel Tips
Money
Portugal uses the euro (€). Porto was pretty card-friendly, even at smaller coffee houses and shops. However, you may need to pay at the register instead of at your table if using a card.
There are no hard and fast rules about tipping in Portugal. Some people say it's not expected, while others suggest leaving 10%. My American sensibilities meant that we always tipped.
For these reasons, I always recommend carrying cash. Especially if you're going to tip, as there's rarely any way to put the tip on your credit card.
Language
Portugal's official language is Portuguese. However, every service worker we encountered spoke English. That being said, I always recommend learning a few travel phrases before you arrive.
Two days in Porto doesn't require much knowledge of Portuguese, but knowing some of the language goes a long way. If you don't have Google Translate installed on your phone with the Porto dictionary downloaded, do that before you leave.
Also, please understand that Spanish and Portuguese are not the same language! You wouldn't believe how many people I saw get frustrated that their Spanish wasn't "working" in Portugal…
Here are a few helpful phrases:
Hello – Olá (oh-la)
Please – Por favor (pour-fah-vor)
Thank You -Obrigado/a (oh-bri-ga-do/oh-bri-ga-da)
Yes – Sim (seen)
No – Não (noun)
I would like – Gostaria de (go-sta-ria dje)
Transport
Porto is well-connected by public transit. Between buses, trains, the metro, and even vintage trams, you should have no trouble getting around this hilly city. Uber is also cheap and plentiful.
That being said, this 2 days in Porto itinerary is very walkable. There's only one place that you'll absolutely want a car/transit to reach, and it's the very last thing on the itinerary.
Even so, I highly recommend buying the Porto Card, which gets you free rides on the city's public transit (plus sightseeing discounts)!
Getting from Porto Airport to the city center
The two main ways to get from Porto Airport to the city center are via metro or taxi/Uber.
We chose to take the metro, which was cheap, easy, and convenient. Simply follow signs downstairs for the Metro E line, which has multiple stops throughout the city center. You'll go through the parking garage for a bit before reaching a large glass sliding door that says Metro.
Pass through the door and keep following signs for the Metro until you reach a ticket machine. Check the destinations list on the machine to figure out what travel zone you need to purchase.
When buying your tickets (they're actually Andante travel cards), you must buy one per person. We made the mistake of putting two "titles" (i.e. charges) on a single card, but luckily we weren't questioned about it.
After purchasing your card, be sure to validate it by touching it to the yellow machine near the platform escalator.
Alternatively, you can skip all the ticket hassle and ride for free with a Porto Card! It basically pays for itself if you travel to and from the airport via public transit.
Traveling to Porto from Lisbon
The best way to get to Porto from Lisbon is by train. Luckily, there are two direct trains that run from Porto Campanha to Lisboa Oriente: the Intercidades (IC) and Alfa Pendular (AP).
IC trains will reach Porto in a little over 3 hours, while AP trains take around 2 hours and 45 minutes.
You can purchase tickets online through the Comboios de Portugal (CP) website, or via the CP app.
I hope this itinerary for two days in Porto makes your trip a smashing success! For more insider travel tips and resources, subscribe to my newsletter below.