Sometimes the best travel experiences happen when you least prepare for them. Before our trip to Portugal, I didn't know what to do in Cascais aside from relax on the beach. So you can imagine my surprise when we discovered the flower-drenched alleys, rocky coastal views, and amazing food that make a Cascais day trip a must-do!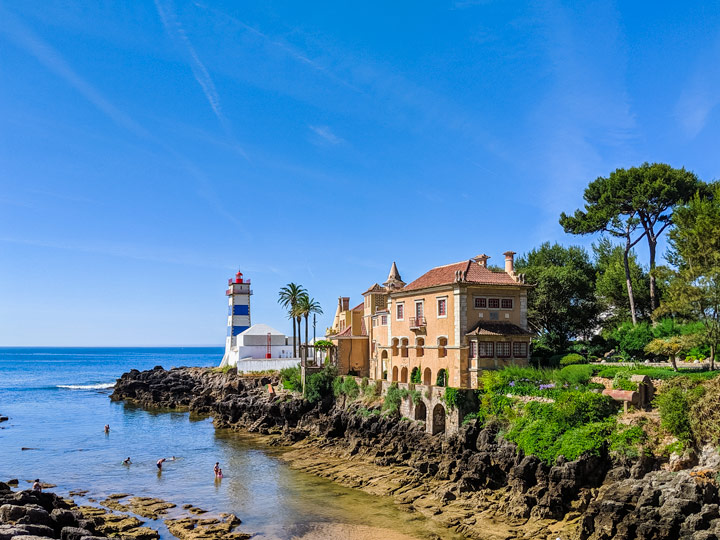 After spending five lovely days exploring (and eating) our way through this former fishing village, I created this shortlist of what to see in Cascais on a day trip. Fortunately, one day is just enough time to see all the highlights.
This post contains affiliate links. For more information, click here.
However, there are enough things to do in Cascais that make an overnight stay a good idea.
Instead of battling crowds in Lisbon after our Porto itinerary, we based ourselves in a beautiful apartment right next to the ocean. And it was glorious.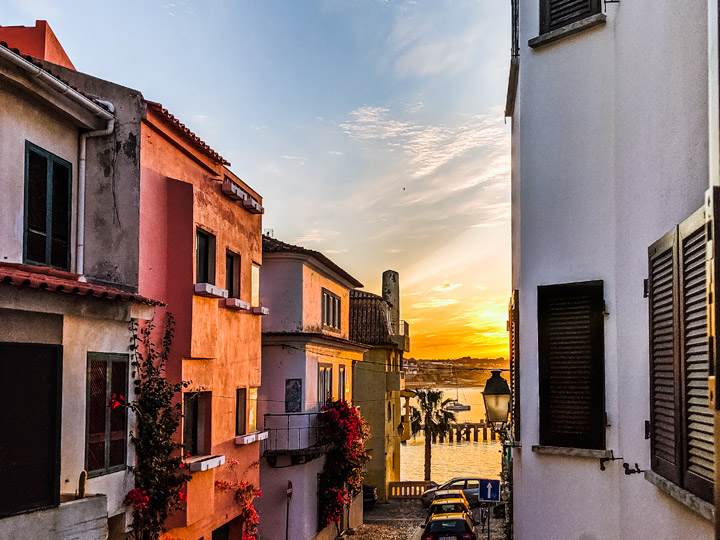 There are also some lovely hotels in the area if that's more your speed.
What to do in Cascais in One Day
Enjoy breakfast with a view at the House of Wonders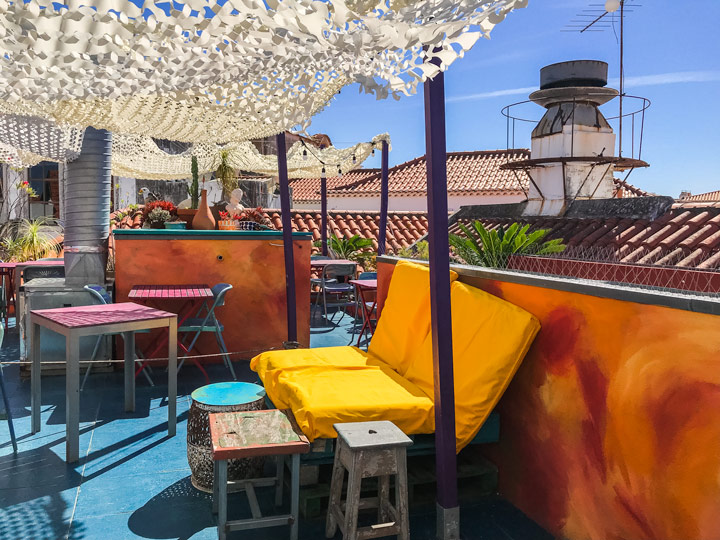 Kick off your Cascais day trip at my favorite cafe in Portugal: the House of Wonders. This multi-story, vegetarian restaurant has one of the most unique setups I've ever encountered.
You start on the ground floor, where you'll select from the specials of the day. Then it's up the stairs to the drink bar, where you'll have a choice of fresh fruit juices, coffee, and pastries. Finally, you'll head up to the colorful rooftop patio, where you can enjoy your delicious breakfast with a view.
I had shakshuka with a mango orange juice, and it was the perfect way to start the day. If we didn't have so much walking ahead of us, I would have gone in for a slice of almond orange loaf as well…
The House of Wonders is spread across multiple buildings, so look for a chalkboard sign out front indicating the breakfast entrance. I suggest getting here by 9am, because this place fills up quickly!
Relax at the best beach in Cascais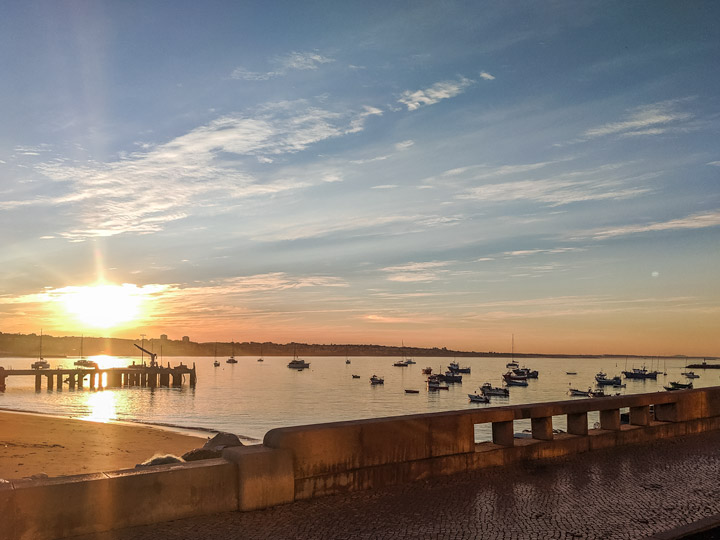 Hitting the beach is by far the most popular thing to do in Cascais. And that's why I suggest doing it first thing in the morning, before all the good spots are taken.
There are multiple sandy beaches in town, from the small and wavy Praia das Moitas to the large and popular Praia da Conceição. But my favorite Cascais beach was the Ribeira Beach (Praia dos Pescadores in Portuguese).
Although the Ribeira Beach mostly looks out onto the harbor rather than open ocean, it was cleaner, quieter, and comfier than the other Cascais beaches. We spent plenty of mornings propped up along the rock wall, enjoying a good book and the sound of ocean waves.
And if you decide to get in the water, be prepared for freezing cold temperatures!
Go bird-spotting at the Parque Marechal Carmona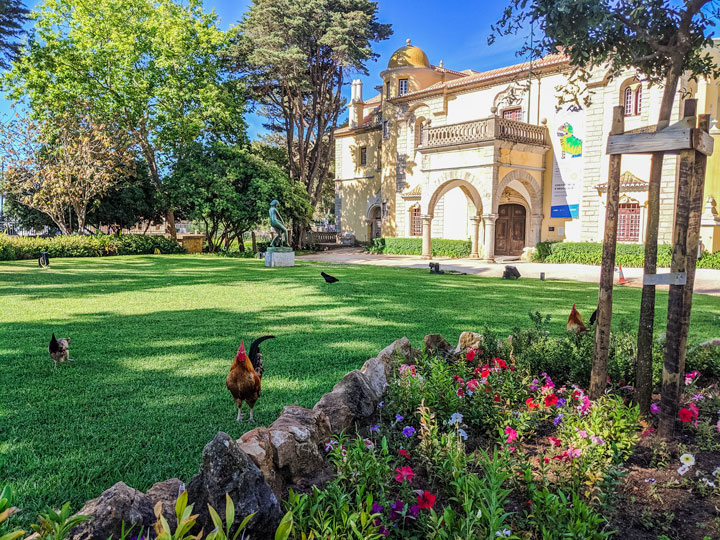 If you hear squawking and crowing sounds as you approach the Parque Marechal Carmona, you're not going crazy. This massive green space houses dozens of free-roaming roosters, ducks, and peacocks.
There are multiple trails that take you through gardens, streams, and tree-covered areas. And you'll also spot several pretty buildings and fountains that belong to the Museu Condes de Castro Guimarães.
Check out the Lighthouse Museum of Santa Marta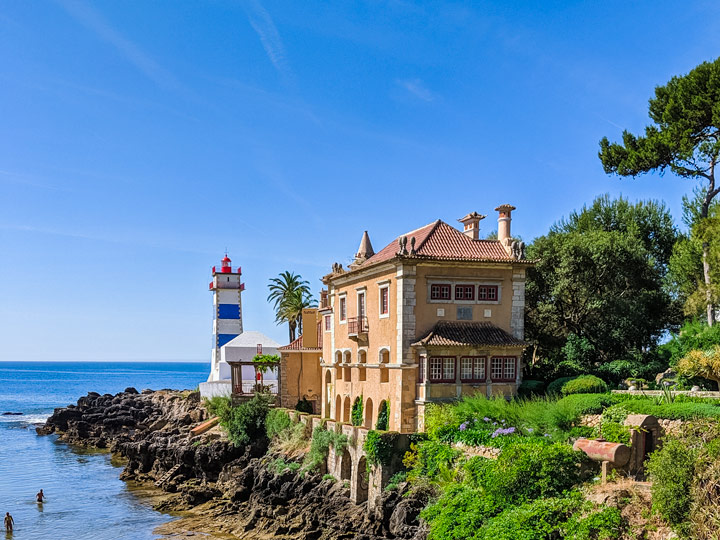 Cascais' southern coast is full of beautiful sights, including this centuries old lighthouse-turned-museum. The view from the street is lovely by itself, but you can also go inside.
5 euros (as of 2021) gives you access to the small historical exhibit and the lighthouse tower, which offers views over the town and coast. However, the tower itself is only open at certain times of the day, and it's not always clear what those hours are!
I've heard the typical hours for the tower are 11am-12pm Wednesday-Friday, but you'll want to confirm with the staff before buying your ticket.
Marvel at the Boca do Inferno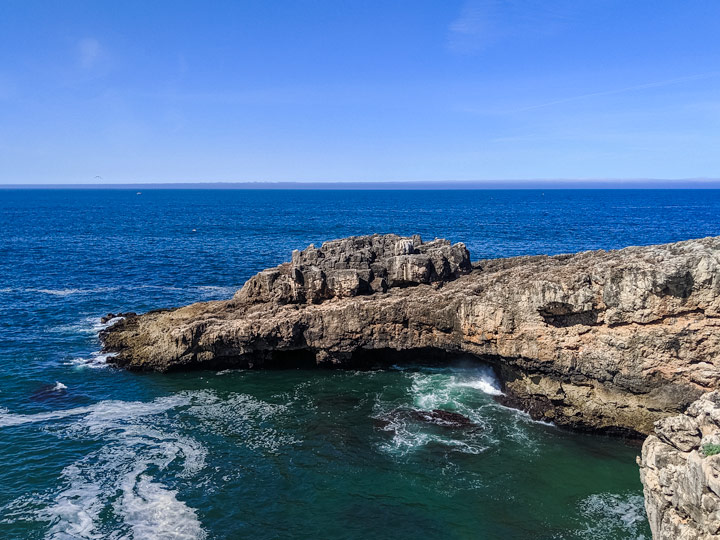 Of all the places to see in Cascais, the Boca do Inferno impressed me the most. Just getting here from the lighthouse is one of the best walks in Cascais, with amazing views of the rugged coast and white sailboats.
Translating to "Hell's Mouth" in English, Boca do Inferno gets its name from the forceful waves that crash into the cave. If you're visiting Cascais in the summer, the waves won't be as strong, but it's still a must-see.
There are a few different vantage points in the area, including a beautiful balcony that overlooks the cave and coastline.
Save me for later!
Eat an amazing lunch at 5 Sentidos
You're sure to work up an appetite after all this Cascais sightseeing. And there's no better place to grab lunch than 5 Sentidos.
For weeks after our trip, I daydreamed about the amazing meal we had here. My asparagus risotto was perfectly creamy, and I stole several bites of my husband's 5 Sentidos steak, which was covered in an addictive peppercorn sauce.
In fact, our food looked so good that we dove right in, which is why there's no picture…
Do some shopping in Cascais old town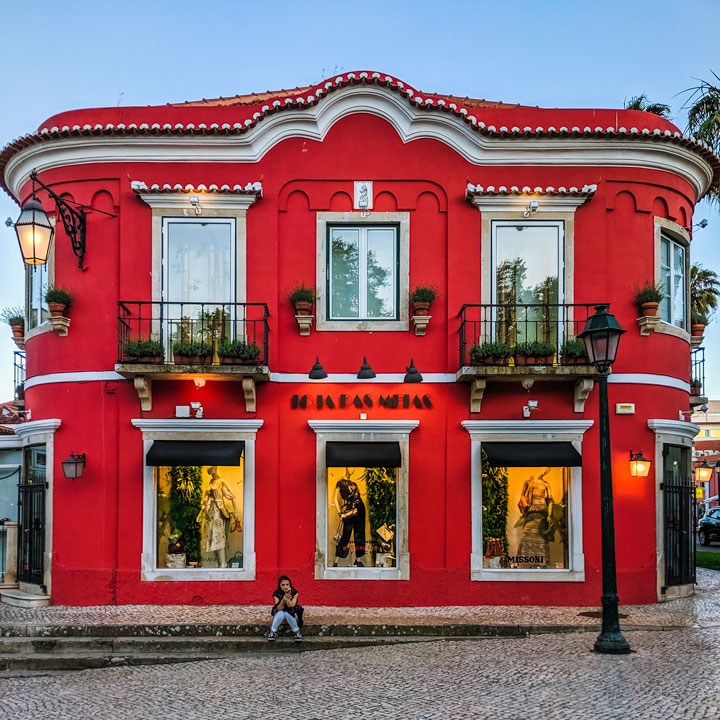 Cascais old town is full of charm and is a pleasure to explore. There are tons of steets laden with shops selling clothes, local wine, and even sardines.
If you aren't keen to buy anything, it's still fun to wander around and do a bit of window shopping. Rua Afonso Sanches and Rua Frederico Arouca were my favorites for local shops.
Explore the beautiful alleys and look for street art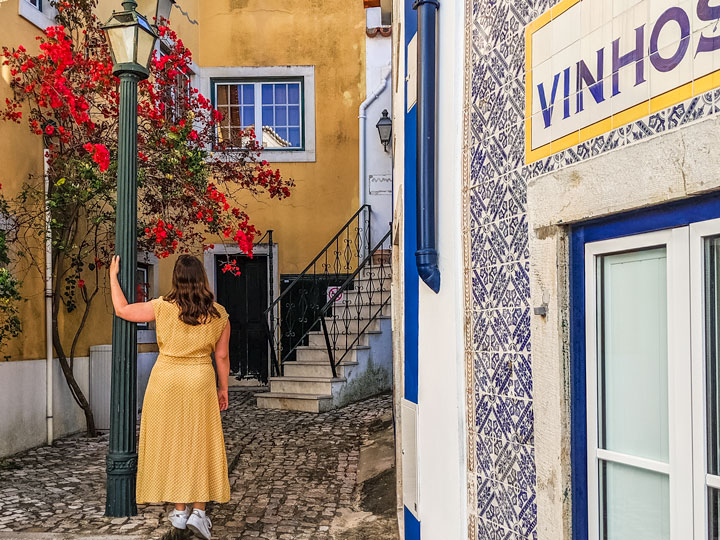 When people ask me what to do in Cascais, the first thing I say is to simply walk around the colorful alleys.
Between the bright bougainvilleas and richly patterned tiles, it truly felt like exploring a tropical paradise. I was blown away by the amount of flowers and foliage covering the walls and hanging around doorways.
All of my favorite alleys were west of the Rua dos Navegantes, which is the more residential side of Cascais. If you decide to take photos, please be respectful of the people who live here.
You'll also undoubtedly notice some bold pieces of street art during your exploration. Many of these pieces were born from the Cascais street art festival, and you can use this guide to help you find them all.
Sample all the pastries at Bijou de Cascais
After four separate trips to Bijou de Cascais, I can safely say they serve the best pastries in town. Whether you want a classic Pastel de Nata or a chocolate mousse puff, this is the place to satisfy your sweet tooth.
Aside from tasty pastries and baked goods, they serve hot and cold drinks, including a delicious freshly squeezed orange juice. And if the weather is cool, don't miss the ultra-rich hot chocolate.
Take a short walk along the Cascais to Estoril promenade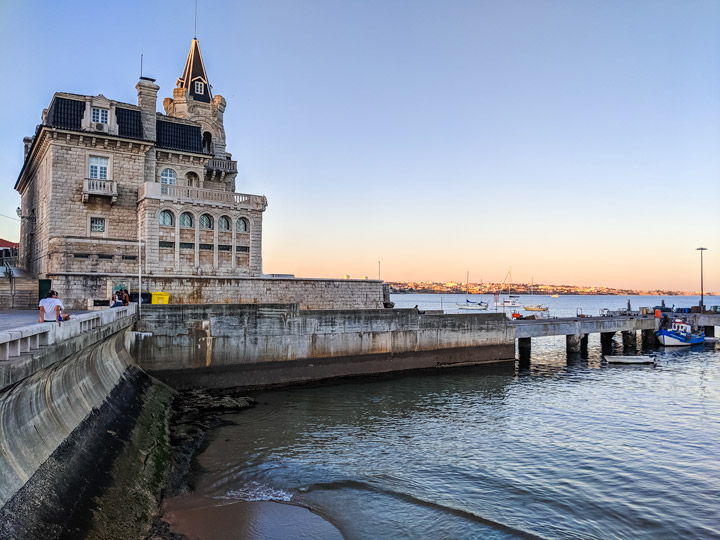 Wrap up your Cascais day trip with a short stroll along the coast. There's a beachfront path that runs between Cascais and the neighboring town of Estoril, where you can take in ocean views and a cool breeze before heading back to your accommodation.
It's only a 15 minute walk from Cascais station to Monte Estoril Station. So if you're taking the Linha de Cascais out of town, you could catch the train here instead of returning to Cascais station.
Bonus: Catch a lovely sunset at the marina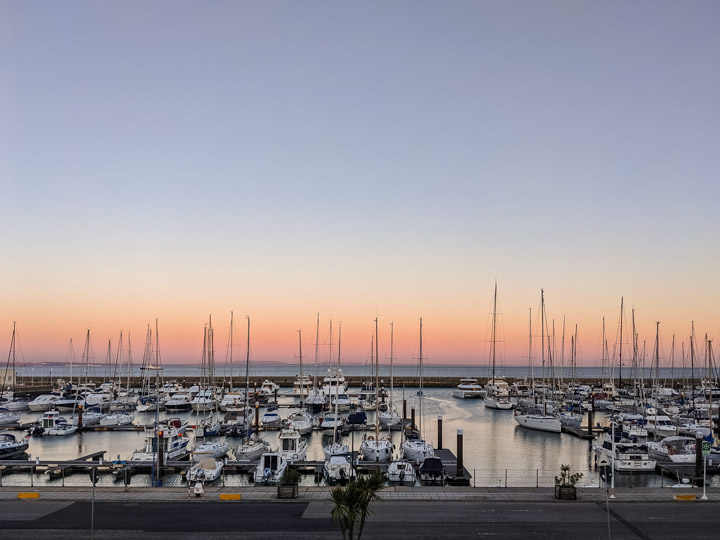 If you have more time to spend in Cascais before returning to Lisbon or elsewhere, I highly recommend heading to the marina for sunset. Seeing the pink and purple hues reflect off the white boats is a lovely way to end one day in Cascais.
The marina is quite large, so you'll have your own slice of paradise to watch the sun go down.
How to do a Lisbon to Cascais day trip
A cheap and direct train service makes it easy to do a Cascais day trip from Lisbon. The Linha de Cascais stops at multiple stations in central Lisbon, including Cais do Sodré, Santos, and Alcântara. The train terminates at Cascais Station, so you can't really mess up your final stop!
Trains start running from Lisbon at 5:30am, and the last train out of Cascais departs at 1:30am. Be sure to check the CP website for timetables. You can either purchase your ticket from the CP machines inside the station, online via the CP website, or using the CP app.
Guided Tours of Cascais and Sintra
If you want to combine your trip to Cascais with a day trip to Sintra, you're in luck! There are several guided tours that cover the Cascais highlights and the iconic palaces of Sintra in a single day.
Tips for a great Cascais day trip
Like most of Portugal, Cascais is somewhat hilly. Bring comfortable walking shoes!
There are several coin-operated public toilets throughout the city, including the Parque Marechal Carmona and Boca do Inferno.
Most service workers speak basic English, but it's good to have a translator app handy.
If you don't have a beach towel, no worries! You can buy a lightweight one from a vendor right next to the beach for a few euros. Just be sure to pass it on to someone else, or take it back home with you.
I hope I've convinced you that there's plenty of things to do in Cascais aside from lounging on the beach! If you have any questions or extra suggestions, please drop them in the comments section.