Nestled in the scenic central mountains of Portugal, Sintra is unlike any other town I've visited. Taking a day trip to Sintra is like visiting a theme park for architecture lovers. From the rainbow towers of Pena Palace to the Gothic mansion of Quinta da Regaleira, this 1 day Sintra itinerary covers the area's highlights as efficiently as possible.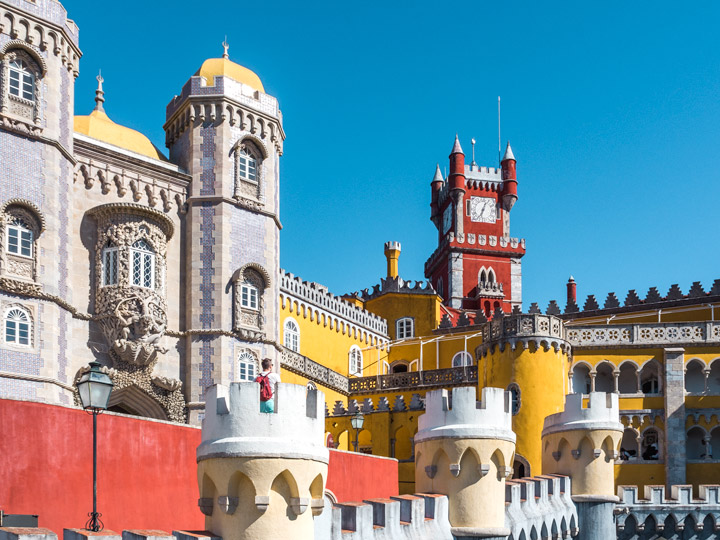 Sintra is a UNESCO World Heritage site and one of the most popular attractions in Portugal. Every year, millions of visitors flock to the former residences of the rich and royal families.
Unfortunately, the area's old and winding roads weren't built to handle the mass tourism we see today. Between the one-way streets and constant traffic jams, driving in Sintra can get frustrating quickly.
When you only have a day in Sintra, you don't want to waste precious time stuck inside an Uber!
I truly believe the best way to see Sintra is on foot. And that's why I designed this itinerary as a Sintra walking tour.
You'll start at the colorful Pena Palace, the highest point in town. From there, you'll work your way down to the Castle of the Moors, a.k.a. the great wall of Portugal.
After another downhill hike to the town center, you'll have lunch and check out the dual-coned National Palace. And finally, the day trip ends at the mysterious grounds of Quinta do Regaleira.
Now I'll be honest: this is a pretty ambitious itinerary. But I'll share a few tips and tricks along the way to make things easier on your legs (did I mention Sintra was on a mountain?). You could start by doing some squats while you read this Sintra guide!
This post contains affiliate links. For more information, click here.
Sintra Day Trip Guide
1 Day Sintra Itinerary
9:15am: Arrive at Pena Palace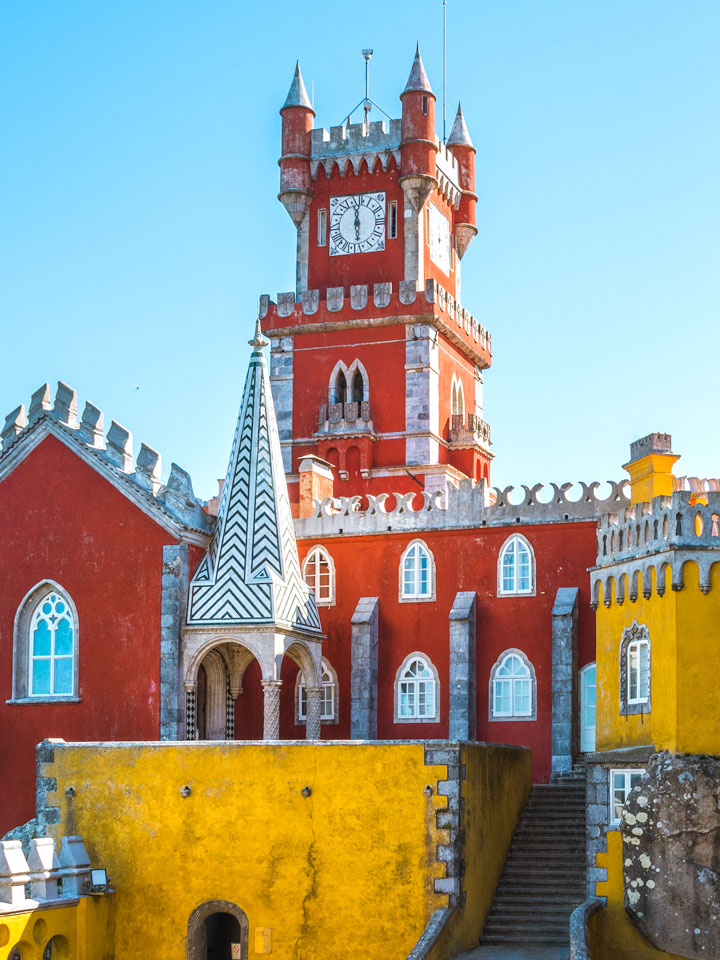 Of all the places to visit in Sintra, Pena Palace is the most popular. And that's why I recommend you arrive 15 minutes before the 9:30am opening time.
If you're coming from the train station, you'll definitely want to take an Uber up here. Otherwise it's a 45 minute uphill walk, and that's not the best way to start your day in Sintra!
Fortunately, Uber is quite affordable in Portugal, and the ride should only cost you about 7 euros.
Before you can even get into the queue for the palace grounds, you need an entry ticket. When we arrived on a weekday during the off-season, there were already dozens of people waiting in the ticket line.
To save yourself the time and hassle of waiting in this line, you should buy your tickets online in advance. It was so convenient to walk right into the entrance queue and show our tickets on my phone.
Buy your skip-the-line tickets for Pena Palace here!
There are two separate tickets for Pena. One grants you access to the gardens and terraces, while the other includes access to the state rooms.
I definitely recommend the full ticket. The state rooms were beautifully decorated and had some amazing views through the windows. You'll also get access to the stunning multi-floor inner courtyards.
9:30-11:15am: Explore Pena Palace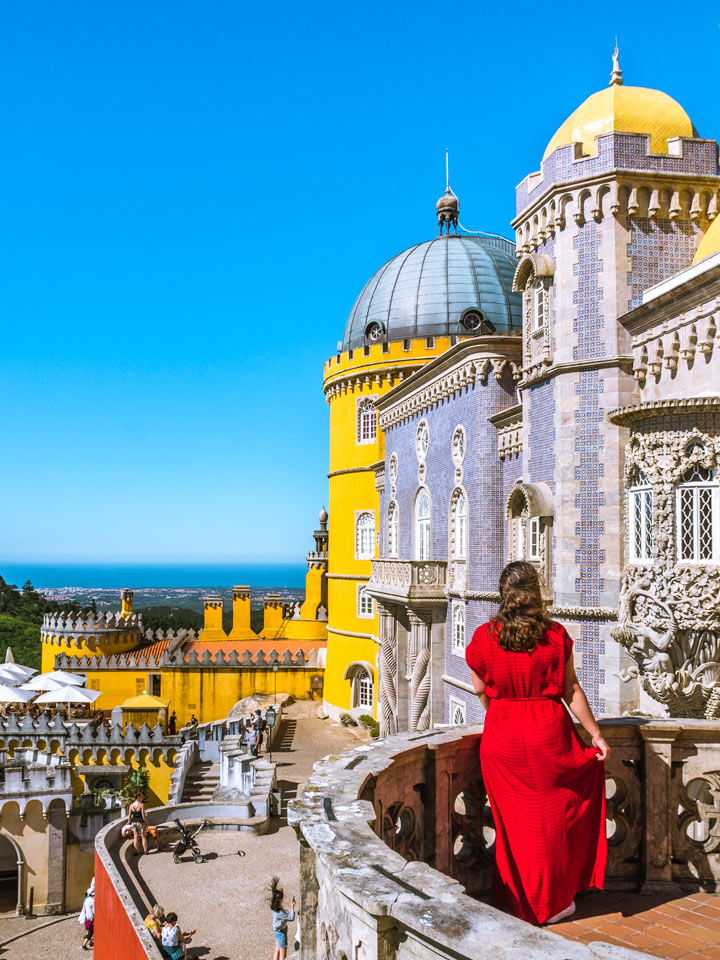 Photos cannot do Pena Palace justice. The whole experience of exploring the grounds, turrets, and balconies was wondrous and a bit surreal.
Given its vibrant primary color palette, you'd be surprised to learn that it started out as a monastery from the Middle Ages.
In the 1800s, King Ferdinand greatly expanded the existing structure into a summer palace for the royal family. When the Portuguese monarchy was deposed in 1910, the site became a national monument and museum.
After passing through the entrance gate, you'll start out in the gardens beneath the palace. You can enjoy the lovely trees and flowers here as you wind your way up to the terrace.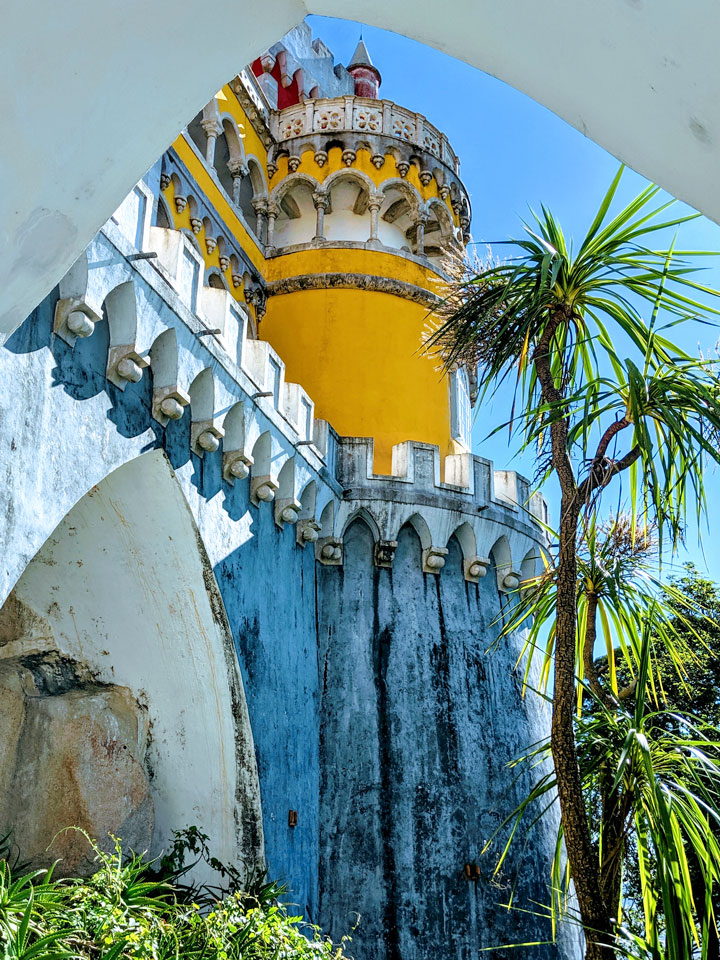 Once you're inside the palace walls, it's hard to know where to look. The colors, details, and archways all demand your attention at once.
But don't get overwhelmed, because you need to make an important decision at this point: explore the exterior or head straight for the state rooms.
As you can probably tell from the lack of people in my photos, I chose to explore the towers and terraces first. I wanted to get as many photos of this extraordinary place as possible before the crowds swelled.
However, you could certainly go into the state rooms first and have them mostly to yourself.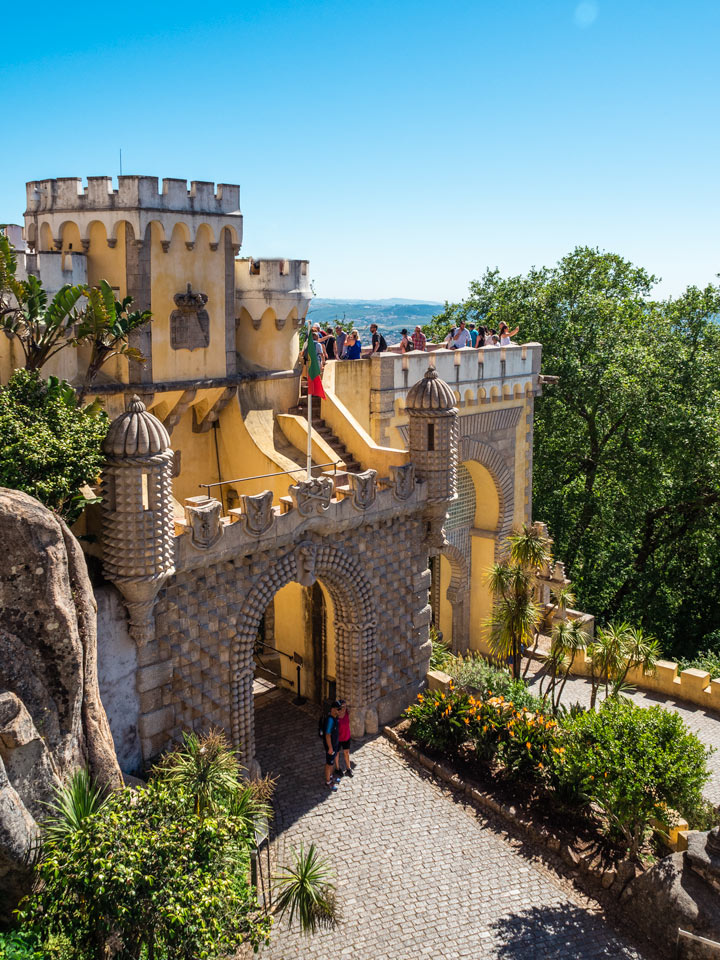 My favorite spot in Pena Palace was the rear area, which had a clock tower and a massive wall of blue tiles.
This area also has stunning views over the town below. Photographing this area was a major highlight of my Sintra day trip.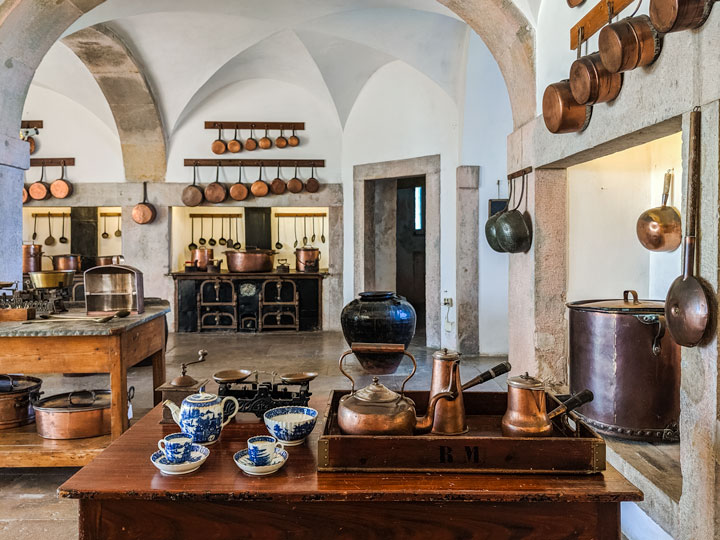 The state rooms are elegant and full of surprises. Be sure to look out the sitting room windows for a view of the Castle of the Moors!
You might have noticed that Pena Palace is surrounded by a massive park, which has everything from a swan-filled pond to a charming chalet house.
Unfortunately. with a 1 day Sintra itinerary, time is very limited. Unless you speed through the palace, you won't have much time (if any) to properly explore the gardens.
11:15am: Walk to Castle of the Moors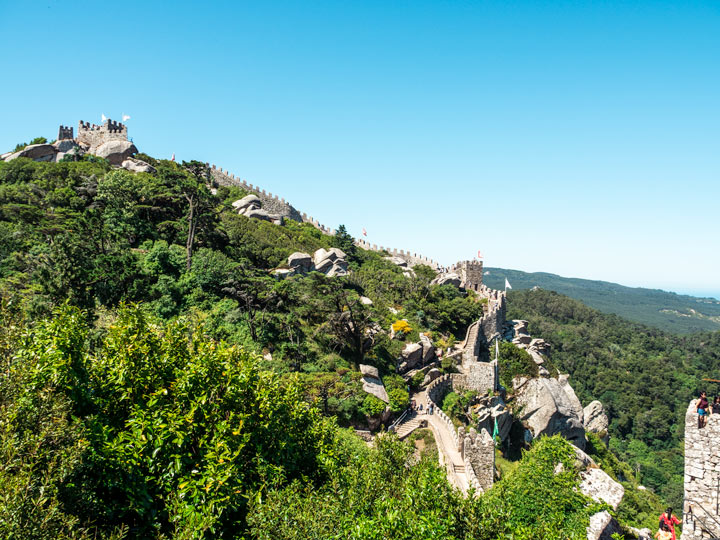 Luckily, the walk from Pena Palace to the Castle of the Moors is quick and easy. Just head back to the main entrance and follow the Estrada da Pena north. There will be signs pointing to the Moorish Castle along the way.
Eventually you'll see the brown ticket building on your right. Just like Pena Palace, it's much faster to buy your ticket online in advance.
Buy your skip-the-line tickets for the Castle of the Moors here!
From here, it's a short but steep walk up to the castle.
11:30am-12:30pm: Explore the Castle of the Moors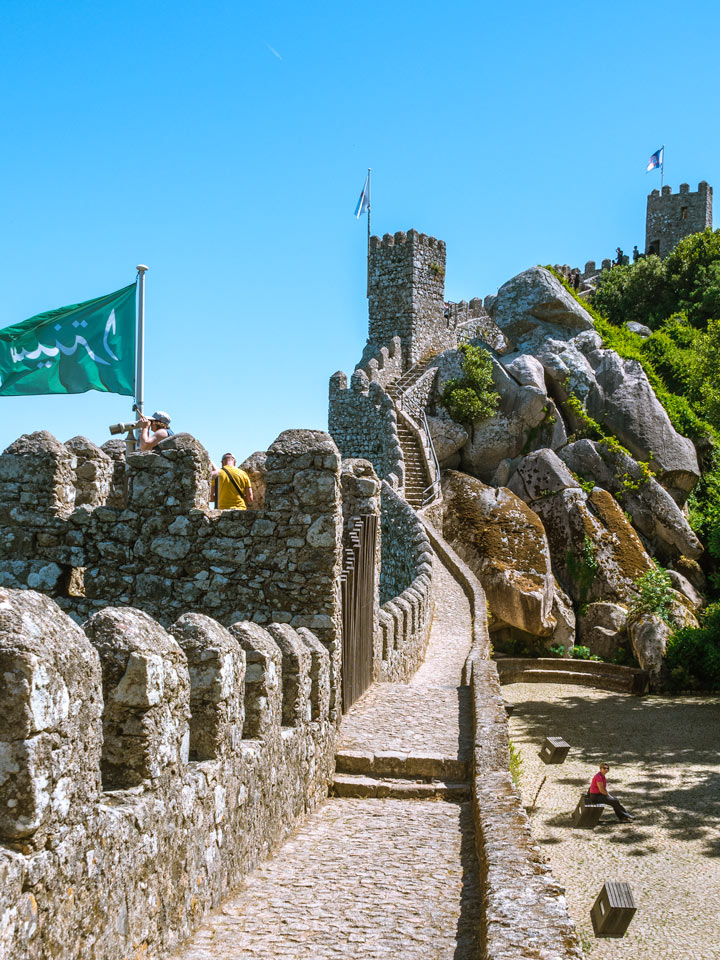 Don't let the name fool you. The Moorish Castle is more akin to the Great Wall of China than a typical European home for medieval royalty. But that doesn't make it any less epic.
I think the Castle of the Moors is one of Sintra's most impressive sites. Originally constructed in the 8th century, the site was rebuilt several times, which is why you can still walk the walls without them crumbling beneath your feet.
Once you pass through the ticket gate, you'll see a lovely little garden with stone steps leading upwards. After a few minutes of steep climbing, you'll reach the walls.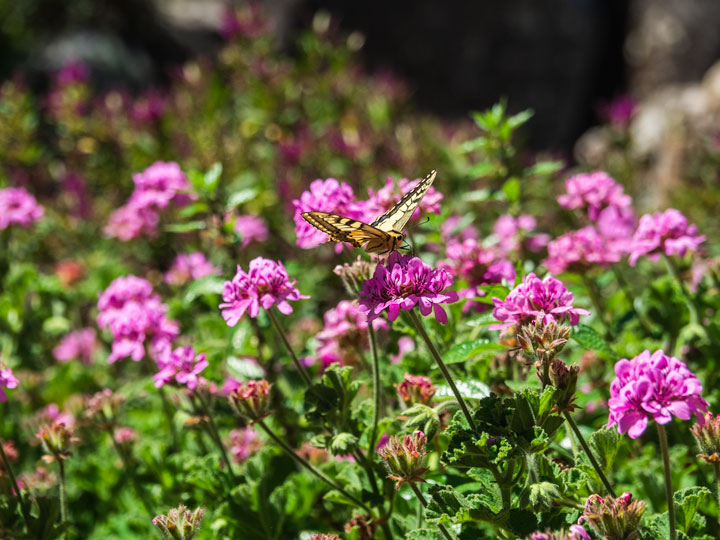 From up here, you can reach multiple overlook towers with views all the way to the ocean. The walls leading towards the castle ruins do get narrow at times, so take care when passing others.
Fortunately, the intense climb to the highest tower is wide enough that you don't need to feel guilty when stopping to catch your breath!
If you're visiting Sintra in the summer, you'll want plenty of water and maybe a hat to keep the sun off your head. There's absolutely no shade up on the walls, and I could feel my scalp starting to burn where my hair was parted.
Save me for later!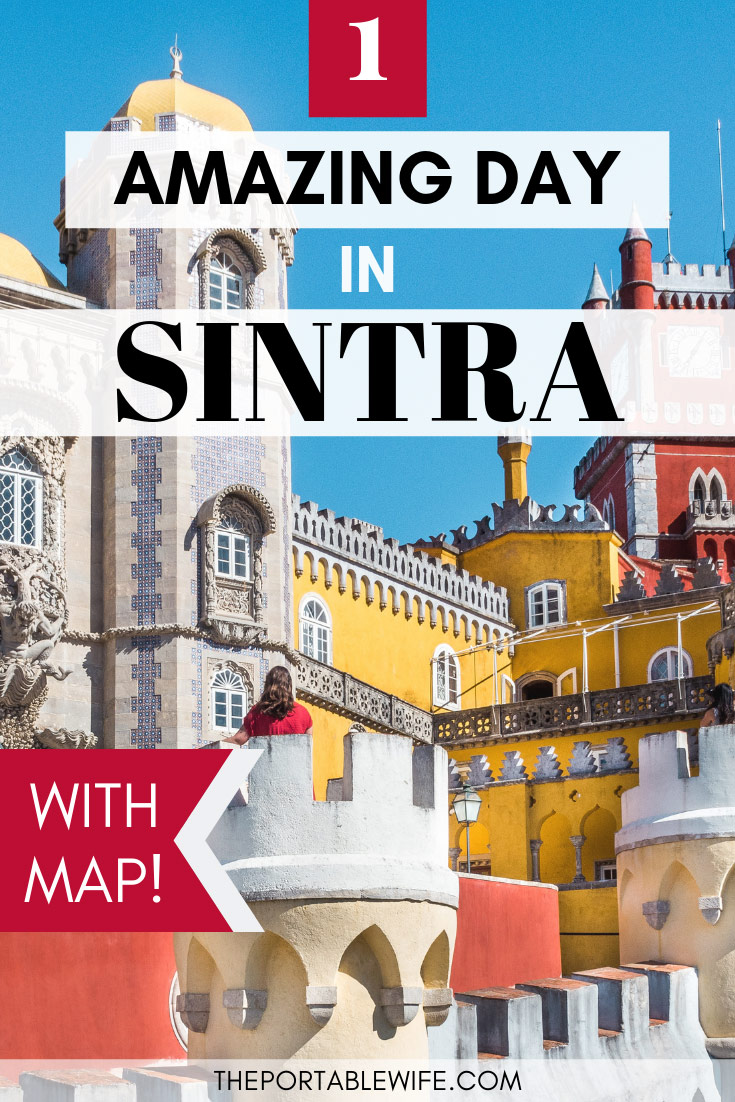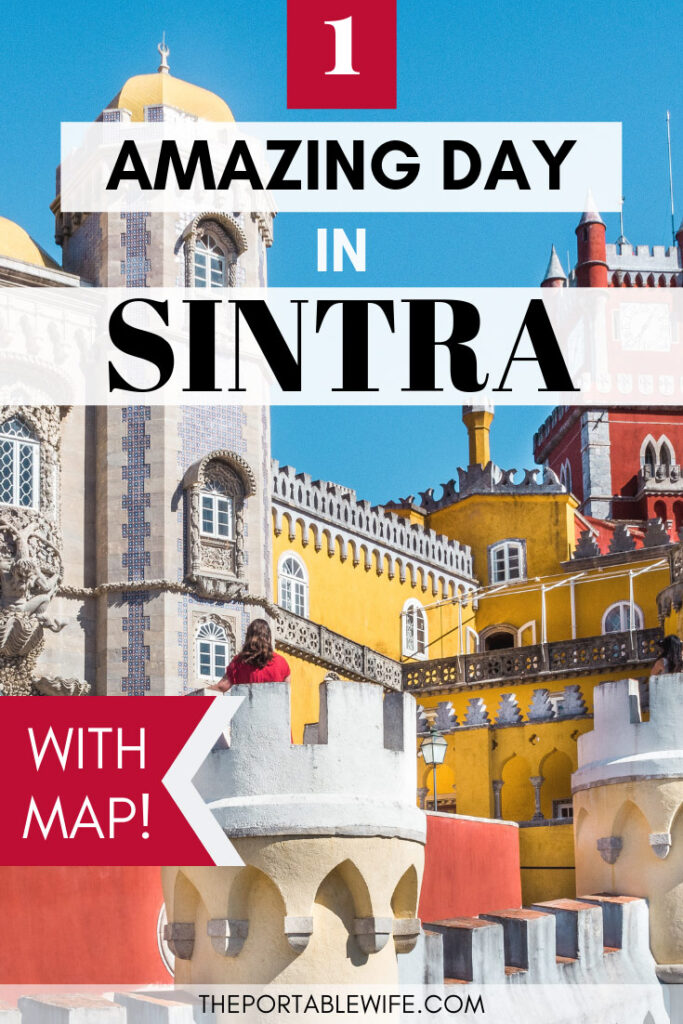 12:30-2pm: Travel to Sintra town center and eat lunch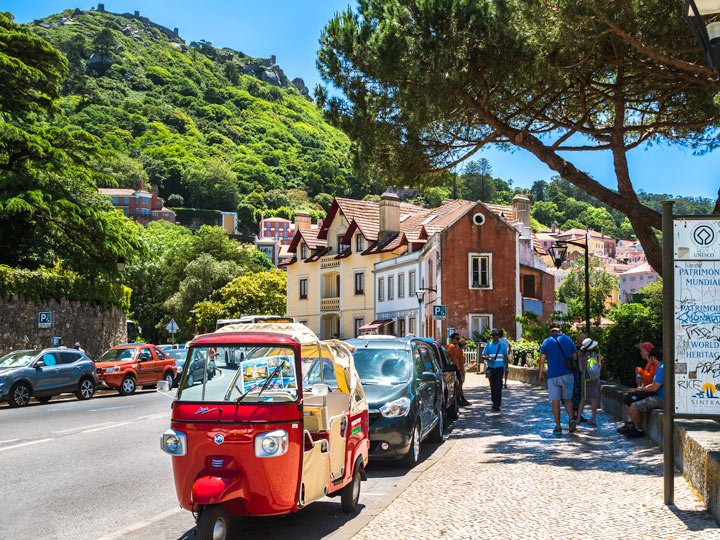 I know I said this was a Sintra walking tour. But you do have four choices for going from the Moorish Castle to the town center: bus, Tuk Tuk, Uber, and walking. Each of these options takes roughly 30 minutes, though the vehicle routes will be faster in the off season.
Bus 434 runs from the castle to Sintra train station. You can buy a single ticket from the driver for 4 euros.
There will be Tuk Tuks waiting outside the castle exit that can take you to the town center for about 5 euros per person.
An Uber from the castle to the town will cost about 7 euros. However, it could take a long time for one to arrive depending on traffic.
There's a nice, shaded walking path that runs from the castle exit path to the town centre. Look for signs that point to the Sintra Centro Historico.
After a long morning of hiking, we were famished. There are plenty of lunch restaurants in Sintra, but I can personally recommend Sopa d'Avó.
For 9 euros per person, we had a veritable feast of traditional Portuguese food. And the English-speaking staff meant I didn't have to struggle with Portuguese after a tiring morning.
2:15-3:45pm: Visit the National Palace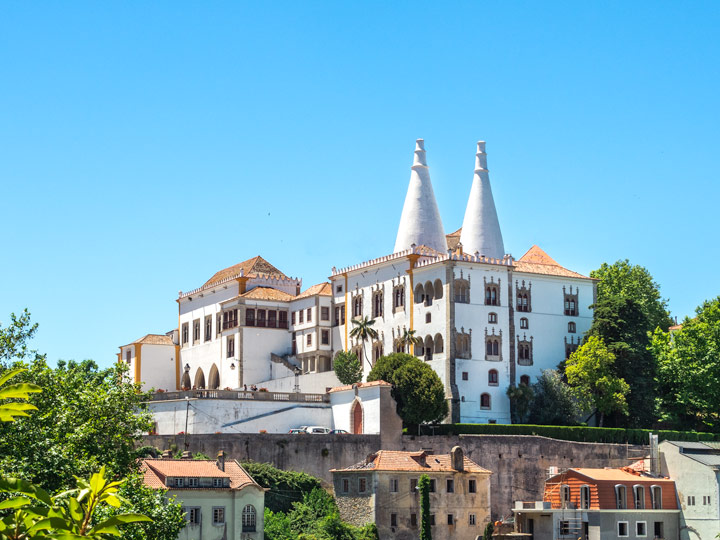 My biggest regret about our day trip to Sintra was missing the National Palace. I was looking forward to seeing the famous azulejo tile salon, and the beautifully painted Swan Room.
Unfortunately, we couldn't make it happen due to personal circumstances. So you'll just need to enjoy it for the both of us!
Next to Pena Palace, the National Palace of Sintra is the most frequently visited site in town. Thus, you should absolutely get your tickets online in advance.
Buy your skip-the-line tickets for the Sintra National Palace here!
Although I didn't explore the palace, my fellow travel blogging friends recommend spending an hour to 90 minutes here.
3:45-4pm: Walk to Quinta da Regaleira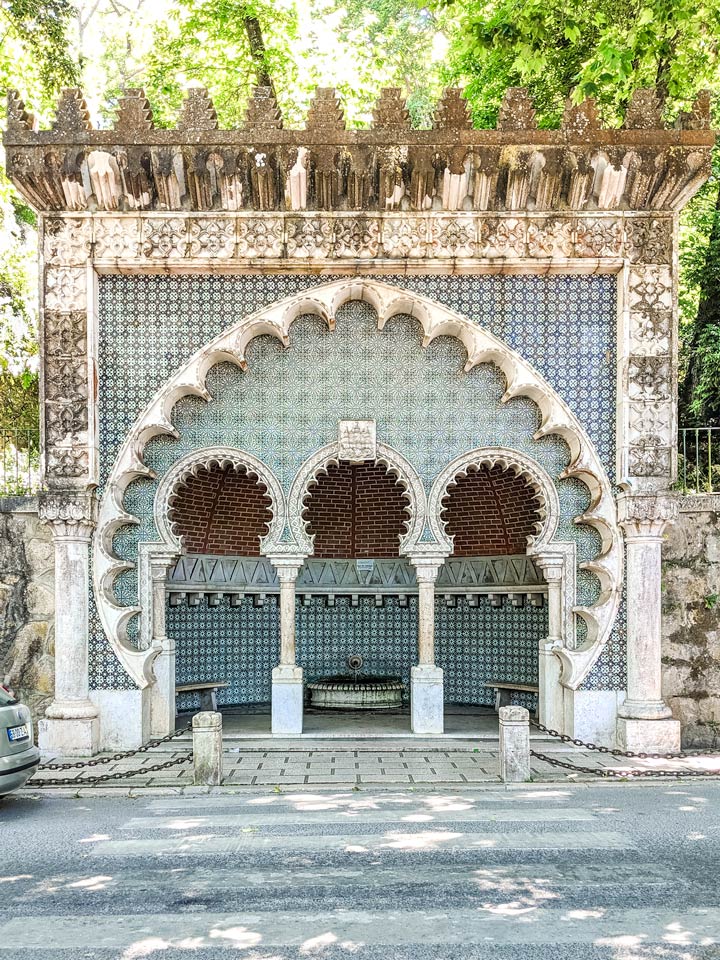 Good news: the last stop on this Sintra day trip is only 15 minutes away from the National Palace! Simply exit the palace and head southwest on the main road (N375). Follow the road as it curves north, and you'll eventually see the ticket entrance for Quinta da Regaleira.
The queue to enter depends heavily on the day of the week and time of year. Because it's so late in the day, you probably won't have any trouble buying a same-day ticket on a weekday in the off season. When we arrived around 3pm, we only waited in line for about 5 minutes.
Based on what other travelers have told me, however, the lines can be long even in the late afternoon. So I recommend buying a skip-the-line ticket in advance, especially if you're visiting Friday-Sunday or any time May-September.
Buy your skip-the-line tickets for Quinta da Regaleira here!
4-5pm: Explore Quinta da Regaleira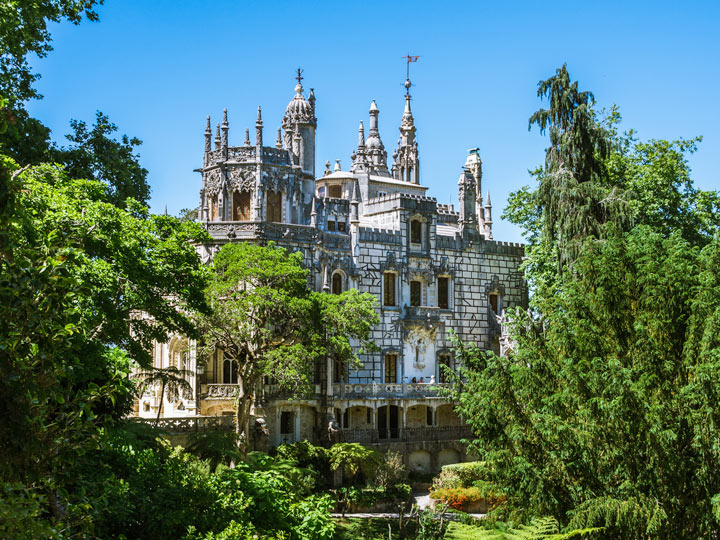 If you're a fan of Indiana Jones, Uncharted, or Tomb Raider, you'll love Quinta da Regaleira. Exploring the grounds made me feel like a modern day adventurer.
There are overgrown gardens, Gothic buildings rising from the trees, damp caves, and even a spooky well that spirals deep into the ground. I half-expected to see Lara Croft or Nathan Drake sneaking around the place…
Although Quinta da Regaleira looks like a mystical old ruin, it was actually designed in the 1900s. When you combine this with Pena Palace and the Castle of the Moors, you can see why I compare Sintra to a theme park!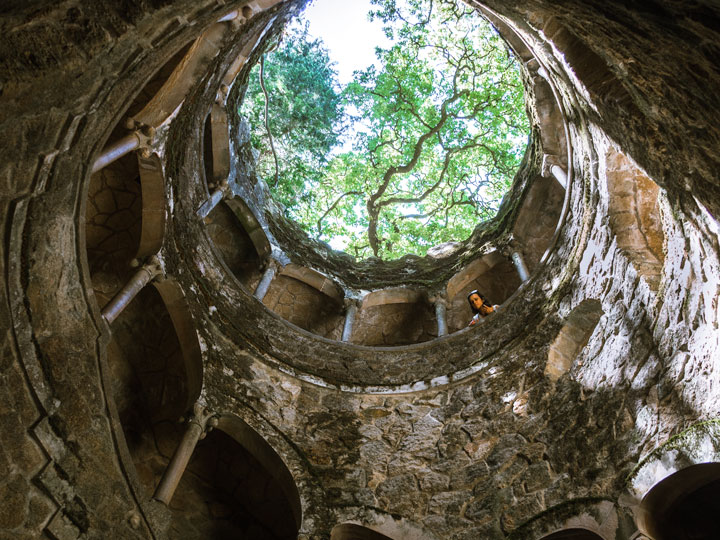 Your tickets come with a map, and you'll find multiple signs pointing to the major highlights.
We worked our way to the Initiation Well first, explored the grounds, and wrapped up at the gorgeous Gothic mansion. Frankly, I can't think of a better way to round out your 1 day Sintra itinerary!
Part of the magic of Quinta da Regaleira lies in discovering it as you explore. I don't want to ruin the surprises here, so I'll let these photos be the teasers.
Because of the site's unique history, architecture, and hidden secrets, it's definitely worth booking a live guided tour to get the full experience.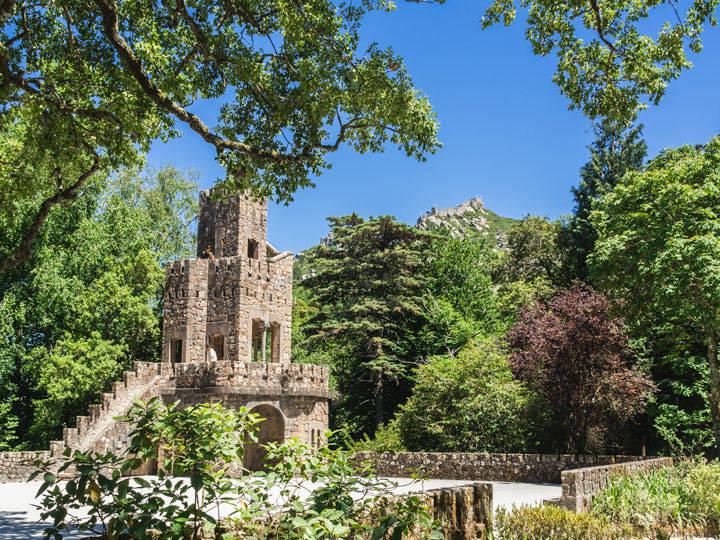 Map of Sintra Walking Tour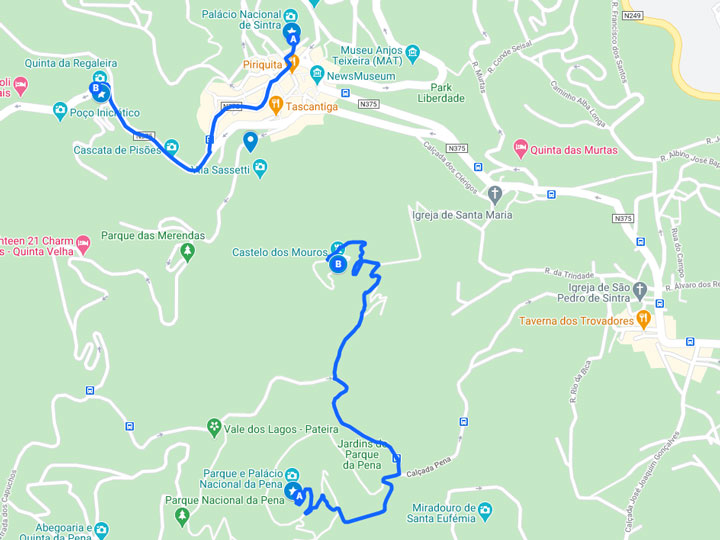 Click here to access the full interactive map!
Tips for Taking a Sintra Day Trip
The best day to visit Sintra would be either Tuesday, Wednesday, or Thursday. This will help you avoid the Lisbon cruise ship tourists and the locals who visit as part of a long weekend.
Bring good walking shoes, especially if you're doing the hike from Castle of the Moors to Sintra town center.
A water bottle is a must. There are several public fountains where you can refill.
If you're visiting Sintra in the fall or spring, you should layer up. Temperatures can change dramatically based on the time of day and your elevation.
You might not have great cell reception in Sintra, so keep that in mind if you're planning to take an Uber.
Taking a Sintra day trip from Lisbon
Getting to Sintra from Lisbon is very straightforward. You can catch a direct train from Lisbon to Sintra at Rossio Station. There are three trains departing every hour, and the journey takes about 40 minutes.
Note that you can't book advance tickets on this line, so you'll need to buy them at the station.
For this one day in Sintra itinerary, you'll want to take an Uber or Tuk Tuk from Sintra train station to Pena Palace.
Taking a Sintra day trip from Cascais
Getting to Sintra from Cascais is quick and easy by car. Taking an Uber only cost us $15 and took 35 minutes. Although we use public transit 90% of the time, it just didn't make sense in this case.
Guided Day Trip Tours of Sintra
If navigating a mountain town in a foreign country isn't your thing, no worries! You can book a guided tour with a local expert for a surprisingly affordable price.
Where to Go After this 1 Day Sintra Itinerary
Cascais: This charming beach town is only 30 minutes away from Sintra. Discover what to do in Cascais with my detailed guide!
Lisbon: A short train ride will take you to the capital city, where you can spend a few days in Lisbon enjoying incredible architecture and vibrant culture.
Porto: Head north and spend 2 days in Porto exploring the colorful Ribeira and eating the best food in Portugal.