In the past two years of traveling the globe, I haven't checked a single bag. When it comes to vacation time and money, I don't want to waste any of it. And with the best minimalist travel backpack for carry on, you won't have to either.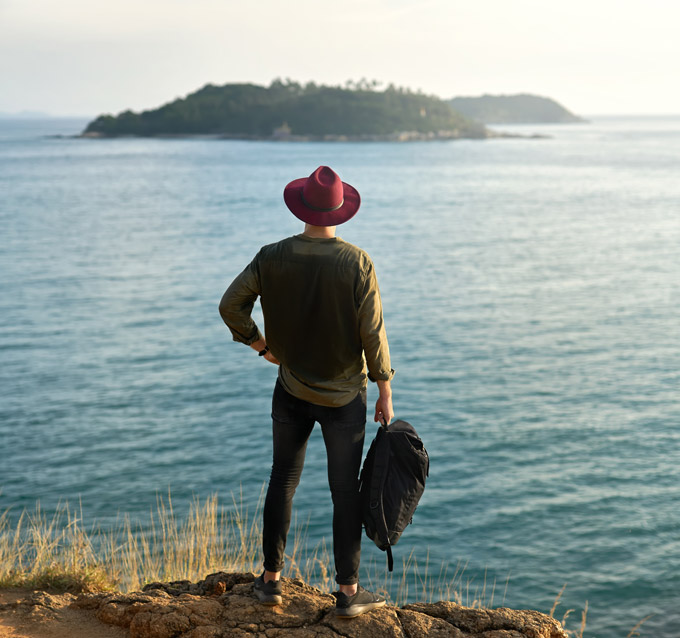 Growing up in America, I was spoiled by the generous carry on luggage policies on domestic flights. It was easy to avoid checking a bag when you could bring a huge personal item and rolling suitcase on the plane.
But after I moved to London and started flying around Europe, everything changed.
Between the more strict international carry on restrictions and the downright stingy luggage policies of budget airlines like Ryanair, I knew I needed a quality backpack for traveling light.
After a few years of trial and error, I've figured out which minimalist travel backpacks give you the best bang for your buck. Each of the bags on this list have been chosen based on their comfort, capacity, safety features, and carry-on friendliness.
This post contains affiliate links. As an Amazon Associate, I earn from qualifying purchases. For more information, click here.
Jump to the Minimalist Travel Bag Reviews
Why I pack carry on only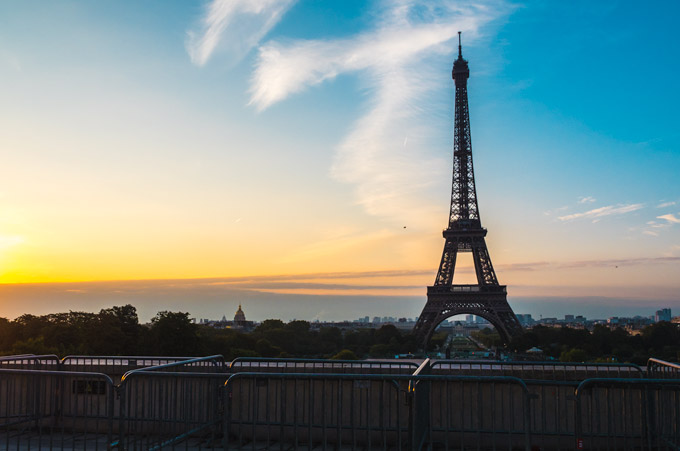 There are so many reasons to ditch checked luggage in favor of carry on only packing. But the biggest reason I made the switch was time. I had a precious few weeks of vacation time each year, and I didn't want to waste them at the luggage carousel or check-in counter.
Money also became a deciding factor. Once more and more airlines began charging for checked bags, it was hard to justify spending $50 to bring stuff I could live without. And when I started flying budget airlines out of the UK, finding the best backpack for Europe became a money-saving priority.
Additionally, minimalist packing is incredibly convenient. It only takes a few minutes to decide what to bring, and even less to unpack everything. And if you're changing accommodations mid-trip, it's far easier to pack up and move when all you have is a minimalist carry on bag and a personal item.
In the end, it all comes down to priorities. Personally, I care more about maximizing my travel time than having the perfect shoes for every occasion. For some people, their love of fashion or need for certain gear makes carry on only travel impossible, and that's okay.
But if you're ready to take the minimalist travel packing plunge, I have a few recommendations to make your life easier.
The Best Front Loading Travel Backpack for Carry On: Tortuga Setout 35L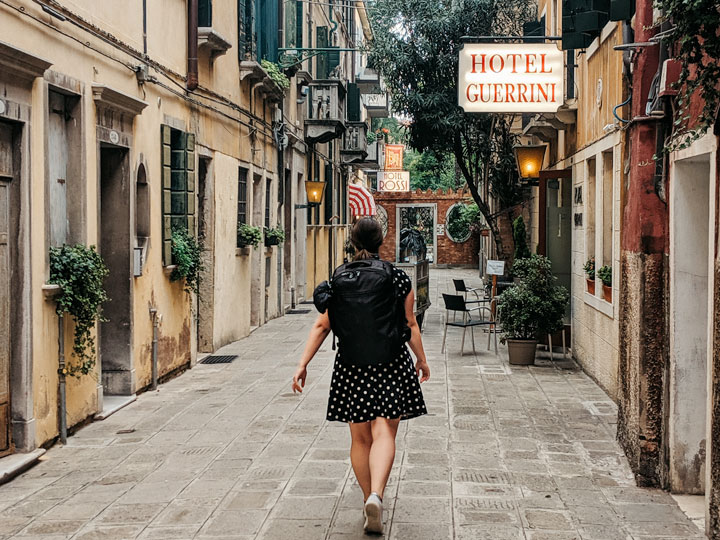 The downside to using a regular backpack for travel is the opening. Top-loading bags are tough to organize, and you have no easy access to the items towards the middle and bottom.
Luckily, the geniuses at Tortuga invented the Setout Backpack, a suitcase-style, front loading travel backpack with different designs for men AND women. They sent me a free backpack to test on my week-long trip to Italy, and it was glorious.
At 35L, the Setout Backpack is incredibly spacious without being unwieldly. I fit a week's worth of clothes and toiletries inside, along with my tripod!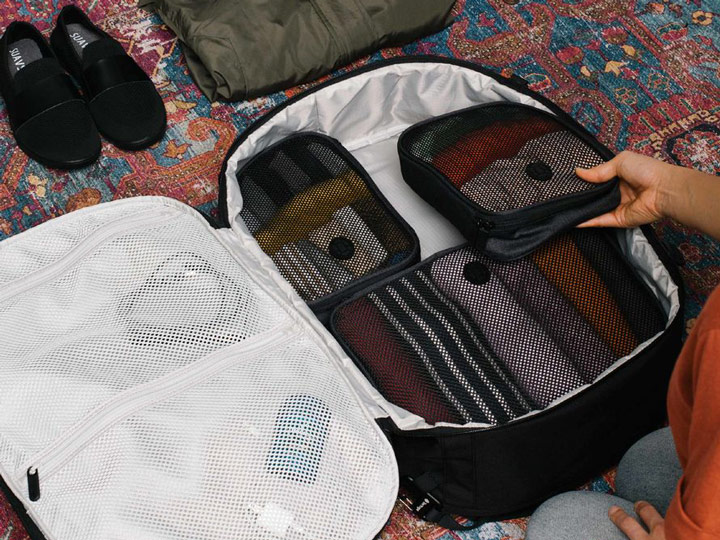 I took the Setout on planes, trains, buses, and crowded streets with ease. I could even crouch and bend at odd angles to take photos without losing my balance
The padded hip belt and adjustible chest straps came in handy when making the long walks from our hotels to the train stations.
When you're on a multi-city trip, it's annoying to unpack and re-pack every time you move. With the Setout, I could leave evertything in my bag without worrying about wrinkles or digging around for socks buried at the bottom.
The only downside to the large size is that you'll be tempted to overpack. Just remember to stick to your minimalist packing list, and you'll be fine.
To recap, here's what I love about Tortuga's Setout Backpack:
Carry-on sized to skip the luggage queues
Opens like a suitcase for easy access to your stuff
Comfortable suspension system that's designed differently for men and women
Clever pockets and pouches to organize toiletries, electronics, and more
Made of recycled polyester
Of all the bags I've tried, the Setout takes the trophy for best minimalist travel backpack.
You can check out my comparison of the Setout vs. Osprey Farpoint for a more detailed review.
The Best Anti-Theft Minimalist Travel Backpack: PacSafe Venturesafe X30-30L Anti-Theft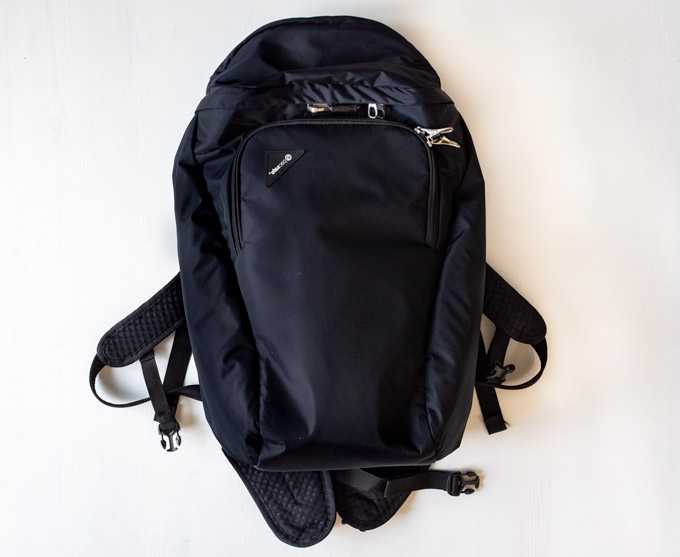 Update March 2021: The PacSafe Vibe 30L is being phased out and is difficult to find. Fortunately, there's a fantastic alternative by the same brand: the PacSafe Venturesafe.
Just like the Vibe that came before it, the Venturesafe is packed with anti-theft features, storage pockets, and comfortable straps. At 30L, it offers the same amount of space as the Vibe while still being compact enough to meet strict carry-on standards.
The only downside to this travel backpack is that it's top-loading. If you're looking for a suitcase-style travel backpack, jump to my review of the Tortuga Setout.
Buy your PacSafe Venturesafe X30 now!
Before I tell you all the reasons why I love my Pacsafe travel backpack, know this: I bought this bag with my own money. This is not a sponsored review. This minimalist backpack is so amazing I wanted to share it with the world!
With that out of the way, here are the features that make this the best carry on backpack.
The 30 liter capacity is small enough to fit even the strictest airline carry on size restrictions. Yet, it's spacious enough to pack an entire week's worth of clothing.
It's built with anti-theft features like slashguard fabric and locking zippers to keep your stuff safe. This makes the Pacsafe Venturesafe the best backpack for Europe, where pickpockets and bag slashers take advantage of tourists.
There are so many pouches and pockets to keep everything organized, including an easy-access top pouch I use for my bag of liquids.
The stowable padded straps are super comfortable, and the sternum and waist straps make carrying heavy loads a breeze.
When I was trying to find the best minimalist travel backpack, I spent days searching online and in stores. I must have read nearly 100 product reviews and scoured a half dozen outdoor stores in London.
So I can say with confidence that it's hard to beat this bag. It's the perfect balance of space, comfort, and safety.
And this feature combo made me feel comfortable investing a little more money than I had originally planned. I have several Pacsafe products now, and their quality is outstanding.
Finally, if you're a photographer and need to travel with a tripod, I have good news. This backpack is small enough that you can attach a small tripod and still meet carry on size requirements! I use a Manfrotto BeFree tripod and connect it to my backpack with a carabiner.
Get your own PacSafe backpack today!
A Budget-Friendly Minimalist Travel Backpack: Under Armour Hustle 4.0
If you aren't ready to invest in the PacSafe, but still want a sleek, carry-on backpack, the Under Armour Hustle 4.0 is for you.
With water-resistant fabric, a front metal D-ring, and a bottom pocket that's perfect for shoes or dirty laundry, this bag is a great choice for light travelers. The 26L capacity is plenty for a long weekend trip, and you could easily attach a smaller bag without going over carry on size limits.
Order your Under Armour backpack today!
My favorite minimalist travel bag: Travelon Crossbody Bucket Bag
When you're not checking luggage, it's critical to maximize your personal item allowance. That's why I love my deceptively spacious travel bag, the Travelon Crossbody Bucket Bag.
It's the most spacious and well-organized purse I've ever had. The side pockets in particular are handy for carrying bottled water and mini-umbrellas. You can even fit an iPad inside!
Like the Pacsafe backpack, this minimalist travel bag has an anti-theft design, including locking zippers and anti-slash material.
The crossbody style means it's comfortable all day, and harder for thieves to snatch off your shoulder.
It comes in a variety of colors, and the material is easy to clean.
And just to clarify: I paid for this bag myself. I bought it right before my first international trip to Japan. Eight countries later, and it's still going strong.
Buy your Travelon Anti-Theft Bag today!
What's in my minimalist travel backpack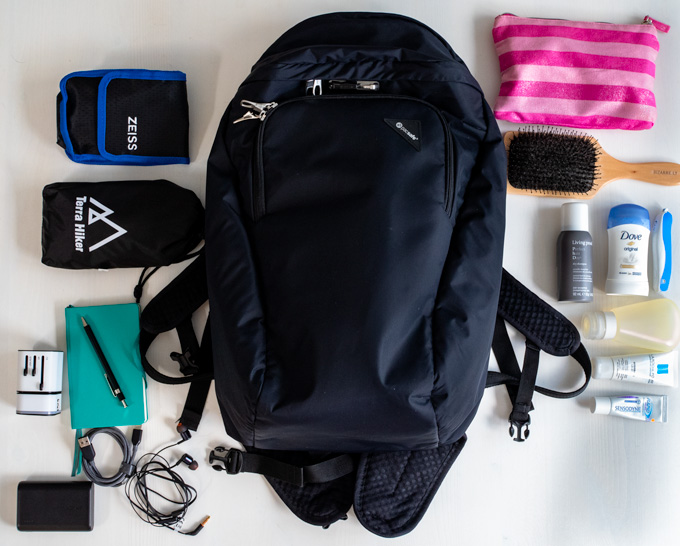 People are often surprised to see a woman travel carry on only. Even though I don't have tons of luggage space, I still manage to bring cosmetics, a few toiletries, and other essentials with me wherever I go.
Here's a list of what goes into my minimalist travel backpack every time I travel:
Personal Care/Cosmetics Bag: This slim zippered pouch holds a few makeup items, hair ties, bobby pins, and any feminine products I may need for the trip.
Toiletries: When it comes to toiletries, I keep it as simple as possible. I have sensitive teeth and skin, so I always bring my own toothpaste, deodorant, cleanser, and moisturizer from home. Dry shampoo is essential for my oily hair, and I swear by Living Proof's Perfect Hair Day. Other than that, I use what's provided at my accommodation, or source what I need from a local convenience store.
Hairbrush: I have long, thick hair that requires this unfortunately large paddle brush to tame. Otherwise, I'd opt for a smaller travel-sized brush.
Portable Battery Pack: I never travel without my Anker PowerCore battery pack. It's super slim and holds enough juice to fully recharge my Google Pixel 2 three times. Running out of phone battery is a terrible international travel mistake.
Universal International Travel Adapter: If you travel internationally, having a versatile travel adapter is essential. BESTEK makes great products, and their all-in-one travel plug adapter is ultra portable.
Headphones: A good pair of earbuds makes any trip easier to enjoy. I'm still searching for the best pair, so feel free to drop your suggestions in the comments!
Pocket Notebook and Pen: As a writer, I like having a notebook and pen with me to jot down ideas. And it helps preserve my phone battery. Having a pen also lets me fill out my landing card before immigration, meaning I'm closer to the front of the line.
Backpack Rain Shield: To keep my stuff from getting soaked, I always keep a rain shield in my minimalist travel backpack.
Zeiss Lens Cleaning Kit: I love this super portable lens cleaning kit from Zeiss. It has everything from an air pump to lens wipes to keep my camera smudge and dust-free.
Flats: I always travel with two pairs of shoes: either sneakers or walking boots, and ballet flats. A comfortable and neutral pair of ballet flats are ideal for travel, because they are very slim and can be worn with dressier outfits.
Clothing: I only pack the bare minimum amount of clothing for every trip. No "just in case" outfits or trousers that only go with one top. For a week of travel, here's what I bring (not including what I'm wearing on the plane):

4 tops (as lightweight as possible)
2 bottoms (usually two pairs of jeans)
1 cardigan (I tie it around my waist on the plane if I need more room)
4 pairs of socks (two of which are re-wearable SmartWool)
2 sets of pajamas (usually shorts + tank top and a thin nightgown)
7 pairs of underwear (I always carry a spare)
2 bras
RELATED: The Best Gifts for Hikers Under $100
Save me for later!
My top 10 minimalist travel packing tips
Be strategic about toiletries. If you don't need a certain type of product, use the free stuff at your accommodation or buy it from a local shop.
If possible, pack lightweight clothing and layer if necessary. A chunky knit sweater takes up far more space than a t-shirt and cardigan.
Wear your bulkiest items on the plane to free up bag space.
Create a minimalist packing list and a minimalist travel wardrobe. That way, you won't need to keep assessing if your stuff can fit in one bag.
If you're traveling with a coat, utilize the pocket space for extra storage.
Get comfortable wearing things twice (except underwear). I love re-wearable things like SmartWool socks, which are naturally odor-resistant.
Don't be afraid to invest in versatile items, like a waterproof coat with removable warm liner. This will eliminate the need to pack specialized items.
If you like buying souvenirs, look into having them shipped home. Or, switch to something small and meaningful, like a postcard depicting your favorite place from the trip.
Use your phone for entertainment instead of packing a book/iPad/Nintendo DS solely for fun. Download some Netflix content, install a video game app, and/or get ebooks for travel and down time.
Remember that you can do laundry mid-trip if necessary. Book accommodation with laundry access, use a local laundromat, or wash your garments by hand in the sink/tub. I've heard great things about Soak no rinse detergent.
Summary
If you're tired of losing time and money on checked luggage, do yourself a favor and invest in a quality minimalist travel backpack like the Tortuga Setout.
Then, use these minimalist travel packing tips to get everything into a carry on bag. Your future self will thank you.
Have questions about my carry on packing style or gear? Let me know in the comments section!