If you aren't an outdoor adventurer, the best gifts for hikers may seem a bit strange. Wool socks and water filters aren't at the top of everyone's wishlist! But when you're buying hiking gifts, it's the practical thought that counts.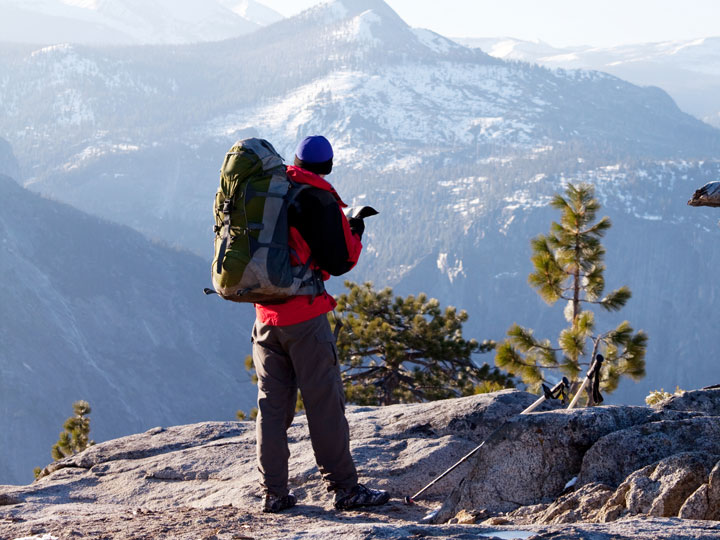 Being a hiker myself, I can assure you that receiving any of these items would put a huge smile on my face.
And to stick with the practical theme, all of these gift ideas for hikers are available online! Because let's be honest: who has time to find an outdoor store and track down the section where they keep titanium sporks?
This post contains affiliate links. As an Amazon Associate, I earn from qualifying purchases. For more information, click here.
RELATED: Tortuga Setout vs. Osprey Farpoint Backpack: A Hands-on Review
Table of Contents
Best Gift Ideas for Hikers
Hiking Gifts for Her
Hiking Gifts for Him
Christmas Gifts for Hikers
Best Gift Ideas for Hikers
Whether you're buying for a total beginner or a seasoned pro, these gift ideas for hikers will come in handy on every trip!
I never travel without my Anker PowerCore. A dead phone is a safety hazard, especially on unfamiliar trails. It's small enough to fit in my pocket, but it can charge a modern smartphone 3 times!
You know what's not fun? Having all your gear get soaked in a rainstorm, despite your backpack being "waterproof". Hiking pros know that you should never travel without a dry sack to protect your important items (read: underpants).
Did you think I was kidding about the titanium spork? Having a reusable spork opens up a world of culinary possibilites on the trail. Whether you're buying gifts for a thru-hiker who camps or a casual rambler who likes picnics, anyone can appreciate not having to eat solely with their hands.
The only thing better than having ice-cold water after a long hike is drinking a hot beverage during a cold trek. Luckily, this compact Thermos works for both situations! The stainless steel bottle keeps beverages hot for 12 hours or cold for 24 hours. And the removable cup lid is great for enjoying soup on the go.
Help the environment and your hiking friends by gifting them a set of reusable food storage bags. These airtight, silicone bags are perfect for bringing snacks on the trail, and can even be cleaned in the dishwasher! They're freezer safe and can be placed in hot water for reheating. Best of all, these bags double as waterproof storage for electronics and other valuables!
Hiking often leads to beautiful discoveries. Help them capture those stunning scenes with a flexible smartphone tripod. The bendable legs can be wrapped around posts and branches to achieve that perfect panorama, and the universal mount holds phones secure at any angle.
Give the hiking gift of a comfortable, dry bottom with a camping seat mat. This ultra lightweight cushion is perfect for sitting or kneeling on wet or rocky terrain, and only takes up as much space as a small water bottle.
When I took up hiking, the very first thing I bought was a pair of SmartWool's. Having a quality pair of cushioned, wool socks is essential for keeping feet dry, comfortable, and blister-free. Plus, the natural odor-resistent properties of SmartWool mean you can re-wear them without washing if needed.
A quality wool base layer is a serious improvement over the sweaty thermals most new hikers wear. Merino wool is a soft, breathable, moisture-wicking fabric that keeps you dry and happy, so you can focus on having fun instead of feeling gross. It's an excellent luxury hiking gift that belongs in any minimalist travel wardrobe.
The AeroPress is a genius little device any coffee lover would be happy to receive. All you need is some coffee grounds, a micro filter, and hot water, and you'll have fresh, smooth coffee in 90 seconds! The lightweight, compact body makes it perfectly portable, and the durable plastic holds up to long days inside a backpack.
A scratch off map is a fun gift for hikers who also love to travel. Whether your hiker is a globetrotter or a US parks enthusiast, this poster combo will help them track their adventures in a colorful way. I have one hanging above my desk, and it's a great motivator to work hard and keep exploring.
From Bryson's classic about the Appalachian Trail to Cheryl Strayed's Wild tale of solo trekking the PNW, a good book is a classic hiking gift. Reading about the trials, tribulations, and joys of exploring the world on foot is something hikers of all ages can appreciate.
I don't know what kind of sorcery helps PackTowels dry so fast, but I'm not going to complain. Having a super light, odor-resistent towel in your bag is a must, whether your hikes last a few hours or a few days.
One of my greatest hiking fears is getting stuck on the trail after sunset. Enter the headlamp, a hands-free solution to those dark hour excursions. This one recharges via USB, has a red light mode to prevent you from losing your night vision, and a strobe setting for emergencies.
Everyone should own a multitool, but they are especially useful for hiking. I never hit the trail without my Leatherman Skeletool, which can help with everything from opening bottles to cutting kindling for a fire.
Slips, scrapes, blisters, and stings are inevitable. But they don't have to end your trip if they're treated promptly. A compact, water-resistent emergency kit is a must have for every hiker.
Tree branches and jagged rocks are nature's knives. Even "durable" packs, sleeping bags, and outerwear can be ripped in an instant, leaving you and your stuff vulnerable to the elements. Having repair tape on hand allows you to instantly fix holes and tears without the need for a sewing kit.
I don't do much camping, but I always keep this fire starter in my bag. Why? Because one of the best gifts for hikers is the gift of safety, and this easy-to-use magnesium stick ensures I can get a fire going in seconds if needed. It also has a built-in compass and emergency whistle.
An emergency bivvy can save your life. This survival sleeping bag reflects 90% of your body heat back to you, keeping you safe and warm while you wait out cold nights and below-freezing temperatures. They're also great to keep in your car in case you get stranded in a cold area.
Rounding out the safety-themed gifts for hikers is the Sawyer Squeeze. This portable device filters out more than 99.999% of bacteria and protozoa, giving you safe-to-drink water in the wild. You can attach the Squeeze filter to the provided pouch or a threaded 2-liter bottle, or even drink straight from the filter.
RELATED: 34 Gift Ideas for Someone Moving to Another Country
Save these hiking gift ideas for later!
As someone with perpetually cold fingers, having a hand warmer for chilly mornings and nights is a dream. Rather than buy the single-use packets that end up in landfills, order your hiker a reusable hand warmer. This one provides lasting heat for 6 hours and can be safely kept in pockets and gloves.
I used to think that trekking poles were for serious, long-distance hikers only. But when I nearly fell down Jacob's Ladder during a short Peak District hike, I realized the merit of carrying a set in my pack. These adjustible carbon fiber poles are lighter and more durable than the typical aluminum variety, and the accessory kit has attachments for every type of terrain.
And for even more stability, consider a hiking knee brace.
Help your hiker display their favorite photos from the trail with a themed picture frame. This one comes with a rugged wood finish and can go on the wall or a flat surface.
Clif bars have been fueling hikers for decades. They're a great mid-hike or summit snack and make for excellent stocking stuffers. Just don't get addicted to their sweet, chewy goodness unless you want to put on a few extra pounds…
If you're not comfortable picking out presents for outdoor lovers, a gift card is the way to go. Shops like Eddie Bauer, L.L. Bean, REI, and Blacks (for my UK friends) all carry a fantastic variety of clothing and gear for hikers of all levels.
Best Hiking Gifts for Her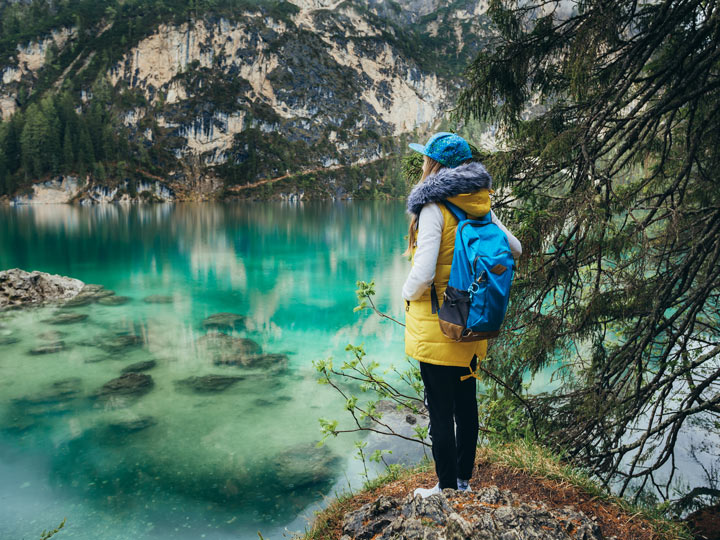 These practical presents for hikers come with a feminine twist!
My Columbia jacket comes with me on every single trip I take. Any traveler will love this super light, waterproof jacket that eliminates the need for an umbrella. It packs down small, has adjustable hood and wrist closures, and comes in a ton of pretty colors.
I'm actually wearing my pair of convertible mittens as I type this! Gloves can be cumbersome when you're trying to use your phone, tighten laces, etc. I love the convenience of flipping open my mittens to handle these sorts of tasks, and then closing my fingers back into a warm cocoon.
These colorful aqua shoes protect feet during water crossings, showering, waterfall hikes, and more. They compress down for easy packing and dry quickly. Just run a string or carabiner through the back loops and hang them off your pack!
While men can often get away with wearing swim trunks as shorts, women end up pulling dry clothes over their wet swimsuits. It's uncomfortable to say the least. Changing towels let you discreetly swap clothing without the privacy of a car or bathroom.
The best jewelry gifts are the ones that carry a special meaning for the receiver. I'm not big on jewelry, but this beautiful mountain necklack is simple, elegant, and fills me with a sense of longing for adventure. It's also small and light enough to wear on the trail.
After a long hiking trip, I feel sore and grimy. Taking a trip to the spa for a body scrub and massage feels almost as good as reaching the summit. Many spas offer gift certificates or vouchers for certain treatments.
Or you can create your own spa day at home with a spa kit!
Best Hiking Gifts for Him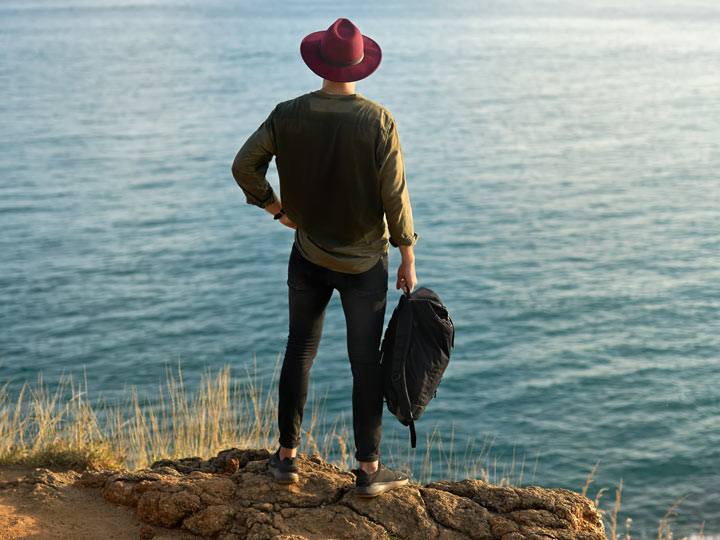 If he spends more time on the trail than the couch, he'll love these hiking gift ideas!
Yes, I put the women's AND men's version of the Columbia waterproof jacket on this list. I truly believe every hiker and traveler should have one of these in their bag. They are lightweight and breathable for warm days, and roomy enough to pull over a fleece in cool weather.
Staying comfortable and cool on the trail is essential for having a great hike. These Climalite boxer brief are specially designed to prevent ride-up, chafing, and overheating.
These convertible hiking pants let you have the best of both worlds! The moisture-wicking fabric, semi-elastic waist, and zip-off legs combine for a versatile and comfortable pair of trousers for every season.
My husband hates hats, but he hates cold and wet hair more. Wearing a waterproof beanie keeps his head head cozy, dry, and stylish. The merino wool interior wicks away sweat while remaining soft to the touch, and hidden middle layer stops outside moisture while remaining breathable.
Hiking trails are no place for everyday watches. This G-Shock can take a beating and is water resistent, so it's suitable for swimming and wet weather. It also comes with a countdown timer and multiple alarms, which is helpful for pacing.
Safety razors are far mor eco-friendly than their plastic counterparts. The blades can be used multiple times before being recycled, so you won't need to worry about disposing them during long hikes.
Christmas Gifts for Hikers
If you're looking for some stocking stuffers or want to splurge this holiday season, here are a few fun Christmas gift ideas for hikers.
Because nothing says "Merry Christmas" like a pair of reindeer print wool socks! While these aren't as durable as the SmartWool ones I mentioned earlier, they are good for wearing around the tent or cabin.
I first learned around Bananagrams from my in-laws. It's a fast-paced word game similar to Scrabble. The game is suitable for both kids and adults, and the tiles come in a perfectly portable banana case. It's on-the-go entertainment that makes for a great stocking stuffer.
Outdoor lovers can use this 16oz mug at home or on the trail. The metal construction makes it lightweight and durable, and the double-sided print is a joy to look at while sipping your favorite hot beverage.
Why sleep on the hard, wet ground when you can relax in a hammock? More and more hikers are turning away from sleeping pads and opting to bring hammocks for overnight trips. This one is large enough for two and comes with a bug net and adjustible tree straps.
Tracking my fitness progress is part of what I love about hiking. The Fitbit Inspire HR monitors and records everything from steps to heart rate to cycling sessions. The water resistent design means it can stay on during rainstorms and even swimming, and the 5 day battery life helps it last through multi-day hikes.
I hope you found a few good gift ideas for the outdoorsy person in your life! If you have any other suggestions, feel free to drop them in the comments.