Every year, thousands of visitors flock to England's Lake District for beautiful scenery and stunning views. These rolling hills and peaks are home to some of the country's best rambles, with the Latrigg walk from Keswick being a major highlight.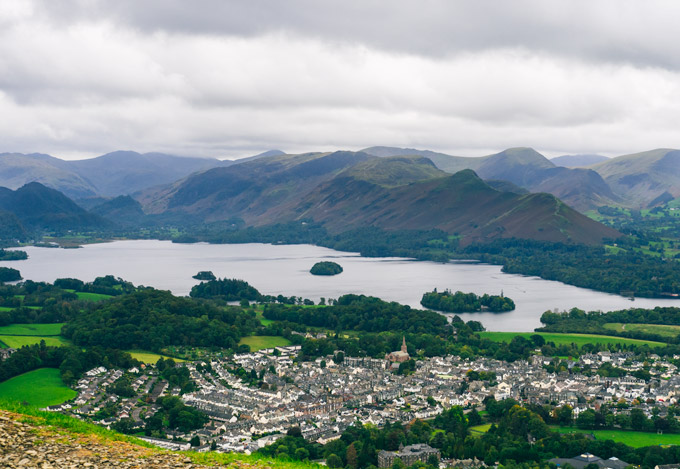 But if multi-hour hikes through fields and streams don't fit your timeline, don't worry. You can do an easy walk of Latrigg in about 45 minutes thanks to the Latrigg car park!
A short and winding drive from Keswick village will bring you to the base of Latrigg Fell, where it's a moderate 20 minute walk from the car park to the viewpoint. From here, you'll have breathtaking panoramic views of the village, Derwentwater, and the hills beyond.
Even on a foggy day, the Latrigg Walk from Keswick is a delight, complete with sheep and neighborhood dogs out for a romp.
This travel guide is part of my self drive UK holiday itinerary, which includes over a dozen destinations from London to Edinburgh!
Table of Contents
— Getting to Latrigg Walk Viewpoint
— Latrigg Car Park Route
— Latrigg Fell Pathway
— Circular Route Walk from Keswick to Latrigg Fell
— Tips for the Latrigg Walk
— Other Keswick Attractions
Getting to Latrigg Walk Viewpoint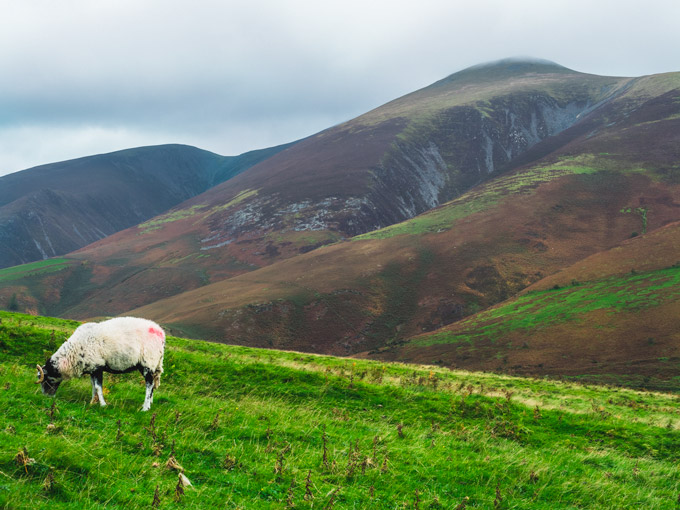 Visitors can access Latrigg Fell in several ways.
The fastest and easiest way is via the Latrigg car park at Underskiddaw. From here, it's a short 20 minute hike to the Latrigg viewpoint.
But if you have several hours on your hands and want a more intense ramble, you can start on the path from Keswick village.
Latrigg Car Park Route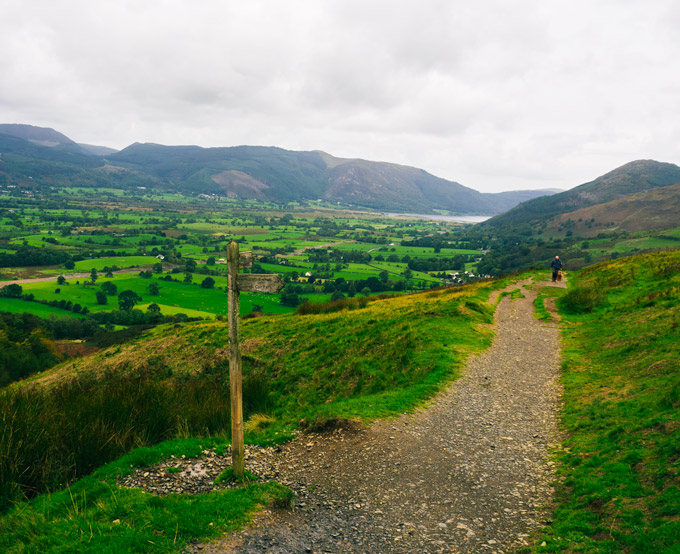 The back roads of Keswick are not well-labeled. Fortunately, the drive to the Latrigg car park is pretty straightforward.
If you enter "Underskiddaw Keswick" into Google Maps, it should bring up the location of the car park. See the directions and map below for more details.
If you're traveling from London to Keswick, follow the A66 until you reach the Crosthwaite roundabout.
If you're coming from Keswick Village, take Crosthwaite Road north to reach the roundabout.
Take the north exit at the Crosthwaite roundabout (towards A591) and turn right.
Follow the road for a half mile, and then take a sharp right in front of Applethwaite Country House.
Follow the road east for one mile until you reach the Latrigg car park.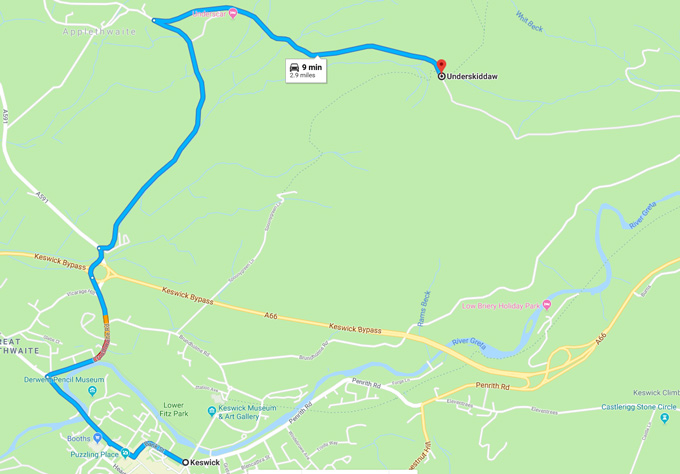 Note that the road is fairly uphill and winding, which makes winter visits a challenge. Take care as you come around the bends, as you may need to pull off for oncoming traffic.
The Latrigg car park is unpaved and somewhat narrow. Large vehicles may have trouble getting in and out of spaces. However, the stretch of road leading up to the car park is fairly wide and can accommodate larger vehicles.
If you decide to park on the road instead of inside the car lot, please be sensible and don't block the road. I saw a person go running up the Fell to catch someone whose lorry made it impossible to get out of the car park!
Latrigg Fell Pathway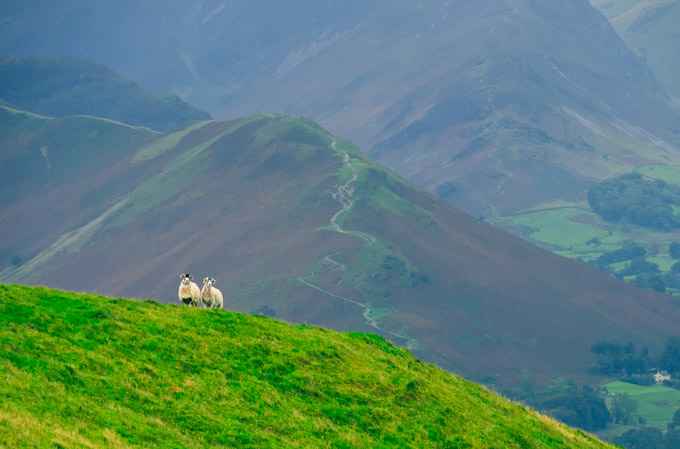 This path's easy access and short length makes Latrigg Fell one of the best Lake District walks for beginners.
After passing through the car park gate, you'll see a "Limited Mobility Path" sign that indicates the start of the easy Latrigg walk.
The route varies between rocky pathways, dirt tracks, and grass. For this reason, I recommend wearing walking boots, though athletic shoes will do in a pinch.
As you walk through the fields, you'll be surrounded by grazing sheep and beautiful peaks. Some of them will have colorful markings on the wool, which farmers apply to track vaccines, pregnancy, and other health statuses. Be sure to take in the views instead of rushing straight to the top!
RELATED: A Perfectly Charming Costswolds Day Trip Itinerary
After about 15-20 minutes of moderate uphill walking, you'll reach the Latrigg Fell summit. Take a rest on the well-positioned bench if needed, and enjoy the overlook. You won't even need binoculars or a zoom lens to pick out iconic buildings in Keswick village, like the old church.
Once you've had your fill of crisp air and panoramic views, you can head back to the Latrigg car park in one of two ways.
Either turn around and go back the way you came. Or, continue past the summit for about 5 minutes, where you'll reach a wide grassy path on your left that leads directly to the parking lot.
Save me for later!
Circular Route Walk from Keswick to Latrigg Fell
If I had more time in the Lake District, I would have loved to take a long ramble on the Keswick Railroad route to Latrigg Fell. It's actually considered one of the most scenic walks in the Lake District. Sadly, time was short, so I opted for the Latrigg car park route.
However, if you have three hours and a good pair of walking boots, consider following this route. It starts in Keswick Village at the old railway station, passes through Brundholme Wood, and leads up and around Latrigg Fell before circling around to the start.
RELATED: 5 Ways to See Stonehenge for Free
Tips for the Latrigg Walk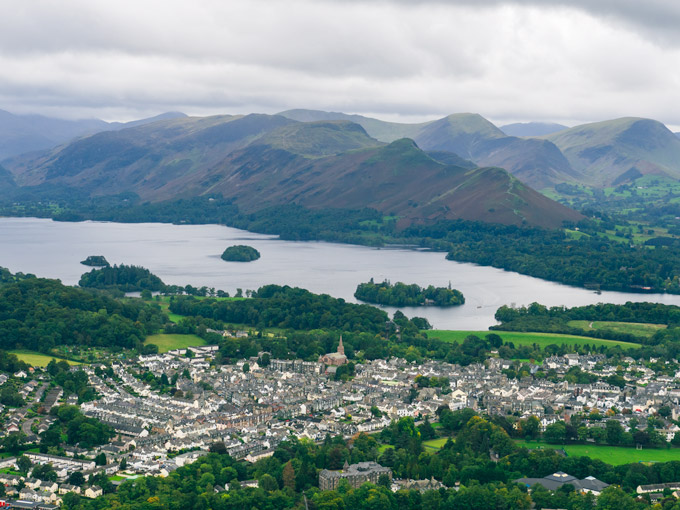 Here are a few helpful tips to make the most of your Latrigg walk:
Get to the car park early, especially on weekends. On a Saturday in mid-September, the lot was full by 10am, and the roadside spots were all taken soon after.
Watch out for sheep droppings.
Bring a jacket, even in the summer. The wind really picks up once you reach the top. And in the cooler months, definitely wear a hat and gloves.
Walking boots are essential for the Keswick railroad route. Athletic shoes can suffice for the car park route, but take care with the mud and loose rocks.
RELATED: 2 Day Edinburgh Itinerary for First Time Visitors
Other Keswick Attractions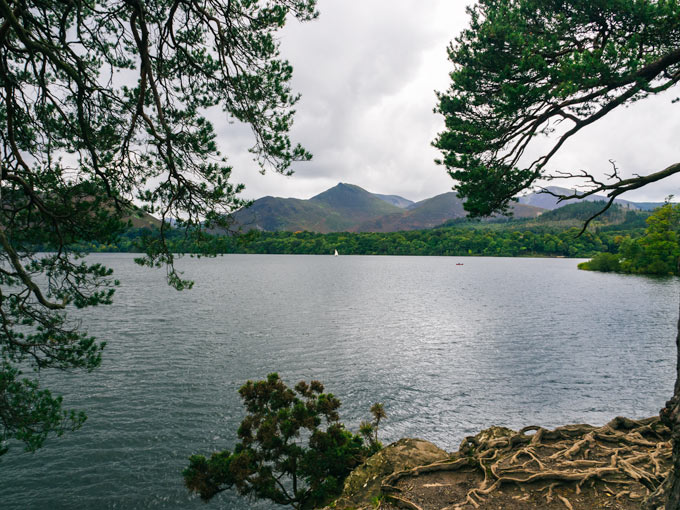 In addition to the Latrigg walk, there are plenty of Keswick outdoor activities and village highlights for visitors to enjoy:
Derwentwater Lake District Paddle Boarding and Boating: Located on the southwest edge of Keswick, Derwent Water is a must see for anyone traveling to the Lake District. Visitors can head to the docks and book a ride on sailboats and motor boats. Further down the shore, there are canoes and row boats available for rent. On the opposite side near Nichol End Landing, adventurous types can rent paddle boards and participate in a group outing on the water.
Theatre by the Lake: This beautiful lakeside theatre houses two stages, a bar, and a public cafe. Stop in for a modern or contemporary show, or for a bit of ice cream on a summer's day.
Fitz Park: Running along the River Greta, Fitz Park makes for a lovely jog or stroll just across from the heart of Keswick village.
Keswick Museum & Art Gallery: This small yet diverse museum is great for adults and kids alike. Exhibits range from oil paintings to insects, all in a classic period building.
Derwent Pencil Museum: Fun fact: Keswick is home to the world's first pencil! Check out the replica graphite mine and the Queen's Diamond Jubilee pencil, among other quirky attractions.
Have any questions about the Latrigg walk? Let me know in the comments!