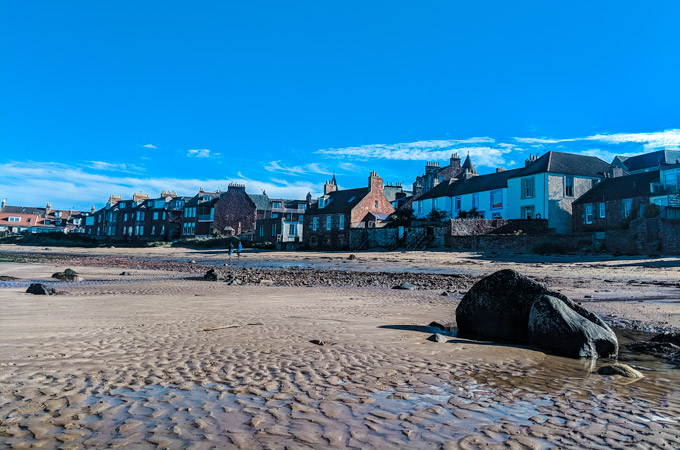 For a small town in Scotland, there are so many things to do in North Berwick. This coastal area is a popular holiday spot with Edinburgh locals, and it's easy to see why. With beautiful beaches, a charming town center, and a seafront castle, North Berwick makes for a perfect Scotland day trip.
This travel guide is part of my 
self drive UK holiday
itinerary, which includes over a dozen destinations from London to Edinburgh!
This post contains affiliate links. For more information, click here.
Things to do in North Berwick
Take a walk on one of North Berwick's beaches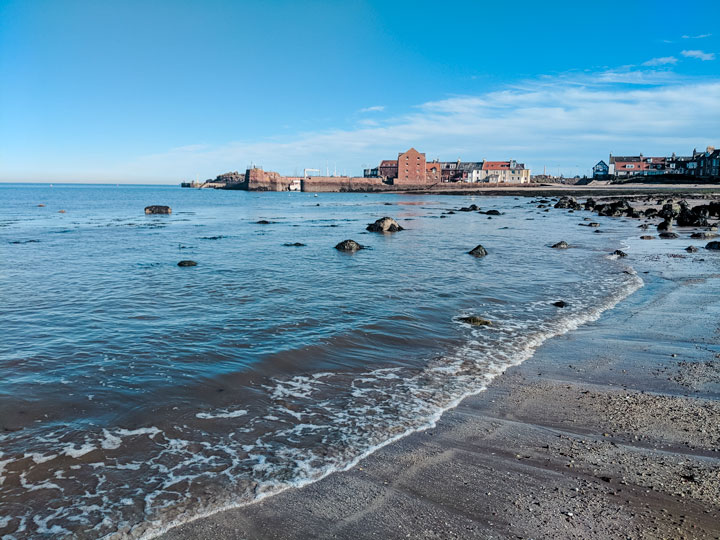 View this post on Instagram
Whether you like relaxing on the sand or exploring rocky coasts at low tide, North Berwick offers the best of both worlds.
Starting just west of town, Yellowcraig Beach is the largest and best equipped beach in North Berwick. Visitors can enjoy a long stroll on the expansive beachfront, with views of Fidra island to the north. There are also public restrooms, shower facilities, and a playscape near the car park.
Located just north of the town center, Milsey Bay Beach is a beautifully diverse stretch of coastline. Even in the chill of late autumn, you're sure to see locals walking side by side with energetic dogs, or children searching for the prettiest rocks. This area also has lovely views of the town's coastal cottages, some of which are rented out for North Berwick holidays.
If you prefer something more tucked away, head up to Haugh Road Beach. This rock-and-sand bar juts out from the nearby hill, and is a lovely spot for relaxing with a good book.

Observe the wildlife at the Scottish Seabird Centre
If you're wondering what to do in North Berwick with kids, a visit to the Scottish Seabird Centre is a must. Inside, guests can use the hands-on cameras to zoom in on local wildlife, including seals and puffins. Depending on the season, you might see a flock of Gannet seabirds or newborn seal pups on Bass Rock.
The Centre also offers multiple boat tours to the various islands in the Firth of Forth, where you can get a closer view of Scottish coastal wildlife.

Explore the ruins of Tantallon Castle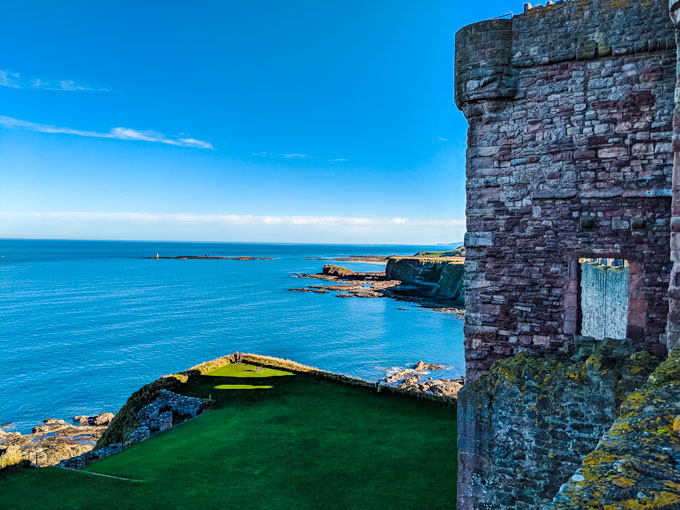 Constructed in the mid 1300s, Tantallon Castle is a stunning half-ruin on a seaside cliff. Exploring the ancient staircases and ramparts of this historic building is one of the best things to do in North Berwick.
The castle was eventually abandoned in the 1600s after a series of destructive sieges. However, several towers and walls remain intact, offering visitors amazing overlook points.
If you don't mind a 45 minute walk, there are two ways to get from central North Berwick to Tantallon Castle. The most straightforward way is to follow the footpaths that run adjacent to A198. But for a far more scenic journey, you can actually walk through the Glen Golf Course. Just be sure to stick to the walking paths (which aren't always easy to see) and give right-of-way to any golfers playing on the green.
Alternatively, you can take the 120 bus from town part-way there. It's about a 15 minute walk to Tantallon Castle from the bus stop on A198. And of course, a taxi is always an option. But take care when you're ready to leave, as cell reception is spotty.
Admission is £6 per adult and is covered under the Scotland Explorer's Pass. English Heritage members can get in for half price in their first year of membership, and for free thereafter.

Have a coffee the cozy Steampunk Coffee
Edinburgh's trendy coffee scene made its way to North Berwick in the form of Steampunk Coffee. Located in the town center, Steampunk serves up truly excellent beverages and an assortment of hot and cold foods. If you need to warm up after a chilly morning at the beach, head inside and relax with a hot drink in a wingback chair.
Enjoy tea and pastries on a sea cliff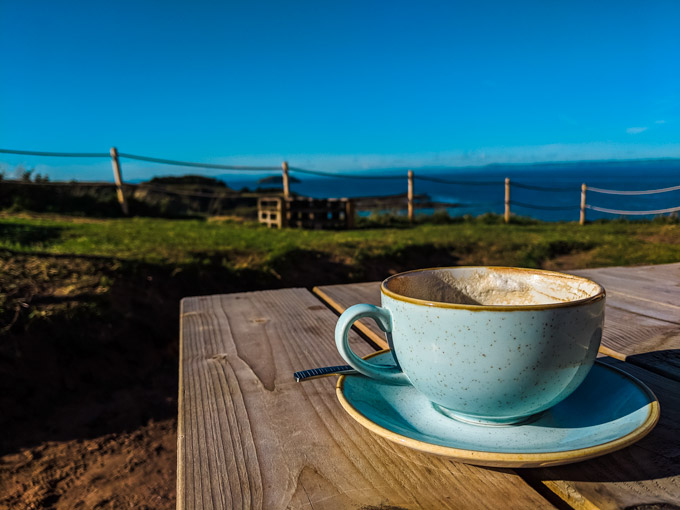 Drift cafe is a fairly new edition to North Berwick. The family who owns the land turned two shipping containers into a stunning cliff-side cafe with sea views. It's ideally located near Tantallon Castle, so be sure to stop in before or after your visit for a snack.
Save me for later!
Dine on classic fish & chips at The Ship Inn
Dining at the local pub was one of my favorite things to do in North Berwick. The wood-on-wood decor and family friendly atmosphere of The Ship Inn make it an inviting place for a meal, even if you're not a local.
Though they're known for pizza, I highly recommend ordering the tasty fish & chips. After all, how could you pass up the chance to eat this classic dish in a restaurant that looks like the inside of an old boat cabin?

Play a round of golf overlooking the sea at Glen Golf Club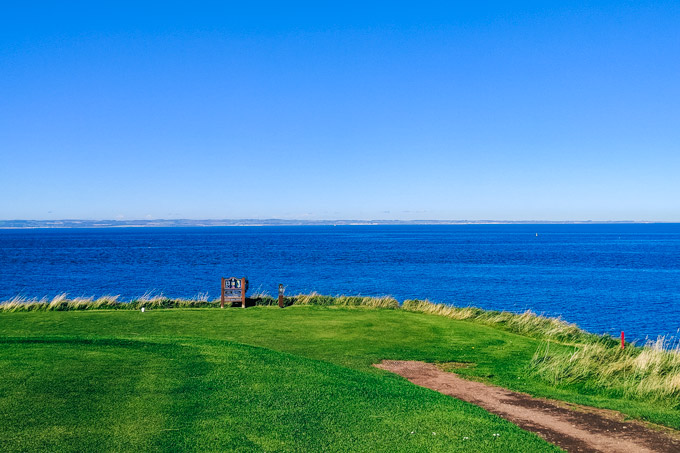 Walking through the Glen Golf Club made me wish I was a golfer. This beautiful 18 hole course has sweeping clifftop views over the Firth of Forth, with the famous 13th hole situated right up against the rocky coast. The club is open to visitors, though I recommend booking in the off-season to save 50% on green fees.

Stroll around the charming town center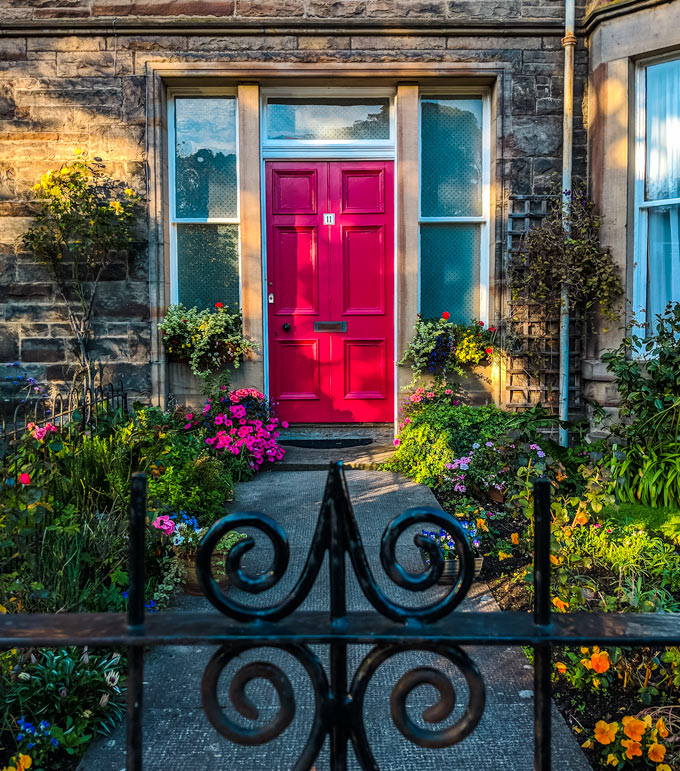 Of course, it wouldn't do to visit North Berwick without strolling down the town's charming streets. The High Street is packed with independent shops and cafes. And the residential streets off of East Road are full of cozy cottages. Pick up some sweet treats at the vintage candy store Sugar Mountain, or a beach-y souvenir from Time & Tide.
Getting to North Berwick
Scot Rail operates an Edinburgh to North Berwick train twice an hour. It's a short 30 minute journey from Waverly Station to North Berwick, making it a great addition to a 2 day Edinburgh itinerary.
Travelers coming from Glasgow can either take a train to Edinburgh and change for North Berwick, or take a longer 2 hour journey directly to North Berwick.
My Favorite Scotland Travel Planning Books
These books win my travel blogger Seal of Approval for vacation planning:
With so many things to do in North Berwick, make sure you arrive early to make the most of your day trip! You'll want a full day to explore one of the most beautiful coastal areas in Scotland.