In the world of carry-on travelers, a debate rages: Tortuga Setout vs Osprey Farpoint. Which of these bags comes out on top–or should I say "on back"? Let's take a closer look at these popular front loading travel backpacks.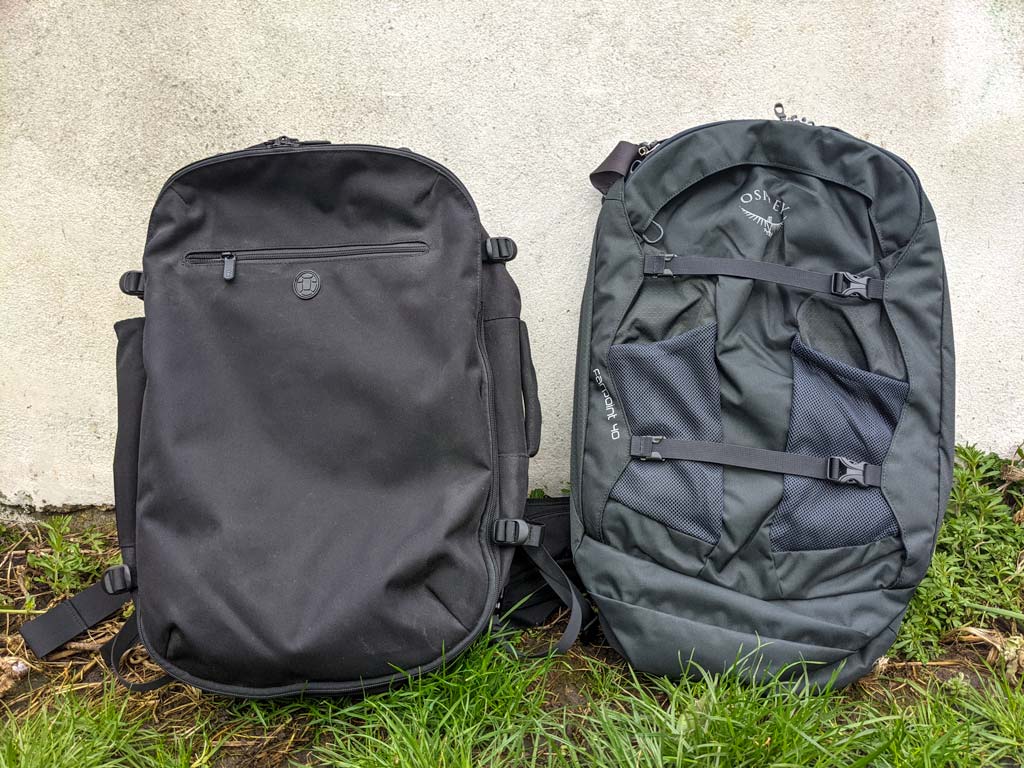 To be clear, I am an actual minimalist traveler who does 90% of her trips with only a backpack. In case you haven't noticed, a lot of reviews out there are written by randos from Upwork who haven't been within 100 miles of the Tortuga Setout or the Osprey Farpoint.
For your edification, here's a photo of me and my Setout exploring the streets of Venice: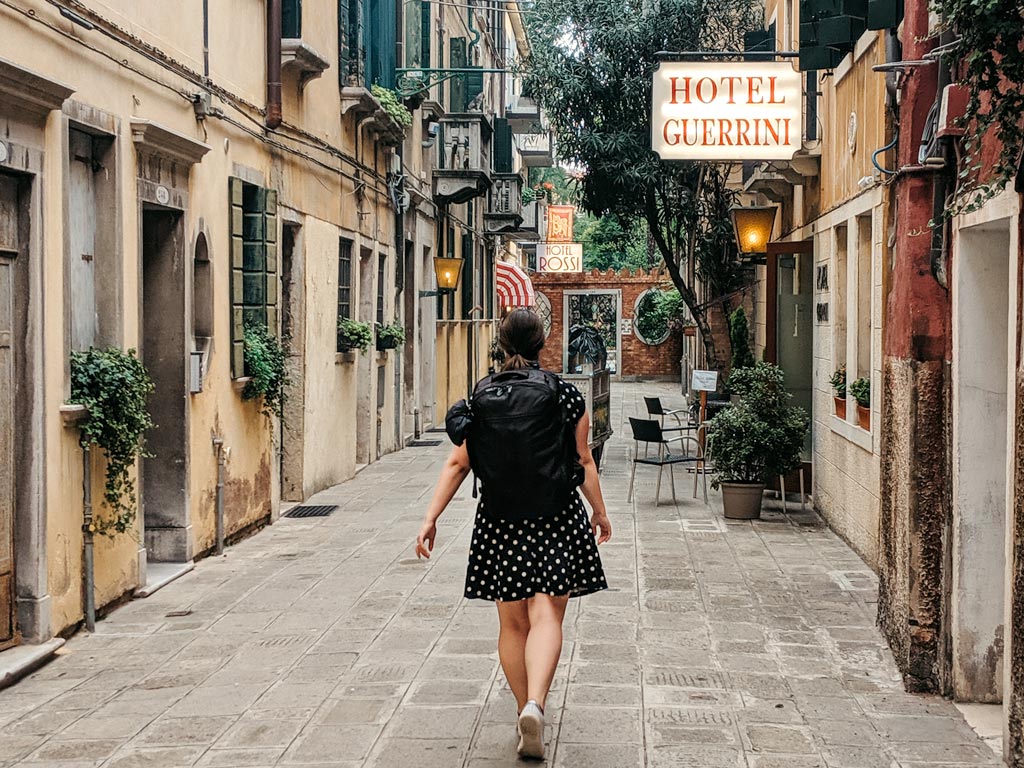 As for the Farpoint, my husband and traveling companion uses this bag for most of his trips (under a week). When you're 6'2", it's not always easy to pack for a 10 day vacation in a 40L backpack!
Because this is a hands-on review of the Tortuga Setout vs Osprey Farpoint 40, I've taken the Farpoint on a few test runs myself. However, I'll be sharing some thoughts from my husband as well.
Before I reveal which backpack edges out the competition, let's dive into the specs. What's similar about the Setout and Farpoint 40, and what sets each apart?
This post contains affiliate links. As an Amazon Associate, I earn from qualifying purchases. For more information, click here.
Table of Contents
Overview of Tortuga Setout vs Osprey Farpoint
Volume: 35L
Dimensions: 21.5″ x 13.5″ x 7.5″
Weight: 3.4 lbs
Laptop: 17″
Volume: 40L
Dimensions: 21″ x 14″ x 9″
Weight: 3.2 lbs
Laptop: 15″
For the purposes of this review, I'm focusing on the Setout 35L vs. Farpoint 40L. However, the Setout also comes in a 45L size.
The Farpoint comes in a wide range of sizes–all the way up to 80L. So if you're looking to do some serious backpacking and need more than 40L capacity, you can opt for a bigger version.
Another important note about the Tortuga and Osprey backpacks is that they come in different designs to fit men's and women's bodies.
However, the overall dimensions of the bags don't change–it only affects the strap size and placement. If you have a bust larger than an A cup, you know how uncomfortable chest straps can be on bags designed for male bodies. It's a welcome change in the industry.
While the Setout has the same name for both designs, the women's version of the Osprey Farpoint is called the Fairview.
I still found the Farpoint comfortable to wear as a curvy woman. But I'd definitely opt for the Fairview if you have the option.
Comparing Similar Features of the Setout and Farpoint
The Osprey Farpoint and the Tortuga Setout are both premium front-loading travel backpacks. So naturally, they share some similar features like roomy interior storage and padded hip belts.
Here's how these features compare between the Tortuga Setout vs. Osprey Farpoint.
Straps and handles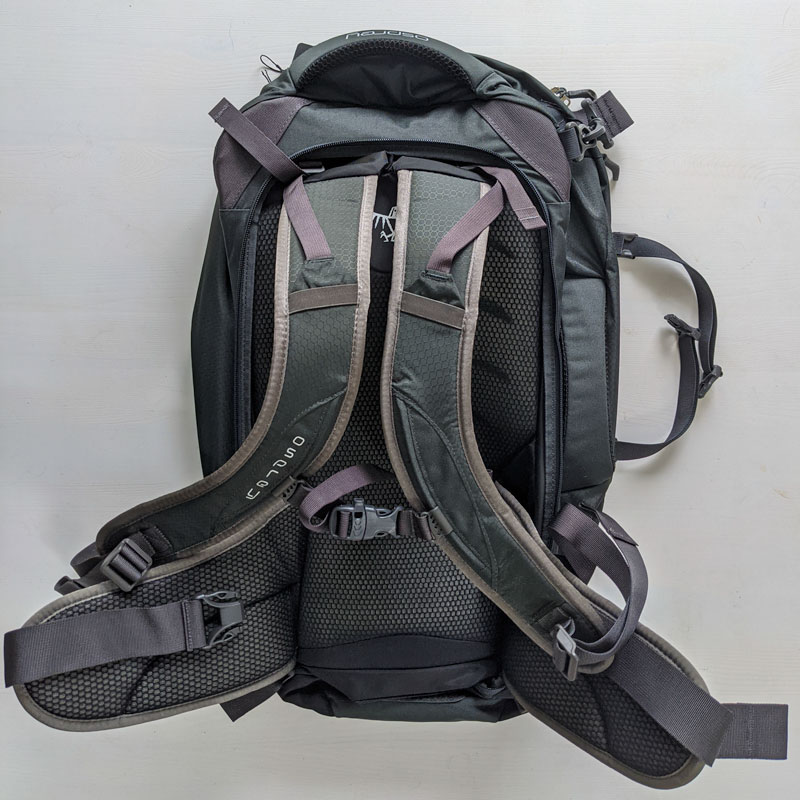 Both the Farpoint and Setout were designed specifically with travelers in mind. Thus, it's no surpise that each bag comes with padded shoulder straps, side carry handles, hip belts, and back panels.
Both bags use breathable materials and mesh on their pads. This helps prevent the dreaded sweaty back that happens with unvented packs.
That being said, the Setout's strap and back padding is more comfortable. I found the foam on the Farpoint to be stiff and a bit thinner than the Setout.
Additionally, the Setout's hip belt has more flexibility than the Farpoint. Being larger in the waist, my husband finds the Farpoint's hip belt fairly uncomfortable because of how its attached to the back panel. This firm attachment also traps more heat behind your lower back, vs. the more breezy design of the Setout.
Also, both backpacks have a chest strap to help stabilize the weight across your body. As I mentioned before, this chest strap changes location slightly depending on the design for men vs. women.
Finally, if you need to take the bag off your back and hold it in your hand, the Setout and Farpoint have got you covered. Each one has a padded side handle that makes it easy and comfortable to carry it at your side or lift it up into the overhead bin.
Front-loading main compartment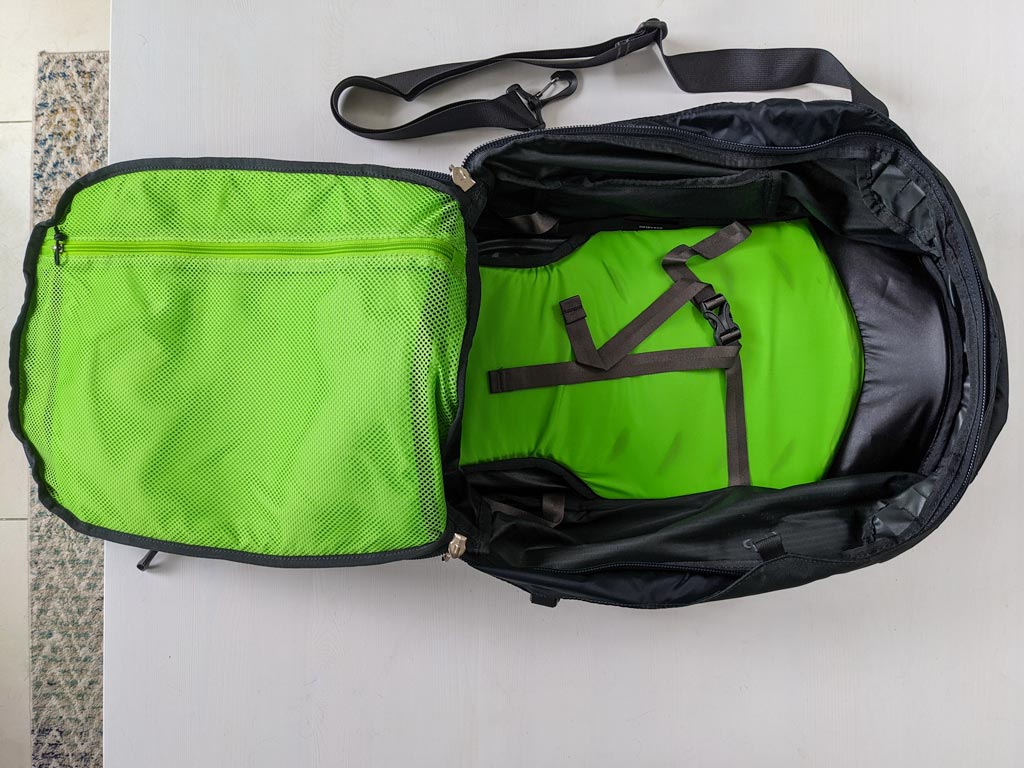 A suitcase-style backpack is a must for travel. You don't want to be rummaging around for socks that are buried at the bottom of your bag.
Thankfully, both the Farpoint and the Setout are front loading travel backpacks. You can lay the bag flat and fully unzip the main compartment just like a wheelie bag.
Both backpacks have lockable zippers (locks not included). This extra layer of security makes them ideal backpacks for traveling in Europe or other destinations where pickpockets and theft are common.
However, there are two key differences between the Osprey Farpoint vs. Tortuga Setout main compartments. The first is that the Setout has two zippered mesh pockets on the top flap, while the Farpoint only has one large one. It doesn't make much of a difference, though splitting the pocket into two sections does give you more options to organize your stuff.
The other difference is the ease of packing. Because the Farpoint has a wireframe, I find it's slightly easier to pack because the bag holds its shape better. That being said, the rectangular-ish shape of the Setout means you don't have to bend and squeeze your stuff to fit inside (unlike the Farpoint, which has more round edges at the top).
Front storage compartment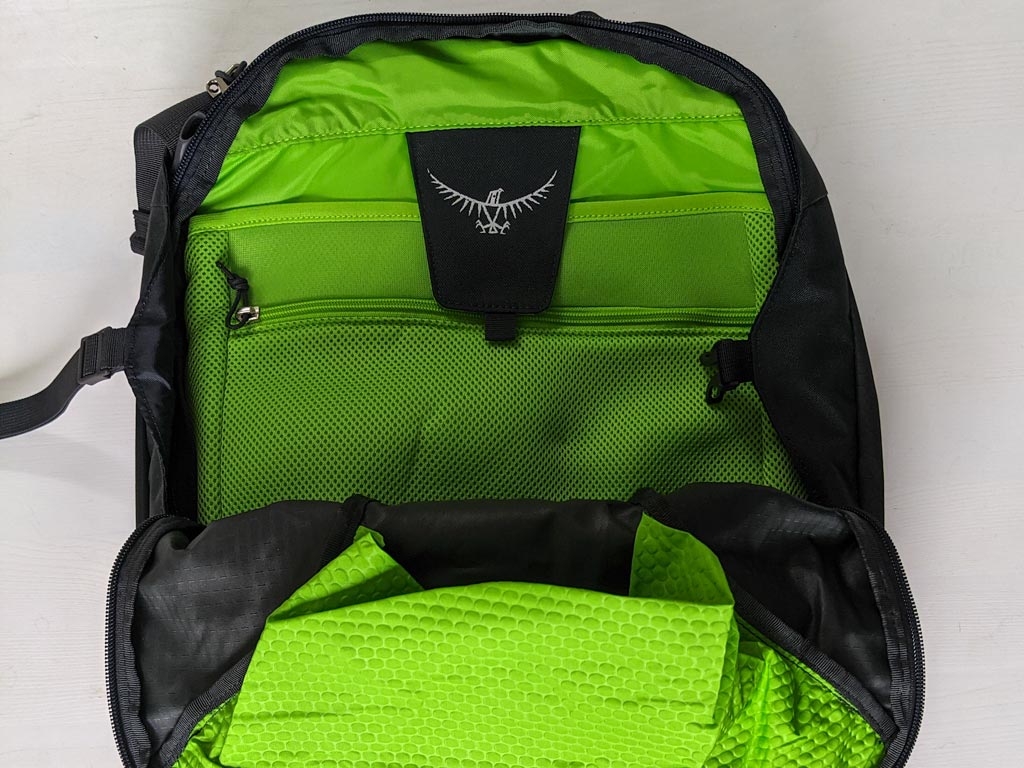 While both backpacks have a large front storage compartment, there's a clear winner when you compare the Tortuga Setout vs. Osprey Farpoint.
As you can see above, the Setout has far more pockets and pouches for organization. There are small ones for pens, stretchy ones to hold phones or battery packs, and even a zip pouch. It's an organized packer's dream!
There's even a small clip hook inside the Setout. I've used it for all sorts of things, from holding keys to attaching a small bag onto your backpack.
The only slight downside is the zipper opening. The Farpoint's front section opens up a bit further than the Setout, so it's easier to access items near the bottom.
Laptop compartment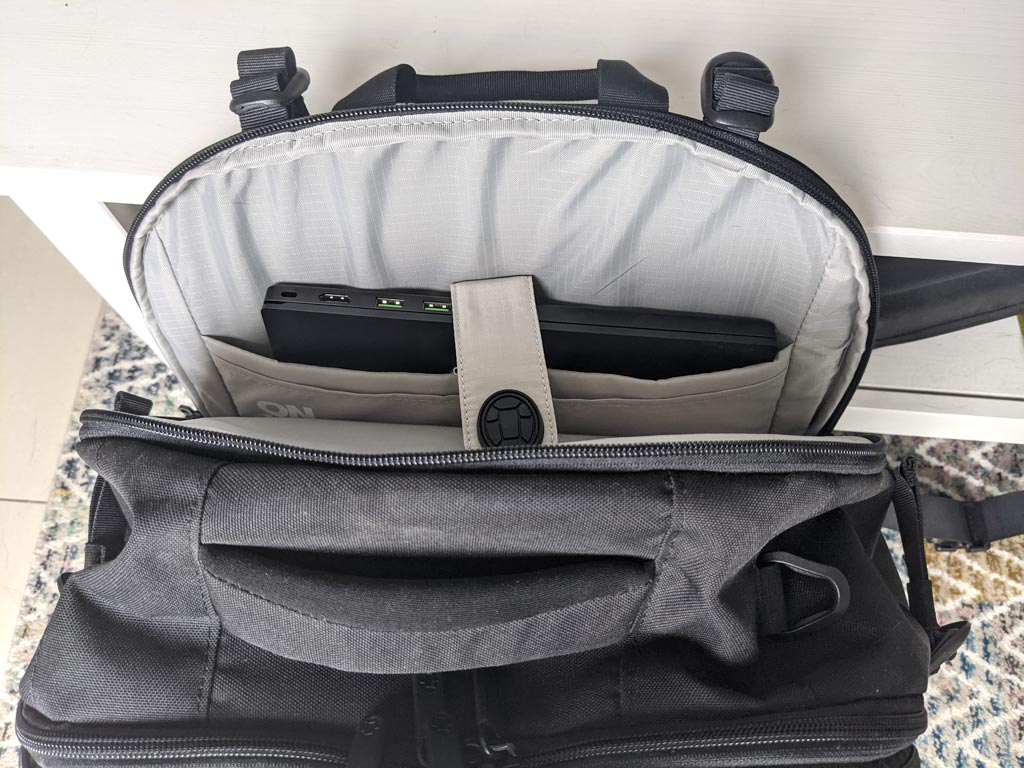 Whether for work or play, most of us travel with our laptops. And given how pricey electronics can be, having a secure laptop compartment is a must.
Tortuga seems to understand this well. The Setout has a separate rear compartment with nice, thick padding for laptops up to 17 inches. There's also a sleeve on the opposite side of the padding for a tablet.
Unfortunately, the same cannot be said for the Farpoint. Its laptop pouch is inside the front compartment and offers little padding or protection. And if you have a heavy computer, the weight will be further away from your body, making the pack less comfortable to carry.
My husband said the poor protection on the Farpoint's laptop compartment makes him nervous. He often works on our travels and needs his specific work computer, so he puts extra cushion around his laptop for safety.
Front zipper pocket
The Setout's front zipper pocket is perfect for storing quick access items. I use it for my boarding pass, charging cables, portable battery pack, and headphones.
The Farpoint also has a front zipper pocket, though you might not notice it. That's because the zipper is hidden under a flap of fabric. While this does make it harder to quickly access the pocket, it does make it a bit safer because it's out of sight.
Stowaway Harness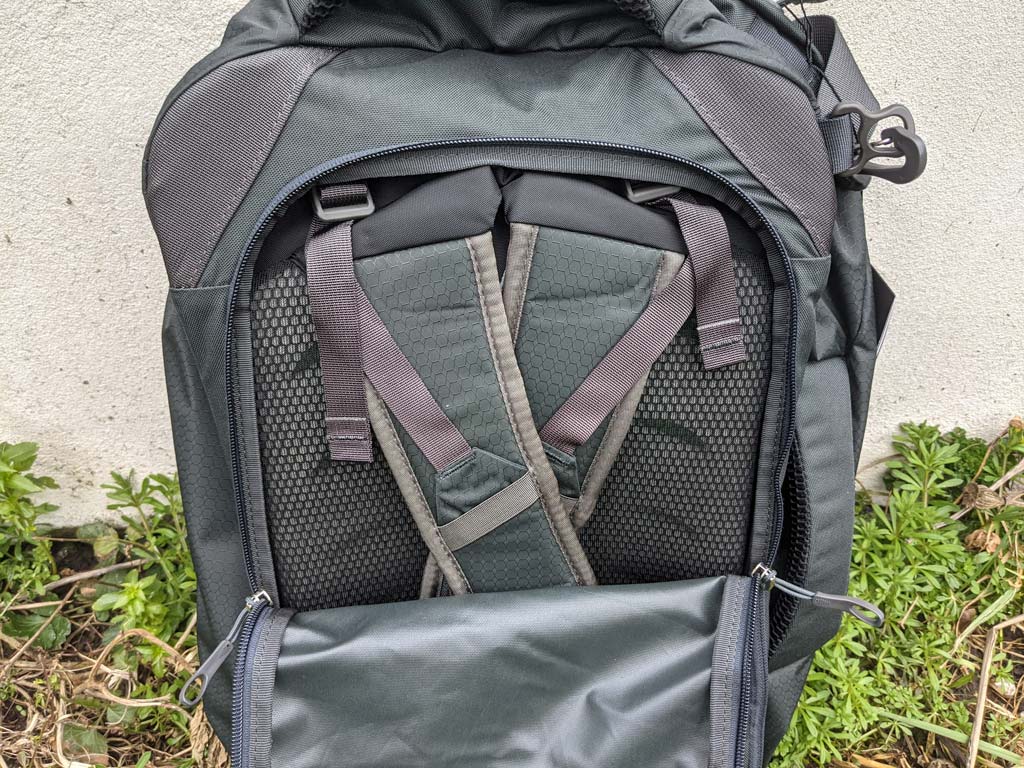 There may come a time when you want to check your backpack rather than carry it onboard. This means tucking away the harness, as the dangling straps can get caught in the luggage belt.
Thankfully, both the Setout and Farpoint have stowaway harness systems that make this process easy.
The Farpoint's shoulder and hip straps can be quickly folded down and stowed behind a zippered + velcro back panel. To stow the Setout's straps, you'll need to detach the shoulder straps from the bottom clips and then tuck them into the velcro back panel.
Note that you can detach and stow the Setout's hip belts as well–I was just too lazy to do it for this picture!
Materials
In terms of fabric, the Setout is made with 900D heathered polyester, while the Osprey backpack is made of 210D ripstop nylon.
In layman's terms, the Setout is softer and looks like cloth, while the Farpoint looks like your traditional shiny backpack. Despite appearances, both fabrics are water-resistant, though you should probably carry a rain shield to protect your bag just in case you get caught in a downpour.
I will say that the nylon on the Farpoint is a bit easier to wipe clean than the Setout's heathered polyester. However, I've had no trouble cleaning the typical travel dirt and grime off my Setout.
It's also worth noting that the black and grey versions of the Setout are made using rPET, which is recycled polyester from plastic water bottles.
Aesthetics
This is one area of the Osprey Farpoint vs. Tortuga Setout debate that gets overlooked. Probably because minimalist travelers like me care more about function than beauty!
In terms of aesthetics, the Setout has a sleeker look. Without stretchy front pockets or compression straps, the backpack is far more minimalist in design (at least on the outside).
The Farpoint looks more like a traditional backpack. It has the shape, straps, cords, and shiny material you expect to see from a hiking bag or daypack.
Personally, I prefer the look of the Setout. Not only because it's more minimal, but also because the lack of straps and cords means fewer chances of it getting snagged on something.
Save me for later!
Pros of the Tortuga Setout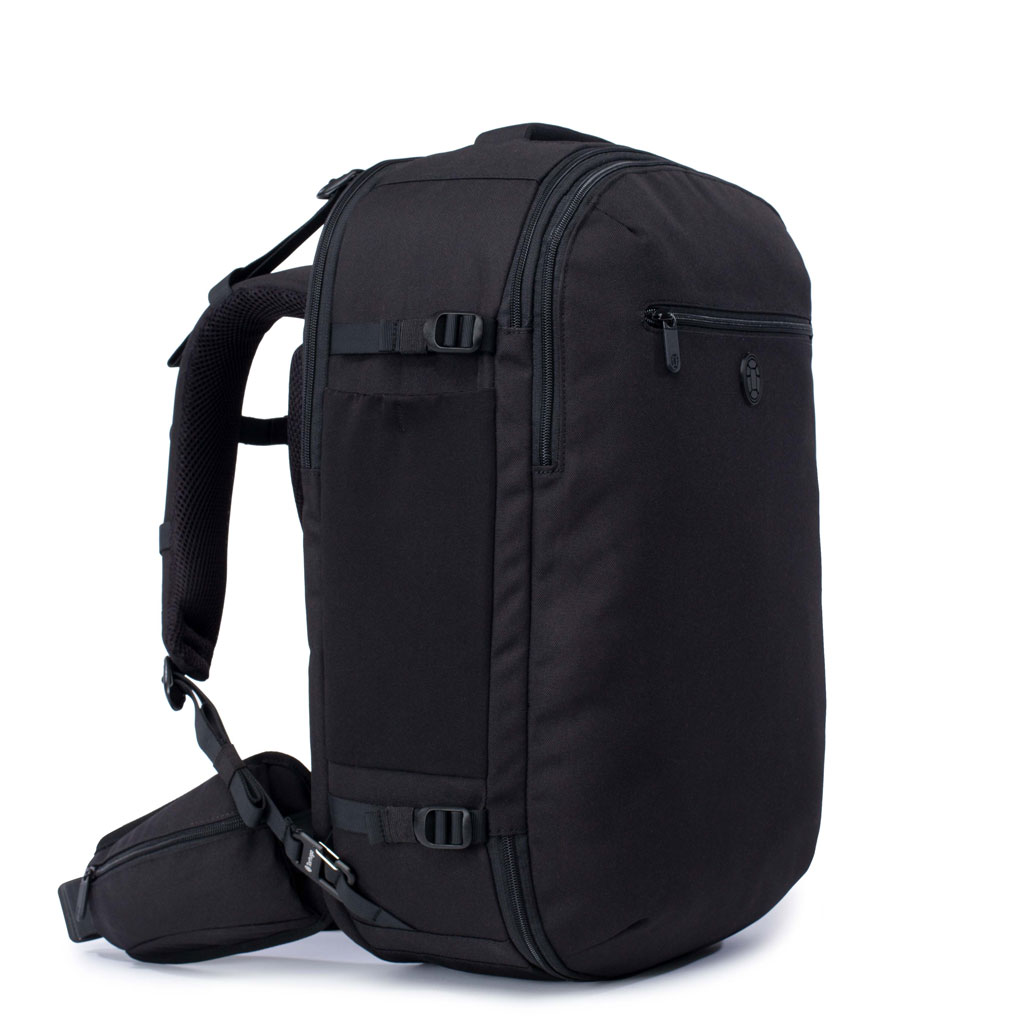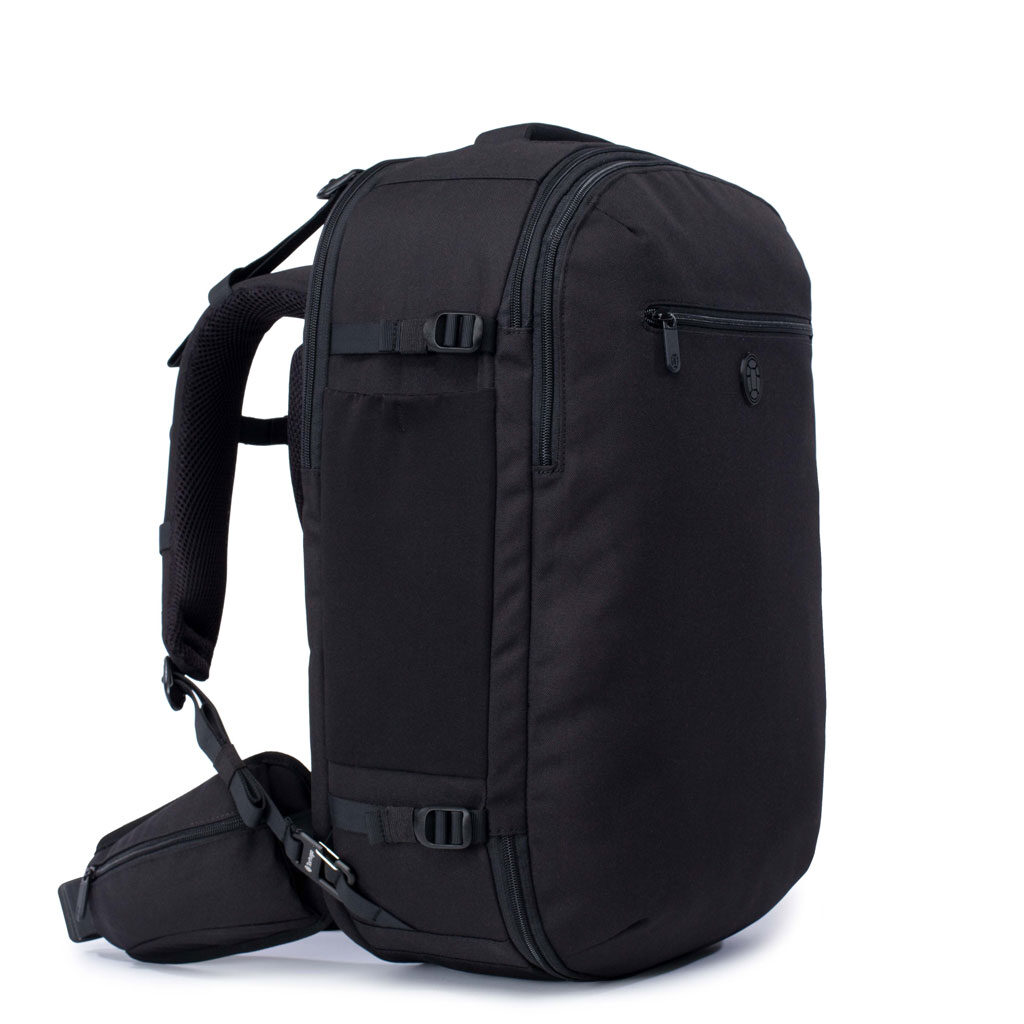 Side pockets
The Setout has a marvelous pair of stretchy side pockets. They're perfect for holding water bottles or other things you want to access easily. I've used them to store ballet flats and even a small tripod.
Hip belt pouches
To me, having two zipped hip belt pouches is a major advantage of the Tortuga Setout vs. Osprey Farpoint. They aren't quite roomy enough to hold my smartphone, but I do use them to hold my portable battery pack, admission tickets, and other odds and ends.
International carry-on friendly
Even when fully packed, the 35L Setout still meets the carry-on size requirements for most international flights. A fully packed 40L Farpoint is too bulky for many of Europe's popular airlines (Ryanair, EasyJet, etc.).
And for airlines with more generous carry-on policies (like Delta or British Airways), I've been able to strap my Manfrotto tripod to the outside of my Setout. It's saved me precious inside space on those long trips.
Pros of the Osprey Farpoint
Wireframe suspension
Perhaps the biggest pro of the Osprey Farpoint vs Tortuga Setout is the wireframe suspension system. This helps distribute the load and make the bag more stable when fully packed. As I noted earlier, it also makes packing the main compartment a bit easier because it helps the bag hold its shape.
Compression straps
The Farpoint's front compression straps keep your stuff in place if you didn't pack the bag to bursting. Like the wireframe, they also help stabilize the pack. You could also tighten them to ensure your bag fits into the carry-on size requirements.
Shoulder strap included
Tthe Setout and Farpoint are both compatible with shoulder straps. However, the Farpoint actually comes with a side shoulder strap included. Neither of us have ever wanted to use a shoulder strap rather than the back harness or side handle, but it's nice to have it just in case.
All Mighty Guarantee
In line with their commitment to sustainability, Osprey has an "All Mighty Guarantee" on their bags. This means they will repair any damages for life, until the bag is literally falling apart.
If they can't repair it, they will sometimes replace it depending on the circumstances. Osprey also provides buckles, zippers, and other components so you can make small fixes at home yourself.
Tortuga Setout vs Osprey Farpoint: The Winner is…
With its sleek design, comfortable padding, and superior pockets and organization, the Setout nudges ahead of its main competitor. The Farpoint is a strong contender, but its few advantages aren't enough to overtake the Setout.
However, if you are planning to take your front loading travel backpack on lots of hikes or other outdoor adventures, the Farpoint is the better option. The wireframe suspension, dirt-resistant fabric, and generous warranty become far more important in this case.
Looking for more travel gear and tips? Check out these posts: