Making friends as an adult is hard. But making friends abroad is even harder. Aside from the potential language barrier, you're also a cultural outsider. And if you're naturally shy, this feeling of not belonging can steer you down a path of Netflix binges instead of friendship building.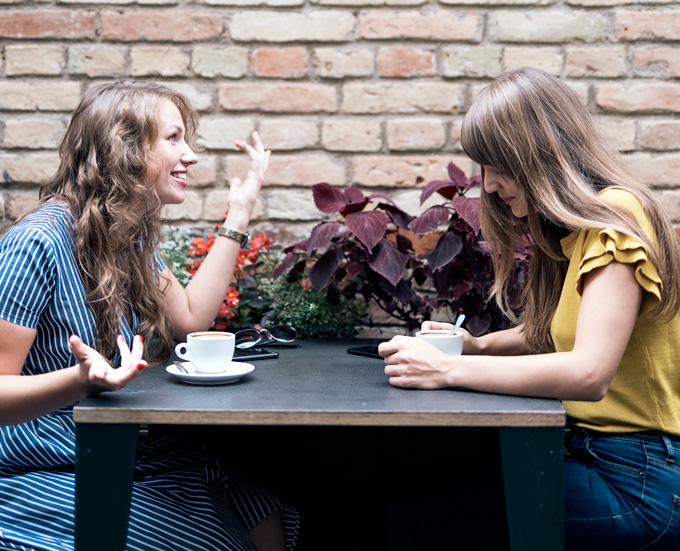 Despite being a life-long introvert, I managed to find friends abroad after I moved to London from the US. I've tried nearly all of the ideas below for making friends in a foreign country. And after a year abroad, I've grown several new relationships with expats and locals alike.
The secret to making friends as an introvert lies in the approach. Instead of forcing yourself into a coffee date or "get to know you" meeting, use an activity as a buffer.
When meeting new people during a local class or volunteering event, there's no pressure to hit it off or talk 100% of the time. Like dating, making friends is much easier when you're not in a contrived situation of polite conversation.
Plus, meeting people through a shared interest or history means you already have things in common. The foundations of friendship are already there. You just need to build on them.
Growing your social network is one of the best advantages of living abroad. If you've recently become an expat and need help making friends abroad, here are seven strategies that work around the world. And, I'll share a few ideas on how to make friends in London at the end of the post!
Tips for Making Friends Abroad
Take a hobby class
Are you interested in starting a new hobby, or learning new skills for your current one? Hobby classes are a great way of making friends as an introvert, because they bring people with the same specific passion together.
Whether you're taking up photography for the first time or learning advanced diving techniques, you'll have plenty to discuss with your classmates.
Newbies can talk about why they've taken up the hobby, or get help from a partner. Experienced hobbyists can swap stories about past successes and challenges.
Finding hobby classes is easy with the help of the internet. Most countries and large cities have their own online platforms where organizations can post local classes.
Searching "local classes [city]" should bring up websites or even online newspapers with lists of opportunities. Even small communities tend to hold a few classes at the local community center, school, or place of worship.
Find a language exchange partner or club
If your new country doesn't share your native language, this strategy is perfect for making friends abroad. It's also a win-win, as you can learn the local language and build a friendship at the same time.
In case you're not familiar with the concept, a language exchange is a free way to learn a new language through structured conversation with native speakers. Usually, the conversation focuses on a single topic, like eating at a restaurant or shopping for clothes.
You'll start the practice in one language, and then switch to the other. Naturally, both speakers will need to have a basic grasp on each language.
RELATED: 5 Questions to Ask Yourself Before Deciding to Move Abroad
Some cities host clubs that bring together people who want to learn a specific language. You can also use online platforms like Craigslist or Gumtree to find language partners. Or if you're feeling bold, try asking a coworker or neighbor if they'd be interested.
Check out these guidelines for hosting a language exchange to learn more.
Host a dog meetup
Dogs are the perfect ice-breakers. Nearly everyone loves them, and their need for socialization gives you an excuse to meet other dog owners.
Start by taking your pooch for a walk in the nearest dog-friendly park. It shouldn't take long before you find some friendly dogs looking to play (with permission, of course). And while the pups are at play, you can indulge in every dog owner's favorite pastime: talking about your furry friends.
If you're too shy to suggest a repeat play date right away, no worries. Most people keep to a regular walking schedule, so you're bound to run into them again.
A lot of communities host regular dog meetups, so you could also join an existing group. Check online, at your local vet, and in pet supply shops for opportunities.
Sign up for an intramural sports club
There's a reason that adult sports clubs are popular: they're one of the easiest ways to make friends after college. Everyone on the team shares a common interest, and a common goal.
Camaraderie starts from the first practice. And its common for teams to end every game with a meal or drink together at the local bar.
Intramural sports run the gamut from ultra-competitive indoor soccer leagues to laid-back kickball clubs. There are even unconventional clubs, like Quidditch and paintball. You could also consider learning a local sport, like cricket or bocce ball.
Some clubs have hefty registration fees, but the less competitive groups tend to be budget-friendly. At minimum, you'll probably have to buy a team shirt and necessary protective gear.
Check online or at the community's athletic center for your city's options and sign-up information.
Save me for later!
Volunteer with an organization you care about
Whether you're passionate about animals or antiques, you can settle into your new country and build friendships through volunteering. You'll be working alongside others who share similar values, and you'll have plenty to talk about between activities.
It's also a great way to learn about your town's strengths and challenges, making you less of an outsider.
RELATED: Wallet is the Best Budgeting App for Expats
Most cities and regions maintain an online platform where you can see a list of local volunteer options. Just search "volunteer opportunities [area name]". You could choose to do one-time opportunities, though it's easier to form friendships if you have a recurring volunteer schedule.
Engage with locals on Instagram
Networking on Instagram isn't just for influencers. Although it wasn't my intention, I ended up connecting with locals and digital nomads by sharing my travel photos and engaging with others' content.
The best way to find friends on Instagram is to follow hashtags for your area. There are tons of London-related hashtags, but even smaller cities tend to have one or two that locals like to use.
You can also follow hashtags relevant to your work or interests, like #femaletravelbloggers or #expats. The people posting here might not be local, but who says friendships have to involve face-to-face meetings?
Once you find a few relevant hashtags, check the Top and Recent tabs to find profiles you'd like to follow. Spend some time leaving meaningful comments on their latest posts, and they'll probably reciprocate.
You can also chat with people via direct message, though personally I find that strange unless we've gotten to know one another via commenting.
Join expat groups for your country on Facebook
Of course, one of the easiest ways of making friends abroad is finding other expats in your area.
There are literally thousands of expat Facebook groups that help connect people who are living abroad. Some groups are for expats from a certain country living in another, while others are open to any expats living in a particular area.
Finding expat Facebook groups is pretty easy. Just use the search feature and change the tab over to Groups. Most Facebook expat groups are set to private, so you'll need to submit a request to join and wait for admin approval.
How to Make Friends in London
Take a course via General Assembly or FindCourses
As I mentioned earlier, taking a class is a great way to make friends in London. If you're looking for tech-related sessions, check out General Assembly. They offer everything from social media strategy to coding classes, and the courses draw people from across the city.
For a wider set of options, including free classes, try searching FindCourses The platform makes it easy to filter by location, and has opportunities ranging from basic cooking to professional certification programs.
Volunteer with Hands On London
Hands On London is a non-profit that connects people to volunteer opportunities with charities, schools, and other organizations around the city. You can create a volunteer profile on their website and set up a calendar of when you're free to participate in events.
Whether you're looking to plant trees in Dulwich or serve lunch at a retirement home, you're sure to find something to connect you to the community (and new friends).
Make use of your local common
If you didn't grow up in England, you probably aren't aware of the significance of the local common. Many London neighborhoods have large, open green spaces that host community events, running clubs, and doggy dates.
Check out your borough's website or platforms like Get Active or Meetup to find out what's happening in your common.
Don't let your introversion hold you back from making friends abroad! Try one of these strategies and forge a new friendship.