Lately, it seems like everyone is searching for minimalist lifestyle tips to transform their homes and habits. Luckily, there's no secret formula or set of rules to begin living a minimalist lifestyle. With a few simple strategies, you can start reaping the benefits of a life with less stuff and more meaning.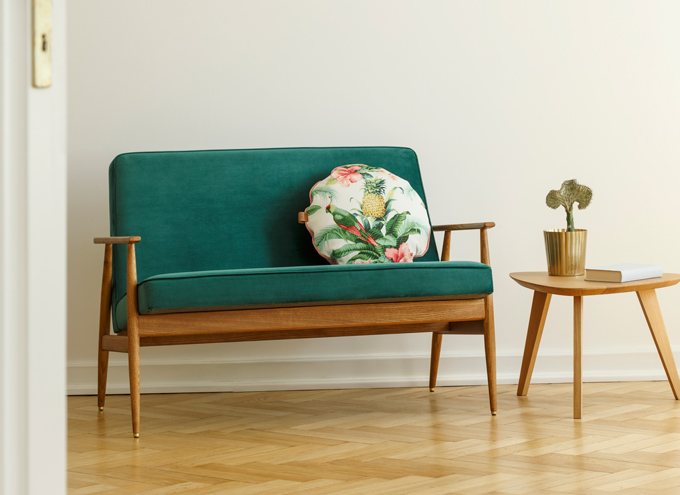 Between the famous KonMari method and the growing low impact living movement, people around the world are finding happiness in living with less stuff and decluttering.
However, I believe the two biggest benefits of simplifying your life through minimalism are saving time and money.
The simple act of living with less means fewer expenses, less maintenance, and easier choices. And all of these savings empower you to do more of what you love, whether that be traveling or reading or spending time with family.
When my husband and I implemented these minimalist lifestyle tips, we quickly saw our bank accounts grow and our stress levels drop.
We went from a 2,000 square foot house in Texas to an 800 square foot apartment in London. Weekends are actually fun instead of filled with chores. And despite our higher cost of living and reduced income, we're traveling more than ever.
If you're ready to start your journey to minimalism, here are seven minimalist lifestyle tips to get you started.
This post contains affiliate links. As an Amazon Associate, I earn from qualifying purchases. For more information, click here.
Practice mindfulness before spending
How long do you wait before making a purchase? Under a minute? Maybe a half hour if it's a major expense? And how many times have you bought something, only to realize later that you didn't really need it?
I used to be this way, particularly with books and clothes. I'd go to the store for a new pair of jeans and come home with an extra three shirts and a swimsuit. Or I'd see a few interesting Kindle books on sale, use the dangerously easy One Click purchase, and let them go unread for months on end.
There are so many psychological reasons why we buy things, from the desire to "fix" something in our lives (hello, exercise ball I used twice!) to the thrill that retail therapy offers. We tend to amass stuff without considering our true motivations behind the purchase.
To break this habit, we need to practice mindful spending. And it's quite easy to do!
Here are three questions to ask before making a purchase:
What will I do with this?
How long will this item last?
Do I already own something else that serves this item's purpose?
I use this minimalist lifestyle tip for virtually every purchase, whether I'm building my grocery list or buying a video game. It doesn't even require a lengthy amount of reflection time. Instead, it's about slowing down and actively considering if your purchase is necessary and useful.
Ultimately, practicing mindfulness before spending helps you get maximum enjoyment from what you have before buying something new. And that means less stuff in your life and more money in your pocket.
Invest in durable, multi-use items
I realize that buying things seems counter-intuitive to minimalism. However, when those things are versatile, long-lasting, and serve an important function, they are valuable beyond measure.
For example, consider how many pieces of outerwear you own. Do you have a spring jacket, a rain jacket, a dressy jacket, and a winter coat? I sure did before I began living a minimalist lifestyle. In fact, I believe I had two winter coats…
Now, I have two pieces of outwear: a black, weatherproof three-in-one coat, and a lightweight waterproof jacket that folds into a tiny ball. The coat gets me through every season and type of weather, while the jacket is perfect for warm days and for minimalist packing.
Although I had to spend time and money finding the right items, I won't need to think about buying outwear again for a very long time.
RELATED: The Best Minimalist Travel Backpack for Carry On Travel
When your main concern is function and utility, it's easy to own less and save more.
And nowhere is this more true than the kitchen. I love to cook, but I'm blown away by the number of people who can't close their cabinets and drawers because they're packed to the brim with rarely-used gadgets and cookware.
If you only use your double-boiler at Christmas, it doesn't deserve to take up space in your home. Improvise with a glass bowl and a pot, and you'll be just fine.
Instead of amassing speciality items, invest in versatile pieces. One of the best minimalist things to buy is a Dutch oven.
My sky blue Le Creuset is one of my favorite possessions. With just one kitchen tool, I can do everything from roast a chicken to bake bread. And the enamel coating is highly durable, easy to clean, and guaranteed with a lifetime warranty.
Plus, I waited nearly a year before splurging on it, so there was no chance it would end up in the back of my kitchen cabinet!
Choose a "right size" living space
Of all the minimalist lifestyle tips I've shared, this one has the most money saving potential. Imagine how much bigger your savings account would be if you rented a smaller apartment, or moved into a house without the basement to store all your junk?
Back when I lived in the states, I loved watching House Hunters on HGTV. The number of people who had "large foyer" or "spare bedroom" on their must-have lists was astounding.
It would be one thing if they had frequent guests spending the night, or hosted massive parties where the Von Trapp children entertained guests by the front door. But most of these people wanted the extra space "just in case", or worse, to impress family and friends.
If you're choosing your living space based on other people, you're making a mistake.
Your home should be the right size for you and your family. Don't let the annual overnight guest or family heirloom dining table for 10 dictate the square footage of your abode.
Plus, a smaller home not only saves you money, but also time. It's crazy how fast I can clean my London apartment vs. my two-story house! And the smaller yard means less time mowing and more time exploring Europe.
Reduce cleaning time with these minimalist decluttering tips
Living with less stuff and decluttering has really cut down my cleaning schedule. To be frank, I was never one of those people who lifted up every item to dust weekly (don't tell my mom!).
But it's a lot easier to clean when you don't have 30 knick-knacks and random items strewn across every surface. Especially if you live with a German Shepherd.
Here are three minimalist decluttering tips you can put to use today:
Go through every room and place any items you don't regularly use into a "declutter box". If you don't miss those items after 30 days, donate the box.
Give everything you have a home, whether that be in a drawer or on a specific shelf. Clean up and put things back in their "homes" as soon as you're finished.
Use tabletop containers to organize and store small items like charging cables and TV remotes.
Save me for later!
Cut back on cable and other subscription services
Once upon a time, we decided to "cut the cord" and get rid of our big-name cable package. We switched to a cable streaming service, which was a huge savings.
Fast forward a few months, and we were paying for Sling TV, HBO Go, Netflix, Hulu, and Crunchyroll. And we weren't even taking advantage of Amazon Prime's streaming service that we technically paid for with our membership!
Had we not taken a hard look at our finances, we would have gone on for months, maybe years, spending money on services we hardly used.
If you're paying for subscription services, whether they be for music, the gym, or physical items, think of the value you're getting for your money. Are you making full use of Spotify premium, or do you only put it on in the shower? Do you pay for a premium gym membership only to spend 30 minutes on the treadmill twice a week?
Although the streaming overload cost us hundreds of dollars, it did teach us a valuable lesson: recurring expenses should be regularly evaluated. If you're not getting a good return on your investment, make a change.
Embrace the power of "no"
When is the last time you turned down an invitation to go out? Or a "simple favor" that wound up taking most of your day?
It's natural to feel anxiety over missing out, or nervous about offending someone. But if you stretch yourself (and your wallet) too thin, will you truly be happier?
Instead of overloading yourself with obligations, learn to embrace the power of "no". It may be difficult at first, but the freedom you'll gain in the process will make it easier. After all, self-care is a critical part of maintaining a minimalist lifestyle.
Take advantage of what your city has to offer
If you follow me on Instagram, you know that I'm a huge fan of traveling locally. Like making the most of your current possessions, exploring your own city is part of valuing what's right in front of you.
After leaving Austin, we lamented all of the things we didn't do, all of the barbeque we didn't taste. Now that we're in London on time-limited visas, we are determined to have no regrets.
You don't have to live in a metropolis to enjoy the great things your city has to offer. Something as simple as trying a new restaurant or talking a walk through the park can bring a lot of joy. While I do love international travel, there's something special about making memories and new discoveries near home.
More Minimalist Lifestyle Tips
Here are a few more minimalist lifestyle tips and guides to help you downsize, declutter, and appreciate what you already have: