The best travel experience of my life was visiting Japan in October. As a fall foliage fanatic, I loved seeing the country decorated in vibrant reds, oranges, and yellows. And when you add in pleasant weather, cheaper travel, and traditional festivals, autumn in Japan becomes the ideal time for a trip.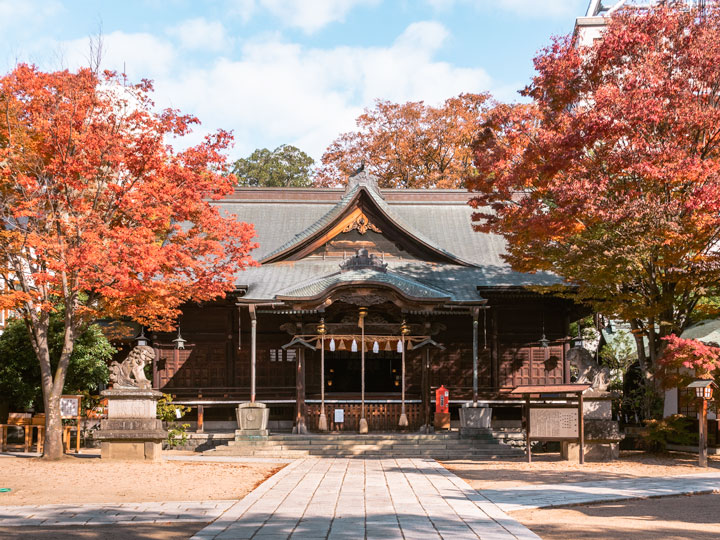 I'm sure cherry blossom fans are shocked to hear this bold statement! However, I've been to Tokyo and Kyoto for sakura season, and I still feel the fall season in Japan is superior.
Don't believe me yet? Keep reading, and we'll see if I can convince you…
This post contains affiliate links. As an Amazon Associate, I earn from qualifying purchases. For more information, click here.
Visiting Japan in October: What You Need to Know
Why is October a Good Time to Visit Japan?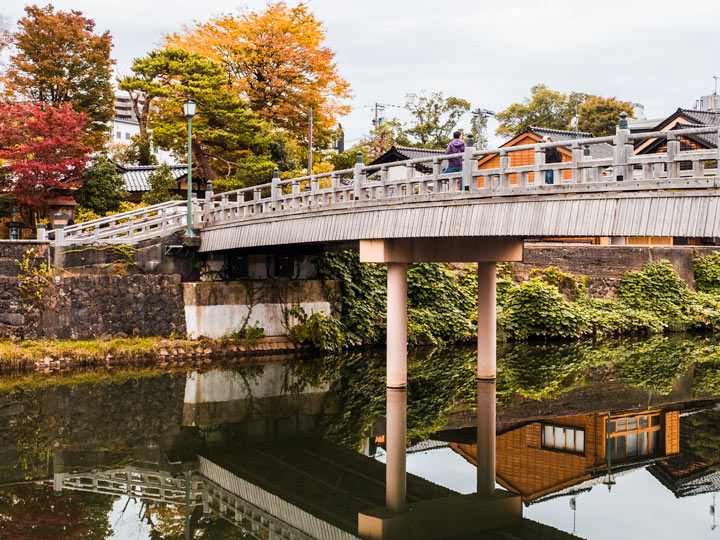 I could fill an entire book about why you should travel to Japan in October! But that would be impractical, so I'll offer you this list instead:
Magical walks through forests of red and gold
Hot onsen baths on crisp evenings
Centuries-old festivals with traditional events like horseback archery
Pumpkin-filled taiyaki
Comfortable, relatively dry weather across the country
Fewer crowds at tourist attractions and popular cities
Cheaper accommodation and airfare (compared to cherry blossom season and summer)
RELATED: 5 Day Japan Itinerary Ideas to Suit Any Travel Style
Is it cold in Japan in October?
Japan is a multi-island nation with a very diverse climate. October in Hokkaido looks (and feels) very different from October in Okinawa.
That being said, October is the rare month where weather is pleasant across the entire country. Even in the northern parts of Japan, high temperatures hover around 16°C/60°F.
As you head south, temps continue to rise. Central Japan (around Tokyo/Kyoto) and Kyushu see highs around 22°C/71°F, while Okinawa is a warm 25°C/77°F.
However, elevation plays a big role in how cold it gets. For example, the mountain areas of Kamikochi National Park are far cooler than nearby Matsumoto city, especially when the sun goes down.
You'll find a fall packing list for Japan further down the post.
RELATED: 12 Essential Things to Avoid in Japan While Traveling
Will I see fall foliage in Japan in October?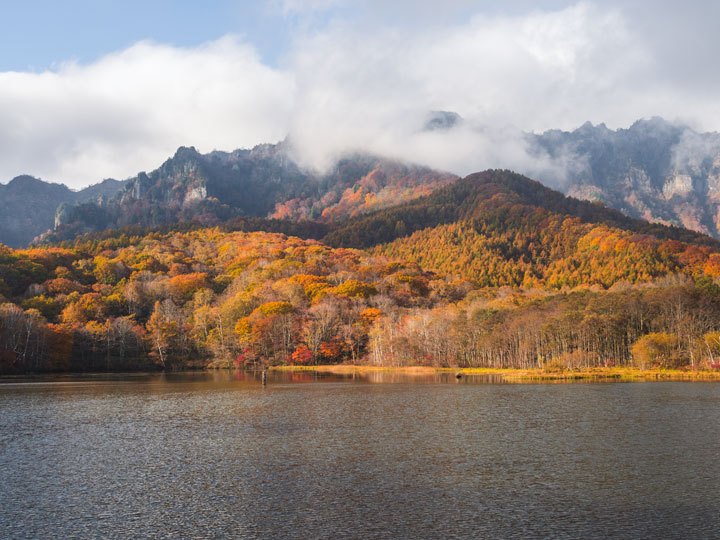 As I mentioned above, Japan is spread across multiple climates. This means that not all areas will get autumn foliage at the same time.
Koyo (fall foliage in Japanese) starts at Hokkaido in early October, and spreads south towards central Honshu over the course of the month. Mountain areas like Nagano will get autumn colors sooner because of the cooler temperatures.
By the end of October, autumn foliage will have peaked in places like Nikko and Aomori, but will have just kicked off in Tokyo and Kyoto.
This post will cover some of the best places to see autumn leaves in Japan. But to create your ultimate momijigari (leaf-peeping) trip, you should use an updated forecast.
The current year's weather affects when the leaves start turning, so always check the koyo forecast before planning your itinerary!
What to Wear in Japan in October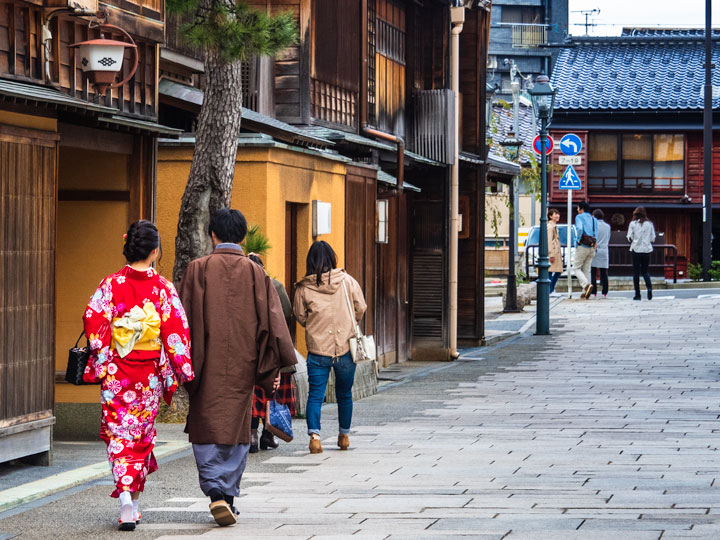 Layers are the secret to dressing for autumn weather in Japan. Even in the northern cities, the midday highs in October are often warm enough for t-shirts and pants. But temperatures drop during the mornings and evenings, making a jacket essential.
I'm a big fan of minimalist packing and carry-on only travel. I managed to fit a week's worth of clothes into my Tortuga Setout backpack, and they worked for 20°C/70°F days in Tokyo and 7°C/45°F evenings in the Nagano mountains.
Here's what to include in your fall Japan packing list:
Check out my hiking gear guide if you're planning some outdoor adventures in Japan!
My Favorite Japan Travel Planning Books
These books win my travel blogger Seal of Approval for vacation planning:
Best Places to Visit in Japan in October
Nagano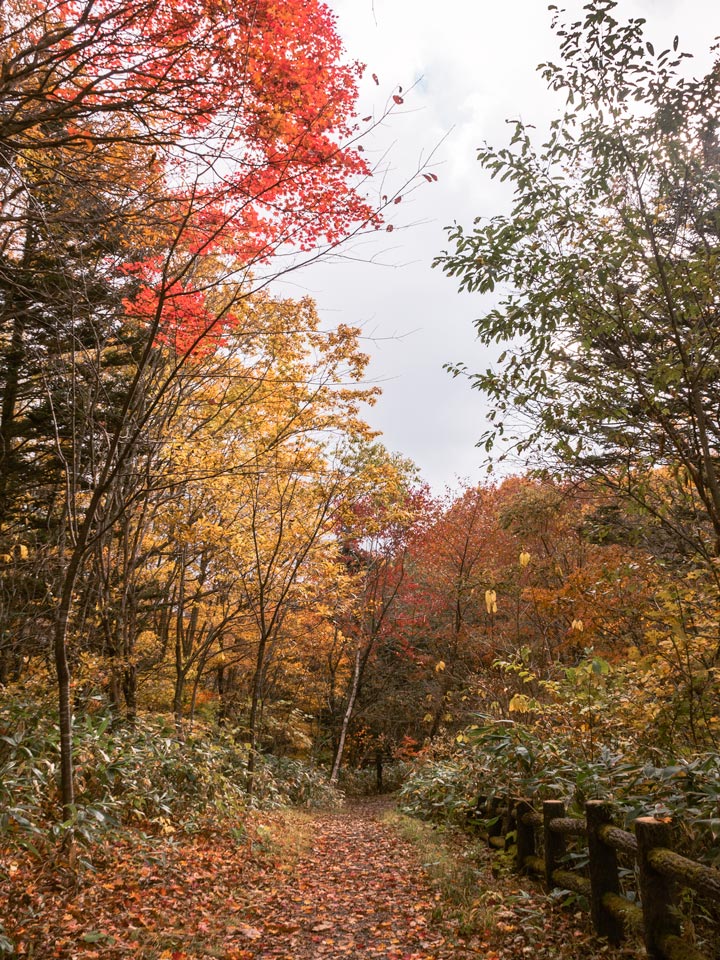 Nestled in the mountains of central Honshu, Nagano prefecture is an ideal place to spend October in Japan. It's a nature lover's paradise, with waterfalls, hiking trails, and scenic viewpoints galore.
Around mid-October, fall foliage spreads through the region, and peaks towards the end of the month. While nearby Tokyo is still pretty green, cities like Karuizawa and Komoro are awash in red and gold.
Luckily, Nagano is only an 80-120 minute train ride away from Tokyo, so you can easily take a leaf-peeping day trip.
Some of the best things to do in Nagano include visiting Shirato Falls in Karuizawa, hiking the Togakushi Shrine path, and watching the famous snow monkeys of Jigokudani take an onsen bath.
Book your Nagano snow monkey trip here!
Kamikochi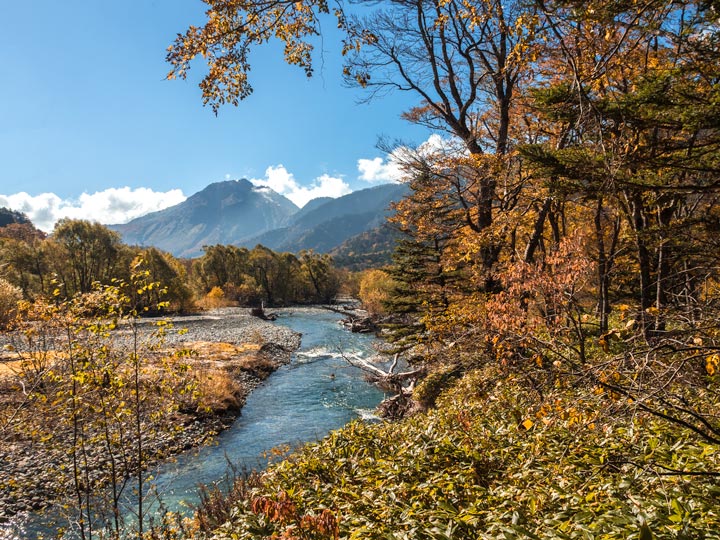 Kamikochi is widely considered to be one of the country's most beautiful national parks. The pristine mountain valley is stunning year-round, but this famous place in Japan truly comes alive in October.
From golden larches reflecting in Taisho Pond to red Japanese maple leaves drifting on the breeze, Kamikochi is a wonderland for fall foliage in Japan. And the main trails are accessible to people of all ages and fitness levels, so you can enjoy this autumn jewel without fancy hiking gear.
The only tricky thing about Kamikochi is that it's somewhat remote, and there's a motor vehicle ban in the park. However, it's easy to travel here by bus if you do a little research.
Fortunately, I wrote a detailed Kamikochi hiking guide to help you have an amazing, stress-free trip!
Hokkaido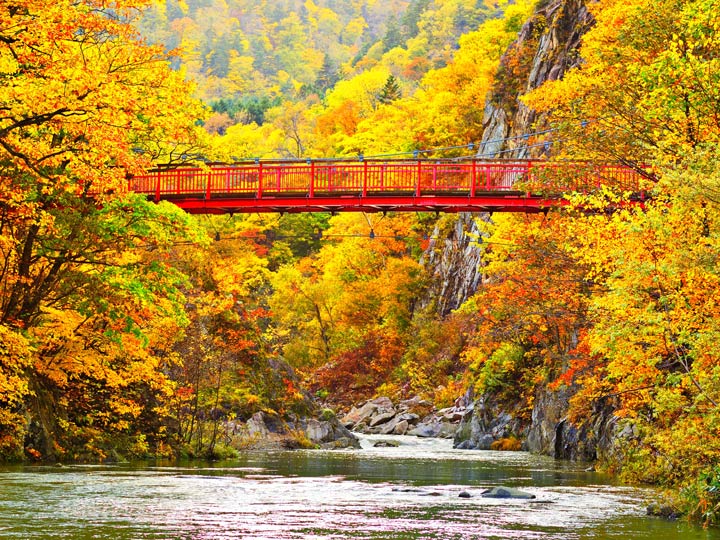 Japan's northernmost main island is a land of rugged natural beauty. Volcanic mountains and dense forests surround the island's developed cities, providing plenty of opportunities for leaf peeping.
When people ask where to go in Japan in October, Daisetsuzan National Park is often the answer. Daisetsuzan is Japan's largest national park, and it's famous for being the first place in the country to get autumn foliage.
Don't Forget Your Japan Rail Pass!
Buying a Japan Rail Pass will save you a ton of time and money when traveling across Japan.
I've purchased a JR pass for two out of three Japan trips, and here's why:
– Free bullet trains and reservations: Quickly travel all over Japan to maximize vacation time.
– Easy to use: Just show your pass to the gate attendant and walk to your train!
– Affordable day trips: Visit popular places like Nagoya, Kanazawa, and more without spending a fortune on tickets.
Lake Towada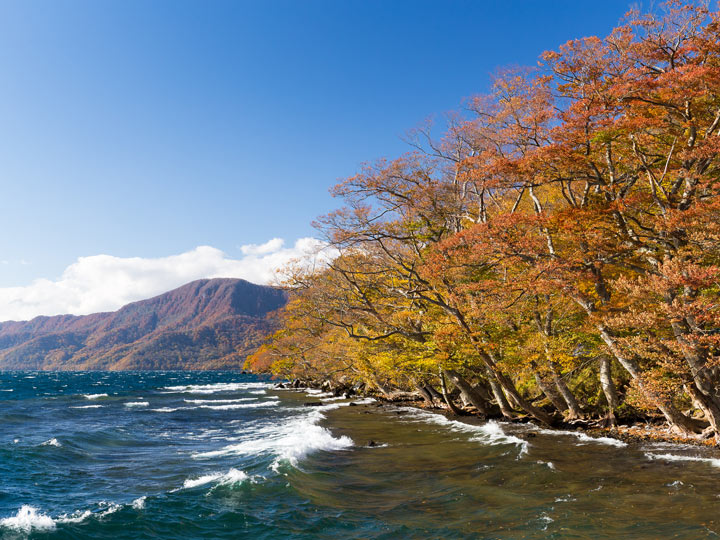 This vast crater lake inside Towada-Hachimantai National Park is one of the most popular autumn destinations in Japan. Boat tours ferry guests around the lake, offering amazing views of the red and gold trees that surround the shore. And there are numerous hotels and onsen resorts that make for a relaxing home base.
Nearby Oirase Stream is also renowned for its stunning autumn colors, which peak around late October.
Save me for later!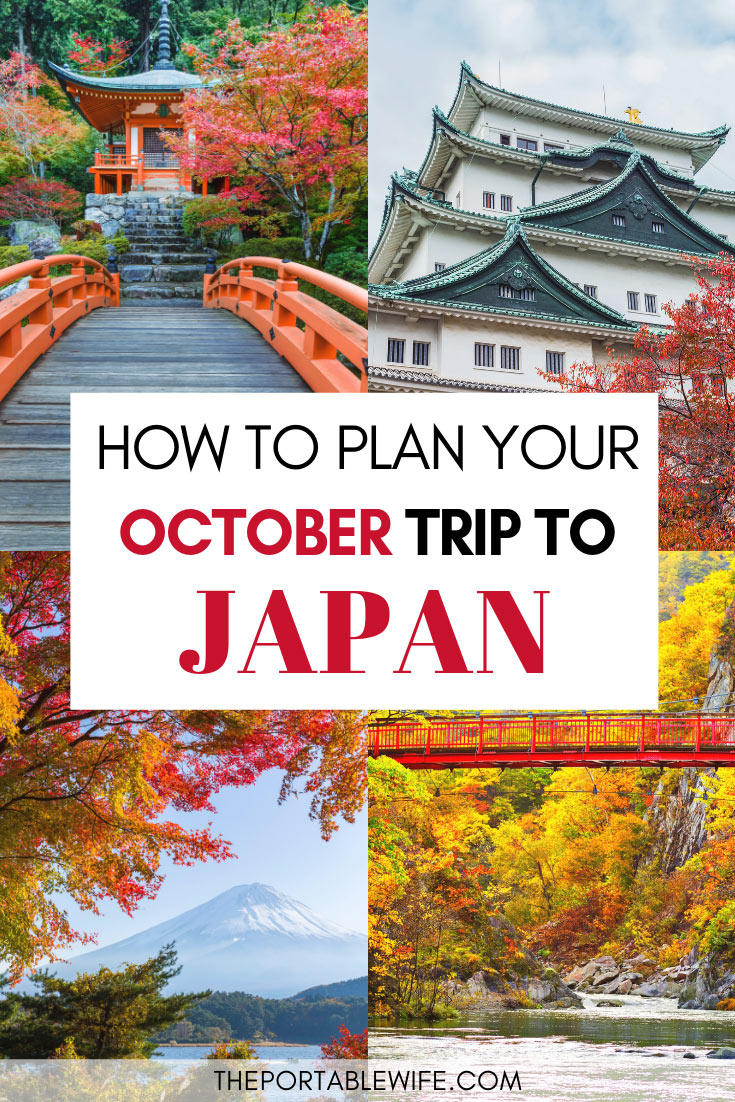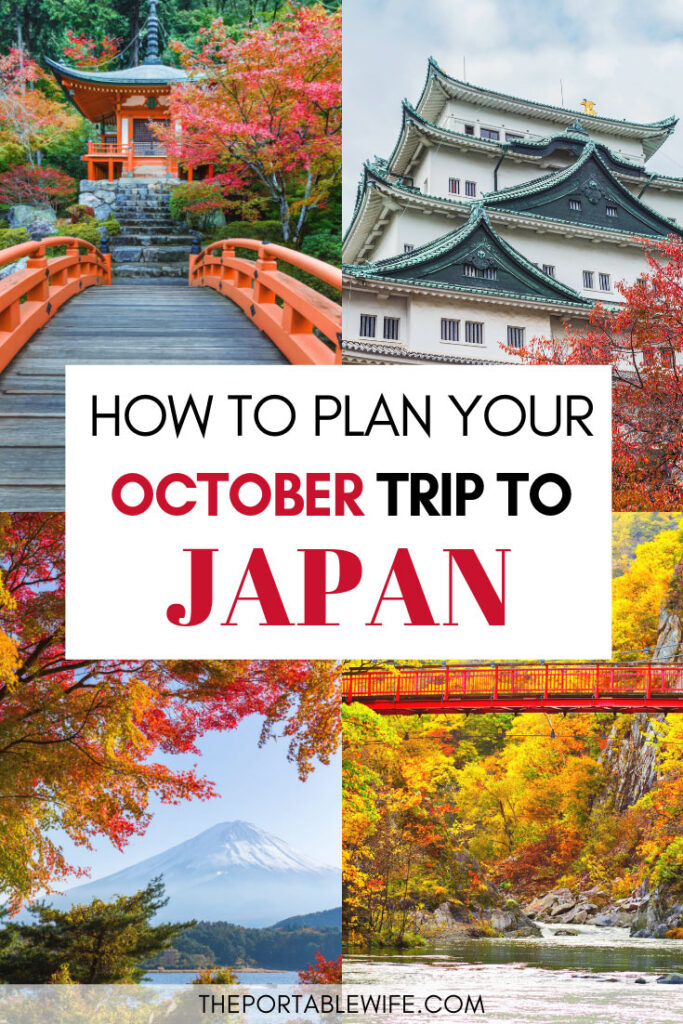 Nikko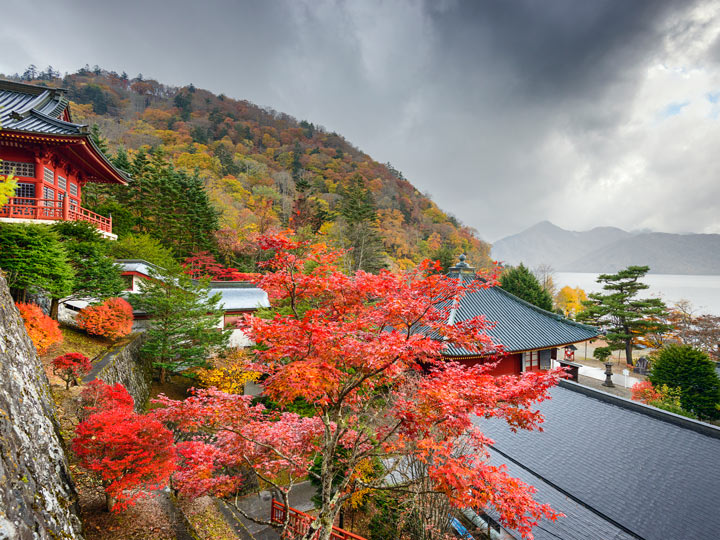 Waterfalls, canyons, golden mountaintop shrines… If Nikko isn't on your radar, it should be!
Nikko is best known for Toshogu Shrine, the opulent final resting place of shogunate leader Tokugawa Ieyasu. The village sits at the edge of Nikko Nationa Park, which boasts some of Japan's best places for fall color in October. Highlights include Lake Chuzenji, Kegon Falls, and Ryuokyo Canyon.
Nikko is only 2 hours away from Tokyo by bullet train, so it's a great autumn day trip option. Its beautiful and peaceful location also make it ideal for visitors traveling to Japan alone.
Nara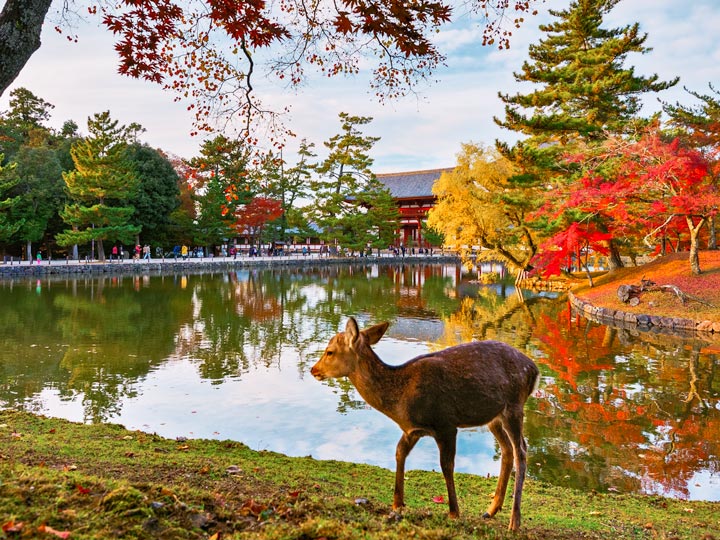 With sacred deer roaming ancient temple grounds strewn in autumn leaves, it's no wonder Nara is a fall favorite.
Fall foliage in Nara doesn't peak until November, but places like Mt. Wakakusa will take on color starting in late October. Even if the weather pushes back koyo, you can still enjoy the town's amazing attractions, like Todaiji Temple and Kasuga Grand Shrine, without heavy crowds.
Check out my Nara day trip guide to make the most of your trip!
Kanazawa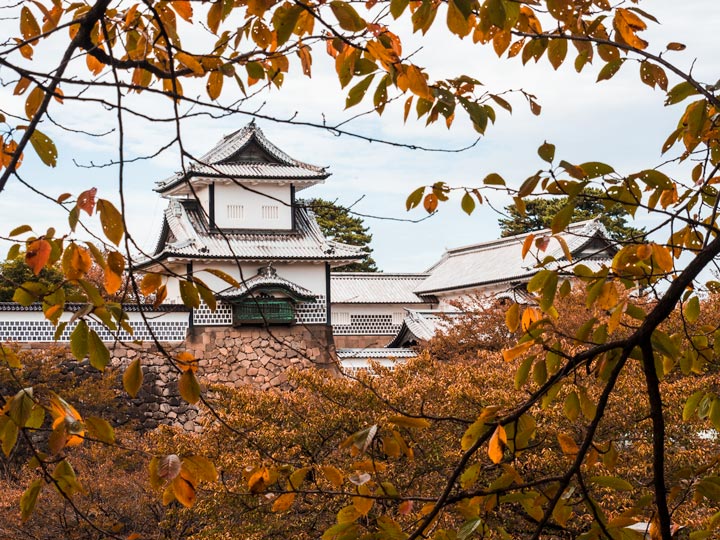 If you want to feel as though you've walked back in time, Kanazawa should be on your itinerary.
Use my Kanazawa day trip guide to plan your visit!
Unlike other Japanese cities, much of Kanazawa has been preserved since the Edo period. You can explore centuries-old neighborhoods, a ninja temple, and the iconic Kanazawa Castle against a backdrop of fiery hues. Kenroku-en Garden, with its red Japanese maples, is especially lovely in late October.
Kanazawa is on a direct shinkansen line from Tokyo, making it an easy day trip or secondary destination.
Book your Kanazawa historical walking tour here!
Fuji Five Lakes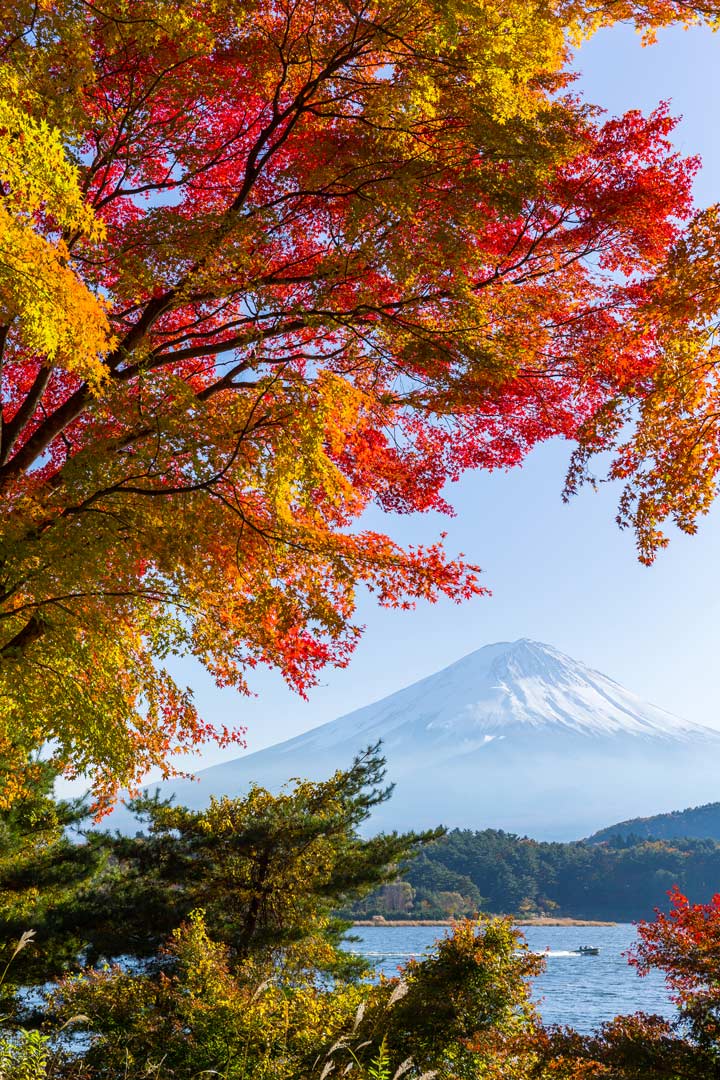 Mount Fuji and cherry blossoms are synonymous with Japanese beauty. But the sacred mountain and surrounding lakes are perfectly accentuated by fall foliage.
Aside from taking in the natural splendor, the Fuji Five Lakes area is home to Fuji Q Highland amusement park, hot springs resorts, and multiple museums.
Plan your visit for the last few days of October for the best chance to see autumn colors.
Book your Fuji Five Lakes tour here!
Kyoto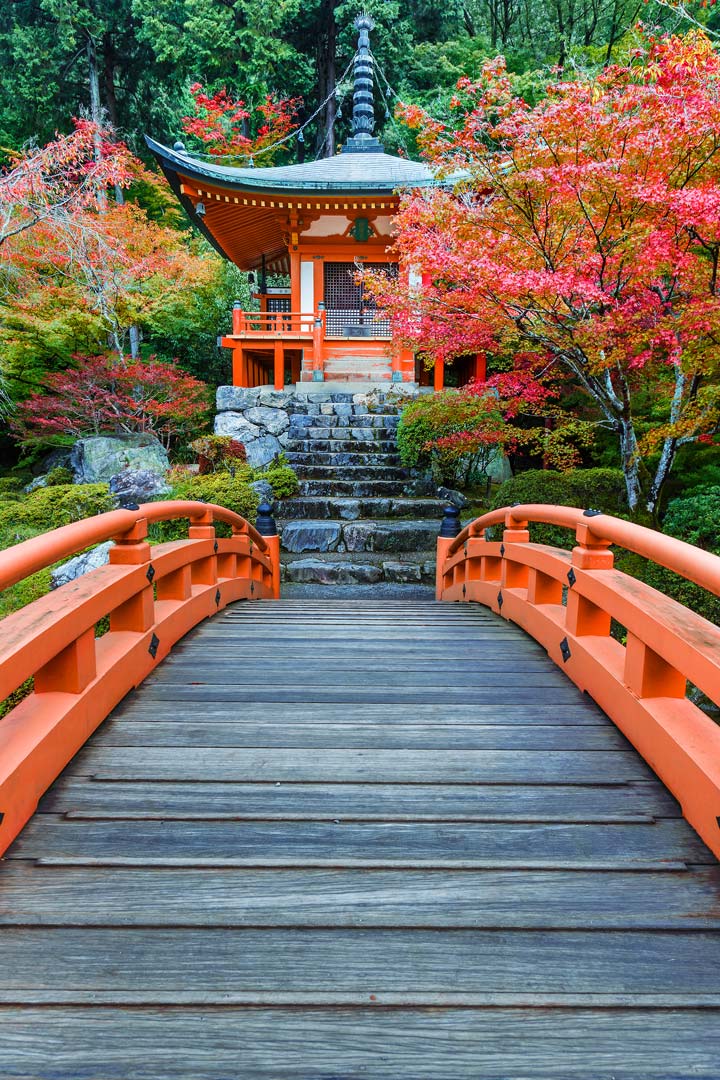 Kyoto in October is all about the festivals. Though autumn colors don't arrive until the last few days of October, the lighter crowds and cultural events make Kyoto a great addition to a fall itinerary.
Check out my Kyoto 2 day itinerary to plan your visit!
On October 22nd, the grand Jidai Matsuri festival celebrates the founding of the city. Thousands of performers dressed as geisha, samurai, and other historical figures parade through the streets towards Heian Shrine.
In nearby Arashiyama, dozens of women dressed in colorful Heian period costumes participate in the Saigu Procession (Saigū Gyōretsu). This event recreates the purification and departure ritual of a royal woman leaving to serve as a shrine priestess.
Set up a traditional Kyoto experience or local tour here!
Tokyo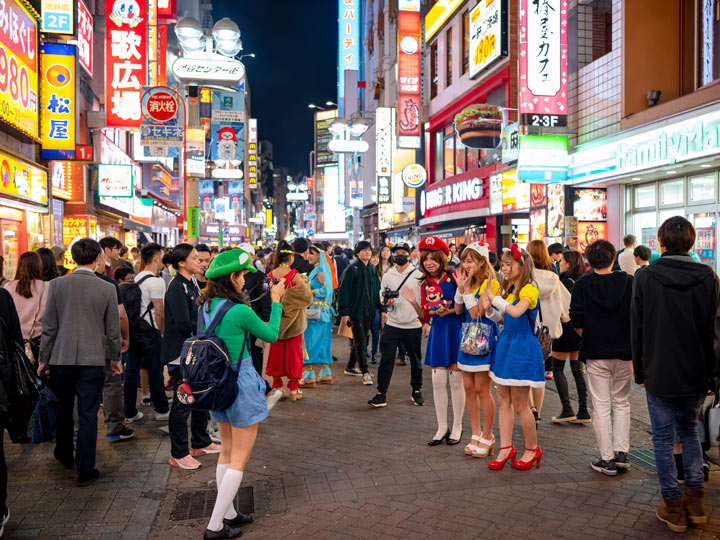 Visiting Tokyo in October is a great idea. While you won't see much autumn foliage, the lighter crowds and Halloween festivities more than make up for it.
Halloween may be a Western holiday, but in the land of cosplay, it's a full-blown celebration. All month, shops and restaurants decorate with displays and sell themed food and merchandise. And on the 31st, the streets of Akihabara look like an outdoor Halloween party.
For the ultimate Halloween experience, head to Tokyo Disney. The Wizarding World of Harry Potter comes alive with pumpkins, giant cobwebs, and skeleton wreaths. And experiences like the Haunted Mansion and Spooky Boo! parade transform the park into a magical must-see.
Book your skip-the-line Tokyo Disney tickets here!
If you're looking for more traditional October festivals, you're in luck. There are a number of fireworks festivals, parades, and fall markets in the city and surrounding suburbs. This article has a list of what to see and when.
Use my detailed guide to spending 6 days in Tokyo for an amazing experience!
Nagoya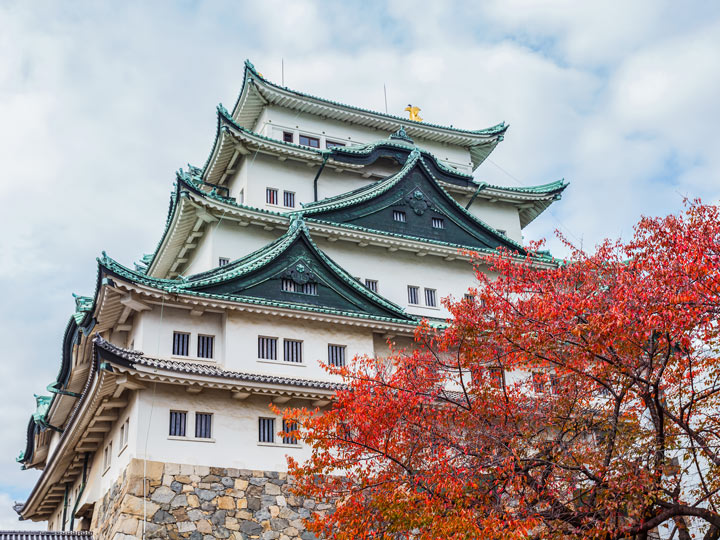 Anyone interested in Japanese history and culture should visit Nagoya in October. Near the middle of the month, the city puts on its largest event: the Nagoya Festival.
It's a cultural extravaganza featuring two days of parades, traditional folk music, horseback archery competitions, and plenty of must eat Japanese food. Modern elements, like marching bands and motor vehicles, are also woven into the festivities.
Autumn color doesn't usually arrive in Nagoya until November. However, attractions like Nagoya Castle and the Sakae entertainment district provide plenty of amusement in addition to the festival.
Other Japanese Autumn Festivals in October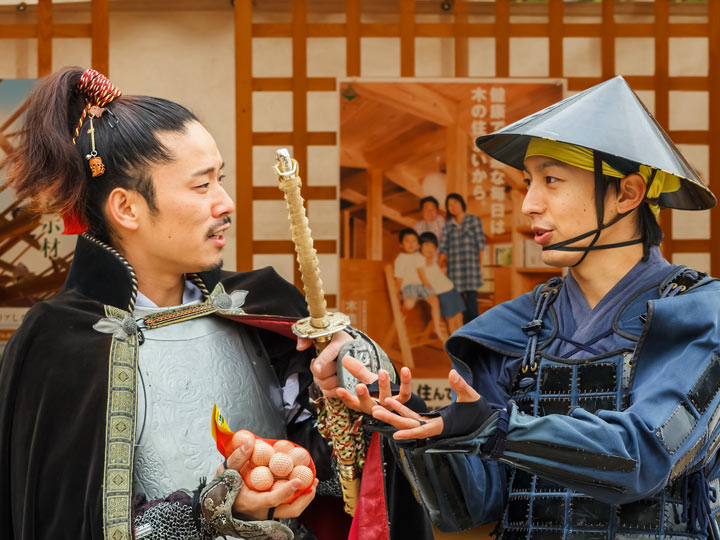 Kurama Fire Festival
Known as hi-matsuri, Japanese fire festivals are beloved by locals and tourists alike. On the evening of October 22nd, the hot spring village of Kurama hosts an epic, flaming processional up to Yuki Jinja.
Hundreds of villagers clad in traditional garb carry torches through the streets, and add them to the bonfire once they reach the shrine.
Nagasaki Kunchi
From October 7-9, parades and performances take over the city of Nagasaki. This popular festival has everything from sailboat-looking floats to energetic traditional dancing. Foreigners should check out this website for more information on how to watch the events, as seated tickets are difficult to buy outside of Japan.
Your best bet for enjoying this festival is to book a local guide.
Nihonmatsu Lantern Festival
On the evening of October 4th, more than 2,000 red paper lanterns drift through the streets of Nihonmatsu. Locals bob and weave as they carry the seven floats holding lanterns and drummers. It's one of Japan's most impressive lantern festivals, especially when the floats travel in front of Nihonmatsu Castle.
Nada Fighting Festival
If you think Japan is all about quiet rituals and pretty lanterns, think again! Every October 14-15, male residents of Hyogo prefecture put on a wild show of strength and destruction.
Day one of the Nada Fighting Festival involves a blessing and parade of decorated floats. But on the second day, groups of men in traditional clothing ram three floats together in an effort to destroy one.
All this action is set to beating drums and chanting onlookers, making it one of Japan's more lively fall events.
Where to Stay During Autumn in Japan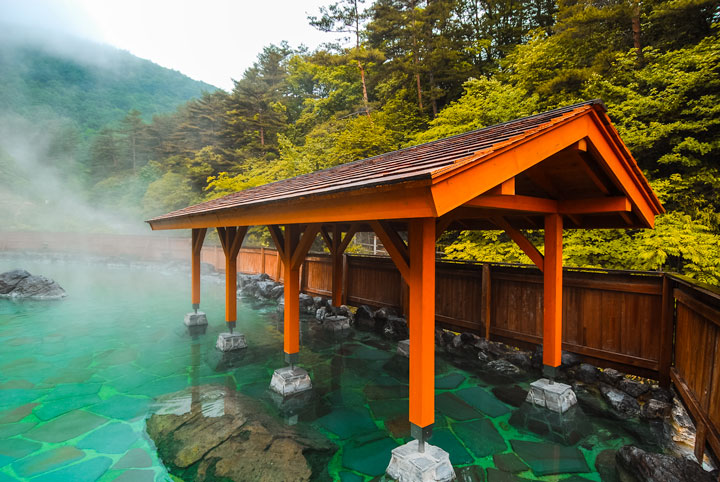 From capsule hotels to fancy resorts, accommodation in Japan spans all budgets and travel styles. However, I highly suggest booking a ryokan for your autumn trip to Japan.
Ryokans are traditional guest houses that offer an authentic Japanese cultural experience. Expect to find woven tatami mats in your room, a wooden soaker tub in the bath, and plush futon mats for sleeping.
When we stayed at Yuzuya Ryokan in Kyoto, we enjoyed perks like afternoon tea in our room and amazing kaiseki dinners overlooking a Japanese garden. It was an unforgettable experience!
Many ryokans also have onsen (hot spring baths), which feel incredible after a long day of leaf-peeping.