I came to Brussels for three specific reasons: chocolate, waffles, and the Grand Place. I was not disappointed. Luckily, one day in Brussels is just enough time to explore the highlights and fill up on Belgium's famous food and drink.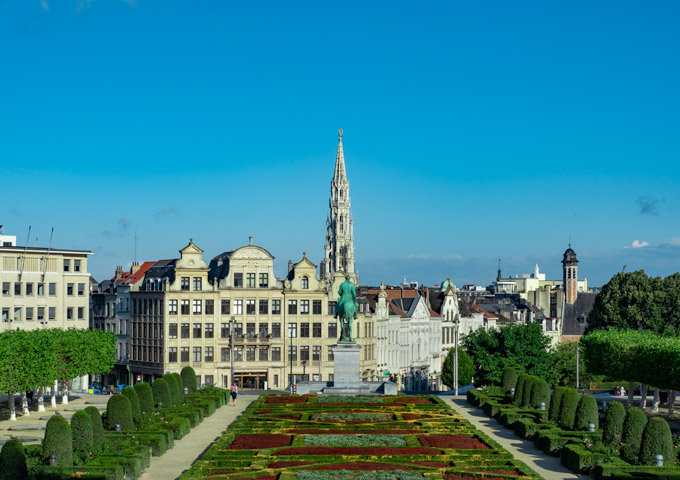 I designed this custom map and Brussels itinerary to showcase my favorite parts of the city for first time visitors. If you have more than one day in Brussels, check out the bonus tips at the end of the post!
This post contains affiliate links. For more information, click here.
How to See Brussels in a Day
— Know Before You Go
— Where to Stay in Brussels
— The Best Time to Take a Brussels Day Trip
— One Day in Brussels Itinerary
— Map of One Day in Brussels Itinerary
— Other Things to do in Brussels
— Where to Go After This 1 Day Brussels Itinerary
Know Before You Go
Estimated Itinerary Budget: €60 per person (excluding hotel and airfare)
Money
Brussels uses the Euro, and you should plan to carry cash in addition to your card(s). Many places in Brussels will take card, but some restaurants and shops are cash-only. There are also places that are card-only, so pay close attention to the signs near the entrance!
For dining out, €15-20 will be enough for a standard meal and a beverage. Brussels is pricey when it comes to food, but frites aren't the only budget-friendly option. Check out this roundup of cheap eats in Brussels for recommendations beyond doner kebabs and hamburgers.
Transport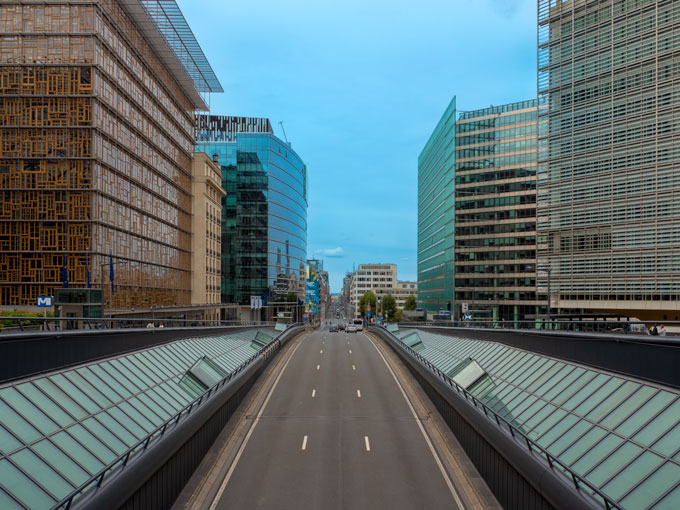 Getting to Brussels
If you're flying to Brussels, you'll land at Brussels Airport, which is northeast of the city center. From there, you can take an IC train to Bruxelles-Midi central train station. Tickets are €7 – €9, and the journey takes approximately 35 minutes.
If you're traveling via train, you'll want to get off at Bruxelles-Midi. Eurostar routes typically terminate at this station. Fortunately, the city center is only a 25 minute walk from here, so you can skip public transit and start exploring Brussels right away.
Other Transport Tips
Brussels is well-connected by public transit, including metro lines, trams, and buses.
The fare system is quite simple, as all transit options take the same ticket. Use one of the GO machines inside the metro stations (and some bus and tram stops) to buy a one-hour ticket. Pro tip: to navigate the on-screen menu, turn the dial on the machine to select your ticket option.
You can also buy tickets when entering the bus or tram for a slightly higher price. Be sure to validate your ticket in the machine after purchasing it.
Train stations also have ticket machines that operate in multiple languages. Pay attention to the machine's labels, however, as some are chip-card only.
Language
Belgium has three official languages: French, German, and Dutch. However, most folks in Brussels are fluent in French.
Fortunately for English-speakers, many service industry workers are conversational in English. As with most major cities, the further you get from touristy areas, the less likely it is that people speak fluent English.
If you don't have Google Translate installed on your phone with the French dictionary downloaded, do that before you leave.
One day in Brussels doesn't require too much knowledge of French, but knowing some words and phrases will help immensely. People will be far more inclined to help if you start the interaction in French.
Here are a few French phrases you should know, with some very rough pronunciations:
Hello – Bonjour (bon-zhor)
Yes – Oui (we)
No – Non (no)
Please – S'il vous plaît (see voo play)
Thank You – Merci (mare-see)
Pardon Me – Excusez-moi (excuse-ay mwah)
Do you speak English? – Parlez-vous Anglais? (parlay-voo An-glay?)
I would like – Je voudrais (zyuh voo-dray)
Water – Eau (oh)
One – Un/Une* (uhn/oone)
*French is a gendered language, so the thing you're referring to will determine how you say "one". Unless you really dive into the language, just stick to using "un".
Combining these 10 words and phrases will be enough for one day in Brussels. But if you're planning to stay longer, I recommend learning the rest of these essential travel phrases.
Culture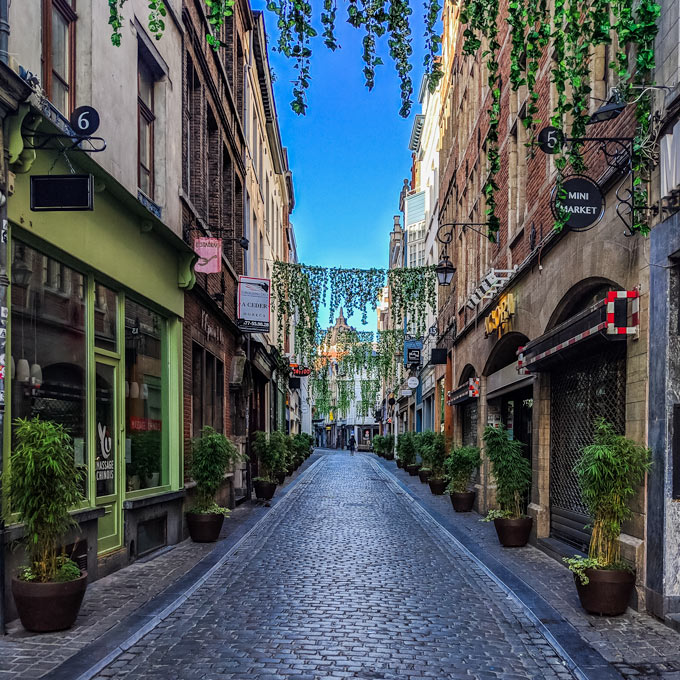 Here are a few pointers to help you gracefully navigate the city:
Always greet the shopkeeper and restaurant staff when entering a building. A simple bonjour is great and will be reciprocated by the staff.
Tipping is not necessary, as restaurants include service charges in the bill (even if it's not clear on the receipt). However, it's also acceptable to leave a couple Euros.
Use caution when crossing at zebra walks with no signal (i.e. pedestrian cross ways). Cars do not always give pedestrians the right of way, so wait at the edge of the cross way until traffic halts.
If you venture out to the city center before 8am, you'll encounter a lot of garbage. Bright pink trash bags, broken glass, and tumbleweeds of paper products will cover the streets and the Grand Place. If you're planning to take photos during blue hour, be prepared to dodge the street sweepers.
My Favorite Belgium Travel Guidebooks
These books win my travel blogger Seal of Approval for vacation planning:
Where to Stay in Brussels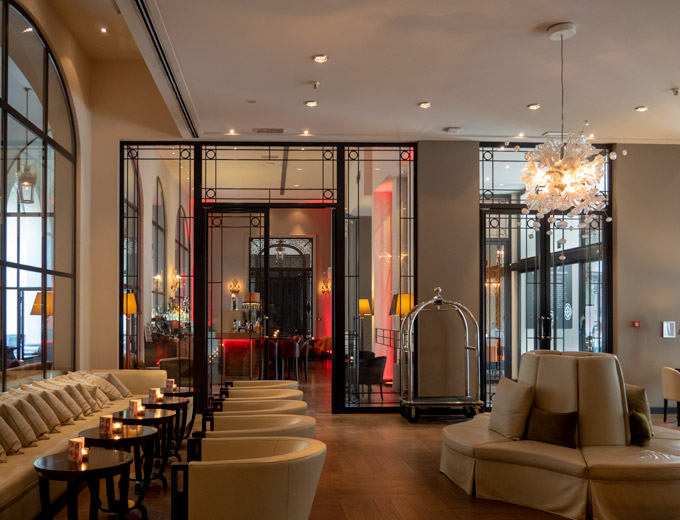 If you only have one day in Brussels, it's best to stay near the city center. There are options for all budgets, ranging from affordable yet well-appointed hostels to high-end lodgings overlooking the palace.
I stayed at The Dominican, a beautiful historic hotel just a few minutes' walk from the Grand Place.
The price was very affordable considering the location, and the room was spacious and comfortable. Downstairs, there is an elegant lounge and dining area perfect for evening meals and drinks. If the weather is nice, you can enjoy a cappuccino in the leafy courtyard before heading out for a day of sightseeing.
There are also great VRBO apartment rental options in the city, especially in the Quartier des Quais and Saint-Gilles districts.
The Best Time to Take a Brussels Day Trip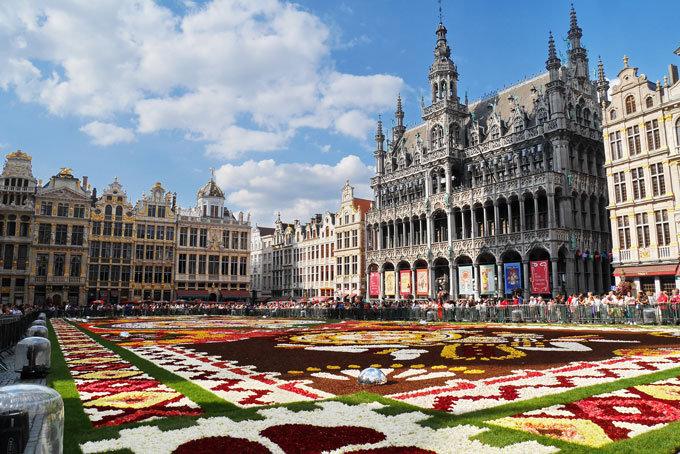 From flower festivals to Christmas markets, there are plenty of reasons to spend a day in Brussels. Here are some seasonal highlights to help you plan your Brussels day trip:
Zinneke Parade: Held on even-numbered years in May, the Zinneke Parade is a multicultural celebration of Brussels' people, and includes performances by city locals.
Ommegang: This annual June festival feels straight out of the Renaissance, with jugglers, folk games, and puppet performances.
Flower Carpet: Held every other August, the Flower Carpet stretches across the Grand Place, and displays a different cultural theme every year.
One Day in Brussels Itinerary
Morning
Porte de Halle (Halle Gate)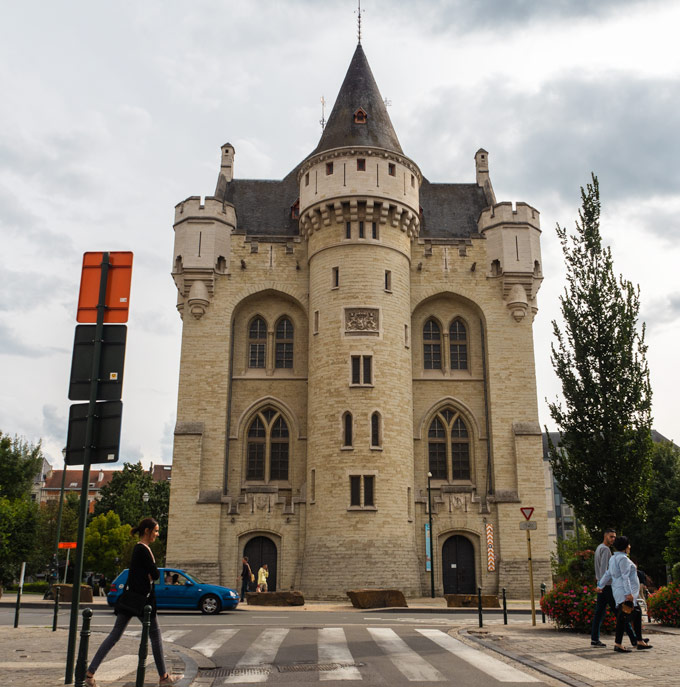 Exit Bruxelles-Midi and head east on Rue Théodore Verhaegen. This road runs through the Saint-Gilles neighborhood, which is full of lovely residences and cafes. Take a left on Chaussée de Waterloo and walk north.
You'll shortly arrive at Porte de Halle, a 14th-century city gate that also contains a history museum. The fortifications make the gate resemble a small castle sitting on a major road. Depending on your interest in Brussels' history and the time you arrive, you could pop into the museum.
Opening hours are 9:30 – 17:00 Monday – Thursday and 10:00 – 18:00 Saturday & Sunday. Admission is €7, and you can also climb the battlements for a view.
From Halle Gate, head northeast towards the Palais de Justice. This courthouse is massive, with towering pillars and impossibly high ceilings. Sadly, they were renovating the building during my visit, but hopefully you'll have better luck!
Palais d'Egmont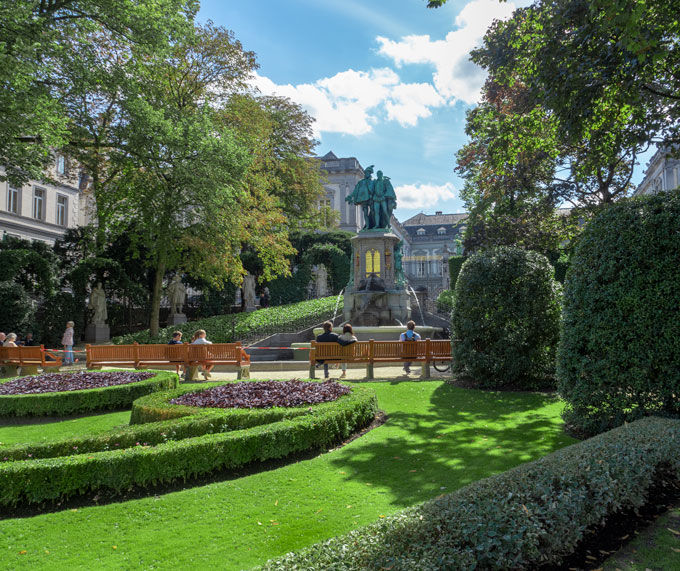 From the Courthouse, walk north on the Rue aux Laines to Egmont palace. There are no royal residents occupying these halls. Instead, Belgium uses this opulent palace to host important guests and international conferences.
Enjoy the manicured grounds and take a rest in front of the fountain if needed.
Mont des Arts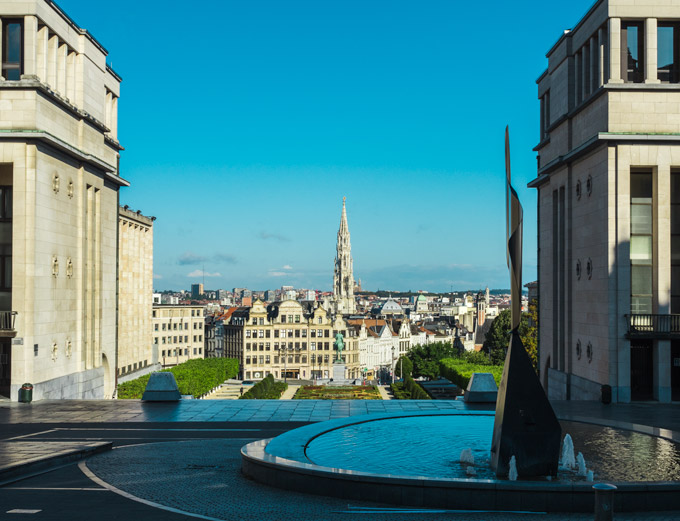 From the Palais d'Egmont, head northwest up the Rue des Petits Carmes. Take a left on the Rue de Namur and go towards the Koningsplein, Brussels' original royal palace.
From there, head west up the Rue Montagne de la Cour, which will bring you to an area overlooking the Mont des Arts and the city center.
The Mont des Arts is one of Brussels' most iconic places, with a long floral garden and views of the city hall tower. The cube-shaped glass building adds a modern element to the area's traditional architecture.
Once you've taken in the sights, head through the garden path towards the city center.
RELATED: One Day in Bruges Itinerary + Walking Tour
City Center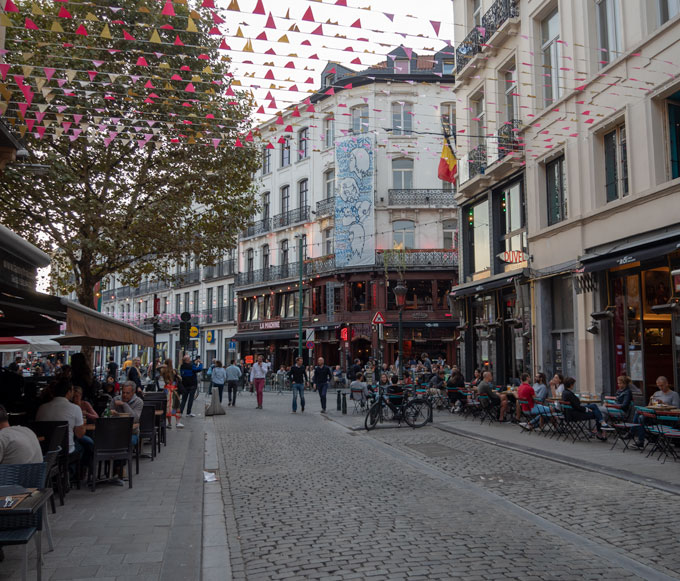 Just west of the Mont des Arts is the main hub of Brussels. However, before you get absorbed into the shops and cafes, stay on the outskirts for a glimpse of the Manneken Pis.
Brussels has three "pis" (i.e. urinating) statues throughout the old town, but this little boy is the most famous of them all. You'll know you're in the right place when you see a crowd blocking a narrow alley. Not being a fan of mass groups of people, I admired the Mannekin Pis from afar and skipped the photo.
If you want to see all of the Pis statues during your one day in Brussels, try this rhyming scavenger hunt from The Travel Medley.
Grand Place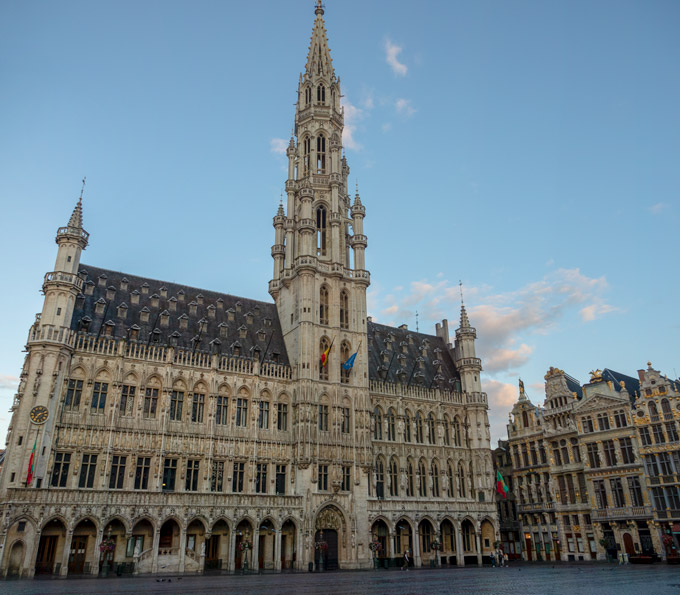 Just three blocks north of the famous urinating child is the Grand Place. I'd seen photos of the area before my visit, but I was still completely blown away at the grandeur of it all. I'm a sucker for giant, intricately detailed buildings, and the Grand Place did not disappoint.
The Grand Place is a UNESCO World Heritage site, and its crown jewel is Brussels' Town Hall. Technically over 600 years old (the original was burned down in 1695 but was quickly rebuilt), the hall is open for limited guided tours.
If you time your visit just right, you may be able to squeeze this into your itinerary. I was content to admire the facade.
Other landmarks in the area include the House of the Dukes of Brabant and the King's House/Breadhouse. The open square hosts festivals throughout the year, including the famous flower carpet display held every other August. During our visit, there was a rousing handball match complete with giant dolls cheering on the players!
Afternoon
Brunch/Lunch
If you only have one day in Brussels, you'd be crazy not to eat as many waffle-based dishes as possible. Peck 47 and Mokafe are both excellent options for brunch/lunch in the city center.
The brunch menu at Peck 47 includes multiple savory waffle options with perfectly poached eggs, including The Drunken Sailor (pictured above).
Mokafe is a traditional Belgian restaurant with a massive menu of classics like quiche and fruit waffles. If you're really short on time and only plan to eat one meal in Brussels, I'd go with Mokafe.
Brussels Stock Exchange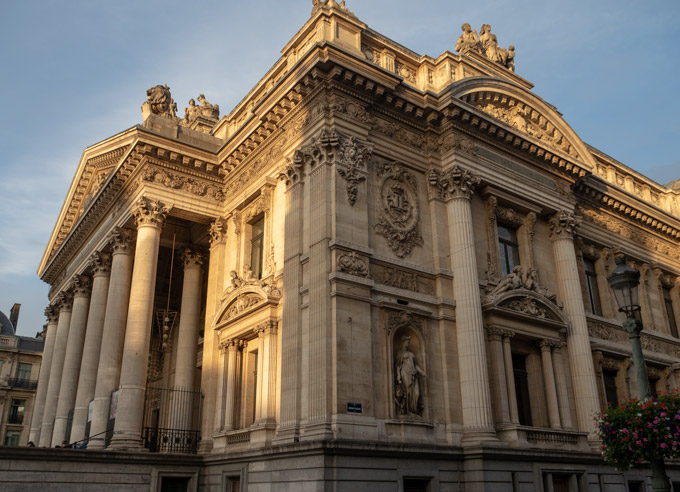 Once you've eaten your fill, take a leisurely stroll through the nearby streets. You can peer into the restaurants and pop into the shops for browsing (or buying chocolate for the road).
As you meander, don't miss the Brussels Stock Exchange, which is a favorite hangout for revelers on the weekends.
Palais de Bruxelles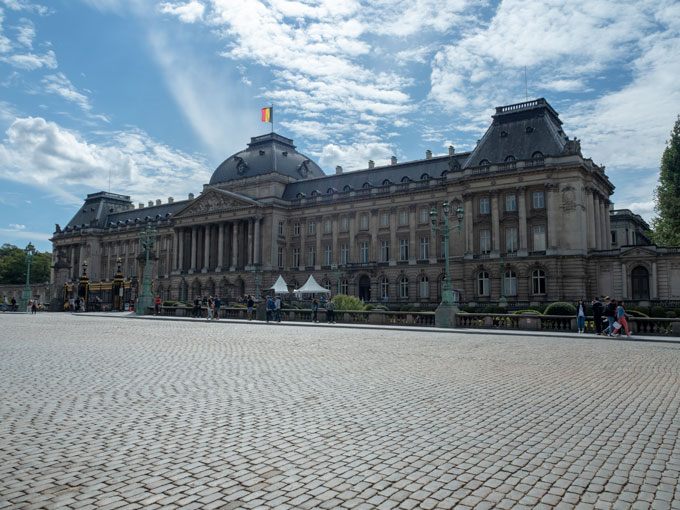 Double back southeast through the Grand Place to be amazed all over again. Make your way to the Rue de l'Hôpital and continue south towards the traffic circle. Walk up the Rue Bodenbroek, where you'll see the Eglise Notre Dame du Sablon.
Just past the church, take a left on the Rue de la Régence. You'll see the Konigsplein up ahead, and just past it on the right is the Palais de Bruxelles.
From this direction, you'll first see the Palais du Coudenburg, which houses a museum and archaeological dig site. Head right for a frontal view of the palace.
If you're spending one day in Brussels in summer, you can enter the palace free of charge Tuesday-Sunday from late July through the end of August. Queues get quite long, so prepare to flex your itinerary if you'd like to go inside for a tour.
Directly opposite the palace gates is a sizeable park. Like the Grand Place, the Parc de Bruxelles hosts festivals and events throughout the year. During our visit, they were setting up for a carnival!
After you stroll through the park, exit via the top-left side to see the St. Michael and St. Gudula Cathedral, where Belgium's royal weddings take place.
Cinquantenaire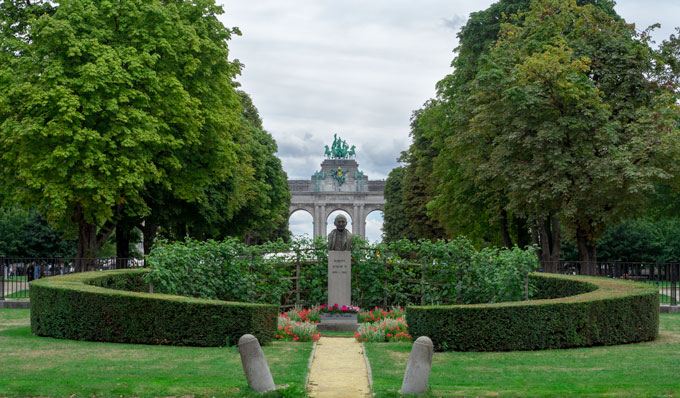 The walk to the Cinquantenaire is a refreshing change from the historic city center. As you head east down the Rue de la Loi, you'll pass a number of modern governmental buildings, including multiple EU offices.
This part of Brussels has a completely different feel from the rest of the city, which makes approaching the Cinquantenaire even more intriguing.
After you pass the fun rainbow crosswalk, spend some time meandering around the park. If it's summer, there may be festivals or other special events scattered across the green spaces. There was a board game festival during our visit, which was fun to browse but made photographing the famous archway quite challenging!
If you're tracking well on time, stop into the Art & History Museum on the right side of the arch to learn more about Belgium's past.
Once you're finished admiring the area, pass through the arch and enter the Merode Metro station. Buy a metro ticket using the GO machine, and hop on the #1 or #5 tram to De Brouckere.
Save me for later!
Dinner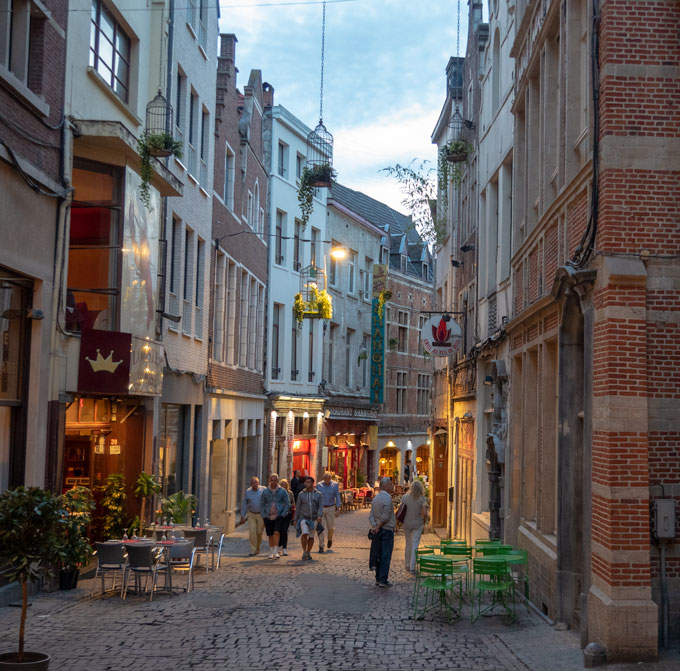 If you only have one day in Brussels, make sure you dine at Fin de Siècle. Despite being one of the most famous and well-regarded restaurants in Brussels, the atmosphere feels far more casual and homey.
You'll find the food menu written on the large chalkboard near the bar (pro tip: take a photo of the menu to browse at your table). There's plenty of delectable Belgian fare like rich Carbonnade beef stew, but you'll also find other seasonal European dishes.
Note that it used to be cash-only, but I believe they started accepting card payments in 2020.
Galeries Royale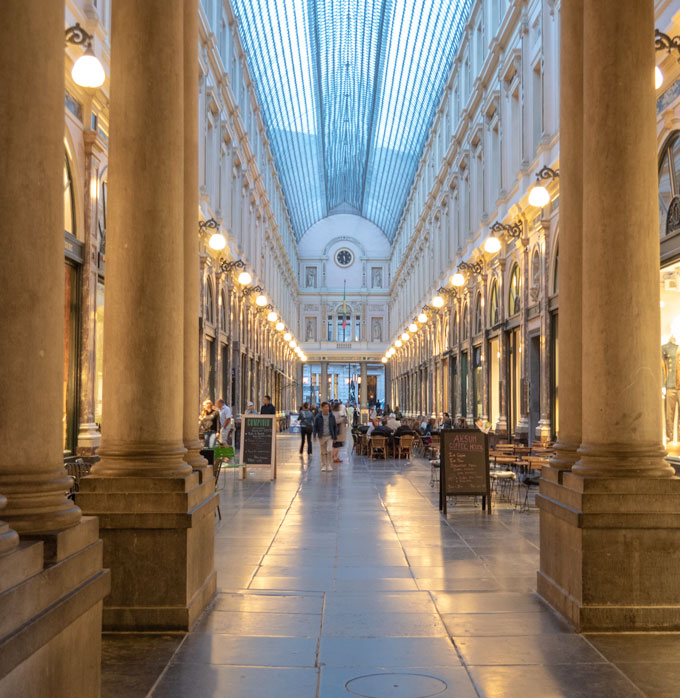 If you opted for Mokafe at lunch, you've already visited the Galeries Royale. However, the area really shines in the evening (see what I did there).
Though some of the shops will be closed, there are plenty of hidden surprises in these glamorous halls. We stumbled upon a jazz trio playing outside a champagne bar, and hearing the music echoing through the Galeries made for a special moment.
The Galeries Royale is also a must see during the Brussels Christmas Market. In late November, you'll find hundreds of golden baubles hanging from the high ceilings, turning the passageway into a holiday masterpiece. The glass shopfronts also put on beautiful Christmas displays.
Shopping in City Center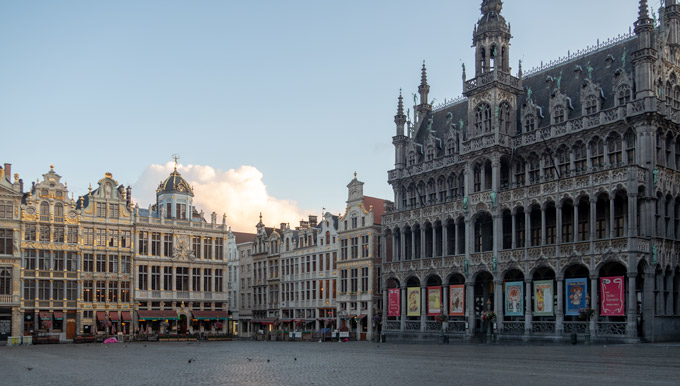 Nothing settles a full stomach like a mini shopping spree and a late night snack. It would be madness to wrap up a Brussels itinerary without making time for chocolate, frites, and more waffles!
If you're looking for excellent chocolate at a decent price, head to Leonidas. They have a wide selection of treats at the counter (including ice cream), or you can opt for a box assortment.
Pierre Marcolini is the haute chocolatier of Brussels, with inventive flavors like yuzu and cayenne pepper. In my experience, the quality justifies the high price tag.
Enjoy Belgian Waffles and Frites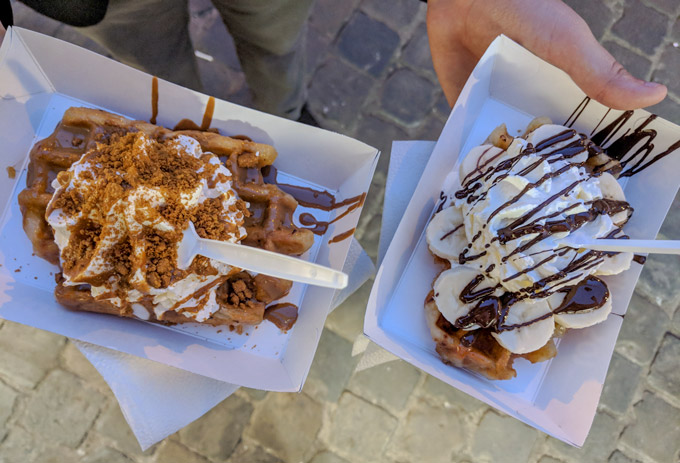 Assuming you still have room for more food, finish off the evening with some waffles and/or frites.
Friterie Tabora and Los Churros & Waffle are located right next to each other, and both offer my favorite version of their respective Belgian street food. Friterie Tabora has over 30 sauces to top your frites, from classic mayo to sweet and savory curry.
As you might imagine, the waffles from Los Churros have a churro-like texture to them. If that's not enough culinary magic to convince you, adding toppings like chocolate and banana make the waffles mind-blowingly delicious.
Map for One Day in Brussels Itinerary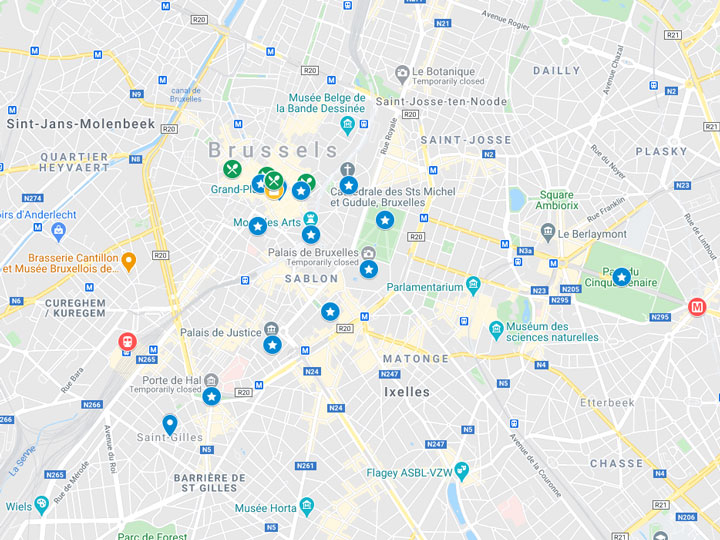 Click here to view the full interactive map!
Have More Than One Day in Brussels?
If you have some extra time to spend in Brussels, here are a few places to add to your itinerary:
The Atomium: this architectural marvel of metal and spheres is somewhat far from the city center, but the views and uniqueness make it worth the trek. Grab your skip the line ticket to save time!
Chateau de Laeken: the official residence of the Belgian royal family is just up the street from the Atomium and boasts beautiful grounds, though the interior is closed to visitors for most of the year.
Museum of Natural Sciences (Museum voor Natuurwetenschappen): if there's rain in the forecast, pop into this museum and spend time in the massive dinosaur exhibit.
Where to Go After This 1 day Brussels Itinerary
Brussels is far more than Belgium's political and financial capital. Between its impressive architecture, delicious food, and charming streets, this city has something for everybody. If you're planning a trip to Belgium or looking for a weekend break in Europe, I highly recommend spending at least one day in Brussels!
Still wondering what to do in Brussels in one day? Share your questions in the comments below!