Narrowing down the must see cities for your first time in Europe is a daunting task. In a sprawling continent full of grand cathedrals, romantic cityscapes, and decadent dishes, how do you choose where to go?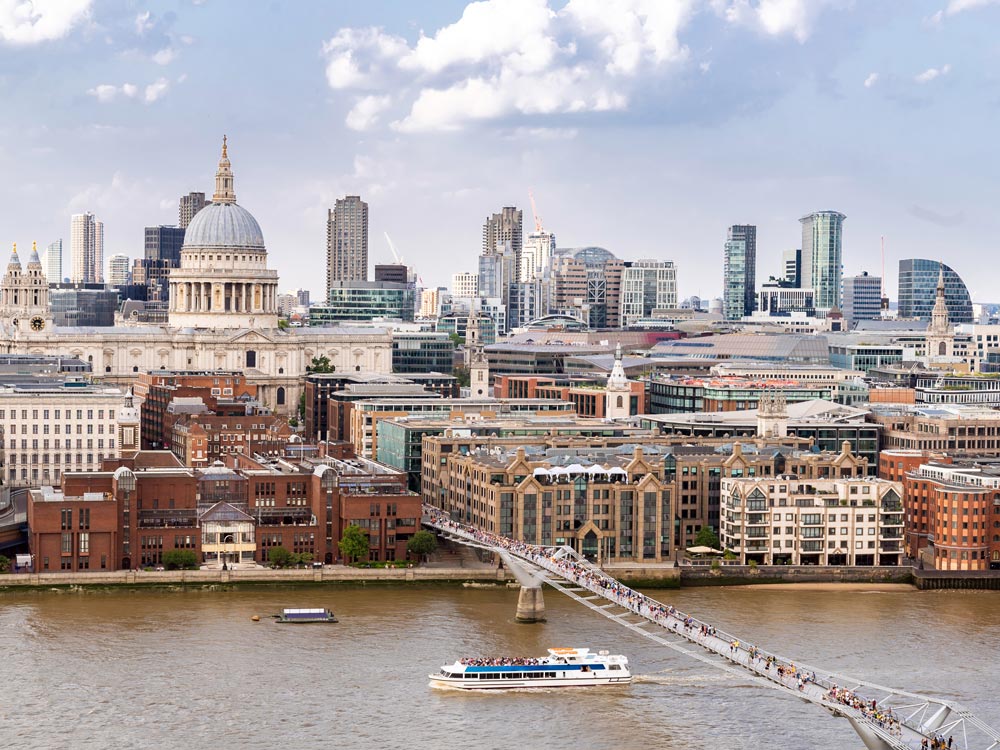 Planning your first European trip is equal parts exciting and intimidating. The possibilities are endless, but your time probably isn't.
Unless you're embarking on a Grand Tour à la 18th century upper-class gentlemen, you'll need to make some hard choices about what to see and skip.
To make things easier, I've hand-picked my 17 best cities in Europe for first time travelers. Each of these destinations encompasses the "European experience"–stunning architecture, iconic sights, historical significance, and of course, mouth-watering food.
I've also organized the list by geography. If you make smart use of the continent's trains and low-cost airlines, it's possible to squeeze every location on this list into a six week trip (though I wouldn't recommend it).
Whether you have a week or an entire summer for your first time trip to Europe, you can't go wrong with these cities.
RELATED: How to Create a Travel Vision Board That Inspires Adventure
London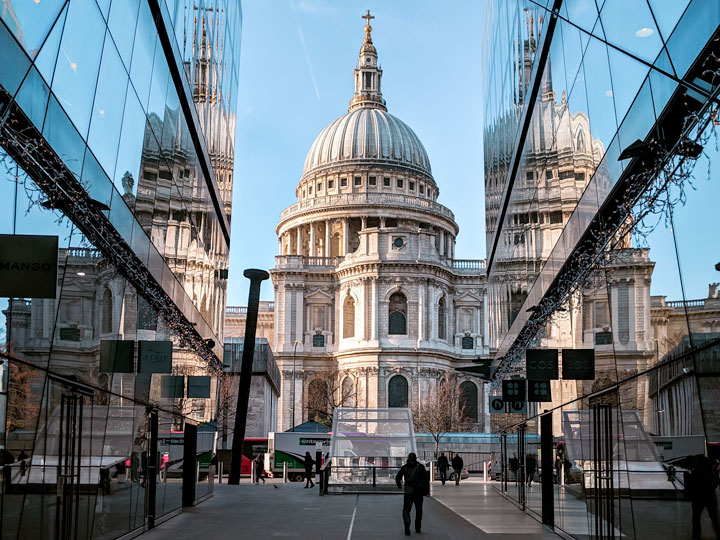 I may be a little biased seeing as I live in London, but The Big Smoke is undeniably a must see city for your first time in Europe. With 2,000 years of history, 60+ Michelin-starred restaurants, and countless cultural attractions, there's something for every type of traveler in this metropolis.
Here are some unmissable London sightseeing experiences:
Get a unique history lesson and gawk at the Crown Jewels at The Tower of London
Enjoy afternoon tea with a magnificent view over London at The Aqua Shard
Marvel at the beautiful architecture of St. Paul's Cathedral
Visit the tombs of English monarchs and important figures at Westminster Abbey
Explore the city's incredible free museums, from the National Gallery to the Natural History Museum
Use my 4 day London itinerary to explore the city's highlights and hidden gems.
Edinburgh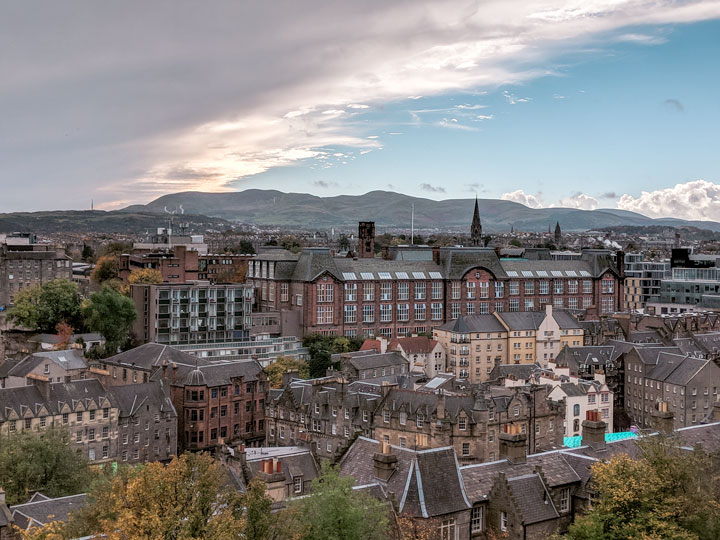 Like many travelers who came before me, I fell in love with Edinburgh instantly. There's something magical about the city–and it's not just because of all the Harry Potter locations! The combination of grand Gothic buildings, cozy cafes and pubs, and hilly landscapes is unlike any other place in Europe, especially during October.
These are some of my favorite things to do in Edinburgh:
Soak up the views and Scottish history at Edinburgh Castle
Pick up some shortbread and tartan accessories along The Royal Mile and Candlemaker Row (a.k.a. Diagon Alley)
Take a royal tour of Holyroodhouse Palace (a must at Christmas time)
Pop into a live music pub for an evening of entertainment with a side of fish and chips
Warm your belly with a Scotch tasting at The Scotch Whiskey Experience
Check out my 2 day Edinburgh itinerary to plan your perfect trip.
Amsterdam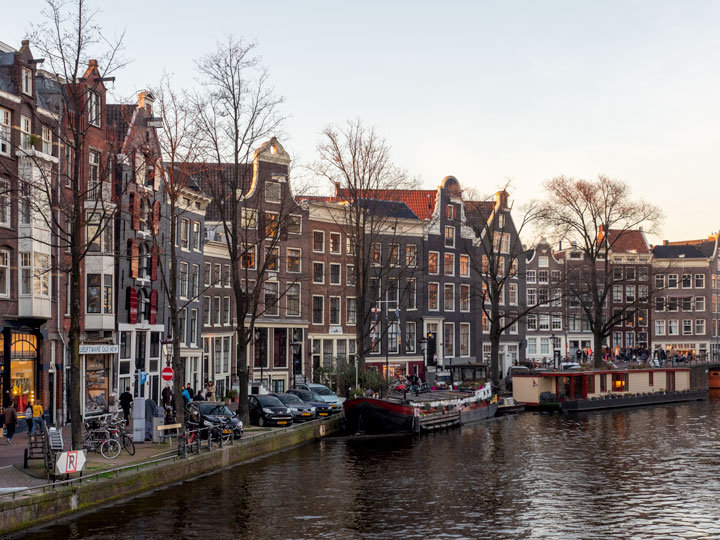 Amsterdam has a serious reputation for partying (you can probably figure out why). But even quiet introverts like me will find plenty to love about The Netherlands' capital city. The whimsical facades, canal bridges, and trendy cafes are an Instagrammer's dream, and culture buffs can spend their days in the iconic art galleries and museums.
Put these activities on your bucket list:
Take a leisurely stroll around the 9 Streets area for amazing canal views
Experience the city's architecture by boat in a small group or private tour
Enjoy a stroopwafel over coffee in the cozy Jordaan neighborhood
Explore the trendy cafes, shops, and thrift markets of the De Pijp district
Set aside a day to properly explore the Rijksmuseum, Van Gogh Museum, and Anne Frank House
Use my 2 day Amsterdam itinerary to navigate the best of the city.
Brussels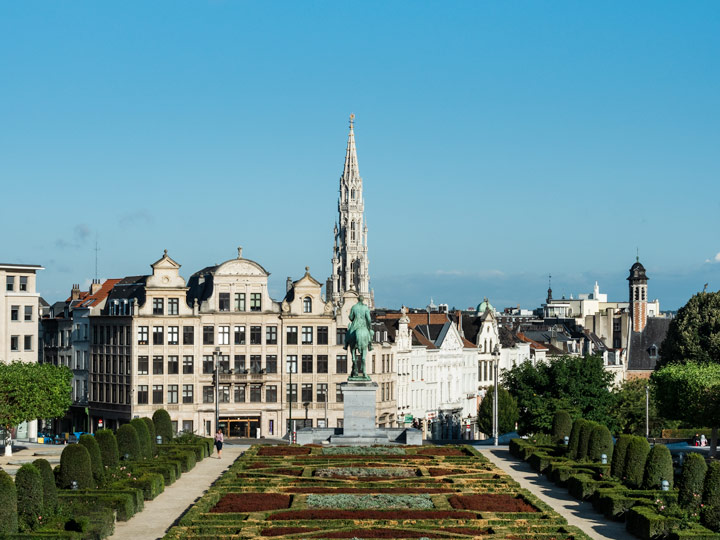 Brussels doesn't end up on most lists of must see cities for your first time in Europe. And I think that's a mistake! With three UNESCO World Heritage Sites, famous street foods, and picture-perfect cobblestone alleys, Brussels is far more than the stuffy capital of the EU.
Here are some quintessential experiences:
Have your mind blown at the aptly named Grand Place
Giggle at the peeing (pis) statues scattered around the old town
Stuff your face with Belgian waffles, frites, and the finest chocolate in Europe
Marvel at the impressive architecture, from the Palais de Bruxelles to the Palais de Justice (yes, that Insta-famous one with the big staircase)
Choose from over 2,000 types of beer at the sprawling Delirium Café.
In case you need more justification, Brussels is located on the Eurostar line that connects London, Paris, and Amsterdam, making it an easy stopover during your first time trip to Europe. And thanks to its status as an international business hub, you can rely on English rather than French to get around the city.
Read my one day Brussels itinerary to plan your whirlwind visit!
Paris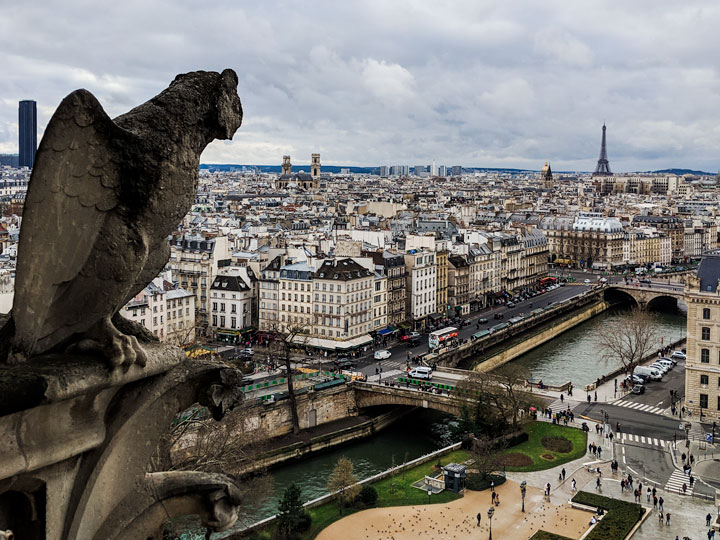 Paris is always a good idea. It's one of the first places I visited in Europe, and its uniquely Parisian charms keep me coming back again and again. You'll never forget the feeling of seeing the Eiffel Tower for the first time, or tasting your first French croissant.
Include these activities for an unforgettable trip:
Catch an Eiffel Tower sunrise at the Trocadero
Go up Sacre Coeur, Montparnasse, and/or the Arc de Triomphe for stunning panoramic views
Wander the photogenic alleys of Montmartre and Le Marais with a fresh crepe in hand
Explore the gorgeous architecture of Sainte Chapelle, Musee D'Orsay, Palais Garnier, and the Louvre
Take time to explore Paris off the beaten path
Check out my 4 day Paris itinerary for more inspiration.
Barcelona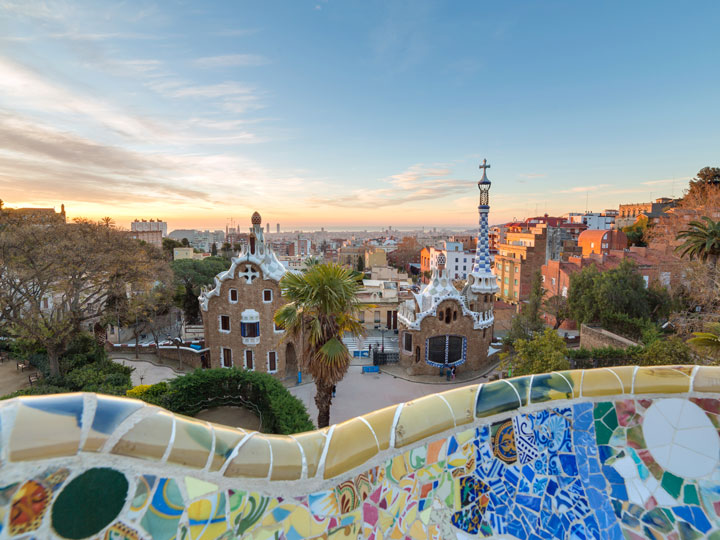 Tens of millions of tourists visit Spain's second largest city every year. And it's easy to see why. Who could resist the mix of historic buildings, foodie havens, vibrant nightlife, and pleasant oceanfront weather?
Here are some popular things to do in Barcelona:
Visit the iconic Gaudi landmarks: La Sagrada Familia, Park Güell, and Casa Milà
Ramble around La Rambla, the city's shopping and restaurant hub
Be dazzled by the 13th century Cathderal of Barcelona
Relax next to the ocean with a drink from the famous beach-side bars
Snack the afternoon away in the diverse tapas bars
With so many tourists visiting Barcelona each year, the city is suffering from overtourism. If you plan to visit this city during your first trip to Europe, try to avoid the summer months and only stay in registered accommodation.
Porto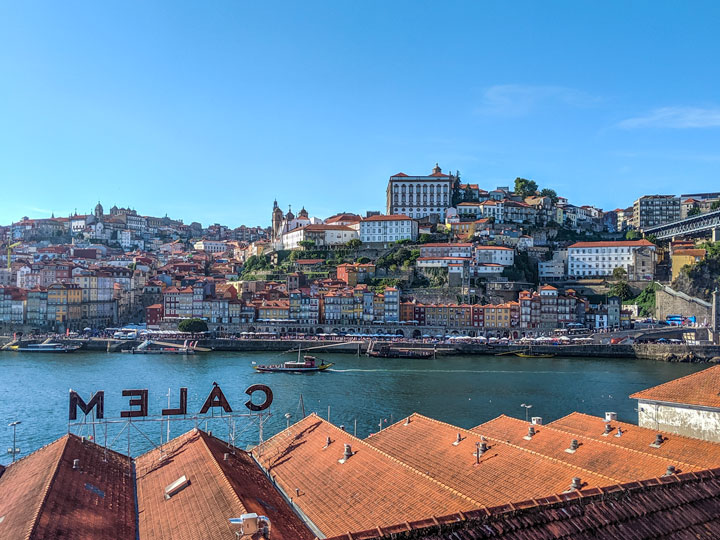 Porto is hands down one of my favorite cities in the world, let alone Europe. Known for its stunning coastline, UNESCO World Heritage sites, delicious food, and azulejo tile buildings, I have no doubt you'll fall in love with this Portuguese gem. Just be sure to pack good walking shoes, because you'll be hiking up and down many hills as you explore everything the city has to offer!
Put these activities on your Porto bucket list:
Get your fill of the iconic blue and white azulejo tiles at the Church of Saint Ildefonso, Igreja do Carmo, and São Bento Station
Stuff your face with Pastel de Natas, Francesinhas, and Sande de Pernils
Take a scenic walk or bike ride along the river up to the rocky ocean beaches
Meander through the twisting alleys of the Ribeira, a colorful UNESCO World Heritage neighborhood
Watch the sun set behind the city skyline with a bottle of port wine at the Jardim do Morro
Read my 2 day Porto itinerary to help plan your visit.
Save me for later!
Cologne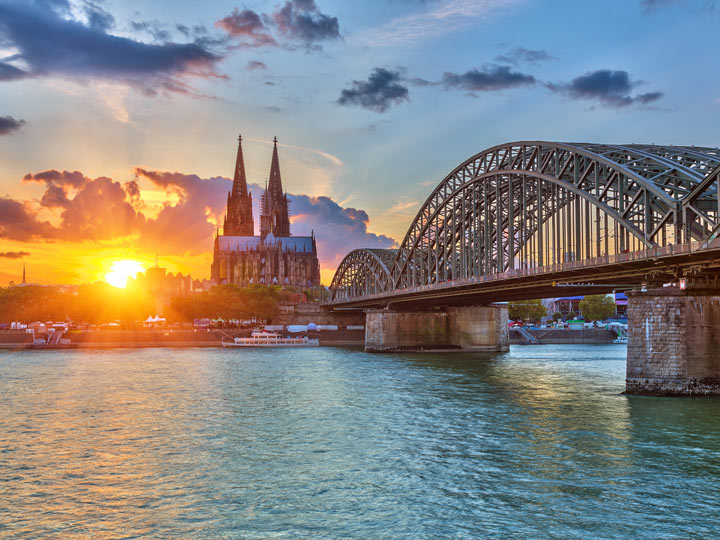 I'll be honest–there's really only one reason I had to put Cologne on this list of must see cities in Europe for your first time. And that reason is the Cologne Cathedral. Words cannot describe how impressive this 13th century masterpiece is, especially the way it towers over the landscape below.
That being said, there are plenty of other amazing things to love about Cologne:
Watch the sunset from the famous Hohenzollern Bridge
Wander the beautiful streets and pastel-painted buildings of the Old Town
Sample the city's iconic Kölsch beer and German dishes in one of the many brauhauses
Live out your Willy Wonka fantasies at the Chocolate Museum
Unwind with the locals in the Rheingarten
Cologne is also home to some of the best German Christmas markets, including a jaw-dropping spread in front of the Cathedral.
Use my two day Cologne itinerary to navigate the city's best bits.
Berlin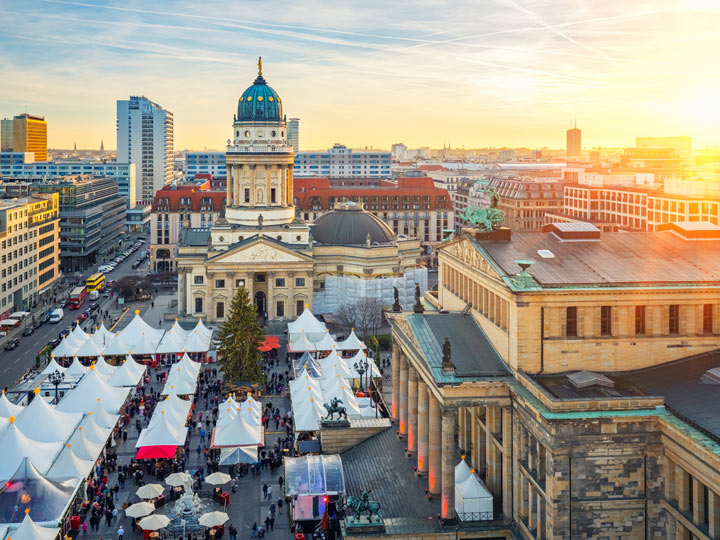 Bustling Berlin is a great city for your first time in Europe. Thanks to its multicultural population, you can fully enjoy the city's vibrant nightlife, renowned beer and food scene, and important cultural and historical heritage without speaking fluent German.
Here are some can't-miss experiences:
Be amazed by impressive architecture, from the Brandenburg Gate to Berlin Cathedral
Spend an unforgettable evening hopping nightclubs–famous ones include Berghain and YAAM
Check out some quirky Berlin museums like the Currywurst Museum and Magic Museum
Take a street art tour of the city's many murals
Make a sobering trip to the Holocaust Memorial and Berlin Wall
Take advantage of the amazing free things to do in Berlin
Check out this local's guide to Berlin for more tips!
Prague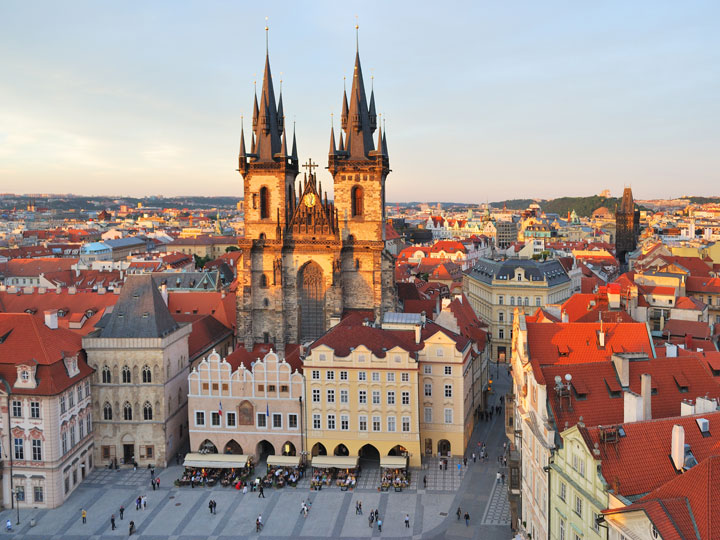 If fairytale cityscapes are your thing, you'll be pleased with Prague. Nicknamed "The City of a Hundred Spires", Prague is packed with Medieval, Gothic, and Baroque architecture. Anyone who loves the romantic feel of Paris should put Prague on their list of must see cities in Europe for their first time.
Here are some highlights:
Bask in the charming European atmosphere of the Malá Strana neighborhood
Marvel at the Astronomical Clock and stunning architecture surrounding the Old Town Square
Get picture-perfect views of Prague at Letna Park, Old Town Hall Tower, and the Charles Bridge
Live out your storybook dreams inside Prague Castle
Soothe your soul at a classical music concert inside the city's grand venues, from the Estates Theater to St. Nicholas's Church
Vienna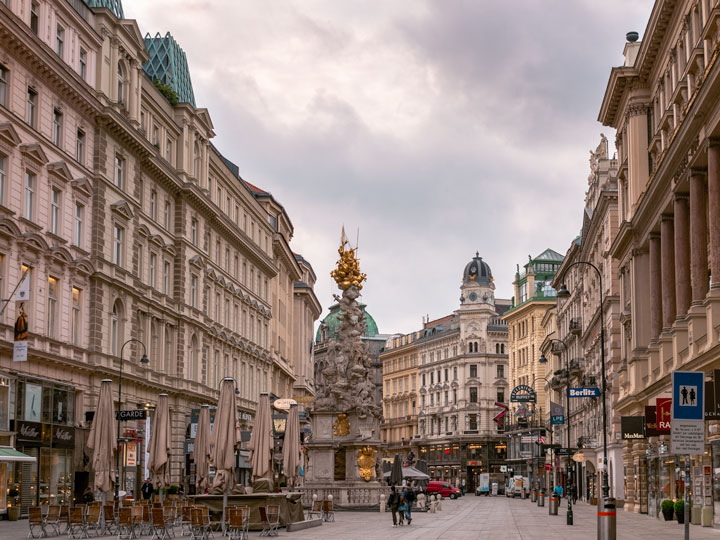 Few cities in Europe possess as much old world charm as Vienna. It's a place of opulence, elegance, and culture, with an overwhelming amount of gorgeous sites to explore. After you've walked the streets at night surrounded by twinkling lights and live opera music, Vienna will earn a place in your heart forever.
These are some of my favorite things to do:
Walk in the royals' footsteps at Vienna's numerous palaces (Belvedere, Schonbrunn, and Hofburg are most famous)
Indulge in fancy coffee culture at the gilded Cafe Central
Climb the south tower of St. Stephen's Cathedral for unparalleled views over Vienna
Dress up for an elegant evening at the renowned Vienna State Opera or Musikverein
Get your 'Gram on while exploring the cobblestoned Spittelberggasse and MuseumsQuartier areas
Plan your visit with my 2 day Vienna itinerary!
Venice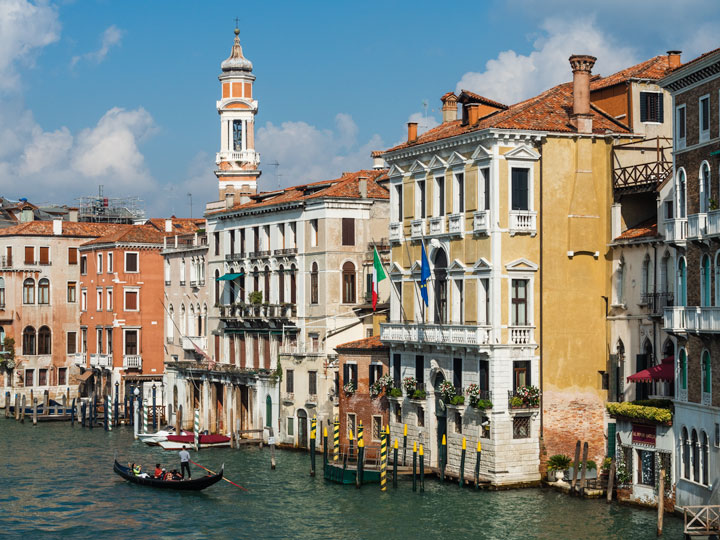 Venice has topped the bucket list of first time Europe travelers for centuries–it was a key location of the Grand Tour, after all. And it's no surprise, given the former merchant Republic's unique cultural history, sumptuous architecture, maze-like alleys, and awe-inspiring canals.
Here's how to make your visit unforgettable:
Get lost (yes, that's right!) in the narrow alleys of Cannareggio, Venice's historic Jewish quarter
Relax with a cappuccino and a gelato in a campo (town square)
Watch the sunset over the Grand Canal from atop the Ponte dell'Accademia
Experience some of Italy's best architecture at St. Mark's Basilica, the Doge's Palace, and the Basilica dei Frari
Take a private gondola ride–or an affordable vaporetto–to see the city from water level
People may call Venice a tourist trap, but that doesn't need to be your experience. Use my 2 day Venice itinerary to navigate the highlights and hidden gems of the canal city.
Bologna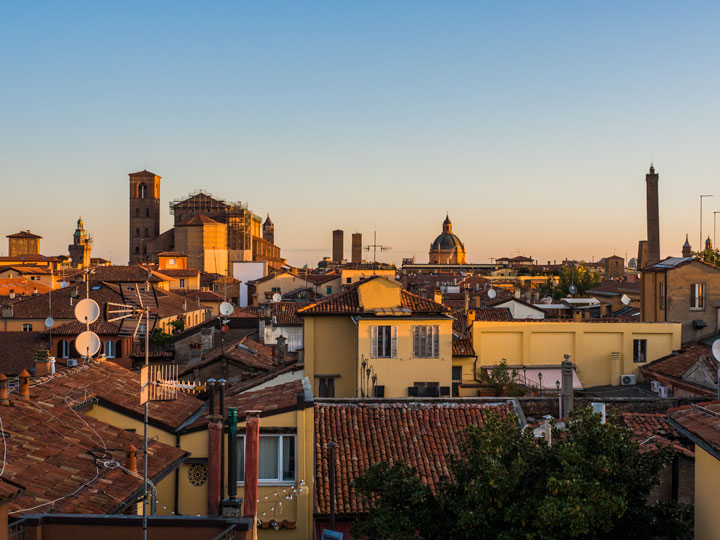 Were you expecting to find Rome on this list? Italy's capital city is wonderful, but you can get all the charm (and better food) without the hordes of tourists in Bologna. Lavish cathedrals, colorful facades, mouth-watering dishes, and a relaxed vibe combine to make Bologna a favorite among travelers in the know.
These are my favorite experiences:
Eat your way through Italy's culinary specialties at the medieval Quadrilatero market
Indulge in a daily (or twice daily) gelato from Cremeria la Vecchia Stalla and Cremeria Santo Stefano
Visit the Santuario Madonna di San Luca–and do some Bologna sightseeing along the way–via a charming mini-train
Stare in amazement at the grand interiors of Bologna Cathedral, Santa Maria Della Vita, and Basilica di San Petronio
Get your culture fix at the many museums, from the Archeology Civic Museum to the National Art Gallery
Read my 3 day Bologna itinerary for more inspiration!
Dubrovnik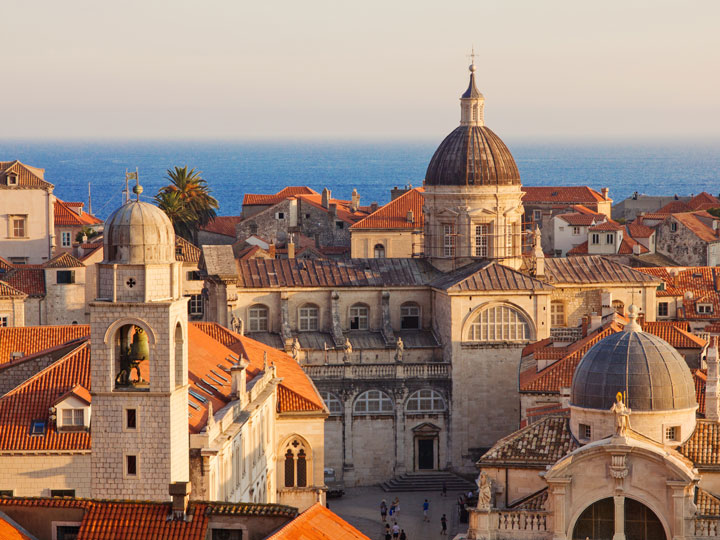 Thanks to the uber popular Game of Thrones series, Dubrovnik was thrust into the spotlight. However, there's more to this stony city than iconic filming locations. The gem of the Adriatic sea has all the trappings of a picturesque European destination, from flower-laden cobblestone alleys to 700-year-old monasteries.
Add these items to your Dubrovnik bucket list:
Walk along the UNESCO World Heritage Walls of Dubrovnik that surround the city
Take a tour of the Game of Thrones filming spots
Get a birds-eye view of Dubrovnik from the Mount Srđ cable car
Grab a drink in front of crashing ocean waves at Buža II
Explore the city's many grand religious sites, from The Cathedral of the Assumption to the The Church of St. Blaise
Athens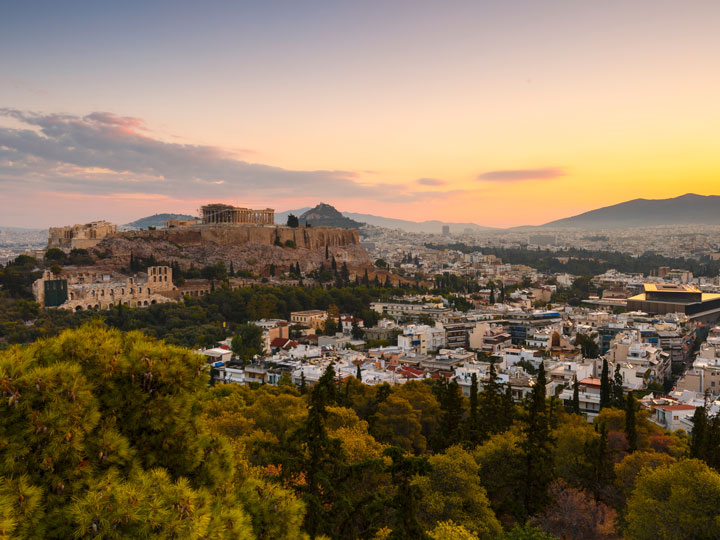 Greece's idyllic islands draw millions of tourists a year. But it would be a mistake to blow past Athens on your way to the ferry docks. The cultural significance of the Acropolis alone is enough to put Athens on your must-see list, though there's plenty more to enjoy in this ancient capital.
Here are some must-have experiences:
Step back in time at the Acropolis
Pick up some unique souvenirs and delicious street food in Monastiraki, one of the city's oldest districts
Stroll alongside wild goats and peacocks in the once-royal National Gardens
Wander the crumbling alleys and miniature squares of the Plaka, one of the world's oldest continuously inhabited neighbourhoods
Take a hike (or cable car) up Lycabettus Hill for impressive views over Athens
Copenhagen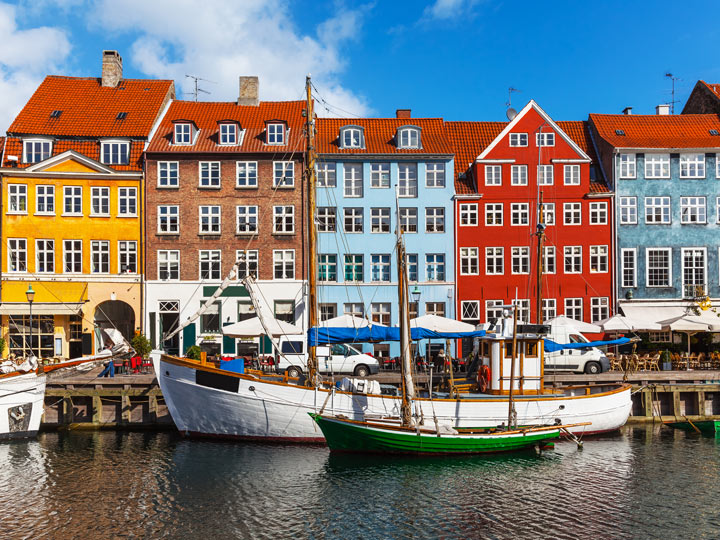 Rainbow-colored facades, innovative restaurants, an outdoor amusement park… What's not to love about Copenhagen? Whether you're a photographer, a foodie, or just after some Scandinavian vibes, Copenhagen deserves a stop on your first time in Europe trip.
Check out these quintessential activities:
Take a zillion photos of the colorful Nyhavn harbor district
Enjoy a whimsical afternoon at Tivoli Gardens
Pull back the curtain on royal life at Amalienborg Palace and Rosenborg Castle
Go for a boat ride along the canal and coast
Nab a coveted seat at Noma, one of the world's top restaurants
Stockholm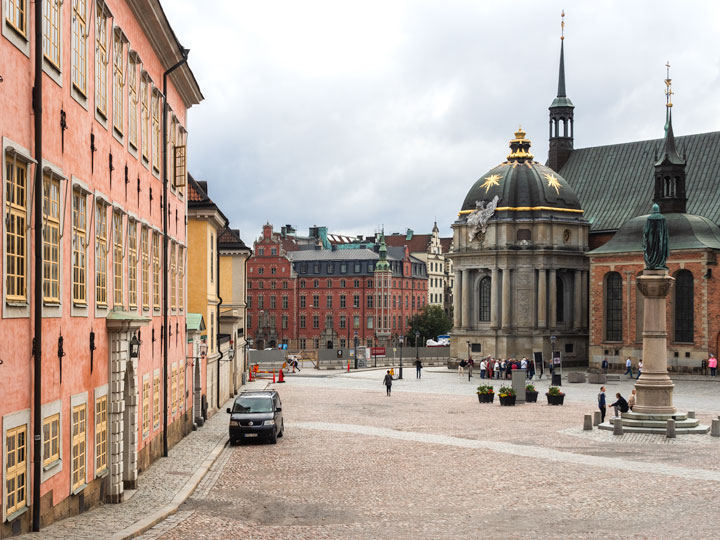 Stockholm was one of the very first cities we visited in Europe after moving to London. We based the trip on its reputation as a cool city break. But we quickly learned there's more to Stockholm than minimalist furniture and Fika breaks.
Here are some of my favorite things to do:
Stroll along the Strömma for beautiful waterfront views of the city
Explore the curving alleys and whimsical buildings of Gamla Stan and Katarina Sofia
Go for a relaxing walk through the peaceful Djurgården
Check out the unique museum exhibits, from art to ABBA to warships
Watch the sun set behind the city at the Skinnarviksberget
Read my one day Stockholm itinerary for more ideas.
I hope you found some inspiration in this list of must see cities in Europe for first timers.
Follow me on Instagram for more Europe travel inspo!