After taking a summer road trip from London to Scotland, I'm convinced it's the best way to enjoy this amazing island. This self drive UK holiday is the perfect combination of freedom, exploration, and relaxation.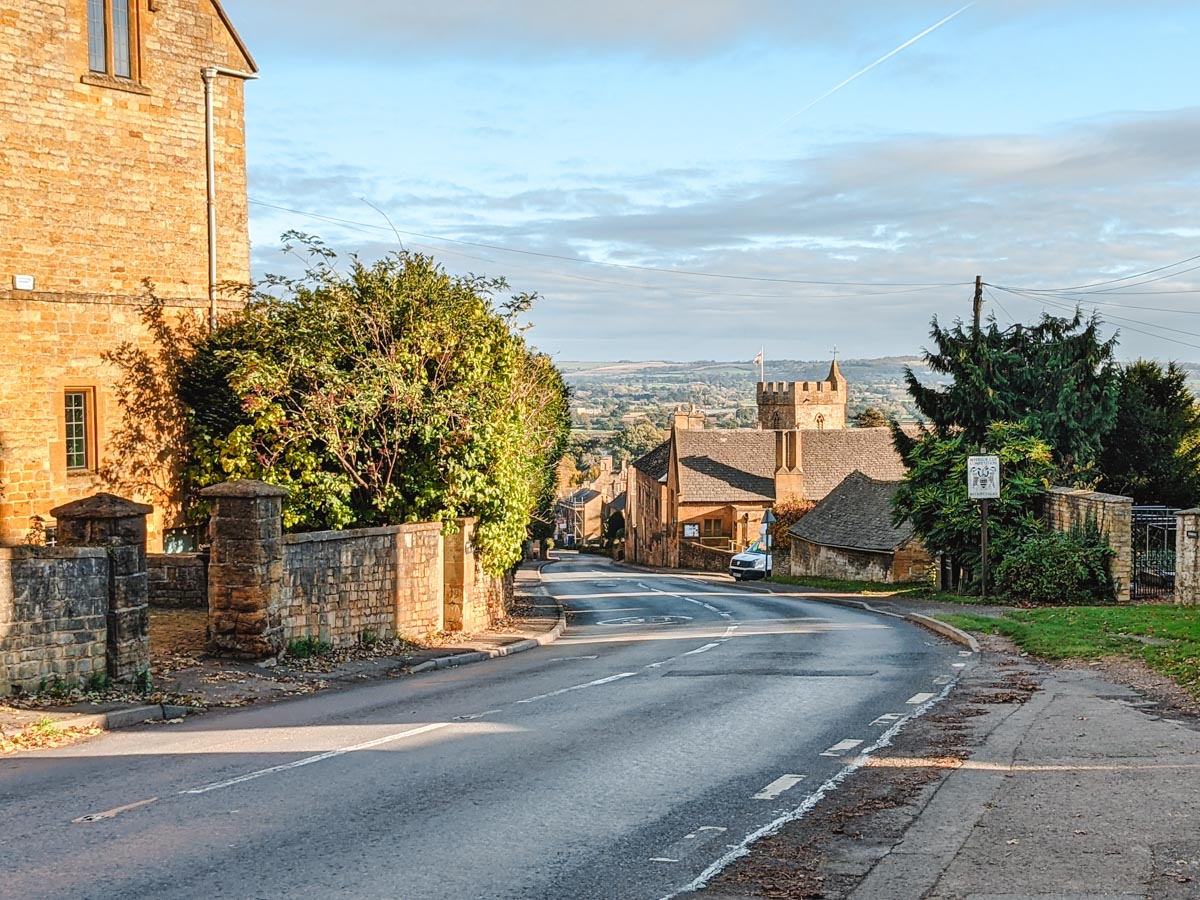 Not having to worry about train timetables or tour schedules means you can see the country's storybook villages and famous sights at your own pace. And I guarantee this charming UK road trip itinerary will make up for the mild terror of driving on narrow country lanes!
This post contains affiliate links. For more information, click here.
Whether you're after chocolate box cottages in the Cotswolds or a refreshing hike in the Lake District fells, this agenda has something that's sure to please every traveler in the car.
This series of day trips from London to Scotland spans 9 days and covers 10 beautiful places to visit in Britain. If you already have London travel plans, simply skip the first two days for a 1 week UK road trip itinerary.
And don't be concerned by the long list of destinations. My great British road trip may seem ambitious, but the country is more compact than you might think.
Even on a late summer weekend, the drive from Edinburgh to London can be done in a single day. You'll even have time to stop for some Pret sandwiches along the way (I recommend the Scottish smoked salmon).
P.S: If you need to rent a car for this trip, I recommend Rentalcars.com!
London to Scotland Road Trip Itinerary
Days 1 & 2: London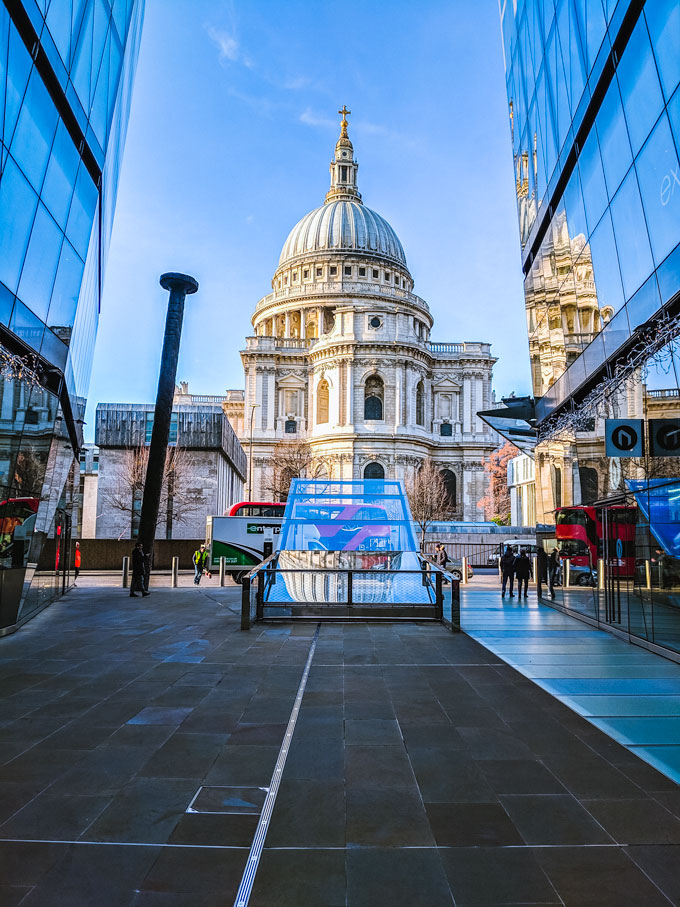 It would be crazy to visit the UK and not spend a couple days in London. The Big Smoke is an incredible city bursting with history, great food, and classic British charm.
It's also a bit tricky to navigate and explore to the fullest, which is why I recommend reading my London sightseeing tips before your trip.
RELATED: 15 Non-Touristy Things to do in London
If you've never visited London, you might feel overwhelmed trying to squeeze everything into two days. To help you make the most of your time, I've outlined a rough itinerary that mixes popular attractions with local gems:
Day 1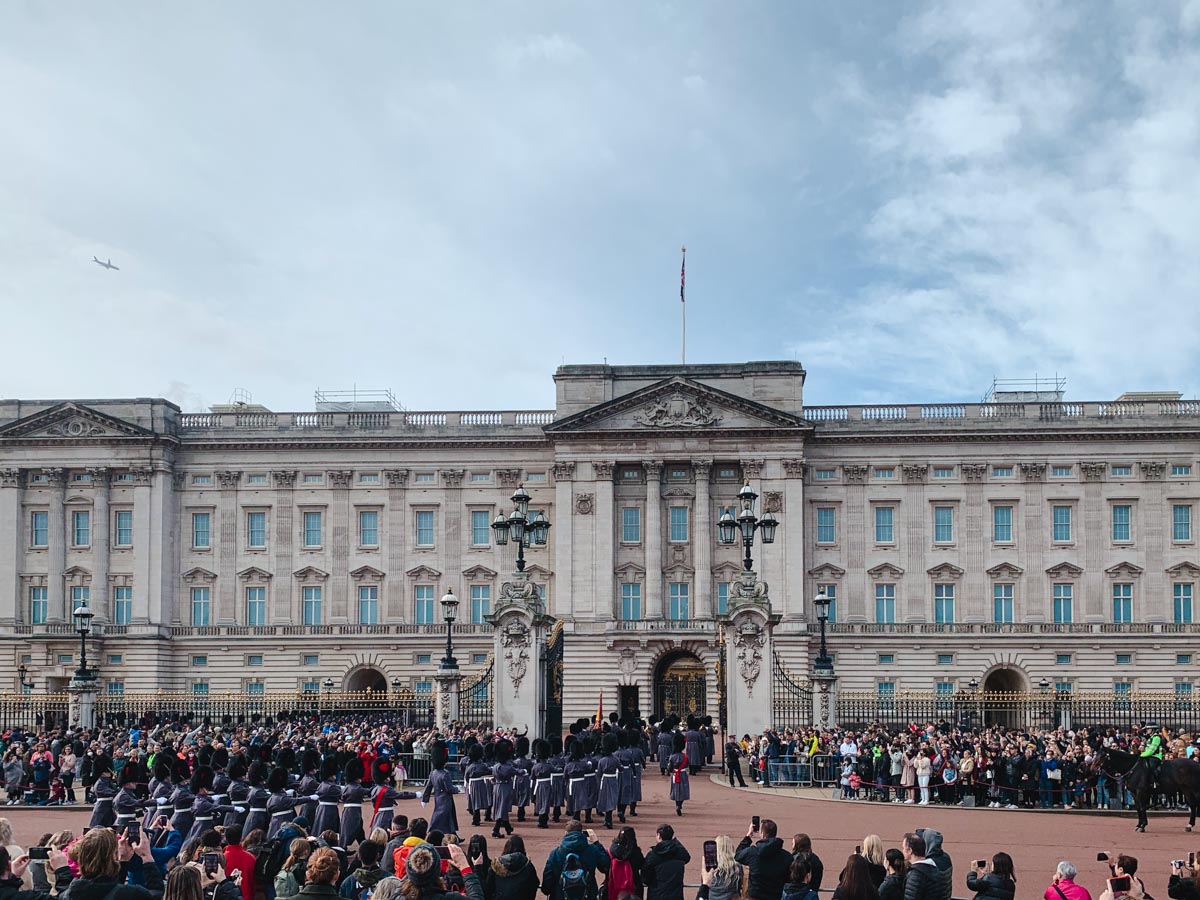 Day 2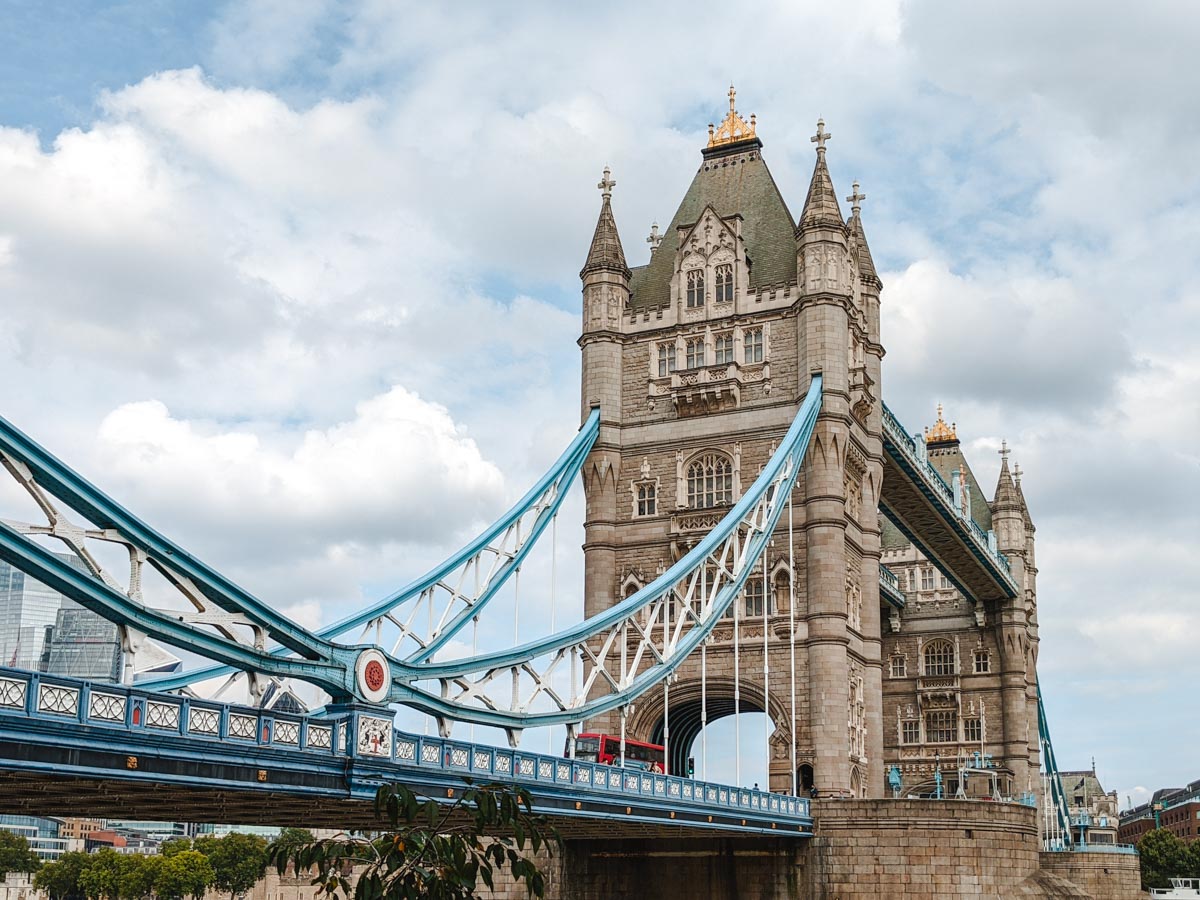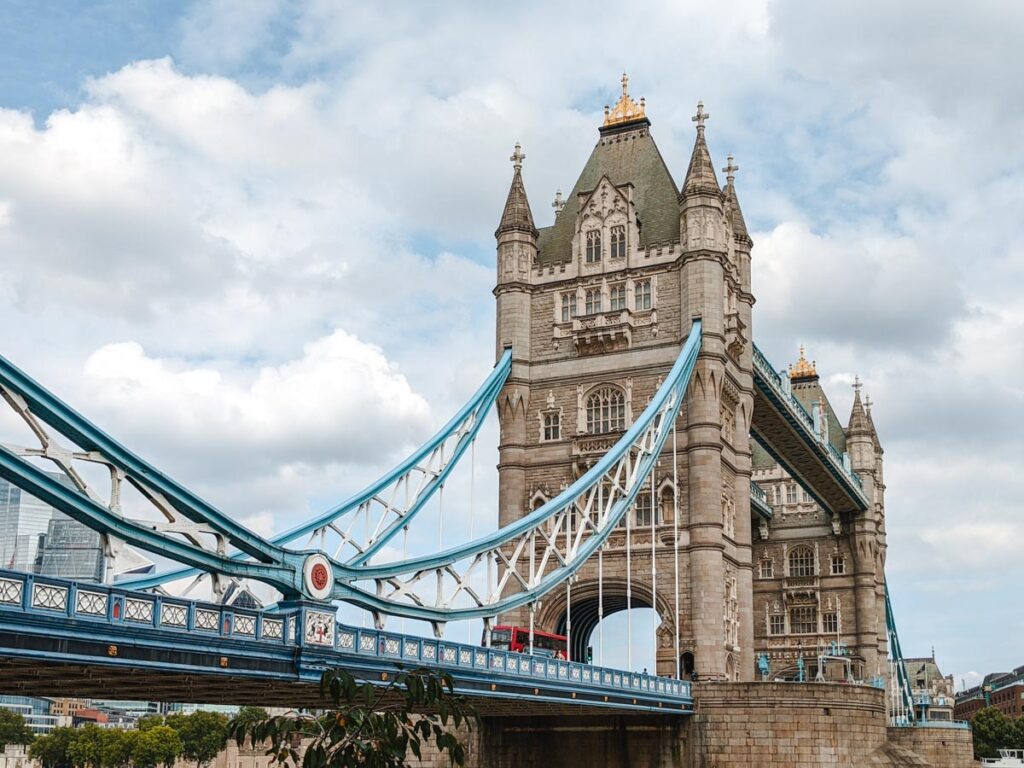 A note on car rental: Because of London's notorious traffic, I highly recommend reserving a car somewhere close to Heathrow Airport.

That way, you won't need to drive through the city during the morning rush. Or, you could simply take the train from London to Windsor and pick up your rental car after you finish touring the castle
Where to Stay in London
The city is well-connected by tube, so you don't need to splurge on a hotel near Buckingham Palace. But you do want to be within a 5-7 minute walk of a decent tube station. Here are a few areas I recommend:
There are plenty of lovely VRBO apartment rental options in London as well. They're an excellent way to experience authentic London life (and save a bit of money on dining out)!
Get some rest after day two, because you'll need to be up bright and early for day three of this self drive UK holiday!
RELATED: Ultimate 4 Days in London Itinerary
Day 3: Windsor Castle, Stonehenge, and Bath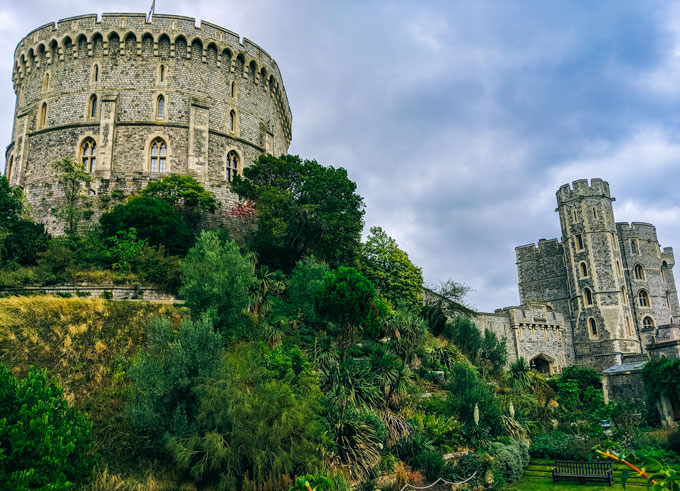 I'm going to be honest: this day is packed from morning til night. If you're road tripping from London to Edinburgh with young kids, it might be tough to squeeze in all of these places. In that case, I'd cut out sightseeing in Bath and just head there for a night's rest.
Windsor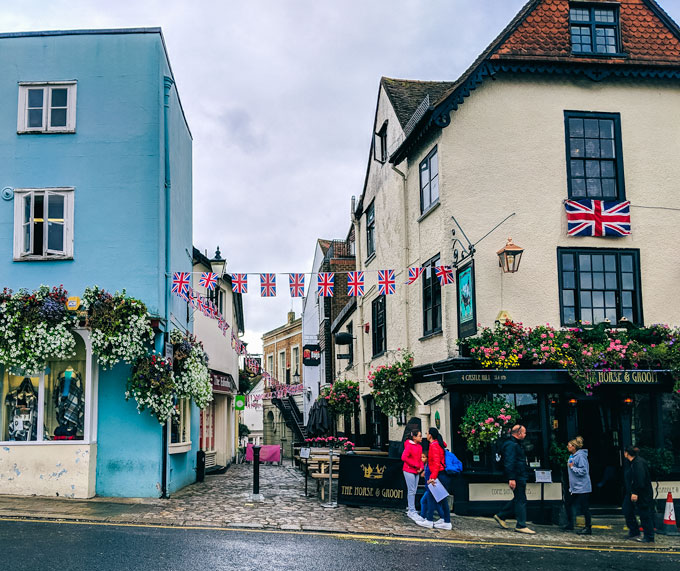 Visiting Windsor is a double treat. Not only do you get to wander a 1,000-year-old castle, but you'll also walk through the charming Windsor village on your way there (pictured at the top of this post).
If you already have your car, you'll find plenty of parking options within walking distance of Windsor Castle. I recommend using one of the car parks south of the main area (either William Street or Victoria Street), as it's the most efficient walking route to see both the village and castle.
For the speediest entry, book your tickets online. The castle doesn't open until 10am, and you'll want to get in as soon as possible.
Once inside the gate, it takes around two hours to explore the grounds and rooms. Highlights include the opulent state apartments, gilded grand reception room, and breathtaking St. George's Chapel, where the Duke and Duchess of Sussex were married in 2018.
Once you leave the castle, pop into a cafe or Pret A Manger for a quick lunch before you depart. Driving from Windsor to Stonehenge takes around 60-90 minutes depending on traffic, so you'll want to be on the road by 12pm.
Stonehenge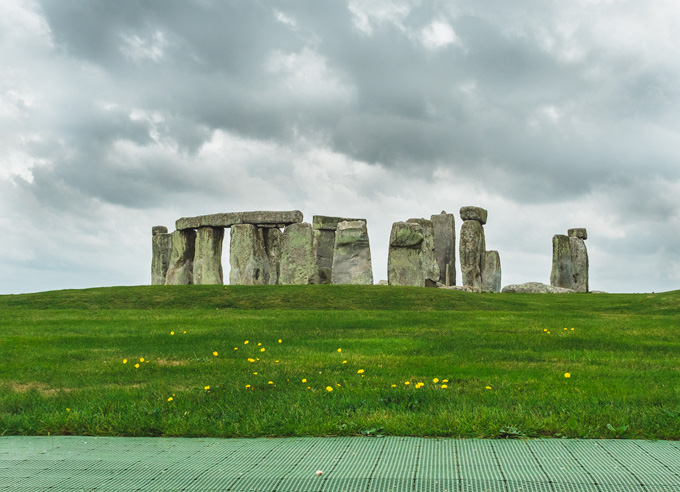 Despite being called a tourist trap by some, I found Stonehenge to be a highlight of my UK road trip itinerary.
This world wonder and UNESCO heritage site still holds mysteries after centuries of research. And the experience of seeing the stones up close is something I won't soon forget.
Although it's possible to visit Stonehenge for free, the amount of walking involved would take a serious chunk of time out of your day.
Instead, pay the admission fee, which gives you access to a shuttle to and from the stones. Your ticket also includes free parking in the massive Visitor's Centre lot, and admission to the museum exhibition full of archaeological finds.
Get your skip the line Stonehenge tickets to save time!
It's an hour's drive from Stonehenge to Bath, so I recommend departing Stonehenge by 2:30pm.
Bath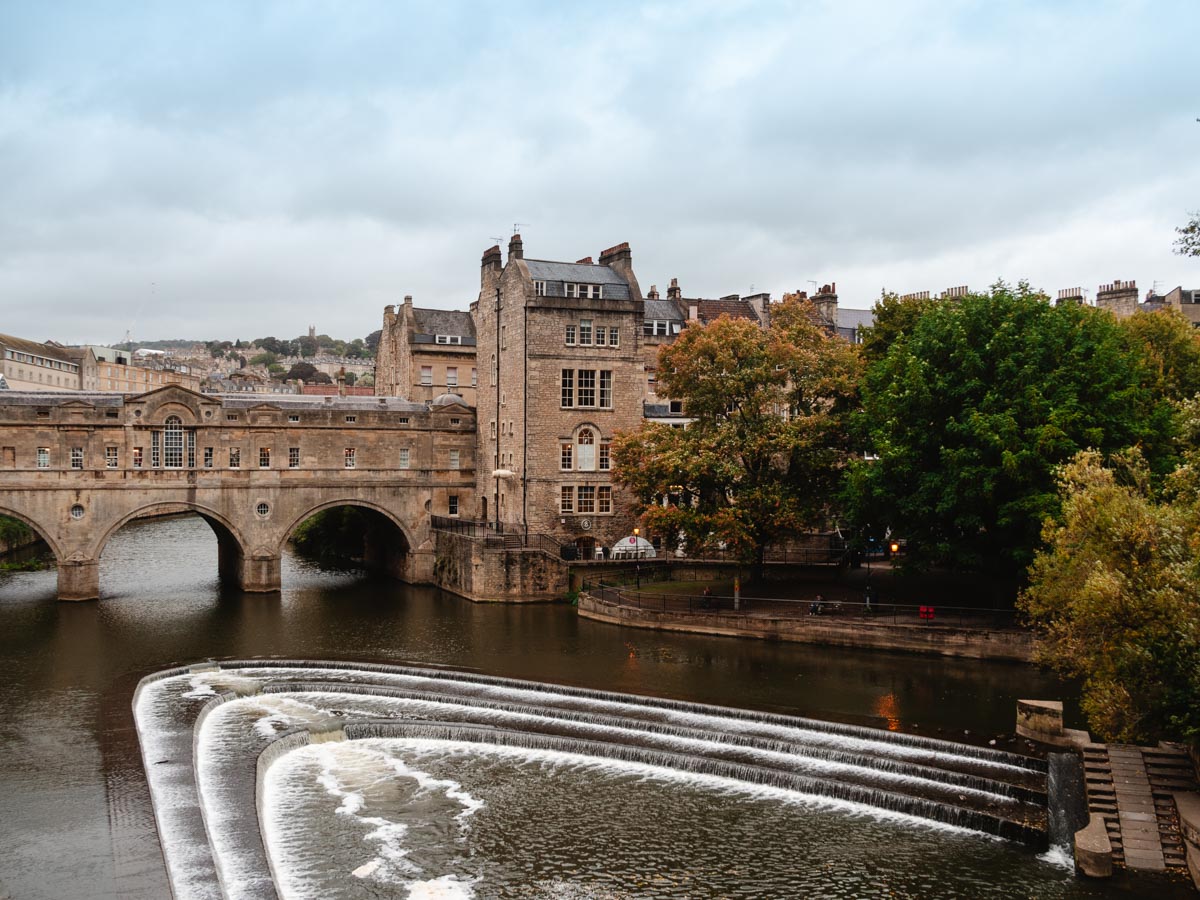 Bath is best known for its Roman architecture, and I can see why. The view as you approach the city looks like something from the Italian countryside.
Orange roofs and whitewashed buildings line the hills above the city center, and the Roman Baths are surprisingly well-preserved given they're nearly 2,000 years old.
If you want to see these famous Roman Baths, they should be your first stop upon arrival. After that, you should have time to check out Bath Abbey and the surrounding city center.
I also recommend walking past the famous Royal Crescent, a long curving row of Georgian houses facing Royal Victoria Park.At this point in the UK road trip, you'll likely be exhausted!
Instead of navigating the city yourself, consider booking a guided tour of the Roman Baths and city highlights.
Once you've finished sightseeing, wind down with a nice pub dinner. Bath has dozens of old character pubs, including The Huntsman and The Raven.
Luckily, Bath is only a 30 minute drive from tomorrow's first destination in the Cotswolds, making it an ideal place to spend the night.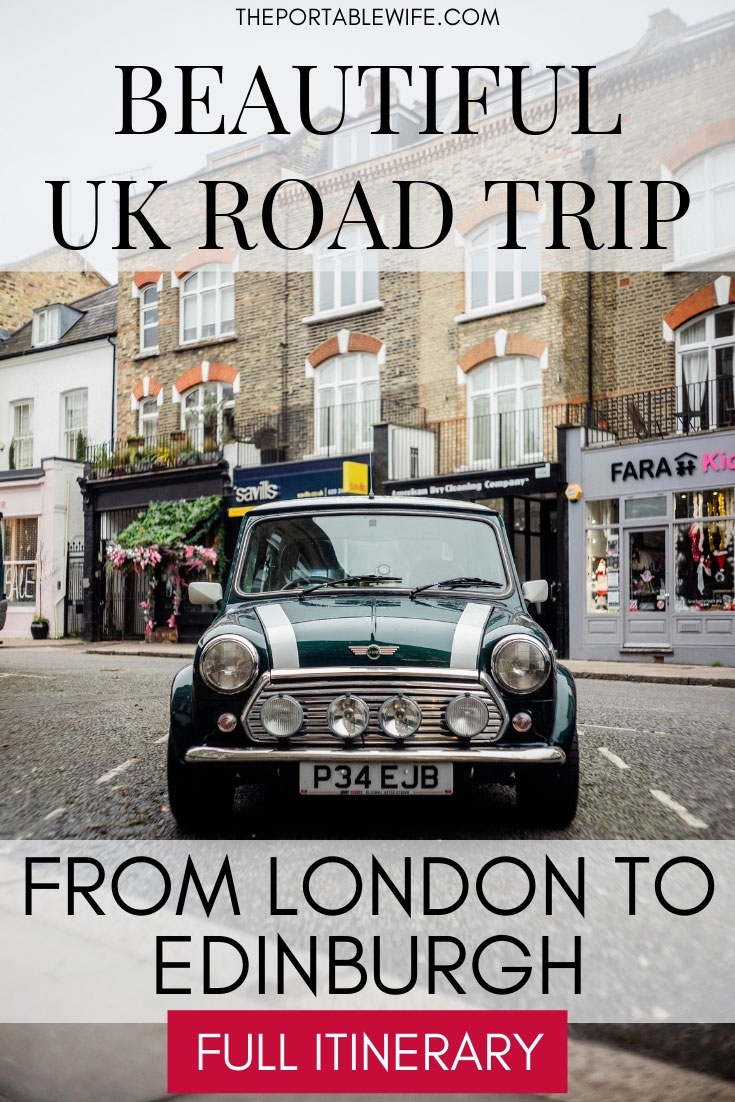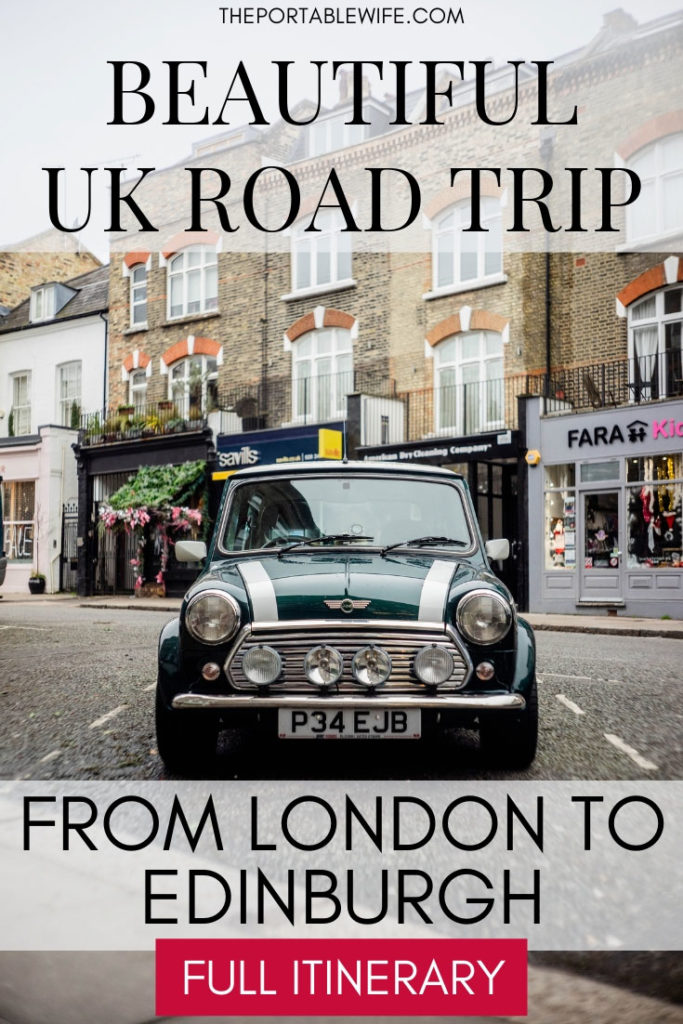 Day 4: Cotswolds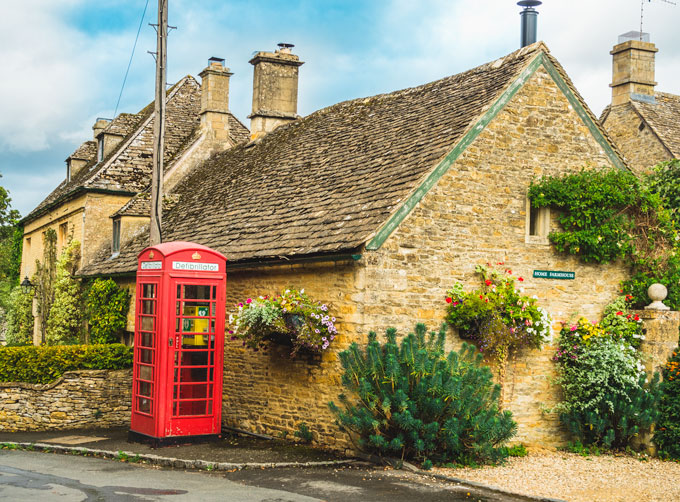 Day four of this London to Scotland road trip is all about picturesque English villages. You'll spend the day meandering through the Cotswolds, an official Area of Natural Beauty.
The itinerary starts in Castle Combe, commonly cited as England's most beautiful village. From there, you'll drive north to Painswick, where a hilltop climb leads to sweeping views over the Severn Valley.
After that, grab lunch on your way to the Slaughters, a mildly disturbing name for this pair of lovely residential areas. Finally, you'll end the day in Chipping Campden, whose famous church and high street make for a relaxing end to a day of sightseeing.
You'll be covering a lot of ground in one day, so I recommend spending the night in Chipping Campden. From here, it won't take long to hop back on the A44 to start driving to Gloucester.
Read the full Cotswolds day trip itinerary here.
Day 5: Gloucester and Stratford-upon-Avon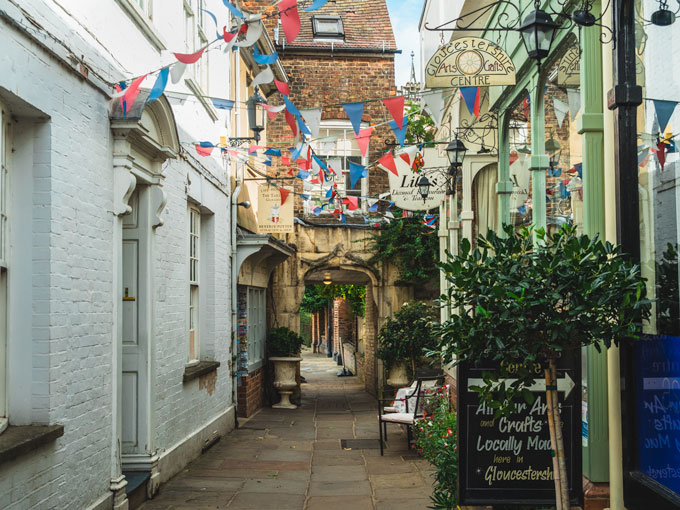 Literature lovers and architecture enthusiasts will rejoice over today's agenda. Aside from its abundance of British charm, Gloucester is home to an impressive cathedral, as well as a few places that inspired Beatrix Potter's famous works.
After a morning in Gloucester, it's off to Shakespeare's hometown for a dose of half-timbered buildings and mementos to the Bard.
Gloucester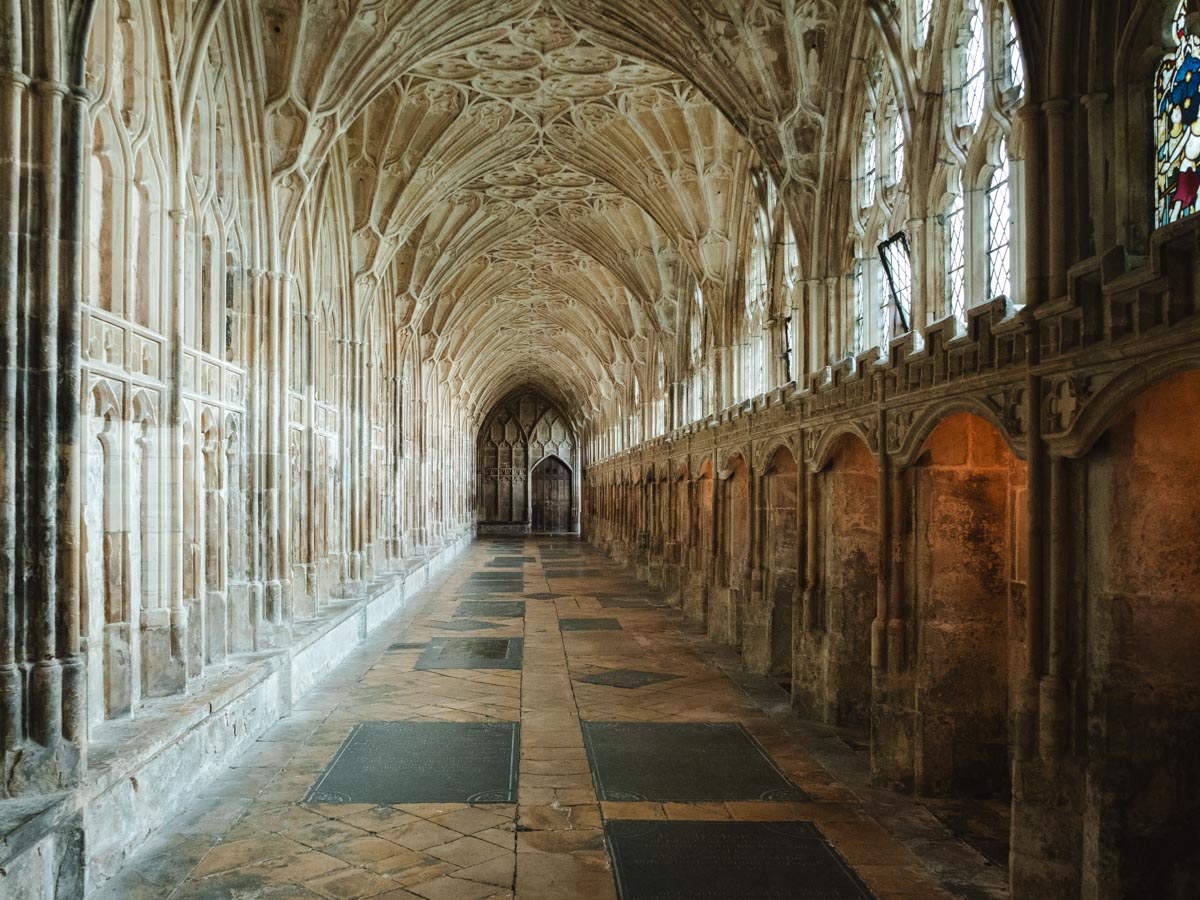 Gloucester is an interesting mix of ancient and contemporary. There's the famous Gloucester Cathedral, an 11th century marvel of stained glass and blended Gothic and Romanesque architecture. It's long, ornate corridor was also used as a filming location for several Harry Potter movies.
Just a few blocks west of the cathedral stand the Gloucester Docks, with their restored Victorian warehouses looming over the waterfront.
Finally, head up the high street to College Court, a narrow U-shaped alley that's home to The House of the Tailor of Gloucester. This building inspired the eponymous Beatrix Potter book, and now serves as a shop and museum dedicated to the author.
Gloucester is very walkable, so I recommend parking in the large lot next to the Docks and making a circuit through the town. You'll probably need around 2 hours to see the highlights, plus some time for lunch.
Stratford-upon-Avon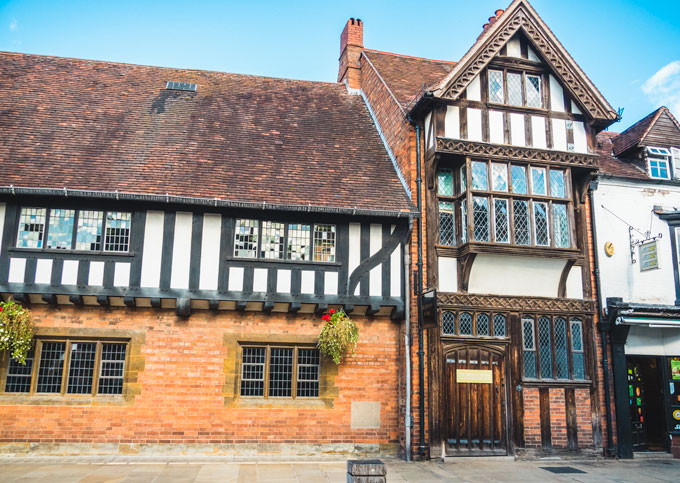 After lunch, head an hour north to the land of Shakespeare. Thanks to the Bard's fame, Stratford-upon-Avon remains remarkably well preserved.
The timbered buildings and large flower displays make it feel like you've stumbled upon a piece of old England (even if one of those historic facades conceals a Subway).
Aside from the architecture, the main Stratford-upon-Avon attractions include Shakespeare's Birthplace, Shakespeare's New Place (his retirement home), the Royal Shakespeare Company theatre, and Holy Trinity Church, where Shakespeare is entombed.
The easiest way to access all the Shakespeare residences (including Anne Hathaway's cottage) is to buy a multi-entry ticket online.
All of these places are walkable as a large circuit. Stratford Greenway has the cheapest parking, though it's slightly farther out from the main town. Otherwise, you'll find plenty of car parks on the northern side of the town.
The only highlight that's a bit far to reach on foot is Anne Hathaway's cottage, the charming former residence of Shakespeare's wife. I recommend stopping by the cottage on your way into the town.
To see all of the above, you'll need around 3 hours. Keep in mind that it's a 3-4 hour drive from Stratford-upon-Avon to Lake District, so plan your dinner accordingly. We had a light meal to tide us over, and then ate dinner at our Lake District inn.
To get the most out of tomorrow's itinerary, plan to spend the night somewhere north of Manchester, or in one of the southern Lake District villages.
There are tons of charming VRBO rentals in the southern lakes area!
Day 6: Lake District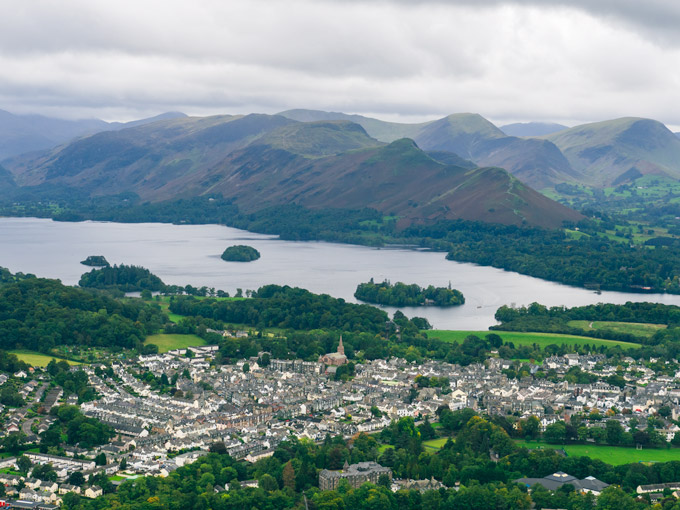 Day six is made for exploring the great outdoors. Though the Lake District sounds like a place for water sports, there are plenty activities that don't involve boats and paddleboards. Here are a few ideas to help plan your day:
Wherever your plans may lead, you'll want to spend the night a bit closer to the Scottish border. It's a 3 hour drive from the northern Lake District to North Berwick, so I recommend staying in–or north of–Carlisle.
Day 7: North Berwick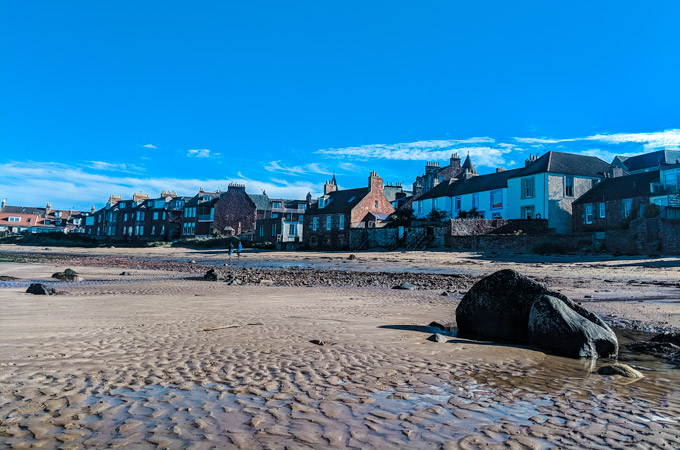 Beaches, castles, and coffee, oh my! North Berwick is one of my favorite places in Britain, so I couldn't leave it off of this UK road trip itinerary.
The town is home to several beautiful beaches, with a combination of sand and rugged rock. After a stroll along the coast, head to Tantallon Castle, which stands in partial ruin on a seaside cliff.
On your way back, have a refreshing cup of coffee or tea with a view at Drift Cafe. Finally, round out the day in the lovely town center, where several pubs and ice cream shops serve locals and visitors alike.
Read the entire list of things to do in North Berwick here.
Days 8 & 9: Edinburgh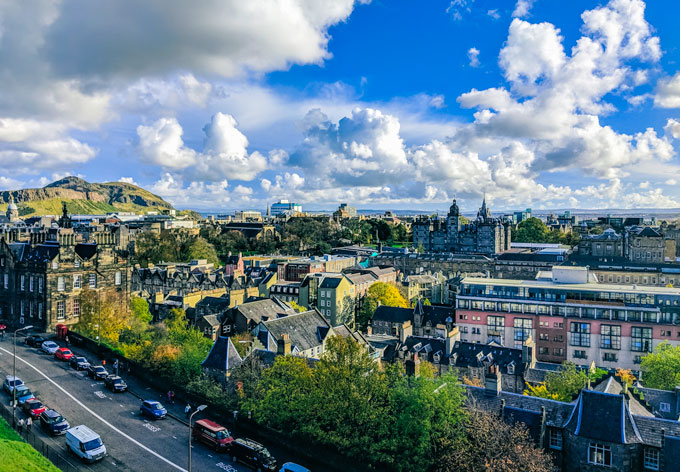 Edinburgh is so much more than Harry Potter locations and the Fringe Festival. The city's incredible scenery–Gothic architecture, a hilltop Castle, and Arthur's Seat peak–combine to create a magical atmosphere unlike any other.
Whether you're a history buff, a bookish type, or Scotch lover, you're sure to be enchanted by this Scottish wonderland.
There's so much to explore in Edinburgh, including Edinburgh Castle, the Royal Mile, Holyrood Palace, the Meadows, and more. Fortunately, I've already written a complete itinerary for the city to help you plan your visit!
Read the entire 2 day Edinburgh itinerary here.
When is the Best Time to do This UK Road Trip Itinerary?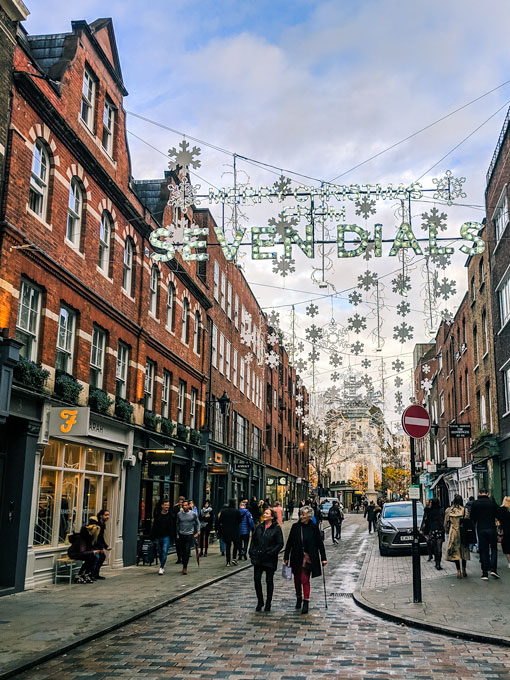 Because this road trip from London to Scotland doesn't go north of Edinburgh, you can easily do this driving itinerary 9 months out of the year.
Due to the potential for snowy road conditions, I'd avoid December – February. And to avoid the crowds and major traffic, steer clear of August. That's when everyone else is going on UK road trips.
It was late September when I completed this route, and it was a great balance of fine weather and reduced congestion. April and October would also be ideal for the same reasons. If you're desperate to see London at Christmas, they typically start decorating the last week in November.
Travel Tips for Your Self Drive UK Holiday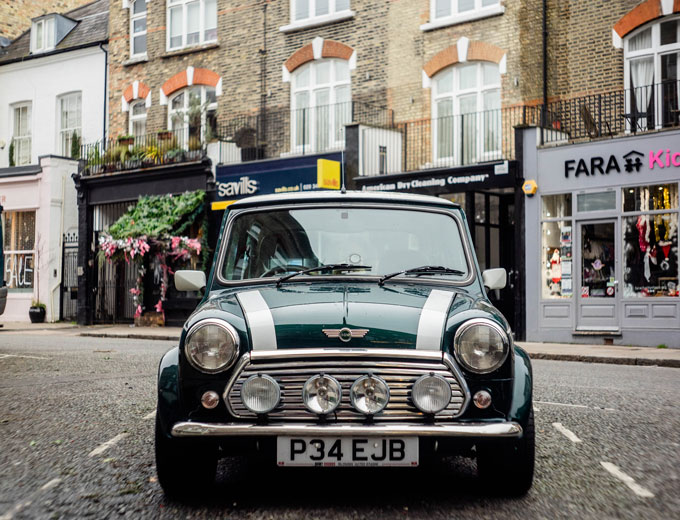 Here are a few helpful tips to make your drive across the UK a success:
My Favorite UK Travel Planning Books
These books win my travel blogger Seal of Approval for vacation planning:
Map of London to Scotland Road Trip Destinations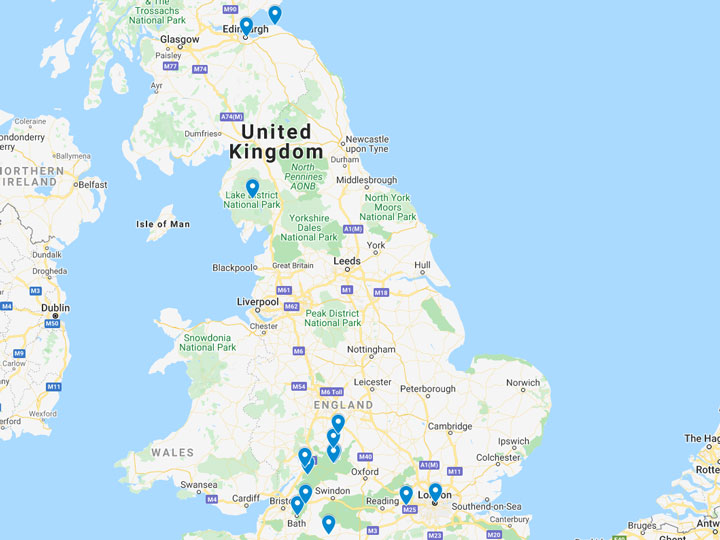 Click here to open the complete interactive map!
I hope I've convinced you to get behind the wheel for a London to Scotland road trip. If you have any questions about this itinerary, let me know in the comments section!