Stonehenge is a place that captures the imagination. Its purpose and construction still hold mysteries after 5,000 years. But with admission costing nearly £20 per person, I'm certain that some people will never experience its magic unless they can visit Stonehenge for free.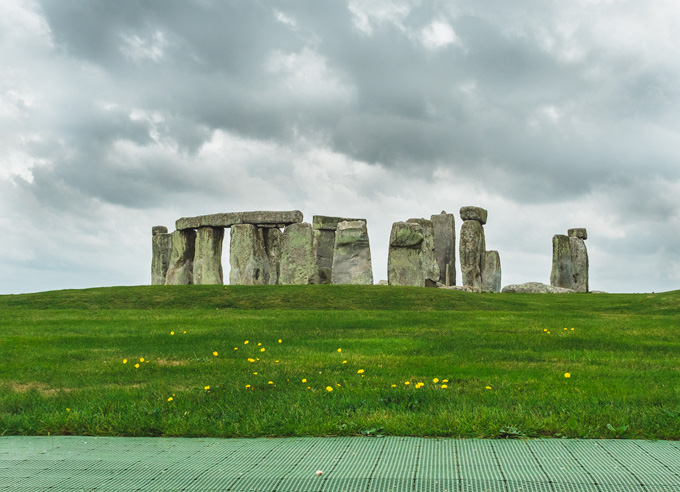 Like many travel hacks, the old tips and tricks that worked a few years ago are no longer valid. Doing a Google search for "visit Stonehenge for free" will bring up posts and threads about driving down an old gravel road or pulling off of the A303.
However, recent renovations and road blocks have shut down these budget options.
Fortunately, there are still a few different ways to see Stonehenge for free.
This travel guide is part of my UK road trip itinerary itinerary, which includes over a dozen destinations from London to Edinburgh!
This post contains affiliate links. For more information, click here.
Walk from Woodhenge to Stonehenge for free
This method to visit Stonehenge for free is 100% legal and includes some other historical sites along the way. While it does involve an hour-long walk to Stonehenge, you won't need to worry about getting towed or ticketed.
The National Trust has a free car park at Woodhenge, another historic Neolithic monument in the area. Simply put "Woodhenge" into your navigation app of choice and head to the site. It's located off of A345 on Fargo Road, and the small car lot is on the corner where Fargo Road bends around the site.
Woodhenge is thought to be an ancient burial site. It features more than 150 concrete posts arranged in six concentric rings. These once-wooden posts (hence the name) were replaced by concrete so that visitors could see the ancient arrangement long after the wood rotted away.
After you've explored the site, follow the paths through the back fields to walk from Woodhenge to Stonehenge (see image below):
Head out the Woodhenge gate and follow the walking path south along the outside fence.
Continue south towards the thicket of trees.
Follow the curve in the path and head west towards the patch of forest.
Continue west on the path as it passes behind the houses, where you'll soon reach an intersection. Take a left.
Continue south past Long Barrow. You'll come upon an English Heritage sign for Kings Barrow. Turn right at the sign.
Continue south pass the thicket of trees, You'll see a gate on your right. Pass through the gate and walk westt through the field.
Eventually, you'll reach a sign for Stonehenge. Take a left on the path and keep walking until you get to the fence behind the site.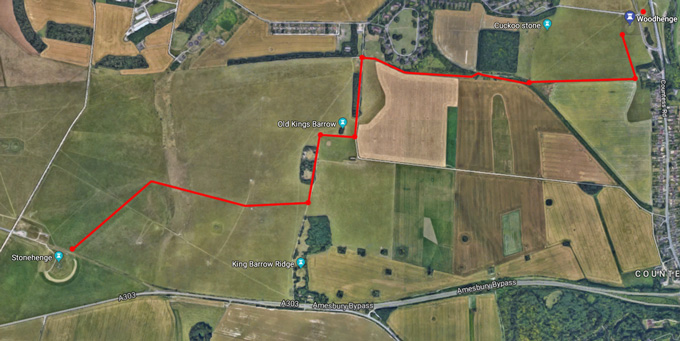 This free view of Stonehenge is only a few meters back from the paid one, and it's a lot more fun than taking a bus straight to the monument! Even paying visitors cannot just walk up to Stonehenge, as there's a rope barrier ringing the stones.
If you want a more straightforward walk back to the Woodhenge car park, you can head west towards the gravel road.
Follow it all the way north until you reach an intersection with a thicket of trees on your right. Turn right and follow this path all the way back to Woodhenge.
RELATED: How to Save Money While Traveling: 15 Easy Tips
Park on Fargo Road and visit Stonehenge for free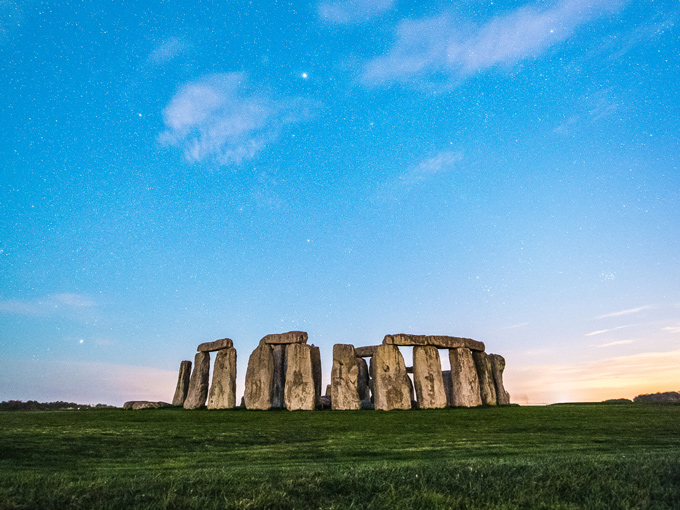 This is the easiest and fastest way to see Stonehenge for free. However, it's not totally clear to me if its acceptable to park and leave your car in a pull-off spot. Regardless, plenty of people use this route to get to Stonehenge:
Set your navigation to Stonehenge Visitors Centre.
Assuming you're coming from A303, take the traffic circle to A360 and continue north.
As you approach the Visitors Center on your right, continue straight. The road will become B3086.
At the first intersection, turn right onto The Parkway. Continue straight until you come to Willoughby Road.
Turn right onto Willoughby Road and follow it until you reach Fargo Road.
The road will dead end straight ahead at a metal gate. Some people park in the pull-off near here, but there's more space farther up Fargo Road.
If you turn left on Fargo Road and head a half mile up the street, you'll find pull-off parking on your left, across from a row of houses.
Once you've parked, walk back to the metal gate where Willoughby Road ended. Pass through the gate on the left and follow the road south. It will eventually become a gravel road (the one people used to park on for free).
Follow this road almost until you reach an intersection where the shuttle buses drop off paid visitors. Look for the public access gate. Pass through and take the path to Stonehenge.
Depending on where you park, you'll be able to see Stonehenge for free in under 30 minutes! Compared to the Woodhenge path, this route is much easier to complete in low light and poor weather conditions.
Save me for later!
Try your luck with an off-season day trip to Stonehenge
It usually costs £5 to park in the Visitor's Centre lot. However, if you take a day trip to Stonehenge during the week in low season, you could get to park for free.
Generally, there's someone at the entrance to the car lot who will collect the parking fee. But in my experience (and according to the English Heritage website), parking attendants are only there during peak times. I did the drive from London to Stonehenge at the end of September when it was fairly slow, and no one was there to collect the £5.
If you use this method to visit Stonehenge for free, you can just walk up the side of the road until you reach the shuttle bus drop-off area. Then, simply pass through the public access gate to reach the stones.
RELATED: 31 London Sightseeing Tips From a Local
See Stonehenge for free with an English Heritage membership
Using an English Heritage membership to visit Stonehenge isn't technically free, assuming you paid your dues.
However, if you live in the UK and like to visit historical sites, I think the cost is well worth it. You can even buy a monthly membership for less than £5!
There are places run by the National Trust and Historic Scotland that give free admission to English Heritage members as well.
Pro tip: if you live in the UK and have a Barclay Premier Rewards account, it comes with a free English Heritage membership!
Party with the locals during the free Summer Solstice event
You might have heard that the stones at Stonehenge were arranged in such a way to commemorate the shortest and longest days of the year. When the sun rises behind the Heel Stone on the summer solstice, its rays shine directly into the center of Stonehenge.
Every June, thousands of people gather at Stonehenge the evening before the solstice to celebrate this special event. Admission is free, though you'll want to plan your visit to arrive by late afternoon. Otherwise, you'll struggle to find parking and transportation in the area.
This experience belongs at the top of any UK bucket list!
Benefits of a paid Stonehenge visit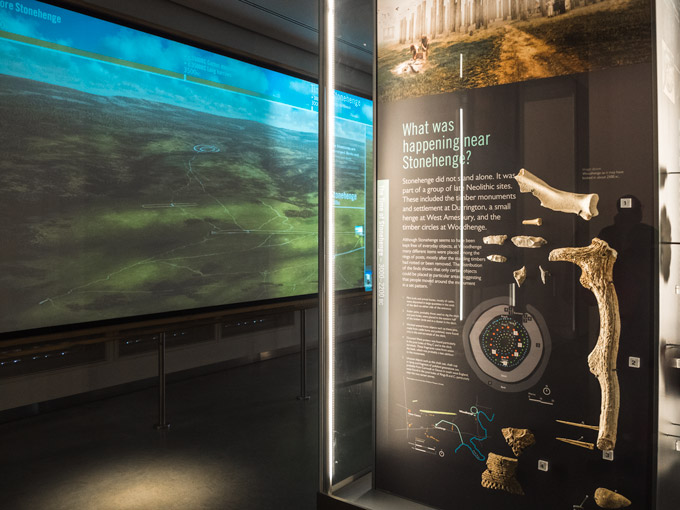 Although an admission ticket doesn't mean you can just walk up to Stonehenge and touch the rocks, it does come with benefits.
If you're wondering what to do in Stonehenge (aside from the obvious), there are a few other onsite activities that come with paid tickets.
You can check out the exhibition center, a mini-museum about Stonehenge. It even has a 360 degree theater that plays a time-lapse view of the site throughout time and seasons. I enjoyed learning about the history of Stonehenge and seeing the relics and artifacts found during excavation.
Paying customers can also ride the visitor shuttle either part-way or the whole way to and from Stonehenge. If the weather is unusually cold or rainy, this will make your visit far more pleasant.
Grab your skip the line ticket to save time!
Is Stonehenge Worth Visiting?
I think filling your itinerary with tourist attractions is one of the worst international travel mistakes. However, I don't feel that Stonehenge falls into the category of "tourist trap".
The very creation of Stonehenge is fascinating, from the way the ancient society figured out how to arrange the stones, to how they managed to stack them. Having learned about Stonehenge from a young age, it was an amazing experience to see this wonder first-hand.
My Favorite UK Travel Planning Books
These books win my travel blogger Seal of Approval for vacation planning:
Have you taken a day trip to Stonehenge? Do you have any tips for how to visit Stonehenge for free? Let me know in the comments!