With remote working and digital nomadism on the rise, there's a good chance someone in your life will be moving abroad soon. While "going away presents" are nothing new, it's challenging to come up with gift ideas for someone moving to another country.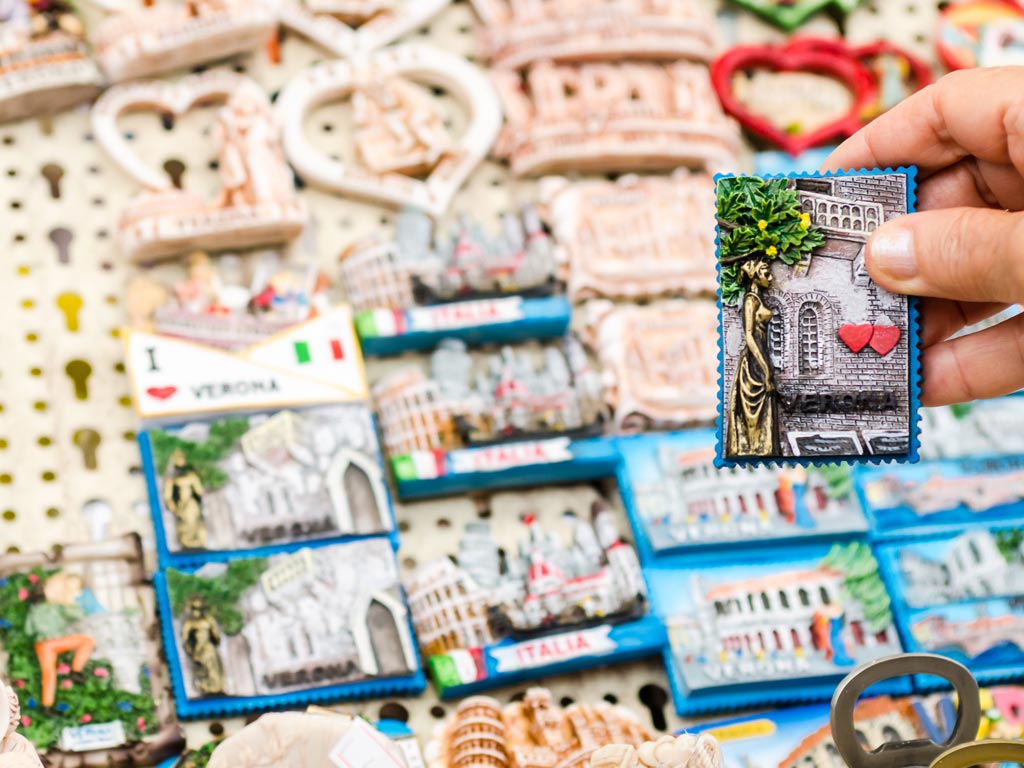 I've been on the giving and receiving end of gifts for expats, so allow me to shed some light on what to buy people who are moving abroad.
Hint: if it's bigger or heavier than a brick, we don't want it.
After months of ruthlessly downsizing and selling everything you own, the last thing a soon-to-be expat wants is a bulky item we have to finagle into our meticulously organized suitcases.
Between excess baggage fees and astronomical international shipping costs, space and weight are at a premium. That beautiful solid wood photo collage might seem like the perfect gift for a friend moving abroad. But there's a good chance it will bring them more stress than sentimental joy (don't be surprised if they pull out the pictures and leave the frame behind)!
So what IS a good present for someone moving to another country?
It's one of three things: practical, sentimental, or digital.
Before we moved to the UK, our friends and family were very clever with their gifts.
Someone bought me a lightweight rain jacket that's essential for London weather. Another got us a digital gift card to a British home goods store. We also received a beautiful Christmas ornament with a small family photo inside.
All of these gifts were welcome additions to our suitcases, and I cherish them and their thoughtfulness to this day.
Here are some other highly recommended gifts for someone going abroad.
This post contains affiliate links. As an Amazon Associate, I earn from qualifying purchases. For more information, click here.
Practical Gift Ideas for Someone Moving to Another Country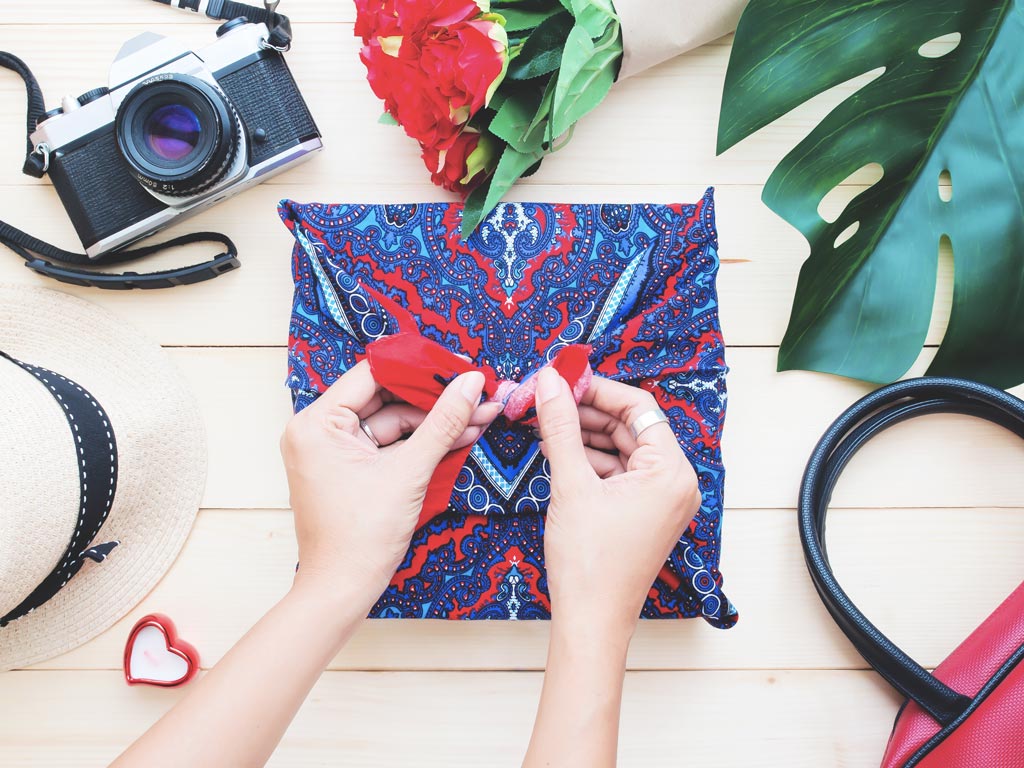 Local guidebook
As someone who spent weeks paring down her book collection before moving abroad, a guidebook may seem like a strange recommendation. However, I bought and read TWO books about London before coming to live here.
Many of us move abroad with little knowledge of the place we're moving to. Having a local guidebook that talks about the culture, history, and attractions helps make the transition smoother.
I'm a big fan of Lonely Planet's books–I bought their England guidebook and read most of it on the plane ride.
Portable power bank
From long plane rides to navigating new cities with Google Maps, you rely on your phone a LOT during your early days abroad.
A dead phone is a nightmare scenario, especially if you don't speak the local language or find yourself in an unfamiliar area.
That's why a portable battery pack makes an amazing gift for someone moving to another country.
My Anker PowerCore fits in my pocket and can fully charge my Google Pixel 4 three times. I also pack it whenever I travel, so it comes in handy often.
Unique seasonings and spices from home
This is one gift idea for someone moving to another country that I didn't think of until a month after arriving in the UK. I wanted to make a nice pot of chili, but there was no ancho chili powder to be found in my local supermarkets!
Americans abroad are always looking to score taco seasoning, ranch dressing mix, and other unique seasonings and spices that are hard to find outside the US. Indian expats might appreciate a jar of asafoetida to add to curries and dhal.
Having an authentic taste of home right after you relocate is truly comforting.
Wireless headphones
Headphone cords are the bane of my existence. They're always getting caught on my purse strap or wrapped into a tangled mess that takes 5 minutes to undo.
For music lovers that also need to constantly look at their phones for translations or maps, a pair of wireless headphones is a massive quality of life improvement.
There are tons of options on the market, but my personal favorite are these Jabra Elite earbuds.
I can wear them for hours without worrying about them falling out or running out of battery. And they come in a slim charging case that easily fits in my pocket or purse.
Universal travel adapter
The very first thing we did after arriving at our new apartment was charge our rapidly dying phones. And we couldn't have done that without travel adapter plugs.
Moving to a new country usually means you need a totally different type of plug to fit into the local sockets. There are more than a dozen variations of plug and socket types, and many countries use more than one.
An adapter lets you plug in devices from your home country in your new one (assuming the voltage is compatible). We have one permanently plugged into our wall to charge our cordless vacuum and Nintendo DS.
Any travel adapter will do, but I love this Ceptics adapter kit the most because it doesn't hang out of the socket like some adapters do (especially two-pronged ones). It also comes with all sorts of plug types, so we continue to take it on our travels around the globe.
Compact digital camera
Exploring new places is a big reason many of us move abroad. And sharing those special memories and moments with friends and family back home helps us stay connected.
While modern smartphone cameras have come a long way, it's not always a good idea to hand over your precious phone to a stranger. Plus, only the latest flagship phones can zoom or take photos in low light without the images becoming a blurry, grainy mess.
Enter the compact digital camera. These point-and-shoot devices are dead simple to use, and can even connect to Wi-Fi for easy photo sharing.
Luggage tags
Want to know the number one item people buy after reading my moving abroad packing list?
Yep, it's luggage tags.
Labeling all of your bags with your new address is so important when you're moving to another country. And those flimsy paper ones they give you at the airport can easily tear or fall off entirely.
Plastic tags aren't the sexiest gift for someone moving abroad, but they are absoulutely essential (and a good budget-friendly option).
Passport wallet
Passing through border and immigration control is stressful for anyone. And when you're entering a country as a new resident, the last thing you need to worry about is which pocket you shoved your passport in.
A passport wallet can hold everything in one place–money, credit cards, boarding passes, copies of immigration documents… I actually continued to use mine as my daily wallet even after we moved!
Pro tip: go for a normal-looking wallet rather than one that says Passport on the front, which could encourage thieves to snatch it.
Toiletries organizer
If you've ever done a long move, you'll know how important it is to have a "first day bag". No one who's just moved abroad has the energy to dig through a dozen boxes and suitcases to find their shampoo and toothbrush.
Packing your essentials into a toiletries organizer is a must.
I love this foldable organizer because I can hang it in the bathroom until I've found a home for everything. It's also incredibly spacious without taking up too much room in my suitcase.
And just like all of the other gift ideas for someone moving to another country I've shared, this will get used time and time again on future travels.
Pocket notebook
If your gift recipient is the type of person who likes to make checklists and notes, they'll want a small notebook and pen handy the minute they arrive (and probably on the plane).
Between jet lag and generally feeling overwhelmed, my notebook with daily tasks was a life-saver. I like the bullet journal style, but a daily planner works well, too!
Portable hard drive
If your acquaintance is flying to their new country, there's a good chance they'll be selling their desktop computer. But what happens to all of their important files?
Answer: they get stored on a portable hard drive.
We copied everything from digital documents to photos to video game save files onto our external drive before our move.
And just to be safe, I backed up my laptop as well and kept the drive in my purse under the plane seat. When you're going abroad, taking precautions against property theft and damage is essential.
Multi-tool
I can't tell you how many times my multi-tool saved the day in the first few weeks of living abroad.
From installing a curtain rod to opening a beer bottle, this Leatherman Skeletool helped to tide us over until we outfitted our kitchen and bought a toolset.
And multi-tools aren't just great gifts for expats–they're also an excellent gift idea for hikers, too!
Hard shell suitcase
Having a large, hard shell suitcase is a must when moving your possessions abroad. The firm case protects semi-fragile items like electronics from getting squished in transit.
We bought this hard shell spinner from Amazon, and it's held up to multiple international flights. With the help of towels and bubble wrap, it kept our cordless vacuum, video game accessories, and other delicate items safe.
Travel backpack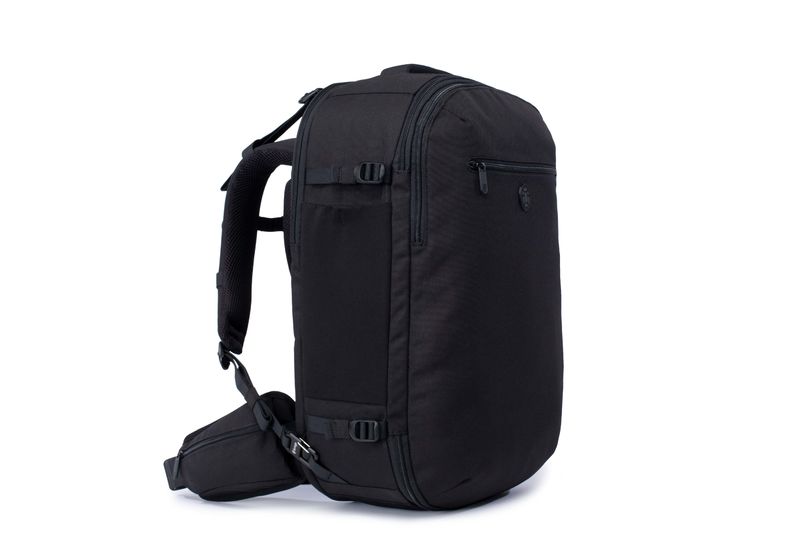 Whether you're heading abroad to study, be a digital nomad, or do some long-term travel, a sturdy backpack is the ultimate gift for someone going abroad.
As a minimalist traveler, 90% of my trips are carry-on only. I've written an entire post on my favorite minimalist travel backpacks, but my top recommendation is the Tortuga Setout.
This front loading travel backpack comes in different designs for men and women, and the padded straps and belts are super comfortable. I routinely carry it on my back for hours with no issues.
The 35L size is carry-on friendly for most international airlines (including the budget ones in Europe!). And the Setout also has locking zippers and slash-resistant fabric for safety.
Premium travel neck pillow
Getting some rest on the way to your new country is so important. You don't want to be half-asleep when you're trying to navigate an international airport with all your worldly possessions in tow.
Having a great neck pillow makes it easy to doze off and stay asleep. I've tried a few, and this one by Cabeau is by far the best.
The high sides and adjustable tightness keep your neck from flopping over. Plus, it rolls up into a compact little bag that you can attach to your personal item or carry-on bag.
Fitness tracker
Wearable tech is all the rage these days. And when it comes to presents for people moving overseas, a fitness tracker checks all the boxes: small, practical, and fun.
I'm not a fitness geek, but I do love my Fitbit.
Seeing how much (or little) I move in a day was a real eye-opener. Trying to hit my step goal each day pushed me to explore more of my neighborhood. And the heart rate monitor helps me decide if my morning dog walk was brisk enough to count as my daily exercise (spoiler alert: it almost never is).
Paper map
Most of us rely on smartphone apps to navigate foreign places. But what happens when your phone dies, gets stolen, or won't connect to the local data network?
A paper map may seem old school, but it's a safety net worth having. National Geographic makes a line of travel maps that include street names and landmarks, which is ideal for getting your bearings in unfamiliar territory.
Cash in the local currency
Of all the stressful things that happen after moving abroad, having your cards denied at the ATM or register is at the top of the list.
There's nothing wrong with handing your friend/family member a nice card with some cash in the local currency. If it makes you feel uncomfortable, you could always "assign" it a purpose, like their first round of drinks.
Save me for later!
Sentimental Gift Ideas for Expats
Recipe book
Recipe books are one of my favorite gift ideas for someone moving to another country. Cooking and eating foods from back home provides a major dose of nostalgia.
There are tons of regional cookbooks available online, from Texas comfort foods to Midwest baking.
But for an extra-special present, you can compile local and family recipes into a custom book.
My mother-in-law did this for us a few years ago, and I cherish that little book to this day. We particularly love making family recipes during the holidays we spend abroad.
Keychain
Given that we use our keys multiple times a day, a thoughtful keychain can be both sentimental AND practical.
The Light and The Dark make all sorts of custom keychains and other accessories for loved ones who are moving away. I especially love this one that's customized based on how many miles apart you'll be from each other.
Jewelry
Jewelry is a classic gift that can pack an emotional punch if chosen wisely. It also takes up very little space and can even be worn on the trip abroad.
Distinctly Ivy makes custom state and country bracelets and necklaces in a variety of colors and finishes. For an extra dose of sentimentality, you could even get matching accessories–the grown-up version of friendship bracelets!
Christmas ornaments
The very first thing I hang on my Christmas tree each year is a photo ornament of my mom and me. I don't always go home for the holidays, so this simple gift makes me feel like my family is still a part of our celebration.
These little gift box frames are super cute and won't weigh down the branches.
Slim photo album
There's something about moving abroad that makes you crave memories and moments from back home.
I was never much of a photo album person until we moved an ocean away from our families. Now, I look at old photos a half dozen times a year at least.
Gifting someone a slim photo album filled with moments you've shared together will mean more to them than you can imagine.
Electronic picture frame
If you grew up with smartphones, you probably have way more digital photos than physical ones. Luckily, there's a simple alternative to printing photos and stuffing them into an album.
Electronic picture frames let you load up a slideshow of images from your computer, phone, USB drive, or memory card. The Wi-Fi enabled ones are more expensive, but this budget-friendly one lets you upload photos from your computer via a USB cable.
Posters with scenes from home
News flash: posters aren't just for adorning angsty teen's bedroom walls. Posters are an affordable way to decorate empty walls. And luckily, they take up almost no space in a suitcase!
I'm a big fan of vintage posters and maps from places I've lived in or traveled to. They're a fun reminder of the experiences I had and the journey of my life thus far.
Personalized tote bag
Tote bags may seem like a strange gift idea for someone moving to another country. But with many cities outside the US enacting plastic bag bans (and generally having more eco-conscious citizens), tote bags are a necessity for carrying home your groceries and small purchases.
Primitives by Kathy has a whole collection of cute US state-themed tote bags for eco-friendly shoppers.
Coasters with designs from home
When it comes to small gifts for someone moving abroad, coasters are a classic option. In fact, my water glass is currently sitting on this Austin, Texas mural coaster I received as a going-away present from my boss!
While we gave away the vast majority of our home decor and kitchen accessories, coasters were super easy to squeeze into the gaps of our suitcases.
Digital Gift Ideas for Someone Moving Abroad
USB drive of photos and notes
The most romantic gift I ever received was a USB drive of notes from my boyfriend (now husband). He wrote me a message for each day he was away on a trip, and gave me instructions to read one per day.
To say I loved these notes would be an understatement. Each one made me feel more connected to him and brought me to tears.
That being said, your notes certainly don't need to be sappy or romantic! This is a great gift idea for expats or someone going off to study abroad.
You could fill the USB drive with photos, personal letters, videos, affirmations, recipes, words of encouragement… Anything goes. Think of it like a digital memory box or a scrapbook. I promise they'll cherish it more than you can imagine.
Mobile Hotspot
Depending on where your recipient is moving to, getting a home internet connection can take a while. In London, we had to wait three weeks for a tech to come out and "turn on" our connection, despite having all of the cables and equipment ready to go!
And if your acquaintance is going to be doing a lot of traveling or hopping around as a digital nomad, they'll need a reliable source of mobile data other than their smartphone (hotspotting drains batteries like crazy).
Enter the mobile hotspot.
These nifty devices work like a portable Wi-Fi router, using either a local SIM card or a built-in eSIM to establish an internet connection. You can connect computers, tablets, smartphones, and even video game consoles to the hotspot.
Language learning programs
One of the biggest challenges of living abroad is learning a new language. Free apps like Duolingo are fine for picking up the basics, but it takes a more robust program to become fluent.
Rosetta Stone is a popular choice among expats studying a foreign language. I enjoyed using the Italian version during my university days when I needed to practice my listening and speaking skills over the summer.
The new Rosetta Stone also gives you access to all 24 language programs for life, so you can switch between languages for free. A perfect gift for the digital nomads in your life!
Gaming gift cards
As a life-long gamer, one of my favorite gifts to receive is a digital game shop gift card. Whether your acquaintance is into Playstation, Xbox, or Nintendo, you can help get them their next game without actually figuring out what title they want.
With seven young nephews, we rely on Amazon's Nintendo eShop digital gift cards for birthdays and Christmas. Once you make the purchase, simply email the recipient the redemption code (or write it down inside a card).
Subscription services
I love gifts that keep on giving. Subscription services are fun, useful, and take up zero room in a suitcase. It doesn't get much better than that!
Here are some ideas:
Amazon Kindle
After giving away dozens of books before our move, I'm hesitant to buy physical copies of anything. Luckily, my Kindle Paperwhite makes it easy to devour books without accumulating more stuff in my small apartment.
I take my Kindle everywhere–airplanes, public transit, the local park… It's super portable and holds a ton of books. Plus, it syncs my last read page with my phone's Kindle app, so I can seamlessly enjoy my current book even if I forget my Kindle at home.
Bonus points if you pair this gift with a Kindle Unlimited or a Prime subscription (this gives one free book per month as well as access to the Kindle Lending Library).
Vouchers for local businesses
Between furnishing our flat, ordering pet supplies, and dining out during the first week of living abroad, we spent a fortune. Thankfully, some of those expenses were covered with gift vouchers emailed to us by friends and family.
You'll need to do some quick research to figure out what businesses are local to the recipient's city/country. Department stores are always a good option, as they carry a wide variety of items.
Here are some other types of businesses to consider:
Beauty supplies
Clothing
Home goods
Outdoor & sporting gear
Pet supplies
Wine & spirits
Restaurants
Spas
Bonus: tips for buying gifts for someone living abroad
I've shared my gift ideas for people about to move abroad. But what if you want to buy gifts for friends or family members already living overseas?
Here are some things to consider:
Check out Amazon's International Shopping page for gifts you can send all over the world.
If you want to send a care package with treats from home, do your research on international shipping and customs fees. You don't want to force your gift recipient to pay $20 to get their present released by customs!
Order gifts and vouchers from businesses local to them to avoid costly shipping fees.
It's not too late to gift sentimental items! In fact, they'll probably appreciate things like a book of recipes or a personalized photo calendar even more after being away for a few years.