If you have limited vacation time, learning how to survive long flights in economy is essential. Arriving in a new country feeling sore, hungry, and jet-lagged is no way to start a trip! Fortunately, I've learned a few tricks that make long flights comfortable, and even enjoyable.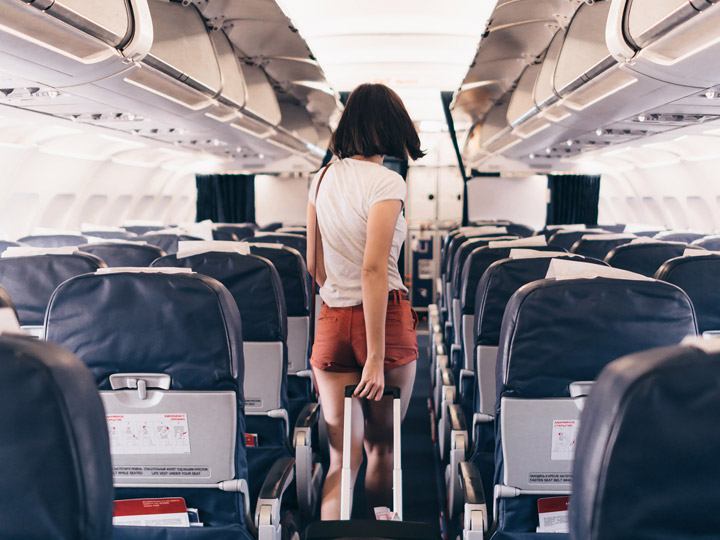 Whether you need help sleeping on long flights or staying entertained when your monitor is broken (it happens more than you think!), I've got you covered. Before we take off, please ensure your seat belt is securely fastened, and bookmark this page for future reference.
Choose the best seat for surviving long flights in economy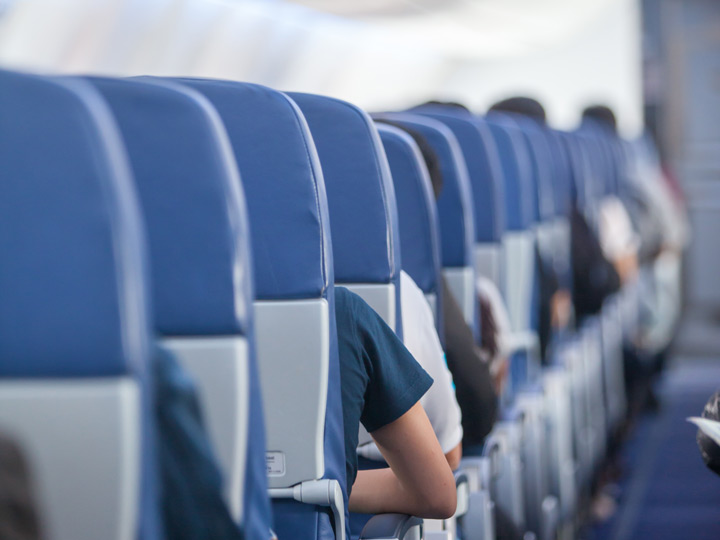 I'm all-too-familiar with the despair (and jealously) that comes from walking past the first class sleeping pods and into the crowded seats of coach.
And if you have a bad seat, like the time I flew overnight from Detroit to London next to the bathroom with no recline, there's little hope for enjoying your flight.
After that hellish eight hour experience, I got serious about preparing for long haul flights! And that starts with choosing the best seat.
SeatGuru is my go-to resource for picking my seat in economy. Simply enter your airline, date of travel, and flight number, and SeatGuru will bring up a seating map of your plane that indicates the most comfortable spots. It's a life-saver when it comes to avoiding seats with limited recline or under seat storage.
If you're under six feet tall, a reclining window seat is the best option for sleeping. Being able to lean against the wall is so helpful, and you don't have to worry about letting out your row mates.
For taller travelers who can't snag an exit row spot, consider an aisle seat. You can use the aisle to spread out a bit, though you do need to watch out for service carts.
Finally, I always choose a seat that's at least three rows away from a bathroom. The flushing sound is loud enough to wake you up from a deep sleep.
Is it better to sit near the front of economy?
Five years ago, getting a seat near the front of economy was a score. But with the advent of e-gates and microchipped passports, it's not as essential to be one of the first people off the plane. Many major airports offer expedited entry to numerous passport holders (US, EU, JPN, etc.), and it makes all of the lines move more quickly.
Also, there are usually more open seats in the back of the plane, so you have a greater chance of stretching out or even having a row to yourself!
Should I pay for a seat reservation?
I'm all for saving money when traveling. If I don't plan on sleeping, I'll generally wait until online check-in opens and immediately reserve my seat.
But if you need to sleep, I suggest paying the fee to reserve a good window seat. Ensure a comfortable long haul flight and trim your travel budget elsewhere.
Learn how to sleep on long flights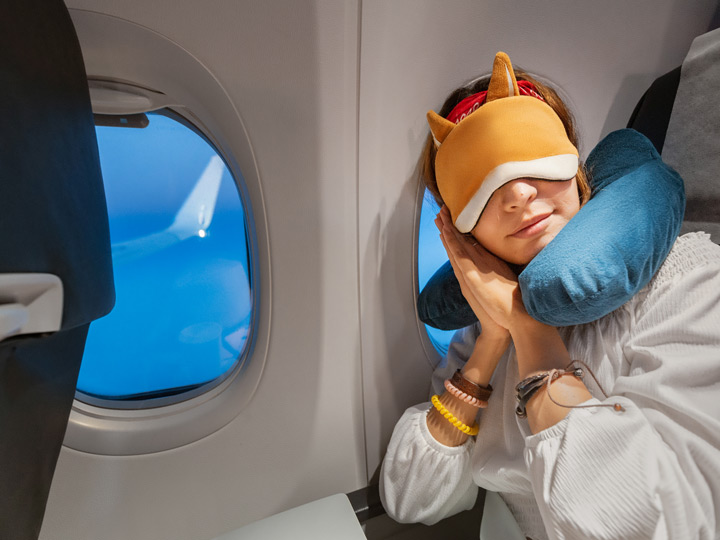 There are people in this world who can fall asleep anywhere, any time, in any position. We should be happy for those people, though it's hard not to hate them just a tiny bit as you struggle for a few minutes of rest.
I have chronic back pain, so comfortable sleep does not come easy on airplanes. But after a dozen overnight flights, I've found a few strategies that work.
Airplane essentials for sleeping
Having a great neck pillow is the most important factor in getting good sleep when flying. I've tried a few, and this one by Cabeau is by far the best.
The high sides and adjustable tightness keep your neck from lolling over when you start to doze off. And it rolls up into a compact little bag that you can attach to your personal item.
Cabeau Memory Foam Neck Pillow

This pillow is seriously amazing. Whether you sleep on your back or side, the memory foam cushions and supports your neck and head. No more jolting awake as you doze off!


Next, you'll need something to block out the slew of airplane noises. Fussy babies, flushing toilets, and people who snack loudly on bags of chips are all hazards to your blissful rest.
I use a combo of headphones and old-fashioned ear plugs depending on the situation. Personally, I prefer ear plugs. However, they only dampen sound, and don't help much if you're near the bathroom or a crying infant.
That's when it's time to break out the noise cancelling headphones. These genius devices actively block outside noise, and you don't even need to have the audio on for them to work.
If you're like me and can't doze off with lights on, you'll want a sleep mask. Although overnight flights dim the cabin lights for sleep, there's always that one person who leaves their reading light on the entire time. And it only takes one open window on a daytime flight to brighten the whole economy section.
Non-budget airlines often offer free sleep kits that contain ear buds and a sleep mask. But as you might imagine, those masks aren't the most comfortable to have strapped to your face for several hours.
Instead, opt for a softer sleep mask like this one. You won't have to worry about nose pinching or scratchy fabric irritating your face.
Once you have your airplane essentials for sleeping, it's time to tackle in-flight comfort.
Staying comfortable in economy
Even with the best travel gear and the perfect seat, there are plenty of things that can ruin your chances of great sleep. Here are some non-obvious tips for surviving long flights in economy:
Choose your in-flight meals carefully: It's hard to sleep with a bloated stomach and a sugar high. I avoid meals with dairy, skip dessert, and turn down sugary drinks in favor of water.
Calculate your actual "sleep time": Just because your flight is eight hours long doesn't mean you have eight hours for sleep. Between takeoff, beverages, and meal service, it can be two hours before sleep time begins. And morning service often starts 90 minutes before landing.
Use the bathroom immediately after your meal is cleared: This is the best time to go. It's right before the usual rush, so the bathroom is cleaner. And you (hopefully) won't have a full bladder when you're trying to sleep.
Put the airplane pillow behind your back for extra support: Instead of using the provided pillow for my head, I bend it in half and stick it behind my lower back. I often roll up the blanket to use as extra back or neck support as well.
Be courteous when you recline: Before you slam your chair backwards, take a moment to look behind you. If the person is tall or has an open beverage on their tray table, don't recline 100% of the way. Your comfort should not come at the expense of someone else.
Have a game plan when traveling with kids: You cannot over-prepare for keeping children happy on planes, especially if you're going to fly with an infant in your lap. Bring a variety of amusements, favorite snacks, and a spare outfit in case of spills or accidents.
Save me for later!
Pack your airplane essentials for long haul flights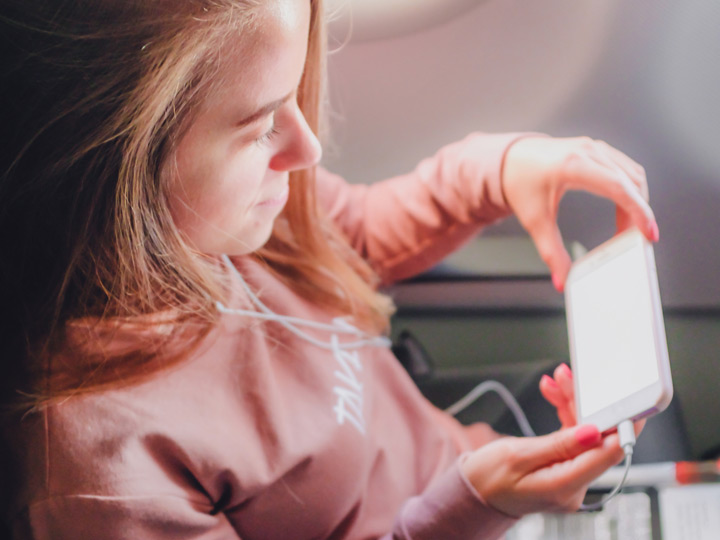 On my first international trip, I had no idea what to take on a long haul flight aside from a neck pillow and a book. Between flight delays, long layovers, and a man who coughed loudly every five minutes, I was not a happy camper when we finally landed at 4am.
Today, I have a whole list of airplane essentials that I bring on every international trip. These are my go-to items for staying entertained, comfy, and clean for hours on end.
What to take on a long haul flight
Portable battery pack: I never travel without my Anker PowerCore. It charges my devices way faster than the airplane USB ports, and comes in handy when binging Netflix on long layovers.
Neck pillow: Don't settle for those useless tube-shaped pillows they sell at the airport. Get yourself a Cabeau neck pillow that actually supports your sleeping head.
Sleep mask: A soft fabric sleep mask is infinitely better than the ones in airplane sleep kits. If you're sensitive to light, packing this is a must.
Noise cancelling headphones: Whether you're trying to sleep or tune out airplane chatter, having a pair of noise cancelling headphones lets you block out the world around you.
Audio books: These are perfect for falling asleep. Pro tip: sign up for a free month of Kindle Unlimited before your flight to get a ton of free audio books!
Gaming device: Thanks to the Nintendo Switch, my husband and I actually get excited to fly, because it means we have hours of uninterrupted gaming time. 
Toothbrush and toothpaste: Airplane breath is real, and it's gross. Being able to brush on the plane (or right after landing) is refreshing.
Body spray: I have a mini spray bottle from Distinct Scent that I love. You can easily fill it from your fragrance bottle at home, and use it to freshen up once you get off the plane.
Deodorant: Be kind to yourself and your neighbors. Reapply deodorant at least once during your long haul flight.
Face wipes: The feeling of relief that face cleansing wipes provides is magical. If you have oily skin like me, you need a pack of these in your bag.
Cleaning wipes: Germs are everywhere on airplanes. Before you settle in for your flight, use some cleaning wipes on the tray table and arm rests.
Medication: Always keep important medication in your personal item. Aside from prescriptions, I suggest bringing something for pain relief and indigestion.
Water bottle: Hydration is SO important to surviving long flights and battling jet lag. Keep a full water bottle with you to drink in between beverage services.
Travel documents: Last but certainly not least, don't forget your passport, visas, and any other entry documents you need.
Maximize your personal item allowance
To survive long flights in economy, you want your essentials within easy reach. You don't want to be the person who keeps opening the overhead bin to rifle through their suitcase.
Use a large purse or mini travel backpack to store your documents, gadgets, and toiletries under the seat. Choose a bag that comfortably fits your items but still leaves room for your legs.
Every airline has their own definition and size restrictions on personal items, so be sure to check their website before you start packing.
Because I travel carry-on only, I use this Travelon anti-theft bag as my personal item. It's incredibly spacious and has multiple pockets for organizing all my stuff.
Travelon Anti-Theft Cross Body Bag

I've taken this bag with me on every international flight. It's comfortable, slash-proof, and has plenty of storage space for my airplane essentials and a few small souvenirs along the way.


Wear the best long haul flight outfit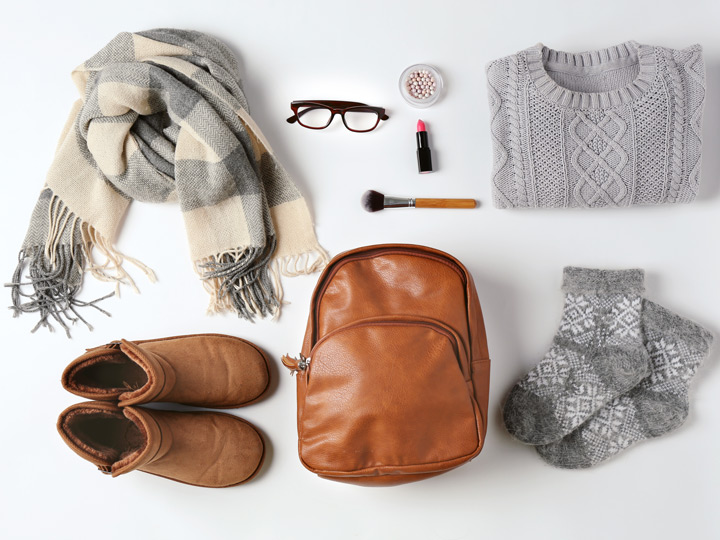 When choosing travel clothes for long flights, focus on soft, somewhat loose pieces that you can layer.
Some classic combos include athletic pants, a t-shirt, and a zip-up hoodie, or a tank top, long sweater, and leggings. Opt for lighter shoes like trainers or flats if possible. I also like to wear a large scarf, which can be used as a blanket or extra cushion for sleeping.
What I wear on long haul flights in economy
I have a special outfit in my minimalist travel wardrobe that I wear on every single long flight. It's insanely comfortable without being overly casual.
Long sleeved, knee-length cotton dress
Cotton leggings
Fuzzy socks
Sports bra
White Adidas
Create a list of things to do on a long flight
Being confined to a small space for hours on end is a recipe for boredom. I find that breaking up the journey into different activities helps it go by faster.
If you aren't planning to sleep during your flight, here are a few ideas to pass the time:
Watch a movie or TV series on your phone/in-flight screen (FYI, some airlines' websites have a preview of what in-flight movies and shows will be available)
Catch up on your reading, or revisit one of your favorite books
Practice some travel phrases for your destination
Play video games
Listen to a podcast or audio book
Review or design an itinerary for your trip (use a travel book, or download webpages for offline reading)
Plan out your meals and grocery list for the week you get back
Reflect on your personal/professional life, and write down a few goals for each
Bonus long haul flight tips
When you travel for a living, you pick up a few lessons about air travel (sometimes by learning the hard way). Enjoy these random but useful tips for long haul flights:
Stretch your legs every couple of hours to prevent blood clots and soreness. The open areas near the restrooms and rear of the plane are best for this.
Alcohol has a stronger effect due to the high altitude. Take care not to over-indulge!
To combat jet lag, eat at least some of the in-flight breakfast, even if you're not hungry. It will help your body clock adjust faster.
If you have a dietary restriction, double check with the airline at least a week before flying that they are prepared to accommodate you.
I hope you're ready to survive–and even enjoy–your next long flight in economy! Remember to subscribe to The Portable Wife newsletter for more detailed travel tips.