Wondering how to get your Japanese snack fix without getting on a plane or paying outrageous shipping fees? Luckily, there's an easy way to enjoy the distinct flavors of Nippon from home: Bokksu. This 2021 Bokksu review and unboxing will walk you through what to expect from this Japanese snack subscription box.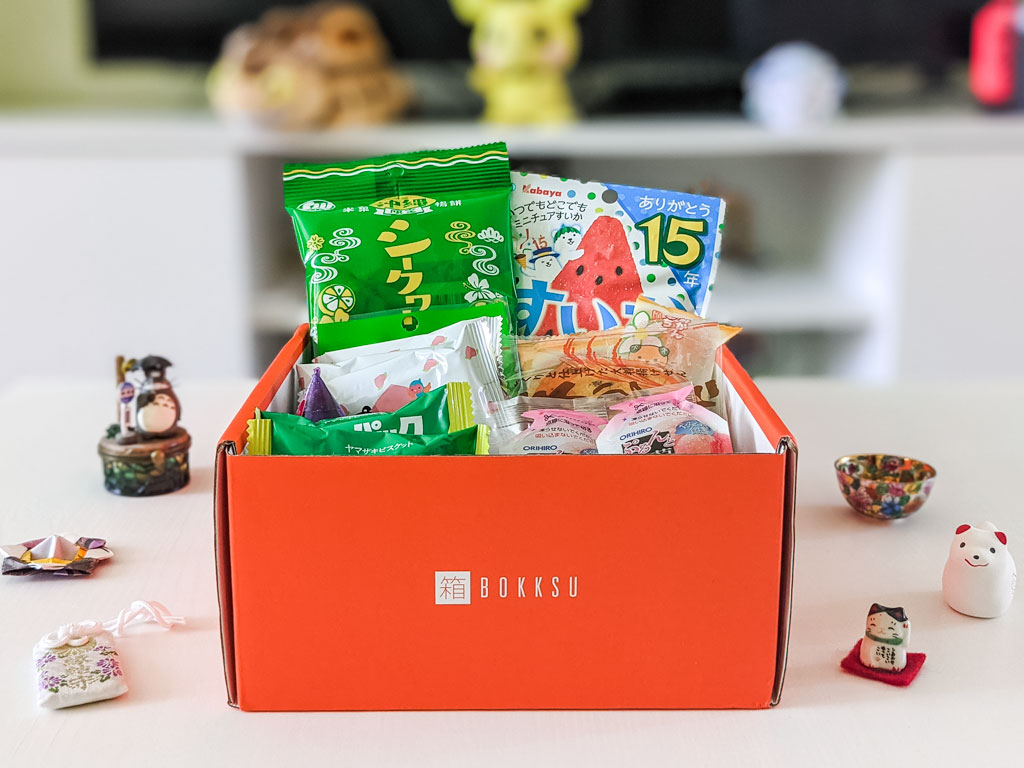 This post contains affiliate links. As an Amazon Associate, I earn from qualifying purchases. For more information, click here.
As a frequent traveler to Japan, it's the amazing food that really keeps me going back for more.
Within a few hours of landing, you can bet I'm popping into a konbini (convenience store) and grabbing all the uniquely Japanese snacks I can fit in a bag. And if I'm feeling extra fancy, I'll go to a omiyage (souvenir) shop for some premium treats.
This is the Bokksu experience in a nutshell. It's a monthly delivery of both artisanal items and a few "junk food"-esque snacks, and it's unlike any other Japanese subscription box I've tried.
Before we jump into this 2021 Bokksu review (and my Bokksu coupon code!), I want to be clear that this post is NOT sponsored. I've been a Bokksu subscriber for about a year–my first order was a 3-month gift subscription for my husband's birthday.
I've also purchased individual snacks from their online marketplace as well as a Bokksu matcha box (part of their Curated Bundles collection), which I'll talk about later in this review.
Whether you want some treats to tide you over until your next trip, or you've never visited Japan and want to sample the unique regional flavors, a Bokksu subscription is a dream come true.
In This Post:
What is Bokksu?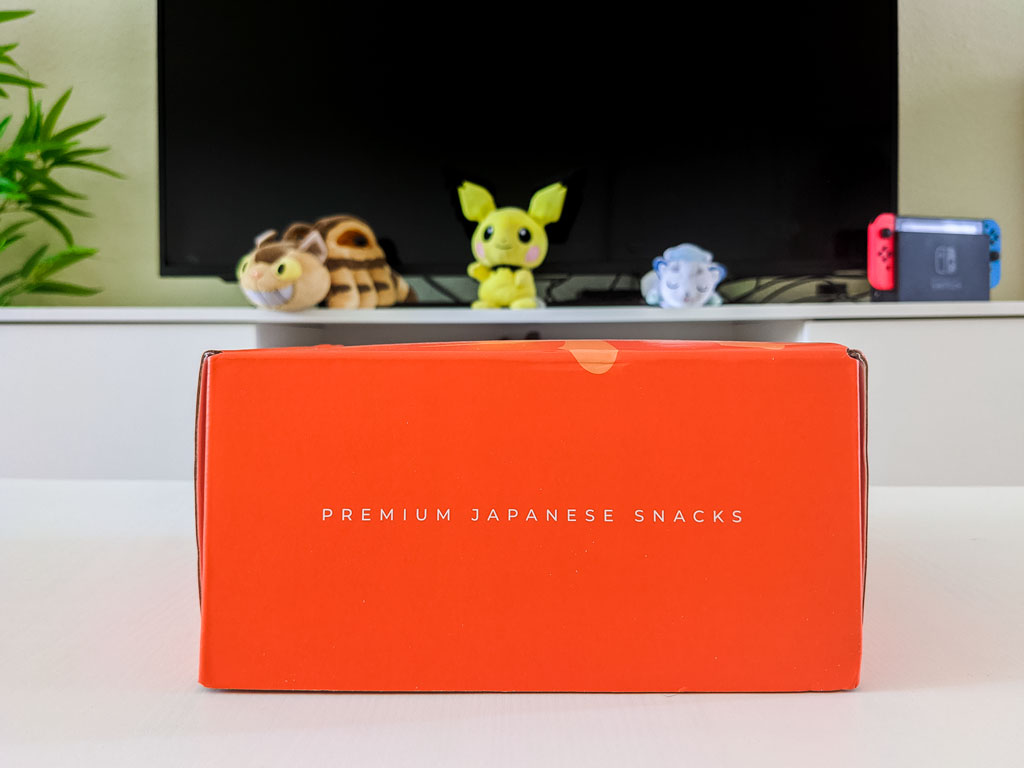 Bokksu is a monthly subscription box of snacks and artisanal treats delivered directly from Japan.
From seaweed tempura chips to rich matcha chocolate cake, the sweet and savory contents of each month's box are hand-selected to fit the month's theme.
The theme is usually seasonal, like July's Summer Fruits or September's Moon Festival, so you can experience the special flavors and foods that people in Japan will be eating at the same time.
Bokksu also has an online marketplace where you can buy everything from individual Japanese snacks, past boxes, and even kitchenware!
Is Bokksu Legit?
Yes, Bokksu is a legit company that ships authentic Japanese foods. I wouldn't be writing this 2021 Bokksu review if I hadn't tried multiple boxes myself!
I'm always skeptical of products pushed by influencers (I'm sure you've seen plenty of sponsorship spots on YouTube), but I'm so glad I gave Bokksu a try. It's like a monthly care package from my favorite country.
Having been to Japan numerous times, I can assure you that the artisan snacks are legit. They're the kind of quality you'd find when shopping for Japanese souvenirs in a department store's food hall.
How Much Does Bokksu Cost?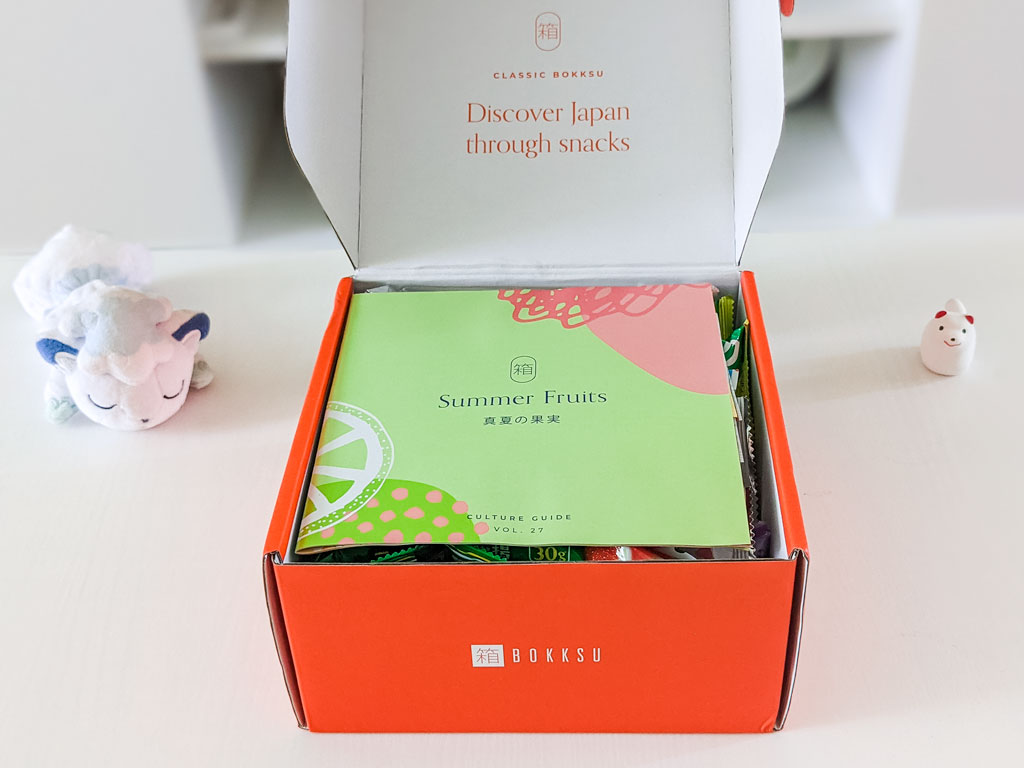 At the time of publishing this 2021 Bokksu review, the cheapest Bokksu subscription is $39.95 USD per month and the most expensive is $49.95/month.
Why the price difference? Like most subscription services, you get a discount for signing up for a longer period.
By choosing the longest plan (12-month), you'll save $120 over the monthly billed price.
Below is a table of the different subscription prices. You can also click here to view the prices directly on the site.
2021 Bokksu Coupon Code: Use FIRSTBOX10 to get 10% off your first box!
Note that you will be billed upfront for the entire period (ex. Choosing the $44.95/month plan means you'll pay $134.85 at checkout).
| Bokksu Plan Length | Monthly Cost (USD) |
| --- | --- |
| 12-month | $39.95 |
| 6-month | $42.95 |
| 3-month | $44.95 |
| Monthly | $49.95 |
Bokksu Subscription vs Bokksu Gift
One of my favorite things about Bokksu is that they offer two purchasing options: a standard subscription and a gift option.
Both of these options cost exactly the same, but the gift option does not renew automatically.
If you're not ready to make a long commitment, you could always start with the 3-month gift option. If you want to keep receiving boxes when the three months are up, you can easily buy a recurring subscription.
Save me for later!
Unboxing Bokksu Review: What Snacks Do You Get?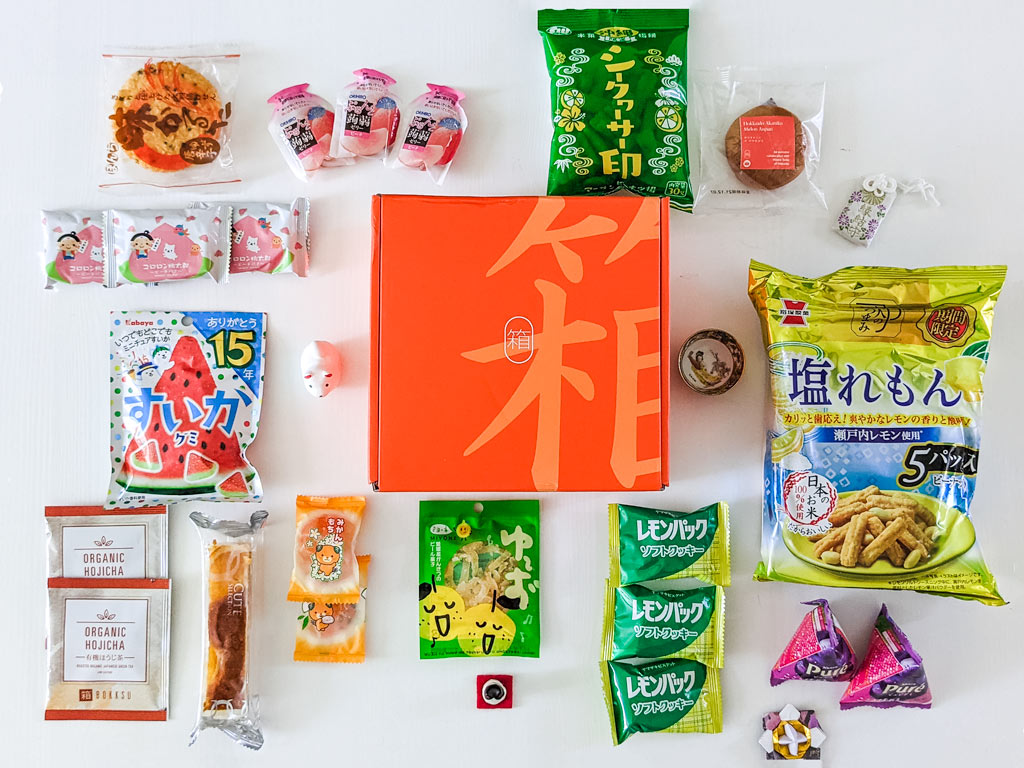 Every Bokksu box comes with an assortment of 20-24 authentic Japanese snacks. As discussed earlier in this 2021 Bokksu review, each box has a monthly theme that affects what you'll find inside.
For example, the August 2021 Summer Matsuri box was filled with treats and flavors you'd find at Japan's summertime festivals. It included things like shaved ice gummies, takoyaki corn puffs, and–my favorite–Ramune fizzy candies.
Each box has a mix of sweet and savory items, though you tend to get a bit more sweet stuff (around a 60/40 split).
Also, many of the items you get are gourmet level. Think langue de chat cookies, yuzu rice crackers, and moist cake sticks.
Unlike TokyoTreat and other Japanese snack boxes, Bokksu doesn't have "tiers" that affect what/how much stuff you get–everyone receives the same box.
That being said, the very first box you receive will be their signature Seasons of Japan collection.
It's a nice introduction to the sort of snacks you'll get throughout the year. While I was a bit sad to miss out on the Sakura box I would have received my first month, the Seasons box was packed with fan favorite snacks, like an insanely delicious matcha chocolate cake.
Let's take a closer look at what's inside a Bokksu box.
*Note: the photos in this post are from the July 2021 Summer Fruits box.
Monthly Snack Guide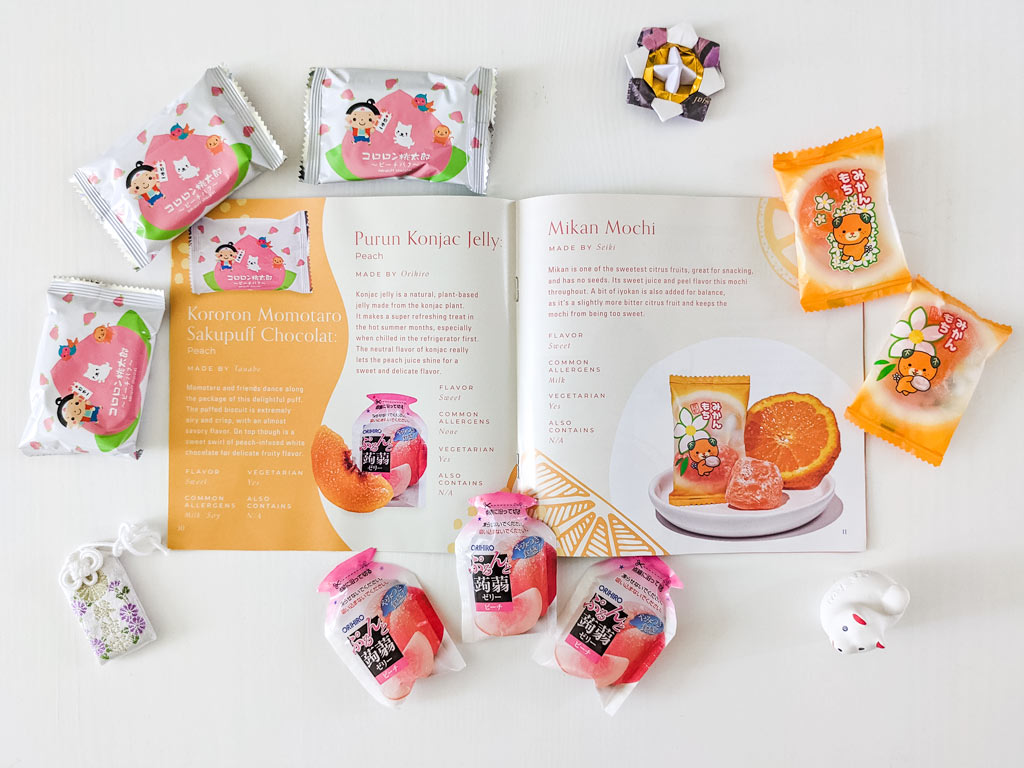 The first thing you see when opening up your Bokksu is a gorgeous snack guidebook.
It shows where in Japan each snack comes from, along with a short description of the taste and cultural significance. You'll also find allergen information for each snack in the guide, in case you can't decipher the kanji on the packaging.
This is where Bokksu's commitment to "empower Japan's traditional snackmakers by sharing their authentic food and stories with the world" really shines.
There's even a page that teaches you some relevant Japanese phrases–perfect for those of us who are studying the language!
Drinks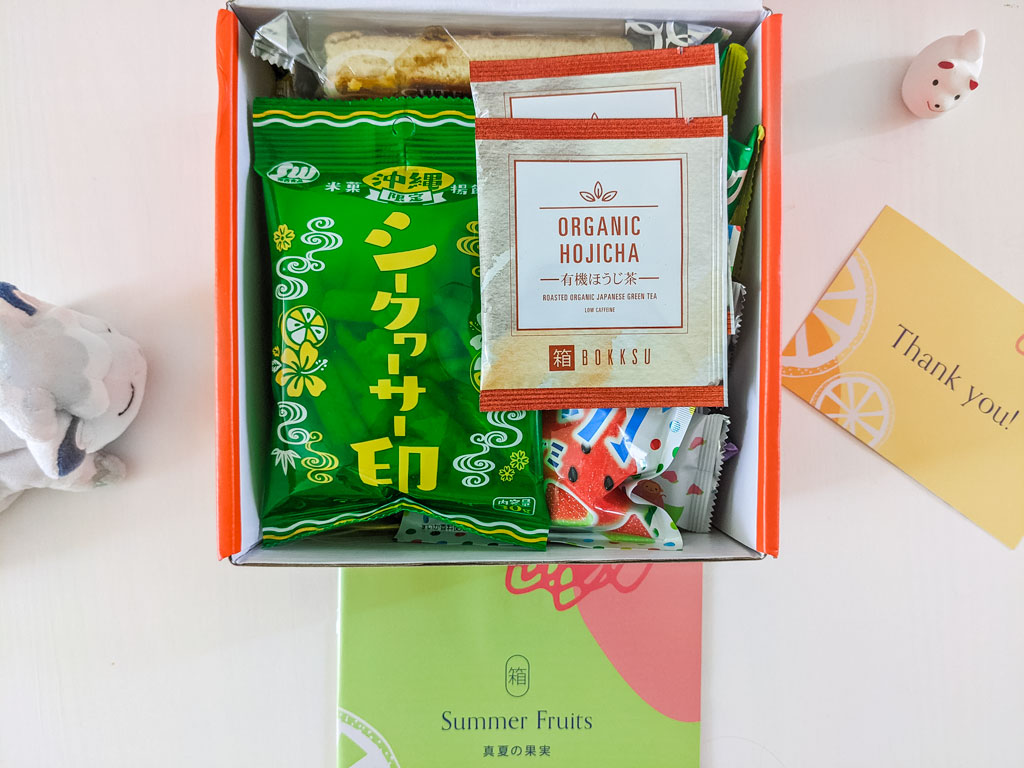 Every Bokksu box comes with several teas you can brew at home. Their teas are purposefully paired to complement the flavors of the month.
The Summer Fruits box came with a lovely organic hojicha (roasted green tea). Other boxes have included matcha latte mix, genmaicha, and sencha green tea.
Sweet Snacks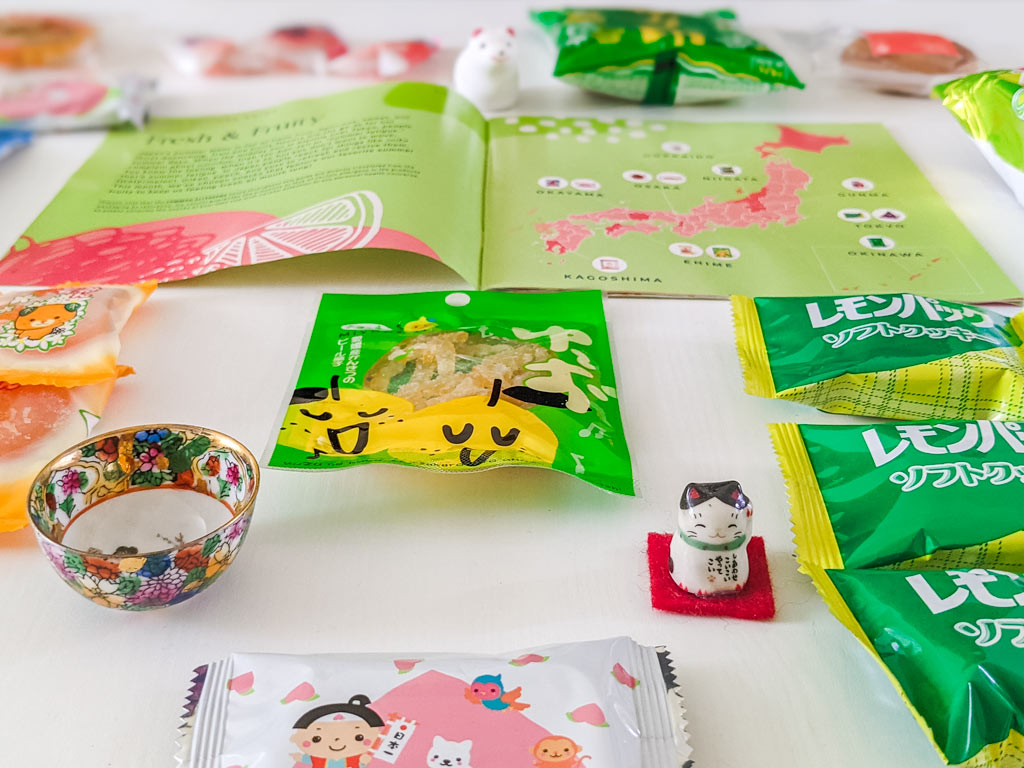 As I noted before, around 60% of the snacks you get are on the sweet side. That being said, Japan is famous for its blend of sweet and savory flavors, so you can't always categorize food as one or the other!
I was a huge fan of the Summer Fruit's candied yuzu peel and lemon soft cookies. My husband and I both love yuzu, so we were pleasantly surprised to receive this treat in our box.
Here are some types of Japanese sweets you can expect to find in a Bokksu:
Mochi
Cookies
Cakes
Gummies
Jellies
Hard candies
Chinsuko (small Okinawan biscuit)
Savory Snacks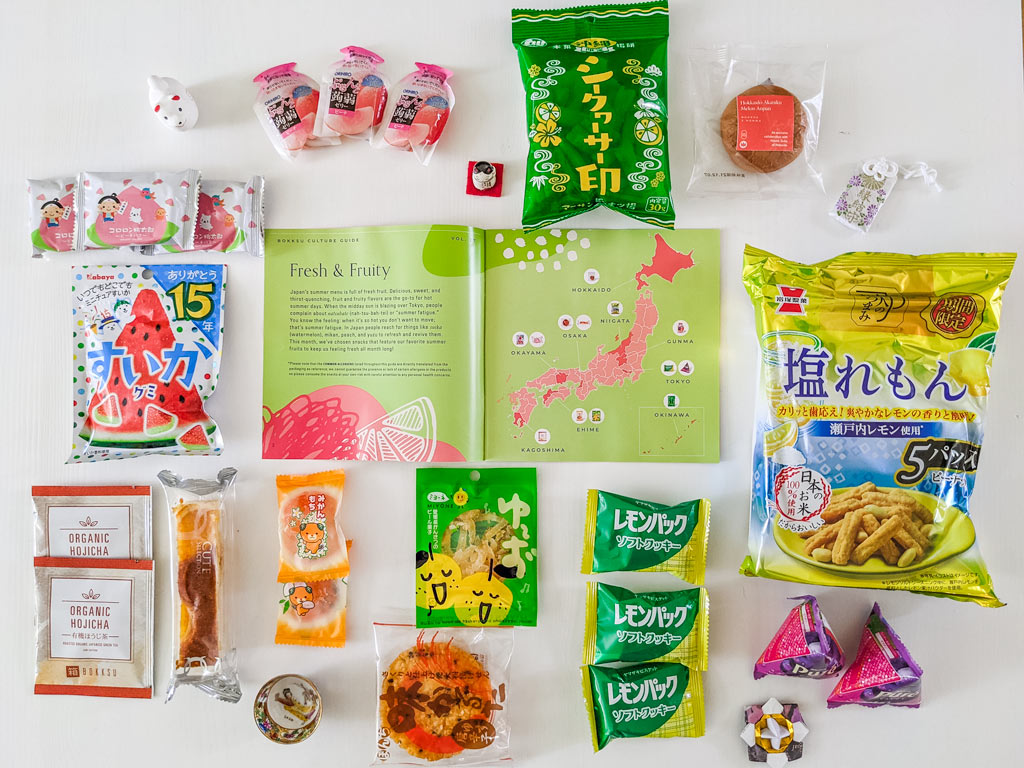 My sweet tooth may be infamous, but boy do I love savory Japanese snacks.
Crispy senbei crackers, light-as-air corn puffs, crunchy potato crisps… The textures alone are a delight, but when paired with flavorings like sweet curry or spicy wasabi, they become next-level delicious.
The savory snacks are also where you're likely to find more unusual and unfamiliar flavors, like takoyaki (octopus fritter) or seaweed. My brain is still grappling with the corn potage crisps from September's Moon Festival box…
Here are some types of savory Japanese snacks you can expect to find in a Bokksu:
Senbei (rice) crackers
Chips
Corn puffs
Potato crisps
Kamesen (puffed rice cracker)
What About Bokksu's Curated Bundles?
As I mentioned at the beginning of this 2021 Bokksu review, there's more to this company than monthly snack subscriptions.
Bokksu offers a selection of Curated Bundles for people who want specific types of snacks or larger quantities.
Being the matcha-loving otaku we are, my husband and I ordered the Matcha Bundle after falling in love with the matcha chocolate stick cake from our Seasons box.
To say we devoured it would be an understatement. It took sheer force of will not to scarf down every last Kit Kat, bun, and cookie in that shipment. The Uji Matcha bread was especially fantastic.
Other Curated Bundles include a Kawaii box, a Mystery box, and "The Largest Snack Box EVER", which includes over 200 pieces!
Is Bokksu Worth It?
Of all the Japanese subscription boxes out there, Bokksu is the best value for money.
The biggest reason I recommend Bokksu over other boxes is the amount of gourmet snacks you get in each box.
Many Japanese snack subscriptions are full of mass-produced items that you can find in an Asian supermarket. With Bokksu, you're getting tons of treats sourced from local artisan snackmakers.
If you're going to pay for food to be shipped internationally from Japan, wouldn't you rather get unique treats that can't be found outside the country?
Another thing I love about Bokksu is that you get multiples of certain snacks. That means you can share with your partner/friends without feeling resentful that they ate the only strawberry taiyaki in the box.
Ultimately, the real appeal of Bokksu is getting to relive my travels across Japan from home.
Tasting the genmaicha tea transported me back to my first ryokan experience in Kyoto. Eating black sesame cookies had me reminiscing about my hike through Kamikochi.
Even if you've never visited the country, Bokksu's thoughtful curation of snacks paired with the guidebook will make you feel like you did. Just load up a Japan walking tour on YouTube while you snack and enjoy the ride.
Order your first Bokksu today and use discount code FIRSTBOX10 for 10% off your first box!
Bokksu FAQ
Can you order just one Bokksu?
Yes, you can place a one-month subscription order. Just be sure to cancel the recurring subscription before the next order processes.
Which is better: Bokksu or TokyoTreat?
I think Bokksu is the better subscription. Check out my Bokksu vs TokyoTreat review to find out why!
Can you order specific snacks from Bokksu that you liked?
Yes! Many of the snacks included in each box are available for purchase in Bokksu's market. Note that most items have a minimum order amount or come in multi-packs.
Can you order Bokksu as a gift?
Yes, you can gift a Bokksu subscription (non-renewing) for 3, 6, or 12 months. They also sell digital gift cards that can be used to buy a subscription or items off the market.
How long does it take for Bokksu to arrive?
Bokksu aims to deliver each order within 1-3 weeks of the ship date. However, it can take longer depending on where you live and the customs process for your country.
Is Bokksu vegetarian?
At this time, Bokksu doesn't offer separate boxes that meet dietary requirements. While the guidebook will tell you whether or not a snack is vegetarian, there's no guarantee that some or any of the month's snacks will be vegetarian-friendly.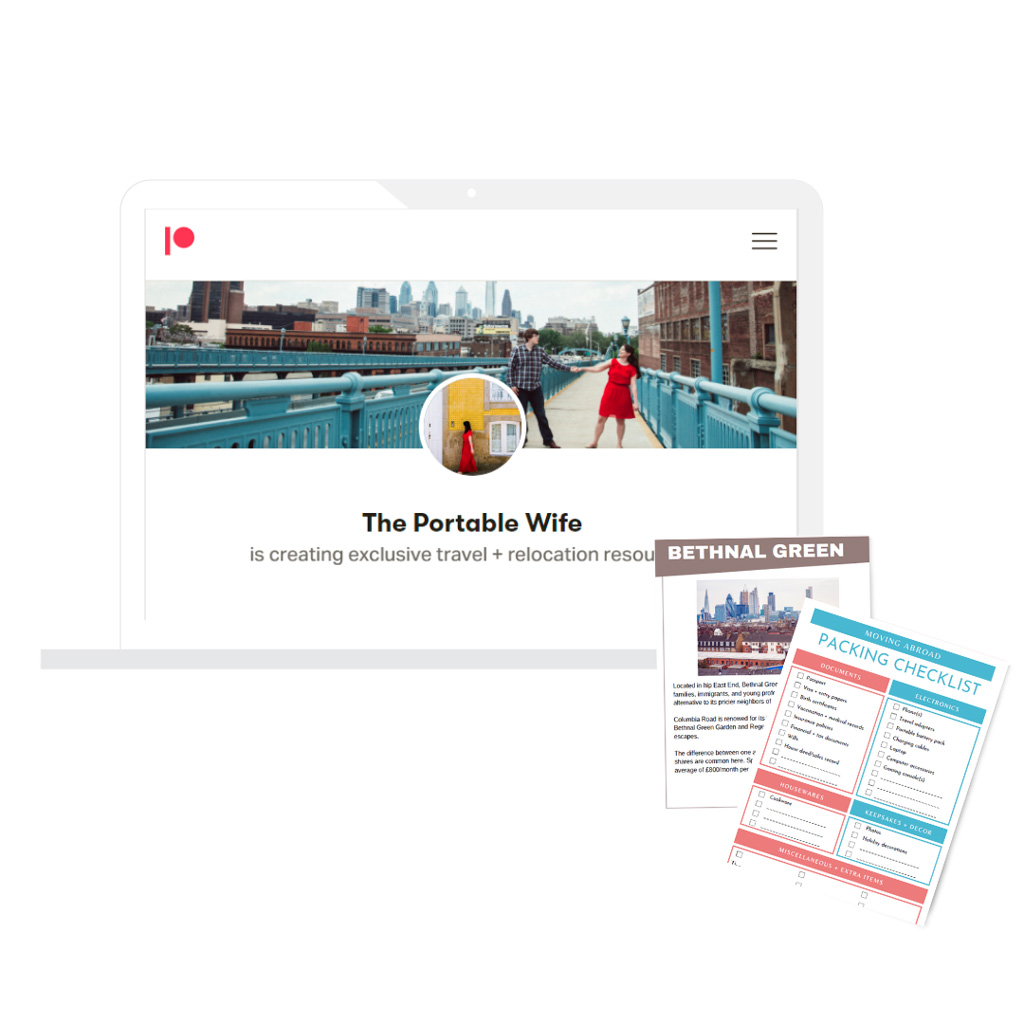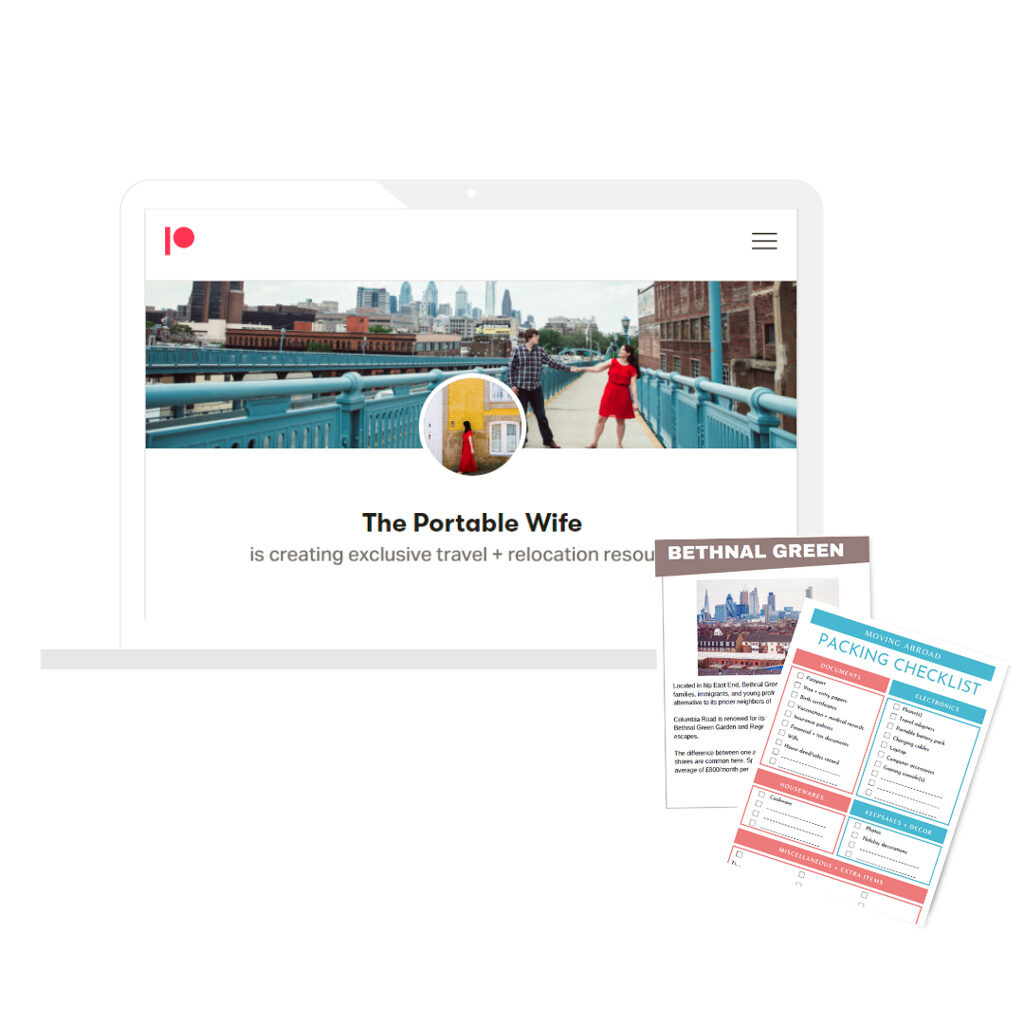 Want more travel + relocation tips?
Become a member of my Patreon group for exclusive access to my resource library, including:
Printable packing lists for moving + travel
Money-saving tips
Insider travel guides
And much more