As a minimalist traveler, I rarely buy things when I go abroad. But when my husband and I first visited Tokyo and Kyoto, we stuffed two bags full of the best souvenirs from Japan. In a land known for quality products, rich culture, and ultra-cute characters, you'll want to fill every nook and cranny of your suitcase with Japanese souvenirs.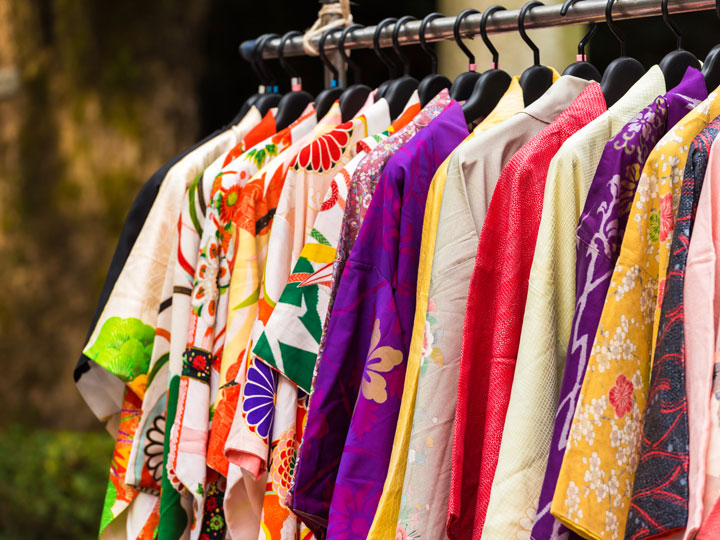 Japan is a shopping mecca, and I could have easily listed 100 or more items here. But rather than include typical souvenirs like postcards and magnets, I wanted to focus on things you can only buy in Japan. Unless you're an avid collector, skip the mugs and keychains and save room for some truly unique gifts from Japan.
This post contains affiliate links. As an Amazon Associate, I earn from qualifying purchases. For more information, click here.
The Best Things to Buy in Japan
Popular souvenirs from Japan
Gaming and anime souvenirs from Japan
Romantic gifts from Japan
Weird Japanese souvenirs
Still planning your trip to Japan?
Popular souvenirs from Japan
Matcha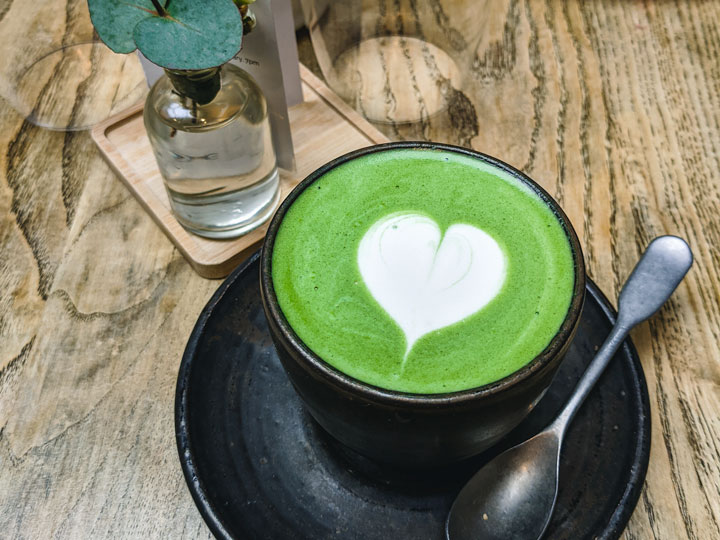 Matcha may have made its way west via lattes and ice cream. But the stuff you find in the US and Europe is no match for the quality and flavor of green tea powder straight from the source.
Matcha is a finely-ground powder made from the dried leaves and stems of a specific green tea plant. Unlike tea bags or loose leaf, matcha is combined with hot water (just below boiling) directly in the drinking cup. It forms a green, earthy brew with a slightly textured consistency, and its flavor is sure to conjure up memories of traveling Japan.
While you can find matcha all over Japan in souvenir shops and department stores, the best places to buy matcha are Uji and Shizuoka.
Uji green tea is renowned for its quality, and you'll find tons of matcha shops along the historic streets leading up to Byodo-in Temple (a must-do day trip from Kyoto). Shizuoka prefecture is Japan's #1 green tea producer, and you can do a quick stopover in the capital to buy and sample matcha from its famous green tea cafes.
Omamori and Ema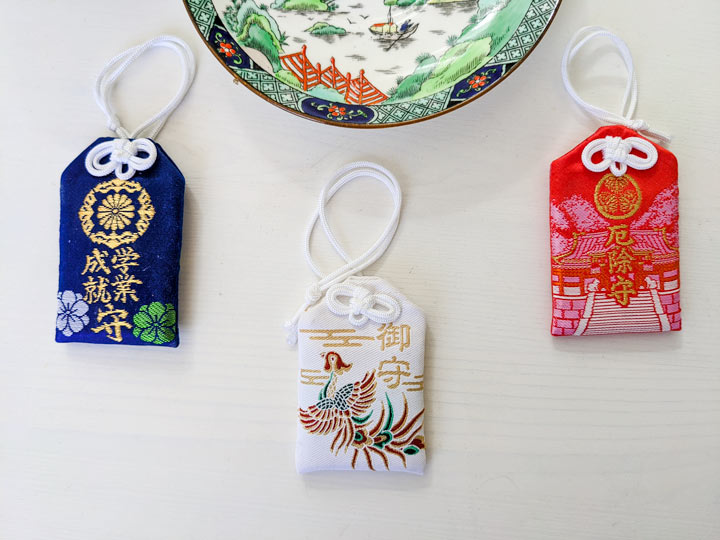 When you visit Japan's Shinto shrines and Buddhist temples, you'll likely find a stall selling colorful amulets and painted wooden boards. Known as omamori and ema, respectively, both are decorated with words and symbols representing the place's spiritual connections.
Omamori are cloth-covered charms that contain blessings and wards, ranging from luck in love to protection from illness. In order to work properly, they're meant to be carried with you in your bag, phone case, inside pocket, etc. However, I keep my omamori on display with various other Japanese souvenirs (I think the blessings have expired by now).
Ema are wooden prayer votives used to make wishes. Traditionally, you purchase the ema, write your wish on the back, and hang it on the ema board with everyone else's wishes. Once a year, all of the Shinto ema are ritually burned in a sacred fire during the Otakiage ceremony, where the head priest prays for the fulfillment of all the wishes. However, it's perfectly acceptable to buy an ema to bring home.
If you're looking for things you can only buy in Japan, omamori and ema are the perfect souvenirs.
Flavored Kit Kats
With over 200 addictive flavors like green tea and affogato, it's no wonder that Kit Kats are among the most popular souvenirs from Japan. Kit Kats have been popular in Japan since their introduction in the 1970s. They also come in all kinds of forms, from bite-size squares to limited-edition "sushi"!
You can buy Kit Kats from any konbini (convenience store) or even the airport. But if you want a wider variety of flavors, head to a dedicated sweets shop or one of the KitKat Chocolatory boutiques in Tokyo or Osaka. There are also regional exclusive flavors like Mount Fuji's Strawberry Cheesecake or Hokkaido's Melon, so keep an eye out when you're traveling across the country.
Wagashi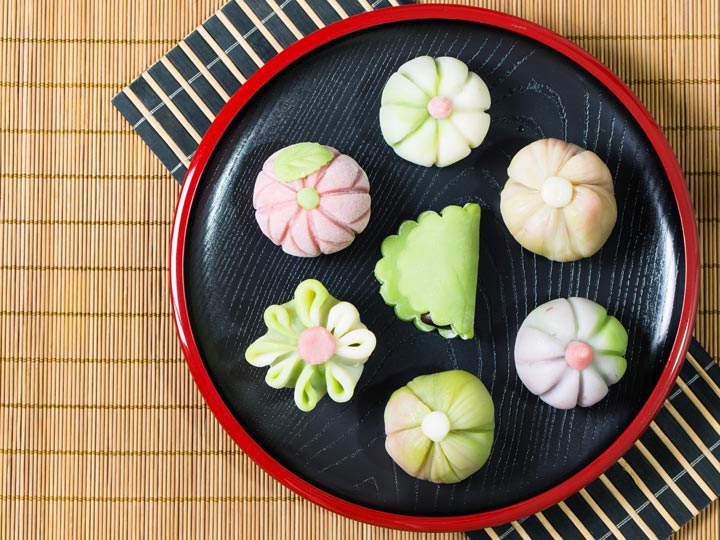 Continuing with the dessert theme, wagashi are traditional Japanese sweets. They come in all shapes and sizes and are made from a wide variety of ingredients, from sticky rice flour to hardened sugar. Many wagashi are formed into attractive shapes like flowers or colorfully-layered squares.
Wagashi have seasonal and regional elements, so you'll find different options depending on where and when you visit Japan. Springtime in Kyoto means plenty of pink sakura mochi, while October in Tokyo brings tasty squares of sweet potato yokan.
If you can't find any wagashi shops during your travels, head to the basement level (i.e. fancy food court) of Japanese department stores like Daimaru or Takashimaya.
RELATED: 2021 Bokksu Review + Coupon: Travel Across Japan With Premium Snacks
Chopsticks
Practical and small in size, chopsticks make a great gift from Japan. If you or someone you know eats a lot of Asian cuisine, reusable chopsticks come in handy time and time again. Especially if you order takeaway and they forget the compostable ones…
You'll find chopsticks in pretty much every souvenir shop, though the nicer more durable ones are sold in department stores and kitchen supply shops.
Papercraft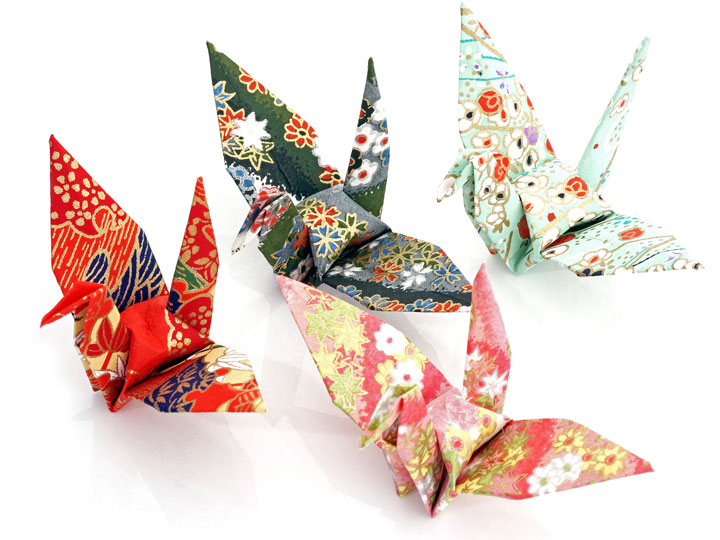 We all know about origami. But Japanese papercraft goes way beyond wrapping paper and paper cranes.
Washi, the paper traditionally used in origami, is also used to craft everything from lacquered storage boxes to decorated eggs. If you're traveling to Kyoto, Suzuki Shofudo on the Philosopher's Path is a great place to buy washi crafts.
Another fantastic papercraft is Kirigami, the Japanese art of paper-cutting. Kirigami artists use sharp blades and layers of paper to create elaborate 3D figures and even entire scenes. I purchased a breathtaking Kirigami pop-up card with famous landmarks and symbols of Kyoto, and the elderly man who made it said it took him 40 hours to finish!
I think the best souvenirs from Japan are the ones you can display and enjoy at home, and papercraft fits the bill perfectly.
Tea cups
Forget the kitschy mugs found at the airport gift shop. Yunomi–handle-less earthenware tea cups–are far better Japanese gifts. While some yunomi are relatively plain and simple, others come in beautiful glazes with lovely patterns. They also pair wonderfully with a gift of matcha powder.
Yunomi come in two shapes–tall and cylindrical, or short and bowl-like. The latter is mostly used in tea ceremonies, while the former are for everyday use.
Tea cups are sold in souvenir shops and home goods stores across Japan. If you're in Kyoto, you'll find several quality pottery shops in the Gion district (especially near Kiyomizu-dera).
Lucky cats (Maneki-neko)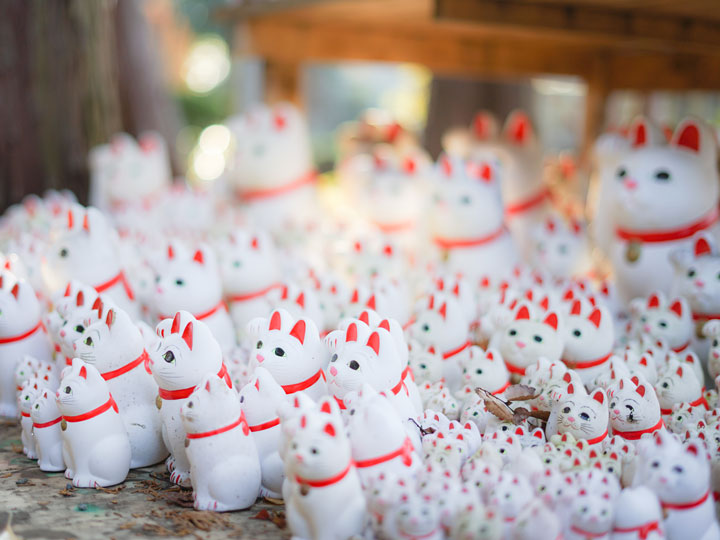 The Lucky Cat (maneki-neko) is one of the most recognizable figures of Japanese culture. Said to bring good fortune in business, you'll find Japanese Lucky Cats in shops, market stalls, and restaurants around the country.
Thanks to their popularity, maneki-neko are easy to find in Japan's souvenir shops. But if you're traveling in Tokyo, I recommend a stop at Gotokuji Temple, said to be the birthplace of the Lucky Cat.
Handkerchiefs
Carrying a handkerchief in Japan is quite common. Between humid summers and the occasional lack of hand dryers in bathrooms, handkerchiefs are far more than an old-school accessory.
In fact, handkerchiefs are so ubiquitous in Japan that brands like Ralph Lauren and Kate Spade sell their own designer versions in department stores. You can also find cute varieties decorated with anime and Disney characters for sale in places like Don Quijote and Animate.
Kimono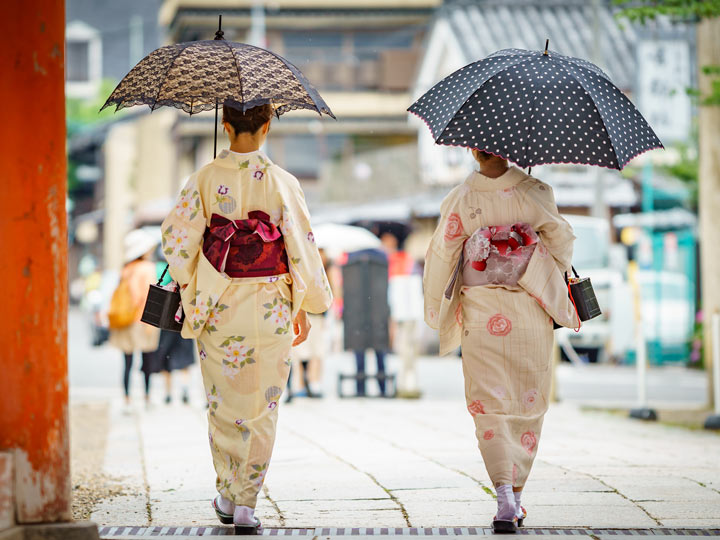 Made from high-quality silk and linen, kimono are elaborate, robe-like ensembles traditionally worn at important cultural events like weddings, funerals, and coming-of-age ceremonies. The rich fabrics and eye-catching bows and sashes are a visual delight (the male versions less so).
Now, if you want to drape yourself in the elegant fashions of Japanese culture, I'm not here to stop you. But a framed kimono makes for a beautiful Japanese gift (and a more practical one).
A brand new kimono can cost thousands of US dollars. Fortunately, you can find far cheaper options at Japanese flea markets and thrift stores. I've seen lovely vintage kimono on sale at Kyoto's Kitano Tenmangu market for 7500 yen (~$75 USD).
Yukata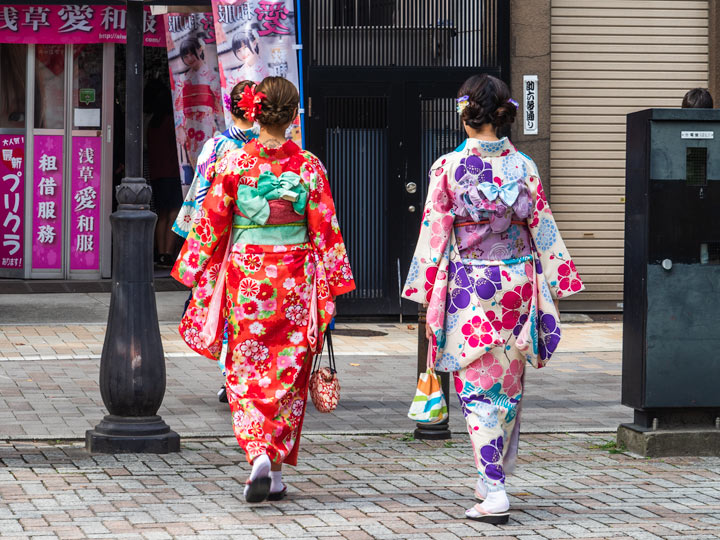 For a cheaper and more wearable piece of Japanese fashion, look to the yukata. Yukata are essentially a more casual kimono typically worn during the summer months. You'll also see Japanese men and women wearing yukata in sightseeing destinations and onsen towns like Kyoto or Beppu.
Women's yukata are often brightly patterned and made of cotton. Like kimono, you can find affordable used ones at thrift shops and flea markets, though you can get new ones from UNIQLO for about 3500 yen / $35 USD. Yukata make for great robes or even swimsuit cover-ups.
Stationery
Japan has an abundance of cute stationary. From fabric-bound notebooks to gold leaf thank you cards, the quality and attention to detail found in Japanese stationery is amazing.
There are whole shops dedicated to stationery, from Tokyo's famous and long-standing Itoya to Kyoto's modern ROKKAKU. Department stores and variety shops like Don Quijote also sell a range of notepads, letter paper, and even fancy sticky notes.
Japanese stamp book (Goshuincho)
If you plan to visit a lot of Japanese shrines and temples, join the growing trend of goshuincho. Translated to "honorable stamp book", goshuincho are booklets used to collect official seals from the temples and shrines one visits throughout Japan.
At participating shrines and temples, you can visit the goshuin counter and present your book to receive the stamp and calligraphy recording the date and location name. Just be sure to make a money offering before asking for a stamp!
You can purchase a new stamp book at many stationery stores, and most large shrines and temples sell them at the goshuin counter. Between the pretty cover and the way it charts your unique journey, goshuincho are among the best souvenirs from Japan.
Daruma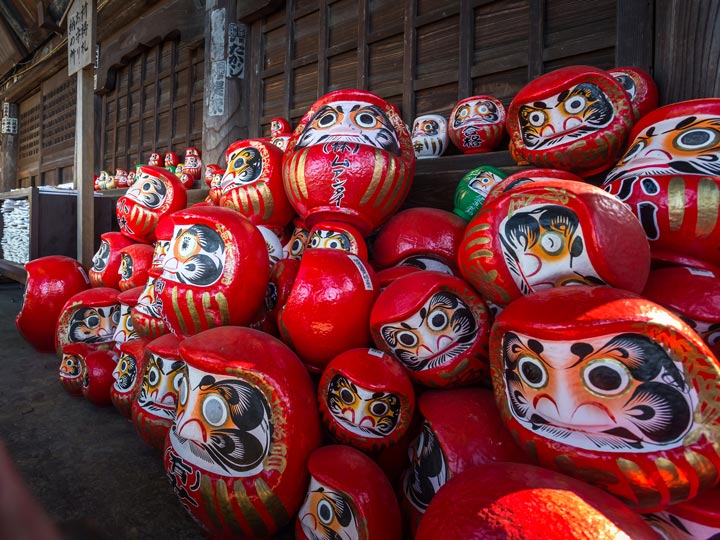 Squat, colorful, and funny-faced, daruma dolls are a symbol of good luck in Japan. Daruma typically come painted red, with expressive faces set with large eyes and thick facial hair. Some daruma are sold with blank eyes that are meant to be filled in when goals are set and fulfilled.
For the ultimate daruma shopping experience, take a day trip from Tokyo to Takasaki. This relaxed city is home to Shorinzan Daruma-ji Temple, where the lucky daruma figure originated. Both Kyoto and Osaka also have Daruma-dera a.k.a. daruma temples. You can find daruma for sale at most souvenir shops as well.
Fortunes (Omikuji)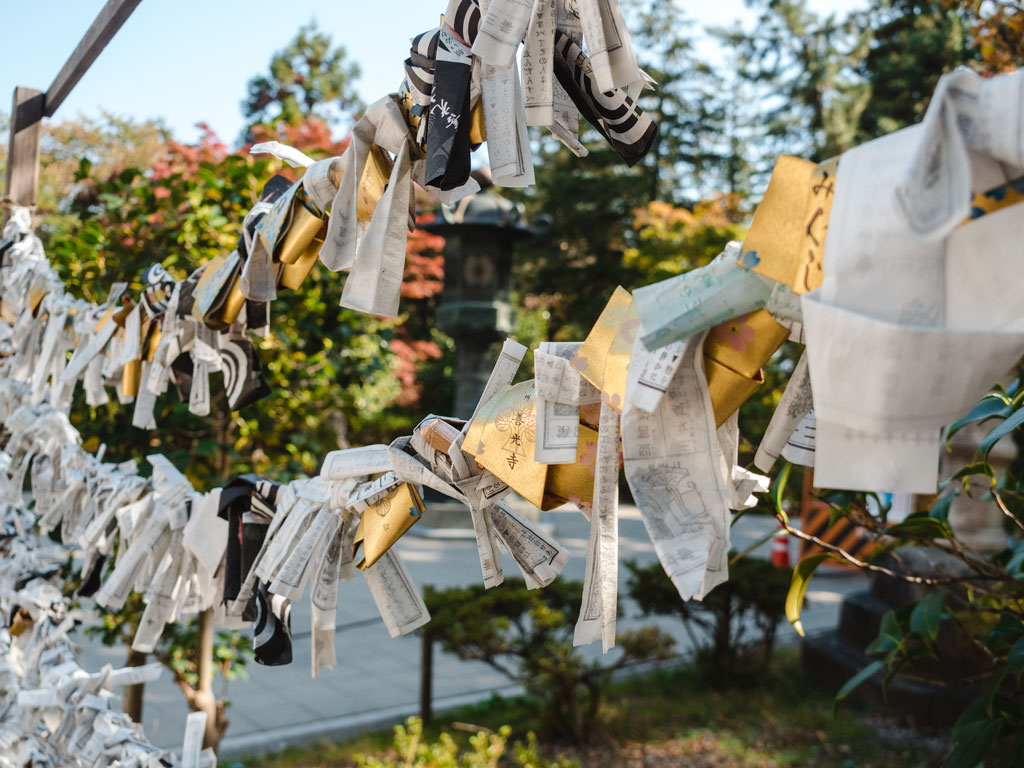 Daruma aren't the only fortune containers. Every shrine and temple sell their own version of omikuji. Some come unwrapped–you draw the slip out of a box–while others come in cute ceramic figures corresponding to the Japanese zodiac.
You can keep the omikuji container long after the fortune expires. I still have a pretty white dog from Kurama-dera sitting on my bookshelf.
Japanese Sandals (Zori & Geta)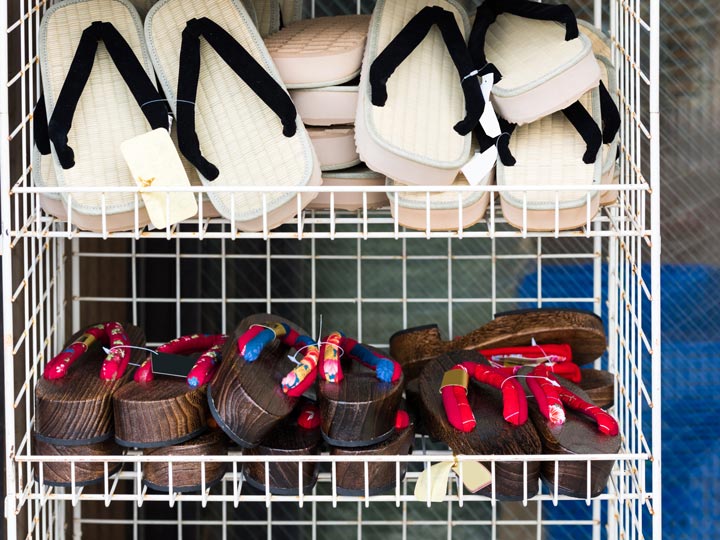 Another popular Japanese souvenir found in many shops are traditional sandals: zori and geta. Zori, which look like straw flip flops, were historically worn with formal kimono. Geta, a wooden platform sandal, were once standard footwear in Japan but are now worn with yukata.
Today, informal zori made of synthetic materials are commonly worn with casual clothes in the summertime. They are far more practical to wear than the hard wooden geta, so keep that in mind when shopping for gifts.
Coin purses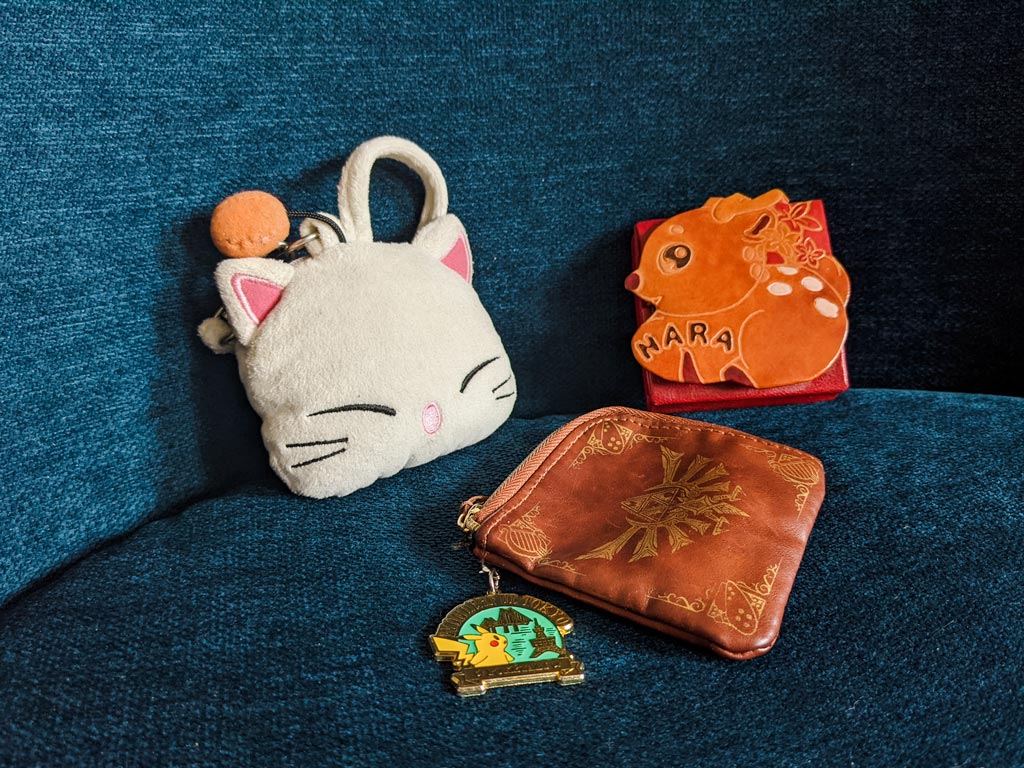 Coin purses are one of the best souvenirs from Japan if you're short on space. They're also a souvenir you can start using right away!
Cash is still king in Japan, so you'll need somewhere to keep all your yen coins. While you can buy simple varieties at gift shops and department stores, the "otaku" shops like Mandarake and Don Quijote have fun themed versions.
When we first arrived in Japan, I purchased the cute Moogle head and a lovely leather coin purse embossed with Legend of Zelda symbols pictured above, and I still use both today.
Japanese purses (Gamaguchi & Kinchaku)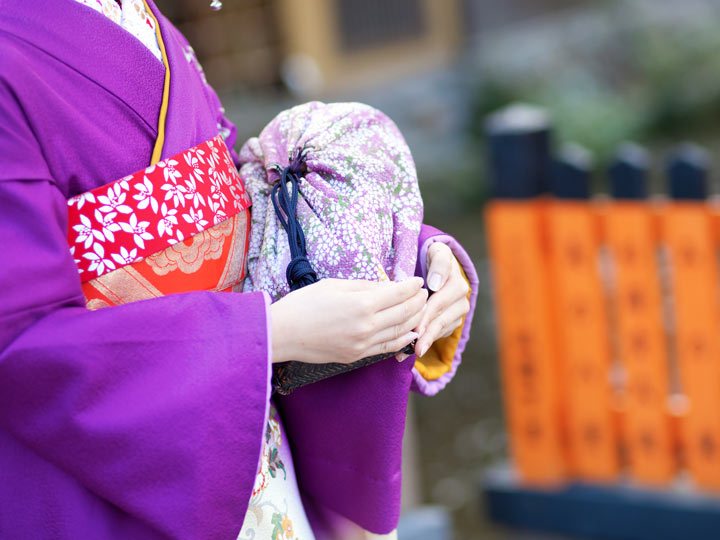 Speaking of purses, there are two traditional Japanese accessories that make for excellent gifts. The first is gamaguchi, a type of purse with a clasped opening. They tend to come in colorful prints and range from small to medium sized.
The other purse is called a kinchaku, a traditional drawstring bag. You'll see small, fancy kinchaku being carried by women wearing yukata. But there are larger, more casual ones that are perfect for carrying groceries or even wrapping presents.
You can find both types of purses at gift shops and department stores.
Antiques
"Antiques" is a broad term, but I'm referring mostly to housewares and furniture. Antique shopping is popular with foreigners and locals alike, and you'll find antique markets and specialty shops all across Japan.
If you're looking for portable antiques, I recommend things like tea cups, bowls, sake cups, decorative plates, silk scarves, and woodblock prints. Larger items like furniture, artwork, and wall scrolls can be tricky to get home, but some sellers will help you arrange international shipping.
Folding fans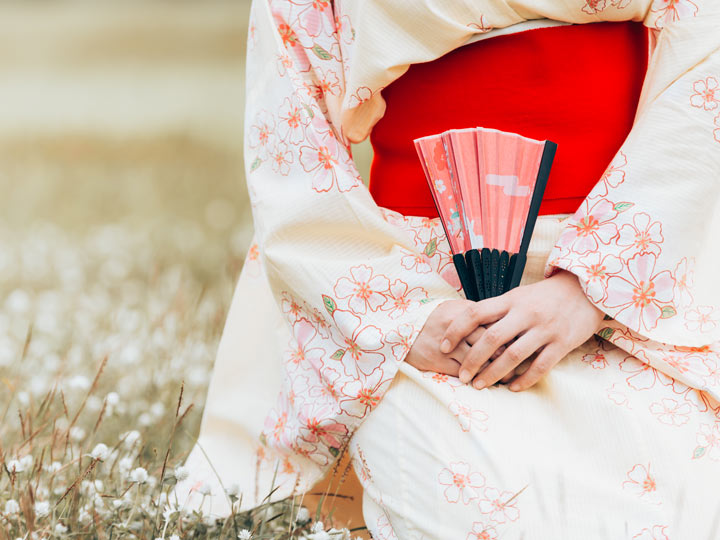 Folding fans are a classic decorative item. They look beautiful when hung open on walls or spread in the back of shelves.
I'd stay away from the cheap versions with metal handles and look for a nicer one with a wooden handle. There are entire shops in Tokyo, Kyoto, and elsewhere dedicated to traditional fans, so keep your eyes peeled or do a bit of Googling before your trip.
Camera gear
It's no secret that Japanese people have a love for photography. And Japan is home to a chain of stores that will make any photographer weep with joy: Yodobashi Camera.
These shops have endless shelves packed with lenses, filters, tripods, and camera bodies. Yodobashi Camera also sells more than just photography gear. You'll find other electronics, home goods, toys, and even gachapon capsule machines as you travel up and down the various floors.
There are over 20 Yodobashi Camera stores in Japan, with the largest being Yodobashi-Akiba in Akihabara, Tokyo.
Save me for later!
Gaming and anime souvenirs from Japan
Pokemon Center exclusives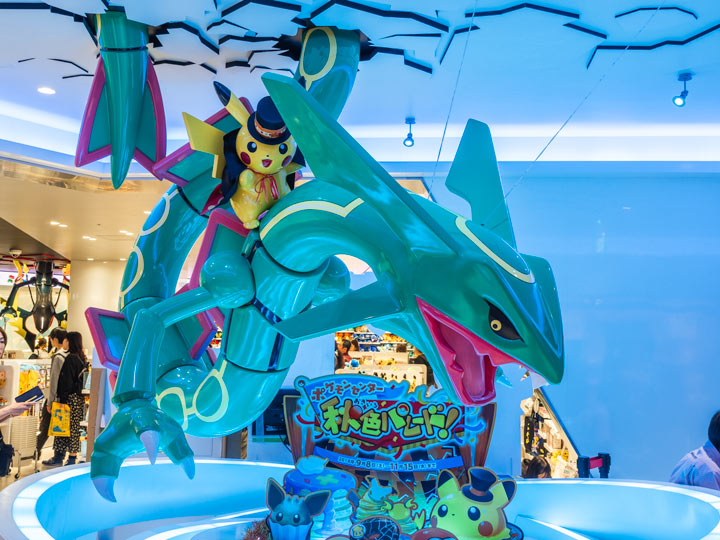 Did you know that Japan has 11 Pokemon shops packed with plushies, keychains, cards, and other merchandise you can't get anywhere else? Even if you aren't a diehard Pokefan, you can pick up some of the best souvenirs from Japan at these Pokemon Centers.
During our first trip to Japan, it was our mission to visit as many Pokemon Centers as we could and collect the exclusives from each one.
Some exclusives, like keychains and pins, will have the Pokemon Center name on them, while others aren't obviously limited to that particular store. You'll need to do a bit of online research to figure out what exclusives are currently on sale.
Studio Ghibli products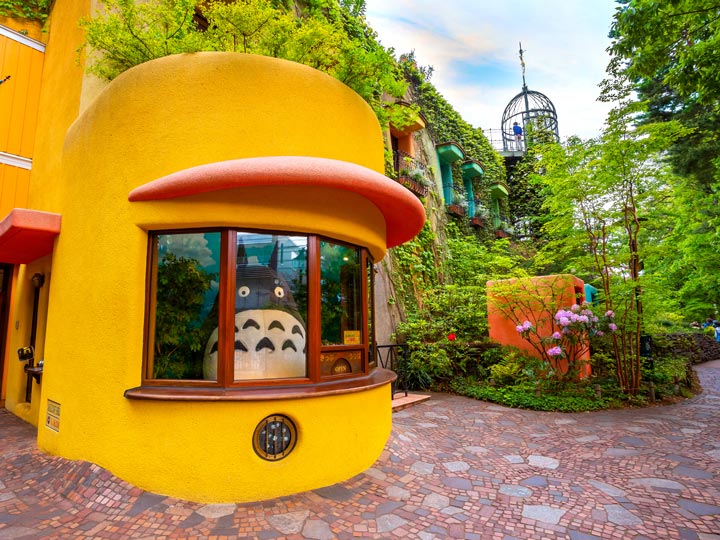 If Studio Ghibli's famous films inspired you to visit Japan, you'll want to pick up some Ghibli-themed souvenirs while you're here. From giant stuffed Totoro's to Spirited Away plates, Ghibli items are abundantly available in Japan.
The best place to shop for Studio Ghibli souvenirs is predictably at the Studio Ghibli Museum in Tokyo. There are gorgeous figurines, tins, and other souvenirs you can't find anywhere else. And the museum itself is a whimsical delight for adults and children alike.
But if you can't squeeze in a trip to the Ghibli museum, the next best place to shop is Donguri Kyowakoku. This chain of stores is recognizable by their wooden signs with a side profile of Totoro next to the name (it's spelled in hiragana if you can read it!). The shops carry a wide range of Ghibli souvenirs, and the interiors have a nature theme complete with leaves and branches.
Retro video games
As a gamer, I was super excited to check out the famed retro game shops of Japan. From rare Japan-only releases to vintage promo posters, video game lovers can quickly drain their bank accounts here.
Super Potato is THE place to shop for retro video games and memorabilia. They have multiple locations across Japan, though most are concentrated in Tokyo and Osaka. Surugaya, Friends, and Mandarake are also great places to shop, and they all have locations in Akihabara.
Manga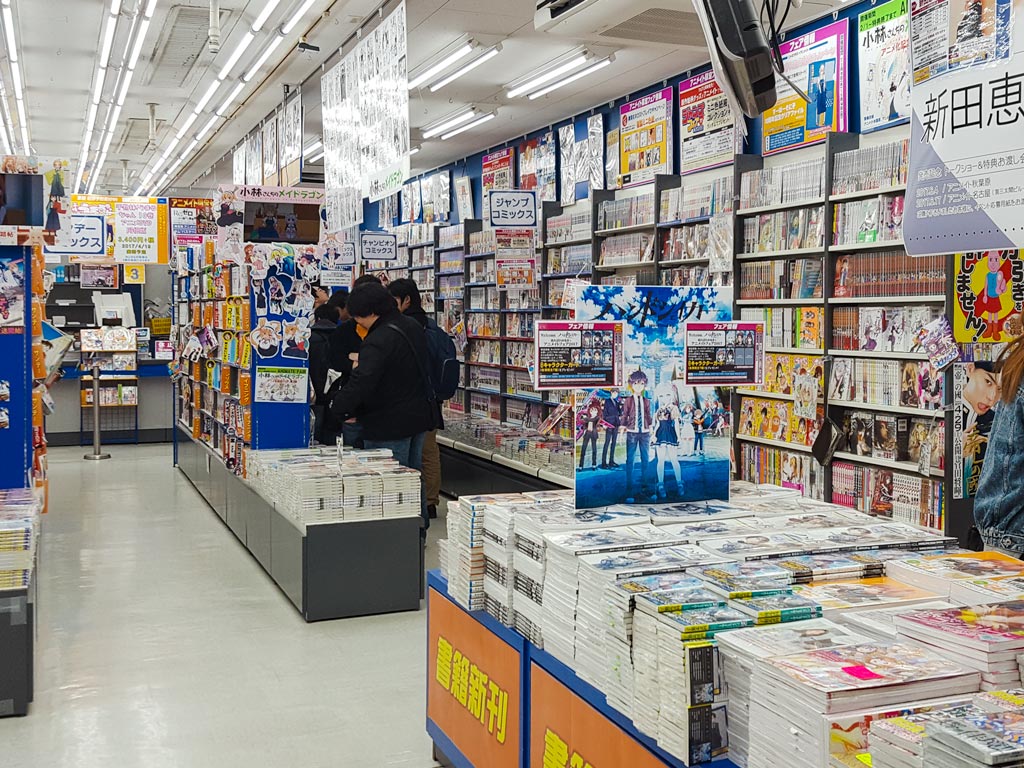 When manga went mainstream in the west in the 1990s, it introduced countless foreigners to Japanese culture. Many a 90s kid has fond memories of reading Fruits Basket, Naruto, and Sailor Moon after school. So it's understandable that you'll want to pack your suitcase full of Japanese manga, even if you can't read it!
You can buy manga in tons of places in Japan, from train station bookshops to fancy department stores. For the biggest selections, check out Animate and Mandarake, which have entire floors dedicated to manga. And if you want something in English, the Kinokuniya bookshop chain sells foreign language translations of manga and other books.
Cosplay costumes and accessories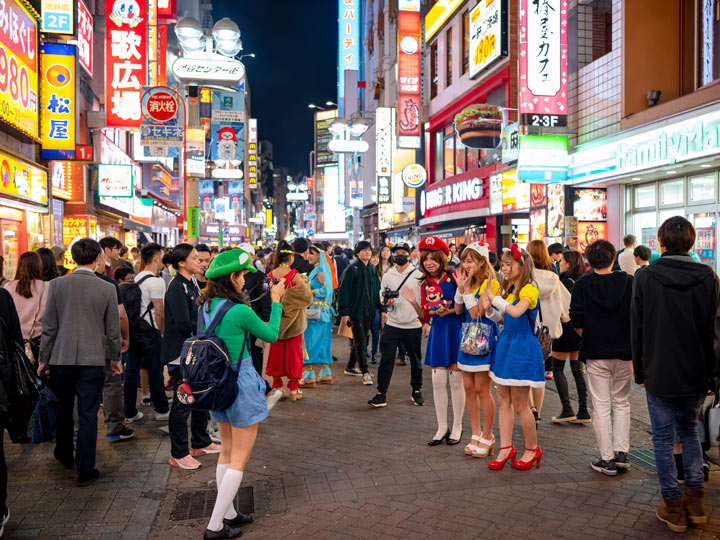 Whether you're a seasoned cosplayer or simply in the market for a unique Halloween costume, Japan has got you covered. Tokyo's Akihabara is the best place to shop for cosplay costumes and accessories you can't find anywhere else. COSPATIO, COSPA GEE!, Mandarake, Jupiter, and Lashinbang have outfits, wigs, shoes, props, and everything else you need to pull your look together.
Plushies
A cute plushie is the ideal way to bring kawaii culture home from Japan. Lots of crane games have stuffed characters as prizes, and themed stores like Sanrio (i.e. Hello Kitty), Disney, and the Pokemon Centers will have exclusive plushies for sale. You can find more affordable plushies at variety stores including Don Quijote and Village Vanguard.
Figures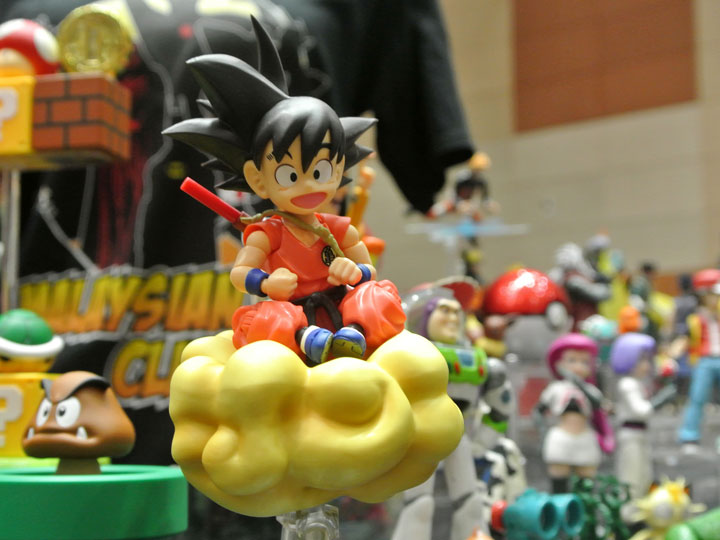 Japan is heaven on Earth for figure collectors. The shops of Akihabara and Nakano Broadway are filled with anime, TV show, manga, and video game characters stunningly recreated in miniature form. Kotobukiya, Yamashiroya, Mandarake, and Animate are must-visit shops for buying figures in Japan, but be prepared to spend 3000+ yen for decent quality models.
Gachapon
You know those machines where you put in some coins, turn a crank, and a plastic container with a prize comes out? There are a smattering of them in western countries, but nothing compared to the prolific amount seen in Japan.
These machines are called gachapon (an onomatopoeia for the sounds the machine makes), and they are crazy addictive! Japanese collectors will spend thousands of yen trying to get the complete set of prizes from their favorite machines. Most take 100 yen coins, though there are more expensive ones with nicer prizes.
Unsurprisingly, Akihabara has the biggest collection of gacha machines in Japan, including the 400+ machines inside Gachapon Kaikan. Yodobashi Camera also has a huge gacha section. Gachapon are all over the place in Japan, so keep your eyes peeled for machines with cool prizes.
Romantic gifts from Japan
Silk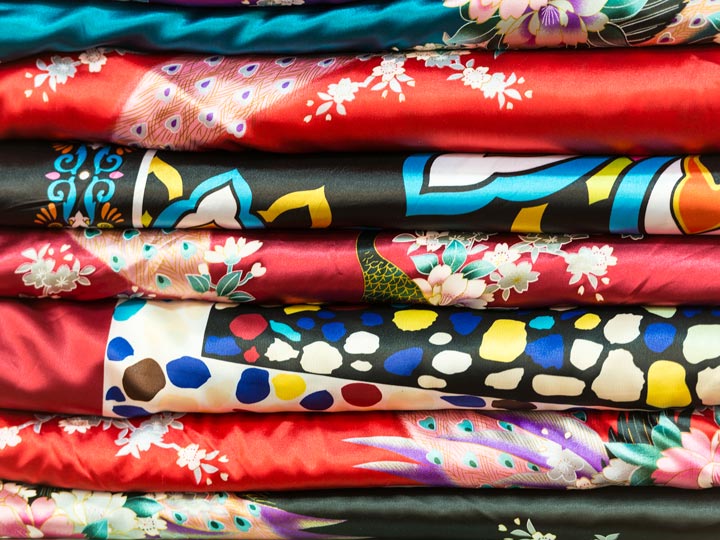 Silk clothing and accessories make for a great romantic gift from Japan. The country has a long history of silk production, and the quality is exceptional.
For the best quality, skip the souvenir shops and check out high brand and department stores like Takeshimaya. There are also shops devoted to silk goods and fabrics, particularly in historic places like Kyoto and Kanazawa.
Fancy chocolates
Chocolates may seem like strange things to buy in Japan. But once you've tasted fancy truffles and seen ornately decorated squares, you'll understand why Japanese chocolate rivals even the top confectioners of Belgium and Switzerland.
Dedicated chocolate shops are obviously the best place to buy high-end chocolates. But you'll also find good options inside department stores (check the basement level) and even large grocery stores. And if you want delicious chocolate on a budget, head to the convenience store for some Meiji chocolate-covered almonds or a Black Thunder bar.
Japanese hair ornaments (Kanzashi)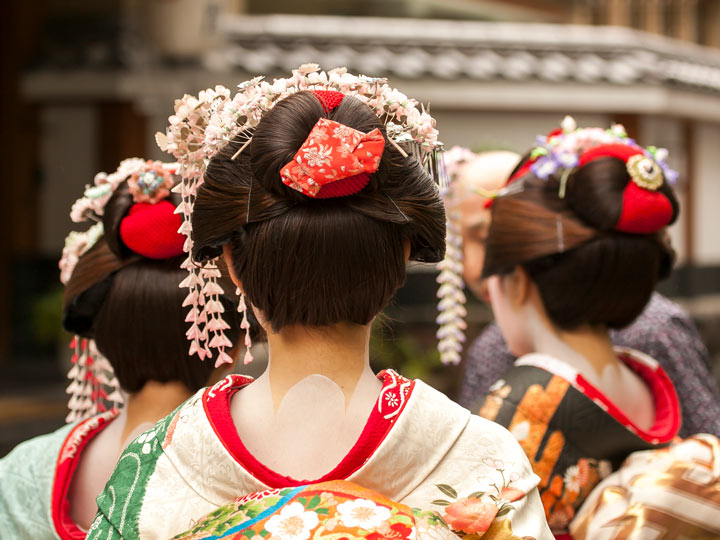 If your partner likes to wear their hair up, a kanzashi is the perfect romantic Japanese souvenir. These traditional hair accessories consist of a long pin with a decorative ending. Kanzashi styles range from pretty flowers to tinkling metal chimes commonly worn by maiko.
Music boxes
Did you know that Japan is home to one of the largest music box manufacturers in the world? Japan became a leading producer of music boxes after World War II, creating complex mechanisms that could play dozens of notes.
Today, there are numerous museums dedicated to the devices, including the famous Otaru Music Box Museum near Sapporo and a smaller museum in Kyoto. Both have immense gift shops with boxes ranging from simple paper-wrapped squares to 10,000+ yen masterpieces.
Japanese skin care
People around the world pay copious amounts of money to import Japanese skin care products. If your partner is curious to try famous brands like SK-II, Kosé, or Shiseido, you'll save some money buying it straight from the source. Department stores are the easiest place to find a variety of products, though there are plenty of boutique cosmetic stores in major cities like Ainz & Tulpe in Tokyo's Shinjuku.
Weird Japanese souvenirs
Plastic food displays (Sampuru)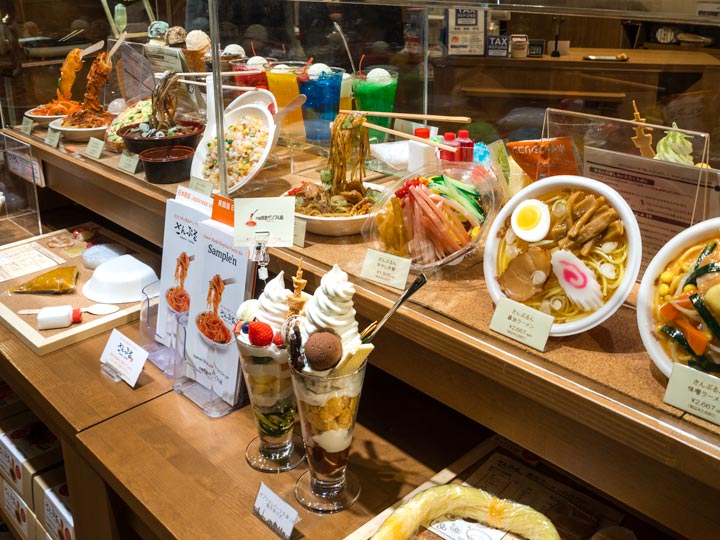 The best souvenirs from Japan are the kind you won't find anywhere else. And I can safely say that I've never seen hyper-realistic fake food sold to the general public in any other country.
Sampuru have an interesting history dating back to the 1930s. Japanese businessman Takizo Iwasaki created the first sampuru out of wax, and it quickly grew into a popular way for restaurants to visually display their menu without using real food. Today, thousands of restaurants around Japan have glass cases of sampuru near the front entrance to tempt customers inside.
You can find small sampuru like taiyaki or onigiri in souvenir shops around the country. But if you want larger items or more variety, here are a few places to buy sampuru in Japan:
Gujo Hachiman in Gifu Prefecture (you can even make your own here!)
Kappabashi Street in Tokyo (near Asakusa)
Tokyo Skytree
Kuromon Market in Osaka
Decorative English prints
Emblazoning clothes, accessories, and products with English words is pretty common in Japan. While some words and phrases are properly spelled and make sense, other products end up with fantastically bizarre "Engrish". If you're after a light-hearted gift from Japan, keep an eye out for fun misspellings and nonsense phrases on shirts, hats, and bags.
Body pillow (Dakimakura)
While a large pillow isn't a weird souvenir in and of itself, it quickly becomes bizarre when you add a life-size anime character onto the pillowcase.
Dakimakura–a body pillow often used as a soothing security object–have become synonymous with okatu culture thanks to the semi-scandalous illustrations printed on their covers. They certainly make for excellent gag gifts, though you may have trouble squeezing one into your suitcase…
Takoyaki pan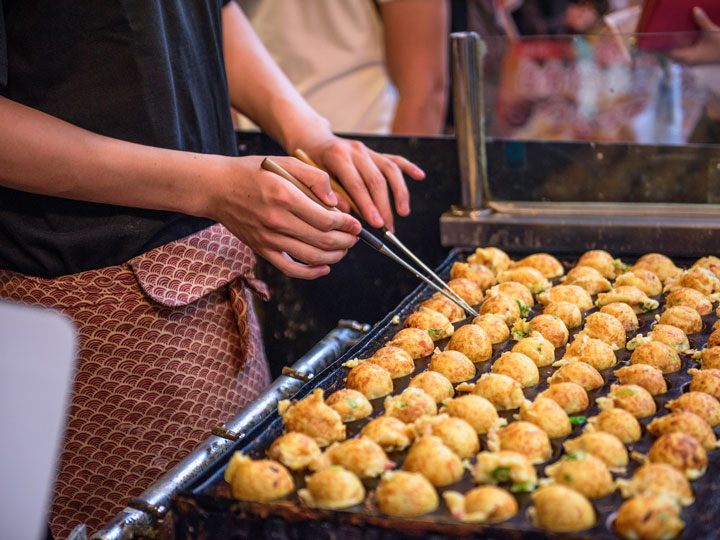 If you took a liking to Japan's fried balls of octopus meat, why not bring home your very own takoyaki pan? They can be hard to find outside of Osaka, though large home goods stores may stock them.
Bathroom sound masker
If you grew accustomed to the fancy sound-masking button on Japanese toilets, this one is for you! Check out variety stores like Don Quijote for these small devices that make a rushing water sound when activated.
Basically anything from Don Quijote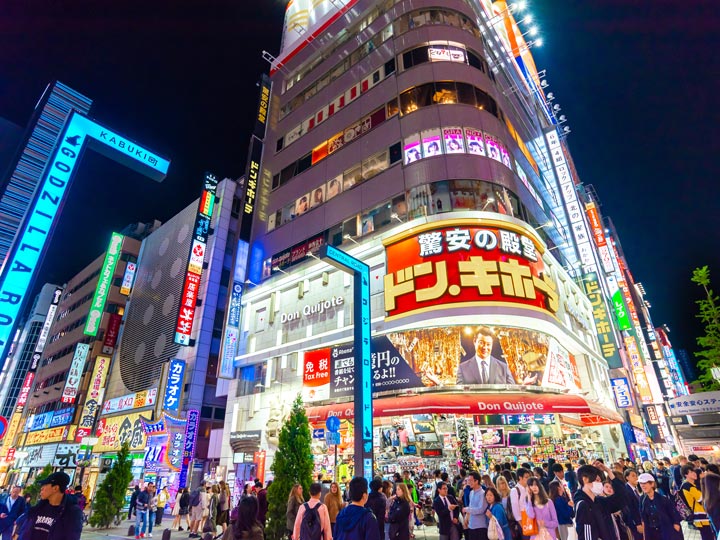 Don Quijote is the mecca of weird Japanese souvenirs. I've mentioned Donki throughout this post because they are a popular variety store in Japan.
You can buy everything from undergarments to novelty face masks to CDs here. Large Don Quijotes even sell TVs and lawn equipment! If you aren't sure what to bring home from Japan, just wander the aisles here until you find something interesting.
My favorite Japan travel books
These books are full of fun and practical information about traveling in Japan (I own all three!):