Snack subscription boxes are having a moment. From kawaii candy to artisan crisps, it's never been easier to get your hands on tasty treats straight from Japan. To help you decide which snack box is best for your budget (and taste buds), let's take a look at two of the most popular subscription services: Bokksu vs TokyoTreat.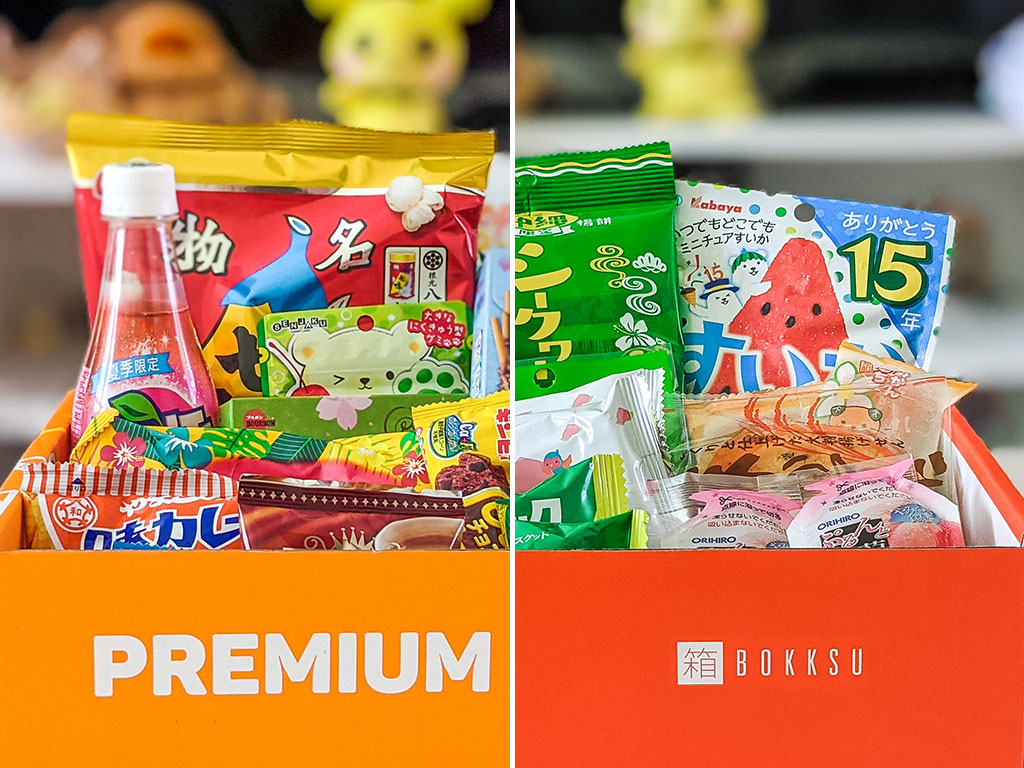 This post contains affiliate links. As an Amazon Associate, I earn from qualifying purchases. For more information, click here.
Before we dive into this Bokksu vs Tokyo Treat review, let's clear a few things up.
First off, I've been a Bokksu subscriber for about a year. You can read my in-depth Bokksu review here.
As for TokyoTreat, I had the chance to try their premium subscription in August 2021. You can read my TokyoTreat review here.
While I do have more hands-on experience with Bokksu vs TokyoTreat, rest assured that I did my research on past TokyoTreat boxes to inform this review. If you're familiar with my content (especially my meticulous itineraries), you know how serious I am about authenticity and details!
With that out of the way, let's take a closer look at these Japanese snack subscription boxes. We'll start with a quick overview of each company, followed by sub models and costs, and finally a look at the snacks themselves.
By the end of this review, you'll have everything you need to decide between a Tokyo Treat vs Bokksu subscription.
In This Post:
Bokksu vs TokyoTreat: Overview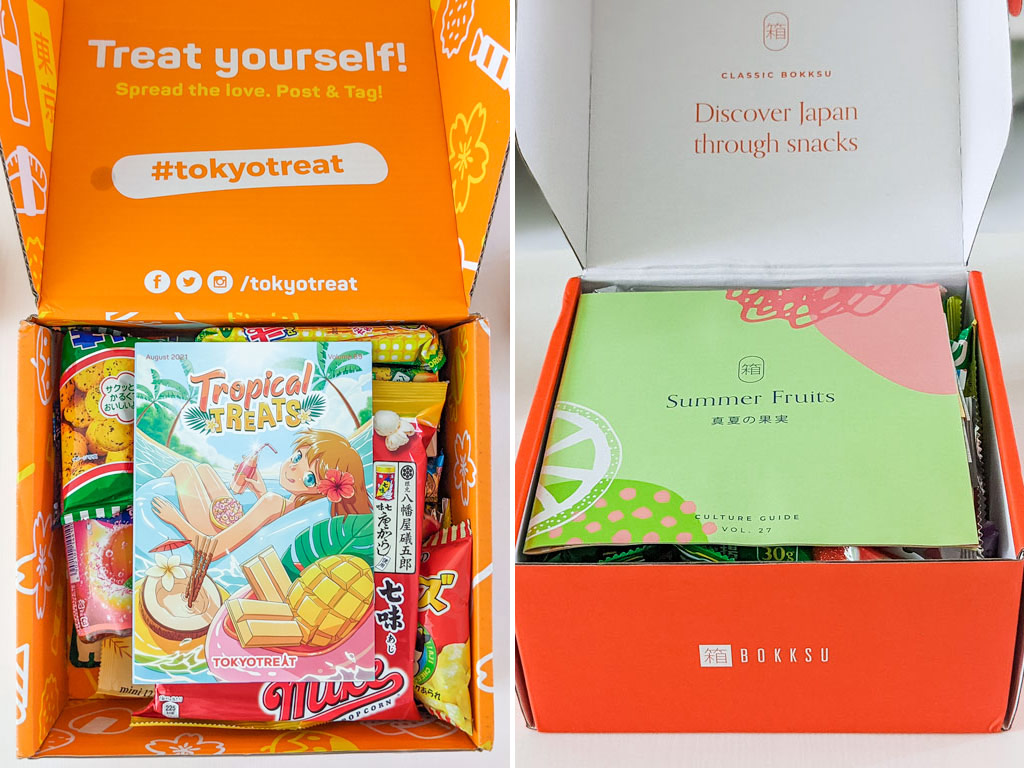 Bokksu and TokyoTreat are both Japan-based monthly snack subscription services. They source their treats directly from Japan (the boxes even have the Japan Post paperwork attached), so you know you're getting the real deal.
Both snack boxes include a mix of sweet and savory items that fit the month's theme. These themes are usually seasonal, like TokyoTreat's summer Tropical Treats or Bokksu's autumn Moon Festival.
However, past boxes have been themed around celebrations or collabs, such as Bokksu's annual birthday box or TokyoTreat's Anime Marathon Munchies collab with Funimation.
Bokksu also offers something in addition to its monthly subscription model–an online marketplace. Here, you can buy everything from individual Japanese snacks to curated boxes to sake cups.
RELATED: 12 Must Eat Foods in Japan & Where to Find Them
Bokksu vs TokyoTreat: Subscriptions and Cost
Bokksu offers one subscription tier: Classic. Every Bokksu box contains around 20-24 snacks and all subscribers get the same items.
The exact number of snacks changes based on what's included in the month's box. For example, some boxes have lots of small items like mochi, while others will include a big sharing-sized package of snacks.
TokyoTreat used to offer two different subscription tiers: Classic and Premium. The Classic box had fewer snacks and less variety than Premium (ex. there was no drink).
However, as of September 2021, they removed the cheaper Classic option for new subscribers.
The TokyoTreat box contains 17 total snacks and all subscribers get the same items. They use a specific formula to determine the size and type of each snack you get:
5 full-size items
5 popular Japanese snacks
3 dagashi (Japanese penny candy)
1 DIY Japanese candy kit
1 drink
1 party-size pack
1 anime-themed snack
Pricing
Both companies offer 12-month, 6-month, 3-month, and monthly subscription lengths, with discounts for longer subs. Note that you'll be charged upfront for the entire subscription period.
One of the things I love about Bokksu is that you can buy a gift subscription, which does not renew.
It costs exactly the same as a normal sub, so it's perfect if you just want to try out the service for a few months without having to worry about cancelling before it renews.
Here are the prices as of the date of publishing:
| Sub Length | TokyoTreat Pricing | Bokksu Pricing |
| --- | --- | --- |
| 12-month | $31.50 | $39.95 |
| 6-month | $32.00 | $42.95 |
| 3-month | $33.50 | $44.95 |
| Monthly | $35.00 | $49.95 |
As you can see, TokyoTreat is the cheaper subscription of the two. That's no surprise given that you don't get as many snacks as Bokksu.
If you want the cheapest Japanese snack subscription box to try, go for the one-month TokyoTreat Premium option at $35 USD.
Putting quantity aside, there are two other important factors that affect these prices: snack value and quality.
The next section should make it clear why Bokksu is the more expensive subscription, and why it's worth the price.
Save me for later!
Snack Comparison of Bokksu vs TokyoTreat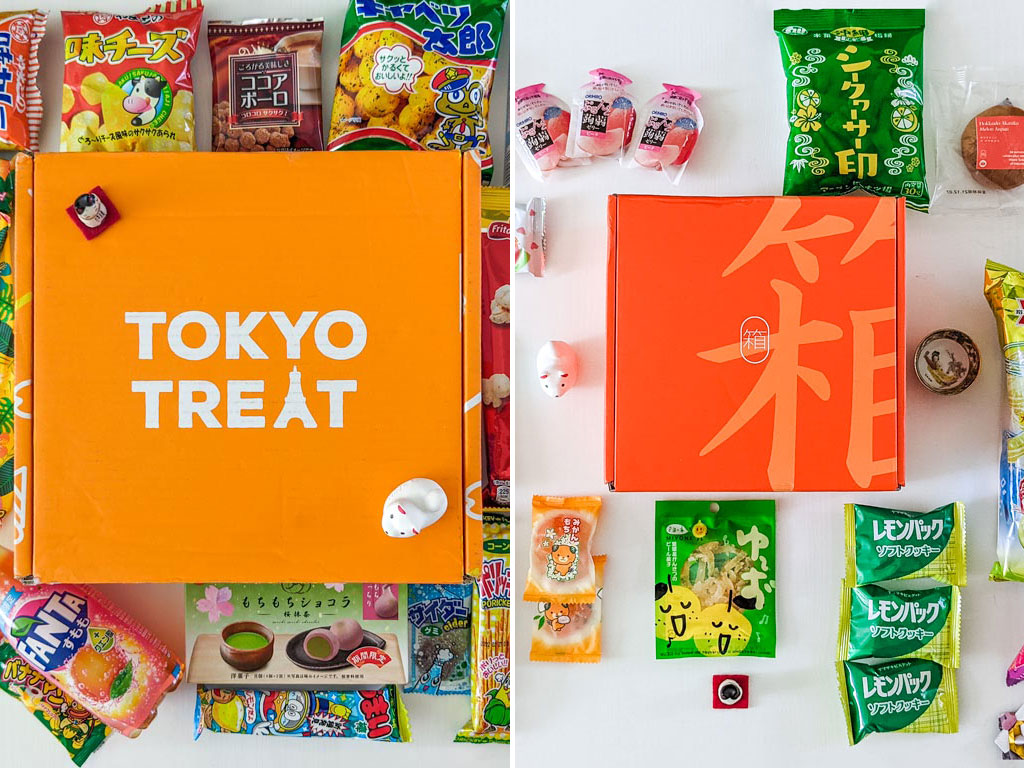 The biggest difference between Bokksu vs TokyoTreat is the quality of the snacks themselves.
Bokksu prides itself on its high-quality items from artisanal snackmakers. Many of the snacks you get are gourmet-level, like langue de chat cookies, yuzu rice crackers, and moist cake sticks.
While you definitely get some "junk food"-esque treats like gummies or corn puffs, the majority of boxes I've received are packed with locally-made items that taste amazing and authentic.
With TokyoTreat, the emphasis is on cute or fun snacks you'd grab at a Japanese convenience store. Think Kit Kats, Pikachu cookies, curry crackers, and other mass market items.
Don't get me wrong–the snacks are delicious! But you'll rarely find anything fancy or perishable like you would in a Bokksu box.
That being said, let's take a deeper look at what kinds of snacks you can expect from Bokksu and TokyoTreat.
Monthly Snack Guide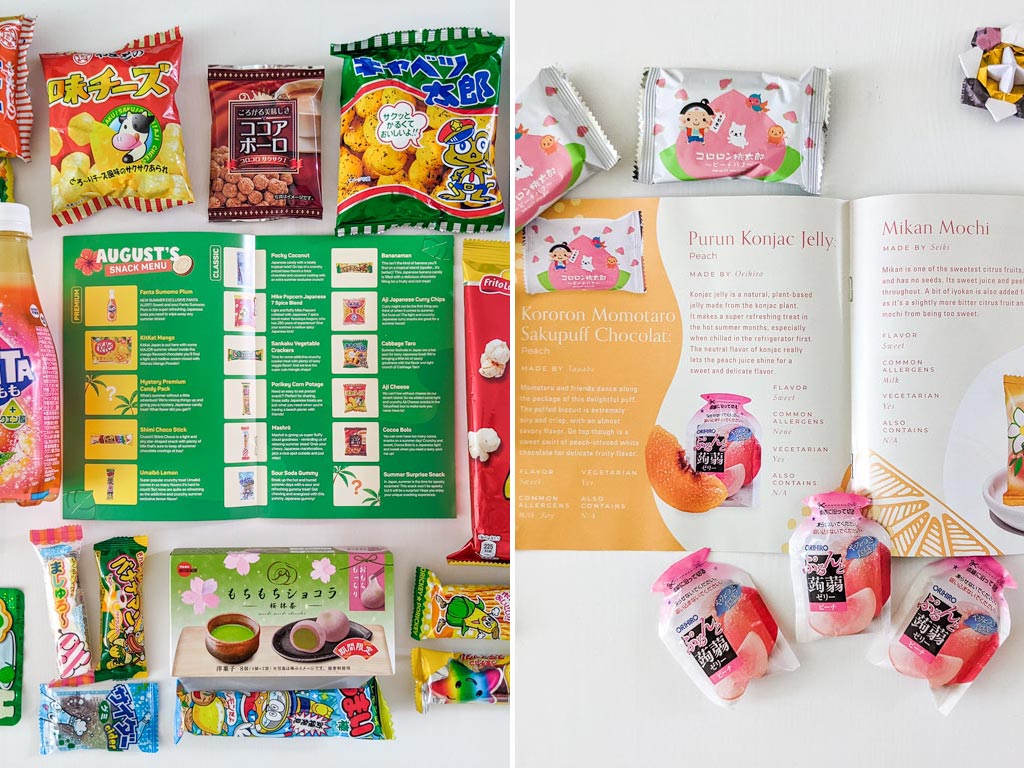 Both Bokksu and TokyoTreat include a snack guidebook in each of their monthly boxes. These guidebooks give a quick introduction to the month's theme, along with a brief description of each snack.
While TokyoTreat's snack guide covers the bare basics about each item, Bokksu's guide really takes things to the next level.
In keeping with Bokksu's mission to "empower Japan's traditional snackmakers by sharing their authentic food and stories with the world", every snack gets a dedicated page in the beautifully detailed guide.
Bokksu also includes a map of where in Japan each snack comes from, thematic cultural notes (including Japanese phrases related), and–most importantly–allergen and dietary information.
Sadly, TokyoTreat's guidebooks don't share which snacks are vegetarian-friendly or contain allergens like nuts. Unless you can read kanji or want to attempt online research for each snack, you may want to avoid TokyoTreat if you have allergies or dietary restrictions.
Drinks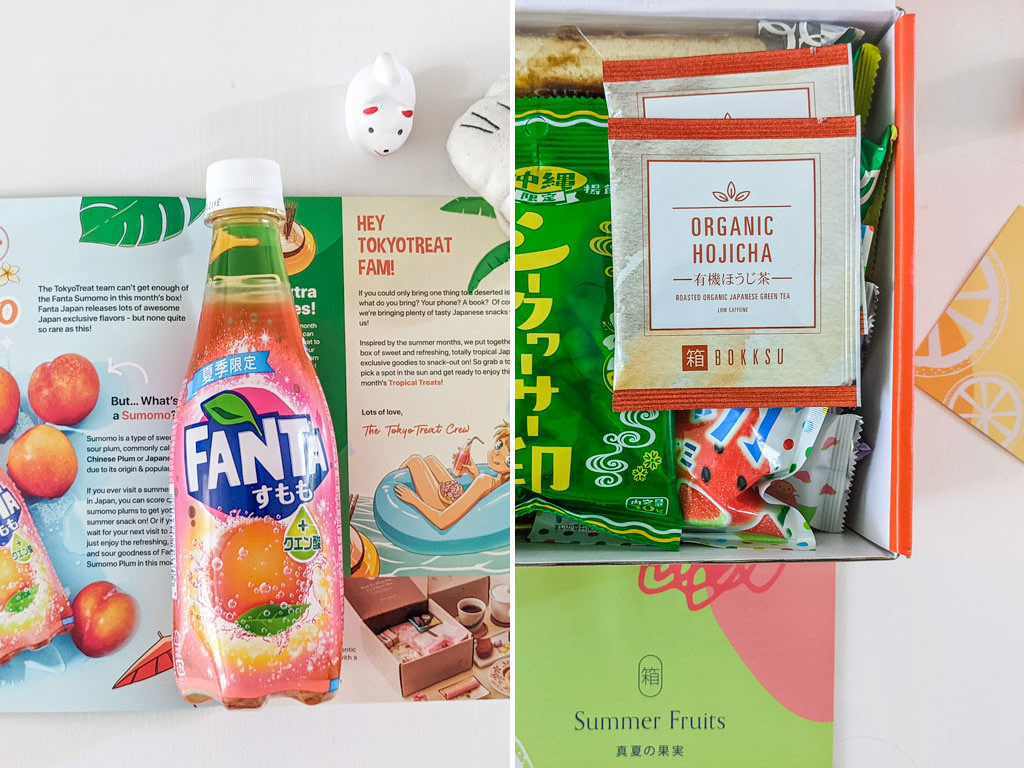 Both Bokksu and TokyoTreat (Premium) include drinks in all of their boxes.
While TokyoTreat's drink is usually a bottle of flavored soda or tea, Bokksu boxes come with several teas you can brew at home. Their teas are purposefully paired to complement the flavors of the month.
As a lover of both sugary Japanese drinks and delicate teas, there's no clear winner for me in the drinks department. I enjoyed the sumomo-flavored Fanta in my August 2021 TokyoTreat box just as much as the sencha green tea in the same month's Bokksu.
That being said, you do get multiple teas with each Bokksu vs Tokyo Treat's single drink.
Savory Snacks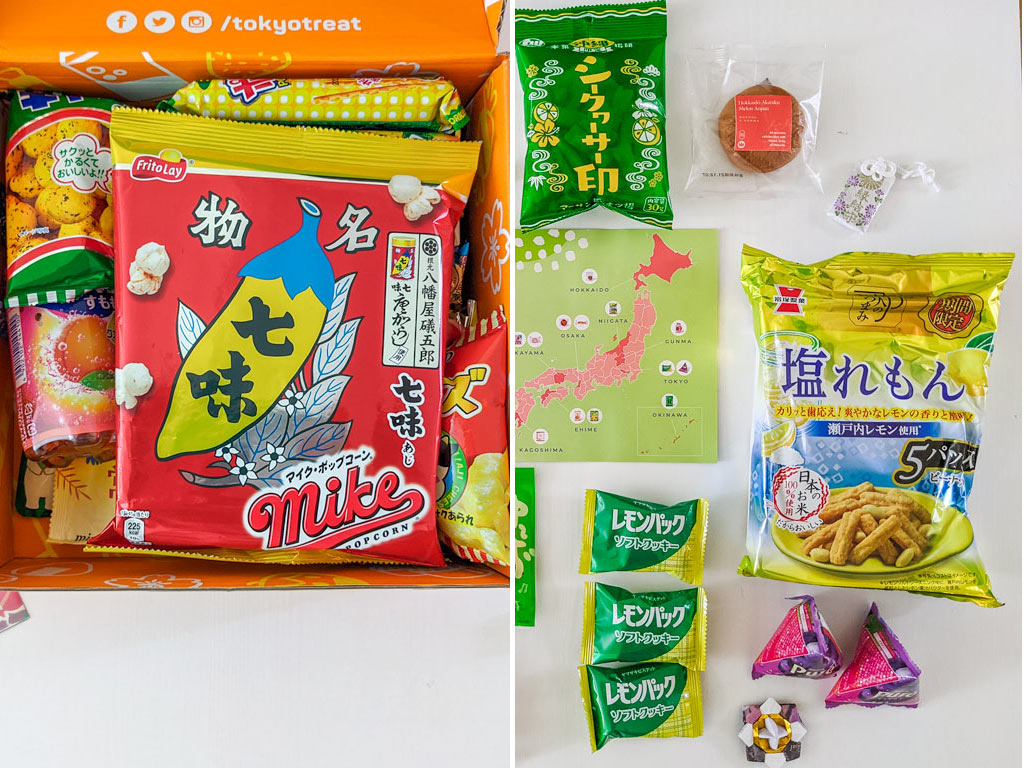 Japan's wonderfully weird flavor combos come out to play in TokyoTreat and Bokksu's savory snacks.
I've tasted everything from takoyaki corn puffs to spiced curry crackers. In true Japanese fashion, there's always a variety of not only flavors but also textures in both subscription boxes.
Here are some of the savory snacks you can expect to find in either box:
Senbei (rice) crackers
Chips
Corn puffs
Potato crisps
Kamesen (puffed rice cracker)
But as I've mentioned before, it's the quality of snacks that sets these two Japanese snack subscriptions apart.
For example, let's say both TokyoTreat and Bokksu decide to include the popular senbei crackers in the month's box. You're far more likely to get a small-batch, artisan-made, uniquely-flavored senbei in your Bokksu, as opposed to a mass market brand of senbei in TokyoTreat.
Don't get me wrong–Bokksu definitely puts cheap chips and other items in their boxes. But the utter lack of premium-quality snacks from TokyoTreat is noticeable when comparing the two.
Sweet Snacks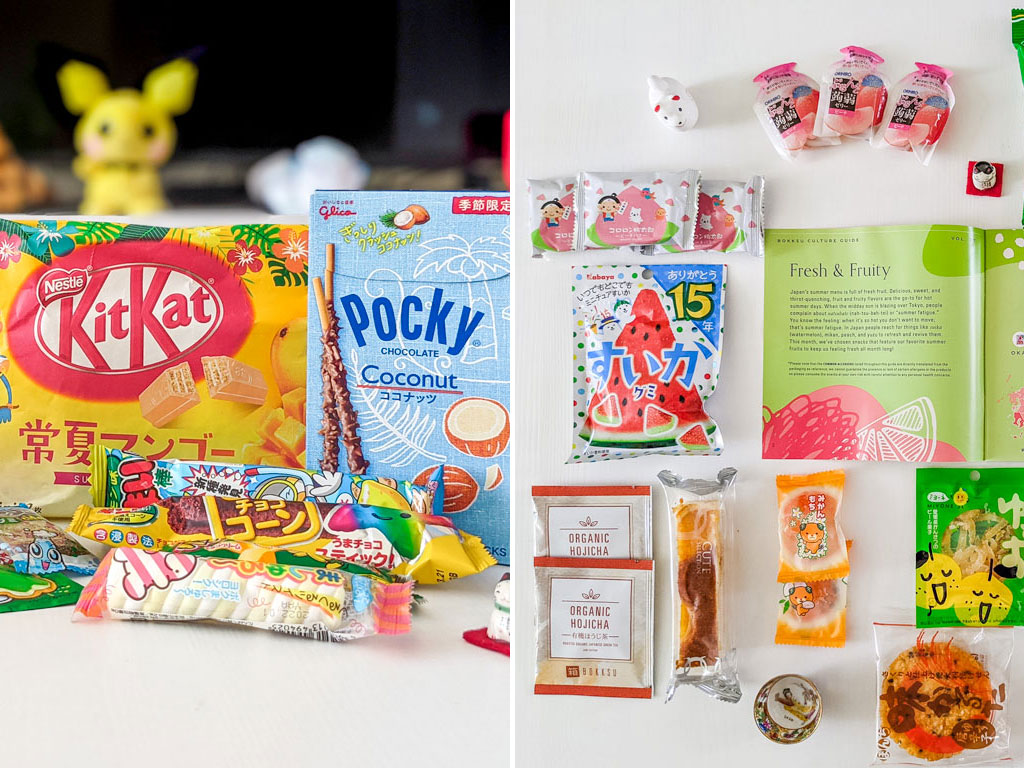 In my opinion, the sweet snacks are where Bokksu truly pulls ahead of TokyoTreat.
Every Bokksu box I've had this year has included multiple premium sweets, from matcha chocolate cake to banana langue de chat cookies. They're the perfect mid-afternoon treat to enjoy with a cup of tea.
Here are some of the sweets you might find in a Bokksu:
Mochi
Cookies
Cakes
Gummies
Jellies
Hard candies
Chinsuko (small Okinawan biscuit)
TokyoTreat has some wonderful sweet treats as well (looking at you, Coconut Pocky). However, they lean more towards the candy/junk food side of the spectrum rather than the Japanese souvenir-quality end.
The big draw of TokyoTreat is their inclusion of dagashi or Japanese penny candy. These are cheap, cutely packaged snacks that you find in snack and sweets shops.
While the packaging is super fun and distinctly Japanese, the snacks themselves are low cost, so you aren't getting as much value for money compared to Bokksu.
Here are the types of sweets you might expect to see in a TokyoTreat box:
Kit Kats
Pocky
Gummies
Cookies
Hard candies
Mochi
Also in my experience, Bokksu boxes generally have a few more sweets than savory items (around a 60/40 split). For my fellow sweet tooths, Bokksu is the best option.
Which is Better: Bokksu or TokyoTreat?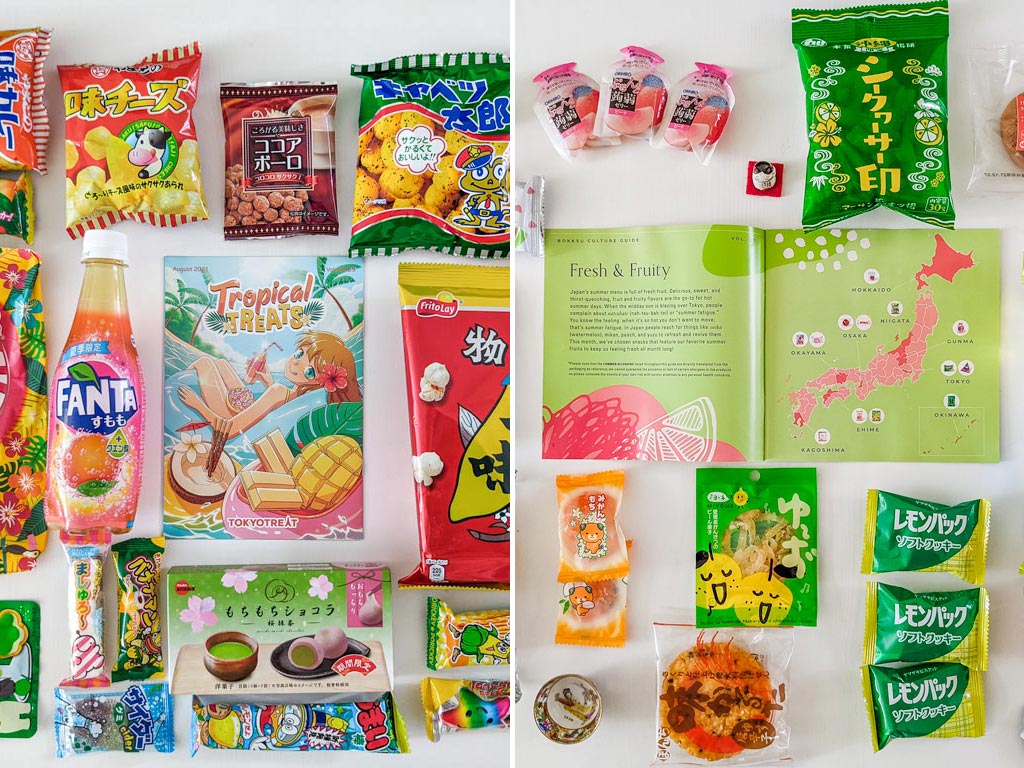 When it comes to choosing a Japanese snack subscription, I have to recommend Bokksu over TokyoTreat.
If you skipped all the way to the end, I'll summarize my reasoning into one word: quality.
Bokksu's artisan snacks are a step (or two) above the mass market items you get from TokyoTreat. You just don't get things like fresh apple cake or small-batch senbei crackers in TokyoTreat.
If you're paying for food to be shipped internationally from Japan, wouldn't you rather get unique treats that can't be found outside the country?
TokyoTreat's appeal is its cute packaging, trendy snacks, and fun vibe. But I can't justify paying $30+ a month for food I can get from the Asian market a short trip from my house.
Does the otaku in me love eating cookies out of a bag with Pikachu's face on it? Absolutely!
But when it comes down to it, I'd rather pay a little extra for Bokksu's more premium quality snacks.
The one case where I can recommend TokyoTreat over Bokksu is if you're buying it as a gift for a kid. TokyoTreat's snacks are far more kid-friendly, whereas Bokksu is geared more towards the adult palette.
Order your first Bokksu today and use discount code FIRSTBOX10 for 10% off your first box!
Still need help deciding? Here are the links to my in-depth reviews of Bokksu and TokyoTreat: