Japanophiles, rejoice! There's a new way to get your Japan snack fix without traveling or paying a fortune in customs fees. This 2021 TokyoTreat review and unboxing will walk you through what to expect from this Japanese snack subscription box.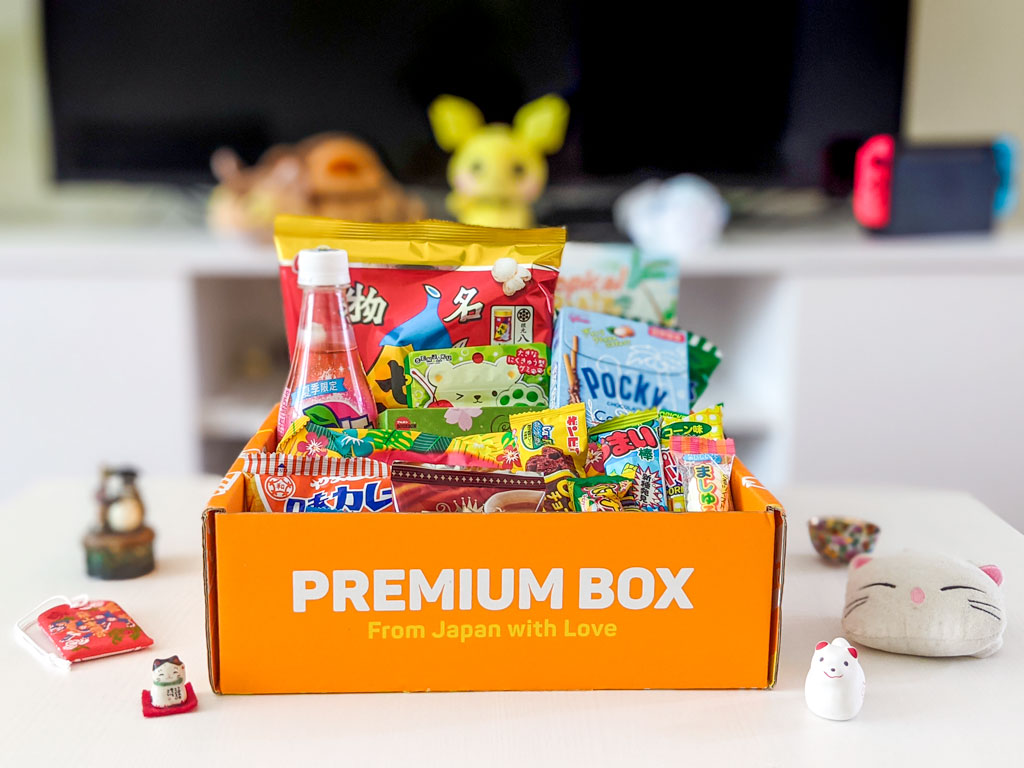 This post contains affiliate links. As an Amazon Associate, I earn from qualifying purchases. For more information, click here.
As someone who travels to Japan every year, it's the delicious food that really keeps me going back for more.
In fact, the first thing I do after I arrive in the country is pop into a konbini (convenience store) and grab a bunch of unique Japanese snacks. From curry powder chips to sour plum candy, I can't get enough of those distinctly Japanese flavors (though I'll pass on the natto).
I've been a long-time consumer of Japanese subscription boxes, including the famous Bokksu. So when Tokyo Treat offered me a free box to try, I jumped at the chance to get my hands on more Japanese treats.
Whether you want some snacks to tide you over until your next trip, or you've never been to Japan and want to experience the unique seasonal flavors, TokyoTreat has got you covered.
In This Post:
What is TokyoTreat?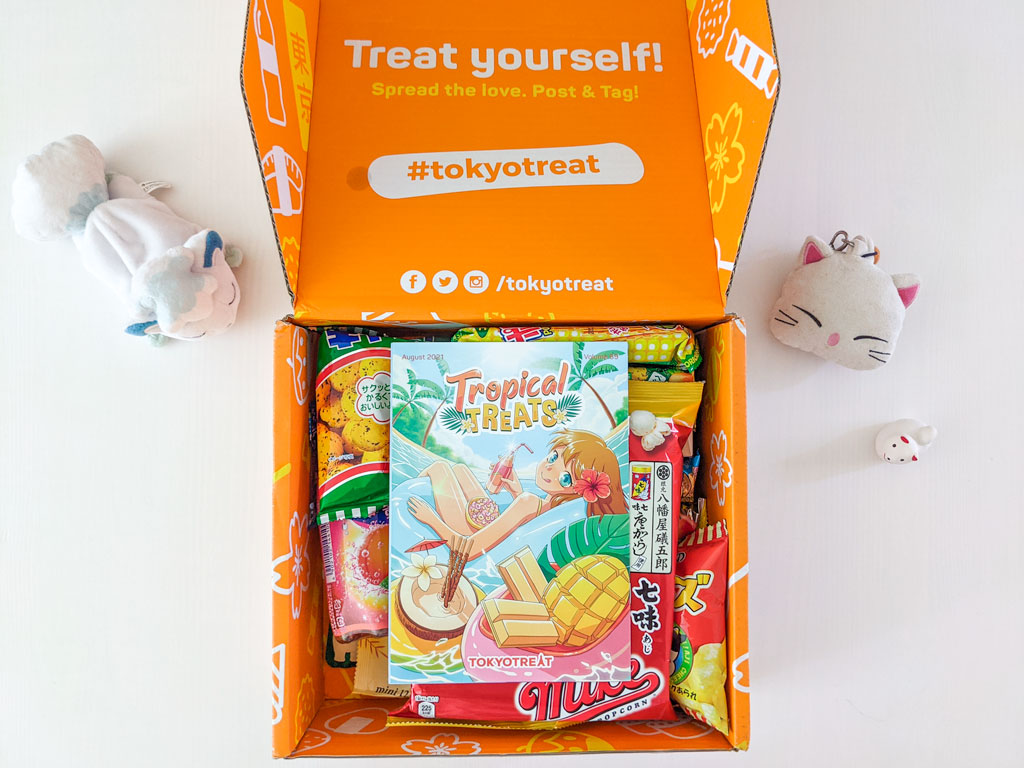 TokyoTreat is a monthly subscription box filled with candy and snacks straight from Japan.
Each box has a mix of sweet and savory items, from gummy candies to flavored popcorn. Every month's box is also themed around the seasons, so you'll get to sample flavors like sakura in the spring and mango in the summer.
TokyoTreat boxes also come with a guidebook that shares more information on each treat, and some bonus content about Japan's history and culture.
Is TokyoTreat Legit?
Yes, TokyoTreat is a legit company selling authentic Japanese snacks.
I can personally attest that I've seen some of these snacks on sale in Japan. Everything comes in its original packaging, which is awesome for people like me who want to practice reading kana!
Plus, TokyoTreat is one of the few foreign snack subscription boxes I've tried that lets you track your package. I don't know about you, but I hate wondering when my next box will be delivered (or if it's been stolen from my porch).
How Much Does TokyoTreat Cost?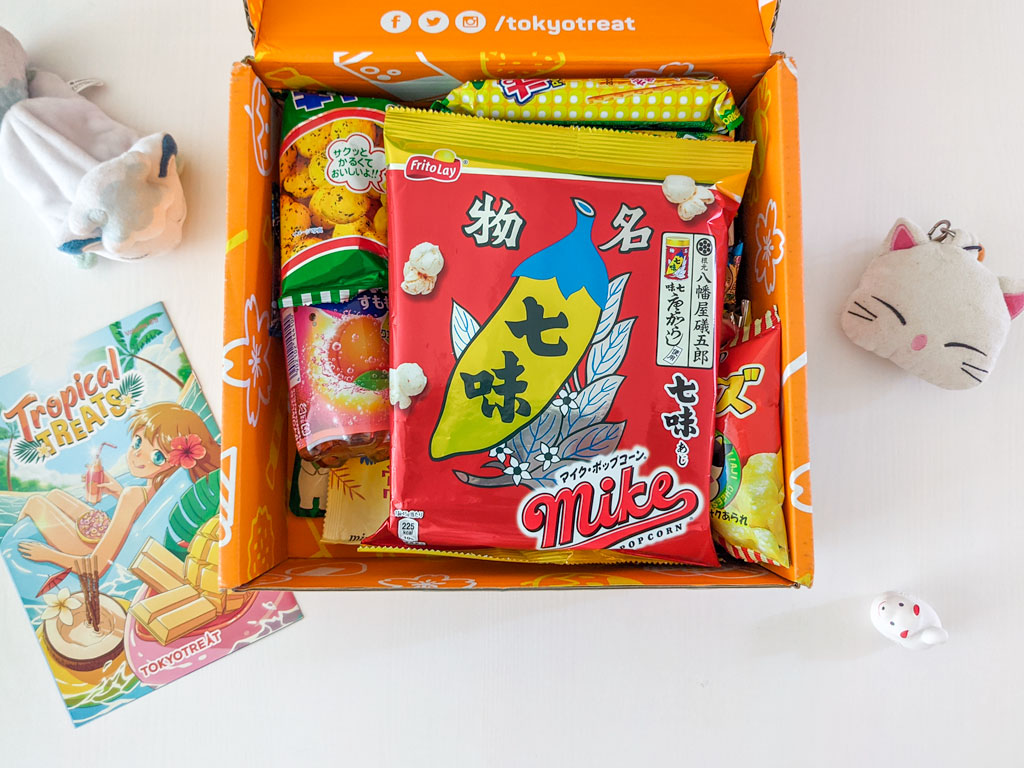 The cheapest TokyoTreat subscription is $31.50/month USD, and the most expensive is $35/month.
As you might imagine, there is a discount for choosing a longer subscription plan. Opting for a 12-month subscription will save you 10% from the month-to-month price.
If you're still on the fence after reading this 2021 TokyoTreat review, there's no harm in choosing the one month plan to try a box yourself. You can always switch to one of the longer plans later to save money!
Check the website for the most up-to-date prices.
TokyoTreat Premium vs. TokyoTreat Classic
Update 9/22/2021: As of September 2021, TokyoTreat no longer offers their Classic tier subscription.
TokyoTreat offers two different tiers of box: Premium and Classic.
Each tier differs in what you get, as well as how much you get. For example, the Premium box comes with a full-size drink, while Classic does not.
The Premium box contains 17 total snacks, while the Classic has 12.
Here's a summary of the difference between TokyoTreat Premium vs. TokyoTreat Classic:
| TokyoTreat Premium | TokyoTreat Classic |
| --- | --- |
| 5 Full-size items | 5 Full-size items |
| 5 Popular Japanese snacks | 4 Popular Japanese snacks |
| 3 Dagashi | 2 Dagashi |
| 1 DIY Japanese candy kit | 1 DIY Japanese candy kit |
| 1 Drink (180-500ml) | — |
| 1 Party-size pack | — |
| 1 Anime-themed snack | — |
| 1 Japanese snack guidebook | 1 Japanese snack guidebook |
So which box should you choose: TokyoTreat Classic or Premium?
Personally, I think Premium makes the most sense.
The $9 difference between Premium and Classic is worth the extra snacks + drink. If I'm already paying for a box of Japanese treats to be shipped halfway across the world, I want the best value possible!
Save me for later!
Unboxing TokyoTreat Review: What Snacks Do You Get?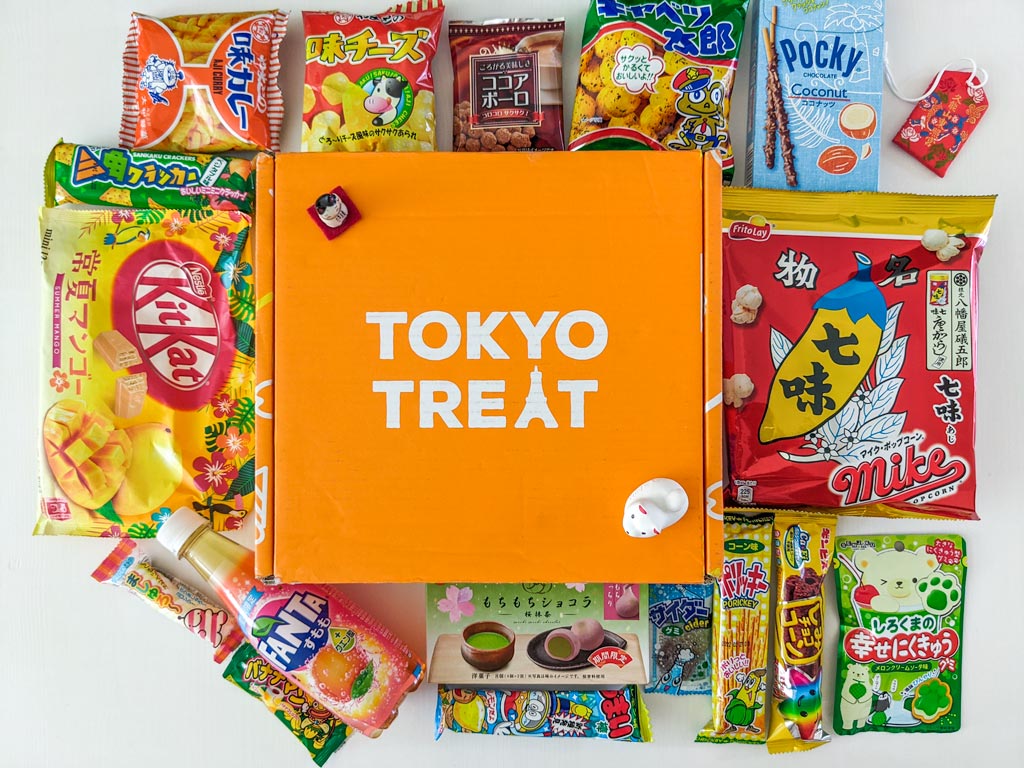 As I mentioned before, the kind of snacks you get in TokyoTreat are a mix of sweet and savory Japanese treats. Both Premium and Classic boxes can have anything from candy to chips to mochi–every month's box is different.
Based on the August 2021 Tropical Treats box I received, as well as a review of TokyoTreat's past boxes posted on their website, the ratio of sweet to savory is close to 50/50.
That being said, Japanese snacks are famous for their blend of sweet and savory, so it's hard to put some of the items in one category over the other!
Let's take a closer look at what's inside a TokyoTreat box.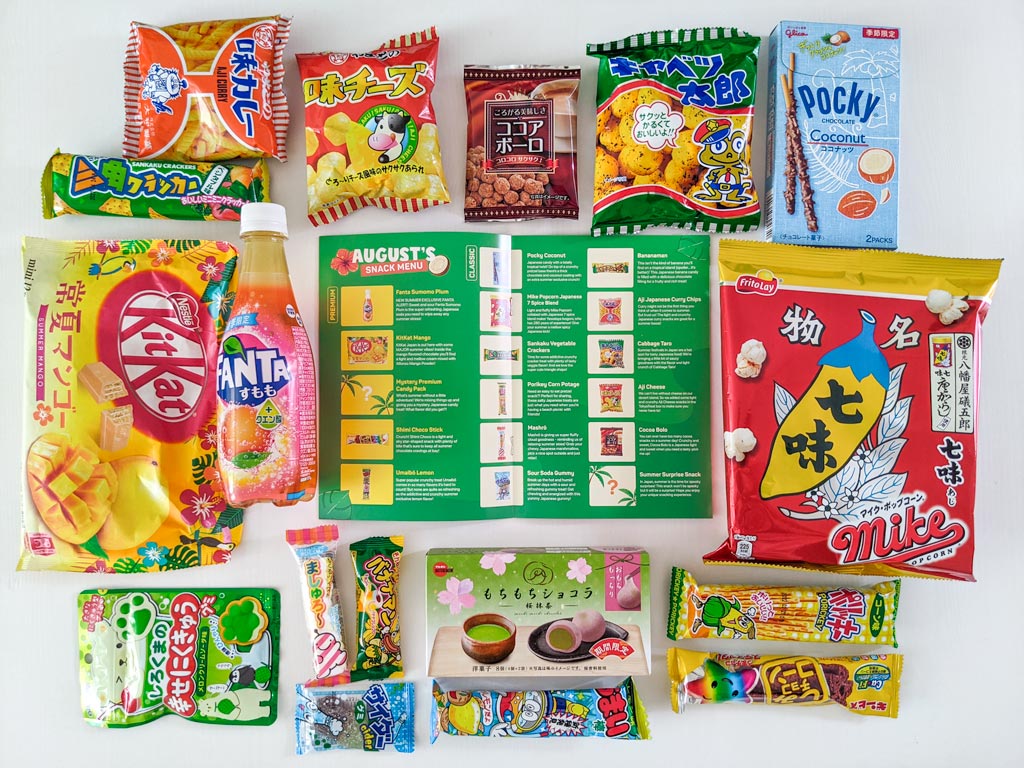 Sweet snacks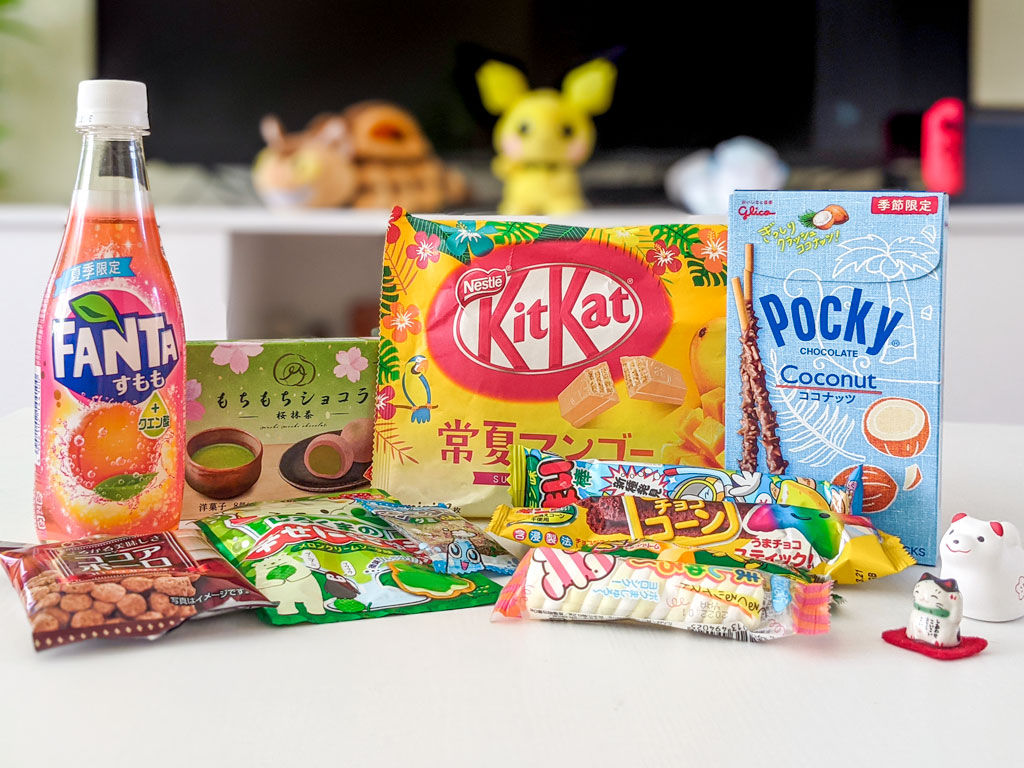 I have a major sweet tooth, so I was most looking forward to TokyoTreat's sweet offerings. And they did not disappoint!
The Tropical Treats box was packed with summer flavors, and I especially enjoyed the Coconut Pocky. In most cases, Japanese fruit flavoring tastes so much better than the artificial stuff you find in Western snacks, and this was no exception.
Past boxes have contained everything from soft cookies to sour candy and even gum, so you get a variety of not only flavor but also texture.
Savory snacks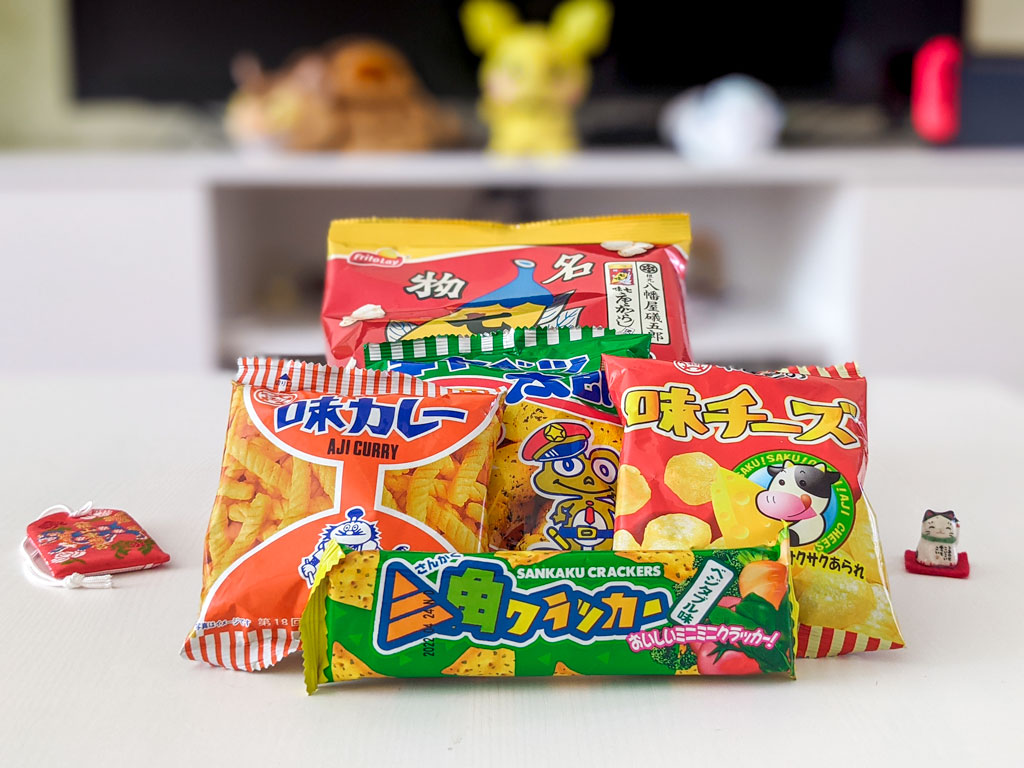 TokyoTreat's savory options are where you'll find more "unusual" Japanese flavors. Taro chips, vegetable sticks, and even okonomiyaki corn puffs are just some of the interesting snacks you can expect.
The standout savory snack in the Tropical Treats box were the Aji Japanese Curry Chips. The combo of sweet-savory flavor and wonderful crunch made them impossible to put down.
Dagashi
Dagashi are the Japanese equivalent of American penny candy, though they can be sweet or savory. If you're too young to understand that comparison, think of them as ultra-cheap snacks that come in eye-catching, youthful packaging that kids would love.
Both box tiers come with dagashi–two in Classic and three in Premium.
I particularly loved the Umaibō Lemon dagashi in the Tropical Treats box, which had a light, crispy texture and tasted like a summer lemon cookie.
Drink (Premium only)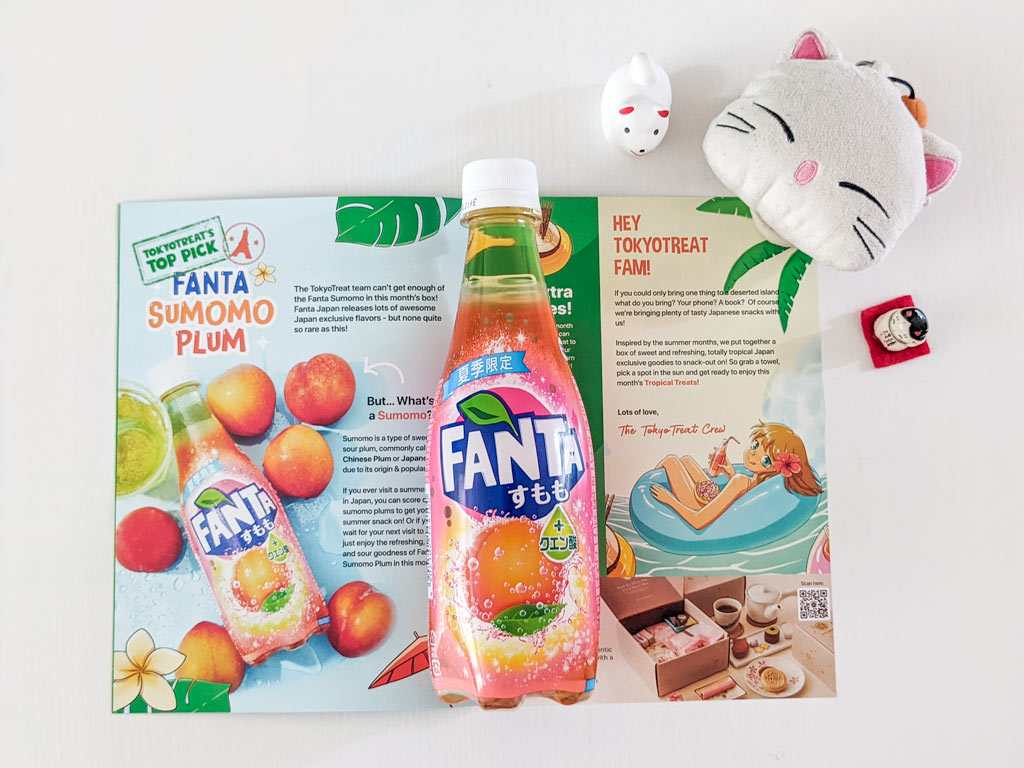 I'm all about trying fun Japanese beverages when I'm visiting the country, so the drink is my highlight of the TokyoTreat box.
This Sumomo Plum Fanta perfectly fit the Tropical Treats theme. Past boxes have run the gamut from Choco Mint soda to Sakura Ramune (yes please!).
I was a little worried that the soda would be flat after being shipped and shaken halfway around the world, but it was still fresh and fizzy when I opened it.
Party size snack (Premium only)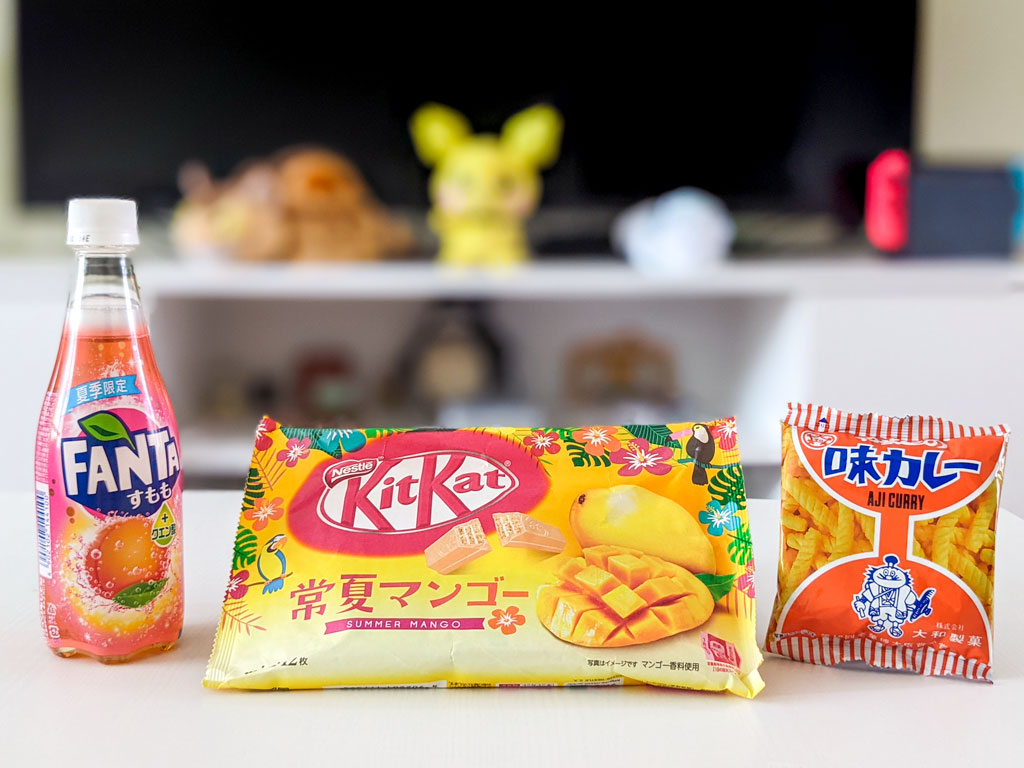 The "party size" snack is large enough to share (or eat over the course of a week). The Tropical Treats box came with some fruity mango Kit Kat minis, which I thoroughly enjoyed.
Based on previous boxes, the "party size" snack seems to always be a large bag of individually-wrapped Kit Kat minis, though it could certainly change in the future.
Is TokyoTreat Worth It?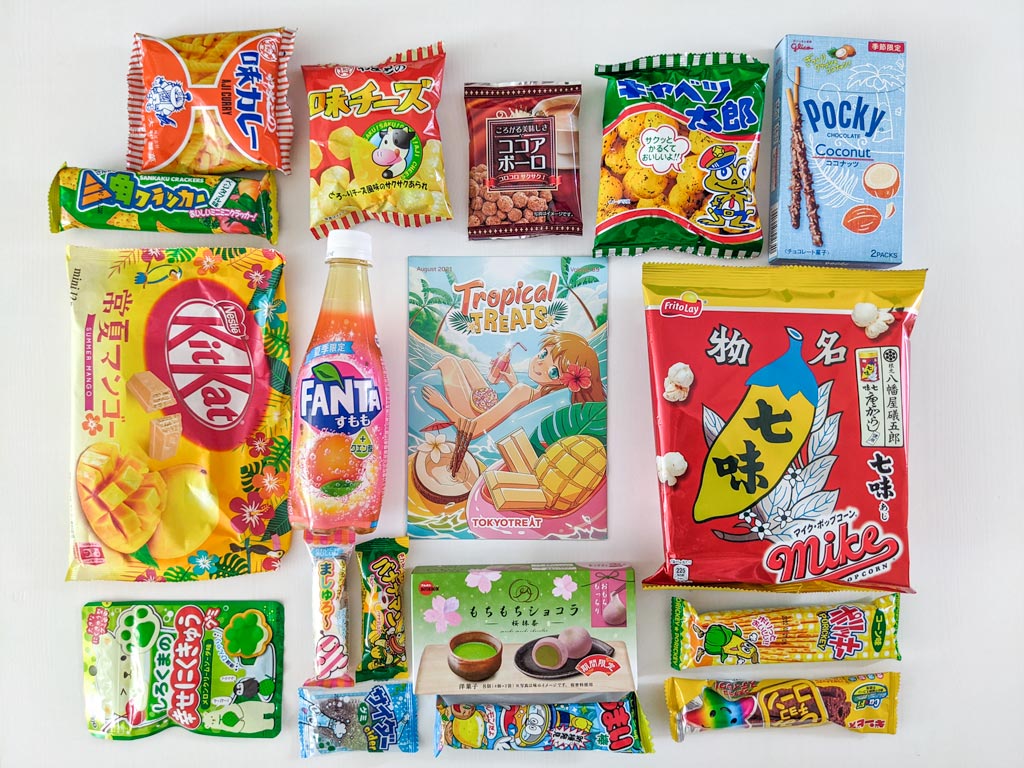 Yes, I think TokyoTreat is worth it for most people!
The foods are fun and tasty, and they really transported me back to Japan during a time when travel was not possible. I looked forward to my daily afternoon snack and was genuinely sad when my box was finally empty.
That being said, there are two things I want to add before wrapping up this 2021 TokyoTreat review.
The biggest note I have about the products is that they are not what you'd call "premium". Don't get me wrong–the snacks are delicious! But you won't find anything fancy or perishable like in other, more expensive Japanese subscription boxes.
Also, some of the snacks make a repeat appearance in the span of a few months. I don't mind as long as I really like those particular items, but it does mean that you're not getting 100% unique snacks every single box.
In my opinion, the real appeal of TokyoTreat is that you're getting a box full of natsukashii.
Tasting those distinctly Japanese flavors is a trip down memory lane, and brings me right back to the days of exploring and eating my way through Tokyo.
And the otaku in me loves eating cookies out of a bag with Pikachu's face on it.
TokyoTreat FAQ
How long does it take for TokyoTreat to arrive?
According to the website, your TokyoTreat box will be handed over to the shipping courier within 3 days of placing the order. From there, it can take anywhere from 14-28 days to arrive from Japan.
Depending on where you live, you may be eligible for their 2-5 business day delivery window.
All TokyoTreat deliveries come with parcel tracking, so you don't have to wonder when it will arrive.
Is TokyoTreat vegetarian?
At this time, TokyoTreat doesn't offer vegan or vegetarian-friendly boxes. While some of the snacks may be suitable for those dietary restrictions, it would be incredibly difficult to figure out unless you are a fluent Japanese reader.
Can you order TokyoTreat as a gift?
Yes! TokyoTreat has the option to buy a non-renewing gift plan. It would make for an excellent gift for someone living abroad.
Have more questions after reading this 2021 TokyoTreat review? Drop them in the comments and I'll do my best to answer them!
Which is better: Bokksu or TokyoTreat?
Check out my Bokksu vs TokyoTreat review to help you decide which subscription is right for you.