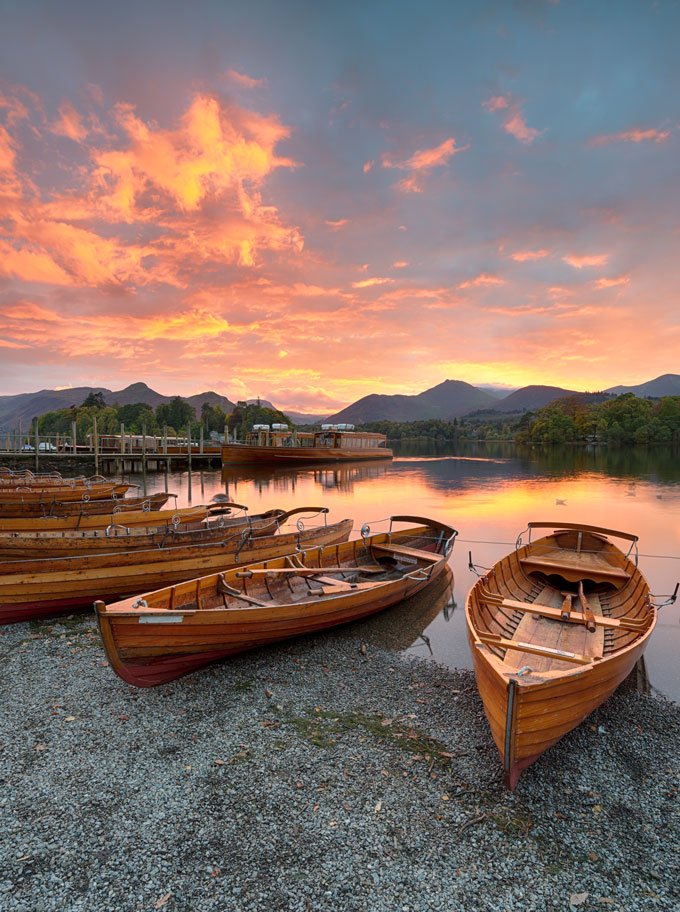 With beautiful villages, stunning vistas, and countless water activities, the options for romantic Lake District breaks are endless. And if you're planning a couples getaway in England, there's no better region than Cumbria. Whether you want a laid back picnic at Buttermere or a paddle boarding adventure on Derwent Water, there are plenty of things to do in the Lake District for couples.
Combine these romantic Lake District breaks into the perfect anniversary trip, or sneak a few into a family holiday. Whatever you choose, the wild hills and English charm of Cumbria are sure to make your trip extra special.
This travel guide is part of my
self drive UK holiday
itinerary, which includes over a dozen destinations from London to Edinburgh!
This post contains affiliate links. For more information, click here.
Things to do in the Lake District for Couples
Romantic Lake District Breaks for Couples
Spend the night at a historic inn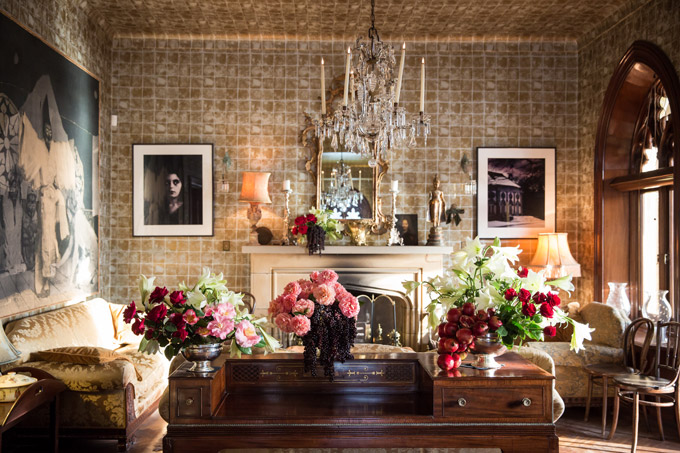 For the ultimate Lake District experience, spend at least one night at a traditional English inn. These cozy accommodations are far more charming and intimate than a typical hotel. And in many cases, there's not much of a price difference!
There's nothing quite like relaxing in front of a fireplace with your partner after a day of adventure. And waking up to a home-cooked English breakfast is the perfect way to start your Lake District day out.
Because these inns have limited rooms, it's best to book your accommodation a few months in advance. If you're booking in northern Cumbria, I highly recommend The Old Posting House in Cockermouth. Their rooms are spacious, the dining area is wonderfully cozy, and the food is superb.

Explore the region's charming villages on a Lake District road trip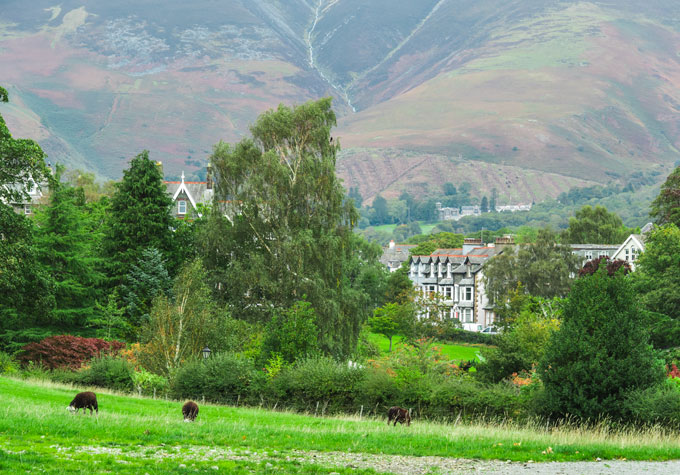 Cumbria's lovely English villages make for ideal Lake District weekend breaks. From the waterfront beauty of Keswick to the ancient buildings of Cartmel, couples are sure to find plenty to see and do in each location.
Despite the region's size, it's quite possible to fit three or four villages in a single day. Here's one possible route for a romantic Lake District road trip:
Start in Cartmel, where you can explore the 12th century Priory, stroll along the stream, and sample the village's famous sticky toffee pudding.
Head northwest to Ravenglass, the Lake District's picturesque coastal hamlet that's also home to Muncaster Castle.
Drive northeast to reach Ambleside, a popular Lake District destination known for its stone cottages and highly photographed Bridge House, which straddles a stream.
Wrap up the day in Keswick, where you can watch the sunset from atop Latrigg fell or on the docks of Derwent Water.
Stroll through heather fields in Windermere
There are so many things to do in Windermere, from visiting the World of Beatrix Potter to wandering the halls of Wray Castle. But for a more romantic Lake District break idea, head to Holehird Gardens.
This lush escape with stunning views over Windermere is one of the most romantic places in the Lake District. Even in the chillier months, the heather fields remain in bloom. After your walk, you can stop into the Visitor's Centre to buy a drink, and enjoy it outside in the walled garden patio.

Have a waterfront picnic at sunset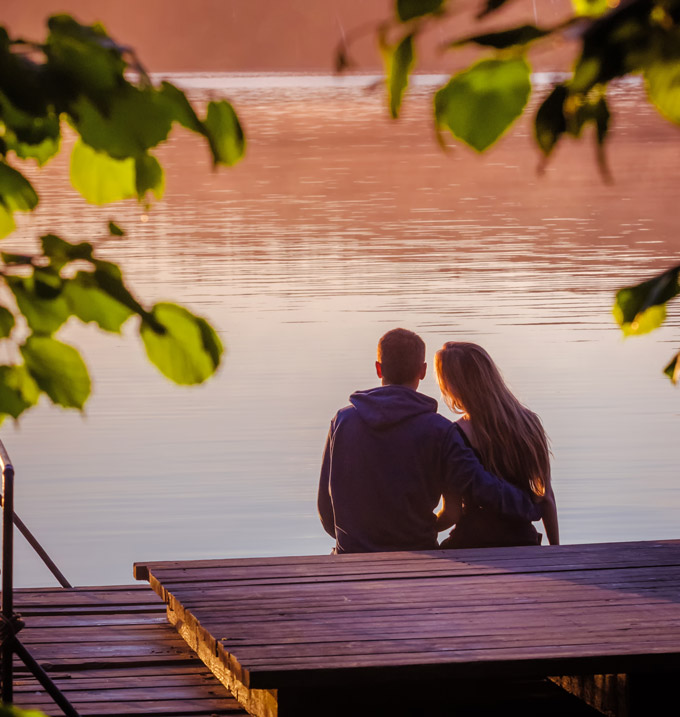 What better way to enjoy Cumbria's scenery than to have a sunset picnic on the water? There are dozens of places to choose from, ranging from the famous Buttermere to the quaint Brotherswater.
Some Lake District accommodations offer picnic basket rental, making this activity a breeze. But if this isn't an option, you can easily pick up some excellent picnic options at a village shop. Plus, these stores often stock local and artisan goods that can add a special touch to your evening meal.

Warm up in a cozy Lake District pub
Even in the warmer months, the evening brings a chill to Cumbria. After you wrap up your Lake District activities, escape the cold with a romantic night at an English pub.
All Lake District villages have their own local pubs, so this is one activity that's hard to miss. And with charming names like The Drunken Duck and Hole in t' Wall, you're sure to make lasting memories.
Though there are hundreds of options across Cumbria, The Masons Arms and Cuckoo Brow Inn are particularly renowned for their cozy factor.
Save me for later!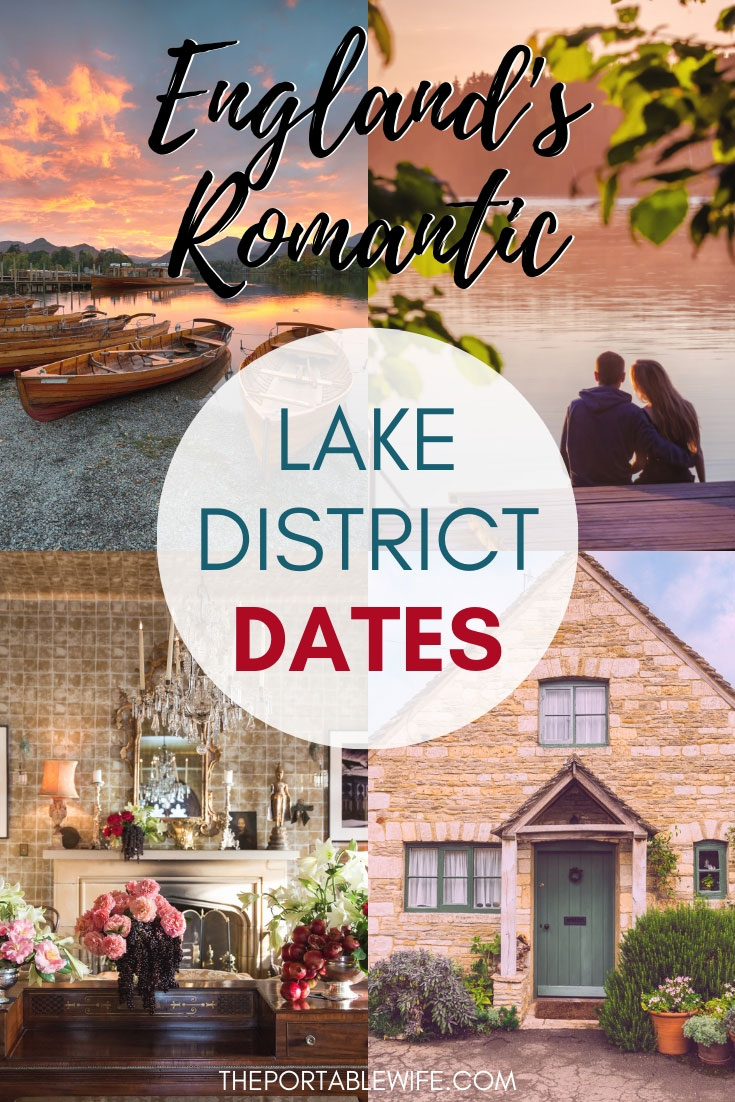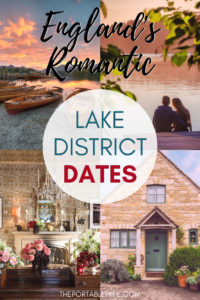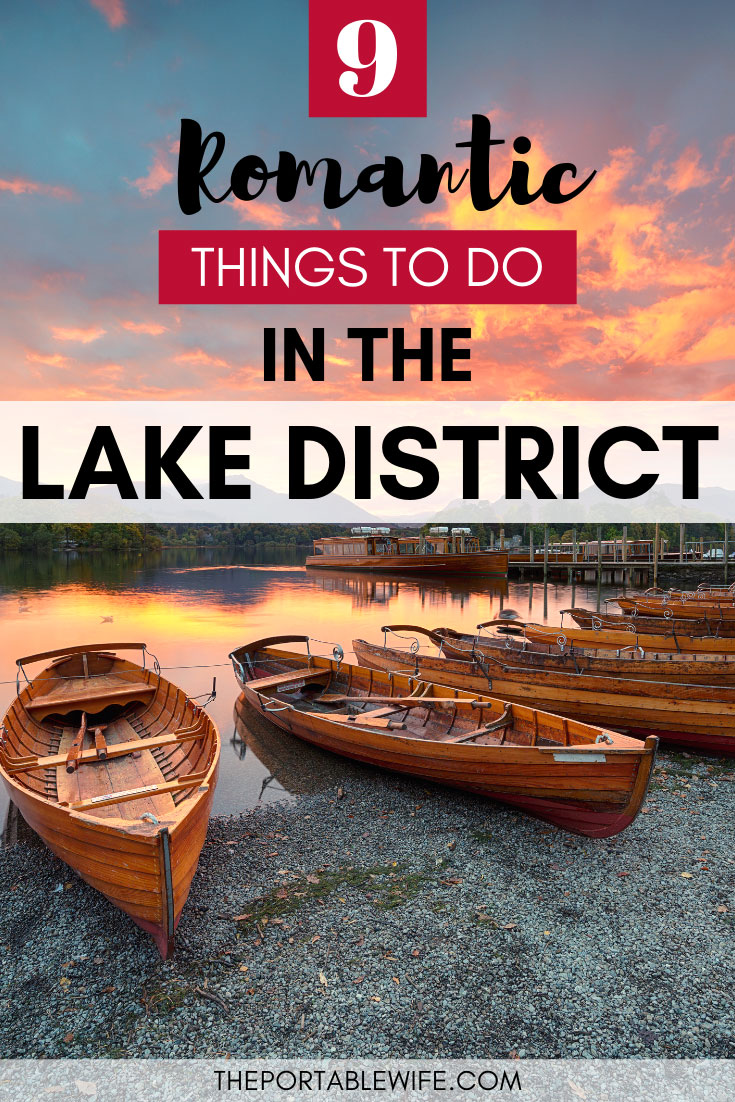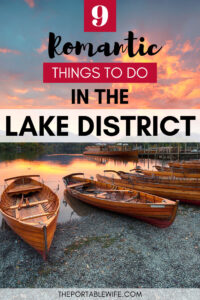 Share a kiss atop the Aira Force waterfall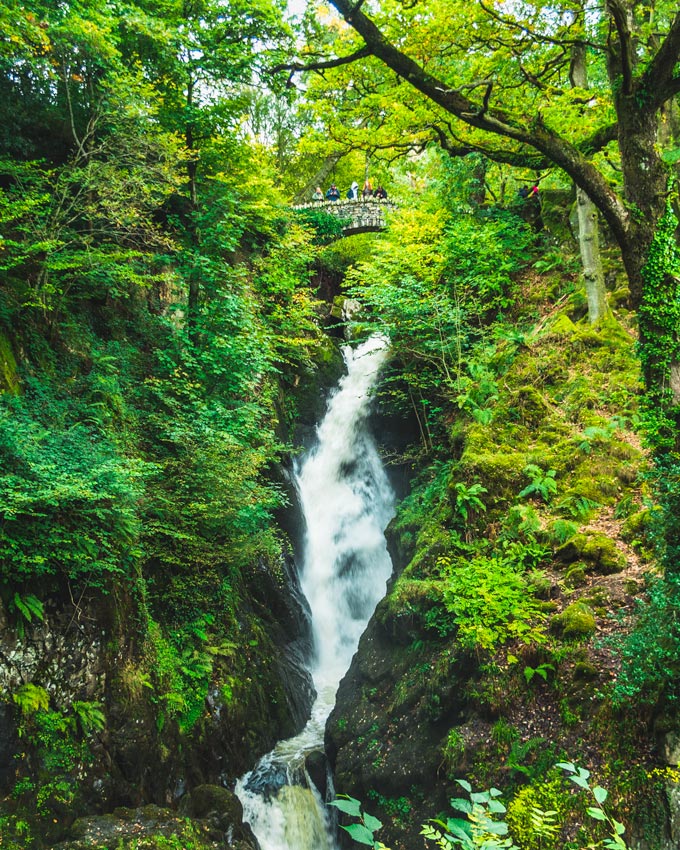 Ullswater is popular spot for Lake District weekend breaks, and its Aira Force waterfall is a must-see. Set in a verdant green forest, the walk to Aira Force is a lovely lead up to the main event.
From the parking lot, it's a short 15 minute walk to the top of the falls. Once there, you'll find a bridge that spans the rushing water. It's an invigorating place to share a kiss with your partner.
Parking fills up on weekends, so be sure to arrive early. And wear sensible footwear, as the walking paths are slippery and uneven in places. It would be a shame if a tumble cut short your romantic Lake District break!

Take a peaceful boat tour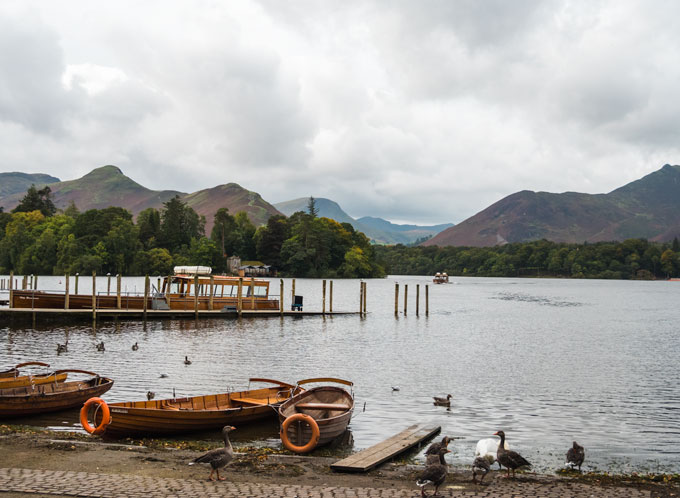 When people picture romantic Lake District breaks, they often conjure up images of row boats slowly drifting across the water. Whether you want a romantic canoe for two, or a classic sailboat tour, you're sure to find a boating excursion to fit your needs.
In Ullswater, couples can take a historic steamer trip with stops along various villages. For canoeing with a view, visit the docks of Derwent Water in Keswick. Windermere is ideal for sailboat lovers. And for the iconic row boat experience, head to Coniston Water.
Book your Lake District boat tour in advance to ensure you get a seat!
Adventurous Lake District Breaks for Couples
Go paddle boarding on Derwent Water
Who said romantic Lake District breaks couldn't involve water sports? If your idea of a perfect date involves heart-pumping action, head to Derwent Water Marina.
Here, couples can rent stand up paddle boards and wet suits by the hour. Derwent Water's nearby fells and multiple islands make it a scenic choice for adventurous couples.

Hike the fells alongside grazing sheep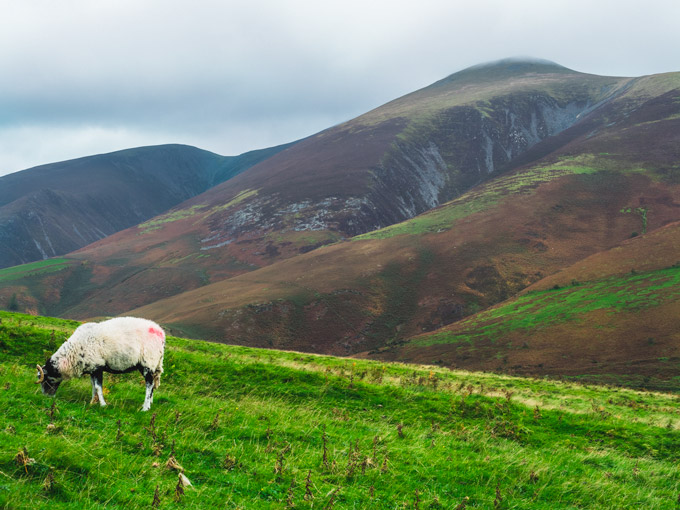 Tourists tend to think the Peak District is the only place for beautiful UK hikes. But one of my favorite things to do in the Lake District for couples is walk through the fells.
Central Cumbria is the best spot for fell hiking, particularly because of the opportunities for water views. Place Fell offers hikers panoramic views over Ullswater, while Latrigg fell comes with grazing sheep and sweeping sights over Keswick and Derwent Water.
Bowfell near Ambleside is one of the most popular Lake District hikes, though the water views are limited to streams and small tarns. However, the landscape is undeniably beautiful, and its numerous trails offer privacy from other travelers.
Do you have other ideas for romantic Lake District breaks? Let me know in the comments section!