Whether you're after a magical Valentine's Day getaway or an affordable day of fun, these romantic staycation ideas for couples keep things close to home.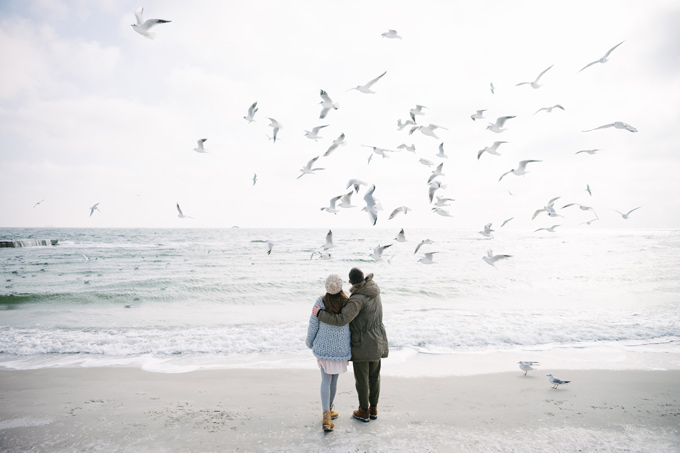 In the era of Instagram and #couplegoals, partners are feeling pressured to splurge on exotic holidays and beach vacations. But unless you're flush with cash and PTO, this jet-setter lifestyle probably isn't sustainable.
Luckily, you don't need a passport to have a dreamy time with your significant other!
What is a staycation?
A staycation is a vacation/holiday that doesn't require you to travel far from home. Anything under two hours away by car or public transit is fair game. Any farther than that, and you're crossing into vacation territory.
Some people say a staycation shouldn't involve any overnight accommodation, but I disagree. Spending the night at a nearby bed and breakfast or well-located rental are two of my favorite weekend staycation ideas for couples.
The main takeaway here is that a staycation should be done somewhere that's quick and easy to reach, including your own neighborhood!
Are staycations cheap?
The last time I planned a couples staycation, the total cost was under £40 for the day, which covered three meals and entertainment. And I live in London, one of the most expensive cities in the world!
Having a romantic staycation doesn't necessarily mean splurging on expensive restaurants or winery tours or orchestra tickets. With the right amount of creativity and preparation, you can have an epic adventure in your own backyard.
However, you'll soon see that not all cheap staycation ideas revolve around staying at home!
Long Weekend Romantic Staycation Ideas for Couples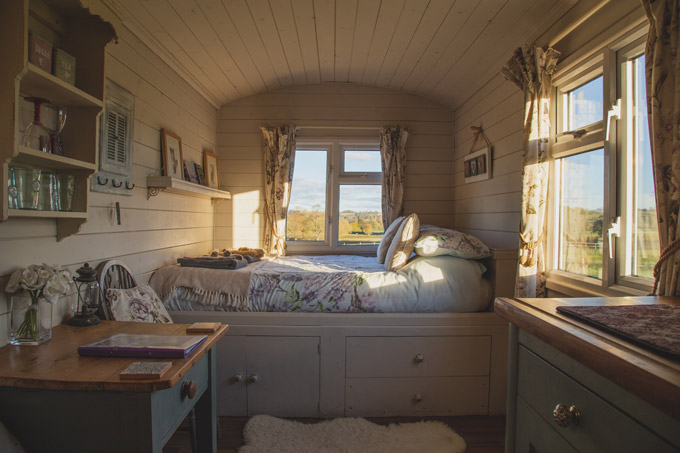 Book a rental with a view in the heart of a city
Sometimes a change of scenery is all you need to jump start a romantic staycation. And what's more romantic than waking up to a sunrise high above the world? Or how about having a candle-lit dinner and drinks while the city lights twinkle below?
Although your standard hotel room with a view could do, there's something special about an apartment-style accommodation. It feels homey but also exciting, like you're temporarily living a fantasy life.
RELATED: How to Create a Travel Vision Board to Organize Your Bucket List
And staying downtown means you're within walking distance of the city's best bars, restaurants, and entertainment. No need to worry about transit connections, designated drivers, or finding parking, which zap the mood faster than Buzz Killington.
Go glamping in a beautiful park
Glamping (i.e. "glam camping") is the perfect balance of comfort and adventure. Though glamping has been around for a while, more and more of these specialty accommodation sites are popping up around the world.
There are tons of different types of glamping, from luxury yurts to elaborate treehouses, and some even have their own private bathrooms and kitchens. Other sites have guest lodges that serve meals and rent out amenities like bicycles or picnic baskets.
Imagine spending the evening stargazing with a side of s'mores, and then flopping into a luxurious bed surrounded by nature. I can't think of a better staycation for couples who love the outdoors.
Read about our luxury glamping experience at Kenton Hall Estate!
Rent a cozy lakefront cabin for two
Pretend you're in a Nicholas Sparks novel with this romantic staycation idea. If you're looking for a retreat that offers both fun and relaxation, a lakefront cabin is the perfect option.
Many rentals come with canoes, paddle boats, or even fishing rods for a day on the water. Or, just laze the day away with a bottle of wine, your favorite partner activity, and a beautiful view. If you're in the UK, I highly recommend trying some of these romantic Lake District breaks!
Stay in a themed hotel styled after a country you'd like to visit
When there's no time to explore the globe, bring the globe to you. Did you know there are themed hotels that mimic the decor, cuisine, and culture of other countries?
If traveling to Asia is out of the question, why not stay at a hotel with Chinese art, furniture, and restaurants? Or how about a weekend in Italy, with lavish fabrics, courtyard fountains, and mouth-watering pasta?
Many large cities have at least one themed hotel, so try a quick internet search to see what comes up near you.
Have a relaxing weekend staycation at a quiet bed & breakfast
If your average day is full of rambunctious kids or bustling city life, a B&B weekend staycation is for you. Who doesn't want to wake up to a homemade breakfast in a quiet dining room, or even in bed? That's the ideal start to a day of exploring a new town.
For a couples staycation, I highly recommend choosing a bed & breakfast with a private ensuite. I can't think of many things less romantic than sharing a bathroom with several strangers!
Save me for later!
Cheap Romantic Staycation Ideas for Couples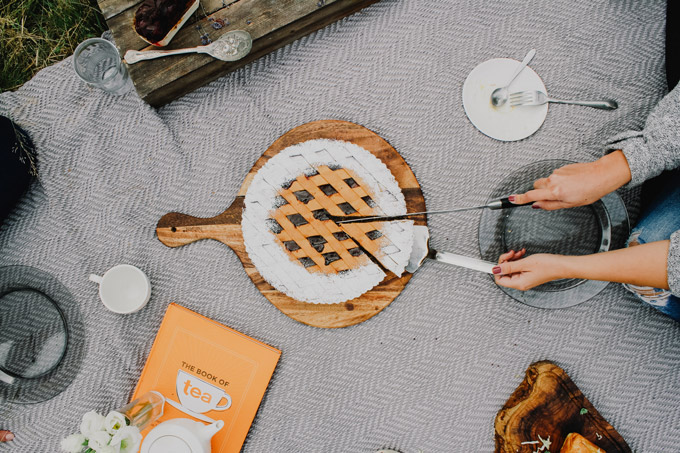 Do an epic scavenger hunt around your neighborhood or nearby city
Don't worry: this cheap staycation idea doesn't have to involve hiding clues around town for your partner to find. Here are some free and low-cost scavenger hunt options to try:
Spend the day at the beach
You don't need to live on the coast to have a great beach staycation. Look online to see if there are nearby lakes or other bodies of water with public beaches. You might find a local gem that you never knew existed!
And if you're reading this from the UK, check out Wild Swimming's resources on natural places to swim. But do take care, as many of these are remote locations. Only experienced swimmers should try this staycation idea.
Sleep under the stars in your own backyard
Sometimes the simplest experiences can pave the way to romance. Sleeping outdoors gets you out of the house, where it's too easy to slip into routine. But you'll still have the comfort (and money savings) of home, like a fridge full of food and a hot shower.
Even if your tent is only 50 feet from the back door, it still feels like a little adventure. And if you don't have a tent, ask nearby family and friends if they can lend one, or post a request in your neighborhoood Facebook group.
RELATED: How to Save Money While Traveling: 15 Easy Tips
Hike through a scenic trail and have a picnic
Roaming through beautiful scenery with your significant other isn't just for adventurous couples. Most people live a staycation-worthy distance away from accessible trails that lend themselves to a leisurely stroll.
If you need some picnic food inspiration, check out this list for ideas. Also, for an extra-special meal, consider stopping at an artisan food shop or specialty store on your way to the trail. You can stock up on rare treats that aren't carried in your local supermarket.
Revisit meaningful places from your relationship or childhoods
For couples who live near their hometowns or meeting places, this is a great option. Take turns visiting childhood memories or favorite places from your youth, like a sports park or restaurant. Or walk around the neighborhood where you first met, and pop into the places where you had your first few dates.
This could also make for a great road trip if you don't live close enough for a daytime visit.
Fun & Romantic Staycation Ideas for Couples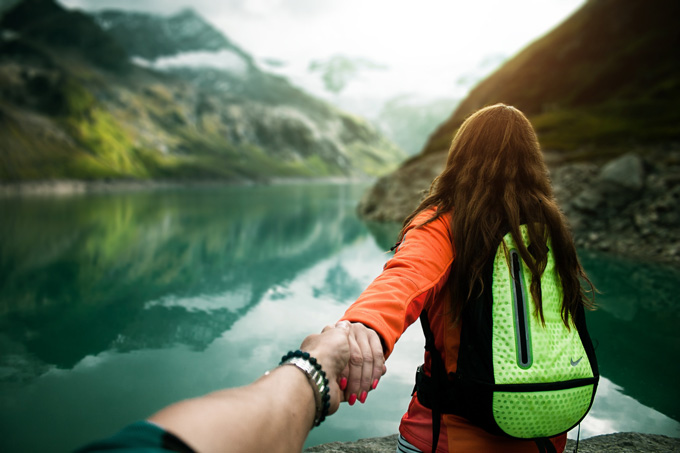 Take a cooking class for your favorite dish or cuisine
Whether you like sushi or souffle, many communities offer classes on regional cooking. Even in my small hometown, there were local restaurants and community centers that held pasta-making classes and cake-decorating lessons.
Learning a new skill together is a great way to grow closer as a couple. And in the case of cooking classes, it's something you can do again and again as a date night activity. You can even go all-in on the theme, and decorate your dining room with items from the cuisine's country.
Become kids again during a day of roller skating, laser tag, and Nerf wars
My fellow 90's kids will appreciate this one. Remember the unbridled joy of long summer days spent blasting your friends with Nerf guns and fake lasers? Or how about those birthday parties at the roller rink? Just because you're a grown-up doesn't mean you can't have a little childhood fun!
Roller rinks and laser tag places are still alive and well, and there are even indoor Nerf arenas that cater to people of all ages. Check out Google Maps to see what's available near you, and release your inner child.
Try a new outdoor adventure like kayaking or snowboarding
For a heart-pumping staycation for couples, get outside and try a new activity. Kayaking is great because it requires cooperation and communication, lest you end up spinning in circles. And newbie snowboarders can have as much fun on the slopes as they will laughing at each other for falling down.
Whatever you choose, just be sure it's something new to both of you. Otherwise, it's easy for the other partner to feel frustrated or left behind.
Go on a "best of" tour of your city
I've saved the best one for last (pun intended). I love keeping an Excel list of highly recommended local restaurants and activities. My husband and I use it not only for date ideas, but also as a day out or long weekend planner.
Head to Google, Reddit, and Pinterest to come up with the top places for breakfast, lunch, and dinner in your city. Then, fill in the gaps between meals with other highly rated activities, like a local park or musuem. If your town is small, you could also do this for a larger nearby city.
Next time a long holiday isn't in the cards (or pocketbook), remember that you can have a great time close to home. Use these romantic staycation ideas for couples on Valentine's Day, your anniversary, or as a surprise weekend getaway.
And if you have any other ideas, please share them in the comments section!